If you are considering traveling to Greece alone, there may be aspects of planning your trip that concern you – whether that is safety matters, the ease of getting around, or the question of whether Greece is a suitable solo travel destination.
I have lived in Greece for the last two and a half years, and have traveled the country extensively (and independently) throughout that time. I wanted to create this solo travel in Greece guide to address common concerns and queries about traveling to Greece alone. 
Traveling to Greece Alone:
Your Questions Answered 
Greece is a beautiful country in the heart of the Mediterranean. There is a reason that more than 33 million people travel here every single year. From cities that burst at the seams with history and culture, to idyllic islands that boast miles upon miles of undisturbed coastline bordered by cerulean waters. Greece has a little something for every type of traveler – including those that go it alone. 
I have comprised this solo travel in Greece guide in a Q&A format. The most common concerns and queries about traveling to Greece alone are addressed below! 
Is it Weird to Travel to Greek Islands Alone?
While Athens and Thessaloniki are European city breaks that are rich in culture, it's the Greek islands that draw most people to this country. People across the world dream of wandering through the narrow cobbled streets of Mykonos, or of watching a majestic sunset from atop a blue and white Cycladic house in Santorini. 
A lot of the Greek islands are associated with being "romantic" destinations and I think that that deters a lot of solo travelers from considering them as a place to visit alone which is a shame. Let me assure you: There's nothing wrong or "weird" about treating yourself to a solo break in beautiful Santorini. Plenty of people do it.
The hoteliers, restaurant owners, the locals, and the travelers have all seen solo travelers before and nobody is going to bat an eyelid or ask you where your husband has gone. I have traveled all over Greece by myself. In April, I went to the little Saronic island of Hydra by myself. This is another apparently "romantic" destination, and some friends questioned my choice to go there alone but I had a wonderful time! 
Do People Speak English in Greece?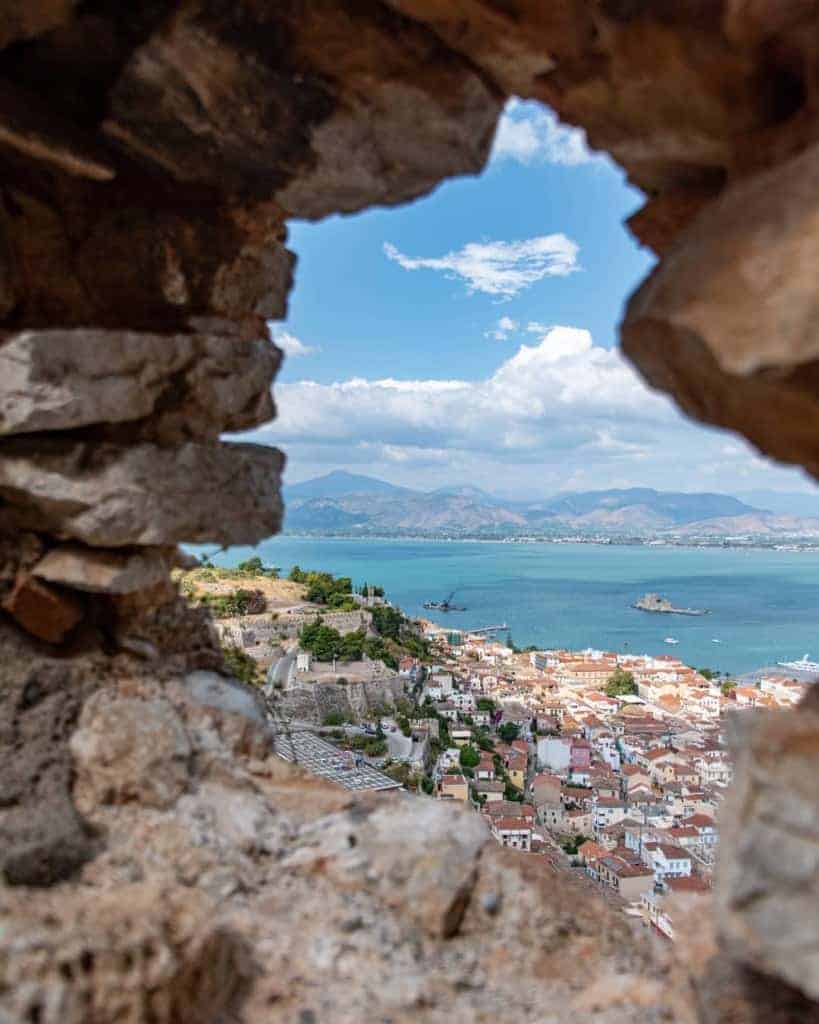 English is very widely spoken in Greece, and most Greeks have a really good grasp of the English language. This is so much so, that I know many expats here in Greece that cannot speak a single word of the language even after being here four or five years! 
Even if you find yourself alone in what are seemingly the most random towns and villages, you will always find someone that speaks English, and in the vast majority of bars, tavernas, and restaurants across the country, you will be presented with an English menu. 
How Easy is it to Get Around Greece as a Solo Traveller?
Public transport in Greece is excellent. I'd go as far as to say that the inter-city links are some of the best in Europe! Both buses and trains run frequent services between the country's towns and cities. Services are clean, modern, and reasonably priced. 
Domestic flights are available for covering greater distances (i.e. Athens to Thessaloniki, Athens to Ioannina, etc), and ferries operate between the islands and the mainland. You can generally purchase your public transport tickets on the day of travel, with the exception of traveling in the height of summer and to/from popular island destinations (i.e. Athens to Hydra, or Athens to Santorini). 
Solo Female Travel in Greece:
Is it Safe? 
Greece is a very safe country for solo female travel. You can generally explore the country in peace without being disturbed. I'd also like to dispel any concerns about the men in Greece being overly forward or aggressive. You will not be disturbed or harassed by local men in Greece – most of them will be too shy or nervous to approach you! Greece is a completely different experience for solo female travelers than nearby Turkey or Italy. 
Greeks have a reputation for being very friendly and hospitable. If you have any worries or problems during your trip, people will do their best to assist you as much as they can. Crimes against women or reports of an assault in Greece are very, very rare. 
How Safe is Greece as a Travel Destination in General?
Greece is generally a very safe travel destination. Owing to the country's warm Mediterranean culture, you will see people of all ages out and about at all hours of the day and night. Even if you walk through Athens neighbourhoods like Koukaki, Pagkrati, or old Plaka in the early hours of the morning, you will see people eating in tavernas, or old couples taking twilight walks. There is never a "creepy" feeling anywhere in Greece. 
As with traveling anywhere, you should use basic common sense while traveling to Greece alone. By that, I mean basics such as always being aware of your surroundings, and keeping an eye on your personal belongings while taking buses and trains. In two years of living here though, nothing negative has ever happened to me. 
While I will tell you that Athens is generally a safe and wonderful city, there are some areas where you need to be careful. This is something that is not unique to Athens, but which needs to be taken into consideration in a lot of capital cities. Be cautious if you are in Omonia, Monastiraki, or Syntagma late at night, as these areas are rife with petty crimes such as pickpocketing – especially on the metro. 
Are There Any Scams to be Aware of in Greece?
Tourism is a major source of income in Greece. In fact, it's one of the main industries that the economy depends on. Without sounding too negative, you should remember that Greece is a country that is still recovering from the economic crisis. Greeks are generally very friendly people, but in touristic areas, it is not unheard of to encounter people who are trying to make a quick buck from tourists. 
I would say that the touristy areas of Athens are especially bad for this (Plaka, Monastiraki, Syntagma, Psiri, etc). As are some of the popular island destinations like Hydra, Kos, Zakynthos, and Corfu. 
Keep your eyes peeled for things such as menus without prices (the owner will likely just invent one on the spot!), and bills that come to different prices than what was initially listed.
Traveling to Greece Alone:
Go it Alone or Guided Tour? 
I mostly draft out my own itineraries and organise my own travels in Greece, as I did when I went sailing around the Saronic Gulf. However, sometimes I have taken day tours in Greece as they have enabled me to reach places that would have been awkward getting to alone (like Mount Athos in Halkidiki, or Lake Kerkini in Serres). 
Some of these tours have worked out cheaper than it would have been to plan the whole thing independently due to lack of public transport, etc. I would generally advise you to travel alone to Greece and then organise day tours locally once you arrive. Week-long or multi-day tours often charge extortionate premiums. 
Meeting Other Travellers in Greece
The great thing about traveling to Greece alone is that if you want to spend time alone relaxing on paradisiacal beaches and living out your own Mamma Mia story, you can absolutely do that. Conversely, if you want to meet and socialise with other travelers, you will have ample opportunities to do that too. 
I met a lot of travelers (including fellow solo females) by chance while doing day tours from Thessaloniki and other Greek cities. Another great way to meet people is by attending or organising meetings through Couchsurfing and Meetup. 
I spent a month in Thessaloniki this summer and didn't know anyone in town. When I noticed that there was no expat social community and no meetup events, I created one!
I set up events on Couchsurfing inviting travelers and locals to go for dinner and drinks and was impressed by the turnout. I still keep in touch with these people and see one of the girls regularly. Traveling to Greece alone does not have to mean being constantly alone! 
Have any further questions about traveling to Greece alone or planning a trip to Greece in general? As I mentioned, I have been living here for the last two and a half years. I'd be happy to assist with any queries and concerns that you may have. Feel free to drop me a comment below and I'll get back to you ASAP. Safe travels! Yiassou! Melissa xo
---