Solo travel in Greece can be a wonderful experience. If you are dreaming of Greece and its islands and yet, your friends/family are flaky and can't/won't commit to travelling with you, you should not hesitate to travel alone.
Greece is one of the most popular travel destinations in the world. Over 33 million people travel to the country every year and many of them venture here by themselves.
Solo travelers are far from being an uncommon or unusual sight so you don't need to feel any weirdness about being alone in the country. Not to mention, for the most part, the locals in Greece are friendly and welcoming, and the country is so popular among travellers that you will easily be able to meet other travellers to hang out and explore with (if that's what you want).
Solo Travel in Greece
Solo travel in Greece is very safe, even for solo female travellers. This entire website has been written by a woman living alone in Greece so I can surely attest to that!
Solo Travel in Athens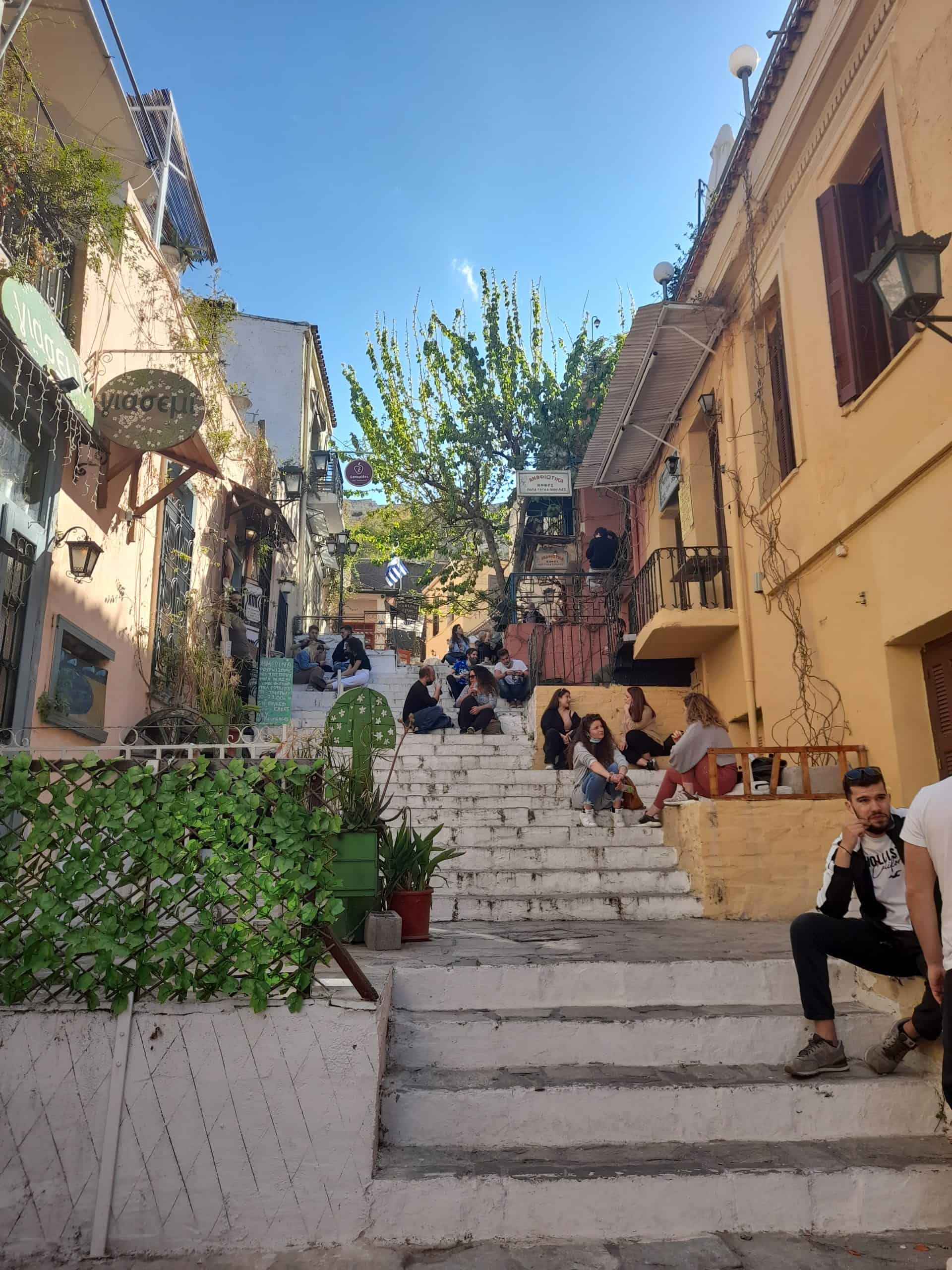 Solo travel in Athens can be a wonderful experience and the Greek capital is a good starting point for any wider Greece itinerary. Since the country's main international airport (Eleftherios Venizelos) is located here, you may need to fly into Athens to start your trip.
You should try to dedicate at least two or three days to Athens to cover the main historical sites and get an initial feel for the city. Base yourself in one of the central Athenian neighborhoods of Plaka, Koukaki, Kolonaki, or Psyri so that you can easily get around on foot.
The Ancient Acropolis, the Temple of Olympian Zeus, the Ancient Agora, and the Panathenaic Stadium are not to be missed. If you have longer to spare, you can use Athens as a base to travel to other areas of Southern Greece such as Cape Sounion, or the islands of Hydra and Spetses.
Athens is generally a safe place, although there are some areas that are a little rougher around the edges and where you need to take a little more care at night. Namely, Exarchia, Metaxourgio, Omonia, Patisia, and some of the northern suburbs.
You should use the same common sense when traveling alone in Athens as you would in any other city. Greece very much has a nighttime culture and you can walk through central districts such as Koukaki and the Mets at night and find that the local bars and coffee shops are still teeming with life.
Be cautious walking alone at night around Monastiraki, Syntagma, and any quiet/remote streets. Opt to call a cab using Taxi Beat after a night out rather than walking alone.
Always watch your belongings on the Athens metro and in crowded areas such as Athens Central Market. A theft-proof backpack can be a worthwhile investment to help protect your electronics and valuables.
Solo Travel in Corfu and the Ionian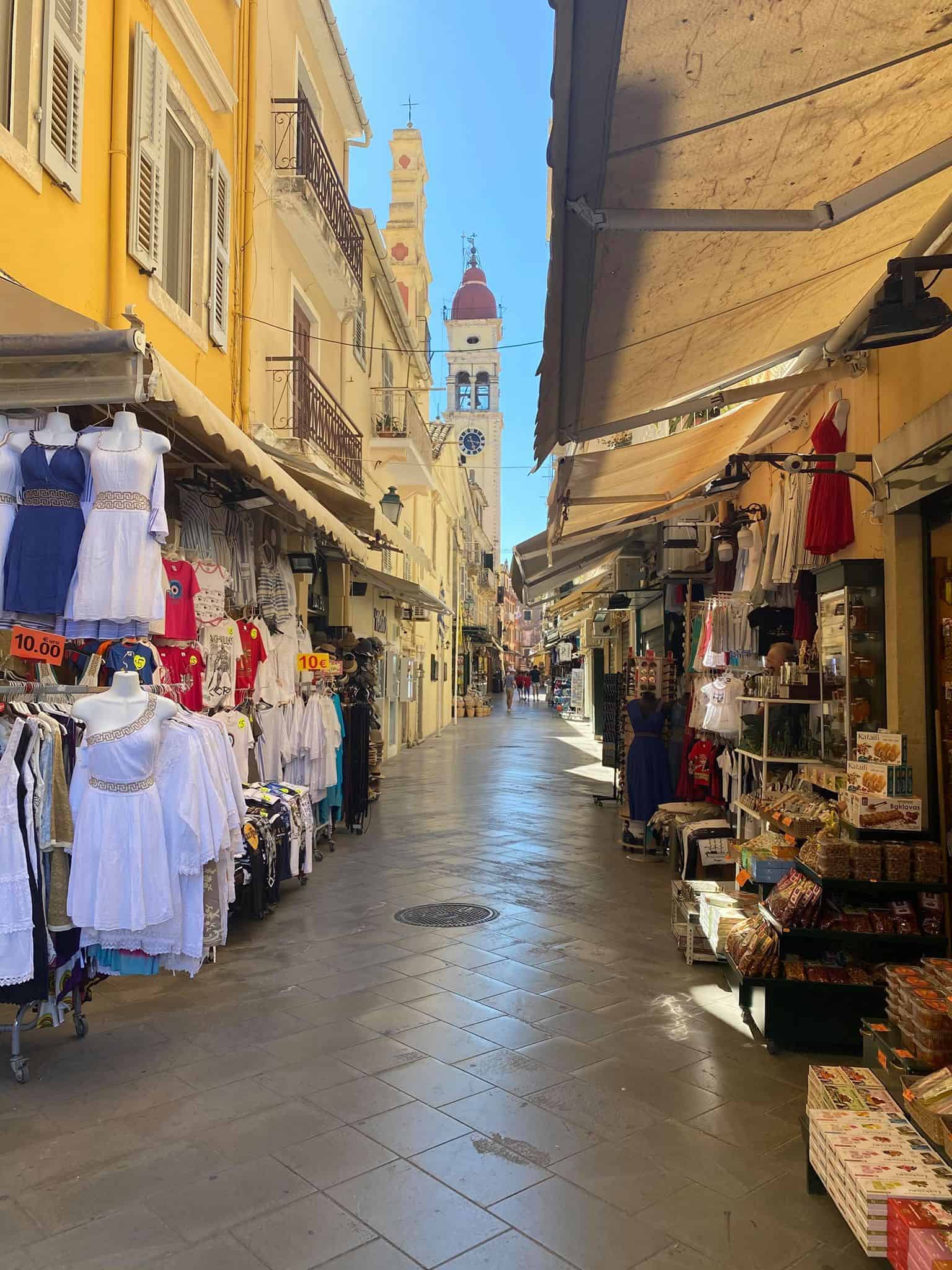 The beautiful island of Corfu is one of the most popular travel destinations in Greece and for good reason. The Venetian old town is UNESCO-protected and dates all the way back to the 8th century.
Start your solo travel in Greece here by spending a few days in the historic old town sampling mouthwatering Corfiot delicacies like beef sofrito. Then head out to the charming beach towns. Paleokastritsa and the neighbouring village of Lakones offer some of the best beaches and views on the entire island.
Meanwhile, Kanoni is a nice place to visit on a day trip and is easily accessible by bus. Several gorgeous centuries-old monasteries can be found here and you have incredible views of planes coming in to land at Ioannis Kapodistrias airport from Kanoni beaches.
Corfu residents are known for their warm hospitality and there are a lot of international ex-pats living on the island. This gives you a lot of opportunities to meet people and mingle so even if you like to explore independently in the daytime, you will find it easy to find someone to grab food with during the evenings.
Corfu makes a great jump-off point for a wider exploration of the Ionian. The stunning, exclusive islands of Paxos and Antipaxos can be reached via ferry in just 55 minutes.
Paxos and Antipaxos are among the least commercial Greek islands and often remain quiet, even during the summer months. Regardless, this is a nice place for some well-deserved R&R as a solo traveller and these are destinations you may particularly enjoy if you consider yourself an introvert.
Solo Travel in the Saronic Gulf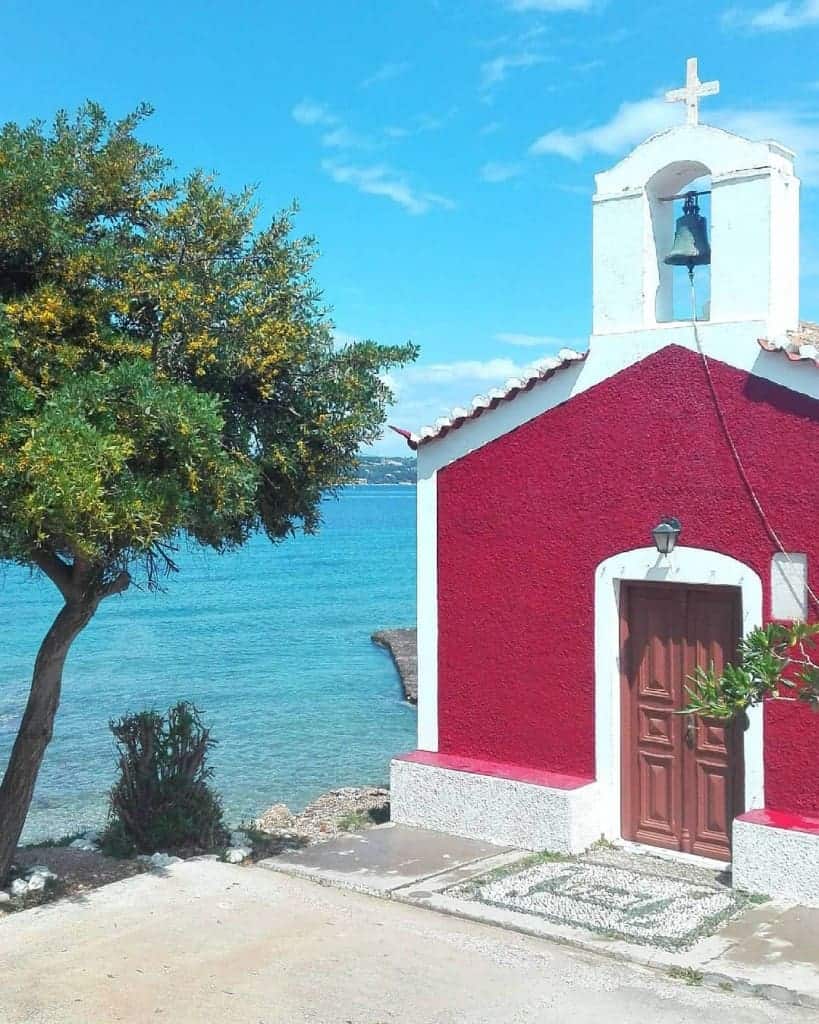 The Saronic Gulf is an archipelago of culturally rich islands located close to Athens. It often gets overlooked in favour of more popular areas like the Ionian, the Cyclades, and the Dodecanese which is a shame as the Saronic islands have plenty to offer.
These islands aren't really known for their beaches which is perhaps why some people don't consider them for their summer getaways. However, what the islands lack in coastlines, they more than make up for in charming villages.
Your starting point should be Hydra, a little island that takes you on a journey back in time. No cars or vehicles are permitted on the island and locals get around via horses and mules.
The port at Hydra is considered to be one of the most beautiful in all of Greece and the island played an important role in the Greek battle for independence during the 19th century. From the main town, well-marked trails lead you to the quaint fishing villages of Kamini and Vlychos.
Solo Travel in Crete
Crete is an island that ranks high on most people's Greece bucket lists and for good reason. This is the largest island in Greece and a place that essentially has an entire culture and cuisine of its own.
The Minoans flourished on this island during the Bronze Age and they were one of the world's most advanced cultures at that time. There are historical sites and ruins all over Crete.
Most notably, you should visit the palace at Knossos. The palace has links with Greek mythology and legend has it that it was here where the minotaur lived in his labyrinth.
The best thing about solo travel in Crete is that the island has a little something for everyone. Check out the cities of Heraklion, Chania, and Rethymno, sail across to the eerie former leper colony at Spinalonga, and laze on gorgeous beaches. The island is so popular that it is easy to meet fellow solo travellers without having to make any real effort to do so.
Solo Travel in Skiathos and the Sporades
The beautiful Sporades islands sit in the Northeast Aegean and are the greenest island group in Greece. 24 stunning islands make up the Sporades, however, only four of those are inhabited.
Namely, that is Skiathos, Skopelos, Alonissos, and Skyros. Skiathos is the most popular of the group and although it has a reputation of being the "Mykonos of the Sporades" and something of a party island, that isn't exactly fair.
Skiathos is a perfect island getaway for your first solo travel Greece experience. Not only does the island boast stunning beaches, vibrant nightlife, and excellent hiking trails, but it is very easy to meet fellow travellers here.
Skiathos is known as "the boomerang island" on account of how many people visit the island time and time again. If you are interested in visiting Skiathos solo, you can find several Facebook groups that cater to solo travellers of all ages. That way, you already have contacts that you can potentially meet up with for a drink or a coffee before you even arrive in Greece! Take a look at the Facebook Groups Skiathos Young Boomerangers and Skiathos Old Boomerangers to find like-minded adventurers.
General Tips for Solo Travel in Greece
It's easy to meet other travellers in Greece
Solo travel in Greece is very safe, even for solo female travellers. This entire website has been written by a woman living alone in Greece so I can surely attest to that!
It is very easy to meet other people when travelling alone in Greece. You don't really have to make any real conscious effort to do so.

You may find that you effortlessly meet people. E.g. you bump into someone on a bus while taking a day trip from Thessaloniki, or you meet other people on organised excursions around the country.
Social platforms such as Couchsurfing and Meetup are good ways to meet people. So too is Bumble BFF. 
On Couchsurfing, you can search for travelllers in your area to grab lunch or hang out with, as well as local events for travellers. If there aren't any that coincide with your travel dates, you can also organise your own. 

You will also find that there are a lot of Facebook groups dedicated to travelling in Greece and many of them are very active. Some are dedicated to travelling to a particular region in Greece while others are for certain demographics (e.g. female travellers.)
You can create a post in these groups introducing yourself to see if anyone will be travelling to the same places as you on the same dates. (Obviously, you should arrange to meet them in a public place and be mindful that you are still meeting a stranger from the internet).
Useful Facebook groups for solo travel in Greece
A selection of useful Greece Facebook groups is shortlisted below.
Locals and foreigners in Athens Greece


Lovely Greece


Travel to Greece


Once Greece Always Greece


Foreigners living in Greece


Foreign girls living in Athens


Foreigners in Athens


Foreigners living in Thessaloniki
It is not weird to travel to Greek islands alone
Athens and Thessaloniki are European city breaks that are rich in culture. However, it's the Greek islands that draw most people to this country.
People across the world dream of wandering through the narrow cobbled streets of Mykonos or seeing the sunset in Santorini.
A lot of the Greek islands are associated with being "romantic" destinations and that deters a lot of solo travelers from considering them as a place to visit alone. This is a shame.
Rest assured, there's nothing wrong or "weird" about treating yourself to a solo break in beautiful Santorini. Plenty of people do it.
The hoteliers, restaurant owners, the locals, and the travelers have all seen solo travelers before and nobody is going to bat an eyelid or ask you where your husband/wife has gone.
Best Greek islands for solo travel in Greece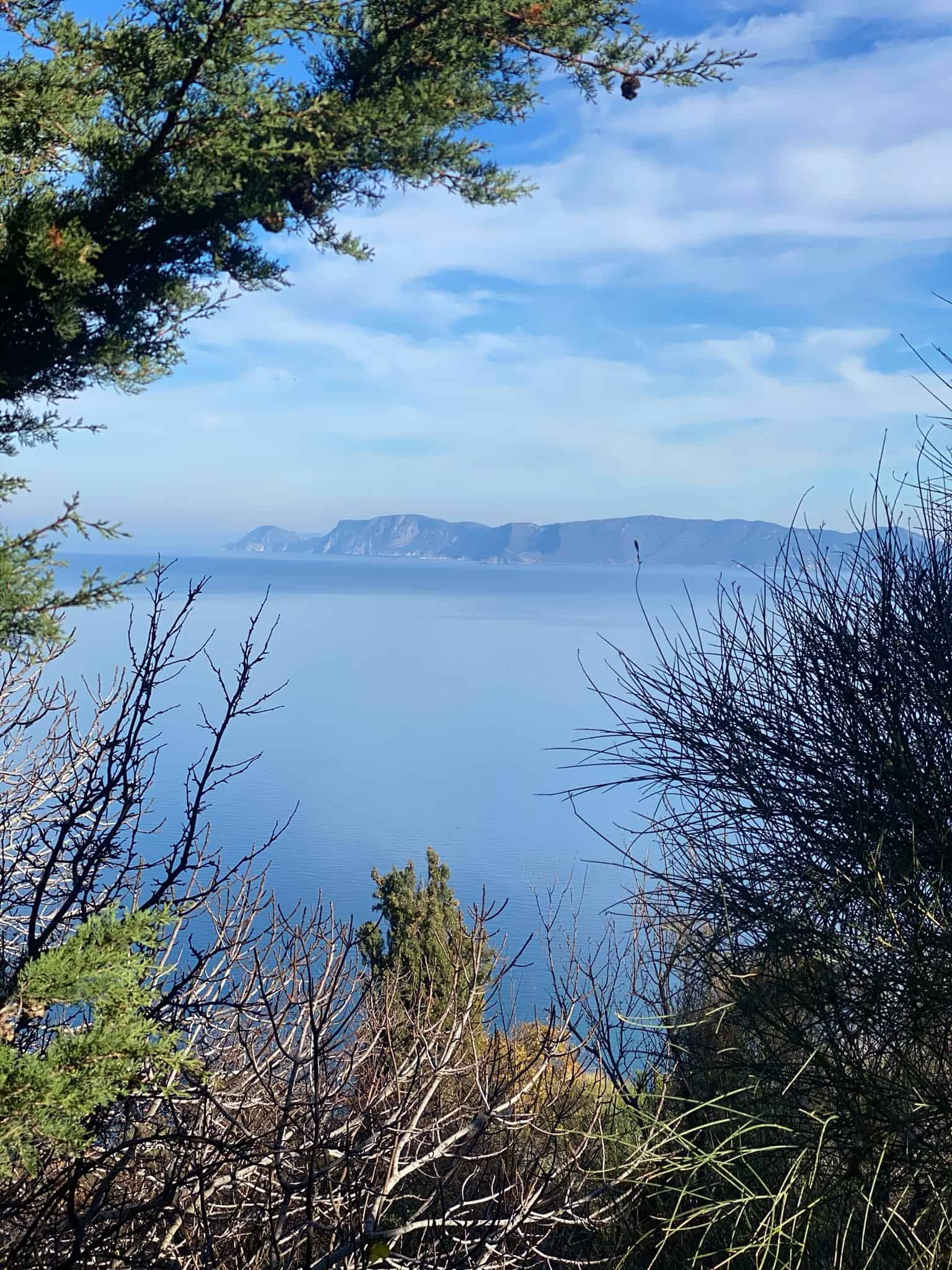 Arguably all Greek islands are solo travel friendly. Even the most notorious party destinations have areas of quiet.
With hundreds of islands scattered across the Cyclades, the Ionian, the Sporades, and the Saronic, you are not short of options.
That said, if you are looking for the best places to experience traditional culture and pristine nature, you may wish to consider the below island destinations.
Paxos and Antipaxos


Hydra, Spetses, Poros, Aegina, and Agistri (The Saronic)


Crete
English is widely spoken in Greece
English is very widely spoken in Greece, and most Greeks have a really good grasp of the English language. This is so much so, that there are many people living in Greece that cannot speak a single word of the language even after being here for four or five years! 
Even if you find yourself alone in what are seemingly the most random towns and villages (Karpenisi, rural Epirus, Metsovo, etc), you will always find someone that speaks English. In the vast majority of bars, tavernas, and restaurants across the country, you will be presented with an English menu. 
You would have to go some to find a place that did not have English-speaking staff and English menus. All things considered, it does not hurt to learn a few useful words and phrases in Greek before you set out on your Greece itinerary. It's a difficult language, yes.
However, knowing how to greet and thank people is much appreciated and goes a long way. Failing that, download the offline version of Google translate for venturing to more "off-the-beaten-path" places.
Solo female travel in Greece
Greece is generally pretty safe for solo female travellers. Plenty of women venture here alone every year.
Greek men often have a sort of stereotype as being overly forward. Men may approach you to talk to you or check you out in the street, but this is seldom aggressive or harassing.
If you let people know that you are not interested, they will usually leave you alone. However, harassment can be an issue on some Greek islands.
It is also important to be aware of the fact that some people in Greece see western women (particularly British women) as being more promiscuous than Greek girls. This seems to be a result of said men seeing how some British and western European tourists behave in "party" destinations like Malia, Zakynthos, etc. 
Unfortunately, Brits are often seen stumbling out of clubs, getting into altercations, and generally behaving poorly. The Greek authorities often have to intervene.
With that considered, you can understand somewhat where these assumptions come from. Although not all western travellers are the same and to be lumped with the same stereotype is unfair.
If you choose to date locals while in Greece, be mindful that some may not have intentions for anything more than casual fun. Some attitudes to women in rural parts of the country can be very outdated and women are not always treated with respect.
Keep your itinerary off social media
It can be fun to share photos and updates from your travels to show your friends and family at home what you are up to. However, if you have any public social media profiles, you can never really know who is watching.

There are plenty of odd people who find people through their hashtags and geotags. Never post in real-time, share your itinerary or share your accommodation.

Don't post updates from places where you hang out regularly. Save all of those wonderful pictures and reels until you get to your next destination and share them then.
If you want to keep your family and friends updated with what you are up to, consider creating a shareable Google doc with your itinerary. You can set it to "read-only" so your family won't accidentally delete bits of it.
If you make any changes to your plan, edit the doc accordingly so that they can see where you are and when. This is something that is a good common sense measure to follow wherever in the world you travel.
It is not exclusive to solo travel in Greece. However, a lot of men in Greece do use Instagram and social media as a sort of dating app and they find women through location tags. For this reason, it is better to be safe than sorry, especially as a solo female traveller.
Locals are warm and friendly
Greeks have a reputation for being very friendly and hospitable. If you have any worries or problems during your trip, people will do their best to assist you as much as they can.
This ties into the ages-old Greek concept of "philoxenia". In English, this term refers to the importance of being a friend to strangers.
However, philoxenia goes far beyond being just a phrase or mantra. It has roots in Greek mythology and Ancient Greece.  
Millenia ago, the chief Greek deity, was seen as being God of philoxenia. He instilled the importance of being hospitable to strangers in the local people.
This meant sharing food with a hungry stranger, helping a lost traveller, etc. Today, philoxenia is still a very prominent part of Greek culture and locals will speak about it with pride.
It comes in the form of wanting to teach foreigners all about Greek culture and cuisine. It really is no surprise that the country is so globally renowned for its tourist hospitality.
Scams in Greece
Tourism is a major source of income in Greece. In fact, it's one of the main industries that the economy depends on.
Scams are not common here, but there are always people trying to make a quick buck off tourists in certain areas of every country. Try to avoid eating at restaurants that are right beside world-famous tourist attractions.
They will charge a premium and the quality will not be great. You may also fall prey to the occasional scams. For instance, menus without prices (the owner will likely just invent one on the spot!), and bills that come to different prices than what was initially listed. 
Solo travel in Greece or a guided tour?
There are a number of tour companies that offer week-long/multi-day island hopping tours and itineraries to Greece that are catered towards independent travellers. However, they often charge extortionate premiums.
It usually works out much better to plan a trip to Greece independently. You can easily meet other travellers and locals on arrival, without having to be tied to someone else's agenda.
If there are certain places that you want to travel to that are tricky to get to independently, you can organise day tours and excursions locally. (For instance, Mount Athos in Halkidiki, or Lake Kerkini in Serres.)
Get Your Guide is one excellent, reputable company that offers day trips around Greece. Some of the day tours work out cheaper than travelling to certain places independently.
How to Get Around When Traveling Alone in Greece
Public transport in Greece is excellent. In fact, the inter-city links here are arguably some of the best in Europe!
Both buses and trains run frequent services between the country's towns and cities. Services are clean, modern, and reasonably priced.
Domestic flights are available for covering greater distances. For instance. Athens to Thessaloniki, Athens to Meteora, etc.
A comprehensive network of ferries operates between the islands and the mainland. You can generally purchase your public transport tickets on the day of travel.
However, if you are going to be travelling in the height of summer, particularly to/from popular island destinations (i.e. Athens to Hydra, or Athens to Santorini), you should reserve them in advance. Greek bus, train, and ferry tickets can all be purchased online.
Exploring Greece by bus
Public buses are an excellent way to get around in Greece. The network is extensive, and you can take intercity buses to reach even the most far-reaching villages and towns.
All intercity buses in Greece are managed by KTEL. Tickets are cheap, and services are reliable.
Confusingly, there is not just one centralised website that you can use to purchase KTEL tickets or check departure times. You need to use a "local" website depending on the specific area of Greece you are traveling in.
For example, you should use KTEL Chalkidikis when in the Halkidiki region of Greece, and KTEL Attikis for Athens and Southern Greece. This is more complex than it needs to be really. Welcome to Greece!
Renting a car in Greece
Renting a car in Greece is not as daunting as it may sound. This can be a good way to get around, even if you are traveling to Greece alone.
Several reputable international car rental companies operate in Greece, including Avis, Sixt, and Europcar. Many of them allow you to collect your car directly from the airport on arrival.
Driving in Greece offers you a lot more freedom and flexibility. This is particularly true if you are interested in travelling to off-the-beaten-path areas like Mani and Lakonia in the Peloponnese.
You can expect to pay between €30 and €40 for a rental, including full coverage insurance. Discover Cars is a great car rental platform that allows you to compare deals from different rental companies.
Exploring Greece by train
Greece's rail network is far from extensive. Services run between Athens and Thessaloniki via Lamia, Larissa, and Kalambaka.
However, many parts of the country, including Ioannina are not accessible by rail. For the most part, buses are the most convenient way to get around.
Opting to take the train while traveling solo in Greece is only really convenient if you are traveling between Greece's two main cities. Rail journey times are far shorter than doing the same route by bus.
You can check train schedules via the Trainose Greece website. Tickets can be purchased online or from the ticket office at the train stations.
Taking cabs in Greece
It is advisable to download the BEAT taxi app when traveling solo in Greece. This app helps you to locate licensed Greek cabs in your area. It displays the price before you get in the car, therefore minimising your chances of getting ripped off.
BEAT does not work on some of the smaller Greek islands. Uber and the use of unlicensed cars as cabs have been prohibited in Greece since 2019.
You will find yellow cabs available in plentiful supply in Greek towns and cities. However, be mindful that cabbies are a law unto themselves.
This, unfortunately, seems to be true of a lot of people in this profession all over the world. Try to have an idea of the price before you get in, and always request that the meter is used.
Ferry services in Greece
A number of ferry companies manage the routes between the Greek mainland and the various island archipelagos. For instance, Hellenic Seaways is the main company that sails between Athens and the Saronic.
Meanwhile, Kerkyra Seaways operate in the Ionian, and Anes Ferries run between Volos and the Sporades. Use ferry booking sites like Ferryscanner to check routes, schedules, and ticket prices.
Ferry schedules vary from season to season, with more services running during the summer months. You should try and purchase your tickets a day or two before your intended departure. This is especially true if you will be travelling during the Greek summer months of July and August.
Metro networks in Greece
Athens is presently the only city in Greece that has a metro network. A subway system is under construction in Thessaloniki but that has been a work in progress for several years and it doesn't look likely that it will be completed any time soon.
The Athens metro system is extensive. The lines run from the city centre, all the way out to Eleftherios Venizelos international airport and the surrounding areas of Piraeus and Kifissia.
Athens metro tickets cost just €1.40 each way. Daily, weekly, and monthly passes are also available.
However, keep in mind that the journey between Athens airport and the city center requires a special ticket. An Athens airport and city ticket costs €10 one way or €17 return.
FAQs about solo travel in Greece
Do you have any further questions or concerns about solo travel in Greece? Hopefully, you will find the answers you are looking for below. 
Where can I go solo in Greece?
You can travel anywhere solo in Greece and you should never let being alone deter you from travelling to a particular part of the country. You will easily meet other travellers in Greek cities like Athens and Thessaloniki and on popular islands like Crete.

Some of the larger cities and popular travel destinations also have plenty of backpacker's hostels which boast a great social vibe. Skiathos, Zakynthos, and Mykonos are huge party areas where you will find it easy to meet people.

Meanwhile, if you are looking at solo travel in Greece as a chance to be by yourself, there are plenty of beautiful secluded places where you can do that too. (In this case, look to the Sporades and islands like Alonissos, Skopelos, and Skyros). 
How much is a solo trip to Greece?
A solo trip to Greece doesn't need to break the bank. The country can easily be explored on a budget. The prices you can expect to pay for a week or two in the country depend on your preferences and travel style.

€800 a week is a good average estimate for solo travel in Greece. This is based on staying in mid-range hotels, taking local transport, and eating out at tavernas occasionally.

If you stay in hostels and cook a lot of your own meals, you can travel in Greece for as little as €20-30 a day. Meanwhile, you can expect to spend a lot more if you choose to stay in luxury hotels. 
Is Mykonos good for singles?
Mykonos is a stunning place, as well as one of the most popular Greek islands. It has everything for every type of traveler, including single solo travelers.

The island is renowned for being a party island but Mykonos is much more than that. If you are looking for something a little more peaceful, you can enjoy relaxing on the island's gorgeous beaches, watch the sunset from the Kato Myloi windmills, hike around the island, and take a day trip out to Delos.
Is Greece good for solo travel?
Yes. Greece is a great place for solo travel.

The country is such a popular destination that you will easily meet other travellers here (without having to make great efforts to do so). People are friendly, it is easy to get around, most people speak good English, and the transport network is excellent.
Final thoughts on solo travel in Greece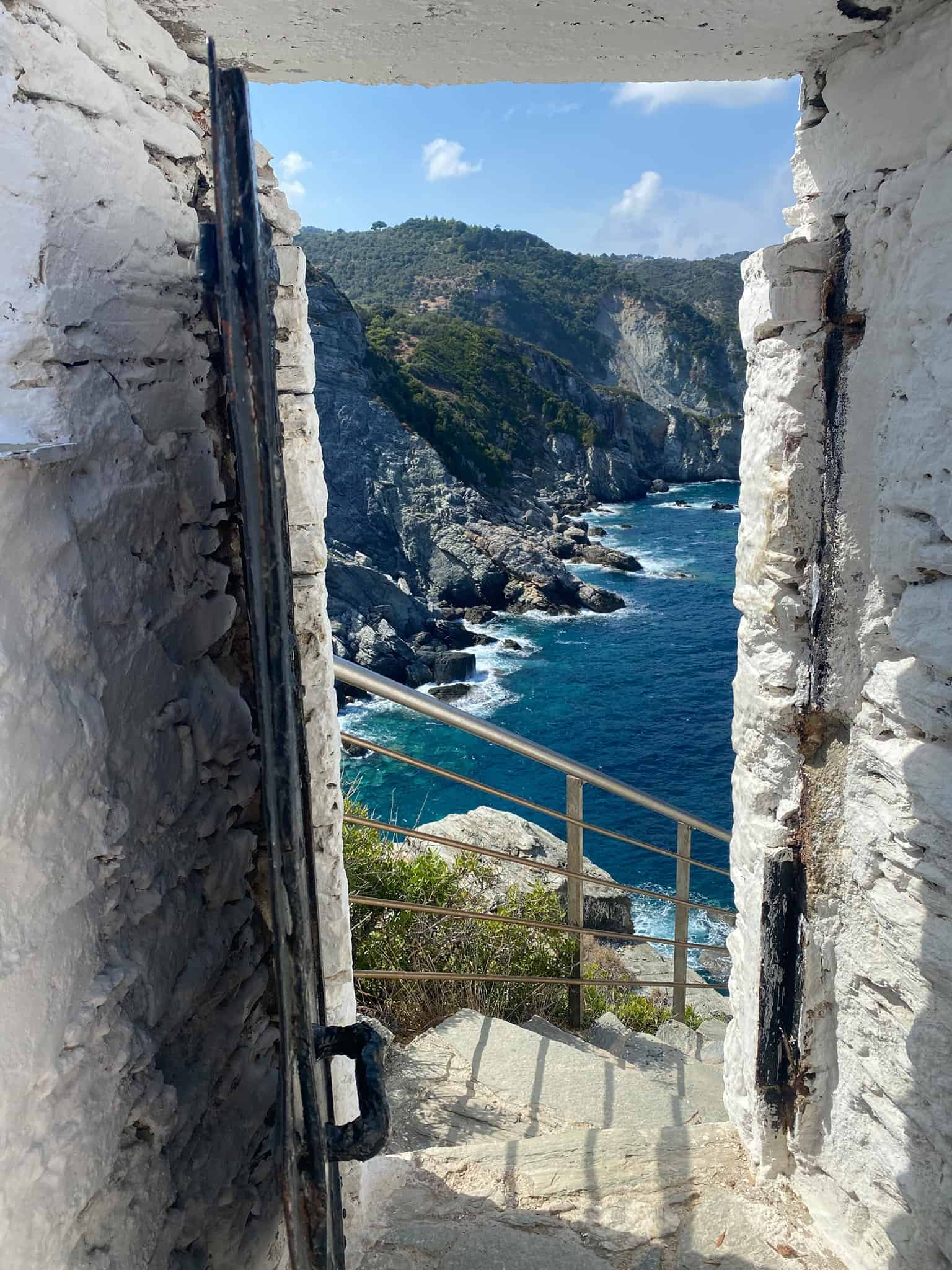 Have any further questions about traveling to Greece alone or planning a trip to Greece in general? As mentioned, I have been living here since 2017 and I have done plenty of solo travel in Greece during that time.
I'd be happy to assist with any queries and concerns that you may have. Safe travels!
Geia sou! Melissa xo 
---