Kerkini Lake is a gorgeous man-made lake in the Serres region of Northern Greece. It sits against the backdrop of the Kerkini (Beles) and Mavrovouni (Kroussia) mountain ranges and is the largest artificial lake of its kind in the country.
The lake was created in 1932. Its initial purpose was to contain the waters from the river Strymonas and to stop the nearby villages from flooding during periods of heavy rainfall.
But as a vast array of rare birds, woodland animals, and fish species started to move into Lake Kerkini, the area quickly developed into a wildlife sanctuary. Today, it is home to over 300 species of birds, 1300 plants, and dozens of species of fish.
Lake Kerkini is a rare example of an instance where human interventions have actually had a positive impact on the environment. It is widely regarded as being one of the best destinations for birdwatching in Europe.
Kerkini Lake Greece Travel Guide
Unless you are super into birdwatching and ecotourism, you might not have heard of Lake Kerkini. Travelling here is a great opportunity to venture off the beaten path in Greece.
There is more to this region than meets the eye. Even if you don't have a particular interest in birdwatching, you can enjoy a trip to Lake Kerkini.
Opt to take boat rides out on the lake, follow hiking trails that twist and turn through the foothills of the Belles mountains, and indulge in a relaxing weekend break at one of the boutique hotels that sit on the banks of the lake.
Several charming villages encircle Kerkini Lake. They offer a unique culture and local gastronomy that is different from what you will find in other parts of Greece.
Kerkini is one of 10 locations in Greece that are recognised under the Ramsar convention. The convention recognises important ecosystems and wetlands across the globe. The special protection area is one of 196 important bird areas of Greece.
Various international treaties protect the endangered species that live here. It is recognised by the Natura 2000 Network (Directive 92/43/EEC) and protected under the SPA- Directive 79/409/EEC as amended by Directive 2009/147/EEC.
Exploring the Kerkini Lake Area
Kerkini Lake is situated just 15km away from the Bulgarian border. It sits in the shadow of the imposing Belles mountain range. Here, it is encompassed by miles of rolling green hills, and the rivers of Kerkinitis and Strymonas.
You will never see an abundance of tourists here and it is nice to catch a glimpse of the "real" Greece. If you encounter more than half a dozen or so tourists in the area, your guide may joke about it being a day of "overcrowding" at the lake.
Stop by the Kekini Visitor's Centre
When you arrive at the village of Kerkini, there is a small coffee shop and visitor's centre that overlooks the water. Aside from being a great place to start your day with a Greek coffee and a hearty slab of spanakopita, it is a great place to obtain more information and figure out how best to structure your day.
You can pick up a free map of the region here which details all of the nearby villages and walking trails. The knowledgeable staff can help advise you on a specific trail/route to suit your interests and you can rent bicycles for the day here too.
Take a boat ride across the lake
One of the best things that you can do at Lake Kerkini is to take a boat ride across the lake. Doing so is a wonderful way to see several bird species in their natural habitat – even without binoculars.
There is a small "island" in the centre of the lake that is filled with wild pelicans during the summer months. The boats get close enough to allow you to admire the birds while still maintaining a respectful distance.
The ride is €10 per person and the boats leave the little dock outside the visitor's centre whenever a reasonable number of tourists have arrived. You will be on board for about 45 minutes and have plenty of opportunities to take photos.
There is also a small local company that runs excursions from the little dock near Lithotopos, which also has a great reputation.
Birdwatching at Kerkini
Of course, the raison d'etre that many people decide to come to one of Europe's premier birdwatching destinations is to do just that: watch the majestic birds that call the lake their home. Among the 300+ bird species that live here are black storks, the squacco heron, the imperial eagle, the golden oriole, the glossy ibis, the white-tailed eagle, the golden eagle, pelecanus crispus, pygmy cormorant, and countless other beautiful birds.
If it is your first time visiting, you may enjoy exploring with a local guide that knows the best places to see the various wild birds.
The national park of Kerkini lake is one of the most important wintering areas for the dalmatian pelican. The best way to have a chance of seeing this majestic bird is to visit between November and January.
Hiking at Kerkini
If you are interested in hiking, it should be noted that there is no trail that runs along the banks of the river. Instead, the trails go up into the nearby woodland.
While the trails offer excellent viewpoints from high above the water, they do not enable you to get up close and personal with the birds and wildlife. If you are only here for a day or two, start off with the boat ride early in the morning and then set out to explore the trails.
The banks of the lake are not really suited for walking. There are also many wild animals and dogs running around which does not make for the most pleasant hiking conditions.
If you aren't able to grab a trail map from the visitor's centre in Kekini village, you can also download the hiking app All Trails. It works offline and has some suggested routes around Kerkini and Serres.
See the water buffalos around the lake
Lake Kerkini is one of the only places in Greece where water buffaloes are farmed. If you are lucky, you may catch the herd as they are being transported from their farm to the lake.
You may see them strolling into nearby streams to soak and relax beneath the sun.
There are just three water buffalo farms in the area. These are all part of a family business that has been passed down through the generations.
Today, the farms are operated by three brothers. We were fortunate enough to encounter one of the brothers leading his herd to the water.
After observing the buffaloes' bathing habits up close, we were later invited to the brother's farm to see how they are kept.
The unique gastronomy of Kerkini Lake and Serres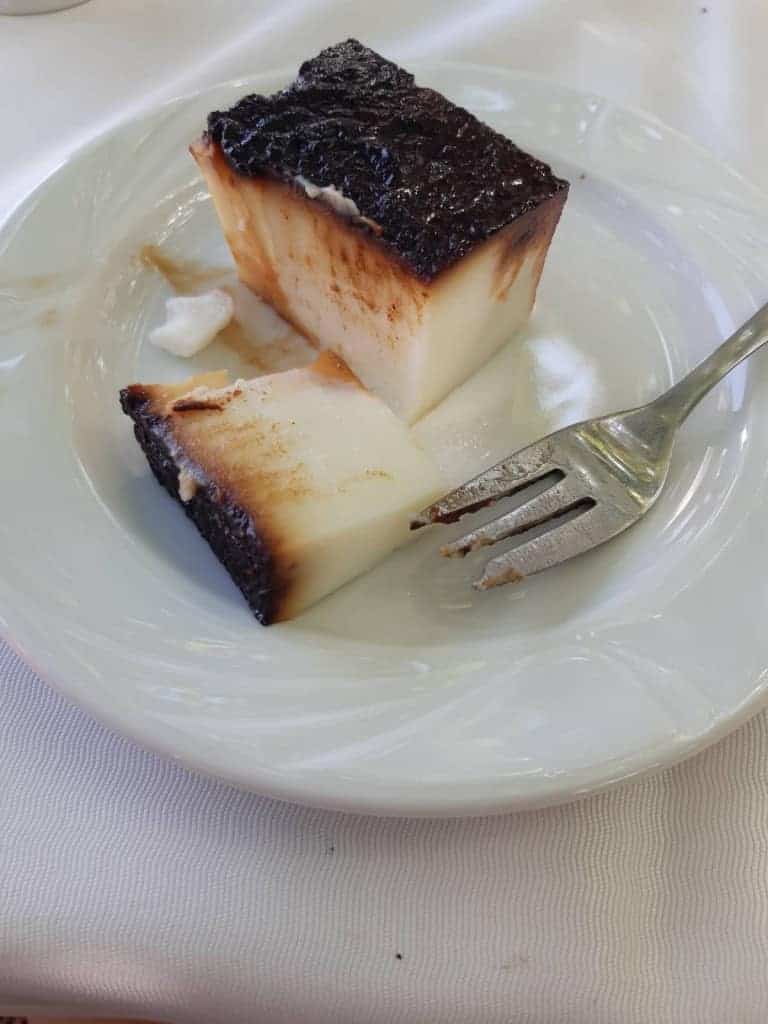 The presence of water buffalo in the area has had a significant impact on the food culture of the region. Here in Serres, you can find several local delicacies which cannot be enjoyed anywhere else in Greece.
Buffalo meat is highly regarded here on account of its flavour. It also acts as a lower-fat alternative to beef.
Treat yourself to ice cream made with water buffalo milk
In the village of Hrysochorafa, you will find local patisseries where you can enjoy ice cream made with buffalo milk. This is a sweet treat with a much creamier consistency than your standard cup of ice cream or gelato.
A little cup of ice cream is just 1 euro. The vendors make it themselves using fresh buffalo milk purchased from local farms. You may also find this at certain gelaterias and restaurants in Thessaloniki.
Look out for local dishes prepared with water buffalo meat
In local tavernas and restaurants, water buffalo meat makes a frequent appearance on the menus and is worth sampling. Sausages, meatballs, and steaks of water buffalo meat can be enjoyed.
Look out for fresh egg pasta served with kavourmas. This is cured, salami-style buffalo meat. For dessert, order kazandibi .
Kazandibi is a dessert that consists of burnt sugar and water buffalo milk. It dates back to the Ottoman era and was created by mistake!
Legend has it that centuries ago, an Ottoman Sultan asked his chef to invent a new dessert. The chef tried making a concoction of cream and sugar but all of the ingredients burned and stuck to the bottom of the pan.
Fortunately for him, in an era of beheadings and banishment, the Sultan loved the burnt mess and from there, kazan dibi was born! It is tastier than it may sound!
The Villages of Serres, Central Macedonia
Several villages occupy the circumference of Lake Kerkini. Though small, each has its own charm and is worth driving through at the very least.
Picturesque houses, quaint tavernas, and beautiful rural Orthodox churches sit against the dramatic backdrop of Lake Kerkini and the Belles mountains. Best of all, there are no other tourists to have to share them with.
Particularly noteworthy is the historical village of Vironia. This is home to a charming traditional taverna that was frequented by former Greek Prime Minister and Politician Eleftherios Venizelos.
The taverna was also used as a Greek Military Command Centre at the end of the second Balkan war. Some of the villages in this area are still protected by the crumbling remnants of old Byzantine walls.
Getting to Kerkini Lake
Kerkini Lake can be enjoyed as part of a day trip from Thessaloniki and Halkidiki. Organised tours run from Thessaloniki to the area every day during the late summer.
Public transport also connects the area to the wider region of Northern Greece. However, it does run on a limited schedule and depending on your starting point, you may need to make a change.
If you plan on getting to the lake area by bus, your best option is to stay overnight. The different options you have available for getting to Lake Kerkini are detailed below.
Take an organised tour to Lake Kerkini
Several reputable local companies operate around Kerkini lake and offer guided day tours from Thessaloniki and Serres. Opting to do a tour can take a lot of stress out of managing the logistics of your trip.
Someone will collect you at Aristotelous Square or Egnatia Street in Thessaloniki in the morning, take you to the lake, and return you again in the evening. Small group tours never tend to see more than 8-10 participants and feel more like you are exploring with a local friend.
Recommended Kerkini lake tours
A handful of reputable Kerkini lake tours are shortlisted below for your consideration. Reserve your place online, in advance to avoid disappointment!
Drive to Lake Kerkini
Kerkini Lake is located 100 km away from Thessaloniki and can be reached within 90 minutes of driving. Renting a car in Greece is not as intimidating as it may sound and can give you a lot more freedom and flexibility during your Greece itinerary.
The roads around Serres are well-maintained and in excellent condition. Various reputable rental companies operate in Greece – including the likes of Sixt, Avis, and Avance.
Prices vary depending on the time of year that you decide to travel. Expect to pay around $47 USD/£39 a day for a small car during the summer months.
Discover Cars is a great comparison platform that lets you compare and contrast prices and deals between hundreds of rental providers so that you can secure the best one.
Take the bus from Thessaloniki
KTEL Buses depart daily from Thessaloniki to Kerkini Lake. However, the timetable is limited and this generally necessitates an overnight stay, rather than trying to rush to the lake and back in the same day.
From Thessaloniki central bus station, there are 3-4 departures per day to the villages of Heraclea and Sidirokastro. From there, you can organise for your hotel to send a transfer to collect you at the bus station.
Where to Stay in Lake Kerkini
If you wish to spend longer in Lake Kerkini, you have plenty of cozy accommodation options available. You may wish to stay on the banks of Lake Kerkini or in the nearby villages.
There is enough to do in Lake Kerkini to keep you occupied for a long weekend. Perhaps you want to spend more time hiking, taking photographs, and looking for birds.
Hotel Erodios
Where: Λιθότοπος 624 00
Hotel Erodios is a grand hotel that sits on the edge of Lithotopos village and offers some of the most incredible views over Lake Kerkini. The setting here is breathtaking and perfect for nature lovers.
The elegant hotel rooms each have adjoining balconies that are perfect for watching the sunset over the water. The outdoor pool enables you to take a refreshing dip in the midst of nature.
The best thing is that a stay at the Hotel Erodios starts from just €50 per night. You can check the latest rates and availability here.
Guesthouse Kerkinitis
Where: Λιθότοπος 624 00
For a stay at Lake Kerkini that really allows you to revel in the country vibes, a country guesthouse such as Guesthouse Kerkinitis is a perfect choice. With rooms starting from just €40 per night, a stay at this charming stone guesthouse is great value for money.
Rustic wooden furnishings decorate the various rooms and communal areas, and the guesthouse's garden is the perfect place to enjoy breakfast. Click here for the latest rates and availability.
Lake Kerkini FAQs
Do you have any further questions or queries about visiting Lake Kerkini or the wider Serres region of Greece? The answers to some frequently asked questions on the topic are detailed below.
Hopefully, you will find the info you are looking for there. If not, please do not hesitate to reach out to me.
What animals live in Kerkini Lake?
Lake Kerkini and the woodlands and mountain ranges around it are home to a diverse range of animal species. The fish that can be found here include European chub, Macedonian vimb, carp, asp, and catfish.
Rare wild cats, otters, wild boars, deer, martins, brown hares, wolves, and jackals live in the woodlands nearby. Migratory birds flock here throughout the year and the exact species that you are likely to see varies depending on the season that you visit.
Where is Kerkini Lake?
Lake Kerkini national park sits in the Serres region of Northern Greece. It is 100km away from Thessaloniki, 149.9km away from Kavala, and 57km away from the city of Serres respectively.
When should I visit Lake Kerkini?
You can technically visit the lake all year round. However, the spring, summer, and autumn months are the most popular times to travel.
Many tours and excursions that run to this part of Greece only operate during the summer months. It is also worth noting that this region of Greece experiences extreme temperatures.
During the spring and autumn months, you can expect pleasant weather conditions and temperatures of around 25 degrees Celsius. In the summer, temperatures often soar as high as 35-40 degrees Celsius, particularly during July and August.
In the winter, the lake freezes over and temperatures often dip as low as minus 20 degrees Celsius. Getting to the lake can mean having to contend with snowfall and blizzards.
However, it is during the winter that the very rare and endangered dalmatian pelicans come here to breed. If you are interested in birdwatching, you probably want to organise your Kerkini trip so that it coincides with the migration patterns of a particular species of birds.
For example, spring is best for seeing storks and flamingos. Meanwhile, winter is the best time to see the endangered and majestic dalmatian pelicans.
Are there pelicans in Greece?
Approximately a third of the world's population of dalmatian pelicans live in Greece. The main breeding ground for them is little Lake Prespa which sits at the tripoint of North Macedonia, Albania, and Greece.
Lake Prespa is home to 1,200 breeding pairs. Kerkini, Karla, Chimaditis, Messolonghi, and Amvrakikos, are other major breeding colonies in Greece.
Final thoughts on visiting Kerkini Lake Greece
Kerkini lake remains relatively off the beaten path for now. However, the Greek government, local people, and NGOs are working to further develop eco-tourism in the region. This is one of the most wonderful places you can visit in the country if you are interested in hiking and nature.
Have any questions about Kerkini or travel in Northern Greece in general? I've been living in Greece since 2017 and would be happy to assist you with any queries that you may have.
You might also find it useful to join my Facebook group for people living and travelling in Greece: All Greek to Me.
Safe travels! Geia sou! Melissa xo
---