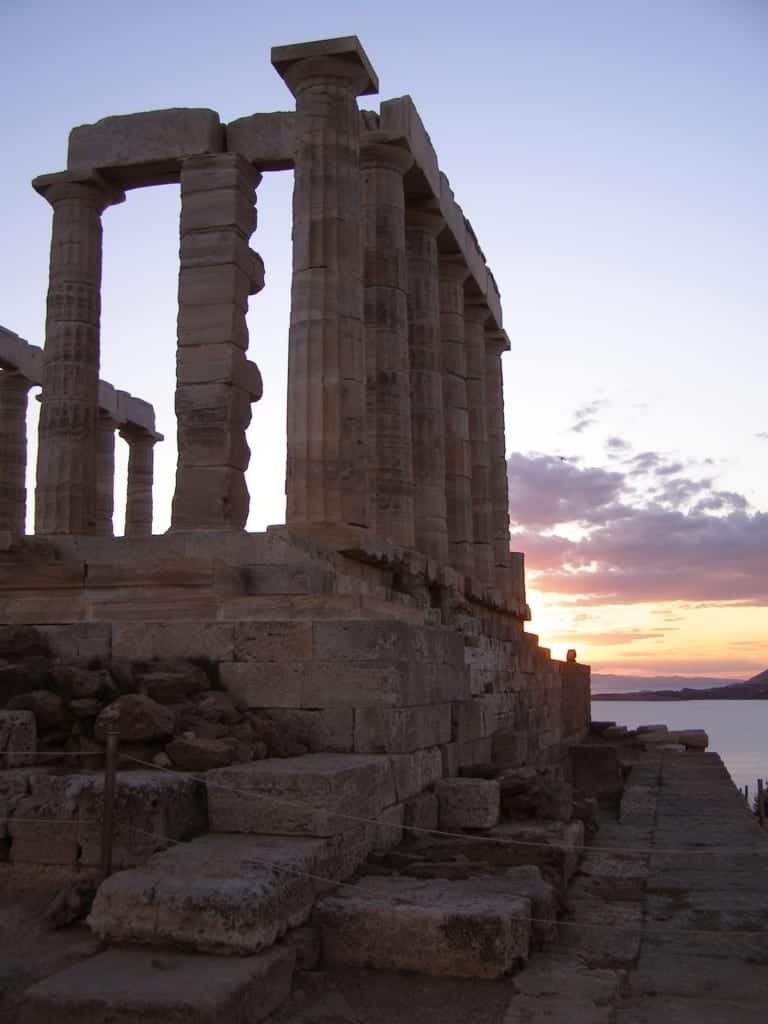 On the southernmost tip of mainland Greece, just 45 miles south of Athens awaits the dramatic landscapes of Cape Sounion ("Sounio"). Whether you are fascinated by Greek mythology, or in search of a relaxing beach day by the sea, Sounio makes for a perfect day trip from Athens.
About Sounion and the Temple of Poseidon
It is here where the ancient temple of Poseidon is perched precariously on the edge of a craggy bluff that plunges 65 metres into the sea. The sun-bleached ruins of this impressive ancient structure date all the way back to 444 BC – the same year as the construction of the Parthenon.
Remnants of ancient houses, city walls and ports are scattered along the hilltops that surround the temple. It is said that sailors and merchants from thousands of years ago knew that they were almost home when they saw the marble columns of the Temple of Poseidon glistening beneath the Mediterranean sun. Indeed the port here was one of the most active and important in the country.
Where the waves of waters splash violently against the rocks, and the temple offers views over several uninhabited Greek islands, what could be a better location for a temple dedicated to the Greek god of the sea?
Sounion in Greek Mythology
Sounion played an important role in Ancient Greece as a strategic trading port, and as the home of the magnificent temple of Poseidon. The area's role in Greek mythology is also fascinating.
It is from here where it is said that King Aegeus of Athens leaped to his death in the sea after believing that his son Theseus had passed away. From his passing, the waters obtained their name of the Aegean sea.
According to Greek mythology, Theseus had travelled to Crete to kill the minotaur – a hideous half-human, half-bull creature that lived in the labyrinth at Knossos where it would trap and eat Athenians.
Theseus was successful, however, his father falsely believed that he had died and leaped to his death from the craggy rocks of Sounio.
Getting to Sounion from Athens
We drove from Athens to Sounion, but if visiting the Temple of Poseidon by public transport, you have a couple of options.
Take the KTEL Bus from Athens
The easiest and cheapest way to reach Sounion from Athens is by taking the KTEL bus from the KTEL Attica Buses Station at Pedion Areos in Athens. The journey takes approximately 2 hours and the ticket costs 7€ each way. It should be noted that the last bus from Sounion to Athens departs at 18h00.
By Organised Tour
There are several organised tours that run to the Cape Sounion area from Athens. These range from half-day Sounion tours to full-day Sounion tours. In the immediate vicinity of the Temple of Poseidon, you have a small beach, a scattering of tavernas and the Sounion National Park.
These attractions will take up about half of your day. It is difficult to further explore the area without having your own transportation.
Day tours like this one also take you to some of the area's smaller Greek seaside towns, or they enable you to experience the supposed healing powers of Lake Vouliagmeni. Day tours also work out cheaper than hiring a cab (unless there's a bunch of you).
Other Things to do in Sounion
The temple of Poseidon site at Sounion is pretty small. You can walk all of the paths that surround it within an hour. Honestly though, the highlight to coming here is simply taking in the incredible scenery and the views out to sea.
Pack a picnic, sit on one of the benches and just enjoy a relaxed day in the sun. As the sun sets over the cape and the sky is illuminated in hues of orange and pink, you can enjoy one of the best sunsets in mainland Greece.
Hike Through the Sounion National Park  
A lesser-known attraction in the Sounion region is the Sounion National Park. The site is not signposted and isn't really promoted so most visitors to Greece are not even aware of its existence.
There is an old dirt trail that veers left from the road that connects Sounion centre to the temple of Poseidon. Follow the trail until it joins an asphalt road and the quaint church of Agia Varvara. At this point, head north towards the village of Agios Konstantinos and you are eventually met with the rolling green hills that make up Sounion National Park.
Abandoned churches, dense pine forests, and 40,000-year-old cave dwellings that once housed prehistoric men make Sounion National Park a fascinating trip to combine with a day trip to the Temple of Poseidon. There are no shops, cafes or restaurants here so be sure to pack plenty of supplies.
Sounion Beaches
There is a beach situated right beneath the Temple of Poseidon. This is managed by the Aegeon hotel, but anyone can enter (with a fee) during the summer months for a spot of swimming, reading and relaxing beneath the ruins.
Explore the Athenian Riviera
A day trip to Sounion and the temple of Poseidon can be easily tied in with a visit to the other highlights of the Athens Riviera. This is especially accessible if you have your own transport.
Consider driving from Sounion to relax at Lake Vouliagmeni, or to enjoy the Athens beaches at the upscale towns of Voula, Vouliagmeni or Glyfada.
Sounion Day Trip from Athens:
Additional FAQs
Temple of Poseidon Admission Costs
During the summer months, admission to the Temple of Poseidon is €8 for adults and €4 for children. In the off-peak season (November to March), there is a reduced admission fee of €4 for adults and €2 for children.
Temple of Poseidon Facilities and Amenities
At the entrance to the archaeological site, there is a restaurant with a gift shop and some bathroom facilities. The bathrooms are fine, though as you may imagine, the restaurant is very overpriced.
There are no other shops or restaurants in the immediate area so I would advise you to pack a few snacks and bottles of water to take with you.
Dining Options Close to Sounion
There are a handful of tavernas situated in Sounion that are approximately a 10-15 minute walk away from the Temple of Poseidon site. Some of these are primarily geared towards tourists and are a little expensive.
If you have a car, you can also consider venturing to one of the nearby towns and villages for lunch. We drove to Kalyvia Thorikou – a little town known for its excellent meat tavernas and chophouse restaurants.
It was a little pricey (€50 for 2 people), but the food was great quality and you can watch the meat cooked and grilled on spits in front of you.
When to Travel to Sounion
Sounion and the Temple of Poseidon can be visited from Athens all year round thanks to Greece's Mediterranean climate. During the summer months, temperatures can get very hot and often soar over 35 degrees Celsius in the day time.
In the Summer period, the Athens area sees the most tourists so it is advisable to head to Sounion early in the morning to avoid the midday heat and the crowds if you can.
Winters in the Athens area can get cold and snow is not unheard of. Expect strong winds at the Cape of Sounion and temperatures well below 10 degrees if travelling between the months of November and February.
Spring and Autumn present some of the best conditions for travelling to Sounion with blue skies, minimum rainfall and pleasant temperatures that linger around the mid-twenties (degrees Celsius).
Day Trip to Sounion – Is it Worth it?
A day trip to Sounion and the Temple of Poseidon is a nice way to while away a day of your Greece itinerary. That said, if you only have two or three days in Athens, you may be wondering as to whether or not you should use one of them up on taking a day trip to Sounion.
There is an element of personal preference and opinion here, though I would generally say that there are more fulfilling, action-packed day trips from Athens than Sounio, especially considering the distance.
There are also plenty of things to do in Athens to keep you occupied for weeks. I will let you make that judgment call.
Have any further questions about visiting Sounio or about Athens travel in general? I live in Greece, in the quirky Pagrati neighbourhood of Athens and will be happy to assist you any way I can. Feel free to reach out to me or drop me a comment below. Safe travels, Melissa xo
Disclaimer: This article on taking a day trip to Sounion and the Temple of Poseidon may contain affiliate links. If you opt to make a purchase through some of the links contained on this page I will obtain a small amount of commission at no extra cost to you.
---