The Saronic Islands in Greece are some of the most beautiful and culturally-rich islands in the country. They are also among the closest to Athens, with some reachable in less than a 1-2 hour journey from the Greek capital. Still, for the most part, the Saronic Gulf flies largely under the radar. In this guide, written by a local, we will look at what each of the Saronic islands has to offer and provide a suggested Saronic Gulf sailing itinerary.
There are seven different islands and islets in the Saronic Gulf. Each has its own distinct charm and personality, and each one is seemingly more beautiful than the last.
There is little Hydra which feels like a journey back in time, Spetses, known for its incredible hiking trails, and Aegina, a gorgeous paradise close to the Greek mainland where well-heeled Athenians often spend their weekends.
Visiting the Saronic Islands 2023
As mentioned, there are seven Saronic islands. Namely, they are Hydra, Salamina, Poros, Dokos, Aegina, Agistri, and Spetses.
A lot of people also include Methana in their Saronic Gulf trips although technically this is not an island, but a peninsula of the Peloponnese. In an ideal world, you would have the opportunity to explore each and every one of these gorgeous islands in depth.
But sadly we don't all have unlimited vacation time! Assuming that you have a limited amount of time and you are choosing places to explore as day trips from Athens or as a Saronic Islands sailing itinerary, Hydra, Spetses, and Poros are the places that you want to prioritise.
Of course, it all comes down to personal preference and each of these places is magical in its own way. Let's look at what each place has to offer and then you can choose which places you want to visit during your Greece itinerary.
Hydra
The picturesque little island of Hydra is arguably the most popular of the Saronic Gulf islands. It has often been compared to Italy's Capri for its elegance, beauty, and the type of crowd that it attracts.
Arriving in Hydra feels almost like travelling back in time. No cars or vehicles are allowed on the island and the locals get around using donkeys.
The charming port at Hydra is widely regarded as being one of the most beautiful in all of Greece. It played a key role in defending Greece against the Ottoman Turks in the country's 19th-century war for independence.
Most day trippers to the island simply potter around in the tavernas and coffee shops of the main port. So if you stay overnight, you have the opportunity to venture somewhat off the beaten path and experience the most beautiful parts of the island that most tourists overlook.
Be sure to follow the coastal trail from Hydra Port to the quaint fishing villages of Kamini and Vlychos. During the summer months, you can rent sunbeds and palapa-style umbrellas at Vlychos Beach for just a couple of euros.
In Kamini town, you can stop for fresh seafood and traditional Greek fare at Taverna Christina – a family-owned, farm-to-table restaurant where you can enjoy unparalleled views over the marina as you dine. Hydra town itself is a photographer's paradise and it becomes immediately understandable how so many creatives, artists, and musicians (including Leonard Cohen) have fallen so completely in love with the place over the decades.
Part of the fun of visiting is simply taking the time to get lost in the labyrinth-like network of narrow streets here and checking out the quaint artisanal stores and cafes as you go.
Where to stay in Hydra
Lovely Hydra is home to a plethora of charming guesthouses and accommodation options to suit every budget and travel style. In the shoulder season, you can easily find comfortable double rooms here for €40-€50 per night and below.
Hydroussa Hotel Hydra is a wonderful luxury option. The hotel is housed inside a grand palatial-looking neoclassical mansion, surrounded by fragrant lemon groves in Votsi Square.
In the past, the elegant property has been used as a filming location for various Hollywood movies. Its plush rooms and suites with comfortable beds, air conditioning, and exquisite marble bathrooms are fit for royalty. A stay here is reasonably priced considering the opulence.
For a more budget-friendly option, consider staying at Theano Guesthouse. Here, you can stay in a lovely, traditional stone property complete with a wonderful courtyard filled with flowers where you can enjoy breakfast and a strong Greek coffee each morning.
Spetses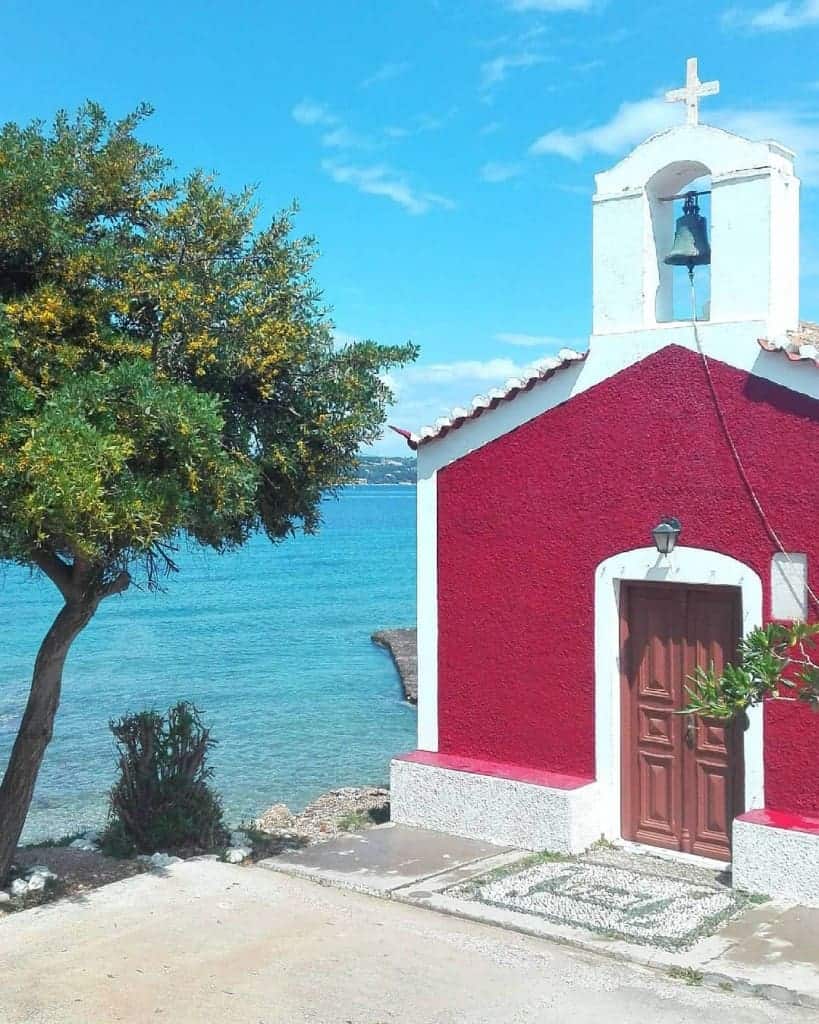 Effortlessly classy and sophisticated, Spestses is one of the furthest of the Argo Saronic islands from Athens. Most of its 5,000-strong population live in the namesake Spetses town close to the port.
The island thrived between the 17th and 19th centuries and the Venetian influence is very evident. Spetses is characterised by its ornate neoclassical mansions, its cobbled streets and alleyways, and its chic stores that stock unique clothing items designed with love by independent Greek designers.
Away from the town, Spetses is essentially one big national park. It is the perfect Greek travel destination for anyone who loves hiking and immersing themselves in the ¨great outdoors¨.
Like Hydra, no vehicles are permitted on Spetses Island. (Although admittedly, you do see the occasional few).
Where to Stay in Spetses
Spetses is one of the pricier islands in the Saronic. However, there are deals to be found if you shop around, book in advance, and consider travelling outside July/August.
The highly rated Villa Christina is within walking distance of the new port and has spacious rooms available for just €45 per night. Meanwhile, Villa Kriezi offers self-catered studios in a gorgeous modern contemporary building from €70.
Breakfast is included in most Villa Kriez reservations and the units come complete with a kitchenette and a fridge so that you can prepare your own snacks and meals when/if you like.
Dokos
Dokos is one of the lesser-known islands in the Saronic archipelago and it is often missed from most itineraries. It is nestled between Hydra, Spetses, and the Ermioni peninsula of the Peloponnese.
Since no commercial ferries run here, the best way to reach Dokos is by renting a boat or taking a yachting tour. The rocky islet boasts crystal clear cerulean waters that wouldn't look out of place in the Caribbean.
With access to a boat, you can ¨drop anchor¨ wherever you like off the coast of Dokos and enjoy swimming, snorkeling, and observing the sea life in the shimmering waters. One of the most exciting spots to snorkel and scuba dive (if certified) is here at the site of the world's most ancient shipwreck.
The shipwreck, discovered in 1975, is believed to have occurred all the way back in 2,200 BC(!) As you dive beneath the water's surface here, you can see dozens of giant clay pots that have sunk to the seabed.
(This is a great place for underwater photography!) Less than 50 people live on Dokos Island (mostly farmers and monks).
If you like hiking, you can follow a trail from Skintos Bay. The somewhat challenging trail takes you to the island's highest point, past the sunbleached remnants of an old castle and a 100-year-old lighthouse.
Poros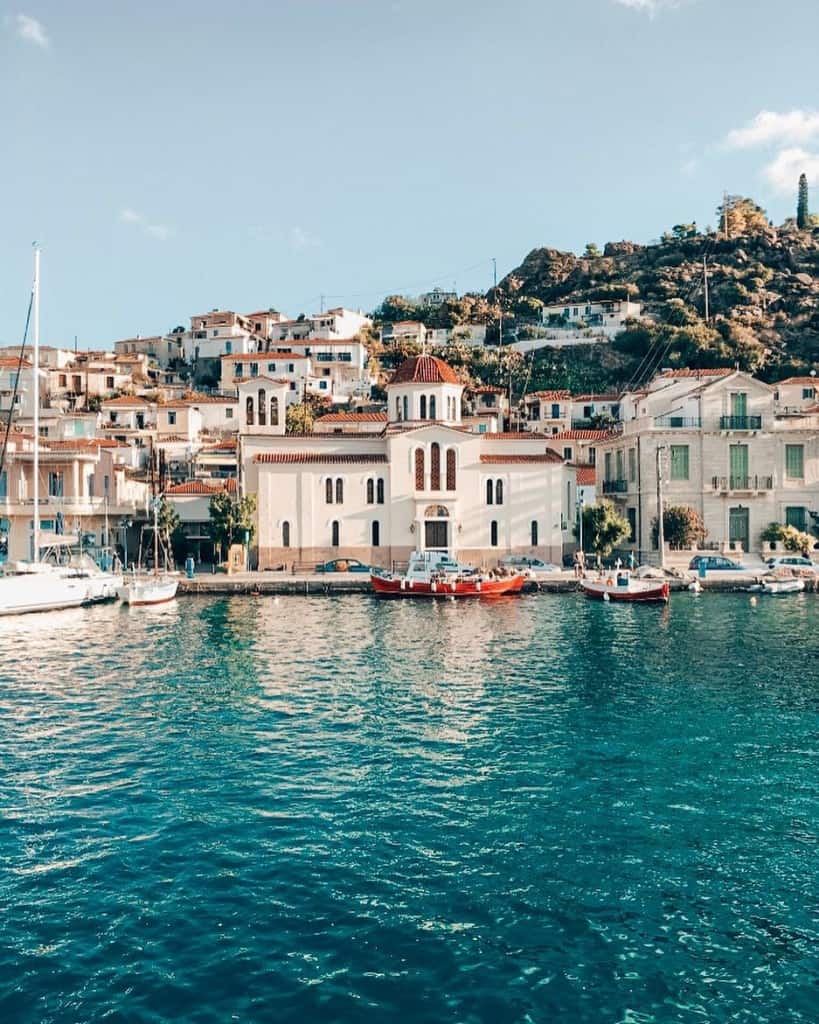 Poros is, without hesitation, one of the most beautiful islands in the Saronic. Its villages are filled with charming, pastel-coloured houses that cascade down the hilltops, and dense pine forests and woodlands that hide an abundance of walking trails.
The island is only small, but it's a nice place to pass a day or two. The main strip close to the port is home to the famous Poros clocktower, some lovely souvenir shops, and a ton of excellent tavernas, coffee shops, and souvlaki spots.
Some of the best beaches in the region can be found here. A few, in particular, to carve time out of your schedule for are Love Bay, Monastiri, Neorio, and Askeli.
One of the most interesting things about Poros is that it is only separated from Galatsi on mainland Greece by a very narrow strait of water. For just a couple of euros, you can pay one of the local fishermen to take you across in their wooden boats and enjoy a traditional Greek meze dinner on the opposite side of the water.
If you love hiking, be sure to follow the well-trodden donkey trail to the Monastery of Zoodochos Pigi.
Where to stay in Poros
There are plenty of idyllic and affordable accommodations to be found on Poros Island. This is a wonderful place to explore if you are travelling to Greece on a budget.
If you want to wake up to the sight and sounds of the sea, the New Aegli Resort Hotel offers luxury without the luxury price tag.
Rooms here start from just €40 per night and the property has a prime, seafront location in Aegli Bay. The spacious property boasts 2 restaurants, a large swimming pool, hot tubs, a sun terrace, a piano bar, and a poolside bar. (Aka everything you need for a perfect summer getaway!)
Rooms are simple, yet comfortable with complimentary toiletries and an en-suite bathroom. If you want to be right in the port area, Dionysos Hotel offers wonderful rooms in a traditional stone property for upwards of just €70 a night including breakfast.
Methana
Breathtaking Methana is not an island, but a peninsula of the Peloponnese. (Actually, if we are getting technical, it is land that was formed from a volcano that emerged from the sea!)
The volcano is still active today. However, fortunately, the last major volcanic activity here happened all the way back between 276 to 239 BC so the volcano is very low risk.
The volcanic landscapes are great to hike around and explore, and Methana is home to a number of hot springs which are said to have special healing properties.
The baths that form the lakes of Vromolimnos and the baths of Pausanias are two, in particular, worth checking out. They are even said to have been used during the Roman era!
Accommodation options in Methana
There are some excellent deals to be had on hotels and accommodations in Methana. This is, in part because the area is pretty off the beaten path and it is mostly Greek domestic tourists that travel here.
Visit in the shoulder/off-season and you may find that you have certain places entirely to yourself! It is possible to find rooms here for as little as €30-€35 a night.
Pension Vienna is a cosy but affordable family-owned spot. Aerides Studios are another great choice.
Aegina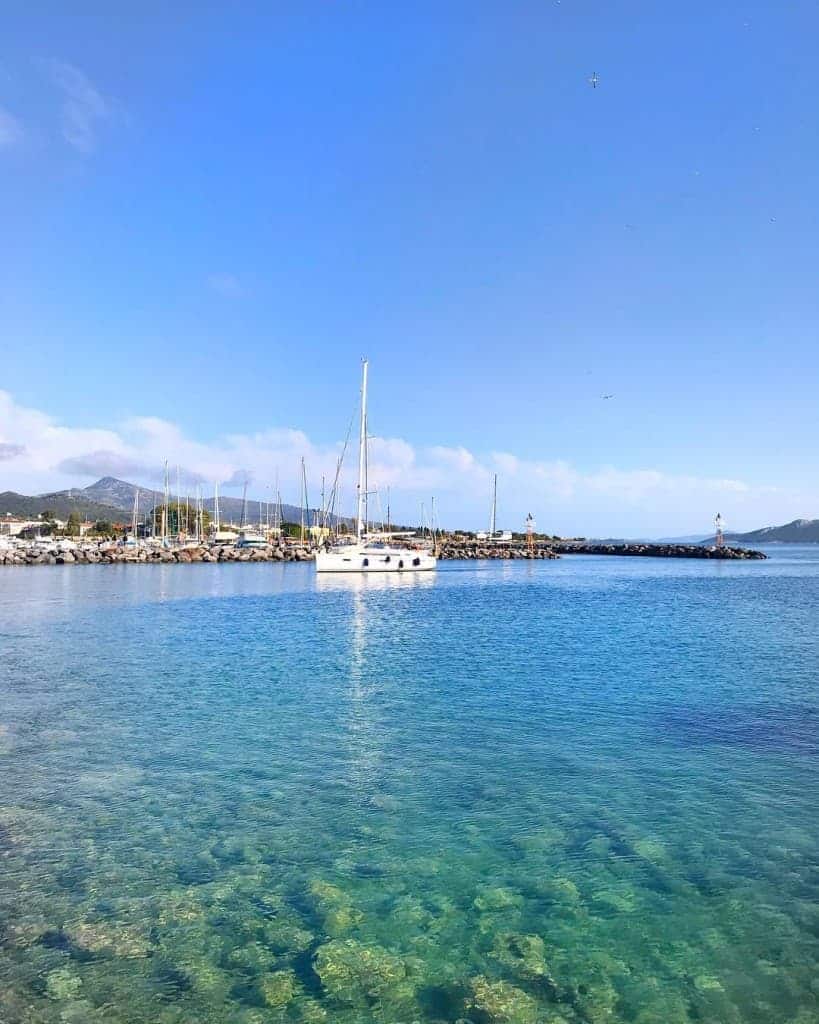 Aegina is one of the largest islands in the region. Owing to its close proximity to Athens, it is one of the more popular day-trip destinations for Athenians.
Many wealthy Greeks own second homes here that they come to at weekends. There are several notable archaeological sites here including the Temple of Aphaia – an impressive temple dedicated to the local goddess Aphaia.
The temple was part of a sacred triangle along with the Acropolis of Athens and the Temple of Poseidon at Cape Sounion.
The Archaeological Site of Kolona is also interesting. So too is the ancient settlement of Livadia – an old city that dates back to the 3rd millennium BC.
Finally, if you have a strong interest in Greek history and culture, you might enjoy stopping by the Tomb of Euripides. This is a monument that marks the spot where the adored ancient playwright Euripides died and was buried in 406 BC.
Basically, Aegina is a history buff's dream!
Where to stay in Aegina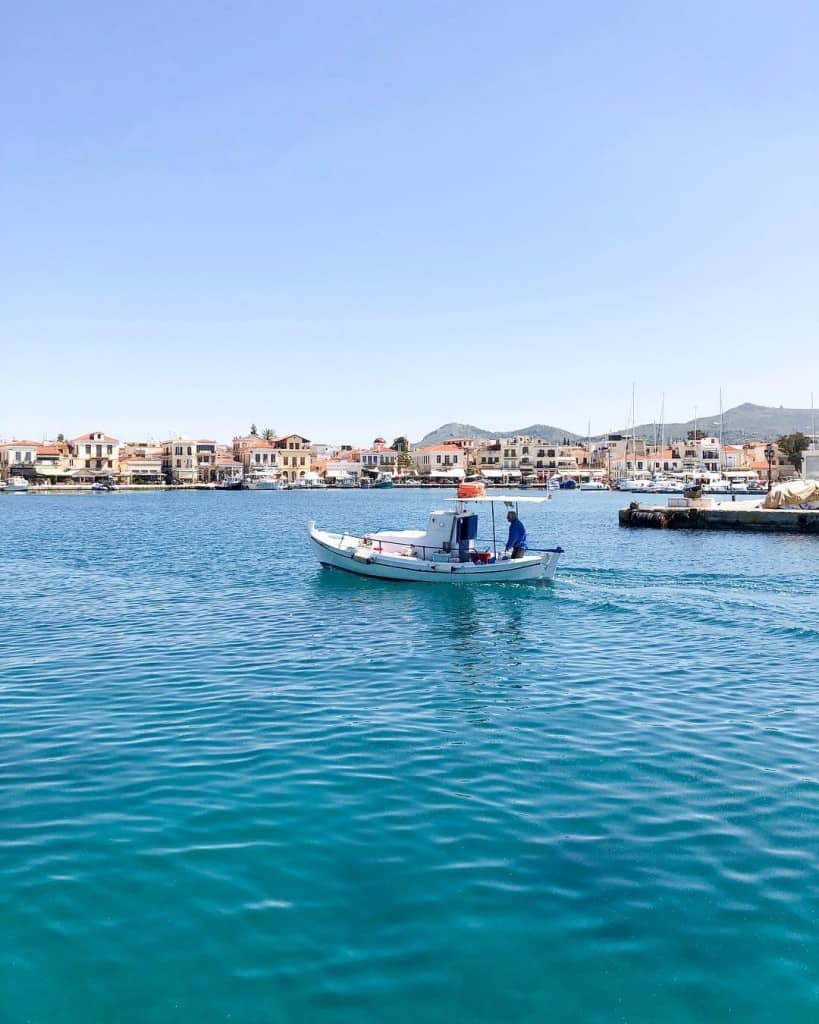 Aegina is one of the more affordable Greek islands in the region, with rooms starting from just €30-€40 a night here. Liberty II is a simple yet comfortable and highly rated hotel just paces from the sandy Agia Marina beach.
The rooms are cosy and homely, with little balconies where you can enjoy a Greek breakfast, or a crumbling slice of Spanakopita (spinach and cheese pie) as you overlook the sea. If you are looking to treat yourself and indulge in a little something more high-end, check out the stunning four-star Apollo Resort.
Rooms here are still affordable, with prices starting from €100 a night including breakfast.
Agistri
Lovely Agistri is only a small island. You can practically drive from one end of it to the other in just 25 minutes!
However, despite its compact size, Agistri is bursting at the seams with paradisical beaches and incredible hiking trails that lead you through miles and miles of lush greenery, rolling hills, and peaceful pine forests where figs, lemons, and oregano grow wild.
A pleasant walking route to follow is the footpath that leads to the tiny village of Metochi. One of the most popular things to do here is to rent a bicycle and cycle all around the island's roads and footpaths.
But if you prefer to relax, rather than to physically exert yourself, take time to sink your toes into the sands (or pebbles) of Aponissos, Dragonera, Skala, and Chalikiada beaches.
Where to stay in Agistri
There are four main villages on Agistri Island: Skala, Limenaria, Megalochori, and Milos. Skala is arguably the most convenient place to stay as the main port is here, as is an abundance of restaurants and amenities, plus a sandy beach.
There are also some gorgeous hotels along the beachfront in Megalochori if you are looking to relax in a more peaceful environment. Hotel Abatis is an adorable little property with views of the mountains, the forests, and the sea, with double rooms starting from just €50 per night.
In Skala, consider a stay at the Dionysos Hotel whose tastefully decorated rooms and suites boast balconies with sea views and stays starting from just €60 a night.
Salamina (Σαλαμίνα)
Salamina island is the closest Saronic island to the Greek mainland. On a clear day, it is visible from the port at Piraeus and the beach towns of the Athens Riviera.
The ferry crossing here from Piraeus takes just 15 minutes. (So you really have no reason not to spend at least half a day exploring here!)
The island, also known as ¨Salamis¨, is often overlooked and assumed to be mostly industrial. This is largely because the Hellenic Navy seabase is here and from the shore, the first thing that you see of Salamina is an abundance of unsightly naval ships.
Still, Salamina should not be so quickly dismissed. The island abounds with sandy beaches, fragrant pine forests, and quaint villages. In particular, the 17th-century Monastery of Faneromeni is impressive and houses an icon of the Virgin Mary.
The best beaches are to be found in the southernmost part of the island. In particular, make a note to swing by Kanakia and Peristeria beaches.
Where to stay in Salamina
Salamina is home to one of the most unique hotels in the Argo Saronic islands (and arguably all of Greece). Here, you will find a luxurious hilltop property known as the Saronic Citadel.
The property awaits at one of the highest points on the island, offering unparalleled views over the Aegean Sea. It has been designed to resemble a medieval fortress and boasts stone walls, towers, and arches.
(It may sound peculiar, but it works, and the result is something utterly classy). Self-catering units at the elegant property average around €249.50 per night.
Guests can enjoy the tasteful decor, 180-degree views over the island, and a swimming pool.
A Proposed 14-Day Saronic Gulf Itinerary
Now we have looked at what each of the Saronic Gulf islands has to offer, it's time to formulate an itinerary. The below-suggested itinerary starts and ends in Athens.
There are no airports on any of the islands in this region so you need to take boats between them. You should also note that ferries don't run between each and every island so you need to formulate an order for your schedule that allows you to go from one to another.
Fortunately, I have done that for you here. Check Ferryscanner for the latest ferry schedules and ticket prices.
You can easily follow the route below, adding more or fewer days at each stopping point as you prefer.
Day one: Depart Athens


Two nights on Hydra island


Spetses (2 nights)


Poros (2 nights)


Methana (2 nights)


Aegina (2 nights)


Agistri (2 nights)


Athens (2-3 days – read this 3 days Athens itinerary).
FAQs about Visiting the Saronic Islands in 2023
Do you have any further questions or concerns about visiting the Saronic Islands? The answers to some frequently asked questions on the topic are detailed below.
Hopefully, you will find the information you are looking for there. If not, please do not hesitate to reach out!
What are the best Saronic Islands tours?
The best way of visiting these islands, like any of the Greek island groups, is to island hop and spend a couple of days on each. However, if you don't have much time to spare, you can opt to take a sailing tour that stops by a couple of islands in a day.
These excursions depart from Piraeus and stop at 2-3 islands. (Commonly Hydra and Poros). You are given free time on each.
It isn't a ton of time to spend in such a beautiful place but it's better than nothing and if you enjoy your trip, you can always come back. A number of reputable tour companies offer Saronic tours from Athens.
Some of the most highly-rated options are detailed below. Book your place online in advance to avoid disappointment!
Which Saronic island has the best beaches?
The Saronic islands are not as renowned for their beaches in the same way as say, the Sporades or the Ionian islands are. However, that is not to say that there are not gorgeous stretches of coastline to enjoy here.
Poros and Agistri are arguably the best Saronic Gulf islands to visit if you are looking to spend your time at the beach. Love Bay and Askeli beaches in Poros are stunning, as is Skala Beach in Agistri.
What are the Saronic Islands?
The Saronic Islands are some of the closest islands to Athens. There are seven of them in total, and each one is rich in history and culture.
Is Aegina or Agistri better?
Aegina and Agistri both have their own distinctive charm (and you will no doubt enjoy exploring each of them). However, if you only have the time to choose one, you may want to prioritise Agistri.
Little Agistri is the smaller of the two, but what it lacks in size, it more than makes up for in natural beauty. You can opt to conquer one of the many hiking trails here
Are the Saronic Islands windy?
The Saronic islands can get a little windy during the Autumn and Winter months but they are not inherently windy like some of the islands in the Cyclades. The nearby Peloponnese peninsula protects them from the worst of the Meltemii winds.
How to get to the Saronic islands
Boats run from Athens' Piraeus port to and between the various islands of the Saronic Gulf every day. The precise ferry schedule varies depending on the season so it is prudent to check that here before your trip.
It is also important to note that the boats do not run between every individual island. The itinerary above is a tried and tested route that helps you easily get from one island to another.
If you don't carefully check which specific ferries run between certain islands, you can wind up going back and forth. Use Ferryscanner to check the precise times, prices, and routes for ferries.
When is the best time to plan a Saronic Gulf itinerary?
The Saronic Gulf islands are very much a seasonal travel destination. Though the general perception of Greece is as a Mediterranean paradise, the temperatures drop drastically during the Autumn and Winter months.
This period sees a lot of businesses close up for the season and a dramatic reduction in the number of boats operated. Weather-wise, the best time to visit the Saronic Gulf islands is between April and late September/early October.
To avoid the summer crowds and enjoy some of the lower shoulder season prices, consider travelling at the start or end of the season. (i.e. late April/early May or late September).
The weather is still relatively warm and pleasant during Spring and Autumn in Greece. Sometimes it soars well above 35 degrees Celsius during July and August which can be unbearable if you are not used to the heat.
Parting Words
The Saronic islands are charming places to visit, either as a standalone itinerary or as a day trip from Athens.
Have any questions about this Saronic Gulf itinerary and guide? Feel free to drop me a message or reach out to me via the comments below.
I live here in Greece (Athens). I will be happy to help if I can. Safe travels, Melissa xo
---