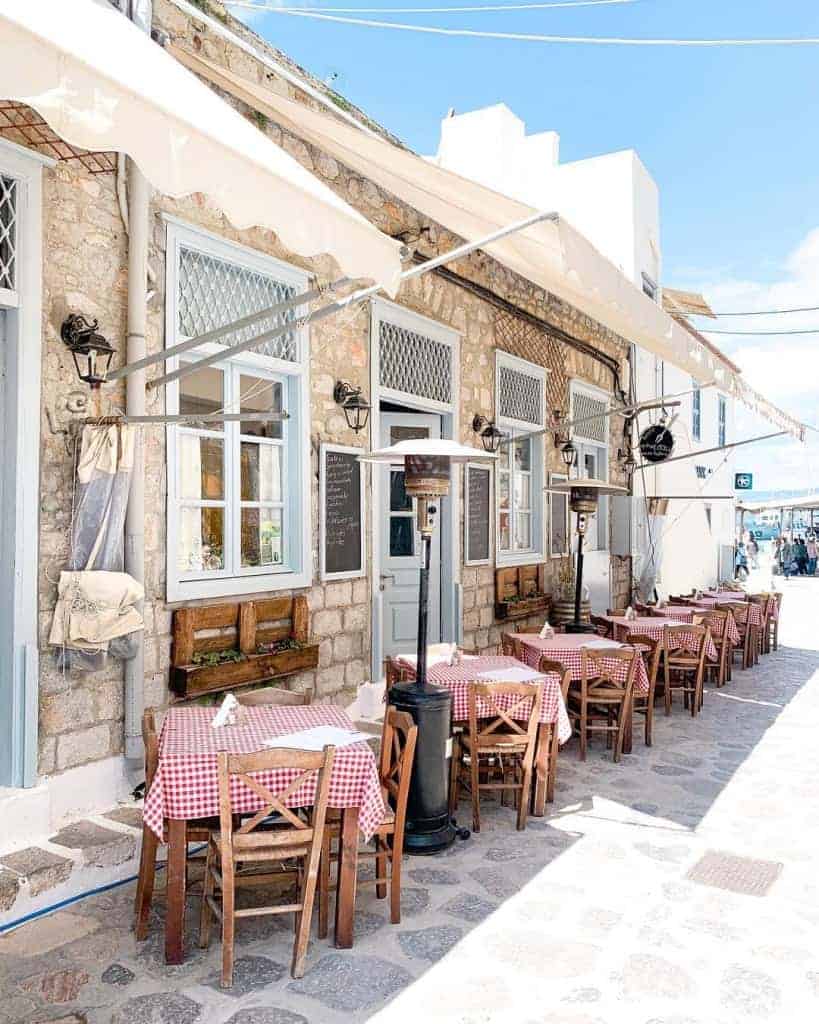 The Saronic Gulf is a region in Southern Greece that often gets overlooked in favour of more well-known Greek islands. It is a region whose floating archipelagos possess rugged, breathtaking natural landscapes, secluded coves, and translucent cerulean waters perfect for diving and swimming.
The islands of the Saronic Gulf have long attracted Writers, Artists and other creatives who would draw inspiration from their beauty. As far as their reputation as an international travel destination goes though, the Saronic Gulf remains relatively off the beaten path. It is mostly domestic Greek tourists who travel here, which is great if you want to visit some alternative island destinations during your Greece itinerary.
The Islands of the Saronic Gulf
Aegina. Agistri. Poros. Hydra. Methana. These are all islands that await in the Saronic Gulf which are all accessible from Athens' Piraeus port within just an hour or so.
Each island offers something a little different. The best islands to incorporate into a Saronic Gulf itinerary will no doubt vary depending upon your personal preference and travel style. I have written an overview of each of the Saronic Gulf islands below, followed by a proposed itinerary.
Hydra
The picturesque little island of Hydra has often been compared to Italy's Capri for its elegance and natural beauty. Hydra is arguably the most touristic of the Saronic Gulf islands but it is so charming that it is quickly forgiven.
It is not difficult to get off-the-beaten-path and away from the crowds while exploring the island. There are no cars or vehicles on Hydra and the transportation method of choice among the locals is to get around by horse or donkey. Travelling to Hydra feels embarking on a journey back in time.
Beaches on the island are small and few, but what Hydra lacks in this department, it certainly makes up for in stunning nature, adorable fishing villages, and hiking trails that lead through fields filled with fragrant flowers. Hydra's port was an important location in the battle for independence between Greece and Turkey and is considered as being one of the most beautiful in all of Greece. Visitors to Hydra should take the time to walk along the coastal path that leads from Hydra town to the quaint fishing villages of Kamini and Vlychos.
Where to Stay in Hydra:
The Athina Guesthouse
Hydra is quite popular among tourists. As such, you are not short of accommodation options here when planning your trip. Hydra is one of the more expensive and upscale of the Saronic Gulf islands.
Hotel/B&B prices in Hydra start from around £50 per night. I stayed at the Athina Guest House which I certainly recommend. It is situated just five minutes from the main port. The rooms are comfortable and spacious, the area is very quiet, and I had an incredible view of Hydra from my room (as you can see above!).
It is prudent to reserve your Hydra accommodation a few weeks in advance of embarking on your Saronic Gulf itinerary, particularly if travelling during the peak summer months.
Spetses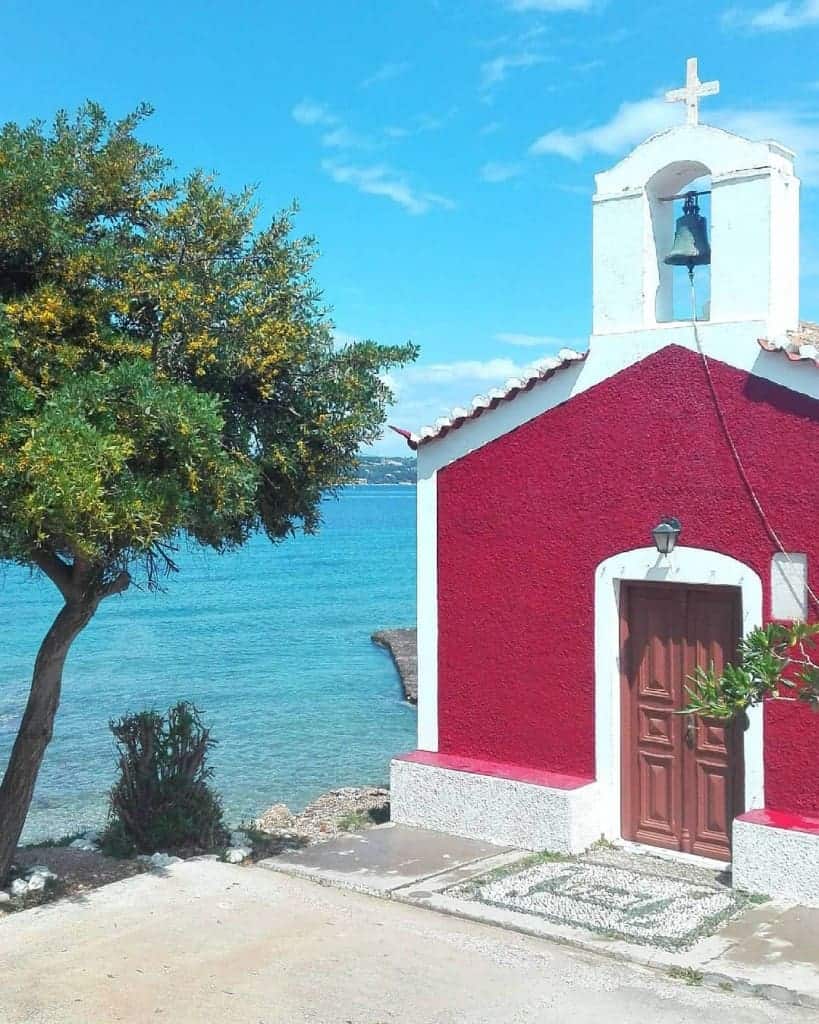 Altogether more wild and rugged than Hydra, Spetses is a perfect travel destination for those who love immersing themselves in the "great outdoors". As someone with a huge passion for hiking, Spetses was one of my favourite stopping points while sailing around the Saronic Gulf.
The town of Spetses is relatively small. Home to a population of just 5000 people, Spetses town is situated at one small corner of the island, while the remainder of the island consists of what is essentially one huge national park.
Like Hydra, Spetses "officially" does not have any cars, though here you can find a few. The most common way to get around the island is by motorbike and ATV.
Choosing to walk around the island opens up the possibility to uncover footpaths and trails that lead to secluded, hidden beaches and ancient churches and monasteries that are nestled deep in the woodland. Spetses is also home to a number of caves, the most famous being Bekiris cave.
Where to Stay in Spetses:
Villa Christina
Like Hydra, Spetses is one of the more affluent of the Saronic Gulf islands and prices here are a little more expensive than say, Aegina or Poros. You should expect to pay at least £40 per night for a hotel room in Spetses.
I stayed at the Villa Christina which I would certainly recommend – with spacious, comfortable rooms, and lovely premises decorated in shades of blue and white that are so quintessentially Greek, Villa Christina is well worth the 50 euro per night price tag.
Poros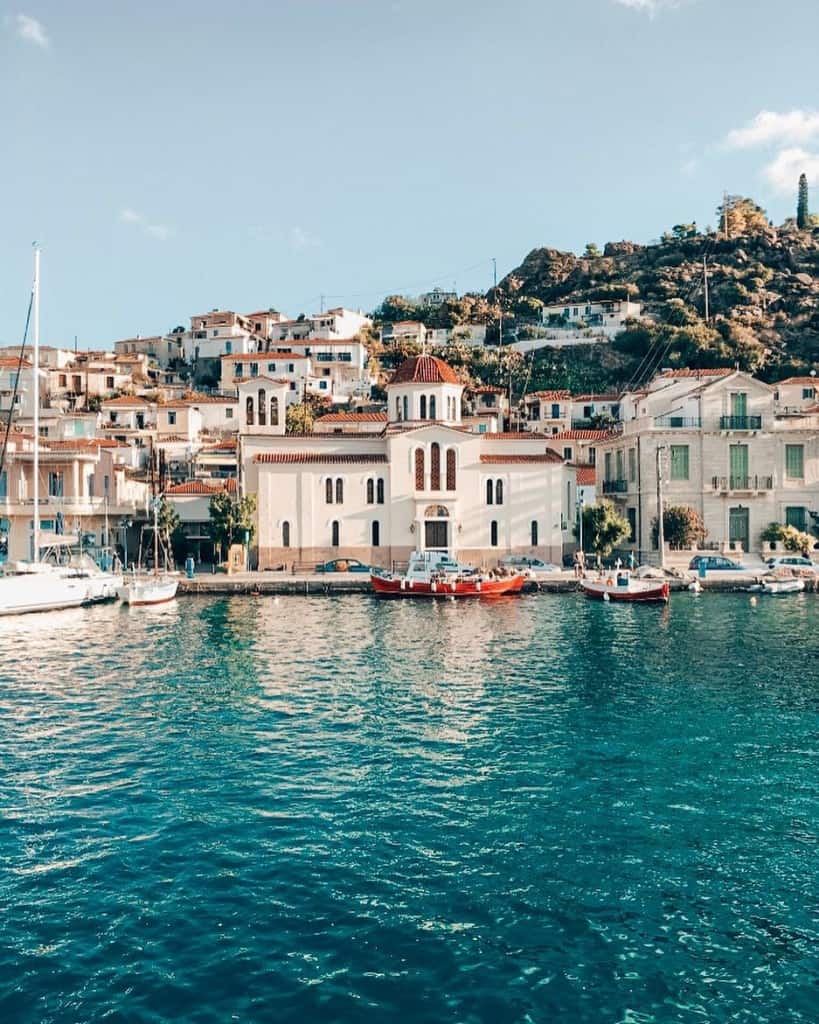 With its pastel-coloured houses and large areas of pine forests and lush greenery, Poros is one of the most beautiful islands in the Saronic Gulf. There is not an awful lot to see and do in Poros, though the island certainly has its charm.
Poros is a popular vacation spot for Athenians who want to escape the Greek capital for a few days during the summer months in order to relax on Poros' beaches. The main strip of road that runs parallel to the boat port is lined with coffee shops, souvlakias and traditional tavernas which are excellent value for money considering their optimum "touristic" location.
The Peloponnese mainland is visible from Poros and awaits across a small body of water. Tiny fishing boats run travelers across the water from Poros to Galatas (Peloponnese) for just a few euros.
A number of hiking trails are scattered throughout Poros. Most notably, travellers can hike up to the Monastery of Zoodochos Pigi – an ancient monastery situated within the pine forest some 4km from Poros town. Pleasant walking and cycling routes on the island also lead through a fragrant lemon forest, or along the coast to Love Bay and Askeli beach.
Where to Stay in Poros:
Panorama Apartments
Accommodation in Poros is very reasonably priced and perfect for those travelling on a budget. Apartment rentals and hotel rooms start at £20 per night.
One spot with some of the best views as well as the best reputation is the island's Panorama Apartments. Starting from just £20 per night, each room has its own balcony which provides incredible views over the sea, and out to Poros town and Galatas in the distance.
Methana
The small island of Methana may well be one of the most rewarding travel destinations in the Saronic Gulf. It is also one of the trickiest islands to get to, though for that you are rewarded with the existence of virtually no tourists, and the privilege of having incredible places practically all to yourself.
Methana is a volcanic isle home to over 30 active craters. Situated just a stone's throw away from the Peloponnese, Methana is renowned throughout Greece for its natural beauty.
Due to the island's volcanic activity, many thermal baths can be found in Methana. Most notably, the baths that form the lake of Vromolimnos, and the baths of Pausanias are said to have healing properties. The baths date all the way back to the Roman era.
Those with an interest in hiking can ascend the Volcano of Methana, or trek through the olive groves and pine forests that surround the quaint village of Kameni Hora.
Accommodation Options in Methana
Accommodation in Methana is very affordable, perhaps owing to the fact that this island is about as "off the beaten path" as you can get in the Saronic Gulf. The few travellers that make it here are domestic Greek tourists. Rooms and apartments in Methana can be rented for as little as £15 per night.
Aegina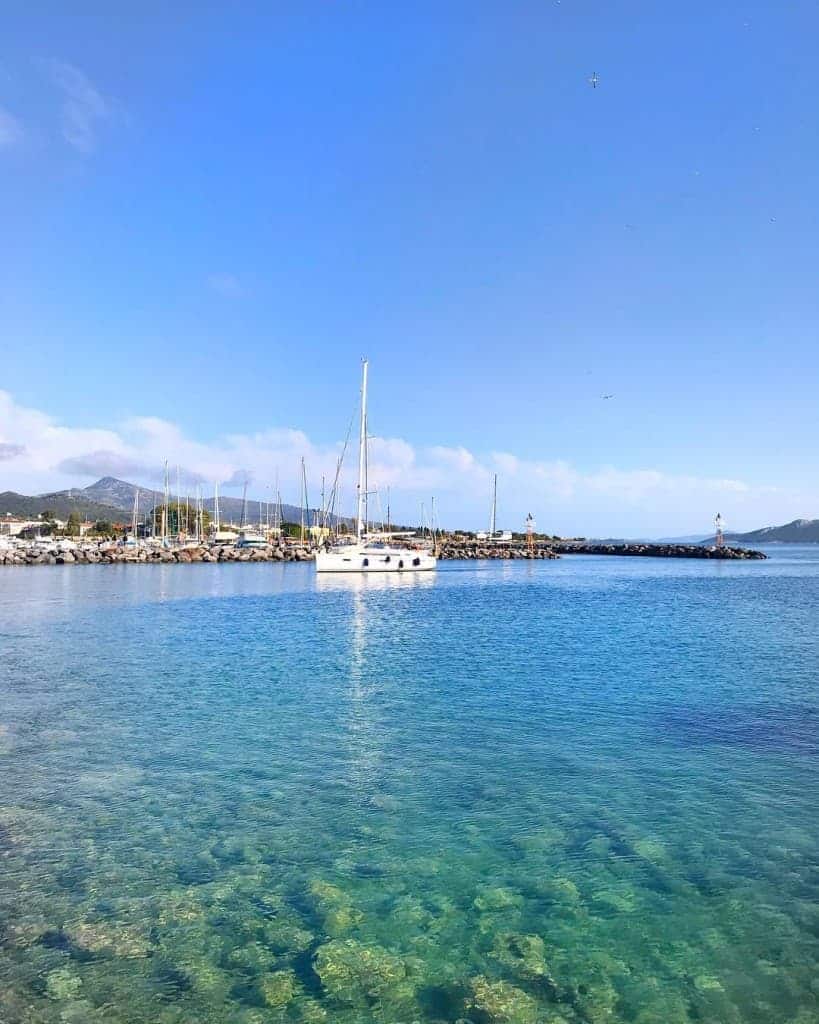 The island of Aegina is a popular weekend break destination for Athenians hoping to escape the hustle and bustle of city life. Aegina is one of the larger islands in the Saronic Gulf and at first glance, it can be a little overwhelming to know where to begin.
Pretty little Aegina town makes a good base. If you are able to rent a bicycle or a vehicle locally, it is easy to adventure out to the many unspoiled beaches and crumbling sun-bleached ruins that are scattered around the island.
Aegina town itself is filled with pastel-coloured houses and a labyrinth-like network of narrow cobbled passageways. A leisurely stroll around the town and port area is a highlight of any Aegina trip.
Don't miss the salmon coloured Tower of Markellos which dates back to the 17th century and whose fortified premises have played an important role in Greek history throughout the centuries. Those with an interest in Greek history and mythology should be sure to stop by the island's various ruins and archaeological sites.
The Temple of Aphaia is no doubt the best-preserved ancient site on Aegina. It shares similarities with the Athenian Parthenon and the temple of Apollo at Sounio. Equally fascinating are the remnants of the temple of Apollo at the archaeological site of Kolona and the island's ancient capital of Paleahora.
For a slice of local culture in Aegina, head for a spot of lunch and a coastal walk at the quaint fishing village of Perdika, before watching the sunset over the Saronic.
Where to Stay in Aegina:
Rastoni Hotel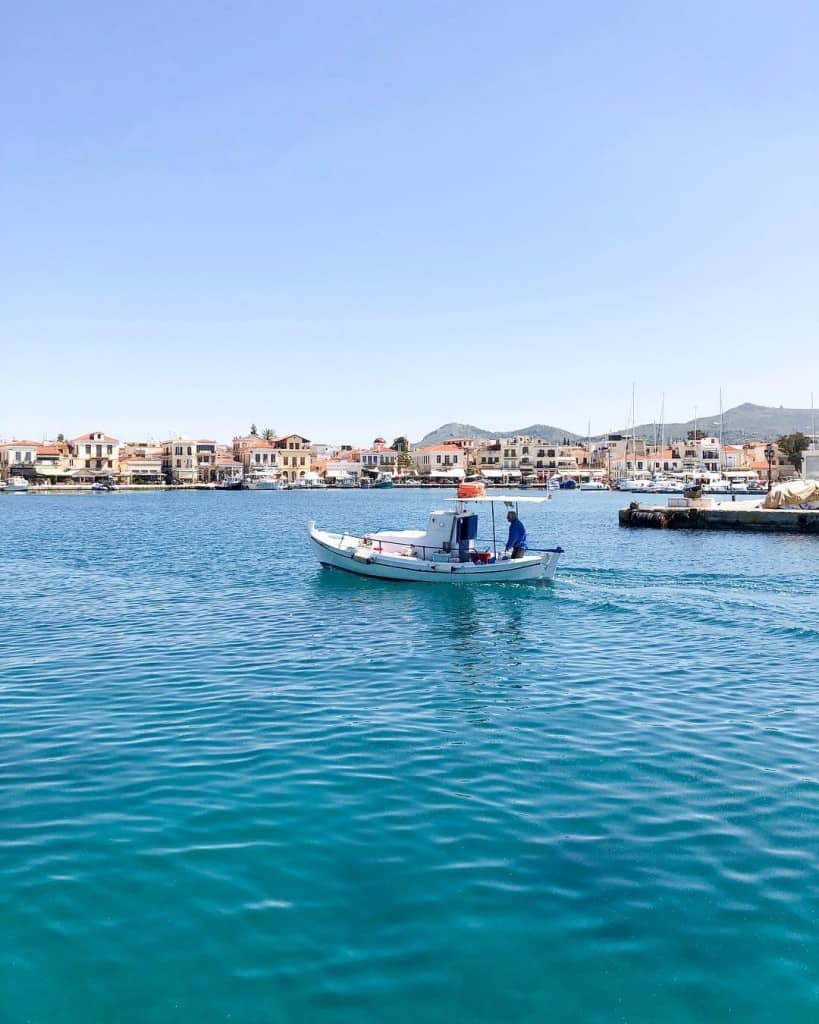 There are a number of hotels and B&Bs in Aegina which are excellent value for money. Prices for Aegina hotels start from £25 per night.
I would strongly recommend Rastoni hotel which is situated just a few minutes walk from the port and whose rooms provide incredible views over the ruins at Kolona. Other options can be browsed here.  
Agistri
The little Saronic Gulf island of Agistri is so tiny that you can practically drive from one end of the island to the other within 15 minutes. With that considered, the small size of the island definitely does not mean that travel options are limited. Outside of the main towns and fishing villages, Agistri boasts miles and miles of lush greenery, unpopulated hills, and peaceful pine forests where figs, lemons and oregano grow wild.
A pleasant walking route to follow is the footpath that leads to the tiny village of Metochi. This is a charming, non-touristic village whose white-washed houses are among the oldest structures on the island.
Surrounded by woodland, Metochi is a good starting point for many of Agistri's best hiking routes. For incredible viewpoints and panoramas over the island, follow the uphill trail to the Church of Panagia. Though the blue and white Cycladic church is often closed, this point offers the best views over Agistri.
Quaint villages and craggy landscapes are certainly a major draw for visiting Agistri, but so too are the paradisiacal beaches that act as a perfect point for a little rest and relaxation on the island. Agistri offers beaches suited for every travel style and preference – from secluded coves to organised beaches lined with bars and tavernas.
The remote beach of Chalikiada is guarded by cliffs and is an excellent choice for those hoping to escape the crowds. Alternatively, Skala beach is just 100 meters from the town's harbor and offers rentals for sunbeds and parasols, in addition to a lot of shops and dining options nearby.
Where to Stay in Agistri:
Oasis Scala Beach Hotel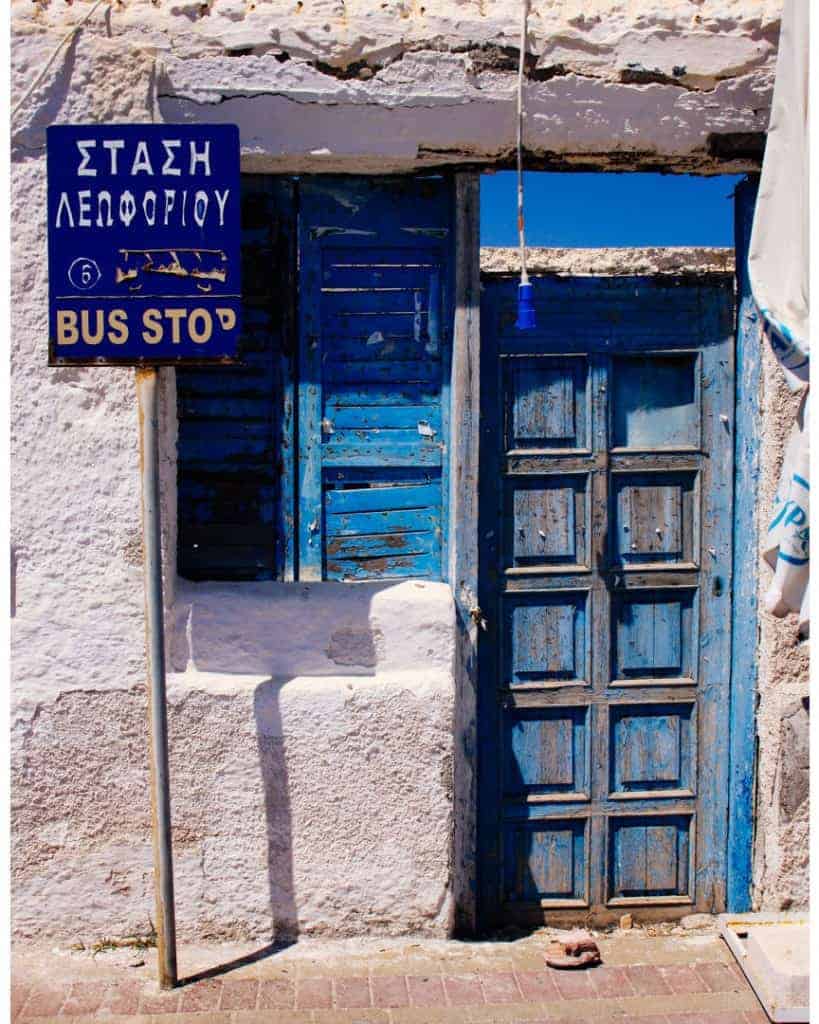 Like Aegina, Poros, and Methana, Agistri is a relatively affordable place to stay during your Saronic Gulf itinerary. Hotel rooms and apartment rentals start from around £20 per night.
The four-star Oasis Scala beach hotel offers spacious rooms equipped with scenic balconies right on the seafront of Agistri by the beach. Rooms at Oasis Scala start at just £30 per night and include a delightful traditional Greek breakfast.
A Proposed 14 Day Saronic Gulf Itinerary
Days 1 & 2: Hydra

Days 3 & 4: Spetses

Days 5 & 6: Poros

Days 7 & 8: Methana

Days 9 & 10: Aegina

Days 11 & 12: Agistri

Days 13 & 14: Athens
Hydra Island – Two Nights
Board the boat at Athens Piraeus port bound for Hydra. The journey takes approximately one hour and 45 minutes. Opting to choose one of the earlier ferries allows for more time to explore beautiful little Hydra. The first day of your Saronic Gulf itinerary can be spent wandering through the streets and alleys of Hydra's port before finding a scenic spot to watch the sunset.
On day two, get up bright and early and wake yourself up in true Greek style with an iced Freddo espresso. Wander along the coastal path to Kamini and Vlychos and enjoy fresh seafood delicacies at Christine's tavern. If you still have energy to burn, backtrack towards Hydra port and walk up to the Prophet Elias monastery for breathtaking panoramas over the Saronic Gulf.
Spetses Island – Two Nights
Hop onboard the ferry from Hydra to Spetses for two days in the Saronic Gulf's most rugged island. Day one can be spent exploring the port area at a leisurely place – enjoy a steaming pot of moussaka at one of the ouzerias that line the seafront and walk up towards Kouzounos to admire the historic port and shipyard. Spetses is a very upscale region in the Saronic Gulf and as night falls there are plenty of chic cocktail bars and restaurants to enjoy and mingle among locals.
On your second day in Spetses, rent a bicycle, a scooter or an ATV to help you to get around the island easier. Following the road from Spetses town to Ligoneri and beyond, you will discover plenty of secluded, "hidden" beaches, and tiny churches nestled deep within the woodlands. Since the island is small, it is possible to cover its entire circumference in a day with your own transport.
Poros Island – Two Nights
Drop your bags at your hotel before spending some time exploring the Poros port area. Stroll up to the clocktower that looks over the old town and enjoy fresh seafood delicacies at one of the quaint tavernas before hopping onboard one of the tiny fishing boats that runs regular trips across to Galatas to explore the opposite side of the bay.
Wake up bright and early on your second day in Poros to hike to the Monastery of Zoodochos Pigi. Nestled deep within the pine forest, exploring the Monastery itself is a fulfilling experience, as is the trek through nature to get there. Departing early in the morning to start the hike enables you to avoid the intense heat of the midday sun.
After a sumptuous lunch at a local taverna, pack up your beach towels and head to Love Bay for an afternoon of relaxation beneath the Mediterranean sun.
Methana Island – Two Nights
From Poros, travel onwards to Methana. Many of the ferries heading back to Piraeus stop at Methana, though they do not run every day of the week so be sure to check the schedule in advance.
Methana can also be reached by taking the boat to Galatas and then a cab to Methana. Spend the first day of your Methana itinerary exploring the town and relaxing in the thermal spas.
On day two, prepare to hike the slopes of Methana volcano. If you are a little weary after all of the physical exertion, you can always revisit the thermal springs again before you continue onwards to Aegina.
Aegina Island – Two Nights
Exploring Aegina town at a relaxed pace is a nice first introduction to the island. The most notable archaeological sites (the Temple of Aphaia and the ruins at Kolona) are located very close to the town centre and can be easily reached from the port area on your first day.
During day two in Aegina, embrace a more laid back pace and spend the day exploring the fishing village of Peridka.
Agistri Island – Two Nights
Arrival in Agistri marks the penultimate leg of this Saronic Gulf itinerary. Drop your bags at your hotel and venture to one of the island's beaches for a lazy day in the sun, before an evening spent enjoying Greek foodie delicacies and cocktails by the sea. On day two in Agistri, prepare for your final hike of the trip – the steep ascent to the Church of Panagia and some of the best views in the Saronic Gulf.
Athens – Two Nights
Athens is perhaps one of the most underrated and frequently overlooked parts of Greece. Though it may be the idyllic charm of the Greek islands that attracts travellers, the capital also boasts plenty of attractions.
Aside from the renowned ancient sites such as the Acropolis, the ancient agora, and Anafiotika Plaka, it is all of the various neighbourhoods of Athens, each with their own charming personalities, that make the city so magical.
This three day Athens itinerary provides a nice introduction to Athens' highlights. It goes off the beaten path in Athens away from just the tourist attractions and takes you through the eclectic Pagrati neighbourhood, the upscale Kolonaki district, and on to Vouliagmeni and the Athenian Riviera.
Getting Around the Saronic Gulf
Boats operated by Hellenic Seaways run from Athens' Piraeus port to and between the various islands of the Saronic Gulf. The precise ferry schedule varies depending on the season so it is prudent to check that here before your trip.
It is also important to note that the boats do not run between every individual island. It is for that reason that I have proposed a Saronic Gulf itinerary that follows the order outlined above. This itinerary has been tried and tested by me, and this is one of the most logical routes to follow to ensure that you can easily transition from one island to another, and don't have to wind up going back and forth.
Costs of Sailing around the Saronic Gulf
Boat prices range from around 10 – 30 euros one way depending on the distance between your locations. Prices are also subject to fluctuations based on season and demand so you should check with the ferry operator before departing.
Saronic Gulf Tours
If you are on a limited time schedule in Greece and would like to explore as much as the Saronic Gulf islands as possible within just a day or two, there are plenty of tour operators in Athens that offer Saronic Gulf tours like this one. These tours are also a nice alternative if you don't feel confident travelling around the islands independently.
There are a number of Saronic Gulf tour options available, but most last for between 24-48 hours in duration and enable you to sail from one island to another, spending just a couple of hours on each.
When to Travel to the Saronic Gulf Islands
The Saronic Gulf islands are very much a seasonal travel destination. Though the general perception of Greece is as a Mediterranean paradise, the temperatures drop drastically during the Autumn and Winter months.
This period sees a lot of businesses close up for the season and a dramatic reduction in the number of boats operated. The best time to visit the Saronic Gulf islands is between April and September.
If your main intention for visiting the Saronic Gulf is to relax on the beaches, top up your tan, and embrace the laid back Greek island lifestyle, it is advisable to travel between June and early September. If you are visiting the Saronic Gulf with the intention of simply hiking and exploring the towns, Spring is the best time to travel. Visiting during this period means pleasant temperatures, fewer tourists, and lower travel costs.
Costs of Travelling in the Saronic Gulf Islands
Travel prices vary significantly from one island to another. Whereas in general Greece is generally an affordable travel destination, prices are higher than usual in some tourist places – Hydra and Spetses are two such examples.
To give you an idea of the costs of travelling in the Saronic Gulf, I have summarised some average prices below.
Basic hotel room in Hydra or Spetses – £40 per night

Basic hotel room on Methana island – £15 per night

Basic hotel room in Poros, Aegina, and Agistri – £25 per night

Average cost for a meal at a tavern in Hydra – £15 – £ 20

Average cost for a meal at a tavern on other islands – £10

Greek fast-food (souvlaki, gyro, etc) – £3

A cup of coffee at a local coffee bar – £3

Continental style breakfast served at local restaurants – £8-£10
Have any questions about this Saronic Gulf itinerary and guide? Feel free to drop me a message or reach out to me via the comments below. I live here in Greece (Athens) and will be happy to help if I can. Safe travels, Melissa xo
Disclaimer: This post on the Saronic Gulf islands may contain affiliate links. This means that if you make a purchase through some of the links on this page I will make a small amount of commission. This is charged at no additional cost to you.
---