Traveling to Greece on a budget may sound like something of an impossibility if you are hoping to visit popular islands like Santorini or Mykonos and you are checking out the costs of hotels. But the reality is that on the whole, Greece is one of the cheapest travel destinations in Europe.
You just need to be mindful in deciding where in the country you want to visit and when you want to travel. But if you are coming from the UK, the US, or western Europe, chances are that taking a trip to Greece is cheaper than domestic travel within your own country!
Is Greece Expensive?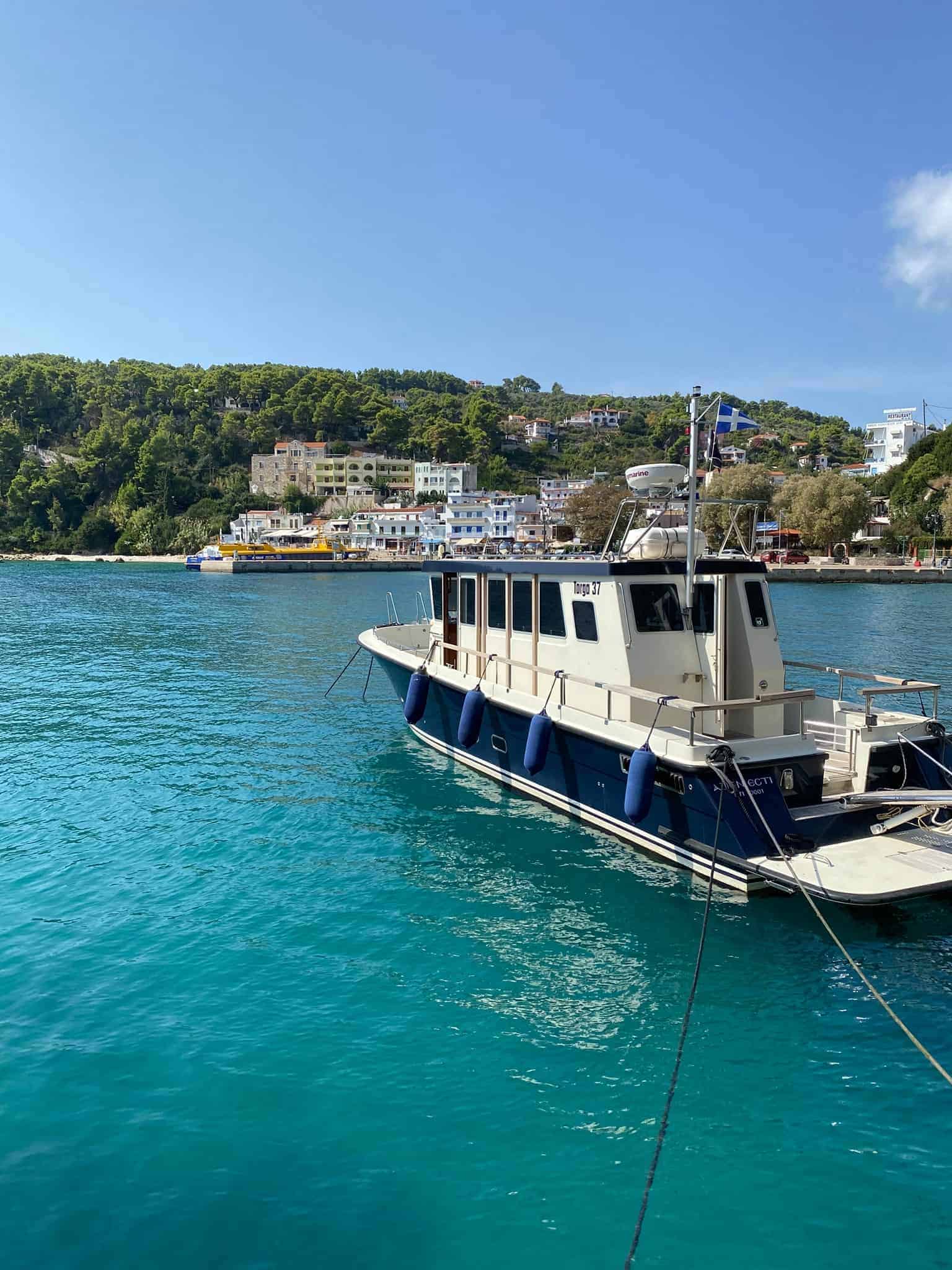 Generally speaking, Greece is not an expensive country. After all, the average salary here is between €600 and €1,000 euros a month and people simply wouldn't be able to live here if it was expensive.
However, the prices vary wildly from tourist destinations to more off-the-beaten-path parts of the country and areas frequented by locals. For instance, in glamorous Mykonos, Santorini, and Milos, you will find it difficult to find hotels for less than €100 a night during the peak summer season.

Meanwhile, head to lesser-known Greek islands in the Cyclades, the Saronic Gulf, or to mainland villages like Mystras and you will find guesthouses for as little as €35 a night. That is not a marginal price difference!

You will find similar trends with the cost of food and eating out too. You may pay €20 per person for a main dish and a drink at restaurants in Skopelos or Santorini.

However, in the restaurants of Thessaloniki and in homely tavernas in Athenian neighborhoods like Pagrati, Vyronas, and Dafni, you can enjoy giant portions for as little as €6-7.
And you will still have leftover food to take home with you and eat the next day! Traveling to Greece on a budget is all about making mindful decisions.
Traveling to Greece on a Budget
You can easily dedicate weeks or months to a Greece travel itinerary and not break the bank.
There are a few things to do when planning your trip to Greece to ensure that your trip doesn't break the bank. Avoid the months of July and August if you can as these are the peak months.

Prices at this time are often as much as 50-60% higher than they are at other points of the year. Considering alternative destinations to popular islands and regions can also save you a fair amount of money. For instance, instead of Santorini, choose Naxos.

Instead of Zakynthos, choose off-beat coastal villages in Rhodes. Choosing lesser-known Greek islands and travel destinations never means having to compromise on quality or experience.

Around 33 million tourists travel to Greece every year but they all tend to travel to the same few places. But there are countless other parts of the country that are equally as gorgeous and magical as the main tourist hotspots. It's just that the Greeks are keeping them to themselves.
Travel out of season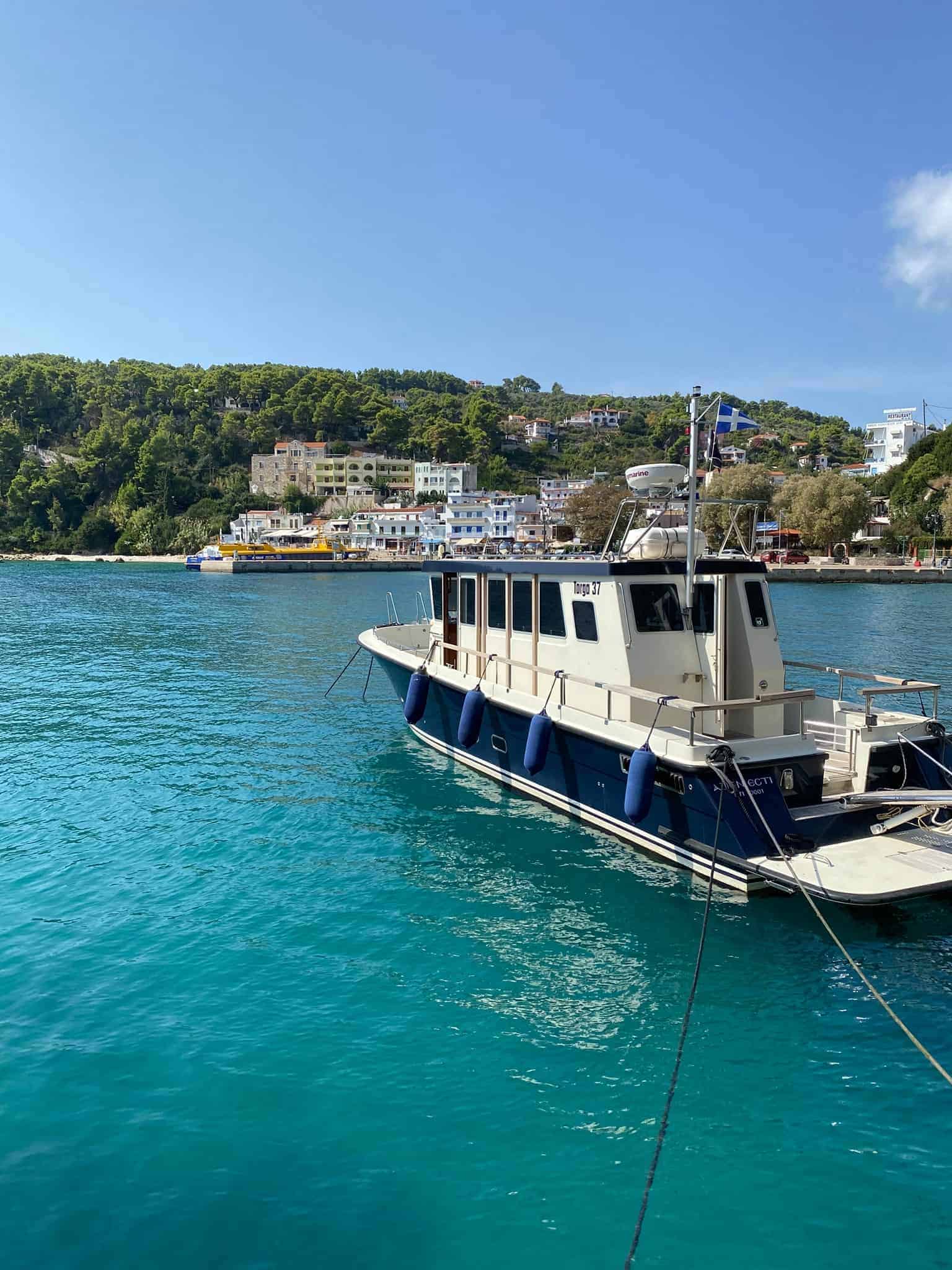 Travel prices across the board soar phenomenally during the Greek summer months. Between June and September, millions of tourists flock to Greece to marvel at its sun-bleached ruins and laze on the pristine beaches of its islands.
During this time, the prices of flights, car rentals, hotels, and tours are at an all-time high. Even lesser-known islands like Paxos see hotel prices double from July to August then drop back down again in September.
Do not underestimate precisely how much you can save by travelling out of season. It is also worth knowing that Greece's warm Mediterranean climate means that weather conditions are very pleasant during the shoulder season. You may even prefer them!
Temperatures are more unbearable in the off-season!
During Spring and Autumn in Greece, you can expect temperatures of around 25°-28° Celsius. That's still warm enough to visit beaches and go swimming.
The temperatures during the summer months can often soar above 36°C. This can be almost unbearable for walking around, and even sitting outside on the beach for too long is unpleasant.
If you travel out of season, you will note a substantial reduction in prices as well as crowds. Prices are as much as 50-60% lower in the Autumn months versus the summer.
Consider alternatives to popular destinations
Mention traveling to Greece to anyone and no doubt their mind conjures up images of the blue and whitewashed buildings of Mykonos and Santorini that are so quintessentially Greek. While these islands are every bit as charming as you've heard, they are also among the most expensive places to travel to in Greece.
If you are looking for an island paradise, consider a lesser-known alternative. After all, there are over 6000 islands in Greece set across several Greek island groups.
There is more than just a handful to choose from! In the Cyclades for example, Paros and Naxos are beautiful alternatives to Santorini and Mykonos.
The Sporades islands of Skopelos, Skiathos, and Alonissos are also often frequently overlooked. These places are just as beautiful as the major tourist sites and arguably, visiting a lesser-known place that has not been gentrified by tourism is a more authentic travel experience.
Don't overlook the Greek mainland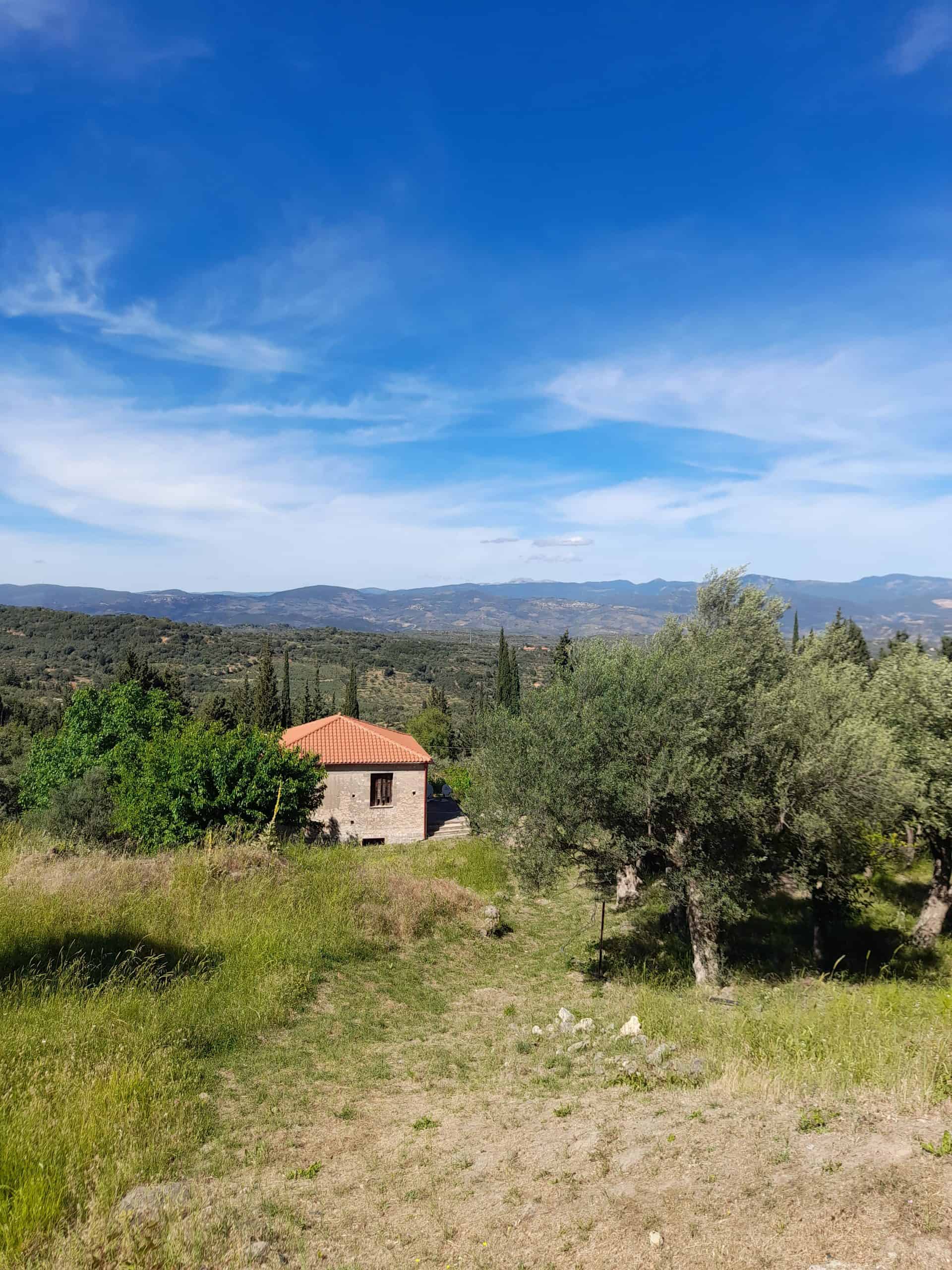 Sure, it may be the Greek islands that encourage millions of people to feature Greece high on their travel bucket lists. However, the Greek mainland is also a wonderful place to travel.
There are 18 UNESCO world heritage sites in Greece and the mainland is overflowing with archaeological sites, fascinating museums, and sunbleached ruins. A lot of areas are only really known to Greek domestic tourists.
The Lakonia region of the rugged Peloponnese is a nice alternative place to consider visiting. Here, you can explore the ancient Byzantine towns of Mystras, and Monemvasia, and learn the fascinating history of ancient Sparta.
Hotels here start from just €35 a night, and since the area has not experienced the same mass influx of tourism as say, Zakynthos or even mainland places like Meteora.
Restaurants and bars in offbeat areas are also affordable. You can get a good meal at a tavern here for €5-7.
Halkidiki is the coastal peninsula in Northeastern Greece that consists of three "prongs" of land that stick out into the sea like Poseidon's trident. Many of the beach towns here are charming, boast blue flag beaches, excellent hiking trails, and exquisite eateries, and are just as worthy of your attention as the islands.
If you rent a car, you can hop between villages and find some very reasonable accommodation prices. You can also sail out to the breathtaking uninhabited island of Diaporos, and tour around the Mount Athos monasteries while you're in the area.
Search for flight details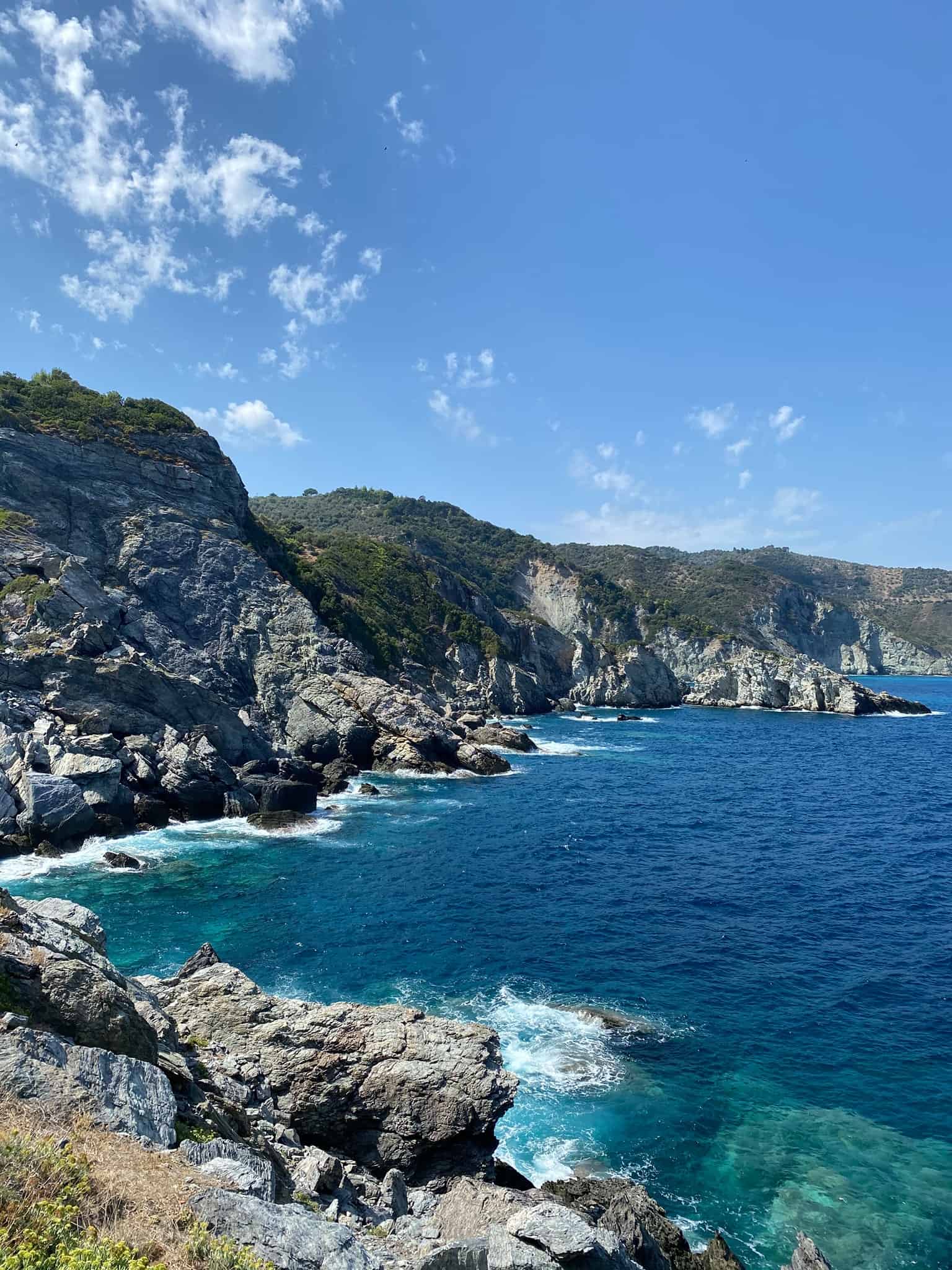 Many people book package deals to Greece that include their flights and accommodation. It is worth being open-minded when it comes to purchasing flights as it can work out cheaper to buy everything separately.

Use aggregator flight platforms like Skyscanner and Google to search for the best deals. Try to book your flight in advance where possible to secure the best deals. This is particularly important if you are planning to travel during the summer.

You can find better deals by being somewhat flexible in your travel dates. You may be surprised by how substantially the prices vary from one day to another.

These platforms have search options that allow you to see all of the flights that are departing from a specific location across an entire month. You can also search your country name as the departure destination, rather than the name of a specific airport.

You may find that flights are a lot more economical from one airport versus another. Several Greek and budget European carriers offer low-cost routes to Greece. This includes the likes of Aegean Air, Ryanair, and Easy Jet.
Look for discounts and concessions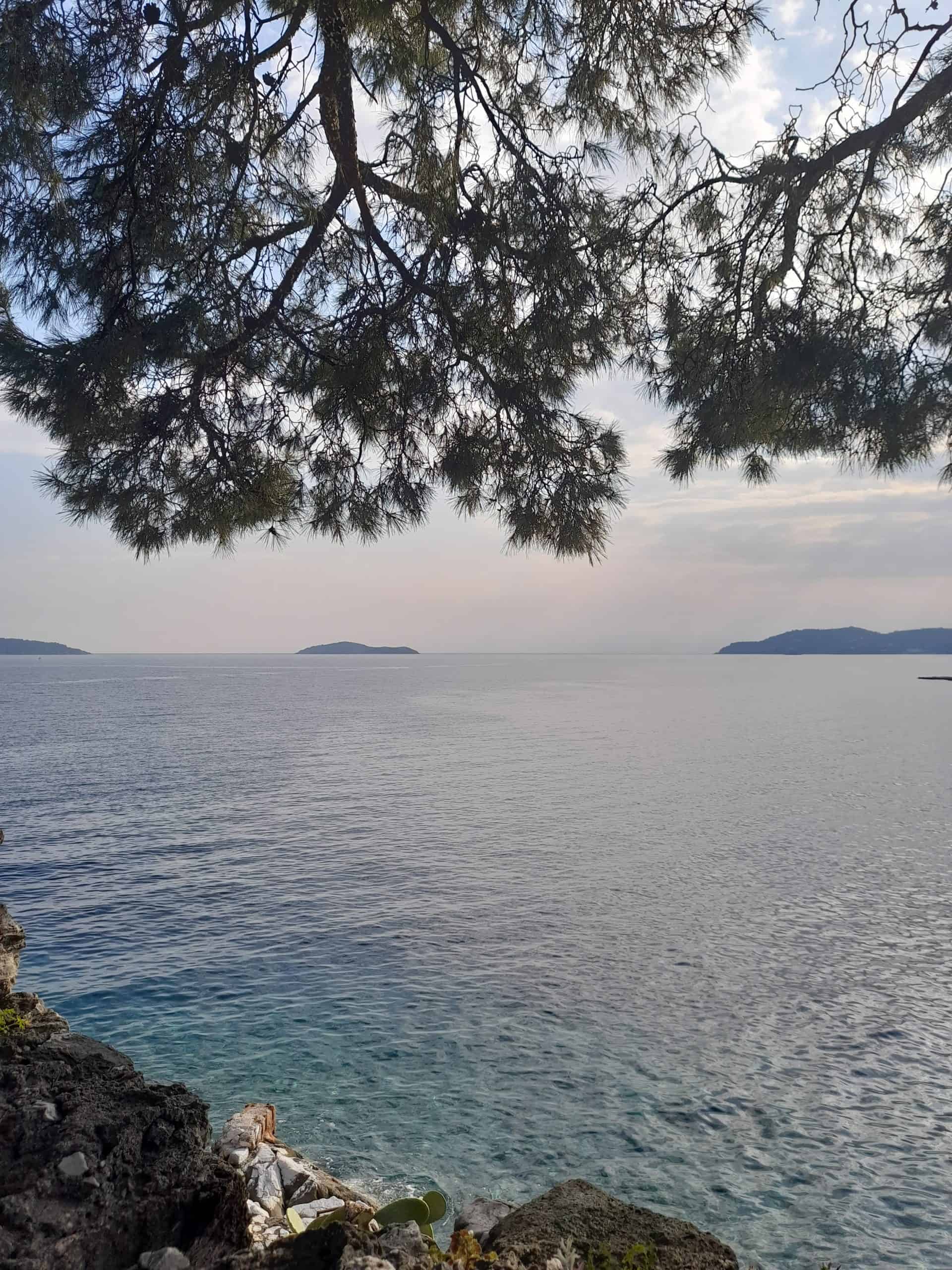 If you are over the age of 65, are a student, or are travelling with young kids, you may be able to get concessions on certain things. For instance, you may be able to enjoy free admission to certain Athens museums and archeological sites.

You can also enjoy reduced rates on public transport around Greece and on the Athens airport to city buses and metros. You should prepare to show identification to prove that you are entitled to reduced rates.
This can be a passport or driving license to demonstrate your age, and a student card if you are a student.
Use public transport to get around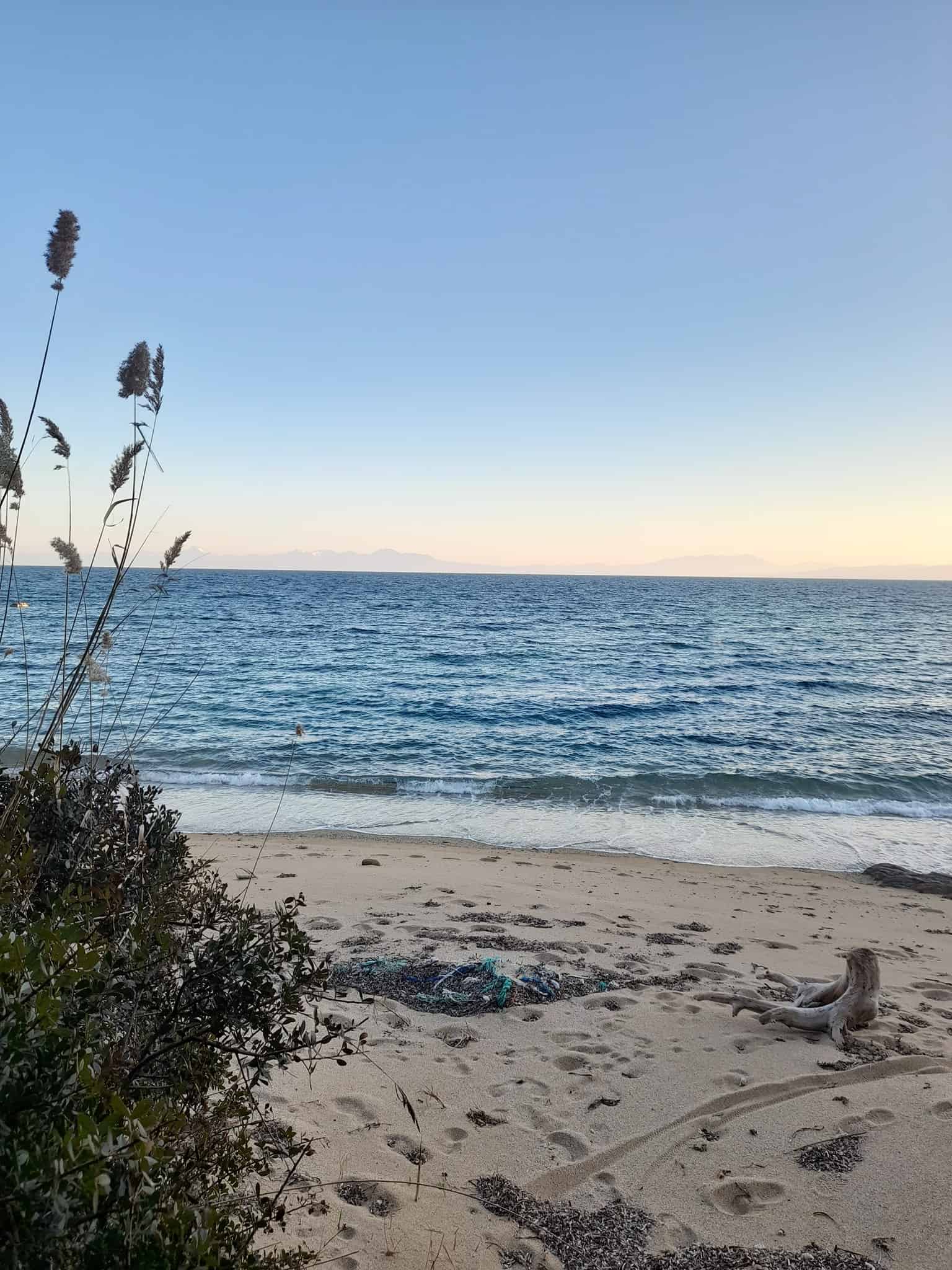 Public transport in Greece is excellent. There is an extensive bus and metro network in Athens, and intercity buses across the country are also great.

You can reach even the most far-flung towns and villages via bus and services are reliable, generally on time and affordable. Buses are the best way to get around Greece as the train network leaves a lot to be desired.

(At present, you can only take trains from Athens to Thessaloniki via Larissa and Kalambaka). KTEL is the name of Greece's national bus company.

However, confusingly, there is not one central website which you can check transport schedules and purchase tickets from. Instead, there are regional websites in each part of the country.

For instance, if you are purchasing a bus ticket for Athens and Southern Greece, you need to use KTEL Attikis. If you are taking day trips from Thessaloniki, you should use KTEL Macedonia.
Public transport is affordable. For instance, you can get a ticket from one side of the country to another for just €25.
Be smart about ferry travel
If you are planning on island hopping, you will no doubt be using a ferry or two during your time in Greece. Services run several times a day between major ports and popular islands.
However, even so, it is not unheard of for them to sell out completely. Use Ferryscanner to check the latest routes, and timetables, and purchase your tickets online in advance.
Do not wait until the night before to book your ferry tickets. If you don't mind roughing it a little and sleeping on a boat, you can also save on a night's accommodation costs by taking a night ferry to some islands.
Blue star ferries operate night services between Piraeus and the islands close to Athens and beyond. Though the trips take longer, they are also cheaper and enable you to cut out your accommodation costs for the night.
Be flexible with your travel times
You may be surprised by how much ferry ticket prices differ throughout the day. Ferries departing at mid-morning can be half the price of those departing very early in the day. Being flexible with your itinerary in this manner can save you a fair amount of money.
Download the BEAT taxi app
Unfortunately, Uber is no longer permitted in Greece. Only licensed cabs are allowed to operate here.
Taxi BEAT is a useful app that works in the same way as Uber. You can immediately order a taxi directly to your location.
The fare and route are displayed before you get into the cab so there is no way that the taxi driver can rip you off.
BEAT is common in Athens, Thessaloniki, Ioannina, and many large Greek towns and cities. However, it is not in use on the smaller islands.
Taxis in Greece (like cab drivers in many places) will often try to trick you. They will take you on a roundabout route through Athens, or they will lie and not turn the meter on.
It is always preferable to use the app and avoid any of this. On smaller islands, avoid scams by asking your hotel receptionist/concierge to provide you with the details of a cab driver that they trust and recommend. You can then use them for all of your taxi needs.
Buy an Athens metro ticket pass
The Athens tram and metro network is both affordable and extensive. It even runs out into the districts of Piraeus, Kifissia, and the Athens Riviera.
One-way tickets cost just €1.20 and are valid from the point of departure. You can also purchase multi-day passes if you are going to be spending a few days in the Greek capital.
A 5-day Athens metro ticket is €8.20 and a 3-day tourist ticket (including the return journey from the airport) is €19.20. A one-way Athens and Airport metro ticket costs €10 while a return €17.
A one-way Athens to airport bus ticket costs €6. If you are moving to Greece or you are going to be around for longer, you can consider investing in a 30-day Athena ticket for €27.
A 30-day Athena ticket with airport transfers is €45 per person. You can buy all of these Athena cards and tourist tickets at any transport office or automated ticket machine.
Search for hotel and accommodation deals
When traveling to Greece on a budget, you need to be strategic about booking accommodation and hotel rooms. If you are going to popular islands in the summer months, you need to book your accommodation in advance to secure the best deals.

People will often reserve their summer accommodation as early as the winter before. If you leave your reservation until the last minute, you will find that some properties have sold out and many of the best options have gone.
The rooms that are remaining are often then quite expensive as the best deals go quickly.
Conversely, if you travel to Greece out of season, there are often more hotel rooms than people. Many hotels slash their prices by up to 60% at the last minute in a last-ditch attempt to sell out the rooms.
If you are travelling at this time of year, booking at the last minute can be the best way to secure deals (even if it sounds risky). When you book at the last minute, many hotels often provide free room upgrades or complimentary breakfasts as an incentive to book.
You could even book a hotel that has a free cancellation policy, so you ensure that you have a place to stay. While at the same time it allows you to keep browsing to see if anything better becomes available.
Sometimes you may find that deals are better if you book directly through the hotel's website. This is because platforms like Agoda, Hotels Combined, etc charge commissions.
At the same time, many aggregator hotel platforms offer loyalty schemes. For instance, if you become a "Genius" member with Booking.com, you can enjoy discounts of up 10-20% on room bookings.
Some platforms give you the 10th night of accommodation for free if you book a nine-night stay with them. Similarly, travel credit cards allow you to accumulate points for purchases. If you are smart about this aspect of travel hacking, you can save a lot of money.
Couchsurf to eliminate accommodation costs
During the summer months, accommodation costs really are exorbitant. Whereas in the winter you can find an entire Airbnb apartment in Athens for $15, in the summer you will be paying that for a hostel dorm bed.
Couchsurfing and free camping are two ways to omit accommodation expenses from your Greece travel budget. Couchsurfing is a great way to get to know the locals and experience true Greek culture. This means opting to stay in someone's home.
Doing so may sound risky if you haven't used the platform previously. However, you may be surprised to see that there is an entire global community of travel lovers that use it.
The concept is that you stay on someone's couch or in their spare room as part of a cultural exchange. You create a profile to tell them about yourself, and you should always check their reviews before staying in the home of a stranger.
This is a great way to see Greece through the eyes of a local and make friends while doing so. Female travellers should be mindful when choosing a host as there are those that view this as a dating app.
Free camp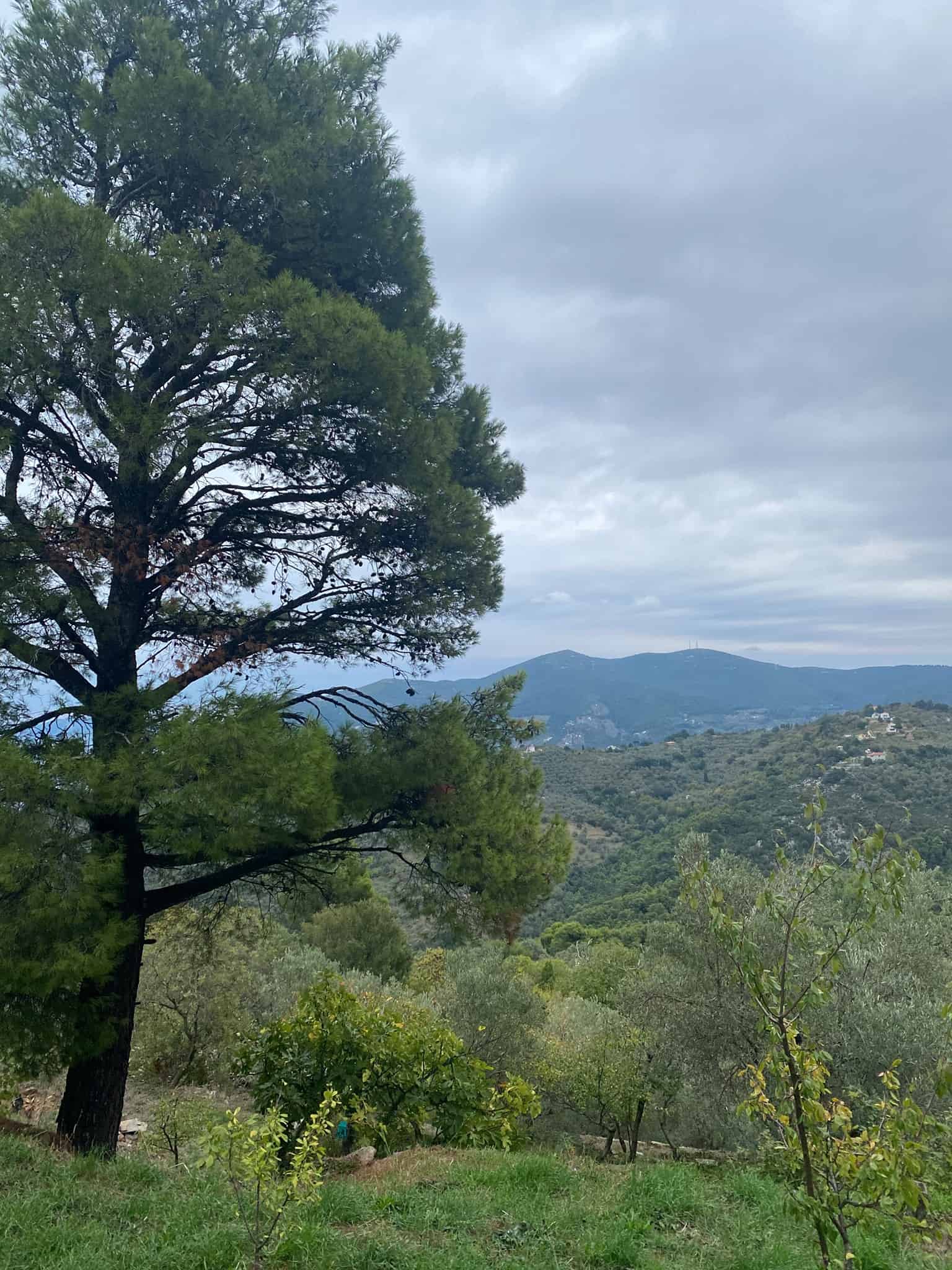 Camping enables you to immerse yourself in the beautiful scenery that makes so many people fall in love with Greece. From the rugged mountains of Karpenisi to the stunning beaches of Corfu.
There are also many designated camping grounds around the islands and the mainland. Some of them are completely free to use and have facilities nearby.

It is possible to "free camp" in the wilderness in some areas. This has become relatively popular in rugged Cycladic islands like Folegandros.
Reconsider your trip duration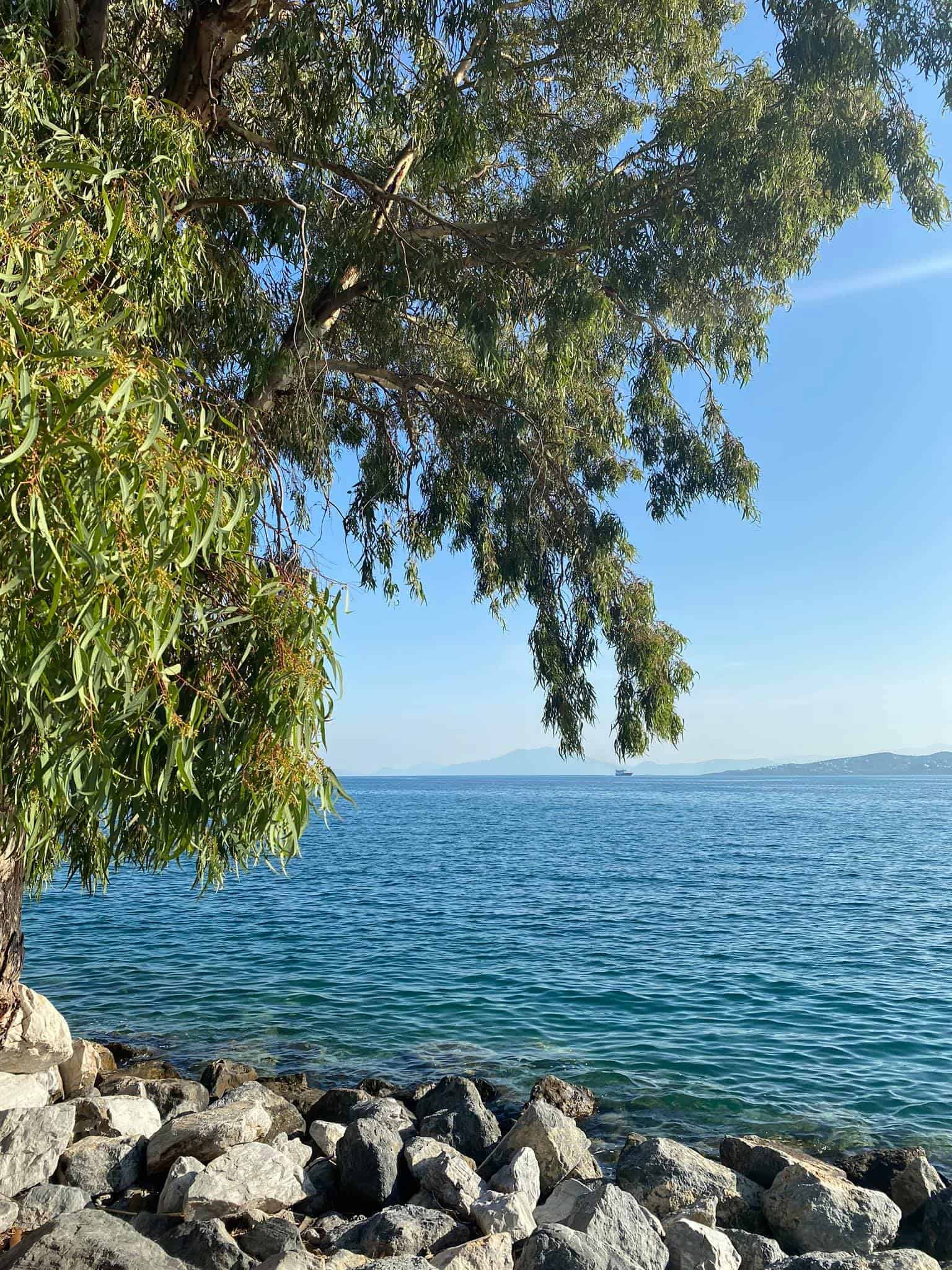 Many self-catered accommodation rentals offer discounts if you stay for a certain number of days. For instance, many Airbnb owners offer weekly and monthly price reductions.
Reductions can be anywhere between 5% to 60% depending on your trip duration. So, it is worth planning your trip accordingly.
If you are planning on staying somewhere for 5 days, 7 days may actually work out only slightly more expensive. Similarly, if you were planning on exploring a specific region for a month, you may find that it is significantly cheaper to base yourself in one place.
Then, you can take day trips out from there instead of 'hopping' from one location to another. Spending a month in Greece is a great choice if you are a remote worker, or you have a flexible schedule and you enjoy slow travel.
Stay in self catered accommodation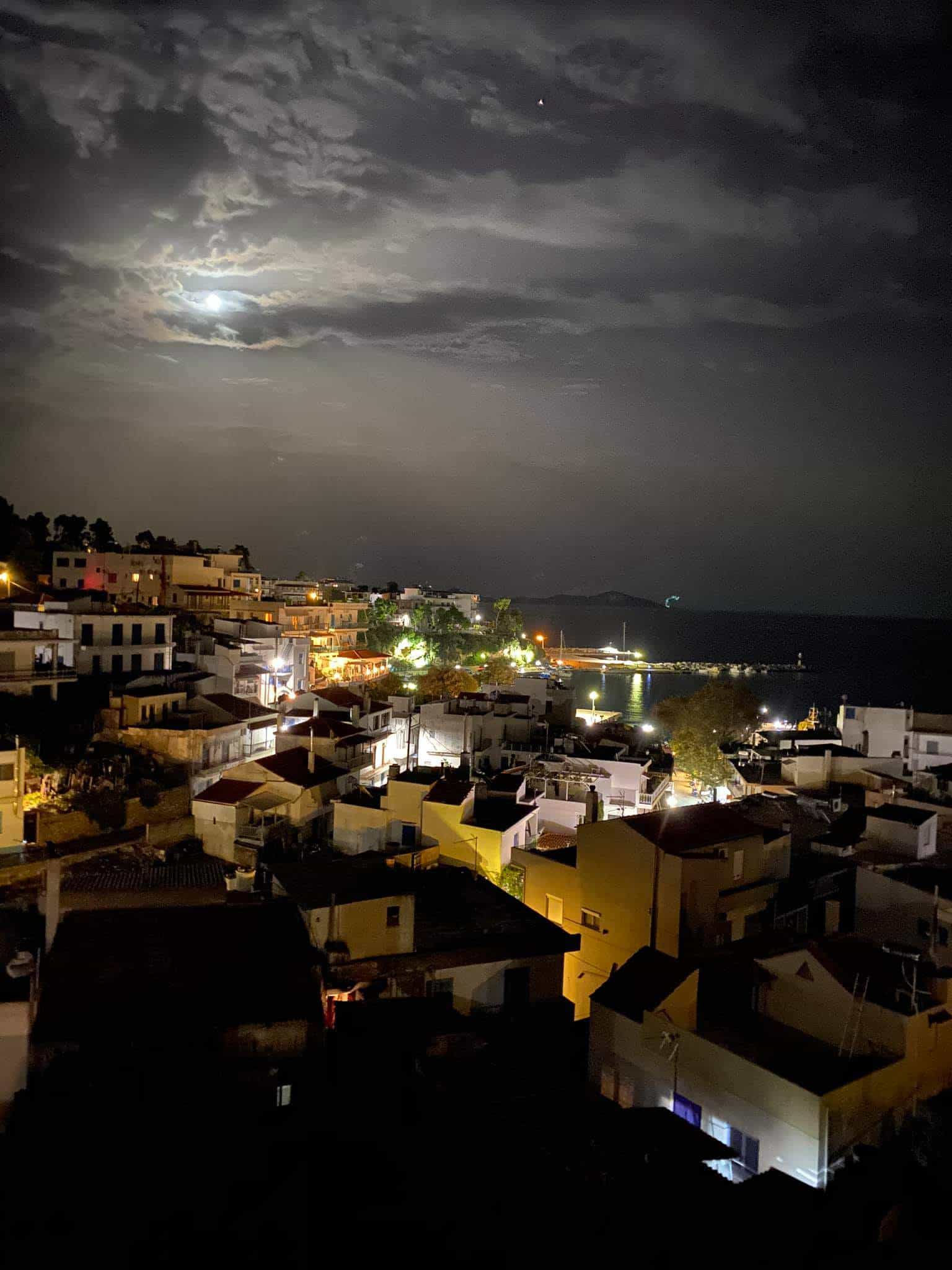 The cost of eating out can quickly add up, particularly if you are staying in popular tourist areas. You can reduce this cost by opting to stay in self-catered accommodation and prepare some of your own meals.
When you drop by the supermarket to buy food for cooking, stock up on a few snacks like cereal bars and bottles of water. This way you minimise the amount you pay on these things while you are out exploring. You can also pack a picnic if you know you are going to be out all day hiking or at the beach.
Shop at local markets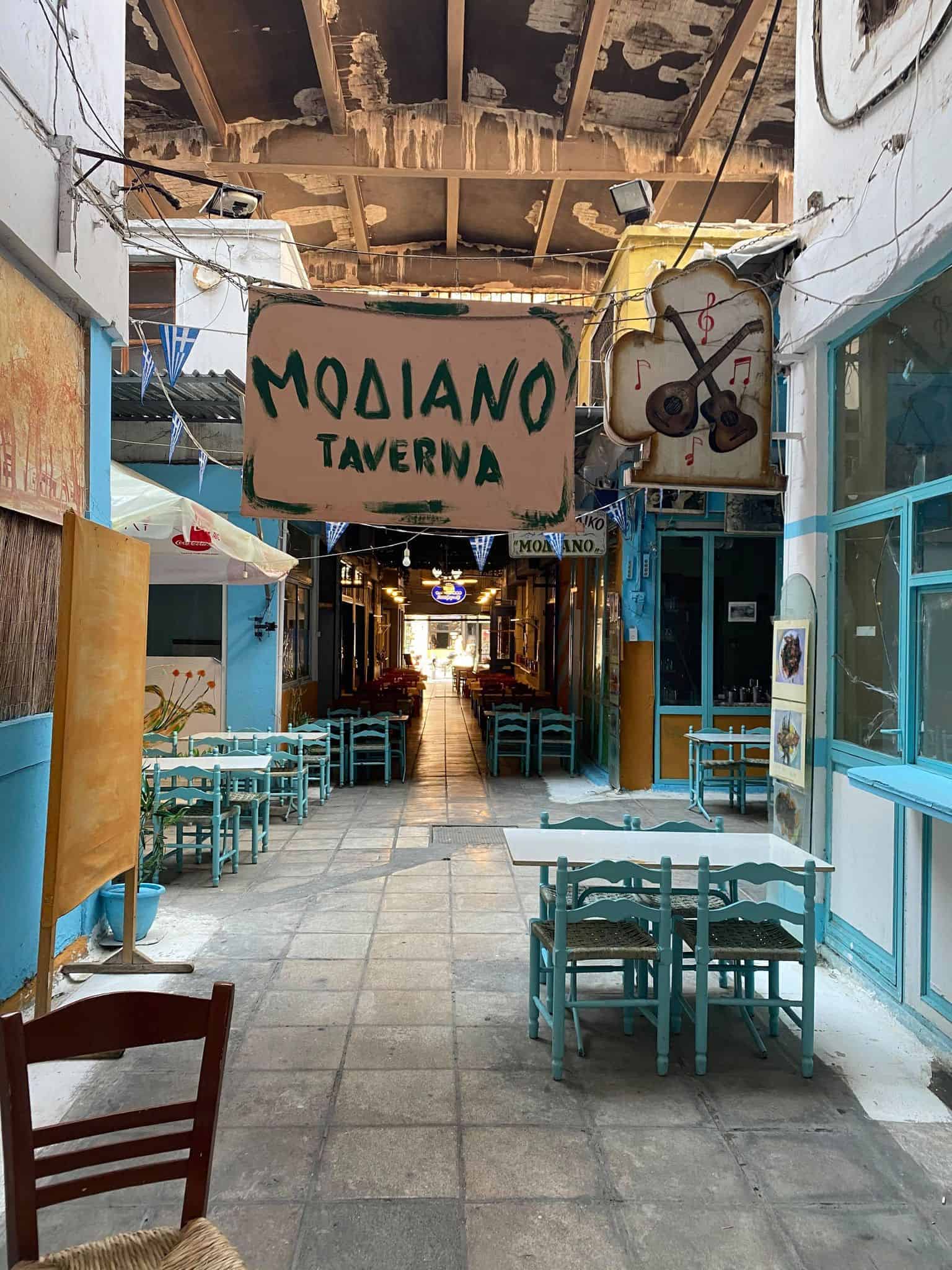 Athens and other Greek cities and towns have weekly farmers' markets ("laiki"). These pop-up markets are held in various neighbourhoods on specific days of the week.
Here, you can pick up lots of excellent quality fruits and vegetables, as well as some delectable homemade treats like jams, cakes, and pastries. You can buy huge portions of sweet fresh tomatoes or kilos of oranges for less than a euro.
Shopping at the local markets is a great cultural experience as well as a money-saving opportunity. Check with your accommodation host as to where your nearest market is and when it is held.
Research where you should eat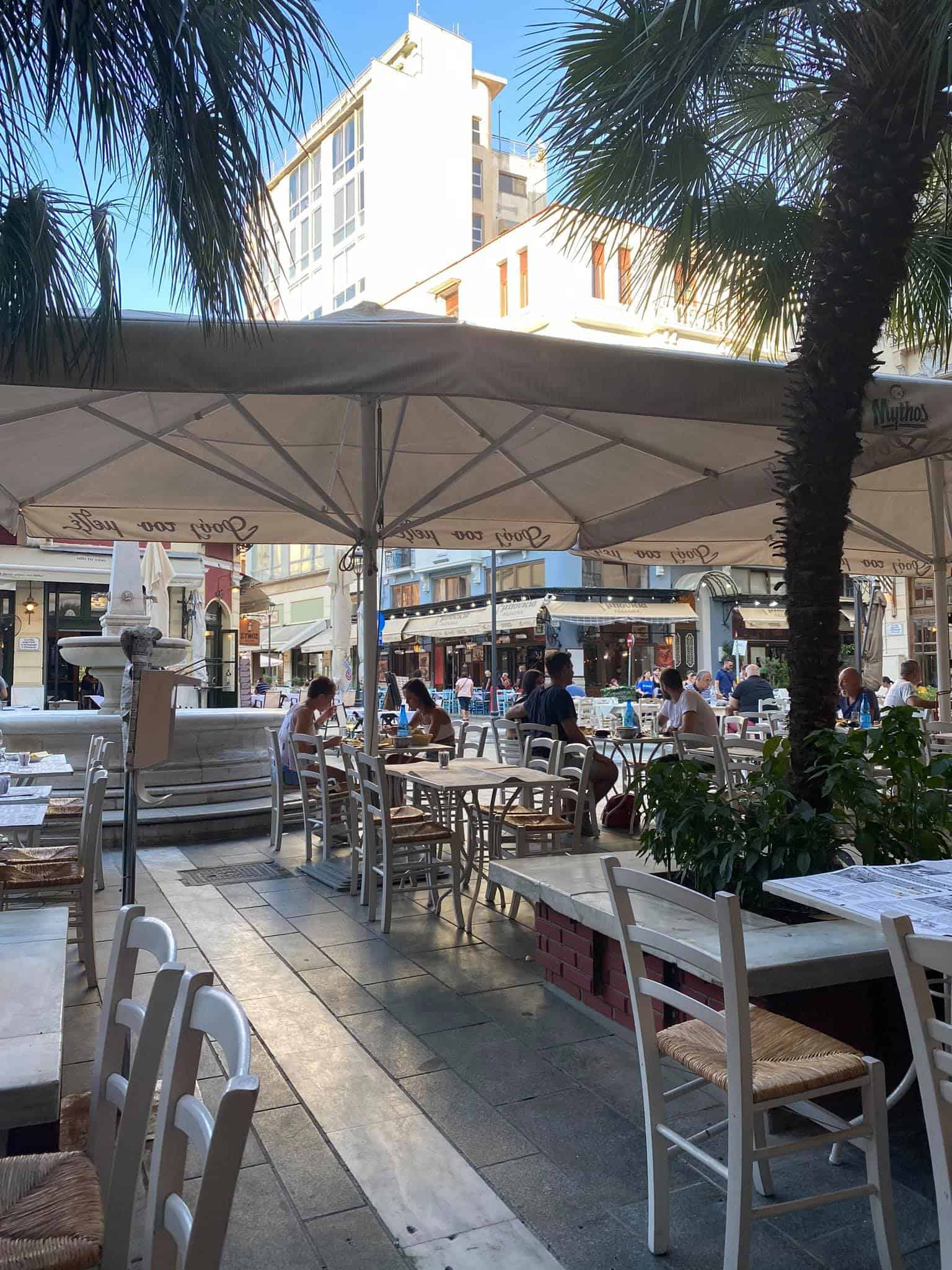 When traveling to Greece on a budget, ask your host or hotel receptionist to recommend some good, cheap places that locals like to eat. Have them mark them on your map.
You can also do some research online before you go. Simply search online for "the best places to eat in X".
Greece is generally an affordable place to live and travel. Most of the best restaurants in Athens and the top eateries in Thessaloniki do not have extortionate prices.
If you have an idea of good places to eat before you arrive in Greece, there is less chance that you will fall prey to a tourist trap restaurant and wind up spending $20 on a sloppy piece of pasticcio.
Rent a moped instead of a car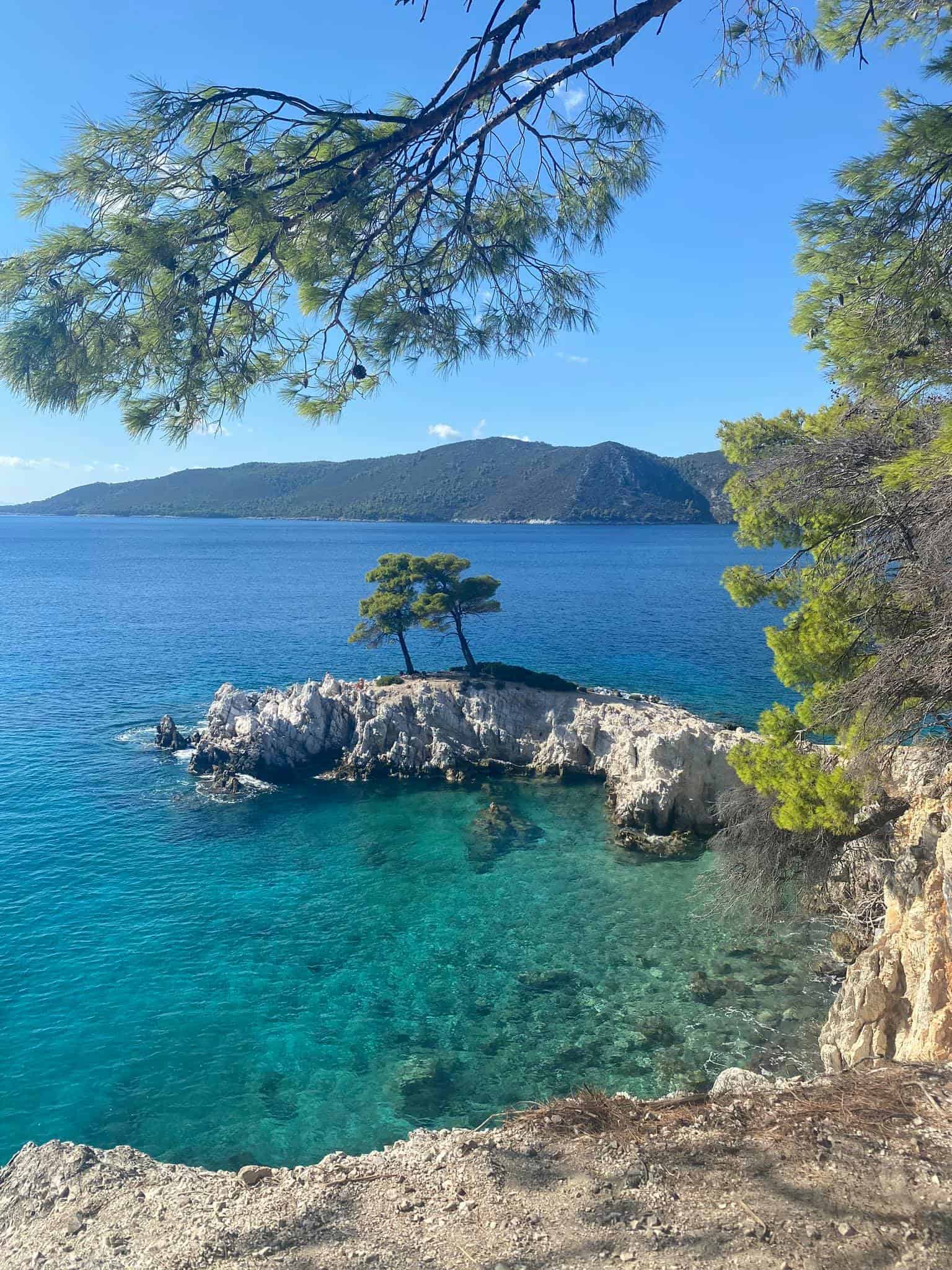 Renting a car in Greece is a great way to get around. That said, while car rentals provide a lot more freedom and flexibility than exploring by public transport, they can also be fairly pricey.
Daily car rentals tend to start from around €30 euros a day. This is higher in the summer months (more in the region of €50). Of course, there are also additional "hidden" costs such as insurance, gas prices, etc.
Mopeds, bicycles, and ATVs are widely available on most Greek islands. They are much cheaper than car rentals.
Driving in Greece (by car or by moped) is not as intimidating as it might sound. Most roads are well-maintained and in pretty good condition. Road rules exist and are enforced here just like they are anywhere else in the world.
Get around on foot or by bike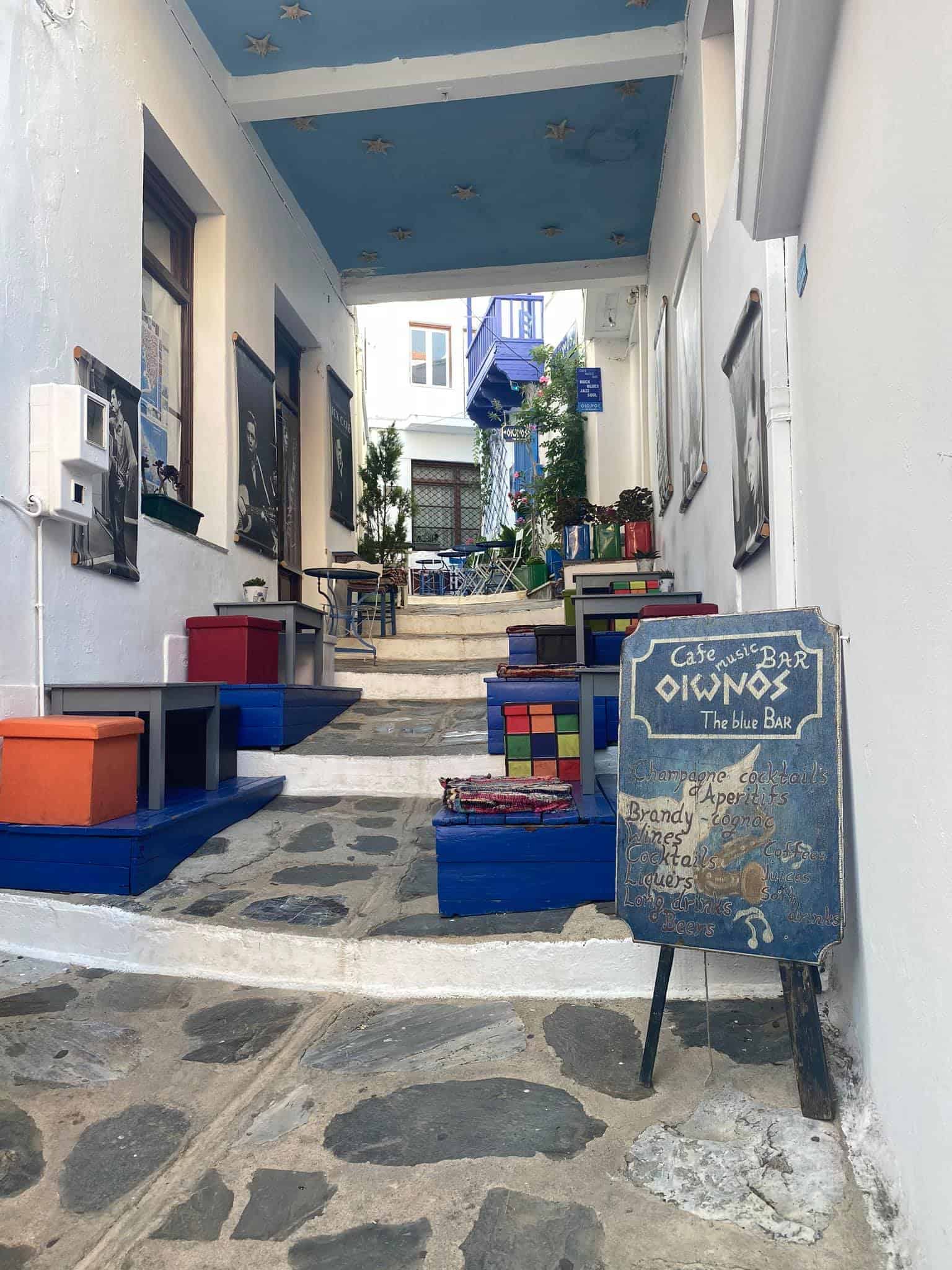 Opting to walk everywhere, or as much as possible completely mitigates any of your transportation costs when you are in a Greek city or on an island. In doing so, you will also have the opportunity to discover districts and places that you may never have found otherwise.
Most Greek towns and cities are easy enough to navigate on foot. You can also rent a bicycle to cover distances faster.
Bicycle rentals are relatively inexpensive. Automatic scooters for rent and low-cost city bikes can be found in Athens and Thessaloniki.
Even walking long distances in Greece can be very pleasant. For instance, you can hike the entirety of small Greek islands like Paxos, Spetses, Hydra, etc.
Manage your money carefully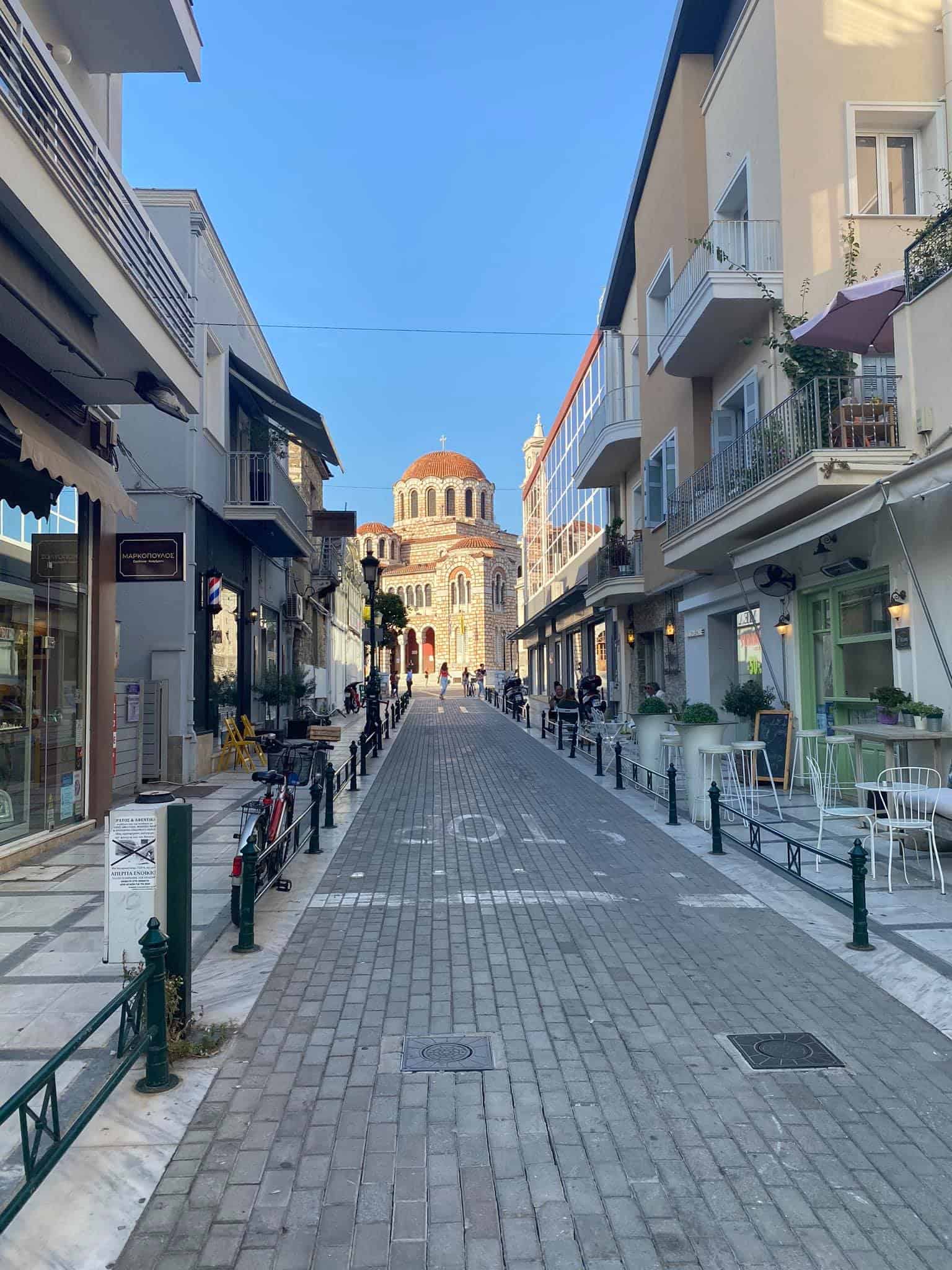 If you are traveling to Greece on a budget, every penny saved helps. One major way that you can save money while travelling in Greece (and in general) is by opting to open a borderless bank account.
Borderless bank accounts such as those offered by Revolut, Wise, and Charles Schwab are free to open. They do not charge you any transaction fees when you withdraw cash or make card payments abroad.
This is a game changer as some bank cards charge exorbitant fees for international withdrawals and foreign card purchases. This can be several euros per transaction and it quickly adds up.
Do free activities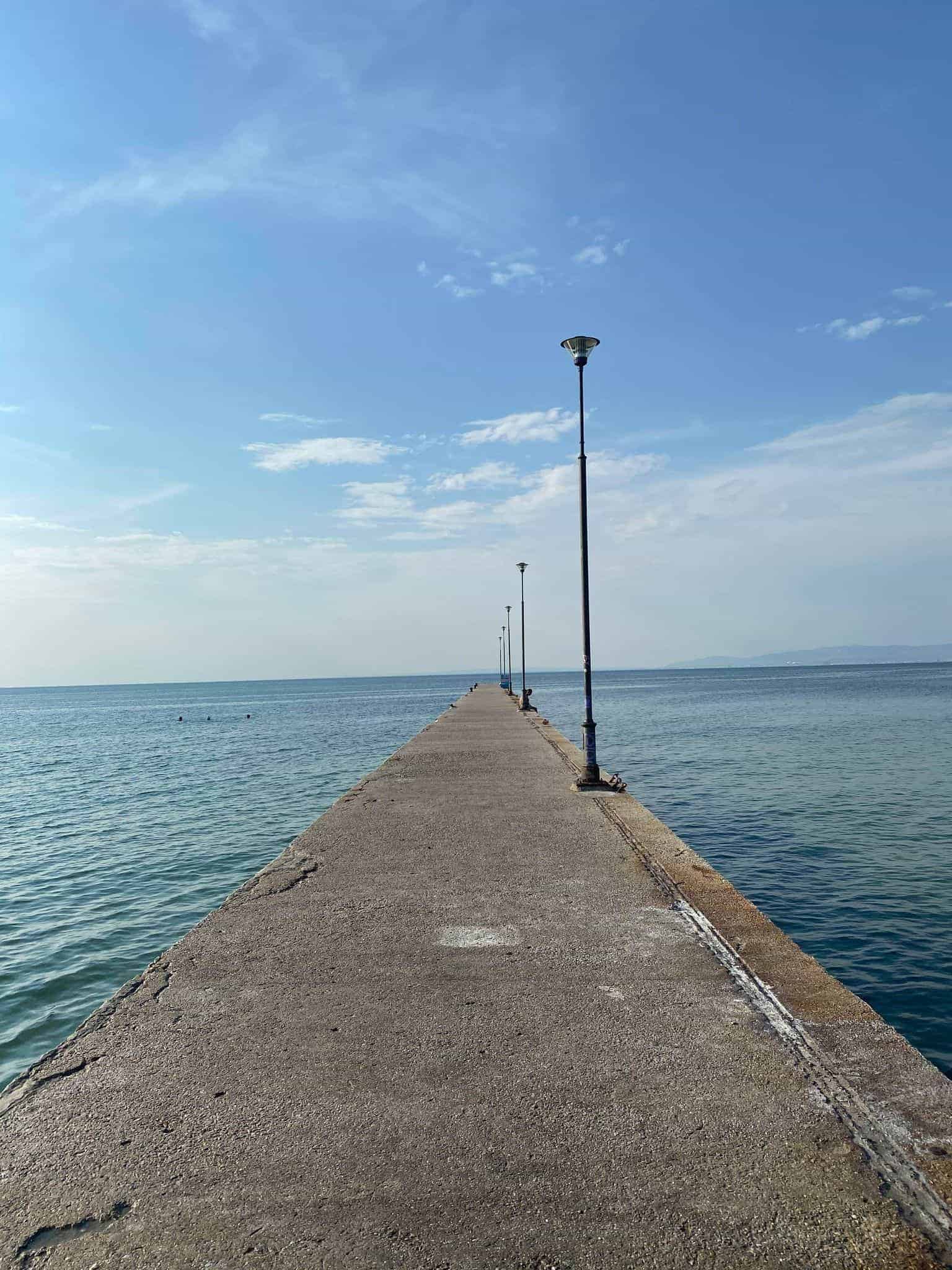 You could easily spend several days in Athens and spend absolutely nothing on sightseeing. On certain days and public holidays, major city attractions like the Acropolis and various Athenian museums are completely free to enter.
Free admission dates for major Greek historical sites and museums are detailed below. You can check the specific details, opening times, etc, online prior to your trip.
The first Sunday of the month from November to March


6 March (Melina Mercouri remembrance)


18 April (International Monuments Day)


18 May (International Museums Day)


Last weekend of September (European Heritage Days)


28 October (Oxi Day)
Exploring the city on foot is free of course. There are also many hikes in Athens that take you to gorgeous Orthodox monasteries and Athens churches, abandoned palaces, and crystal-clear lakes. These are all days out that will not cost you a cent.
Athens is the example here. However, the same rings true for destinations all over Greece. There are also numerous companies in Athens and other Greek towns/cities that offer free (tip-based) walking tours.
Eat street food
Street food is a huge part of Greek food culture and an excellent way to save money while traveling to Greece on a budget. A gyro or souvlaki can be found for $2-3 in most takeout places. Better yet, the portions are pretty generous and filling.
Greek pastries and baked goods are also good breakfast options for your wallet (albeit maybe not for your waistline!) In Greece, there are bakeries on practically every street corner.
You can get a huge slice of freshly cooked spanakopita (spinach and cheese filo pastry) for just $1.20. Similarly, you can get a koulouri (Greek pretzel) for $1.
A great lunch idea is to pick up some homemade pastries from a local Greek bakery. Then, pick up some yoghurt, tzatziki, and fresh vegetables for a salad from a nearby supermarket.
Take your food home after eating out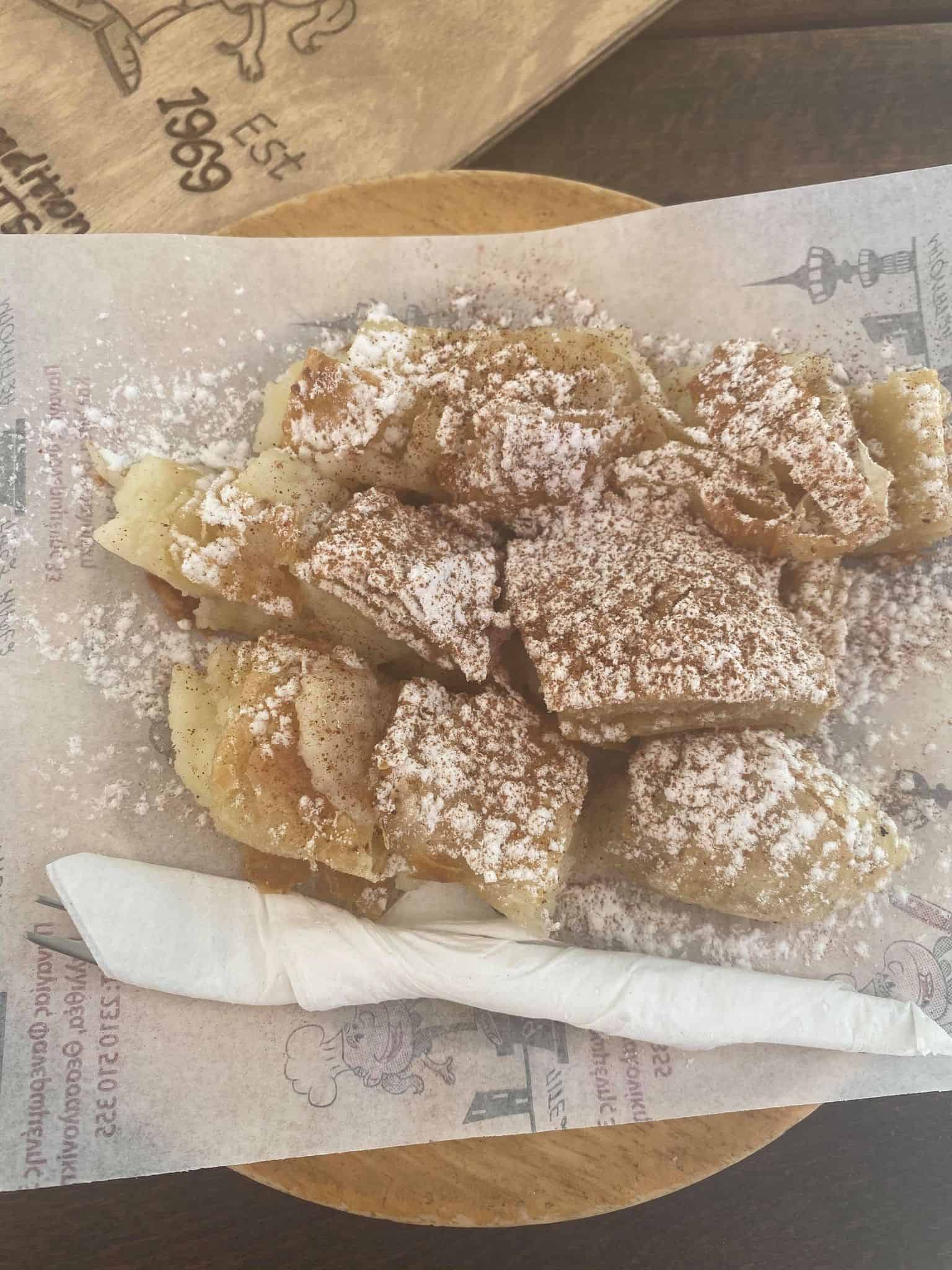 Portions at Greek restaurants and tavernas are often extraordinarily generous. Never hesitate to ask the waiter for a packet to take your food home in.
Not only does this save wastage, but it also gives you something delicious and traditional to enjoy for your next meal back at your accommodation. Greeks do this all the time so rest assured, it is a normal thing to ask.
Budget Travel in Greece:
How Much Can I Expect to Spend?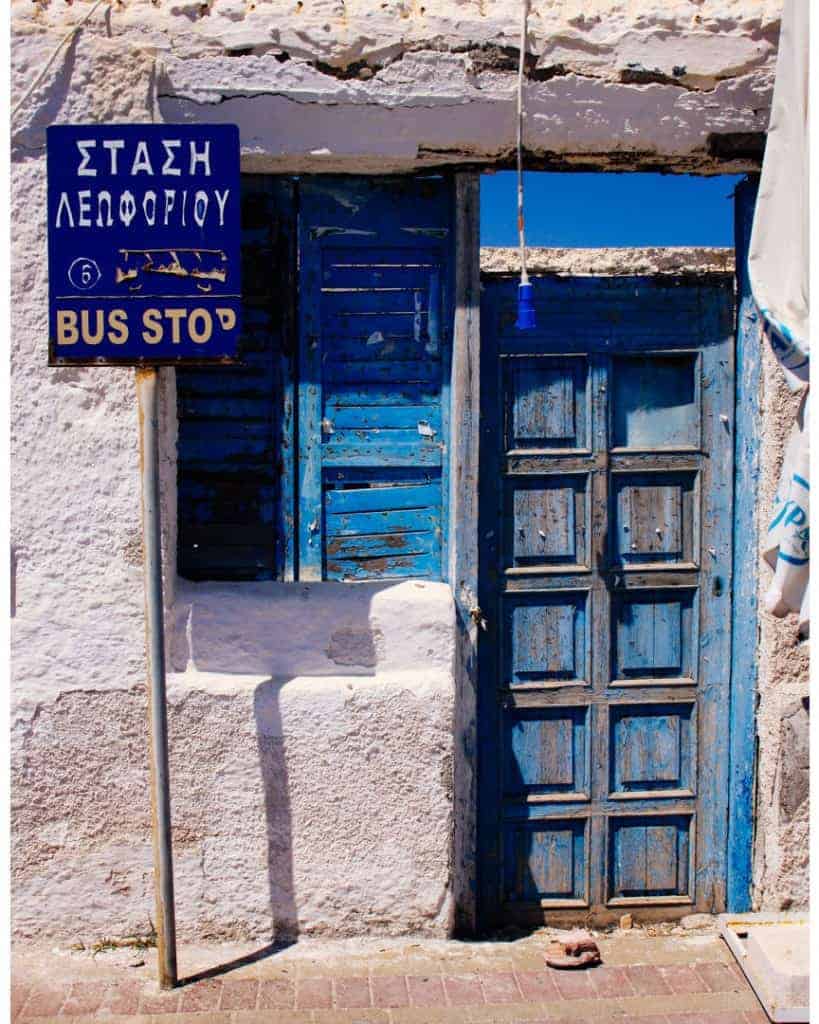 Considering all of the above, a real budget backpacker can get away with spending only $15-$20 a day in Greece. That is assuming that you travel out of season, opt to couch surf and stay in hostels, and eat mostly street food or food that you prepare yourself.
It is worth keeping in mind, however, that if you plan on staying in hostels while traveling to Greece on a budget, you may not find these everywhere. You will find backpacker hostels and capsule hotels in major tourist destinations and cities like Athens, Thessaloniki, Patras, etc.
However, many islands and rural areas only have hotel accommodations. Some islands are more upscale than others and you may struggle to find budget accommodation in popular or "romantic" getaway destinations. Research in advance and plan accordingly.
If you like a little more comfort when you travel, but still like to travel for as low a cost as possible, a budget of $50 per day is more realistic. Again, this assumes that you are travelling during the offseason, but incorporates a $25-30 nightly budget for hotels, plus occasional dinners out.
FAQs about Traveling to Greece on a Budget
Do you still have any burning questions or concerns about traveling to Greece on a budget? Hopefully, you will find the answers you are looking for below.
What is a good budget for a trip to Greece?
On average, you should try and budget around €115 a day for a trip to Greece. However, keep in mind that the amount that you should expect to spend varies depending on your travel style and where in the country you hope to travel.
For instance, if you travel to Athens during the winter or out of season, you can secure hostels or Airbnb for as little as €20 a day. You can easily get by spending less than €15-20 a day on food if you eat at homely tavernas and Greek bakeries.

Similarly, you can do a lot of free activities. So, at the minimum level, an extreme budget traveler can enjoy traveling to Greece on a budget of €50 a day. On the other end of the spectrum, you should expect to spend a lot more if you hope to stay in luxury hotels, do local tours and excursions, and eat at fine dining places.
Can you do Greece on a budget?
You can absolutely do Greece on a budget. This is one of the most affordable destinations in Europe. You just need to make a few mindful decisions about where and when you travel and if you can. Don't travel during the busiest month and choose less popular destinations rather than the most touristic islands.
How much should I budget for a week in Greece?
Around €750 is a reasonable budget for a solo traveller spending a week in Greece. If there are two of you, you can expect to spend around €1,000.
How much cash do I need for 2 weeks in Greece?
You should set aside around €980 for accommodation costs for 2 weeks in Greece, based on spending €70 a night in a hotel. All in, you can expect to spend between €1,500 to €2,000 as a couple spending two weeks in Greece.
Final thoughts on travelling to Greece on a budget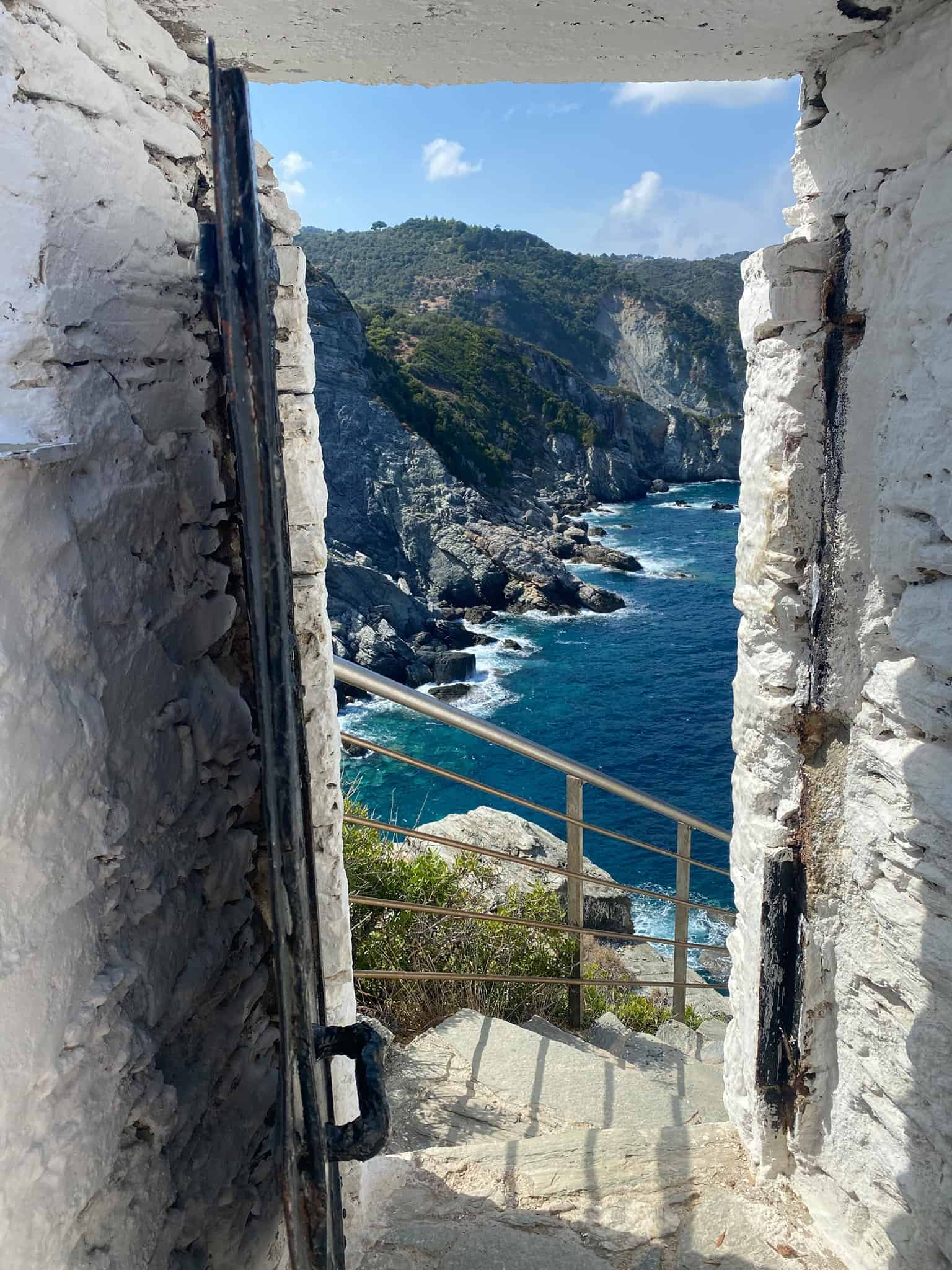 Do you have any further questions about traveling to Greece on a budget? I live in Athens and will be happy to assist with any concerns that you may have.
If you are visiting the country for the first time, you might also enjoy reading these things to know before travelling to Greece, or some of these books about Greece. Safe travels! Melissa xo
---