Mention Diaporos Island to most people, and they will frown and tell you they have never heard of it. Mention it to a Northern Greek, and chances are they will smile, and gaze off into the distance as they reminisce about their last trip to this beautiful place.
Diaporos, and the Halkidiki peninsula in general, are among some of Greece's best-kept secrets. Diaporos Island is the largest island in Sithonia's nine island archipelago. It is also one of the most beautiful.
Diaporos Island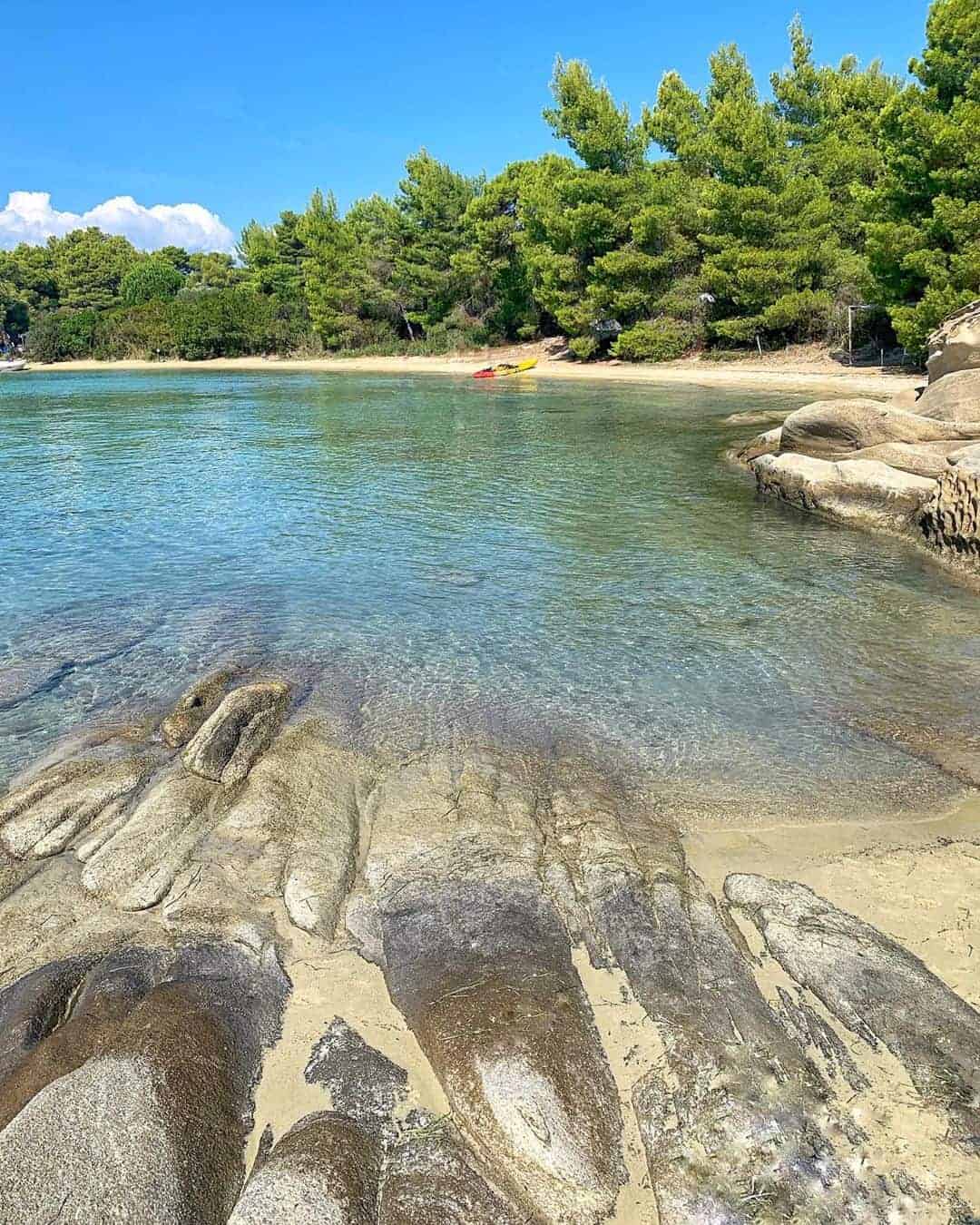 Diaporos Island is an uninhabited island that sits just off the coast of the Sithonia peninsula of Halkidiki. It can only be reached by kayak or private boat.
Word hasn't gotten out about this place yet. So, even when travelling to Greece in the peak summer months, you will only be sharing its beaches and waters with a handful of sun-seeking locals, as opposed to swathes of foreign tourists. 
The beauty of visiting Diaporos lies in the freedom that the travel experience provides. It's easy to rent a boat from just across the water in Vourvourou, Halkidiki. Five minutes later, you are pulling up to the shores of Diaporos.
A scattering of beaches, woodland hiking paths, and rocky shores sit along the coastlines of Diaporos. You can essentially "drop anchor" anywhere – swim to shore, snorkel in the clear waters, have a picnic on the beach, or go trekking through the forests.
What to See & Do on Diaporos Island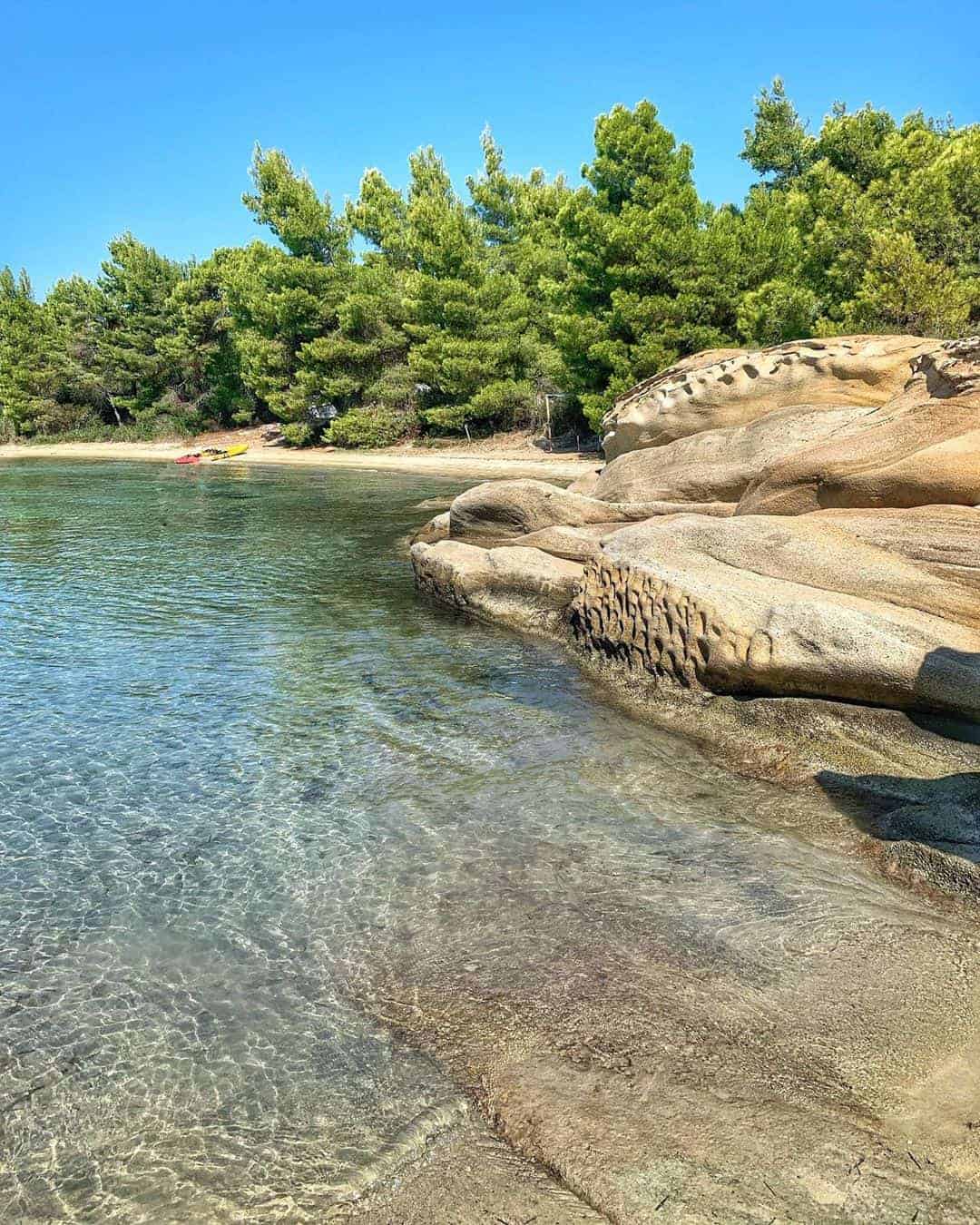 If you rent a boat in Vourvourou, you will be given a map of the island that lets you know what is where. The island is small, and you can sail around its entire circumference in less than 30 minutes.
You could consider enjoying a leisurely sail around the island first. Take a look and see what areas and beaches you like the look of the most, and then decide upon your anchor point from there.
Go snorkelling at the Blue Lagoon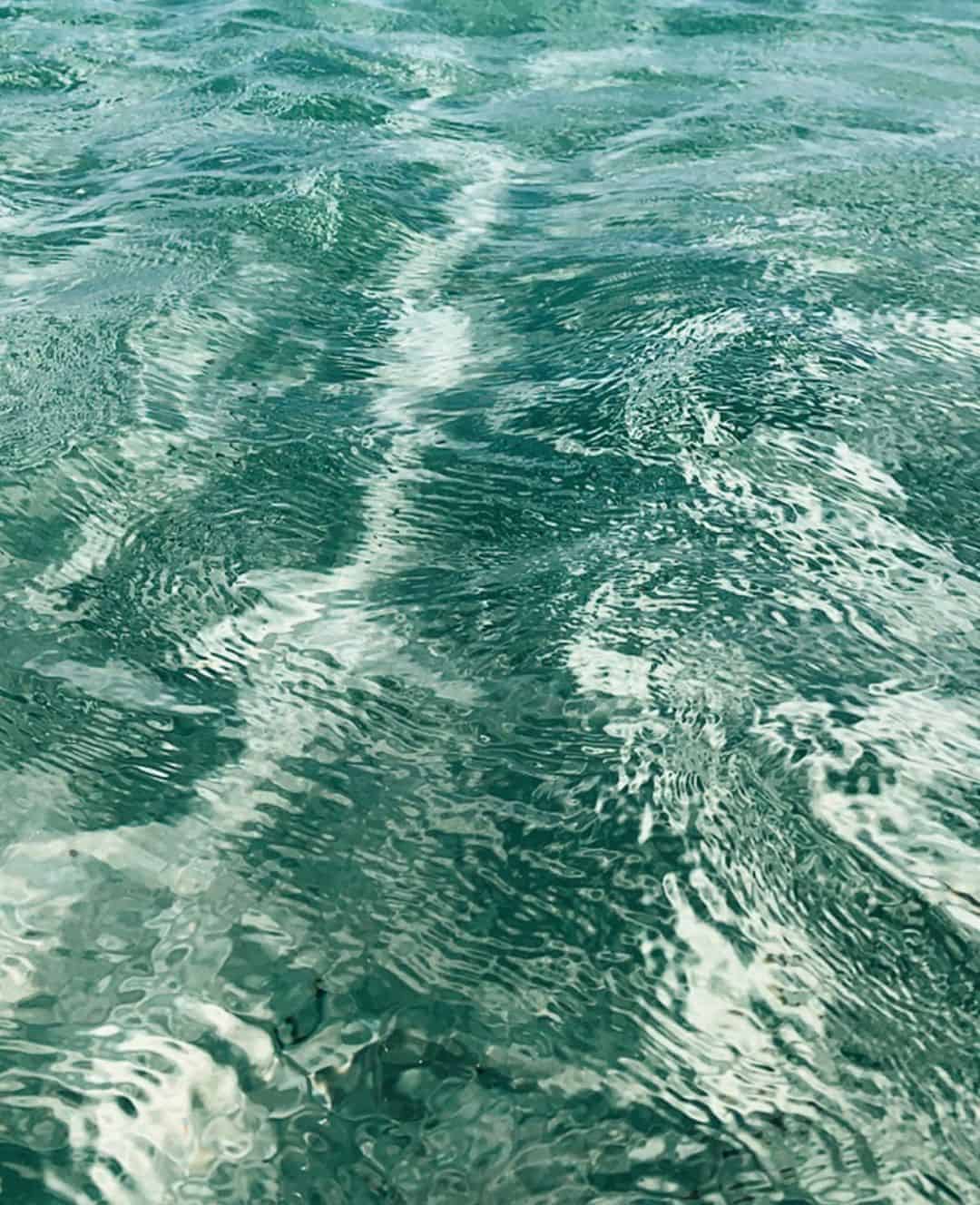 The main draw of Diaporos Island for most visitors is its blue lagoon – "Galazia Nera" in Greek. This is an area of water so clear and so blue, that you would think that you were in the Caribbean.
Galazia Nera is rumored to have the best waters in Halkidiki. This is also the most popular spot on the island – especially at the height of summer. 
As we dropped our anchor and dived in for a snorkel, there must have been at least another dozen boats around us. However, the area is so beautiful that its popularity certainly doesn't detract from the experience.
You could easily spend an entire day solely at the Blue Lagoon. The water is so clear and clean that you can see to the bottom, and as you venture a little out from the shore, you can see shoals of beautifully coloured fish. We had packed a crate of beer and snacks and spent a few hours relaxing and hanging out here, as our boat gently bobbed along in the sea.
Pack a picnic and eat at a secluded beach 
Services and facilities on Diaporos Island are sparse. Although local tourism companies want to build hotels here in the coming years. Visit now before they ruin one of the last unexploited islands of Northern Greece!
Pack a picnic, some light snacks, and some beers/drinks in a cooler. Then take it ashore with you to one of the secluded beaches and coves on Diaporos. One of the most beautiful sights I've seen in Greece so far has been watching the sunset from this island, as the sky was illuminated with hues of orange and pink.
Chances are that you will pass through the villages of Nikiti or Vourvourou on your way to the island. Grab a sandwich, or have a local taverna pack you up a few mezes, so that you can enjoy them later in this stunning natural setting.
Relax on the shores of Myrsini Beach 
Myrsini beach is rumoured to be the very best beach in Halkidiki. While that is certainly a very bold claim, Myrsini definitely didn't disappoint. With clear blue waters, white-sand beaches, and secluded coves, it is easy to see why it has gained that accolade.
Myrsini Beach is also referred to as "white beach" and "Hawaii beach" on account of its natural beauty. Another popular stopping point is Natural Bay, on the northern tip of the island.
Go hiking
The appeal of Diaporos Island for most visitors is its waters and beaches. However, nature lovers will be pleased to know that there are several Greek hiking trails that twist and turn through the woodlands and nature of the island.
The island is small, and the terrain is flat. Yet the 30-60 minute trails that lead around the island make a nice change of pace for the day.
Sail out to the island of Peristeri 
Spending a day relaxing on Diaporos is plenty, but if you do find yourself feeling restless or wondering what else is in the area, you can consider sailing a little further afield to the nearby island of Peristeri. This spot is even more off-the-beaten-path, as most people choose to hang out at Diaporos Island all day.
Peristeri island is less than 1km in length, yet its shorelines are comprised of idyllic sandy beaches. On one side of the island, there is an old sea lighthouse.

You could drop your anchors, swim ashore, and hike to the lighthouse so as to enjoy magnificent views over the Halkidiki peninsula. You can even see out to the monasteries of Mount Athos in the distance.
End your day at a taverna in Vourvourou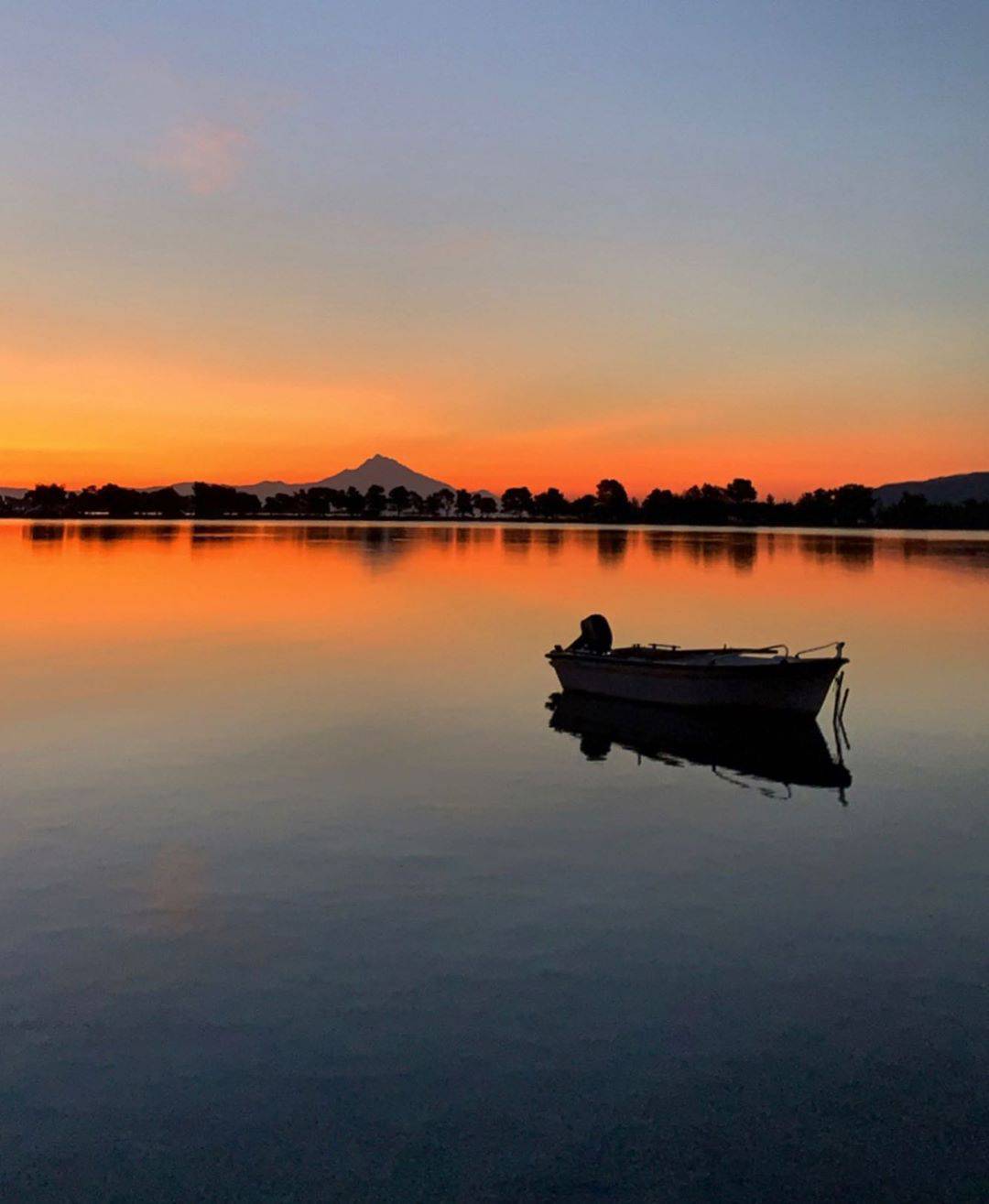 Most rental companies require you to return your boat by 18:00 pm. This is perfect timing for a coffee or a Freddo espresso in one of Vourvourou's seafront coffee shops. Alternatively, tuck into some local cuisine or a refreshing Greek salad in one of the nearby tavernas.
Despite being a touristic place, most tavernas in the area serve food of excellent quality. Mandara Alter Tavern and Mantala (confusingly similar names!) are two of the best-rated spots in the area.
Getting to Diaporos Island
There is no public boat that connects Diaporos island to the mainland. If you want to explore this beautiful place and its blue lagoons, you need to either kayak across the water or rent a boat and sail across from Halkidiki.
Getting to Vourvourou
The small town of Vourvourou sits in the Sithonia province of Halkidiki. It takes approximately two hours to drive here from Thessaloniki.
You can either rent a car in Greece or take the bus to Halkidiki. KTEL Chalkidiki runs frequent services between Thessaloniki and Vourvourou during the summer. You can check the latest schedules here.
Renting a boat in Halkidiki 
We rented a boat from a company called "Into the Blue" in Vourvourou, Halkidiki. It's worth noting that boat prices vary from company to company, and from month to month.
Boat Rental Prices
The season runs from June to September only. August is the most expensive month. Visiting in mid-August, we paid €90 to rent a boat for the day.
There were four of us, and most boats have a maximum capacity of 4-5 people. Expect to pay between €50-100 for a boat depending on the specific month.
Safety First
It is worth noting that you should have at least a basic understanding of boats/safety at sea if you plan on driving the boat. They do have life jackets on board. However, most rental companies seem to let anyone rent a boat, and they didn't provide us with any safety information.
Boat Rental FAQs
You need to reserve your boat rental in advance, especially during July and August. Call or email the rental company a few days before.
Some additional things to consider are detailed below.
Most boats have ice boxes, speakers, and safety equipment but check in advance


You will typically have the boat from morning until around 6 pm


You do not need a boat license but you should take a photocopy of your ID
Renting kayaks in Halkidiki 
A lot of boat rental companies in Vourvourou also rent out kayaks. If you prefer it, and you have the upper body strength (!), you can opt to kayak across the water to the island.
Kayaks have the capacity to hold two people and rental rates vary by time rented, and season. Assuming that you want the kayak for a full day, expect to pay around €50.
Diaporos Island tours
If you prefer not to rent a boat or a kayak, you can participate in an organised day trip to Diaporos island. These trips are a great choice as they take a lot of the stress out of managing the logistics of how to get from A to B.
Many include pick-up and drop-off to and from your hotel in Thessaloniki or in Halkidiki. A speedboat takes you to Diaporos from Vourvourou and a traditional Greek lunch, and visits to other Greek islands in the area are included.
A number of reputable Diaporos tours are detailed below for your consideration. It is a good idea to book your place online in advance to avoid disappointment!
Parting Words
Have any further questions about visiting Halkidiki's secret island, or drafting out a Greece travel itinerary in general? I've been living here for almost five years now.
I am happy to help if you have any questions or concerns. Just drop me a comment below.
Geia sou! Melissa xo
---