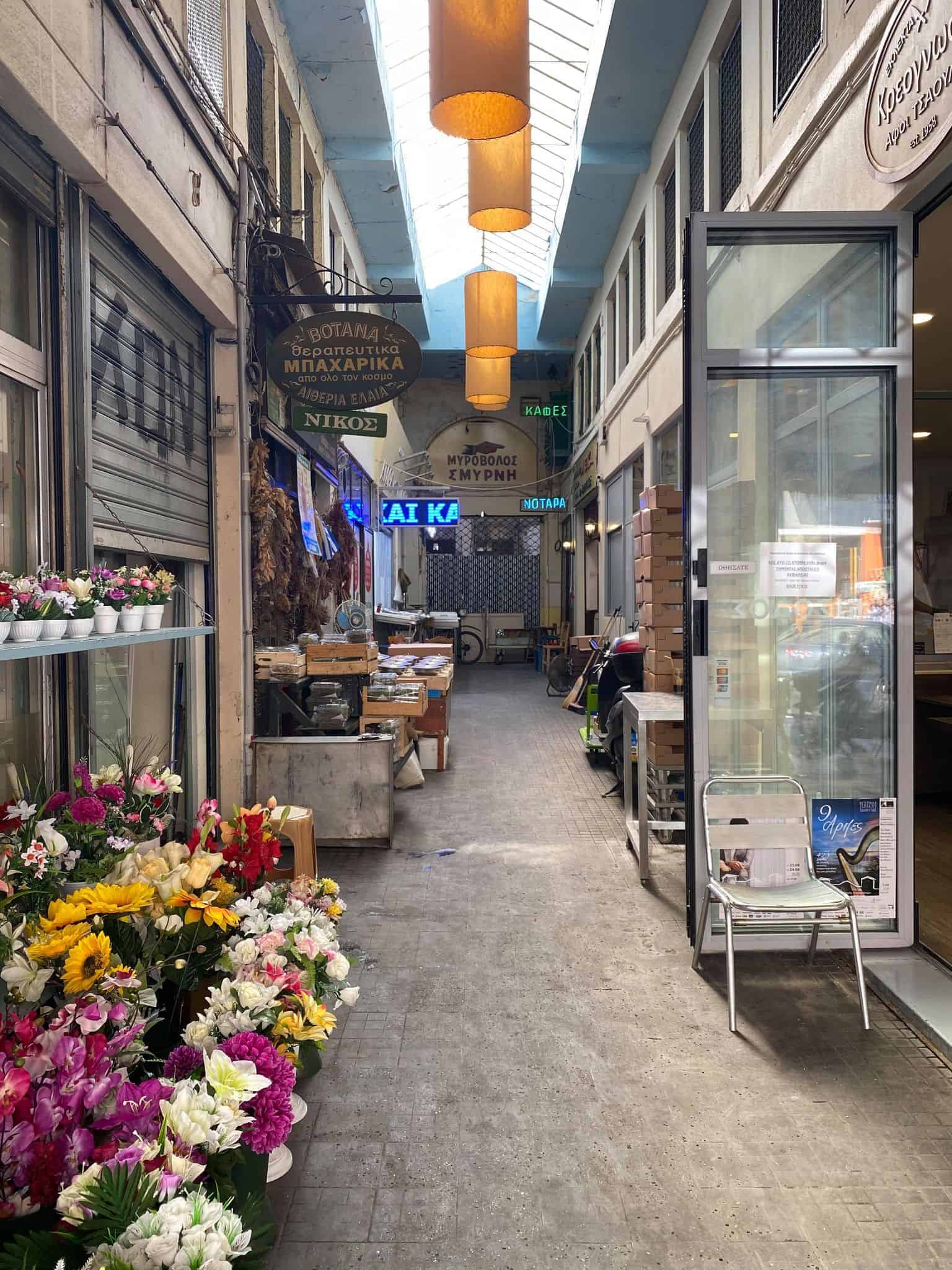 There are enough things to do in Thessaloniki to warrant you spending a long weekend in Greece's second city. Thessaloniki may not have the same concentration of ruins and archaeological sites as Athens, or the idyllic beaches and coastlines of the Greek islands. However, the city has a rich and diverse history that dates back thousands of years.
Best Things to do in Thessaloniki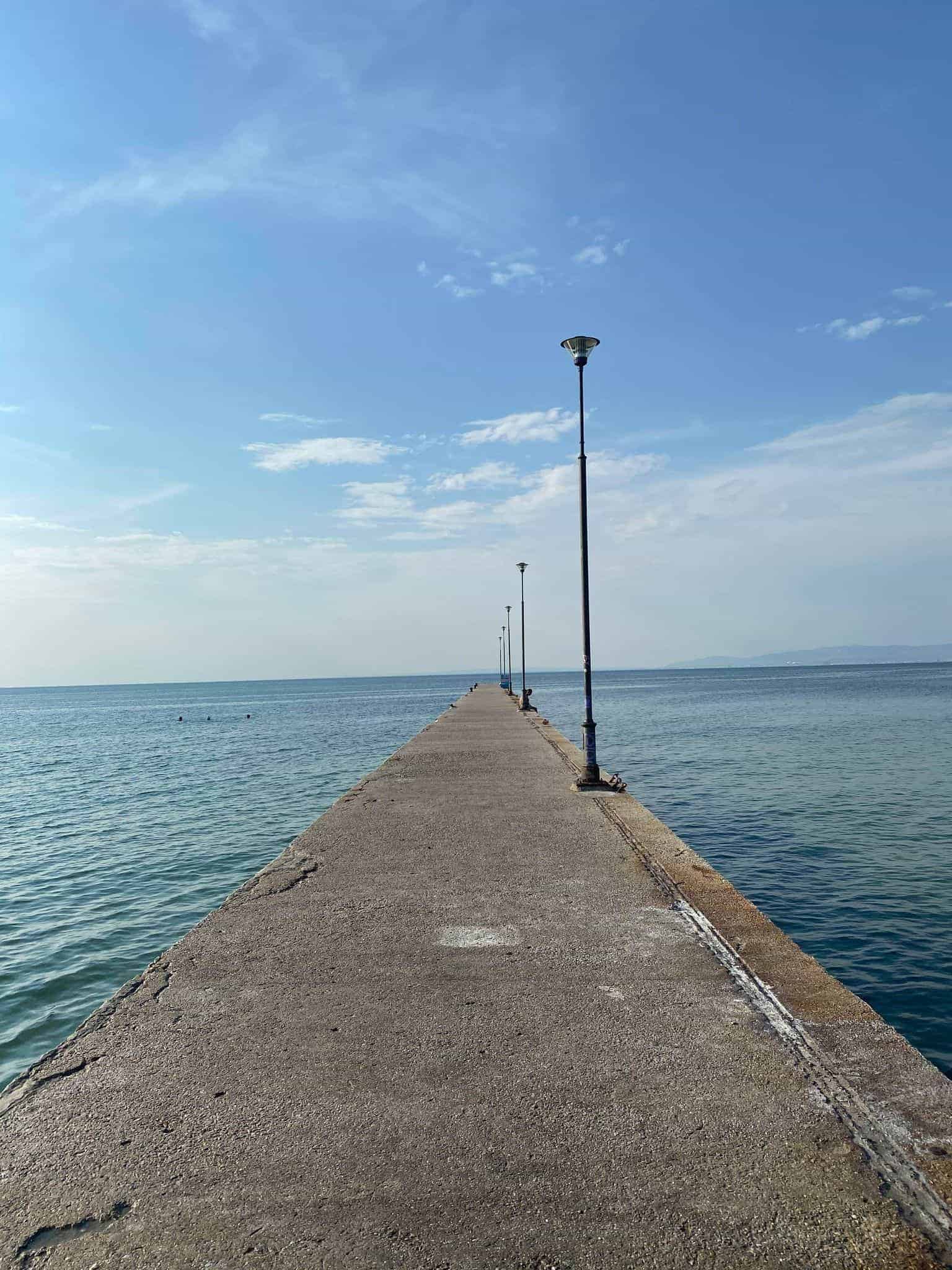 Despite its size, Thessaloniki has an air of small-town charm about it. The city's location also makes it a perfect jumping-off point for visiting Halkidiki or embarking on a wider Greece itinerary.
Try the World Famous Bougatsa at Bougatsa Bantis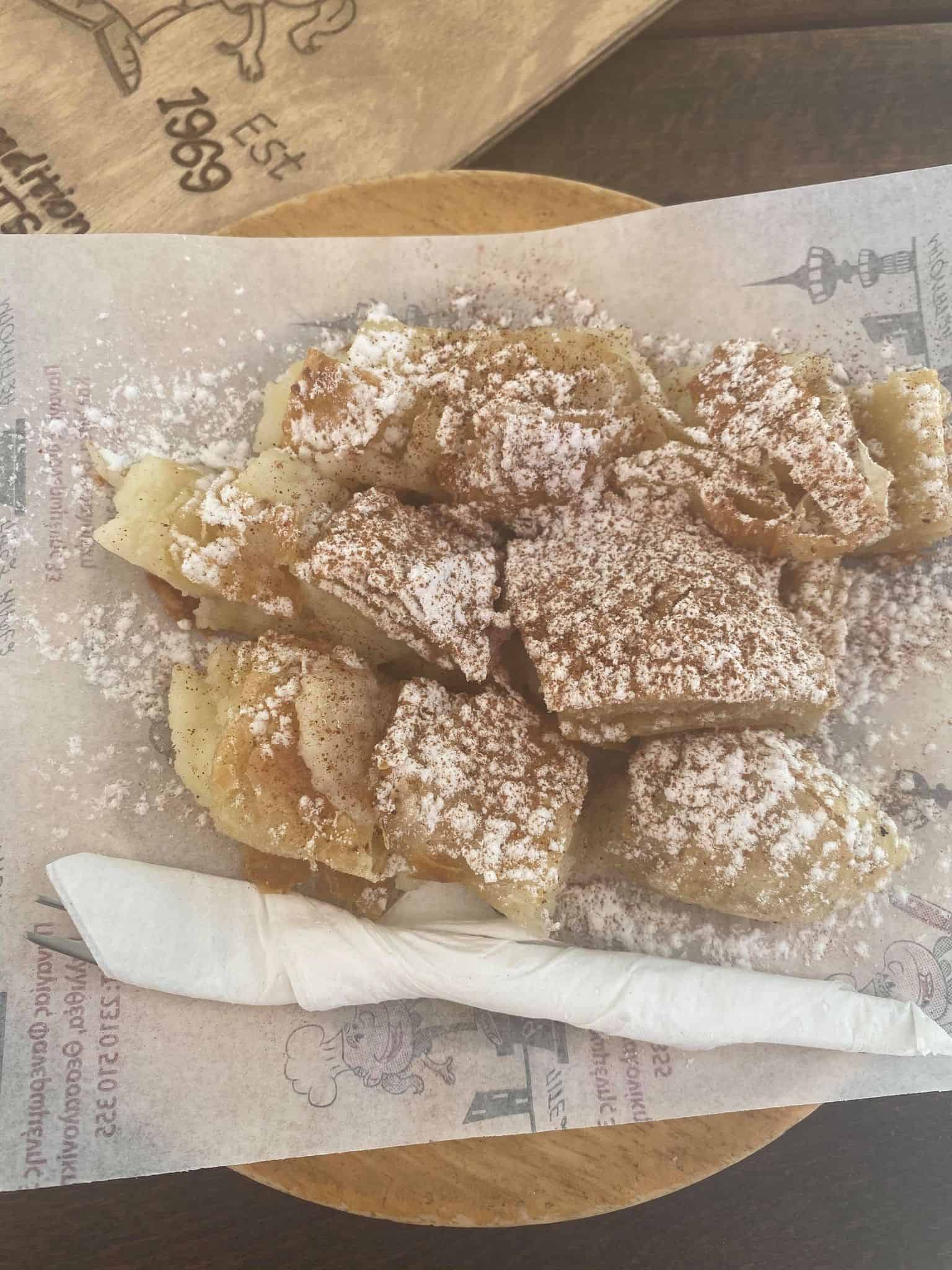 Bougatsa is a beloved Greek breakfast pastry that originated in Thessaloniki. The traditional version of the pastry is sweet. It consists of a generous portion of semolina custard, wrapped in layers of crispy handmade filo pastry.
Sweet bougatsa is then topped with a sprinkling of icing sugar and cinnamon. Savoury bougatsa is also available and is prepared with minced meat and cheese.
You can find bougatsa at bakeries and coffee shops across the country. Some places have open kitchens where you can see the pastry chefs at work, twirling the phyllo pastry around above their heads.
For the very best bougatsa experience though, you should try it where it originated – here in Thessaloniki. The family-owned Bougatsa Bantis bakery has been in operation since 1969.
People have travelled across the world to sample the treats prepared by Phillipos Bandis, the third-generation pastry chef. This place is a local favourite.
Sip Pina Coladas on Thessaloniki's Floating Reggae Bar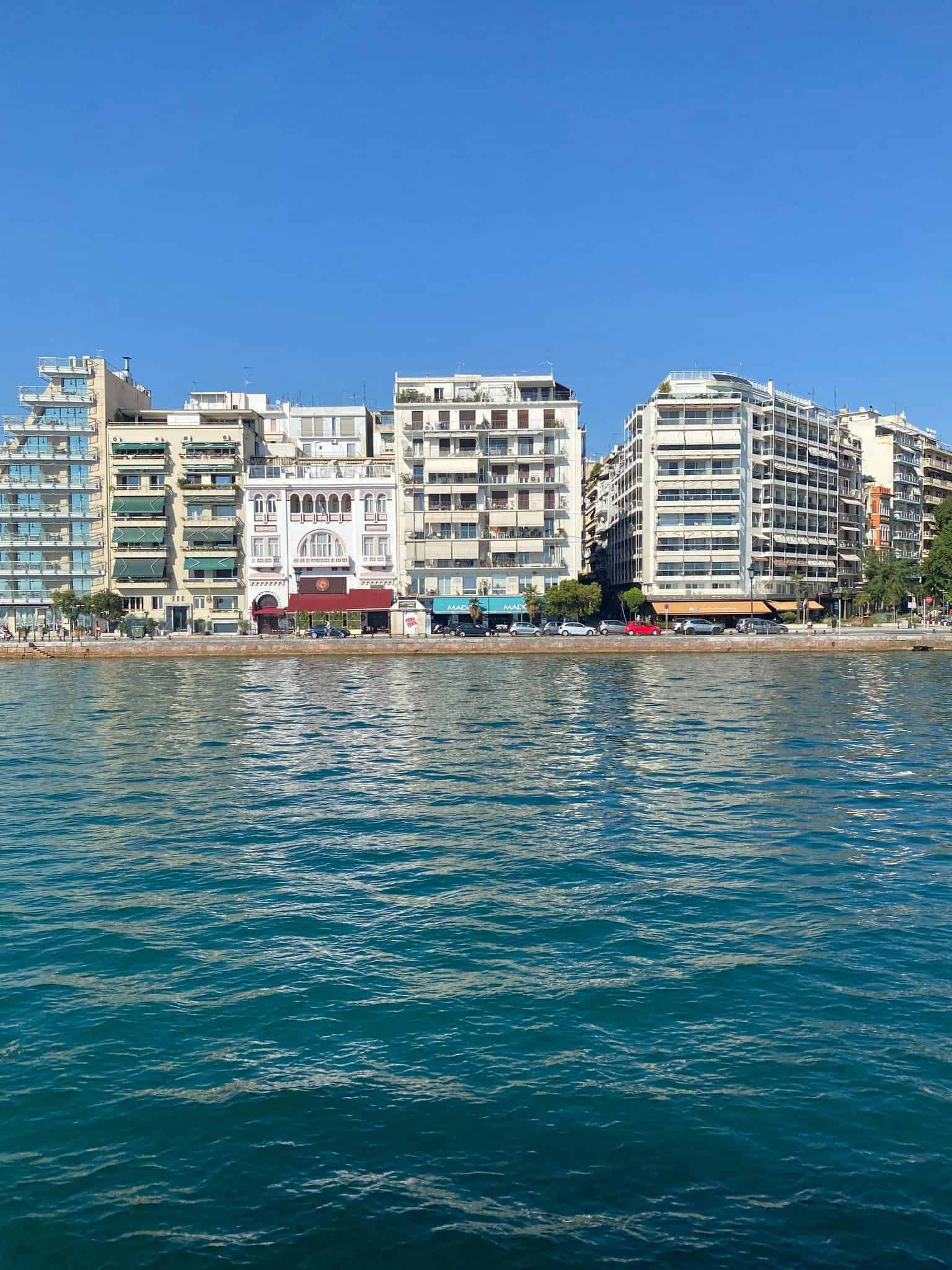 You will find that several themed floating bars depart from the area around the White Tower during the summer months. One of these is a wonderful wooden reggae bar.
Cocktails here are served in tiki cups, and the decor transports you to the Carribean. The floating bar sails in a circuit around the Thermaic Gulf coastline.
There is no fee for boarding the boat. You just need to purchase a drink. If you wish to stay on the boat longer, you can continue to hang out and order drinks even when it is stationary.
Take the Sea Taxi to Peraia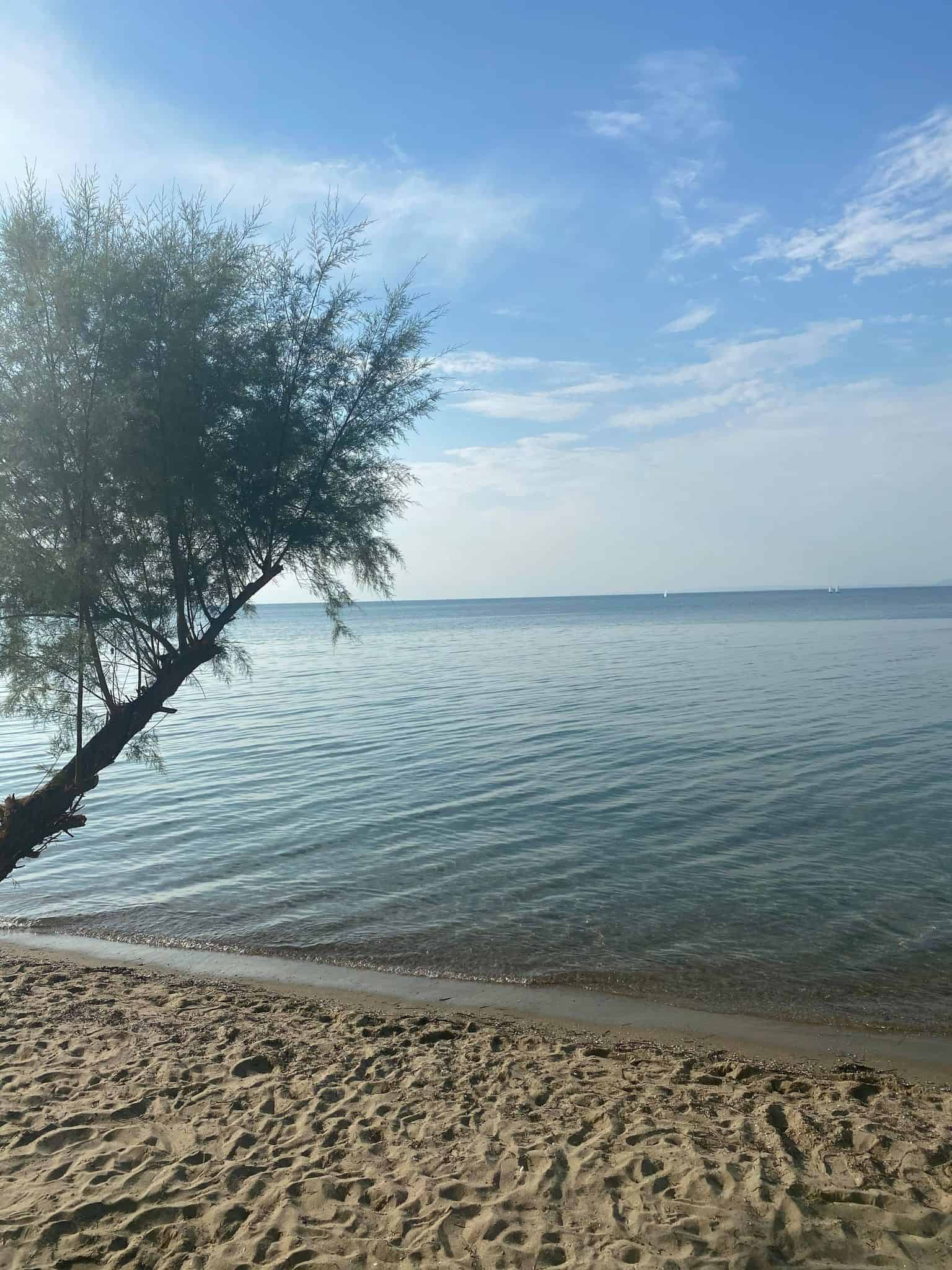 Peraia is a coastal area on the outskirts of Thessaloniki. This is the closest beach to downtown Thessaloniki. 
A sea taxi runs several times a day between the months of June and September. It departs from both Thessaloniki port and the White Tower.
The long stretch of whitesand beach that makes up Peraia is divided into Agia Triada beach, and Peraia beach. The seafront promenades that run parallel to both beaches are lined with a plethora of tavernas, bars, and coffee shops.
Agia Triada beach is predominantly serviced. You can rent a sunbed and an umbrella for the day from one of the coastal beach bars, provided you meet their minimum spend (usually just €3 or so).
Peraia beach is narrower. However it is a nice area for laying down your beach towel and packing a picnic to enjoy with friends and family.
The sea taxi costs just €5 each way. You can purchase your tickets online before departure to save time.
Browse the Stalls at Modiano Market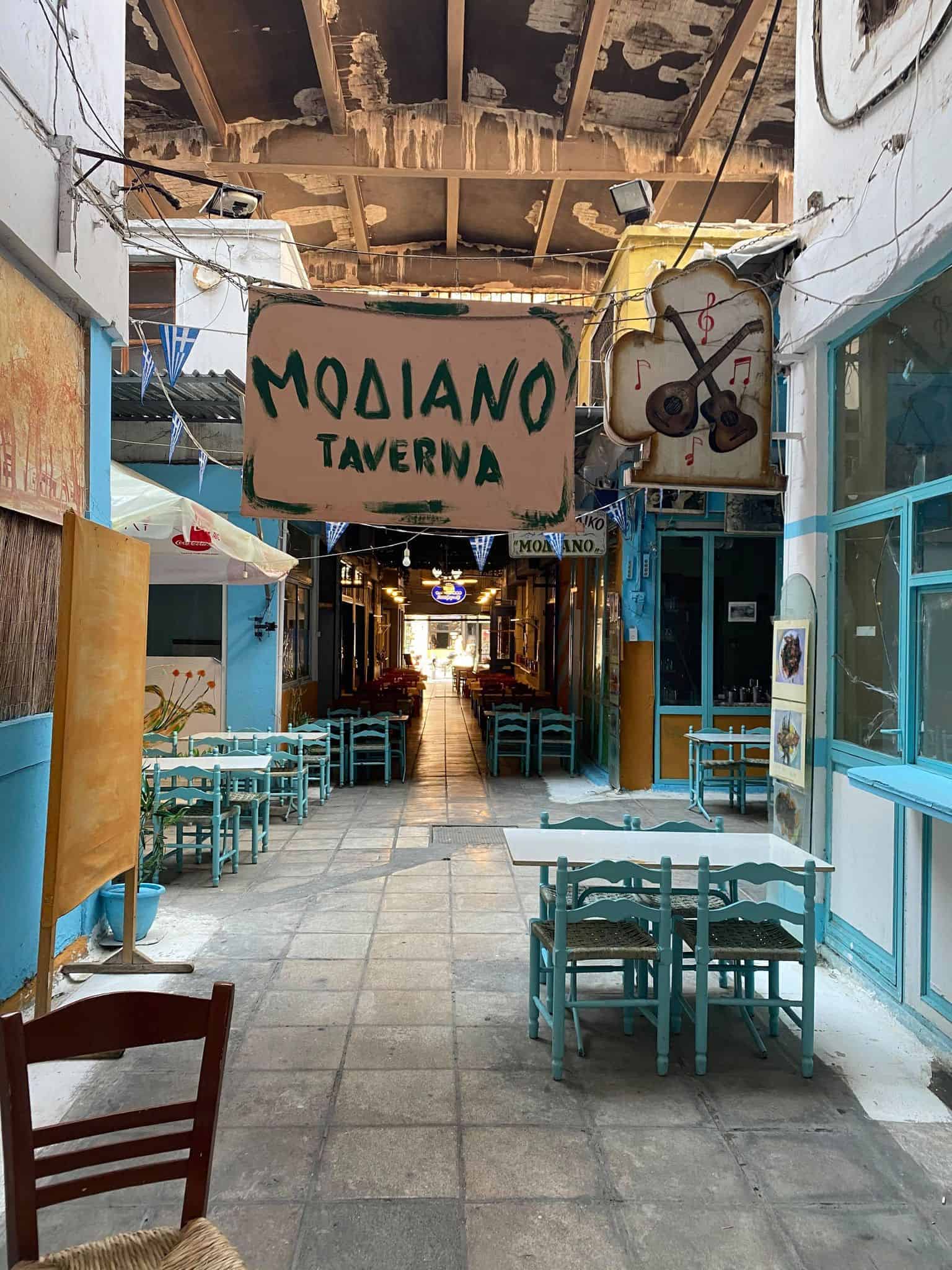 Modiano market is one of Thessaliniki's oldest traditional markets. It has been a part of local life for more than 80 years, and is still in operation today.
Thessaloniki residents come to the covered market to purchase fresh fish, meat, and locally-grown fruits and vegetables. The market is named after the Architect that completed it – Eli Modiano.
Hang Out in the Upscale Kalamaria Province
Chic Kalamaria is one of the most upscale areas in Thessaloniki. Named after Princess Mara Brankovic, it is also one of the most beautiful.
The name "Kalamaria" means "beautiful Maria" in Ancient Greek, and "good Maria" in modern Greek. There is a beautiful harbour in this area, in addition to a selection of sophisticated coffee shops and restaurants. You could easily while away a pleasant day in Kalamaria.
Stroll Along the Waterfront Promenade
There are dozens of lovely bars and coffee shops that extend along Thessaloniki's waterfront. The promenade runs all the way from the old port to the White Tower, and then onwards towards Kalamaria.
Sit inside one of the cute establishments here and people watch with a Greek coffee. Elyti Cafe is a cute place to pass the time.
All of the coffee places here position their chairs to face out to the water. As such, you can take in the sweeping sea views over the Thermaic Gulf.
Admire the Frescoes of Beautiful Orthodox Churches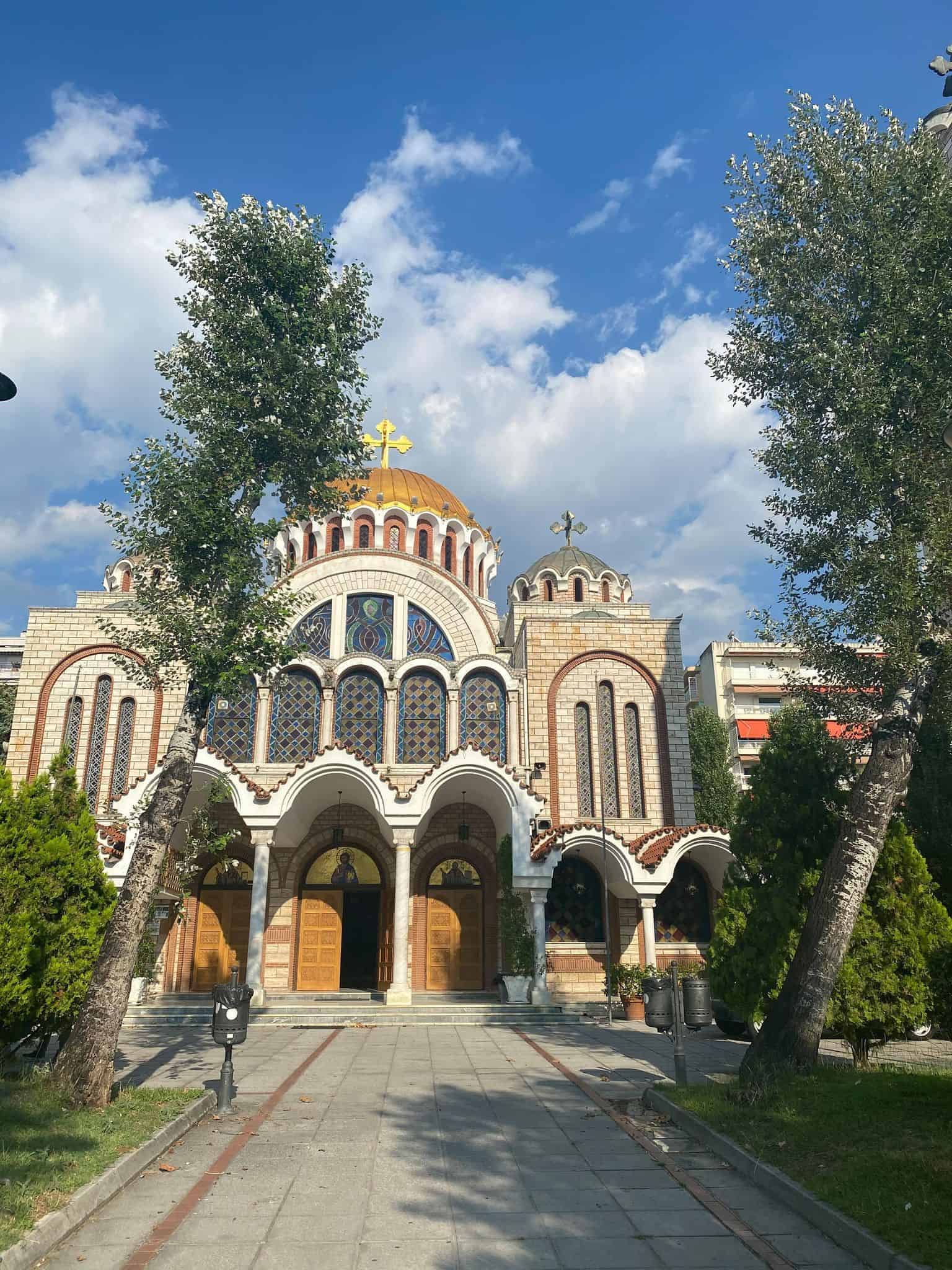 Greece is an Orthodox country. It is no secret that the culture has strong roots in religion.
My friends and I have often joked that churches in Greek towns and cities are like Starbucks in America and the UK – there is one on every corner! Thessaloniki is no different in that regard.
Even if you are not a religious person, you can still appreciate the spiritual, almost ethereal ambiance of Thessaloniki's churches, their ornate interiors, and their vibrant frescoes. Each Orthodox church that you stumble open is seemingly more beautiful than the last. You can wander inside most churches that you pass in Thessaloniki with no admission fee.
Notable Churches in Thessaloniki
The Church of Agia Sophia is one of the oldest religious sites in Thessaloniki, as well as a UNESCO world heritage site. Even after venturing inside countless churches around Greece, you will find something special about this one. It is altogether more dark and gothic in design than most Orthodox churches.
The Church of Panagia Chalkeon is another particularly special structure. The Byzantine church is encompassed by beautiful verdant gardens where dozens of stray cats play and stretch out beneath the sun.
Take a Brutal History Lesson at the Abandoned Heptapyrgion Fortress
While the Parthenon watches protectively over downtown Athens, Thessaloniki has a more sinister structure that looms on the hills above it – the abandoned fortress and prison complex of Heptapyrgion. A fortress has existed on this site in some form or another for thousands of years.
The Heptapyrgion fortress site that stands today was rebuilt by the Ottoman Turks. This eerily abandoned fortress is synonymous with the idea of torture and executions.
Prisoners have been held and executed here for centuries. Over the course of the last century, those held include captured Nazis during World War II and political prisoners. Heptapyrgion was infamous for the poor treatment and abuse of captives.
As you enter the prison site today and roam around its narrow corridors, you get the creepy feeling that the former inmates are still trapped here somehow. Towering, thick stone walls prevent any light and sounds from the outside wall getting into the prison.
The solitary confinement wing with its rusted metal cell doors is particularly eerie. Did you hear chains rattling and doors clanging in the distance or was it just your imagination?
Get a Bird's Eye View from the White Tower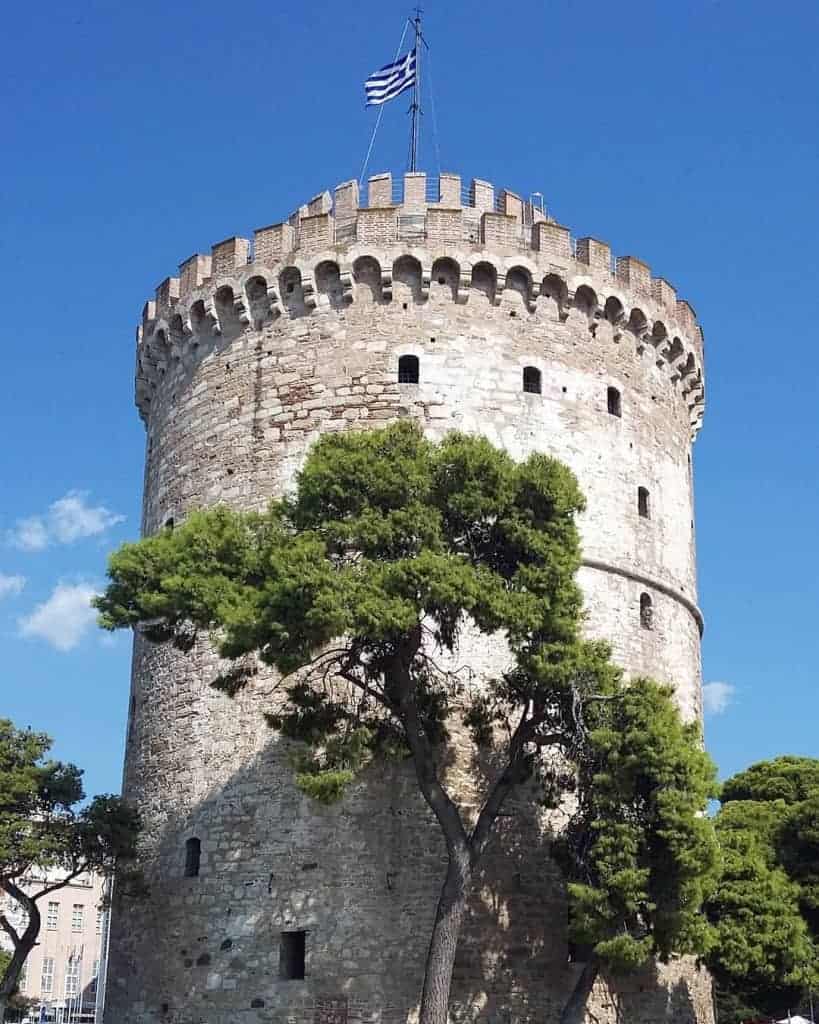 The White Tower of Thessaloniki is undoubtedly the city's most iconic landmark. The tower was erected in the 15th century on top of an old Byzantine fortification. It was built so as to improve Thessaloniki's defenses, particularly along the coast.
Over the centuries, the tower has served several different purposes. It was originally built as a garrison. However, the tower became a prison during the Ottoman rule in Greece.
During the Ottoman era, Thessaloniki's White Tower was nicknamed "the tower of blood" on account of the tortures and executions that took place there. It was not painted white until 1891. At this time, it received its current label as being Thessaloniki's "White Tower".
Today, the White Tower is a mini-museum that contains exhibits about the history and culture of Thessaloniki. From the top level, you can enjoy excellent panoramas of Thessaloniki's port area. This is particularly breathtaking at night when the sky is illuminated with pink and orange hues.
Uncover the Remnants of the City's Ottoman Past
Thessaloniki, like the rest of Greece, was once under the control of the Ottoman empire. The Turks left their mark on the city by constructing mosques and hammams around the city.
Several of these structures still stand today. Unfortunately, not all of these buildings can be accessed. Building and maintenance work has been underway on some of the hammams for years. However, these sites are worth making a note of so that you can check them out when you pass by.
Two ancient hammams (traditional Turkish bathhouses) still stand in Thessaloniki. These are the Yahudi Hammam, and Bey Hammam.
Both hammams are no longer functional. However, they date back to the 15th and 16th centuries.
It is possible to enter both sites. Bey Hammam is particularly interesting and its interiors are filled with grand decorations and exquisite paintings.
Keep an eye out also for the Hamza Bey mosque. This is a 16th-century Ottoman mosque in the beating heart of downtown Thessaloniki.
Explore the Coastal Areas Around Thessaloniki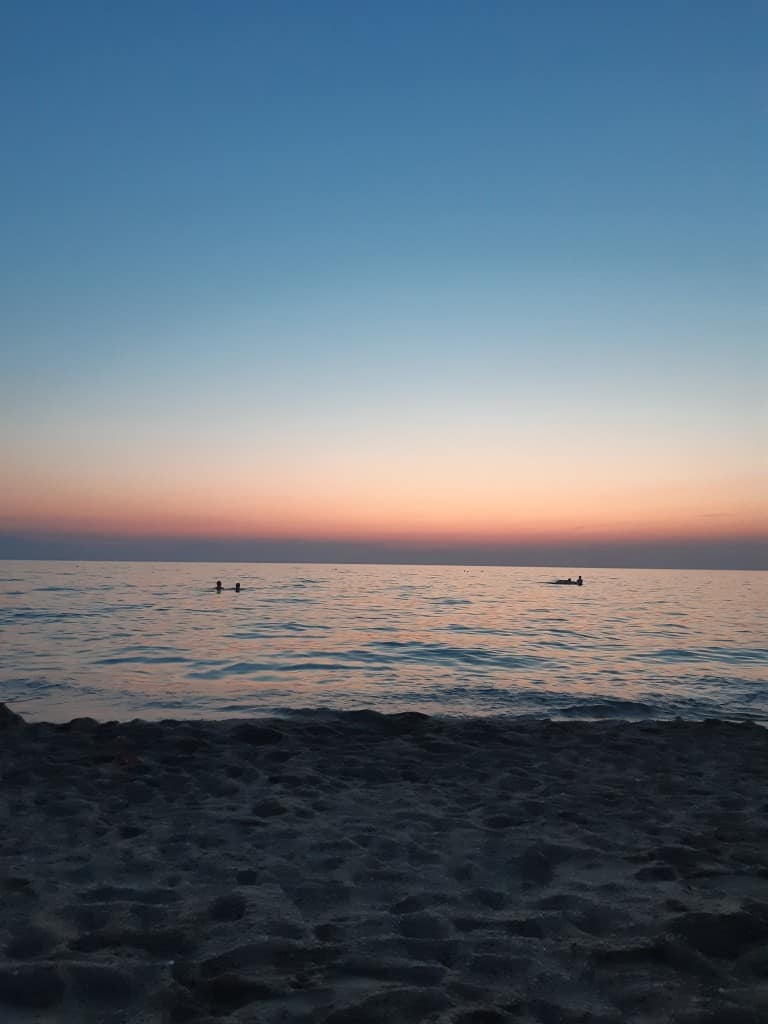 Many of those that want to visit the beach during their Greek trip use Thessaloniki as a jumping-off point for Halkidiki. However, if you are limited on time, it's quite a trek to reach the peninsulas of this coastal area.
Lesser known to international tourists is the town of Nea Iraklia. Don't expect the beaches here to be completely crowd-free – they are very popular among locals on account of their proximity to the city centre.
That said, they certainly provide an easy respite from the hustle and bustle of city life, along with a more "local" experience. Several beach bars are scattered along the coast. They provide refreshments and amenities during the day, and often host parties, and events when the sun goes down.
Wander the Quaint Narrow Streets of Ano Poli 
Ano Poli is one of the most quaint and colourful neighbourhoods in Thessaloniki. Here, eclectic boutique store, old tavernas, and traditional Ottoman line the cobbled streets.
Ano Poli (meaning "upper town") is just a short walk from the centre of Thessaloniki. However the ambiance here makes it feel like you have been transported to a different city entirely.
Browse the Exhibits at the Thessaloniki Archaeological Museum
The Thessaloniki Archaeological Museum is one of the largest museums in Greece. It is a must-see for anyone interested in history. It is situated just a short walk away from the White Tower.
The permanent exhibits that are held here focus on the Central Macedonia region of Greece (where Thessaloniki sits). The artifacts date back as far as 200,000 years. Displays here range from pre-historic Macedonia to the Iron Age and Late Antiquity period.
Visit the Monastery of Vlatadon
There are many churches and monasteries throughout Thessaloniki. However, the Monastery of Vlatadon is considered to be the most important.
This grand Byzantine structure is UNESCO protected and dates back to 1350 AD. It is believed that Hesychasm was practiced here – a controversial and alternative form of Orthodox prayer.
Hang Out with the Thessaloniki Couchsurfing Community
If you are travelling alone (or you're not and you just want to meet some locals), Couchsurfing is a great way to do that.
Thessaloniki has a great community of Greeks, travellers, and ex-pats and you can meet some wonderful new friends by popping along to one of the meetings or organising one of your own. I hosted several dinner events while I was in Thessaloniki and made some great friends doing so.
Visit a Bouzoukia in Ladadika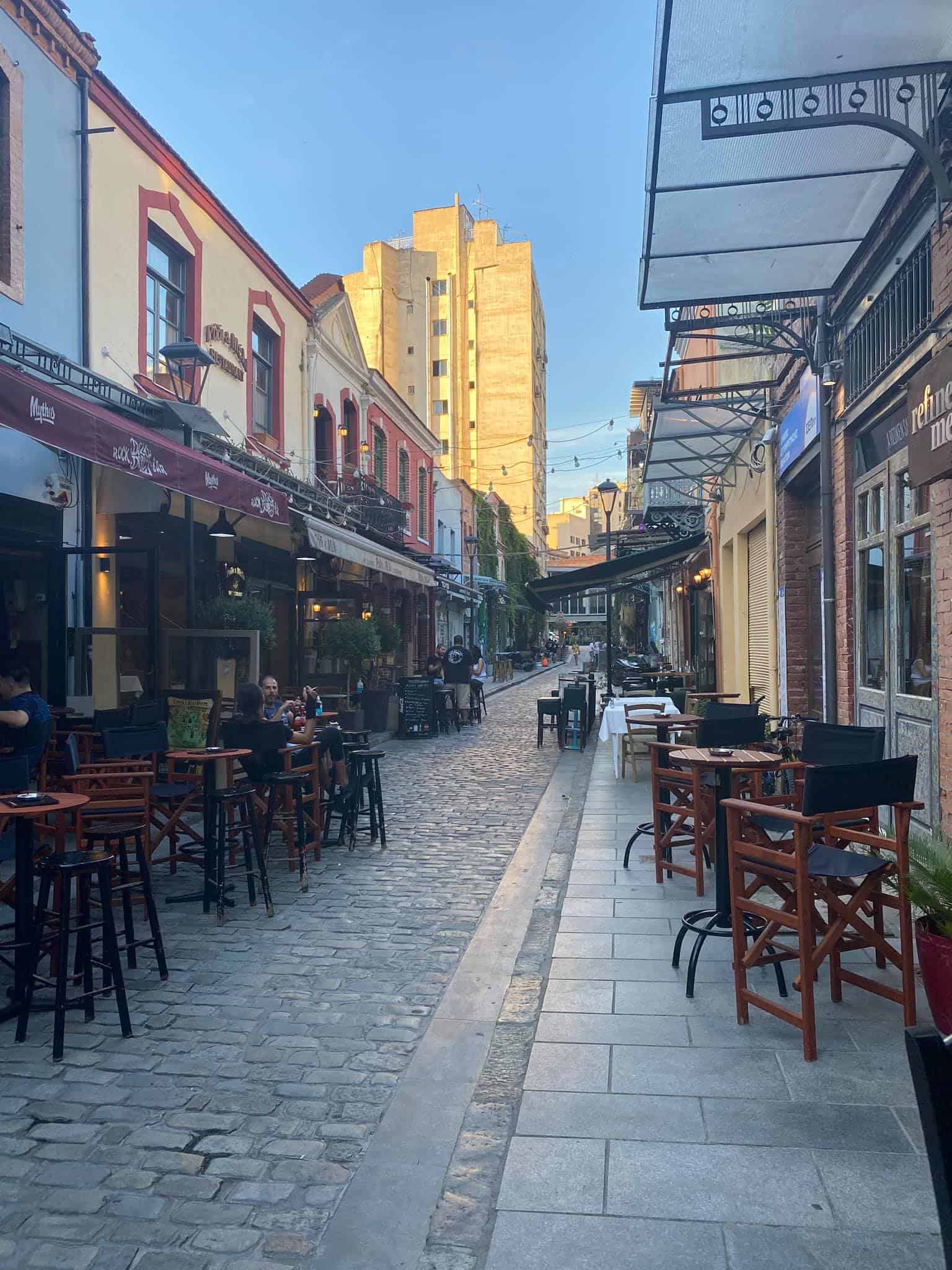 Ladadika is to Thessaloniki what Gazi is to Athens. This is the city's nightlife and student district and the streets are packed full of bars, clubs, tavernas, and souvlaki joints.
While you will not be short of options here for socialising with new friends until the sun comes up, check out a bouzoukia for a quintessential Greek experience.
Bouzoukias are live music places where you can listen to traditional Greek folk music while eating and drinking ouzo and tsipouro. When the food is gone, it's customary for people to sing, dance, and join in from their tables.
Bouzoukias vary from small scale tavernas with live bands, to huge music halls. In Ladadika, you can check out Caramelo and Αβανταζ live stage.
Learn Why Thessaloniki is Considered Greece's "Foodie capital"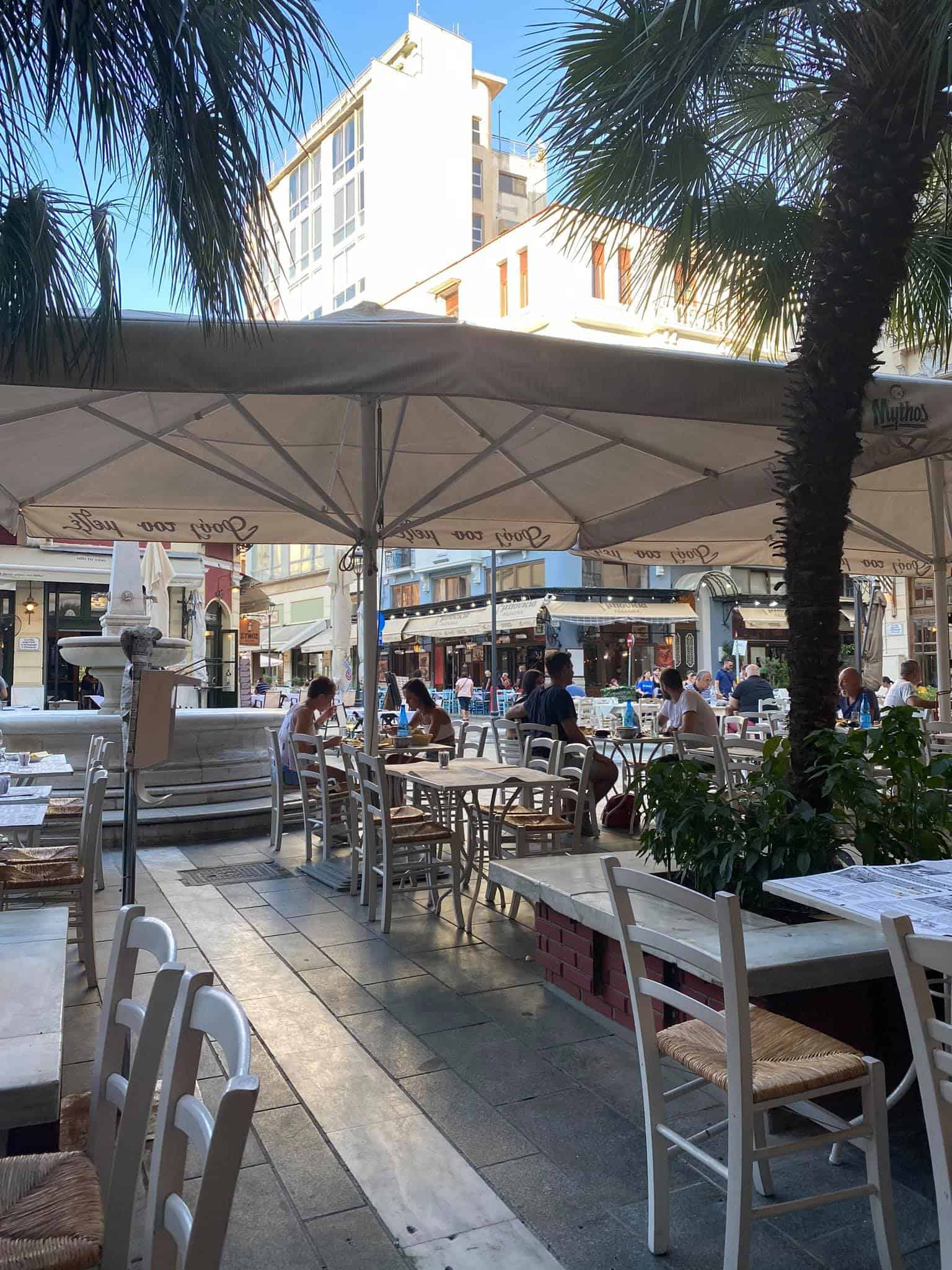 Thessaloniki is quite the gourmad. Indeed, you will find sumptuous cuisine all over Greece. However, there are few places where as many regional and international specialty restaurants are concentrated as Thessaloniki.
Thessaloniki restaurants offer something for every taste. For creative Mediterranean dishes, head to Μαιτρ & Μαργαρίτα.
Meanwhile, Ergon Agora offers one of the most unique dining experiences in town. Here, you can dine in a traditional Greek covered market. The dishes prepared use only the finest ingredients sourced from Northern Greece.
Enjoy a Coffee Break in Navarino Square
Sitting outside in a crowded piazza and drinking coffee is essentially the national pastime of Greece. Indeed in Thessaloniki, there are plenty of excellent places where you can participate in the sport.
Ladadika, Menemeni square, and Kalamaria are all beloved local spots for enjoying a lazy afternoon beneath the sun drinking coffee. For the definitive Thessaloniki experience though, head to Navarino Square.  
Navarino Square oozes trendy bohemian vibes. Centered around the crumbling remnants of an old Roman palace, the square is filled with creperies, coffee shops, and tavernas. The square attracts a young, lively crowd on account of its proximity to the Aristotle University of Thessaloniki.
Indulge in some R&R at a Traditional Turkish Hammam
While it's unfortunate that the Bey and Yahudi Hammams are now just historical sites, there are several hammam facilities in Thessaloniki that recreate the traditional bathing experience. Two local spas with excellent reputations are the Polis Hammam in Kalamaria and the Hammam Baths at Makedonia Palace Hotel.
Hammam treatments start from just 15 euros. However, booking a treatment package is an indulgent and enjoyable experience. Sweat it out in the steam room and then opt for a full-body scrub and massage to feel completely rejuvenated.
How Long to Spend in Thessaloniki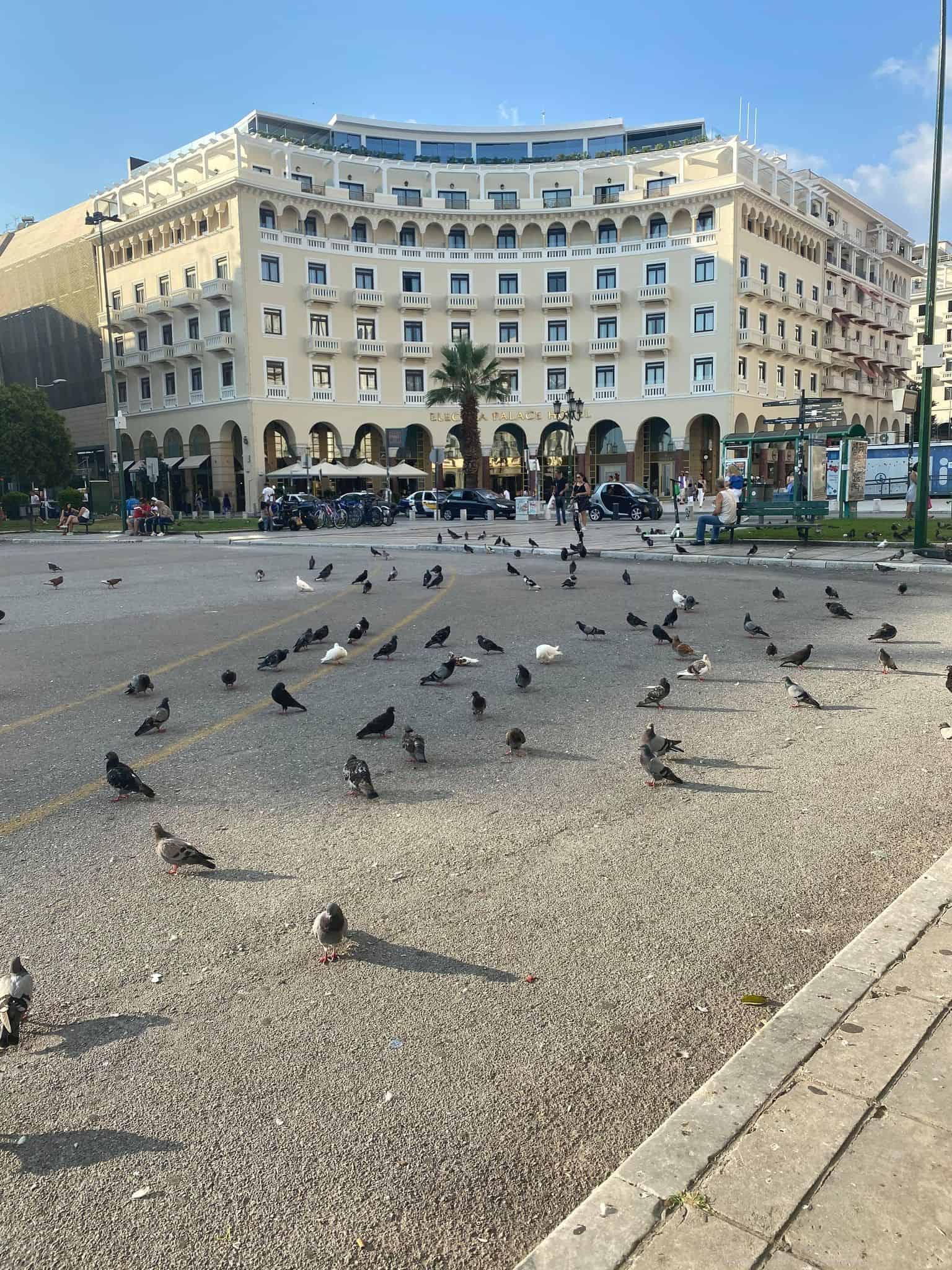 One or two days is plenty of time to spend in Thessaloniki. Most of the sights contained within this post can be seen in a day.
The neighbourhoods that extend out of the centre of Thessaloniki do have their own personalities and charm. However, they have been hit hard by the Greek economic crisis. Most Thessaloniki attractions and points of interest are situated in the city centre.
How to Get to Thessaloniki from the Airport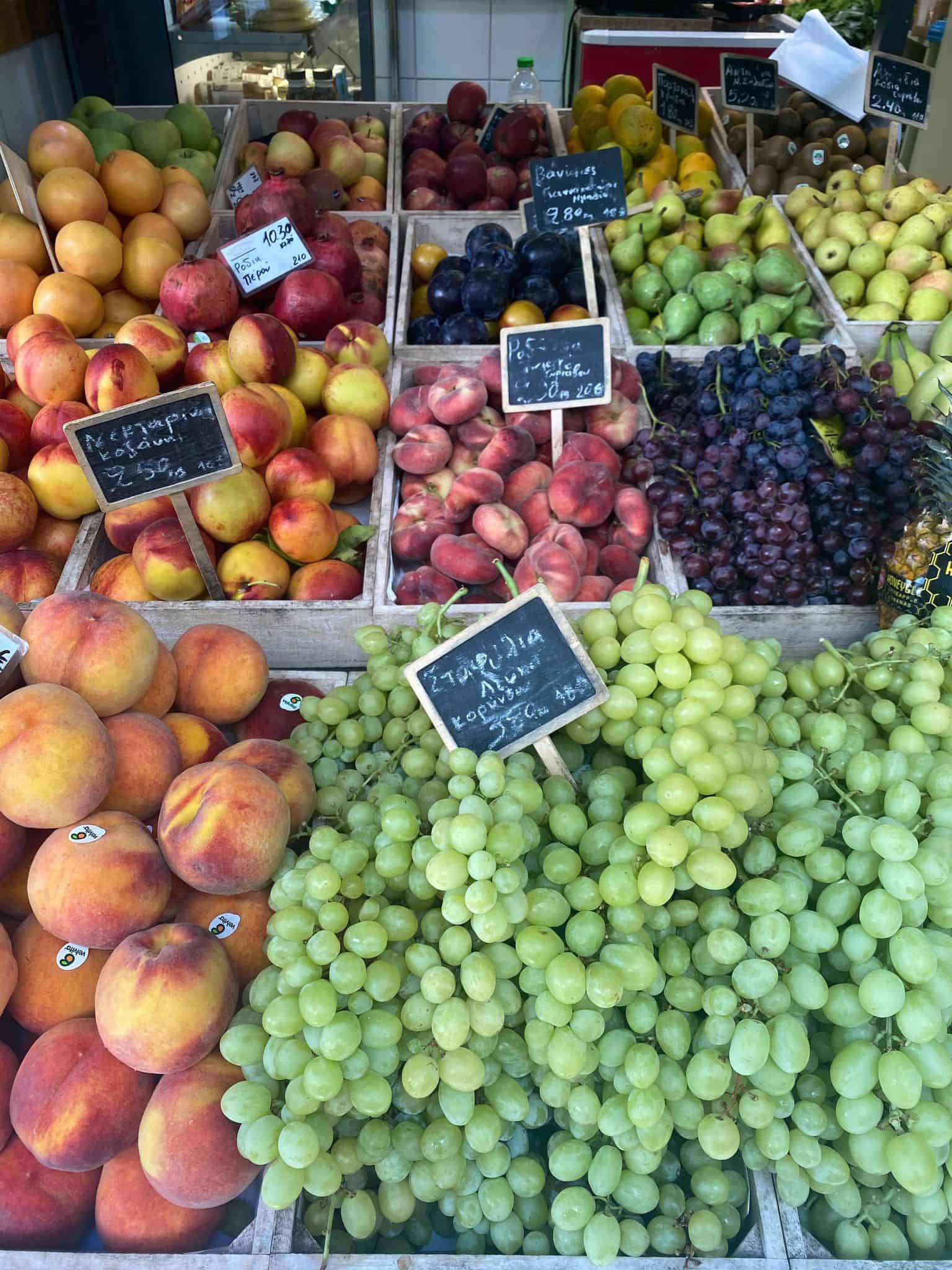 From Thessaloniki Airport Makedonia (SKG), hop on board the X1 bus to Thessaloniki centre. Signs in the arrivals area indicate where you need to go to board a bus and tickets to the centre can be purchased from the kiosk for just 2 euros.
Thessaloniki X1 Airport Bus
The X1 bus stops at all important points throughout the city – including the White Tower area and Aristotelous square. The route ends at Macedonia bus station in Menemeni. The LED displays on the bus are in English so it's fairly easy to see where you are going.
Cabs and Transfers from Thessaloniki Airport
If you prefer to take a cab to get into the city, you can hail one outside the airport or use the BEAT taxi app (Greece's answer to Uber). A cab should cost you no more than around 25-30 euros depending on the traffic.
Where to Stay in Thessaloniki
It is advisable to find a Thessaloniki hotel that is close to the White Tower or the Arch of Galerius. This way, you are within walking distance to the city's main points of interest.
A number of excellent Thessaloniki hotels that suit a variety of budgets are detailed below for your reference. It is better to avoid the area around the train station where possible.
You may find many low cost accommodation options around the train station area. However, you need to be careful walking in this part of town at night – especially if you are travelling alone.
Electra Palace Thessaloniki
Electra Palace Thessaloniki is one of the most luxurious properties in town. The hotel boasts plush, spacious rooms, a chic rooftop bar, and sweeping views across the sea from its balconies and terraces.
What better way to relax and unwind after a long day of sightseeing than by hanging out in one of the hotel's two pools? Rooms start from €120 per night. Browse the latest availability and rates here.
The Met Hotel Thessaloniki
With a sleek and contemporary design, the Met Hotel is one of the best choices for boutique accommodation in Thessaloniki. The rooms and communal areas are decorated with crisp, clean monochrome colours. Stunning, thought-provoking art installations are present throughout the premises.
Rooms here start at €90 per night. Browse the latest availability and rates here.
Colors Thessaloniki Living
This hip retro design hotel markets itself as being a "budget luxury hotel". That might sound like something of an oxymoron. However, the hotel's brand message is pretty much spot on.
Colors Thessaloniki Living combines plush colourful rooms with an affordable price tag. Pops of colour and pop art style graffiti add personality and artistic flair to this central Thessaloniki hotel.
Rooms at Colors Thessaloniki Living start from €70 per night. Browse the latest availability and rates here.
Parting Words
Do you have any further questions about things to do in Thessaloniki or travelling to Greece in general? I have been living in Greece for over three years now. I have spent months based in Thessaloniki and have gotten to know the city pretty well,
Disclaimer: This article may contain affiliate links. This means that if you choose to make a purchase through any of the links contained on this page, I may obtain a small amount of commission which is charged at no extra cost to you. Thanks for understanding.
---