Kanoni, Corfu is a coastal region on the outskirts of Corfu Old Town. This area boasts gorgeous beaches with translucent cerulean waters, charming monasteries, and breathtaking coastal views.
However Kanoni is best known for its proximity to the island´s "Ioannis Kapodistrias" international airport. From here, you can get incredible photos of planes coming in to land.
You can even swim beneath them in the sea as they descend towards the runway. The dramatic landing scenes here are perhaps second only to those at Skiathos Airport which is essentially Europe's own St. Maartens.
Exploring Kanoni, Corfu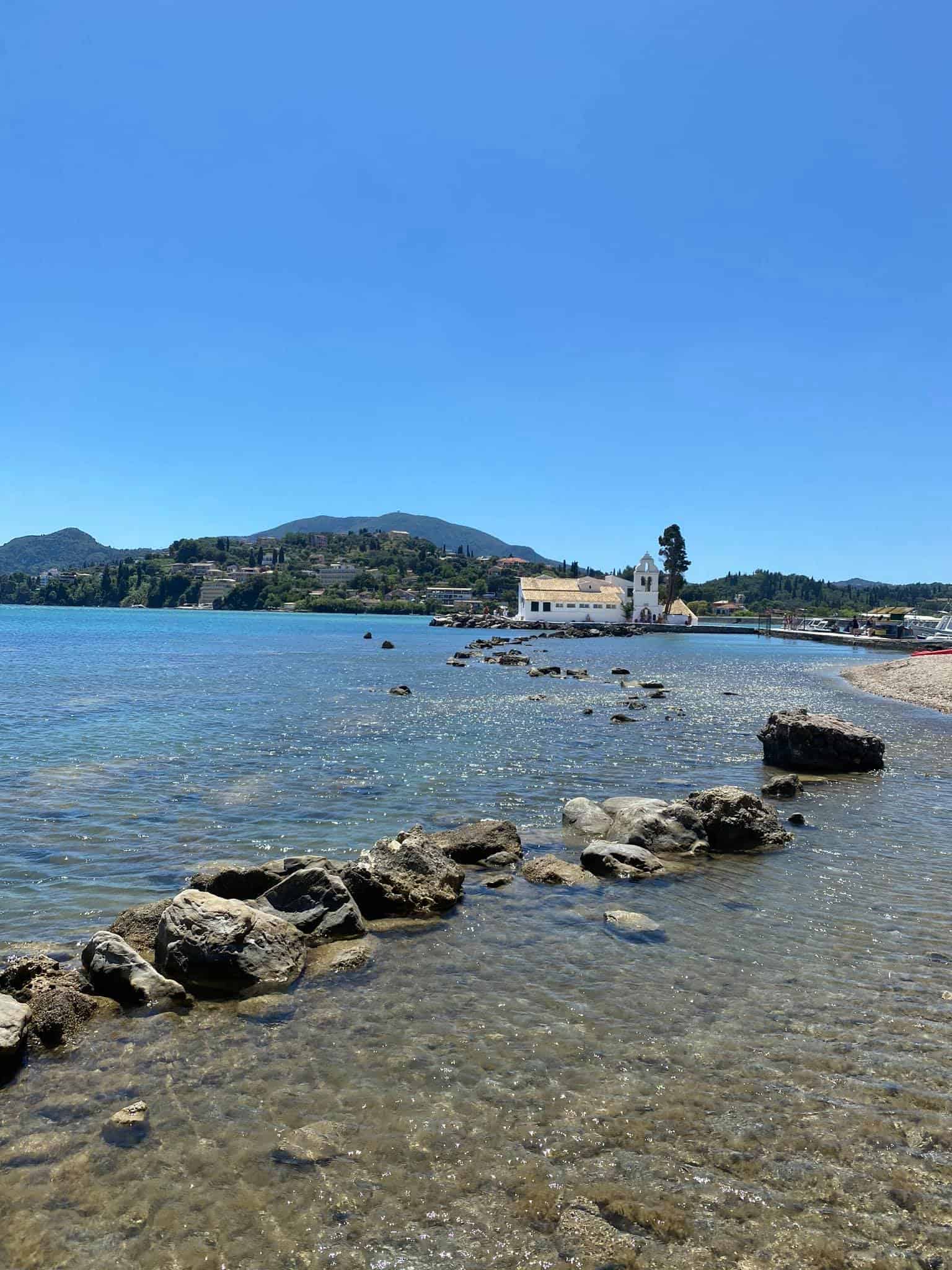 Kanoni, Corfu is one of the best day trips you can do during your time in Corfu. There are also several luxurious resort hotels in the region so you may even decide to base yourself here for the duration of your trip.
The name ¨Kanoni¨ actually stems from an old cannon that sits atop a hill in this lush, green area, seemingly watching over it protectively. Kanoni is just a few kilometres away from Corfu town and can be easily reached by a bus that departs from various points around the town at regular intervals. You can check the schedule here.
Stopping for Coffee in Kanoni
When you disembark from your bus or taxi at Kanoni, you will be met with two small cafeterias perched on the edge of the cliff face (La Veranda di Corfu and Kanoni Cafe). The views from here are some of the best on the island.
You could easily sit here for hours watching the planes come in to land. Beneath you, you can see sailboats on the horizon, small fishing boats sailing out to the uninhabited islet of Pontikonissi, and the whitewashed Vlacherna Monastery.
The two cafeterias also serve an array of snacks and quintessentially Greek light bites. For example, flavourful zucchini fritters, soutzoukakia meatballs, and meze plates.
The left facing cafeteria is better for watching planes coming in to land, while the right-hand one is better to see them taking off along the runway.
Vlacherna Monastery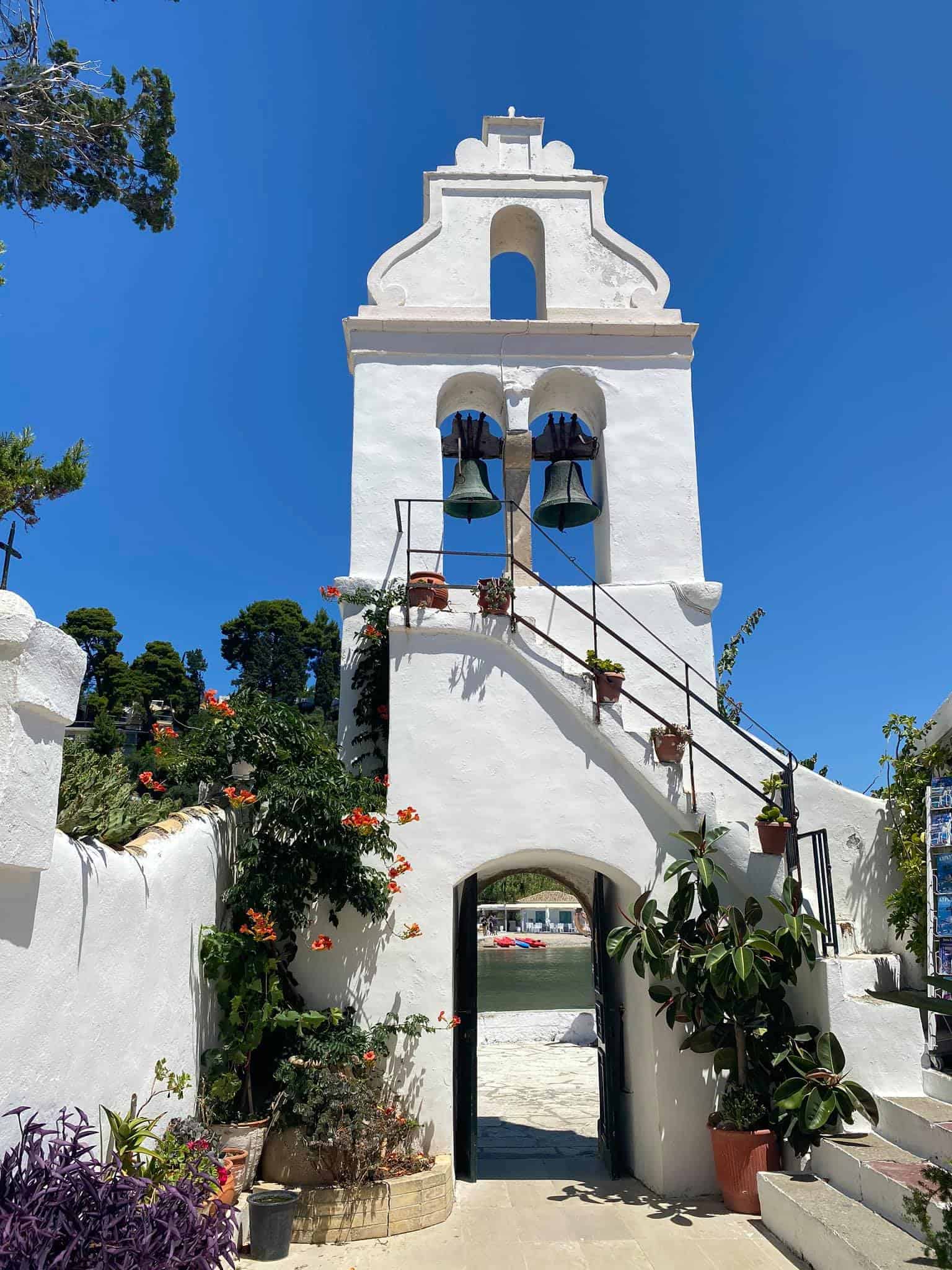 Vlacherna Monastery is a whitewashed building that sits on an islet just across from the Kanoni coastline. It is connected to the mainland by a small walkway.
You can easily reach Vlacherna by descending down the stone steps from the coffee shops at Kanoni. This is one of the most photographed sights in Corfu, and the Monastery has been featured in countless travel publications and productions.
The Monastery dates back to the 17th century. However, all Monastic activities ceased in 1980 and since then, it has predominantly been a tourist site.
The site, with its high bell tower and white facades, is dedicated to the Virgin Mary. It is actually a replica and has been named after the Panagia Vlacherna in Constantinople (now Istanbul).
There are some interesting icons, frescoes, and religious figures inside the small chapel. Locals will often host their special occasions here. Look out for the adorable Greek street cats that have reclaimed the monastery grounds as their own, and the sweet Corfiot locals that feed them.
Churches and Monasteries in Greece have celebrations on specific religious days. Vlacherna celebrates on August 6th with a large religious panigiri for Corfu.
Pontikonisi Island
Pontikonisi island is a tiny Corfiot islet steeped in Greek mythology. This little uninhabited island is tiny – you can walk its entire circumference in less than ten minutes.
However, it is well worth taking a fishing boat across to the islet for a couple of euros to enjoy the views. The island is also often referred to as ¨Mouse island¨ as from above, the land here resembles the shape of a mouse!
Arguably ¨Pontikonisi¨ sounds much more exotic and mysterious! The literal translation of this in Greek is ¨the island of mice!¨
According to legend, Pontikonisi island is Ulysses' petrified boat. It is said that a ferocious storm washed the boat out to see, the God Poseidon transformed it into a rock and so, the boat became the island that awaits here today.
Kanoni Beach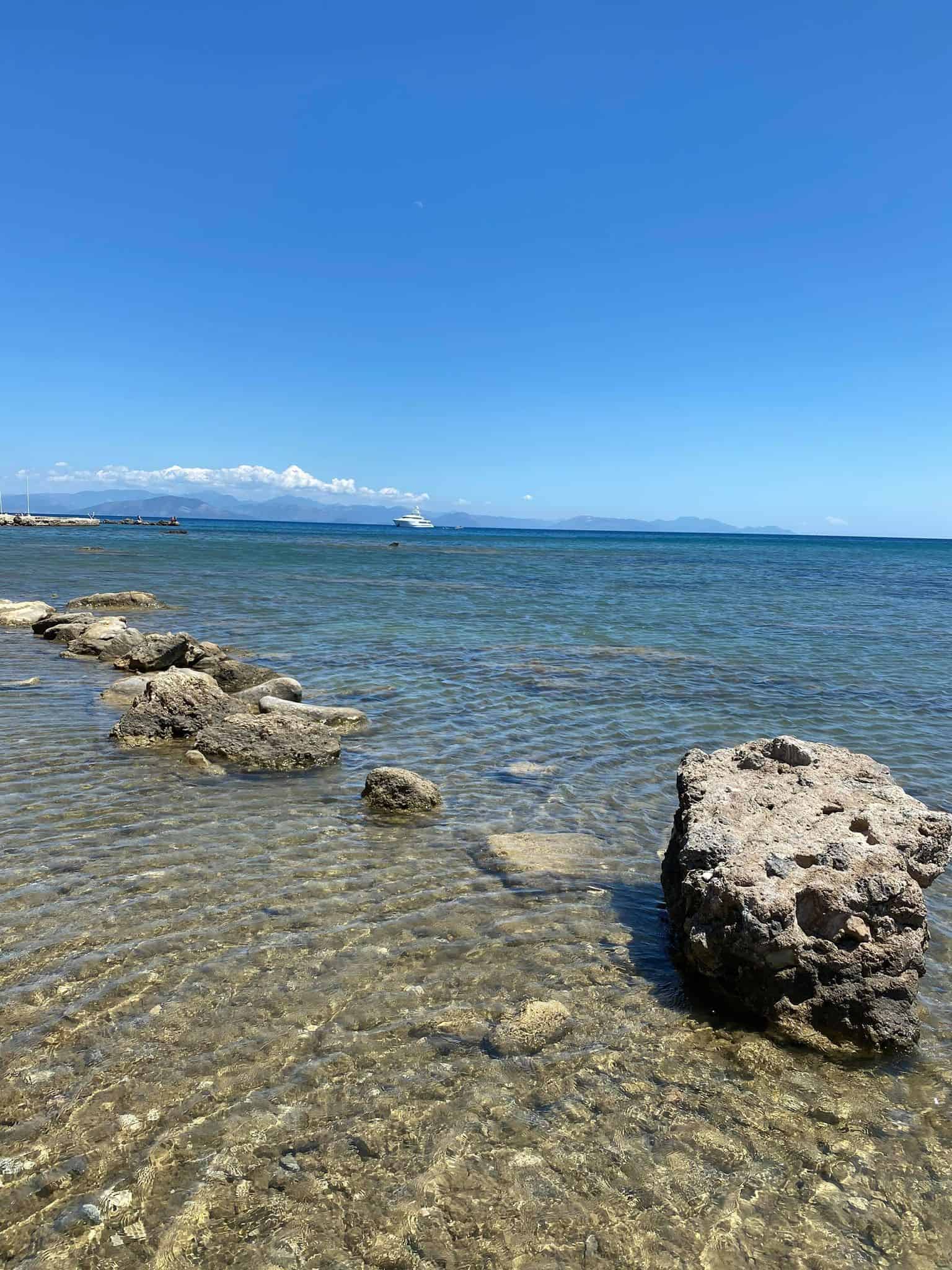 Kanoni beach can be found just a short walk away from Vlacherna Monastery. This may well be one of the most underrated beaches on the entirety of Corfu island.
Its turquoise waters extend as far as the eye can see, blending in with the horizon. The beach is rarely busy, even in the summer months. It is surrounded by lush greenery and jagged rock formations.
Tavernas and Eateries in the Kanoni Area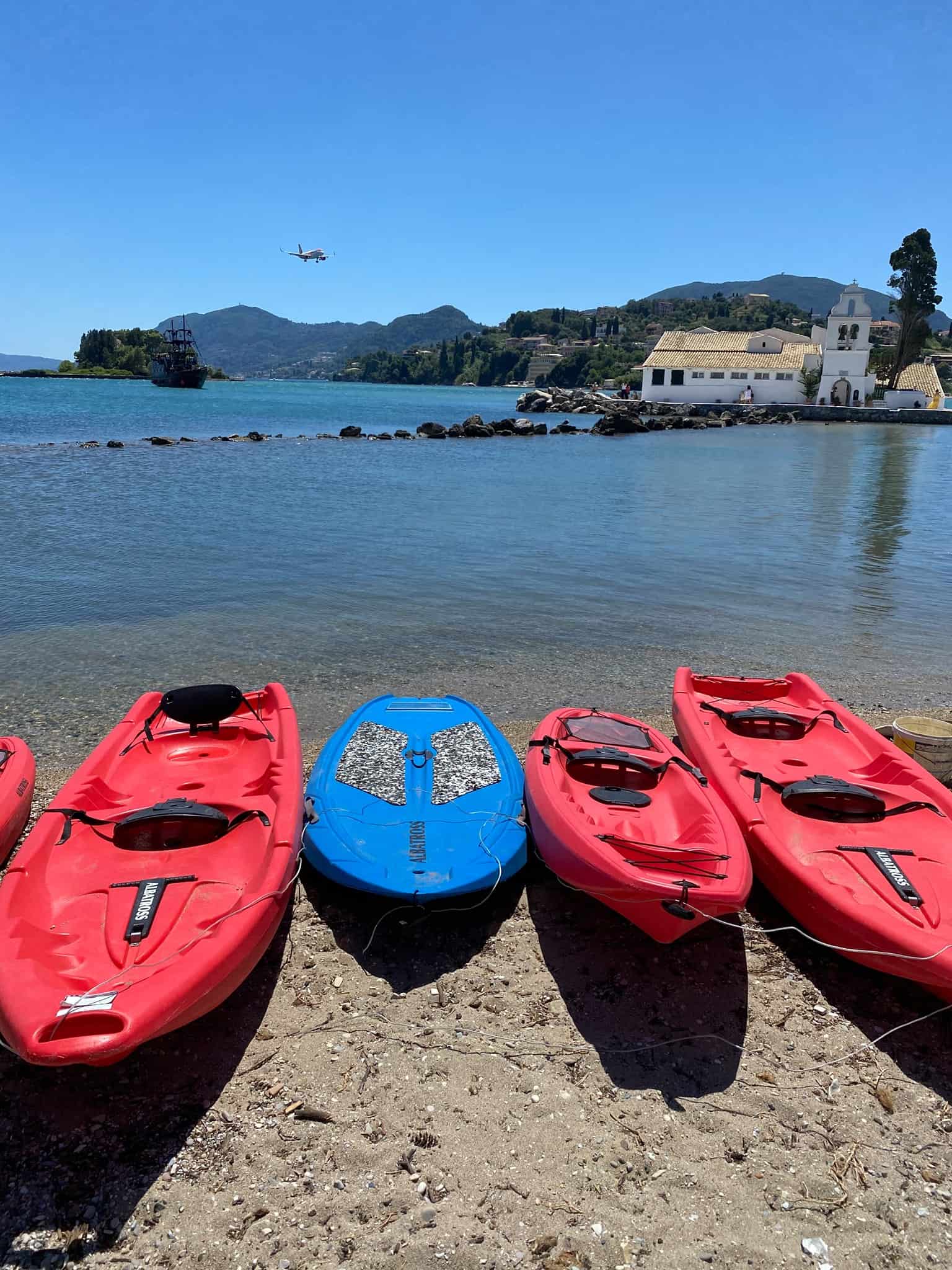 There are several excellent restaurants and tavernas in the Kanoni Corfu area. Flisvos the Seaside Experience is a charming eatery with tables and chairs set up right on the sand exuding true Shirley Valentine vibes.
This is a wonderful place to have dinner and watch a Mediterranean sunset after a day of swimming and exploring. Flisvos´ menu focuses on traditional Greek classic dishes with a contemporary twist.
Owing to its seafront location, a lot of recipes are seafood-focused. They utilise only the freshest ingredients sourced from local waters in the Ionian. From fresh lobster to salmon bruschetta.
If you prefer to dine in a more laid back, taverna-style place, head to Captain George's Family Tavern. The taverna awaits just a short walk along the road from the Kanoni coastline.
Captain George serves an array of excellent seafood dishes (don´t miss the calamari), as well as meat-based and vegetarian Greek classic dishes like moussaka, pastitsio, etc.
Watch the Plane Landings from the Perama Walkway
If you turn right and walk along the Kanoni Corfu coast away from Vlaherna and Pontikonissi, you will eventually be met with a long narrow concrete walkway. This connects Kanoni with Perama.
There is a small beach at the Perama side of the walkway, although it is nothing to really write home about. However, this walkway is the best place to stand and watch the planes coming in to land, or to try and set up your tripod and capture incredible photos as you stand beneath them.
Monastery Panagias Kassopitras
The Monastery of Panagias Kassopitras is a religious site of great importance in Kanoni, Corfu. However, it escapes the radars of most tourists.
If you are staying in the Kanoni area or you have a little time to spare while you are waiting for your bus, consider stopping by. The Monastery dates back to the 18th century.
It was deserted for a period, renovated and transformed into a nunnery, and then once again transformed into a male monastery. Today it is a dependency of the Monastery of Agioi Theodoroi Stratias. There are some interesting paintings and Byzantine icons inside.
Parting Words
Do you have any further questions about organising a day trip to Kanoni, Corfu, or exploring Kerkyra in general? Please don't hesitate to reach out to me.
I have been living in Greece since 2017. I am happy to assist with any questions you may have.
Wishing you safe travels, always. Geia sou! Melissa xo
---