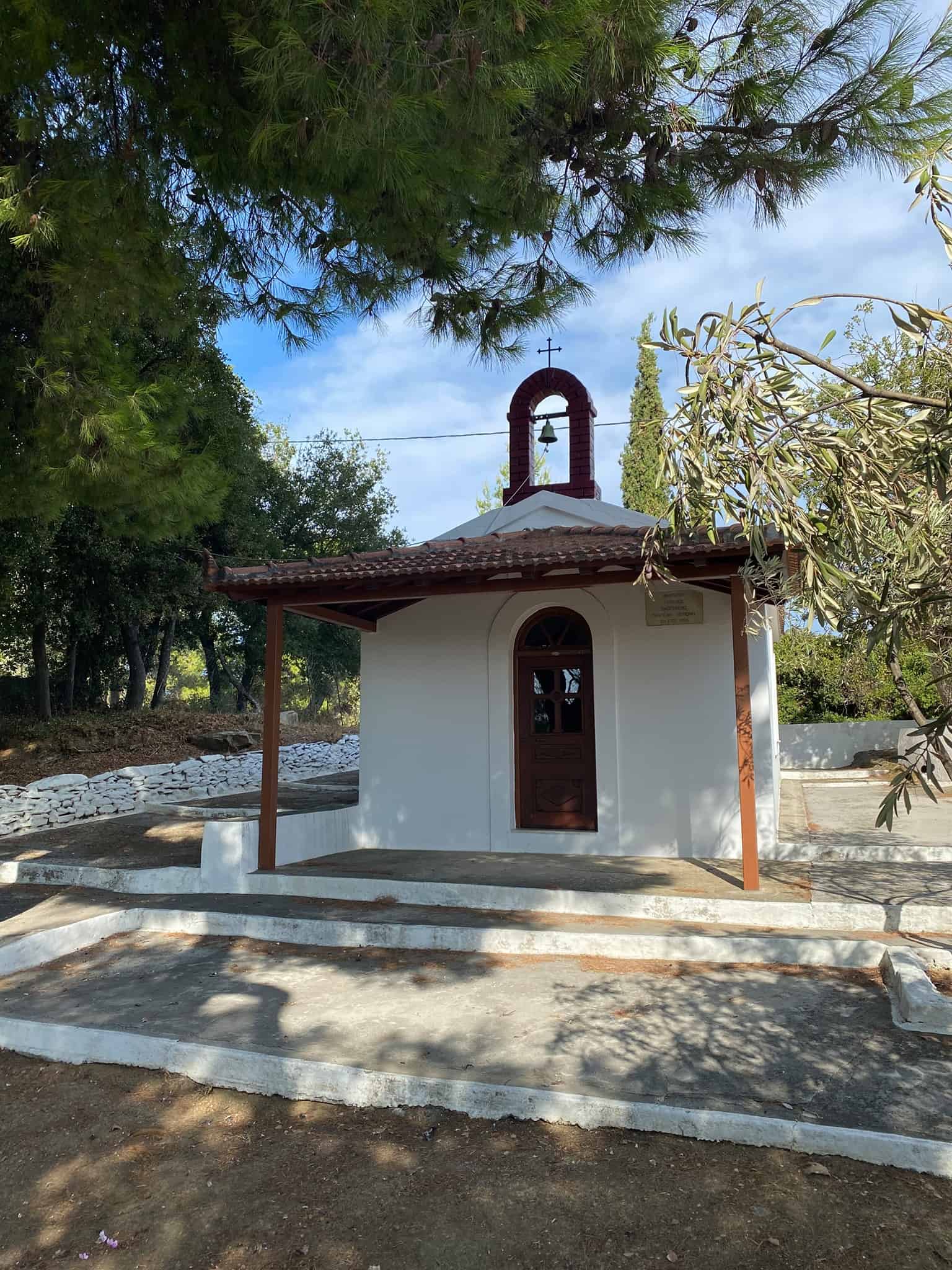 Hikes in Skopelos are plentiful and varied. There are enough stunning trails here to keep you occupied for weeks on end.

Greek islands are often synonymous with the idea of lazing on white-sand beaches and swimming in cerulean waters. However, it is the pristine, undisturbed nature of pine-clad Skopelos island that steals the show. 
The Best Hikes in Skopelos
There are countless hikes in Skopelos to choose from – both official and unmarked. If you are short on time, the best hikes in Skopelos are notably:
Cross-island hike from Skopelos to Panormos


Four Monasteries of Palouki hike from Skopelos town


Sendoukia Pirate Graveyard Trek


Skopelos to Stafylos and Velanio Beach
More information on these hiking trails, along with additional routes to consider in Skopelos, are detailed below.
Hiking and Trekking in Skopelos
All of the Skopelos hiking trails mentioned here can be done without the use of walking poles or any other technical equipment. Some of the hikes are very steep. For instance, the walk up to some of the monasteries at Palouki.
Other hikes span over very long distances. You need to really love walking to conquer them in full! You can also of course do a partial hike if the full distance is a bit too much.
Hikers of all ages and abilities will enjoy wandering along these trails. It is worth noting that many of the routes that do not pass through villages and towns do not bypass any tavernas or stores. Consequently, you should consider packing a lunch, plenty of water, and some snacks for some of the hiking trails discussed here.
The Four Monasteries of Palouki Hike
Distance: 5km – 20km

There are several marked trails (T1-T6) that lead you to some of the most naturally stunning parts of the island. The T1 trail is one of these.
Skopelos' T1 hiking trail takes you into the foothills of Mount Palouki and up to several of the island's most ornate Orthodox monasteries. To commence the trail, turn right at the port and walk to the very eastern edge of the seafront promenade.

You will walk past the National Bank, restaurant Ampeliki, and the Village hotel Skopelos. Walk up the hill and you will see a pedestrianised footpath that leads through the woodlands named "T1 trail".
The Monasteries of Palouki
There are several monasteries here. You can hike for as long and as far as you like depending on how many of them you want to reach.

The Holy Monastery of the Annunciation, Iera Moni Sotiros, Monastery Pano Panagia, and Monastery Timiou Prodromou are the closest. All are still functioning monasteries. However, they are not open to the public at all hours of the day.
Do check the monastery opening times ahead of your visit. Typically, the monasteries open from 8.30 am until 2.30pm, and then again from 5.30pm until 8.30pm. However this may be subject to change.
What makes this route equally pleasant is the olive groves that you pass through, the quaint woodland churches you see along the way, and the views back over Skopelos Town as you ascend the path.
Cross Island Hike to Panormos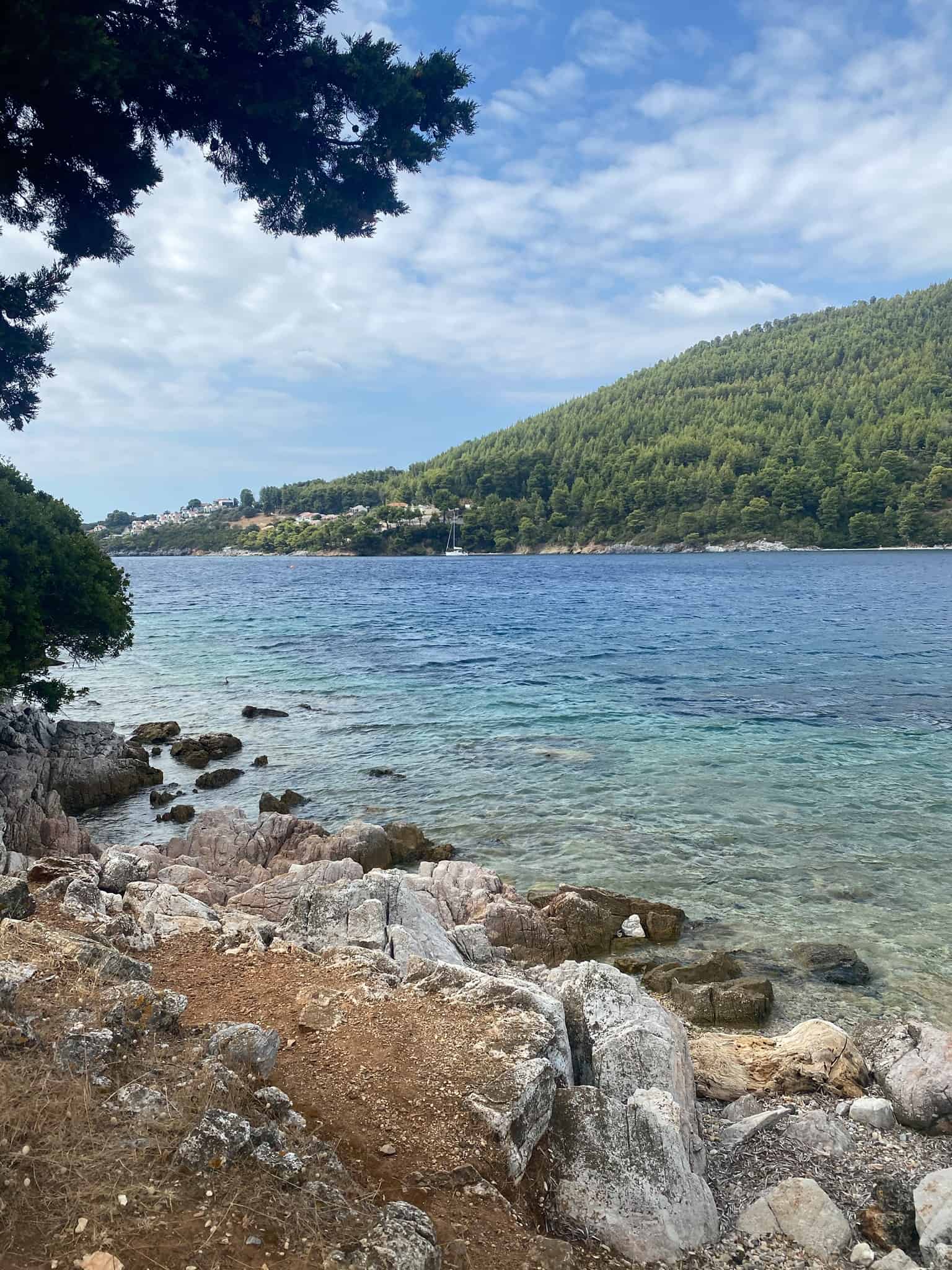 Distance: 15km (one way)

The cross-island hike from Skopelos to Panormos is a tough one. It is advisable to only do the hike one way and time your trip accordingly so that you can take a bus back to the port area.

That said, the scenery in central Skopelos is among some of the most beautiful on the island. Here, you can be walking among rolling hills and along country roads and not see another soul for hours.

The first part of the trail requires walking uphill through olive groves to the area of Raches. It's a little steep and can be tough on the calves but once you get to the top of the hill, the remainder of the trail is pretty flat.

Set out early in the morning so that you can avoid the heat of the midday sun. Allow approximately three hours to get to Panormos.
Once you arrive, go swimming on one of the best beaches in Skopelos, have dinner at a seafront taverna, and relax until it's time to get the bus back. Pack plenty of water as you do not pass any stores in central Skopelos.
Sendoukia Pirate Graveyard
Distance: 1.5km to 9km (depending on start point)
The lost tombs of Sendoukia are one of the most fascinating and mysterious sites on the island. They are also one of the few archaeological/historical sites that Skopelos has to offer.

If you are renting a car in Greece, you can drive to the trailhead and embark on a short walk through the woodlands to Sendoukia. This way, the hike will take you just 25 minutes each way.

Alternatively, you can hike to Sendoukia from Skopelos town. The scenery along the way is pleasant. However keep in mind that walking all the way from the town means a round trip of approximately 4.5/5 hours.

There are three Neolithic stone sarcophagi that are carved into the rocks at Sendoukia. They date all the way back to 500BC.
Fascinatingly, only one Greek Archaeologist has mentioned this place in his work. There is little to no historical reference of Sendoukia.
Everyone refers to this as the pirates' graveyard but that's just a theory. The Sporades, and other coastal areas of Greece used to live in constant fear of pirate raids.
Some say that the pirates used these "tombs" to bury their treasure. There are even rumours that other hidden treasure awaits in the area..
Another theory is that it was a resting place OR a place used for ancient rituals. The highlight of the ancient graveyard though? The views across to Alonissos and some uninhabited islands in the Northern Aegean.
Stafylos and Velanio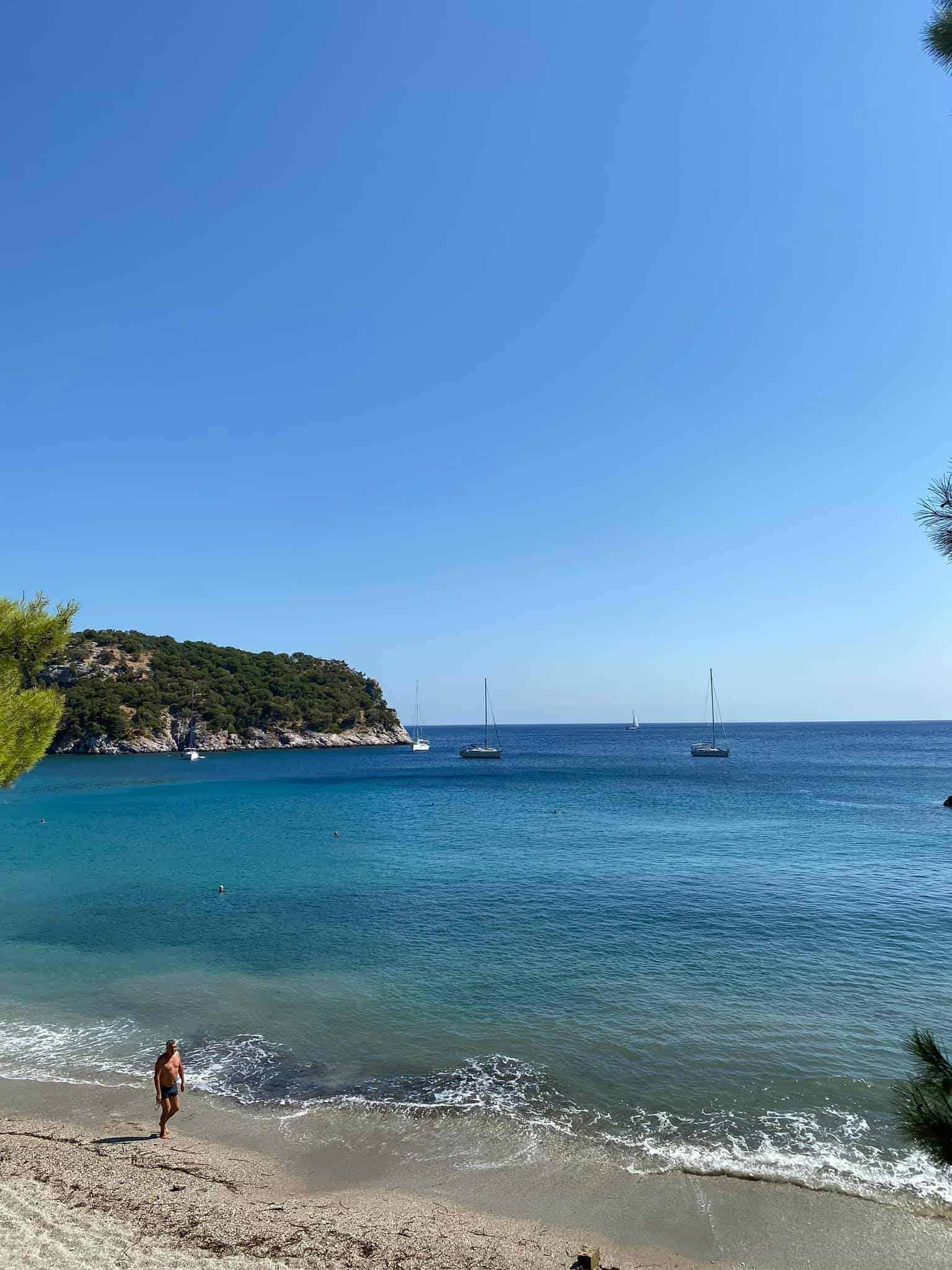 Distance: 4km each way
The small settlement of Stafylos is popular among tourists and locals alike on account of its namesake beach. Stafylos beach sits inside a natural bay and boasts calm, crystal-clear waters that you can see to the bottom of.

Stafylos beach is one of the closest beaches to Skopelos town so it can be convenient if you're basing yourself near the port and want to go for a quick swim. A scenic walking trail connects the town to Stafylos.

The trail is not marked. However, it is easy to find. Close to the port, you will see a small convenience store named "Proton" on a street corner.

Walk down the street besides Proton and you will pass several greengrocers and couriers. When you reach the gas station, turn right. You will essentially follow this road all the way to Stafylos.
There is a point at which a pedestrian footpath veers off from the unsightly main road. This leads you to the "old road" – a scenic, quiet, hour-long route to Stafylos.
Consider tying in your trip to Stafylos with a trip to nearby Velanio beach. To reach Velanio, simply walk down to the end of Stafylos beach and follow the dirt trail through the woods.
Other Skopelos Treks to Consider
If you are looking for additional Skopelos treks and hikes to consider, the below are also very worthy of your time and attention.
Skopelos town to Agnontas hamlet


Agnontas hamlet to Limnonari beach


Neo Klima to Klima


Glossa to Loutraki


Skopelos town to Kalogeros hamlet

Glossa to Bare Rock Coastal Trail


Glossa to Agios Ioannis Kastro Hike
Tips for Hiking in Skopelos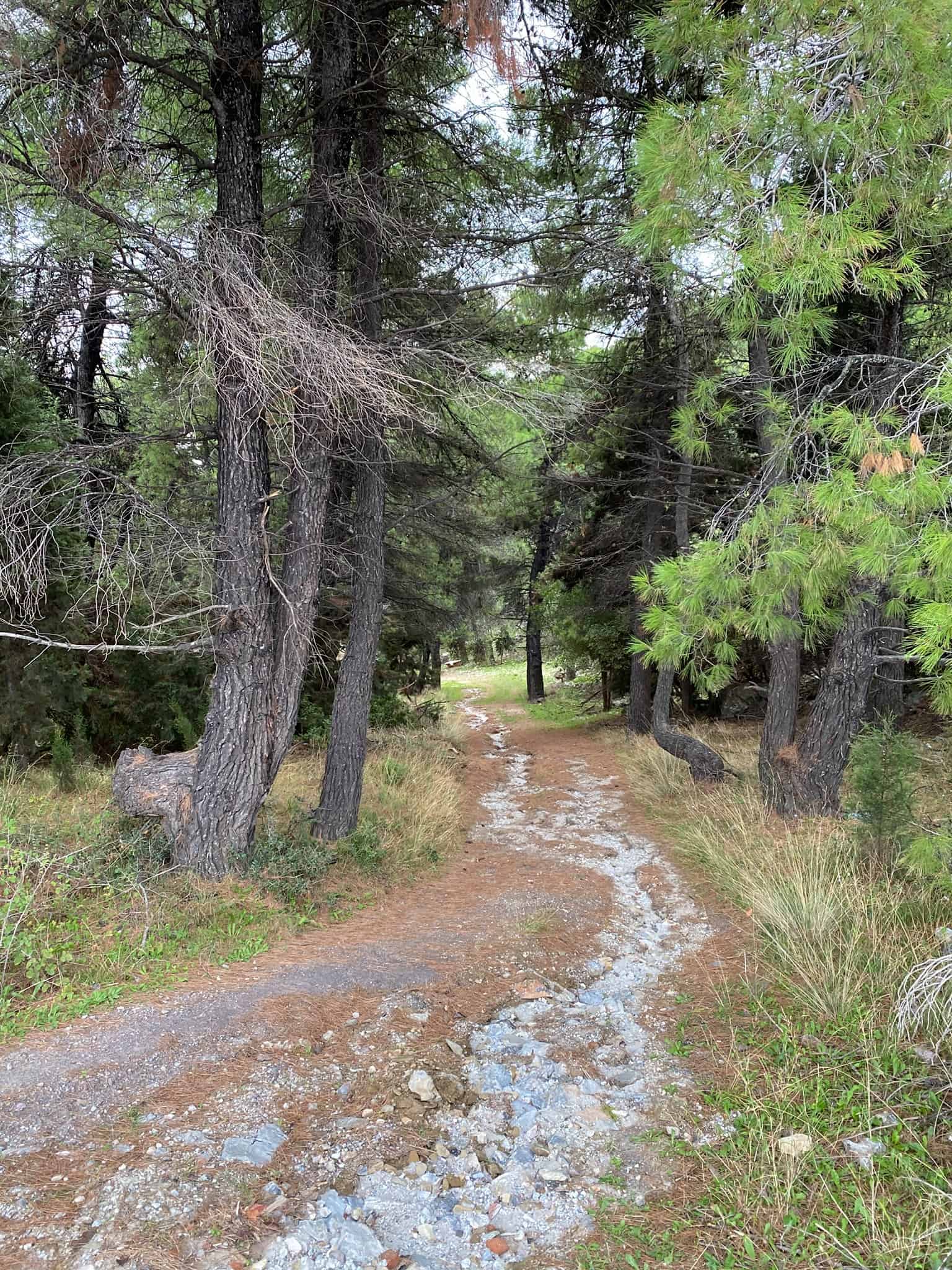 Download an offline map (Maps.Me is great!) to ensure you can track the route offline


Consider purchasing a map of the designated T1-T6 trails from Juice & Books near the port


Pack plenty of water, sunscreen and a wide brimmed hat


Ensure that you have sturdy walking shoes as some routes are rocky and uneven
Parting Words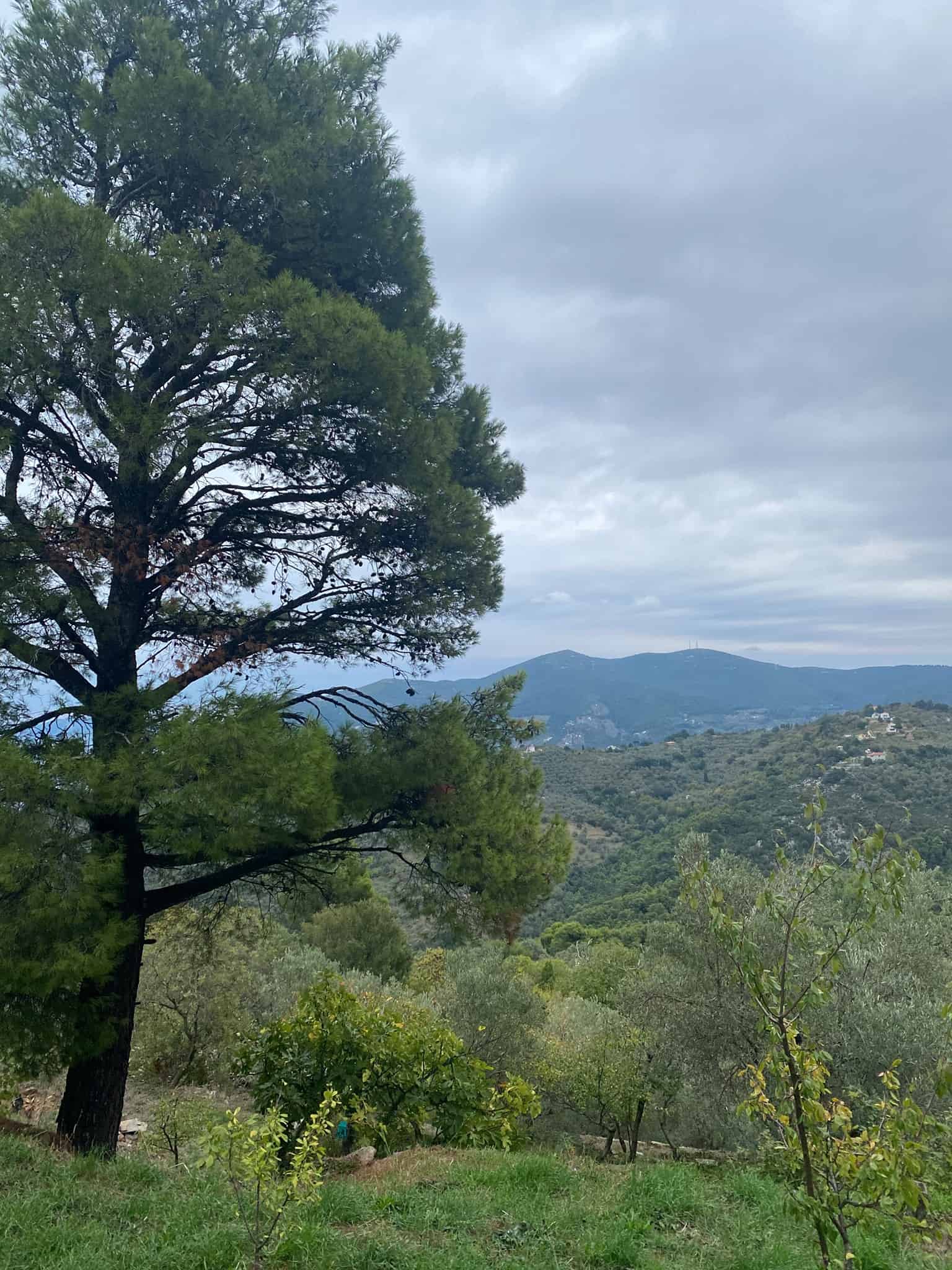 Do you have any questions about drawing up your Greece itinerary or visiting the Sporades? Please don't hesitate to contact me. I'm happy to assist with any queries you may have. I have been living in Greece for three and a half years now.
Safe travels! Geia sou! Melissa xo
---