Glossa Skopelos is the second largest village on the blue-green island of Skopelos in the Sporades and a beautiful alternative place to base yourself during your trip. Glossa (Γλώσσα) is home to a permanent population of just 1,168 residents.
It is affectionately referred to as "the balcony of the Aegean" on account of the unparalleled sweeping vistas that can be enjoyed at every turn. Most travellers quickly pass through Glossa en route to Agios Ioannis Kastri (the infamous "Mamma Mia church").
But if your schedule permits, it is worth spending at least half a day exploring the village and getting lost in its narrow streets and passageways. There are some spectacular tavernas and restaurants here, with incredible views across the Sporades archipelago.
This article was written by a British Travel Writer (me!) who was based on Skopelos island for nine months. I live in Greece and have gotten to know Glossa pretty well over the course of the last few years. 
Visiting Glossa Skopelos in 2023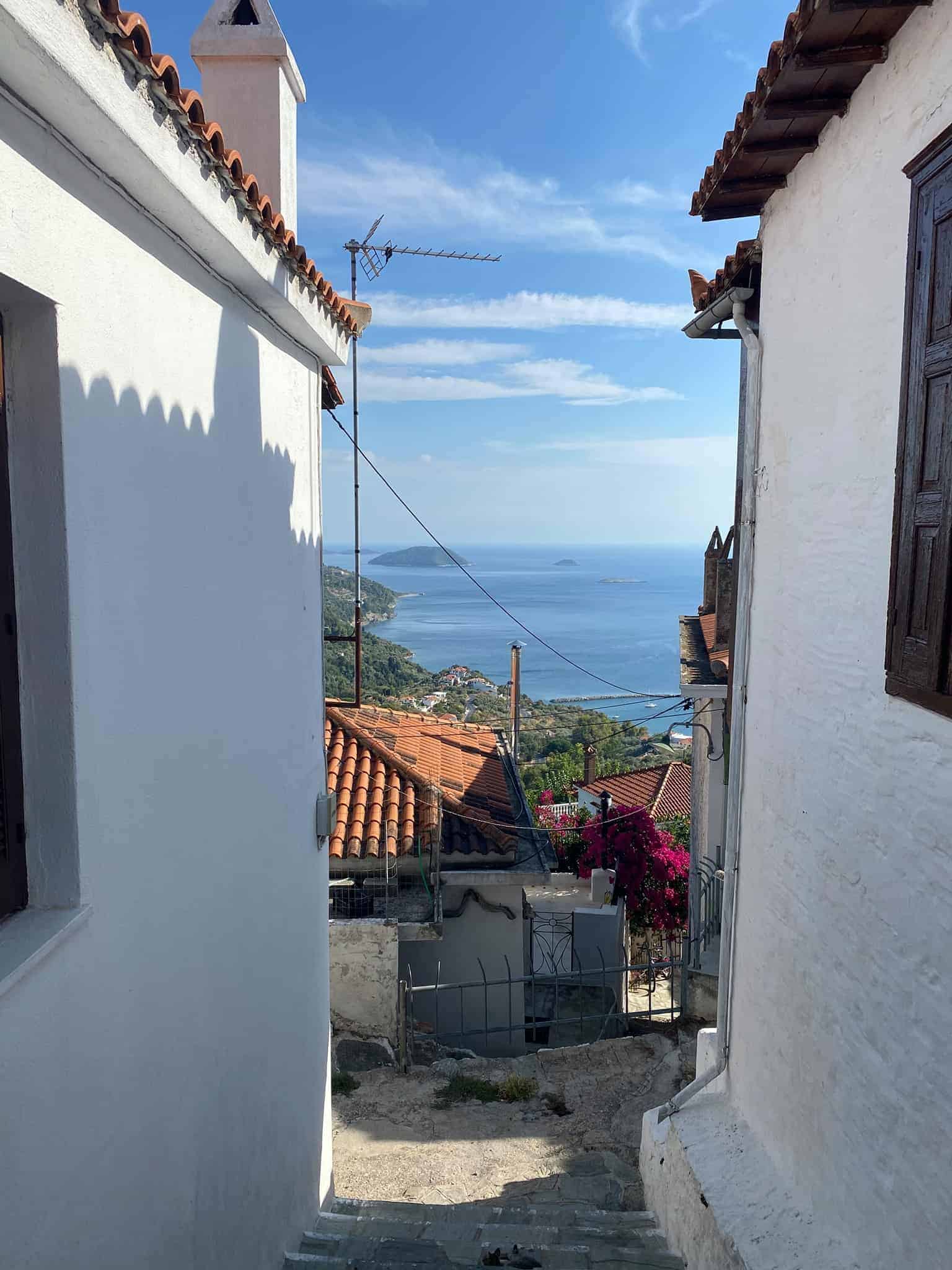 Glossa is easy enough to get to whether you are travelling overland from Skopelos town (Chora) or via ferry from Skiathos/Volos and the mainland. It takes just 30 minutes to get to Glossa from Skiathos and the ferry crossing is a pleasant and scenic one. 
The Skopelos bus from Skopelos town (Chora) to Glossa runs at frequent intervals throughout the day. The journey to Glossa by bus takes just under an hour. 
The architecture in Glossa is distinctly different from what you will find elsewhere in Skopelos or other Greek islands. The houses and stores in this picturesque village have been constructed in the quintessential North Aegean style.
Each feature two stories with wooden interiors, wooden balconies, and burgundy tile roofs. Archeological evidence found around Glossa and nearby Loutraki indicates that a settlement has existed here in some form or another since prehistoric times.
Glossa actually means "tongue" in Greek. There are several fun theories as to why the village has been given such a name.
One is that the village is so hilly, that at the end of a day's exploring and trekking up and down the various hills, your tongue is lulling out of your mouth! Another theory is that the town's founders were Minoans that travelled to Skopelos island from Crete. 
Things to do in and around Glossa Skopelos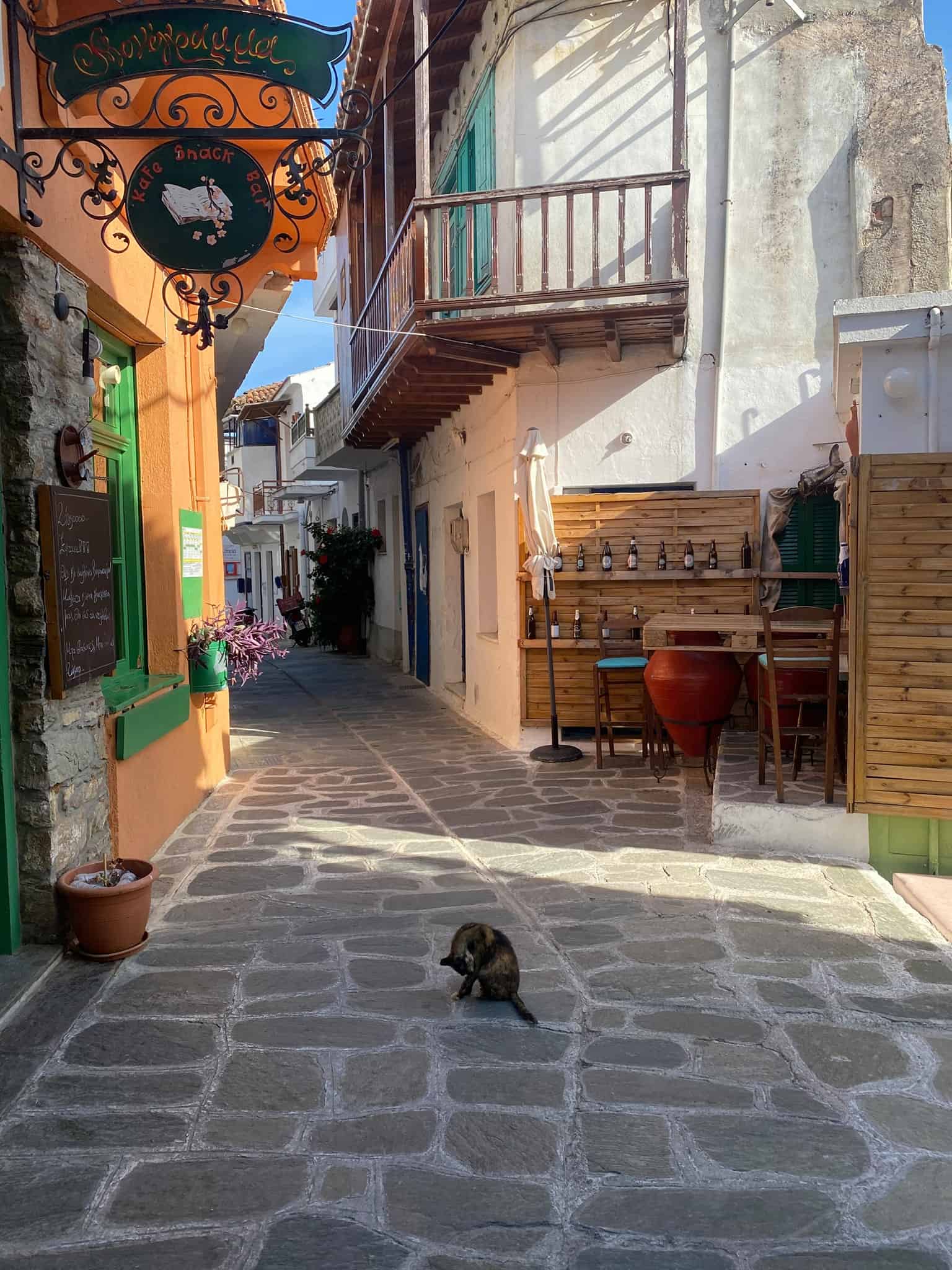 There are lots of interesting things to do in and around Glossa. Some nice activities to add to your Skopelos itinerary are suggested below.
Part of the joy of visiting is simply taking the time to get lost among the village's rabbit-warren-like network of cobbled streets and alleyways. They twist and turn up and down hills, opening out into picturesque piazzas and charming streets lined with quaint Greek coffee shops, bakeries, and artisanal stores.
When you get tired of walking, simply pull up a stool outside one of the ramshackle kafenions and people watch as local men play backgammon and discuss the local gossip.
Organise a tour of the Antoniou Family Olive Press
The Antoniou Family Olive Oil Press is an olive mill that sits outside Glossa village. It can be found just off the coastal road between Glossa and Agios Ioannis Kastri.
Greece, and the Northern Sporades especially, are known for their exquisite quality olive oil.
The Antoniou Family Press has been in operation for over 130 years and has been passed down through the generations. Second-generation Ioannis Antoniou is the current manager.
If you call ahead, he is more than happy to provide you with a free tour and tasting. Both Koroneiki and Amphis olives are used in production and harvested directly from groves on Skopelos.
The acclaimed Antoniou local olive oil can be found on sale in Sklavenitis, and the various stores and supermarkets across the island.
Even if you don't consider yourself a connoisseur of olive oils, taking a tour of the olive groves and production facility is a worthwhile experience. It aids you in understanding one of the staple products in Greek culinary culture.
Have lunch at Agnanti restaurant 
Agnanti restaurant is a Skopelos institution. The eatery is recognised time and again as being one of the very best restaurants in Skopelos.
The seasonal menu features classic Greek classic dishes prepared with a contemporary twist. They are also big believers in the farm-to-table concept.
Many of the fruits and vegetables used in their dishes are grown in their own garden. Treat yourself to a hearty portion of pork shoulder slow-cooked in spices and served with fresh bell peppers and local prunes.
The tender, braised veal prepared with homemade pasta is to die for too. And although the exquisite food is the main draw for visiting, the restaurant's location means that you can sit out on the balconies and enjoy incredible views across the Aegean sea as you eat.
Hike from Glossa/Loutraki to Palio Klima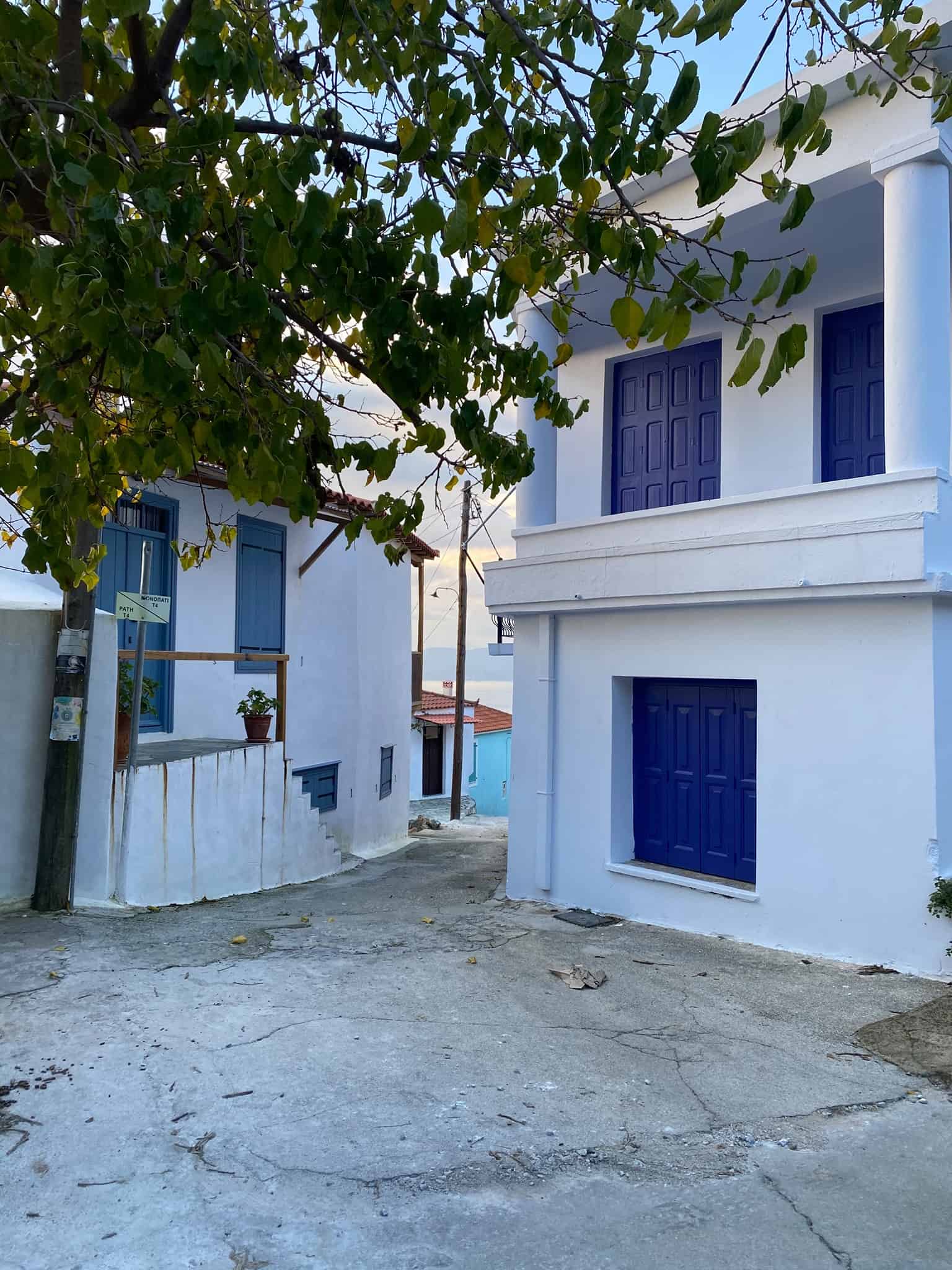 The scenic coastal trail that leads from Glossa to Palio Klima is one of the best hiking routes in Skopelos. This route leads you past forgotten woodland churches, historic shrines, and fragrant olive groves.
There is a designated footpath that leads the way, so knowing where you need to walk is easy. You can also purchase Skopelos trail maps from Juice & Books in Skopelos town.
Visit the Church of the Assumption
Several charming Orthodox churches can be found scattered throughout little Glossa. The 19th century Church of the Assumption is a particularly beautiful one, dedicated to the village's patron saint.
There are some incredibly intricate marble carvings inside the church that were created by the acclaimed Greek sculptor George Kaparias.
You can also stop by the "gallery of the church". This free-to-enter exhibit showcases 43 gorgeous oil paintings donated by Alexander Sideris.
Sideris was a globally-acclaimed Skopeliti artist that was born in Glossa in 1898 and was very active in both Greece and New York. His exquisite paintings on display in Glossa showcase scenes of noble life between the 1930s and 1950s.
Visit the Glossa Folklore Museum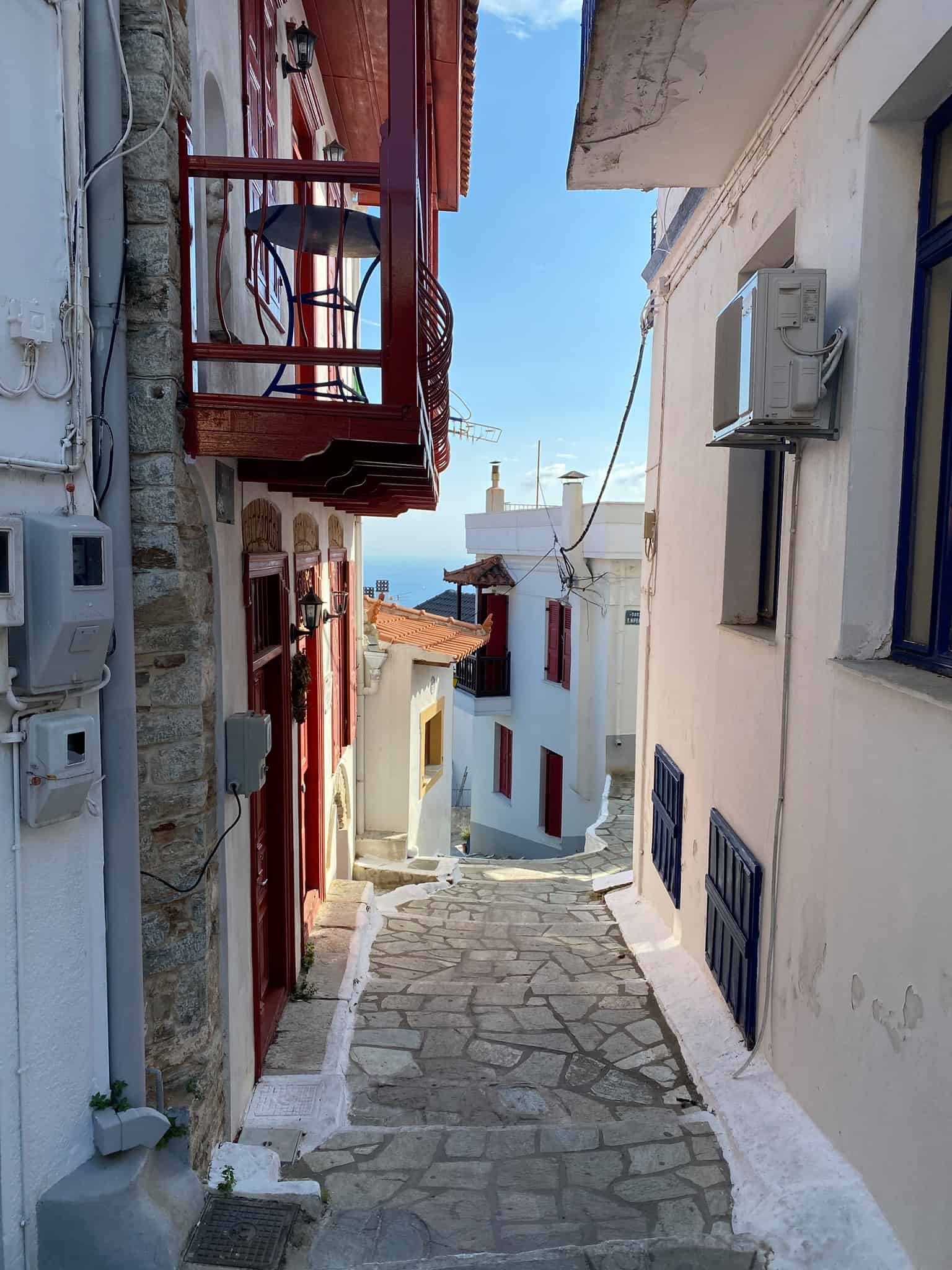 The Folklore Museum of Glossa is a worthy stopping point during your time in the village. The "living museum" is set inside a traditional two-story house and depicts how traditional life once was on the island.
Each room is decorated differently, with ornate, hand-carved furnishings and elegant porcelain tea sets. Centuries ago, Glossa thrived as a port town and the local sailors would bring porcelain tea sets and other items back to their wives as gifts and souvenirs.
Share meze platters in the local tavernas
Traditional Greek cuisine is simple and unpretentious. The cosy tavernas of Glossa, filled with friendly locals, are the perfect embodiment of this.
Plateia Cafe is a great choice. The little taverna is a great place to enjoy al fresco dining as you tuck into home-cooked meze dishes or classic mains such as stifado and giouvetsi. 
Similarly, Ēliobasílema, adjacent to the village bus stop, is always crowded with locals. This is a good place to enjoy a moussaka (the Greek national dish) and some ouzo as you wait for your bus back to town.
Admire the Monastery of the Archangels (Taxiarches)
Skopelos, like Greece in general, is a deeply religious and spiritual place. Indeed, there are more than 360 churches and monasteries scattered across this little island alone.
One of the most impressive and important religious structures – the Monastery of the Archangels, sits just 2.5km away from Glossa. The monastery is widely regarded as being one of the most impressive post-Byzantine era structures in the Northern Sporades.
The structure dates back to 1672. However, the remains of a very old (672 AD) Christian church can also be seen from the site.
Renovation work has taken place in recent years to help restore the monastery to its former grandeur.
Visit Cape Gourouni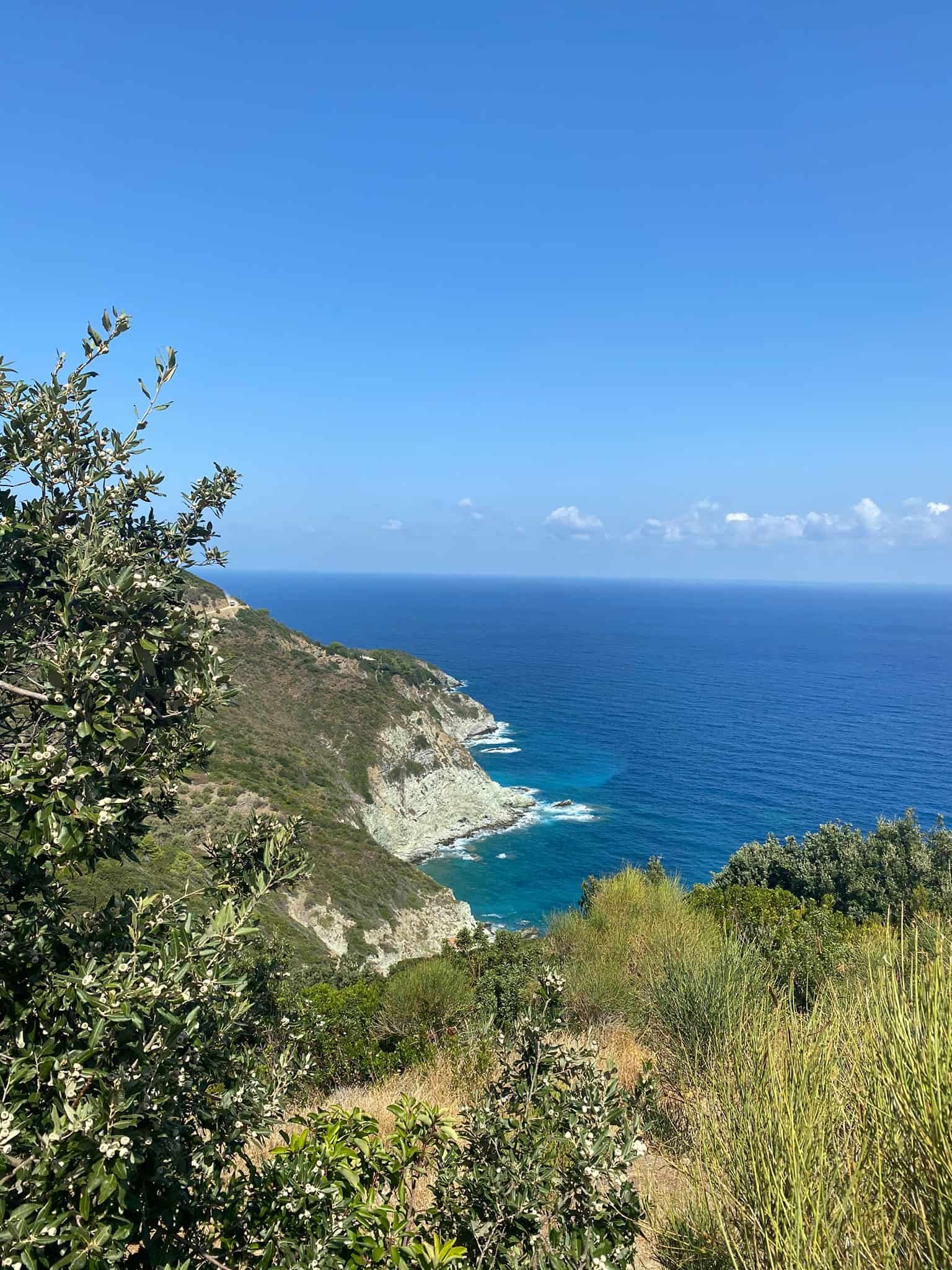 Cape Gourouni is a rocky bluff in the northernmost part of Skopelos, a couple of miles out from Glossa. This area is about as off-the-beaten path as you can get on the island.
The panoramas here are unparalleled, particularly at sunset. An impressive 18-meter lighthouse stands proudly here, dominating the mountainscapes.
The 1889 building has been designated an important historic monument by the Greek Ministry of Culture.
Take a trip out to the Mamma Mia church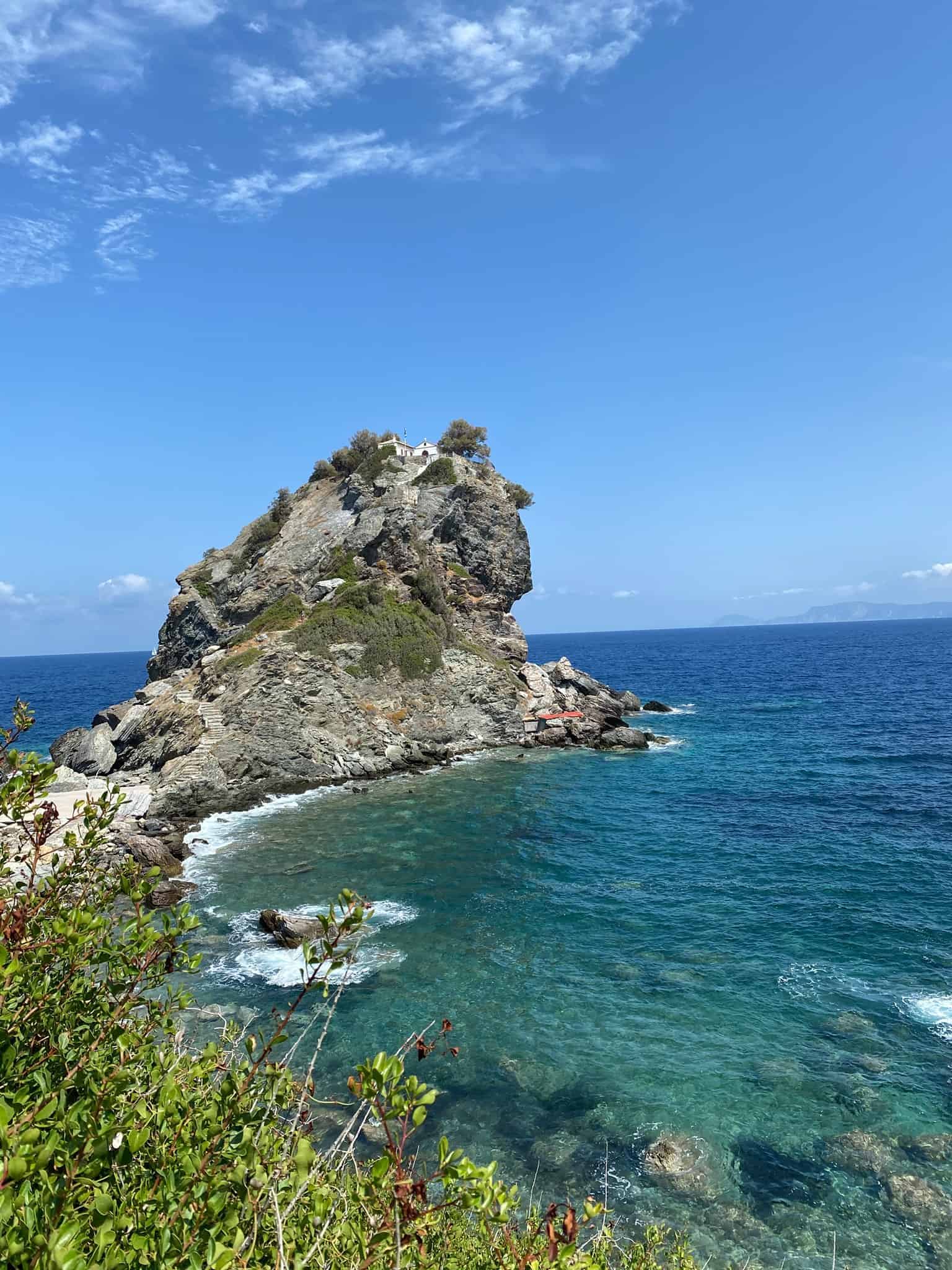 Agios Ioannis Kastri (the Mamma Mia Church) is one of the most iconic sites on Skopelos island. For some people, it is their entire raison d'etre for visiting.
The church, whose name means "St John on the Castle" sits on top of a rocky bluff some 100m above the sea. It is known as the "Mamma Mia Church" because it was one of the filming locations for the hit Hollywood movie Mamma Mia.
Accessing the church means having to climb 110 steep stone steps. The church's interiors are tiny but they are filled with interesting religious icons and paintings.
The views from up here are second-to-none, and there is a lovely beach with a snack bar at the foot of the cliff. A couple of local tour companies offer Mamma Mia tours to the church, but you can also take a cab from Glossa and back for around €25.
Getting to Glossa, Skopelos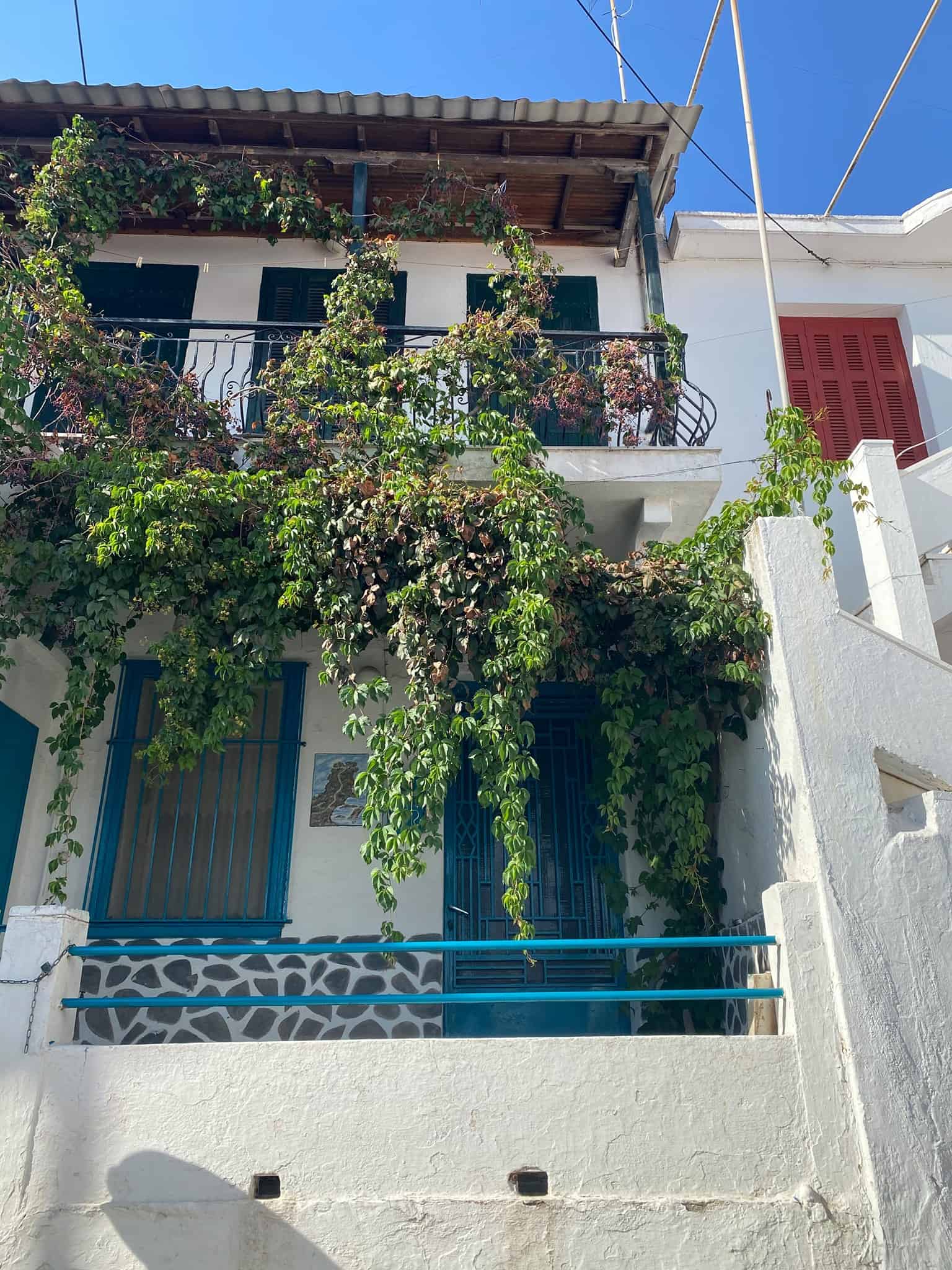 Presuming that you are already staying in Skopelos, it is easy to reach Glossa via the island bus. This bus completes a circuit of Skopelos every day, several times a day. The village is situated just 25km away from the port town.
By Bus
Bus schedules may be subject to changes depending on the season. However, you will always find them displayed on the notice board outside of the port entrance.
Tickets cost €4.80 each way from the Chora to Glossa.
By Ferry from Neighbouring Islands
There are two ports on Skopelos island: Skopelos town and Loutraki/Glossa. Services from Skiathos, Volos, and Alonissos often stop here.
This may be a convenient option if you plan on doing a day trip to Glossa and the "Mamma Mia" church from a neighbouring island. 
Where to Stay in Glossa, Skopelos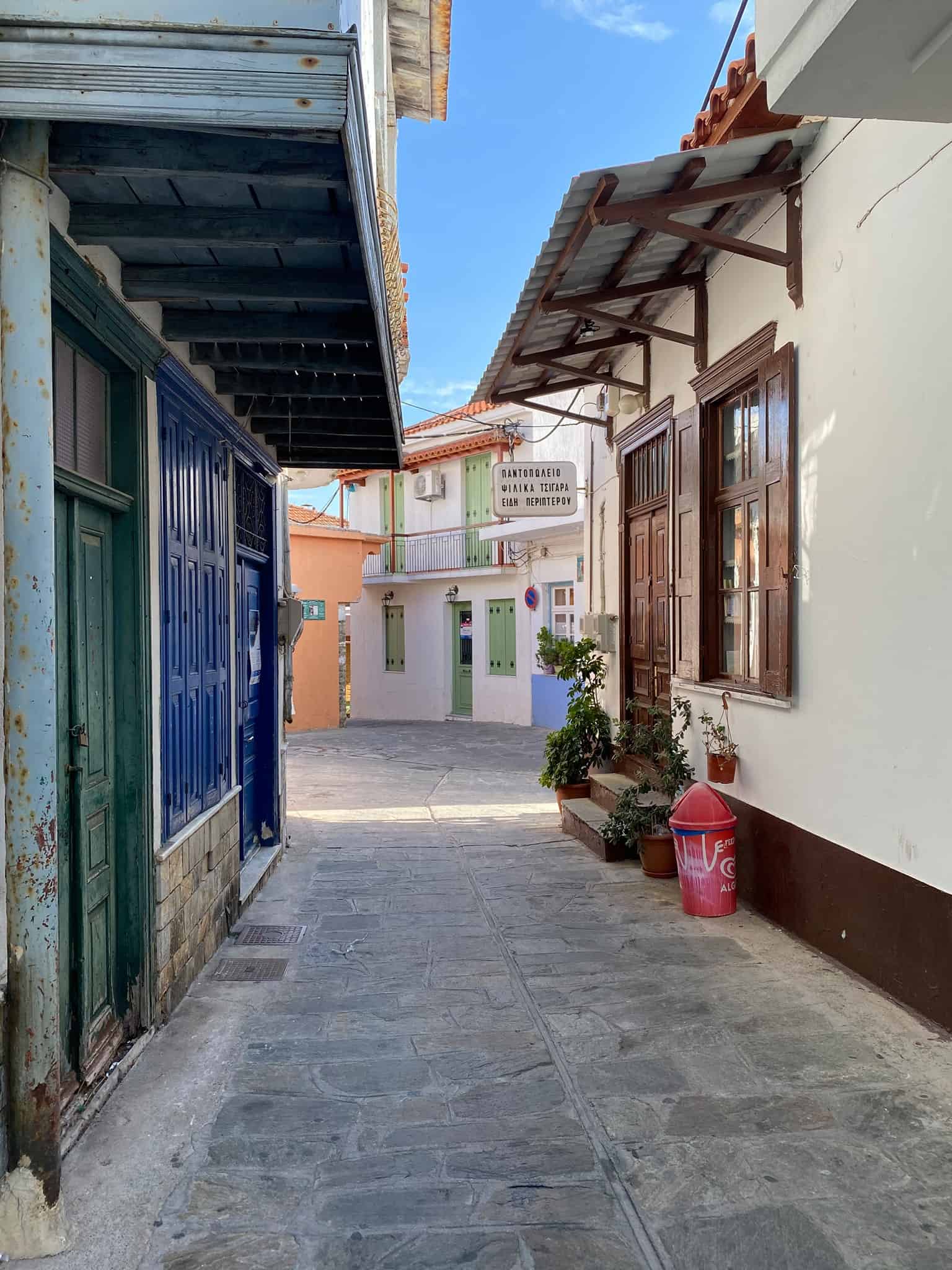 Opting to stay in the village of Glossa during your time in Skopelos is an excellent choice. There are charming hotels, guesthouses, and apartments here to suit every budget and travel style.
A few shortlisted options are detailed below. However, keep in mind that if you wish to explore the beaches and coastal areas of Skopelos, you may prefer to stay in the southern part of the island. For example, Agnontas, Neo Klima or Stafylos.
Natura Luxury Boutique Hotel Skopelos
Natura Luxury Boutique Hotel is a stylish modern property in the heart of Glossa. The newly renovated rooms are decorated with tones of white and beige and offer private balconies that overlook the sea. 
The hotel's heated infinity pool overlooks the Aegean and is the largest of its kind in the Sporades. Rooms start from €180 a night.
Click here to see the latest availability and room rates.
Aegean Wave Hotel Skopelos
Aegean Wave Hotel Skopelos offers luxury accommodations without the luxury price tag. The homely stone property boasts spacious rooms and en-suite bathrooms.
Guests can opt to enjoy a sumptuous candlelit dinner at Faros. This is the hotel's in-house restaurant and boasts some of the best sunset views in town.
Rooms start from just €50 per night. You can browse the latest prices and availability details here.
Final Thoughts on visiting Glossa, Skopelos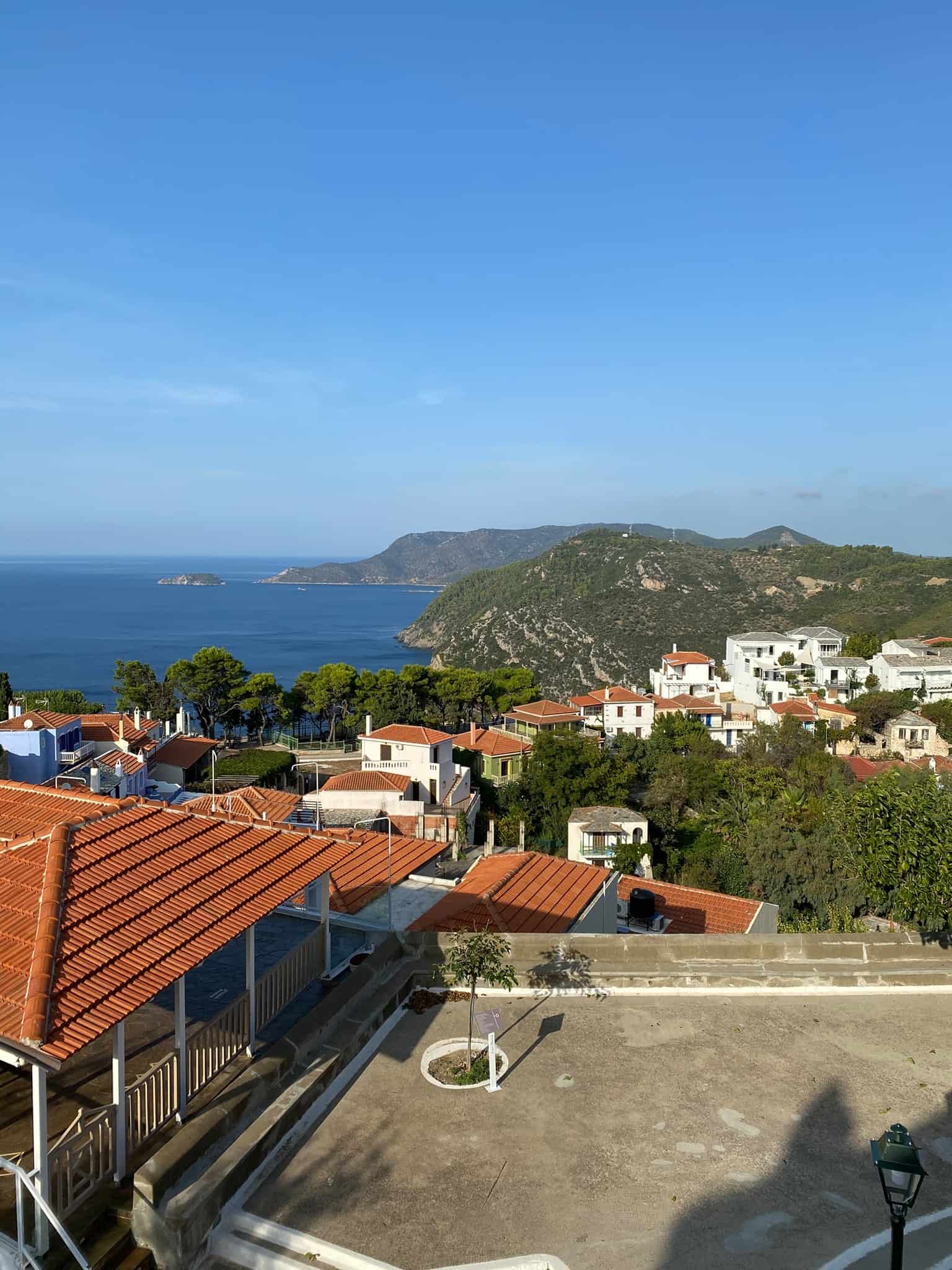 Do you have any additional questions or queries about visiting Glossa, Skopelos, or organising your Greece travel itinerary?
I have lived in Greece since 2017 and recently based myself in Skopelos for eight months. I got to know the island pretty well during that time and you will find a lot of articles about it on this Skopelos blog.
Please don't hesitate to reach out to me if you need anything.
I will get back to you as soon as I can. Safe travels!
Geia sou! Melissa xo
---