Stafylos is a tiny little settlement that is situated on the west coast of Skopelos. It is just 4km away from Skopelos town and can be easily reached on foot, by bus, or by car.
Stafylos is essentially more of a hamlet than a village. There are just a small scattering of houses here and very few permanent residents.
After the tourism season ends in October, the local tavernas and hotels close their doors for the winter and Stafylos practically becomes a ghost town. That said, the beaches here are among the most charming on the entire island.
Stafylos, Skopelos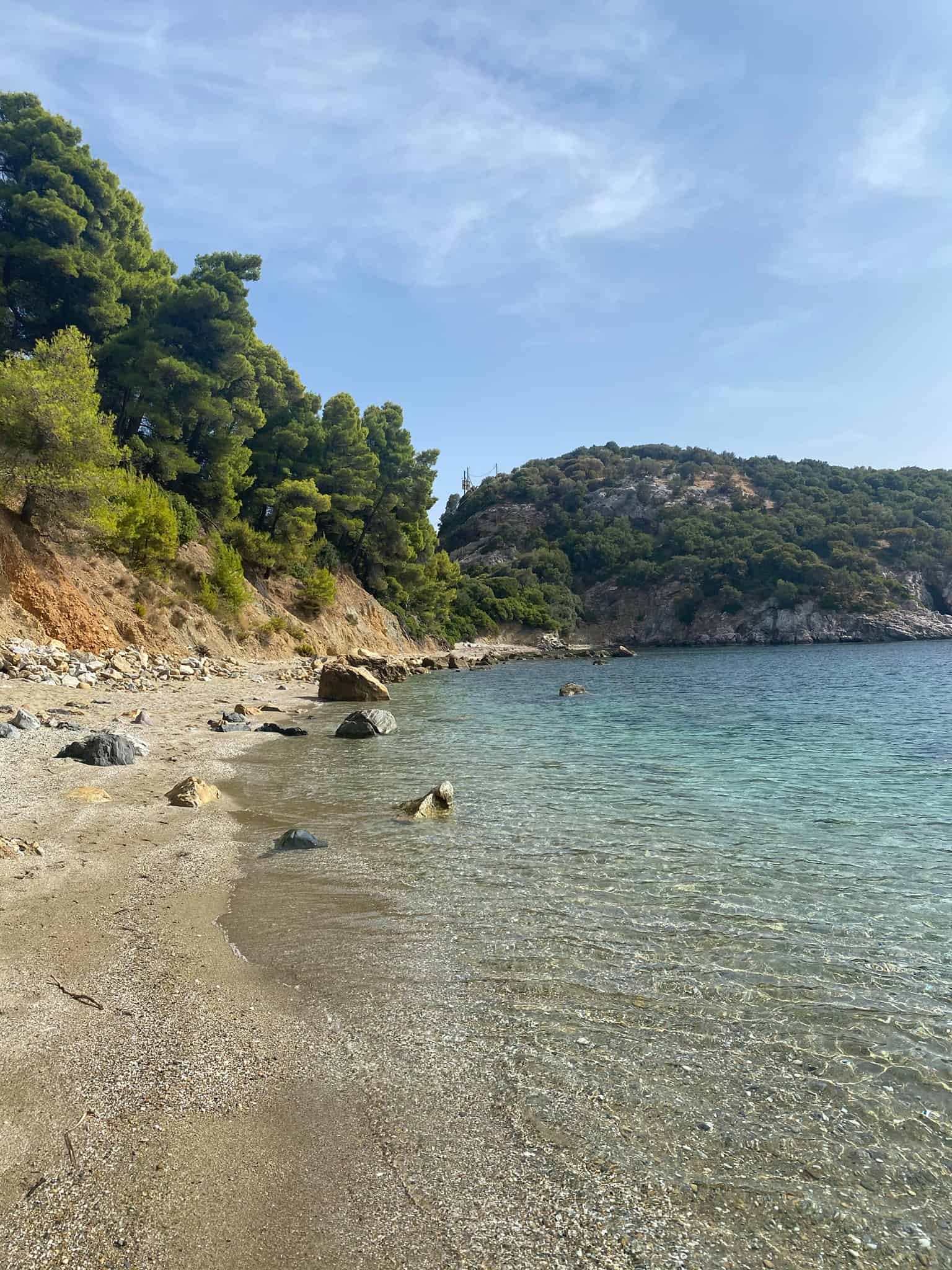 The views across the Aegean from Stafylos are unparalleled. It is pleasant to hike along the old road from Skopelos town to Stafylos, bypassing quaint little churches and gorgeous olive groves as you go.
The breathtaking panoramas across the water, with Skiathos glinting in the distance, are a final reward for your efforts. This is a popular Skopelos hiking trail for islanders that love to walk and explore. Set out early in the morning to avoid the heat of the midday sun.
From June to September, a seasonal beach bar and snack truck operate on both of Stafylos' beaches (the namesake Stafylos beach and nearby Velanio). In Stafylos, you have all the services and amenities that you need for a relaxing day in the sun.
When the tourists vacate the island, and the wooden beach bar of Stafylos beach is disassembled, Skopelitis take back the coastlines for themselves. Out of season, the ambiance here is still incredible.
The crowds of beautiful beachgoers may have long gone. However, instead, the beaches here are occupied by local dog walkers, or Skopeliti friends packing a picnic and a flask of coffee.
The weather in Skopelos can be temperamental. It rains a fair amount between Autumn and Spring, but there are the occasional warm, sunny days. Out of season, it is not unheard of to have entire stretches of the beach completely to yourself.
Stafylos Beaches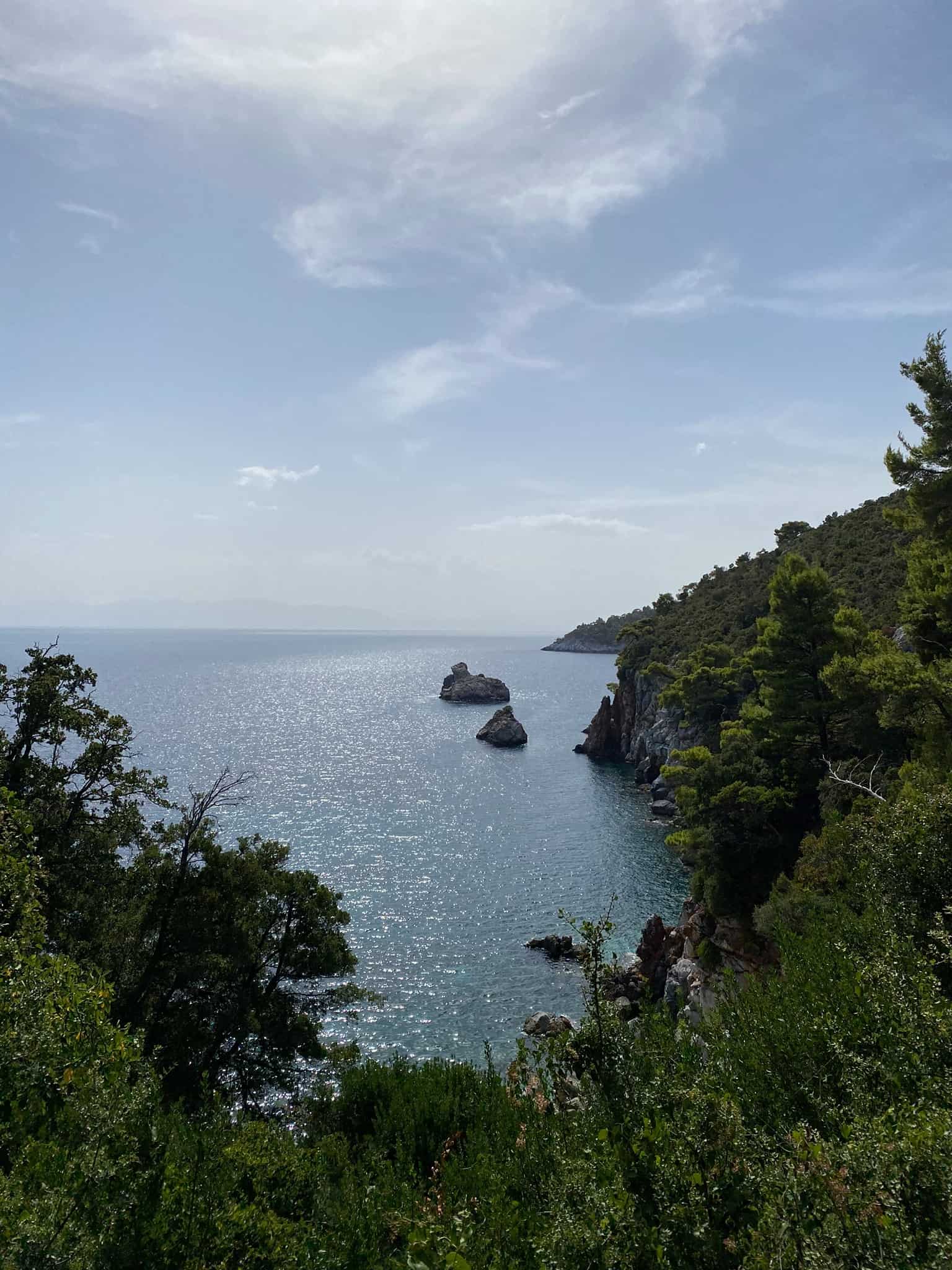 There are two beaches in Stafylos: The village's namesake Stafylos beach, and Velanio beach. Both have their charm. However, Stafylos beach is the more popular of the two.
Stafylos Beach
Stafylos beach is a local favourite. It is also one of the most convenient to get to from Skopelos town.
The beach sits in an enclosed bay that is encompassed by dramatic rock formations. The clear, shallow waters are perfect for swimming in. However it can get very windy here, and there is often a strong undercurrent on a windy day.
A beach bar sits at the far end of Stafylos beach during the summer months. It has all of the amenities that you could desire – bathrooms, showers, sunbed rentals, snacks, and beverages.
Velanio Beach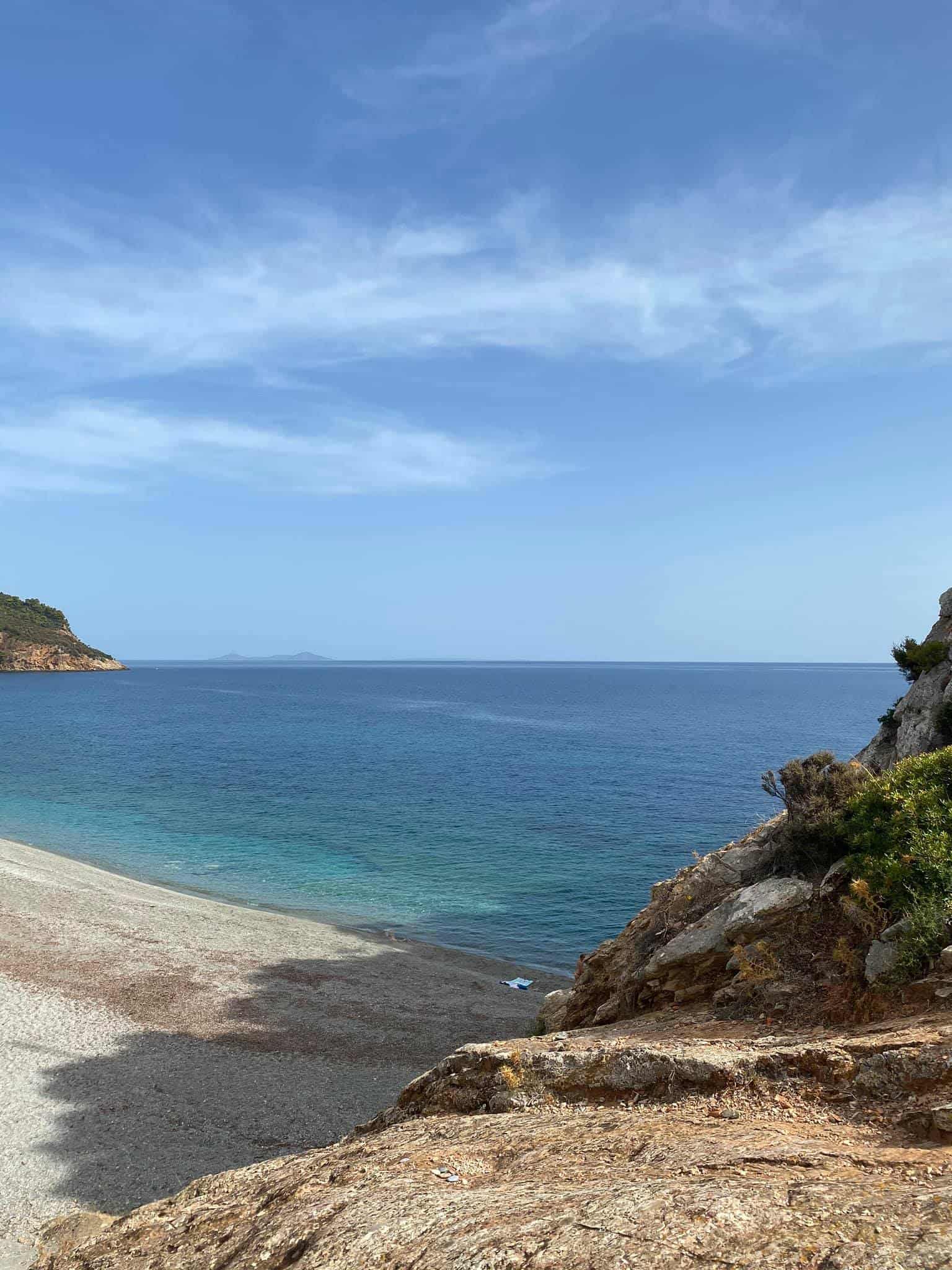 It would be incredibly easy to miss Velanio beach if you weren't specifically aware of its existence. This stretch of coastline can only be accessed by following a narrow footpath that leads through the woodland at the far end of Stafylos beach.
Velanio is Skopelos' only nudist-friendly beach. That said, if you are not comfortable with public nudity, you can still enjoy this area. It is only the far end of the beach that is for naturists.
During the summer months, there is a small food truck here selling drinks, ice creams, and light snacks. Velanio is backed by dense pine forests. A cave complex extends from the shoreline and is a perfect place to go snorkeling to observe underwater sea life. Stafylos' coastal areas are among the best beaches in Skopelos.
Where to Stay in Stafylos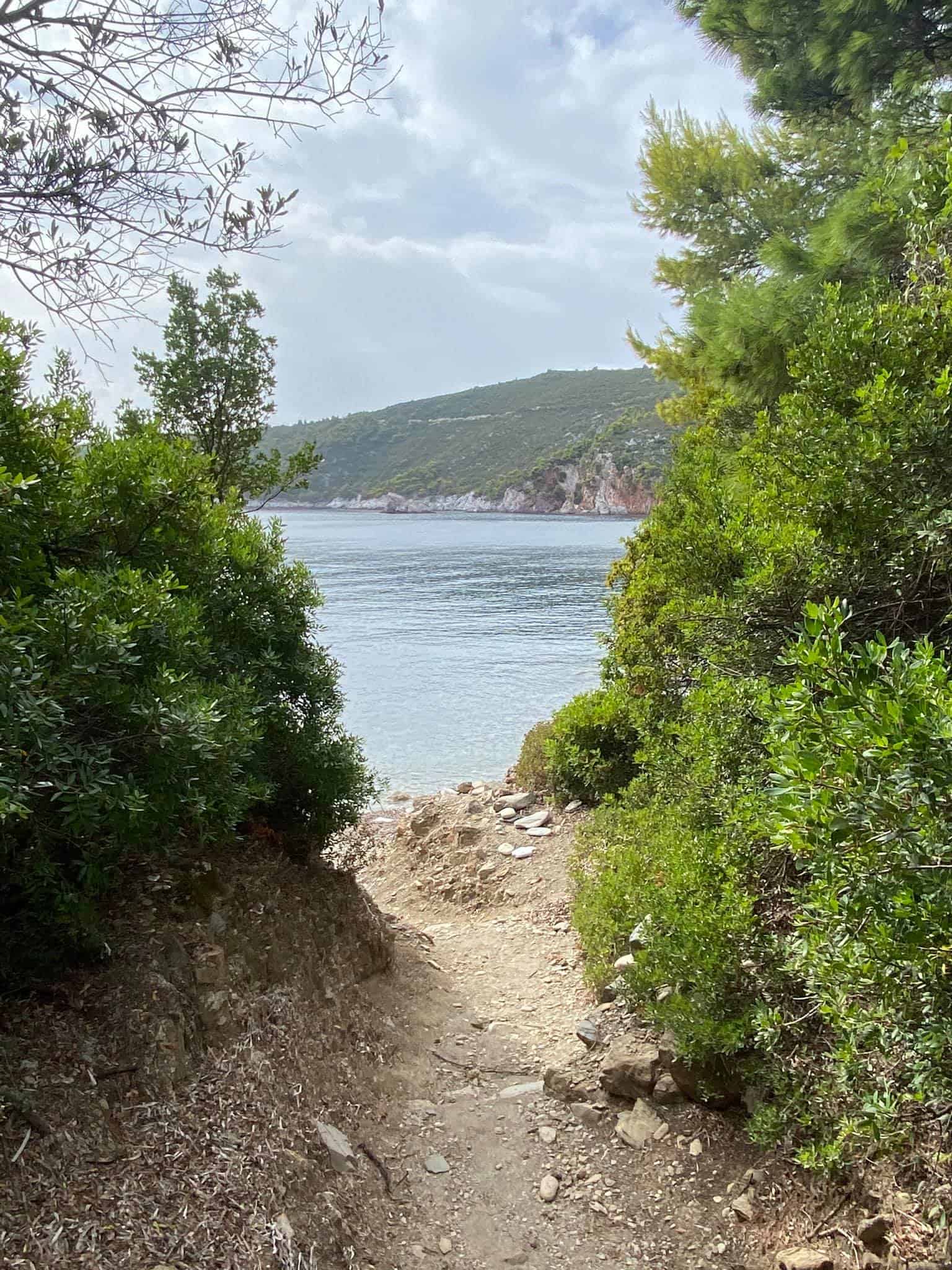 If you are unsure as to where to stay in Skopelos, Stafylos is a great option. You are away from the hustle and bustle of the town yet in a convenient enough location to access the island's highlights independently or with public transport.
Staying in Stafylos allows for a peaceful stay amidst tranquility, nature, and breathtaking sea views. There are a variety of hotels in the area, with something to suit every budget.
Mando Beachfront
Mando Beachfront hotel sits on a hill directly above Stafylos beach. Its traditional rooms boast incredible views across the crystal blue waters of the Aegean.
Rooms are comfortable and spacious. Guests can enjoy a complimentary breakfast served in the gardens and gazebos of the property, featuring typical Greek sweets and fresh fruits, vegetables, and eggs from the owner's garden.
Rooms start from €50 per night. You can view the latest rates and availability here.
Stafylos Suites and Boutique Hotel
Stafylos Suite and Boutique hotel is a gorgeous whitewashed property overlooking the Aegean. It has been decorated with shades of white and light blue that are so quintessentially Greek.
The property has everything you could possibly need to make your time on the island a pleasant one.
Rooms start from €75 per night and vary depending on the season. The latest rates and availability can be viewed here.
Stafylos Restaurants and Dining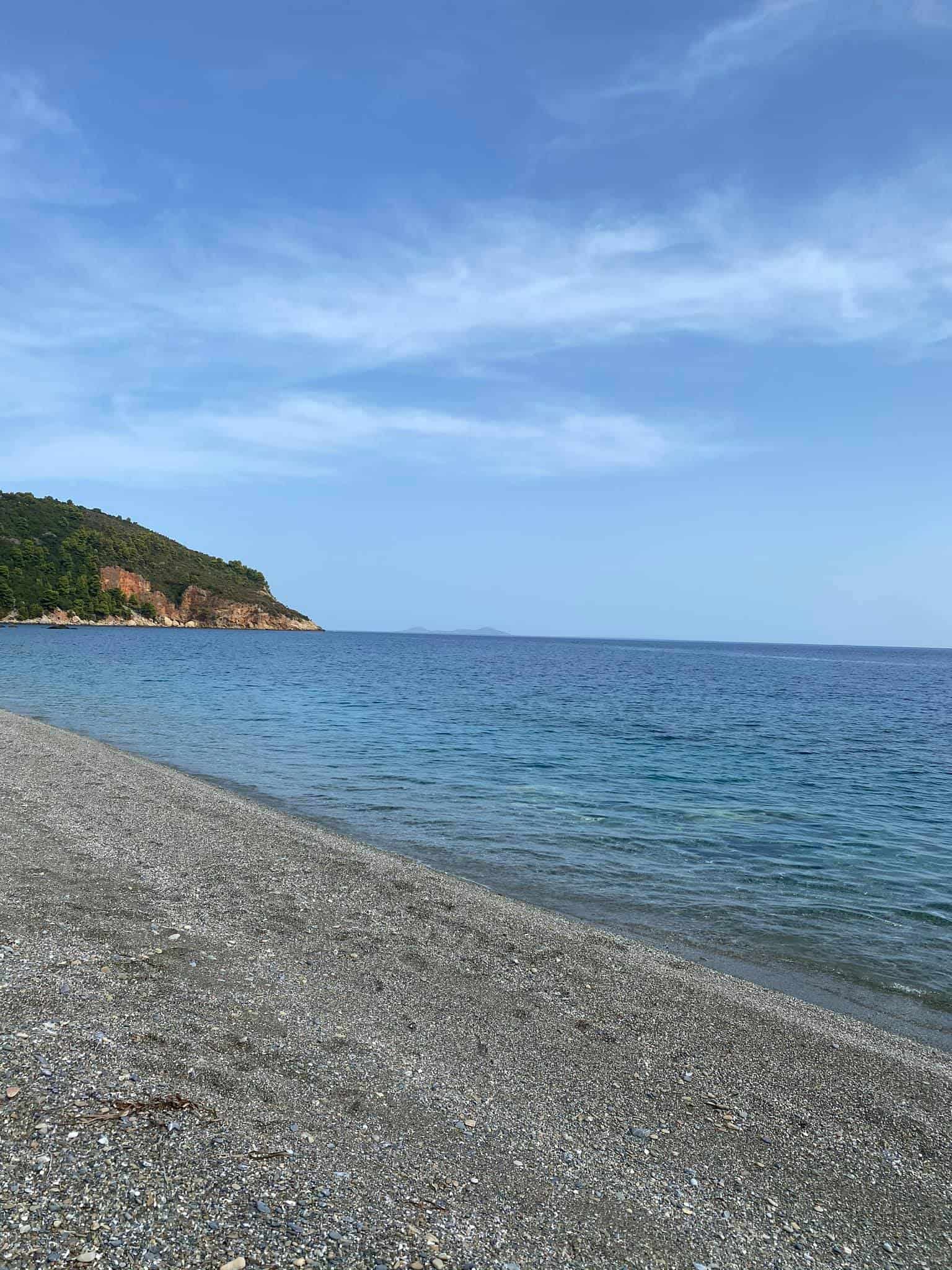 There are just two restaurants in the immediate vicinity of Stafylos: Stafylos restaurant and Terpsis. Both come very highly recommended and are among the best restaurants in Skopelos.
Stafylos Restaurant
Stafylos Restaurant has won the hearts of locals and tourists alike. During the summer months, this place is seldom not crowded and reservations are often necessary.
The restaurant's extensive menu serves fresh seafood dishes sourced from the Aegean, locally farmed meats, and traditional Greek dishes. The food is the main draw. However, so too are the panoramic sea views.
Terpsis Restaurant
Terpsis restaurant can be found along the main road that connects Stafylos to Skopelos town. This quaint, family-owned eatery has been in operation since the 1960s and is the perfect embodiment of Greek hospitality.
The diverse menu offering boasts many typical Greek classic dishes, in addition to beloved family specialties. The most unique dish on the menu is perhaps "grandma's stuffed chicken".
This sumptuous treat must be ordered a day in advance (by calling the restaurant or by stopping by). It consists of a juicy, tender-cooked chicken stuffed with walnuts, chicken livers, and plums.
Terpsis cook a lot of meat on the spit/BBQ-style. You can sample marinated beef, pork, and kontosouvli as you dine by the lake in the establishment's beautiful courtyard.
Getting to Stafylos and Around the Island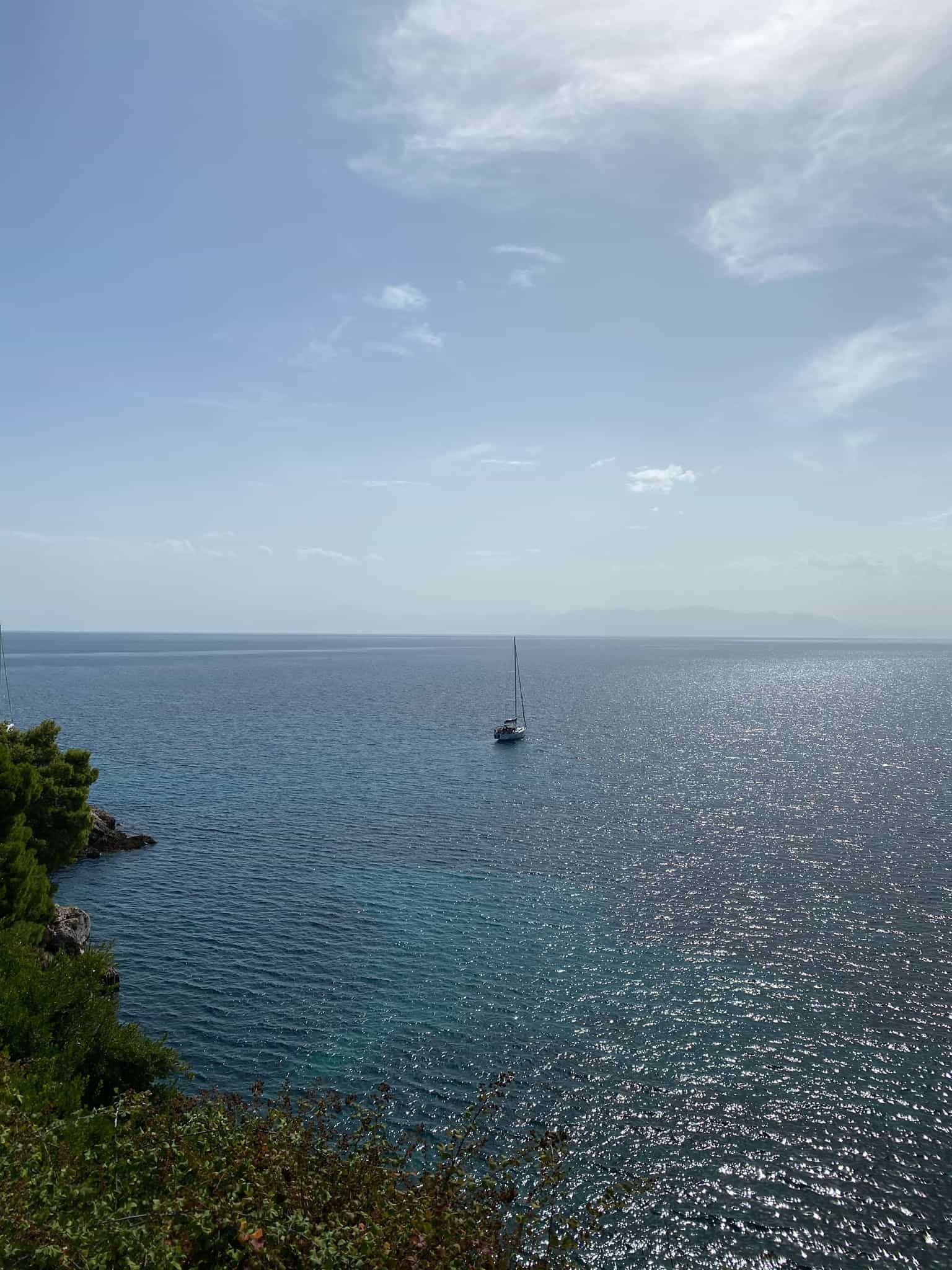 There is a convenient island bus that runs between Skopelos town and Glossa. On its route, it passes by Glossa, Panormos, Neo Klima, Kastani, and various other notable stops on the island.
The bus runs throughout the year. During the summer months, it runs several times a day, almost hourly.

You can find the exact bus schedule here. You will also find a notice board with all the times written out by the pier in Skopelos town.
Renting a car or scooter in Stafylos Skopelos
If you are considering renting a car or a scooter in Greece, there are numerous rental offices scattered around Skopelos port. Driving here is not as daunting as it may seem.
Numerous reputable global rental companies operate in Skopelos including Enterprise Rent-a-Car. Use a rental car comparison website such as Discover Cars to compare quotes from different rental companies.
The vast majority of roads are well paved and seldom busy. Cyclists can rent a bicycle from Skopelos Cycling in the main town.
Parting Words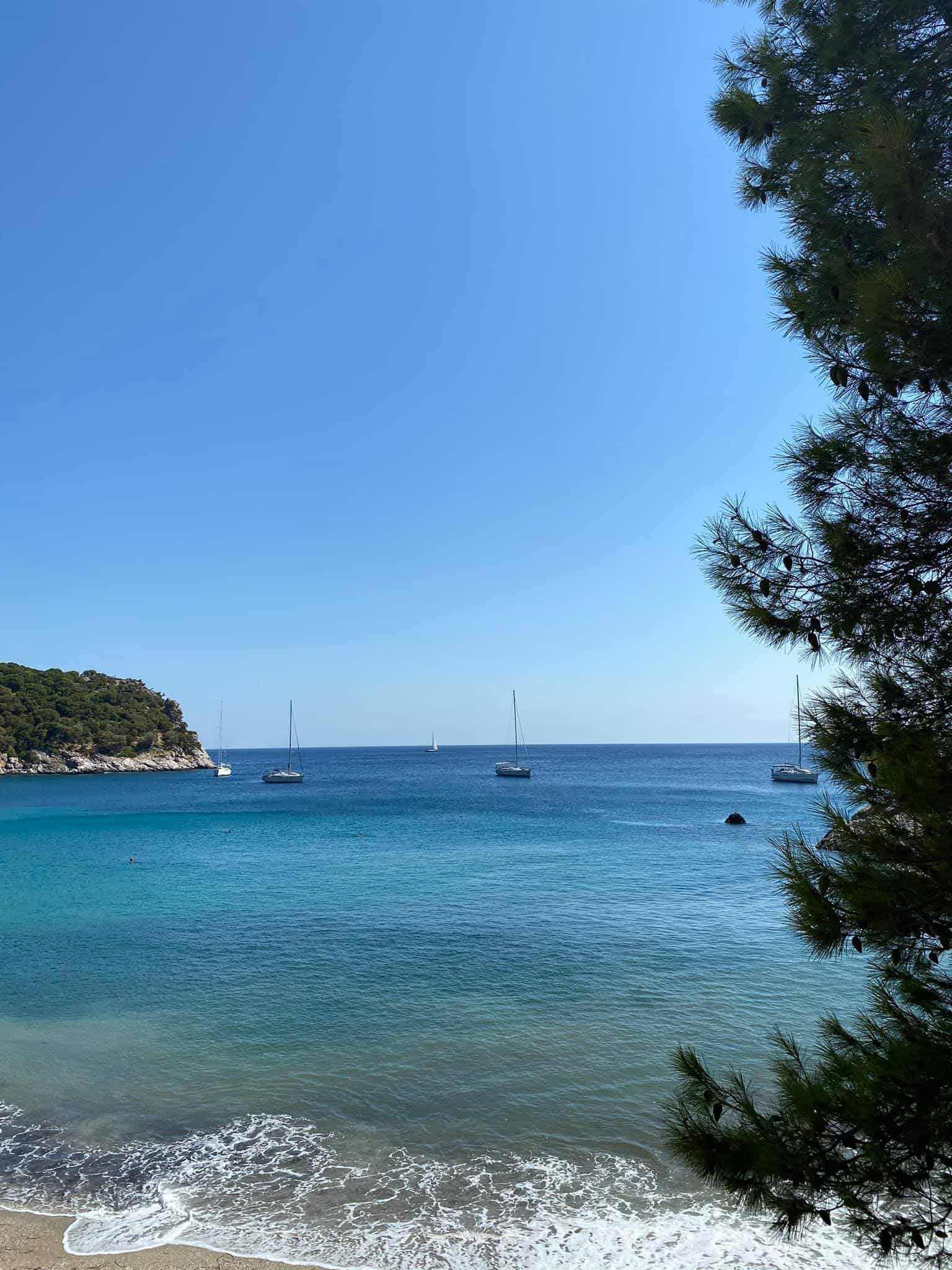 Do you have any additional questions about Stafylos, or about visiting Skopelos island in general? I spent eight months living in Skopelos in 2020/21.
I am more than happy to assist if you need anything. Safe travels! Melissa xo
---