Panormos is one of the best loved beach towns in Skopelos. It sits on the island's west coast, some 12.5km away from the Chora.
Panormos, like much of the island, boasts jaw-dropping natural beauty. It sits within a secluded bay where its whitesand beach is encompassed by dense pine forests.
Panormos Skopelos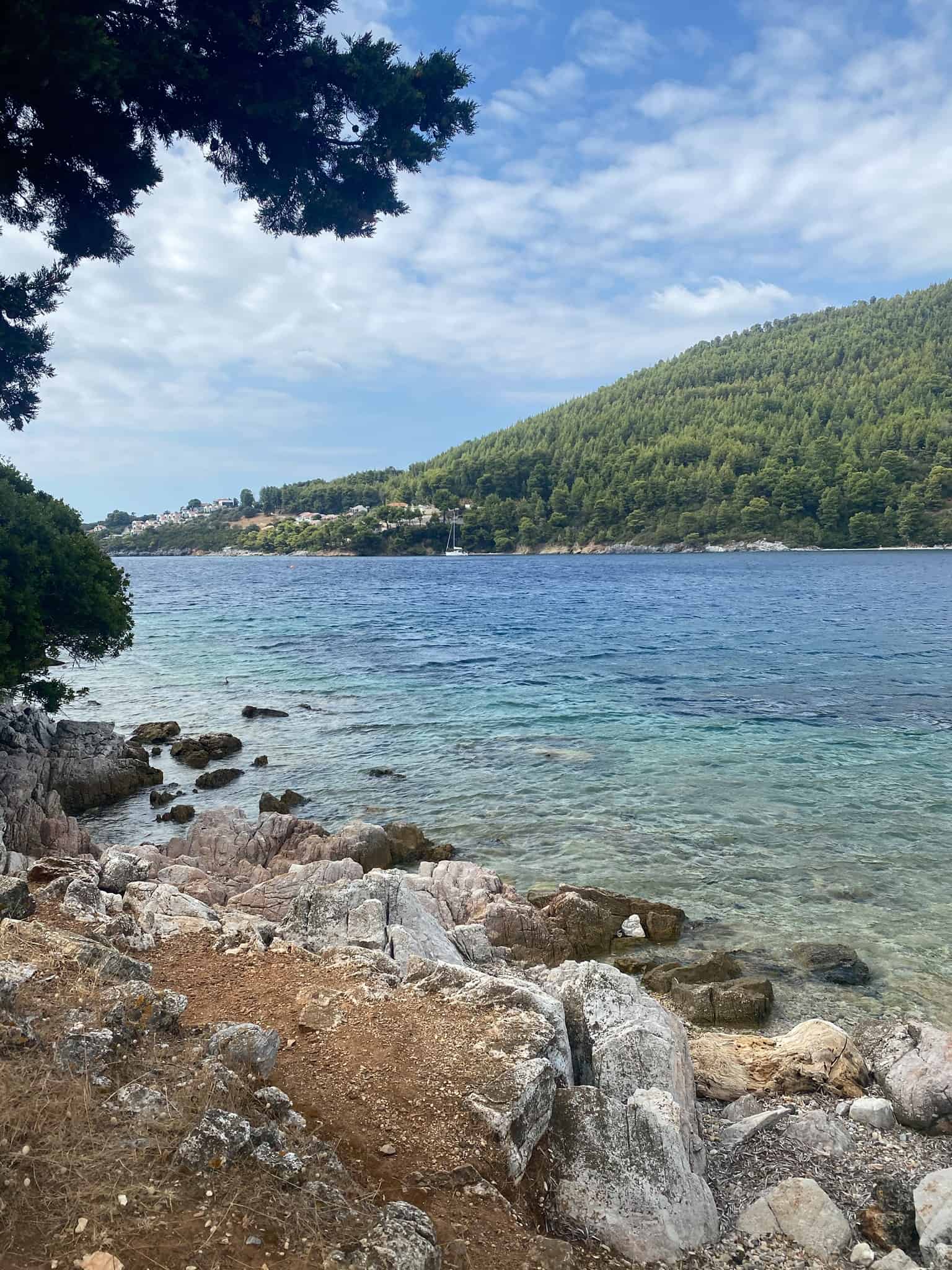 The crystal-clear cerulean waters of Panormos beach are perfect for swimming. The natural harbor provides shelter from the winds here, making Panormos a popular spot for sailing and fishing boats. Not to mention, the calm waters here makes Panormos a safe, family-friendly beach.
Many of Skopelos' best beaches are situated just a stone's throw away from Panormos. Kastani, Milia, Linaraki and Hovolo beaches are all easily accessible either on foot or by island bus.
Panormos has every amenity that you could possibly need for a day at the beach. Indeed, the seafront promenade is lined with a number of excellent restaurants and tavernas serving up sumptuous traditional Greek cuisine, and fresh seafood sourced from local waters.
The only downside of Panormos is perhaps that it is one of the most popular places on the island for tourists and Panormos beach often gets very crowded in July and August. That said, some places are popular for a reason.
A Little History of Panormos
Historical and archaeological sites in Skopelos are few. A visit here is more about the gorgeous coastlines and nature, than exploring sunbleached ruins.
However, the charming beach town has an interesting history. Once upon a time, Panormos was one of the three largest and most important settlements in ancient Skopelos.
A wall surrounded the city, fortifying it. Some of the wall's remains, along with the crumbling remnants of an ancient citadel still stand on Palaiokastro hill above Panormos.
It is possible to hike up to the ruins, if you are interested to do so. From up here, you also have an excellent viewpoint to enjoy panoramas across the Aegean.
Panormos Tavernas, Restaurants and Cafes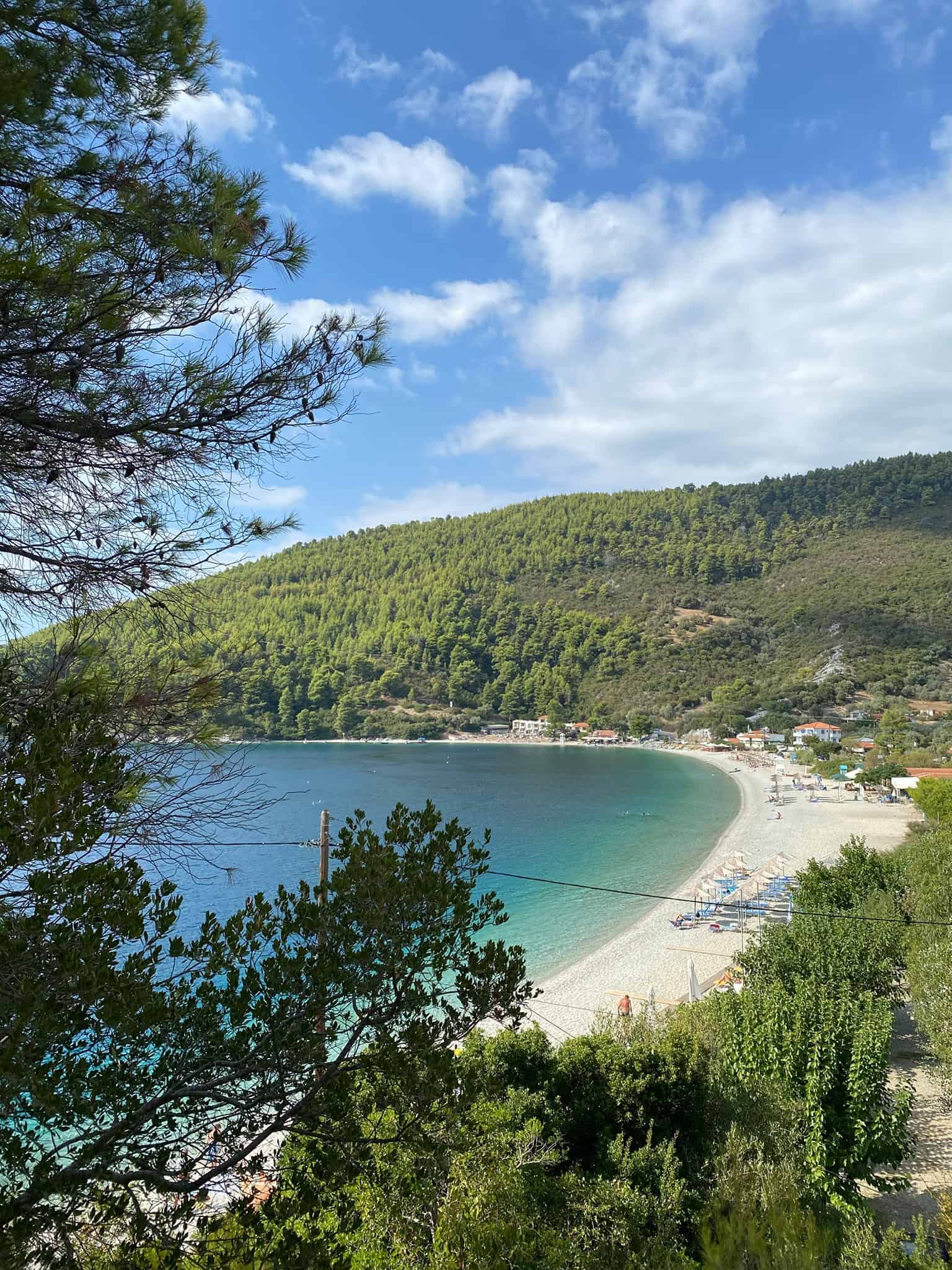 The seafront promenade at Panormos is lined with coffee shops, bars, and restaurants. Scenic Linarakia is a particular local favourite, named as such because the portion of the beach it sits on is locally known as "Linarakia".
The eatery is set right on the waterfront, providing a perfect place to watch the waves crash against the shore, and to enjoy the striking colours of the sunset. Dishes served here are contemporary Greek and Mediterranean recipes.
For starters, consider ordering the stuffed zucchini flowers, and the shrimp saganaki to share with your table, along with a fresh 'horiatiki' (Greek salad). The lobster pasta or the rooster cooked in wine are excellent choices for your main, all best washed down with a carafe of ouzo served over ice.
Where to Stay in Panormos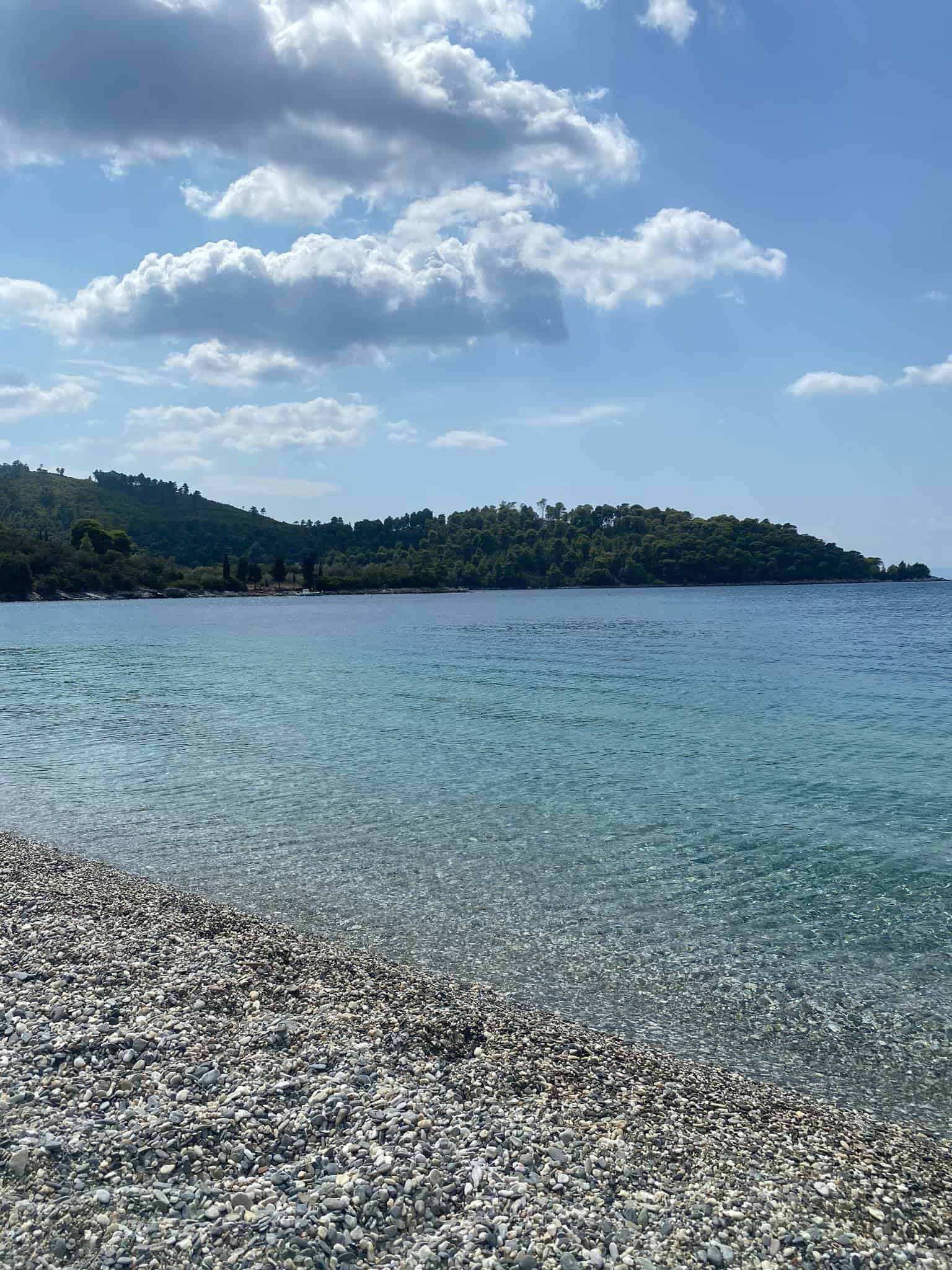 There are a selection of hotels and accommodation options in the Panormos beach area. You will find something here that suits virtually every travel taste and budget.
Panormos Beach Hotel
When it had its grand unveiling back in 1984, the Panormos Beach Hotel was the very first hotel to open its doors in the gorgeous Panormos beach area. The property has been delighting guests from around the world ever since.
The Panormos Beach hotel offers comfort and luxury without the luxury price tag. Rooms are spacious and furnished to a high standard with modern fixtures and fittings, and vibrant pastel colours.
Rooms and suites offer sea or mountain views, and guests can enjoy lounging by the outdoor pool with a Greek coffee after a long day of sightseeing. Best of all, the property is less than 2 minutes walk away from Panormos beach. Click here to view the latest room rates and availability.
Afroditi Hotel
Stunning Afroditi hotel is set just 100 metres away from Panormos beach. The property is suitable for families and travellers of all ages – it boasts separate children and adult pools so that everyone can have a comfortable and enjoyable stay.
Rooms are simple yet comfortable, with excellent views from their respective gardens and balconies. Guests can enjoy an indulgent homemade continental breakfast from the grounds in the mornings. You can browse the latest rates and availability here.
Getting to Panormos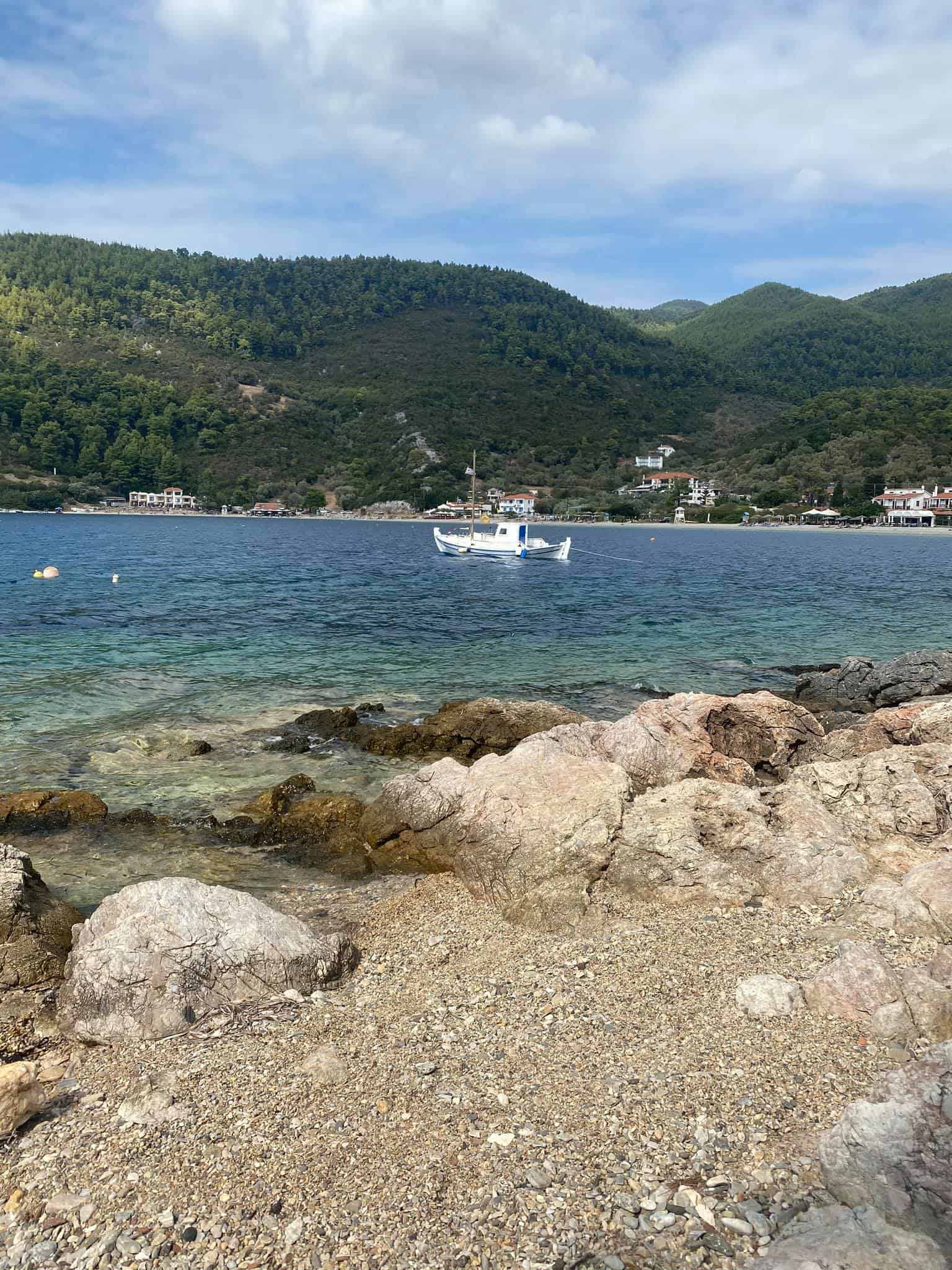 The hike from Skopelos town to Panormos is one of the most rewarding trails on the island. It takes you through the often bypassed scenery of central Skopelos where rolling green hills, olive groves, and goat farms extend out for as far as the eye can see.
Hidden churches, shrines, and hamlets await along the route. This scenery provides a stark contrast to some of the beaches on the island. 
You may find that you are walking for hours and barely encounter another soul! This is a challenging trail reserved for those who truly love walking.
The entire route is approximately 19km one way, including a somewhat exerting uphill section as you ascend from Skopelos town to Raches in the first hour of the hike. It is better to time your hike accordingly so that you can take the bus back from Panormos on the return rather than hike both ways.
Reach the Town by Bus
The Skopelos island bus around the circumference of the island – between the town and Glossa, throughout the year. During the summer months, it runs on a very frequent schedule, with 5-6 services a day.
A one way ticket costs approximately €3 each way. The bus stops in Panormos, and your driver will announce when you arrive.
Parting Words
Do you have any further questions about Panormos, Skopelos or planning your Greece trip? Please don't hesitate to drop me a comment below.
I have lived in Greece since 2017 and spent 8 months living in Skopelos in 2020/21.
Safe travels! Geia sou! Melissa xo
---