Skopelos villages? There are several, each seemingly more charming than the last.
Skopelos town, also known as "the Chora" is the island's main settlement although it is little larger than a village itself. The northern settlement of Glossa is the second-largest and is home to Skopelos' Loutraki port.
Agnontas, Stafylos, Panormos, and Neo Klima are all popular Skopelos villages to stay at while on the blue-green island. But what do they have to offer?
What can you see, do and eat in each of these villages? Where is the best place to stay in Skopelos? This insider guide provides an overview of each charming spot to help you make the most of your time on the island.
Skopelos Villages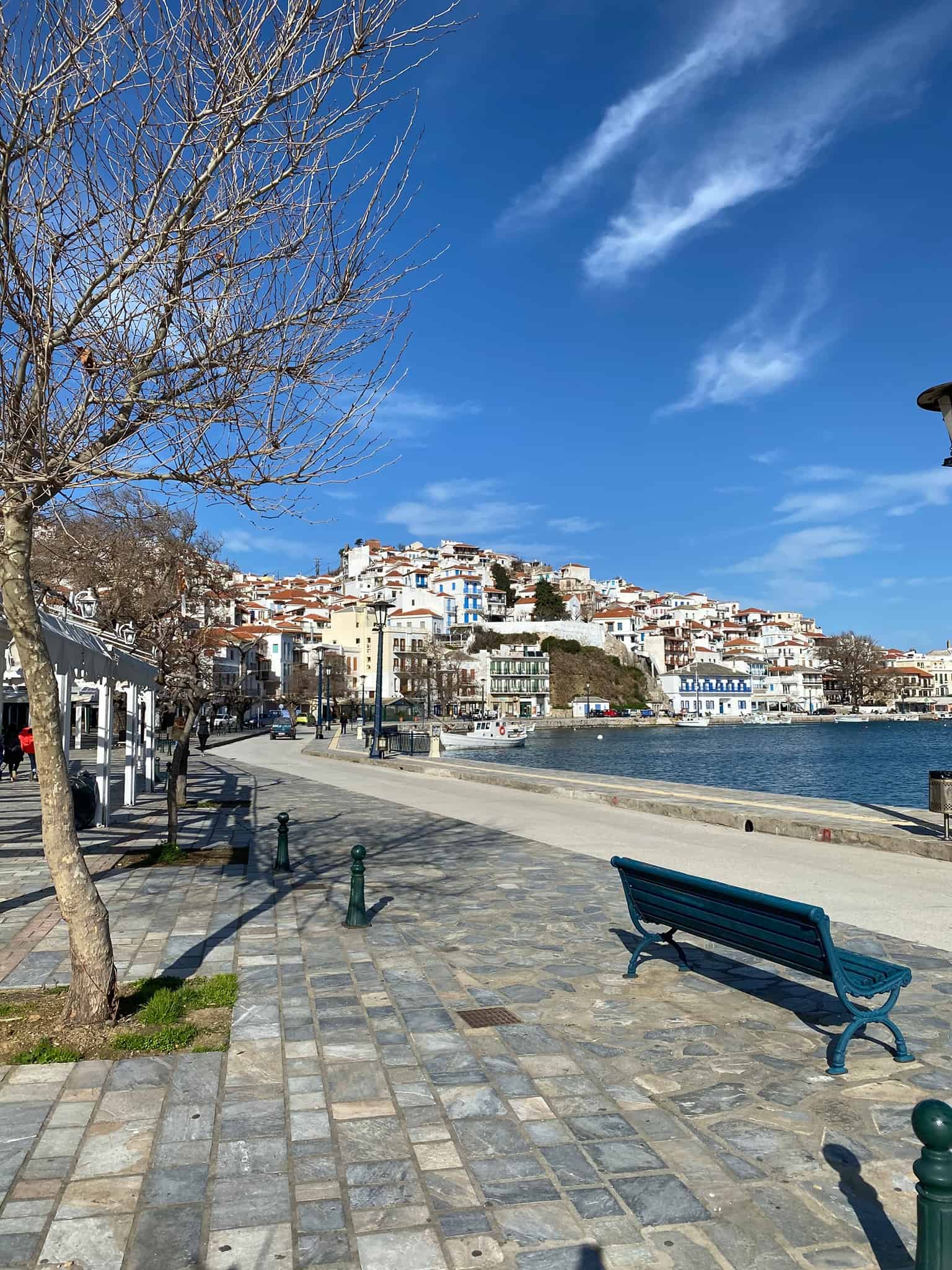 "Chora" (Skopelos Town )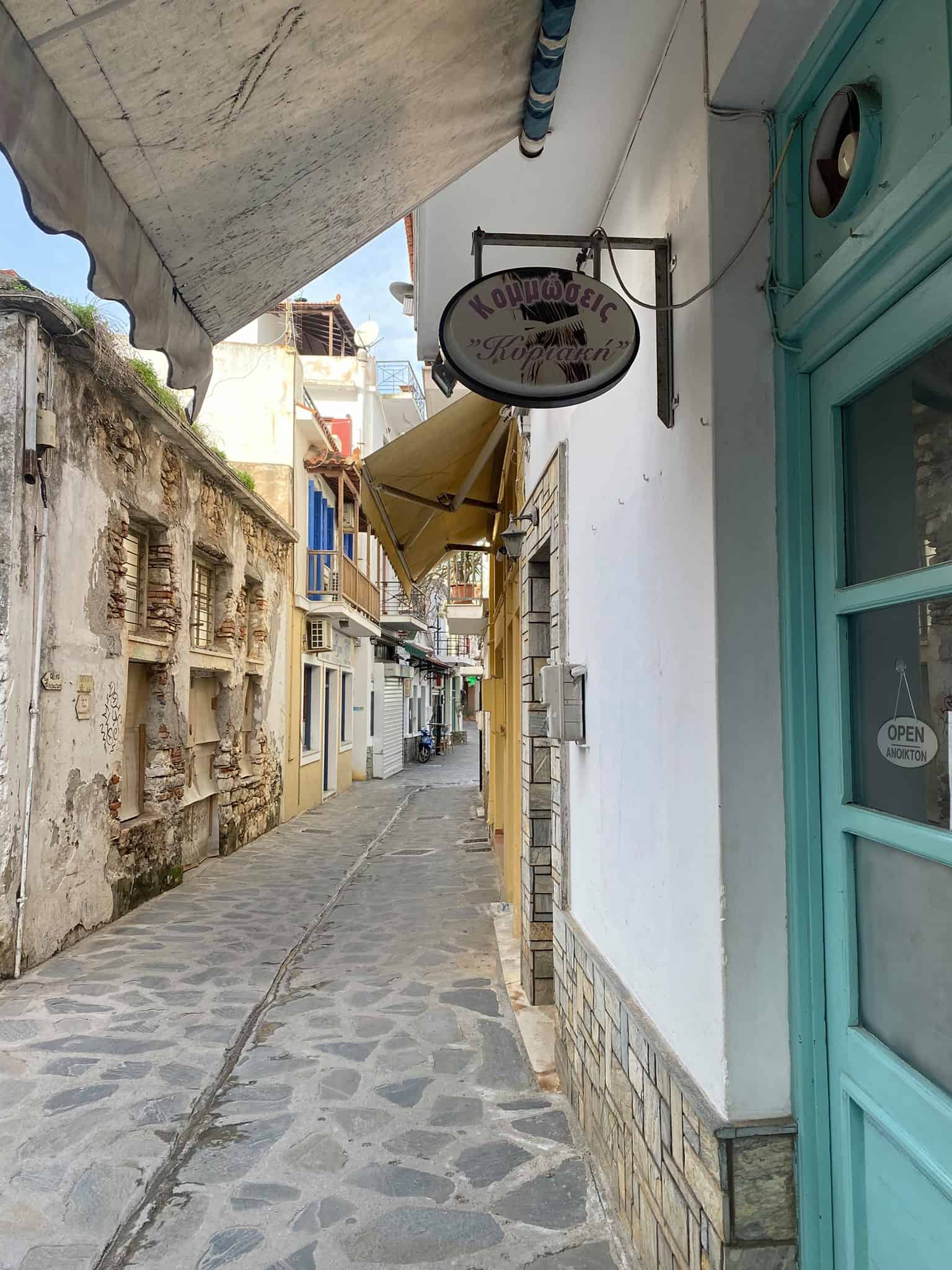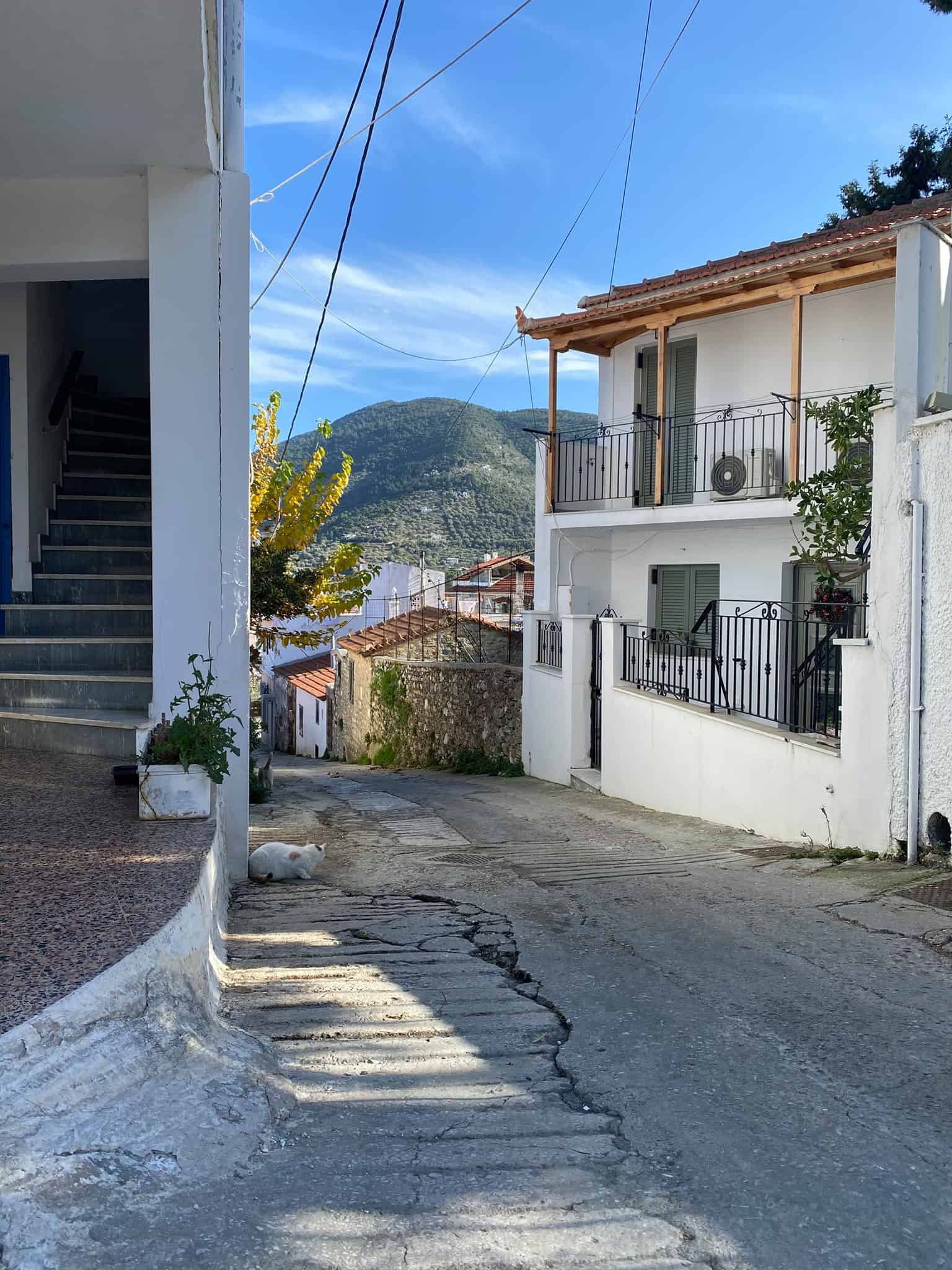 Skopelos Town is the island's capital. Like the capitals of many other Greek islands, it is often referred to as "the Chora".
In 1978, the then Prime Minister of Greece recognised Skopelos town as being a settlement of outstanding beauty. When your ferry pulls into the island for the first time, you will understand why.
The gorgeous village has been built amphitheatrically around a natural bay. Its whitewashed, red-roofed houses cascade down the hilltops towards the water.
2000 islanders call Skopelos town their home. However this population more than doubles during the busy summer season.
Skopelos Highlights
This is an excellent place to stay during your time in the Sporades. Granted, the beaches in the immediate vicinity of Skopelos town are not the most scenic on the island.
However, there is an excellent island bus that departs from the port daily and connects you to all other Skopelos villages and beaches. You could easily dedicate an entire afternoon to meandering through the narrow cobbled streets and passageways and discovering the various coffee shops, churches, and quirky stores among them.
Some of the best restaurants in Skopelos can be found here too. Ampeliki is a local favourite and laid-back tsipouradiko style restaurant.
It is run by Skopeliti Kostas and his wife who offer classic Greek dishes from an ever-changing menu that they alter from day to day depending on what is in season. Fancy something, in particular, that isn't on the menu?
Let Kostas know what you want to eat and provided they have the ingredients, they will rustle something up for you. Ampeliki is the embodiment of Greek hospitality.
Another great alternative is Stou Dimitraki. This is a local favourite and one of the few restaurants on the island that open year-round.
You will often see Skopelitis dining here on their lunch breaks. The menu boasts a lot of meat dishes along with meze appetisers.
"Meze" is the Greek answer to Spanish tapas. You can order a selection of small plates like Smyrna meatballs, fava bean puree, fasolakia, etc.
Glossa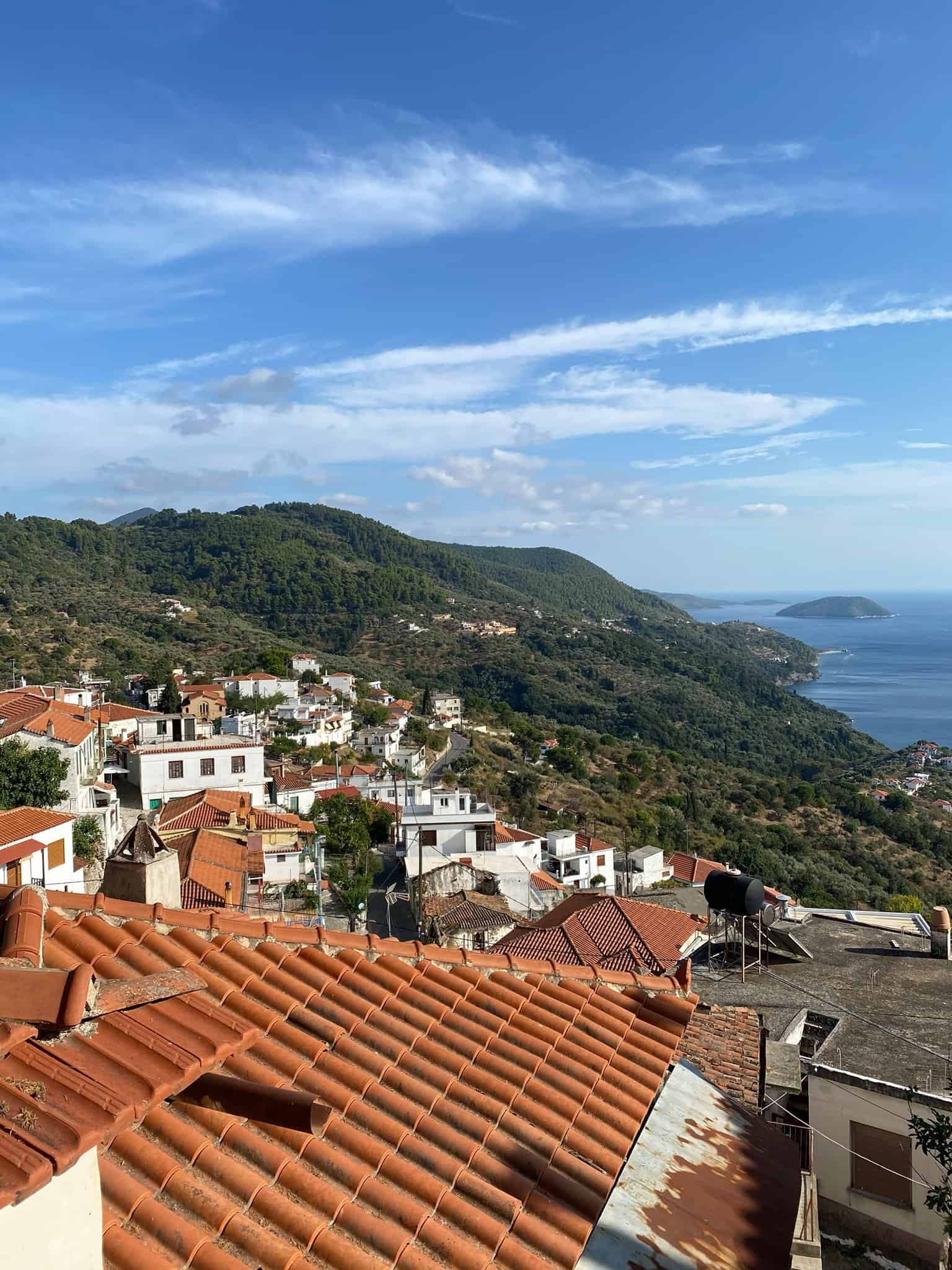 Glossa is the second-largest settlement on Skopelos island and home to the island's second port "Loutraki". The journey to and from Skiathos island from here takes just 30 minutes.
So, if you're staying in Skiathos town and you are only visiting Skopelos for a day, it makes sense to travel to Loutraki/Glossa. Glossa means tongue in Greek and interestingly, nobody is quite sure why the village got its name.
One theory is that it stems from an old Cretan settlement that once stood here. Centuries ago, Minoans from Crete settled on Skopelos. Their first village that stood in the northwestern part of the island was named "Knossa".
The culture and architectural style in Glossa are very different to those in Skopelos town. While the houses in the Chora are white with red roofs, many of Glossa's houses are pastel-coloured.
They have been built with Macedonian and Pelion influences, boasting colourful walls and wooden balconies. Glossa is altogether more quiet and peaceful than the Chora but should you base yourself here during your trip?
It takes approximately an hour to drive from Skopelos town to Glossa and vice versa. If you want to explore some of the best beaches on the island like Milia, Kastani, Cape Amarandos, etc, you are better off staying farther south.
That being said, Glossa is certainly worth a visit during your trip. The village makes a convenient starting point for heading to the Mamma Mia Church of Agios Ioannis Kastri.
Agnontas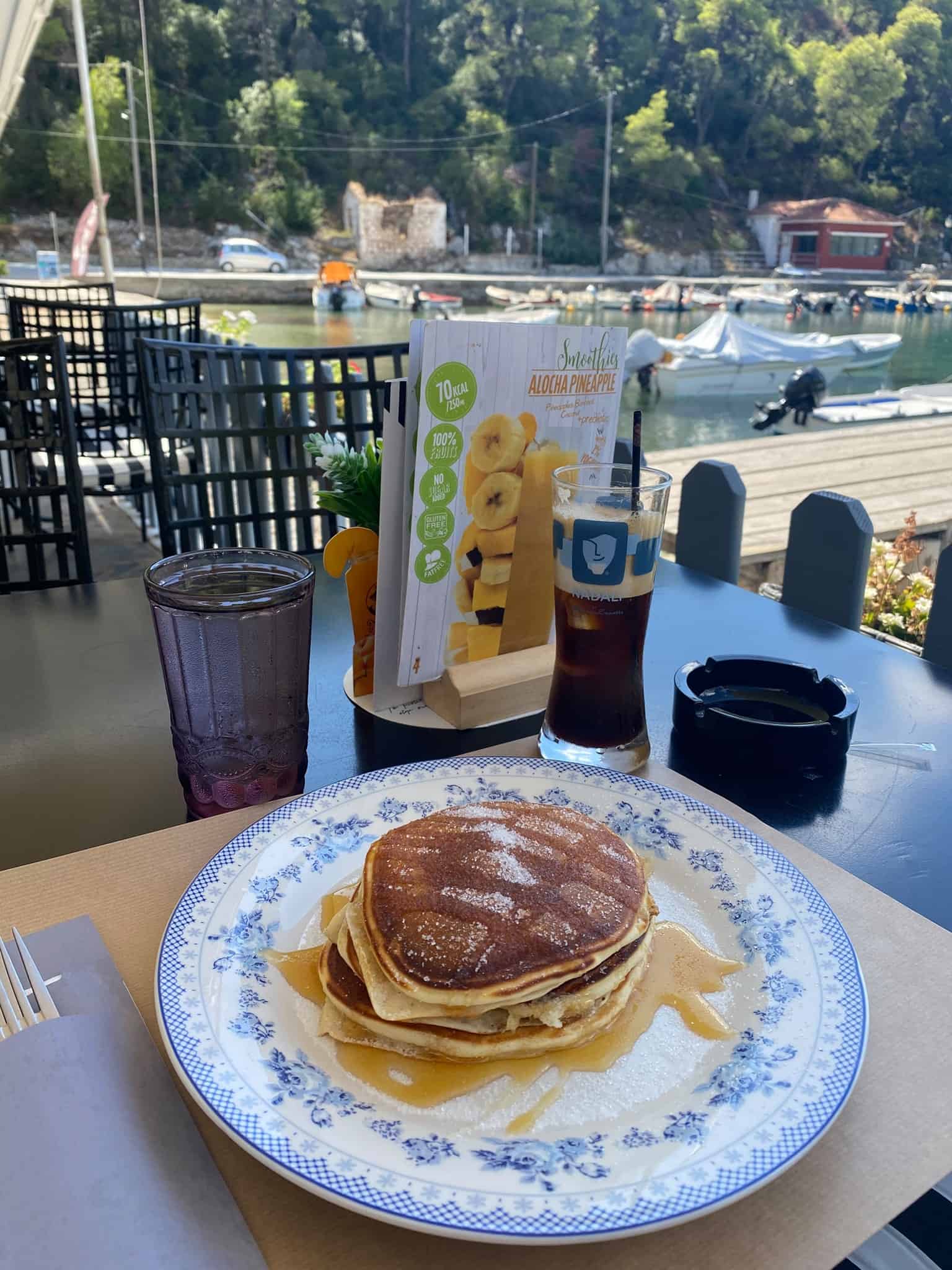 Little Agnontas is more of a hamlet than a village. Home to less than 80 permanent residents, it practically becomes a ghost town during the winter months.
The settlement is tiny and its entirety can be explored on foot in just 5 minutes. But regardless, charming Agnontas captures the hearts of all those who visit.
It is likely to remain in your heart and in your memories for long after your Skopelos vacation. So what makes Agnontas so special?
Some of the best restaurants on the island can be found here. The waterfront Korali and Moria fish taverns are excellent places to indulge in fresh seafood and the owners pride themselves on the quality of their ingredients.
If you stop by early in the morning, you will see local fishermen pushing their boats out of the harbour. A dirt trail leads you through the trees away from the tiny settlement and towards one of the most stunning parts of the island: Cape Agnontas.
Agnontas is nicknamed "piscina" by locals. It is not a beach per se, but an area of rocky coastline perfect for swimming, snorkeling, and cliff jumping. Just watch out for the sea urchins that loiter on the rocks here!
Stafylos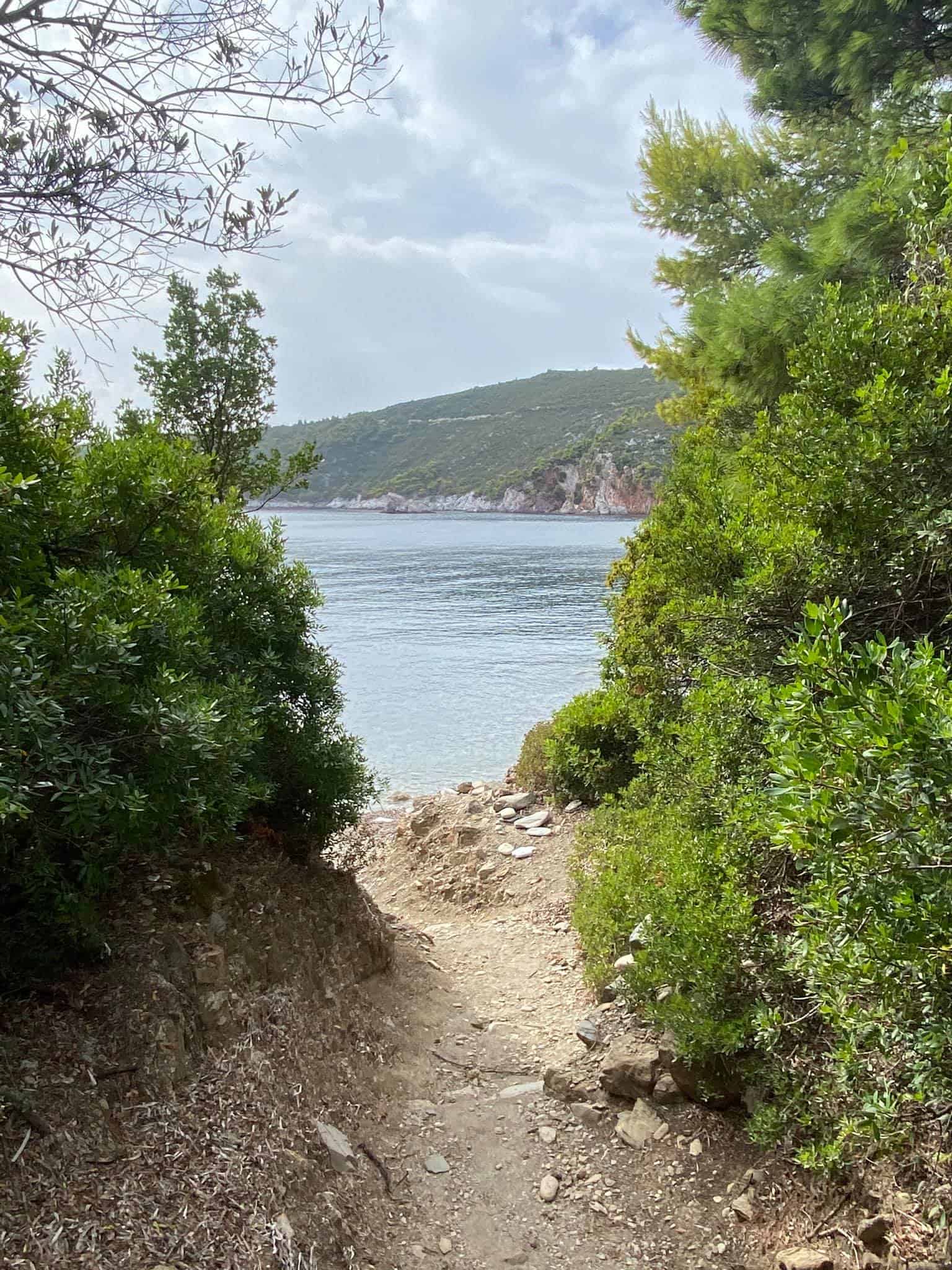 Stafylos, like Agnontas, is more of a hamlet than one of the Skopelos villages but is worth mentioning nonetheless. This little area is just 4km away from the Chora and can be reached by a short ride on the island bus or a scenic hour-long hike.
Just a handful of residents live in the houses around Stafylos all year round. Two of the island's best beaches can be found here.
Namely, the namesake Stafylos beach, and the adjacent Velanio beach. The latter of which can be reached via a short trail that takes you through the woodland from Stafylos beach. Velanio is naturist friendly but you shouldn't let that put you off if you're not a naturist.
It is typically the far end of the beach that is occupied by naturists and you don't have to be naked to come here. Beach bars operate on both Stafylos beaches during the summer months serving an array of beverages and snacks.
Panormos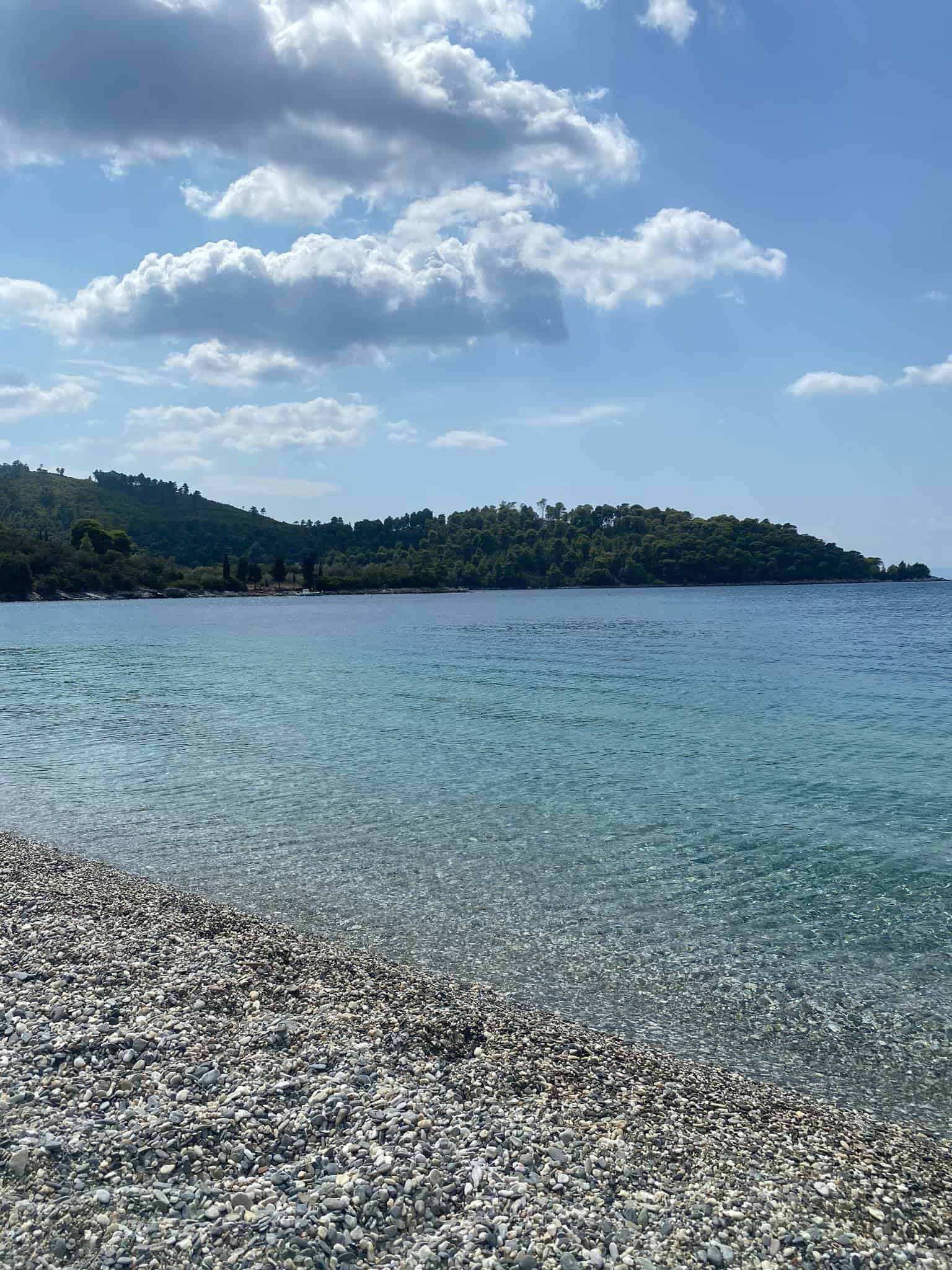 Panormos is one of the most popular places to stay on Skopelos island. It can be found on the west coast, approximately 10 miles away from Skopelos town, and is easily reachable by the island bus.
Panormos is gorgeous. The beach here sits within a natural crescent moon-shaped bay where it boasts soft white sand and crystal clear turquoise waters.
The natural bay here tends to act as wind protection so the water at Panormos is generally quite calm and perfect for swimming or snorkeling. The seafront promenade is lined with tavernas, bars, and hotels.
You have everything you need for a day at the beach here. The only downside? Panormos can get very crowded during summer in Greece and the beach is very popular with British tourists.
That is not to say that Panormos isn't worth visiting, mind you. Coming here means that you have all the amenities and equipment rentals that you possibly need. If you fancy more seclusion and quiet, there are plenty of other beaches nearby.
Neo Klima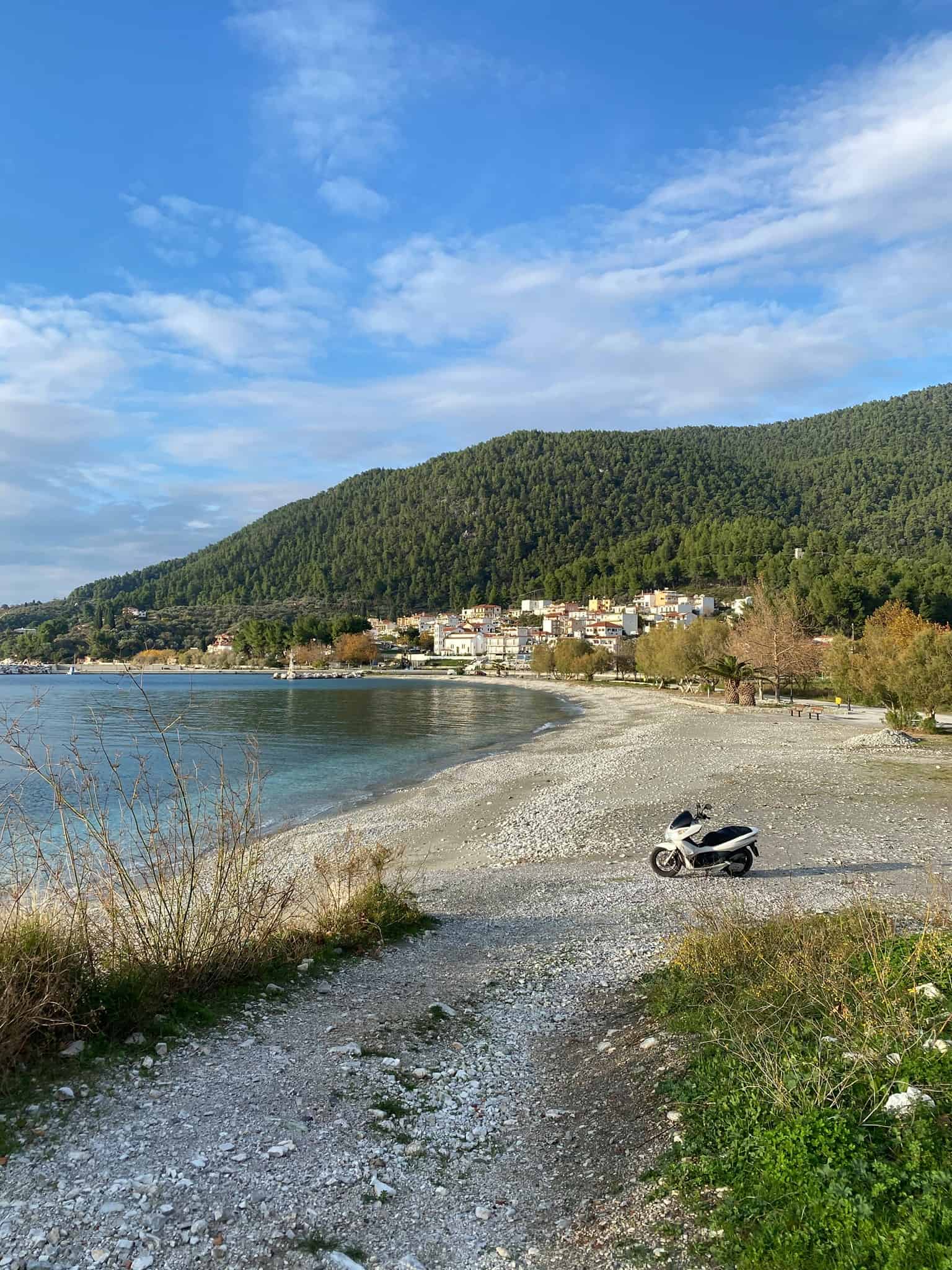 Neo Klima is one of the more recent Skopelos villages. It wasn't constructed until the 1970s at which time it was built hurriedly to provide housing for islanders from Palio Klima who lost their homes during an earthquake.
Palio Klima means "old Klima" while Neo Klima is "new Klima". A lot of locals and repeat visitors to Skopelos may tell you that Neo Klima is nothing special but that isn't completely true.
There are some excellent restaurants to be found here. 5 Platania Hovolo, Manolis Taverna, and Tsipouradiko Tasos are all very good.
Similarly, some of the island's most naturally beautiful and rugged beaches are just a short walk away. Most notably, Hovolo beach and Armenopetra.
Palio Kilma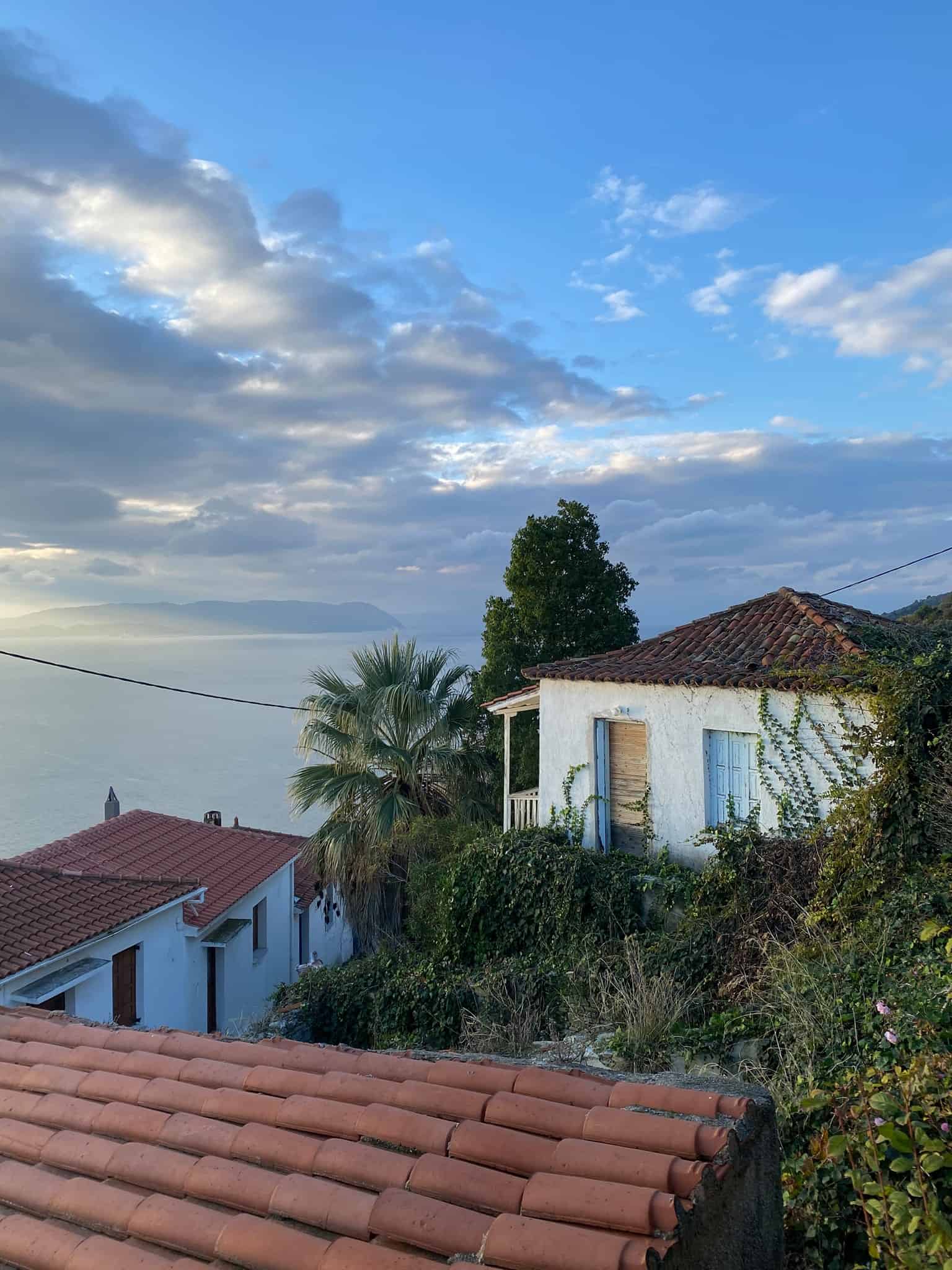 Palio Klima or "old Klima" is a charming old village that was sadly rocked by several major earthquakes, most recently in 1965. Slowly but surely though, people are gradually moving back to Palio Klima. 
Some of the old houses have been purchased by foreigners who travelled to Skopelos, fell in love with the island, and decided to purchase property to use as holiday homes. Others are being converted into guesthouses.
So, if you visit Palio Klima today, there is life here. The village sits at the start/end of one of the best hiking trails in Skopelos.
That is, the route from Palio Klima to Loutraki/Glossa. The trail leads you past secluded woodland churches, farms, and olive groves. The trail is flat and easy to conquer, whatever your age or fitness level.
Raches
The Raches area of Skopelos is a small rural region that sits just north of Skopelos town. This area is predominantly farmland but in recent years, it has seen the development of a lot of Skopelos villas and luxury properties.
This is in part due to the fact that the views from up here are among the best on the island. You can see the whitewashed houses and little streets of the Chora beneath you, and the monasteries of Palouki to your right.
The island of Alonissos can be seen across the shimmering waters of the Aegean and on a clear day, you can even see Mount Athos all the way out on Halkidiki. If you stay here, you absolutely need to rent a car as there is no public transport and taxis will not run up here.
Parting Words
Have any additional questions about Skopelos villages or planning a trip to Skopelos in general? I lived here throughout the global pandemic in 2020-2021.
Feel free to reach out if you need something. I'll do my best to get back to you ASAP.
Safe travels! Melissa xo
---