What is the largest Greek island? Perhaps you are curious to know about the largest Greek island for general knowledge reasons. Perhaps you are in the midst of planning a trip.
Twelve of the largest Greek islands are discussed in this article. Some of these are among the most popular travel destinations in Greece.
Largest Greek Islands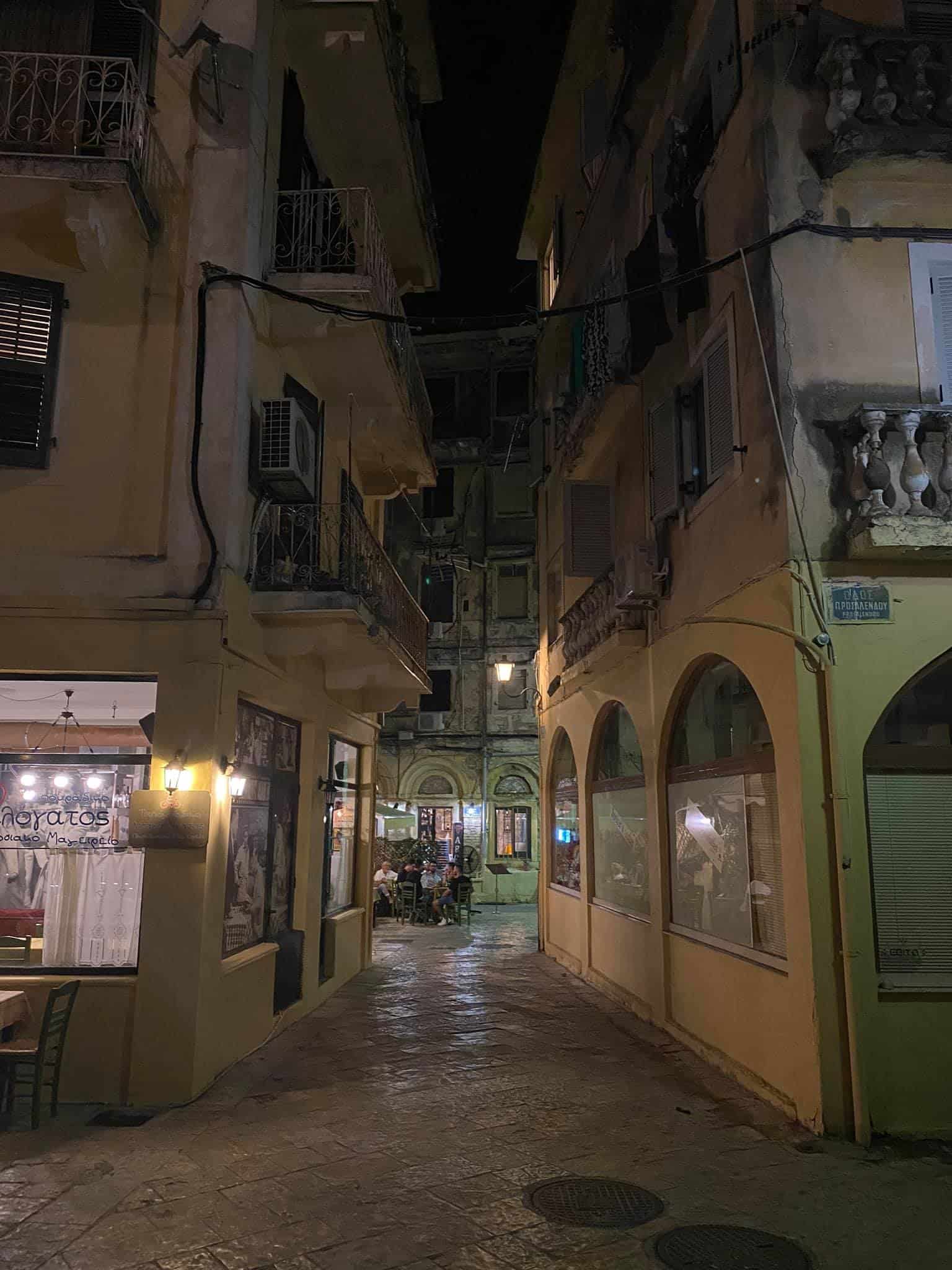 Did you know that there are approximately 6,000 Greek islands in total? The exact figure is somewhere in the region of 1,200 and 6,000.
There are various ongoing debates as to the precise number due to disagreements on size requirements and what constitutes being an island or an islet. Greek drama.
Out of that huge number of islands, the largest, in order of size are as per the below.
Crete (3,219 square miles)


Evia (1,417 square miles)


Lesbos (630 square miles)


Rhodes (541 square miles)


Chios (325 square miles)


Kefalonia (302 square miles)


Corfu (229 square miles)


Lemnos (184 square miles)


Samos (184 square miles)


Naxos (166 square miles)


Zakynthos (157 square miles)


Thassos (147 square miles)
What are the Biggest Greek Islands?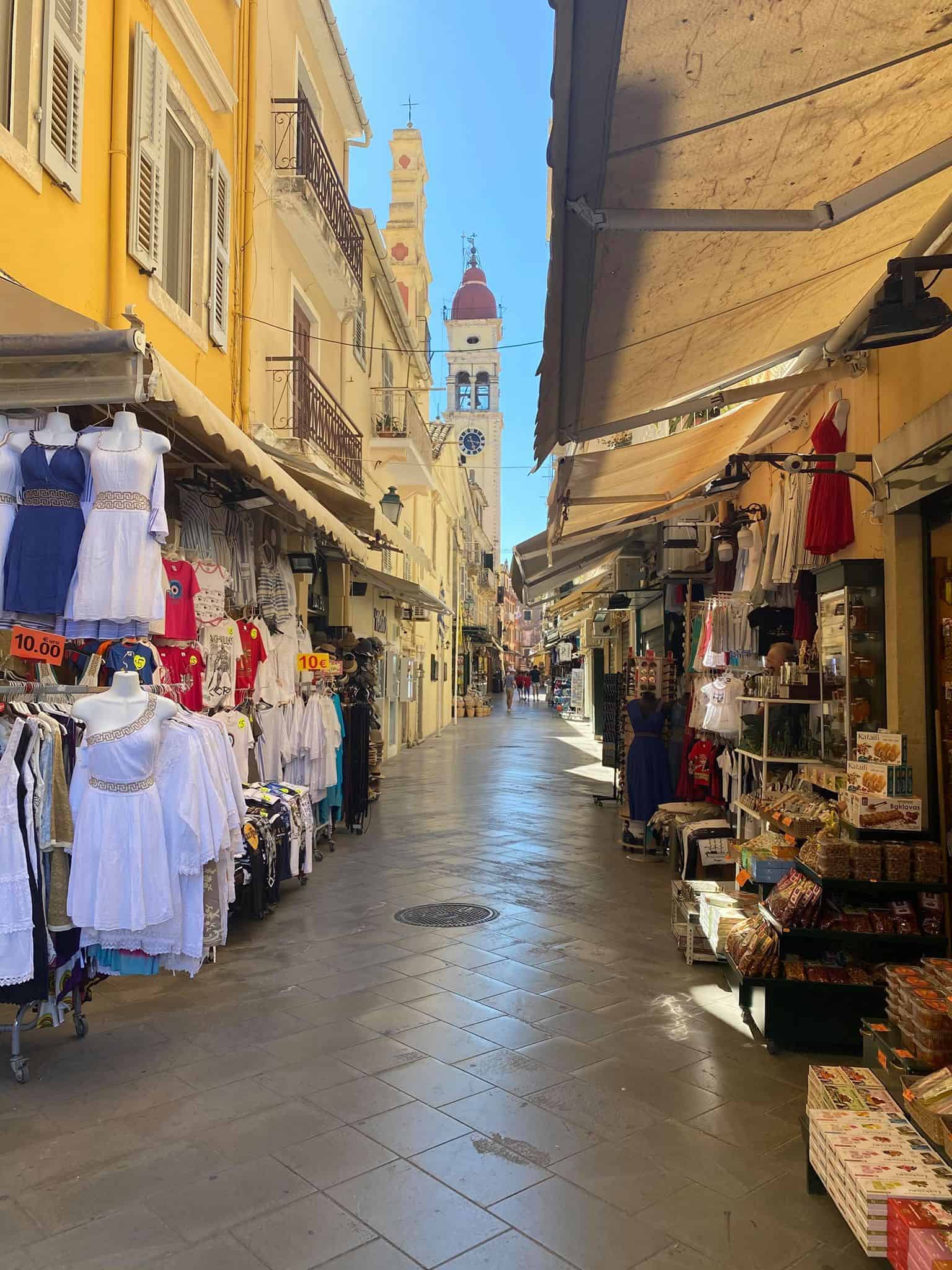 Crete
Crete is the largest Greek island. Not only that but there is a significant size difference between Crete and the other largest Greek islands on this list!
Crete covers a surface area of 3,219 square miles. That makes it more than two times larger than the second-largest island on the list – Evia!
The island of Lesbos could fit inside Crete almost six times. Woah.
Crete is a spectacular travel destination and is arguably one of the best-loved islands in all of Greece. What may not be surprising when you consider the sheer size of the island, but Crete almost has an entire culture of its own.
Cretan gastronomy and culture vary from that found in mainland Greece. There are delicacies here that you simply cannot find elsewhere!
Whereas you can easily go island hopping from one island to another in Greek island groups like the Dodecanese, the Sporades, and the Cyclades, Crete is worth two weeks of exploration on its own. It really is that vast.
Magnificent Crete has a little something for everyone. There are breathtaking beaches that are suitable for couples, families, and solo travellers. In particular, check out Stomio. Triopetra, and Xerokampos.
If you are interested in Ancient Greek mythology, be sure to visit the Palace at Knossos. This is supposedly where the Minotaur – a mythical creature with the head of a bull and the body of a man, was kept within the labyrinth. In reality, this was the epicentre of the Minoan civilisation.
Evia
Evia is the second-largest Greek island. It is connected to the mainland by the Evripos bridge, making it a convenient place for a beach getaway as part of a wider Greek travel itinerary.
Greeks rave about the beauty of Evia and often venture here during their summer vacations. On an international scale though, Evia remains largely unknown. It only, unfortunately, hit the global headlines recently due to the wildfires in summer 2021.
More than 200,000 permanent residents live here. Not only are there a number of towns and villages scattered throughout Evia's 1,417 square mile area, but there are also three mountain ranges! Namely, Kandili, Dirfi, and Ohi.
The only possible deterrent for visiting Evia? The public transport system here is not extensive and it is very difficult to get around without renting a car.
Generally, public transport in Greece is very good. But because Evia is vast and the points of interest are spaced apart, this is not a convenient way to get around.
Evia boasts 680km of coastline. Like every Greek island, there are those beaches that are serviced and boast all the amenities, in addition to those that are more rugged, wild, and secluded.
Coastal beauty aside, Evia has an interesting history. Chalcis and Eretria are two ancient cities. The former boasts a 17th-century fortress called Karababa. Meanwhile, Eritrea boasts an archeological museum, an ancient temple, and an amphitheater.
Lesbos
Lesbos is the third largest Greek island. Because it is relatively off the beaten path and its tourism infrastructure is not well developed, it is also one of the cheapest Greek islands.
Few international travellers are aware of what Lesbos has to offer. Sadly, the main reason that people hear about Lesbos or the island makes it into the news is due to the refugee crisis here. If you are interested in assisting or doing humanitarian work in Lesbos, there are ample opportunities to do so.
Mytilini is the capital of Lesbos. Home to just under 115,000 people, it has a charming small-town vibe about it.
Mytilini is culturally rich and has a fascinating history dating back thousands of years. Notable sites and structures to look out for?

Keep your eyes peeled for the various Ottoman mosques, houses, and monuments from the period of the Ottoman occupation. For instance, the Geni Tzami mosque and the Tsarsi.
Equally magnificent are the Church of Agios Therapontas, the Metropolitan Church of Agios Athanasios, and the colourful neoclassical buildings in Prokymaia. Exploring modern Myrilini is just as wonderful as taking a journey back in time to learn the city's history.
Ouzo is one of the most famous drinks in Greece. You can find this strong, anise-flavored beverage all over the country. It is most commonly enjoyed neat and poured over ice.
But in Lesvos, there are some excellent local producers that make their own ouzo. Be sure to check out Ouzo Matis 1861 (Thasou 1). They have been producing award-winning ouzo for over 100 years and it is famous in Lesbos.
Rhodes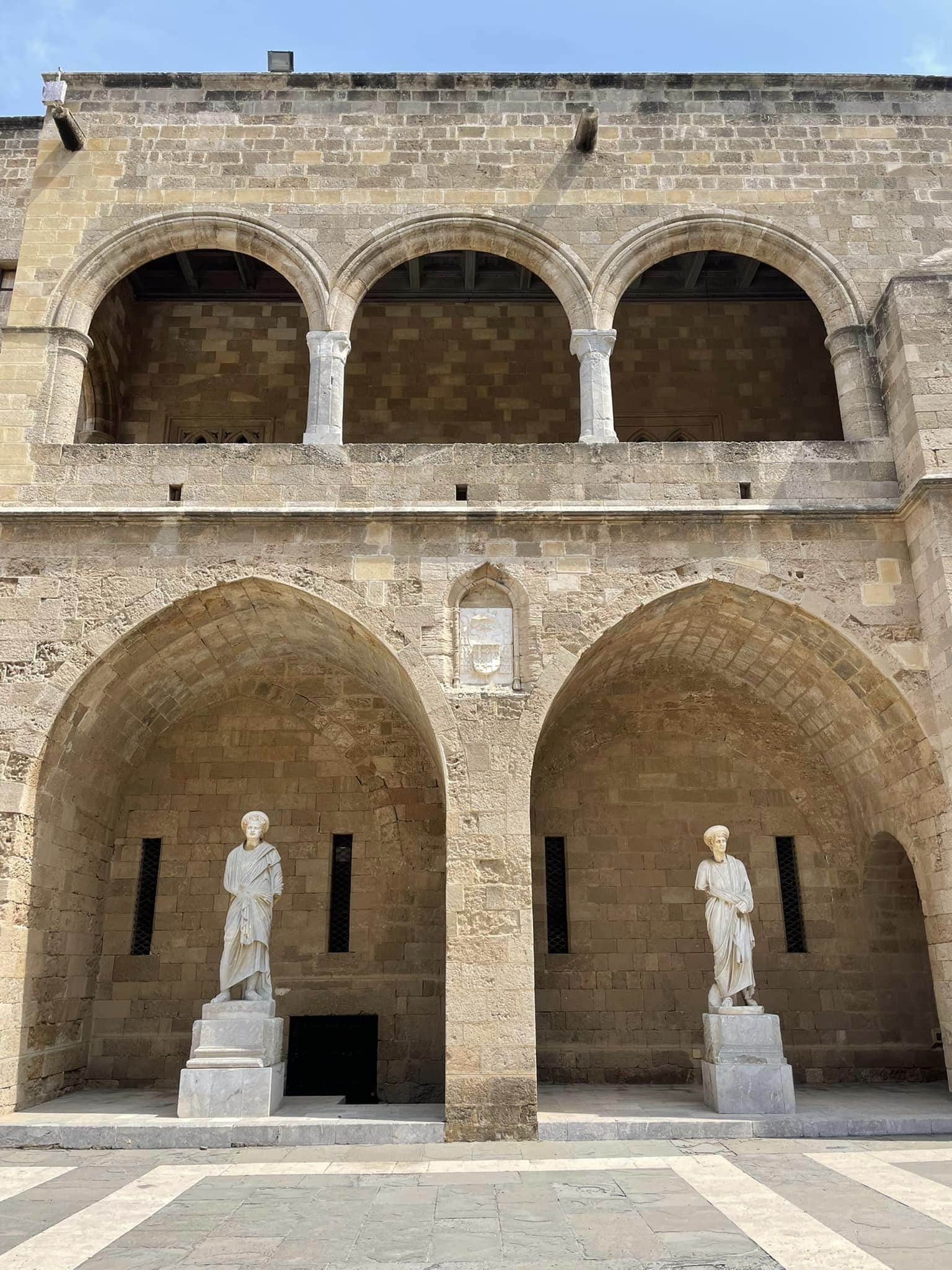 Rhodes is the fourth largest Greek island and can be found within the Dodecanese Greek island group. Its old town is a UNESCO-protected site. 
Rhodes is extremely popular among British tourists. As a result, it is quite unfortunate that some parts of the island have become somewhat gentrified.
Regardless, Rhodes still has its charm and if you know where to go, it's easy to escape that. Today, the old town of Rhodes has just 6,000 permanent inhabitants.
Of course, that number increases substantially during the summer months. It is still contained within medieval walls and can be entered by passing through one of seven historic gates.
One of the most spectacular sites in the old town and arguably, the entire Dodecanese, is the Palace of the Grandmaster. It is one of only a handful of examples of Gothic architecture in Greece.
Old town aside, Rhodes has plenty more to offer – gorgeous beaches, sunbleached ruins, hiking trails, etc. The Acropolis of Lindos watches over the island from atop a steep cliff in its southeasternmost part. This is one of the most visited attractions in the country after the famous Acropolis of Athens.
Chios
Chios has a surface area of 325 square miles, making it the fifth-largest Greek island. It is known as being the birthplace of mastic (also known as mastiha).
This is a very earthy tasting resin that is obtained from the mastic tree which is traditionally grown on Chios. It has been enjoyed for centuries around Greece, Southern Europe, and the Middle East as a form of natural chewing gum.
If you spend a lot of time travelling around Greece, you will note that this very Greek ingredient finds its way into a lot of food items and beverages. For instance, in many trendy Athenian bars, you will find unique cocktails blended with mastic. Similarly, mastic water has become a popular beverage in recent years!
Chios sits in the North Aegean and is relatively close to Turkey, separated only by the Chios Strait. Most people that venture here during the summer months are Greek tourists.
If you have not spent a lot of time in Greece, you may have never even heard of Chios. Gorgeous beaches can be found all over the island but what it is most famous for is its medieval villages.
Pyrgi and Olympi in particular, have distinct, elaborate architecture. The former is known as "the painted village" because of all of the black and white painted facades that decorate shops and storefronts.
Kefalonia
Kefalonia (also sometimes spelled as "Cephalonia") is the sixth-largest Greek island and the largest in the Ionian archipelago. The island boasts jaw-dropping natural scenery and this is the only Greek island to have its own national park.
A highlight of Kefalonia, like a highlight of most beautiful Greek islands, is found in simply relaxing on beaches, swimming, snorkeling, and reveling in the scenery. This is also one of the best Greek islands for families.
Many of the beaches here are serviced and offer everything from sunbed and umbrella rentals to renting jet skis and snorkel gear for kids. Most have been awarded blue flag status for their safety and cleanliness.
The beaches on the northernmost part of Kefalonia are sandy while the south has a lot of pebbled beaches. Looking for the best rugged, unorganised Kefalonia beaches?
Head to Kato Lagadi, Cape Liakas/Paliolinos, and Kaminia beaches. Kaminia is a secluded spot where sea turtles have been known to swim to and lay their eggs. Kefalonia is altogether calmer and more low-key than its party-loving neighbour Zakynthos.
Corfu
Corfu, known locally as Kerkyra is the seventh-largest Greek island and the second largest in the Ionian. It is one of the most popular tourist destinations in all of Greece and for good reason, Corfu is stunning.
You could easily dedicate days to meandering through the narrow streets of the Venetian old town, reveling in the views from the old fortresses, and sipping Greek coffee in like kafenions tucked away down hidden alleyways. Be sure to take the bus from Corfu old town to Kanoni.
This little village is home to several monasteries and beaches. But its piece de resistance is the fact that you are incredibly close to Ioannis Kapodistrias airport from here and so, you can see the planes coming in to land.
Some of the best beaches on the island can be found around Paleokastritsa. From here, you can follow an old donkey trail and hike to the village of Lakones. Many of the eateries here offer panoramic views and serve typical Corfiot delicacies like beef sofrito.
Lemnos
Lemnos, also commonly known as "Limnos" sits in the northern part of the Aegean Sea. It is relatively isolated, with Samothraki just north of the island, and Agios Efstratios to its southwest.
Just 17,000 people call this island home though of course, this number increases substantially during the summer season. It is predominantly Greek nationals that spend their summer holidays on Lemnos.
Being an island, Lemnos boasts miles upon miles of breathtaking sandy coastlines. There are more than 30 beaches here, 4 of which have blue flag status.
Lemnos beaches have something for everyone – whether you're looking for seclusion, or a serviced spot close to tavernas and nightlife. If it's the former you seek, head to Zematas or Keros. If it's the latter, Plati and Thanos are conveniently located close to Myrina.
Samos
Samos is the ninth-largest Greek island with a size of 184 square miles. It sits just off the coast of mainland Turkey separated from Kusadasi by the Mycale strait.
Pythagoras, one of the most important Greek Philosophers and inventor of the Pythagorean theorem was born here. Samos also plays an important role in Greek mythology as the birthplace of Goddess Hera – Goddess of women, marriage, family, and childbirth.
Samos has been ruled by various countries over the years. It was finally unified with Greece in 1912.
There are some interesting cultural and historical sites to be aware of when you visit. Don't miss the Heraion: the remnants of a 6th-century temple dedicated to goddess Hera. In its heyday, this site was four times the size of Athens' Parthenon!
Beach-wise, Samos has it all: both serviced and unserviced slices of paradise. Add Tsabou, Limnionas, Psili Ammos, and Kerveli to your Samos to-do list.
Naxos
Naxos is the largest island in the Cyclades island group and awaits in South Aegean. It may not attract the same level of tourists as nearby Santorini and Mykonos, but Naxos has certainly begun increasing in popularity in recent years.
The island is green and mountainous. Some of the best hiking trails in Greece weave through the scenery here, including the ascent to the peak of Mount Zeas – the tallest mountain in the Cyclades.
Naxos is one of the best Greek islands for a hiking adventure. It is particularly nice to travel here just out of season in the Autumn when temperatures cool down and it is pleasant to spend extended periods of time outside without being burned to a crisp.
Naxos, like Greece generally, is steeped in history. To learn more about the history and background of the island, check out the Temple of Demeter Sangri, and the Temple of Dionysus, and the giant Portara doorway in Naxos town.
Largest Greek Islands
Do you have any additional questions about the largest Greek islands? Are you planning a trip to Greece?
Drop me a comment below if you need anything and I'll get back to you ASAP. Geia sou! Melissa xo
---