Looking for the cheapest Greek islands in Greece? Look no further. 
This comprehensive guide by an Athens resident runs through some of the best low-cost destinations to consider in 2023. A lot of people have the assumption that traveling to the Greek islands is going to be expensive. 
It really doesn't have to be. On the whole, Greece is actually a very affordable country to travel to. 
It can easily be explored on a budget. But there are a few key things that you need to keep in mind if you want to keep your costs down. 
First of all, if you can, you really are better off avoiding the months of July and August. At this time, accommodation, flight, car rentals, and day trip costs can be as much as 50-60% higher. 
Secondly, there is a lot of money to be saved if you are willing to travel to lesser-known alternatives to popular destinations. For example, choose Skopelos instead of Skiathos, Naxos instead of Santorini and Mykonos, etc. 
Cheapest Greek Islands for 2023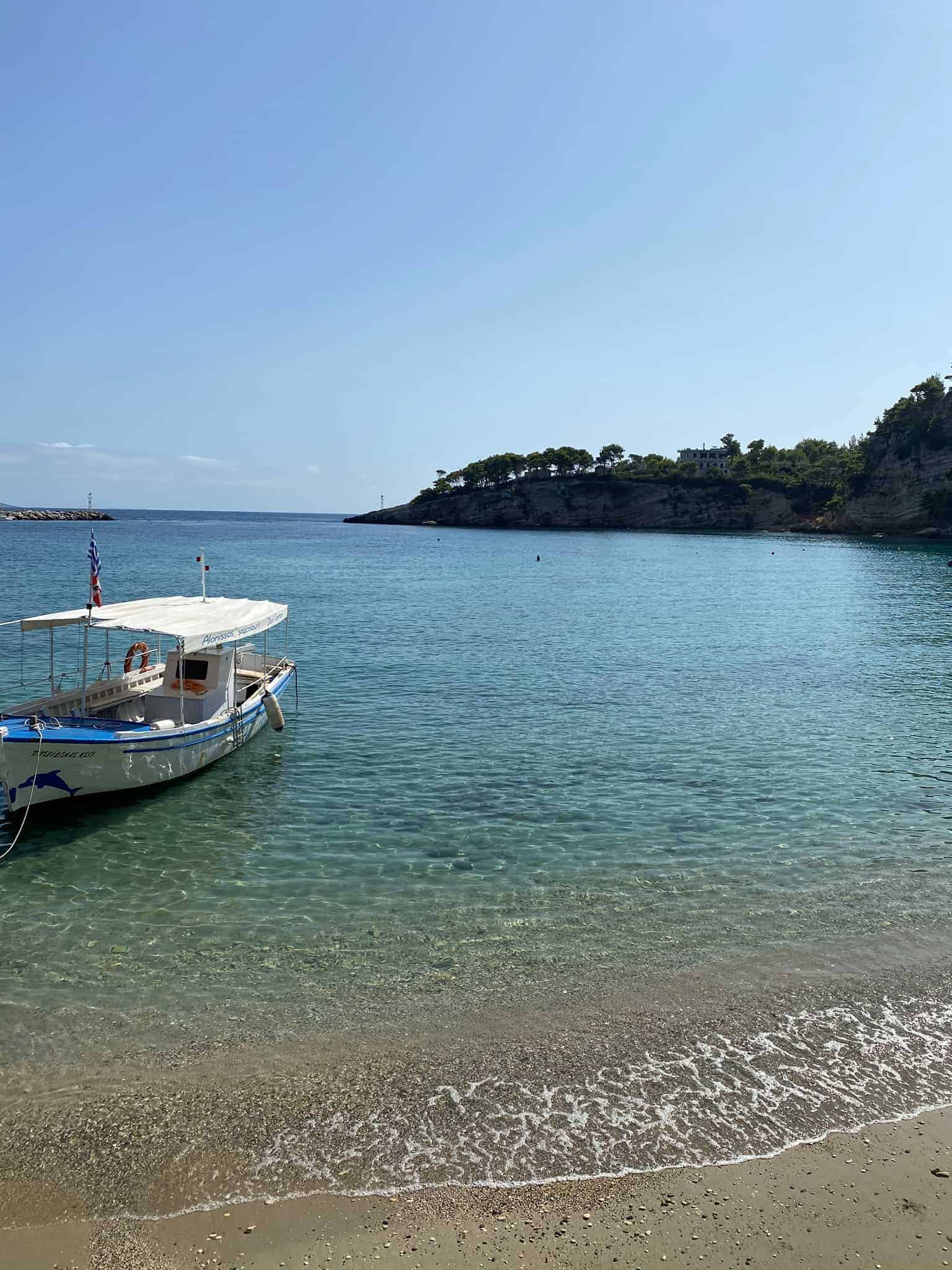 Finally, one further thing to consider before choosing a Greek island is the question of when to travel to Greece. July and August are the peak times to travel and prices skyrocket during this period. 
Hotel prices in August can be more than double those in September. Ouch. 
Head to Greece in early October and prices are lower still. Of course, you want to enjoy some sunshine, hot weather, and beach life during your Greece trip. 
But Greece enjoys warmer temperatures for longer, especially if you are considering islands in the southernmost part of the country like the Cyclades, the Dodecanese islands, or Crete. July and August are not the only warm months to travel in.
In fact, swimming, snorkelling, and relaxing outside are just as pleasant in the shoulder seasons. Better yet, you won't be burned to a cinder.  
Where are the Cheapest Greek Islands?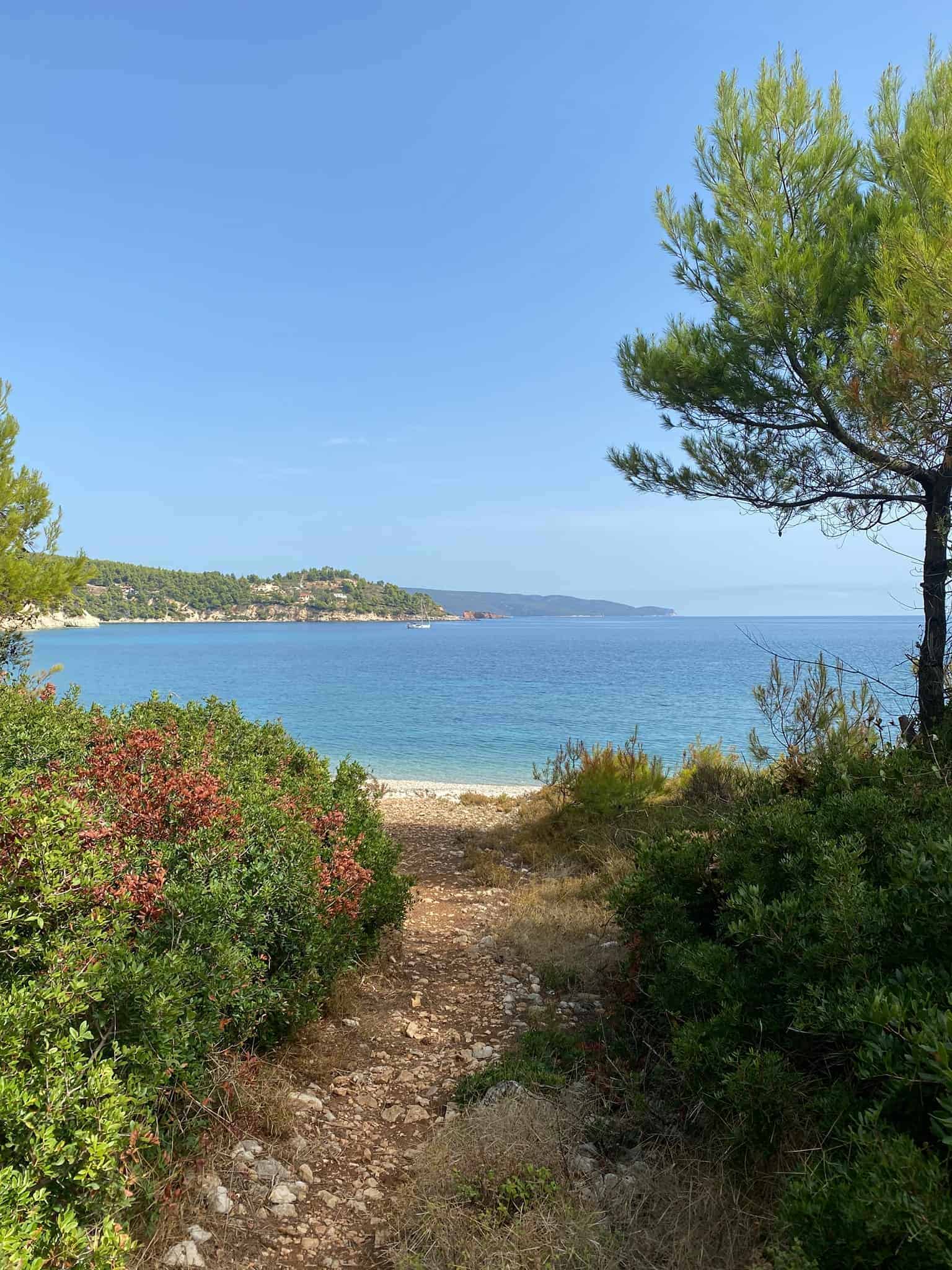 So what are the cheapest Greek islands? The islands here have been selected based on the affordable accommodation choices they offer, the average costs of eating out, and their accessibility.
If more rugged adventures are your thing, there are also a few suggestions for islands known for their rugged nature and outdoor activities. For instance, Kea and Folegandros are perfect if you are interested in free camping and hiking in Greece. 
Chios 
Chios (Χίος) is an often overlooked island that sits in the North Aegean sea. It is actually closer to Turkey than it is to mainland Greece, and can be found off the coast of the Karaburun Peninsula. 
Like many Greek islands, Chios is home to a unique culture, architectural style, and cuisine. The island was once part of the Republic of Genoa, before falling under Ottoman and Greek rule. 
Each civilization that has occupied the island has left its mark on the local culture. But the best thing about Chios is the abundant opportunities it offers to travel off the beaten path and to do so without breaking the bank. 
There are several gorgeous beaches to be found here. In particular, be sure to stop by Mavra Volia – a gorgeous black pebble beach formed by volcanic eruptions, and Agia Dinami beach.
Agia Dinami is a secluded cove whose white-sand shore and translucent turquoise waters would rival the beaches of the Caribbean. Chios also boasts several charming villages and hamlets, each one more charming than the last. 
Pyrgi is an adorable medieval village where you can try mastic coffee and shop for Greek souvenirs. Viki is a quaint mountain village known for its traditional local cheese stores, while Avgonyma is a charming stone village close to the Monastery of Agia Markella, patron saint of Chios. 
Chios is perhaps best known for being the home of mastic trees. Mastic/mastiha is a pine-tasting resin that is often used as natural chewing gum in Greece and the Middle East, or infused with Greek drinks and cocktails. 
If you are particularly interested in learning about it, you can do so at the Mastic museum in Mastichochoria. 
Lesvos 
Lesvos is one of the largest islands in Greece and in fact, in the entire Mediterranean. It sits in the North Aegean island group close to the Turkish mainland and the island of Chios. 
In the past few years, Lesvos has become almost synonymous with the migrant crisis in Greece as many refugee camps are found here. In some ways, that seems to have acted as a deterrent to visiting which is a shame. 
Lesvos is both safe, and rich in culture and history. It is known for its production of ouzo – Greece's anise-flavoured national drink, and many distilleries can be found here.

In Greek culture, it is known as being the birthplace of renowned Greek poets Alcaeis and Sappho, and philosophers Epicurus and Aristotle. The island boasts some incredibly diverse landscapes. 
As you explore, you will find everything here from petrified forests and otherworldly rock formations created by volcanic eruptions, to golden sandy beaches and lush, dense woodlands filled with hiking trails. If you are looking for a summer beach holiday, there are a few spots to add to your radar in Lesvos.

Skala Eressos is one of the most popular beaches on the island, while Petra beach, close to the charming little village of Petra, offers all the amenities. You can rent sunbeds and water sports equipment here and there is an abundance of tavernas right on your doorstep for when you get hungry, 
Evia 
Evia (also spelled as Euboea/Εύβοια) is the second largest island in Greece after Crete. It sits off the country's east coast and like Lefkada, it is connected to the Greek mainland via several bridges. 
Despite being close to Athens, Evia has, for now, remained off the beaten track. Its rugged mountainous landscapes are a nature lover's paradise. 
If you enjoy hiking, you can follow the challenging trail to the peak of Mount Ochi, the highest mountain on the island which has an altitude of 1,399 meters. The trail leads you through the quaint stone village of Metohi, through the Kastanologos chestnut-tree forest, several waterfalls and streams, and the adorable little chapel of Profitis Ilias. 
If you don't feel like taking on such a strenuous route, you can also follow some of the footpaths that weave through the foothills of Mount Dirfys. Evia has a little something for every type of traveler. 
If hiking is not your thing, rest assured there are plenty of gorgeous beaches where you can relax here. As well as the sunbleached remnants of ancient cities and archeological sites. 
The natural thermal springs in the northern region of Edipsos are arguably one of the most unique attractions on the island. They are said to have healing properties and have been used by locals for thousands of years. 
Naxos 
Naxos is a great travel destination if you are hoping to experience a little adventure and history, as well as beaches and sun during your vacation. The Chora is the island's capital and it's a beauty.

All of the houses and buildings here are painted in quintessentially Greek shades of blue and white. Among them are spectacular Venetian mansions.

Although the Cyclades group of islands isn't the cheapest travel destination in Europe, Naxos is markedly more affordable than its popular neighbors Mykonos and Santorini. For the time being, it still remains somewhat off the beaten path. 
Spend a day meandering around the maze-like network of narrow cobbled streets and passageways in the Chora. Here, the most unsuspecting sidestreets lead you to grand plateias (squares) and charming churches.

The Kastro houses many interesting things to see and do. Here, you can shop for one-of-a-kind furnishings and trinkets in the various antique stores, or learn more about the history of the island at the Archaeological Museum of Naxos.
Naxos is one of the best Greek islands for hiking. If you are into the great outdoors, you can follow winding pathways that lead you to important historic sites such as the temple of Demeter Sangri and the Temple of Dionysus. 
Naxos is also home to Mount Zeas – the tallest mountain in the Cyclades islands. Of course, beaches are a highlight of traveling to any Greek island. In Naxos, add the beaches of  Plaka, Agios Prokopios, Alyko, and Sahara to your radar.
Rhodes 
There are six main Greek island groups in Greece, plus Crete. Rhodes is the largest island in the Dodecanese group and a worthy place to base yourself for anywhere from a couple of days to a couple of weeks. 
Rhodes's old town is a UNESCO world heritage site. It is one of the best-preserved examples of a medieval settlement in Southern Europe. 

The city is a mishmash of Ottoman and Venetian structures – reflecting the various civilizations that have occupied and left their marks on the settlement throughout the ages. In particular, look out for the Palace of the Grand Master of the Knights of Rhodes, aka the ¨Kastello¨. 
This 7th-century medieval palace is one of just a few examples of Gothic architecture that exists in Rhodes today. From Rhodes, you can also take a day trip out to the picturesque island of Symi.

Since Rhodes is a relatively large island, you may want to base yourself in the old town for a portion of your trip. Then, stay in a more southern part of the island for the remainder.

Public transport in Greece is pretty good. However, of course, renting a car in Greece offers you a lot more freedom and flexibility.

Be sure to visit the greek islands and the beaches of Petrokopio, Fourni, Limni Beach, and Fokia Beach if you are looking for quiet, secluded coastal spots. The lovely Anthony Quinn Bay is one of the most naturally beautiful coves on the island. However, it does get very crowded during the peak season.
Kimolos 
Idyllic Kimolos is not only one of the best cheap islands, but it is also one of the quietest. The little island sits close to the increasingly popular island of Milos in the heart of the Cyclades.

Yet, at least for now, it remains relatively under the radar. The island capital is the "Chora". 
This little white and blue settlement cascades down the hilltops and has existed here for hundreds of years. Accommodation options on Kimolos are limited. Base yourself in the Chora so that you have plenty of supermarkets, restaurants, and nightlife options at your door.

There are plenty of excellent free things to do in Kimolos. You can watch a magnificent sunset from the abandoned windmills on the outskirts of town, and swim in the crystal-clear cerulean waters of the island's beaches.

Psathi, Ennias, Aliki, and Bonatsa beaches are among the best spots to basque in the sun. If you would like to learn more about the island's history and heritage, stop by the Kimolos Folk & Maritime Museum and the Archaeological Museum of Kimolos. The former is housed inside a grand old Venetian castle.  
Samos 
Samos, and the North Aegean islands in general, are often massively overlooked by most people planning their trips to Greece. That is arguably the reason why these are some of the Cheapest Greek islands to visit.
Samos is actually located closer to the Turkish mainland than to mainland Greece. The North Aegean islands have a culture and gastronomical scene of their own that differs from other parts of the country.
There is plenty to do in Samos. That is true whether you are looking for a relaxing break, or you are seeking a more exhilarating adventure. 
The villages of Pythagorio, Kokkari & Kampos Marathokampou are the main areas to stay on the island.
If you are looking to escape the crowds, you can also consider booking a hotel or self-catered accommodation in the towns of Vathy and Karlovasi. Most of the beaches on Samos island are pebbled and only a handful are sandy.
Still, that doesn't make them any less of a pleasant place to visit or go swimming. They all boast warm, translucent turquoise waters that would rival what you would expect to find in the Caribbean.
Tsamadou, Tsabou & Lemonakia are among the most popular serviced beaches on the island's north coast. Meanwhile, Chrysi and Psili Ammos are two beloved white-sand beaches on the island's south coast.
Folegandros 
The little island of Folegandros (Φολέγανδρος) sits on the southern edge of the Cyclades. It has just 760 permanent residents and while Folegandros has reached the radar of Grecophiles in recent years, few international tourists are aware of what it has to offer.  
It is easy to reach Folegandros from Athens. High-speed catamarans depart regularly from Piraeus and transport you to the island in less than four hours. Alternatively, you can take the car ferry which takes approximately 9.5 hours. 
Folegandros is best visited in the shoulder season – either April/May/June or late September/early October. The small size of the island means that there are few accommodation options here. But Folegandros is best suited for the nature lover and so, consider staying at Camping Livadi during your stay. 
Dining out on Folegandros is not always cheap. The way to see the Greek Islands on a budget is to enjoy its nature.
You can camp, relax on secluded white sand beaches, conquer the scenic hiking trails, and cook your own food here and there. 
Chora is the island's main town but there are various other towns and villages that are well worth visiting. Notably, don't miss Ano Meria. 
There is an excellent restaurant here known locally as simply "kafenion". The owner and her yiayia (grandma) serve up a diverse selection of sumptuous Greek dishes and Folegandros specialties.
Be sure to try the matsata. This is homemade Folegandros pasta that you will only find on this island. 
Crete
Crete is the largest Greek island and one of the most popular destinations in the country. Countless people fall in love with Chania, Rethymno, and Heraklion every year. 
It is easy to see Crete on a budget. You can find hostels in all of the major towns, cities, and tourist areas for as little as €12-15 a night for a dorm bed. 
Self-catered apartments are not that expensive. Small studios and single-room hotel rooms start from around €20 a night.
It is advisable to book in advance to secure the best deals, particularly if you are planning to visit in July/August. 
Crete offers something for every type of traveller. Samaria Gorge is one of the best hiking trails in the country and arguably, in all of Europe.
This is a UNESCO biosphere reserve that leads you through the white mountains of Crete past spectacular natural scenery. The hike is of medium difficulty level. 
However, it is possible to do just a partial hike if you prefer. Walking amidst nature is, of course, completely free!
Samaria Gorge aside, Crete has enough to keep you occupied for months. There are a plethora of beautiful beaches here – both serviced and unserviced. 
For the latter, and desert island getaway vibes, check out the beaches of Stomio. Triopetra, and Xerokampos. Don't miss the fortress at Knossos. 
According to Greek mythology, this is where the minotaur was kept in the labyrinth. Equally fascinating is the little islet of Spinalonga – a former leper colony. 
Poros 
Poros is one of the most beautiful islands in the Saronic Gulf. It is also one of the closest islands to Athens so, despite the fact that Poros itself does not boast an airport, it is very easy and convenient to get to. 
The ferry from Athens to Poros takes between 1.5 and 2.5 hours depending on the specific boat/service that you use. You can also drive to the island via Galata and the Peloponnese.
Poros is beautiful. But it is often overshadowed by its popular neighbours Spetses and Hydra. 
Arguably, every island in the Saronic archipelago is worthy of your time and attention. However, Spetses and Hydra are more upscale and expensive. They are popular Greek islands for couples and often get crowded.  
Poros is laden with great walks and hiking trails. A great route to follow is the trail to the ancient monastery of Zoodochos Pigi. 
You can also take a small fishing boat across the water to Galata for just a few euros. A plethora of excellent restaurants selling national delicacies prepared with fresh local ingredients can be found on both sides of the water. 
Lefkada 
Lefkada is well known for being one of the cheapest Greek islands in Greece. This is the largest island in the Ionian island landscape and it is connected to the mainland by a bridge. 
As such, it is easy to access Lefkada from Athens and the island is a perfect stop as part of a wider Greece travel itinerary. You can also consider basing yourself in Lefkada and using it as a jumping-off point for getting to the neighbouring islands of Ithaca or beautiful Kefalonia. 
There are countless beautiful beaches here. Porto Katsiki, Kathisma, Milos, Agiofili, and Egremni beaches are particularly special. When night falls, catch the sunset behind Doukato Cape.
Agistri 
Agistri is a popular weekend getaway destination for Athenians. Many affluent Greeks living in the capital have vacation properties here that they head to during the summer months. 
The ferry journey from Athens to Agistri takes just 40 minutes. This is extremely convenient if you just want a bit of R&R to break up a trip to the capital. 
This also works out very well if you are on a tight budget and looking for the cheapest Greek islands. If you shop around and book in advance or slightly out of season, you can get excellent value flights to Athens from other parts of Europe for around only €20.  
Agistri is a tiny island. It is so small in fact, that you can walk its entire length in less than 20 minutes. 
Don't be fooled into thinking that that means that there isn't much to do here though. Agistri packs a plethora of fishing villages, hiking trails, and gorgeous natural scenery into its small surface area. 
Best of all? The small size of Agistri means it is possible to explore the island entirely on foot. Therefore there are no Greek public transport costs or car rental fees to worry about. 
Alonissos 
Alonissos is one of the farthest inhabited islands in the Sporades group. A lot of travellers haven't even heard of it. 
In fact, Alonissos has only really been put on the map in recent years due to the development of the Alonissos Marine Park. The area around Alonissos is a protected marine area home to rare and endangered marine life and fauna – including the endangered monk seal. 
As a result, Alonissos has started to emerge as a major scuba diving destination in Greece. However, even if you are not a diver, you will not be short of things to keep you occupied here. 
The "off the beaten track" nature of Alonissos means that there are no inauthentic tourist trap restaurants here. You can find affordable meals at the Greek tavernas in Patitiri and the old Chora.
Similarly, Greek street food eats such as gyros, skepasti, and souvlaki can be enjoyed for just a few euros. Accommodation in Alonissos starts from around €20 a night for a private room at a pension. 
The only issue with the island is the challenge of getting to Alonissos. The island does not have an airport and the closest one is in nearby Skiathos. 
Alonissos is best visited as part of a wider Greek island hopping trip. If you only want to visit one island and Alonissos interests you, you can either take the ferry from Volos or get to Skiathos and then take a boat from there. 
Aegina 
Aegina is one of the larger islands in the Saronic islands archipelago. It is also one of the cheapest Greek islands in this area. 
The size of Aegina can be intimidating and overwhelming. If you don't know much about the island, it can be hard to establish where to stay and explore. 
Consider basing yourself in the island's namesake Aegina town. This makes a good base for a wider exploration of the various beaches, archaeological sites, and villages scattered around the island. 
Accommodation prices in Aegina are very good. Expect a comfortable room in a basic/mid-range hotel here for around €30. That is excellent value even if you are a solo traveller in Greece. 
Be sure to carve the time out of your schedule to visit the Temple of Aphaia. This Doric temple dates back to the Archaic period (around 500 BC). You will note that its construction style shares similarities with the Temple of Hephaestus at the Ancient Agora in Athens. 
For a beautiful place to watch the sunset and treat yourself to exquisite local Greek food, head to the fishing village of Perdika. It takes between 40 minutes to an hour and 15 minutes to get to Aegina from Athens. 
Cheapest Greek Islands: Final Thoughts
For budget travelers seeking affordable Greek islands to visit in 2023, the 14 cheapest islands offer incredible experiences. Accessible via a day trip from Athens, these destinations cater to diverse preferences.
With the convenience of Athens International Airport, exploring the cultural richness and scenic beauty of these islands becomes hassle-free, making them ideal choices for an economical yet unforgettable Greek island adventure.
Moreover, Visiting lesser-known islands that have not fallen victim to mass tourism is a good idea if you want to see cheaper islands on a budget. However, some of the smaller islands, like Paxos in the Ionian sea, or the remote islands in the North Aegean, are not always that cheap as they are quite upscale and exclusive.
So be sure to do your research thoroughly. You also need to consider the ease of getting to your destination.
Some of the biggest islands have an international airport so it is easy to get cheap flights to them from major airports across Europe during the high season. However, not all Greek islands have airports.
Some of the smaller islands are awkward to get to and can only be reached by a combination of ferries and domestic flights. Transit costs can quickly add up.
Do you have any additional questions about the cheapest Greek islands on this list? Do you want to provide some more suggestions for cheap Greek islands? 
I live in Athens, Greece, and lived on Skopelos island in the Sporades island group for close to a year.
Feel free to reach out via the comments below. I'll get back to you ASAP! 
Safe travels! Geia sou! Melissa xo 
---