Mention Greek alcohol to most people and they probably automatically think of ouzo. Ouzo is that strong, anise-flavored liqueur that is essentially the Marmite of the alcoholic beverage world – people either love it or they hate it. While ouzo probably can be considered as being the national drink of Greece, it is not the only national alcohol that the Greeks produce.
About Greek Alcohol
Greek alcohol is a popular part of the culture – whenever you stop by a taverna for dinner with family and friends, you will note that people often purchase jugs of wine and carafes of ouzo for sharing. Something that I really like about the way that alcohol is enjoyed in Greece is how the locals don't make drinking the focal point of their night (unlike a lot of us Brits).
Greek alcohol is generally pretty strong, but it is sipped and enjoyed while watching live music and conversing with friends, rather than consumed in mass.
Types of Greek Alcohol to Try
Some of the most popular types of Greek alcohol are detailed below. You will find that various drinks are more prominent in different parts of the country.
In Ioannina and Epirus for instance, there are dozens of tsipouro producers. This is the best place to sample a variety of different tsipouro blends, typically served in the accompaniment of homemade pastries and charcuterie boards. Retsina is popular in Thessaly, and Raki is native to Crete.
Greek Alcohol Types to Try During Your Trip
Ouzo

Tsipouro

Greek wines

Oinomelo

Retsina

Mastiha Cocktails

Tsikoudia & Raki (Crete)

Greek Beers

Homemade Fruit Liquor
Ouzo
Ouzo, as mentioned, is essentially the national drink of Greece. There are several different methods in which ouzo can be produced, each resulting in a slightly different end taste and texture. Ouzo can be either be partially distilled, or created by fusing alcohol with aromatic herbs.
Ouzo is traditionally enjoyed "neat" over ice. Pouring the beverage over ice sees the colour of the ouzo transform from clear to cloudy – sort of like a magic trick! It's very common for Greeks to order ouzo at tavernas or bozoukias, and enjoy the drink in the accompaniment of meze platters, freshly marinated olives, warm bread, and tzatziki. 
Different regions of Greece all pride themselves on their local ouzo. For me personally, I cannot stand the anise taste so perhaps I am losing out. If you find yourself shopping in Athens, you should stop by Angelo's shop in Plaka – this quaint little Greek alcohol store sells the largest collection of ouzos in Greece and offers the chance to purchase some excellent souvenirs. 
Tsipouro
Many of the Greek alcohols are often confused with each other – Tsipouro and ouzo being one such example. Tsipouro is a distilled beverage that is created from grapes. Sometimes, an anise flavour is added to tsipouro, thus making it somewhat ouzo-esque. At other times, it is prepared without.
Officially, tsipouro is a type of unaged brandy and it is relatively stronger than ouzo. Tsipouro is produced in mainland Greece, especially in the regions of Thessaly, Central Macedonia, Volos, and Epirus. Tsipouro can be enjoyed over ice, and is usually consumed without a mixer – much like ouzo.
Greeks will order carafes of tsipouro for their tables in restaurants and tavernas to accompany Greek food, or take bottles along with them to parties and other social events. In short, there is never a bad time for tsipouro! Raki is very similar to the Italian "grappa" and the Cretan "raki".
Rakomelo
Rakomelo is a wonderfully strong, cosy drink that is perfect for enjoying during winters in Greece. While bottles of rakomelo can be purchased from liquor stores across the country, it is customary for many tavernas and bars to create their own. The drink is created by combining Cretan raki with honey (Melo) and adding spices like cinnamon and cloves before drinking it warm. 
It is said that the warmth and the infusion of herbs from rakomelo help to soothe coughs, colds, and sore throats. If you dine at several tavernas and restaurants in Athens and across the country during winter, they will often present you with a little glass of warm, homemade rakomelo as a sort of digestif after you've finished eating. 
Local Greek Wines
With dozens of vineyards scattered all over the country, the production of Greek wine is big business. It's a shame that Greek wine is not so well known outside of Greece, but it is starting to gain traction in that regard.
The unique thing about Greek wine is that it is produced using grapes that are unique to Greece and are seldom (if ever) used outside of the country. Both white and red grapes are used in Greek wine production and the aromas and flavours of the various wines are very distinct.
Those who enjoy white wines can opt to sample sweet and dry blends created using Assyrtiko grapes from Santorini, or aromatic Moschofilero grapes from the Peloponnese. The clear choice for sampling red wines is the full-bodied Agiorgitiko grape which has flavors of nutmeg and fruity currents.
At taverns and restaurants across Greece, you can typically order a 500ml carafe of wine for as little as 3 euros. Some establishments may have an extensive wine many but many simply offer a house red and white wine, each produced at local vineyards.
In Athens, and many other Greek towns and cities you will find wine stores filled with barrels from which you can purchase 1-liter bottles of wine for 5 euro. This has been a fantastic discovery for me living here for the last 2 years! You can typically sample the different wines before you purchase and many of the store owners sell an extensive collection. Wine seems to be tastier here, perhaps because it is fresher and without the addition of preservatives.
As far as Greek wines roots in local history, this is actually the oldest type of alcohol to be produced here and according to Greek mythology, the Greeks actually invented wine! Legend has it that the concept of wine was born when Dionysus, son of Zeus lived in the mountains and learned the process of making the drink. He taught Icarus, king of Athens how to make the drink and thus introduced wine-making to humans.
Oinomelo
Oinomelo, like rakomelo, is another wintry Greek beverage. You could essentially look at oinomelo as Greece's answer to mulled wine and the drink often makes an appearance on taverna menus between November and February. This sweet, aromatic wine is formed by blending wine with honey ("Melo") along with a concoction of herbs and spices.
Retsina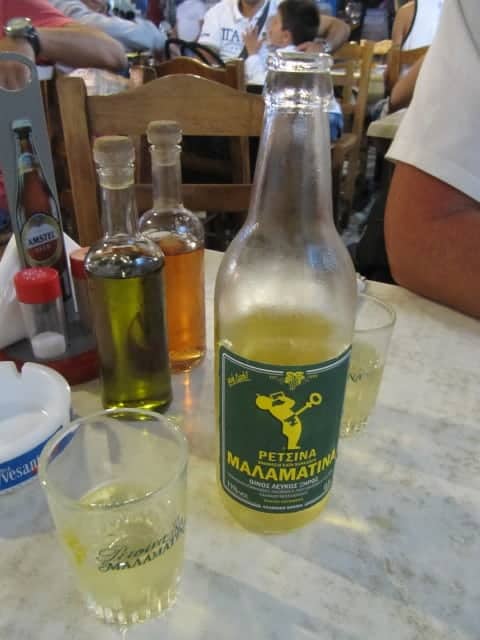 Retsina is a Greek white wine that is produced using an ancient method of winemaking that dates all the way back to the 2nd century BC. The wine is prepared using the sap from an Aleppo tree which results in the wine having a distinct flavour.
It's hard to describe the taste of retsina – it is sweet, fruity, and very different from most white wines. The drink is widely available throughout Greece so I suppose that you will simply have to sample it for yourself when you visit. 
Mastiha Cocktails
Mastiha ("mastic") is one of those ingredients that is so quintessentially Greek. Outside of a select few countries in the Mediterranean and the Middle East, mastiha is not widely consumed outside of Greece.
Like ouzo, mastiha has a flavour that you either love or hate. The raw ingredient is a resin that is derived from the mastic tree – a tree that is exclusively indigenous to the island of Chios. The raw resin tastes very green and grassy. While I personally don't enjoy raw mastiha, I quite like the way it tastes when it is blended into cocktails. I guess the addition of spirits waters down the flavour.
Tsikoudia & Raki (Crete)
Cretan raki (also often referred to tsikoudia) is the signature beverage from the island of Crete. You can draw many similarities between raki and tsipouro, as both drinks are forms of grape-based pomace brandies. One distinct difference though is that anise flavouring is often added to tsipouro, but never to raki.
Cretan raki has Turkish roots and is created by boiling grapes in a cauldron – a process called kazanema. If you are ever invited into Cretan households or weddings and events in Crete, you will typically be offered a glass of strong Cretan raki (and it is actually considered rather rude to decline the offer!)
Cretan raki makes its appearance on dinner tables at practically every taverna and family gathering in Crete. Raki is to Cretans what ouzo and tsipouro are to the Greeks in that regard – there is never a bad time to enjoy raki!
Greek Beer
While many international beers like Amstel, Corona, and Budweiser are indeed widely available across bars, restaurants, and stores in Greece, Greece also boasts its own beers that are pretty tasty themselves. In particular, look out for Alpha, Fix, and Mythos which are all among the most popular local beers. A large 500ml bottle of beer should typically cost no more than 2 euros in a local tavern.
Homemade Greek Liquor
If you travel off the beaten path in mainland Greece to places like Karpenisi, Ioannina, or quaint Metsovo, you will find numerous traditional stores selling homemade Greek liquor.
Traditional Greek liquor ( λικέρ) has a fruity taste. It is usually prepared by combining cognac with pressed fruits, vegetables, nuts or seeds. The drink is often sold in beautifully hand-painted or vintage bottles. It is best enjoyed as a small tipple at the end of a long day.
Countless variations of Greek fruit liquor exist. You will find different recipes across the various regions of Greece. One popular version is vissino (λικέρ βύσσινο) – a liquor made with sour cherries.
Parting Words
Have any further questions about planning a trip to Greece? I have been living in Athens for three years now and have had the pleasure of travelling across this country pretty extensively during that time.
If you have any queries or concerns, I'd be happy to help you out as best as I can. Just drop me a comment below if you need to and I will get back to you as soon as I can. Safe travels! Geia sou! Melissa xo
---