Pagrati Athens is a charming central Athens neighbourhood that sits behind the Panathenaic Stadium on Leof. Vasileos Konstantinou. This predominantly residential district escapes the attention of most visitors to Athens.
Unless you specifically know about Pagrati (Παγκράτι) or have a local friend to show you around, it's not somewhere that you are likely to stumble upon independently. But the leafy district, beloved by artists and creatives alike for centuries, is home to some of the best restaurants, coffee shops, and bars in the city.
Visiting Pagrati Athens in 2023
The Athenian neighborhood of Pagrati is home to a population of around 35,000 people. Pagrati, like many Athenian neighbourhoods, is like a little village in itself. 
People that live here have everything they need on their doorstep without ever needing to venture into Central Athens. Filolau and Imittou are the area's main promenades, lined with all manner of stores, patisseries, and takeout spots.
Meanwhile, the bustling Varnava Square, encircled by bars and tavernas, is one of the best places to go on a Friday or Saturday night if you are young, hot, and Athenian. The quirky little district borders the residential areas of Vyronas and Kaisariani to the east and south, and the upscale Mets district to the west.
Enamored by Pagrati's charm, a number of foreign expats have started to move to the area in recent years. But, at least for the time being, Pagrati has managed to escape gentrification and maintains its unique appeal. 
Things to see and do in Pagrati in 2023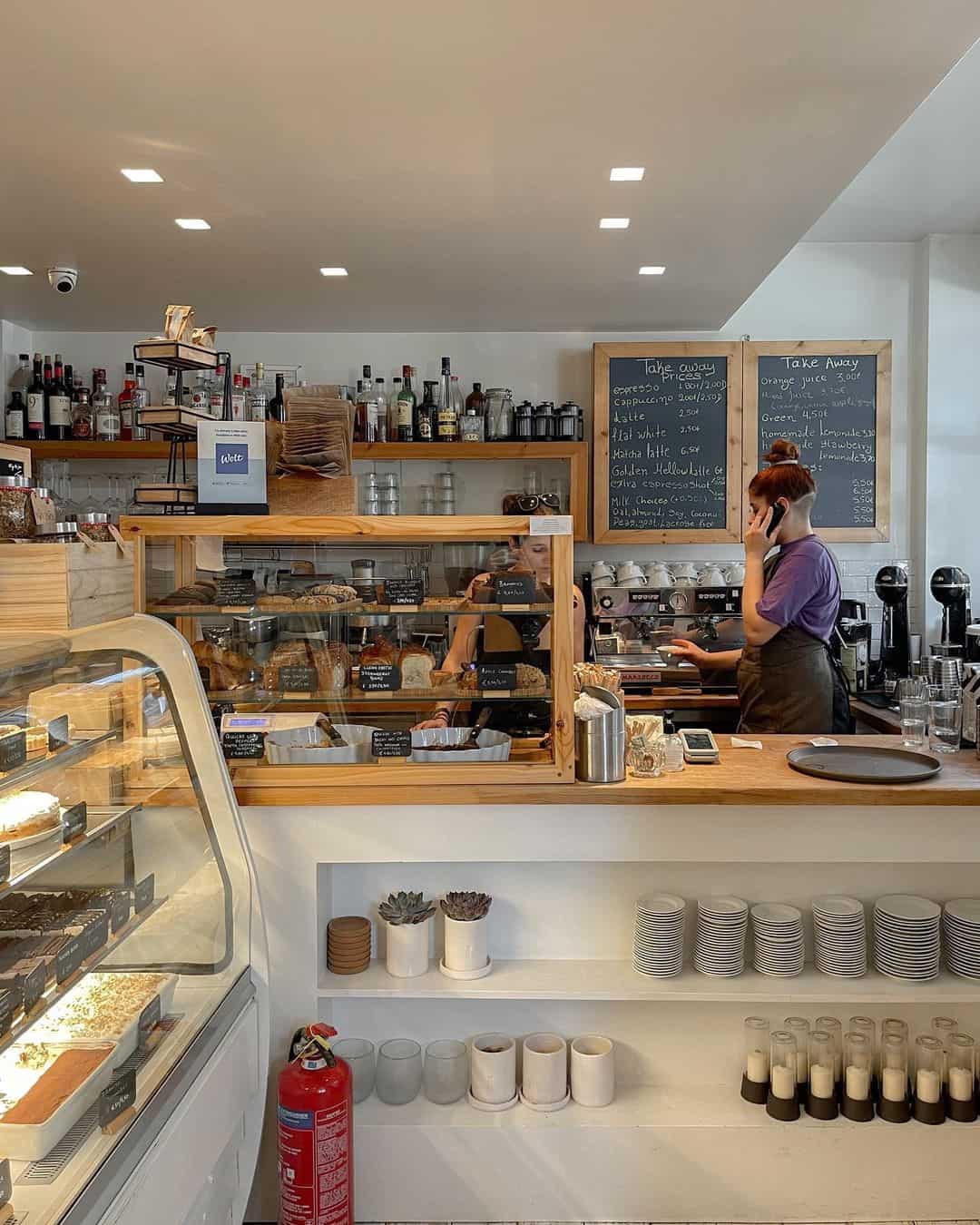 Sightseeing opportunities in Pagrati are few. However, if you want to browse through local farmer's markets and see what life is really like in an authentic Greek neighborhood away from the tourist hordes that occupy Plaka, Koukaki, and Psiri, then you will love this part of town.
Evangelissmos is the closest metro station to Pagrati. It places you just a five-minute walk away from the center of the neighbourhood. (Or you can access Pagrati on foot with just a 20-minute walk from Syntagma Square).
Cut through Rizari Park and if you're in the mood, grab a Greek coffee or a freddo cappuccino at Rizari 22 – one of the best coffee shops in Athens. Follow Rizari Street southwards until it becomes Spirou Merkouri. 
Keep heading south until you reach the little church of Prophet Elias. The little square here is surrounded by coffee shops that boast both indoor and al fresco outdoor seating so you can people-watch and watch the world go by.
Take the time to get lost on Filolau and Imittou and the little streets and passageways that veer off from them. If you happen to pass through the area on a Tuesday, you can catch the "laiki agora" (weekly farmer's market) that is hosted at the intersection of Lefkippou, Ifrikratous, and Laskou V.
The vendors here sell all manner of fresh fruits, veggies, Greek street food, and homemade pastries and pies at reasonable prices. 
Attractions In and Around Pagrati Athens
Athens is a very walkable city and it is easy to get around entirely on foot. Some of the best historical sites and ruins in Greece are just a short walk away from the neighborhood, as are some great urban Athens hiking trails to hidden monasteries and churches, and alternative city districts.
The Panathenaic Stadium ("Kallimarmaro")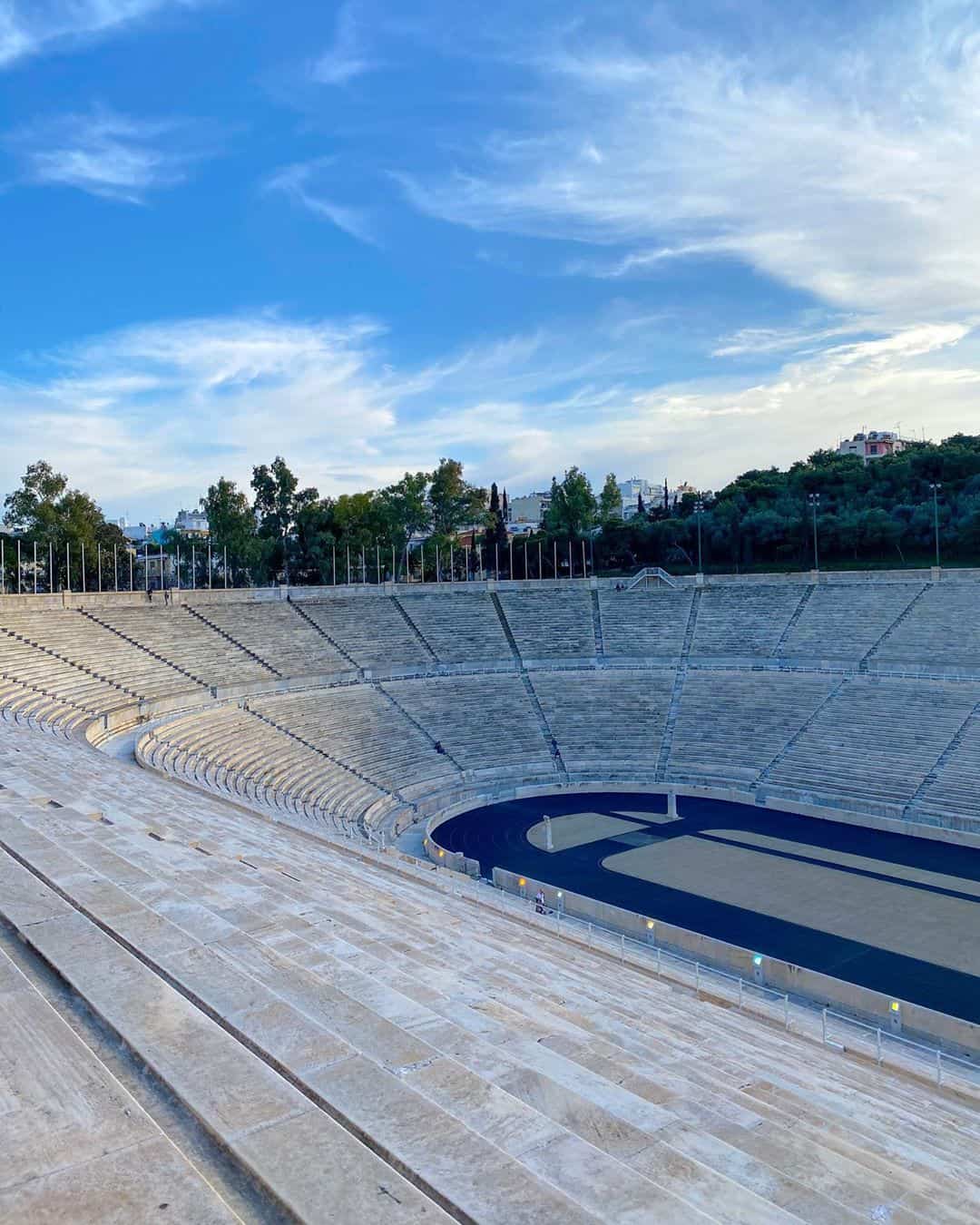 The Panathenaic Stadium (Kallimarmaro) is a must-visit attraction on any Athens itinerary. It dates back to 566 BC and is the only stadium in the world made entirely out of marble.
The very first stadium that stood here was made out of wood. Legend has it that Greek Philosophers and Academics like Socrates and Phaedrus would meet here to have discussions and debates.
In 140AD during the Roman Era, Herodes Atticus rebuilt the stadium using fine white marble from the slopes of Mount Penteli. After being eventually abandoned and forgotten, the stadium was re-discovered and excavated in the 19th century.
In 1896, it hosted the first modern Olympic games. Today, the stadium is one of the most impressive sights in Athens.
Concerts and sporting events are still occasionally hosted here. Entrance to the site is €5 per person, with concessions available.
Unleash your inner Mo Farah and do a victory lap around the track. (People actually do this!) 
Snap some photos on the stands or the podium and be sure to visit the Panathenaic Museum that is inside the complex. The museum shows the history of the Olympic games throughout the decades and contains some interesting promotional posters and old Olympic torches from around the world.
Browse the exhibits at the Goulandris Art Foundation
The Goulandris Art Foundation at Eratosthenous 13 only opened its doors a couple of years ago. However, it has quickly established itself as one of the best new museums in Athens
The museum contains a diverse collection of contemporary art pieces created by numerous acclaimed Greek and international artists. Pieces by the likes of Picasso, Monet, Moralis, Tsarouchis, and El Grego can be found on display here. 
Experience the Pagrati art scene
2021 saw the much-anticipated re-opening of the new National Gallery of Athens after years of renovations. More than 20,000 pieces of art are on display here and the museum is widely regarded as being the most important art museum in all of Greece. 
If you love art and all things creative, you should also make the time to stop by Art Zone 42 (Leof. Vasileos Konstantinou 42). This little independent gallery is dedicated to promoting the works of lesser-known Greek artists and there are some gorgeous pieces for sale.
Aristotle's Lyceum
Aristotle's Lyceum is a poorly preserved archeological site that sits across from the Panathenaic Stadium. Few people are aware of its existence, but it's worth stopping by as admission to the complex is included with your Athens combination ticket.
The Lyceum is a school that was founded by the Greek Philosopher Aristotle in 334 BC. He would teach ethics, politics, physics, and all manner of other topics here. 
There were many covered walkways around the complex where students could walk and reflect between classes, as well as a grand library with books and journals on virtually every subject imaginable.
Browse the independent stores of Pagrati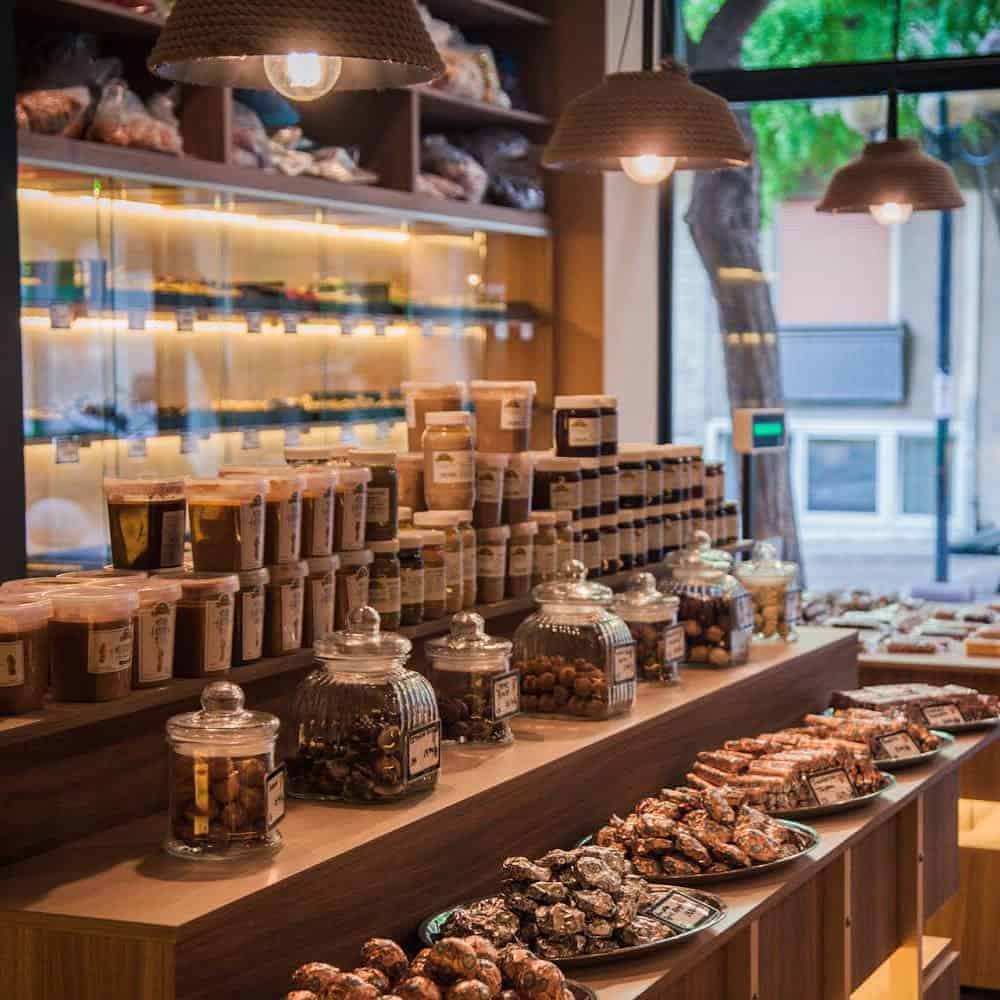 There are a couple of interesting stores worth checking out in Pagrati if you are interested in shopping in Athens or picking up some edible souvenirs from your trip.
Oliver Nuts & Flavors (Empedokleous 20) is a great place to shop for specialty coffee, exquisite Greek wines, artisanal chocolates, and truffles. On the streets of Rizari and Spirou Merkouri, you will find a scattering of vintage stores where you may find some gorgeous second-hand designer pieces if you are willing to rummage through the racks. 
Meanwhile, the streets of Filolau and Hremonidou are filled with independent boutiques owned by local Greek designers. They are wonderful places to shop for one-of-a-kind accessories and fashion pieces that nobody else has.
The First Cemetery Athens
While a cemetery might seem like a macabre suggestion in a travel guide, The First Cemetery of Athens (Logginou 3) is not your average burial site.
The cemetery actually falls more within the Mets district than in Pagrati, but it's worth noting here nonetheless as it is just a short walk away. Numerous famous Greeks and international figures have been laid to rest here since the cemetery was established back in 1837.
Some of the ornate crypts, statues, and tombstones here are like works of art in themselves. The architect Ernst Ziller, Greek war hero Theodoros Kolokotronis and Greek actress/politician Melina Mercouri are among those buried here. 
During your visit, you can learn the legend of the grouchy old caretaker who supposedly haunts the grounds.
Hike to Kaisariani Monastery
An hour southeast of Pagrati, past the hip student district of Zografou, you will find the woodland monastery of Kaisariani. You can walk all the way from Pagrati to the monastery if you like, passing cute little city streets as you go.
You can also get a Greek taxi to the entrance of the woods if it's hot. The woodland trail is pleasant and the little monastery is a true Athenian hidden gem.
It dates back to the 11th century and is believed to have been built on the site of an ancient shrine. The monastery's interiors are just as spectacular as its exteriors and the inner walls are decorated with colorful vibrant frescoes and detailed religious icons that date back to the 17th century.
When you visit, you can also explore the monk's quarters, the courtyard, and the monastery's library. There is a little cafe next door where you can enjoy a coffee and a crumbly spanakopita or a slice of cake.
Great Local Coffee Shops and Bars in Pagrati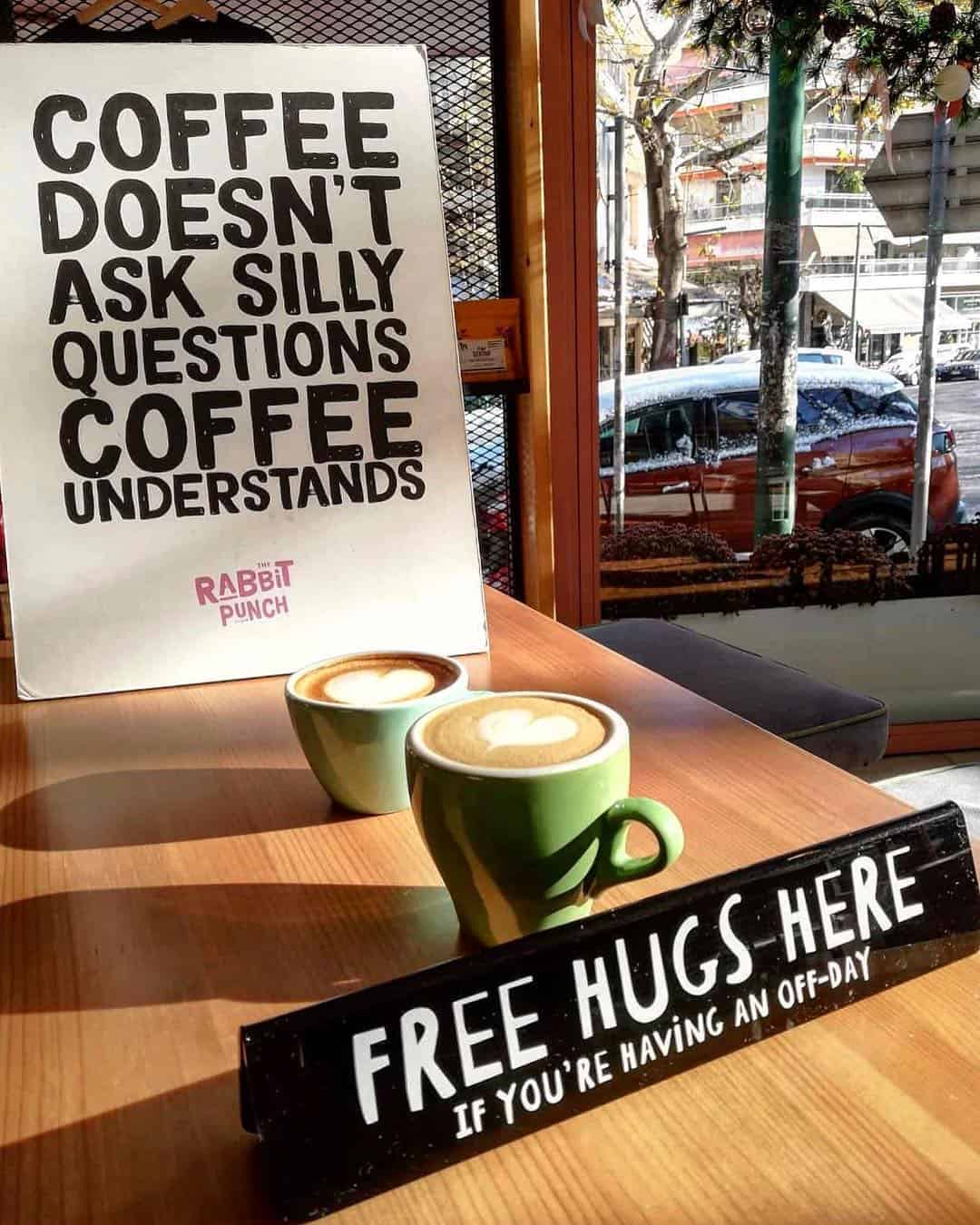 One of the best things about Pagrati is the food and social scene. There are some excellent Greek and Mediterranean restaurants here – including the two Michelin-starred Spondi restaurant.
You will be spoiled for choice. Even if you are staying on the opposite side of the city during your Athens trip, it's worth heading into Pagrati at least once for a spot of brunch, lunch, or dinner.
Superfly Cafe
Where: Empedokleous 28, Pagrati
Pagrati's Varnava Square is one of the area's most happening night spots. Every weekend, locals spill out onto the streets to catch up with their friends with beers in hand.
The square is encircled by tavernas and bars. However, none are more unique and playful than Superfly Cafe.
You don't need a DeLorean to travel back in time. Stepping through the doors of Superfly offers just that. With retro posters, memorabilia, and jukeboxes, Superfly transports visitors back to the 1970s.
Vinyl records are hung on the walls, old video game consoles are stacked on the shelves, and patrons are seated on colourful, mismatching retro vintage chairs. This is a fresh and fun place to enjoy a coffee.
Come nighttime, the speakers at Superfly blare out classic rock and attract an alternative crowd.
Rabbit Punch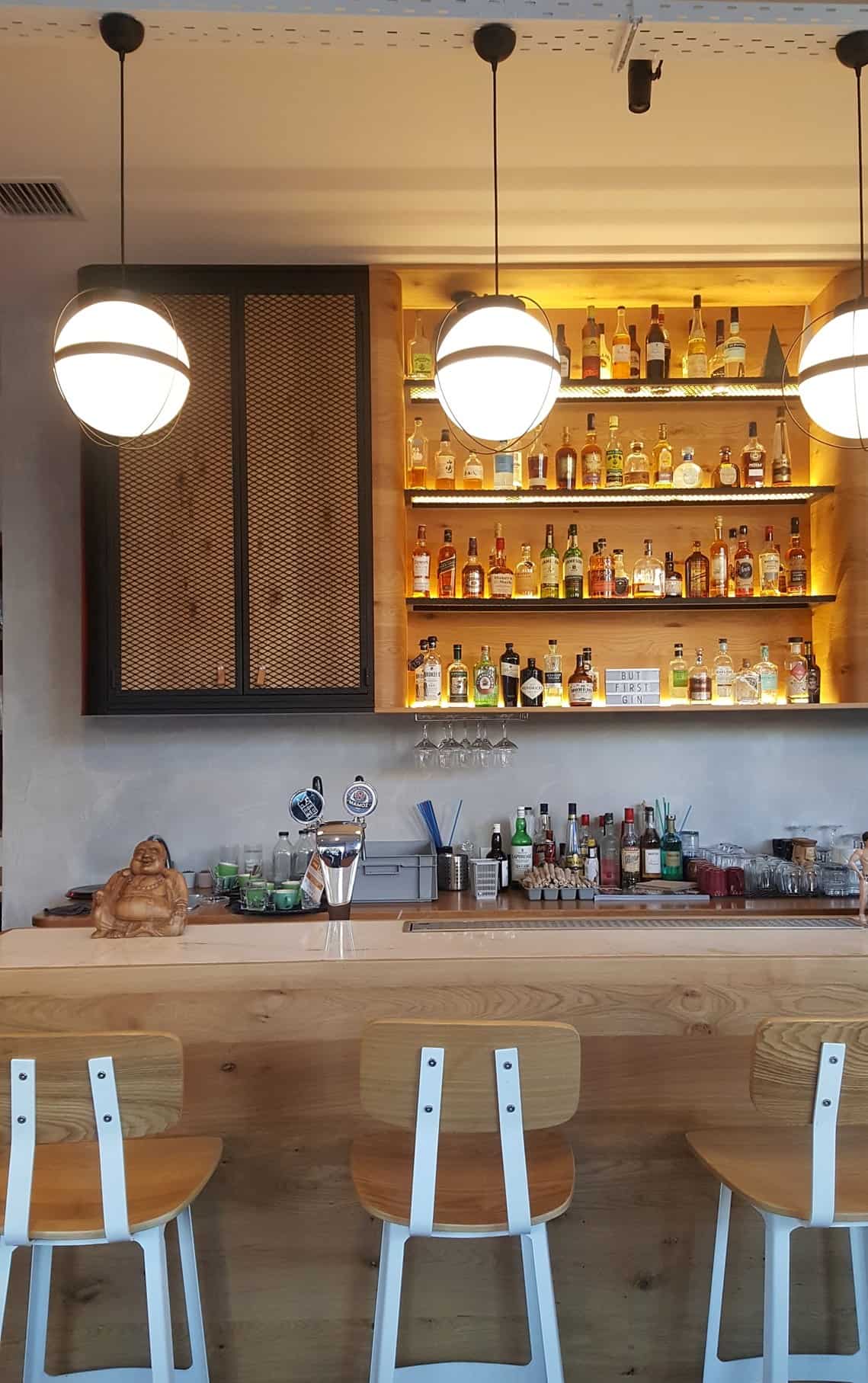 Where: Effranoros 40, Athina 116 35, Greece
If you consider yourself a coffee connoisseur, Rabbit Punch needs to be on your Pagrati checklist. This local favourite coffee place is the sister coffee shop to the famous Underdog cafe in Thissio.
The baristas that work here have won numerous awards and have been recognised time and again in Greek and international media.
Monsieur Cannibale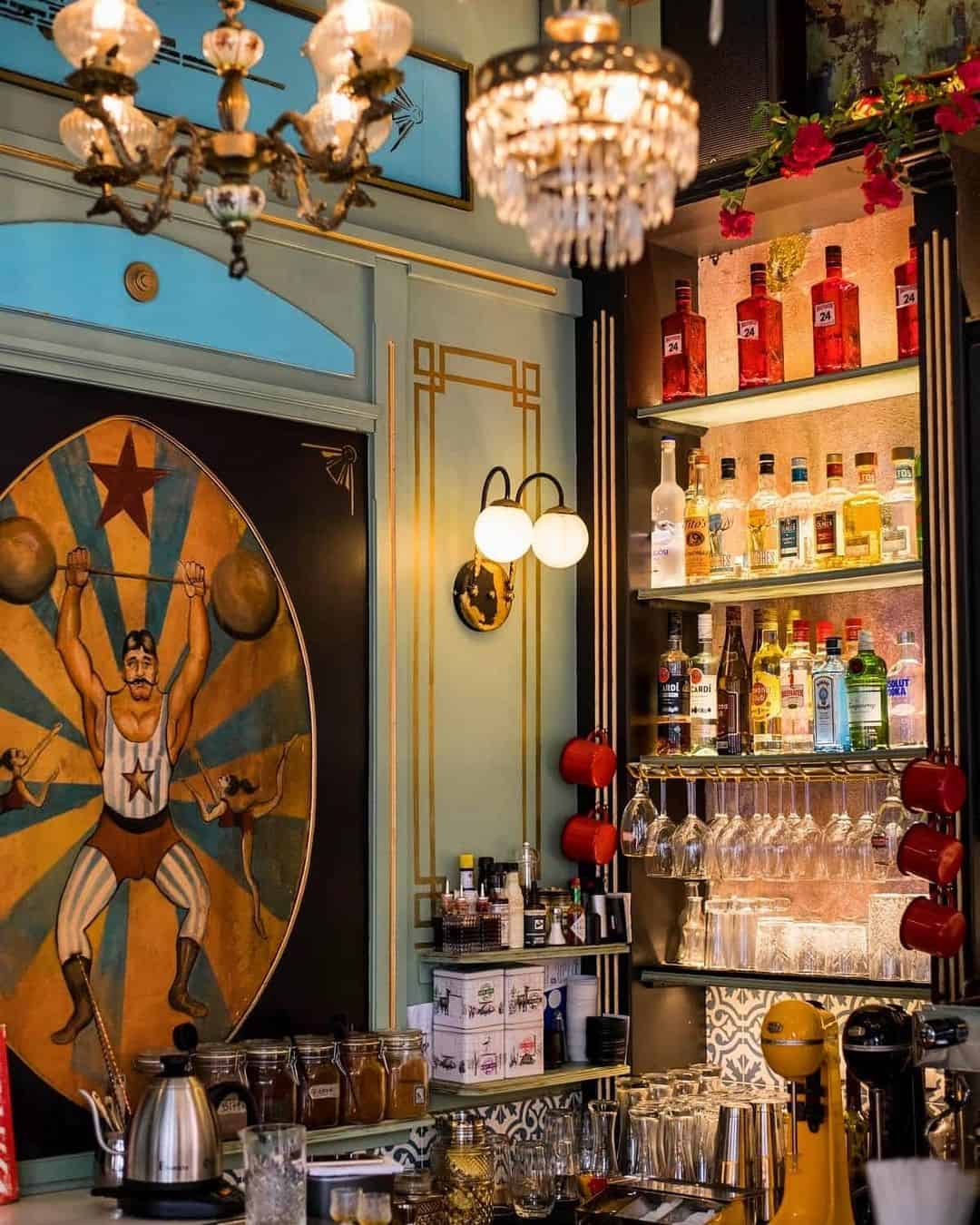 Where: Pl. Profitou Ilia 2, Pagrati, Athens
Monsieur Cannibale Athens takes its name from the song that Sacha Distel wrote about his love affair with Brigitte Bardot. It sits on the corner of Profitis Ilias.
The eccentric decor here takes you on an adventure to a vintage circus.
Paintings of elephants, freak shows, and strong men dance along the pastel-coloured walls. The decor and furnishings are a colourful mishmash and contribute to a wholly unique experience.
Monsieur Cannibale also serves a lovely brunch menu prepared with fresh local ingredients. You can find everything featured here – from hearty Greek dishes to international classics such as eggs benedict, and French toast.
Rizzari

22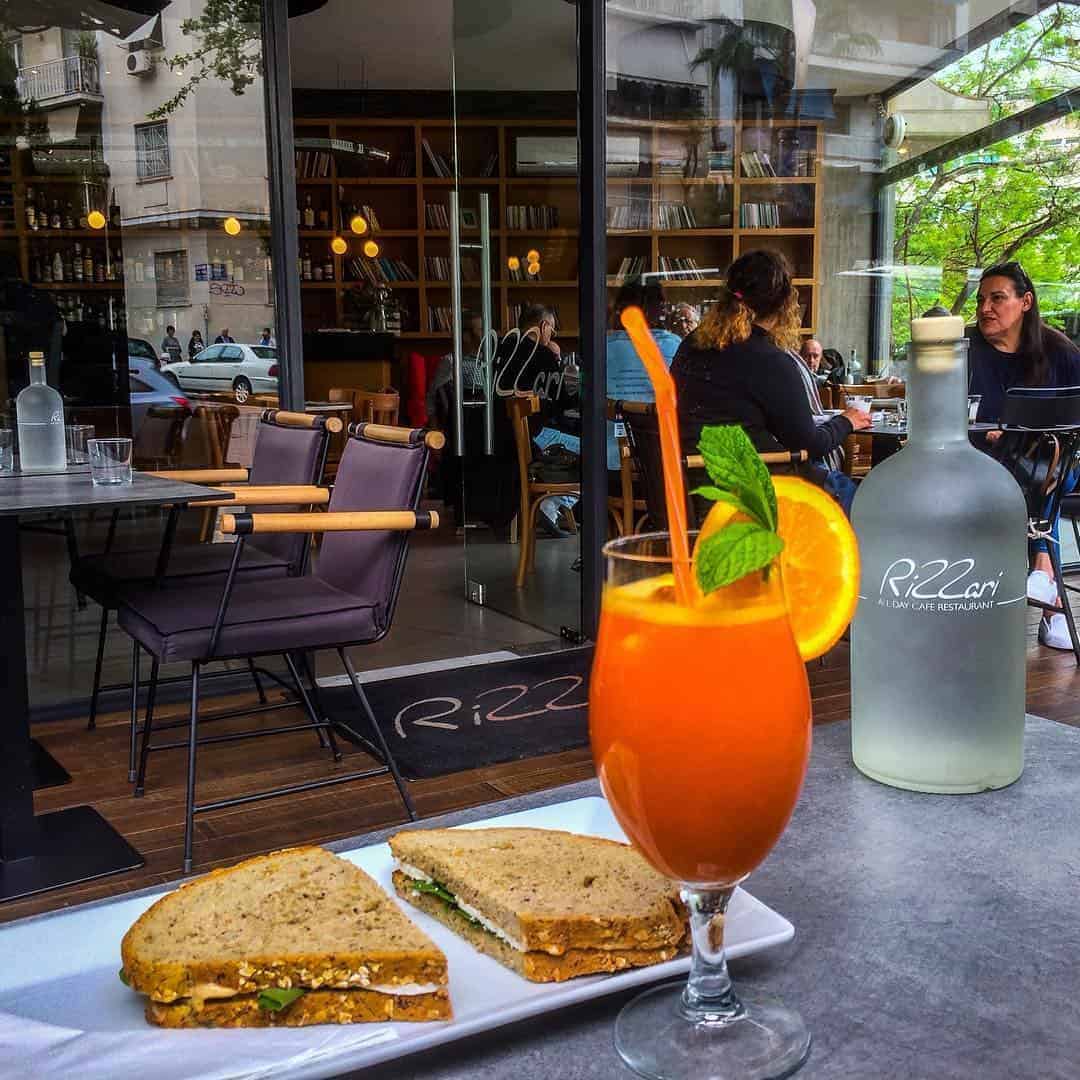 Where: Rizzari 22, Athina 116 35
Rizzari 22 is a cute coffee shop that is designed as a library. It sits on the street of the same name, just across from Evangelissmos metro station.
Here you can sink down into the comfort of one of the ornate old armchairs as you warm up with a strong Italian espresso.
The beauty of Rizzari is that it is a place where you can spend many hours unwinding on a relaxing afternoon. You will find older locals whiling away the afternoon reading a good book, and students and entrepreneurs working on their laptops.
Rizari attracts an elegant crowd. Come nightfall, the place is illuminated by candlelight.
The coffee menu is then replaced with an exquisite a la carte dining menu and an extensive international wine list.
Medez Cafe & Bar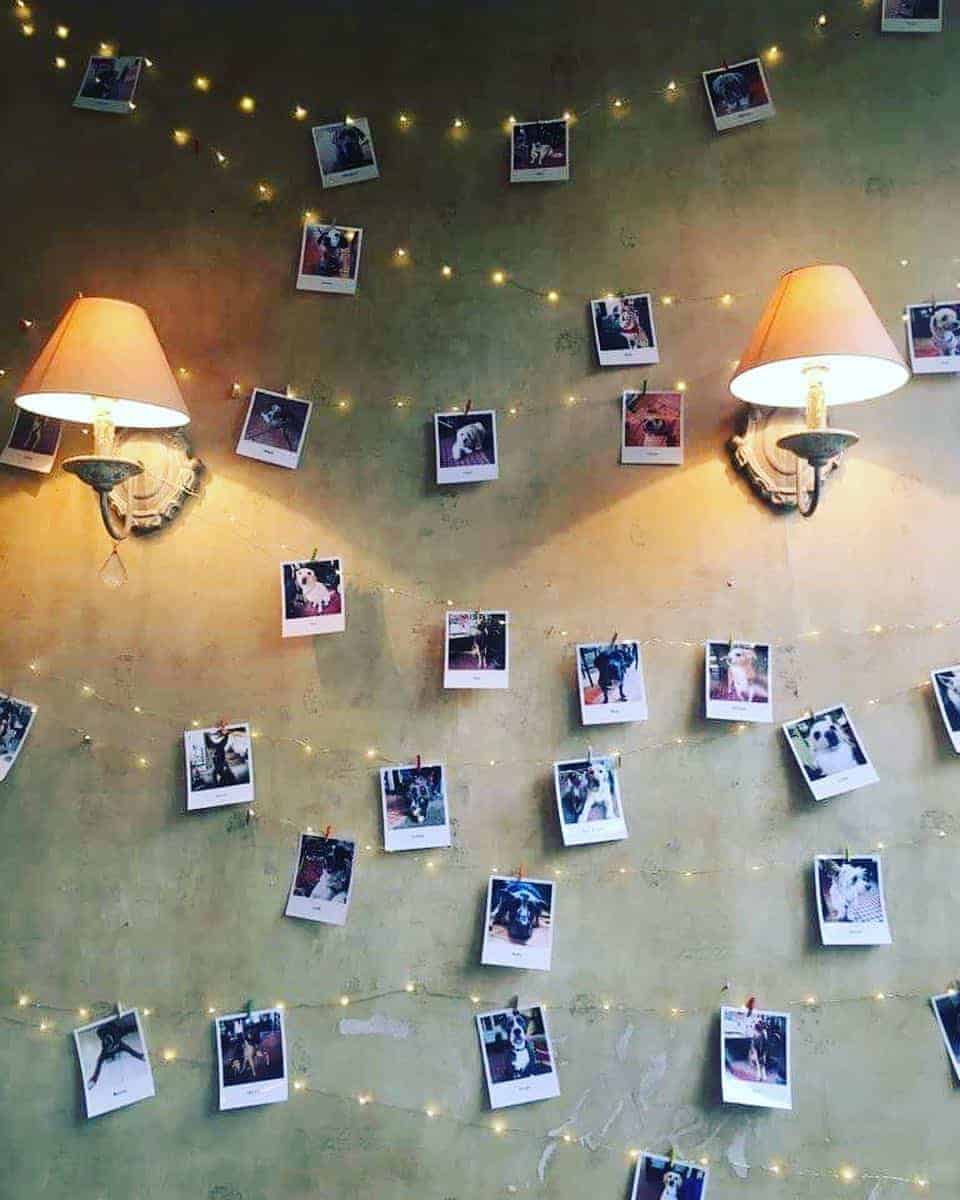 Where: Frinis 2, Athina 116 34, Greece
There are no cosier coffee shops in Pagrati than Medez. The atmosphere here is reminiscent of visiting the home of an eclectic, kooky relative that collects obscure things from around the globe.
The coffee shop has a cosy atmosphere that makes you feel as though you are sipping your cappuccino in a friend's living room. Comfy, oversized armchairs and an array of weird and wonderful knick-knacks make for a charming atmosphere.
Medez also hosts outdoor covered seating. Here you can sip your freddo cappuccino al fresco style as you people-watch and can enjoy the sights and sounds of Athenian street life.
Live bands and local Greek singers often perform in the tiny main room here in the evenings. 
Hotel Chelsea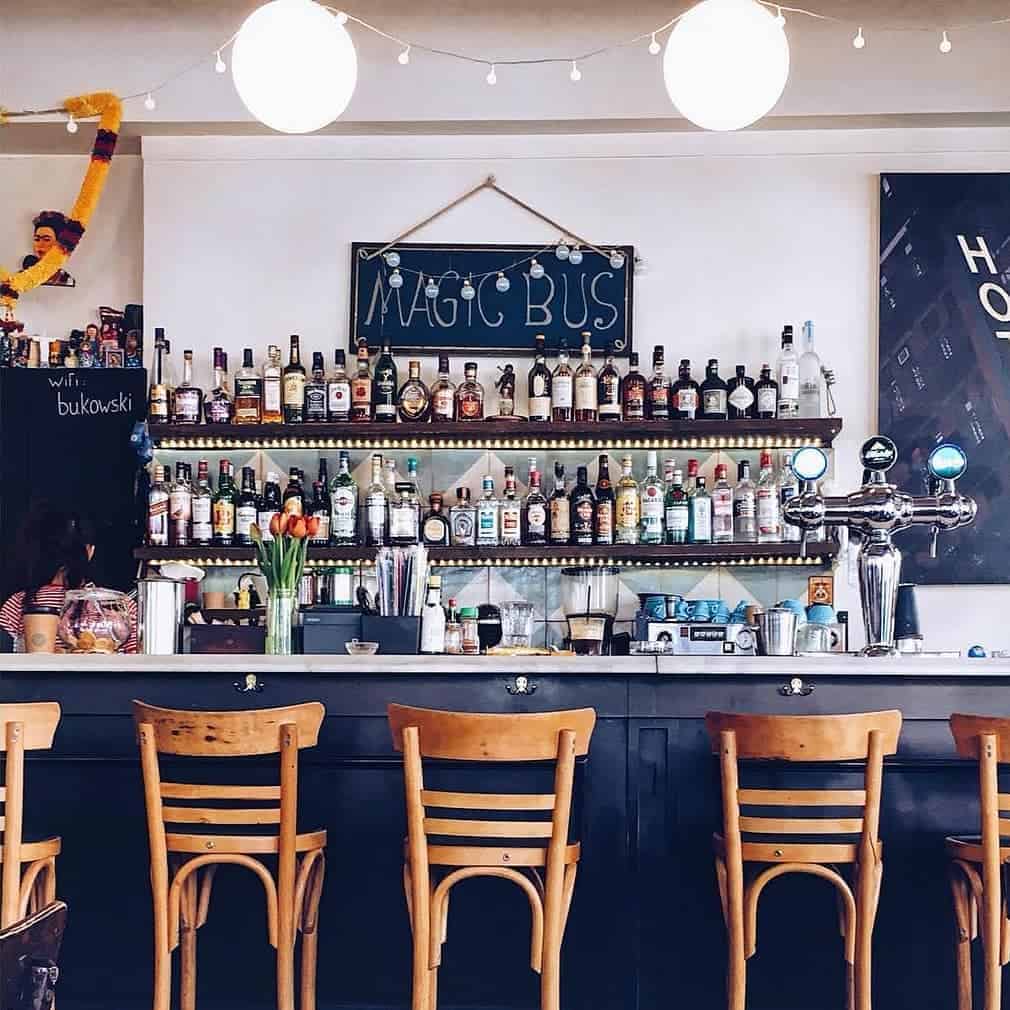 Where: Archimedes, and Proklou
Hanging out at Hotel Chelsea is kind of the "in thing" for young, hip Athenian locals. This place was affectionately named after the notorious New York hotel of the same name.
It is rare to stop by Hotel Chelsea and not see colossal crowds pouring out onto the streets. The place is always so crowded that patrons are often standing on the roads surrounding Chelsea and holding their glasses of wine.
The bohemian decor reflects Chelsea's crowd. Sit on cushions on the floor beneath the fluttering Nepalese prayer flags.
Sure it's busy, but it's worth stopping by for the atmosphere and the chance to mingle with the locals if you are able to find a table.
Metz

Coffee & Cocktails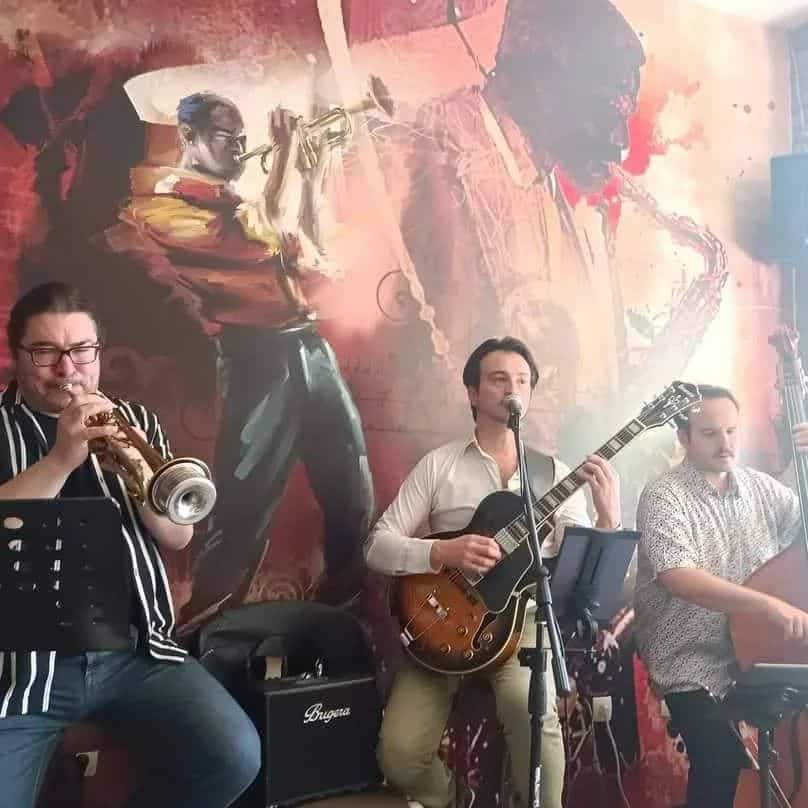 Where: Mark. Mousourou 63, Mets
Metz coffee bar is situated on a leafy green promenade in the Mets. This district is essentially an extension of Pagrati. It is hard to decipher where the Mets ends and Pagrati begins.
The Metz sits opposite the First Cemetery of Athens. Here, it is surrounded by greenery and sleepy residential streets.
Not only is this place incredibly tranquil, but the music here is also wonderful. On Saturday and Sunday afternoons, live jazz performances often take place here.
Oftentimes, spectators are handed an instrument and encouraged to join in the jam session.
Ohh Boy
Where: 32, Archelaou Street
Ohh Boy has quickly established itself as an Athens institution since it first opened its doors a couple of years ago. Its curbside tables are perpetually full and there are often people waiting around to get in – whatever time of day it is!
What makes Ohh Boy special is its delicious selection of cakes, desserts, and pastries. This is the perfect spot to grab a coffee and share a slice of cheesecake with a friend on your lunch break.
Frater & Soror
Where: 6 Amynta, Proskopon Square, Pangrati
This snug little bar is a popular haunt on Friday and Saturday nights when patrons spill out onto the surrounding streets. 
The bar's name is short for "fraternity & sorority". This little spot specialises in gin concoctions.
There is also a "secret" restaurant hidden away in the basement named Phi Beta Kappa which is operated by Chef Dimos Balopoulos. Phi Beta Kappa serves "high-end" Bistrot food and hearty brunch dishes. 
Arbaroriza

(Αρbarοριζα)

Where: Eratosthenous 33, Athina 116 35

If there was a "go-to" Friday night spot to enjoy the best cocktails in the neighborhood, Arboriza would be it. This place is especially popular during the summer months when revelers can sit outside on the terrace.

Sit beneath the trees of Arboriza that are illuminated by fairy lights and watch life go by. Then, hop in a cab into the city and enjoy more Athens nightlife. 
Where to Eat in Pagrati
Pagrati is developing a growing presence on the Athenian food scene. From fine dining to traditional tavernas and fast food, Pagrati has something for everyone.
Mavro Provato
Where: Arrianou 31, Athina 116 35, Greece
Mavro Provato is quickly establishing itself as one of the best restaurants in Athens. Diners flock here from across the city to sample the dishes from the restaurant's innovative menu.
Mavro Provato translates to "black sheep" in English. The dishes here place a modern twist on Greek contemporary classic recipes.
You can opt to enjoy the main dishes or order a selection of meze plates.
Spondi
Where: Pirronos 5, Athina 116 36, Greece
Elegant Spondi is a two-star Michelin restaurant in the heart of little Pagrati. Spondi offers an interesting fusion between Mediterranean and French cuisine.
The dishes here combine flavours that appear to be obscure pairings. However, somehow they just work.
Reservations here are highly recommended, especially on weekends.
Elvis Souvlakia
Where: Archimidous 1-5, Athina 116 35, Greece
For the best souvlaki in town, head to Elvis Souvlakia. This is a takeout joint dedicated to the King which borders the bustling Hotel Chelsea.
For kebabs, gyros, and pittas that the locals are happy to queue around the block for, head to Babadan.
Vassilenas Restaurant
Where: Vrasida 13, Athina 115 28, Greece
If you want to treat yourself to lavish dining during your Athens vacation, head to Vassilenas. This is an exquisite fine dining restaurant that has been passed down through the generations of a local family for centuries.
Vassilenas prides itself on its selection of local wines and freshly sourced ingredients. The two work together to offer a truly decadent menu that is so quintessentially Greek.
Vasilennas acquired an envious following over the years. Even the likes of Sofia Loren, Winston Churchill, and T.S. Elliot have dined here.
The initial restaurant premises were in Piraeus. However, Vasilennas moved to Pagrati, Athens in 2016.
The new premises boast a more contemporary, artistic vibe that makes way for a new era of Vassilenas fans and celebrities. The building was designed by honorable Greek architects Andreas Kourkoulas and Maria Kokkinou.
You can opt to enjoy a la carte dining, seasonal lunch menus, or wine pairings organised by the resident Sommelier. Reservations are recommended on Friday and Saturday nights.
Is Pagrati Safe?
Pagrati is a very safe neighbourhood. Athens in general is a safe city.
Even if you find yourself walking along Filollau at night, you will still see signs of life at every turn.
Coffee shops in Pagrati are open until around 10-11 pm. In the evenings, locals sit outside tavernas chatting and tsipouro until as late as 3 in the morning.
It is not unheard of to see older couples going on evening walks at these times either. Pagrati is one of the safest parts of town.
Final Thoughts on visiting Pagrati Athens
Pagrati is one of the best areas to stay in Athens if you are seeking a local experience. Pagrati is mostly residential.
You might be able to find Airbnbs or vacation rentals here but hotel-wise, you should look at staying in the nearby Hilton district.
Did you enjoy this Pagrati Athens guide? Have you visited?
I live here in Athens and I'm happy to help with any aspects of planning your trip to Greece. You might also find it useful to join my Facebook group "All Greek to Me" which aims to help travellers and expats make the most out of their trip to Greece.
Have a wonderful time in Athens! Geia sou! Melissa xo
---