Pagrati is one of the quirkiest and most artistic neighbourhoods in Athens. The little streets here boast a range of art galleries, eccentric coffee shops, vintage clothing stores and narrow alleyways that open out into vibrant plazas teeming with life. 
This district has been beloved by artists and creatives for centuries. When you arrive here, you see that it isn't difficult to see why. The best part? Very few tourists will ever venture here. Many Athenians will venture to Pagrati for coffee with friends, or an evening out. However, quirky Pagrati is tucked away behind the old Panathenaic stadium.
Falling in Love with Quirky Pagrati
Pagrati is to Athens what Greenwich Village is to New York. Those looking to escape the tourist crowds and experience authentic Athens as adored by the locals are sure to fall in love with Pagrati.
I discovered this neighborhood by mistake. When I first moved to Athens in September 2017, an Airbnb just behind the old stadium was all I could find at the last moment. I couldn't get enough of exploring the streets of quaint Pagrati and have lived here ever since. Pagrati is home now and holds a special place in my heart. 
Pagrati Highlights
Exploring the old Olympic stadium.




Sipping

freddo cappuccino

and playing backgammon at the quirky coffee shops




Hanging out with locals at the bars in Varnava square until the early hours.




Dining at some of the best restaurants on the Greek food scene.




Buying local produce to cook in your Airbnb at the local farmer's markets.
Coffee Shops in Pagrati
As a Travel Writer, I work from coffee shops almost every single day. Coffee culture is huge in Greece and that could not be more evident anywhere more than Pagrati.
With quirky places on practically every corner, and new bars and coffee shops opening up every week, you could spend a month in Pagrati and sip your morning coffee at a different place every single day.
As the evening approaches and the sun sets, most coffee bars in the area double as chic cocktail bars come nightfall.
The below places are definitely worth adding to your Pagrati travel checklist.
Superfly Cafe
Where: Empedokleous 28, Pagrati
Pagrati's Varnava Square is one of the neighbourhood's most happening night spots. The square is encircled by tavernas and bars, though none are more unique and playful than Superfly Cafe.
You don't need a DeLorean to travel back in time. Stepping through the doors of Superfly offers just that. With retro posters, memorabilia, and jukeboxes, Superfly transports visitors back to the 1970s.
Vinyl records are hung on the walls, old video games consoles are stacked on the shelves and patrons are seated on colourful, mismatching retro vintage chairs.
This is a fresh and fun place to enjoy a coffee. Come night time, the speakers at Superfly blare out classic rock and attract an alternative crowd.
Rabbit Punch
Where: Effranoros 40, Athina 116 35, Greece
If you consider yourself a serious coffee connoisseur, Rabbit Punch is the place to venture for the best brew in town. This happening spot is operated by award-winning baristas. Among a sea of Pagrati coffee houses, Rabbit Punch stands out above the crowd. 
The freshly ground coffee blends served here stem from Ethiopia, Costa Rica, Panama, and Guatemala. Warm cappuccinos and freddo espressos ordered here are that little bit extra special. Better yet, come nightfall, you can enjoy alcoholic coffee-cocktail blends! 
Monsieur Cannibale
Where: Pl. Profitou Ilia 2, Pagrati
Named after the song which Sacha Distel wrote about his love affair with Brigitte Bardot, Monsieur Cannibale provides its patrons with an adventure to a vintage circus.
Paintings of elephants, freak shows and strong men dance along the pastel-coloured walls. The decor and furnishings are a colourful mishmash and contribute to a wholly unique experience.
Perched on the corner of Profitis Ilias, Monsieur Cannibale is a new establishment that is quickly capturing the hearts of the locals. By day, the spot attracts many writers and creatives who type away on their Macbooks.
By evening, Monsieur Cannibale is a popular spot for locals to unwind after work and enjoy the unusual and innovative cocktail menu. MC also serves a lovely brunch menu that serves up international classics such as eggs benedict, and french toast.
Flamingo
Where: 22-24 Euphranor and Krisila, Pagrati
With glass-paneled walls, sky-high ceilings and contemporary furnishings, Flamingo Pagrati is a chic place to enjoy a daytime coffee or an evening tipple.
By day, the glass walls that encapsulate Flamingo make the place incredibly bright and cheery. By night, the place is illuminated by candlelight making it all the more elegant.
Flamingo Pagrati serves American style breakfasts and brunches and has a dinner menu that changes with the season.
Rizzari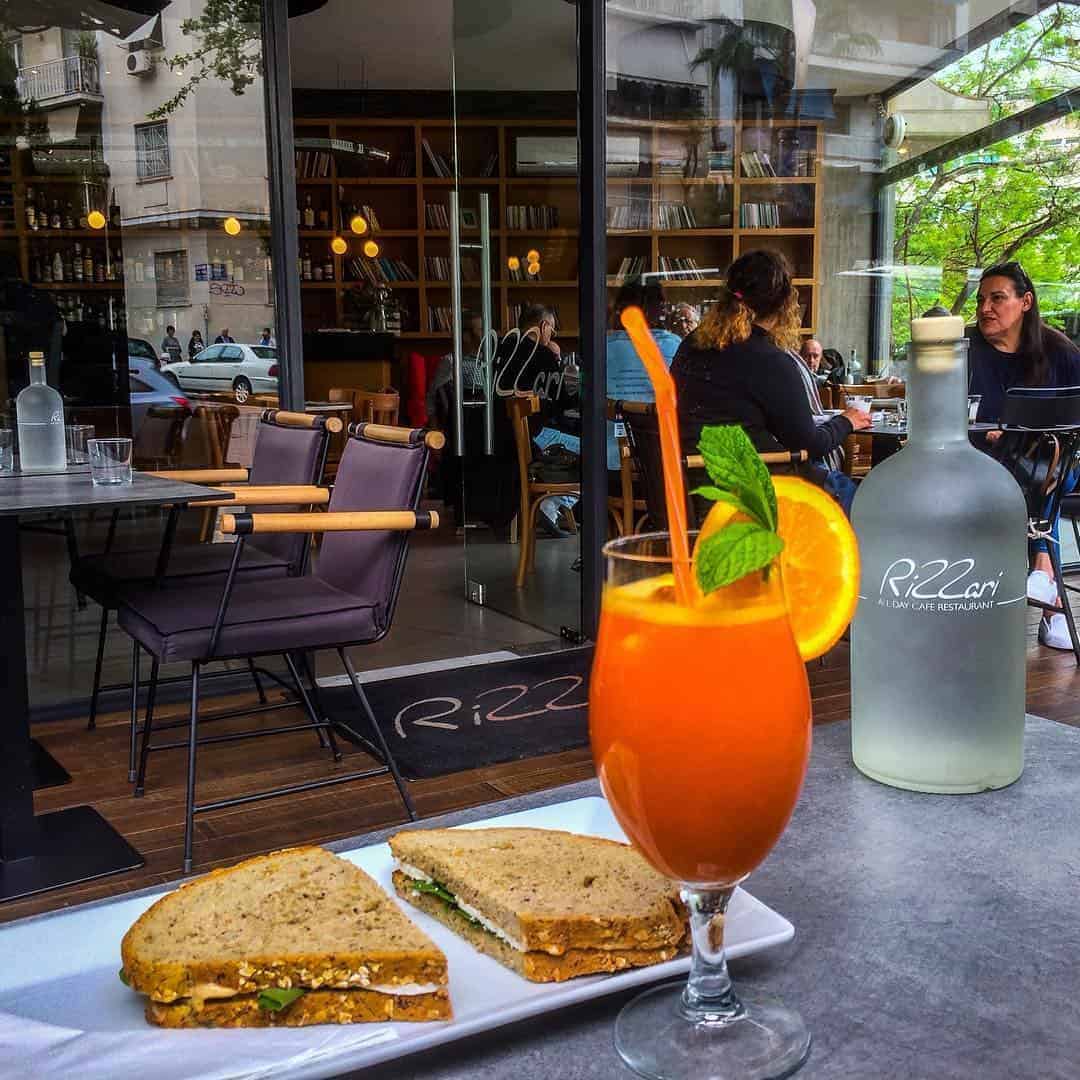 Where: Rizzari 22, Athina 116 35
Close to Evangelissmos metro station, Rizzari is a cute coffee shop that is designed like a library. Sink down into the comfort of one of the ornate old armchairs that sit beneath the bookshelves.
The beauty of Rizzari is that it is a place where you can spend many hours unwinding on a relaxing afternoon. You will find older locals whiling away the afternoon reading a good book, and students and entrepreneurs working on their laptops. 
Rizari attracts an elegant crowd. Come nightfall, the place is illuminated by candlelight and the coffee menu is replaced with wine lists serving exquisite Italian vino, and a selection of classic and contemporary cocktails.
Medez Cafe & Bar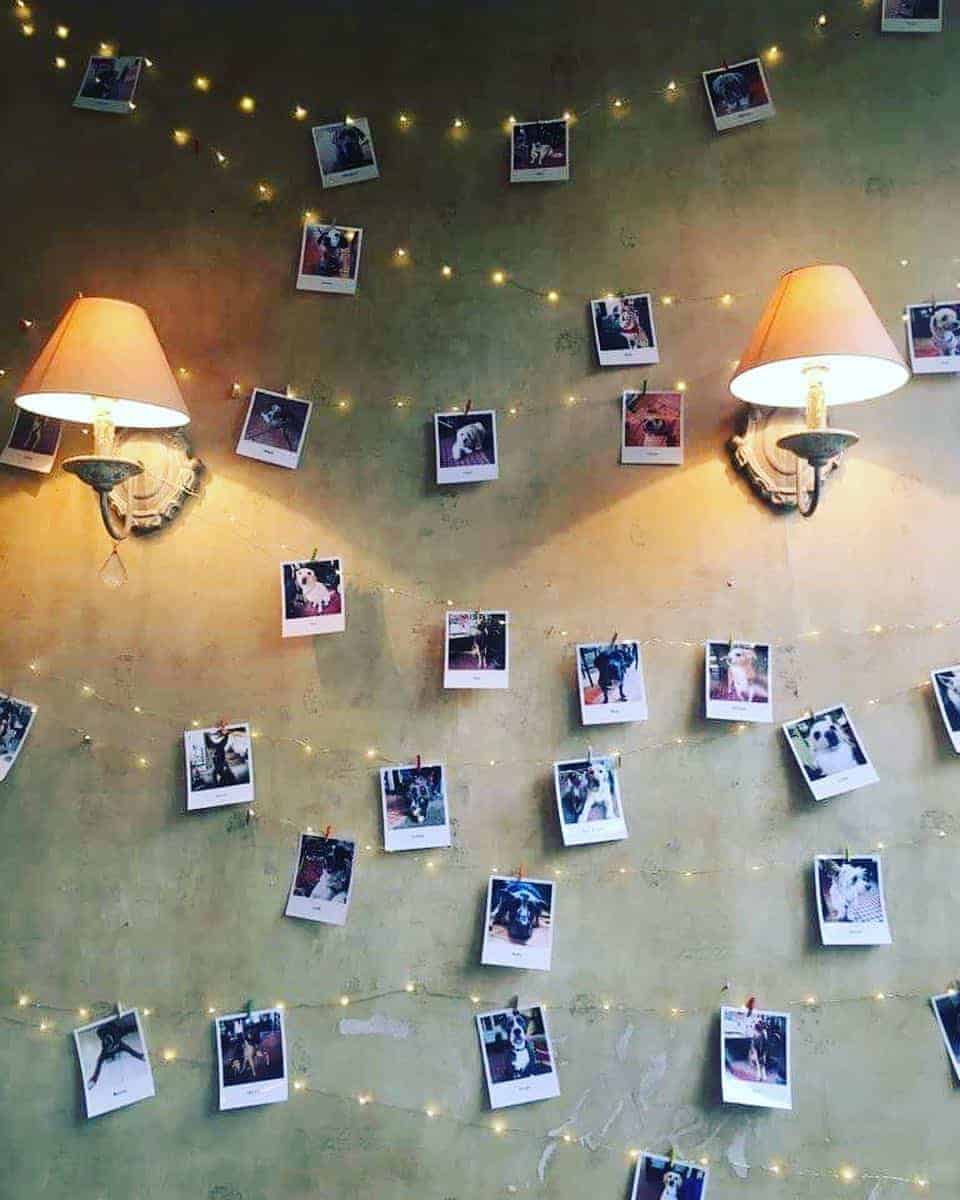 Where: Frinis 2, Athina 116 34, Greece
The atmosphere at Medez is reminiscent of visiting the home of an eclectic, kooky relative that collects obscure things from around the globe. The coffee shop has a cosy atmosphere that makes you feel as though you are sipping your cappuccino in a friend's living room.
Comfy, oversized armchairs and an array of weird and wonderful knick-knacks make for a charming atmosphere. 
Medez also hosts outdoor covered seating from where coffee aficionados can enjoy watching the sights and sounds of Athenian street life. Live bands and local Greek singers often perform within the tiny main room here in the evenings.
Hotel Chelsea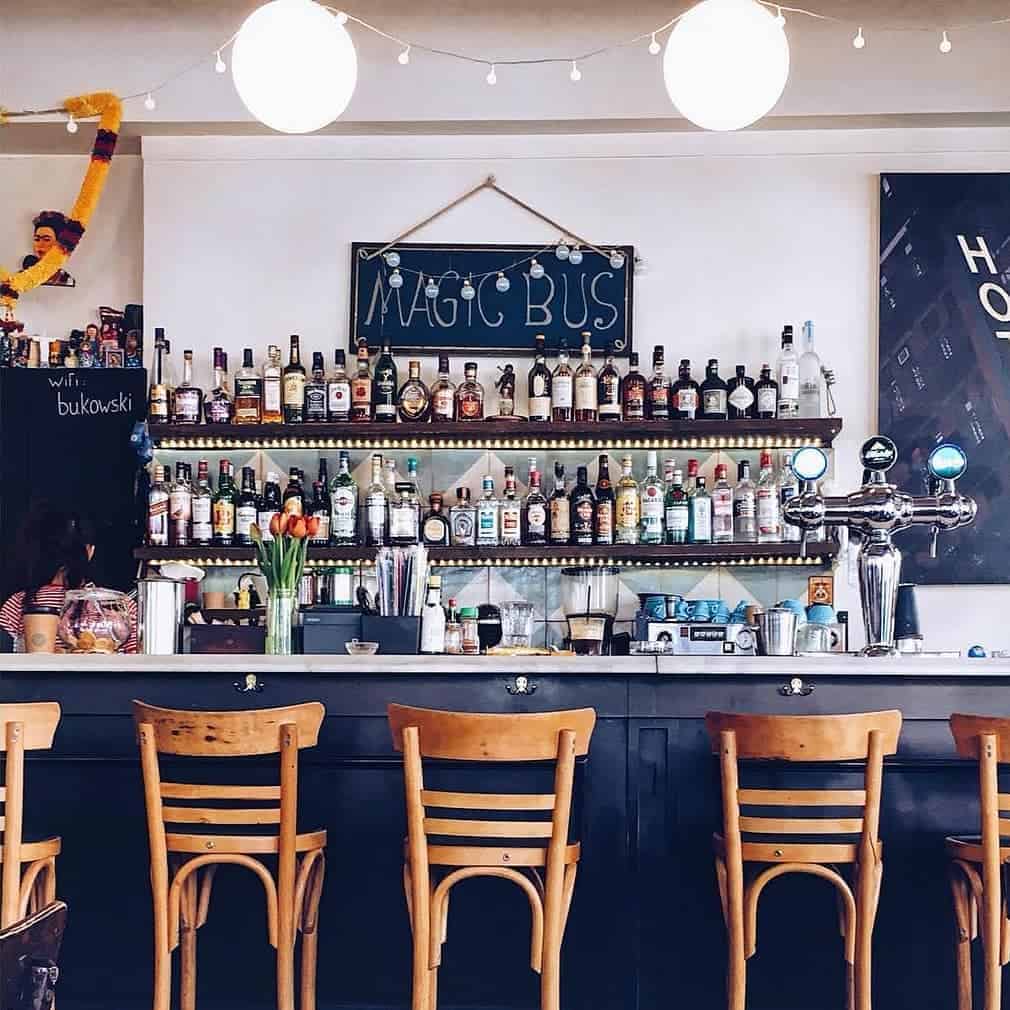 Where: Archimedes, and Proklou
Hanging out at Hotel Chelsea is kind of the "in thing" for young, hip Athenian locals. Affectionately named after the notorious New York hotel of the same name, it's rare to stop by Hotel Chelsea and not see colossal crowds. The place is always so crowded that youngsters are often spilled out into the streets surrounding Chelsea, standing in the roads and holding their glasses of wine.
The bohemian decor reflects Chelsea's crowd. Sit on cushions on the floor beneath the fluttering Nepalese prayer flags. Sure it's busy, but it's worth stopping by for the atmosphere and the chance to mingle with the locals if you are able to find a table.
Metz
Where: Mark. Mousourou 63, Mets
Metz coffee bar is situated on a leafy green promenade in the Mets – an extension of Pagrati. Its unsuspecting location means that only those that know of this place are likely to come here. Surrounding Metz coffee there are just residential buildings and green open parks. This is as far from the tourist trail as it gets.
The tranquility of the area is one major plus point for opting to indulge in your cake and latte at the Metz. The most wonderful thing about stopping by here though is the musical atmosphere.
Jazz, bossa nova and blues rhythms echo through the building adding a pleasant background soundtrack. On Saturday and Sunday afternoons, live jazz performances often take place here. Oftentimes, spectators are handed an instrument and encouraged to join in the jam session.
The Best Bars in Pagrati
New cocktail bars and speakeasies are constantly opening up in Pagrati. You will find many of these spots tucked away down the most unsuspecting of sidestreets.
Frater & Soror
Where: 6 Amynta, Proskopon Square, Pangrati
Frater & Soror is a new face on the Pagrati nightlife scene. This snug little bar is a popular haunt on Friday and Saturday nights when patrons spill out onto the surrounding streets. 
The bar, whose name is short for "fraternity & sorority" specialises in gin concoctions. There is also a "secret" restaurant hidden away in the basement named Phi Beta Kappa which is operated by Chef Dimos Balopoulos. Phi Beta Kappa serves "high end" Bistrot food and hearty brunch dishes. 
Pink Freud 
Where: Archelaou 7, Athina 116 35, Greece
Pagrati's Pink Freud is a cosy place to study with a coffee or stop for an evening drink with friends. The bar attracts a crowd of students and intellectuals and boasts moody lighting and industrial-style decor. 
The atmosphere is homely and casual, making Pink Freud a wonderfully non-pretentious place to stop for an evening tipple after the end of a long day's sightseeing.
Arbaroriza
Where: Eratosthenous 33, Athina 116 35
If there was a "go-to" Friday night spot to enjoy the best cocktails in the neighborhood, Arboriza would be it. This place is especially popular during the summer months when revelers can sit outside on the terrace.
Sit beneath the trees of Arboriza that are illuminated by fairy lights and watch life go by before venturing into the city and enjoying more Athens nightlife. 
Things to See and Do in Pagrati
Far from the main Athenian shopping streets at Syntagma and Monastiraki, Pagrati's wonderful, yet unpretentious shopping scene has a little something to offer everyone.
Shop for Edible Souvenirs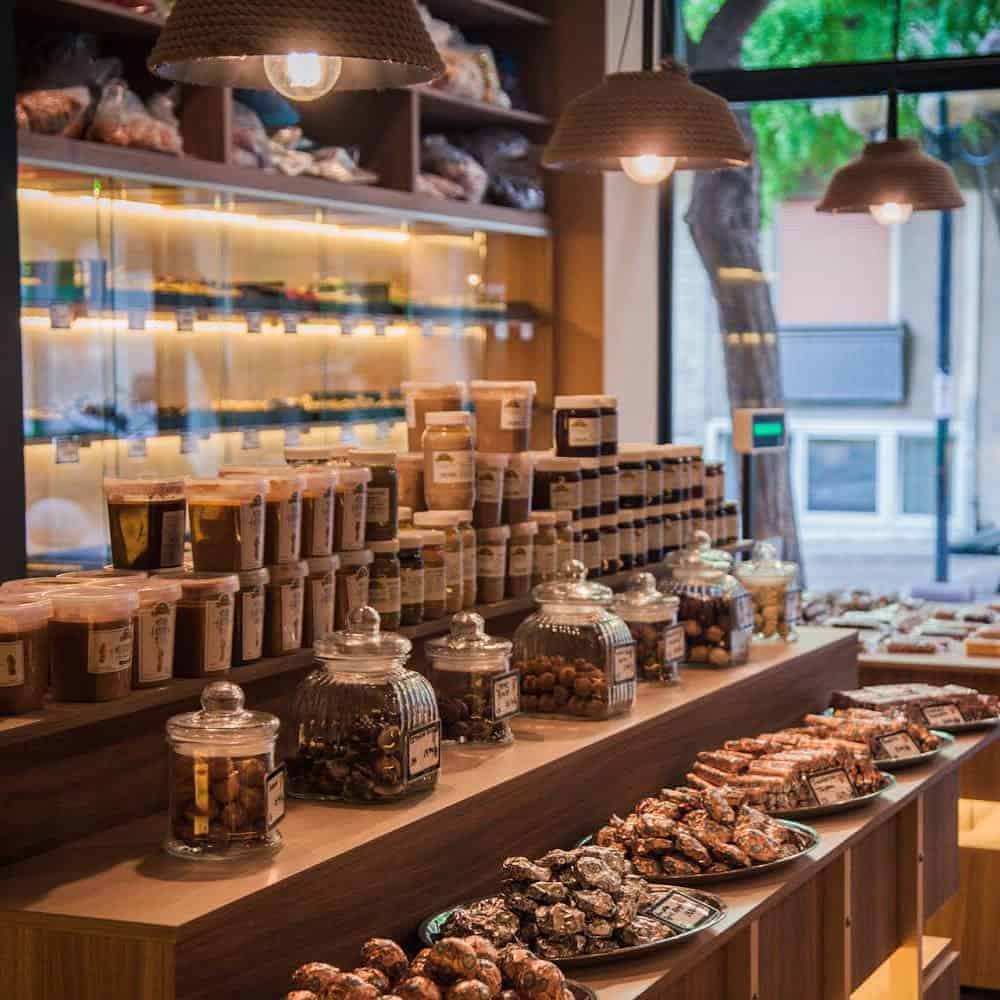 Those interested in sampling and buying Greek agro products will enjoy sampling the exquisite quality wines, nuts, dates and delicatessen items at Oliver – a local artisanal food store. This is the perfect place to pick up thoughtful, edible souvenirs from your trip to Greece.
If your trip coincides, it's also worth stopping by the weekly laiki (farmer's market) that is hosted every Tuesday from 8 am until 3 pm at Laskou V and provides an interesting insight into local life.
Shop for Vintage Clothing
Vintage products from the most notable designers in fashion history (Chanel, YSL, et al) can be found at the vintage stores on Rizari and Spirou Merkouri. For unique "one-of-a-kind" items and accessories that have been lovingly designed by local independent designers, head to Hremonidou and Filolau.
Unearth the Pagrati Art Scene
As a popular stomping ground for artists and creatives, it makes sense that Pagrati would have a vibrant art scene. Art lovers and collectors can check out the galleries at Titanium Yiayiannos Gallery and Art Zone 42 – both of which feature ever-changing contemporary art exhibits.
At Chalk of the Town, a more hands-on approach to art is offered. This cute little arts and crafts shop not only sells artsy products but here, aspiring artists can engage in practical workshops or take lessons to hone their artistic talents.
Visit the Old Olympic Stadium "Kallimarmaro"
The old marble Olympic Stadium (Kallimarmaro) is a must while in Athens. The stadium dates all the way back to 144AD and is the only structure of its kind in the world. Admission is just 4 euros and contains the entrance to the Olympic museum inside which showcases the Olympic torches from around the world.
Where to Eat in Pagrati
Pagrati is developing a growing presence on the Athenian food scene. From fine dining to traditional tavernas and fast food, Pagrati has something for everyone.
Mavro Provato
Where: Arrianou 31, Athina 116 35, Greece
Mavro Provato is quickly establishing itself as one of the best restaurants in Athens. Diners flock here from across the city to sample the dishes from the restaurant's innovative menu.
Mavro Provato translates to "black sheep" in English. The dishes here place a modern twist on Greek contemporary classic recipes. You can opt to enjoy the main dishes, or order up a selection of meze plates.
Spondi
Where: Pirronos 5, Athina 116 36, Greece
Elegant Spondi is a two-star Michelin restaurant in the heart of little Pagrati. Spondi offers an interesting fusion between Mediterranean and French cuisine, combining flavors that appear to be obscure pairings, yet somehow just work. Reservations here are highly recommended, especially on weekends.
Byzantino Restaurant at Hilton Athens
Where: Leof. Vasilissis Sofias 46, Athina 115 28, Greece
The Byzantino restaurant sits on the ground floor of the Hilton Athens hotel. This light, spacious eatery has been a popular rendezvous point for sophisticated Athenians for several decades. 
The menu has been compiled with love by resident chef George Kaperdas. Dishes change periodically to make the most of seasonal ingredients.
Expect to see a range of traditional Mediterranean and Greek classics served with a modern twist. Think pasta masata from Folegandros prepared with marinated beef, black truffles, mushrooms, and kefalotiri cheese.
Elvis Souvlakia
Where: Archimidous 1-5, Athina 116 35, Greece
For the best souvlaki in town, head to Elvis Souvlakia -  a takeout joint dedicated to the King which borders the bustling Hotel Chelsea. For kebabs, gyros, and pittas that the locals are happy to queue around the block for, head to Babadan - my personal favourite.
Vasilennas Restaurant
Where: Vrasida 13, Athina 115 28, Greece
Those wanting to treat themselves to lavish dining during their Athens vacation should head to Vassilenas - an exquisite fine dining restaurant that has been passed down through the generations of a local family for centuries. Vassilenas prides itself on its selection of local wines and freshly sourced ingredients that work together to offer a truly decadent menu that is so quintessentially Greek. 
Vasilennas acquired an envious following over the years. Even the likes of Sofia Loren, Winston Churchill, and T.S. Elliot have dined here. The initial restaurant premises were in Piraeus, but Vasilennas moved to Pagrati in 2016. 
Designed by honorable Greek architects Andreas Kourkoulas and Maria Kokkinou, the new premises boast a more contemporary, artistic vibe that makes way for a new era of Vassilenas fans and celebrities. Visitors can opt to enjoy a la carte dining, seasonal lunch menus, or wine pairings organised by the resident Sommelier.  
Where to Stay in Pagrati
Pagrati is one of the best areas to stay in Athens if you are seeking a local experience. Pagrati is mostly residential, so the hotels detailed here fall on the outskirts of Pagrati in the nearby Hilton district.
A selection of the best hotels around Pagrati are detailed below. There is something here for every budget.
Hilton Hotel Athens (Luxury Pick)
The Hilton Hotel is the definitive luxury choice in Athens. Rooms here are contemporary, modern, and stylish. 
Guests can enjoy magnificent views from their private balconies and watch as the Acropolis is illuminated by dozens of twinkling lights. The Galaxy Lounge that is perched at the top of Hilton Athens is considered one of the best rooftop bars in the city. You can check the latest rates and availability here.
Zappion Hotel (Mid-Range Pick)
Zappion Hotel is a great choice for exploring Athens and Pagrati on a budget. The hotel's location places you just a stone's throw away from the National Gardens and the Panathenaic Stadium. 
Rooms start from just $45 per night and are spacious, clean and comfortable. You can browse the latest rates and availability here.
Ilisia Hotel (Mid-Range Pick)
The charming Ilisia hotel offers style and luxury without the luxury price tag. Ilisia Hotel is situated close to Evangelismos metro station. Dozens of coffee shops and restaurants are right on your doorstep here and the city centre can be reached within 10 minutes.
The homely, shabby chic rooms have been decorated with a tasteful neutral palette. Rooms start from $60 per night. Click here for the latest rates and availability.
Alternative Accommodation in Pagrati 
If you are looking for a self-catered or Airbnb accommodation then you will not be short on options in Pagrati. 
There are two main streets that run through Pagrati – Filolaou and Ymittou. Filolaou is essentially Pagrati's high street. The perfect place to stay in Pagrati is one of the streets that just veer off Filolaou.
This places you right on the doorstep of all of the bars, coffee shops, and stores. There are plenty of short term rentals and Airbnb apartments in Pagrati. (Click here to get $40 off your first Airbnb booking).
Nearby, you can also opt to stay in the quiet, leafy residential neighborhood of the Mets, or in Vyronas. Both are essentially extensions of Pagrati and offer plenty of pleasant places to hang out.
Is Pagrati Safe?
Pagrati is a very safe neighbourhood. Even if you find yourself walking along Filollau at night, you will still see signs of life at every angle. 
Coffee shops in Pagrati are open until around 10-11 pm. In the evenings, locals sit outside tavernas chatting and tsipouro, and older couples go on walks up until as late as 2-3 am. Pagrati is one of the safest, and most traditional Greek neighbourhoods in Athens.
Getting to Pagrati
Pagrati is fairly central. It takes approximately 25 minutes to get here on foot from Syntagma square. The easiest way to get to Pagrati is to take the number 4 tram which departs from Syntagma and runs to the Panathenaic stadium. 
Evangelismos (Metro Line 4) and Agios Ioannis (Metro Line 2) are both very close to Pagrati. Within a 5 minute walk from either station, you will find yourself in the centre of Filolaou. Evangelismos station arguably puts you in a better position to venture to the bars, restaurants, and coffee places enclosed on this list.
Did you enjoy this Pagrati guide? Have you visited? Let me know in the comments below. I live here in Athens and I'm happy to help with any Greek travel queries you may have.
Disclaimer: This Pagrati Athens guide may contain the occasional affiliate link. In other words, if you book a tour or a hotel through some of the links here I will obtain a small amount of commission at no extra cost to you. This helps me to continue producing free Travel Guides and resources here. Thanks for understanding. 
---