Is Athens safe to visit in 2023 and beyond? The short answer is that yes, the Greek capital is a very safe place to visit provided that you use the same common sense precautions you would use when visiting any other major city.
It's true that Athens looks a little grittier than a lot of European capitals but that definitely doesn't mean it's more dangerous. There are a few areas that are a little rougher around the edges and where you need to exercise increased precautions, but that is the case in most places around the globe.
Generally speaking, if you've been to any major city anywhere in the world, you will get by just fine in Athens and have a wonderful time during your trip.
Obviously, safety is a very personal thing and it is often a lot more complex than just a simple yes/no answer. This article has been written by a local that has been based in Athens since 2017 and knows the city like the back of her hand. It has not been written by someone who simply passed through just once.
Rest assured, you are in good hands here. 😉
Is Athens Safe to Visit in 2023?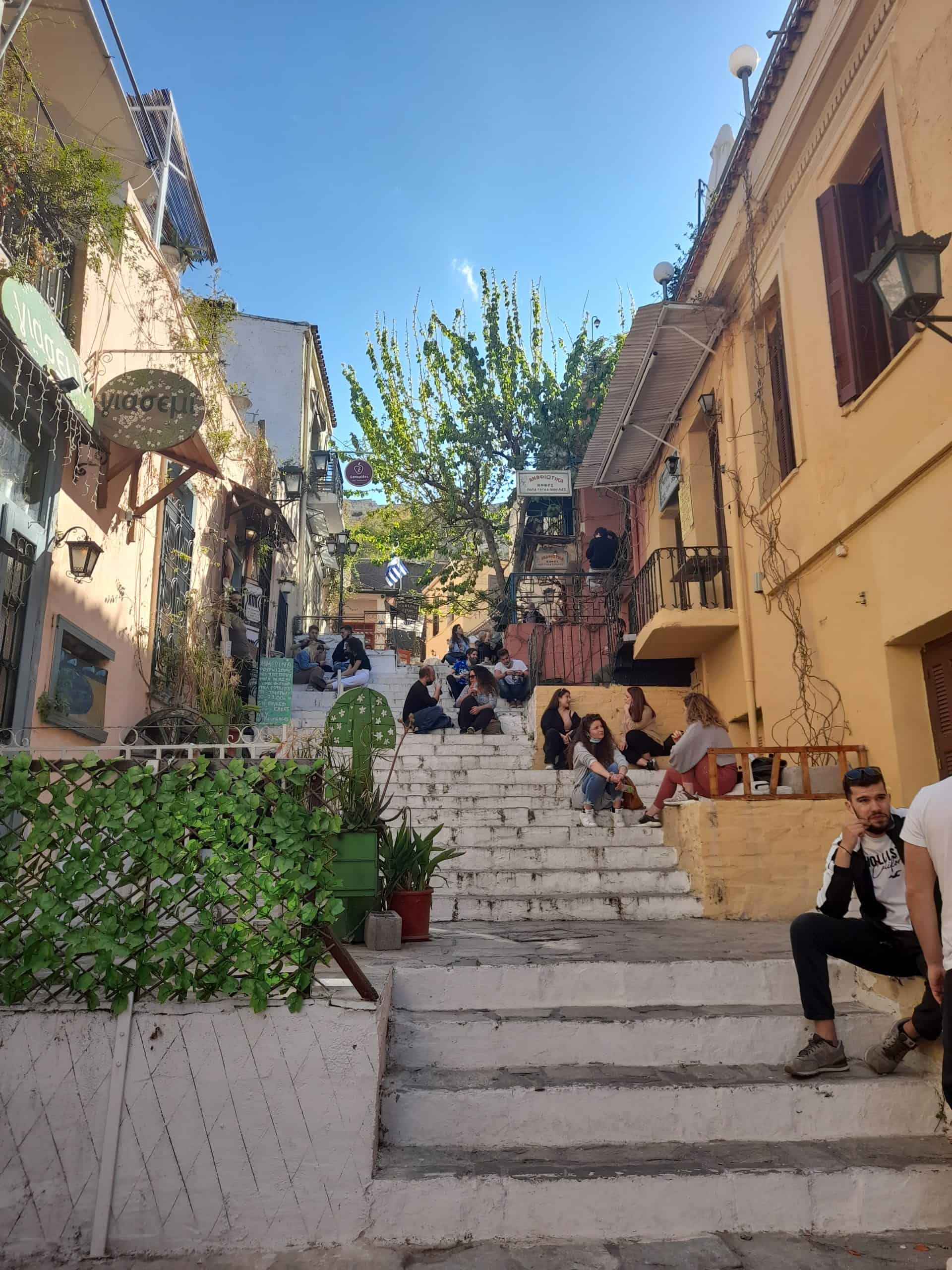 Athens is arguably one of the most underrated cities in Europe.Athens is arguably one of the most underrated cities in Europe. It offers a wonderful blend of old meets new with its world-famous archaeological sites, contemporary museums, a varied nightlife scene, incredible Athenian restaurants, and modern city living.
More than 30 million tourists visit Greece every year and most visits to the country are trouble-free and memorable for all the right reasons. Violent crime is very low across Greece on the whole and things like homicides, assaults, or property/vehicle break-ins are uncommon.
As a tourist, the main thing you should be aware of is petty theft/pickpocketing, although there is plenty of guidance to help you avoid being a victim of such things in this article.
Crime ratings in Athens, Greece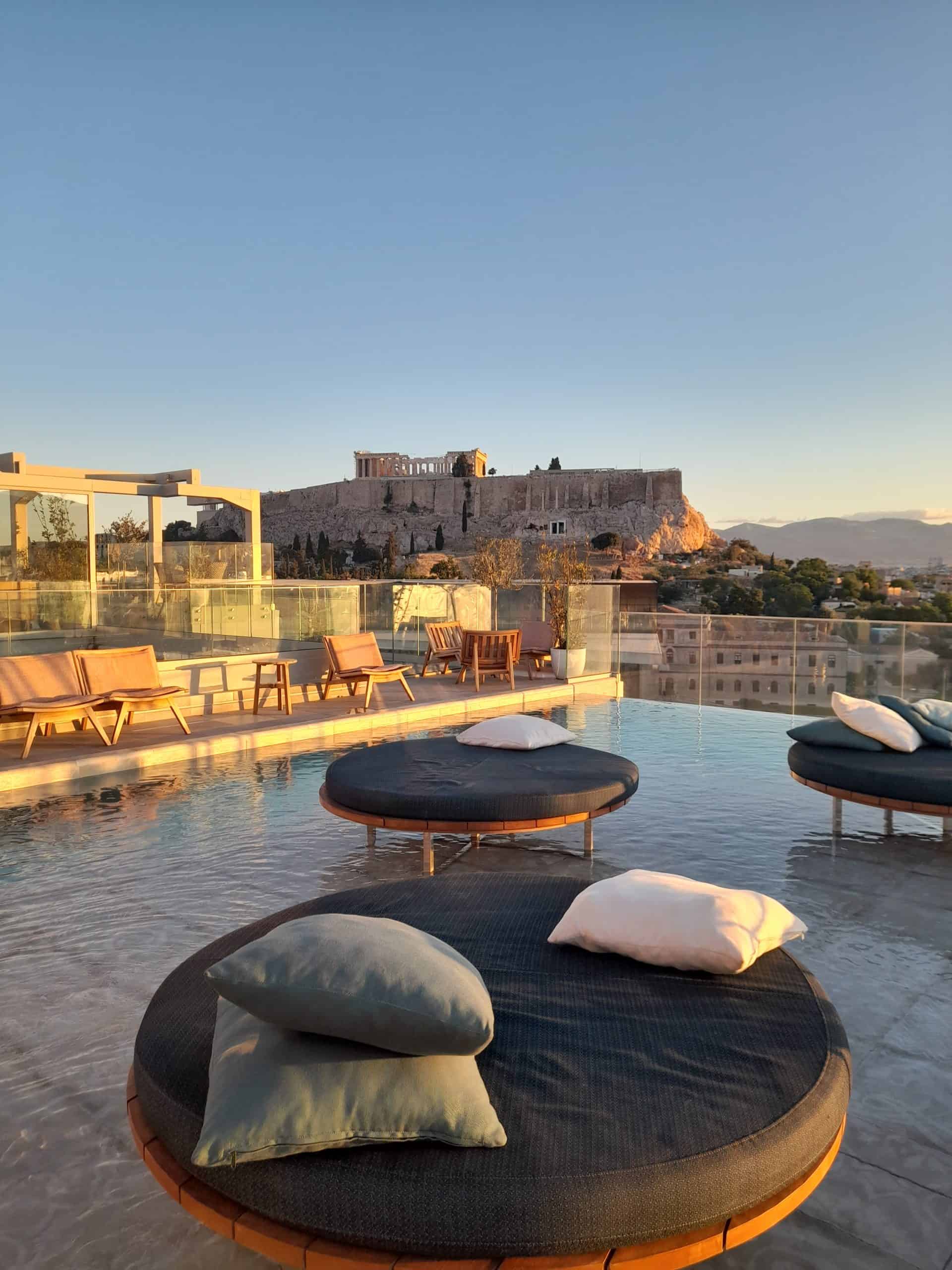 If we want to understand how safe a destination is, it helps to start by looking at crime statistics. Crime rates in Greece have been in decline since 2010 and have dropped substantially in the first half of 2023.
The Numbeo statistics website offers a look at crime rates and the perception of safety in different cities around the globe, based on opinion polls conducted with local residents. Each city is awarded a safety rating from 0 to 100 where 0 feels very safe and 100 feels dangerous.
Similarly, each city is given a crime rating from 0 to 100 where 0 means there is no crime, and 100 means that crime is a major concern. Athens has a safety rating of 44.34 which is pretty good for a large city that is home to 3.15 million people.
It has a crime rate of 55.66. Locals state that they feel very safe walking around Athens alone, although they are concerned about an increase in crime over the last three years.
Petty crimes and corruption are a concern. (Corruption is a major issue in Greece but it is unlikely to affect you as a tourist).
For a better frame of reference, we can compare Athens' safety ratings to other global cities. London has a crime rating of 55.66 and a safety rating of 44.34.
Los Angeles has a crime rating of 52.72 and a safety rating of 47.28.
It is also a good idea to check your country's government travel advice before travelling to a new place. The U.S. Department of State recognises Greece as a low-risk country to travel to and the UK Foreign Travel Office does not flag any reasons for concern in Athens.
Petty theft in Athens Greece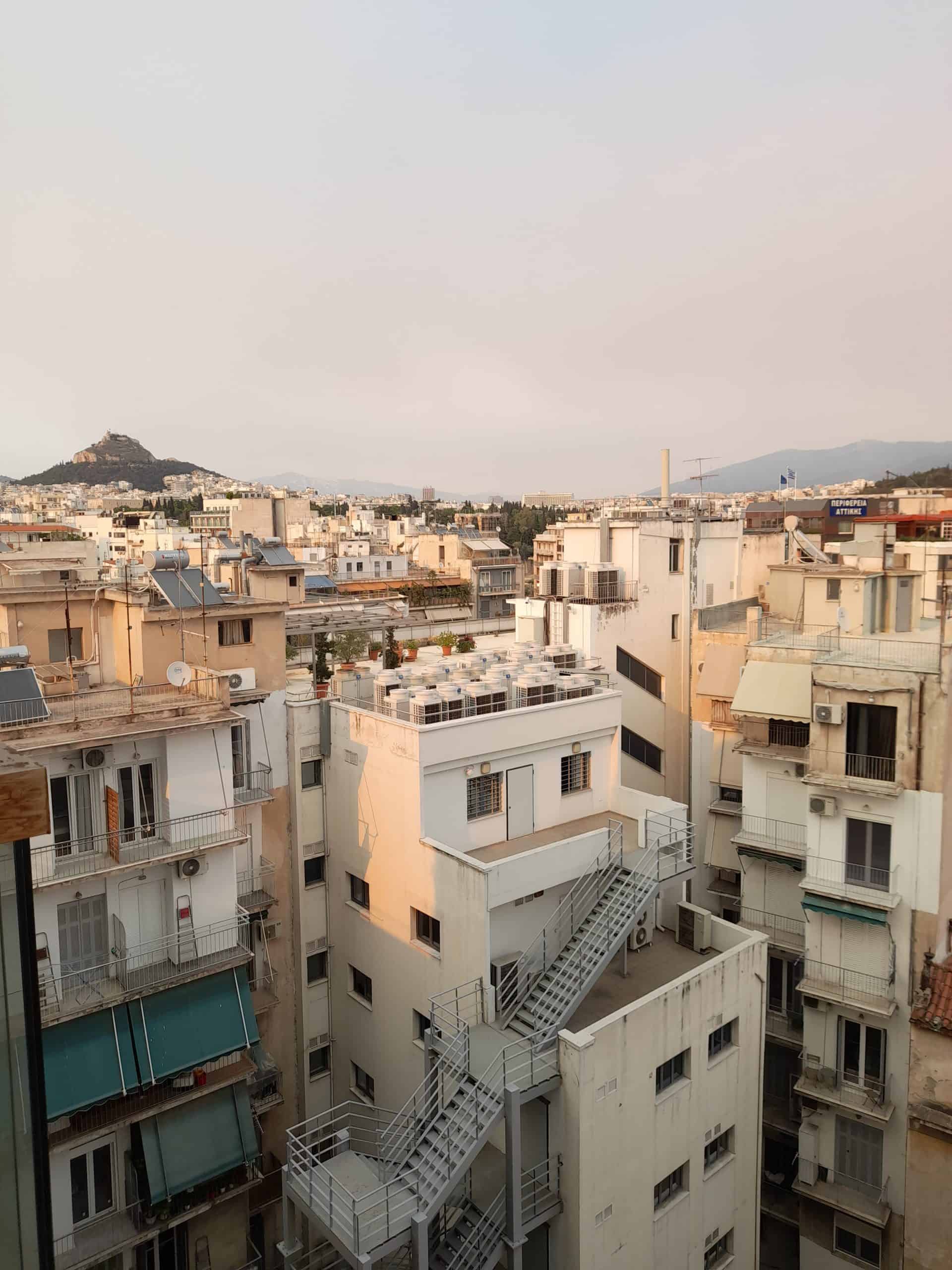 The biggest risk for tourists in Athens is the risk of being a victim of petty crime like pickpocketing or theft. A lot of opportunitists operate on the metro and in crowded areas like the Monastiraki Flea Market so it is important to always be careful with your personal belongings.
I am always hearing of tourists having their phones stolen from their pockets or their backpacks and one of my friends lost three different phones in the course of just one year living in Athens! Conversely, I have been living here for years and have (*touch wood*) never been a victim of a crime or petty theft.
This is perhaps because I am always hyper-vigilant and aware of my surroundings and you should be too. The metros that pass through Omonia and the northern suburbs are particularly notorious for pickpockets so always be on alert.
Keep your phone, valuables, and expensive electronics like your DSLR camera zipped up in your bag, and your bag on your knee or in front of you rather than slung over one shoulder. Don't keep your wallet or your phone in the back pocket of your trousers where someone can easily grab it and run off.
Don't leave your things alone in cafes, etc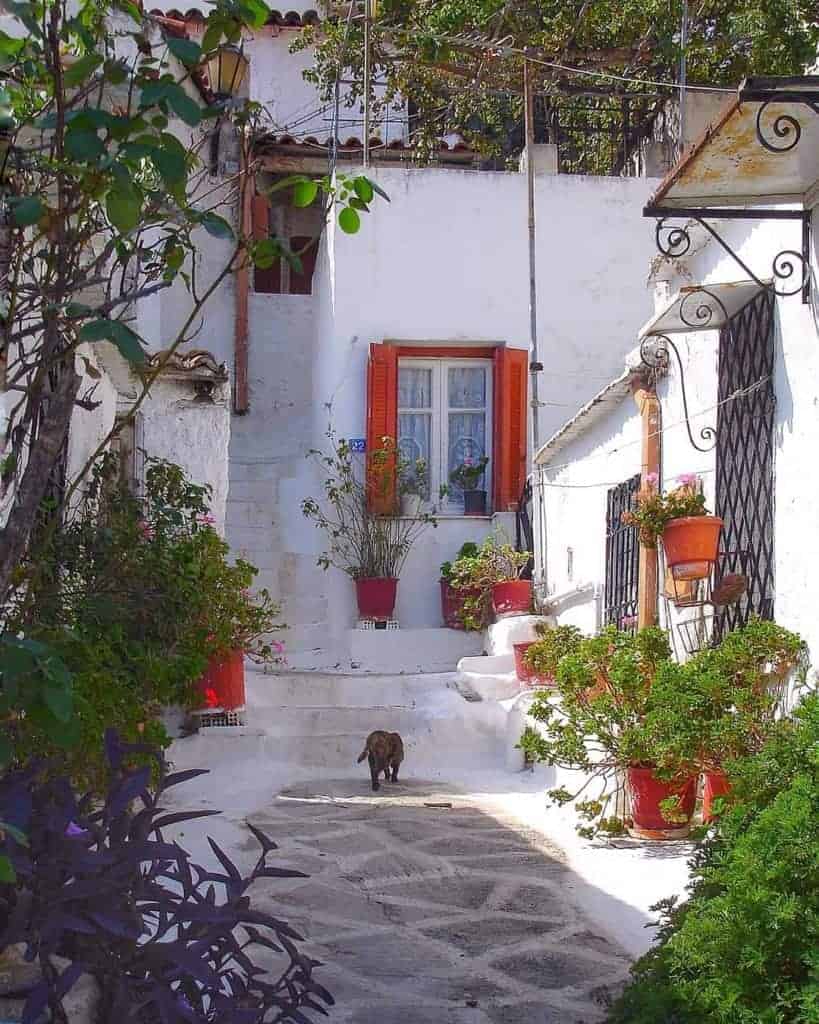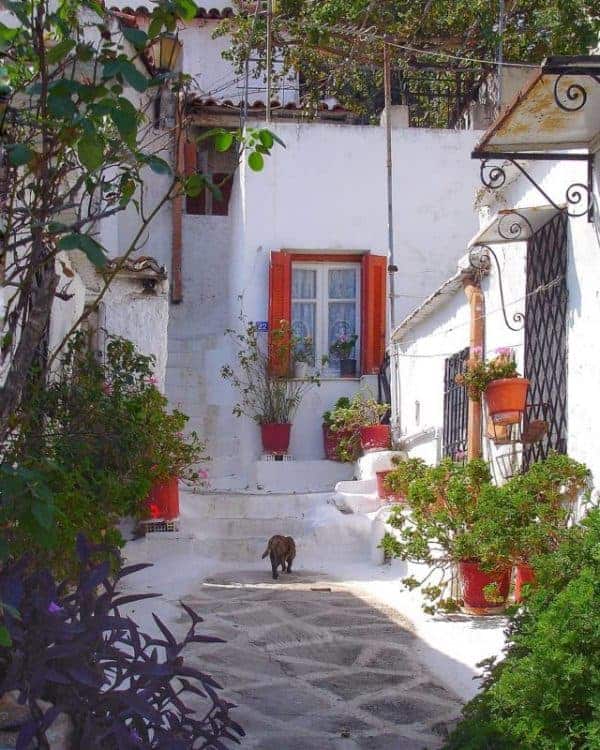 In a lot of coffee shops, restaurants, and cafes in Central Athens, you might find that people beg you for money or try and sell things like pencils, etc for a few cents. They are generally just trying to make a living and get by but some unsavoury types loiter around too so you should never leave your expensive sunglasses, iPhone, etc just laying on the table.
If you work inside a coffee shop or coworking space, always take your laptop and personal belongings to the bathroom with you. Don't rely on a random tablemate to keep an eye on them for you.
Neighbourhoods where you need to be careful in Athens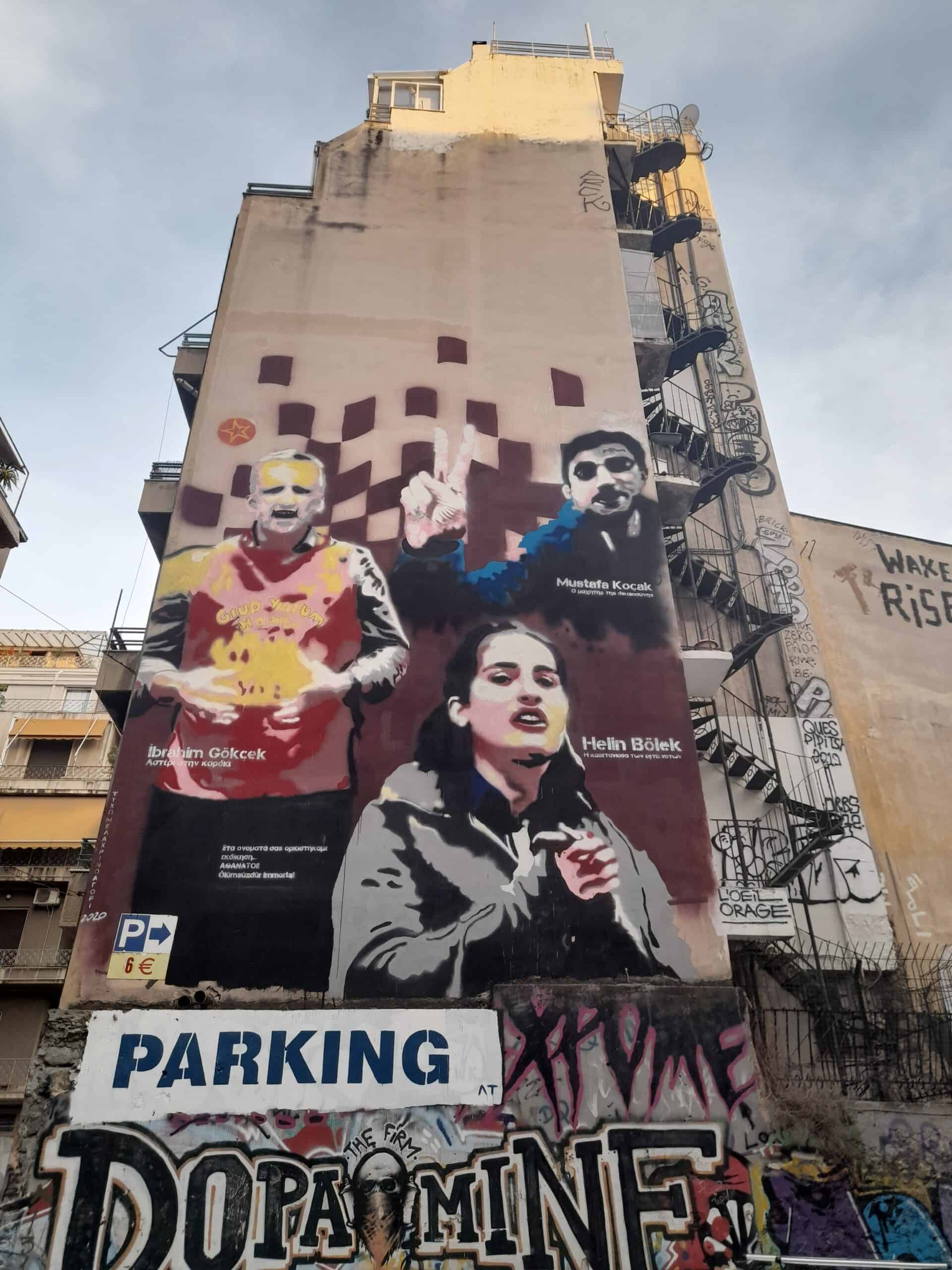 Some Athens neighbourhoods are safer than others and there are definitely parts of town where you need to be more careful. These are listed below.
Exarchia


Metaxourgio


Omonia


Sepolia


Patissia and Ano Patissia


Monastiraki (by night)
Exarchia Athens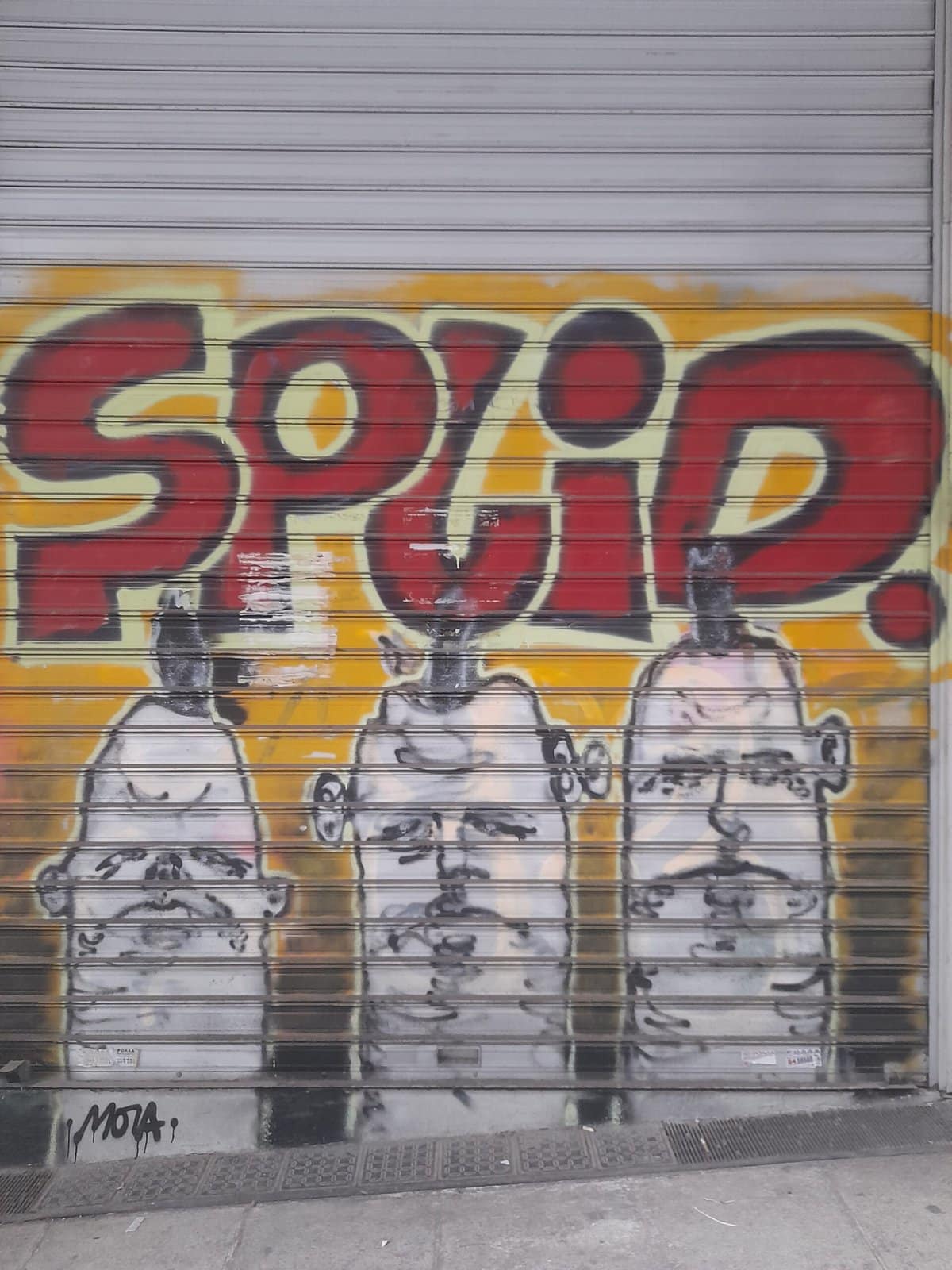 Exarchia is a cool alternative district that is known for its vibrant, politically-motivated street art, rock bars, and second-hand stores selling books, and vinyl records.
A lot of tourists aren't even aware of it so they don't take the time to stop by. If your schedule allows, you should definitely pass through, grab a coffee and check out the street art.
However, Exarchia also has links to anarchist groups and a lot of clashes between leftist groups and the police have happened here over the years, some of which have turned violent.
The Athens Polytechnic uprising took place here in 1973 and an unarmed Greek teenager was shot here by a Greek Policeman in 2008. Although these events happened a long time ago, riots usually take place on the anniversaries of these dates every year and tear gas and Molotov cocktails are often thrown by police and rioters.
(As long as you avoid those dates, you should be fine. Although I wouldn't recommend wandering around Exarchia alone at night either).
A couple of years ago, Exarchia was a lot worse but today, a lot of hipsters and students from the nearby Athens Law School come here to hang out and drink beers so it has changed a lot. Prior to the pandemic, the police wouldn't set foot here but now you will often see police bikes and cars passing through.
Omonia Athens
Omonia is home to a lot of refugees and while refugees aren't to blame for crime in Athens, people in desperate circumstances that don't know where their next meal is coming from are perhaps more likely to be driven to desperate measures. This is not a nice area of Athens even during the day, but it is especially sketchy at night.
There have been instances of muggings and pickpocketing, including instances where the tourists have been beaten/physically harmed. There are some low-cost accommodation options in this area but you should get a cab back to your hotel if you are going out at night.
During the day, you can cut through Omonia to get to Athens Central Market but you should still watch your things.
Metaxourgio Athens
Metaxourgio Athens was once a thriving industrial district of Athens but once a lot of the factories and warehouses in the area started to close down, it became a bit of a no-go zone that saw a lot of crime, drug dealing, and solicitation. In the last few years, the lower rents in the area have started to attract artists and creatives who have opened independent art galleries and boutique stores.
Similar to Exarchia, a lot of thought-provoking street art murals have sprung up in Metaxourgio in recent years. During the day, this area is okay (it is not the most beautiful part of town but the art work is pretty cool).
You should avoid Metaxourgio at night and take a taxi back to your hotel if you are staying nearby.
Avoid Filopappou Hill and Athens parks at night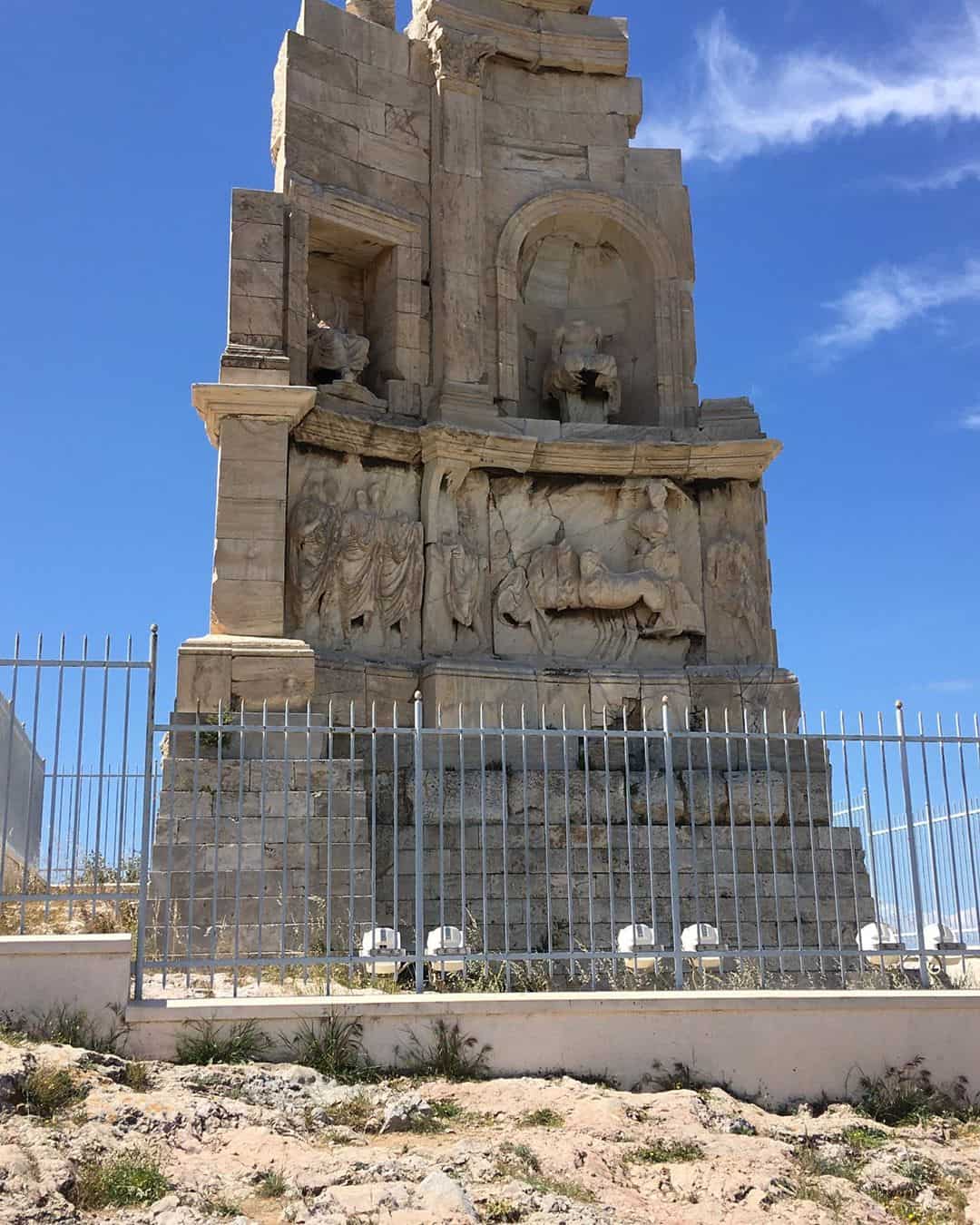 Filopappou Hill is a gorgeous wooded area that awaits off the pedestrianised boulevard of Apostlou Pavlou, close to the Athens Acropolis and the Ancient Agora. It's an underrated place to spend an afternoon and is home to some interesting sites.
For example, the quaint church of Agios Dimitrios Loubardiaris, Socrates Prison, and the impressive marble Filopappou monument that was built in honour of Roman-Greco Commander Gaius Julius Antiochus Philopappos. Since the Parthenon sits on the opposite hill, you can get great photos of the Acropolis from up here, and the spot is perfect for watching the sunset.
This area is perfectly fine in the day but you want to leave after dark as there have been a few incidents in recent years with tourists being robbed at knife-point. A few people I know personally have been robbed and a few years ago, muggers pushed someone off the cliff.
This is not to scare you, but a lot of quiet parks and wooded areas in any country are not safe at night. Incidents don't happen constantly but for your safety, it is better to only visit during the day.
Similarly, you should avoid the Athens National Gardens after dark as it has become something of a rendezvous point for anonymous adult encounters if you know what I mean. It could be an uncomfortable place to walk through when the sun sets.
Taxi scams in Athens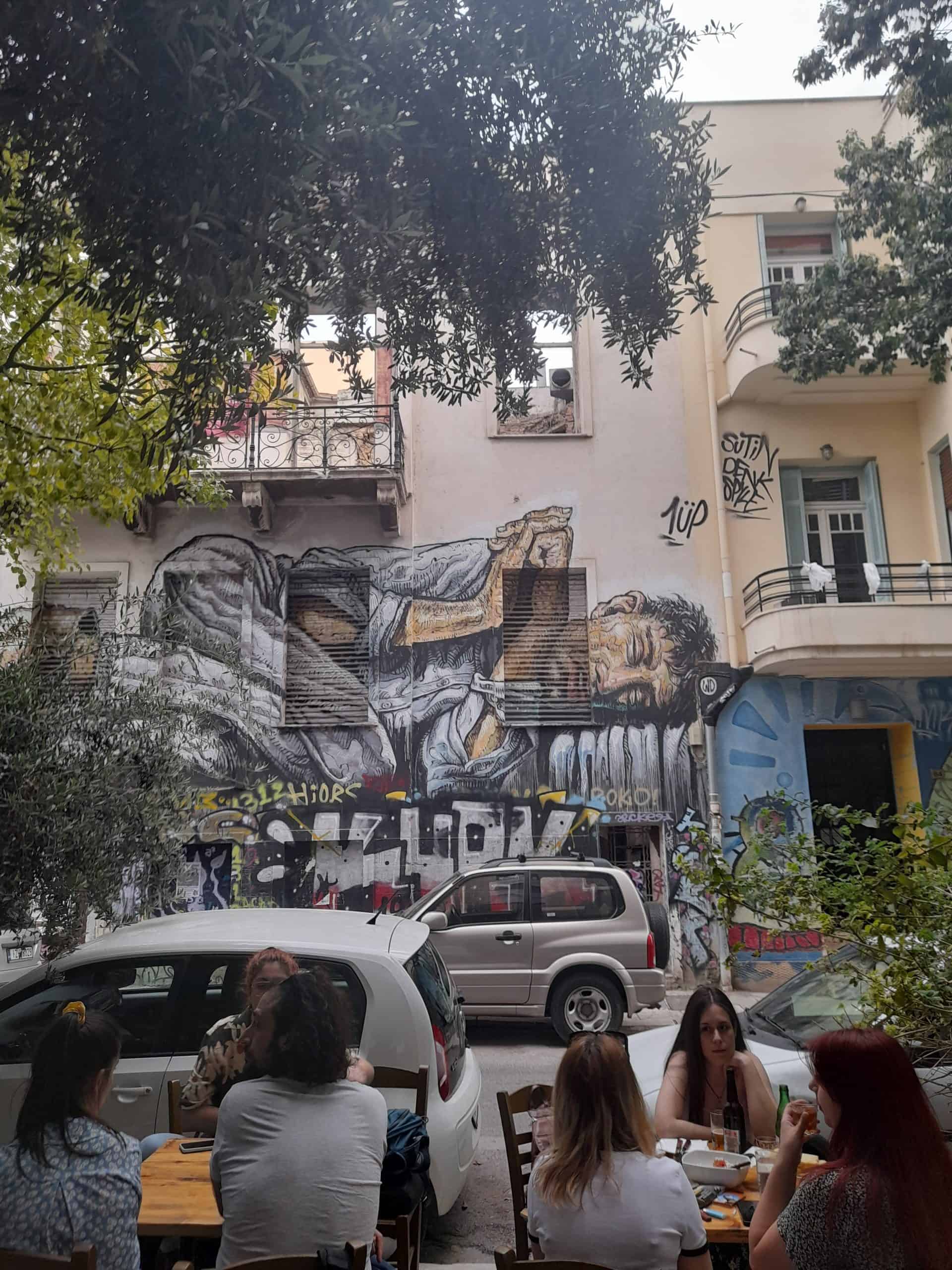 Taxi scams can be a nightmare in Athens and the local authorities have tried to crack down on this a lot in the past few years. Cab drivers are often a law unto themselves the world over and Greece is no different.
When cab drivers see that you are a tourist, they may make up a price on the spot, drive without turning on the meter, take you on a roundabout route around town, or give a heavily inflated quote. Travelling across Athens by cab is very cheap.
You can get a cab from the southern neighbourhoods of Vyronas, Kaisariani, Pagrati, and the Mets to the city centre for around €5-6. Cabs from Sepolia and Attiki to the centre should cost no more than €10.
From Athens Larissa train station to Thissio/Monastiraki, you are looking at a price of around €10, and from Athens airport to the city centre, there is a day rate of around €40 and a night rate of €55.
Drivers will often take tourists 5-10 minutes across town and claim it's a €25 fare when it is actually €5-10. That's not a marginal difference.
Even though the cabbie is in the wrong, they will often get enraged and start a public shouting match if you call them out. For this reason, you should always, always insist that the cab driver turns his meter on.
It helps to have a rough idea of the route you should take and the price. If someone tries to trick you, you can insist that they take you to the local police station.
That threat is usually enough to make them come clean.
Download the BEAT Taxi App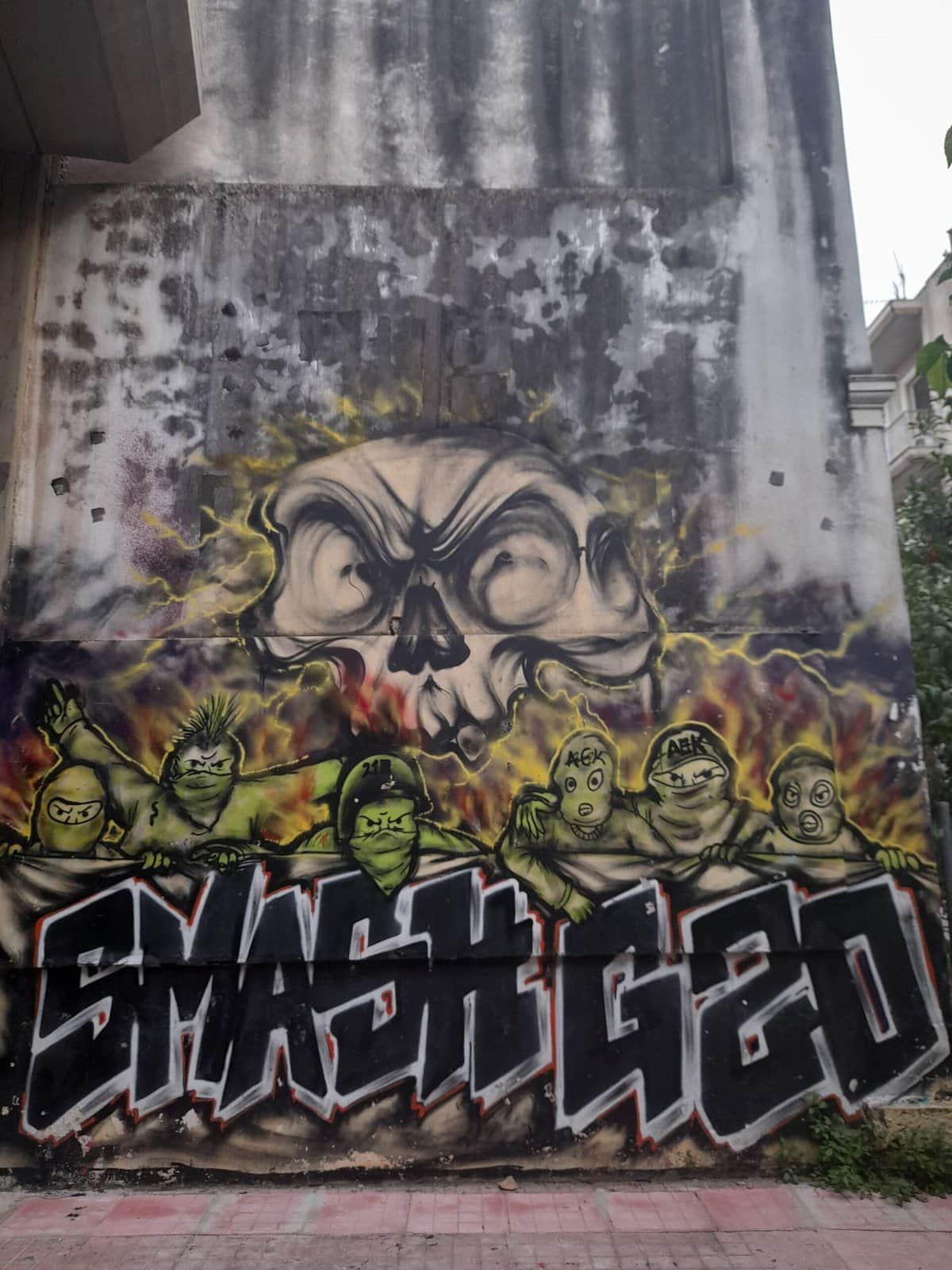 We had Uber in Athens up until around 2018 but it was short-lived. Now, only licensed cabs are allowed to operate in the city.
(You can download the Uber app and it will connect you with a driver but they are only licensed yellow cabs). Taxi BEAT is the best local taxi app to use.
Again, it only connects you with authorised local yellow taxis but it confirms the route and the price before you get in the vehicle. You are far less likely to be ripped off this way and drivers on the platform care about their ratings.
Like Uber and other ridesharing apps, you can pay via credit/debit card on the app or you can pay in cash to your driver.
Tourist scams to look out for in Athens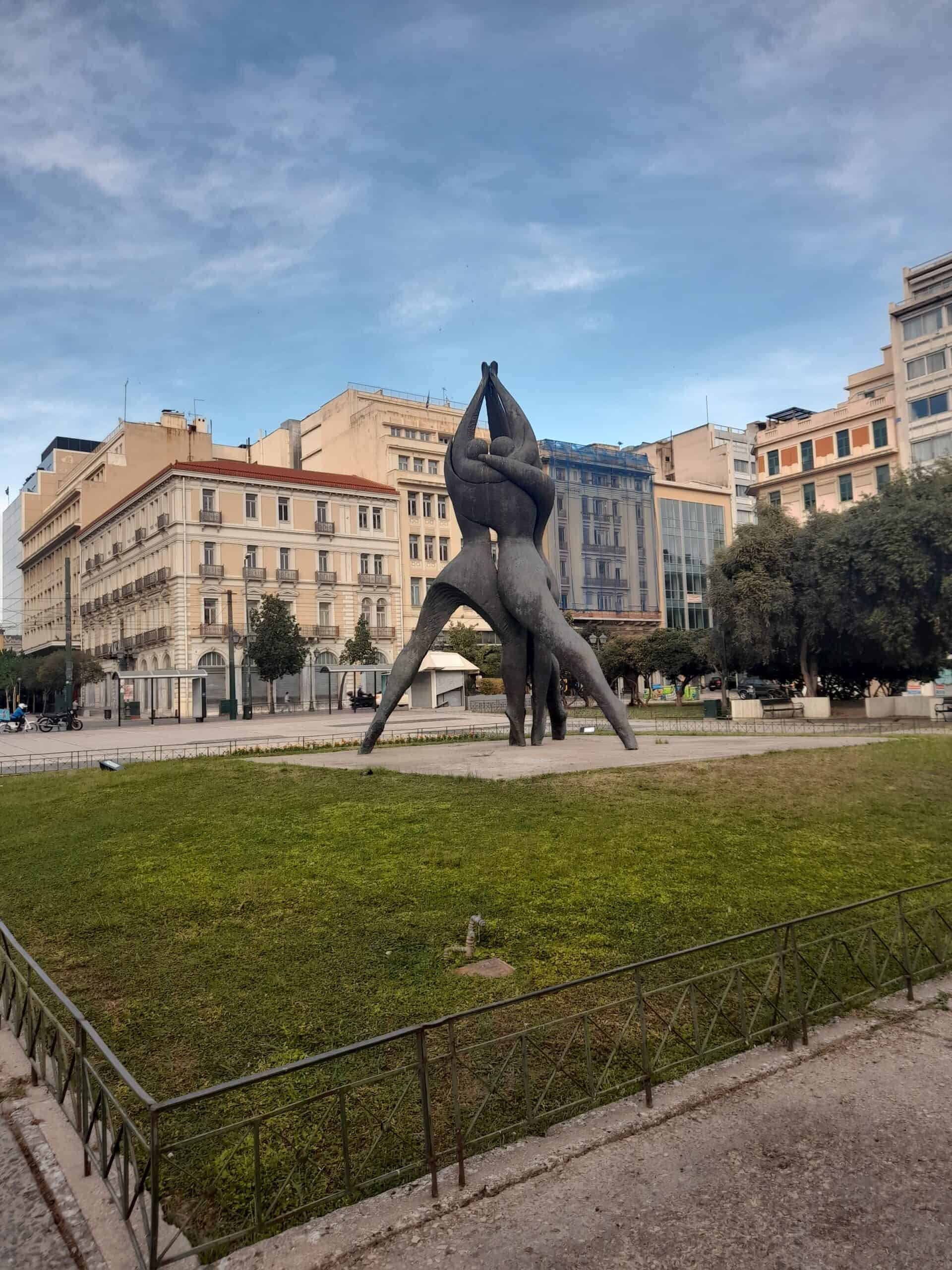 Scams in Athens are honestly not all that common, even in touristic areas like Plaka, Makyrgianni, and Thissio. Sure, if you eat somewhere that's right beside a tourist attraction or an ancient ruin, the prices might be a little higher than the average but the food will still be excellent.
Most people are not out to scam tourists in Athens because tourism is so important for the Greek economy. Most Greek people are genuinely friendly and care about you having a positive experience in their country.
Still, opportunists exist everywhere and there are a few (uncommon) scams to keep your eyes peeled for. They are summarised below.
Restaurant scams
Some tourist restaurants might try and cheat you on the prices which is why it's a good idea to try and find a lunch/dinner spot away from the super crowded areas. You might find that when the bill comes, the price is completely different from the prices that you saw on the menu.
(So always make a mental tally of the cost). Worst still, some menus might not even have prices, which is definitely not a place you want to dine as chances are, the price will be made up on the spot.
It's a good idea to always check a restaurant on Google/Google Maps before eating there. You don't have to trawl through all of the reviews but generally speaking, if somewhere has an average overall rating of 4 stars, you know it's pretty decent.
If anything is less than 3.5, it's best avoided. Waiters will often bring a basket of bread to your table which you will usually be charged a couple of extra euros for so if you don't want it, ask them to take it back.
Bracelet scams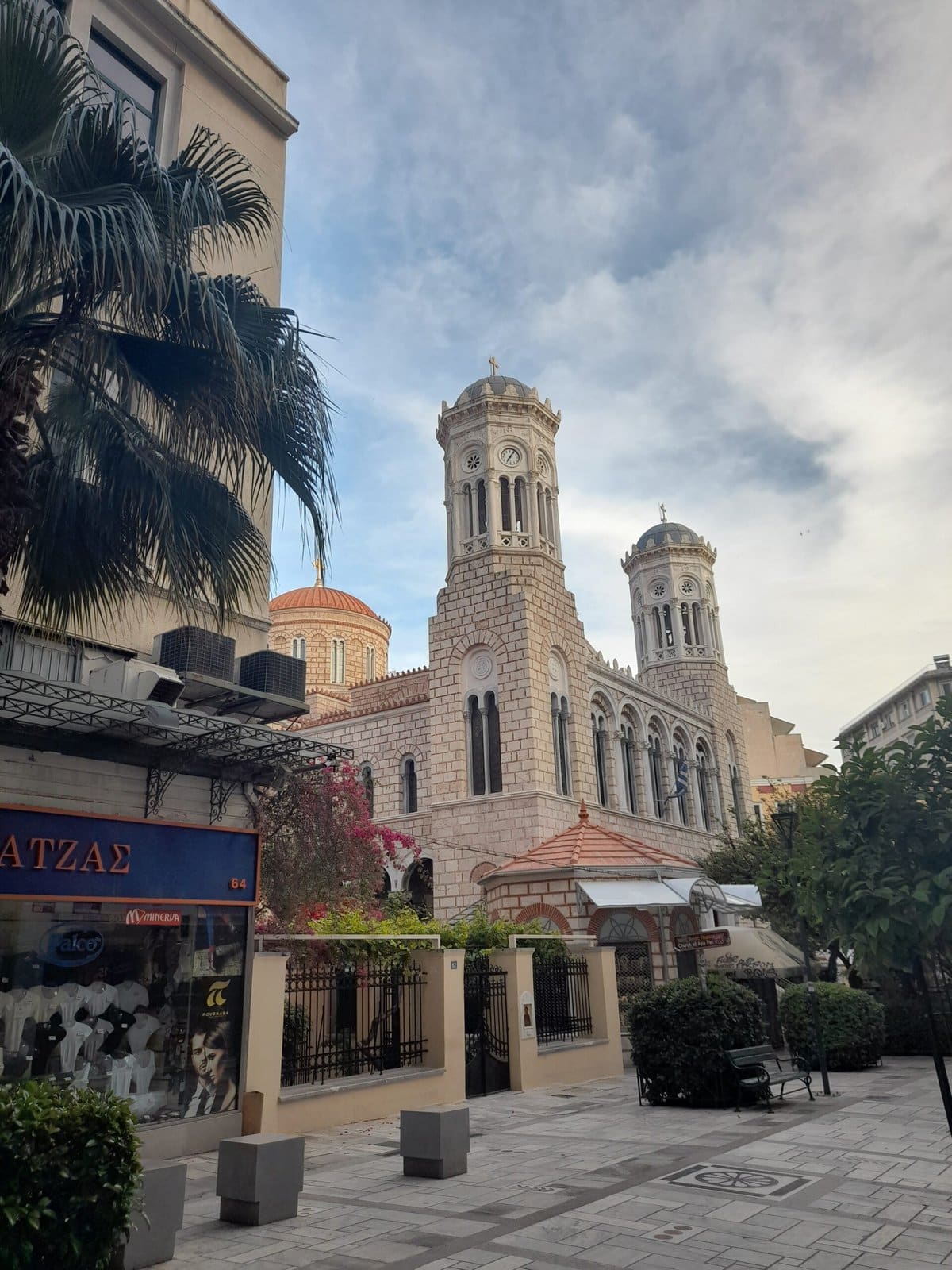 Tricksters, who are often not even Greek, loiter around Plaka, the Roman Agora, and Hadrians Library. They are often overly friendly and offer to show you a magic trick or offer you a friendship bracelet and then demand money.
It is better to ignore them and keep walking. Petty criminals often act in groups whereby one or two people try and distract you while someone else reaches into your bag/pocket to try and take something.
If you have travelled much in Europe, you might have noticed that this same scam happens in Rome around the Trevi Fountain, Paris, and other major cities.
A miscalculated bill
Being overcharged or short-changed is not uncommon in tourist areas. If you notice some change is missing, speak up even if its a small amount.
Is Athens safe at night?
Greece very much has a night-time culture which can be wonderful to experience. People often eat dinner here as late as 10-12 pm and Greeks always make the most of their free time after work.
You could walk through a residential area in Athens at midnight on a random Tuesday and find the area to be full of life, with couples going on urban walks, groups of friends sitting outside coffee shops, and old men playing backgammon in the park. This is very different from other parts of Europe.
Still, walking around any city at night comes with more risks than walking around during the day. In Greek neighbourhoods that are more residential like Koukaki, Kolonaki, Vyronas, the Mets, Pagrati, Neos Kosmos, and Zografou, you are okay to walk around in the evenings (i.e. before 1 am) as there will be plenty of people around.
Still, you should stick to main roads filled with bars and lights. Don't go wandering off down dimly lit streets and sketchy-looking alleyways.
Walking around Omonia, Patissia, or Exarchia at night is a definite no. Some areas of Monastiraki, Ermou, Psiri, and Syntagma Square, although central, are also pretty sketchy.
There are a lot of people sleeping rough close to Monastiraki station and petty theft increases in this area after dark. You will also find a lot of people wandering home from bars and clubs drunk, like in a lot of big cities.
Is Athens safe for solo travellers?
Athens is very safe for solo travellers of all ages and genders. Plenty of people move or travel to Greece by themselves.
Locals are accustomed to seeing foreigners explore alone so rest assured you won't get weird looks, comments, or be hassled for going solo. There are plenty of excellent historical sites, art galleries, and museums in Athens that you don't need travel companions to be able to experience.
Similarly, Greek hospitality is real, and you don't have to feel uncomfortable about dining alone here either. If you are an introvert and you want to spend your time in Athens solo, that's great.
You definitely won't be bored here! Conversely, if you are hoping to meet locals and travellers to socialise with, you will be pleased to know that there are plenty of Meetup and Couchsurfing communities and events, as well as Facebook groups where you can easily organise a coffee with someone.
(Obviously, you should remember that these are still internet strangers so always check their profiles and meet in a public place).
Demonstrations and political protests in Athens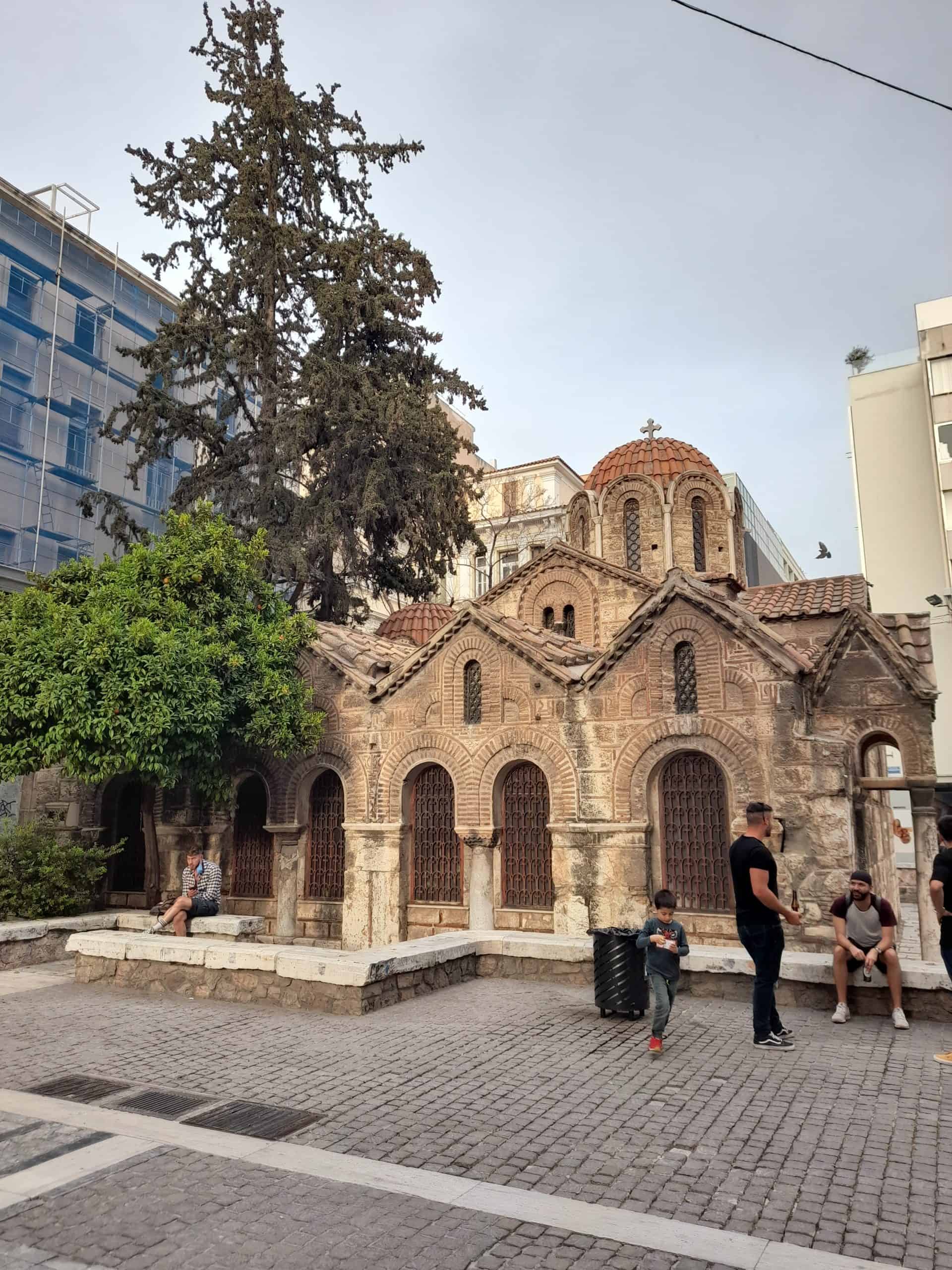 Political protests and demonstrations are regular occurrences in Greece. In 2018, 1300 protests were documented in Athens and its vicinity.
Most demonstrations are peaceful. However, you should avoid them where possible, and leave the area if you note a crowd gathering.
The terrorism threat in Athens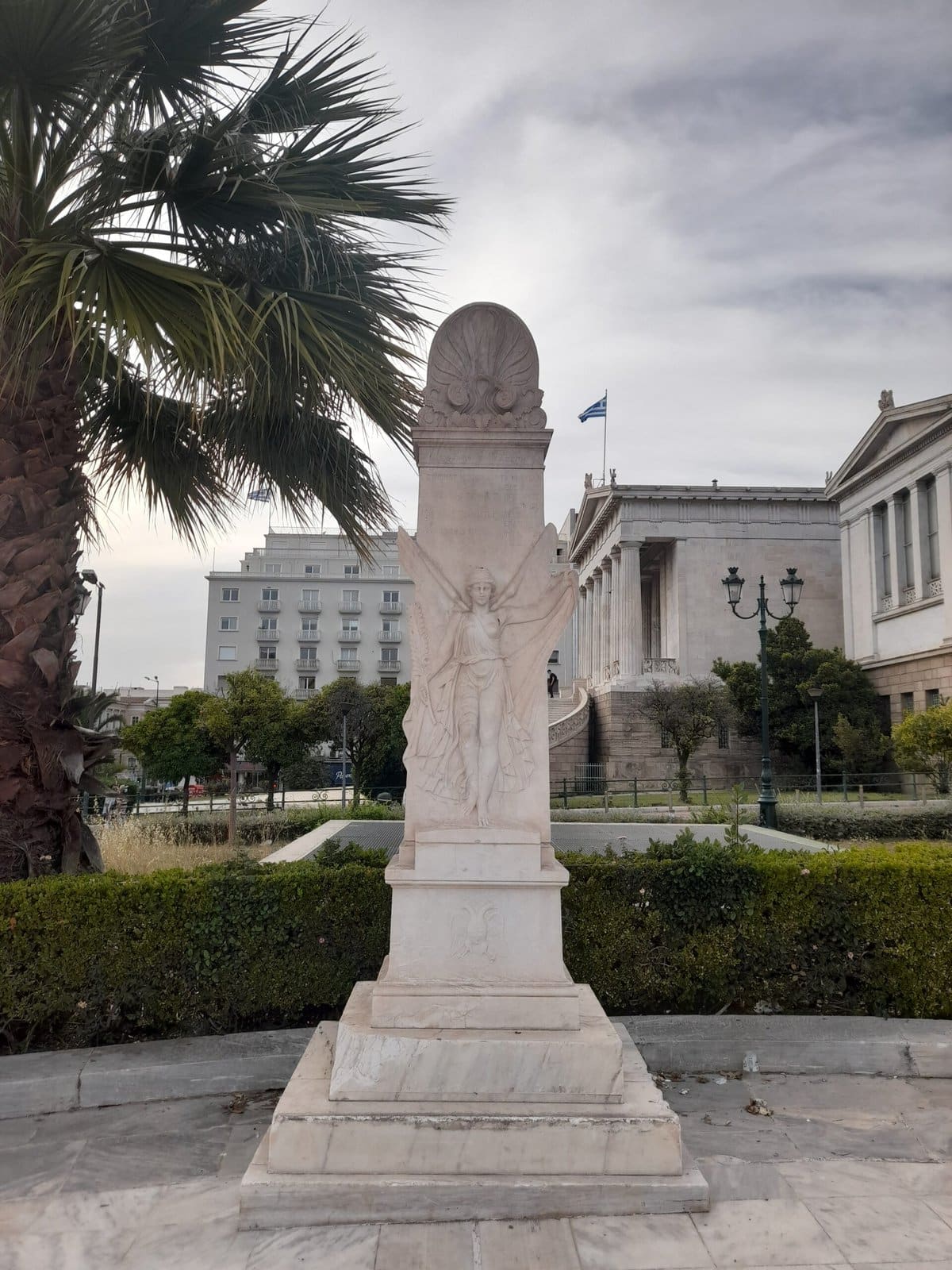 Official sources state that the terrorist threat in Athens is moderate but this is an overall generalisation for Europe, rather than a concern about the risk of terrorist activity taking place in Greece. In recent years, there have been a couple of incidents where IEDs have targeted political embassies, large companies, and centres of economic importance.
These attacks have not targeted tourists. Although the risk of a terrorist attack targeting tourists and locals cannot be ruled out, it is extremely unlikely.
Driving in Athens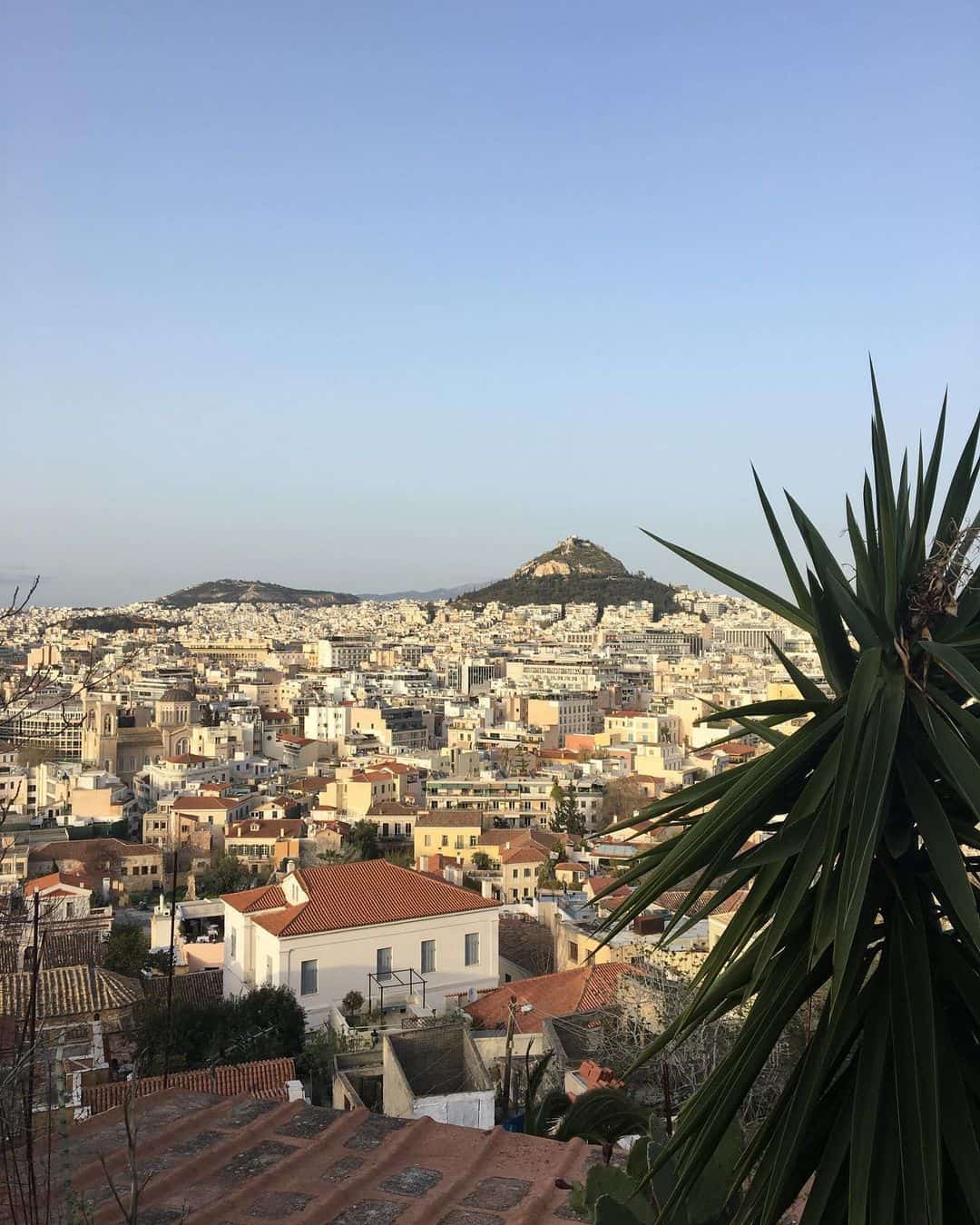 You may want to rent a car in Greece if you want to take day trips from Athens to nearby areas. For instance, cape Sounion, Delphi, or Nafplio.
Driving in Greece gives you a lot of freedom. However, you should keep in mind that road safety in Greece is a different ballgame from that in the US or the UK.

Greece has one of the highest rates of road fatalities in Europe. It is not uncommon to see drivers that do not wear seatbelts or motorcycle riders without helmets.
Speeding, driving drunk, and the use of mobile phones while driving are frustratingly common. You should be extra mindful of other drivers if you plan on exploring Athens and its surroundings by car.
If you are only planning to explore Athens and the Riviera during your trip, it is not really necessary to rent a car. Public transport here is excellent and getting around congested Greek cities can be a nightmare.
You only really need a car if you are planning to venture out further afield across the Greek mainland. Always purchase insurance and inspect the vehicle when you pick it up.
Tips for Staying Safe in Athens in 2023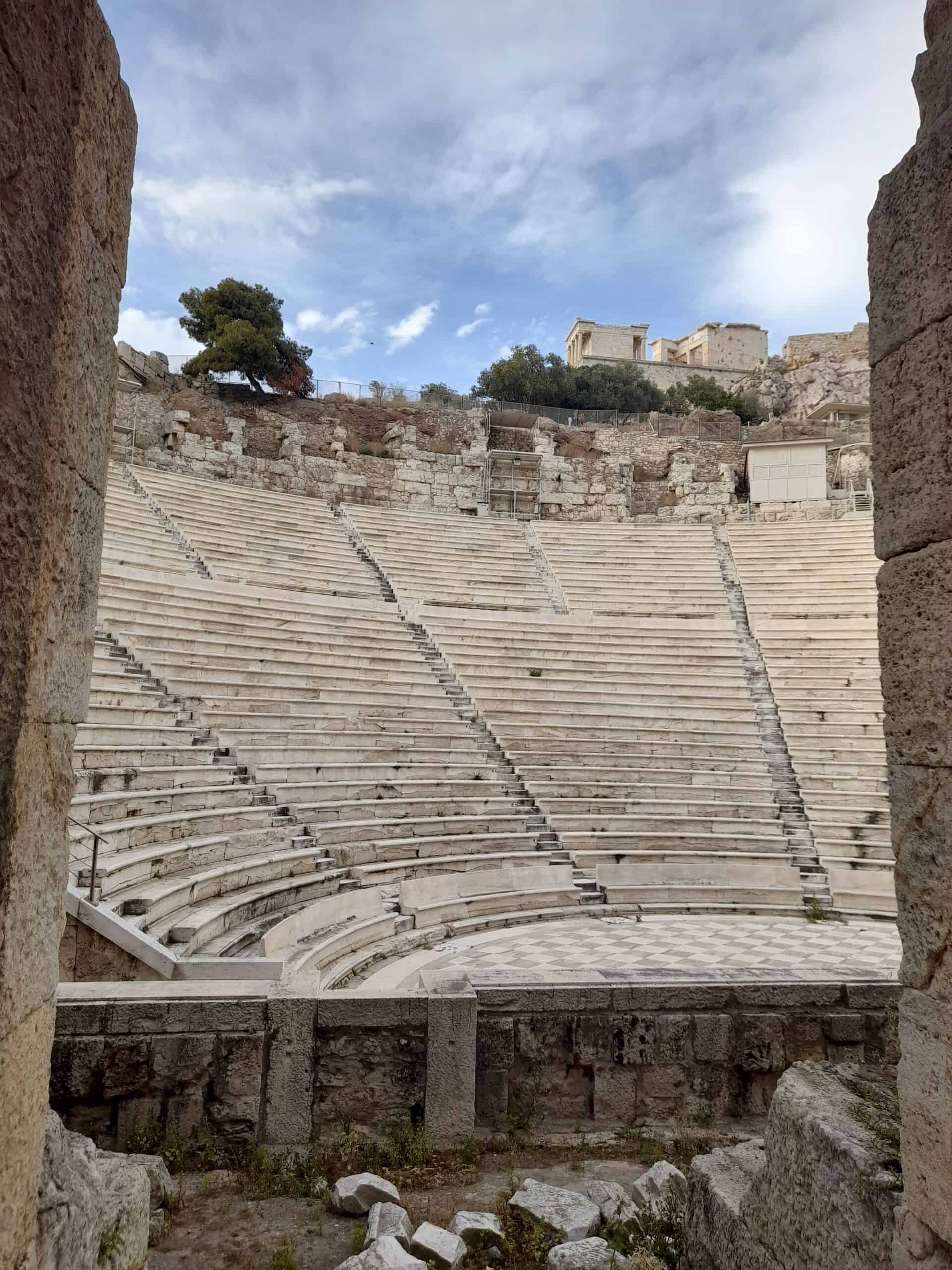 We have taken a look at some of the risks and things to look out for when visiting Athens. You will find some practical advice for keeping safe below.
A lot of this is common sense and is good practice wherever in the world you travel, but it is worth reiterating here 🙂
Consider taking a walking tour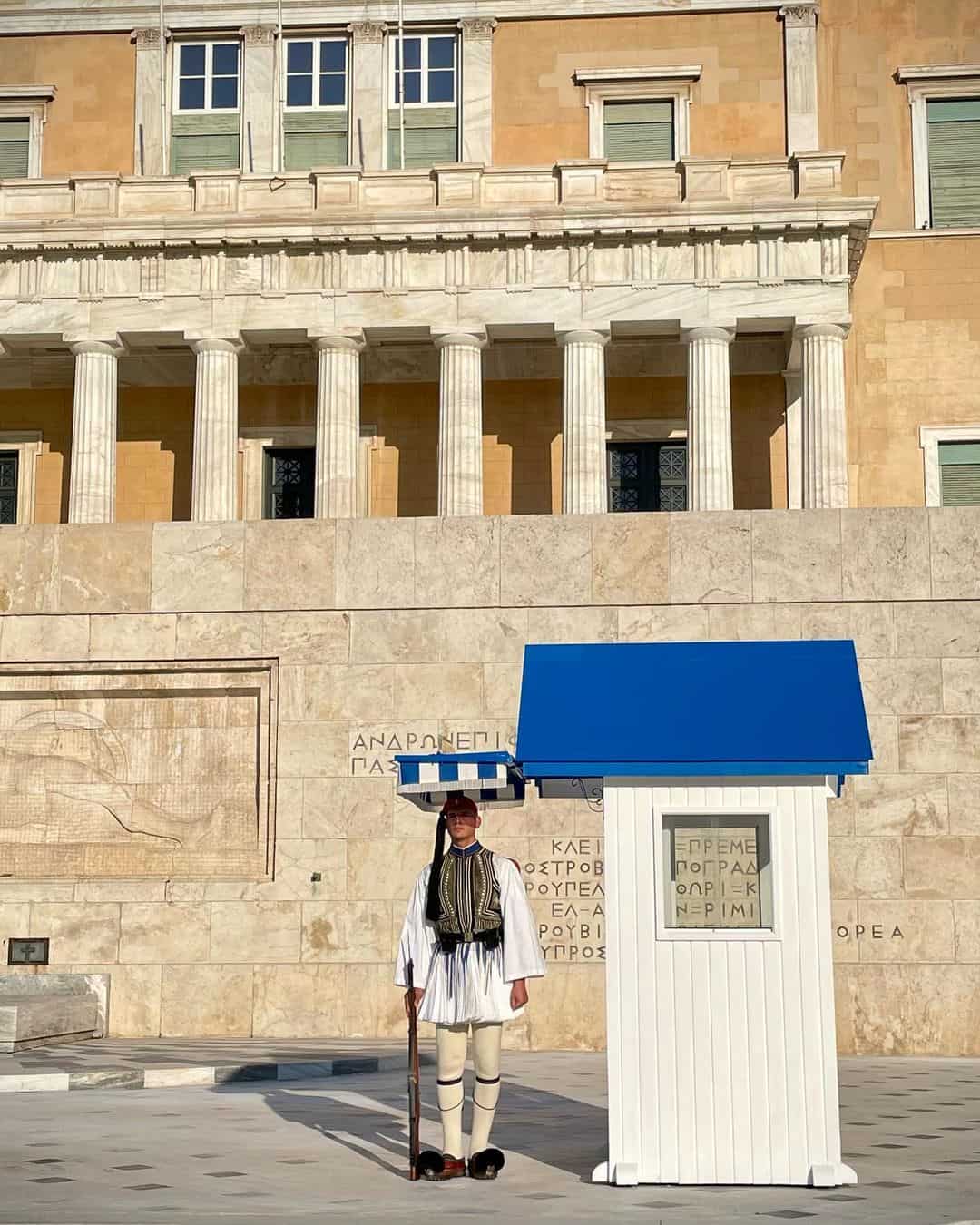 A walking tour is a good way to get your bearings in any new city. In Athens, this can help you get a feel for the Greek capital and its various neighborhoods.
You will discover places that you would likely not have stumbled across while walking around independently. Similarly, having an Athens expert guide on hand means that you have someone to ask for recommendations on the best places to eat, drink and hang out in Athens.
A selection of reputable Athens tours is detailed below for your consideration. It is a good idea to reserve your spot online in advance to avoid disappointment.
Consider investing in a theft-proof backpack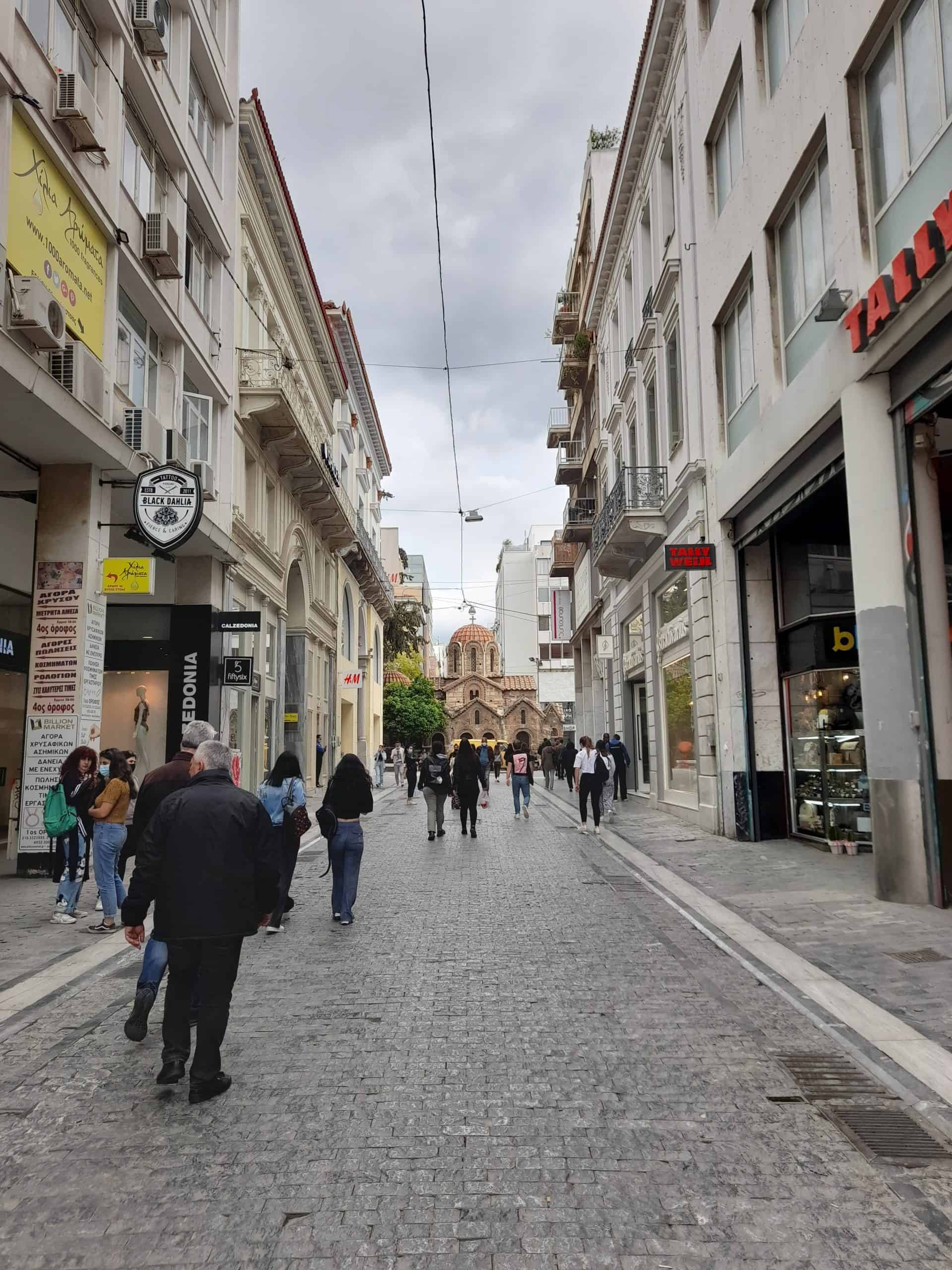 If you travel frequently, you might want to consider purchasing specific anti-theft bags and luggage. Backpacks and money belts like those offered by Pacsafe boast safety factors that other backpacks simply do not have.
They come with TSA-approved mesh locking devices and are made from materials that are both slash-proof and waterproof.
Purchase travel insurance
It is prudent to ensure that you have comprehensive travel insurance before you travel anywhere. Athens is no exception.
It is an unfortunate reality that accidents and illnesses can happen anywhere and today's health is not promised tomorrow. Greece does not have the best medical care in the world, but the costs of treatment here can still be expensive and quickly accumulate.
Look for a travel insurance policy that offers at least $250k worth of medical coverage. You should look for policies that also include additional extras like repatriation and cancellation.
Make sure that you always have your travel insurance details with you – even if you just write down the policy name and reference number. If you need treatment or assistance, you will be asked for your policy number first and foremost.
Note down these important contacts
Most visits to Athens are trouble-free. Hopefully, your trip will be too!
Regardless, it is always worth noting down emergency contacts "just in case". Useful contact information is detailed below for your reference.
Emergency services – 112


Hellenic police – 100


Athens tourism police – 1571


Domestic violence hotline – 15900


Racial crime reporting – 11414
There is a strong police presence in Central Athens. Tourism Police have a uniform that specifies "Tourism Police" on their shirts and is there to help visitors if they have any concerns or run into any trouble.
Note down your embassy's contact details
It is always worth noting the details of your country's embassy when you travel. The embassy information for British and American travellers is provided below.
British Embassy in Athens
Address: Ploutarchou 1, Athina 106 75, Greece

Embassy Reception:+30 21 0727 2600
American Embassy in Athens
Address: Leof. Vasilissis Sofias 91, Athina 115 21, Greece
Embassy citizen services: +30-210-720-2414
Embassy Reception: +30-210-720-2490
Carry a copy of your passport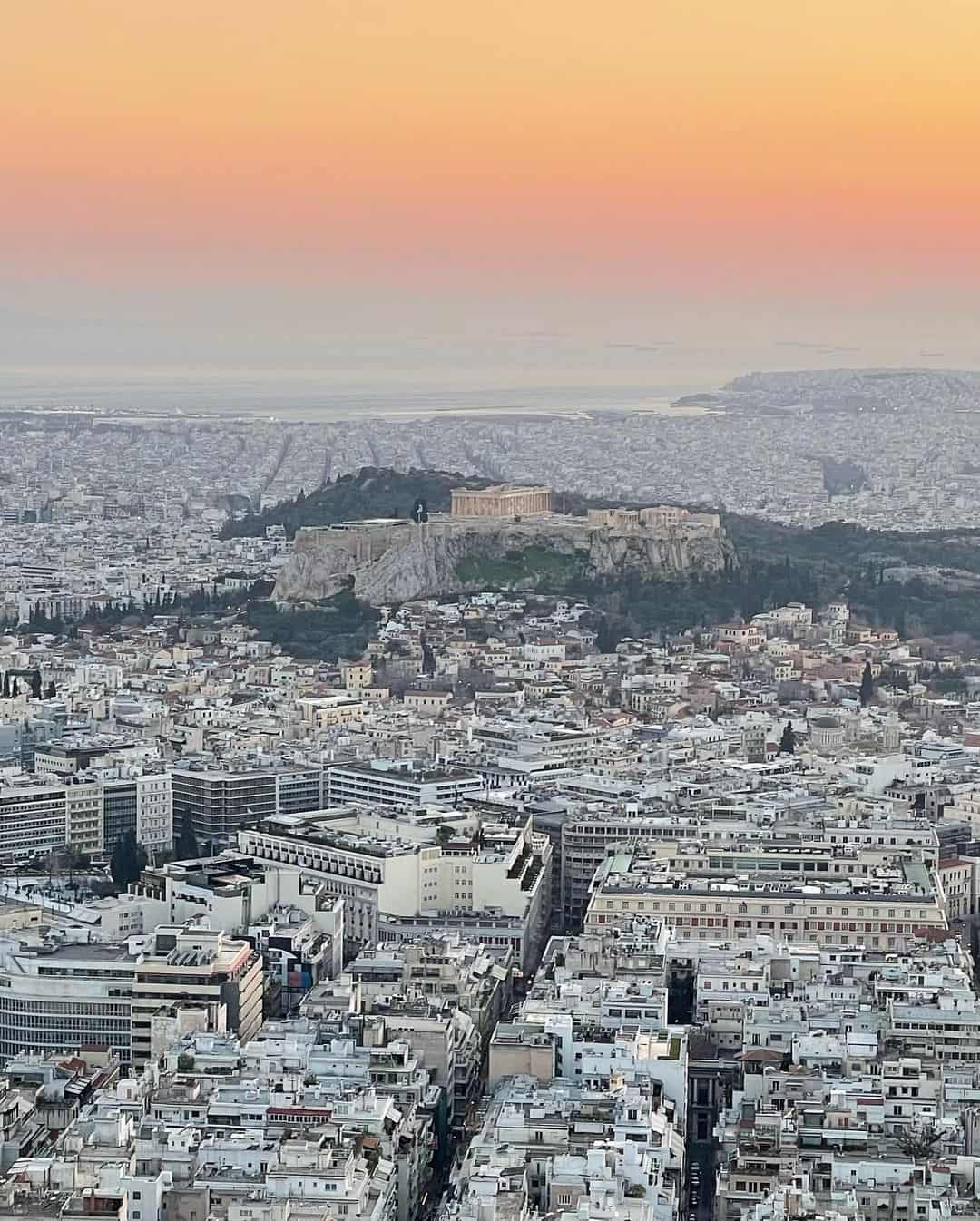 You should carry a form of identification with you at all times during your Greece itinerary. If you prefer not to keep your passport with you all day, consider making a photocopy.
Keep a photocopy of your passport in your handbag, and keep the original locked in your hotel safe. It is worth making a couple of copies just in case.
Base yourself in a central area
This comprehensive guide on where to stay in Athens details all of the various neighbourhoods in the city. It discusses what they have to offer, and the best hotels in the area for each budget.
If you are limited on time, or you are visiting the city for the first time, opting to choose a hotel with a central location means that you are in the heart of the action. Not to mention, this way you don't have a long trek to reach tourist sites like the Acropolis.
The neighbourhoods of Psiri, Plaka, Makrygianni, and Koukaki are all good choices in central Athens. Try to avoid staying in Monastiraki square, Omonia, or Exarchia if you can as these areas are not ideal for walking back to your hotel at night.

Psiri and Plaka place you in the heart of the old part of town, surrounded by lively tavernas and bouzouki bars. Koukaki and Makrygianni sit in the shadow of the Acropolis, however, they are more low-key and peaceful.
Here you can find quaint coffee shops, vintage clothing stores, and crowded piazzas filled with locals sipping Elliniko kafes (traditional Greek coffee). In recent years, Koukaki has been recognised as being one of the very best Airbnb districts in the world.
That being said, it is not overly gentrified. From a safety perspective, this gives you some additional assurances as there are always plenty of people around, day and night.
Is Athens Greece Safe? FAQs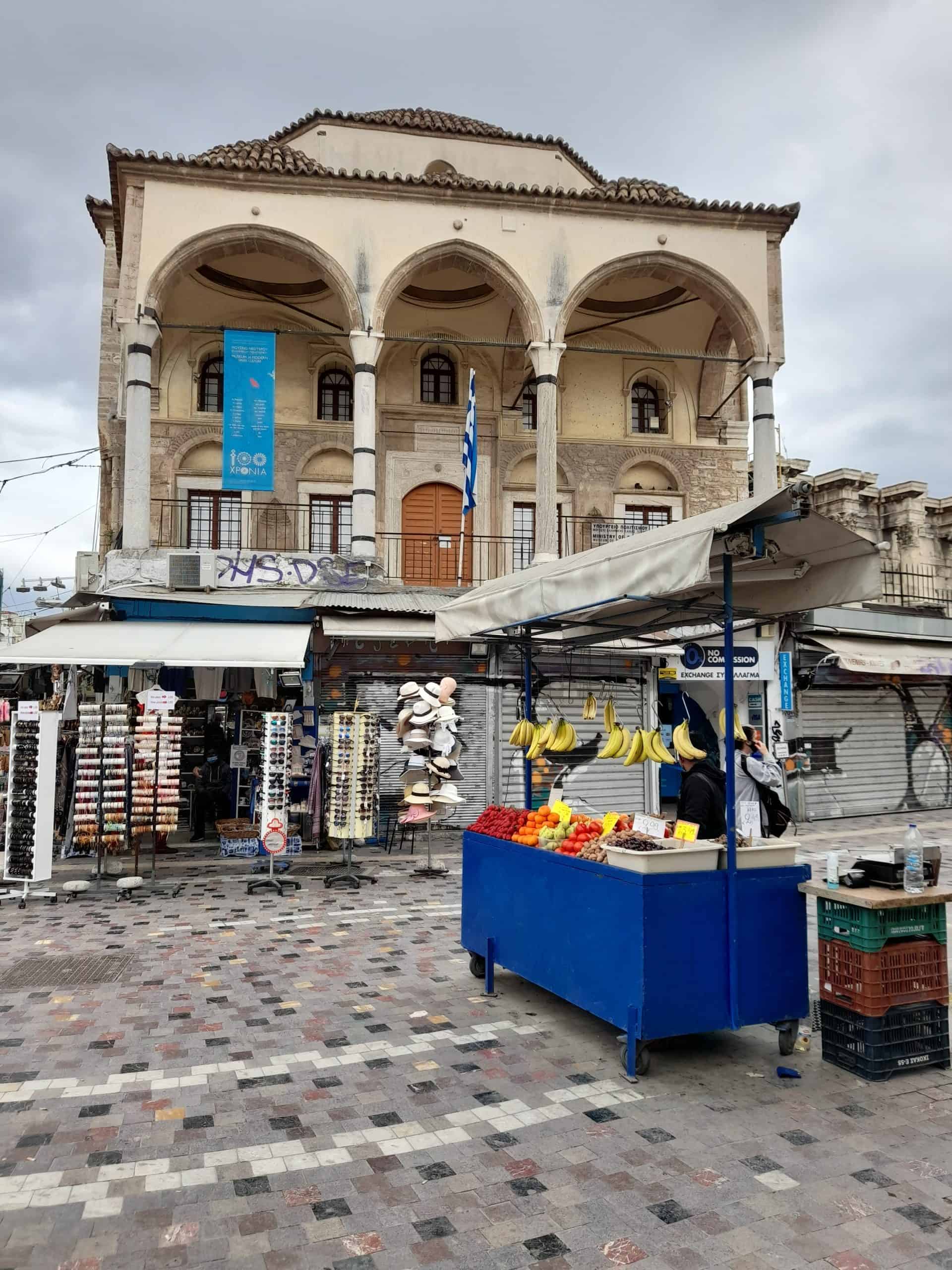 Do you still have any questions or concerns about safety in Athens, Greece? Hopefully, you will find the answers that you are looking for below.
If not, please do not hesitate to reach out to me!
Is Athens safe for solo female travelers?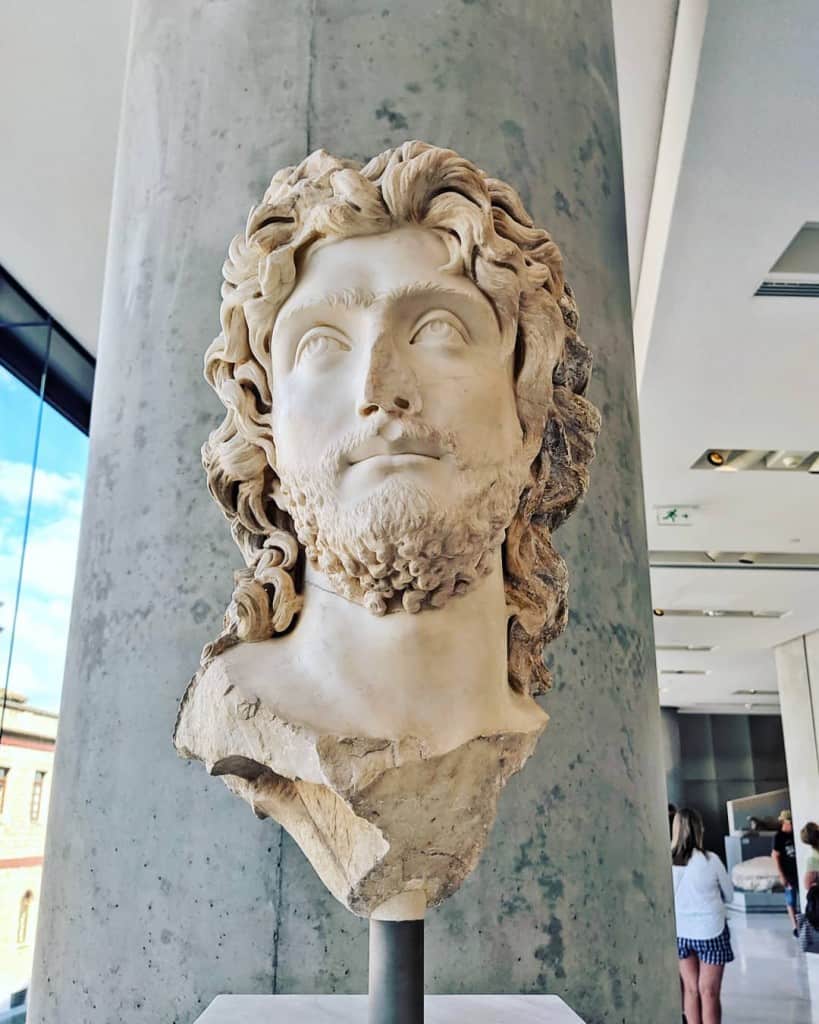 Athens is very safe for female tourists. As is Greece in general. (This entire website is written by a solo female traveller based in Greece).

Violent crime in Greece is very rare and most people that you will encounter are warm, friendly, and hospitable. Since Athens is such a major tourist destination and a popular jump-off point for a wider Greece itinerary, it is very easy to meet other travellers here.

Greece is a patriarchal country and some people do have outdated views of women and gender roles. However, that is not something that is likely to affect you as someone who is just spending one or two days in Athens.

Greek men are often more forward than men in some western countries and you may experience people looking at you or approaching you. Generally, though, this is far from aggressive and people do not have bad intentions. If you let them know you are not interested, they will leave you be.
Is walking around Athens safe?
Walking around Athens is very safe. When you visit the city, you can base yourself in one of the central districts (like Psyri or Koukaki) and explore the entire city centre on foot without having to take cabs or public transport.

There are no dangerous, no-go areas in Athens. You don't have to worry about accidentally walking into a sketchy area. There are also lots of great hikes in Athens that you can do – both urban trails and treks through the local woodlands to hidden waterfalls, quaint monasteries, and abandoned mansions.
What is the safest part of Athens?
Athens on the whole is very safe. You will be safe here whether you choose to stay in a quiet residential neighbourhood or in a central district.

Still, there are a few places that stand out above the crowd when deciding where to stay in Athens. Namely, they are Makrygianni, Petralona, Koukaki, Kolonaki, Kifissia, Paleo Faliro, and Thissio.
Are taxis in Athens safe?
Taxis in Athens are very safe. The only thing that you need to be concerned about is that some drivers may try and overcharge you because they assume that as a tourist, you do not know the correct prices.
If you take Greek taxis that you hail on the street or at the airport, always make sure that the driver has the meter on. (If they do not turn it on, they will probably make up some exorbitant price at the end of your journey).

The Taxi BEAT app is good. It connects you with local licensed cab drivers and displays the price and route before you get in the vehicle so there are no surprises.
Can we drink tap water in Athens?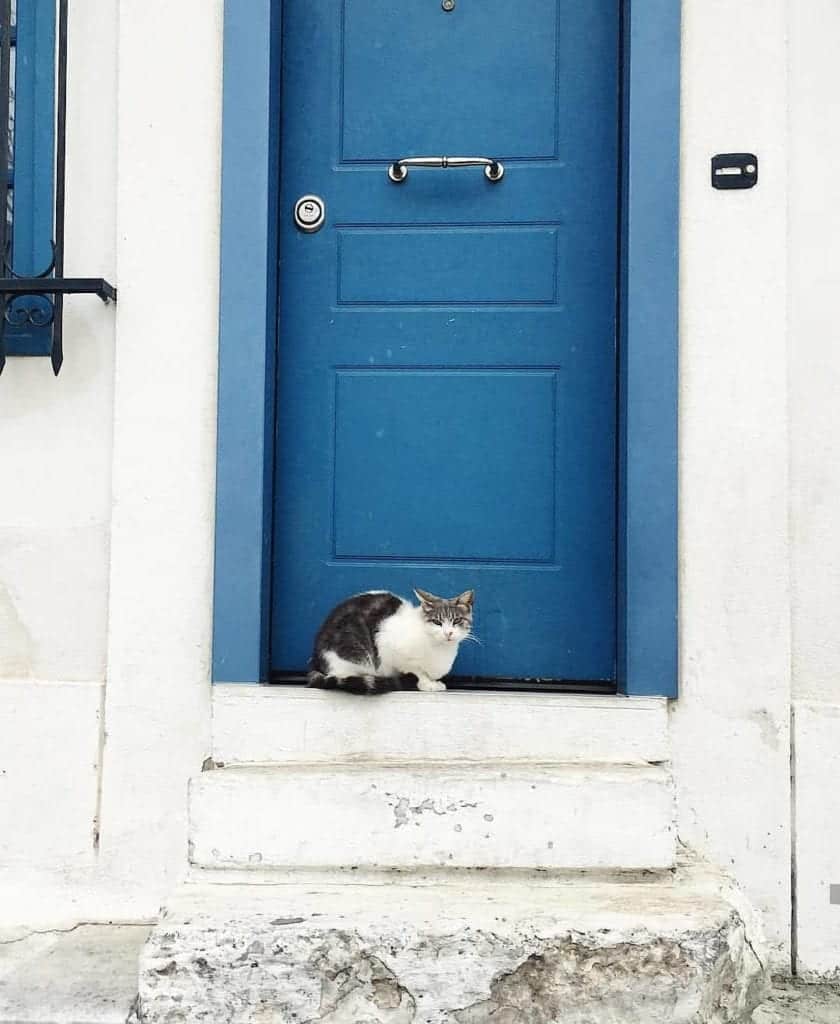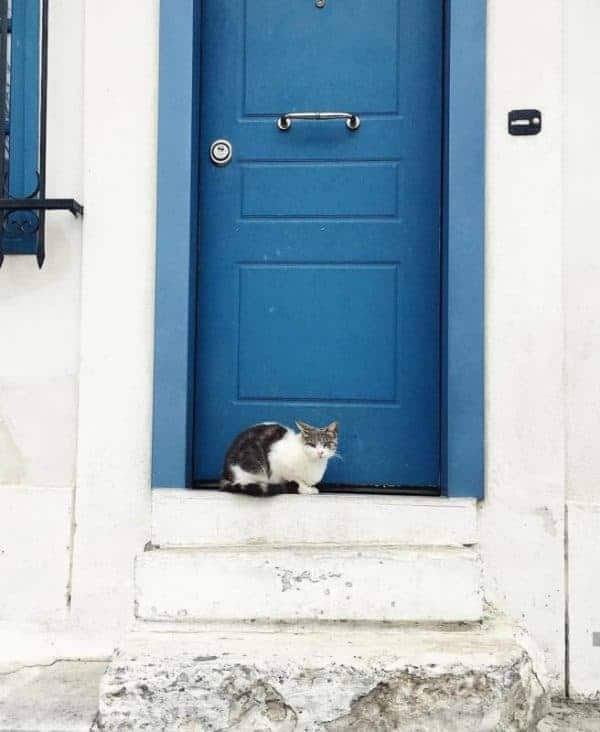 The tap water in Athens (and most of Greece) is safe to drink. Most locals drink and cook with it and using it works out more economical (and better for the environment) than purchasing bottled water.
Is Athens safe? Conclusion
Is Athens safe? Yes!
This a very safe city that makes a perfect introduction to Greece before you head off to the Greek islands.
Just follow the advice and travel safety tips instructed above and you should have no problems.
The Greek capital is one of the best city break destinations in Southern Europe and it would be a shame to miss out on it out of fear.
If you still have concerns or worries about planning your trip to Greece, don't hesitate to reach out to me. I have been living here since early 2017 and I'm happy to assist if I can.
You might also find it useful to join my Facebook group All Greek to Me which helps travellers and expats plan their adventures around Athens and wider Greece.
Safe travels. Geia sou! Melissa xo
---