Dating Greek men is certainly an appealing concept. With olive skin, seductive accents and a reputation for being among the best lovers in the world, it makes sense that you would consider finding yourself a Greek God.
This article is based on my own experiences as a British woman living in Athens with a Greek partner.
About This Guide
I've been in Greece for almost three years now and as such, I can provide a little insight into dating Greek men. Keep in mind that not all two Greek men are the same – especially when comparing dating Greek men that have never left their native Greece, to dating Greek men that have grown up in the west.
How to Meet Greek Men
The dating scene in Greece is still quite traditional compared to other European countries. Yes, we have dating apps like Tinder here, but most Greeks will try and meet people out at bars or through mutual friends. Online dating is not so mainstream yet. 
If you do decide to play a little Tinder roulette in Greece, note that the Tinder scene is just like anywhere else – the men you match with could be looking for hookups or something more serious. Be warned though that many see foreigners as just "fun" to pass the time with. 
Many Greek men cannot imagine settling down and marrying someone who is not Greek – their mothers will see to that for sure. If you are interested in someone, try and establish what their bottom line is early on so that you do not get hurt.
Gender Equality & the Patriarchy in Greece
If you are considering dating Greek men, it is important to have a little understanding of Greek culture, and the role of men and women in Greece. 
I get that living in Greece looks pretty cool, and loads of people want to come to live here and be all Mamma Mia but life in the Mediterranean isn't all roses. 
Studies Reveal that Greece is the Worst Country in Europe for Gender Equality
According to a 2019 Gender Equality Index study conducted by EIGE, Greece ranked as the WORST country in Europe for gender equality. It received just 51.2 points out of a possible 100. Little progress has been made since 2015. Compare that to – 72.2 in the UK. The best country was Sweden with a score of 83.6.
What do those numbers mean? To give more context – 77% of Greeks said that women were too emotional. 69% think that a woman belongs in the kitchen. 57% of men vs 9% of women think gender equality has been achieved.

There's a joke in Greece that "we have become Sweden" – i.e. people are becoming too liberal, and women are expecting to be treated equally instead of doing as they are told and baking pies in a pretty dress. The nerve of these women!
Of course, it is impossible to apply one brush sweep and generalise an entire demographic of men. However, there is some truth in these numbers.
How Greek Culture Views Men Vs Women
Greece is very much a patriarchal society. Today, the country's economic difficulties necessitate both men and women to work. However, women are still expected to take on the lion's share of domestic tasks. Women will work all day and then go home and do the cooking, cleaning, and take care of the children. 
Greek culture lavishes lots of praise, glory, and attention on boys. It is common for Greek mothers to fixate on their sons, even as they reach their 30s and 40s. In some towns and villages, the children are counted differently. "I have three children and one kopelli". The two genders are raised differently from the beginning, and the traditional family values and upbringing do sometimes feed back into the patriarchy.
Are All Greek Men Super Traditional?
In a word: No. It is impossible to generalise an entire demographic/nation of men. It is just important to note that on the whole, Greece is a much more traditional country than say, the UK, or the USA. 
If you are interested in dating Greek men in Greece though, you should try and make a connection with someone who has either lived/studied outside of Greece or is extremely well-travelled. Chances are that if you meet a Greek man from a rural area or an island, he will have had a more traditional upbringing that is less exposed to foreign cultures.
Observations of Dating Greek Men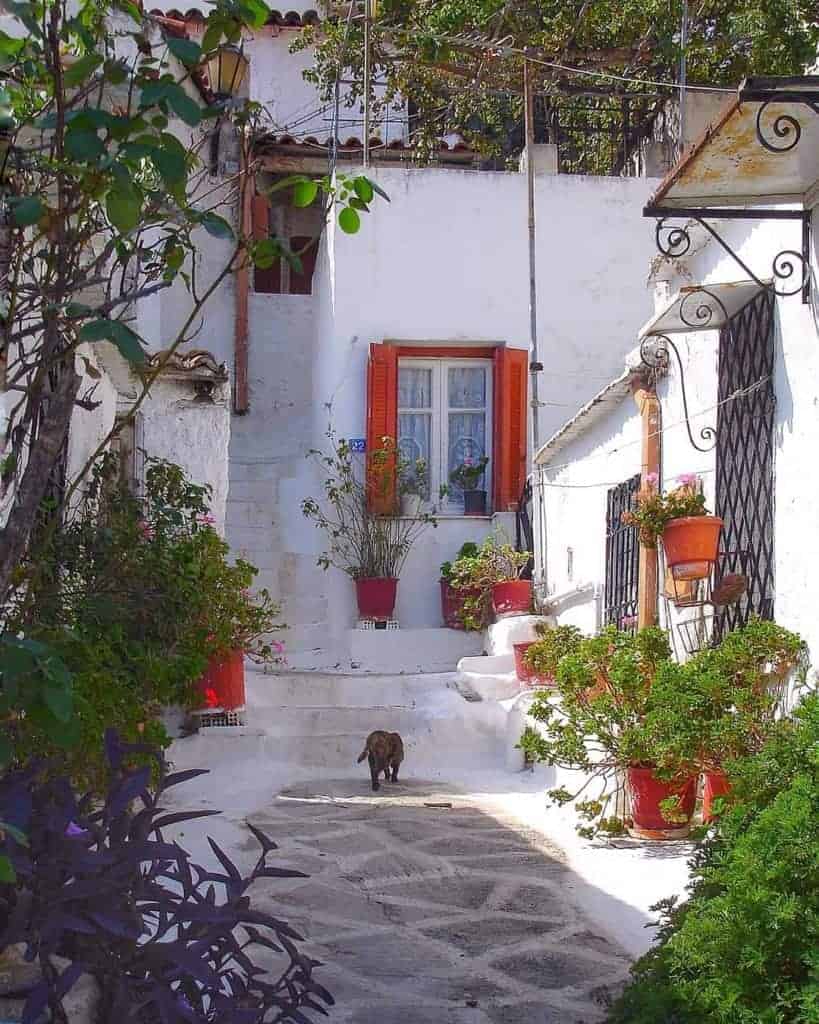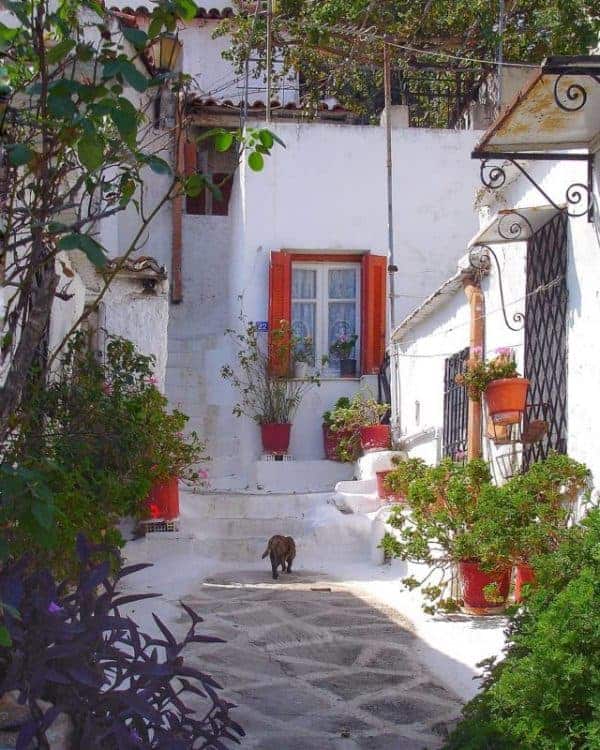 Greek Men are Social Creatures
The Mediterranean lifestyle is to thank for Greek men being incredibly social creatures. In the UK, people tend to live for the weekend. In Greece however, it is not uncommon to go out with friends every day of the week.

Even on random weeknights, coffee shops will be filled with friends catching up over freddo cappuccinos at 10 pm, and most restaurants and tavernas are open until as late as 2 am. In this regard, dating a laid back social Greek can feel like a breath of fresh air!
Beware: The Greek Man's Mother
If you find yourself dating a Greek man, beware that you will always be the "other woman". You will always play second fiddle… to his mother! The relationship that Greek men have with their mothers is almost disturbing in terms of dependency.
It is likely that your man's mother will run around after him and spoil him rotten as if he is a baby – even when he is a "baby" that is over 30 years old!
Expect to overhear emotional phone calls between him and his mother while you are together. "You're with her aren't you?" she huffs in Greek. (Or you know, something to that effect, you son-stealing malaka!)
Tantrums will be thrown if she feels he is spending more time with you than with her, and as your relationship gets more serious, she is likely to be monitoring your treatment of her son like a hawk.
Important Traditions
People all over the world are often proud of their country and their cultural heritage. In Greece especially, there is a great sense of pride in being Greek. Cultural and religious (Orthodox) traditions are an important part of Greek culture. 
As someone who is dating a Greek man, you will have the opportunity to experience these wonderful cultural traditions. Expect to paint eggs over Easter for a game of tsoúnkrisma, and dance to typical island dance routines at weddings and family gatherings. Dating a Greek introduces you to a lot of fun activities that you may not have experienced in your own country.
Cooking? What's That?
If you are planning on seriously dating Greek men, be informed that most Greek men are not informed and educated in the culinary arts. While I may be a disappointment to a Greek man's mother because I cannot make the perfect moussaka, imagine my amusement when the Greek guy I was dating looked at me in awe as if I was Martha Stewart because I taught him how to boil eggs.
Yep, I definitely missed my calling in life as a chef. A chef of a restaurant that serves boiled egg sandwiches that is.
If you find a rare breed of Greek male that is able to cook, cling on to him for dear life! I jest a little. However, it is true that a lot/the majority of Greek men do not know how to cook. In the UK, it's pretty alarming if a 35-year-old man goes to his mums every day for dinner. In Greece, that's pretty normal.
Fidelity
Greek men have a notorious reputation for being womanizers but this really depends on the individual. Just like anywhere else in the world, when dating Greek men, you cannot tie an entire demographic of people together as being the same. I had a long term Greek boyfriend for three years. I trusted him completely and never worried about infidelity. 
One important caveat to this is that the divorce rate in Greece is very low. If two people marry, have kids, then drift apart, they will often stay together and make it work "for the children".
There may be no real spark or romantic attraction there anymore, and Greek men will often then seek "extracurricular" female attention. This is very commonplace among older couples in Greece.
Living Situations
If the guy you are dating is in his thirties and still living with his parents, that is pretty normal in Greece. Who can blame him either? Rental prices in Greece are soaring way past what is affordable for a standard Greek salary. The economy here is still in a very slow state of recovery.
In today's modern society, more and more Greek men are flying the nest early and living alone or with roommates, however, his Greek mother is never far away and likely always on hand to prepare him lunch or do his laundry if he needs it.
I lived with my partner in Greece. Unmarried cohabiting couples were considered something of a taboo until recently. However, more and more young Greek couples are moving in together, much like in other European countries.
In today's modern society, more and more Greek men are flying the nest early and living alone or with roommates, however, his Greek mother is never far away and likely always on hand to prepare him lunch or do his laundry if he needs it.
Meeting the Parents is a Big Deal
Meeting the parents is a relatively big step in most developing relationships anyway, however, in many western countries, this is often done after several months together. For me growing up in the UK, it is relatively normal to expect my parents to meet the person who has become such a big part of my life, even if we don't know precisely what the future holds.
In Greece, meeting the parents is considered more of a big deal. If after a couple of months you still have not met his parents, have a little patience and realize that relationship and dating rules are different here.
Try and Discover His Bottom Line Early On
As mentioned, a lot of Greeks see foreigners as a fun way to pass the time and experiment a little, rather than a long term relationship material.
I spent over a year building a relationship with a Greek man and even moving in together, but we face many challenges because many of those around him do not approve for the simple fact that I am not Greek. (Honestly, my life here is just like I am living the plotline of "My Big Fat Greek Wedding!")
Without sounding negative, there are very few foreigners living in Greece and the Greeks can tend to prefer to stick to their own (other than for flings and casual fun). People have made racist comments towards me for being British and Greeks can often seem xenophobic.
My experience is not isolated however, I have many foreign friends also here in Athens who have spent time dating Greeks, only for their Greek partners to turn round and later say that they can't take them seriously because they are foreign. Try to establish what the other person thinks about dating outside of their culture before you find yourself too invested.
Have you had any experience dating Greek men in Greece or in your native country? Let me know!
---