Where was Mamma Mia Filmed? The hit Hollywood movie that shone a spotlight on Pierce Brosnan's terrible singing was set on the fictional Greek island of "Kalokairi". 
Various places in Greece were used as a backdrop for the movie. However, it was the little island of Skopelos in the Sporades that featured as the main filming location.
The Movie Directors scouted more than 20 Greek islands in their quest for the perfect setting for Mamma Mia. Eventually, they settled on the sleepy pine-filled island of Skopelos.
"Mamma Mia!" The Movie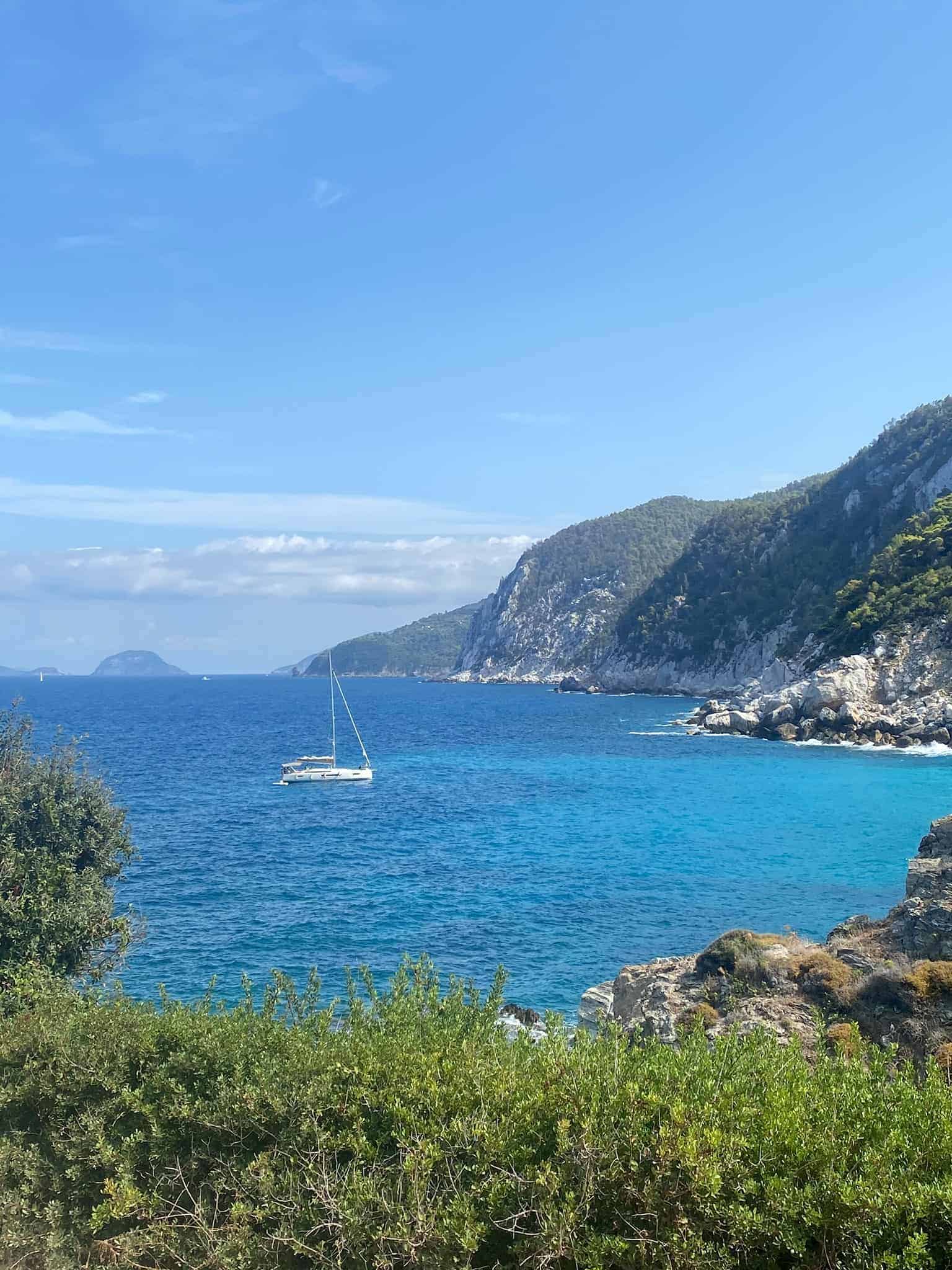 Mamma Mia was the first movie interpretation of the Broadway musical of the same name. The movie features songs by Swedish pop group "Abba", as performed by a glittering Hollywood cast.
The likes of Amanda Seyfried, Meryl Streep, Colin Firth, Pierce Brosnan, and Julie Walters starred in the movie. They made renditions of Abba classics that became just as popular as the originals!
What is Mamma Mia About?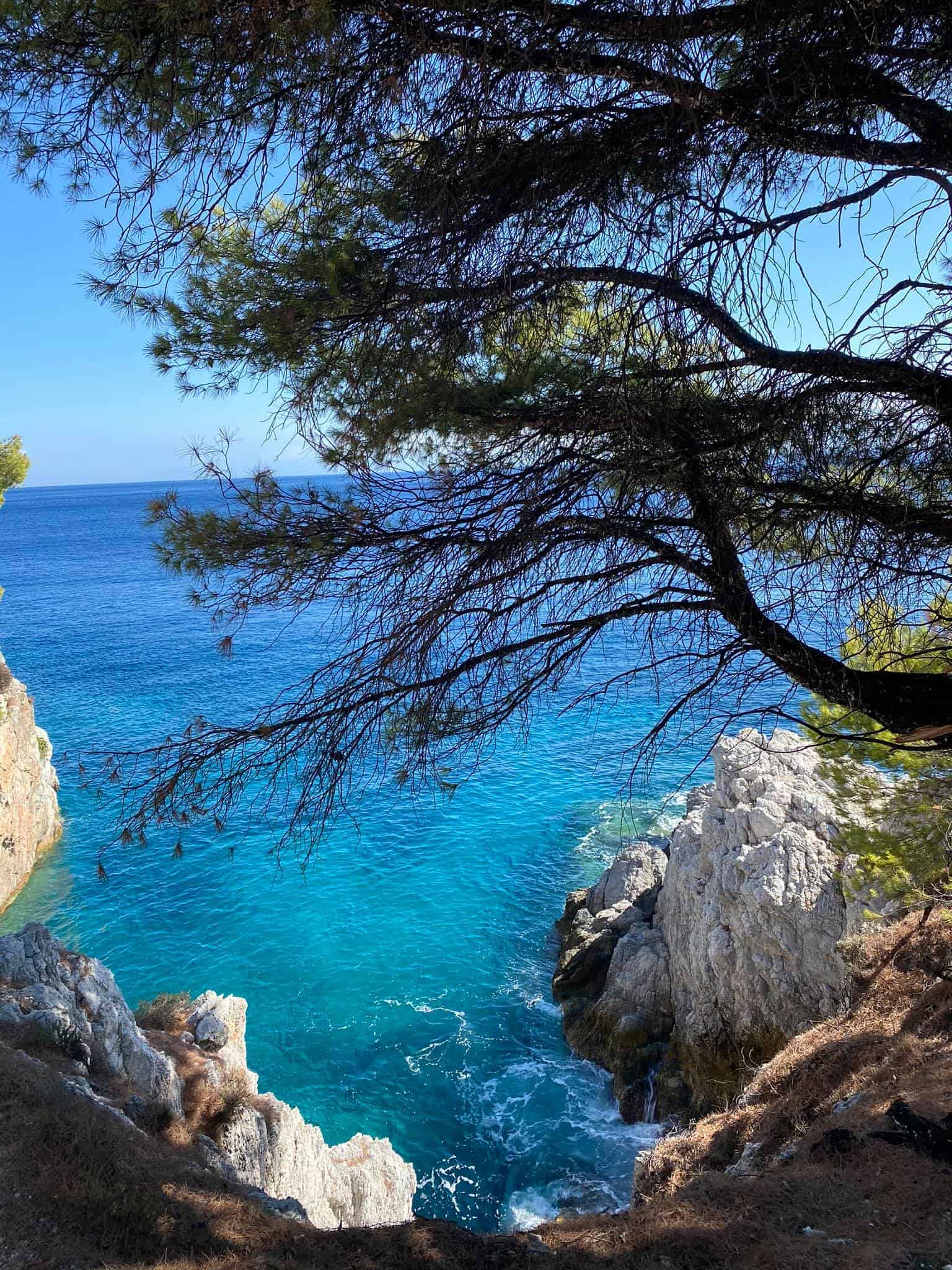 Mamma Mia follows the story of Sophie, a young woman that lives with her mother on the fictional Greek island of Kalokairi. She is in the midst of planning a wedding with her fiancee Sky, however, she has never met her father.
After rummaging around in her eccentric mother's belongings, she finds a diary that indicates that there are three men that could potentially be her father. Sophie decides to invite all of them to the wedding on the island, hoping that at least one will respond and that she will be able to figure out who her father is.
Where Was Mamma Mia Filmed?
Shooting Locations in Skopelos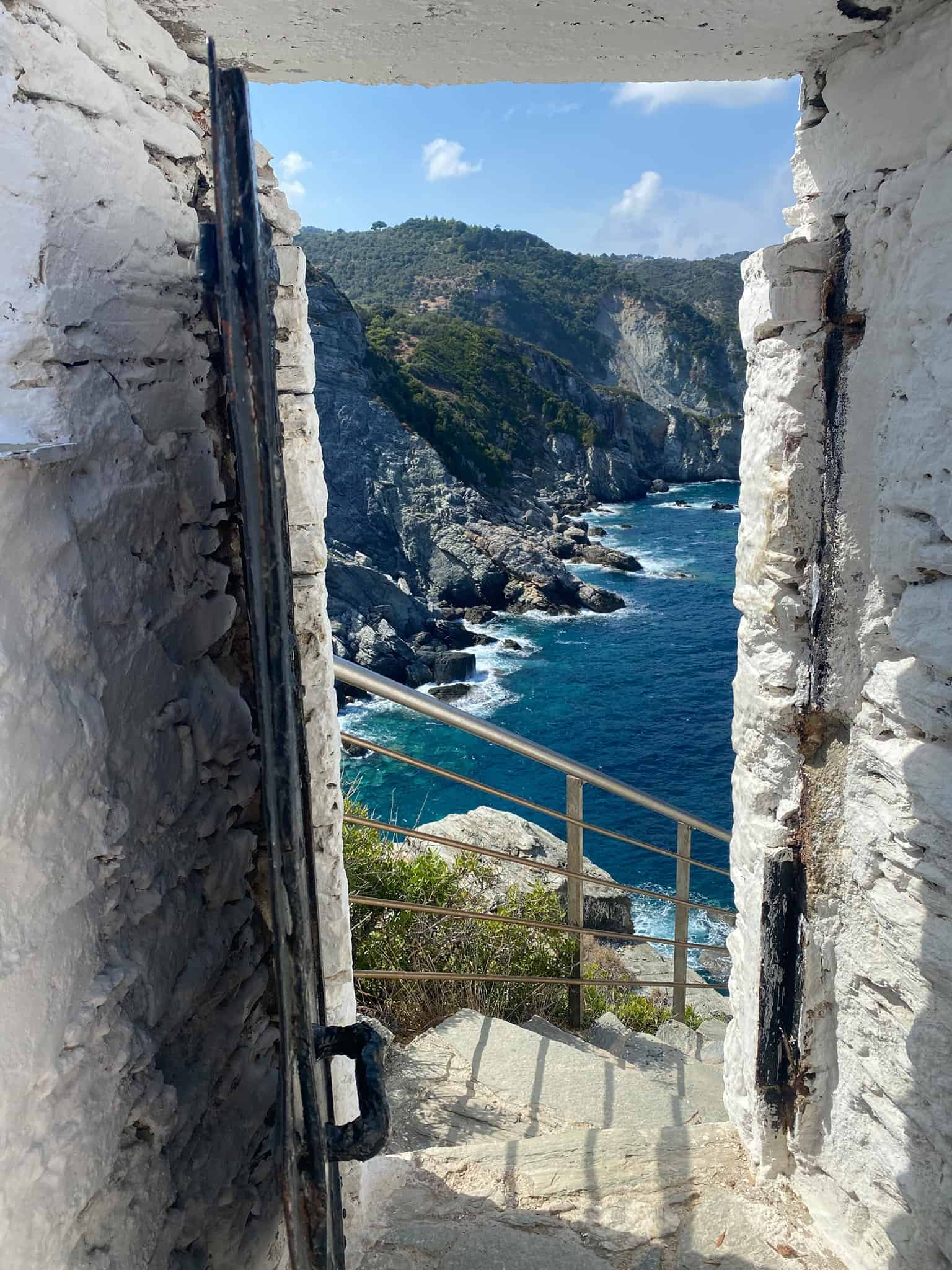 The main Mamma Mia filming locations in Skopelos are detailed below. The little island in the Sporades is often missed off most people's Greece travel itineraries. However, it is very deserved at least a week, or more, of exploration.  
Kastani Beach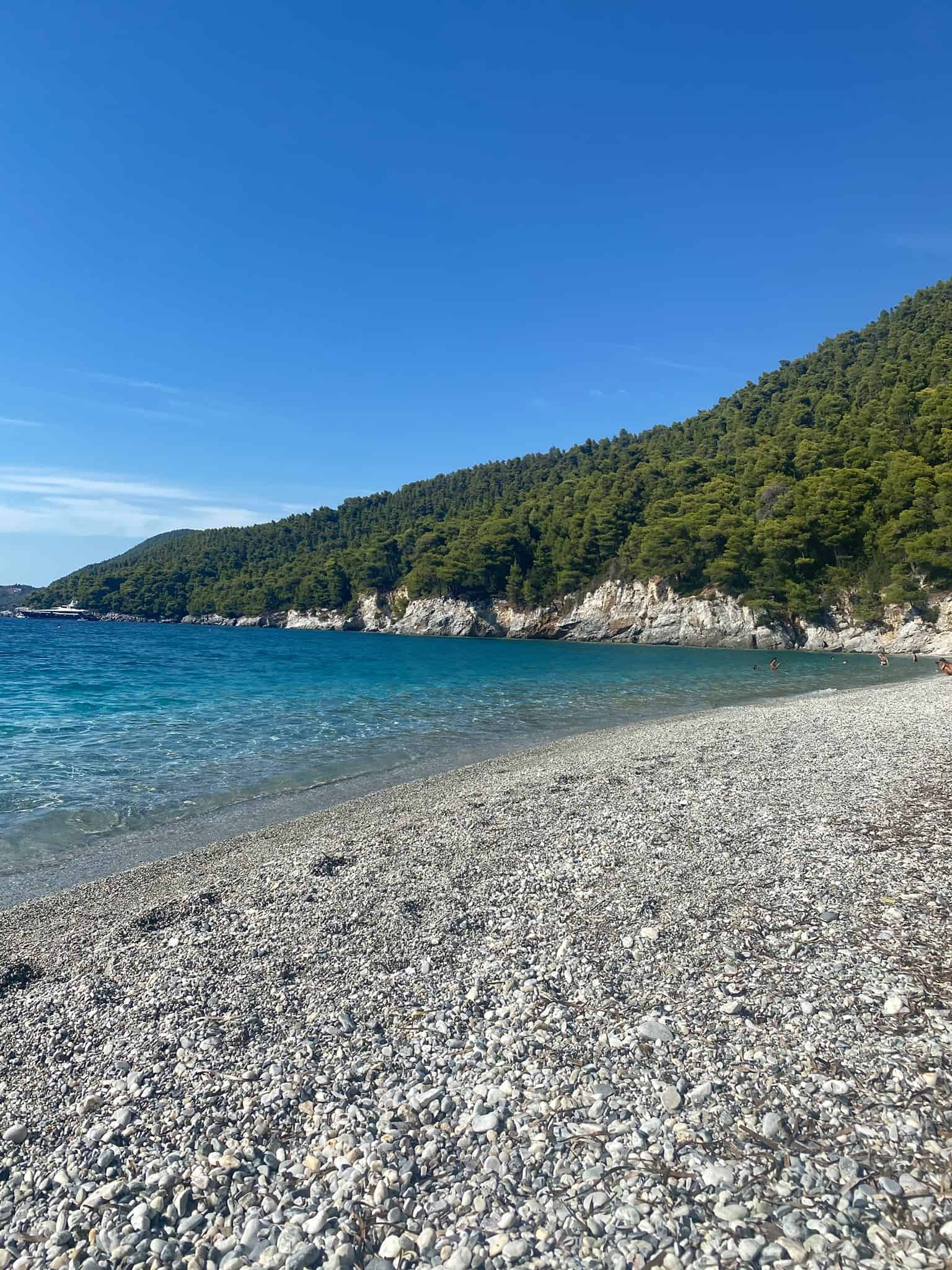 Ask Skopelos locals what their favourite beach is and many of them will tell you "Kastani". The translucent, cerulean waters here are so clear that you can see straight to the bottom. 
This is, without hesitation, one of the most gorgeous beaches on Skopelos island. Idyllic Kastani beach is encompassed by pine trees and is one of the few white-sand beaches on the entire island of Skopelos.
In Mamma Mia, the scenes for "Lay All Your Love on Me" and "Does Your Mother Know?" were filmed here. Kastani beach was also the setting for the scene where Donna (Meryl Streep) and Sophie's Dads wave goodbye to the other cast members.
There is one small difference in how the beach usually looks versus how it looks in Mamma Mia. The wooden pier was created specifically for the movie and does not exist here usually.
The eastern edge of Kastani Beach boasts a serviced beach bar where you can rent sunbeds, and beach equipment, and enjoy drinks and light snacks. Between June and early September, beach parties and live music DJs are often hosted here. 
The western side of Kastani Beach is not serviced. The rock formations that sit just away from the coastline here are the perfect place for snorkeling and observing signs of marine life.
Getting to Kastani Beach
Kastani Beach is situated on the western coast of Skopelos. It is approximately 15km, and a 25-minute drive away from Skopelos town. 
If you are staying on the island of Skopelos, you can take the island bus which will drop you right outside the beach entrance. Alternatively, dedicated Mamma Mia tours like this one take you to Kastani Beach, Agios Ioannis Kastri, and other island highlights.
The Church of Agios Ioannis Kastri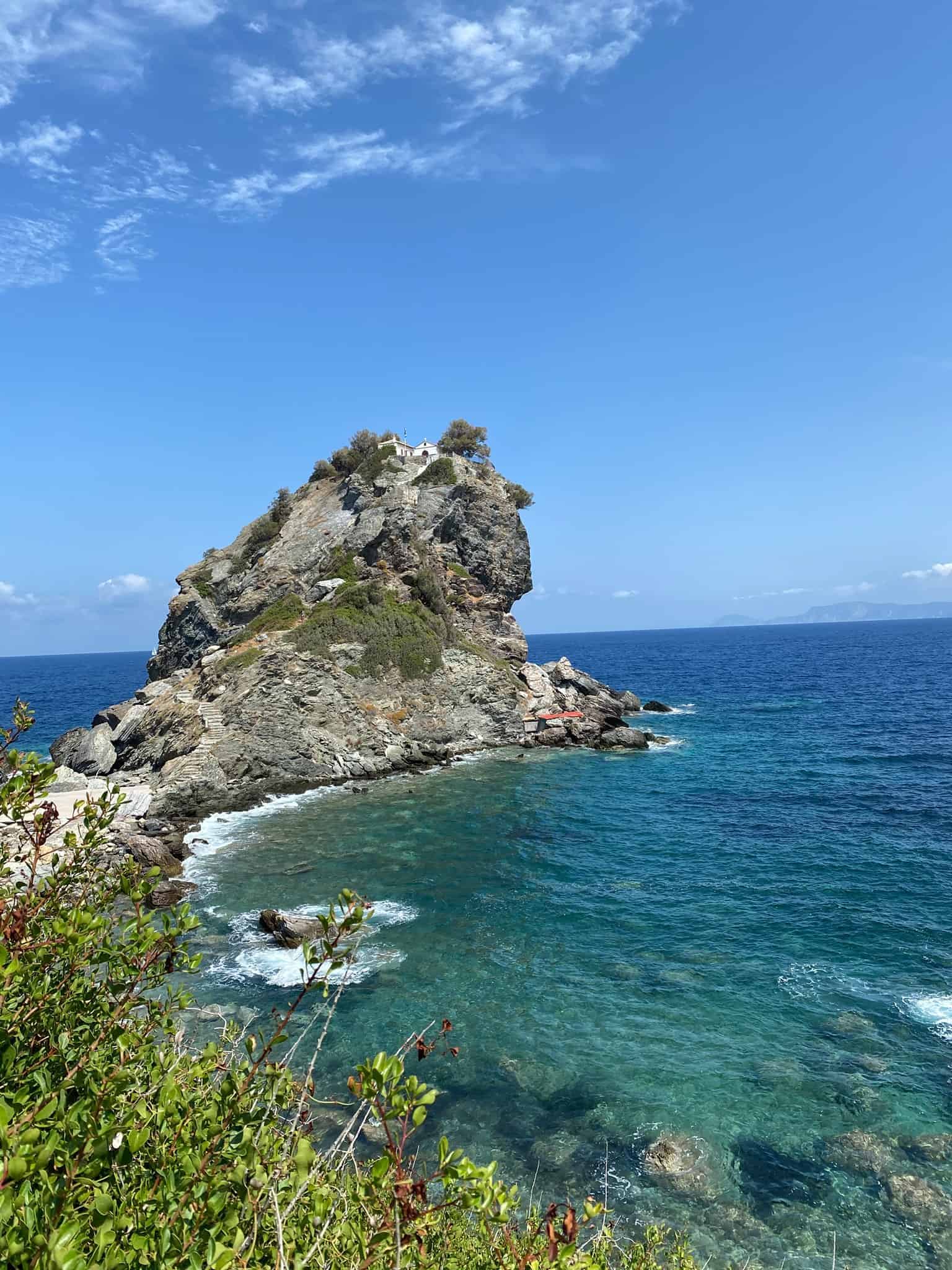 The Church of Agios Ioannis Kastri (now affectionately referred to as "The Mamma Mia Church") is a clifftop church in Northeastern Skopelos. The church is perched, almost precariously on a craggy rock that juts out from the sea. 
Agios Ioannis Kastri was the setting for Sophie's wedding at the end of Mamma Mia. However, the interior is tiny. So, the actual indoor scenes were filmed at a movie studio. 
The name of the church means "St John on the Castle". It is believed that a defensive castle once stood on this clifftop, centuries ago – presumably to protect Skopelos islanders from pirates and invaders.  
The climb to the top of the church is a hair-raising one. The weathered, tiny stone steps that twist and turn around the cliff offer views down to waves crashing violently against the rocks below.
The views from Agios Ioannis Kastri are breathtaking. There are also some interesting religious icons within the church.
Getting to Agios Ioannis Kastri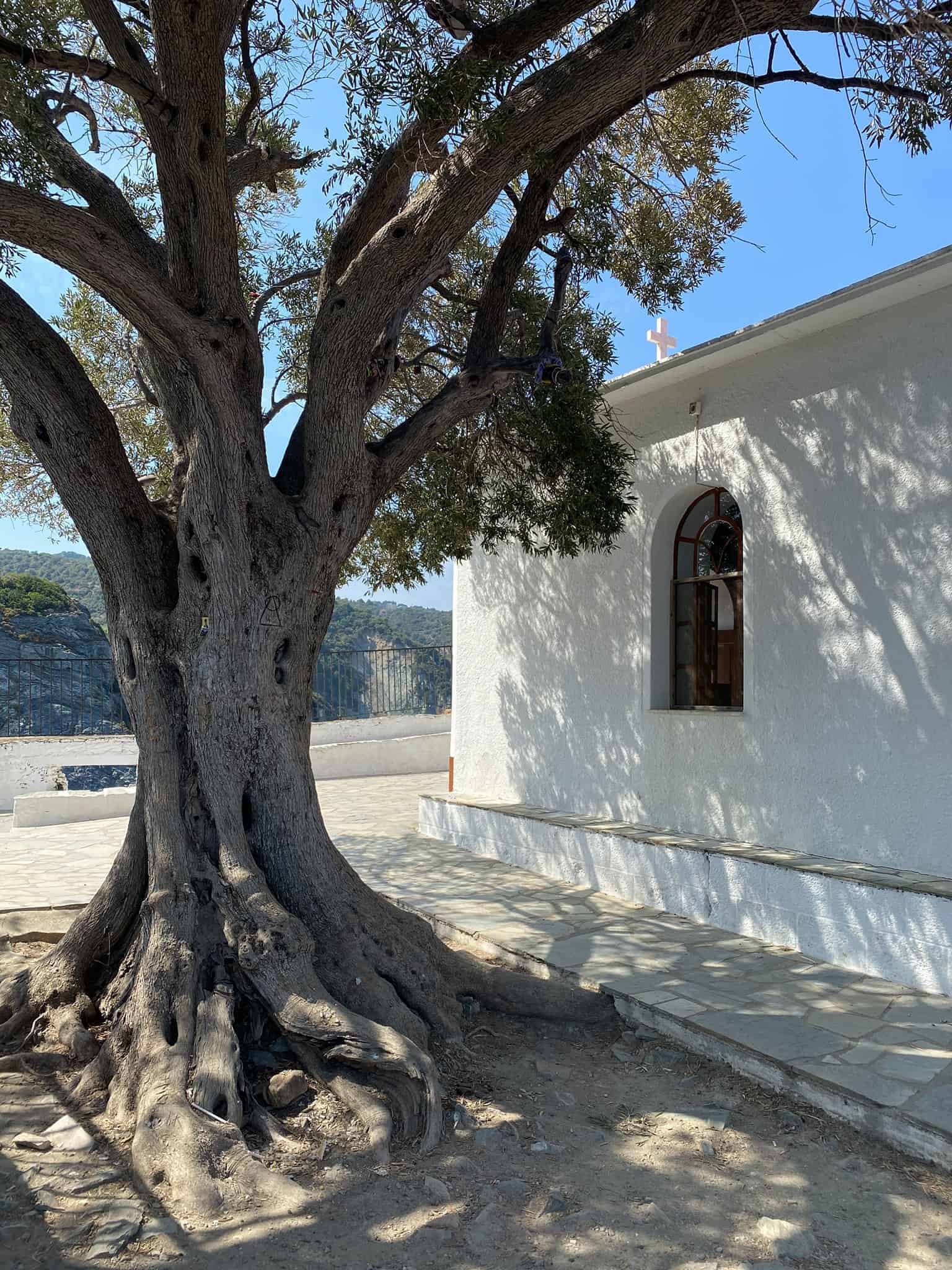 There is no public transport that runs to Agios Ioannis Kastri. Arguably the most convenient, and budget-friendly option is to either rent a car and drive there yourself (if you are staying in Skopelos) or to take an organised boat tour from Skopelos or Skiathos. 
Tours like this one can take a lot of hassle out of the logistics of planning your trip. 
Travel from Glossa to Agios Ioannis Kastri
You can also take a cab from Glossa to the church. Your driver will wait for you while you venture inside. This should cost no more than around 25-30 euros. 
If hiking interests you, you could consider walking from Glossa to Agios Ioannis Kastri. Doing so takes about 90 minutes in each direction.
There is not a specific hiking trail – you mostly need to follow the roadway. However, there are several stunning trails that veer off from the main route.
For instance, the trek down to the bare rock coast. Skopelos is one of the best Greek islands for hiking. Not to mention, walking enables you to enjoy views and photo opportunities that you would not be able to stop and admire when driving.  
Glysteri Beach & Surroundings 
The Mamma Mia Directors have hinted at Glysteri Beach, and the lush green area behind it, as being additional filming locations for Mamma Mia. Some of the beach scenes are believed to have been shot at Glysteri. The steep cliff behind the beach is where Sophie and her dads sang before jumping into the sea.
The slopes of Mount Delphi, close to Glysteri are supposedly where the scenes were filmed where Sophie is about to leave for her wedding. Mamma Mia links aside, these are also very rewarding places to incorporate into a Skopelos vacation.
Glysteri is the closest serviced beach to Skopelos town. It is just 4km away from the port area.
Meanwhile, Mount Delphi boasts some incredible hikes through nature. One of the most notable trails is the short trek to the pirate graveyards of Sendoukia.
Cape Amarandos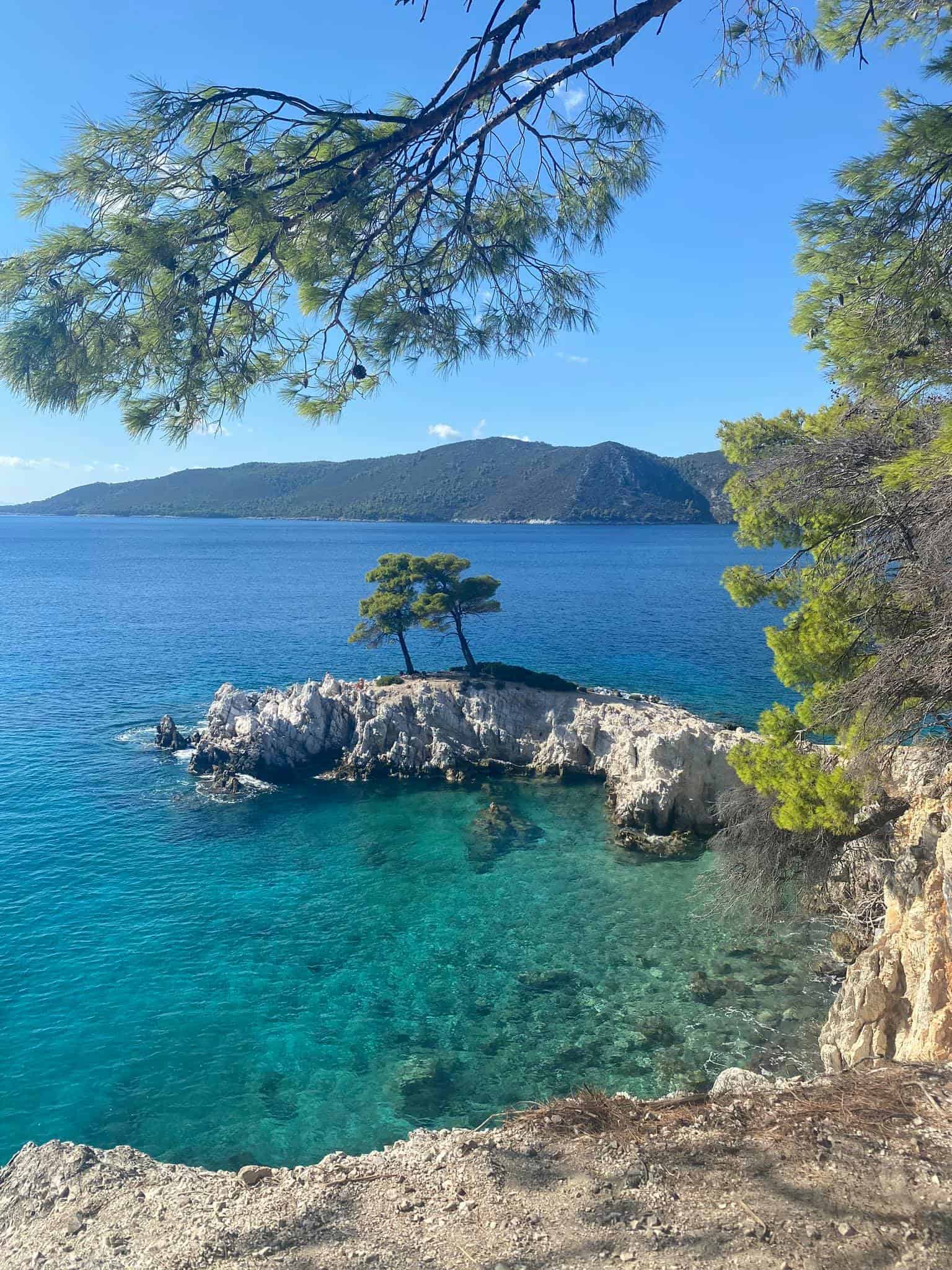 Cape Amarandos is a gorgeous part of Skopelos island that can be seen in the background of some of the movie scenes when Sophie is on a boat with her fathers. The cape is also one of the most iconic images of the island.
Amarandos is affectionately referred to as "piscina" by Skopeliti locals because the waters here are crystal-clear and perfect for swimming. This untouched, rocky cove is made up of several different individual rock pools.

You could easily while away an entire day here swimming, sunbathing, reading, and having a picnic. Amarandos sits on the outskirts of Agnontas hamlet.
The island bus stops just outside of Agnontas so you can stop for a morning Greek coffee and some pancakes at M Coffeehouse and pick up a few snacks from the convenience store. Then, backtrack out of the hamlet and head down the dirt trail on your left-hand side that leads to Amarandos.
Where Was Mamma Mia Filmed?
Shooting Locations in Skiathos
Several scenes of Mamma Mia were filmed in and around Skiathos. For instance, many scenes shot on boats were filmed while sailing around the island. One such example is the scene for the song "Our Last Summer".
Skiathos Town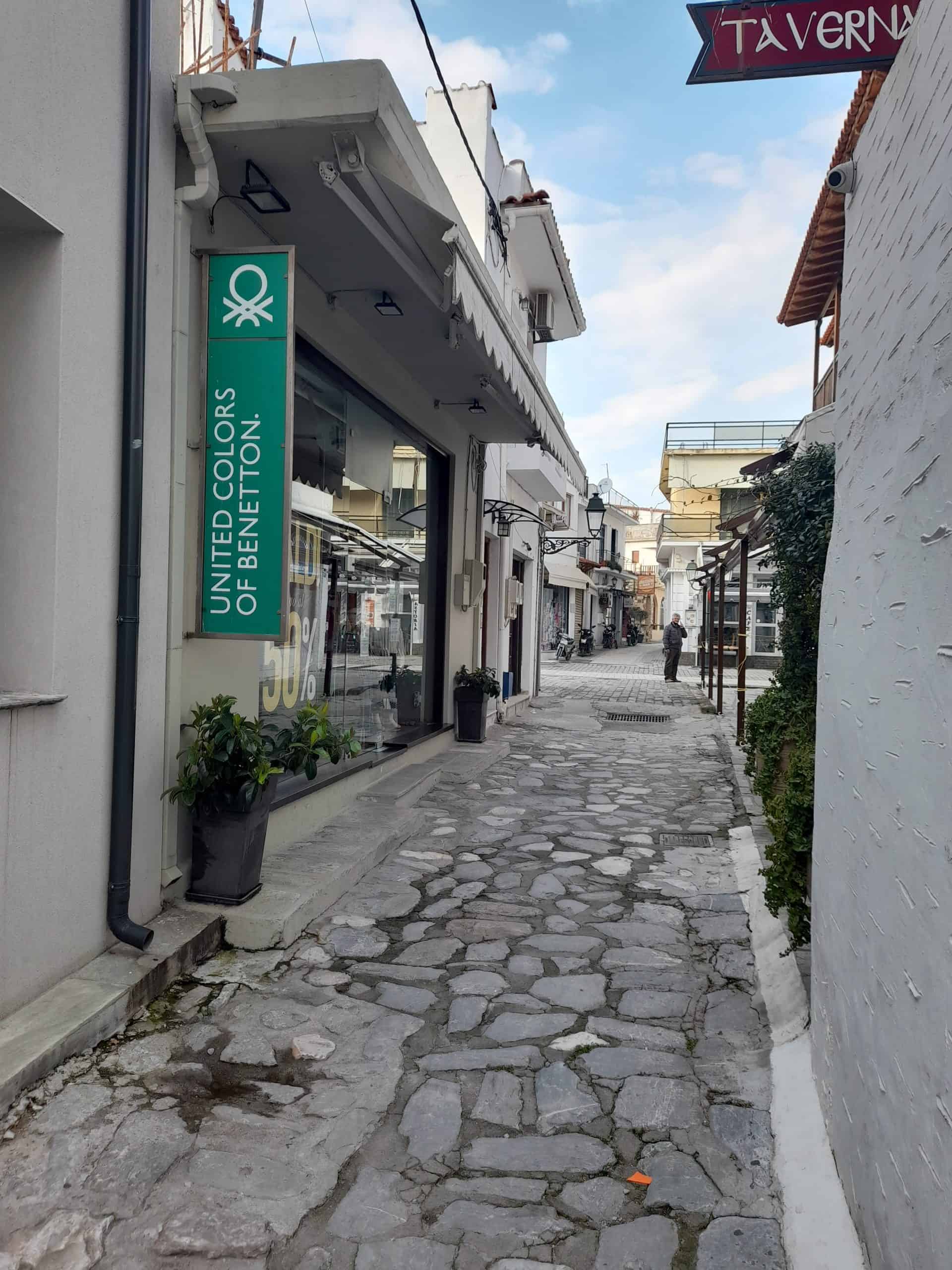 Skiathos town, specifically the port area, was the place where Sophie met her three fathers for the first time. She is also seen mailing her letters from the area around the bell tower.
Skiathos town and its surrounding beaches are worthy of several days' exploration. From there you can venture onwards to Skopelos. The convenient Skiathos bus runs a circuit around the island, making it easy to explore it in depth even without your own transport.
Where Was Mamma Mia Filmed?
Shooting Locations in Mainland Greece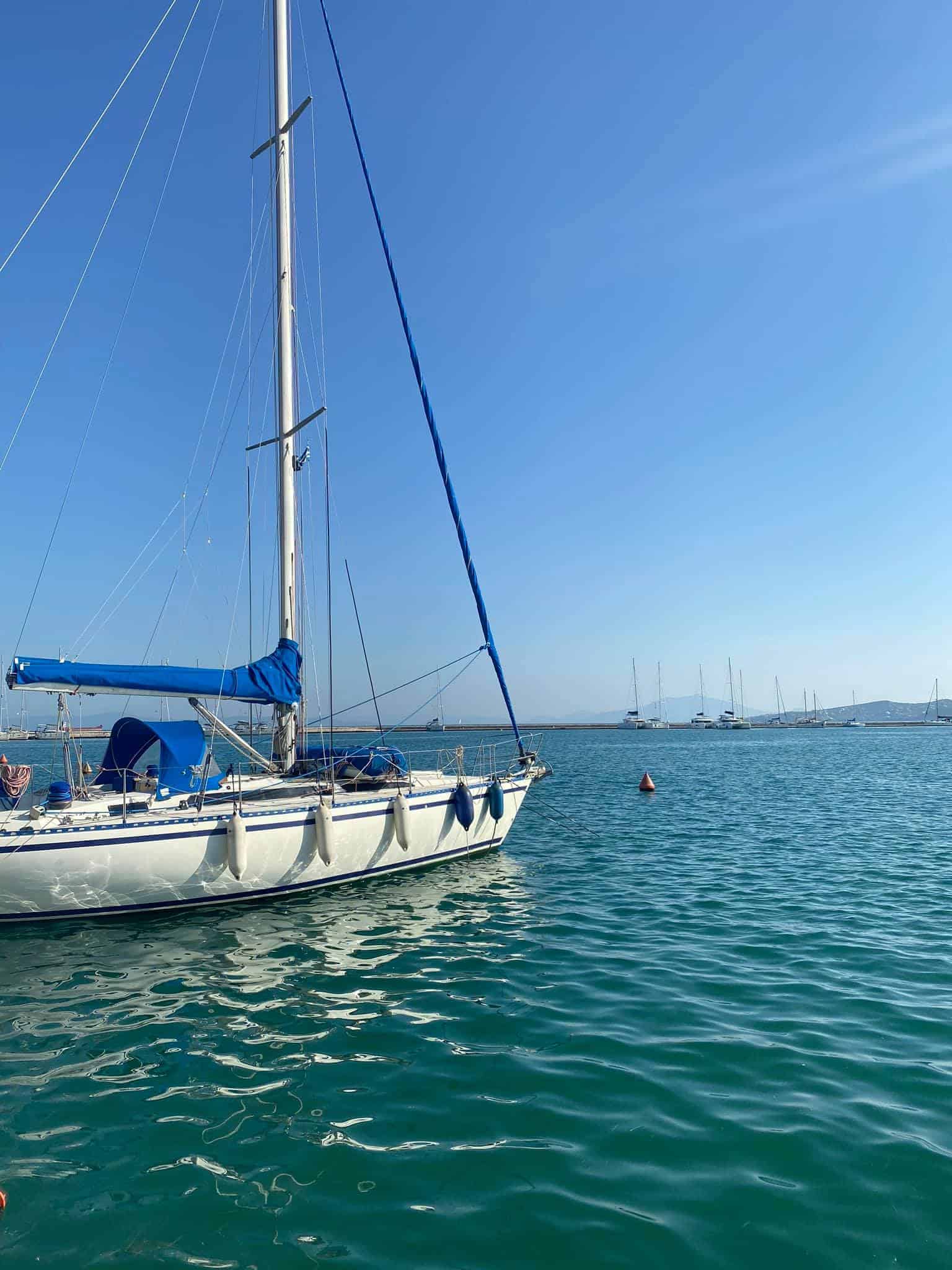 The quaint Pelion village of Damouchari was used for a number of beach scenes in Mamma Mia. Footage of the village's "Blue Beach" was then combined with shots captured in Skiathos and Skopelos.
The olive groves that encompass Donna's home and the hotel can be found at Douchari, just outside of Volos. It takes approximately 30 minutes to reach Damouchari from Volos. 
Volos and the Pelion Region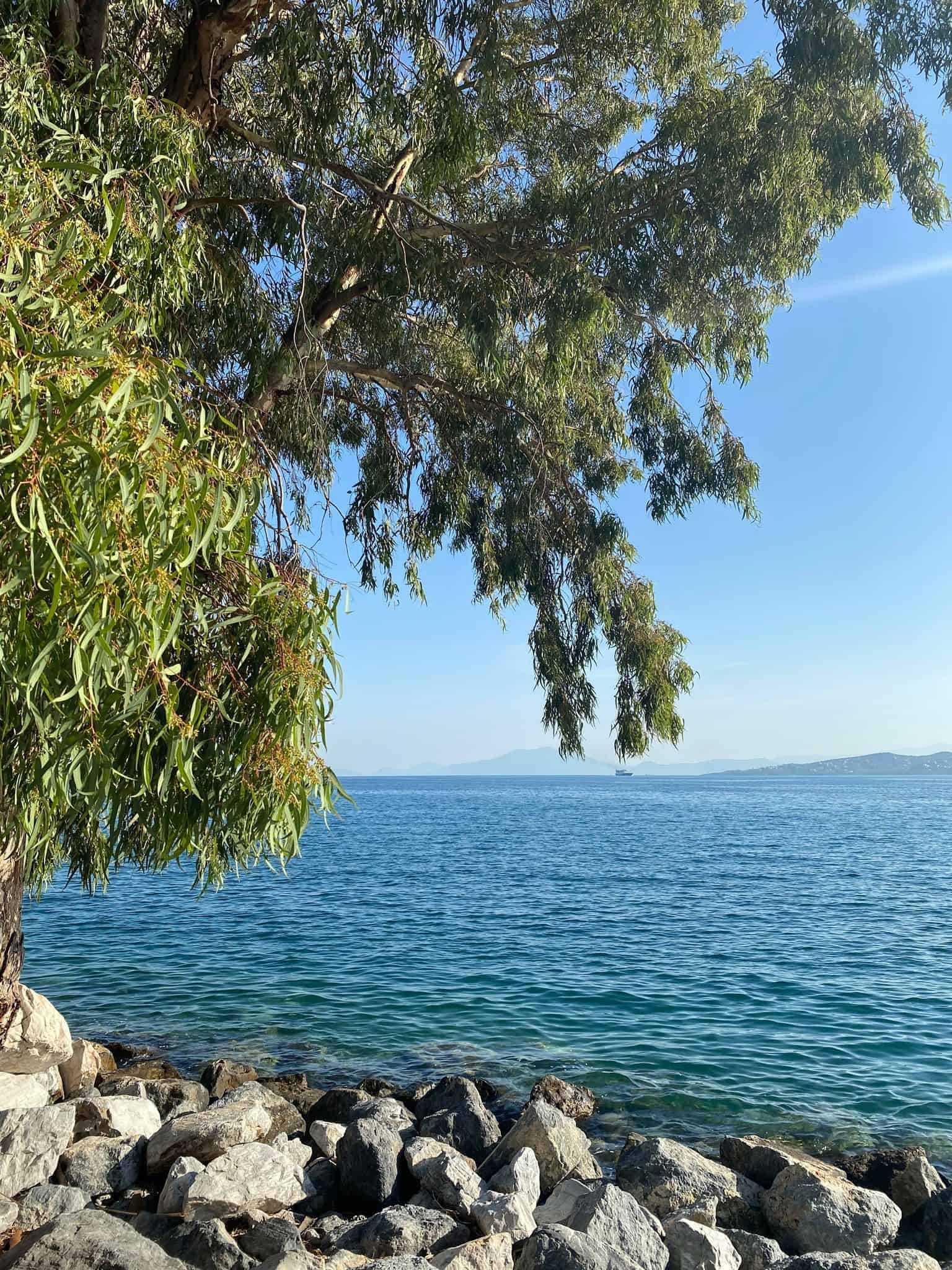 If your schedule permits, you should spend a couple of days in Volos, and then rent a car to explore the nearby Pelion villages. The Mamma Mia village of Damouchari is scenically beautiful, as are the villages of Afissos and Makrinitsa.  
Volos itself may well be one of the most underrated places in Greece. During the summer months, laze on the dreamy beaches of Agios Dimitrios, Anchialos, Pigadia, and Alykes. 
Within Greece, Volos is famous for its tsipouradiko restaurants. In these places, if you order some tsipouro, you will be served free meze dishes to accompany this strong Greek beverage. 
The more tsipouro you order, the better and better your mezes get! However, arguably you may not even be able to see your meze plates by the end of this! 
Where Did the Mamma Mia Cast Stay?  
The Mamma Mia cast and crew stayed at various hotels on the islands of Skopelos and Skiathos while shooting the movie. Other cast members rented villas across Skopelos island. 
The Skiathos Palace Hotel, the Skiathos Princess Hotel, and the Mandraki housed many of the cast members during filming. The Mamma Mia crew were also seen dining at a number of Skiathos and Skopelos restaurants – including the Windmill, Polikratis, and Asprolithos. 
Where Was Mamma Mia Filmed?
Getting to the Mamma Mia Filming Locations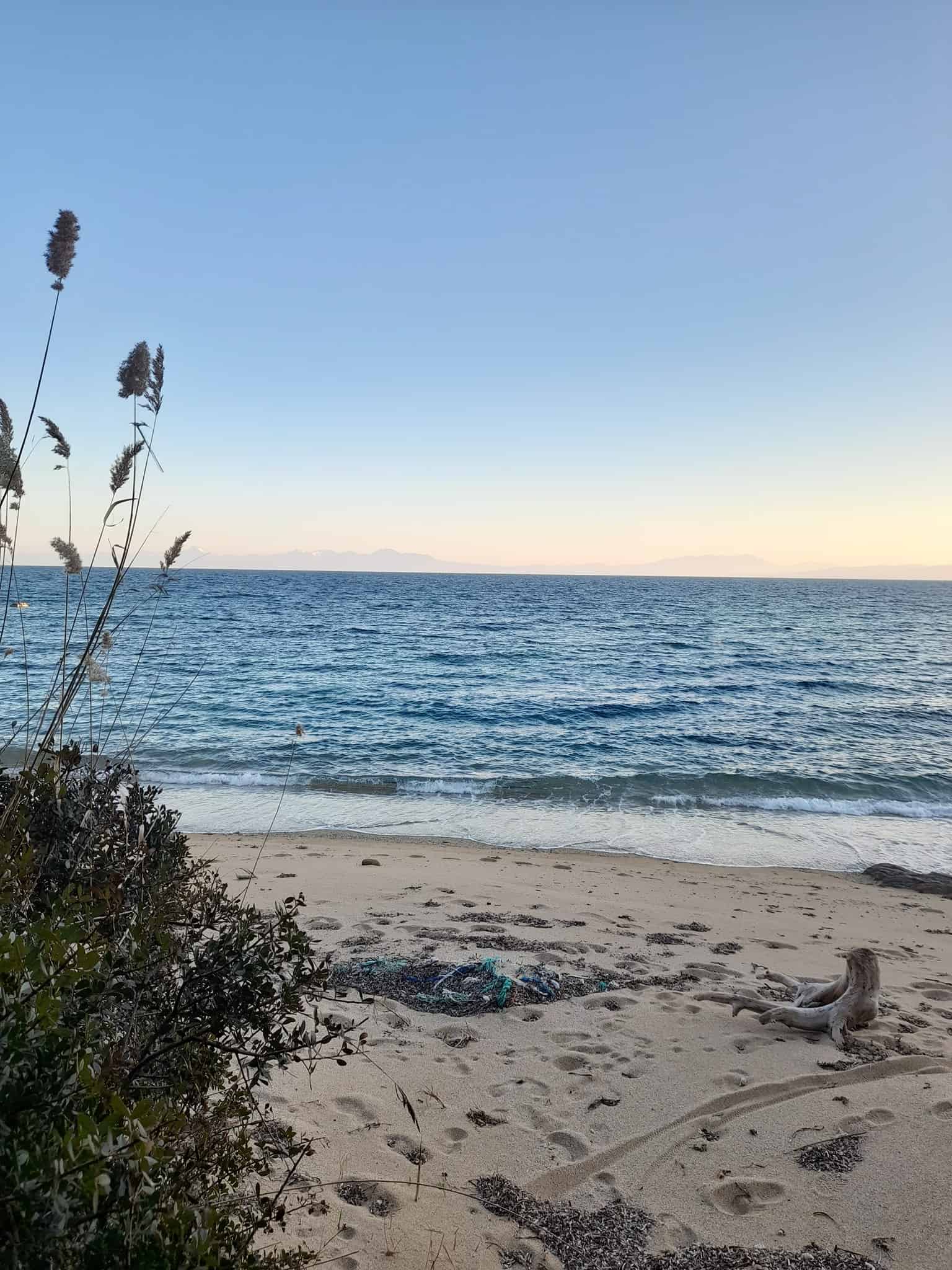 If you are planning a trip to Greece around visiting Mamma Mia filming locations, your best option is to fly to Skiathos. There is no airport on the island of Skopelos. 
Flying into Skiathos
Various international airlines fly from a variety of destinations across Europe to Skiathos. If you are travelling from farther afield, you can fly to Athens, and then take a domestic flight to Skiathos.
It takes just 20 minutes to sail from Skiathos to Skopelos. Boats depart regularly, especially during the summer season. To get to Damouchari, in the Pelion region, you need to first get to Volos.  
Ferry travel in Greece
If you are already in mainland Greece, you can also reach the Mamma Mia filming locations via ferry and public transport. Ferries run between Volos and Skiathos, Skopelos, and Alonissos several times a day.
The journey time depends on the specific type of boat you travel on – either a car ferry or a high-speed catamaran. The ferry journey from Volos to Skiathos takes approximately 3 hours whereas the journey on the faster boat takes an hour and a half.
Skopelos is a little further from the mainland and the journey here takes between 2 hours and 45 minutes, and 4 hours and 30 minutes. You can also take boats to Skiathos from Mantoudi port, on Evia island, and from Agios Konstantinos.
Where Was Mamma Mia Filmed?
Mamma Mia, Here We Go Again 
It should be noted that although the original "Mamma Mia" movie was filmed in Greece. The sequel was shot on the tranquil island of Vis in Croatia.
Movie producers cited Greek bureaucracy and the cost of production as some of the reasons why they decided to move the filming of the second movie to a new location. The second movie sees a pregnant Sophie renovating an old Greek taverna on Kalokairi, and explores her mother Donna's past relationships with the three prospective fathers.
It is a shame that the movie production was not kept in Greece. However, that just means that you have an excuse to explore yet another beautiful Mediterranean island!
Parting Words
Do you have any additional questions about planning a trip to Greece, or finding Mamma Mia filming locations? Please don't hesitate to reach out to me. 
I have lived in Greece since 2017 and spent eight months living in Skopelos. I am happy to assist with any queries you may have.
Safe travels! Geia sou! Melissa xo
---