Skiathos town is the charming capital of the little Greek island of Skiathos. It is characterised by its labyrinth-like network of narrow cobbled passageways and its whitewashed houses that cascade down the hilltops. In this little guide, we will explore everything you ought to add to your radar while exploring the town.
Skiathos town, like most Greek island capitals, is also known as the ¨Chora¨. The town sits within a natural bay on the island's southeastern tip and offers breathtaking views across the Aegean at almost every turn.
The vast majority of the island's 6000-strong population lives in and around Skiathos town and the area can get extremely busy during the tourist season. Still, in spite of the summer crowds, nothing can detract from Skiathos town's charm.
Historical records indicate that a settlement has existed here in some form or another for thousands of years. In the 7th century BC, colonists from Evia island moved to Skiathos.
They founded a small town in the island's northeastern corner that they named ¨Palaiskiathos¨, but they later moved to a new location and founded a settlement that would eventually become Skiathos town. What the town lacks in size, it more than makes up for in history and charm.
Within its small area, you can find a plethora of charming restaurants serving Greek and international fare, quaint boutique stores, chic cocktail bars, live music venues, and fascinating museums.
Things to See and Do In and Around Skiathos Town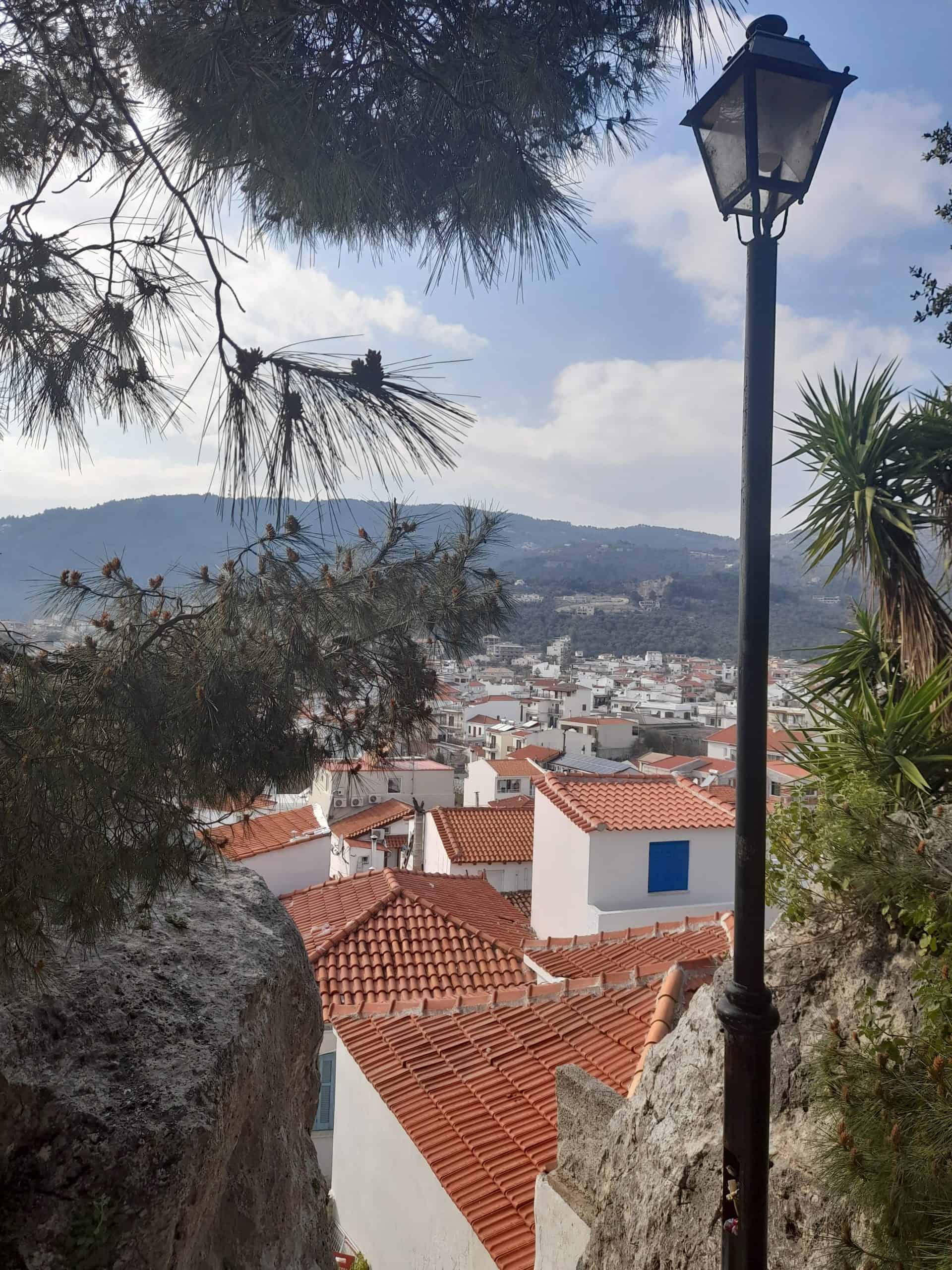 Skiathos town makes a great place to base yourself during your time on the island. Even if you opt to stay in other villages or resorts during your trip, it is well worth venturing here to explore for at least a day.
Watch a dramatic plane landing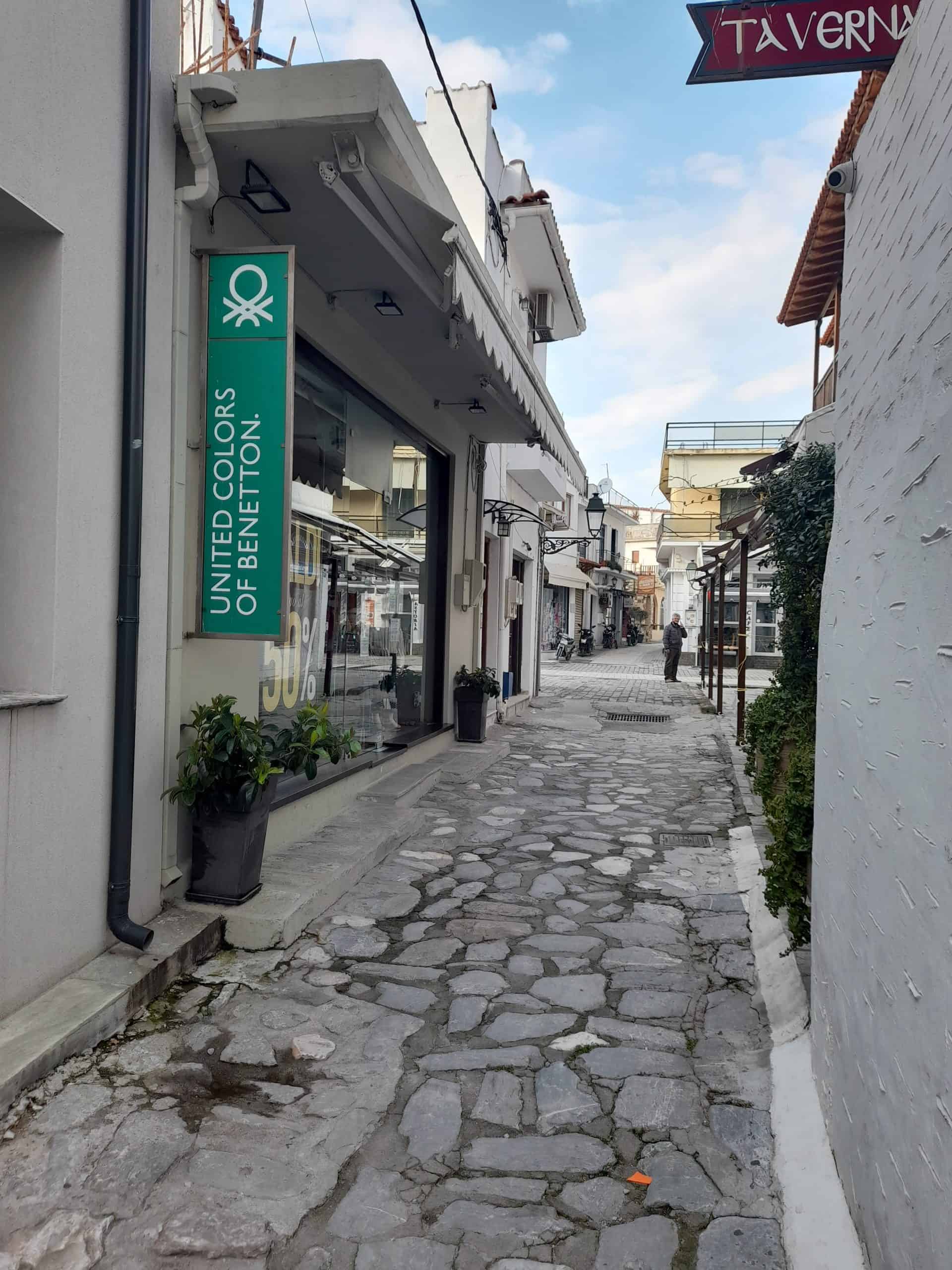 Skiathos town is home to one of the most dramatic plane landings in Europe and is a great destination for plane-spotting enthusiasts. It is known as the European St Maarten as this is one of the only places in the world where you can stand directly beneath the planes as they are coming into land.
You can easily walk from Skiathos town to the airport. The route is scenic and pleasant and takes just 30 minutes, with plenty of places to stop and take photos en route.
Alternatively, you can take a cab to/from the airport for just €5-10 each way. (And there are always plenty of cabs around Skiathos port and the airport).
There is a little coffee shop at the end of the runway where tourists and locals gather to wait for the plane landings. From here, all that is left to do is to set up your tripod and wait for the jet blast.
Visit the Monastery of the Annunciation (Evangelistria Monastery)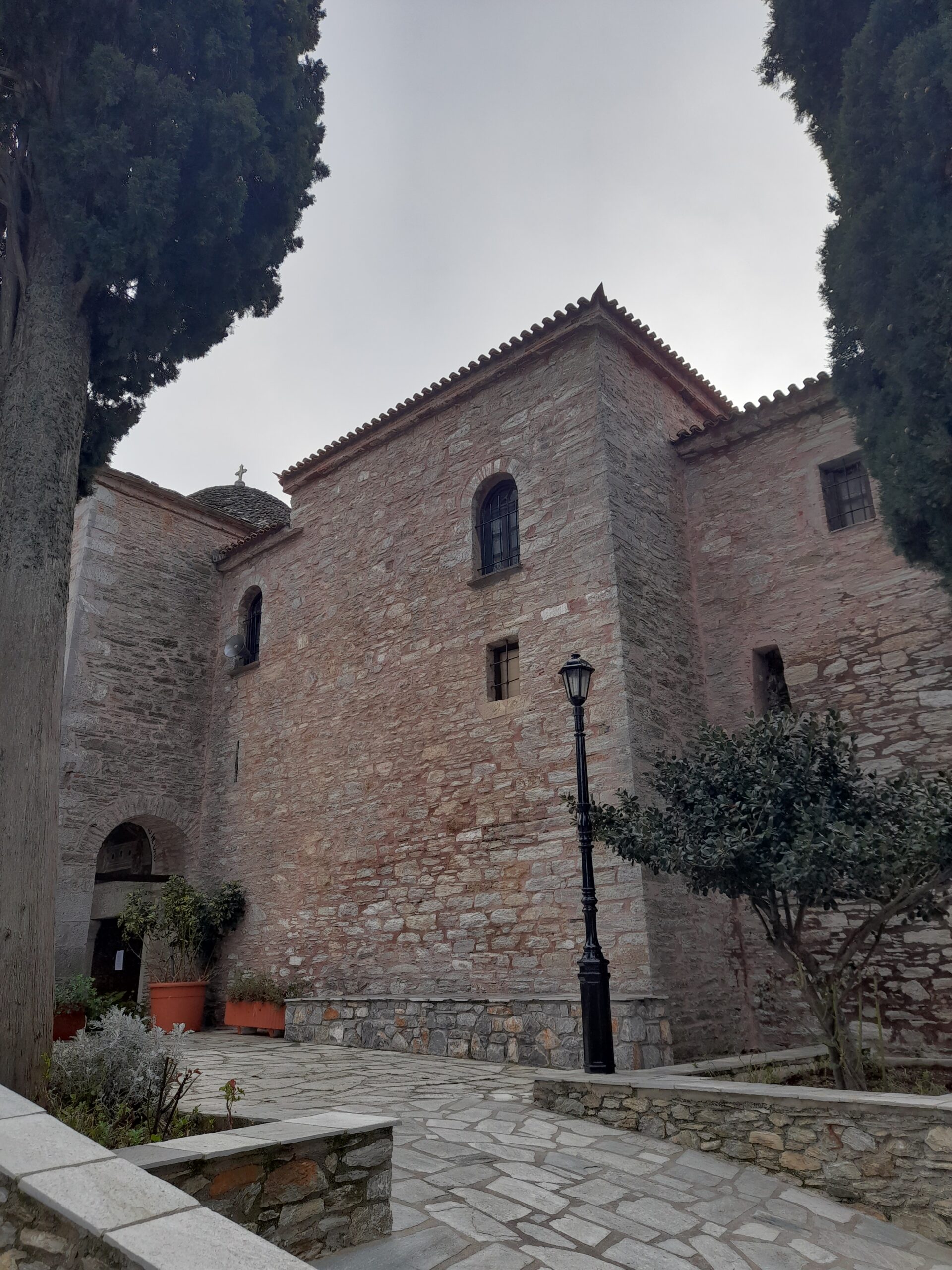 The Holy Monastery of the Annunciation to the Virgin Mary is located in the hills just 4km north of Skiathos town but it is worth mentioning here as you can get there and back within a couple of hours. There are several historic monasteries scattered throughout the little Sporades island of Skiathos.
This one is particularly interesting as it was here where the first ever Greek flag was created and flown in 1807. (It looked a lot different to todays Greek flag but it was the first modern symbol of Greek independence. Made on a loom, it had a white cross woven across a bright blue background).
The monastery dates back to 1794 when it was founded by a group of Kollyvades monks (Κολλυβάδες). If you fancy a walk and its not too hot, you can follow Skiathos hiking trail number 13 from the town to the monastery.
During the summer months, a mini-bus also connects Skiathos town with the monastery. You can check the timetable here.
Explore the old port
If you exit the bourtzi and turn right, you will find the ¨new¨ Skiathos town port, from which Hellenic Seaways and Anes ferries depart regularly for Skopelos, Alonissos, and Volos. If you turn left, you will find the old port.
This is a pleasant place for an evening or early morning stroll by the waterfront. Little wooden boats float in the water beside the boardwalk and if you stop by early enough, you may be lucky enough to see local fishermen row their boats out into the Aegean in search of the day's freshest catches. 
If you opt to take a Mamma Mia tour like this one, your boat will depart from here. O Batis (Ο Μπάτης) is a Skiathos institution. This little taverna beside the old port is the embodiment of filoxenia (Greek hospitality) and serves excellent traditional fare.
Climb up to the church of Agios Nikolaos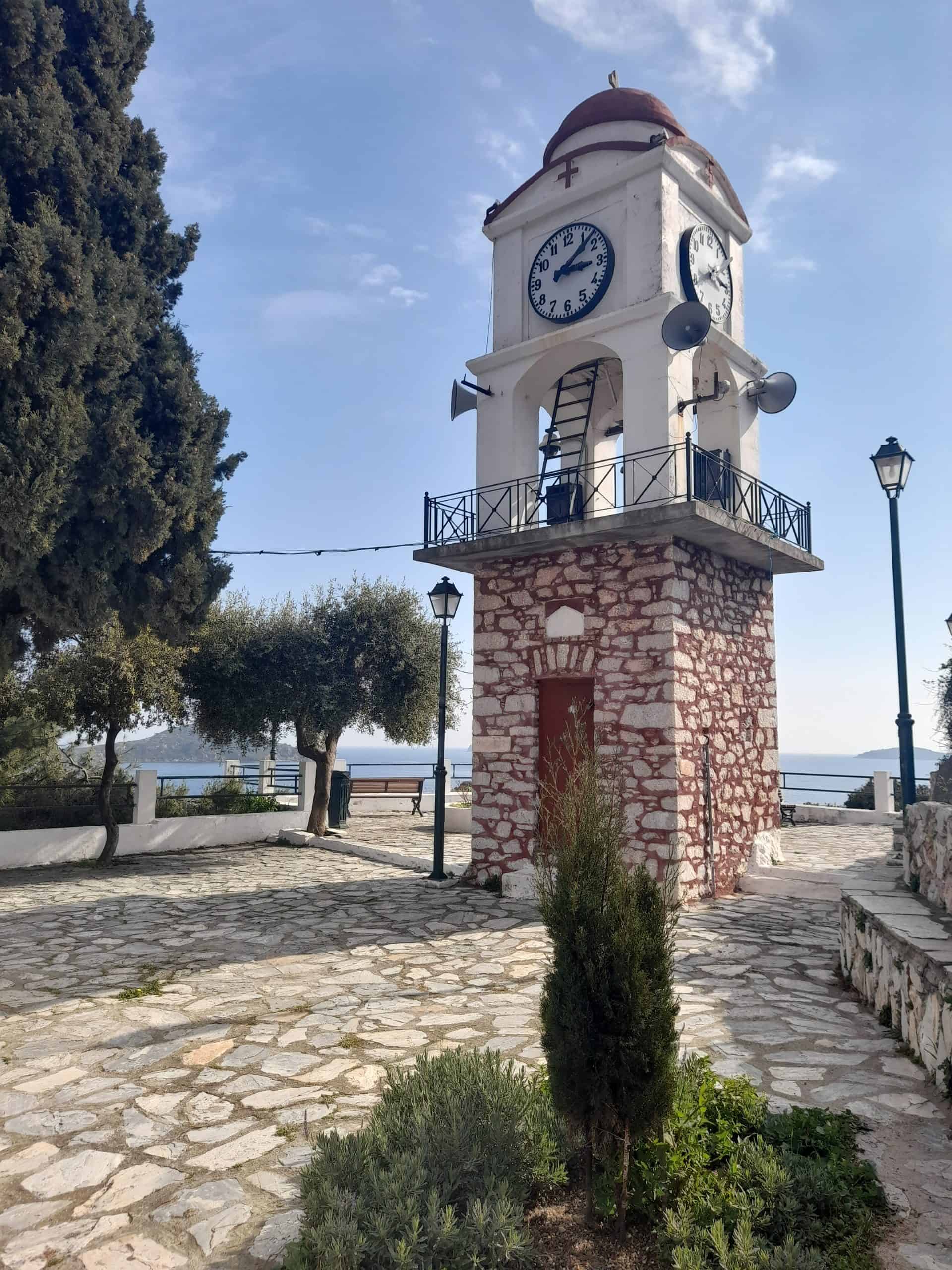 The church of Agios Nikolaos is perched on a hilltop high above the Skiathos town. It was built in 1931 and has a well-preserved wood-carved iconostasis and stone clock tower.
The church is dedicated to Saint Nicholas, the patron saint of sailors and fishermen. This will be one of the first things that you see as your boat pulls into Skiathos town for the first time.
You can easily reach the church by following a series of narrow passageways and steps that lead you through the old part of town. Signs lead the way and make it easy to see where you are going.
The church is impressive in itself, but the highlight of coming here is the view over the town that you can enjoy from the top. You will also pass one of the most famous Mamma Mia filming locations on your way up here too.
The opening scene of the movie where Sophie mails the wedding invitations to her three potential fathers was filmed up here.
Catch a show at the Bourtzi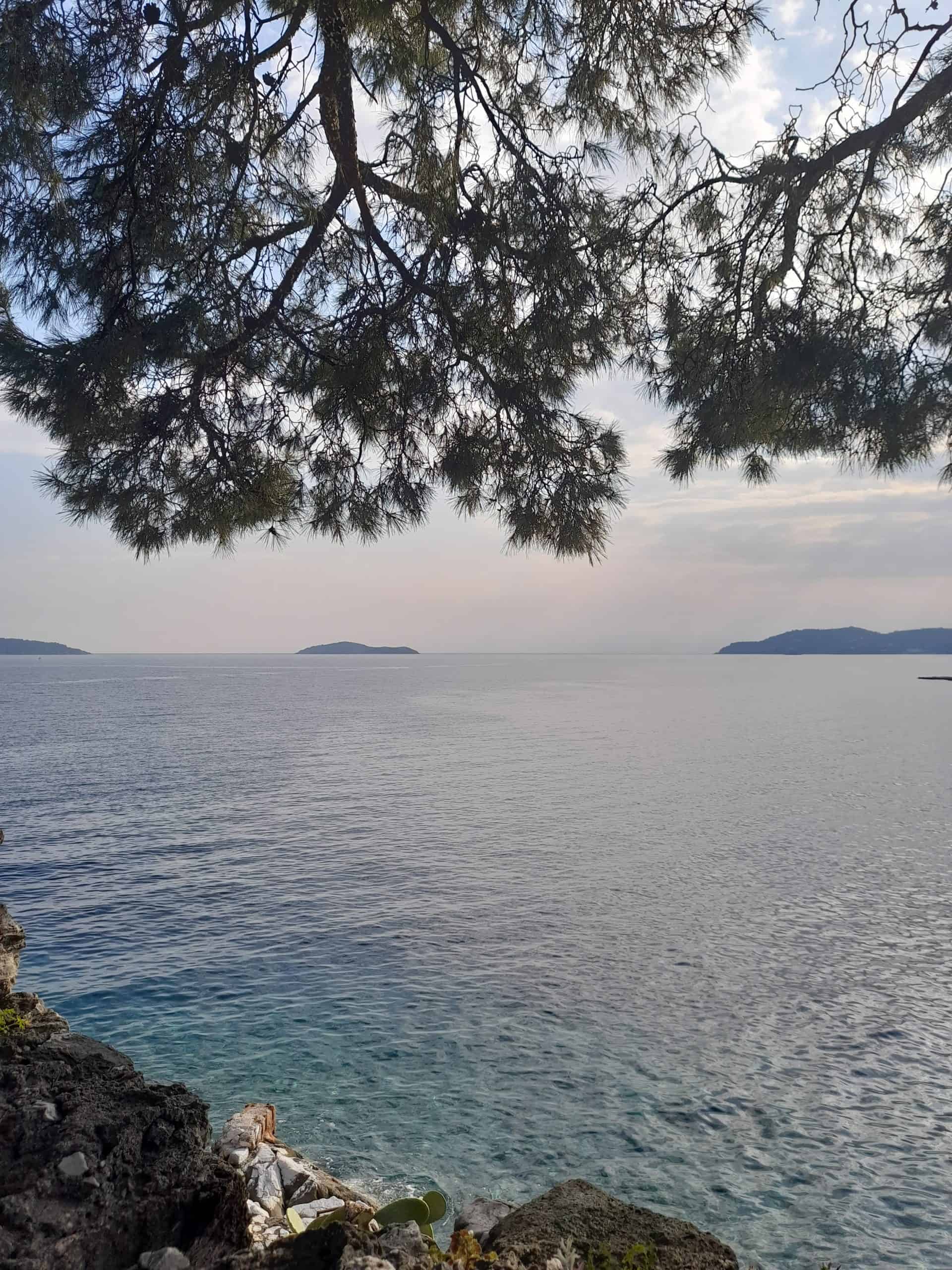 The Bourtzi is a tiny wooded peninsula that sits just off the coast of Skiathos town and essentially divides the port into two halves. (The old port and the new).
In 1207, a fortress was constructed here by the Gizi brothers who ruled over Skiathos at that time. The peninsula was encompassed by impregnable defensive walls.
Two lookout towers sat on either side of the main gate to aid the Venetians in scouting for enemies. It is believed that a small church once stood here too.
Today, the Skiathos Bourtzi is home to a small theatre where you can catch open-air movies in the summer. (Mamma Mia is a popular one that is often played here!)
The little leafy footpaths around the peninsula are popular places for locals and tourists alike to go for a stroll or sit on the benches overlooking the sea with a take-out coffee.
Stroll down Papadiamantis Street
Papadiamanits Street is the Skiathos equivalent to the high street. This pedestrianised promenade is lined with cafes, bakeries, restaurants, and tourist shops.
Many of the little streets and passageways that veer off from it are filled with independent boutiques and artisanal stores. The street, just like Skiathos airport (Skiathos Alexandros Papadiamantis Airport JSI) is named after the Greek author Alexandros Papadiamantis who was born and raised on Skiathos island.
Walk along the coast to Megali Ammos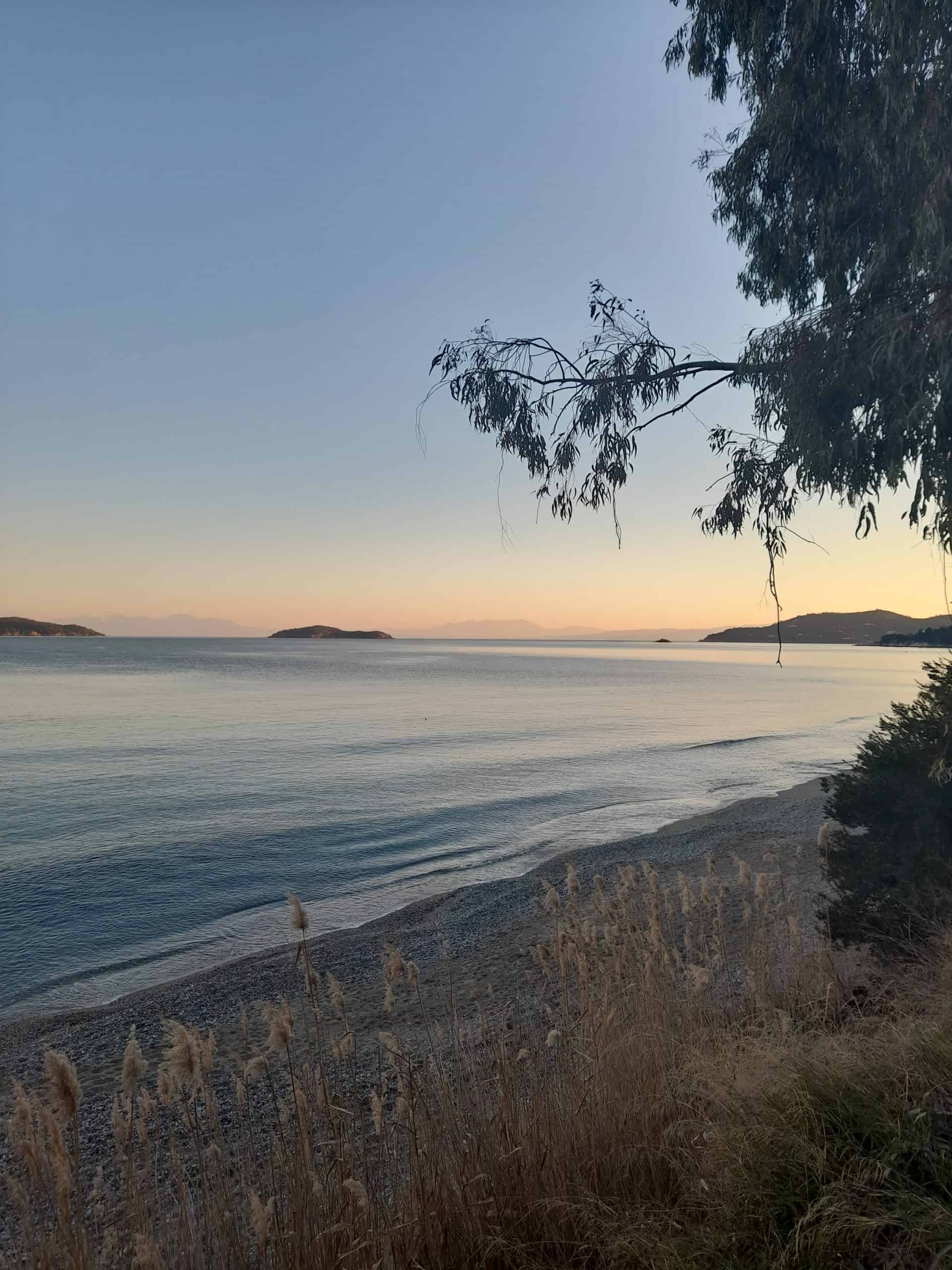 One of the most popular Skiathos beaches, the beach of Megali Ammos is just a 15-minute walk from the Bourtzi. This city beach is often crowded during the summer months, but it serves a purpose if you are just looking for a sandy spot to relax beneath the sun.
(If you are looking to escape the crowds, you can continue along the coast to some of the quieter island beaches like Diamandis Beach and Katharina). There are plenty of hotels, restaurants, and bars here so you have all of the amenities on your doorstep when you want to grab a bite to eat, etc.
The Skiathos bus also makes getting around the island and to all of its beautiful beaches very easy.
Take the time to get lost in the backstreets of Skiathos town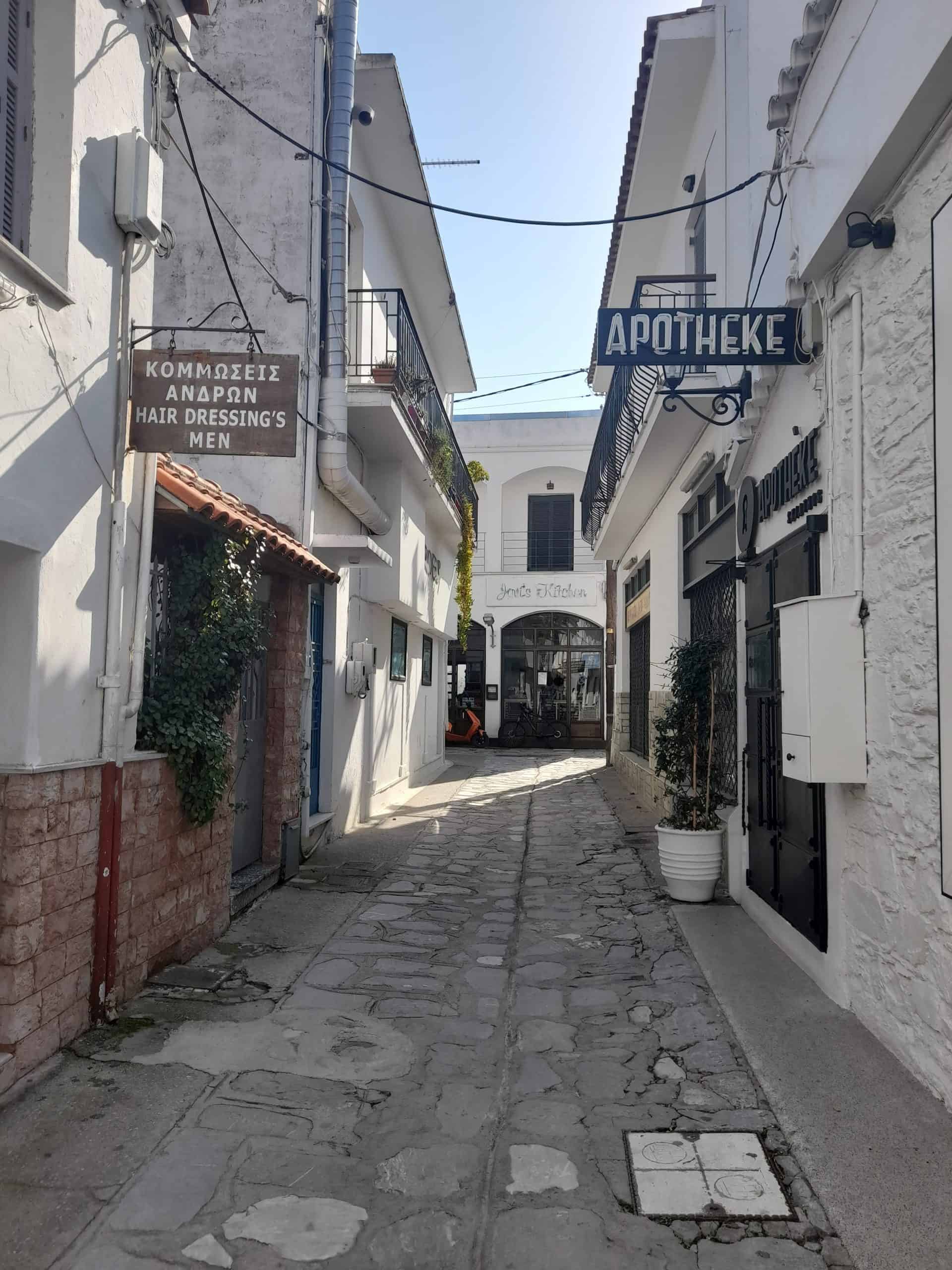 Part of the joy of exploring Skiathos town is simply taking the time to get lost in all of its cobbled backstreets and passageways. Many of the whitewashed houses here, draped in bougainvillea, are a photographer's dream.
The seafront promenade is lined with souvlakias, gyro places, and coffee shops.
During the winter, these establishments are a popular rendezvous point for locals. Old timers sit in the Kafenions here sipping Greek coffee and playing backgammon. In the summer, the eateries here are bustling with tourists.
Explore the small churches outside of Skiathos town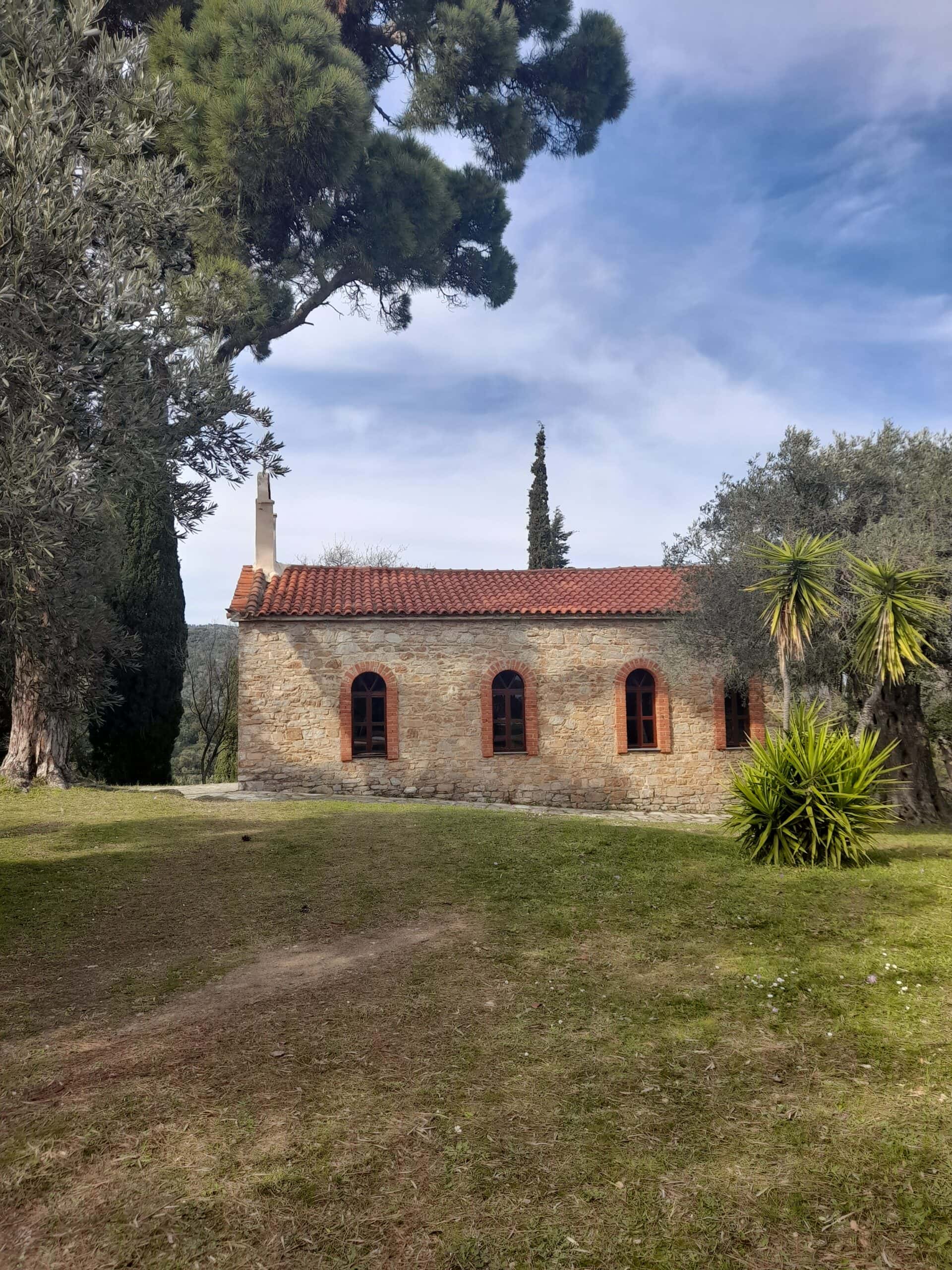 There are dozens of small churches scattered throughout the scenery of Skiathos. Many are nestled within the woodlands and although there is no one inside, the doors are always unlocked so that you can go in, admire the frescoes, and light a candle in honour of loved ones lost.

The Church of Archangels Taxiarches (Εκκλησία Ταξιάρχες) is a small, lovely chapel on the road to Evangelistria Monastery. You can rest here if you choose to walk to the monastery and hang out with the chapel's resident felines.
Nearby, you will also see the church of Zoodochou Pigi (Ζωοδόχος Πηγή ). This is an incredible stone church that is situated in a small clearing in the woods.
Visit the House of Papadiamantis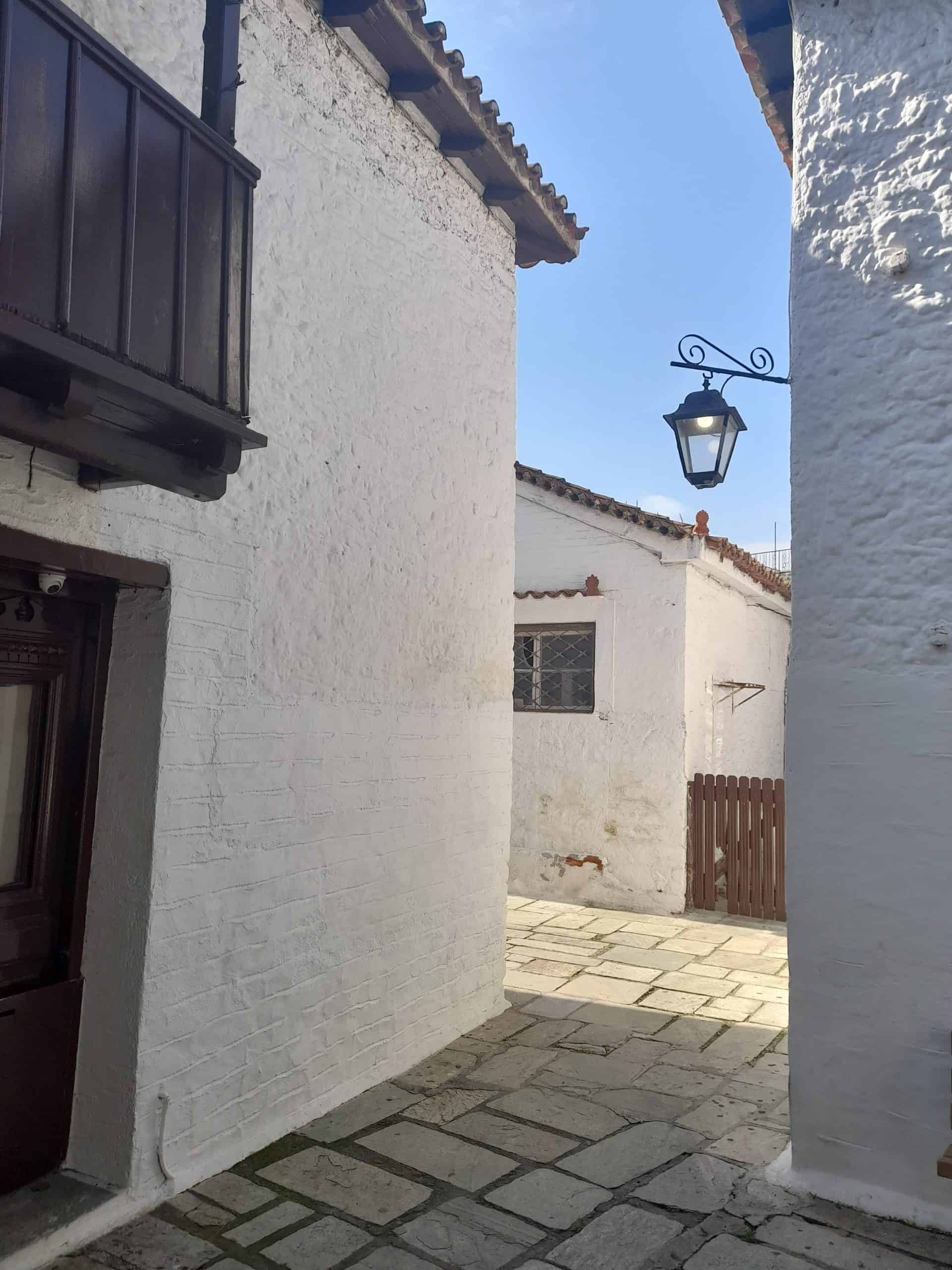 Alexandros Papadiamantis was one of the most prominent writers in the history of Greece. He was born in Skiathos in 1851 and wrote many famous Greek novels including ¨The Murderess¨, ¨Around the Lagoon¨, ¨The Boundless Garden¨ and ¨Love in the Snow¨.
He may not be a familiar name to you unless you have a big interest in literature/Greek history and literature. But if you do, you can stop by the house that he grew up in that has been converted into a living museum.
The small museum is just off the main commercial street of Papadiamantis. The ground floor contains a selection of his work and manuscripts while the other rooms have been maintained just as a traditional Greek property would have appeared in the 19th century.
Admission to the museum is €1.50. The museum is open from 08:30 am until 14:30pm, and again from 17:00 pm until 20:00 pm daily.
Sail out to other uninhabited islands in the Sporades
Only four of the 24 islands in the Sporades archipelago are actually inhabited. (Namely, Skiathos, Skopelos, Alonissos, and Skyros).
However, from the port of Skiathos, you can take trips out to some of the other uninhabited islets and islands in the region. Tsougkrias is an absolutely gorgeous paradise that you can view from Achladies and Cape Kanapitsa on Skiathos Island.
It boasts golden sandy beaches backed by pine trees and it feels like a true paradise lost. In the summer months, live DJs from across the world often perform here to delighted crowds.
Indulge in traditional Greek cuisine
Sampling traditional Greek food is as much of a highlight of a trip to the Sporades as seeing the sights and relaxing on the beaches. Greek food goes way beyond just moussaka, gyros, and pastisio and there are several excellent restaurants and tavernas in Skiathos town where you can sample regional delicacies as well as famous national dishes.
Ergon (Upper Papadiamanti) is a great place to stop for a spot of breakfast or brunch before you head out for the day. Their menu focuses on international classics with a Greek twist. For instance, slow-cooked scrambled eggs prepared Mediterranean style with fresh tomatoes and herbs, cheese pies from nearby Skopelos town, and fresh omelets stuffed with Greek cheeses.
If you are looking for a traditional Greek taverna, you can't go wrong with Taverna Akrogiali (Paralikos). The eatery has been designed in a typical Greek island style.
(Think blue and white decking and chairs, and walls draped with bougainvillea.) What really sets Taverna Akrogiali aside from the other eateries though, is their fresh seafood caught earlier the same day.
Where to Stay in Skiathos Town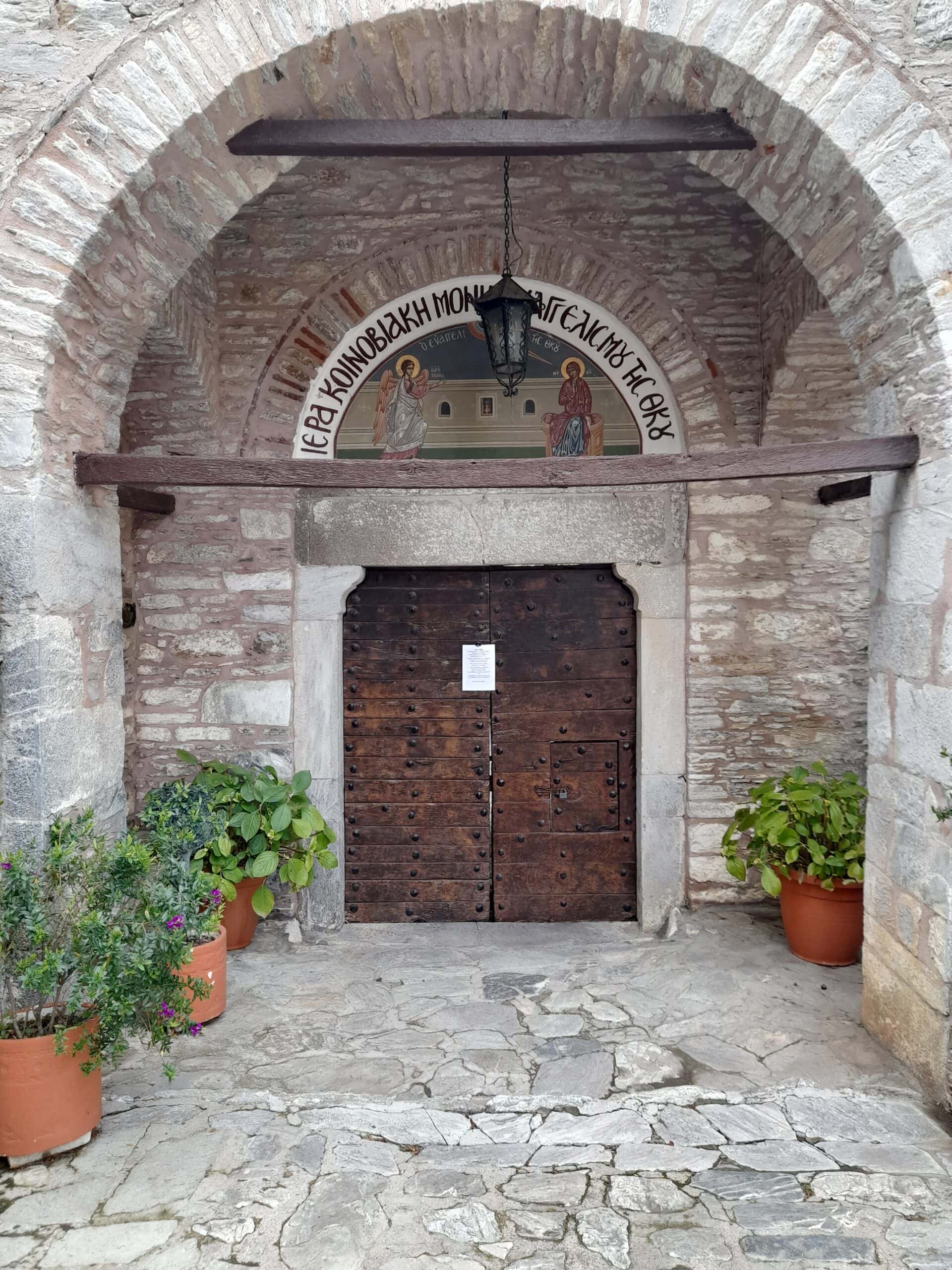 There are a plethora of hotels and accommodation options available in Skiathos town. You will find something here to suit every budget and travel style.
Skiathos town is a popular Greek travel destination. As such, it is advisable to book your accommodation in advance if you plan on travelling during the peak summer months of July and August.
A handful of reputable Skiathos town hotels are discussed below for your reference. Skiathos is a popular destination for charter flights and package holidays.
You may want to assess whether it works out easier/cheaper to book a package deal or organise everything independently. Jet2, TUI, British Airways, and BA Cityflyer all offer direct flights from the UK to Skiathos.
Atlas Hotel, Skiathos Town
The Atlas Hotel in Skiathos town offers a luxury stay without the luxury price tag. Rooms here start from just €35 per night.
The property has been decorated in a chic, contemporary style. All of the rooms feature plush, modern furnishings that boast an elegant black-and-white monochrome palette.
Atlas Hotel´s location is excellent. You are situated right at the beating heart of the Chora.
There are a plethora of restaurants and bars right on your doorstep. Meanwhile, the port and the beach of Megali Ammos are just a short walk away. You can check the latest room rates and availability here.
Skiathos Mystery Residence
The four-star Skiathos Mystery Residence is one of the most luxurious and decadent properties on the island. It is situated on a hilltop just above the town.
Guests can enjoy breathtaking sea views from the exteriors and balconies. The property boasts an outdoor pool, perfect for relaxing at the end of a day's sightseeing. Click here to check the latest rates and availability.
FAQs About Visiting Skiathos Town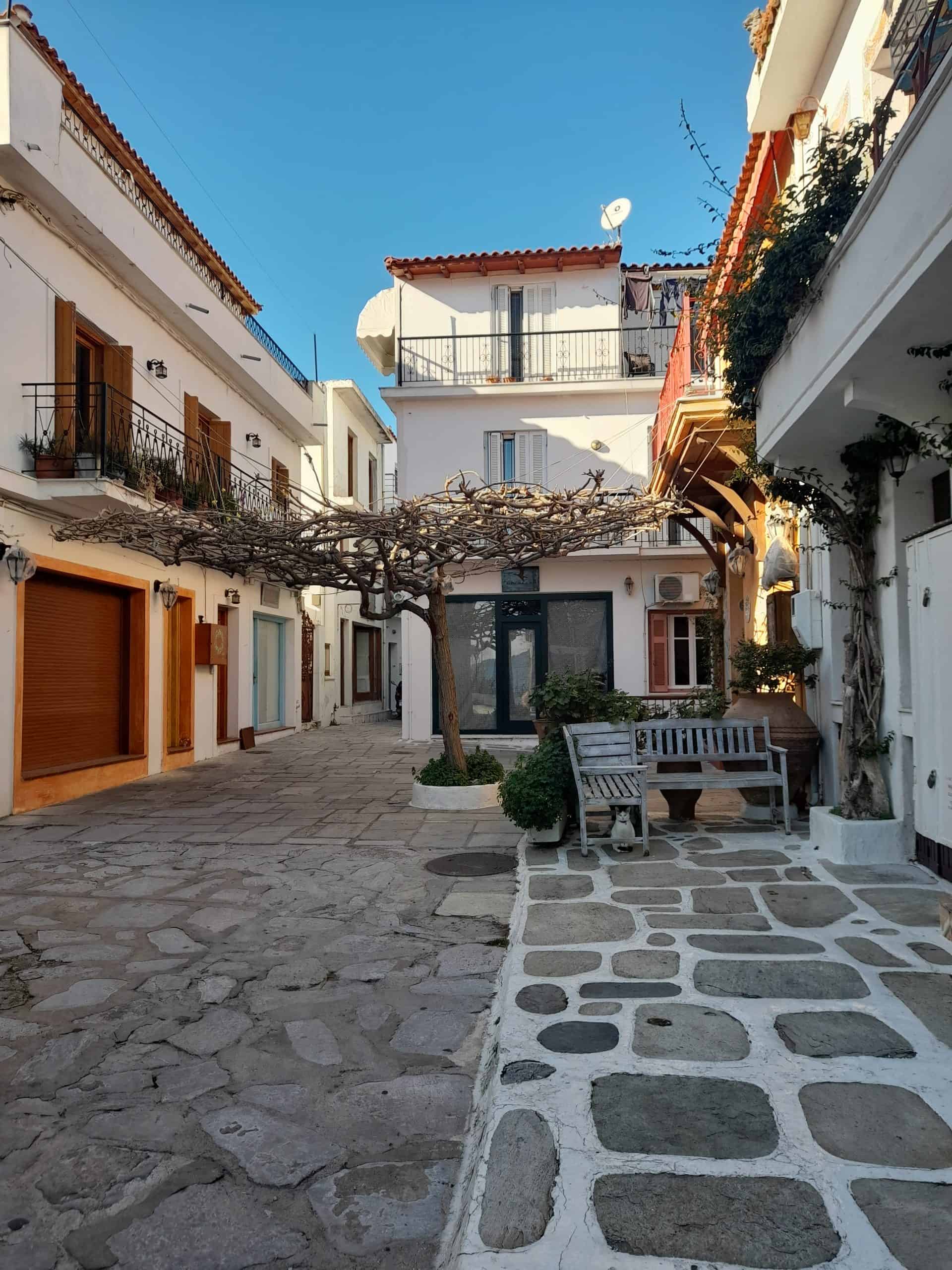 Do you have any further questions about stopping by Skiathos town or planning a trip to Greece in general? The answers to some frequently asked questions on the topic are detailed below.
Hopefully, you will find the information you are looking for there. If not, please do not hesitate to reach out to me.
Is Skiathos town worth visiting?
Skiathos town is well worth visiting, even if you decide to base yourself in Kanapitsa, Troulos Beach, Koukounaries, or any other part of the island during your trip. You can easily take the bus into the town from various parts of Skiathos Island in order to have lunch, or dinner, or experience the exciting nightlife that the town has to offer.
There are also a couple of notable attractions here that you should absolutely take the time to see. For instance, the church of Agios Nikolaos, Megali Ammos Beach, the Bourtzi, and Evangelistria Monastery.
How far is Skiathos town from a beach?
There are several stunning beaches a short walk away from Skiathos town. The closest is the sandy beach of Paralia Megali Ammos, a sandy beachfront lined with hotels and restaurants.
It takes approximately 15 minutes to walk from the bourtzi to Megali Ammos. From there, you can continue walking along the same coastal road (Epar. Od Koukounarion – Skiathou) until you reach Vasilias Beach.
Heading further along, you will find Achladies, Tzaneria, etc.
Final thoughts on visiting Skiathos town
Skiathos old town is a must-visit place during your trip to Skiathos. Skiathos itself is charming, and there is a reason why it is quickly emerging as one of the most popular island travel destinations in Greece. (It is affectionately known as ¨the boomerang island¨ on account of how many people visit the island repeatedly year after year).
Do you have any additional questions about Skiathos town? I have lived in Greece since 2017 and spent 9 months based on Skopelos and Skiathos.
Feel free to reach out if you need anything. Safe travels.
Geia sou! Melissa xo
---