Skiathos town is the picturesque little capital settlement of the Greek island of Skiathos. With its beautiful traditional buildings, homely tavernas, and nearby beaches, it captures the hearts of all of those who visit.
Skiathos is a relatively small island. It is only 12 miles long and 4 miles wide.
However, the little town has everything that you could possibly need and is bursting with charm and personality. Skiathos is actually known as ẗhe ¨boomerang island¨ on account of how many people fall in love with it so much that they return year after year.
Charming Skiathos Town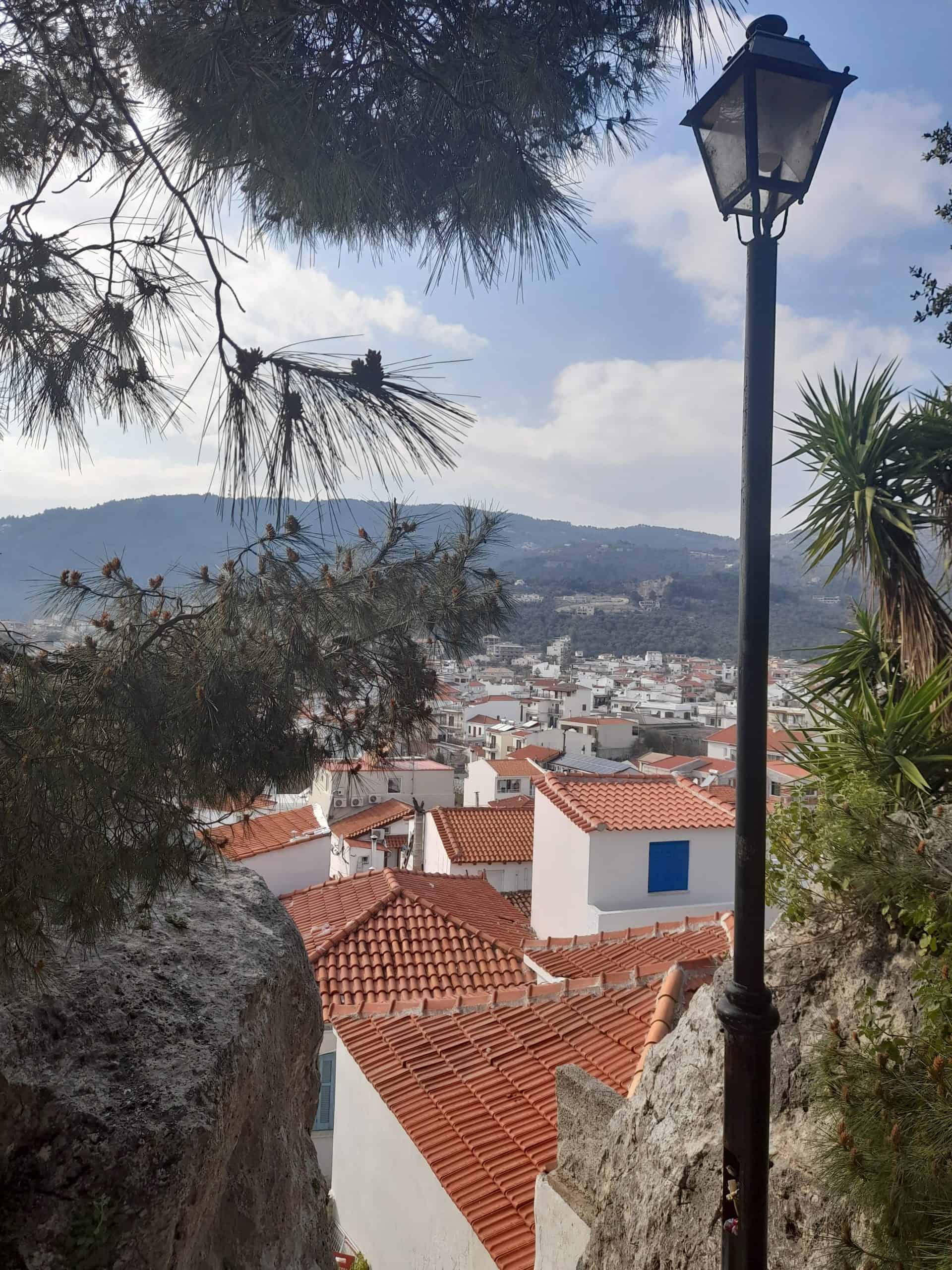 Skiathos town, like most Greek island capitals, is often referred to as the ¨Chora¨. It is characterised by narrow cobbled alleyways and gorgeous whitewashed houses that cascade down the hillsides.
The town sits within a natural bay on the island´s southeastern tip. Breathtaking views across the Aegean can be enjoyed from every corner of the town and the port area. The pine-clad island of Skopelos and the little village of Glossa can be seen across the water in the distance.
The vast majority of the island´s 6000 strong population lives in and around Skiathos town. Despite being an extremely popular Greek tourism destination during the summer months, Skiathos does not lose its charm.
A plethora of dining and entertainment choices can be found throughout the town. Dining options in Skiathos town range from traditional tavernas serving up home-cooked Greek classic dishes, to international restaurants showcasing cuisines from across the world.
A Little History of Skiathos Town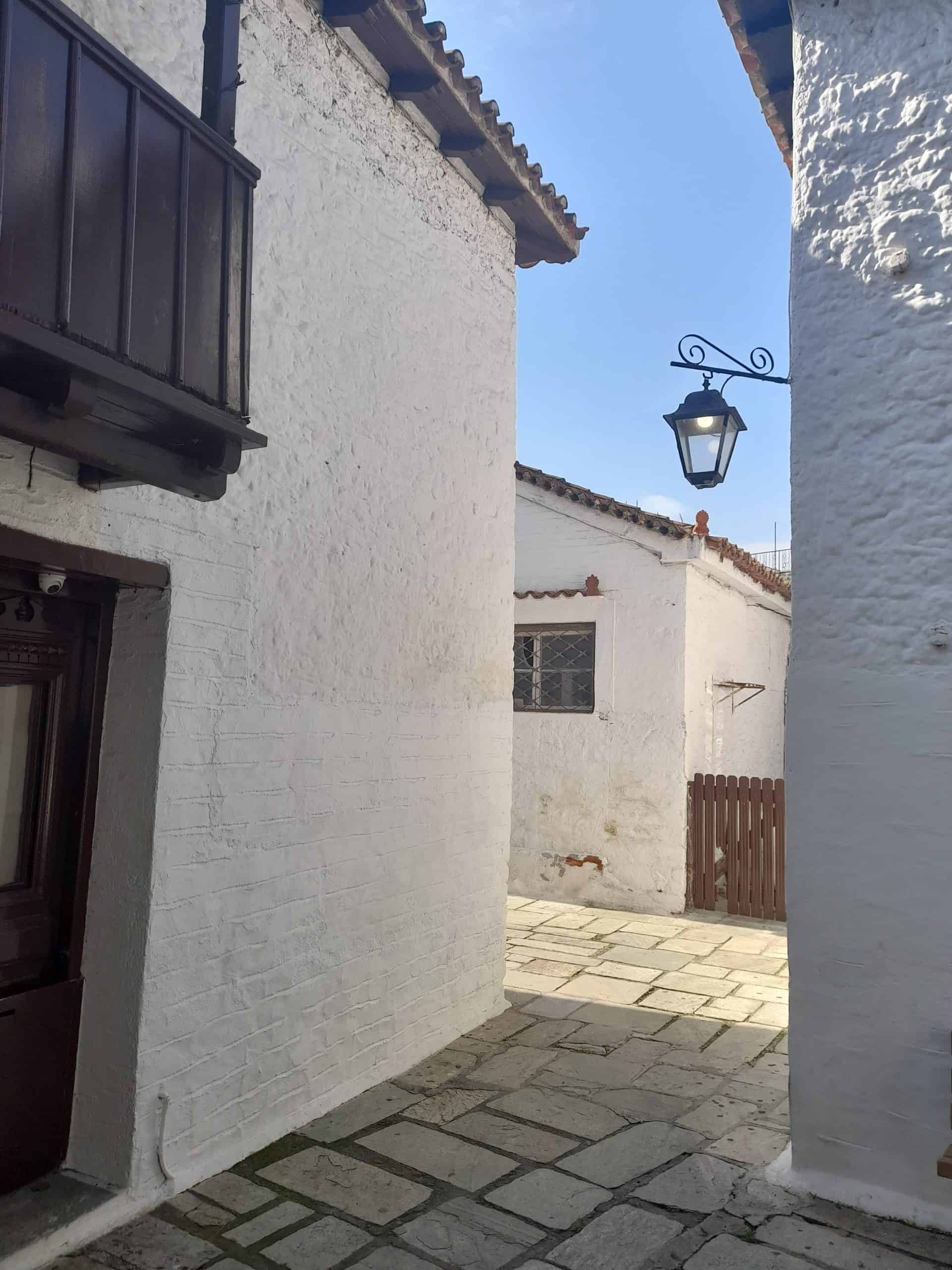 A settlement has existed at this site in some form or another ever for thousands of years. In the 7th century BC, colonists from Evia island moved to Skiathos.
They founded a small town in the island´s northeastern corner that they named ¨Palaiskiathos¨. However, during the Classical era, a new town was built.
This new settlement was constructed where Skiathos town stands today. The sun-bleached, crumbling remnants of its 4th-century defensive walls can still be seen on the outskirts of town. This is all that has survived from this period.
Skiathos has a fascinating history, and the island has passed through the hands of various civilisations over the centuries. It has survived wars, pirate raids, and bombings.
The Rulers and Conquerors of Skiathos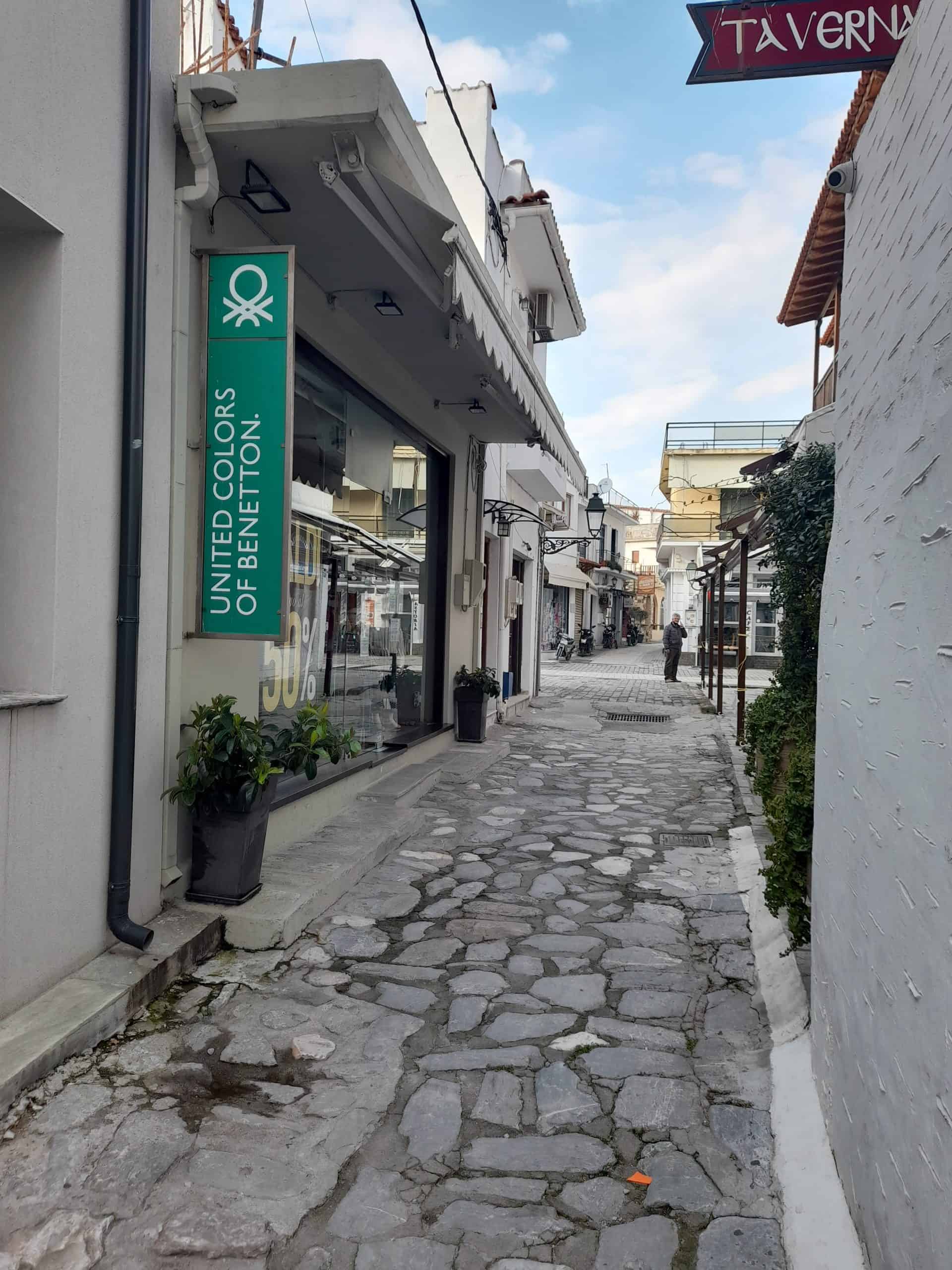 Romans, Venetians, Macedonians, and Athenians have all conquered Skiathos at some point or another. Each of these civilisations have left their mark on Skiathos town. For instance, the ruins at bourtzi are what remains of a Venetian fortress constructed by the Gizi brothers in 1207.
Continuous pirate raids and attacks on Skiathos by notorious Pirate Barbarossa led the islanders to retreat inland. In the 14th century, the population relocated to Kastro.
This is a fortified settlement in the northern part of the island. It was not until after the Greek Revolution in 1821 that Kastro was abandoned and the islanders returned to the portside location of Skiathos town.
Sadly, the town was heavily bombed by the Germans during World War II. Consequently, that is why so much modern architecture prevails in the town today.
Exploring Skiathos Town
Taking the time to get lost among the labyrinth-like network of Skiathos town´s streets is as much a highlight of visiting the island as relaxing on its cerulean beaches. The seafront promenade is lined with souvlakias, gyro places, and coffee shops.
During the winter, these establishments are a popular rendezvous point for locals. Old timers sit in the Kafenions here sipping Greek coffee and playing backgammon. In the summer, the eateries here are bustling with tourists.
Skiathos port is divided into two separate sections via the leafy pine-clad peninsula of bourtzi. To your right, you have the new port. It is here where Hellenic Seaways and Anes Ferries connect you from Skiathos town to Alonissos, Skopelos, and Volos.
To your left, there is the old port of Skiathos town. This is a pleasant place for an evening or early morning stroll.
You can actually follow the path along and walk all the way to the airport from here. Little wooden fishing boats float in the water beside the boardwalk. If you stop by early enough, you will be lucky enough to see local fishermen row their boats out into the Aegean in search of the day´s freshest catches.
Climb up to the Church of Agios Nikolaos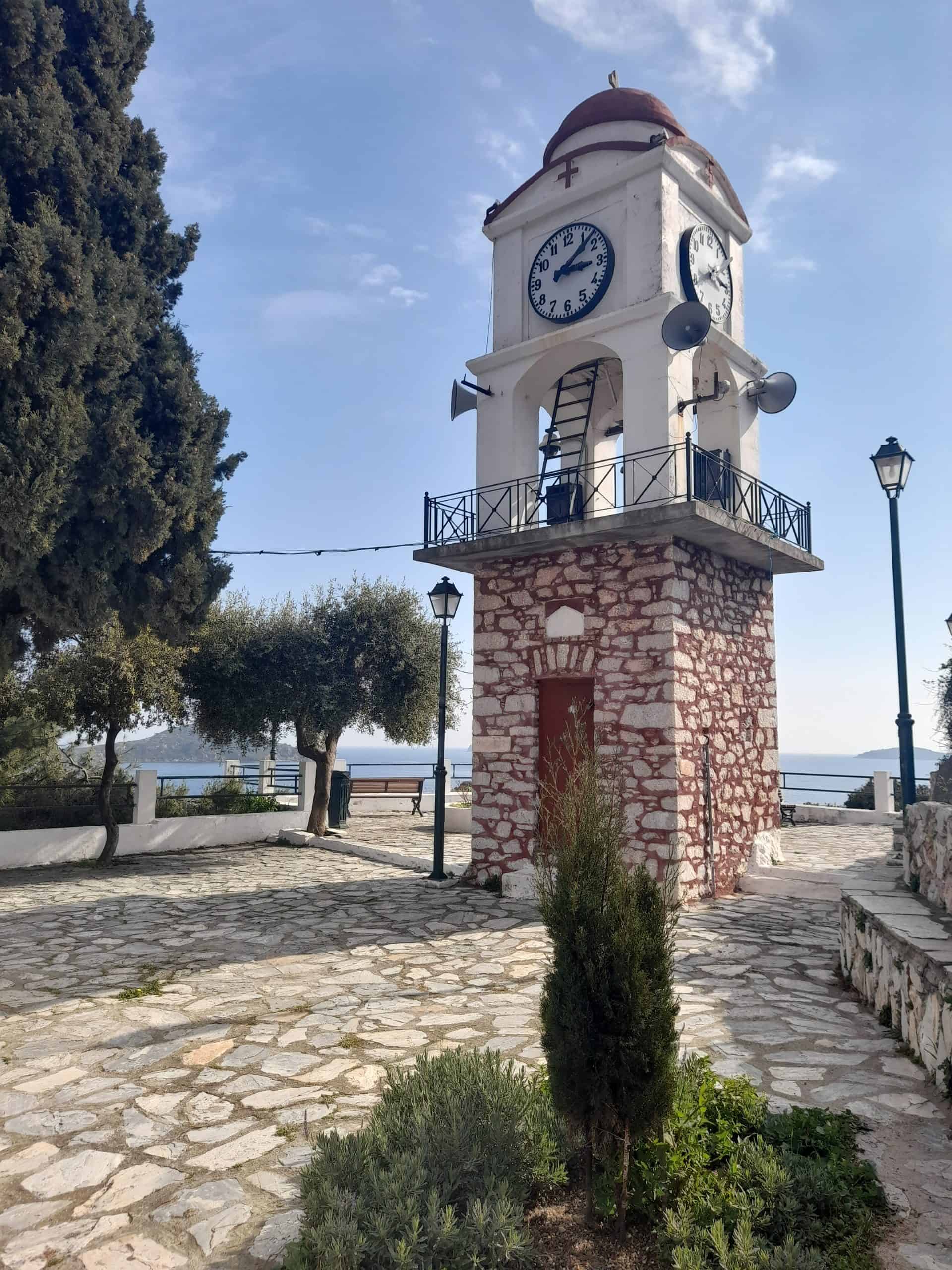 The church of Agios Nikolaos is perched on a hilltop high above the Skiathos town skyline. It is visible from virtually all corners of the town and is one of the very first things you see when your boat pulls into the harbour for the first time.
Signposts lead you on a winding route through a charming residential district. As you make your way up towards the church, you will bypass one of the island´s Mamma Mia filming locations. It was at the postbox up here where Sophie mailed the letters to her fathers.
The Agios Nikolaos church and clock tower are as beautiful from the inside as they are outside. Better yet, the panoramas across the town from up here are magnificent. Small, hand-painted signs lead you on a route through a sleepy residential district to reach the church.
Stroll Down Papadiamantis Street
Papadiamantis street is the main commercial street that runs through the centre of Skiathos town. It is lined with touristic stores, markets, coffee shops, and gelaterias.
There are also a number of independent and high street brand clothing stores here too. Papadiamantis street, like Skiathos airport, takes its name from the famous Greek Writer Alexandros Papadiamantis who lived on the island.
Get Lost in the Backstreets of the Chora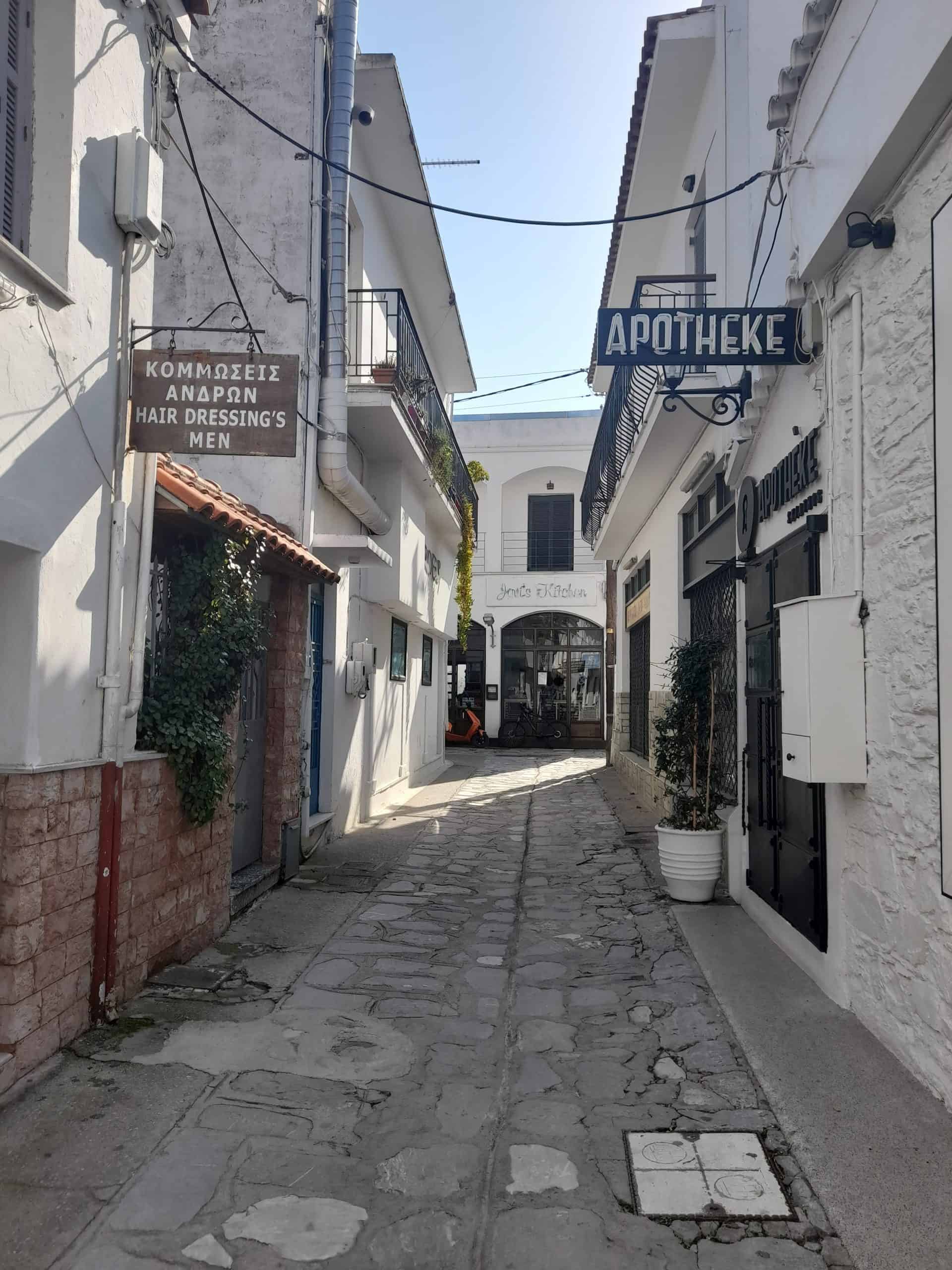 Part of the fun in exploring Skiathos town is to simply dedicate an afternoon to meandering through the little streets and admiring the sights as you go. Even the most unsuspecting back alleys and side streets have their charm.
Away from the main promenades and the stores selling touristy Greek souvenirs, you will find quaint little bakeries, yiayias sitting out on their balconies as they hang their laundry out to dry, and charming scenes of island life.
Many of Skiathos town´s homes are decorated with fragrant bougainvillea flowers and stunning floral arrangements. Skiathos town is a photographer's paradise.
Explore the Small Churches Outside of Skiathos Town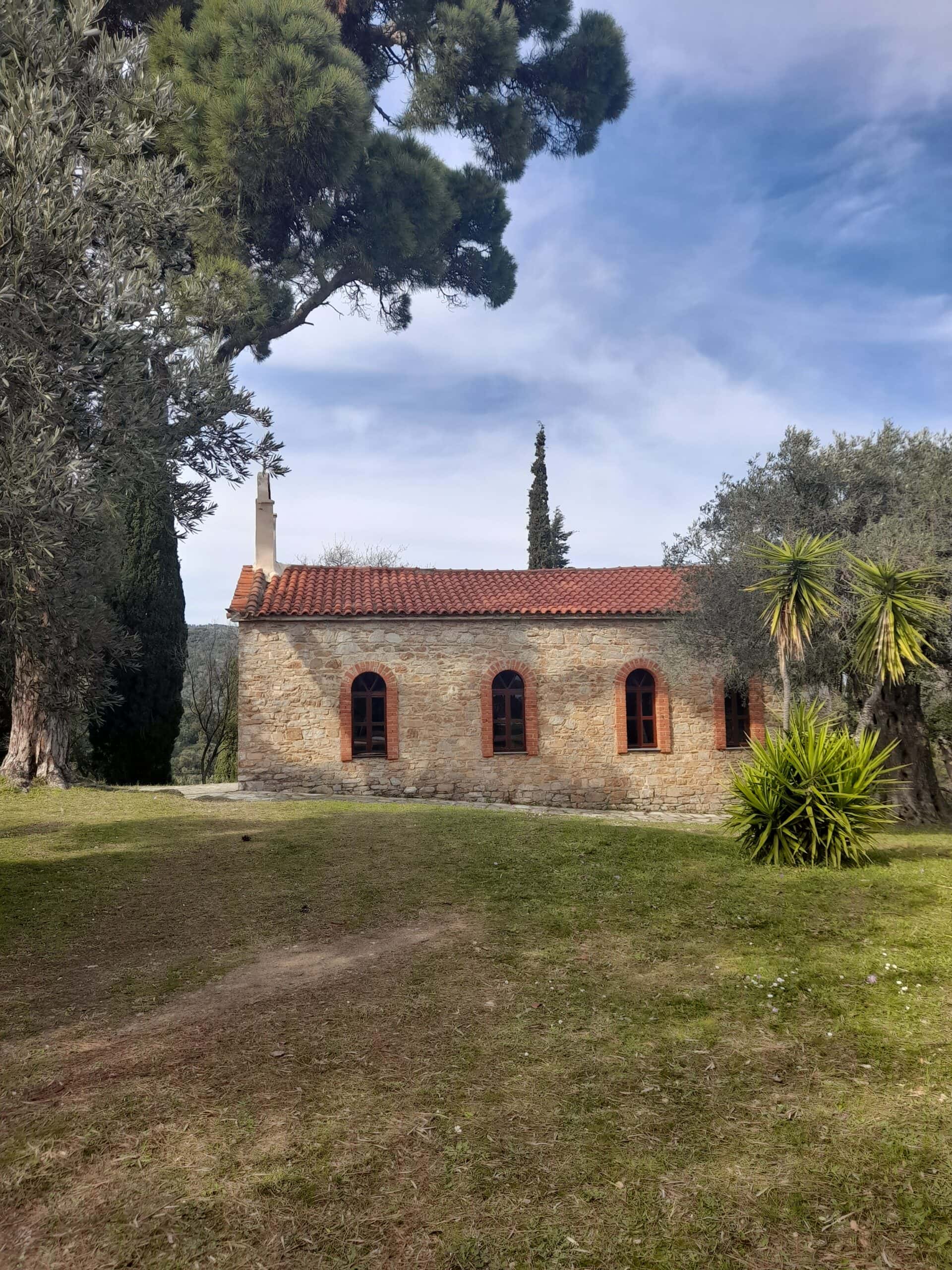 There are dozens of small churches scattered throughout the scenery of Skiathos. Many are nestled within the woodlands and although there is no one inside, the doors are always unlocked so that you can go in, admire the frescoes, and light a candle in honour of loved ones lost.

For instance, the Church of Archangels Taxiarches (Εκκλησία Ταξιάρχες) is a small, lovely chapel on the road to Evangelistria Monastery. You can rest here if you choose to walk to the monastery and hang out with the chapel's resident felines.
Nearby, you will also see the church of Zoodochou Pigi (Ζωοδόχος Πηγή ). An incredible stone church that is situated in a small clearing in the woods.
Visit the House of Papadiamantis
Alexandros Papadiamantis was one of the most prominent writers in the history of Greece. He was born in Skiathos in 1851.
Although the house where he was born no longer exists, you can visit the house he grew up in and where he spent his final years. Most of the information is displayed in Greek.
However, even if you are not familiar with the works of this writer, you may find the house interesting. It depicts a traditional Sporades home as it would have been some centuries ago.
The first floor of the house is perfectly preserved. It exists as it did when Papadiamantis lived here. It is essentially a ¨living museum¨. The ground floor displays a collection of his works and manuscripts.
Take a Boat Trip Out to Uninhabited Islands in the Sporades
24 islands make up the Sporades archipelago. Of these, only four islands are actually inhabited: Alonissos, Skyros, Skiathos, and Skopelos.
Tsougkrias is one uninhabited paradise, in particular, to have on your radar. You can see this green leafy paradise across the water from Achladies and the Cape Kanapitsa area.
The translucent, cerulean waters here are more reminiscent of something that you would expect to see in the Carribean. Its sandy beaches backed by pine trees feel like a true paradise lost.
In the summer months, you can take a boat from Skiathos port to reach Tsougkrias, and other uninhabited islands for a day. In summer 2022, there is a hope to bring live DJs and singers from Athens to perform here when the sun goes down.
Watch a Plane Landing at Skiathos Airport
Skiathos Airport is one of the only places in the world where you can stand directly beneath planes as they are coming in to land. The runway here has often been referred to as being the European St Maartens.
The walk from Skiathos town to the airport is pleasant and takes just over 30 minutes. This is a great place for plane spotting, or for capturing some incredible photographs. Set up your tripod and wait for the jet blast!
Walk to the Monastery of the Annunciation (Evangelistria Monastery)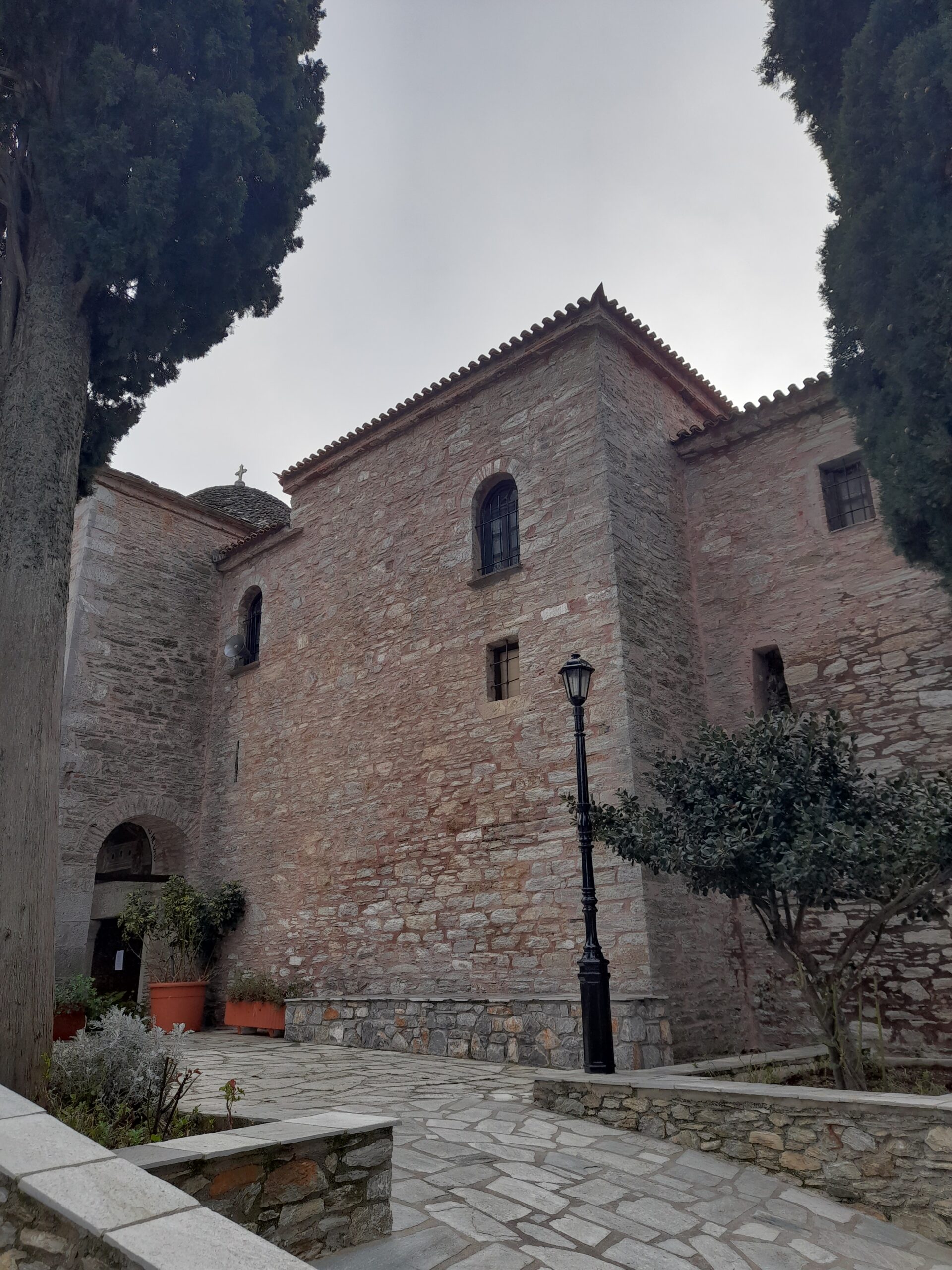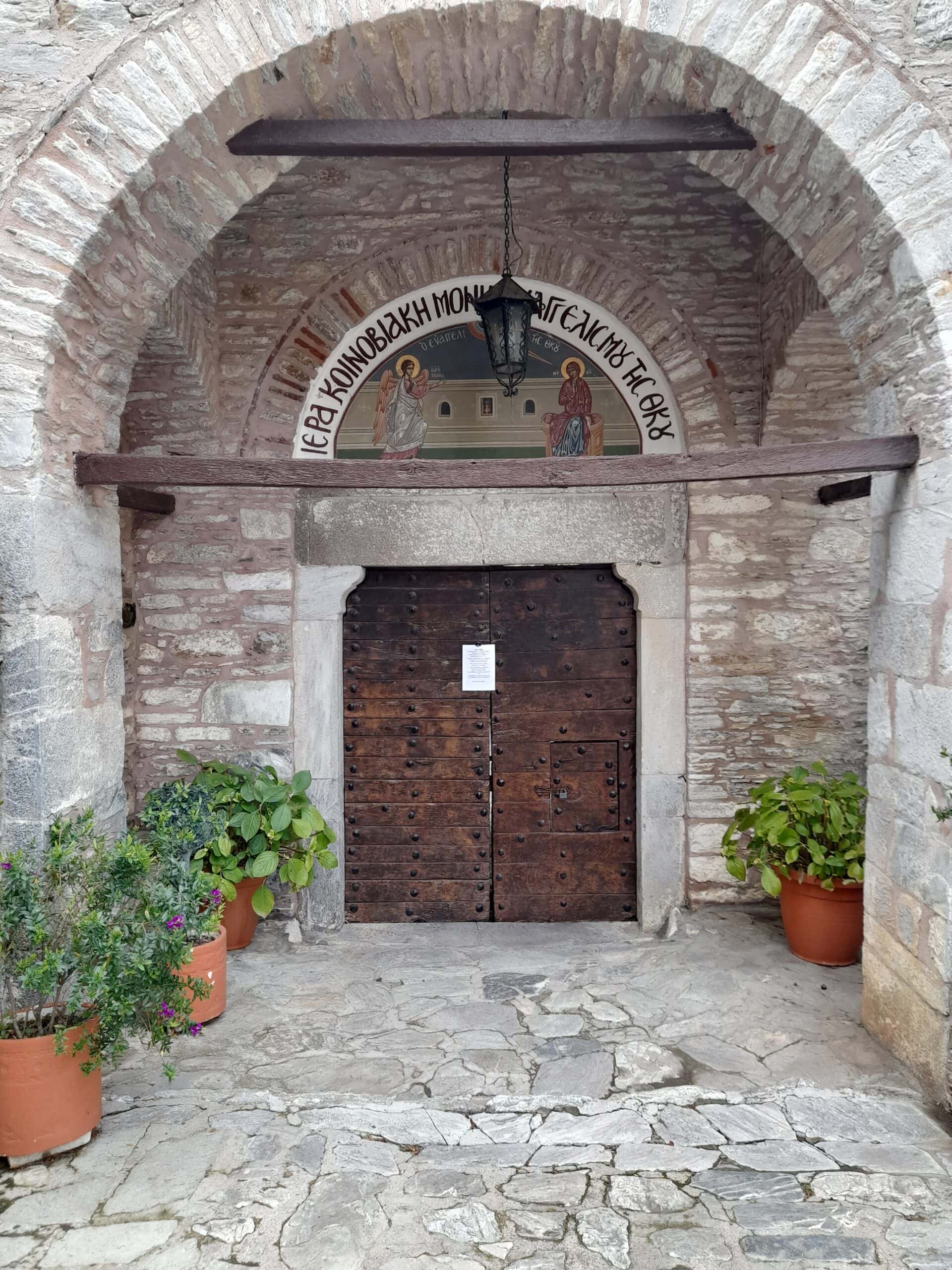 There are several gorgeous monasteries scattered throughout Skiathos island. Two of these are well within walking distance of Skiathos town.
Skiathos hiking trail #13 connects Skiathos town with the monastery. From there, the pathway also continues onwards towards the ruins of Kastro.
The Monastery of the Annunciation was founded by a group of Kollyvades monks in 1794. Today, the large complex sits amidst some of the most dramatic scenery on the island and consists of a chapel, a small museum, and living quarters.
This monastery is particularly important as it is believed that the very first Greek flag was created and flown here. It was made in 1807 and looked a lot different from today's Greek flag but it was the first symbol of modern Greek independence.
The flag was made on a loom and had a white cross woven across it against a light blue background. During the summer months, a mini-bus also connects Skiathos town with the monastery. You can check the timetable here.
Dance Until the Early Morning at Ammoudi
Ammoudi is the stretch that connects Skiathos town centre with the island's airport. Skiathos is known across Greece for its vibrant, varied nightlife scene.
Bars, clubs, and live music venues to suit all tastes are found throughout the town. However, the largest concentration of these is found in the Ammoudi area.
Catch a Show at Bourtzi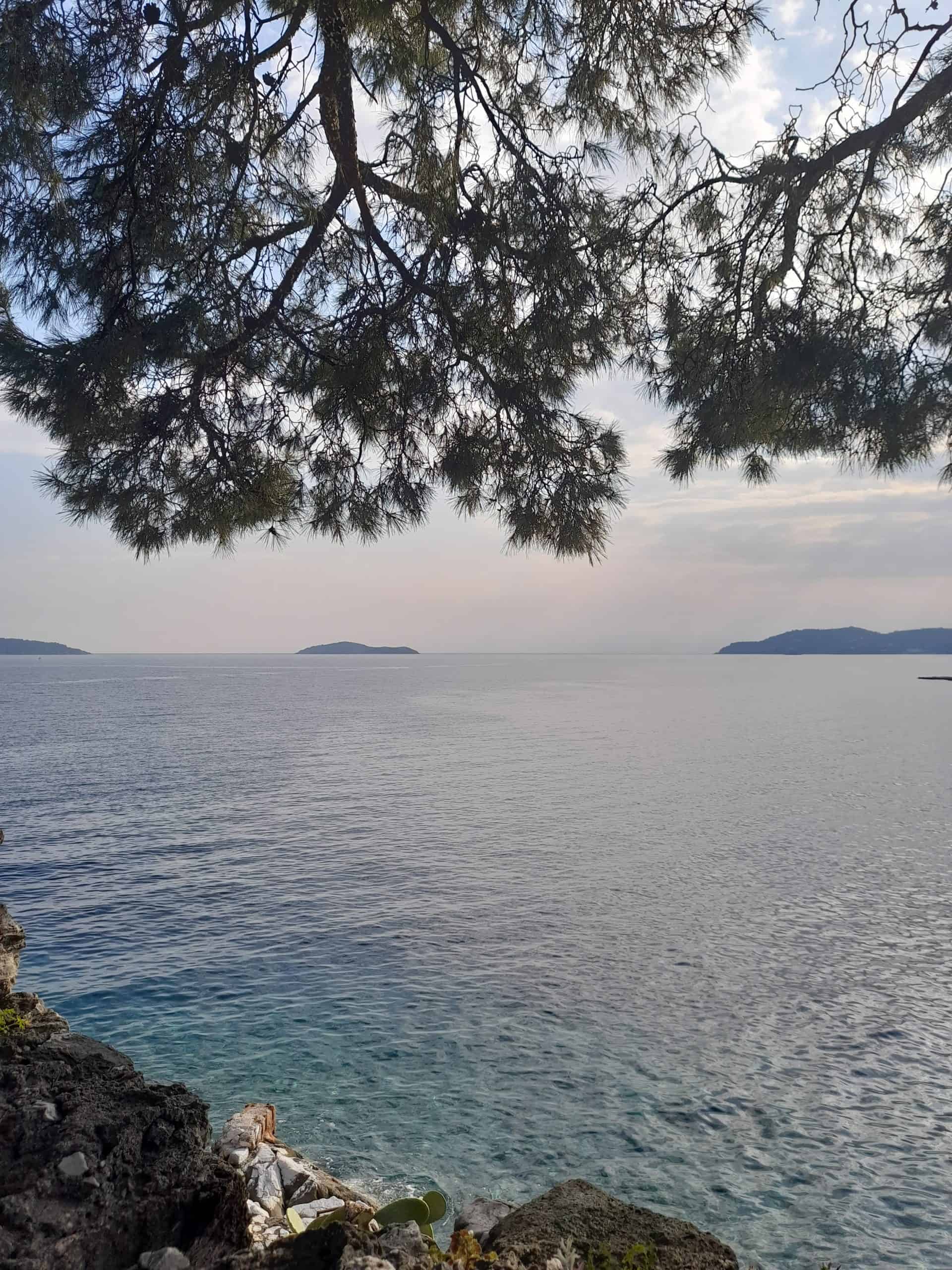 The leafy islet of Bourtzi is connected to Skiathos by a walkway. When Skiathos was under Venetian rule, the Gizi brothers constructed a fortress here.
The peninsula was encompassed by impregnable defensive walls. Two lookout towers sat on either side of the main gate to aid the Venetians in scouting for enemies. It is believed that a small church once stood here too.
Today, an open-air theatre sits at the centre of the islet. Many movie showings, musical, and cultural performances are hosted here between June and October. Notably, showings of Mamma Mia are popular in the summer months.
Bourtzi is a popular rest spot for Skiathos locals. People of all ages will come here to walk beneath the trees, chat with friends, and grab a glass of wine or a coffee from the cafe on the islet.
Indulge in Traditional Greek Delicacies
Skiathos town is a foodie paradise. The world-class restaurants here serve up everything from Greek traditional dishes to international favourites.
So, whether you want to try something new or you want a taste of home, you will find what you are searching for. Ergon (Upper Papadiamanti) is a great place to stop for a spot of breakfast or brunch before you head out for the day.
Their menu focuses on international classics with a Greek twist. For instance, slow-cooked scrambled eggs prepared Mediterranean style with fresh tomatoes and herbs, cheese pies from nearby Skopelos town, and fresh omelets stuffed with Greek cheeses.
If you are looking for a traditional Greek taverna, you can't go wrong with Taverna Akrogiali (Paralikos). The eatery has been designed in typical Greek island style – blue and white decking and chairs, and walls draped with bougainvillea.
You will find all of your Greek food favourites here. What really sets Taverna Akrogiali aside from the others though, is their fresh seafood caught earlier the same day.
O Batis (Ο Μπάτης) in the old port is a Skiathos institution. Come here for true filoxenia (Greek hospitality) and a great, affordable selection of seafood and meze dishes.
Walk from Plakes to the Nearby City Beaches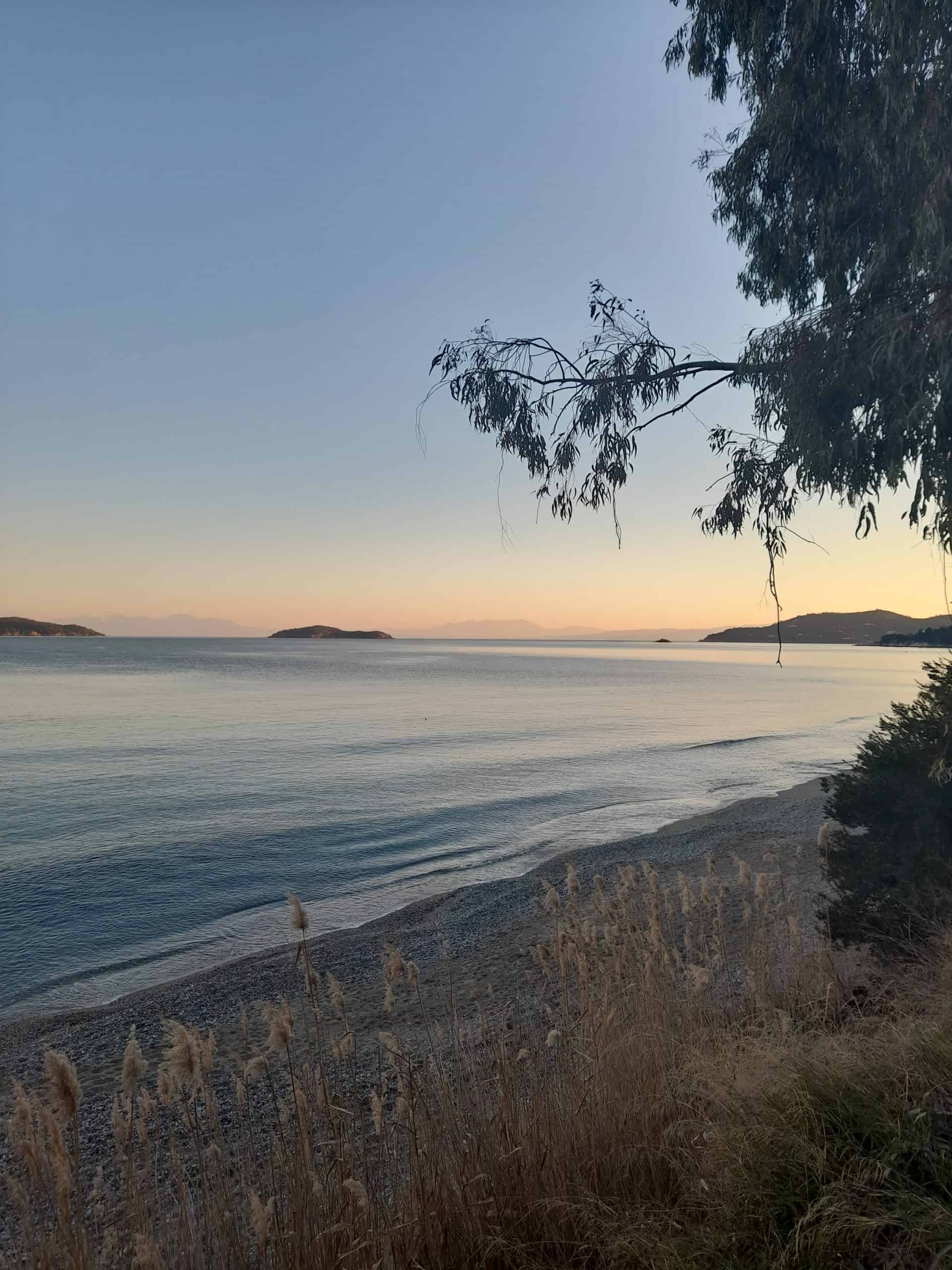 Several ¨city¨ beaches can be found right on the outskirts of Skiathos town. You can easily walk from your central hotel to a beautiful stretch of coastline in less than ten minutes.
Many of these beaches are crowded in the summer, on account of their proximity to the town. However, they are still a convenient place to go swimming and catch some sun without having to board the Skiathos bus all the way to Koukounaries. Paralia Vasilias and Achladies are both worth having on your radar.
Where to Stay in Skiathos Town
There are a plethora of hotels and accommodation options available in Skiathos town. You will find something here to suit every budget and travel style.
Skiathos town is a popular Greek travel destination. As such, it is advisable to book your accommodation in advance if you plan on travelling during the peak summer months of July and August.
A handful of reputable Skiathos town hotels are discussed below for your reference. Skiathos is a popular destination for charter flights and package holidays.
You may want to assess whether it works out easier/cheaper to book a package deal or organise everything independently. Jet2, TUI, British Airways, and BA Cityflyer all offer direct flights from the UK to Skiathos.
Atlas Hotel, Skiathos Town
The Atlas Hotel in Skiathos town offers a luxury stay without the luxury price tag. Rooms here start from just €35 per night.
The property has been decorated in a chic, contemporary style. All of the rooms feature plush, modern furnishings that boast an elegant black and white monochrome palette.
Atlas Hotel´s location is excellent. You are situated right at the beating heart of the Chora.
There are a plethora of restaurants and bars right on your doorstep. Meanwhile, the port and the beach of Megali Ammos are just a short walk away. You can check the latest room rates and availability here.
Skiathos Mystery Residence
The four-star Skiathos Mystery Residence is one of the most luxurious and decadent properties on the island. It is situated on a hilltop just above the town.
Guests can enjoy breathtaking sea views from the exteriors and balconies. The property boasts an outdoor pool, perfect for relaxing at the end of a day's sightseeing. Click here to check the latest rates and availability.
Parting Words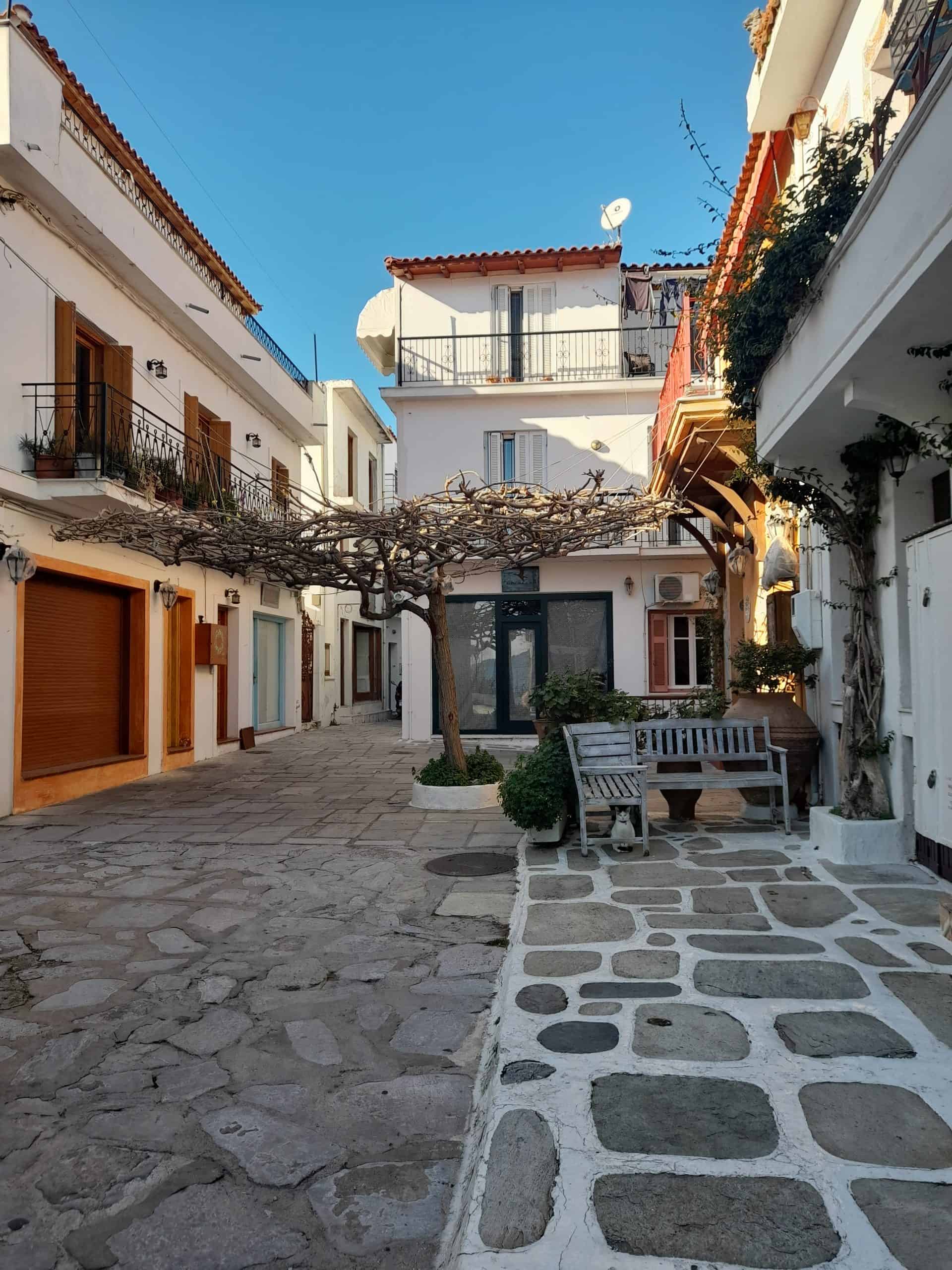 Do you have any additional questions about Skiathos town? Do you need help planning your Greece holiday? I have lived in Greece since 2017 and spent 8 months living in the Sporades.
Feel free to reach out if you need anything. Safe travels.
Geia sou! Melissa xo
---