2 days in Athens is a nice amount of time to dedicate to your first trip to the Greek capital. While it isn't enough to go super in-depth, it is plenty of time to visit the Acropolis, the Ancient Agora, and other major historical sites and attractions, as well as some of the lesser-known highlights and neighbourhoods. This 2 day Athens itinerary has been written by a British Travel Writer based in Athens and will help you make the most out of your short time in the city. 
2 days in Athens is a nice amount of time to immerse yourself in the history and culture of one of Europe's oldest cities. Athens, known as the birthplace of western civilisation, has a rich history dating back over 2,500 years.
It is home to some of the most important archeological sites and museums in all of Greece. Athens may not be as aesthetic and beautiful as other European capitals but what it lacks in beauty, it more than makes up for in personality and charm.
Historical sites aside, Athens is made up of various different neighbourhoods, each of which is like a little town and village in itself. There are also the beach towns and hidden coves of the Athenian Riviera – Southern Greece's very own Cote d´Azur. 
I have been based in Athens since 2017 and have gotten to know the city like the back of my hand during that time. In this 2 day Athens itinerary, we will visit some of the Greek capitals' must-see highlights, as well as some lesser-known gems that the locals have been keeping to themselves. 
2 Days in Athens Greece:
A Suggested Itinerary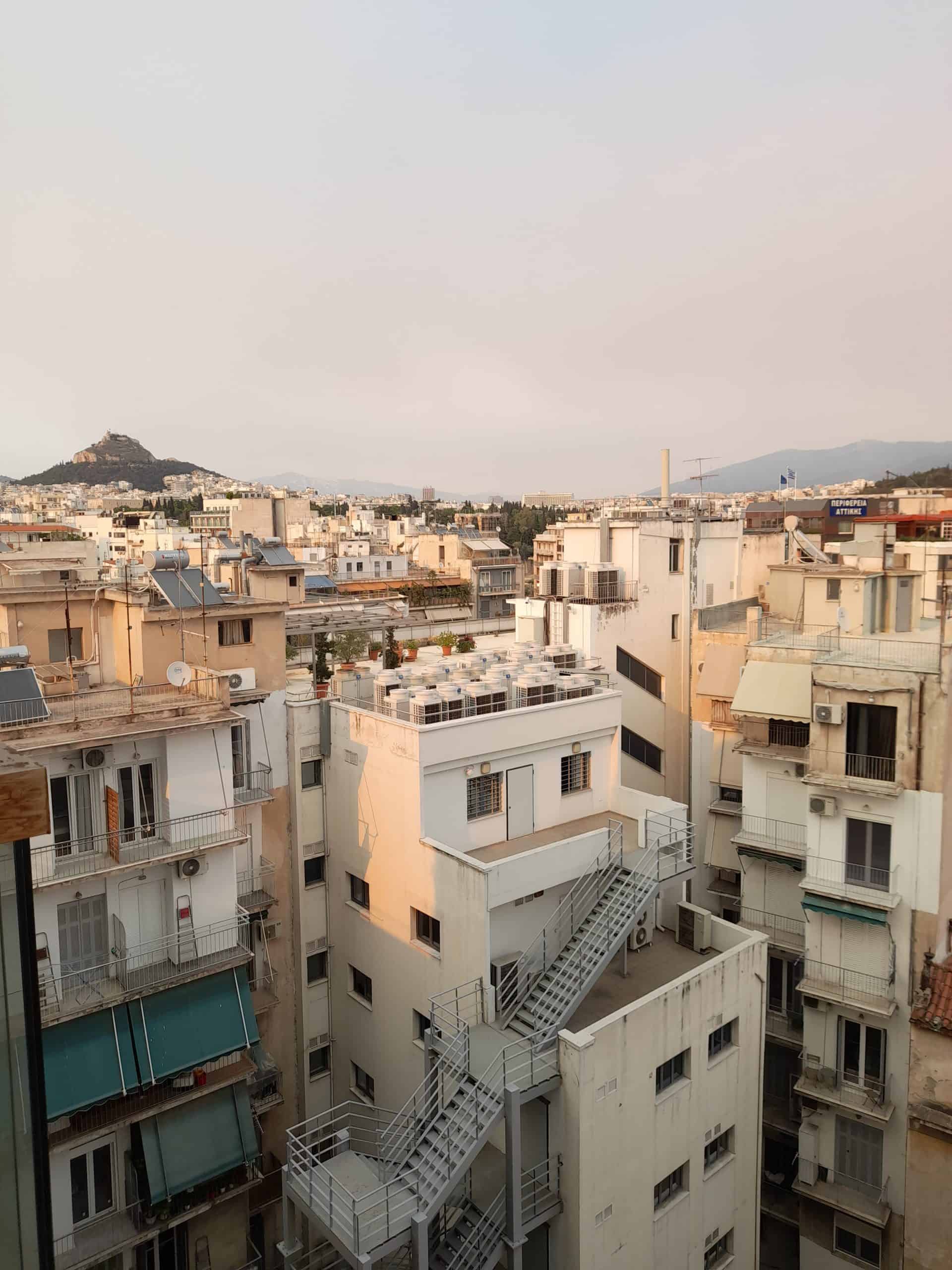 A tried and tested itinerary for spending 2 days in Athens is detailed below. The days are jam-packed full of activities and they are tiring, but realistic and enable you to make the most out of your time.
You can follow the itinerary exactly or if you prefer, you can cherry-pick the activities and attractions that appeal to you the most. The entire itinerary can be done on foot and all of the recommended sites are within short walking distance of each other. 
Most people tend to stop by Athens briefly en route to the Greek islands. If your schedule allows, it is well worth extending your trip slightly so as to spend 3, 4, or 5 days in Athens. 
If that isn't possible, well 2 days in Athens is enough to get an initial feel for the city. Then if you like it, you can always come back again!
Day One: Historical Highlights of Ancient Athens
Wake up bright and early and day one of this 2 day Athens itinerary and slip on your comfiest shoes ready for a full day of sightseeing. If your hotel serves breakfast, great!
If not, there are a couple of cute local places that you can stop by to start your day with a quintessentially Greek breakfast experience.
Kinono ( Falirou 48) is a great choice. This airy bohemian coffee shop serves all-day breakfast and brunch. 
Visit the Athens Acropolis 
The UNESCO-protected Acropolis of Athens needs no introduction. This is one of the most famous Athenian landmarks and regardless of how many times you have seen it photographed on social media or in travel literature, nothing compares to seeing it with your own eyes.
The Acropolis opens at 08:00 am daily and it is worth getting here bright and early so as to avoid the crowds. (And the intense midday sun if you are travelling during the summer season!)
You should also buy your Acropolis tickets online in advance to save queuing and waiting on the day. The Acropolis complex is actually much larger than people realise. 
You should dedicate at least 2-3 hours to exploring the site and there are a few notable structures to look out for here. There are several entrances to the complex but you will most likely enter via the Propylea – an old, grand ceremonial archway.
The Parthenon is the famous colonnaded building at the top of the Acropolis Hill. It dates back to 447 BC and was built in honour of the Goddess Athena. 
(At one point, many Greek cities had Acropolis complexes at their centres but most were built for defensive purposes while the Athens Acropolis was built for spiritual reasons.)
You should also look out for the shrines close to the Parthenon known as the Erechtheion, the Pandroseion, and the Temple of Athena Nike. There are also two interesting ancient theatres here. 
One is the Theatre of Dionysus – a 4th-century theatre named after Dionysus, the Greek God of Drama. In its heyday, the theatre held 17,000 spectators and played host to various Greek dances, tragedies, and performances. 
Browse the exhibits at the Acropolis Museum
Your entrance ticket to the Acropolis (as well as the Athens combination ticket) also includes admission to the Acropolis Museum (Dionysiou Areopagitou 15). Even if you are not a museum person, it's worth passing through here briefly to gain more information and context on the Acropolis site. 
The exhibits contain artifacts that have been recovered from the region and there is a nice coffee shop on the top floor where you can enjoy a Greek coffee and a crumbling slice of spanakopita with views over central Athens. 
Dionysiou Areopagitou and Apostlou Pavlou
Dionysiou Areopagitou is the name of the pedestrianised cobbled boulevard that runs beside the Acropolis, the Odeon of Herodes Atticus, and several other ancient sites as it connects Hadrians Gate with Thissio and the Ancient Agora. Meander along here en route to our next destination, taking in all the sights as you go.
Whatever time you stop by, the cobbled walkway is always filled with street vendors and musicians that perform to delighted crowds. You can pick up some great little gifts and handmade souvenirs from the vendors here
Look out for the Odeon of Herodes Atticus Roman theatre just beside the Acropolis. The theatre was built by wealthy Athenian benefactor Herodes Atticus between 160AD and 174AD in honour of his late wife. It is still in use to this day, particularly during the annual Epidaurus festival.
Spend the afternoon at Filopappou Hill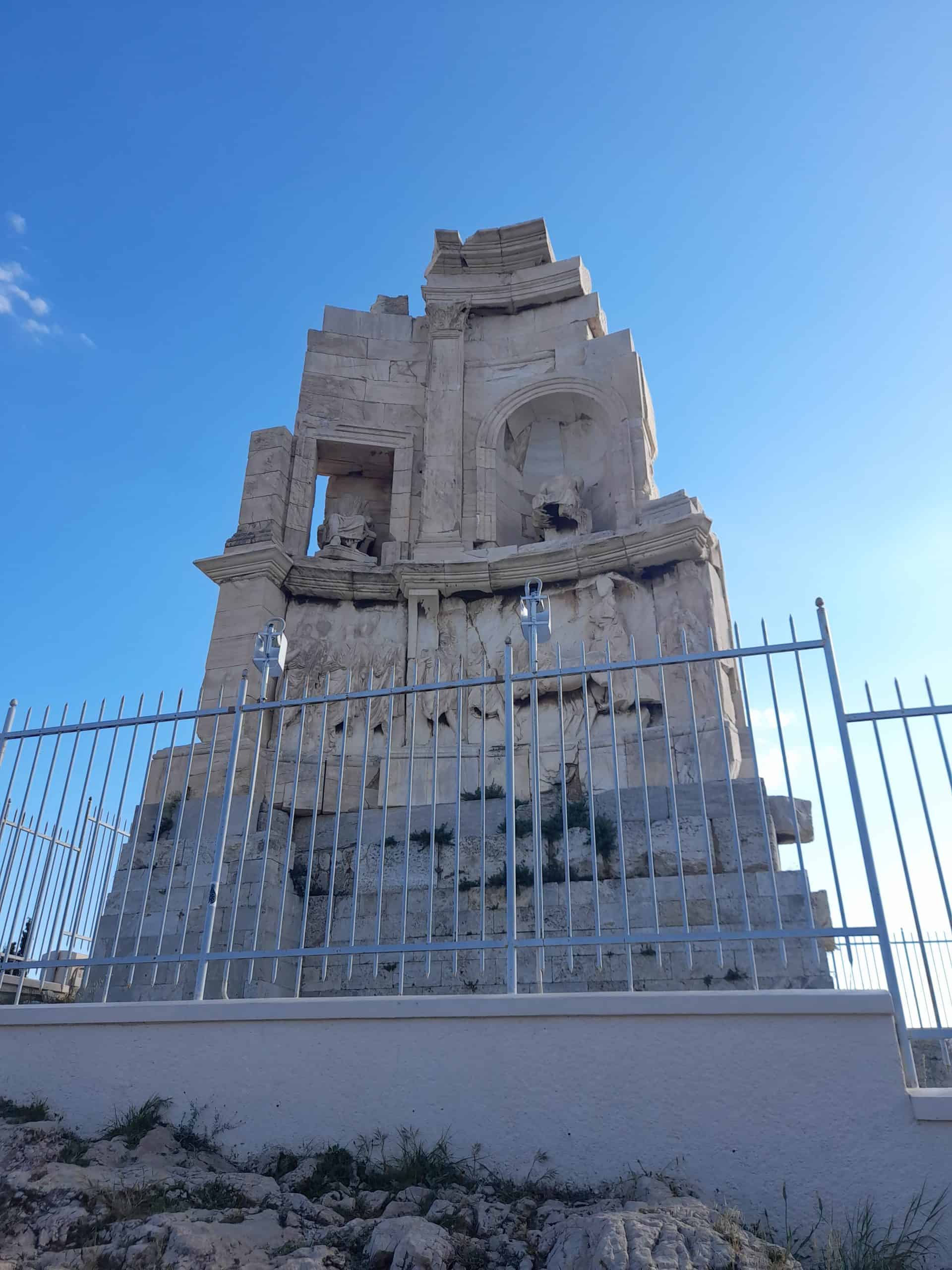 As you continue along Dionysiou Areopagitou, it will eventually become Apostlou Pavlou Street. Here, you will see the entrance to Filopappou Hill on your left. 
This leafy space is a green oasis in the heart of the concrete jungle. It takes its name from the 115AD Philoppapos monument at the top of the hill – a marble statue that was erected in honour of the Greco-Roman commander Julius Antiochus Filopappos.
The walk to this point is pleasant and easy enough for people of all ages and hiking abilities as the ascent follows a gradual path. Filopappou Hill also offers some of the best views across downtown Athens and provides an incredible photo point of the Acropolis on the opposite hill.
There are some other interesting things to see here too. Stop by Socrates Prison, the church of Saint Demetrios Loumbardiaris, and the Pnyx – the hill where modern democracy was created and another spot with incredible Acropolis views. 
Grab lunch in Koukaki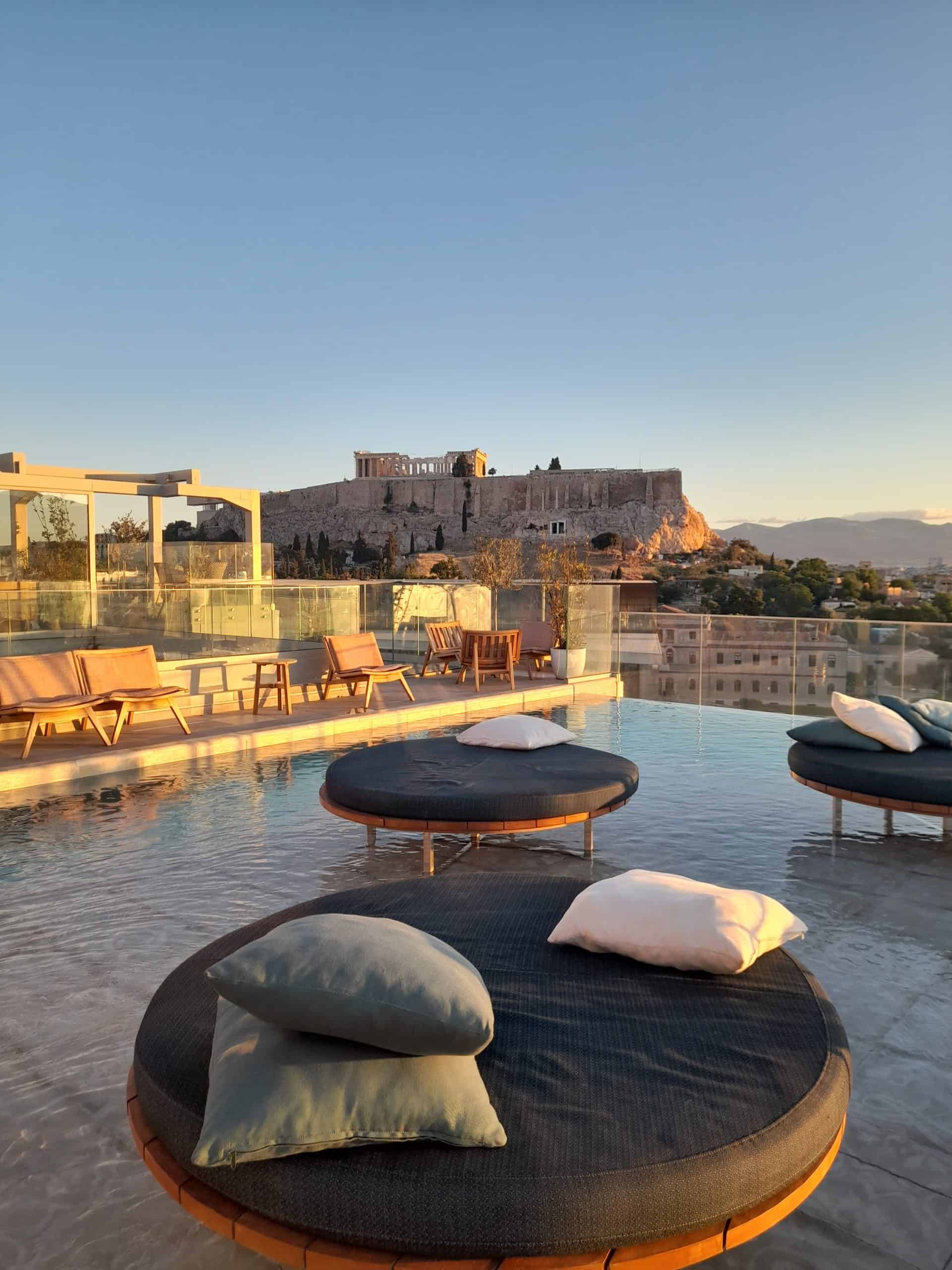 Koukaki is one of the most charming Athenian neighbourhoods. It sits beneath the shadow of the Acropolis and despite its central location, it has not become overly gentrified. 
Koukaki's streets are filled with quirky coffee shops, vintage clothing stores, independent art galleries, and international eateries. There are some excellent tavernas and restaurants here too where you can have an authentic dining experience away from the tourist hordes. 
Sphika (Str. Kontouli 15) is a cosy taverna that serves traditional Greek dishes like moussaka and pastitsio, but they are perhaps best known for their mixed grill platters that serve up some sumptuous marinated meats.
On certain days, live musicians perform here and you are always treated to a free shot of raki or rakomelo (honey raki that is prepared in the winter) after your meal. A nice alternative eatery is O'Lolos ΟΛόλος (Geo. Olimpiou 5, Athina) which specialises in meze dishes.
(Meze dishes are small plates that are essentially the Greek answer to Spanish tapas). When you're done eating, take a brief stroll through Koukaki and nearby Makrygianni before continuing on toward the Temple of Olympian Zeus. 
Visit the Temple of Olympian Zeus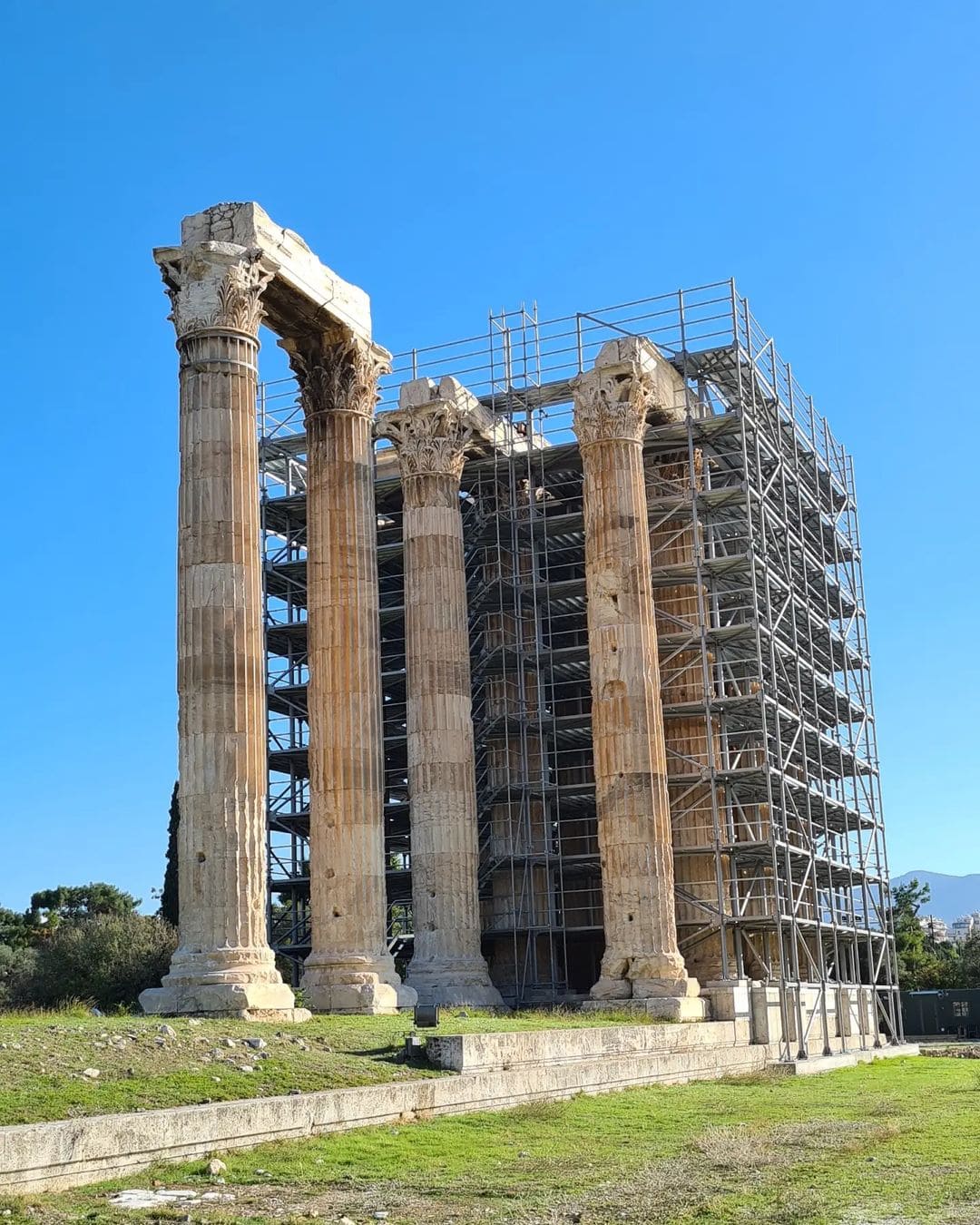 At the intersection of Leof. Vasilissis Olgas and the busy Leof. Vasilisis Amalias, you will find the impressive Temple of Olympian Zeus. The temple, built in honour of Zeus, leader of the Greek Gods, took over 638 years to build. 
In its complete form, there were once 104 spectacular Corinthian columns here, each 17 meters in height and carved with intricate designs. Today, only 16 of the original columns remain but it isn't difficult to envisage what the temple was once like in its heyday.
When the temple was completed by Emperor Hadrian in 161 CE, it was one of the largest temples in the ancient world. Sadly, it was only operational for a couple of hundred years before it was ransacked during invasions and attacks on the city.
Entrance to the Temple of Olympian Zeus is included in the Athens combo ticket. Alternatively, individual admission is €6 per person. 
Admire Hadrian's Arch
Hadrian's Arch is an old ceremonial archway that you can view from Leof. Vasilisis Amalias. It sits right beside the Temple of Olympian Zeus and is free to view from the roadside.
The archway was given as a gift to the Roman Emperor Hadrian from the people of Athens in 131 AD. Hadrian is recognised as being one of only a handful of ¨good¨ Roman Emperors. 
He was a true Grecophile and made several positive contributions to construction in the city. An inscription on one side of the gate reads "This is Athens, the ancient city of Theseus".
A second on the other side reads "This is the city of Hadrian and not of Theseus".
Pass through the National Gardens 
Pass through the National Gardens en route to the next stop on this 2 day Athens itinerary: The Panathenaic Stadium. The National Gardens are to Athens what Central Park is to New York.
They were lovingly created by Queen Amalia and the German agriculturist Frederick Schmidt in the 1800s using plants and flowers sourced from across the globe. Today, its a popular spot to have a picnic or hang out by the lake with an al-fresco coffee.
There are some gorgeous flowerbeds here filled with plants that are not native to Greece.
As you pass through the gardens, you will pass a pastel-yellow building known as the Zappeion. 
The building dates back to 1874 and was built by Danish architect Theophil Hansen.
Do a victory lap of the Panathenaic Stadium 
From the National Gardens, cross Leof. Vasileos Konstantinou and it will bring you to the next stop on our itinerary: the Panathenaic Stadium (Kallimarmaro). This impressive stadium is the only one in the world that has been built entirely from marble.
It was originally built in 566 BC before being expanded upon and modified by the Romans in 140 AD. After being excavated in 1870, the stadium hosted the first modern Olympic games in 1896, and more than 80,000 people were in attendance. 
Today, admission to the site is €5 per person with concessions available. Admire the view from the strands or unleash your inner Mo Farah and do a victory lap around the track. (People actually do this!)
Your ticket also includes entrance to the on-site museum which displays memorabilia and Olympic torches from various games around the world.
Have dinner and drinks in Pagrati and The Mets 
By this time, you are probably getting hungry so head to the Pagrati/Mets. district for dinner and drinks in a truly local neighbourhood. Beloved by artists and creatives for centuries, kooky Pagrati is the Athenian answer to Greenwich Village. 
There are some great bars and restaurants here, and tourists wouldn't even think to venture into this part of town. Mavro Provato (Arrianou 31) is one of the best restaurants in Athens, serving classic Greek dishes with a contemporary twist. 
For a rooftop bar with an Acropolis view, head to Skyfall (Mark Mousourou 1), head to Half Note Jazz Club (Trivonianou 17) for live blues and jazz music, and head to Kain (Anapafseos 22) for cocktails prepared by some of the best mixologists in the city.
Athens 2 Day Itinerary Day Two:
Central Athenian Neighbourhoods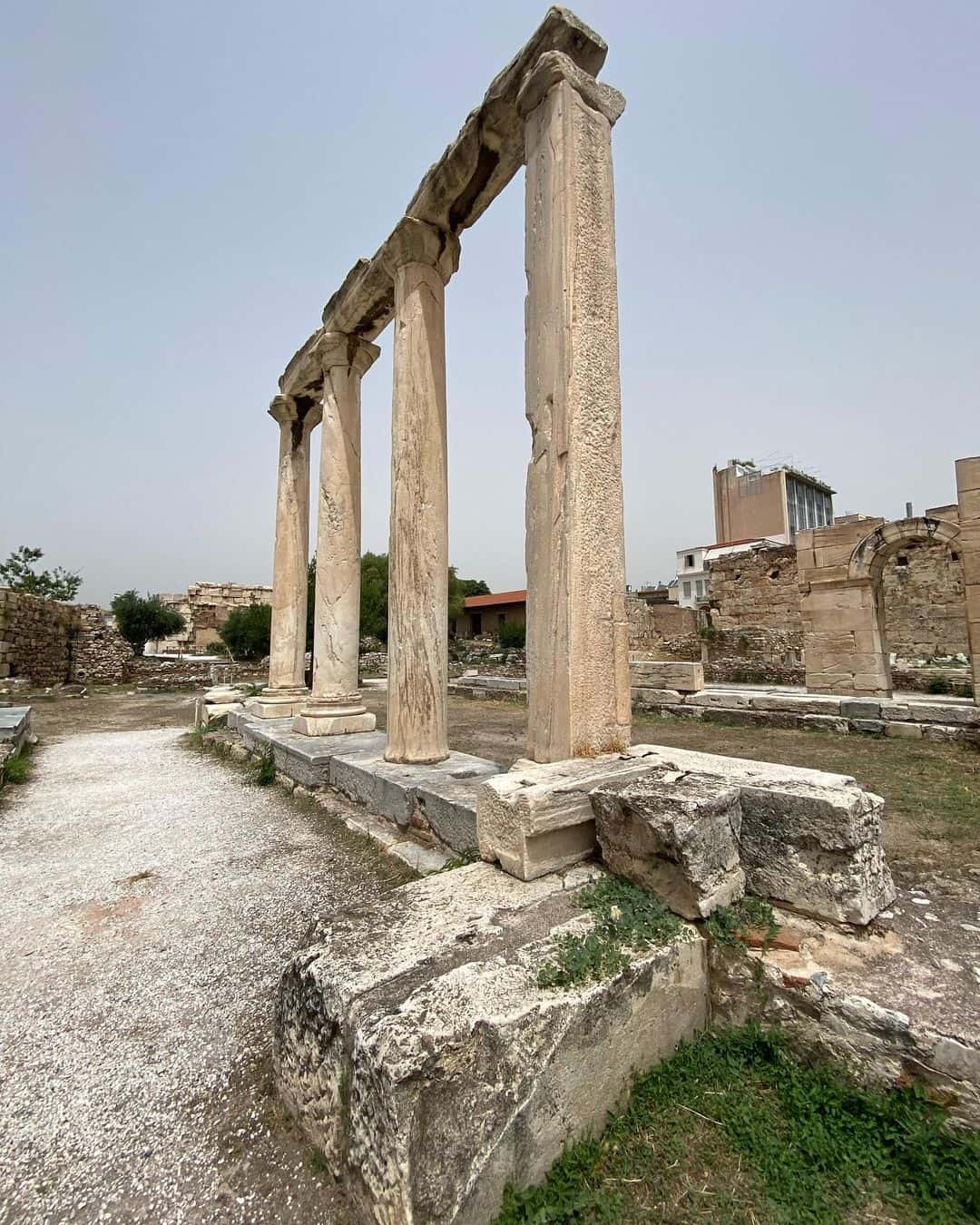 We will spend the second day of this Athens 2 day itinerary exploring some of the best-loved districts in Central Athens. We will cover a lot of ground, but everything is within short walking distance of each other. 
Grab breakfast at your hotel or at one of the quirky coffee shops in Athens and then head towards Syntagma, the city's main central square. 
Watch the changing of the guards at Syntagma Square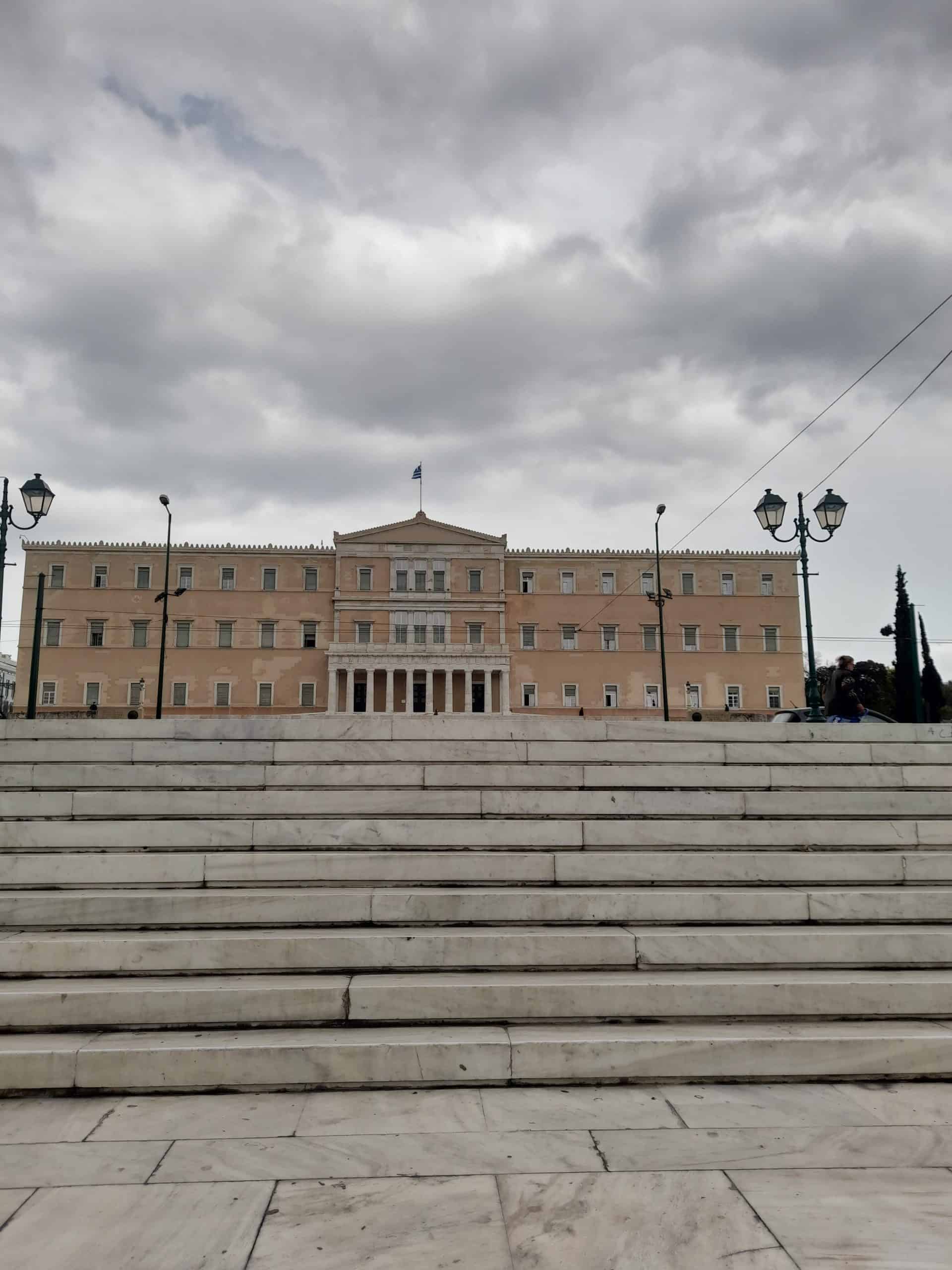 Syntagma Square (meaning ¨constitution square¨ in Greek) marks the beating heart of central Athens. It is flanked by the 1842 Greek parliament building on the northern side that was once home to King Otto and Queen Amalia. 
Whatever time you stop by, you will see evzones (elite Athenian soldiers) out front guarding the Tomb of the Unknown Soldier. Every hour, on the hour, you can catch a changing of the guards' ceremony. 
It is interesting to see, so it is worth timing your visit accordingly. If you happen to be here at 11 am on a Sunday morning, you can see a particularly elaborate version of the ceremony. 
The evzones are known for their elaborate uniforms that consist of a white foustanella (pleated kilt), a wide-sleeved shirt known as a ypodetes, a tasseled hat known as a farion, and pom pom shoes known as tsarouchia.
Stroll down Ermou Street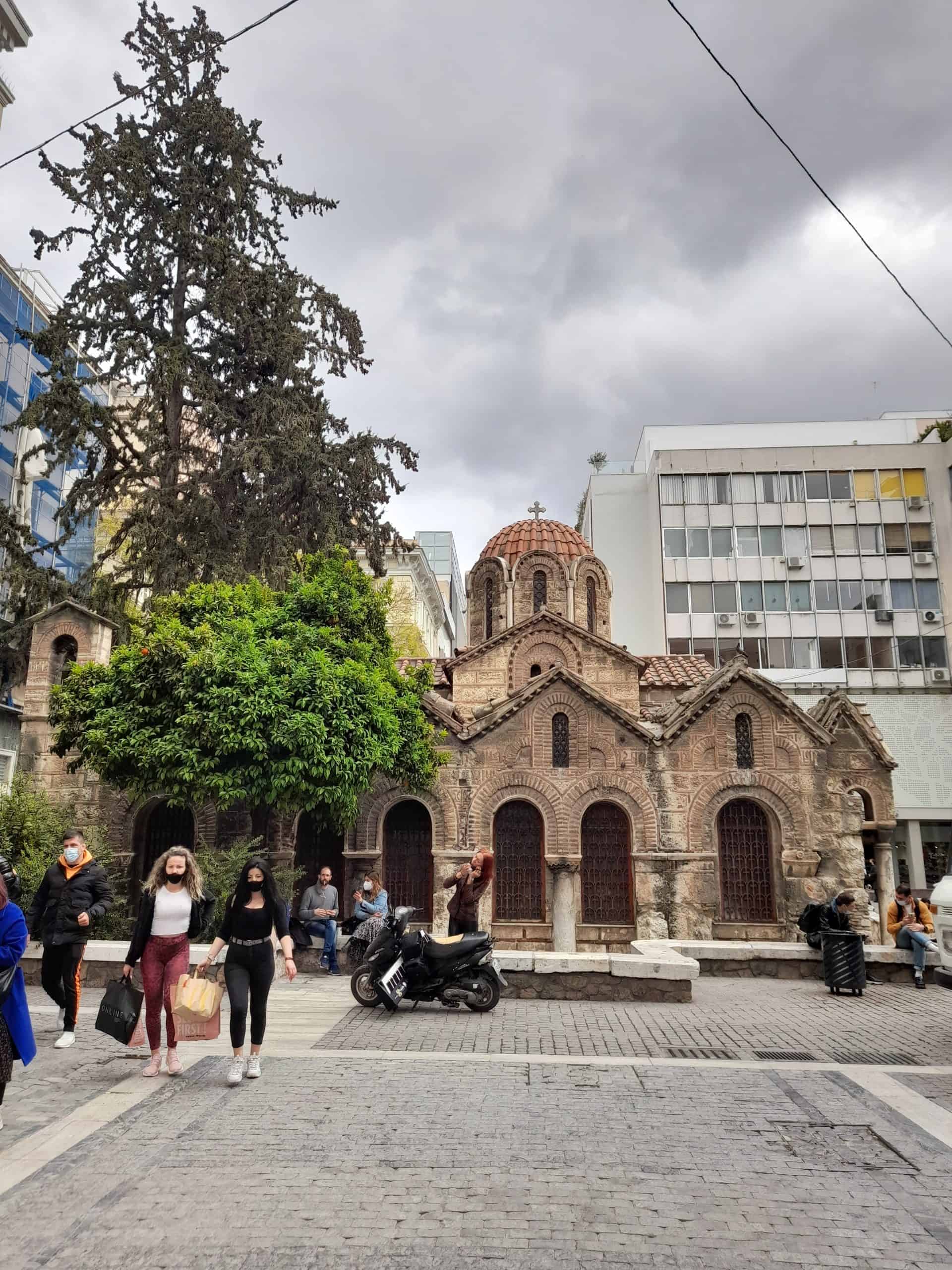 From Syntagma Square, head down Ermou Street. This is Athens' answer to the high street and it is lined with Greek and international high street stores selling everything from clothing and accessories to electronics. 
It is one of the best places for shopping in Athens and there are also a lot of street vendors here serving delicacies like koulouri (circular sesame-seeded bread that is essentially the Greek answer to the pretzel) and salep – a warm milky drink made from orchid tubers.
Pass Monastiraki Square
As you make your way down Ermou Street, towards Thissio, you will pass Monastiraki Square. This is a popular rendezvous point for locals, and in the nearby flea market, you can shop for many interesting Greek souvenirs such as komboloi beads, backgammon boards, and homemade sandals. 
The 1759 Tzistarakis Mosque sits to the left of this square. It no longer has its minaret and is said to be cursed after the Ottoman Turks used a pillar from the Olympian Zeus to create building materials and a sequence of bad-luck events affected the population immediately thereafter. 
Visit the Ancient Agora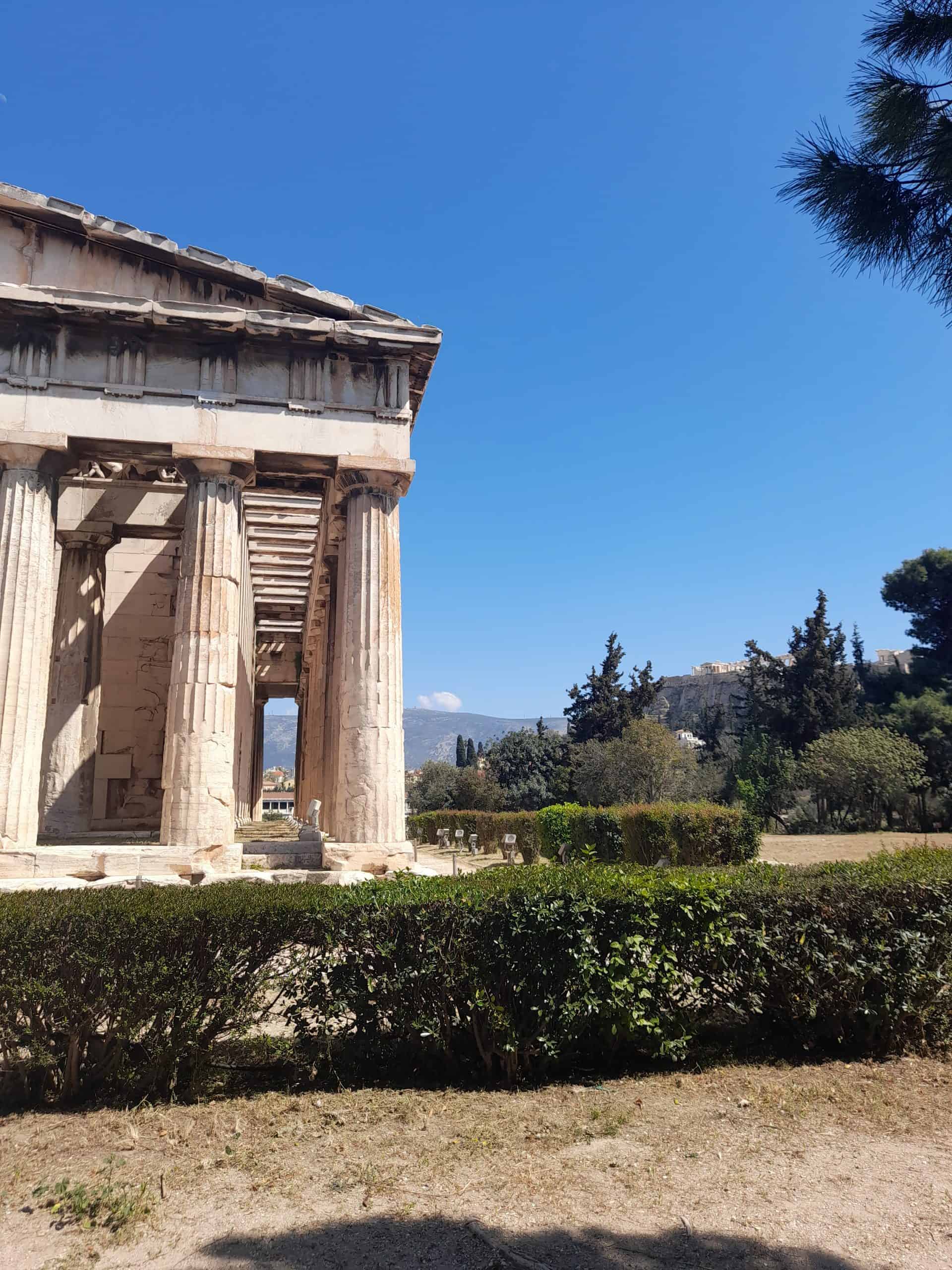 The Ancient Agora is one of the most important archeological sites in Greece. During the Classical Age, this was the city's civic centre. 
People would congregate in the Agora square to listen to important speeches and announcements and even Greek Philosophers like Socrates and Plato would wander down these paths, imparting their wisdom to anyone who would listen. 
The impressive Temple of Hephaestus sits on your right-hand side immediately after entering. It was built in honour of Hephaestus, God of Fire and Metalworking, and Athena Ergane, Goddess of Pottery in 450 BC – around the same time as the Parthenon. 
The building is widely regarded as being the best-preserved Doric temple in Southern Europe today. On your left, the colonnaded Stoa of Attalos houses the Agora Museum whose chronological exhibits display items and artifacts recovered from the region. 
The Stoa was once a bustling marketplace home to over 40 stores selling everything from groceries to weapons and clothing. Entrance to the Ancient Agora is included with your combo ticket. 
Have a coffee and pastry in Iroon Square, Psiri
The eclectic neighbourhood of Psiri is the next stopping point on this Athens 2 day itinerary. The area is one of the best places to see street art in the Greek capital and is known for its vibrant nightlife and ramshackle antique stores.
Stop for coffee and a Greek pastry at Bougatsadiko Psirri on Iroon Square. (Pl. Iroon 1). 
If you want to try something quintessentially Greek, order yourself a bougatsa. This sweet, crumbling pastry is made by stuffing layers of filo pastry with sweet semolina custard and then topping it all with icing sugar and cinnamon.
If you are lucky, you might be able to catch the pastry chefs making it and spinning rolls of fresh dough over their heads.
Browse the stalls at the Athens Central Market
From Iroon Square, it is just a short walk to the Athens Central Market (Varvakios Agora). This is the oldest covered market in the city and has been serving thousands of locals every day since 1886.
The market is mostly centered around selling local produce. The stalls sell everything from fresh seafood caught in the Aegean earlier that same day, perfectly polished fruits and vegetables, cheeses and olive oils from across Greece, and cuts of meat.
As a tourist, you may not be looking to buy anything here but the people-watching opportunities are unparalleled. Nearby, you should also take a quick walk down Evripidou Street. 
Window shop on Quirky Evripidou Street  
Evripidou is one of the most multicultural streets in Athens. There are stalls here selling herbs and spices that are more reminiscent of an Arabian souk in the Middle East than something you would expect to see in Southern Greece!
It is lined with Lilliputian stores and little shops selling all manner of homeopathy products, olive oil beauty products, and deli items. If you fancy trying some charcuterie or shopping for excellent quality Greek agro-products, stop by Miran (45, Evripidou) and nearby Karamanlidika (Sokratous 1).
Miran is an Athens institution that has been open since 1922. You will see the store from a mile away as you approach. It is unmissable because of all of the pastourma, sausages, and cured meats that are dangling from the ceilings. 
The store specialises in cured meats and cheeses from the Thessaly, Kerkini, and Serres regions of Northern Greece while Karamanladika focuses on produce from the village of Drama. Both places will happily prepare you a bespoke charcuterie board based on the types of things you like to eat. 
Explore Old Plaka
Pass back through Psiri en route to one of Athens' most historic neighbourhoods: Plaka. This district has been occupied for more than 2,500 years and it was the ¨Turkish district¨ during the Ottoman occupation.
Various structures point to the areas Turkish past, including the Fethiye mosque, some old hammams (bathhouses), and madrassahs (Islamic schools). There are also 2 famous ruins here for which admission is included on your combo ticket: Hadrians Library and the Roman Agora. 
Hadrian's Library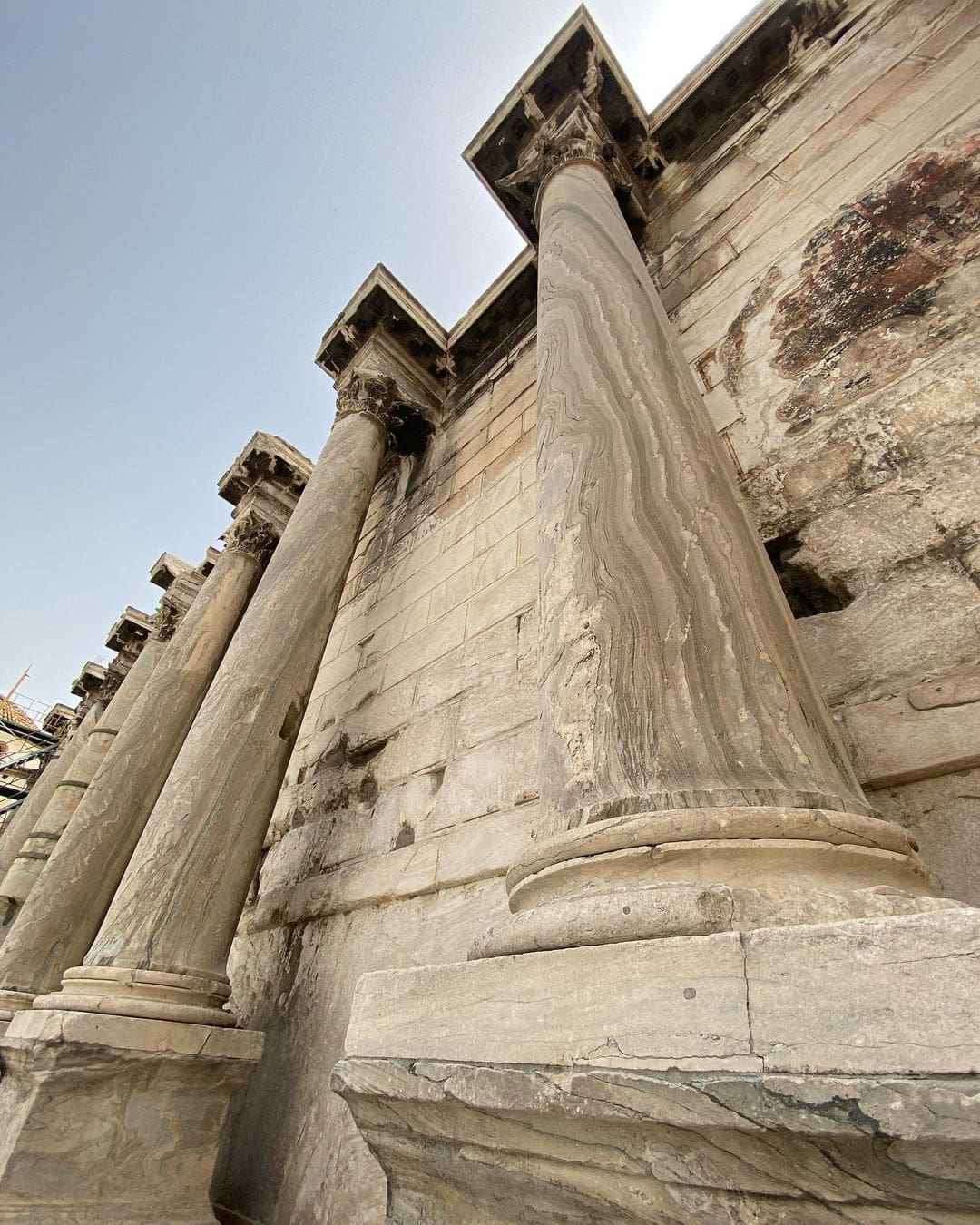 Hadrian's Library is one of several buildings created by the Roman Emperor Hadrian during his time in Athens. It dates back to 132AD and was not ¨just¨ a library but a sprawling cultural centre that was home to reading rooms, teaching rooms, rooms where people could listen to music, and gardens and ponds. 
The Roman Agora
A short walk from Hadrian's Library is the Roman Agora – an old Roman marketplace built by no other than the Roman Emperors Augustus and Ceasar. It was founded between 19 BC and 11 BC and was the city's main marketplace where people would come to shop for fresh produce. 
One of the most notable structures here is the Tower of the Winds (Horologion) – an old water clock and sundial built between 100–50 BC by Andronicus of Cyrrhus.
Anafiotika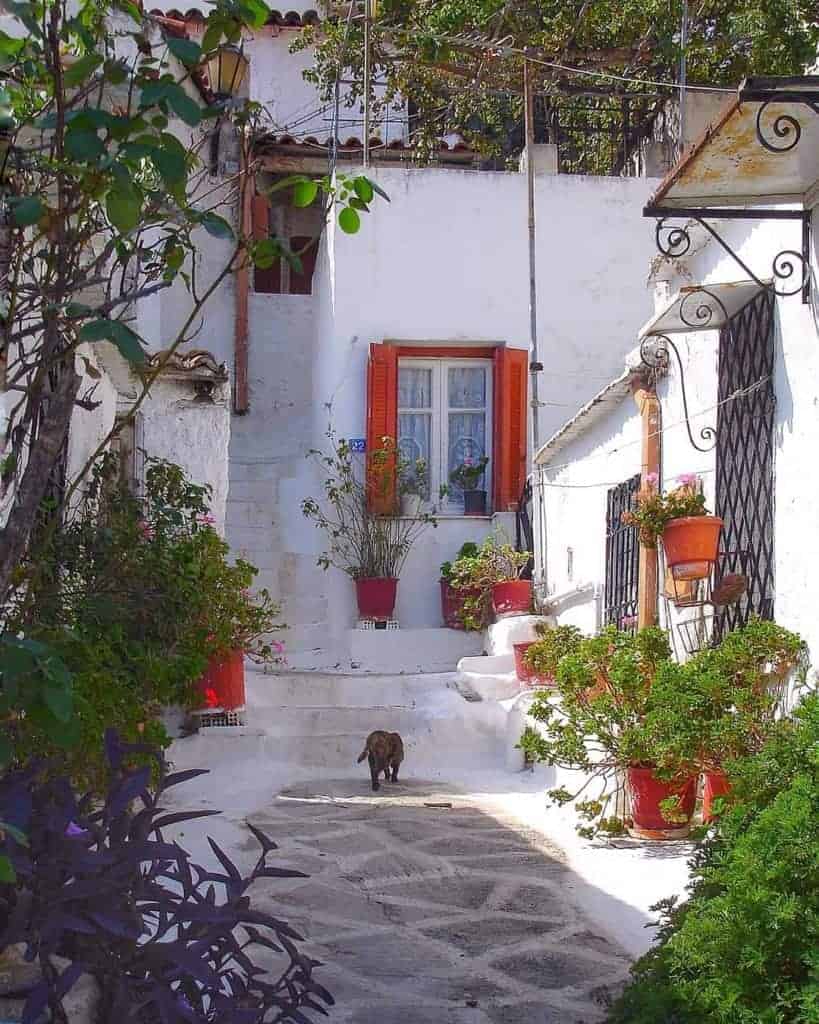 One of Athens' best-hidden gems awaits in the backstreets behind Plaka: the neighbourhood of Anafiotika.. Very few people are aware of this neighbourhood's existence and it is often overlooked when people are looking for places to visit in Athens in 2 days. 
The houses here have been built in blue and white Cyclades style and look more like something that you would expect to see in the Greek islands. This is because the initial residents of the area moved from Anafi in the 19th century to help King Otto in his quest to make Athens the new capital of Greece.
The Anafi citizens built their properties in a style that reminded them of their hometown. 
Experience Plaka by night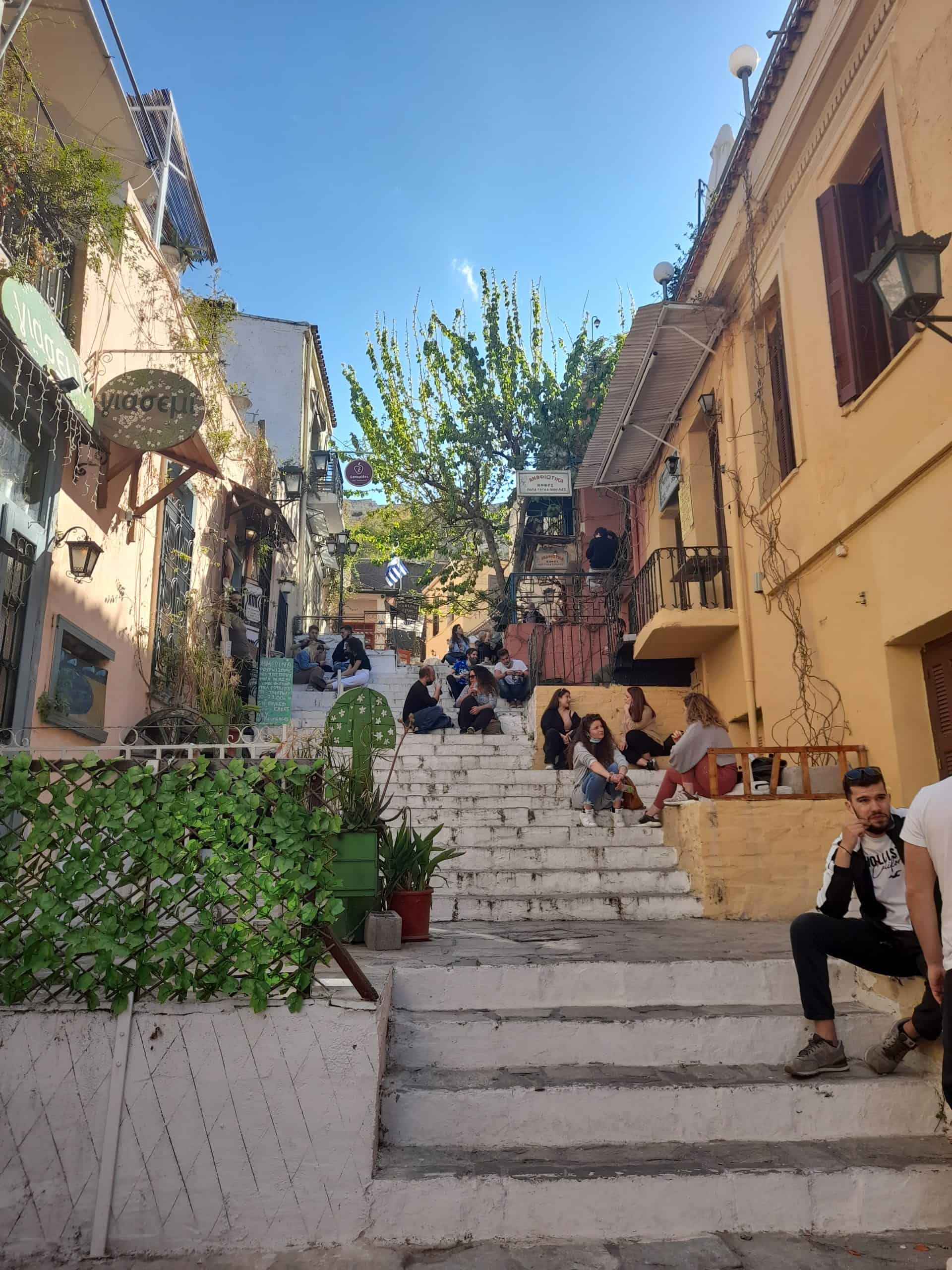 From Anafiotika, head back down to Plaka for dinner and drinks in Athens. The famous Plaka steps can be found at Mnisikleous 22. 
This staircase is lined with bars, restaurants, and tavernas that sit on either side. People plonk themselves down the staircase as they enjoy glasses of sweet Greek wine and meze plates. 
There are a couple of bouzokias here if you want to experience a really traditional form of Greek nightlife. Bouzoukias are taverna-style live music venues where musicians play Greek folk music while people eat.
Diners are encouraged to join in and are often handed instruments or they start dancing on the tables! To Perivoli T'Ouranou (Το Περιβόλι του Ουρανού – Lisikratous 19) is one of the oldest bouzoukias in Athens.
Stamatopoulos Tavern (Lisiou 26) is another local favourite. 
FAQs about seeing Athens in 2 days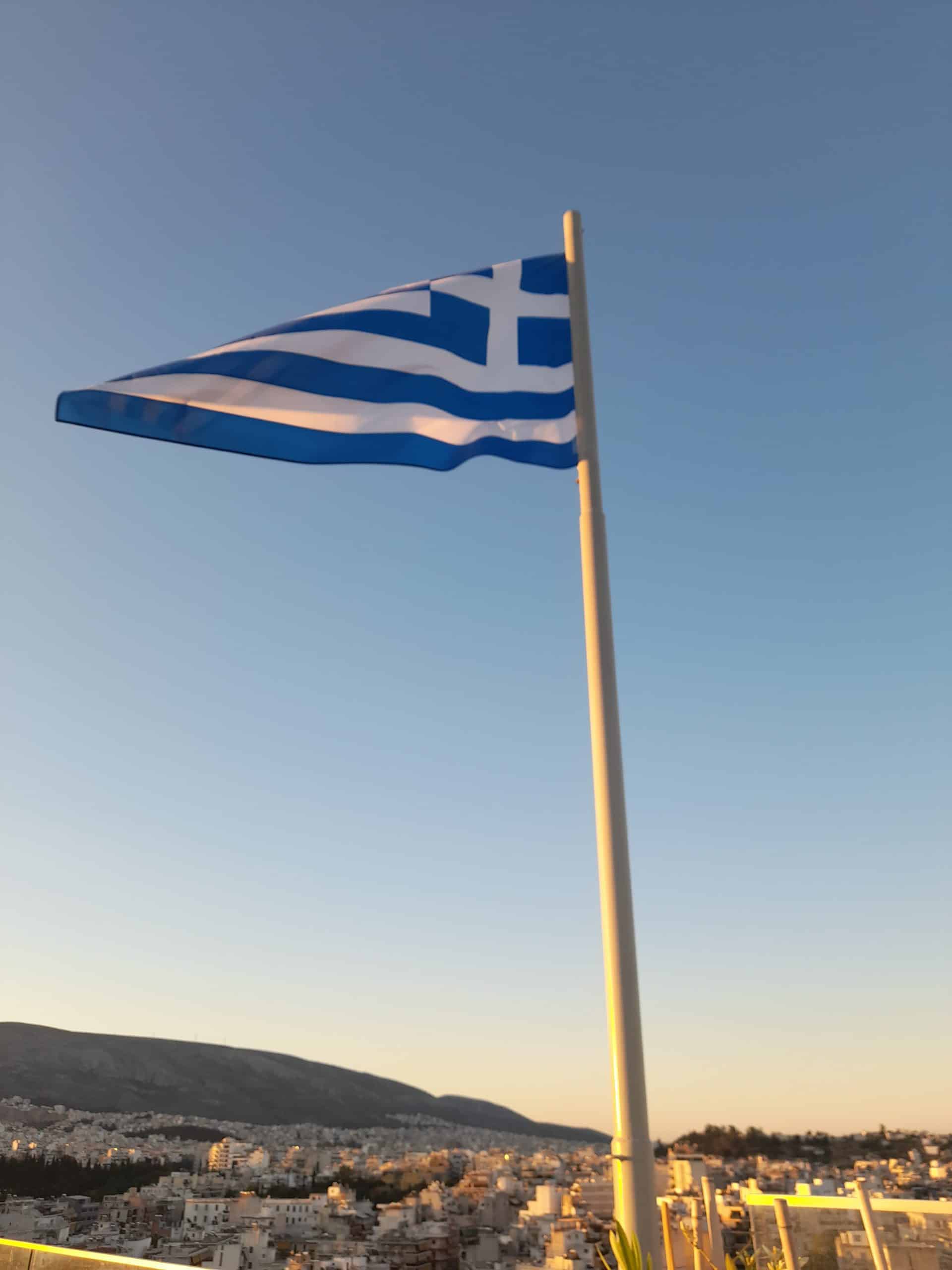 Do you have any further questions or concerns about seeing Athens in 2 days or planning a trip to Greece in general? The answers to some frequently asked questions on the topic are detailed below for your consideration.
Hopefully, you will find the information you are looking for there. If not, please do not hesitate to reach out! 
Other suggestions for places to visit in Athens in 2 days
Of course, the above Athens two day itinerary has been curated based on the best Athens things to do in 2 days. But this is a vast city and there is definitely a lot more to do here.
An alternative option is to spend more time exploring Athens museums like the National Archeological Museum, the Benaki Museum, and the Museum of the City of Athens. Instead of climbing to the top of Filopappou Hill, you can climb to the little whitewashed church of Agios Georgios at the top of Mount Lycabettus.
The alternative district of Exarchia is a great place to search for politically-motivated and thought-provoking graffiti while the upscale boroughs of Kolonaki and Kiffisia are great places to shop. If you want to spend some time by the coast, you can travel down to the beaches near Athens in Glyfada, Voula, and Vouliagmeni. 
Where to stay when you have two days in Athens
If you only have two days in Athens, you should try and stay in a central district such as Syntagma, Koukaki, Plaka, Kolonaki, or Psiri. That way, you are right in the heart of the action and you can reach most places on foot.
Athens has a diverse selection of accommodation options to suit all budgets and travel styles. The Cocomat BC in Koukaki (Falirou 5) is a great choice for luxury without the luxury price tag.
The hotel prides itself on its eco-friendly message and boasts a spectacular rooftop pool with unparalleled views. For something unique and quirky, consider The Foundry (Sarri 40).

This Psiri hotel is housed inside a former font foundry and seamlessly fuses industrial design with exceptional, mid-century modern stylistics. There are 12 independent apartments here, each with very distinctive designs and characteristics.
From here, you are just a short walk away from the Acropolis and Anafiotika Plaka. On the top floor, you will find a roof garden – a lovely green oasis in the centre of a bustling city.
How to get from Athens airport to the city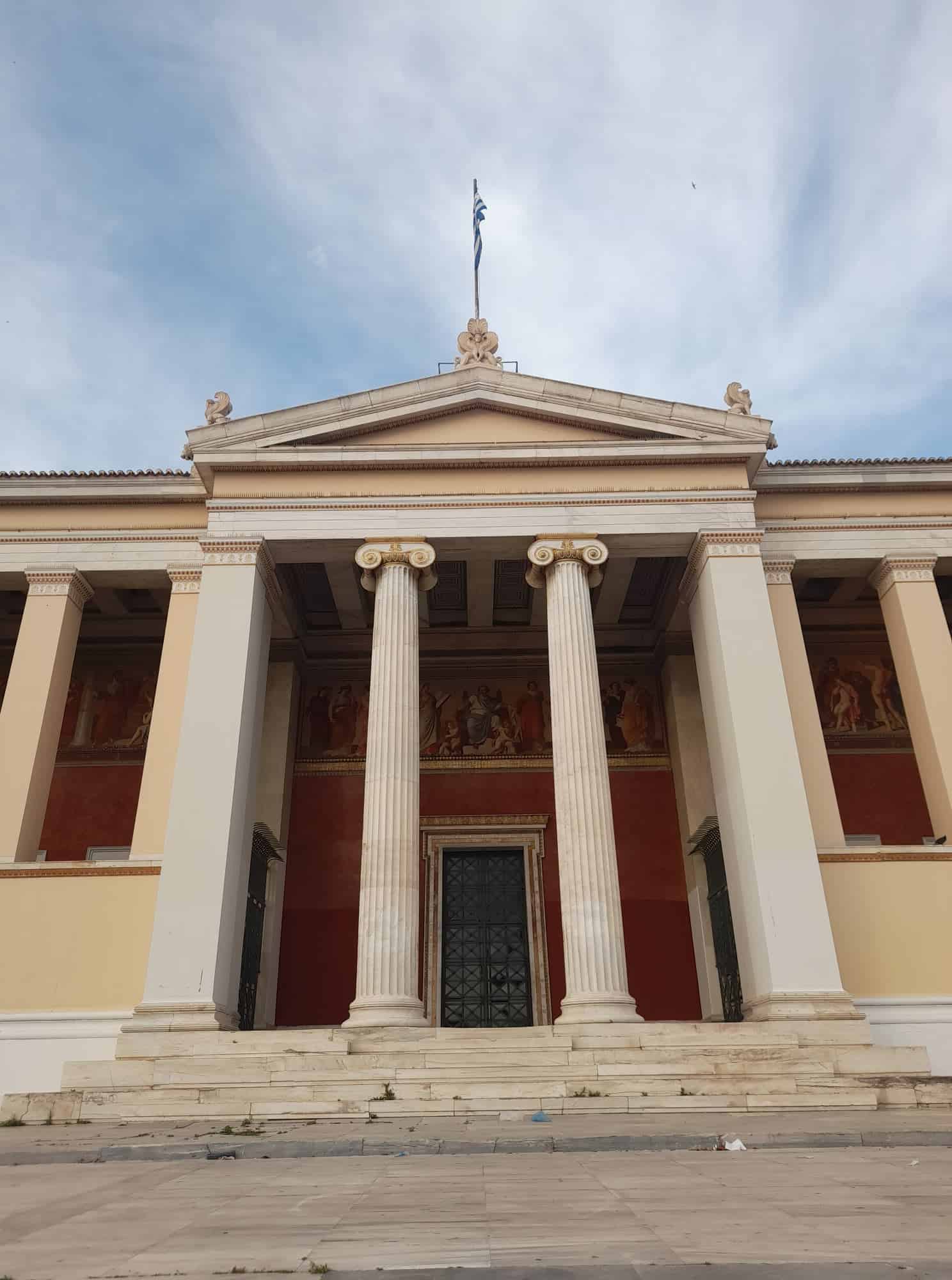 It is easy to get from Athens Airport to the city. You have a couple of options available to do so.
If you want comfort and privacy, you can take a cab. This should not cost more than €35 by day, though night rates may be approximately €50.

Alternatively, you may wish to organise an airport transfer. That way, you know someone is waiting for you when you arrive in Greece.
Airport-to-hotel transfers are typically no more expensive than yellow cabs. You travel in air-conditioned vehicles and complimentary water is provided. 
One of the easiest (and low-cost) ways of getting into the city from the airport is to take the metro. You can purchase a one-day Athens airport and city pass for just €10. Concessions are available for travellers over 65.

There is only one metro line here so you cannot get lost. Take the blue line all the way to Monastiraki.
Finally, you could also take the bus to the city. Bus X95 departs at regular intervals from right outside of Arrivals.
A one-way ticket is €6 (concessions available) and tickets can be purchased straight from the driver. The bus stops at Evangelismos Metro and Syntagma Square. 
Recommended tours for spending two days in Athens
If your time in Athens is limited, you might want to consider taking an Athens walking tour to help you get your bearings and make the most of your trip. Exploring with a local can help you to uncover incredible sites and areas that you may not have stumbled across independently.
Better yet, you have an Athens expert on hand to ask for recommendations on the best things to see and do during your trip.
Several reputable tour companies operate in and around Athens. A number of reputable Athens tours that you may want to consider are detailed below.
Book your place online in advance to secure your spot and avoid disappointment!
Final thoughts on spending 2 days in Athens
2 days in Athens is not a huge amount of time but it is enough to be able to see the city's most famous attractions, indulge in some good local food and get a taster of the nightlife.  
Do you have any further questions about your upcoming trip? I have been living in Athens since 2017 and I am happy to answer any questions you may have.
You might also like to join my Greece Travel Facebook group – All Greek to Me, which aims to help expats and adventurers in Greece make the most of their trips around the country. 
Wishing you safe travels, always. Geia sou! Melissa xo
---