Two days in Athens Is a perfect amount of time for your first trip to the Greek capital. Yes, in an ideal world you would have longer to spend here. However, 48 hours in Athens is a nice amount of time to get an initial feel for the city.
Two Days in Athens: A Suggested Itinerary
This two-day Athens itinerary has been written by a local Athens resident. It includes a blend of "must-see" historic attractions and off-the-beaten-path highlights that tourists often miss. 
Two Days in Athens: Day One
Wake up bright and early this morning ready to beat the crowds. For the best experience, consider booking a room in a boutique Athens hotel that overlooks the Acropolis.
What better introduction to Greece than eating spanakopita from your private balcony while you gaze across to the magnificent Parthenon? Have breakfast at your hotel or alternatively, grab a quick bite at a central Athens breakfast spot.
Kinono ( Falirou 48) is a great choice. This airy bohemian coffee shop serves all-day breakfast and brunch. 
Choose whatever takes your fancy to start your day- whether it's a healthy açai bowl or delicious eggs benedict. Make sure you don your comfiest shoes because today involves a lot of walking.
Stop One: The Acropolis
Regardless of how many times you may have seen it on Instagram, in magazines, or on travel documentaries, nothing compares to seeing the Acropolis up close and personal. The site opens at 8.00 am daily. 
Try to get there as early as possible to avoid the queues, ideally right when the site opens. To make things even easier, purchase your Acropolis entrance ticket online in advance. 
Tip: Purchase Your Acropolis Ticket in Advance
You may want to consider purchasing an Athens combination ticket. This is €30 per person and includes admission to the most notable sites in Athens.

Namely, it includes entrance to the Acropolis and its museum, the Temple of Olympian Zeus, the Roman Agora, Hadrian's Library, Kerameikos, the Ancient Agora, and the Stoa of Attalos. This is worth purchasing as you will visit the majority of these sites during your two days in Athens. Click here for more information.
Explore Acropolis Hill and the "New" Acropolis Museum
The Acropolis site is actually far bigger than many people realise. There are several interesting buildings here, not just the Parthenon.
Construction on the Acropolis started in 447 BC. While Acropolis sites in other Greek cities existed for defensive purposes, the Athens Acropolis was built exclusively for the worship of Goddess Athena.
You will likely enter the Acropolis complex via the Propylaea. This is a grand monumental gateway and although it is typically the busiest entrance, entering this way gives you a taster of the magic that visitors to the Parthenon would have felt centuries ago
The Pandroseion, the Erechtheion, and the Temple of Athena are separate sanctuaries. You should also look out for the Theatre of Dionysus. This is an ancient theatre that was constructed on the slopes of Acropolis hill during the 4th century. 
The theatre is named after Dionysus, God of Drama, and had the capacity to hold 17,000 spectators. Greek tragedies of Sophocles and Euripides took place here.
When you leave the Acropolis complex, take a brief look inside the "New" Acropolis Museum directly opposite. Admission is included with your Acropolis entrance ticket.
Meander Down Dionysiou Areopagitou and Apostolou Pavlou
Leaving the Acropolis complex behind, you will find yourself on the cobbled boulevard of Dionysiou Areopagitou. Follow the promenade northwards towards Thissio until it becomes Apostolou Pavlou.

This pedestrian walkway is always filled with musicians and street vendors selling artwork, bohemian jewelry, and all manner of artisanal trinkets. You will pass by Areopagus and Filopappou Hills.

The former was once the site where the earliest aristocratic council of ancient Athens would try judicial matters. For now, turn into the grounds of Filopappou Hill. 
Filopappou Hill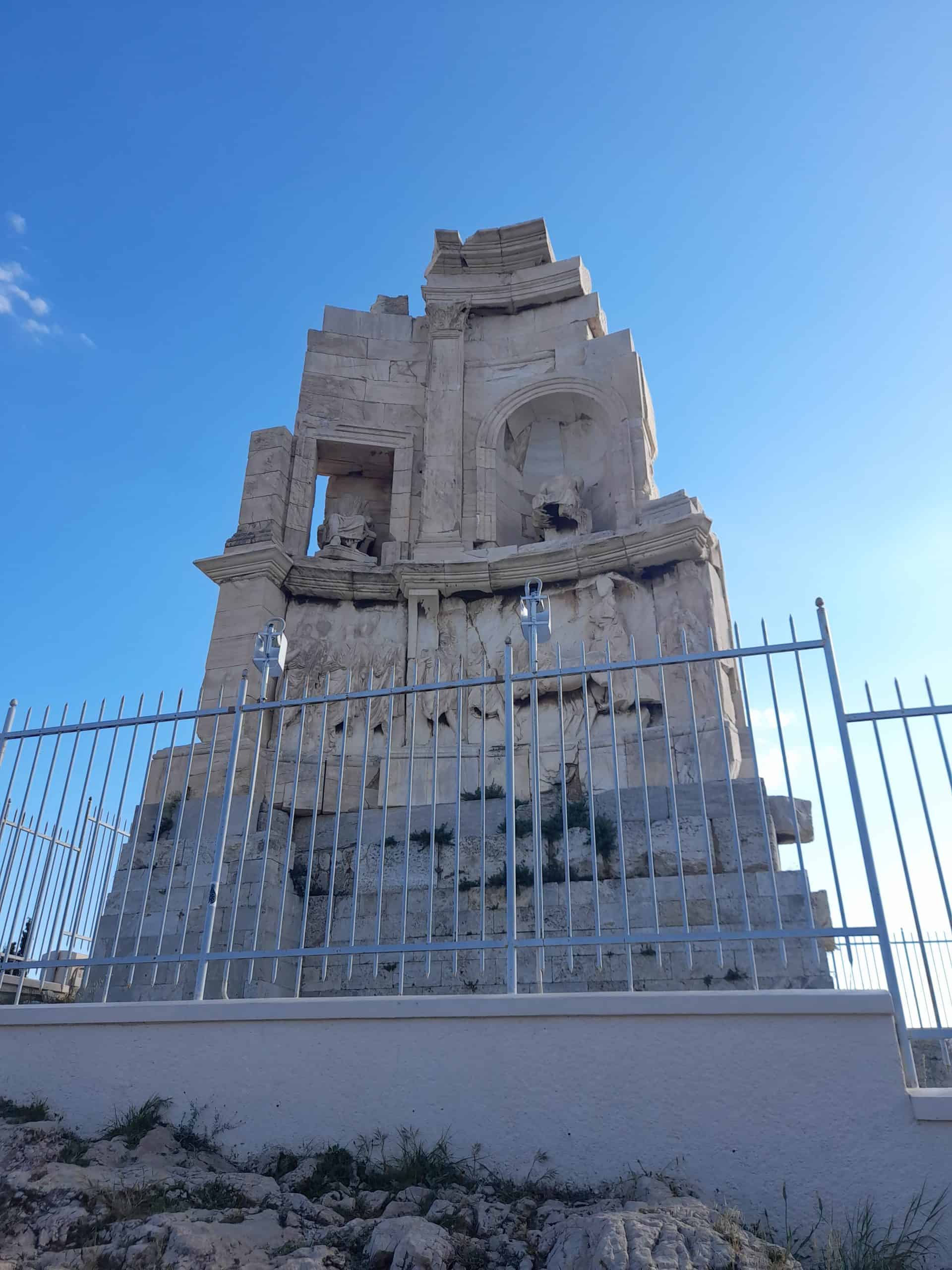 Most visitors to Athens overlook Filopappou Hill but it's a charming place to spend an afternoon. Locals will often hang out here too.
They will head to Filopappou to walk their dogs or to enjoy an alfresco coffee and a stroll with their friends on their lunch breaks. The site is named after the marble Philopappos monument at the top of the hill.

The monument was constructed in 115 AD in honour of the Greek-Roman commander Julius Antiochus Filopappos. The walk to the top is pleasant and doable for people of all ages. 
From here you have incredible views (and photo opportunities) of the Acropolis Hill directly opposite. There are actually several interesting things to see at Filopappou Hill.

Look out for the obscure-looking church of Agios Dimitrios Loumbardiaris nestled in the middle of the woods. You can also walk up Pnyx hill. This was the birthplace of democracy and the spot where the Athenian democratic assembly (ekklesia) would meet.
Grab Lunch at a Traditional Taverna
There are dozens of excellent restaurants in Athens and it would be very hard to find bad food here. That being said, if you only have two days in Athens, you want to be sure that you are experiencing the best of the best during your short time in the city.
Try to avoid tavernas that are located right outside tourist attractions. When you leave Filopappou hill, head towards Koukaki.

There are many excellent tavernas here. One particularly nice place to have lunch is Sphika (Str. Kontouli 15).
The taverna is open daily from 1 pm until late and is popular among Athenians and locals alike. Sphika is perhaps best known for their mixed grill platters which you can share with your travel companions. 
They also do a lot of meze dishes. These are small plates, similar to Spanish tapas.
The idea is that you order a few dishes and share them at your table. This is a nice way to sample a lot of traditional Greek food delicacies at once. 
The fava bean purée along with fresh, crusty bread is an essential starter. You should also consider ordering a side of kolokithokeftedes (zucchini fritters)
Meander Through Koukaki and Makrygianni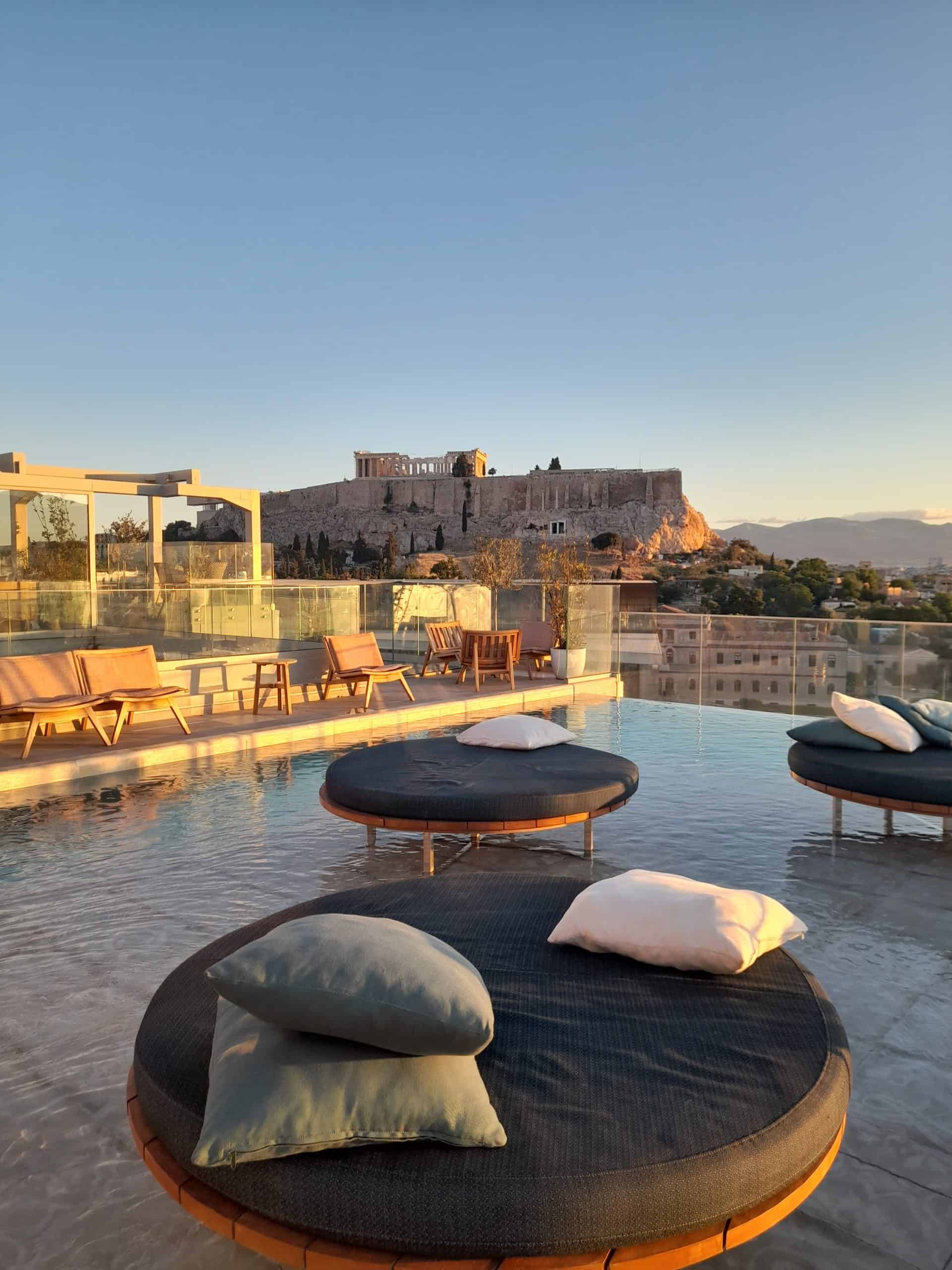 Koukaki and Makrygianni are arguably two of the most charming neighbourhoods in central Athens. Koukaki in particular is something special. 
Despite the fact that this district sits right in the shadow of the Acropolis, it is overlooked by many who visit the city. It has also not been overly gentrified.
In the 1980s, this area was nicknamed ¨Little Paris¨. A lot of creatives moved to this part of town.
They opened art galleries, eccentric clothing stores, and eclectic coffee places. As you head towards Hadrian's Gate, don´t forget to take the time to window shop, check out vintage clothing shops, and generally observe the charm of this area.
Check Out Hadrian's Gate and the Temple of Olympian Zeus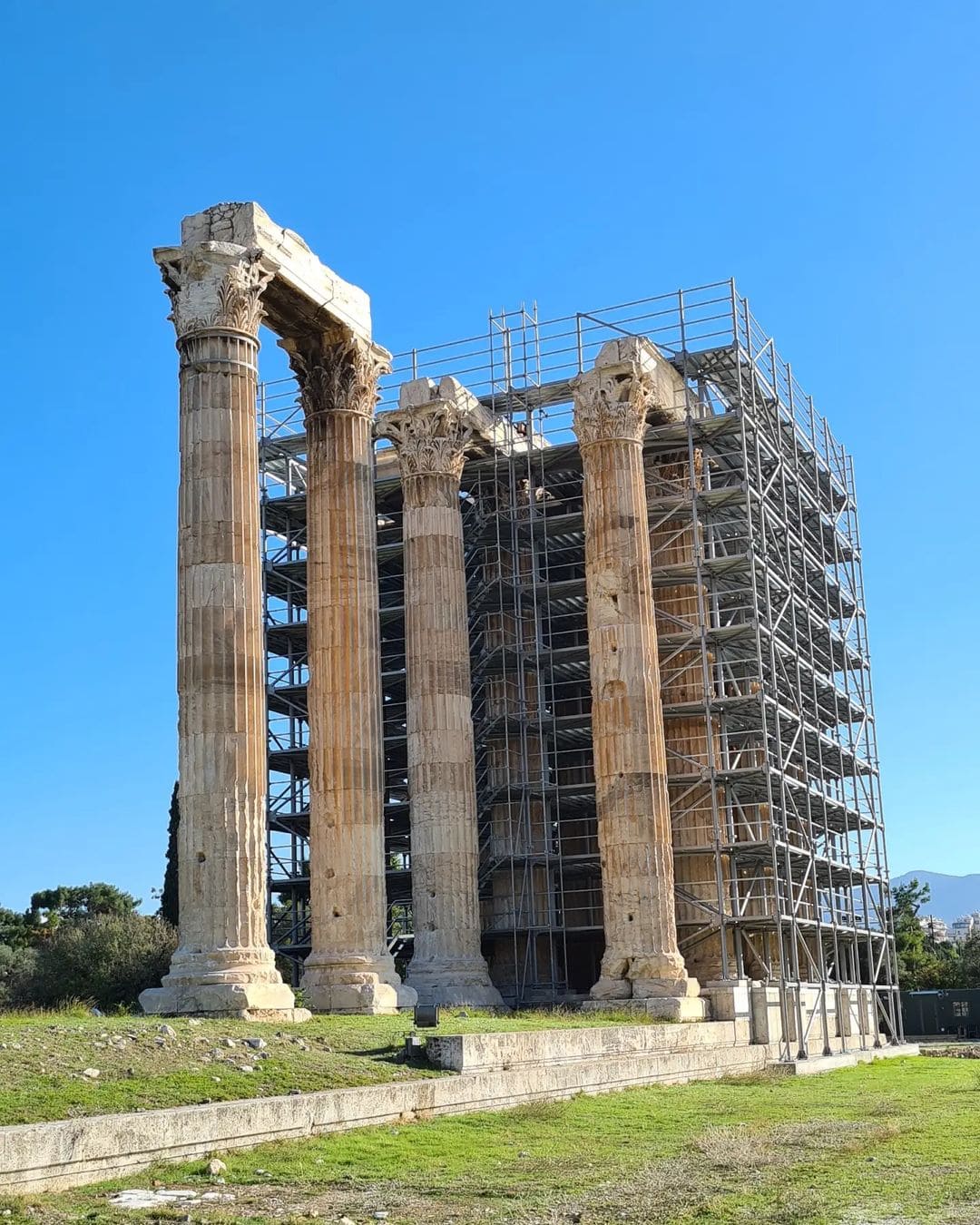 Hadrian's Gate is a monumental gateway built in 131AD in honour of the Roman Emperor Hadrian. Emperor Hadrian was a true Grecophile through and through and made several positive contributions to the city.

Most notably, he was responsible for the construction of Hadrian's Library and the Temple of Olympian Zeus, among other things. The impressive arch is located on the extremely busy, perpetually congested Leoforos Vasilissis Amalias.
The arch provides an interesting contrast between Ancient Athens and the modern city that has developed around it. Directly behind it is the Temple of Olympian Zeus.
Admission to the temple is included in the Athens combination ticket. The temple was built in honour of the Greek God Zeus.

However, it actually took hundreds of years to complete. Work was first started on the site by Peisistratus and his sons in 520 BC.

The project was unfortunately picked up and abandoned several times before the temple was finally completed by Emperor Hadrian in 131 CE. At that time, it was one of the largest temples in the ancient world.

The spectacular temple boasted 104 ornate Corinthian columns, a giant gold statue of Zeus, and countless small busts of Hadrian. Sadly today only fifteen columns remain standing. One can be found intact on the floor. 
Pass Through the National Gardens
Cross Leof. Vasilissis Olgas to the National Gardens – this is Athens´ answer to Central Park. If you´re feeling peckish, you can pick up some Greek street food (perhaps a kolouri or a souvlaki stick)  nearby in Syntagma to enjoy picnic-style in the park.

There are some beautiful walkways and flower gardens here, along with a small lake at the centre of the park. Walk down until you see a grand pastel yellow building.

This is the Zappeion. Construction on the site started in January 1984 and this is one of three stunning buildings that make up the neoclassical trilogy created by architect Theophil Hansen.
Cross the road (Leof. Vasileos Konstantinou) and it will take you to the next stop: Kallimarmaro. 
Do a Victory Lap of the Panathenaic Stadium
The Panathenaic Stadium (Kallimarmaro) was the birthplace of the modern Olympic Games. It dates back to 566 BC and is the only Olympic stadium in the world made entirely out of marble.
Admission to the site costs €5. Concessions are available for seniors, students and children provided you present the necessary identification.
Do a little victory lap around the track if you wish. Alternatively, take a seat in the stands and imagine what watching a sporting event was like here all those centuries ago.
Musicians do still perform here occasionally. So, it is worth checking what is happening in Athens during the dates of your trip. 
Entrance to the site includes admission to the Olympic Museum. Here you can see Olympic torches from around the world, along with memorabilia and promotional posters from the various competitions.
Have Dinner and Experience Athens by Night
As you depart Kalimarmaro, you are actually in close proximity to two charming districts that tourists don't even know about: Pagrati and the Mets. These residential areas are quintessentially Greek and provide an excellent insight into local life.
They are also home to some of the best restaurants in Athens. One great choice, in particular, is Mavro Provato (Arrianou 31).

Since the restaurant first opened its doors a couple of years ago, it has gained something of a cult following. You may have to wait a little while to be seated but rest assured, it is worth it.

The menu offers traditional Greek recipes that have a contemporary modern twist. You can either order large entrees or share meze plates.

You will be greeted with complimentary Cretan raki and a small snack platter to nibble on as you browse the menu. From here, treat yourself to an evening tipple or two.

You have a couple of choices from here. If you want a rooftop bar with an Acropolis view, head to Skyfall (Mark Mousourou 1).

For something really local, have cocktails at Kain (Anapafseos 22). You can also catch live Blues and Jazz music at Half Note Jazz Club (Trivonianou 17) or Metz coffee bar (Mark. Mousourou 63).  
Two Days in Athens: Day Two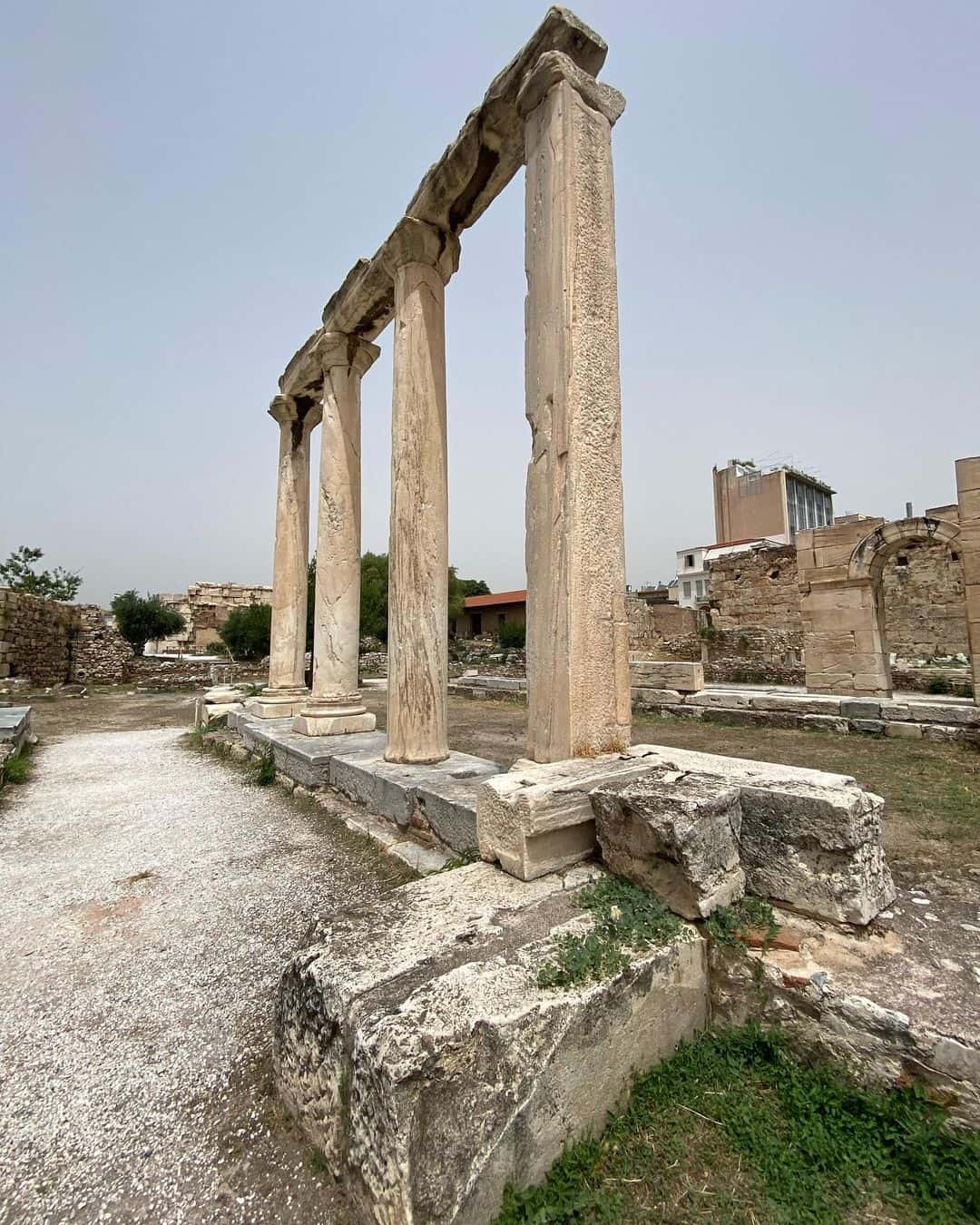 You may only have two days in Athens but that doesn't mean that you want to over-exhaust yourself or leave your vacation feeling like you need another vacation! Sleep in, enjoy a leisurely breakfast at your hotel or a quirky Athens coffee spot, then head towards Syntagma Square.
Watch the Changing of the Guards at Syntagma Square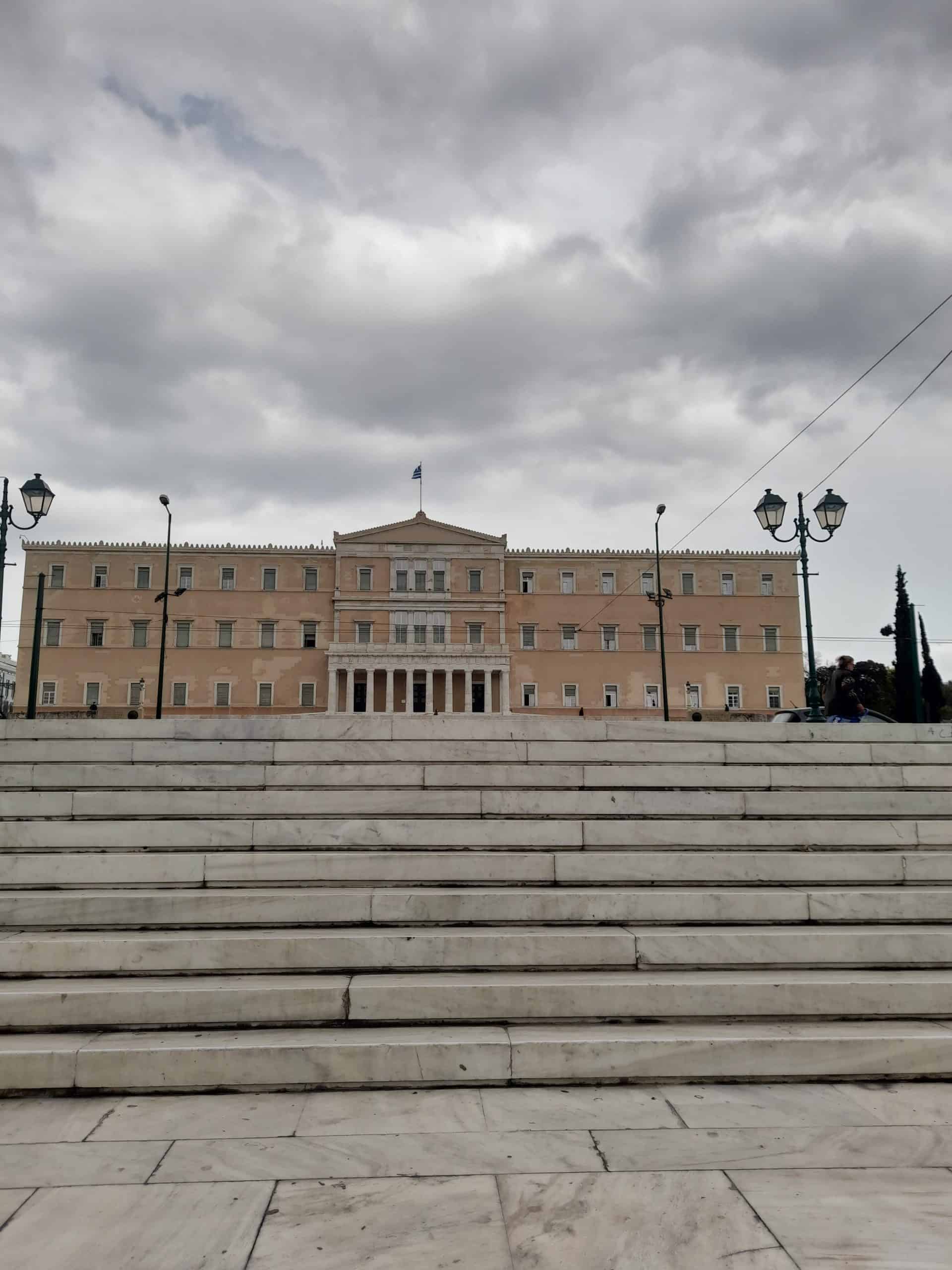 Syntagma Square is the central square of Athens. Some of the most luxurious Athens hotels are located here including the exclusive Hotel Grande Bretagne.

The pale yellow parliament building sits directly opposite the square. This was built in 1842 and was formerly the residence of King Otto and Queen Amalia.
There are always guards outside the building dressed in very elaborate attire. These are evzones – an elite division of the Greek infantry.

They guard the Parliament and the tomb of the unknown soldier. You can see the changing of the guards every hour, on the hour.

Two Evzones will approach the parliament to relieve the duties of the two Evzones that have been standing guard for the past sixty minutes. If you happen to pass by here on a Sunday morning, you will catch an even more elaborate spectacle.
Explore Ermou and Monastiraki Square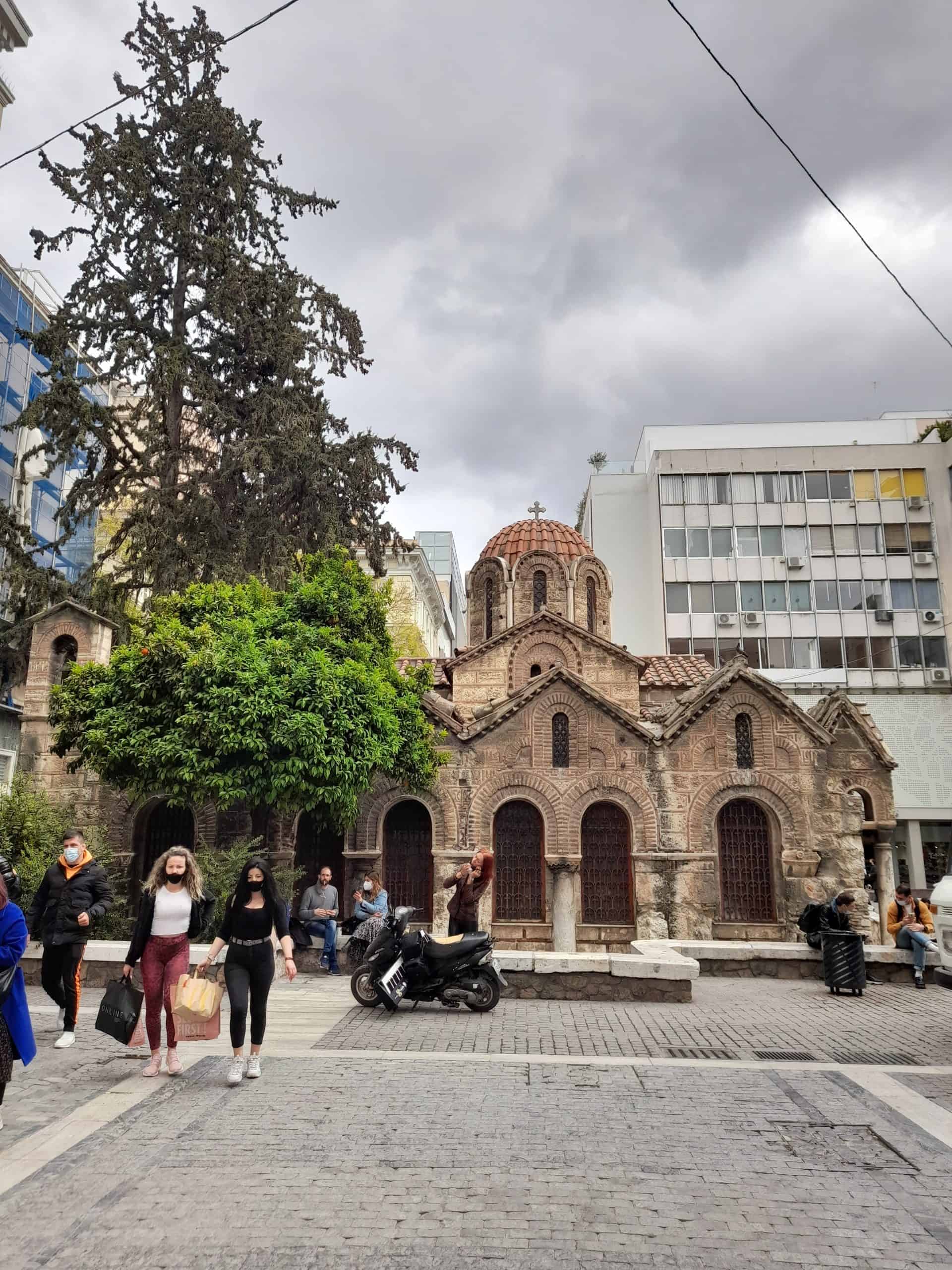 Walk across Syntagma Square and meander down the main high street that runs next to McDonald's. This is Ermou – Athens´ answer to the high street.

This is one of the best places for shopping in Athens. A number of global high street and independent Greek clothing stores can be found here.
If you fancy a light snack, grab a kolouri from one of the Ermou street vendors. These are circular, sesame seeded pastries – the Greek pretzel if you will.

Continue on down the street until you arrive at Monastiraki Square. There are often crowds of people here so watch your personal belongings.

Look out for the old mosque that doesn't have a minaret. This is Tzistarakis Mosque and legends say it is cursed! 
The Monastiraki flea market is a good place to shop for Greek souvenirs. Yes, you will find a lot of tourist tat here.
But among the rubble, you will find some unique and interesting items. Komboloi beads, backgammon boards, Greek alcohol, and homemade sandals make nice gifts for your Grecophile friends back at home. 
From Monastiraki, turn on to Adrianou street. From here, you can enter the Ancient Agora.
Visit the Ancient Agora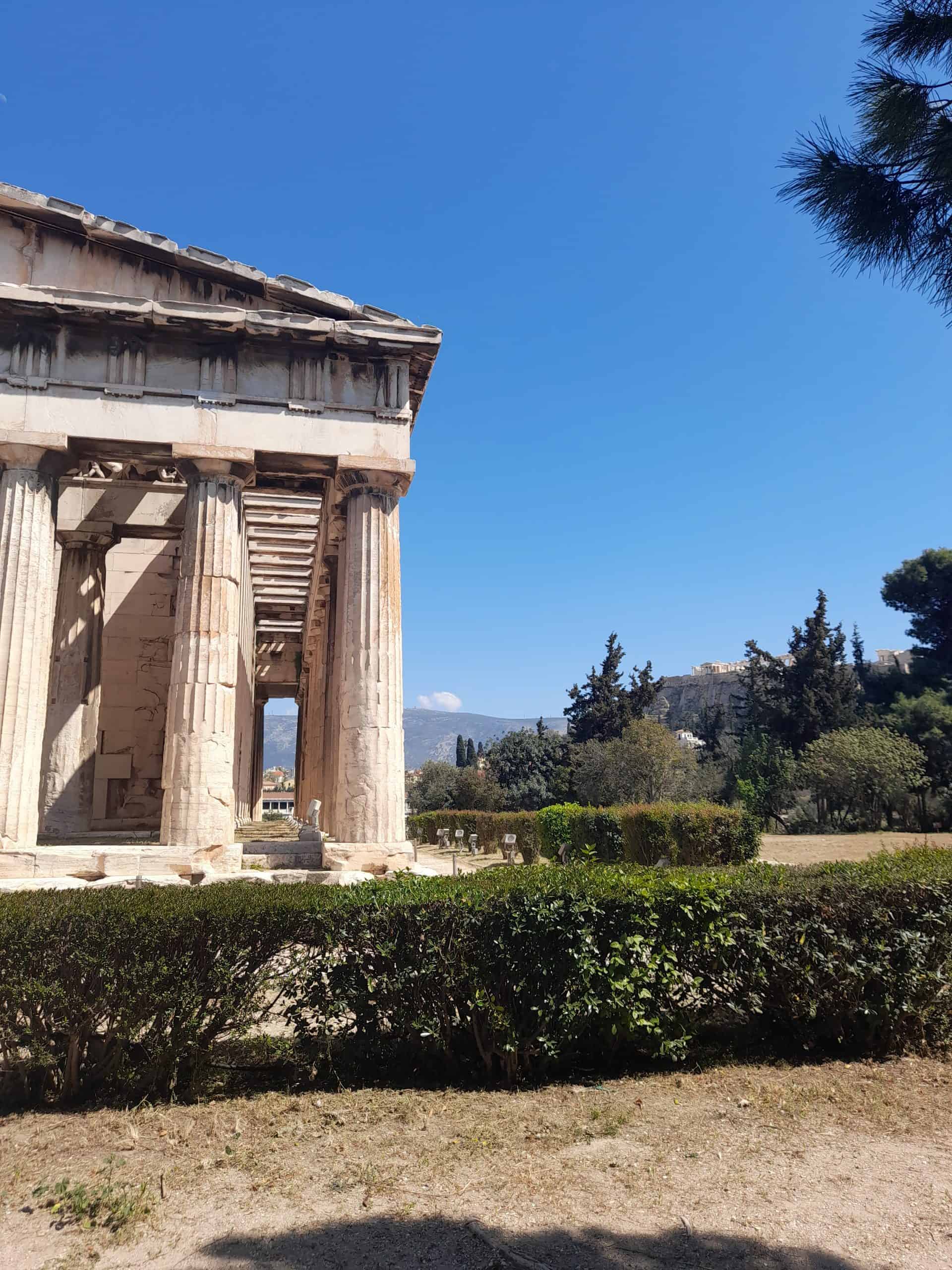 The Ancient Agora and its excellently preserved Temple of Hephaestus is simultaneously one of the most important and impressive historical sites in Athens. Entrance to the site is included in your Athens combination ticket.

In Greek, ¨Agora¨ means ¨marketplace¨. However, the Ancient Agora existed for civil purposes, rather than commercial.

In Ancient Greece, this is where people would listen to important announcements and speeches. Even Greek Philosophers like Socrates would wander down these boulevards spreading insight and wisdom. 
The Temple of Hephaestus is perhaps the most impressive structure in this complex. This Doric temple was built in 450 BC – around the same time as the Parthenon.
It was built in honour of Hephaestus, God of Metal Workers, and Athena Ergane, Goddess of Pottery and Crafts. Dedicate some time to looking at the chronological exhibits in the Agora Museum.

The Agora Museum is housed inside the restored Stoa of Attalos. This is the colonnaded building on your left when you enter the complex.
Once upon a time, the Stoa was the city´s main marketplace and housed more than 40 shops and stalls. Today, it houses an interesting array of artifacts recovered from the area. They date all the way back to the Neolithic, Bronze, and Iron ages. 
Stop for Coffee and Pastry in Psiri
The next stop on your two days in Athens schedule is Psiri. Head to Iroon Square and stop for a quick coffee at Bougatsa Thessalonikis.

If you want to have your coffee like a Greek, have it Freddo. A Freddo espresso is a strong espresso poured over ice. 
You can add foamed milk to make it a Freddo cappuccino. This is your opportunity to try one of the very best Greek pastries – bougatsa. 
There are both sweet and savoury versions of bougatsa, though the sweet version is the most popular. To make it, semolina custard and brown sugar is sandwiched between layers of fresh filo pastry.

This is then topped with a generous sprinkling of icing sugar and cinnamon. If you are lucky, you may see the pastry chefs at Bougatsa Thessalonikis rolling the dough out and spinning it above their heads.

Psiri is a very colourful Athenian neighbourhood best known for its vibrant street art and nightlife. As you pass through its streets and passageways, you will see lots of antique stores selling all manner of trinkets and knick-knacks. 
Browse the Stalls at Varvakios Agora
The Varvakios Agora is Athens' Central Market. It is the oldest market in the capital and has been functioning since 1886.

The huge old wrought-iron market is predominantly filled with fish and meat vendors. Some of the sights here are perhaps not for the squeamish.

However, the people-watching opportunities at the Varvakios Agora are second to none! Watch on as restaurant owners come here to pick up their raw ingredients, or as yiayias haggle with vendors over the price of items for their Greek Sunday dinners.

Cross Athinas road to the open street market across from Varvakios Agora. Here you will find row after row of beautifully polished fresh fruits and vegetables for very reasonable prices.

Olives, Greek cheeses, and dried nuts are all available here and the vendors are more than happy for you to sample their products before you buy. Sink your teeth into a slither of smoked metsovone cheese from Metsovo, or a soft, delicious piece of Manouri cheese from Thessalia.

Continuing along towards Evripidou street, you will find stalls selling herbs and spices that wouldn't look out of place in an Arabian bazaar. Some dried thyme or oregano are good choices if you like experimenting with Mediterranean recipes. 
Windowshop on Quirky Evripidou Street
Evripidou Street is, without hesitation, one of the most unique and fragrant streets in Athens. It is lined with Lilliputian stores and little shops selling all manner of homeopathy products, olive oil beauty products, and deli items. 
There are two particular stores worth stopping by here. In particular, check out Miran (45, Evripidou) and nearby Karamanlidika (Sokratous 1). 

You will know you are approaching Miran when you see a colourful little shop with cured meats, sausages, and pastourma hanging from the ceilings. This is an Athens institution and has been in operation since 1922.

Miran specialises in cured meats and cheeses from the Kerkini and Serres regions of Northern Greece. However, they also sell all manner of more adventurous cold cuts.

For instance, cured buffalo or camel meat. Karamanlidika on the other hand focuses on produce sourced from the little village of Drama in Thessaly. 
It is possible to order a charcuterie board of local produce at both places. Karamanlidika is the more taverna-style of the two and is a good place to stop for lunch.
You can order a bespoke charcuterie board accompanied by local wine pairings. Alternatively, treat yourself to some home-cooked Greek food just like yiayia would make. 
Check Out Hadrian's Library and the Roman Agora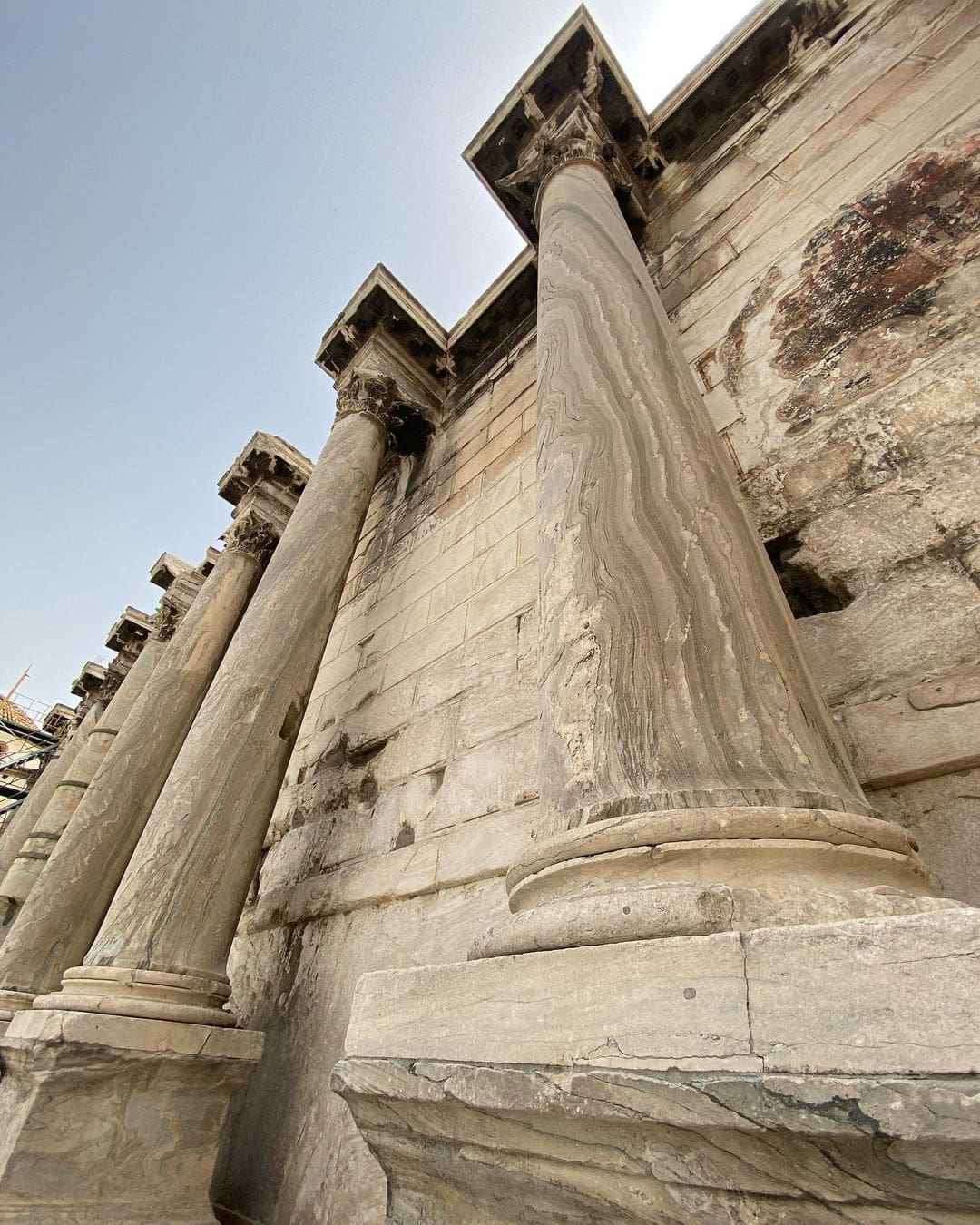 Walk down Athinas street and head back towards Monastiraki Square en route to Hadrian's Library. The site is small and can be explored in less than 20-30 minutes.

However, entrance is also included in your Athens combination ticket. The library was built by Roman Emperor Hadrian in  132 AD.

It was not just a library in the traditional sense, but Athens´ civic centre. Thousands of books and journals were stored here and the complex also boasted teaching rooms, reading rooms, gardens, and a pond so that Scholars and Philosophers could take a walk to unwind and reflect.
Today, much of the library lies in ruin. The grand entrance has been partially restored and gives some indication as to what it may have looked like in its heyday.
You can also see the remnants of some mosaics from the churches that once stood here. Take a quick walk around the complex and then continue on to the Roman Agora.
The Roman Agora (Polignotou 3) was a major meeting point during the Roman era. It was first founded between 19 BC and 11 BC by none other than Emperors Augustus and Ceasar.
This was the city´s main marketplace. Locals would come here to pick up fresh fruits and vegetables.
Sadly all that remains today are a few columns, the sun-bleached ruins of a public outhouse, and an old water clock and sundial (tower of the winds). The site is still not fully excavated so we can only imagine what other treasures await beneath the surface… 
Anafiotika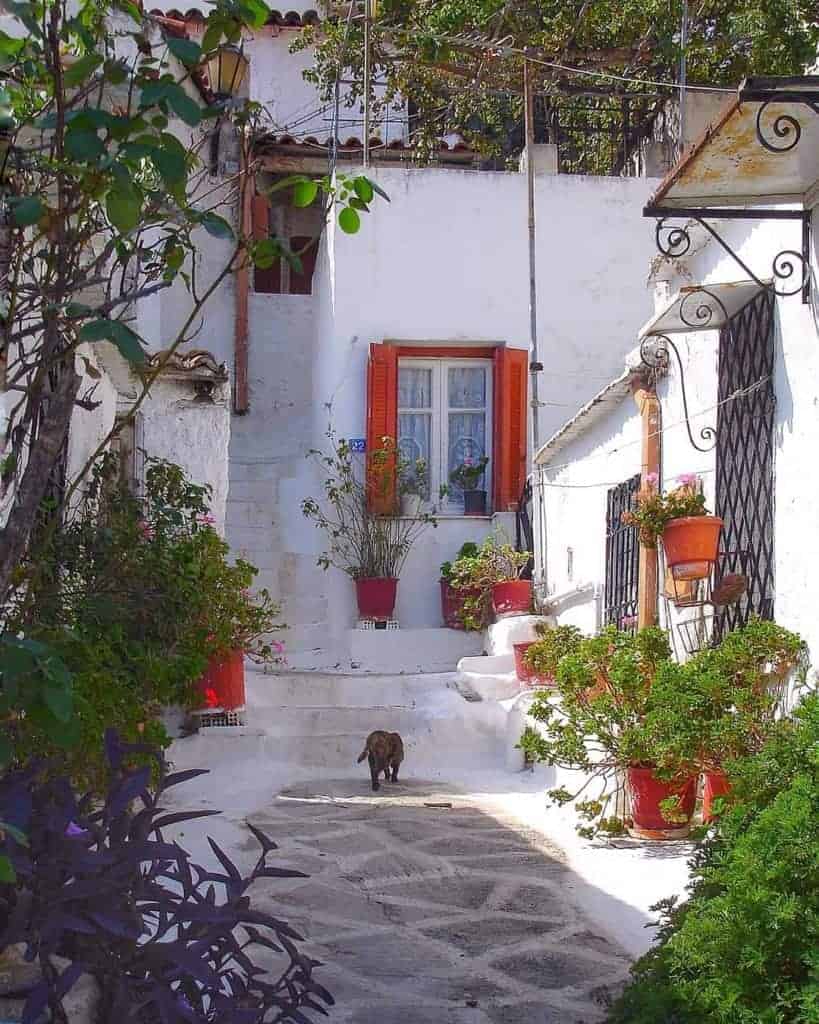 A short walk from the Roman Agora, through historic Plaka, brings you to Anafiotika. This residential area, on the slopes of Acropolis hill, is the last thing you would expect to find in the chaotic Greek capital.
The houses in Anafiotika have been built in Cycladic style. They are blue and white, with domed roofs.
This is because the residents relocated to Athens from the little island of Anafi. They built their homes in a style that reminded them of their beloved island and with that, they brought a touch of the Cyclades to the mainland.

Few people are aware of Anafiotika´s existence so aside from the occasional guidebook-wielding tourist, you will rarely see anyone here. You can enjoy some of the best panoramas of downtown Athens from up here, particularly as the sun sets.
Spend an Evening in Old Plaka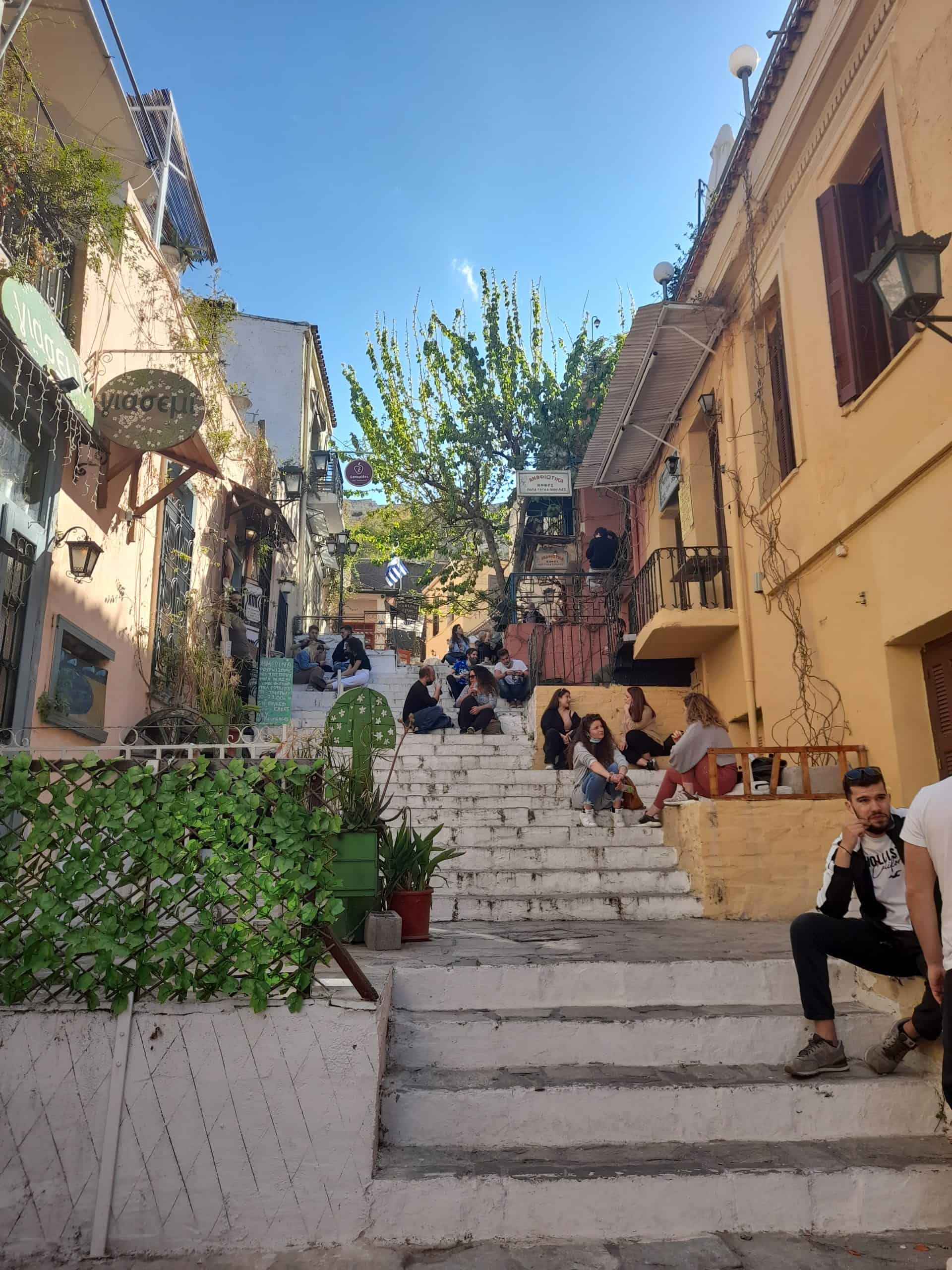 Plaka Athens is one of the oldest districts in Athens, as well as one of the most charming. This area has been inhabited for more than 2,500 years.

During the Ottoman occupation, this was known as Athens´ ¨Turkish district¨. A few structures still exist here from this time. 
Keep your eyes peeled for the Fethiye mosque and the Pelopida street madrassah. Head to the famous Plaka steps at Mnisikleous 22.

A selection of bars, tavernas, and bozoukias are located on either side of the stairwell. Stop here for a carafe of ouzo or tsipouro paired with some meze plates. 
Two Days in Athens: Where to Stay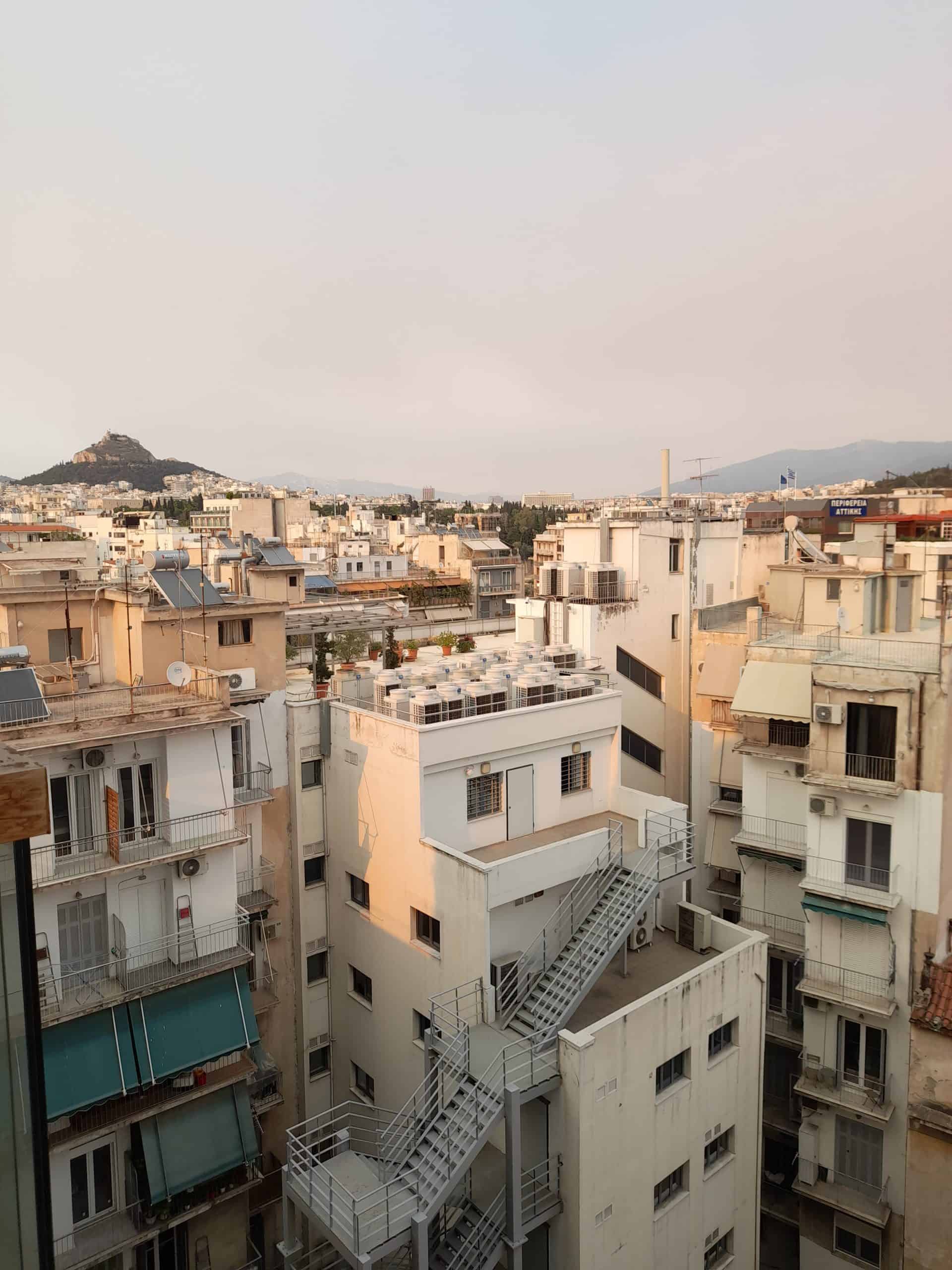 If you only have two days in Athens, you should try and stay in a central district such as Syntagma, Koukaki, Plaka, Kolonaki, or Psiri. That way, you are right in the heart of the action and you can reach most places on foot. 
Athens has a diverse selection of accommodation options to suit all budgets and travel styles. The Cocomat BC in Koukaki (Falirou 5) is a great choice for luxury without the luxury price tag. 
The hotel prides itself on its eco-friendly message and boasts a spectacular rooftop pool with unparalleled views. For something unique and quirky, consider The Foundry (Sarri 40).

This Psiri hotel is housed inside a former font foundry and seamlessly fuses industrial design with exceptional, mid-century modern stylistics. There are 12 independent apartments here, each with very distinctive designs and characteristics. 
From here, you are just a short walk away from the Acropolis and Anafiotika Plaka. On the top floor, you will find a roof garden – a lovely green oasis in the centre of a bustling city.
Getting Around Athens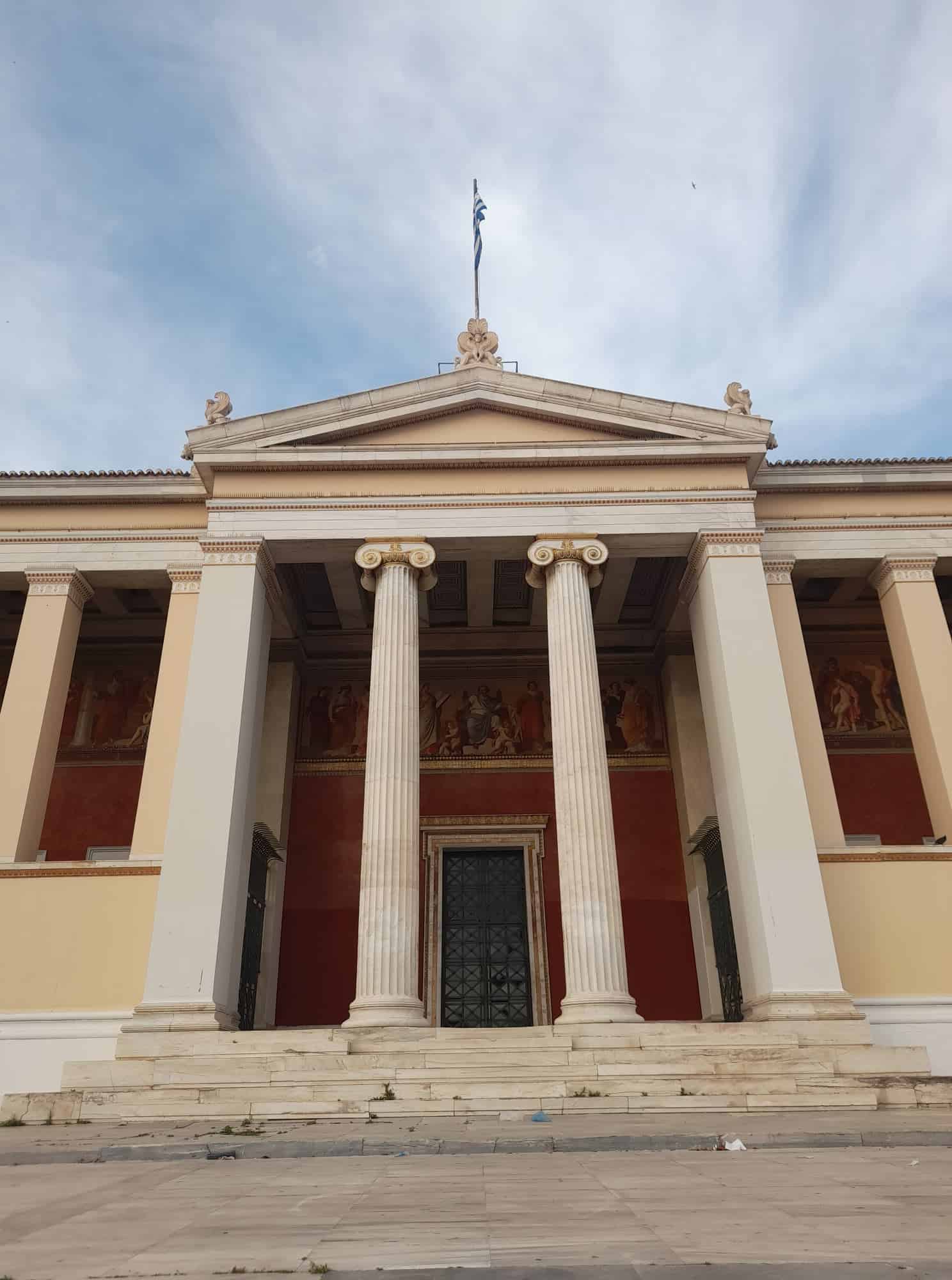 Public transport in Greece is very good and Athens is no different. Buses and metro trains service even the most far-reaching neighbourhoods and even take you as far as Vouliagmeni, Kifissia, and Piraeus.
Getting from Athens Airport to the City (and Vice Versa)
It is easy to get from Athens Airport to the city. You have a couple of options available to do so.
If you want comfort and privacy, you can take a cab. This should not cost more than €35 by day, though night rates may be approximately €50.

Alternatively, you may wish to organise an airport transfer. That way, you know someone is waiting for you when you arrive in Greece.
Airport to hotel transfers are typically no more expensive than yellow cabs. You travel in air-conditioned vehicles and complimentary water is provided. 
One of the easiest (and low-cost) ways of getting into the city from the airport is to take the metro. You can purchase a one-day Athens airport and city pass for just €10. Concessions are available for travellers over 65. 

There is only one metro line here so you cannot get lost. Take the blue line all the way to Monastiraki. 
Finally, you could also take the bus to the city. Bus X95 departs at regular intervals from right outside of Arrivals. 
A one-way ticket is €6 (concessions available) and tickets can be purchased straight from the driver. The bus stops at Evangelismos metro and Syntagma Square. 
The Athens Metro
If you spent your two days in Athens as per this itinerary, you can get around entirely on foot. However, the Athens metro is very easy to navigate as needed.
A single ticket costs €1.40 and is valid for 90 minutes. Athena tickets are also available and offer unlimited travel for a certain period.
You can purchase Athena tickets from ticket booths and machines in most Athens metro and tram stations. A one day ticket is €4.50, a 5 day ticket is €9 and a 3 day tourist ticket including a return airport journey is €22.
Cabs in Athens
You can find official yellow Athens taxis at various ranks around the city – including outside Monastiraki metro station, Syntagma square, and Eleftherios Venizelos airport. You can also simply hail them on the street as you would in any other city.

However, unfortunately, taxi drivers the world over seem to be a law unto themselves and Athens cab drivers are no different. Taxi scams are very common here so you should always use an app called BEAT to order taxis in Greece.

This is essentially the Greek answer to Uber but only licensed yellow cabs are used. However, by ordering through the app, you can see the cost and the route and you know that you will not get scammed. 
Suggested Athens Tours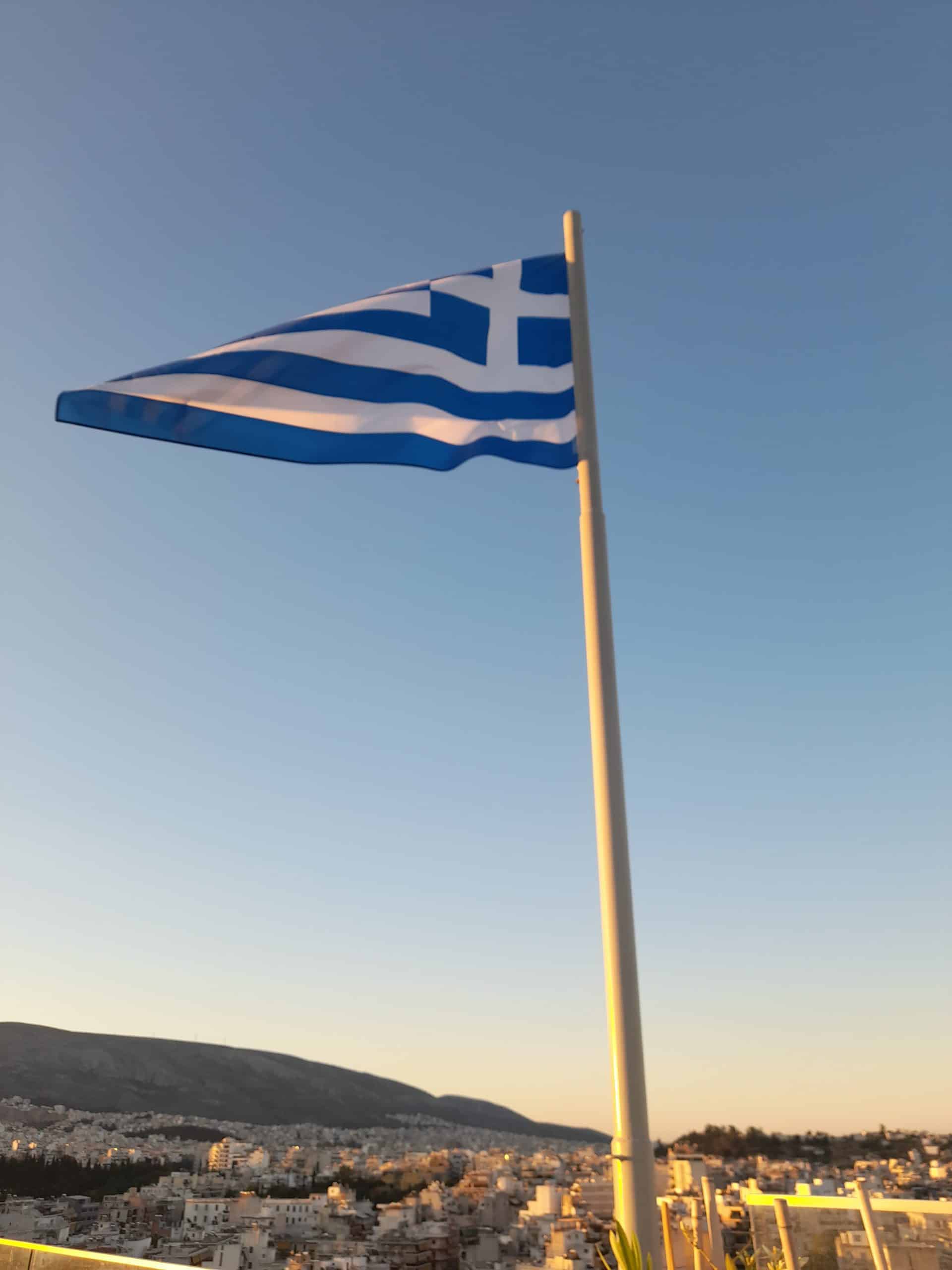 Touring a new city with a local is a nice way to scratch beyond the surface and go deeper than simply visiting the main tourist attractions. This is great as it also means that you have a knowledgeable city expert on hand to ask for recommendations on the best places to eat, drink and hang out.
If you do opt to do an Athens tour, opt to do so early on in your trip. That way, you really get your bearings.
A number of reputable tour companies operate from Athens. Some nice tour ideas that you may wish to consider are detailed below.
Parting Words
Have any additional questions about spending two days in Athens? I have called the Greek capital my home since 2017.
I am happy to assist with any queries you might have. Just drop me a comment below and I will get back to you ASAP.
Wishing you safe travels, always. Geia sou! Melissa xo
---