Exarchia Athens (sometimes spelled as Exarcheia/Εξάρχεια) is one of the most alternative districts in central Athens. Mention the area to Athenians and people will automatically comment on its links to anarchist groups, riots, and clashes between the Greek authorities. 
In the past, Exarchia Athens has been something of a no-go zone. But in recent years, this area has rapidly started emerging as one of the best alternative districts to hang out in in the Greek capital. 
The streets of Exarchia Athens are filled with quirky coffee shops where intellectuals and students from the local law school discuss classic literature. The plateias (squares) are encircled by street food carts, fast food eateries, and traditional tavernas.
Exarchia restaurants sell all manner of Greek cuisine. Here you can find authentic seafood from Lesvos, and some of the freshest lobster in Southern Greece.
The very first rock bar in Athens can be found here. (And many other rock/punk/underground bars and clubs have opened up in recent years following the popularity of the first spot).
The piece de resistance is, of course, street art. Practically every wall, storefront, alleyway, and spare surface is seen as a canvas in Exarchia and thought-provoking graffiti decorates every square inch of it. 
This article has been written by a British Travel Writer based in Athens (me!) I have lived in the Greek capital for close to 5 years and have spent a lot of time in Exarchia and its surroundings.
Hopefully, with this Exarchia Athens guide, you will find the charm of an underrated area and be able to explore it like a local!
Exarchia Athens: Your Local's Guide for 2023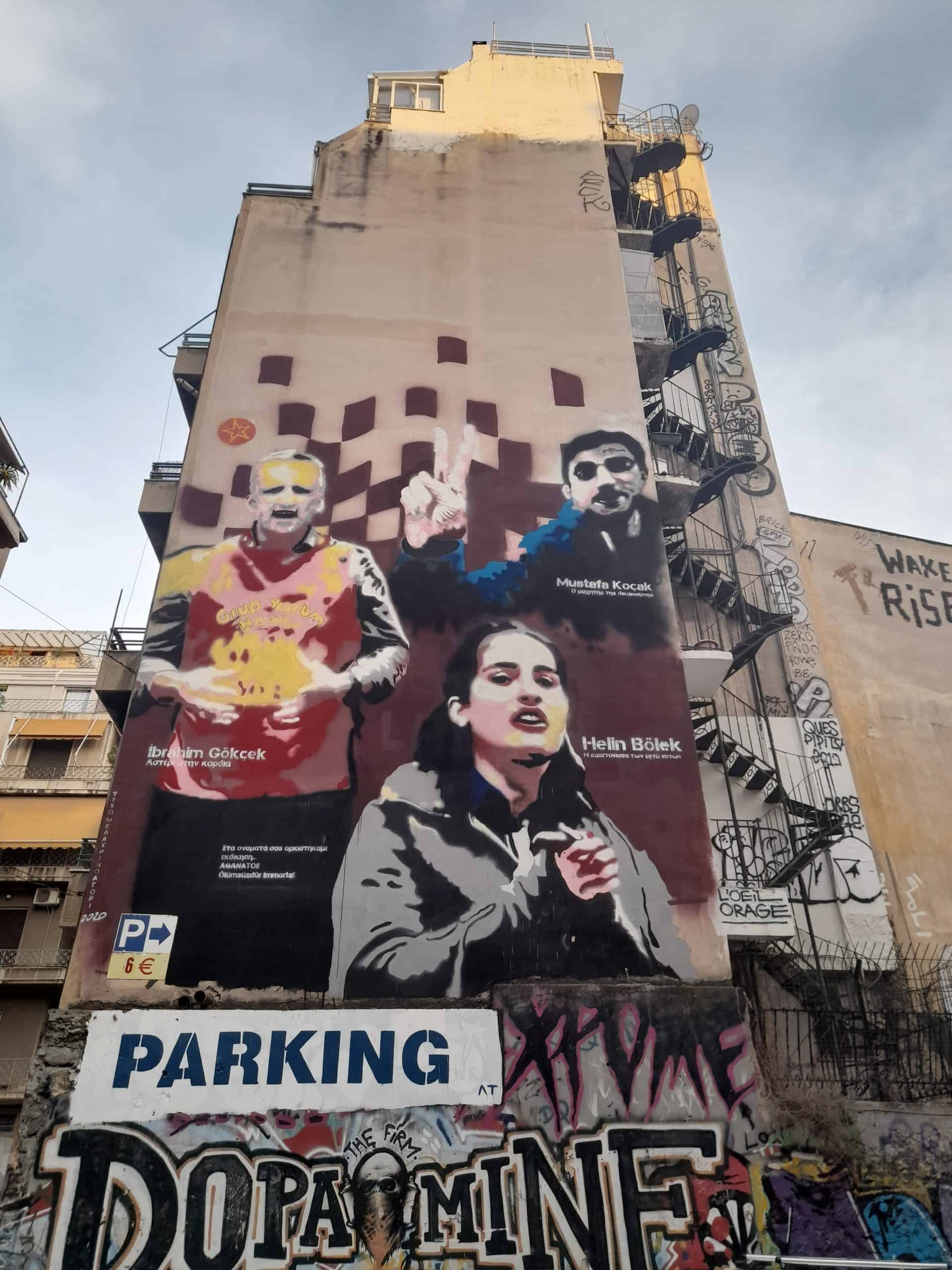 As mentioned, in the past, Exarchia Athens was something of a no-go zone. At one point in time, it was somewhere that you had to be really careful walking, even during the day.
The police would not set foot in Exarchia. (Due to the amount of anti-authority groups that based themselves here).
The Greek government and the US embassy even issued warnings to tell tourists to keep out! 
But today, things have changed. Exarchia Athens may still not be the most attractive or photogenic part of town.
But what it lacks in aesthetics, it more than makes up for in character and charm. Most of Athens' neighborhoods, like Exarchia, are almost like little villages in themselves. 
They each have their own distinct personality and character. If you want to go shopping for upscale furnishings and high-end clothing items, you go to Kolonaki.
If you want to visit independent art galleries and trendy brunch spots, you go to Koukaki. Meanwhile, if you want to hang out at rock bars, shop at thrift stores, and see street art, you come to Exarchia. 
Best Things to do in Exarchia Athens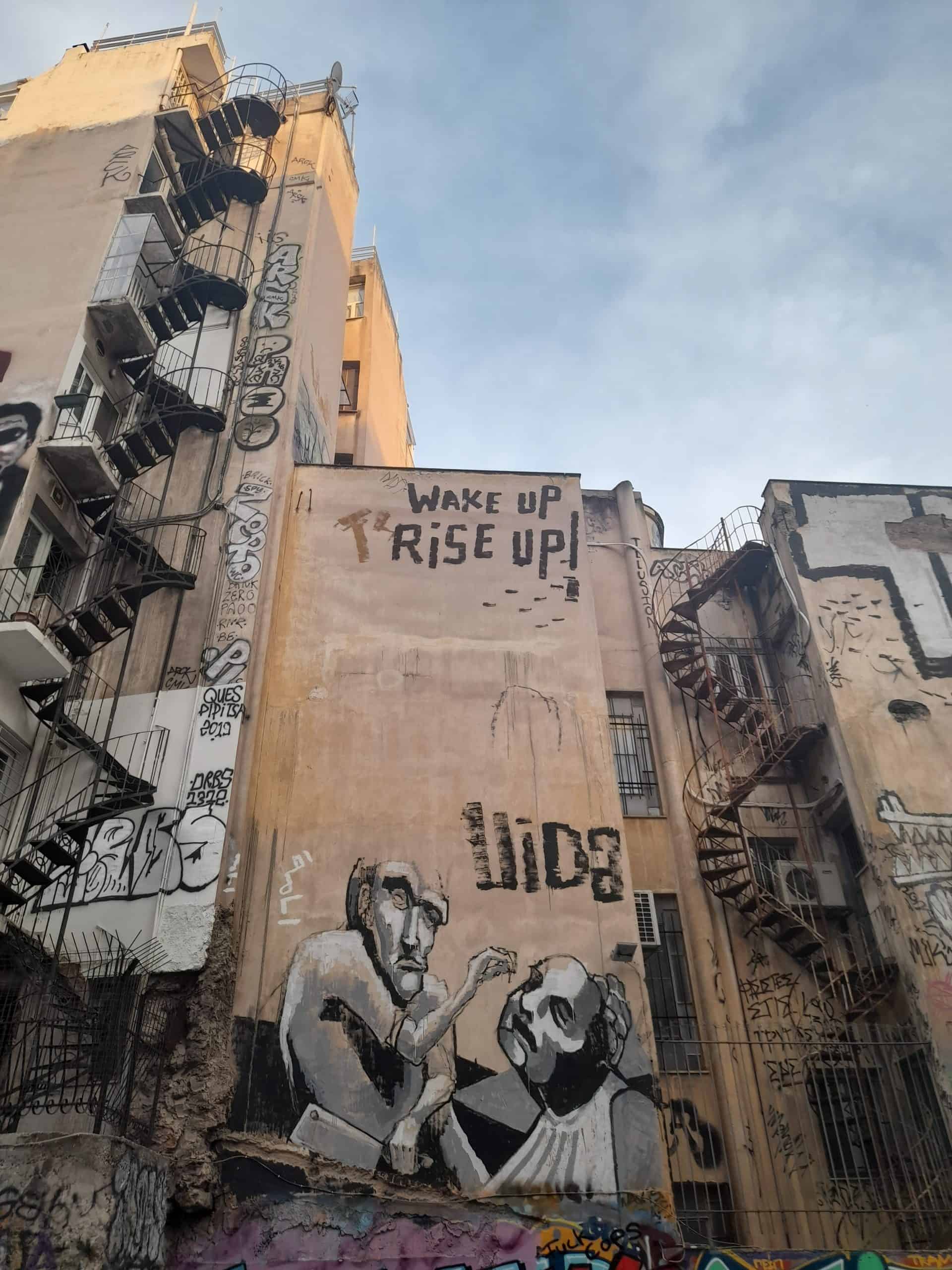 There are plenty of things to do in Exarchia to justify spending half a day or even a full day here. If you have few days to spend in Athens, you probably don't want to prioritize Exarchia over other more charming places in downtown Athens like Plaka or Psiri. 
But if you are hanging around the Greek capital for a little longer, it is worth stopping by. Understanding the neighborhood of Exarchia is an important part of understanding the wider fabric of central Athens.
Exarchia is not for everyone. But it certainly has its charm.
Catch an open-air movie
Half a dozen or so open-air cinemas sprout up around Athens during the summer months. Vox (ΒΟΞ) cinema (Themistokleous 82) is an al fresco movie theatre situated on the rooftop of an Exarchia building. 
The theatre shows a lot of old-fashioned movies and movies about Greece. They are mostly shown in English with Greek subtitles.
Here you can sit on comfy deck chairs as you tuck into a box of buttery popcorn beneath the starlit Athenian sky.
Search for politically-motivated street art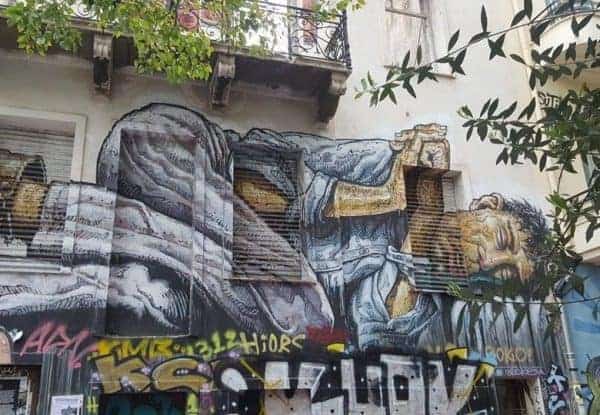 The street art and graffiti in Exarchia are far more than just random scrawls and splashes of paint. The vast majority of the images here deliver strong, important messages.
They are not just the creations of spray-can-wielding teens. They are the works of acclaimed international street artists like Borondo and INO.
From Exarchion square, head down Tzavella street. It is around this area where some of the most intense and controversial graffiti in Exarchia can be found.
Exarchia's street art poses interesting questions relating to poverty, immigration, ethics, and political activism. It is possible to book an Exarchia street art tour with a local guide.
Opting to do a tour like this one provides you with the opportunity to learn the history and context behind various Exarchia art pieces and buildings. Having a local guide in tow will enable you to discover places that you may have otherwise bypassed.
Recommended street art tours in Exarchia and wider Athens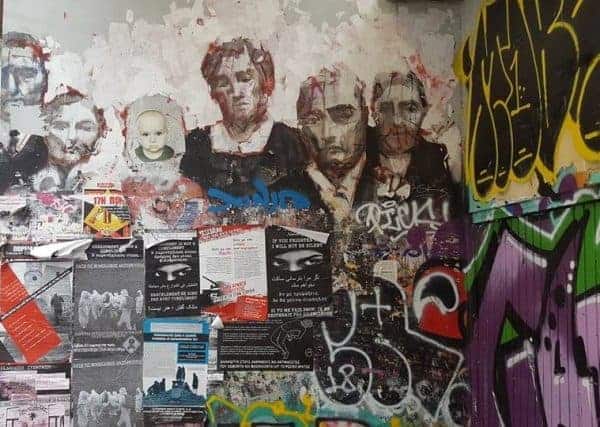 A selection of reputable local tour companies offers walking tours in Exarchia and wider Athens. Some street art-focused tours that support locals are detailed below for your consideration.
Reserve your place online in advance to avoid disappointment!
See the small shrine to Alexandros Grigoropoulos
A small shrine to Alexander Grigoropoulou sits on the corner of Tzavella and Mesologiou. There are always piles of notes and flowers here.
Locals often stop by to place gifts and candles in his memory. Grigoropoulos was an unarmed teenage boy who was fatally shot by a Greek police officer in 2008.
This act of police brutality triggered a public protest and riots across the country. At that time, it was the latest in a sequence of events that created a widespread lack of trust in the Greek police.
Copycat events still take place on the anniversary of the teen's death every December.
Visit Exarchia Square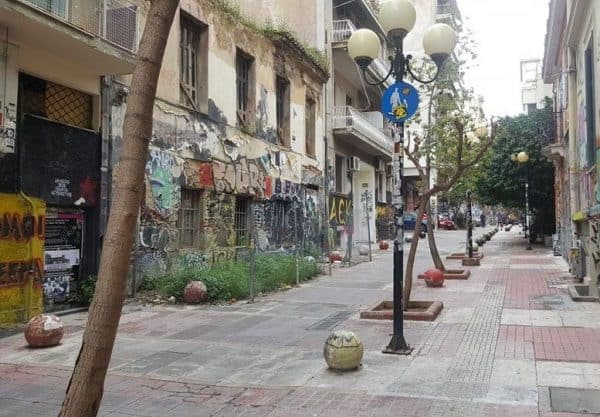 Exarchia square is the only place in the area where you may feel a little uncomfortable. It seems like a lot of people walking in this area try to pass through as quickly as possible.
Since Exarchia has no police presence, it attracts all types of people. Students from the local law school meet here to chat and have coffee. So too do large groups of young people making bonfires and smoking pot.
Drug dealers and users are openly conducting transactions. Anything goes here. Be mindful if you are taking photos here as doing so isn't always welcomed.
Most of the art pieces and stores in Exarchia can be found in the various little streets and alleyways that veer off from the main square. A lot of the beauty of exploring Athens Exarchia district and its graffiti is found in simply allowing yourself the time to wander and get lost among the various pedestrian streets and alleyways
Browse the exhibits at the National Archeological Museum of Athens
The National Archeological Museum of Athens (28is Oktovriou 44) is one of the best museums in Athens. It is also the largest archeological museum of its kind in Greece.
It sits on the outskirts of Exarchia Athens. Even if you don't consider yourself to be "a museum person", if you visit one museum during your time in Athens, consider making it this one.
The exhibitions here are organized in chronological order. They show a selection of artifacts that have been recovered from Greece and document the country's history throughout the ages.
Notable permanent exhibits that you can find on the ground floor include the collection of Mycenean Antiquities, a collection of Cycladic antiquities, a collection of Neolithic antiquities, and a sculpture collection of items dating from the 7th century BC to the 5th century AD.
Various temporary art and historic exhibits are also often hosted at the museum. Admission is €15 between the months of April through October and €6 in the winter months of November through March.
Concessions are also available.
Exarchia Athens Autonomous Park
Other notable locations worth making a point to stop by are the Polytechnic and the "autonomous park". The latter is situated on the corner of Zoodochou Pigis and Navarinou streets.  
This was a park that the government intended to transform into a parking lot. However, the locals made a stand and refused to vacate.
The walls of Exarchia's autonomous park are covered in graffiti. You can often find locals cooking and selling coffee on a gas burner in the centre.
Street vendors often set up shop here. You can buy and enjoy a plethora of Greek street food eats.
You will typically find everything from grilled meats to warm chestnuts and corn on the cob.
Meanwhile, students sit cross-legged on the floor singing folk tunes with an acoustic guitar. Much of the park maintenance is carried out by Exarchia locals themselves.
Admire the Views from Lofos Strefi
If you continue walking down Themistokleous street from Exarchia square, the quirky storefronts are quickly replaced with apartment blocks. This is the leafy, residential area of Exarchia.
Before long you will arrive at the steps of Lofos Strefi. Ascend the steps and you will be met with a small grassy hill.
From up here, you can enjoy the incredible panoramas of Athens. The Acropolis and Lycabettus hill are both visible from here – shimmering in the distance. in the distance.
Lofos Strefi is only small. However, few tourists know about it. This is a nice, alternative place to watch the sunset or admire the city views.
Consider grabbing a spanakopita from one of the nearby bakeries and enjoying a picnic at the top of Lofos Strefi. After you've made your way back down the uneven stairs, take some time to explore Kallidromiou street. This is a beautiful promenade filled with neoclassical mansions and quaint coffee shops.
The Exarchia Art Scene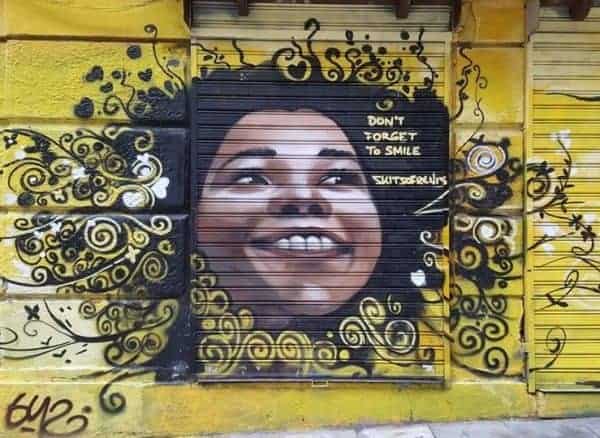 Athens is sometimes referred to as the "new Berlin" on account of its emerging art scene. Exarchia and neighbouring Metaxourgio are at the forefront of this creative movement.
Exarchia's unique cultural and edgy atmosphere makes it a perfect spot for artists and creatives. Pair that with the low rental costs and it's no wonder that many galleries have opened up here in recent years.
Be sure to check out "Cheap Art" on Themistokleous street, Pro-Art on Kallidromiou, and Polixoros Metaixmio on Ippokratous. The galleries depict the works of up-and-coming Greek and international Artists.
Even if art isn't really your thing, it's worth ducking into some of these galleries. They help you to understand and appreciate the story of Exarchia.
Shopping in Exarchia
There are many interesting and eclectic stores in Exarchia. Some of the most interesting places for window shopping are the stores that line Themistokleous as it leads up to the square. The stores here sell everything from rare vinyl records to comic book collectibles, and heavy metal music.
Akadimias and Ippokratous streets greet you with a vast array of weird and wonderful alternative bookstores. Some sell academic books, while others sell books on obscure topics.
For instance, one shop is dedicated to books on the occult.
"Yesterday's Bread" and "Reset Thrift Shop" are perfect if you are looking for one-of-a-kind vintage clothing pieces. Vinyl collectors will love Plan 59, Eat Metal Records, and Zulu Records.
These stores specialise in selling vinyl records in a variety of different genres.
Exarchia Nightlife
Though the Hellenic police will not set foot in Exarchia, it's not uncommon to see lines of them armed with riot shields standing around the edges of Exarchia at weekends. This isn't to stop people venturing into Exarchia to hit the bars and rock clubs, but to stop groups of drunken, angry anarchists from getting out and causing trouble in downtown Athens at night.
If alternative vibes, live bands, and rock music are just your cup of tea, you may well enjoy checking out Exarchia's nightlife scene. You should not have any problems. Just keep out of trouble, and don't go wandering around Exarchia's back alleys alone at 2 am.
Beatniks Roadbar (Koletti 14) is a popular local haunt with an eccentric atmosphere. Blues music is blasted over the speakers and quotes from Kerouac, Vonnegut, and Bukowski are plastered over the walls.
Here you can sink down into old vintage furniture with a whiskey in hand. This is one of the area's most unique bars.
If you like heavy rock and metal music, Off the Chain club (Zoodochou Pigis 25) and Rezin cafe-bar (Emmanouil Benaki 53) are two of the best spots in the city.
Indulge in Exarchia coffee culture
Going for coffee is essentially the national sport of Greece. Cute coffee places occupy practically every corner of Athens and Exarchia is no exception to that rule.
Coffee shops in Exarchia often have an alternative, Bohemian theme. The National Technical University of Athens and several other Athens university campuses are located nearby.
So, Exarchia's coffee shops attract a young, intelligent crowd of writers, students, and intellectuals.
Alexandrino
Where: Emmanouil Benaki 69a, Athina 106 81
Alexandrino is a beloved local hangout. Here, tea and coffee are served in charming porcelain cups and the waiters are dressed in Tuxedos.
In some ways, stepping into Alexandrino feels like stepping back in time. The establishment resembles a French bistro, bringing a slice of Parisian life to the Greek capital. Classic Jazz and old French music play over loudspeakers.
Warehouse Exarchia
Where: Valtetsiou 21, Athina 106 80
Warehouse Exarchia is a great spot if you want to enjoy all-day brunch and coffee in a stylish setting. The owners are self-professed "coffee experts".
They serve a diverse range of coffee blends sourced from across the world. When night falls, Warehouse doubles as a wine bar.
Where to eat in Exarchia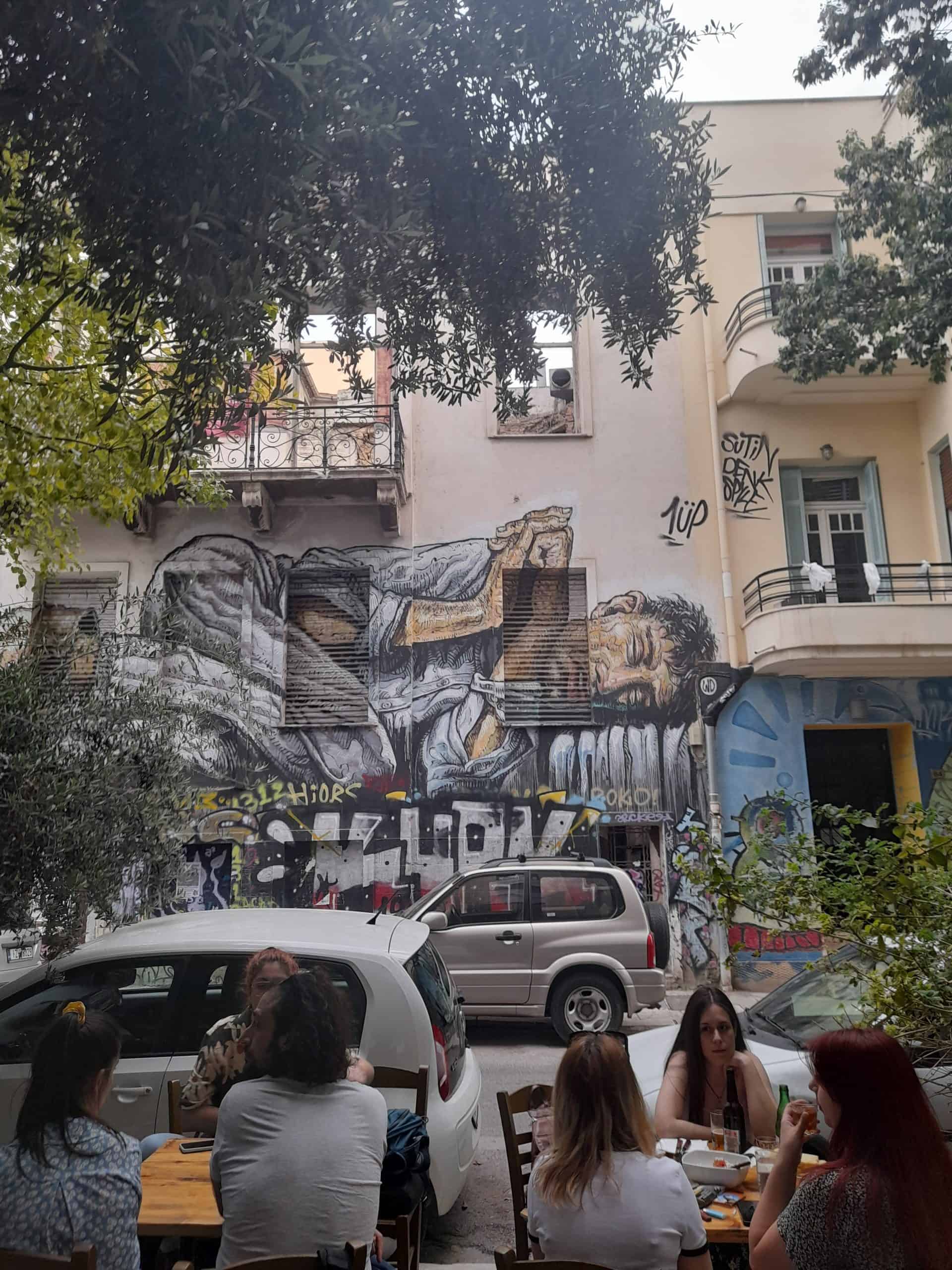 The main piazza of Exarchia square is filled with Greek fast-food restaurants and souvlaki joints. However, If you turn towards Valtetsiou street, you will find an area teeming with life and plentiful Athenian restaurant choices. Here, locals sit outside colorful, cosy tavernas sipping ouzo and eating meze dishes.
Vergina
Where: Valtetsiou 62, Athina 106 81
Vergina is a classic taverna that is located on Valtetsiou street. This place is famous for its Lahanodolmades (stuffed cabbage rolls). 
However, the menu here is extensive. A variety of sumptuous, marinated meats is cooked here on an open grill.
The smell of delicious kebabs, keftedes, and BBQ meat wafts down the street and into the nearby square. Check the board upon entry to see what the latest dish of the day is.
Ouzeri Lesvos
Where: Emmanouil Benaki 38, Athina 106 78, Greece
Ouzeri Lesvos is undoubtedly one of the best restaurants in Athens for seafood aficionados. The restaurant, as the name suggests, specialises in serving up dishes from the island of Lesvos.
The compact little place is often filled with people from Lesvos visiting their friends and family in Athens. Being an ouzeria, the taverna boasts an extensive menu of ouzos and other Greek alcohols. 
This beverage is best served neat, over ice. 
Yiantes
Where: Valtetsiou 44, Athina 106 81, Greece
Yiantes is a locally-adorned Exarchia taverna that is perpetually busy, whatever day of the week you happen to stop by. The chefs use only the finest organic ingredients in their dishes.
Many of the menu options are a modern, contemporary spin on generations-old Greek classic foods. For instance, the knuckle of lamb with celery root.
A fresh seafood selection is offered daily. Ask your server to recommend you the best local organic wine to pair with your food.
Ama Lachei
Where: Kallidromiou 69, Athina 106 83, Greece
Ama Lachei is a quaint mezedopleio place in the heart of Exarchia. A meze restaurant is an establishment that specialises in small plates.
So, you order a selection of small dishes for the table and share them among your dinner companions. Meze restaurants are essentially the Greek answer to Spanish tapas.
Ama Lachei is a family-owned restaurant that has been passed down through the generations of a local family for four decades. It is housed within a grand, neoclassical mansion and its stunning exterior courtyard.
Rozalia
Where: Valtetsiou 59, Athina 106 81, Greece
If you are looking for simple and hearty Greek food just like a Greek yiayia (grandmother) would make, Rozalia taverna is the place to go. This family-owned place serves up home-style cooking in hearty portions.
Venture here for your fix of moussaka, pastitsio, and other Greek favourite dishes. When you are finished, enjoy a complimentary bowl of Greek yogurt with spoon sweets, or another selection of Greek desserts.
Hotels and Accommodation in Exarchia
If you are unsure where to stay in Athens, Exarchia is a good choice. This is particularly true if you are into alternative nightlife, hoping to meet other travelers, or are travelling to Greece on a budget.
The lower cost of real estate in this area means that a lot of reasonably-priced Airbnbs have been popping up in Exarchia in recent years. You can also stay at a mid-range, comfortable hotel here for as little as $40 a night.
Orion and Dryades Hotel
Where: Kallidromiou str και Δρυάδων 4, Athina 114 73
The unusually named Orion and Dryades hotel offers affordable luxury at the foot of Strefi hill. Rooms here start from just $40 per night.
This is excellent value for money considering the plush rooms and the central location. Central Athens can be reached within just a 15-minute walk from here.
The views from the rooftop terrace are second to none. You can browse here to check the latest room rates and availability.
Hotel Exarchion
Where: Themistokleous 55, Athina 106 83
Hotel Exarchion is situated in the very heart of Exarchia Square. Rooms are comfortable and affordable, with rates starting from just $30 per night. Browse here to check their availability.
Exarchia Athens FAQs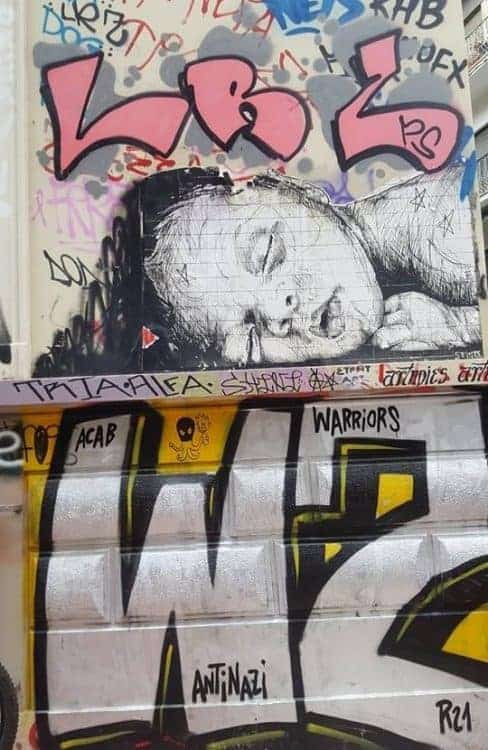 Do you have any questions, queries, or concerns about visiting Exarchia Athens? The answers to some frequently asked questions on the topic are detailed below. 
Hopefully, you will be able to find the information you are looking for there. If not, feel free to reach out to me! 
Is Exarchia Safe?
Exarchia is safe for the most part. However, it is best to explore during the day.
If you visit during the evening for dinner and drinks, don't wander down random side streets and opt to order a Greek taxi via the BEAT app if you can.
Athens is generally a safe city. However, there is a lot of poverty and homelessness in the city centre.
Don't have expensive belongings on display or walk around with a flashy camera around your neck. Follow the same common sense as you would when travelling to any other large city.
Dates to avoid visiting Exarchia
You should also be mindful of the dates on which your trip coincides with. Try to avoid visiting Exarchia on the 17th of November or in the first week of December.
Annual riots take place on these dates and things often turn violent. These dates reflect the anniversaries of the polytechnic university uprising and the Alexander Grigoropoulou murder.
Molotov cocktails and petrol bombs are used by troublemakers, and the riot police often use tear gas. 
Much of central Athens (including Syntagma Square and Monastiraki) closes down during these riots. Sometimes clashes between anarchist groups and the Hellenic police can occur at a moment's notice.
If you are in Exarchia and start to see a crowd gathering or something strange going down, leave, or head into a local coffee shop. Most shops are likely to be closed and shuttered.
Police clashes are not common outside of the aforementioned anniversaries.
What was the Exarchia polytechnic uprising?
In November 1973, the Athens polytechnic uprising took place here.
Hundreds of students congregated to oppose the Dictatorship of President Georgios Papadopoulos and the military junta. The protestors were met with tanks, and Exarchia began to emerge as a place synonymous with leftist politics, police violence, and anarchy.
What is the anarchist suburb in Athens?
Exarchia is known as the "anarchist" suburb in Athens. However, the neighborhood has been cleaned up a lot in recent years. 
It is no longer as sketchy or dangerous as it once was.
How to get to Exarchia Athens
The easiest way to get to Exarchia is to take the metro to the Omonia metro station. From there, turn down Themistokleous Street and follow it down until you reach Exarchion square.
Themistokleous street starts off as a narrow alleyway that you might miss if you were not specifically looking for it. Within a few paces, it becomes evident that you are approaching Exarchia.
The short walk from Omonia to Exarchia square takes approximately 9 minutes.
Here, every square inch of wall space is considered a canvas. Storefronts, apartment buildings, doors, and pillars are 'tagged' with vibrant colours and scenes delivering strong messages.
Posters advertising protests and political events are taped to virtually every store window, and the stores themselves sell more alternative products. Ramshackle shops selling old vinyl records, collectible figures, and second-hand books line Themistokleous as it leads up to Exarchia.
There are ample coffee stores and taverns that have a funky Bohemian vibe. Exarchia coffee shops are filled with young people sipping Greek coffee, reading, and debating global issues.
Final thoughts on Exarchia Athens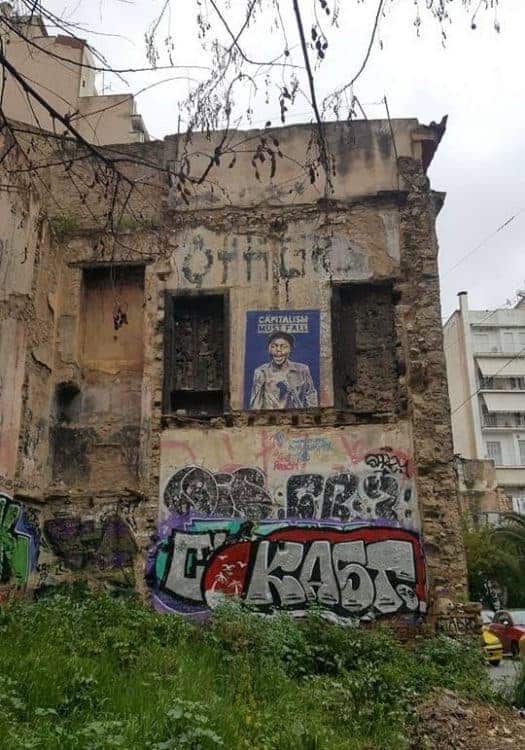 Do you have any further questions about Athens' Exarchia district or planning a trip to Greece in general? I live in Athens and would be happy to answer any queries you may have!
Feel free to reach out to me via email or through the comments below. Safe travels!
Geia Sou! Melissa xo
---