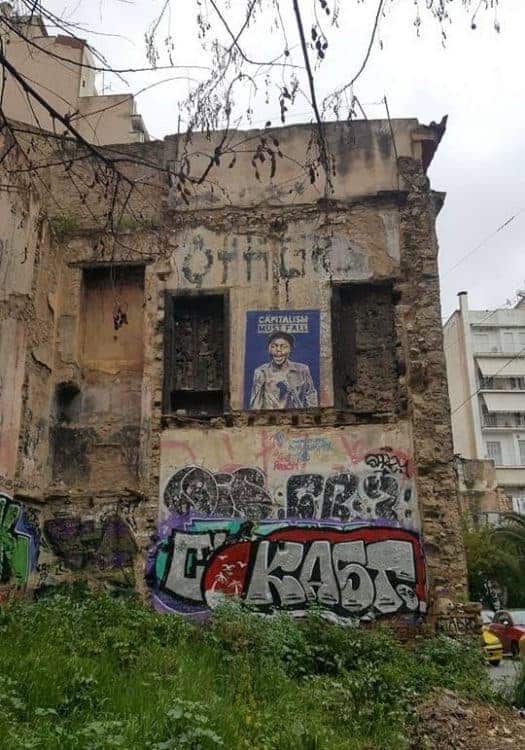 Tell a local Athenian that you plan on adventuring around Athens Exarchia neighbourhood and you may be met with frowns and concerned glances. Exarchia is Athens' grittiest, punkiest neighbourhood and it has a less than desirable reputation in the Greek capital. I would even go so far as to say that the idea of wandering around Exarchia instills fear into the hearts of some people.

The US Embassy in Athens released a statement warning Americans not to venture into Exarchia. The Greek government warned of Exarchia becoming a lawless, dangerous territory, and the police will not even set foot there. With all that considered, is Exarchia really as bad as it is often implied?

The History of Exarchia Athens
Exarchia Athens has a long history of political protests, riots and violence. The major event that put the neighbourhood on the map though was the fatal shooting of a 15 year old boy by a policeman in December 2008. After the event, rioters took to the streets of Exarchia hurling stones, bricks, and molotov cocktails at the police. The riots spread throughout the country and now copycat events occur every year on the anniversary of the teen's murder during which time anarchists and those who are anti-establishment take to the streets to recreate the riot. Exarchia has become synonymous with anarchist groups, violence and tear gas.

Exarchia wasn't always like this, and some of the older residents that live there have expressed their concerns about how lawless the streets of Exarchia have become.

Exarchia Today
You could argue that it is not ethical to travel to Exarchia or to encourage people to visit. I admit that Exarchia is not for everyone. Travellers to Athens with just a few days to spare in the Greek capital are best sticking to places like charming Anafiotika Plaka, Koukaki and Psiri. As someone who lives in Athens though, I feel it important to explore every corner of my city. Exarchia is just as much a part of the rich tapestry and culture of Athens as upscale Kolonaki, touristy Plaka or quirky Pagrati.

Heading into Exarchia
I actually found Exarchia to be quite an interesting neighbourhood, especially for the street art, the alternative clothing stores and the heavy rock bars. The easiest way to get to Exarchia is to take the metro to Omonia station. From there, turn down Themistokleous street and follow it down until you reach Exarchion square.

Themistokleous street starts off as a narrow alleyway that you might miss if you were not specifically looking for it. Within a few paces, it becomes evident that you are approaching Exarchia. Here, every square inch of wall space is considered a canvas. Store fronts, apartment buildings, doors and pillars are 'tagged' with vibrant colours and scenes delivering strong messages. Posters advertising protests and political events are taped to virtually every store window, and the stores themselves sell more alternative products.

Ramshackle shops selling old vinyl records, collectible figures and second-hand books line Themistokleous as it leads up to Exarchia. There are ample coffee stores and taverns that have a funky Bohemian vibe and are filled with young people sipping freddo cappuccino, reading and debating the latest topics.

Exarchia Square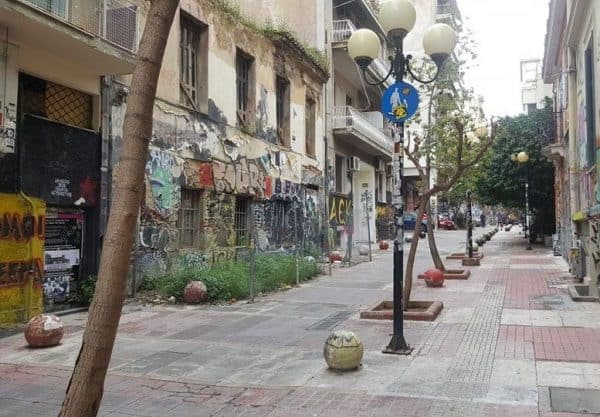 Exarchia square is the only place in the area where I felt a little uncomfortable. It seems like a lot of people walking in this area try to pass through as quickly as possible. Since Exarchia has no police presence, it attracts all types of people. When I walked by, a large group of people were setting random objects and pieces of wood on fire in the main square and openly smoking marijuana. Drug dealers and users are openly conducting transactions. Anything goes here.

I didn't want to spend much time in Exarchia square or draw too much attention to myself, especially since I was wandering around with a camera that may not have been welcomed. Most of the most interesting sites in the neighbourhood can be found in the various little streets and alleyways that veer off from the main square.

Street Art and Notable Locations in Exarchia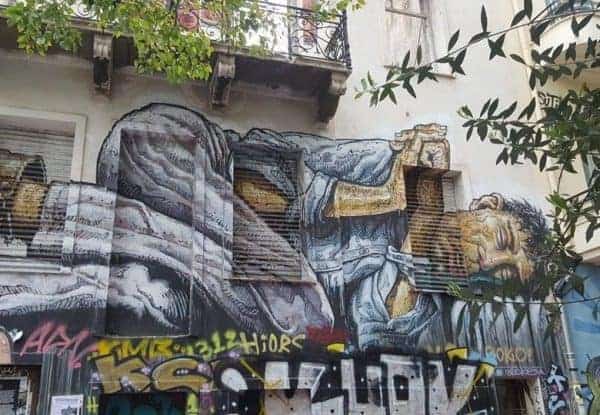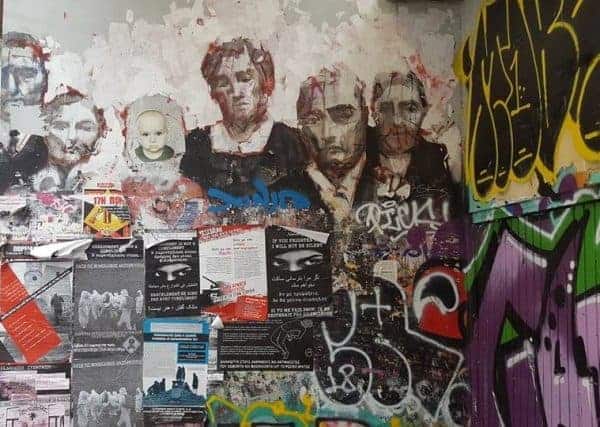 The street art and graffiti in Exarchia is far more than just random scrawls and splashes of paint. The vast majority of the images here deliver strong, important messages and are not just the creations of spray-can wielding teens, but the works of acclaimed international street artists like Borondo and INO.

From Exarchion square, head down Tzavella street. It is around this area where some of the most intense and controversial graffiti in Exarchia can be found. On the corner of Tzavella and Mesologiou, you will find the shrine to Alexander Grigoropoulou, the teenage boy shot by a policeman. People are often leaving flowers and gifts in memorium.

A lot of the beauty of exploring Athens Exarchia district and its graffiti is found in simply allowing yourself the time to wander and get lost among the various pedestrian streets and alleyways. Other notable locations worth making a point to stop by at are the Polytechnic, and the "autonomous park" which is situated on the corner of Zoodochou Pigis and Navarinou streets. The latter was a park that the government intended to transform into a parking lot, yet the locals made a stand and refused to vacate.

The walls of Exarchia's autonomous park are covered in graffiti, and you can often find locals cooking and selling coffee on a gas burner in the centre. During my visit, street vendors had also set up shop to sell warm chestnuts and corn on the cob while students sat cross-legged on the floor singing folk tunes with an acoustic guitar.

Exarchia: Admire the Views from Lofos Strefi
If you continue walking down Themistokleous street from Exarchia square, the quirky storefronts are quickly replaced with apartment blocks as you move towards a more leafy, residential area of Exarchia. Before long you will arrive at the steps of Lofos Strefi. Ascend the steps and you will be met with a small grassy hill that boasts incredible panoramas of Athens and looks out to the Acropolis and Lycabettus hill in the distance. Lofos Strefi only covers a small area, but it is a nice, non-touristic alternative viewpoint.
Consider grabbing a spanakopita from one of the nearby bakeries and enjoying a picnic at the top. After descending back down the uneven stairs, take some time to explore Kallidromiou street – a beautiful promenade filled with neoclassical mansions and quaint coffee shops.

Art Galleries and Quirky Stores in Exarchia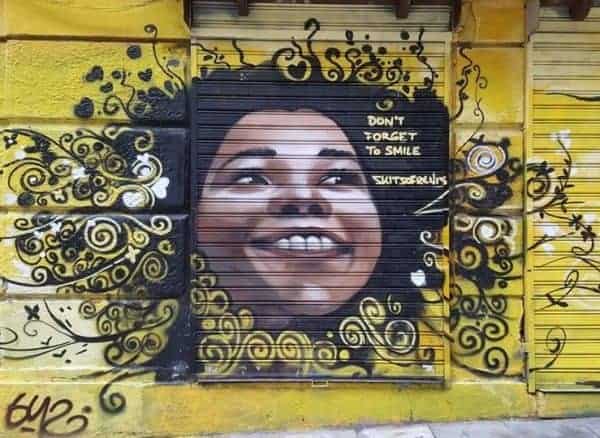 Boasting such a unique cultural and edgy atmosphere makes Exarchia a perfect spot for artists and creatives. Pair that with the low rental costs and it's no wonder that many galleries have opened up here in recent years. Be sure to check out "Cheap Art" on Themistokleous street, Pro-Art on Kallidromiou, and Polixoros Metaixmio on Ippokratous. The galleries depict the works of up-and-coming Greek and international Artists. Even if art isn't really your thing, it's worth ducking in to some of these galleries to understand and appreciate the vibes of Exarchia.

Some of the most interesting places for window-shopping are the stores that line Themistokleous as it leads up to the square. The stores sell everything from rare vinyl records, to comic book collectibles, and heavy metal music. Heading out of the centre of Exarchia towards the University of Athens and the streets of Akadimias and Ippokratous greets you with a vast array of weird and wonderful book stores – some selling academic books, others selling obscure topics such as books on the occult. For one-of-a-kind vintage clothing pieces, head to "Yesterday's Bread and Reset Thrift shop".

Exarchia Nightlife
Though the Hellenic police will not set foot in Exarchia, it's not uncommon to see lines of them armed with riot shields standing around the edges of Exarchia at weekends. This isn't to stop people venturing into Exarchia to hit the bars and rock clubs, but to stop groups of drunken, angry anarchists from getting out and causing trouble in downtown Athens.

If alternative vibes, live bands and rock music are just your cup of tea, you may well enjoy checking out Exarchia's nightlife scene. As long as you are someone who can keep out of trouble, and provided that you don't go wandering around Exarchia's back alleys alone at 2am, you should not have any problems.

For a spot where you can sink down into old vintage furniture with a whiskey in hand, as Blues music is blasted over the speakers and quotes from Kerouac, Vonnegut, and Bukowski are plastered over the walls, head to the eccentric Beatniks Roadbar. For heavy rock music, Off the Chain club, and Rezin cafe-bar are the places to be.

Exarchia Coffee Culture
As I have mentioned before, going for coffee is pretty much the national sport of Greece. Cute coffee places occupy practically every corner and Athens Exarchia neighbourhood is no exception to that rule. Coffee shops in Exarchia often have an alternative, Bohemian theme and attract a young, intelligent crowd of Writers, Students and Intellectuals.

Alexandrino is a beloved local hangout. Here, tea and coffee are served in charming porcelain cups and the decor is incredibly lavish and opulent. The first-class service by waiters in Tuxedos make patrons feel as though they have stepped back in time. For all day brunch and coffee in a stylish setting, head to Warehouse Exarchia.

Dining in Exarchia: Traditional Taverns and Eateries
The main piazza of Exarchia square is simply filled with fast-food restaurants and souvlaki joints. If you turn towards Valtetsiou street, you will find an area teeming with life and traditional Greek tavernas where people sit outside the colourful buildings sipping ouzo and eating meze dishes.

Vergina is a popular taverna that is situated on Exarchia's Valtetsiou street. It is known for its Lahanodolmades (stuffed cabbage rolls). For a more modern twist on contemporary classics, head to Giantes – a taverna that uses only the finest organic ingredients. Finally, for something particularly charming, head to Ouzeri Lesvos – a restaurant named after the island of the same name that has a delightful, island ambiance. It's not uncommon to see people from Lesvos here eating seafood delicacies during their vacation in Athens and locals consider it as selling some of the best fish dishes in Athens.

Hotels and Accommodation in Exarchia
Exarchia is a great place for young travellers in Athens, especially students and intellectuals. It poses the opportunity to meet a lot of interesting people. If you are interested to stay in Exarchia during your Athens trip, there are a few options available for you to do so.

Hotel Exarchion is situated in the lively Exarchia square and places you right in the heart of the action. The unusually named "Orion and Dryades" hotel offers affordable comfort and luxury at the foot of Strefi Hill. This location is perfect, as it places you in a more peaceful, tranquil setting, yet also leaves you within walking distance of Exarchia's main bars, taverns and sites. From here, you can reach central Athens within 15 minutes of walking.

Is Exarchia Safe?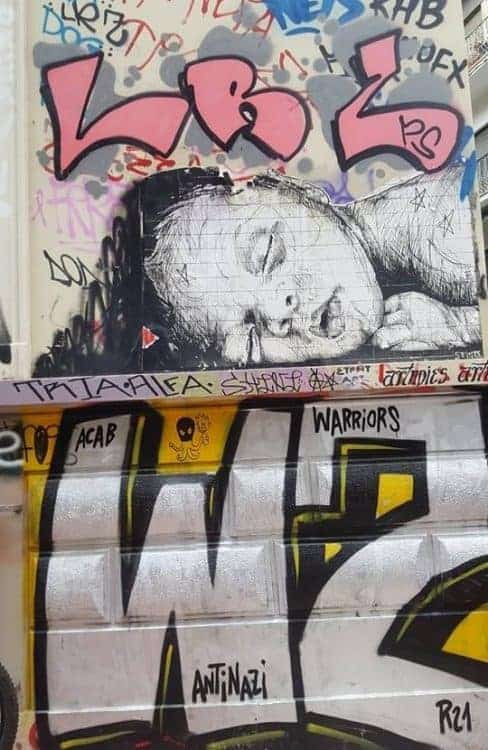 Athens is generally a safe city, though there is a lot of poverty and homelessness around the centre, so crimes like petty theft are not uncommon. I would advise you to be more vigilant and aware of your surroundings in Exarchia, and not to have any valuable items or expensive cameras on display.

Be mindful of the dates which your trip coincides with. I would avoid visiting Exarchia in the first week of December due to the annual riots that will occur in conjunction with the anniversary of the Alexander Grigoropoulou murder. You should also avoid being here on the 17th November, the anniversary of the polytechnic uprising and another excuse for riots. Both events often see a lot of central Athens closed down. Common sense prevails though. If you are in Exarchia and start to see a gathering or something strange going down, leave, or head into a local coffee shop.

Have any further questions about Athens Exarchia neighbourhood or Greece travel in general? I live here and would be happy to answer any queries you may have! Feel free to reach out to me via email or through the comments below.
Disclaimer: This Exarchia Travel Guide may contain affiliate links. In other words, I receive a small % of commission if you make a purchase through some of the links on this page, at no extra cost to you. This helps me keep up with High Heels & a Backpack's running costs, and enables me to continue to provide you with free Athens travel content. Thank you.

---