Deciding where to stay in Athens is likely to be one of your main concerns when planning a trip to the Greek capital. At first glance, the city looks like a vast urban sprawl.
It can be overwhelming to review all of the various districts and suburbs of Athens. Choosing the best place to stay in Athens can be a source of many headaches.
Where to Stay in Athens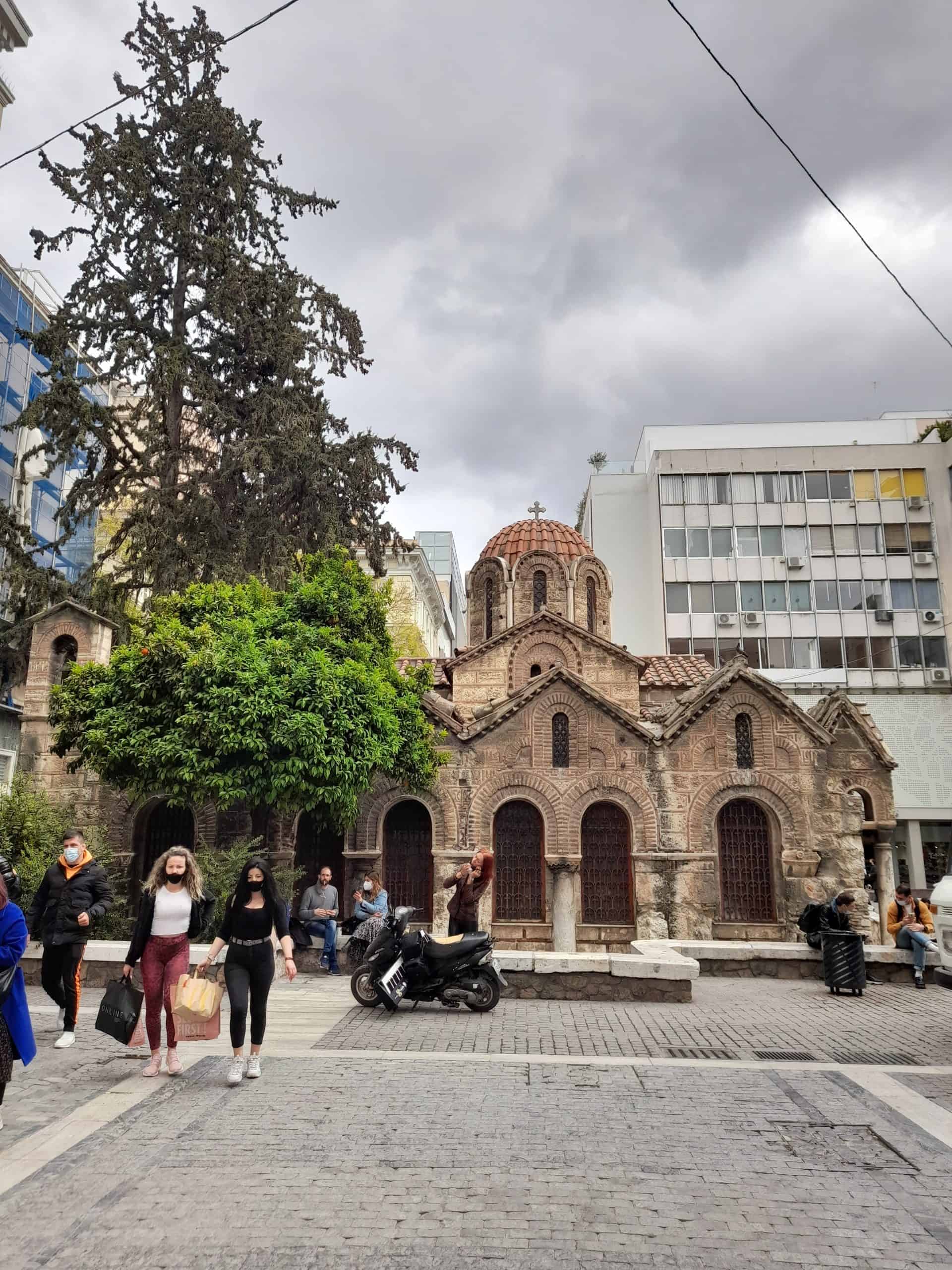 The historic city of Athens is arguably the most underrated capital in Europe. The city seems gritty and edgy at first. However, scratch beneath the surface and Athens has far more to offer than meets the eye.
Athens attractions such as the Acropolis, the winding streets of old Plaka, and the Roman Agora are a highlight of any Athens itinerary. However, it is the quaint Athenian neighbourhoods that steal the hearts of many visitors.
Quintessentially Greek districts such as Koukaki, Glyfada, and Paleo Faliro are bursting with charm and character. Each district has its own personality and central square. Making a thoughtful choice about where to stay in Athens enables you to experience the city like a local – all while supporting local businesses.
Where to Stay in Athens:


Best Neighbourhoods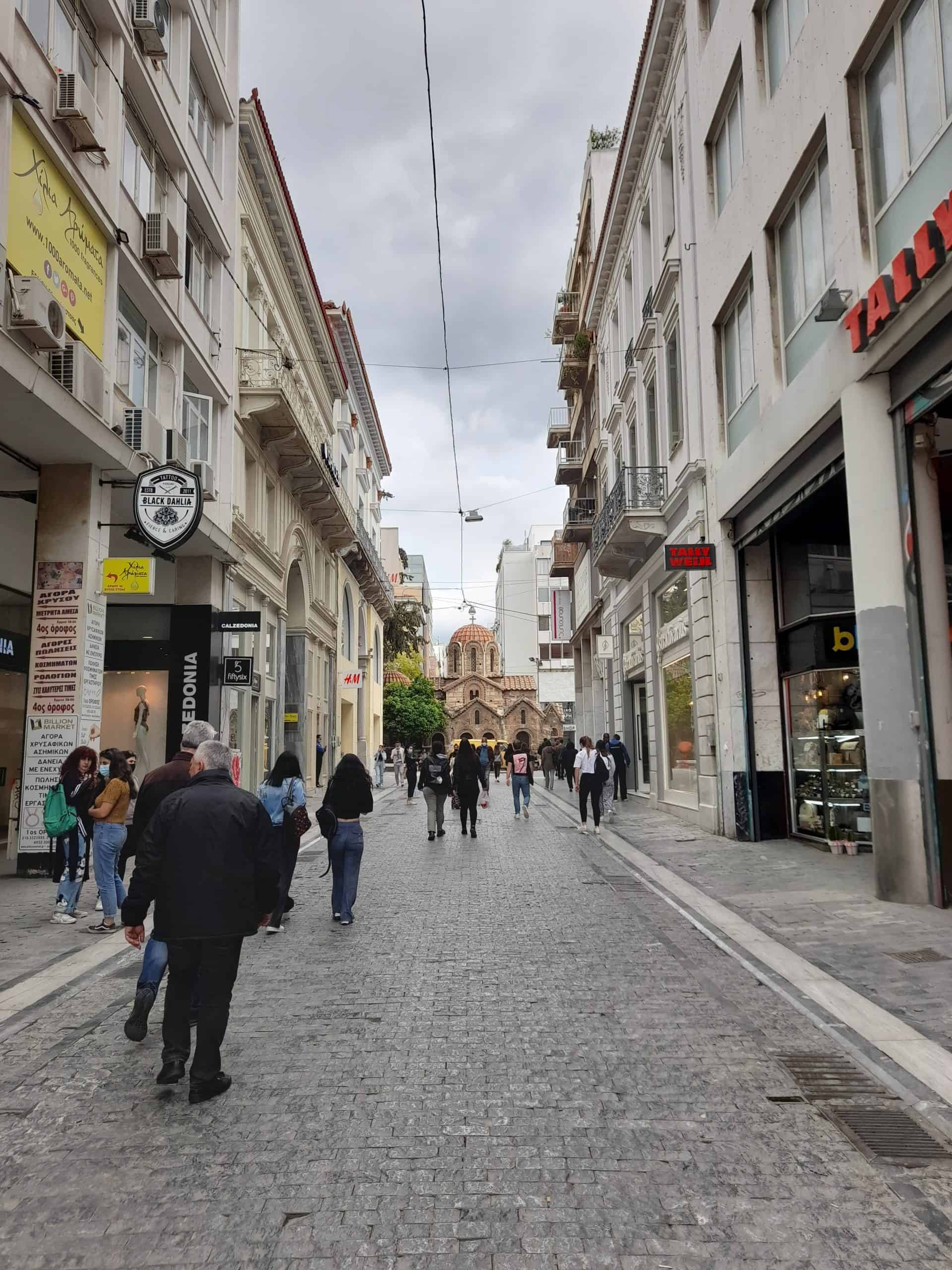 Each of the Athenian neighbourhoods discussed in this guide offers all of the necessary amenities to ensure that your trip to Athens is a comfortable one. They are also very safe and suitable for all types of travellers.
Solo travellers, families, older couples, and LGBTQ travellers should all feel comfortable while exploring Athens. However, it is advisable to be more careful when walking at night.
Being aware of your surroundings and not walking alone in the dark is good practice for wherever in the world you venture to. In Athens, this is particularly the case if you stay in the central districts of Monastiraki, Syntagma, Psiri, or Plaka. 
You can expect excellent public transport links from each of these districts to Athens centre and Eleftherios Venizelos airport. Homely local tavernas, cosy coffee shops, evening entertainment, and bars are abundant in each area.
If you want to feel "like a Greek" during your trip, it is advisable to stay a little further afield than the most central areas. The excellent Athenian public transport network never makes you feel like you are way "out in the sticks" if you do not base yourself in Plaka or Syntagma.
Overview of Athens' Best Districts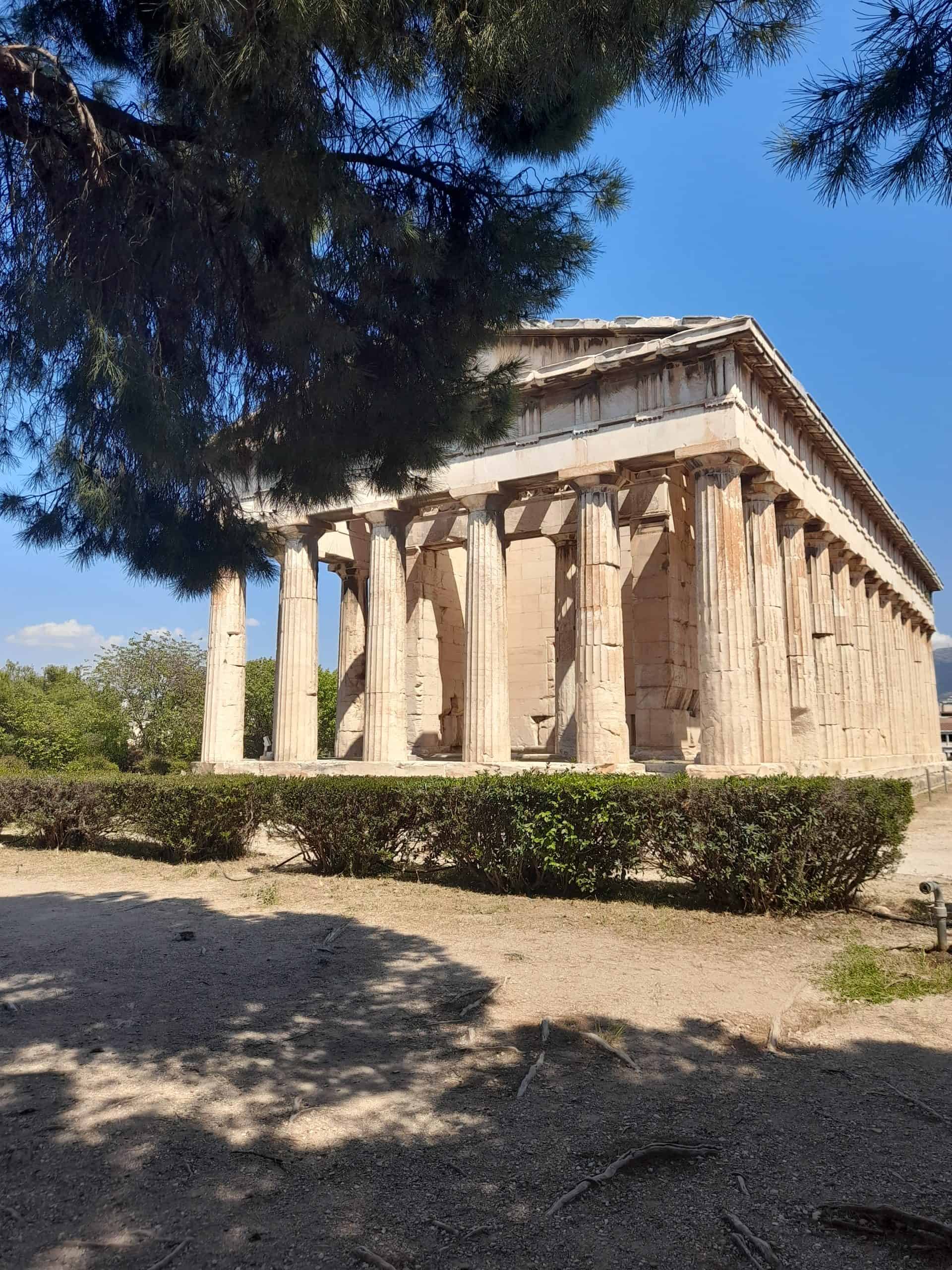 Koukaki – Quirky stores, bars, and art galleries under the shadow of the Acropolis


Thissio – Middle class residential district with leafy tree-lined promenades that bypass the city's most important sites


Nea Smirni – Quintessentially Athenian district whose central plaza boasts many excellent tavernas and coffee shops

Pagrati – Local markets, charming coffee places, and a great local vibe


The Mets – A leafy Athenian district loved by artists and intellectuals

Plaka – Quaint houses and narrow streets that intertwine in the city's historic centre

Psiri – Street art, eclectic themed bars, and an edgy alternative vibe

Vouliagmeni – Beautiful coastlines and pristine beaches

Kolonaki – Stylish neighbourhood with swanky nightlife and designer shopping

Kifissia – Chic upscale neighbourhood with tree-lined boulevards and relaxed vibes

Hilton – Sophisticated neighbourhood with award-winning restaurants and upscale bars


Syntagma – The main central district of Athens

Monastiraki – Central neighbourhood with ample shopping and entertainment options.


Paleo Faliro – Off the beaten path upscale coastal area with wonderful beach bars


Glyfada – Elegant shopping and nightlife district in the Athenian Riviera

Gazi– Athens' main nightlife and entertainment district


Zografou – Cheap and cheerful student district filled with coffee shops and dive bars


Piraeus – Bustling port area filled with tavernas, shops, and restaurants.


Exarchia – Alternative nightlife scene, and thought-provoking street art


Metaxourgio – Great neighbourhood for budget travel and street art. Emerging art scene


Neo Psychiko – High-end, quiet residential district with many classy bars and restaurants


Voula and Vari – Peaceful beach towns away from the maddening crowds
Athens

Neighbourhoods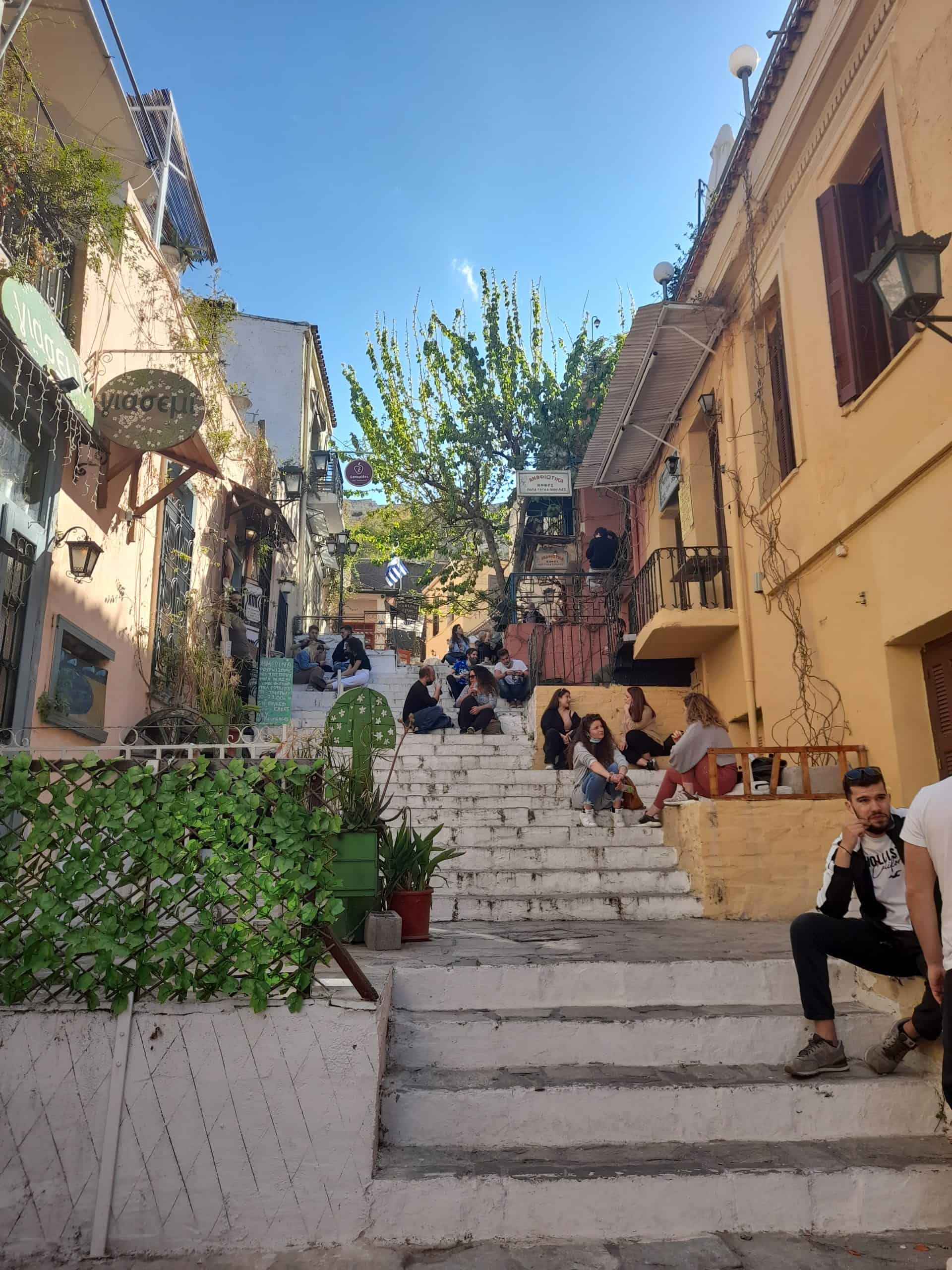 The Mets
The Mets is a tiny, leafy suburb that sits between Pagrati and the Temple of Olympian Zeus. Blink and you'll miss it.
This area is so small that most tourists are not even aware of its existence. However, Athenians consider the Mets as one of the best places to venture for evening drinks and coffees.
When the sun goes down, join the locals for an evening tipple at Kain. Alternatively, head to Skyfall for moonlit cocktails on a rooftop overlooking the Acropolis.
Kifissia
If you are looking for the best place to stay in Athens that is away from the chaos of the city centre, you will certainly enjoy the laid-back atmosphere and elegant ambiance of Kifissia. Kifissia is often referred to as being the Beverly Hills of Athens. Like Kolonaki, Kifissia attracts a well-dressed crowd.
The tree-lined promenades of Kifissia are home to swanky cocktail bars, chic coffee places, and upscale stores. Stepping into Kifissia feels like stepping into another city altogether.
The best part about this neighbourhood? Virtually no international tourists know about it!
Kifissia is well-linked to the centre. However, it has its own nightlife and social scene. This is a wonderful place to spend your Athens vacation if you want to get away from the crowds.
Budget Hotels in Kifissia, Athens
Mid Range Hotels in Kifissia, Athens
Luxury Hotels in Kifissia, Athens
Thissio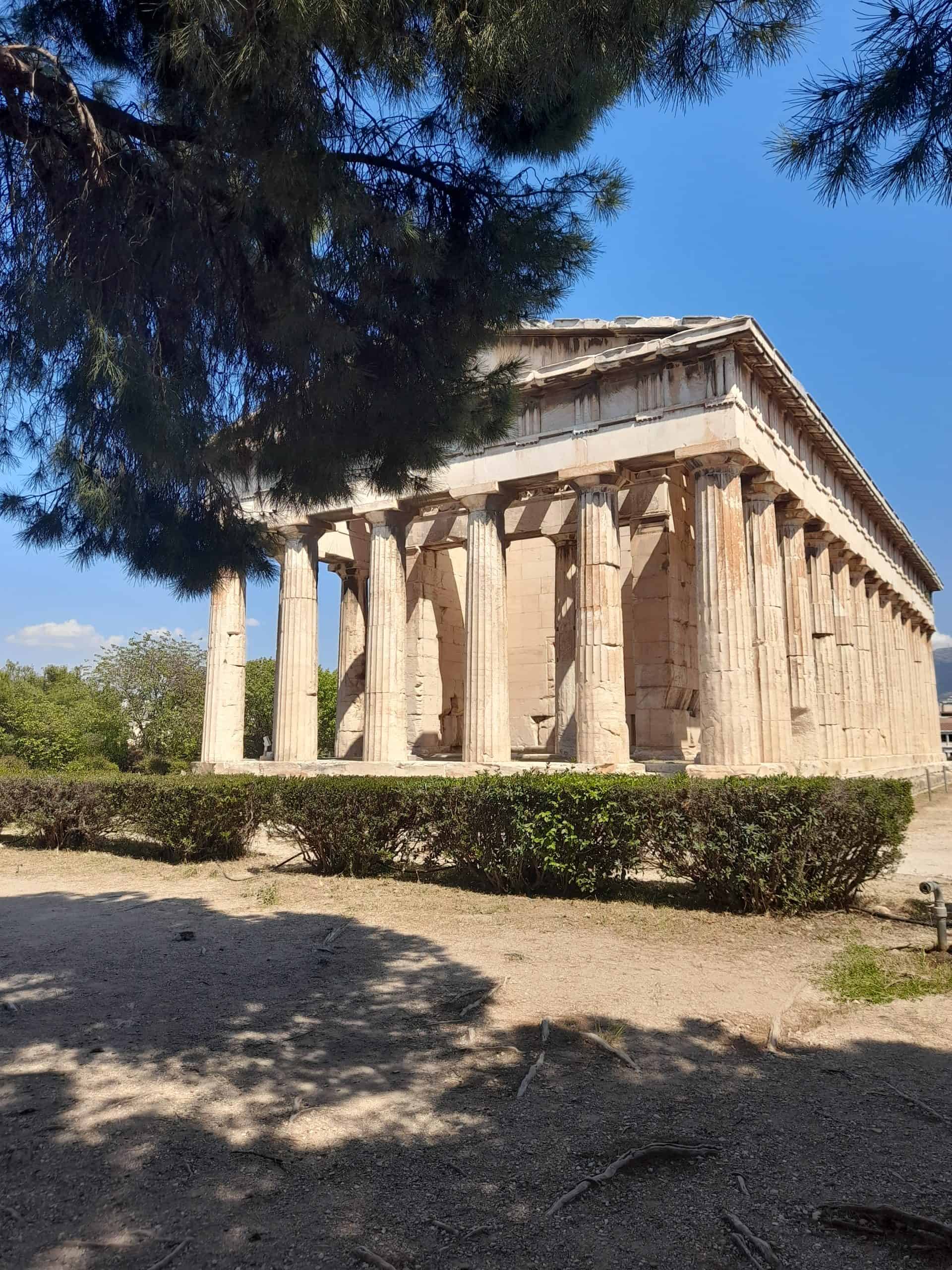 Thissio is one of Athens' oldest districts. Many of the city's most important historical sites and landmarks can be found here.

Notably, the Ancient Agora, the Stoa of Attalos, and Areopagus hill are located in this area. Apostolou Pavlou is Thissio's main pedestrianised promenade. In the summer months, many local musician, street performers, and independent artists take to the street to entertain tourists and sell their handicrafts on Apostolou Pavlou.
Thissio may be central. However it never feels false or touristic.
Historical attractions aside, this is a sought-after post code and a middle class Athenian residential area. Many charming tavernas and coffee shops can be found in the back streets and squares here.
For great local food, check out Gevomai kai Magevomai (Nileos 11). To start your day with an iced coffee like an Athenian, head to the Underdog (Iraklidon 8), a local favourite coffee shop, and order yourself a freddo cappuccino.
Best Thissio Hotels
Athenaeum Eridanus luxury hotel


Phidias Hotel Athens
Koukaki
The orange tree-lined promenades of Koukaki are home to some of Athens' most creative spaces. This looks like a relatively nondescript residential district at first. However, a little exploration uncovers Koukaki as the heart of the Athens art and culture scene.
The centre of Koukaki is its namesake Koukaki Square on Georgaki Olympiou Street. Tropical shrubbery hides the facades of the local bars and restaurants, while oriental-style lanterns and fairy lights illuminate the trees. Koukaki feels like a little tropical paradise, even in the winter months.
The bars here follow all sorts of weird themes. You can find everything from New Orleans style jazz bars to Noah's Ark style eccentric cocktail lounges.
Koukaki is also the best place for international cuisine in Athens. Restaurants here serve up authentic dishes from around the globe.
Best Hotels in Koukaki
Gazi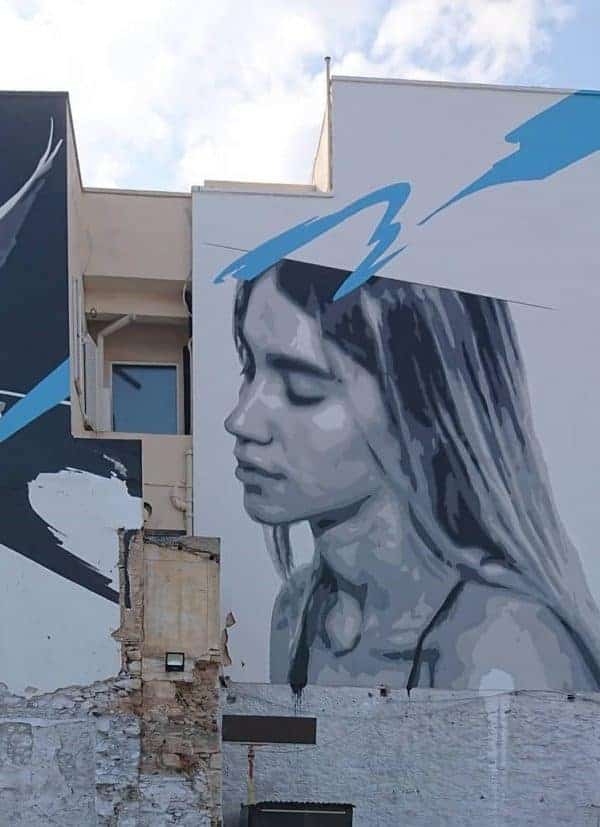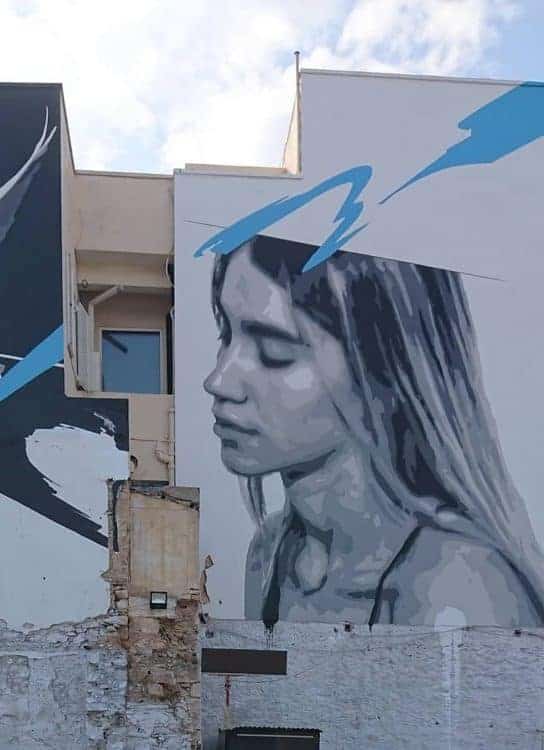 Gazi has blossomed over the last few years. This district has fast emerged as Athens' premier nightlife and entertainment district. By day, Gazi exudes a laid back, boho air.
Young, trendy Athenians sip coffee in the eclectic coffee shops that surround Avdi square and dine at the area's contemporary modern restaurants. By night, the streets of Gazi come alive.
This is the place with the highest concentration of bars and clubs in central Athens. Gazi boasts a little something for everyone.
Best Gazi Hotels
Zografou
Zografou sits to the south of central Athens. It is located close to Pagrati, Hilton, and Kolonaki. The area attracts a youthful crowd on account of its proximity to the Kapodostrian University of Athens.
This is one of the most affordable places to stay in Athens and a popular spot among students. Drink beers with locals at one of the dive bars here. Urban and Phileas Fogg are beloved local haunts.
Alternatively, smoke shisha at one of the many Arabian-style smoking lounges. Staying in Zografou also puts you in close proximity to Mount Imettus and Kaisariani Monastery. This is one of the best hikes in Athens.
Best Zougrafou Hotels
Vouliagmeni
Vouliagmeni is a beautiful coastal area that sits just 20km south of downtown Athens. This pine-clad peninsula boasts cerulean waters and incredible views over the Saronic. 
Vouliagmeni is essentially Greece's very own Cote d'Azur. It is beloved by a well-heeled crowd who spend time at the private beach clubs, and fine dining restaurants by the coast.
The likes of Frank Sinatra and Brigette Bardot are the caliber of people who have vacationed here over the centuries. If you want to combine luxury beach travel with a city exploration, Vouliagmeni may well be your perfect Athenian base.
Luxury Hotels in Vouliagmeni
Mid-Range Vouliagmeni Hotels
Piraeus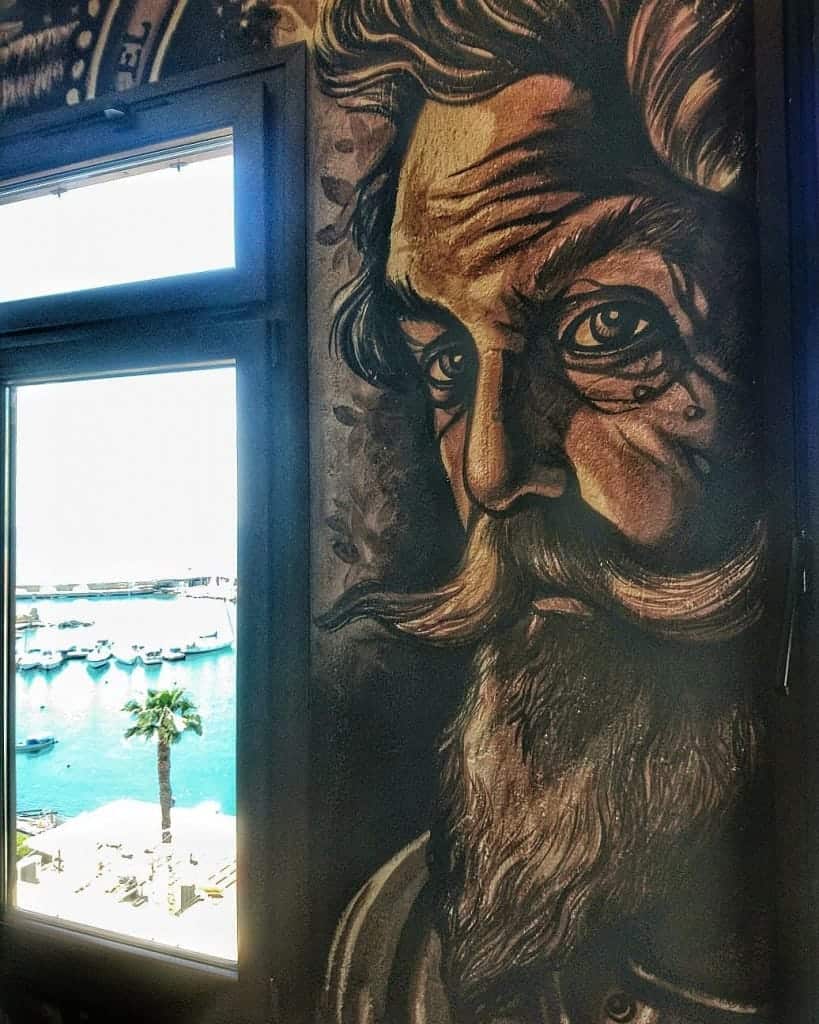 Piraeus is a great place to base yourself in Athens if you are planning on visiting the Greek islands. Ferry routes from Piraeus port take you to the Cyclades and the Saronic islands in just a couple of hours.
Metro Line 1 (Green line) takes you from Piraeus to central Athens in less than an hour. You can easily get to and from the Acropolis, Syntagma, and other central attractions in a day.
Enjoy an afternoon stroll around the colourful Kastella district. Spend your evening sipping cocktails in upscale Mikrolimano, and haggle your way through the eclectic Piraeus flea market.
Best Hotels in Piraeus
Hotel prices tend to be cheaper in Piraeus. This is a perfect place for budget travellers.
Glyfada
The coastal town of Glyfada is situated just thirty minutes out of Athens city centre. It is easily accessible via the metro or the tram. Glyfada is referred to as the "Hellenic Hamptons" and is a popular hangout spot for the Athenian elite.
Boutique shopping, glamorous international eateries, and beachfront cocktail bars make Glyfada a perfect base. This area also boasts some of the most beautiful beaches close to Athens.
Mid Range Hotels in Glyfada
Luxury Hotels in Glyfada
Hilton Neighbourhood
Everything about the Hilton area exudes class. The district gleans its name from the nearby Hilton hotel.
Some of the finest restaurants in Athens can be found here. Opting to stay in the Hilton district places you just a short walk away from the central Syntagma square and upscale Kolonaki.
Budget Hotels in Hilton, Athens
Mid Range Hotels in Hilton, Athens
Luxury Hotels in Hilton, Athens
Pagrati/Vyronas
Pagrati and Vyronas are perfect for your stay in Athens. This is particularly the case if you want to experience a truly Greek suburb that is bursting with local life.
Antique shops, independent art galleries, and boutique stores run down the main promenade of Filolau. The two adjacent neighbourhoods practically merge into one. Head to Plateia Varnava on a Friday or Saturday night to enjoy bouzouki music and ouzo with the locals.
Best Hotels in Pagrati, Athens
Syntagma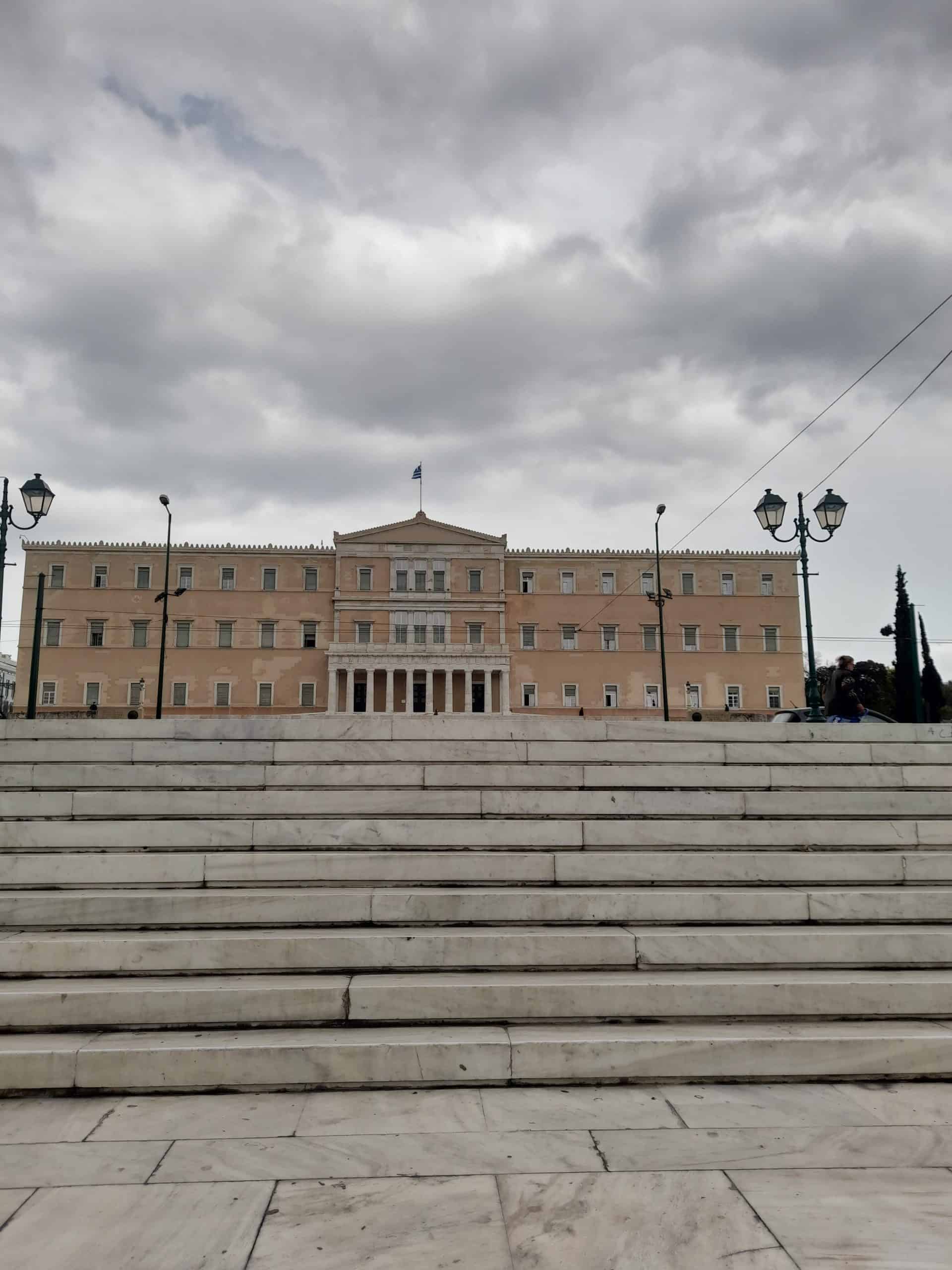 Syntagma Square is the beating heart of central Athens. The city's main subway station can be found here.
Syntagma's piazza hosts many events and festivities during the year. For instance, live musical performances, artisanal markets, and food festivals.
All of Athens' main attractions are just a short walk away from here. The Grek Parliament building sits directly opposite Syntagma. Meanwhile, the Acropolis, the National Gardens, and the Temple of Olympian Zeus are all just a few minutes away.
Backpacking Hostels in Syntagma Athens
The Student & Travellers Inn
Budget Hotels in Syntagma Athens
Mid Range Hotels in Syntagma Athens
Luxury Hotels in Syntagma Athens
Makriyianni
Makriyianni is the Athenian neighbourhood that houses the Acropolis and the glittering glass structure of the Acropolis museum. You may assume that a place so close to the main tourist attractions would be incredibly crowded. However, Makriyianni's leafy promenades remain relatively quiet and undisturbed.
After a busy day of Athens sightseeing, you can enjoy a pleasant evening walk along the tree-lined promenade of Dionysiou Areopagitou. Here, buskers play acoustic and traditional Greek songs, while street performers do magic tricks.
This artsy neighbourhood is a popular hangout spot among locals. It boasts dozens of patisseries, independent boutiques, art galleries, and upmarket eateries.
Budget Hotels in Makrygianni Athens
Mid Range Hotels in Makrygianni Athens
Acropolis Museum Boutique Hotel
Luxury Hotels in Makrygianni Athens
Kolonaki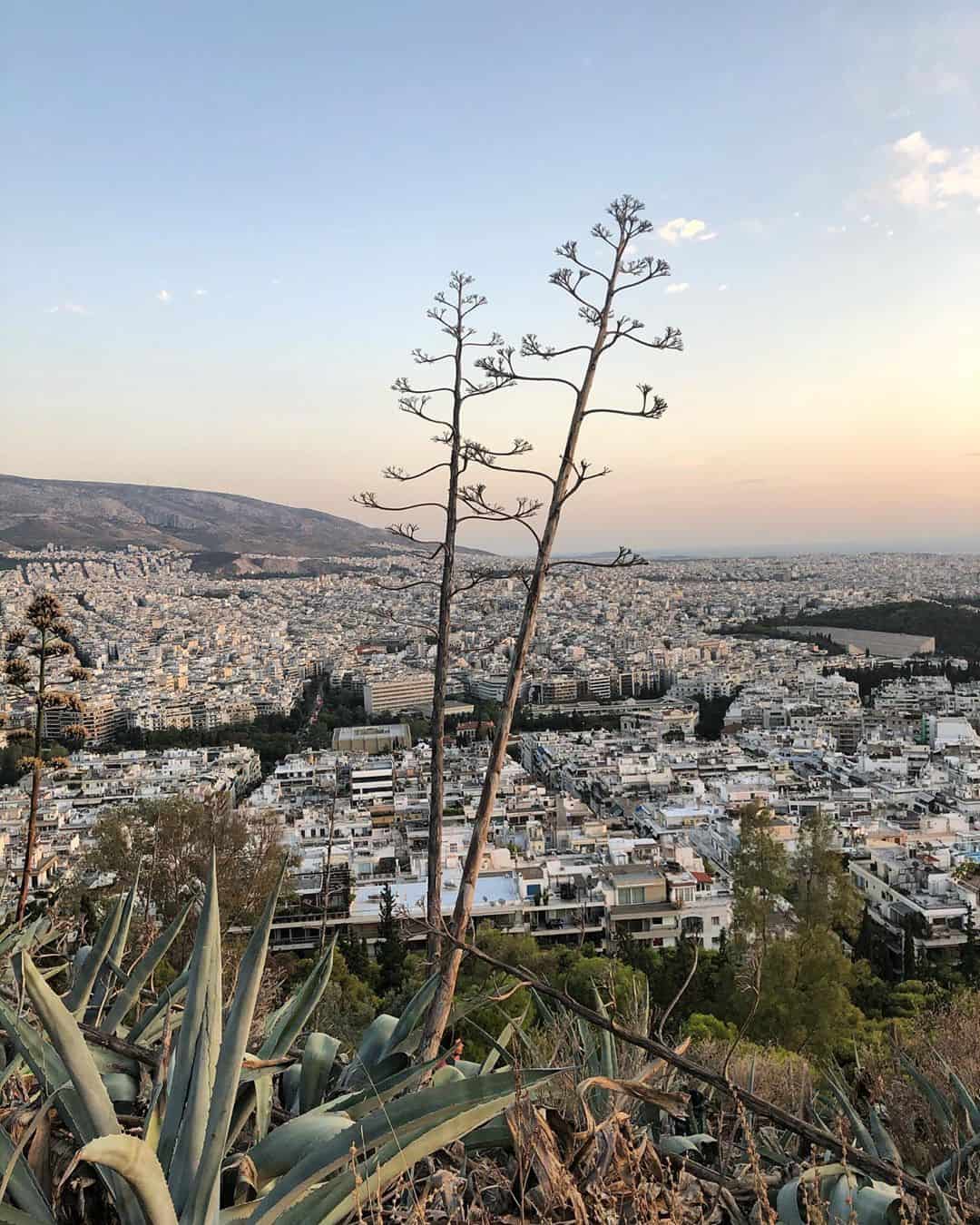 Kolonaki is to Athens what Beverly Hills is to Los Angeles. This upscale district is the chicest in the city.
Kolonaki oozes effortless elegance at every turn. The area is situated on the slopes of Mount Lycabettus.
People watching while sitting beneath a cabana at one of the local coffee shops is a pleasant way to pass the time in Kolonaki. The exclusive cocktail bars and champagne lounges here are often frequented by Greek celebrities.
Jazz in Jazz and Minnie the Moocher are particular local favourites. The polished storefronts of the shops in the Kolonaki area showcase both luxury fashion and the works of high-end Greek Designers.
This is one of the best places to go shopping in Athens. Despite the upscale atmosphere, Kolonaki does not feel pretentious.
Budget Hotels in Kolonaki Athens
Mid Range Hotels in Kolonaki Athens
Luxury Hotels in Kolonaki Athens
Paleo Faliro
Paleo Faliro is an upscale coastal district. It is located halfway between Alimos and the Athenian Riviera.
Few tourists know about Paleo. This makes it a perfect place to base yourself if you want to be off the beaten path.
Elegant storefronts line the streets of Paleo, along with fantastic tavernas and seafood restaurants that attract a well-heeled crowd. There are many wonderful beach bars and clubs in nearby Alimos. Head to Bolivar Beach Bar or Nalu for all-night beach parties and live DJs.
Luxury Options in Paleo Faliro
Mid Range Options in Paleo Faliro
Psiri
The little neighbourhood of Psiri is hidden behind Monastiraki square. It centers around Iroon Square and is arguably one of the city's most vibrant districts.
Psiri has something of a punky underground feel to it. Many of the bars and pubs here are teeny tiny hole in the walls big enough to house just a handful of people. Alternatively, many of them are centered around a particular alternative music scene.
Psiri is one of the most bustling Athens nightlife districts. However, if you choose a hotel that is tucked away within its back streets, you don't have to worry too much about noise and disturbances.
Mid Range Hotels in Psiri
Luxury Hotels in Psiri
Plaka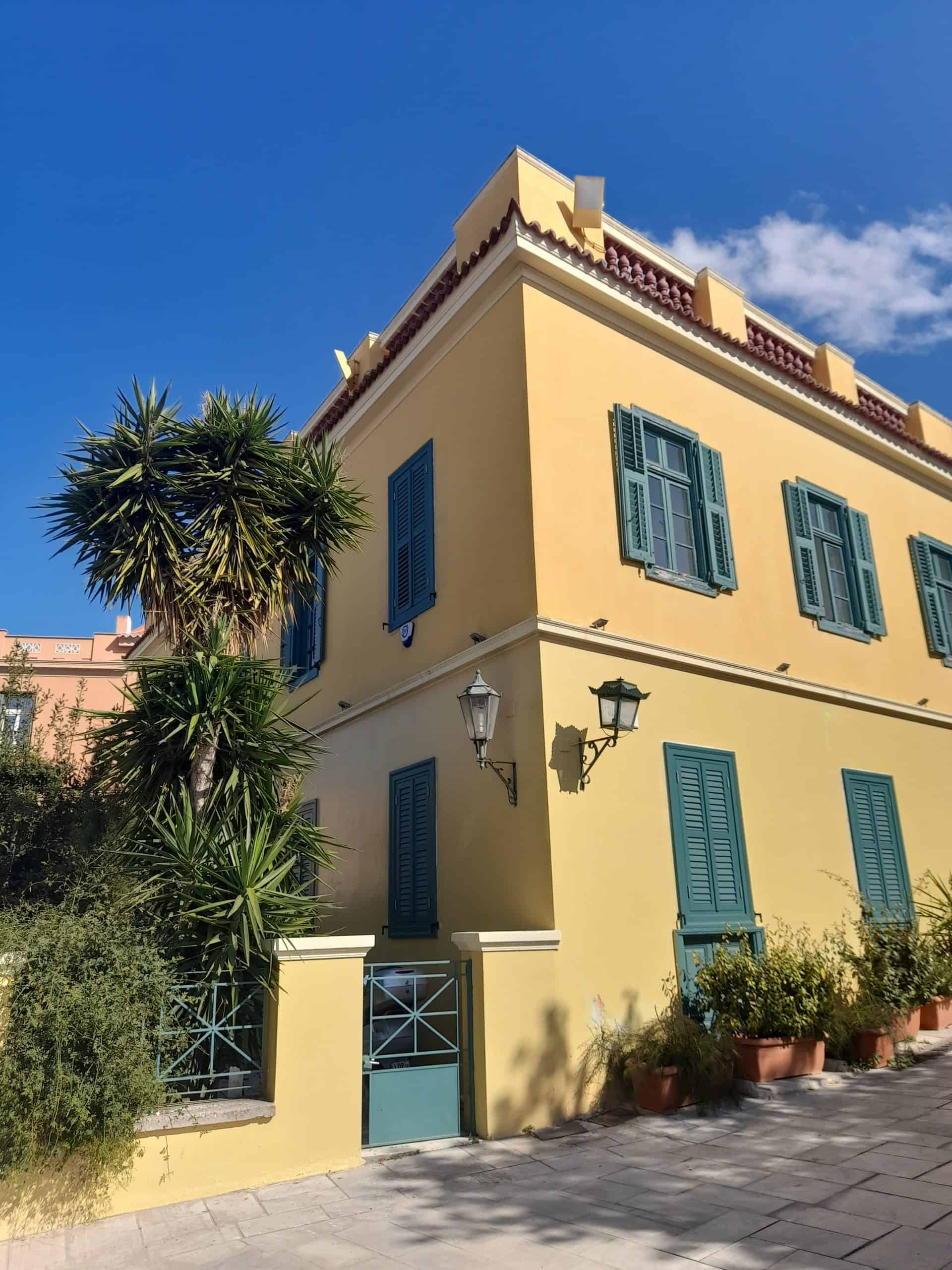 The charming neighbourhood of Plaka is one of the oldest and most historic in Athens. The labyrinth-like network of narrow cobbled streets here leads you up towards Anafiotika and the Acropolis. From these points, you can enjoysome of the best views over the Greek capital.
Plaka has been inhabited for more than 2,500 years. Ancient mosques and old Islamic ruins point th the area's Ottoman past.
The bars in Plaka host numerous traditional performances. You can find everything here from plate smashing to traditional Greek music and the chance to participate in a Zorba dance.
Sitting outside one of these bars with homemade sangria and a good book is a perfect way to spend a relaxing evening in Athens. This area may be a tourist favourite. However, many locals come to Plaka to hang out too. Indeed you can find a plethora of excellent tavernas tucked away down Plaka's backstreets.
Budget Hotels in Plaka
Mid Range Hotels in Plaka
Luxury Hotels in Plaka
Nea Smyrni
Nea Smyrni is as quintessentially Athenian as it gets. The tree-lined Karillou and Aghia Fotinis Squares are a popular rendezvous point among young Athenians.
Although Nea Smyrni is home to plenty of coffee shops, boutique stores, and restaurants, the ambiance here is much less crowded and chaotic to the city centre. Both central Athens and the coastal areas of Paleo Faliro and the Athenian Riviera can be reached by tram that runs directly through Nea Smyrni.
Exarchia
Exarchia is Athens' most alternative district. Virtually every inch of wall space here is covered in street art. Furthermore, much of Exarchia's graffiti is politically-motivated.
Exarchia is not everyone's cup of tea. However, that is not to say that it should be written off completely. Punky, edgy, and artsy, Exarchia is filled with alternative rock bars, stores selling old vinyl records, and homely tavernas.
You should be cautious when exploring Exarchia, especially during political demonstrations. Clashes between anarchist groups and the police do happen from time to time. If you choose to stay here, be mindful of your surroundings and don't walk alone at night.
Luxury Hotels in Exarchia
Mid Range and Budget Hotels in Exarchia
Metaxourgio
Metaxourgio, like Exarchia, is an Athenian neighbourhood that does not have the best reputation. The area has worked hard to try and shake off its negative reputation.
In recent years, Metaxourgio has emerged as an "up and coming" art district. Dozens of independent art galleries line the streets and showcase the works of emerging Greek and international artists. The cheaper rent in this neighbourhood attracts young designers and entrepreneurs.
Metaxourgio is still not perfect. However, the hotels here are very affordable.
This can be a good option if you are exploring Greece on a budget. Take a cab back to your hotel in the evenings, and avoid walking around in the district at night and you will be fine.
Luxury Hotels in Metaxourgio
Wyndham Grand Athens


Wyndham Athens Residence
Budget & Mid Range Hotels in Metaxourgio
Getting Around Athens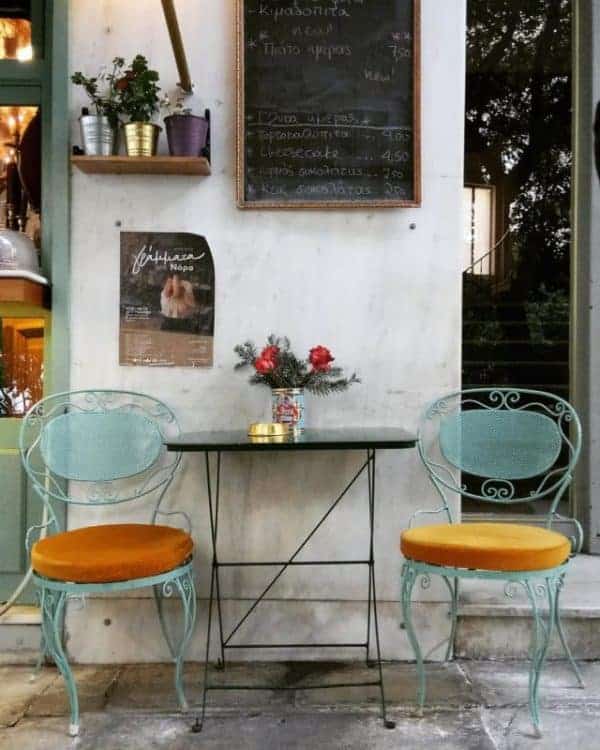 Athens has an excellent public transport network. Buses, trains, and trams are very affordable and run on a frequent schedule.
Getting a cab from one area to another is seldom more than a few euros. Download the "BEAT" taxi app for finding cabs.
This is essentially the Greek answer to Uber. The app displays the price of the journey before getting into the car and helps you to avoid being ripped off by the cab drivers.
Alternative Accommodation Options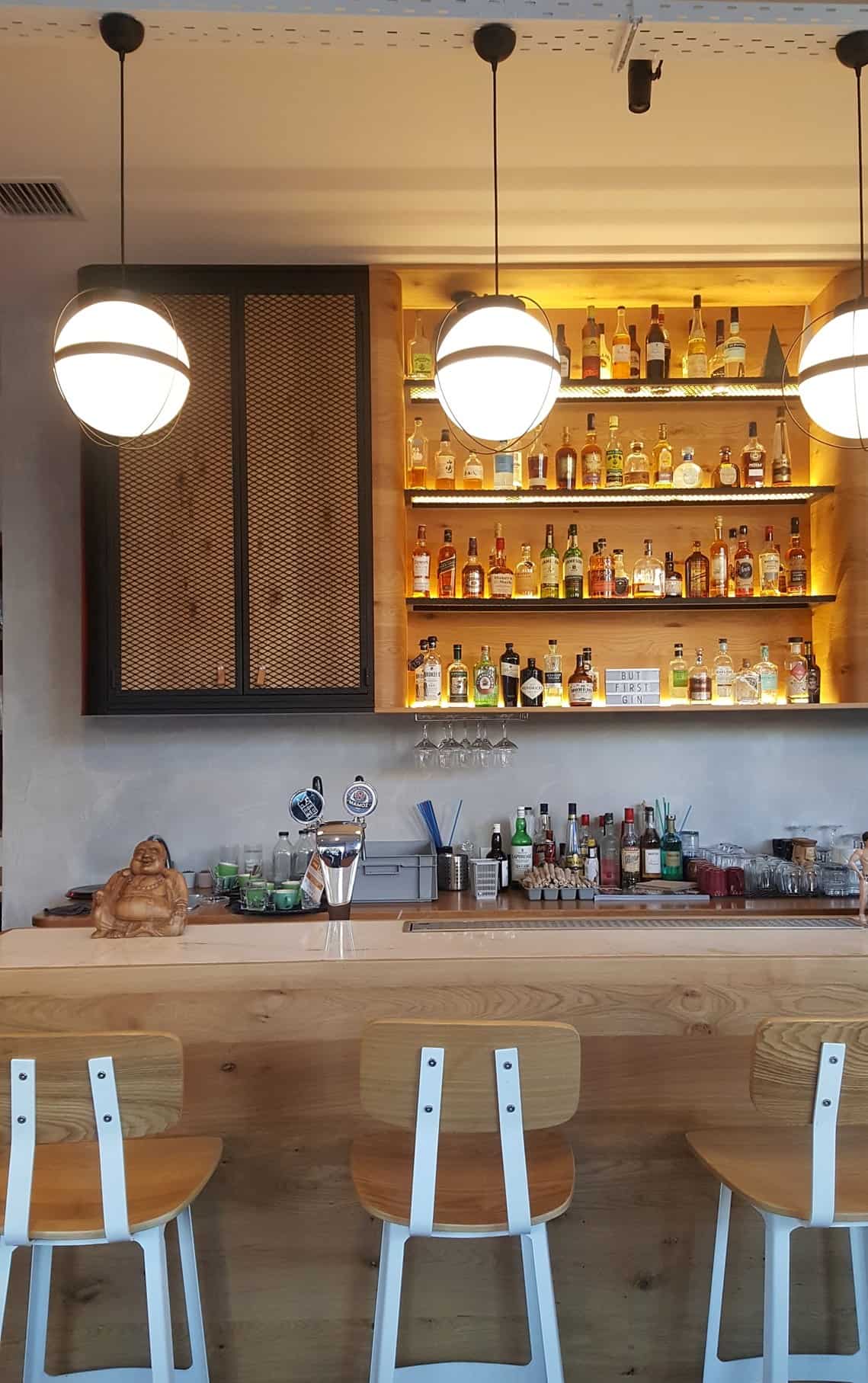 If you prefer to travel like a local, you could also consider renting an Airbnb. This can give you a lot more flexibility during your time in Athens. It is also a good budget choice as you have the option to cook all of your own meals.
What to Look for in an Airbnb
Athens is generally relatively safe. However, as with any city there are a few neighbourhoods that are a little grittier and should not be your first choice.
If you decide that you want to rent an Athens Airbnb, be extremely cautious when choosing properties in the city centre. Check the map to see the approximate location of your rental. Additionally, you should ask your host to clarify which area the rental is in.
There is a trend of Airbnb owners purchasing properties in Exarchia and falsely marketing it as a safe, hip area. Exarchia has its charm.
However, it is prone to riots and clashes between locals and the police. Consequently, you should have full visibility of what you are going into.
Parting Words
Organising your accommodation is a big part of planning a trip to Greece. Try to book in advance where possible.
This is particularly important if you are visiting Athens during the peak summer months. Advanced booking enables you to secure the best deals.
Do you have any further questions about where to stay in Athens or how to create a Greece travel itinerary? Feel free to reach out to me via the comments below.
I live in Greece and will be happy to answer any questions you may have. Safe travels. Geia sou, Melissa! xo
Disclaimer: This guide may contain affiliate links. This means that if you choose to make a purchase through one of the links on this page, I will receive a small amount of commission at no additional cost to you. Thank you for understanding.
---