Curious about where to stay in Athens Greece? Look no further.
This comprehensive guide has been written by someone who has lived in the Greek capital for 5 years and who knows all of the various neighbourhoods within the city. Trying to decide where to stay in Athens can be massively overwhelming for a first-time visitor.

After all, the city is a bustling European capital and when you glance at any map of Athens, hotels, landmarks, and attractions are scattered around all over the city. This guide will discuss the best Athenian neighbourhoods to consider, what they have to offer, and the best hotels within them.
Where to Stay in Athens Greece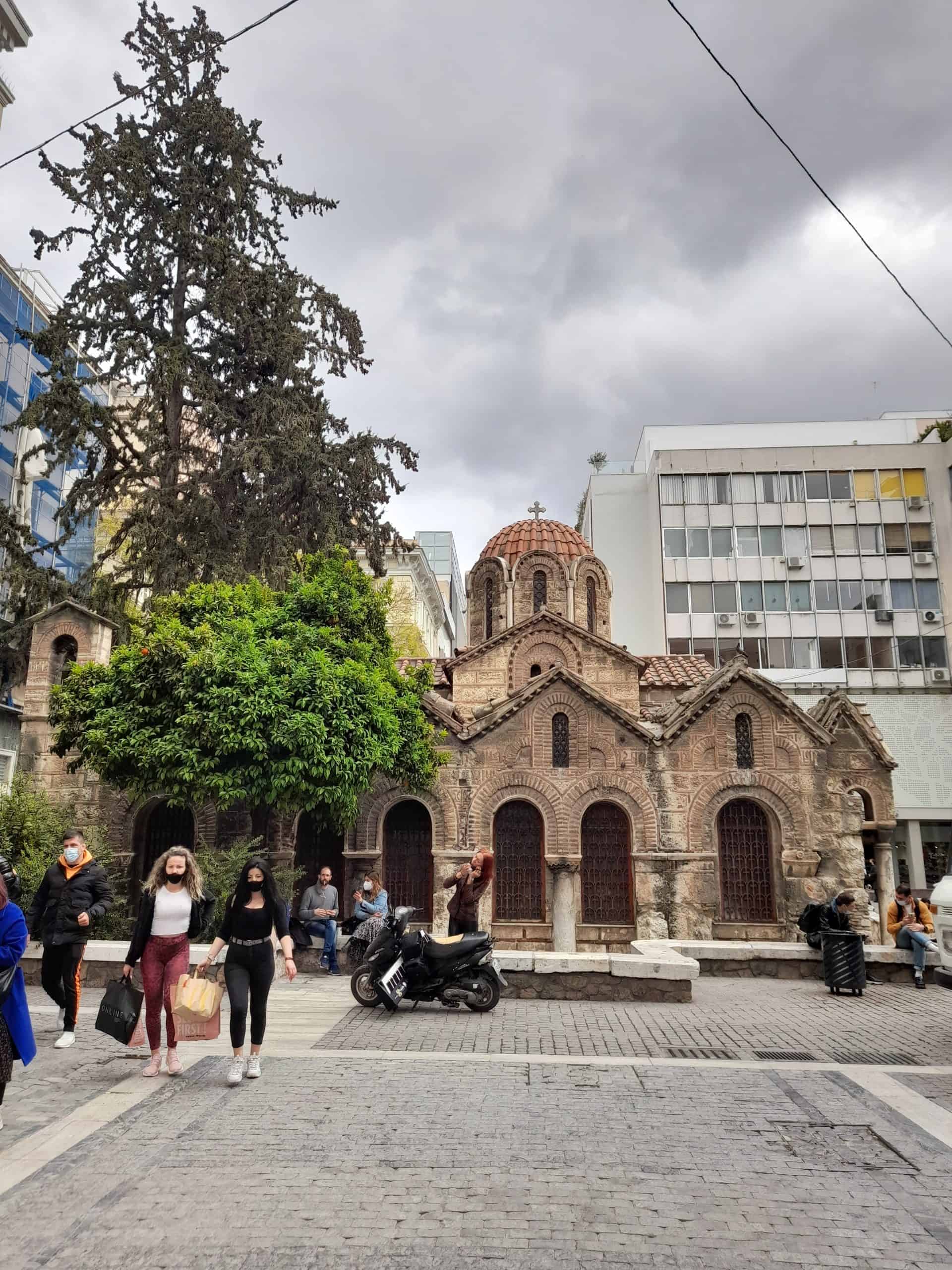 The historic city of Athens is arguably the most underrated capital in Europe. The city seems gritty and edgy at first. However, scratch beneath the surface and Athens has far more to offer than meets the eye.
Of course, the raison d'etre for most people's visit to Athens is to see world-famous historic sites such as the Acropolis, the winding streets of old Plaka, and the Ancient Agora. However, it is the various districts, each with their own unique personalities, that end up stealing the show.
Public transport in Athens is pretty good. So too are Greek taxis.
You can get from one side of the city to another by bus or metro for just €1.40 and a cab from one side of town to another will not set you back more than €5-€6. So, wherever you stay, you will find that you are able to get around the city with ease.

Still, if you only have a couple of days to dedicate to your Athens itinerary, it is better to base yourself somewhere where all the things you want to see are right on your doorstep. So, for that reason, the central neighbourhoods of Plaka, Psyri, Koukaki, Thissio, and Syntagma are your best choices.

Alternatively, if you want to base yourself somewhere more quiet, secluded, and close to some of the best beaches in the Athens and Attica region, head to the beach towns of Vouliagmeni or Glyfada. Ultimately, the best area to stay in Athens depends a lot on you, your budget, and your personal preferences and travel style.
Thissio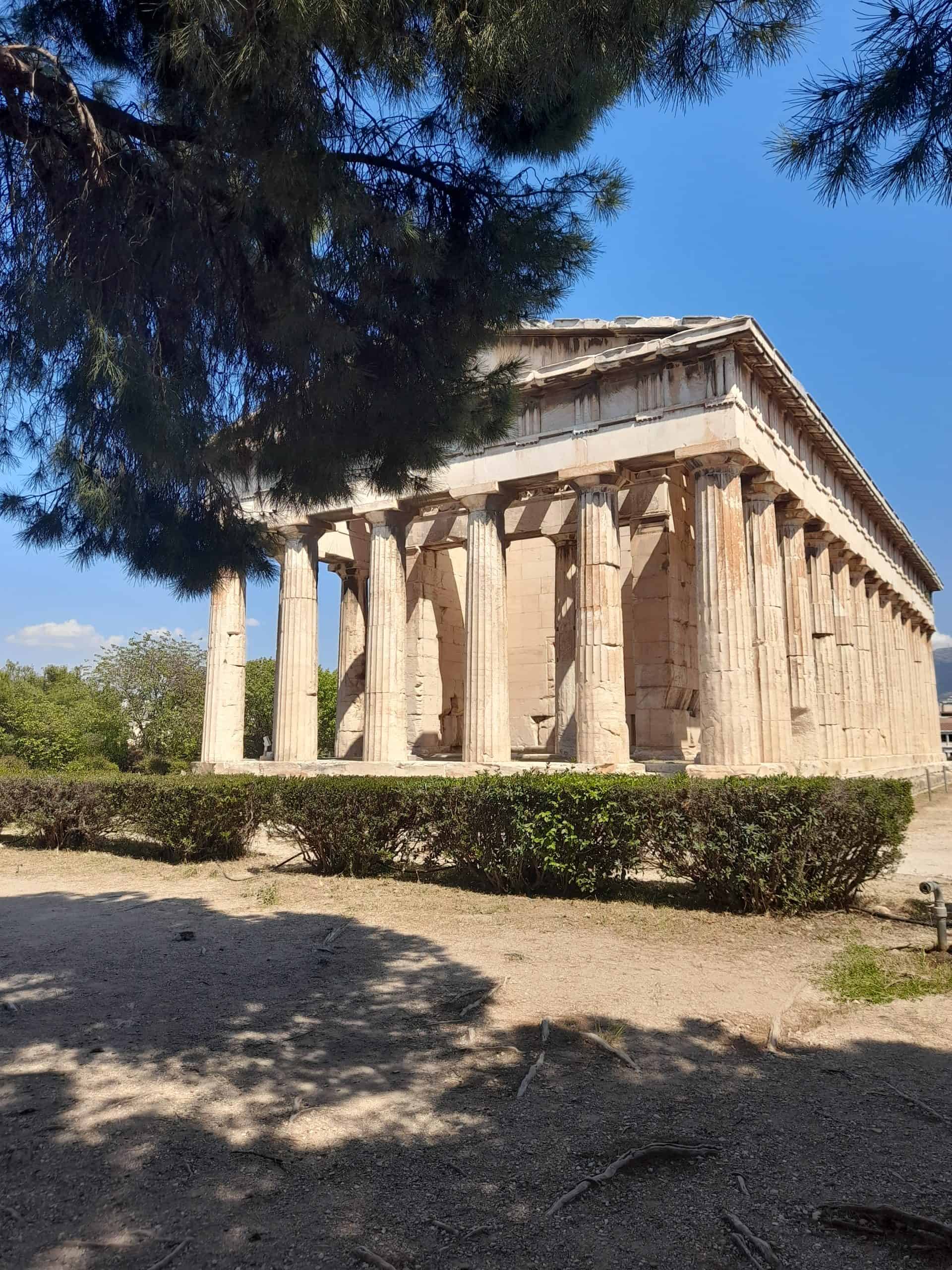 Quaint Thissio is home to some of the most important Athens landmarks and historic attractions in the city. Most notably, the Ancient Agora, its spectacularly well preserved Temple of Hephaestus, and Areopagus Hill.

Centuries ago, Greek Philosophers such as Socrates and Aristotle would walk barefoot through the marketplace here. Today, it is one of the citys oldest and most culturally rich districts.

Despite the areas proximity to some of the citys main tourist attractions, Thissio remains an authentic Greek neighbourhood. Many Athenians will venture here after work or on their lunchbreaks to walk the length of Apostolou Pavlou – the areas main pedestrianised promenade.

In the summer months, you will find many street performers entertaining crowds smashing plates, singing, and playing bozouki music. The little stalls sell everything from handmade trinkets, Karagiozis puppets and jewelry, to Greek street food eats.
Best Hotels in Thissio
Athenaeum Eridanus luxury hotel


Phidias Hotel Athens
Plaka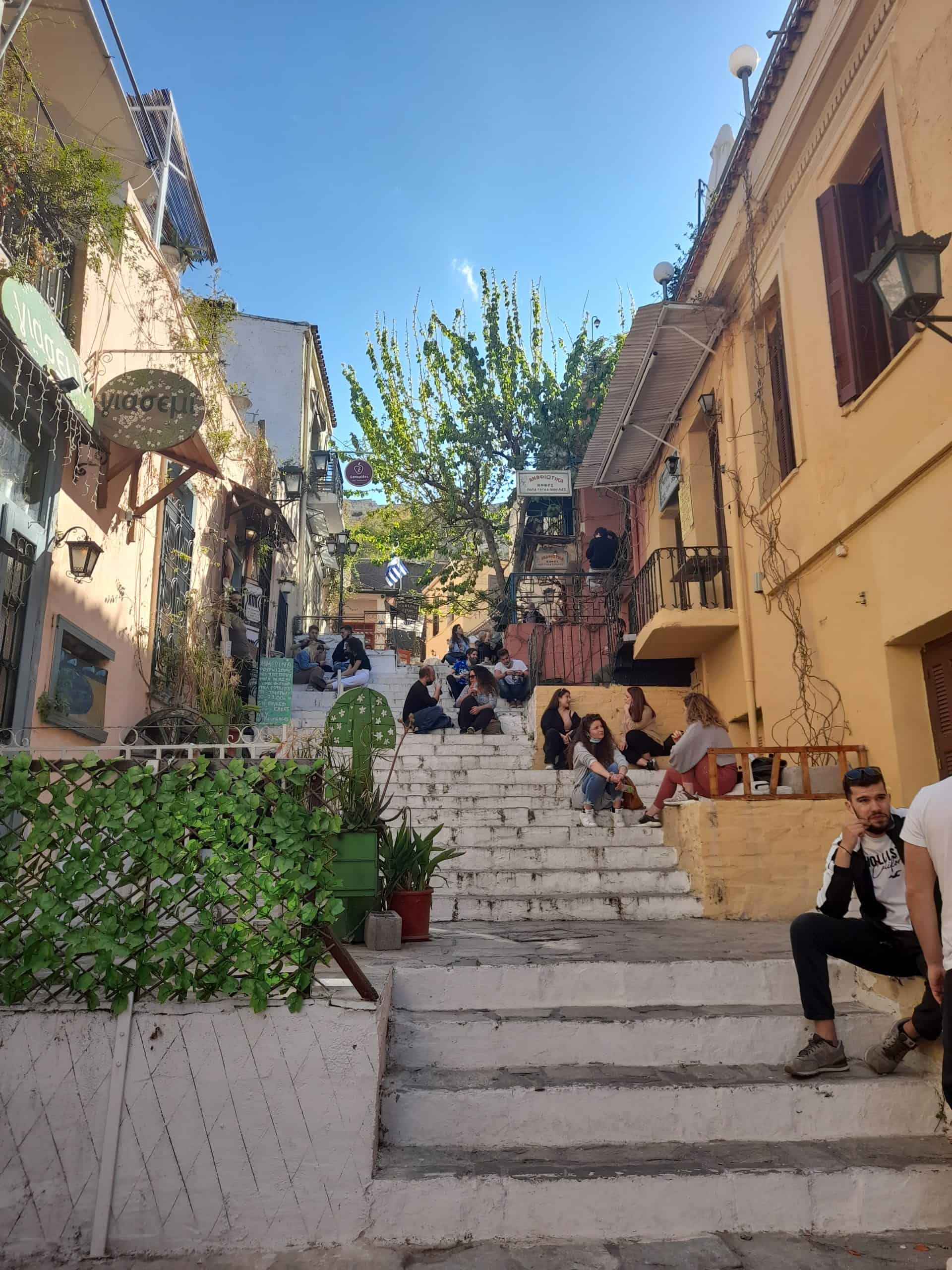 Charming old Plaka is one of the oldest parts of Athens and it has been continually inhabited for more than 2500 years! During the Ottoman occupation, this was the citys Turkish district and today, many sunbleached old hammams and mosques still remain.

This neighbourhood warrants a days exploration all of its own. The pastel coloured houses here are a photographers dream.

Take the time to get lost in the narrow winding cobbled streets and passageways, and be sure to make your way from Plaka to the hidden district of Anafiotika. Anafiotika is a small area behind the main streets of Plaka whose whitewashed houses resemble the architecture that you would find on a Greek island.
It looks almost out of place, in the middle of an otherwise chaotic Greek city. This is because the residents hail from the Cyclades island of Anafi and built their houses in a way that reminded them of their home.

From here, you can enjoy unique panoramas over the city. When evening rolls around, be sure to treat yourself to Greek drinks and cocktails on the famous Plaka stairs at Mnisikleous.

Some of the best Greek tavernas in the city can be found in Plaka. Psaras Fishermen's Tavern (Erotokritou & Erechtheos 16) is a seafood eatery set inside a grand neoclassical mansion.

Meanwhile, To Kafeneio (Epicharmou 1) is an Athens instiution. Dont miss their meze platters and kolokithokeftedes (Greek zucchini fritters)
Best Hotels in Plaka
Syntagma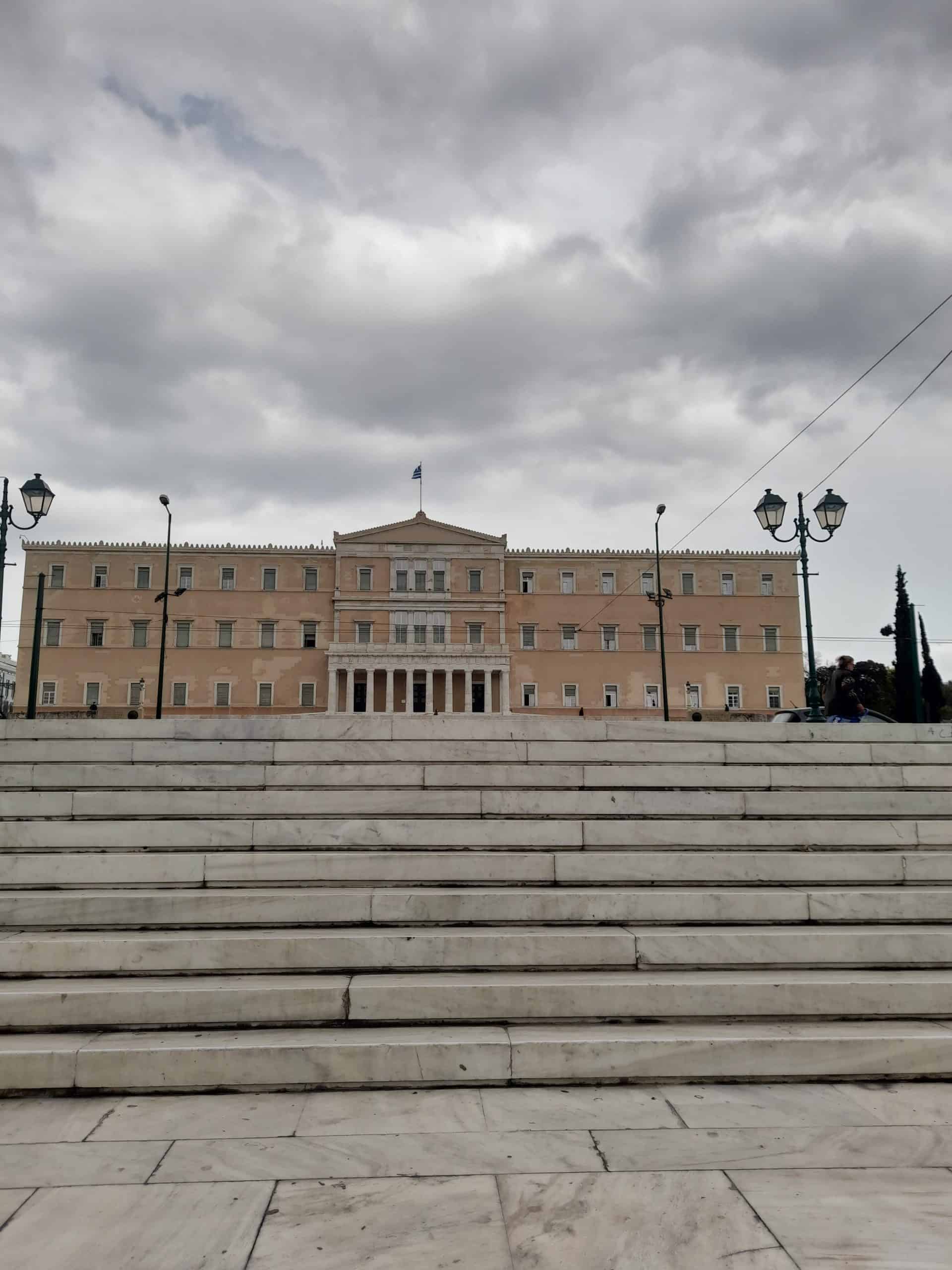 As far as most Athenians are concerned, Syntagma Square is considered the absolute centre of town. The citys main metro station can be found here and from this point, it is easy to get trains and buses around the city, as well as to catch transport from the city center to Athens airport.

Syntagma dates back to 1834, when King Otto decided to make Athens the capital of Greece, replacing Nafplio. It was originally called the ¨Palace Square¨ due to the adjacent royal residence.

Various events, Greek festivals and celebrations are hosted here throughout the year. If you should be so lucky as to experience Christmas in Athens, you will see the citys largest Christmas tree erected here and adorned with dozens of twinkling lights. Various festive performances are also hosted beneath it.
There are a few points of interest in this area. The National Gardens are not to be missed. A short walk through them brings you to the Zappeion building and the Panathenaic Stadium.
Ermou street is the main street for shopping in Athens. It is the street that runs past the McDonalds in Syntagma Square.

Following it leads you to Monastiraki, Thissio and Gazi. You will find branches of various international high street stores here, as well as boutiques owned by independent Greek designers.
Best Hotels in Syntagma
Koukaki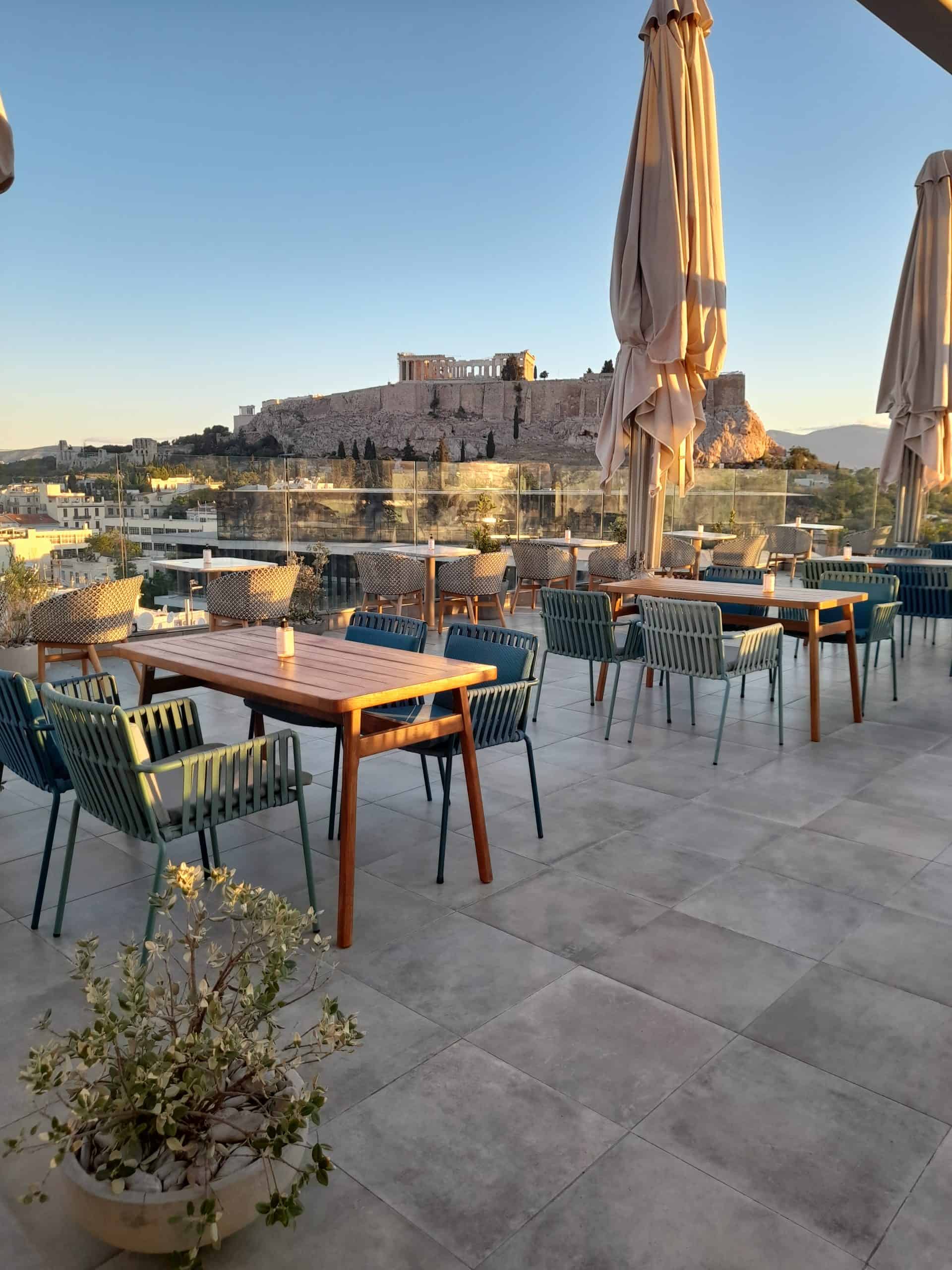 Koukaki is to Athens what Greenwich village is to New York City. This is one of Athens' quirkiest and best loved districts.

It sits beneath the shadow of the Acropolis, yet despite its central location, Koukaki has not become overly gentrified. This part of town is characterised by its independent art galleries, eclectic themed coffee shops, and international eateries.
It has very humble roots and was once an industrial zone, named after local business owner George Koukakis who owned a store here selling beds and mattresses. After various companies operating in the area went out of business, their premises were converted into more creative establishments. In the 1980s, locals started to call Koukaki ¨Little Paris¨.

There are a few great spots to grab a Greek coffee or brunch in Athens here before you start your day of sightseeing. One place to add to your radar is Little Tree Books & Coffee (Kavalloti 2).

This is an adorable coffee shop meets book store where you can enjoy a slice of cake and a Freddo cappuccino in an oversized armchair. Nearby, Lotte Cafe Bistrot (Tsami Karatasou 2) has been designed to look like Montmatre Paris in the 20th century.
Best Hotels in Koukaki
Gazi and Kerameikos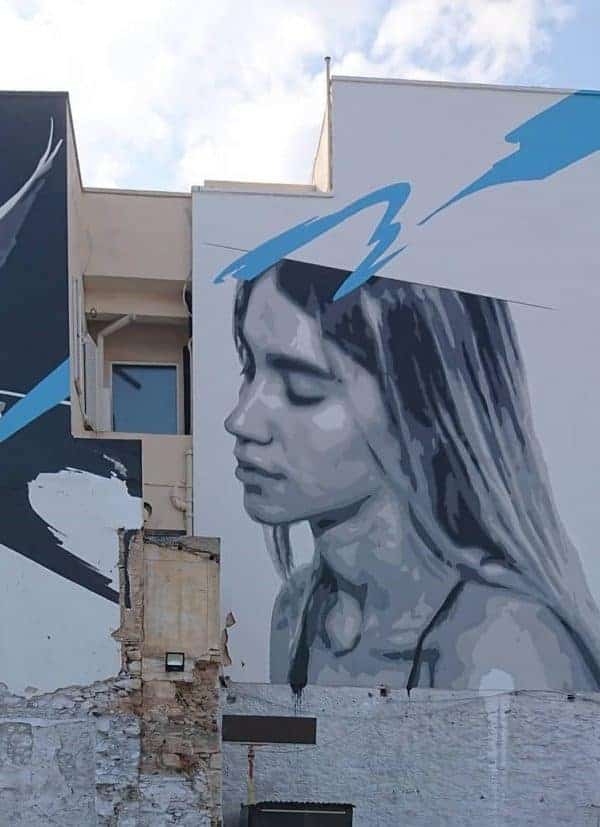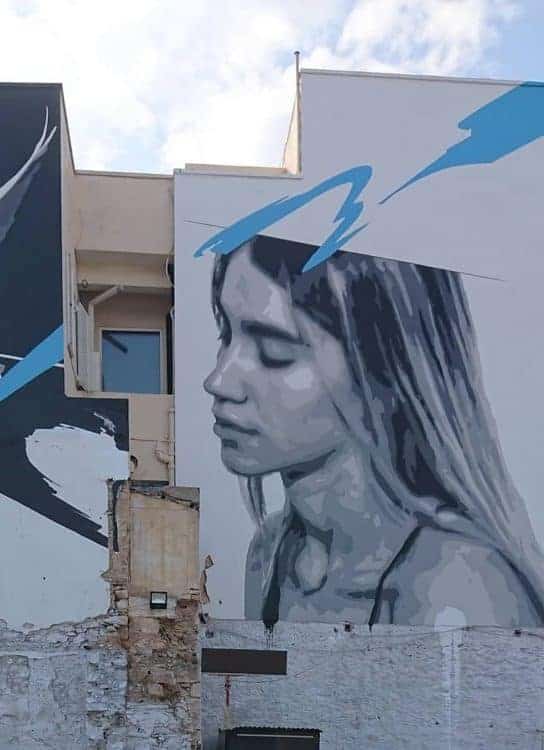 If you are hoping to enjoy the best bars and clubs in Athens, Gazi is definitely an area that needs to be on your radar. There is something for everyone here – from Athenian rooftop bars with Acropolis views, to live music venues and house music clubs that are open until the early hours.

Most of the bars and restaurants are situated along the streets of Persefonis, Orfeos, and Voutadon. So, on an evening out, it is easy to walk from one bar to another.

When choosing where to stay in Athens, many hotels and hostels are located down side streets and passageways. Despite their proximity to the main strip, they are quiet at night so you will be able to get a good nights sleep!
Gazi takes its name from the old gas station in the area. (Gazi means gas in Greek).

Eventually, someone realised that having a giant, sprawling gas station right in the centre of the Greek capital perhaps wasnt the safest idea and closed it down. However, today, the outer shell of the building remains.

It is illuminated by night, and many of the factory buildings have been converted into an art and cultural centre. Every May, the Athens Jazz festival is hosted in Gazi.
Best Hotels in Gazi
Kolonaki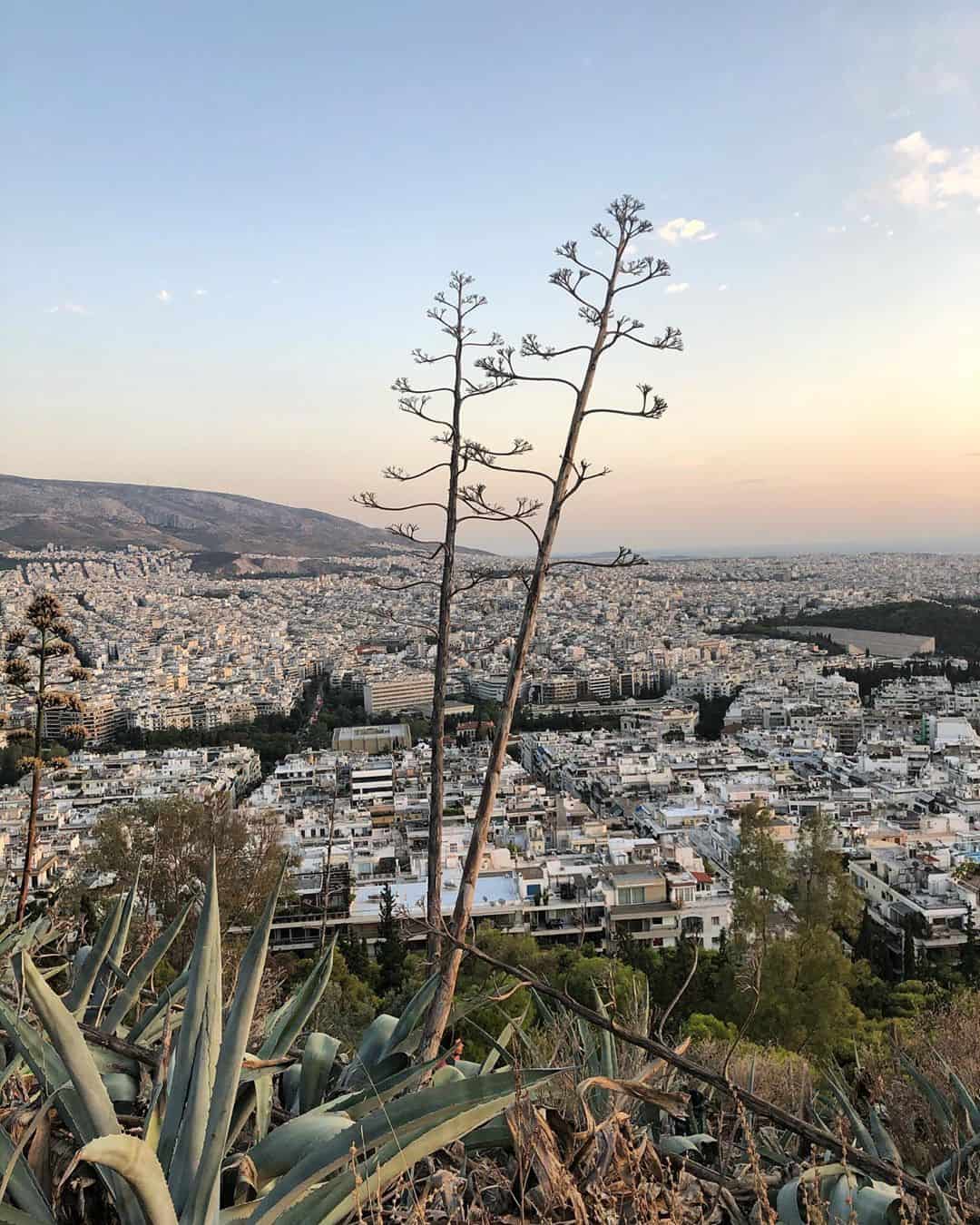 Ask any Athenian where the most exclusive and upscale area in town is and they will all answer you the same thing: Kolonaki. Kolonaki is essentially the Beverly Hills of Athens and is one of the most sought-after post codes to have in town.

The area means ¨little column¨ in Greek, taking its name from the ancient column that sits at the heart of Kolonaki square. Today, the leafy, tree-lined streets of Kolonaki are filled with Designer stores and brands such as Cartier, Audamer Piguet, and Prada have their Greek flagship stores here.

Interestingly, in the 2nd century AD, Roman Emperor Hadrian built an underground reservoir beneath the surface of what is now Kolonaki. It is one of the more off the beaten path things to do in Athens and though few people are aware of its existence, it is considered one of the most advanced developments of Roman Greece!

Several excellent cocktail bars can be found here. A particular local favourite is Jazz in Jazz (Dinokratous 4). This tiny little establishment is the size of someones living room and seemingly transports you to New Orleans.
Despite being the most aristocratic part of town, Kolonaki is by no means pretentious. You will find all sorts of people having out at the bars and cafes here – from Greek celebrities and models, to the typical working man.
Best Hotels in Kolonaki
Psyri
Athens Psyri district is one of the most vibrant and colorful districts in town. You will note that it is spelled as Psyri, Psiri, Psyrri or Psirri in various travel guides but they all refer to the same place!
Once upon a time, this was the citys main nightlife area. While Psiri has lost that title to Gazi in recent years, it still remains one of the liveliest parts of town.

Some of the best-loved bars in the city can be found here, and their bartenders and mixologists have been recognized by international media as being some of the best in the world! The Clumsies, Transistor, and Seven Jokers are particular favourites.

This is also one of the best areas for searching for street art, with new pieces seeming to pop up all the time. If this is something that particularly interests you, you can opt to take an Athens street art tour here.
Be sure to stop by the Athens Central Market (Varvakios Agora). This is the oldest traditional marketplace in town and between 3,000 and 5,000 Athenians shop here every day to pick up fresh fruits, vegetables, and meats.

Nearby Evripidou street is home to several spice markets that are more reminiscent of the Middle East than southern Greece! Many of the stores here sell homemade cosmetics and homeopathy products that make great Greek souvenirs for your friends and family back at home.
Best Hotels in Psyri
Exarchia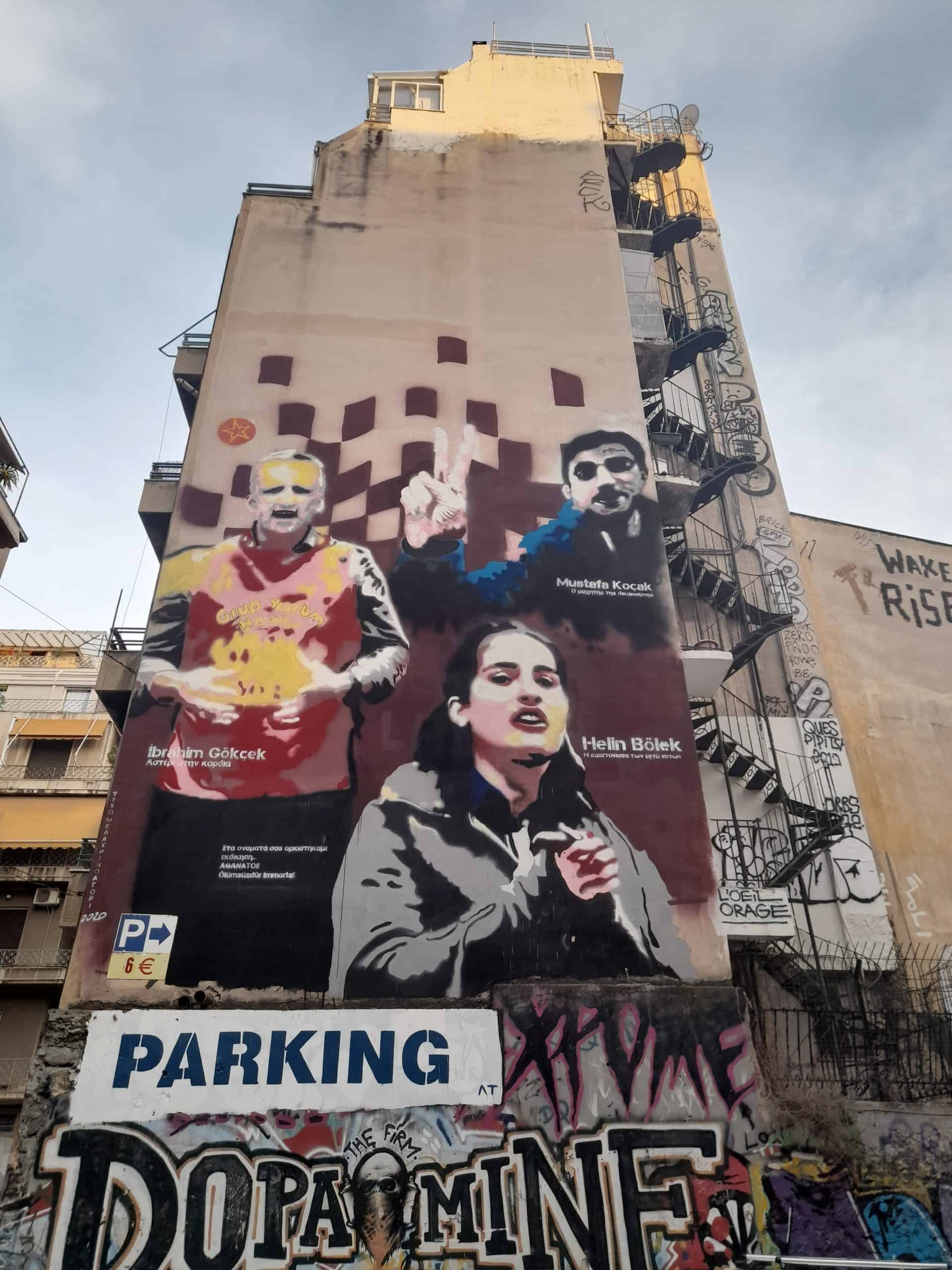 Exarchia is Athens' most alternative district. Virtually every inch of wall space here is covered in street art, much of which, is politically-motivated.
Exarchia is not everyone's cup of tea. However, that is not to say that it should be written off completely. Punky, edgy, and artsy, Exarchia is filled with alternative rock bars, stores selling old vinyl records, specialty book shops and homely tavernas.
Be cautious while exploring Exarchia but don't let the naysayers put you off. The area has improved a lot in recent years and it is the hangout of choice for students from the nearby National and Kapodistrian University of Athens.
Catch an open-air movie at the Vox (ΒΟΞ) cinema (Themistokleous 82), eat street food at the ¨Autonomous Park¨ on the corner of of Zoodochou Pigis and Navarinou streets, and take a picnic to Lofos Strefi hill. Exarchia is a great place to see an alternative side of Athens.
Clashes between anarchist groups and the police do happen from time to time. The area should be avoided on certain dates of the year.
Namely, on December 6th (anniversary of the shooting of Alexandros Grigoropoulos), and on November 17th (anniversary of the Polytechnic Uprising). If you choose to stay here, be mindful of your surroundings and don't walk alone at night.
Best Hotels in Exarchia
Piraeus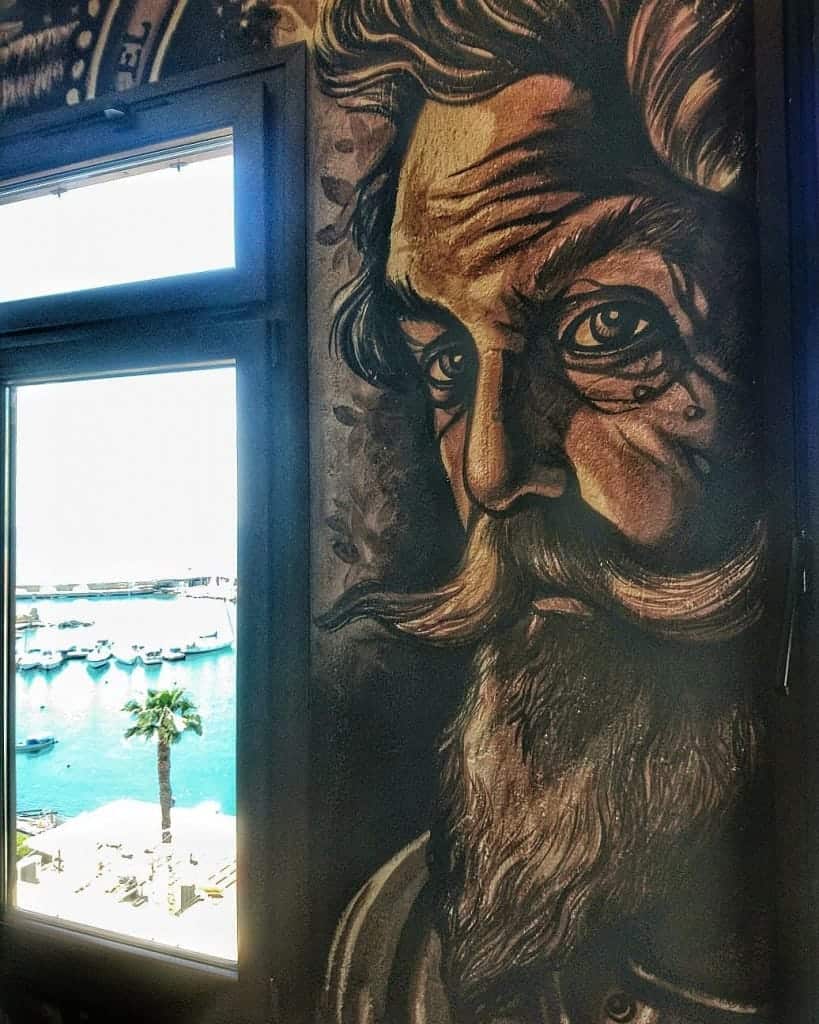 Piraeus is not a part of Athens, it is a different city entirely. However, urban expansion has blurred the lines between the two settlements and so today, it is tricky to establish where Athens ends and Piraeus begins.
Piraeus can be a great place to base yourself if you need to be able to wake up early for a ferry out to one of the islands close to Athens. Ferry routes from Piraeus port take you to the Cyclades and from Athens to Hydra and Spetses in a matter of hours.
Piraeus is massively overlooked and for most people, travelling here is just a necessary evil to be able to get out to the Greek island groups. Still, like many places, the area has its charm if you are willing to look for it.

Indeed, Piraeus is worthy of a day or two of your time if your schedule allows. Start by taking a coastal walk along the Aegean sea, stopping in Marina Zea (Pasalimani) to check out the luxury yachts and grab a drink at Pisina (Akti Themistokleous 25).

Continue onwards to the port of Mikrolimano. From here, an uphill walk takes you to the beautiful residential district of Kastella, where old Ottoman-era houses have been painted in pastel colours.

At the top of the hill, you will find incredible views over Piraeus, Athens, and the Aegean, along with the adorable Profitis Ilias Orthodox church, and an old theatre built in traditional Greek-style. On Sunday mornings, you can catch the Piraeus flea market. This is worth seeing for the people-watching opportunities as much as anything else.
Best Hotels in Piraeus
Hotel prices tend to be cheaper in Piraeus. This is a perfect place for budget travellers.
Kifissia
If you are looking for the best place to stay in Athens that is away from the chaos of the city centre, you will certainly enjoy the laid-back atmosphere and elegant ambiance of Kifissia. Kifissia is often referred to as being the Beverly Hills of Athens. Like Kolonaki, Kifissia attracts a well-dressed crowd.
The tree-lined promenades of Kifissia are home to swanky cocktail bars, chic coffee places, and upscale stores. Stepping into Kifissia feels like stepping into another city altogether.
The best part about this neighbourhood? Virtually no international tourists know about it!
Kifissia is well-linked to the centre. However, it has its own nightlife and social scene. This is a wonderful place to spend your Athens vacation if you want to get away from the crowds.
Zografou
Zografou sits to the south of central Athens. It is located close to Pagrati, Hilton, and Kolonaki. The area attracts a youthful crowd on account of its proximity to the Kapodostrian University of Athens.
This is one of the most affordable places to stay in Athens and a popular spot among students. Drink beers with locals at one of the dive bars here. Urban and Phileas Fogg are beloved local haunts.
Alternatively, smoke shisha at one of the many Arabian-style smoking lounges. Staying in Zografou also puts you in close proximity to Mount Imettus and Kaisariani Monastery. This is one of the best hikes in Athens.
Best Zougrafou Hotels
Vouliagmeni
Vouliagmeni is a beautiful coastal area that sits just 20km south of downtown Athens. This pine-clad peninsula boasts cerulean waters and incredible views over the Saronic.
Vouliagmeni is essentially Greece's very own Cote d'Azur. It is beloved by a well-heeled crowd who spend time at the private beach clubs, and fine dining restaurants by the coast.
The likes of Frank Sinatra and Brigette Bardot are the caliber of people who have vacationed here over the centuries. If you want to combine luxury beach travel with a city exploration, Vouliagmeni may well be your perfect Athenian base.
Best Hotels in Vouliagmeni
Glyfada
The coastal town of Glyfada is situated just thirty minutes out of Athens city centre. It is easily accessible via the metro or the tram. Glyfada is referred to as the "Hellenic Hamptons" and is a popular hangout spot for the Athenian elite.
Boutique shopping, glamorous international eateries, and beachfront cocktail bars make Glyfada a perfect base. This area also boasts some of the most beautiful beaches close to Athens.
Makriyianni
Makriyianni is the Athenian neighbourhood that houses the Acropolis and the glittering glass structure of the Acropolis museum. You may assume that a place so close to the main tourist attractions would be incredibly crowded. However, Makriyianni's leafy promenades remain relatively quiet and undisturbed.
After a busy day of Athens sightseeing, you can enjoy a pleasant evening walk along the tree-lined promenade of Dionysiou Areopagitou. Here, buskers play acoustic and traditional Greek songs, while street performers do magic tricks.
This artsy neighbourhood is a popular hangout spot among locals. It boasts dozens of patisseries, independent boutiques, art galleries, and upmarket eateries.
Best Hotels in Makrygianni
Where to Stay in Athens Greece – FAQs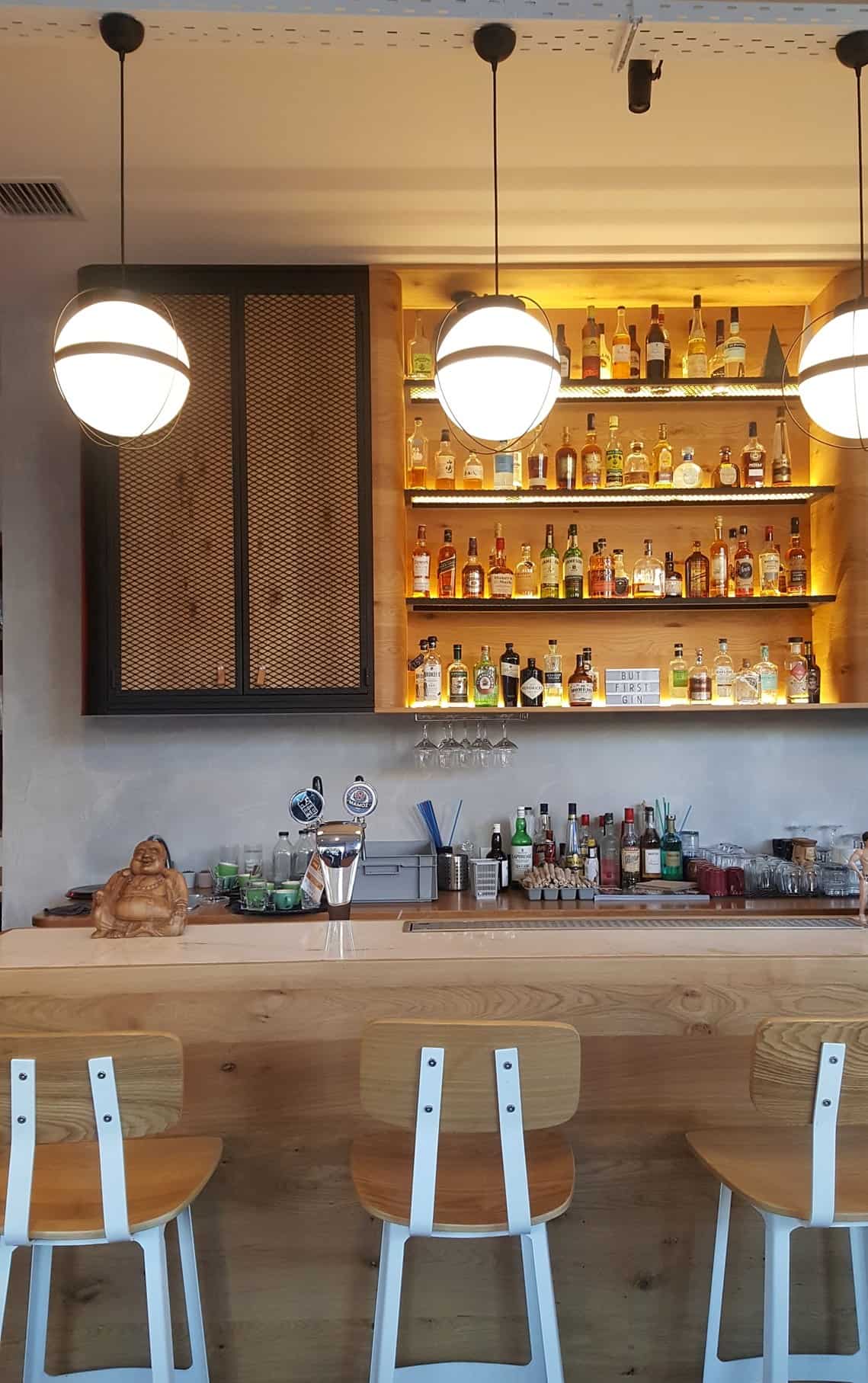 Do you still have any burning questions or concerns about where to stay in Athens Greece? Hopefully, you will find the answers that you are looking for below.
What area of Athens is best to stay in?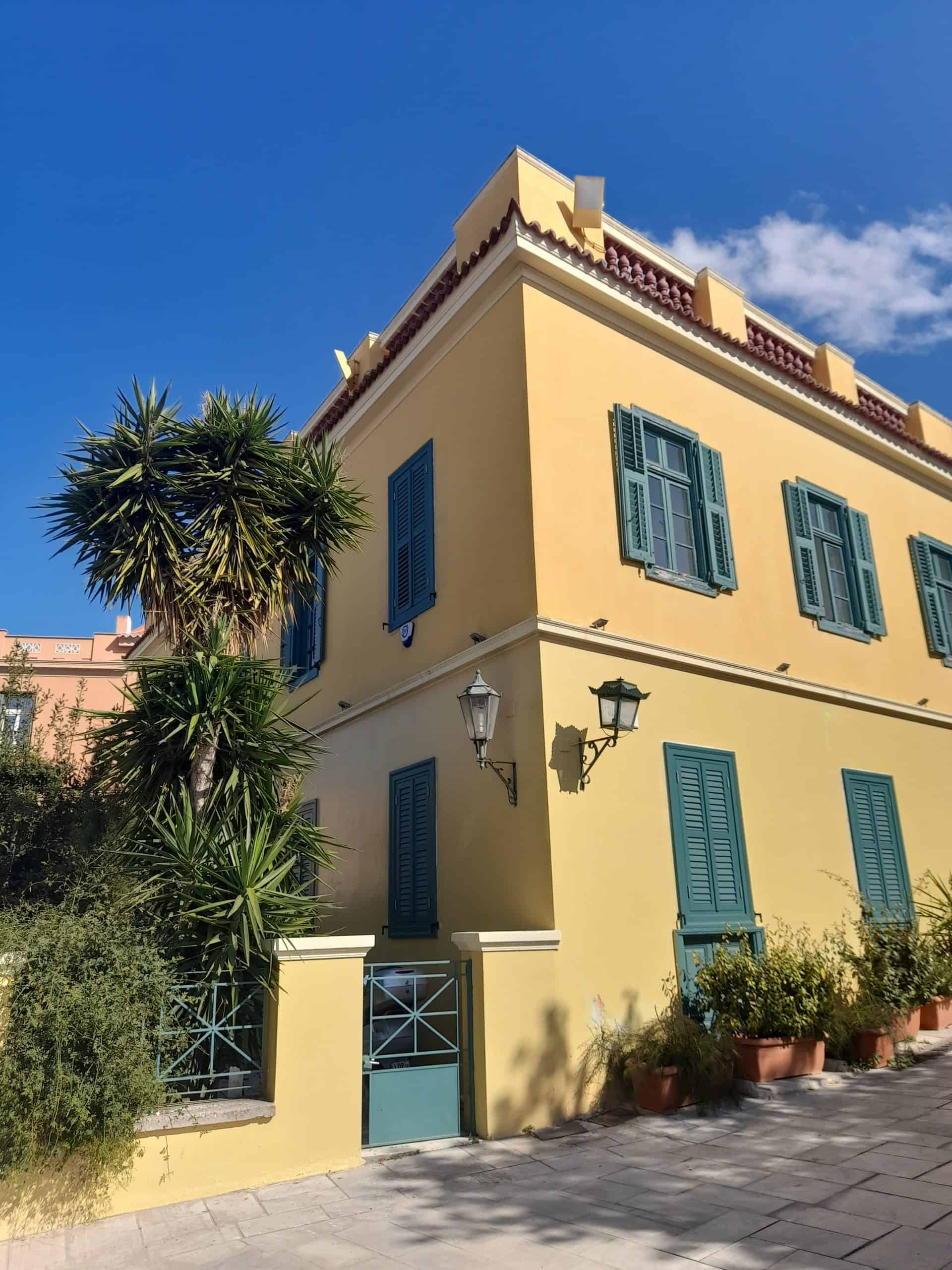 The best area of Athens is subjective and it depends on what you are looking for. Looking to be centrally located right in the middle of the action?

Book a hotel in Syntagma, on Ermou Street, in Pysri, or in Koukaki. Looking for raucous Athens nightlife and wild parties? Head to Gazi. Looking for somewhere upscale and off the beaten path? Choose Kifissia.
Where is the safest area to stay in Athens?
Athens is a safe city in general. You need to be aware of your surroundings at night, particularly in the city centre, and if you are alone or have been drinking.

But this is common sense that applies anywhere. Arguably the lesser-known residential areas such as Pagrati, Vyronas, Nea Smyrni, and Kolonaki are the safest areas to stay.

Athens very much has a nighttime culture. Whatever day of the week you are passing through the city, and whichever part of town you are in, you will usually find streets bursting with locals hanging out outside coffee shops and tavernas. You never get a creepy, isolated feeling anywhere.
What is the posh area in Athens?
Kolonaki is the most exclusive neighbourhood in Central Athens. Kifissia, and the Riviera towns of Glyfada, Voula, Vouliagmeni, and Vari are also upscale and ¨posh¨.
Where to stay in Athens with family
If you are travelling with kids, Koukaki is a great, safe, central, and family-friendly district. You will also find some weird and wonderful Athens museums in this area and attractions catered to kids such as the Athens Pinball Museum.
Where to stay in Athens for the first time
If it is your very first visit to Athens and you only have a day or two to spare, make the most out of your time by opting to stay as central as possible. Syntagma, Koukaki, Monastiraki, Thissio, Plaka and Psyri all make excellent choices.
Where to stay in Athens for a romantic stay
If you are heading to Athens on your honeymoon or for a romantic break away, consider treating yourself to a stay in a beach property in Vouliagmeni. The Margi and Azur Boutique Hotel in Vouliagmeni are widely regarded as being not only the best luxury hotels in Athens, but the best luxury hotels in all of Greece! (They have won awards).
Where should you not stay in Athens?
Omonia is a sketchy part of town where there have been many reports of muggings or petty crimes at night and it is generally best avoided. You will find a few budget hotels here, however if you do decide to stay in the area, you should not walk around at night, and always take a cab back.
Metaxourgeio is a little rough around the edges but it can be a good choice if you are exploring Greece on a budget. Several years ago, it was pretty much a no-go area but today, the low cost of rent in the area has encouraged Metaxourgeio to grow as a creative hub.
Today, it boasts performing arts theaters, galleries, studios and theaters and possesses something of a creative, intellectual vibe. Just be careful at night.
Parting Words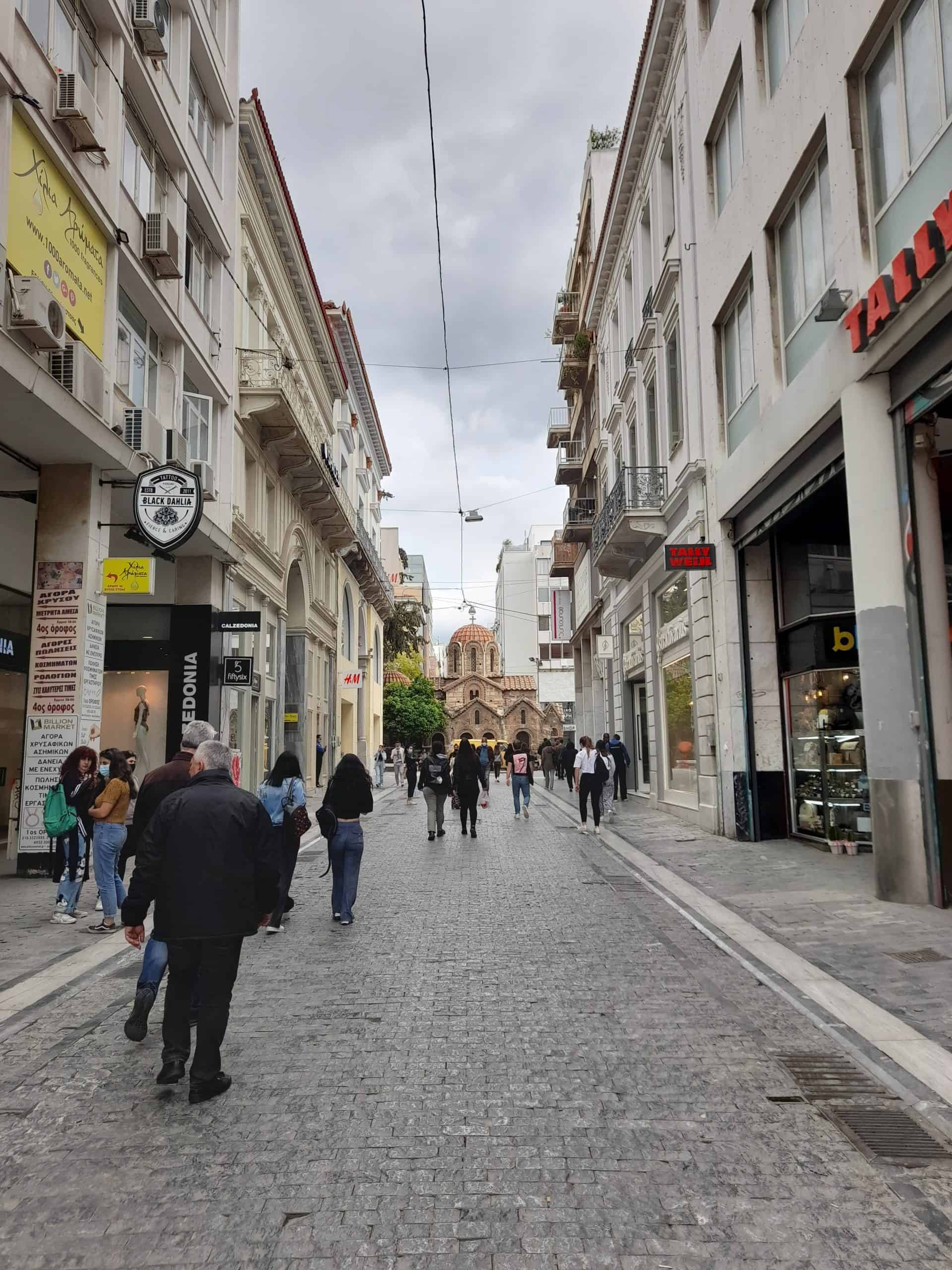 Organising your accommodation is a big part of planning a trip to Greece. Try to book in advance where possible.
This is particularly important if you are visiting Athens during the peak summer months. Advanced booking enables you to secure the best deals.
Do you have any further questions about where to stay in Athens or how to create a Greece travel itinerary? Feel free to reach out to me via the comments below.
I live in Greece and have been based in Pagrati Athens since 2017. I will be happy to answer any questions you may have.
Safe travels. Geia sou, Melissa! xo
---