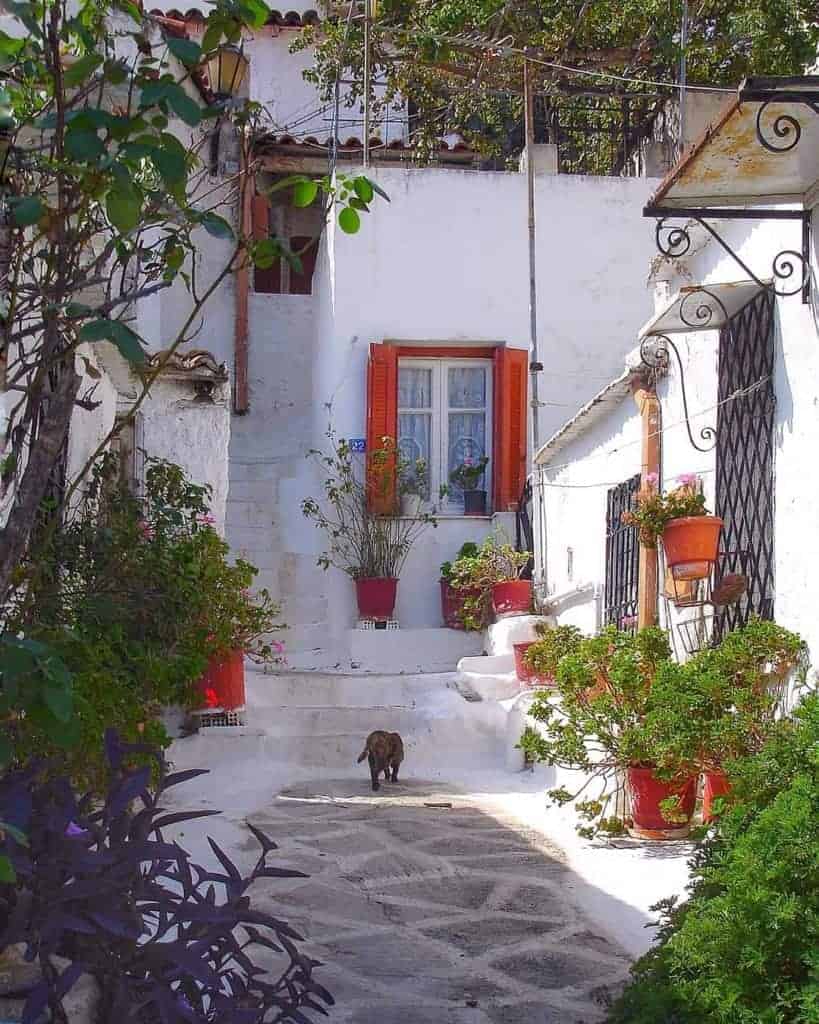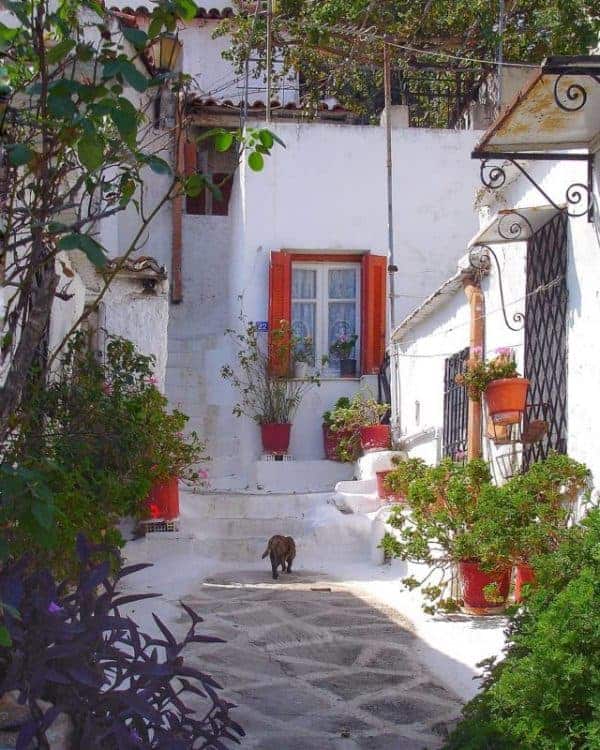 Where to stay in Athens is probably one of your main concerns when planning a trip to the Greek capital. I have lived here for three years now, and have comprised this comprehensive guide to help you choose the best accommodation for your travel style.
Where to Stay in Athens
Where eclectic coffee shops and chic cocktail bars have been built around crumbling ancient ruins and historic boulevards, the Greek capital is a magnificent juxtaposition of an ancient culture that meets modern lifestyle. It can be difficult for first-timers to establish where to stay in Athens.
It is an easy assumption to make to assume that the more central the location, the better, however a lot of the city's beauty and magic lies in the relatively unexplored suburbs. With equal measures of grace and grit, Athens possesses an edginess that is unparalleled in other European capitals.
I have lived in Athens, Greece for almost three years now. You could say that I know it very well – like the back of my hand almost. In my opinion, some of the best places to stay in Athens are the areas that not so many tourists know about, especially if you want to have a more "local" travel experience. I have summarised the Athens neighbourhoods below and then I have provided more information for each district.
Where to Stay in Athens:
The Best Athenian Neighbourhoods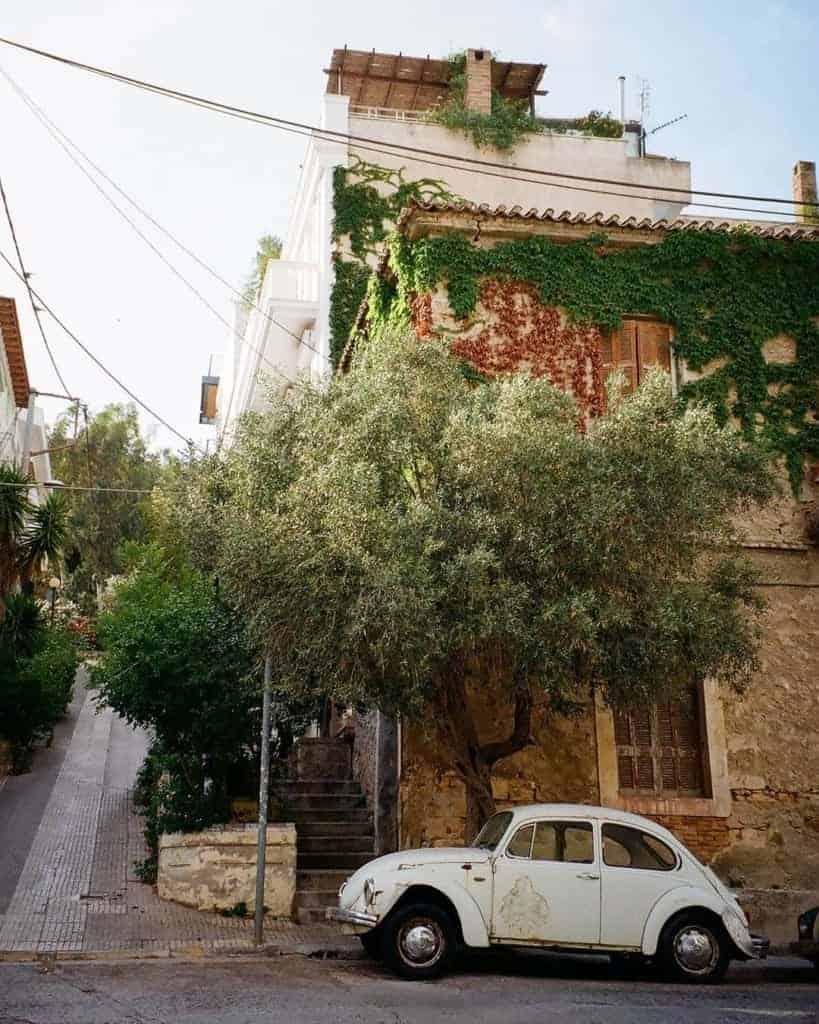 This guide runs through the best neighbourhoods for a comfortable stay in Athens highlighting the best features that each area has to offer and suggesting Athens hotels that suit any budget during your Athens itinerary.
It should be noted that all of the neighbourhoods mentioned in this guide are generally very safe and charming areas. If you want a super-centralised location such as Monastiraki, Syntagma, Psiri or Plaka, I would just advise you to be a little more careful when walking back at night.
Each location boasts plenty of amenities nearby – dining options, bars for evening entertainment, coffee shops, and fast food. For a more "authentic" Athens experience, I would advise you to go a little further afield than the central neighbourhoods.
Each of the neighbourhoods referenced in this guide are well-suited to all types of travellers – from solo travellers to families and older couples.
Koukaki – Quirky stores, bars and art galleries under the shadow of the Acropolis

Pagrati – Local markets, charming coffee places, and a great local vibe

Plaka – Quaint houses and narrow streets that intertwine in the city's historic centre

Psiri – Street art, eclectic themed bars, and an edgy alternative vibe

Vouliagmeni – Beautiful coastlines and pristine beaches

Kolonaki – Stylish neighbourhood with swanky nightlife and designer shopping

Kifissia – Chic upscale neighbourhood with tree-lined boulevards and relaxed vibes

Hilton – Sophisticated neighbourhood with award-winning restaurants and upscale bars


Syntagma – The main central district of Athens

Monastiraki – Central neighbourhood with ample shopping and entertainment options.


Paleo Faliro – Off the beaten path upscale coastal area with wonderful beach bars

Glyfada – Elegant shopping and nightlife district in the Athenian Riviera

Gazi– Athens' main nightlife and entertainment district


Zografou – Cheap and cheerful student district filled with coffee shops and dive bars


Piraeus – Bustling port area filled with tavernas, shops, and restaurants.


Exarchia – Alternative nightlife scene, and thought-provoking street art


Metaxourgio – Great neighbourhood for budget travel and street art. Emerging art scene
Athens

Neighbourhoods
Kifissia
Those looking for the best place to stay in Athens that is away from the chaos of the city centre will certainly enjoy the laid-back atmosphere and elegant ambiance of Kifissia. Kifissia is often referred to as being the Beverly Hills of Athens. Like Kolonaki, Kifissia attracts a well-dressed crowd.
The tree-lined promenades of Kifissia are home to swanky cocktail bars, chic coffee places, and upscale stores. Stepping into Kifissia feels like stepping into another city altogether. The best part about this neighbourhood? Virtually no international tourists know about it!
Kifissia is well-linked to the centre, but it has its own nightlife and social scene. This is a wonderful place to spend your Athens vacation if you want to get away from the crowds.
Budget Hotels in Kifissia, Athens
Mid Range Hotels in Kifissia, Athens
Luxury Hotels in Kifissia, Athens
Koukaki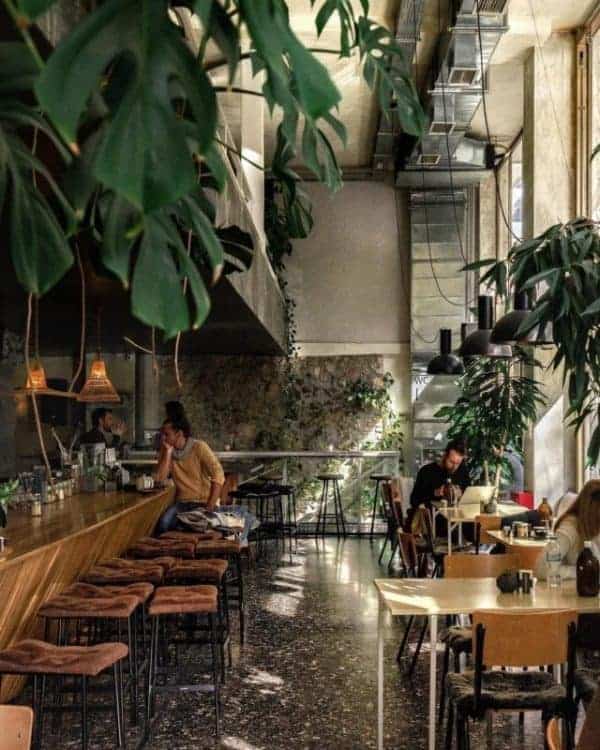 Bursting with personality and creativity, the orange tree-lined promenades of Koukaki are home to some of Athens' most creative spaces. At first glance, Koukaki looks to be a somewhat sleepy Greek residential neighbourhood with its uneven cobbled streets and overhanging palm trees. However, a little exploration in Koukaki uncovers the heart of the Athens art scene and some of the city's most quirky themed bars and cafes.
The heart of Koukaki can be found at Koukaki Square on Georgaki Olympiou Street. With tropical shrubbery hiding the facades of the local bars and restaurants, and oriental style lanterns and fairy lights illuminating the trees, Koukaki feels like a little tropical paradise (even in the winter months) and gives a whole new meaning to the phrase "concrete jungle".
The bars here follow all sorts of weird themes – from New Orleans style jazz bars to Noah's Ark style eccentric cocktail lounges. Koukaki is also the best place for international cuisine in Athens, with restaurants here serving up authentic dishes from around the globe including Thai, Indian and Chinese cuisine.
Budget Hotels in Koukaki Athens
Mid Range Hotels in Koukaki Athens
Luxury Hotels in Koukaki Athens
Gazi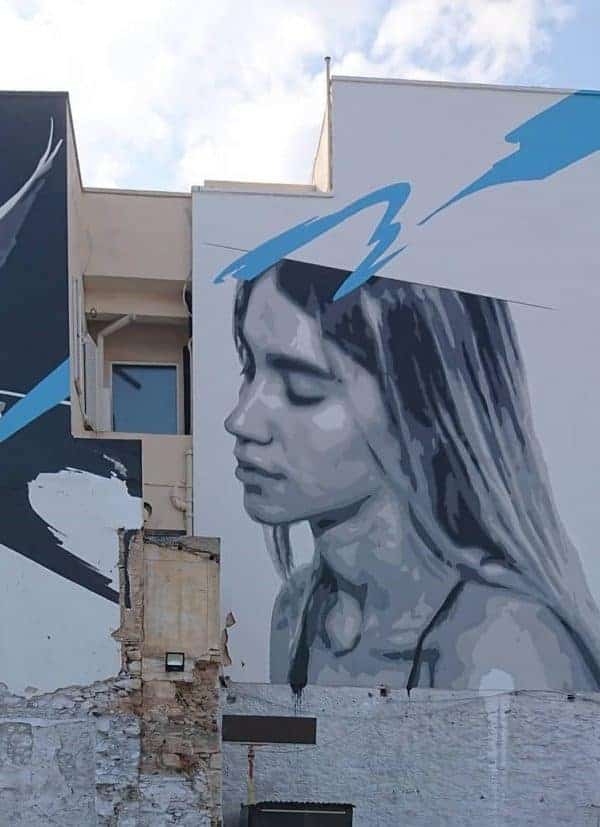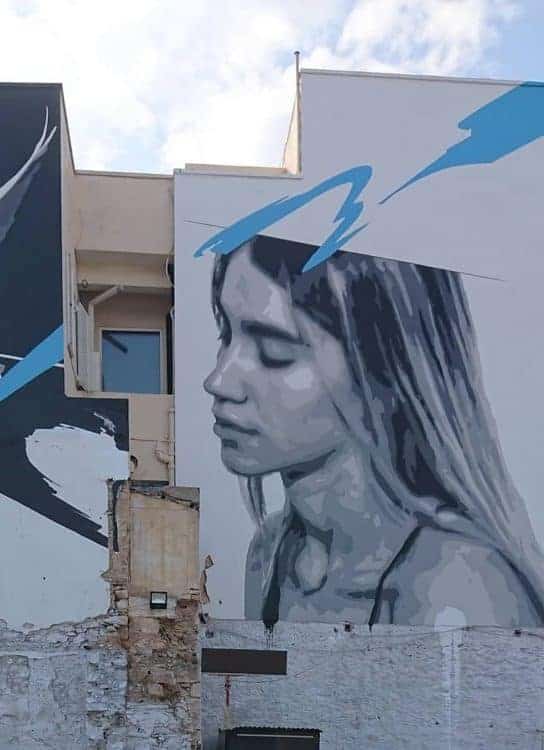 Gazi (gas in Greek) has blossomed over the last few years and emerged as Athens' premier nightlife and entertainment district. By day, Gazi exudes a laid back, boho air.
Young, trendy Athenians sip coffee in the eclectic coffee shops that surround Avdi square and dine at the area's contemporary modern restaurants. By night, the streets of Gazi come alive.
This is the place with the highest concentration of bars and clubs in central Athens. Gazi boasts a little something for everyone.
One unique thing about Gazi is its architecture. While the old gasworks site here has been defunct since the '80s, it still looms over the city. The structure is far from garish and is illuminated by night so as to mark your path to Athens hottest nightlife area.
Gazi is perfect for young travellers, backpackers, and party animals. Away from the main strip and bar area, rest assured you can find places to lay your head in Gazi that are not too noisy. Some of the best Gazi accommodation options are suggested below for each budget.
Luxury Hotels in Gazi
Budget & Backpacker Choices in Gazi
Zografou
Zografou sits to the south of central Athens, close to Pagrati, Hilton, and Kolonaki. The area attracts a youthful crowd on account of its proximity to the Kapodostrian University of Athens.
This is one of the most affordable places to stay in Athens and a popular spot among Erasmus students. Drink beers with locals at one of the dive bars here, or smoke shisha at one of the many Arabian style smoking lounges. Staying in Zografou also puts you in close proximity to Mount Imettus and Kaisariani Monastery – one of the best hikes in Athens.
Luxury Hotels in Zografou
Mid Range Hotels in Zografou
Vouliagmeni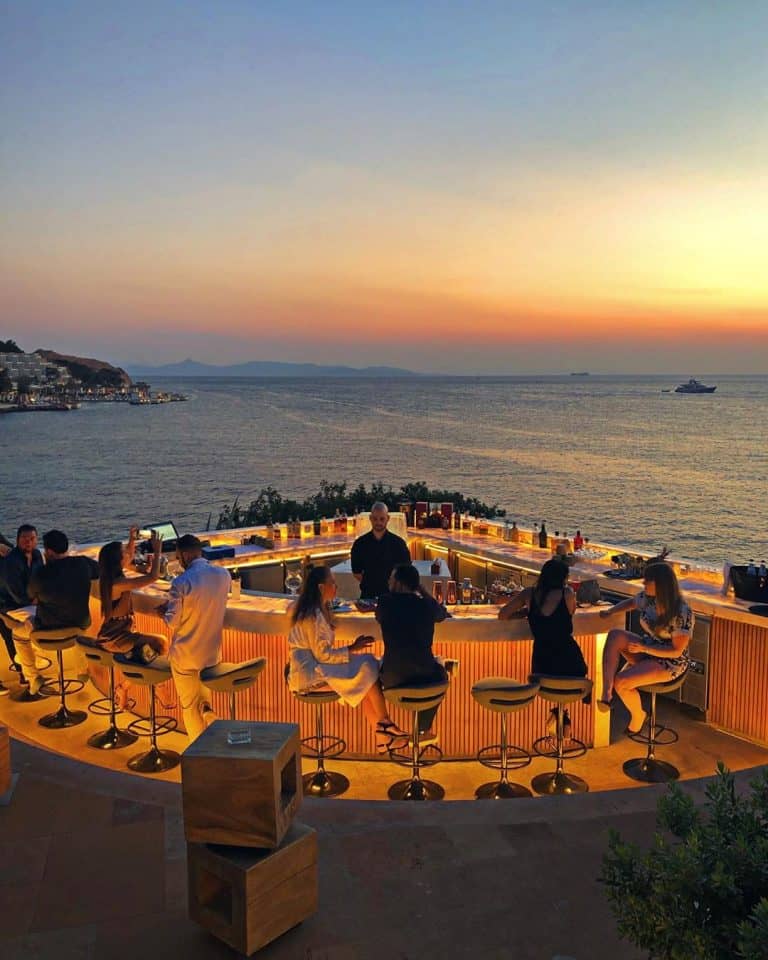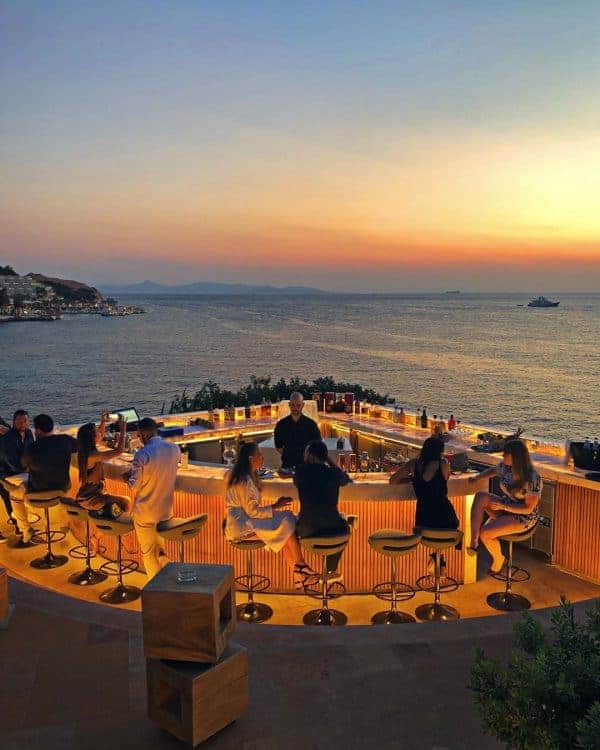 Vouliagmeni is a beautiful coastal area that sits just 20km south of downtown Athens. This pine-clad peninsula boasts cerulean waters and incredible views over the Saronic.
Vouliagmeni is essentially Greece's very own Cote d'Azur. It is beloved by a well-heeled crowd who spend time at the private beach clubs, and fine dining restaurants by the coast. The likes of Frank Sinatra and Brigette Bardot are the caliber of people who have vacationed here over the centuries.
If you want to combine luxury beach travel with a city exploration, Vouliagmeni may well be your perfect Athenian base.
Luxury Hotels in Vouliagmeni
Mid-Range Vouliagmeni Hotels
Piraeus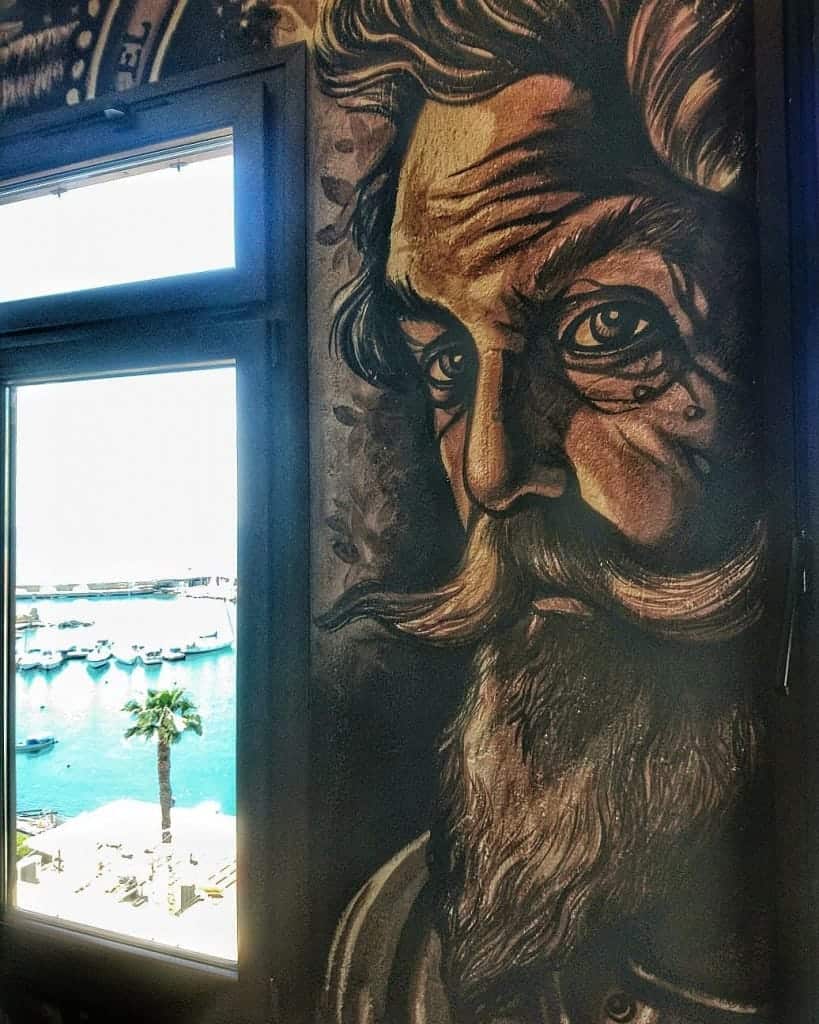 Piraeus is a great place to base yourself in Athens if you are planning on visiting the Greek islands. Ferry routes from Piraeus port take you to the Cyclades and the Saronic islands in just a couple of hours.
Hotel prices tend to be cheaper in Piraeus, making it a perfect place for budget travellers. Metro Line 1 (Green line) takes you from Piraeus to central Athens in less than an hour. You can easily get to and from the Acropolis, Syntagma, and other central attractions in a day.
Piraeus in itself is not considered a tourist destination but there are plenty of "off the beaten path" things to see and do here. Enjoy an afternoon stroll around the colourful residential neighbourhood of Kastella, sip cocktails in upscale Mikrolimano, and haggle your way through the eclectic Piraeus flea market.
Mid-Range Hotels in Piraeus
Budget Hotels in Piraeus
Glyfada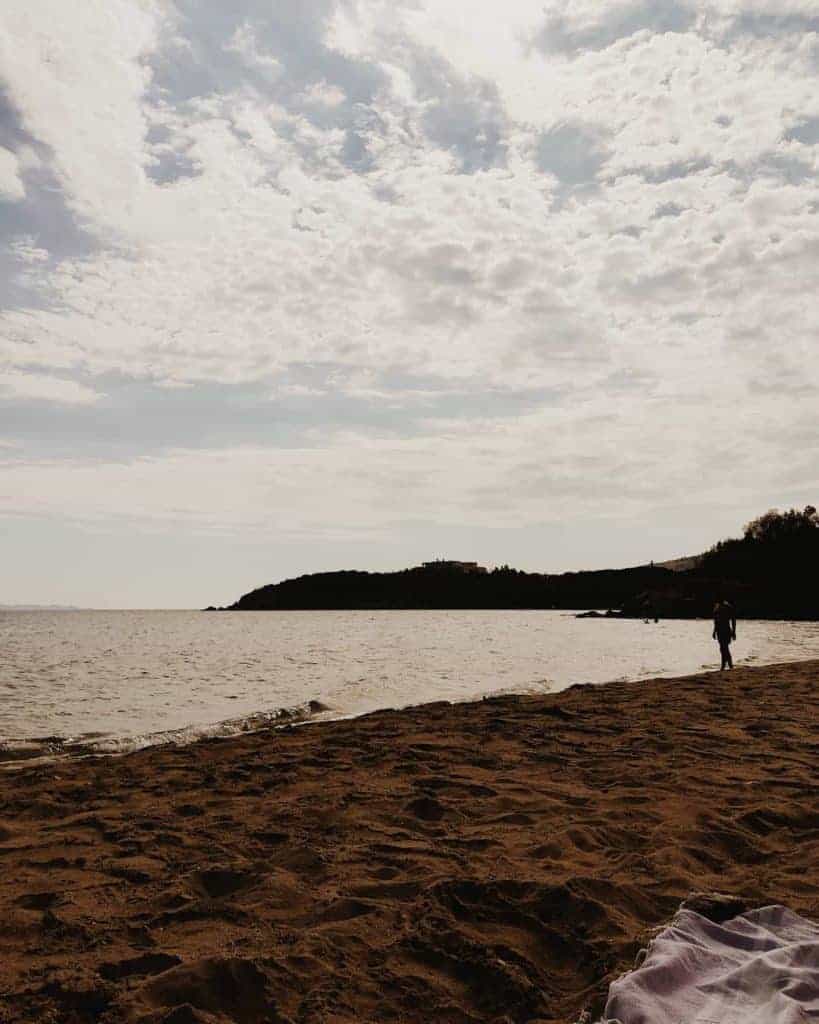 At first glance, Athens may come across as a loud, brash, chaotic concrete jungle. In actuality, we also have beautiful Athenian beaches and coastal areas as well as the cosmopolitan districts.
Glyfada and the Athenian Riviera are situated just thirty minutes out of the centre and are accessible via public transport (metro/tram). Glyfada is referred to as the "Hellenic Hamptons" and is a popular hangout spot for the Athenian elite.
Boutique shopping, glamorous international eateries, and beachfront cocktail bars make Glyfada a perfect base.
Mid Range Hotels in Glyfada
Luxury Hotels in Glyfada
Hilton Neighbourhood
Athens Hilton neighbourhood gleans its name from the nearby luxury Hilton hotel. Everything about the Hilton area exudes class. Some of the finest restaurants in Athens can be found here. Opting to stay here also places you at a short walking distance from the central Syntagma square and upscale Kolonaki.
Budget Hotels in Hilton, Athens
Mid Range Hotels in Hilton, Athens
Luxury Hotels in Hilton, Athens
Pagrati/Vyronas
If you love getting off the beaten path when you travel, away from the tourist hordes and into the heart of authentic neighbourhoods among the locals then the neighbourhoods of Pagrati and Vyronas are perfect for your stay in Athens.
A stay in Pagrati or Vyronas offers an authentic Greek experience in neighbourhoods where tourists seldom venture, where the streets are filled with farmers markets selling fresh local produce, quaint coffee shops where Greek men play backgammon and sip Freddo espressos until the early hours of the morning and traditional bars where live Greek musicians sing to the reception of locals dancing on the tables. The two neighbourhoods practically merge into one.
Mid Range Hotels in Pagrati, Athens
Luxury Hotels in Pagrati, Athens
Syntagma
When deciding where to stay in Athens, Syntagma is a good choice if you wish to stay somewhere that places you right in the very heart of the action. The area is centered around a piazza that hosts many events and festivities during the year such as live musical performances, artisanal markets, and food markets.
Syntagma is within a short walking distance to all of Athens' main attractions – the Greek parliament building lies opposite and a few minutes on foot will take you to the main shopping streets of and, the botanical gardens and the magnificent Acropolis.
Backpacking Hostels in Syntagma Athens
The Student & Travellers Inn
Budget Hotels in Syntagma Athens
Mid Range Hotels in Syntagma Athens
Luxury Hotels in Syntagma Athens
Makriyianni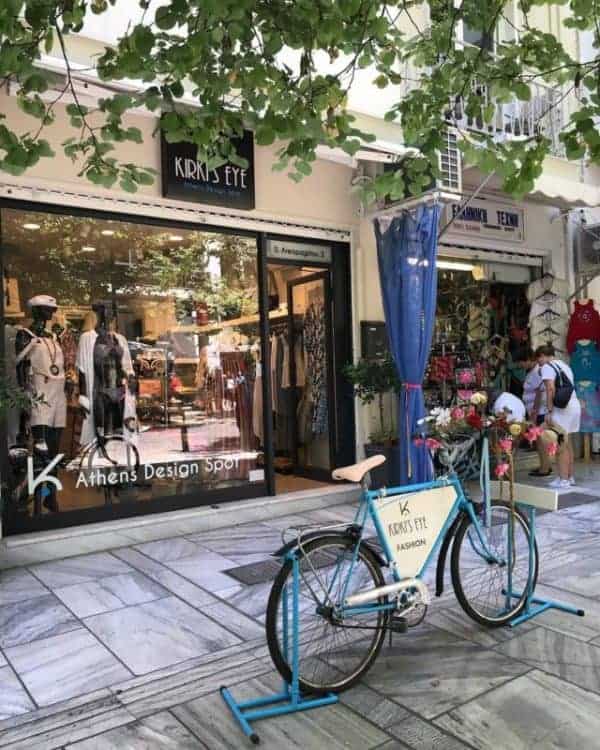 Adjoined to Koukaki, the upscale neighbourhood of Makriyianni is a perfect place to spend your Athens vacation – especially if you only plan to be in town for a couple of days or so. Makriyianni is the neighbourhood that houses the Acropolis and the glittering glass structure of the Acropolis museum.
Makriyianni is very close to Athens' main tourist attractions. You may think that it is crowded with tourists as a result, however, its leafy promenades remain relatively quiet and undisturbed.
After a busy day of Athens sightseeing, weary travellers can enjoy a pleasant evening walk along the tree-lined promenade of Dionysiou Areopagitou where buskers play acoustic and traditional Greek songs, and where pop-up craft stalls are a common sight. The artsy neighbourhood is a popular hang out spot among locals and boasts dozens of patisseries, independent boutiques, art galleries, and upmarket eateries.
Budget Hotels in Makrygianni Athens
Mid Range Hotels in Makrygianni Athens
Acropolis Museum Boutique Hotel
Luxury Hotels in Makrygianni Athens
Kolonaki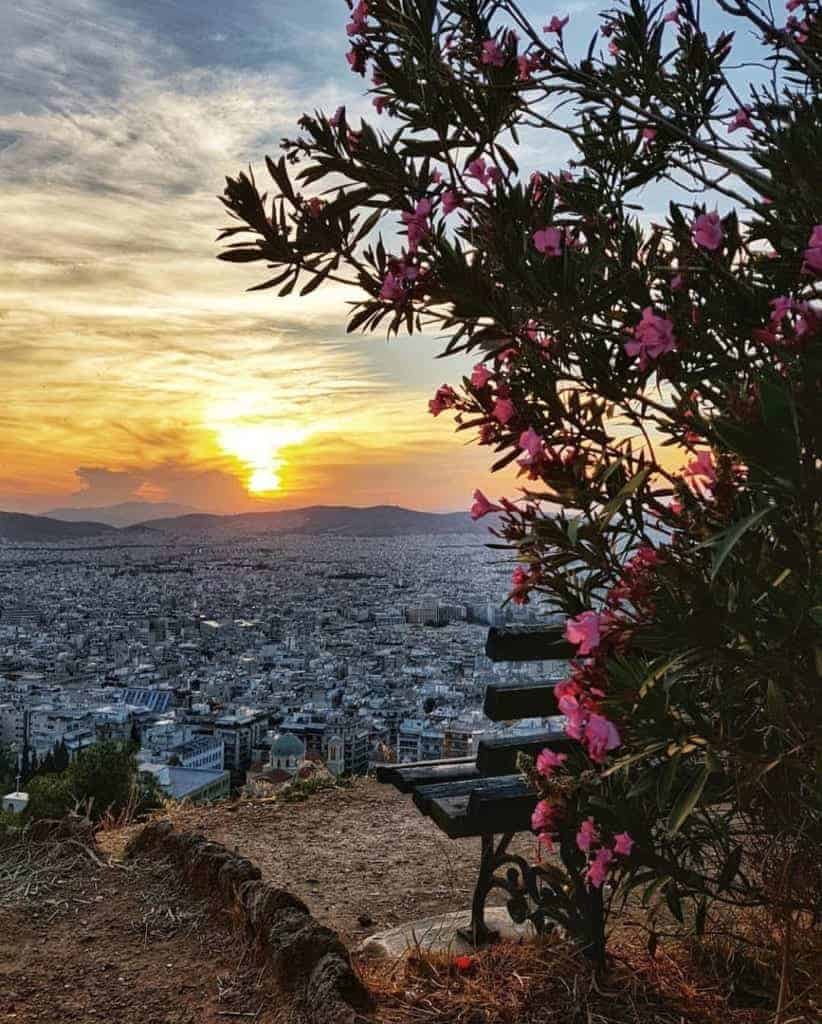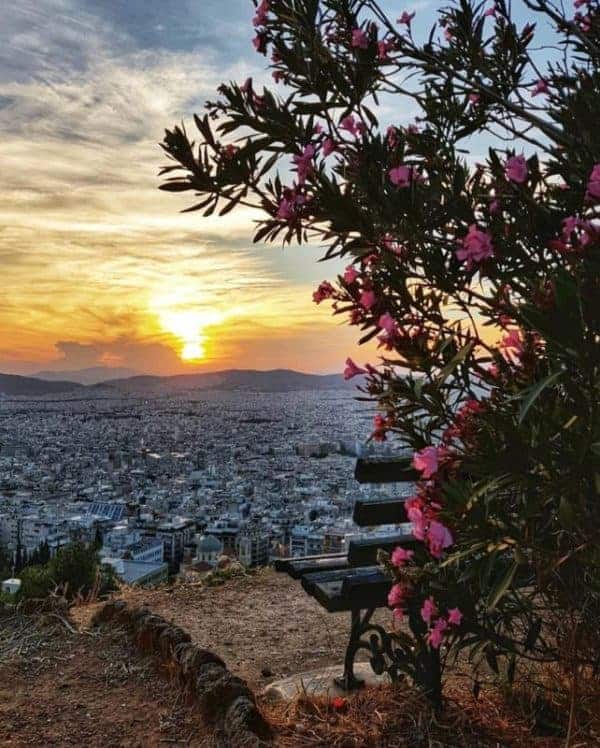 Kolonaki is to Athens what Chelsea is to London or what Beverly Hills is to Los Angeles. Situated on the slopes of Mount Lycabettus, this upscale neighbourhood is the chicest in the city – oozing effortless elegance and sophistication at every turn.
People watching while sitting beneath a cabana at one of the local coffee shops is a pleasant way to pass the time in Kolonaki, as is sipping ouzo and locally sourced wines at exclusive cocktail bars and champagne lounges frequented by Greek celebrities.
The polished storefronts of the shops in the Kolonaki area belong to some of the most luxurious designer brands (think Gucci, Louis Vuitton, et al) as well as a mixture of independent boutique stores owned by trendsetting locals.
Kolonaki is home to some of the very best restaurants and bars in Athens and is situated just a short walk away from the centre of Athens. Getting from Kolonaki to Syntagma square on foot takes between 5 and 10 minutes.
Budget Hotels in Kolonaki Athens
Mid Range Hotels in Kolonaki Athens
Luxury Hotels in Kolonaki Athens
Paleo Faliro
Paleo Faliro is an upscale coastal neighbourhood that acts as a midway point between Alimos and the Athenian Riviera. Few tourists know about Paleo, making it a perfect place to base yourself if you want to be off the beaten path. Elegant storefronts line the streets of Paleo, along with fantastic tavernas and seafood restaurants that attract a well-heeled crowd.
If you travel to Athens during the summer months, the additional plus side of staying in Paleo Faliro is its proximity to excellent beach bars and clubs that frequently host live DJs and all-night beach parties.
Luxury Options in Paleo Faliro
Mid Range Options in Paleo Faliro
Psiri
Centered around the lively Iroon square, Psiri is the central nightlife district of Athens home to restaurants, bars, and bistros that remain open until the early hours of the morning.
Though this is one of the most bustling neighbourhoods in central Athens, if you choose a hotel in Psiri that is tucked away within the neighbourhood's back streets then you don't have to worry too much about noise and disturbances.
Psiri has something of a punky underground feel to it. Many of the bars and pubs here are teeny tiny hole in the walls big enough to house just a handful of people or centered around a particular alternative music scene.
Greek microbrews and ales are popular in this district, as are independent beers from around the globe. Night owls and party animals can take a short walk from Psiri to Gazi – the heart of the Athens nightlife scene.
Mid Range Hotels in Psiri
Luxury Hotels in Psiri
Plaka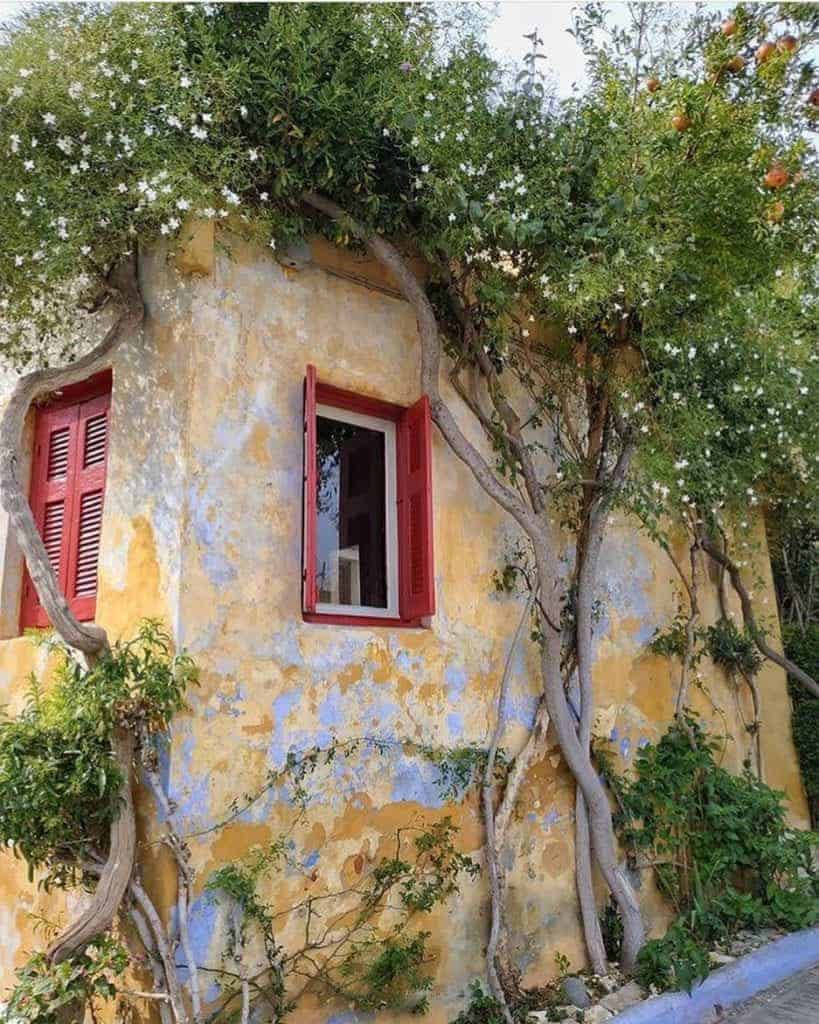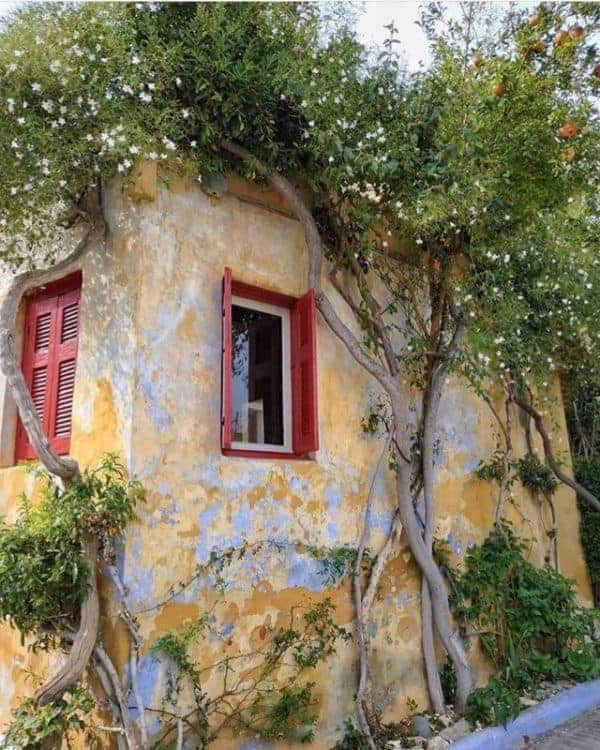 The charming neighbourhood of Plaka is one of the oldest and most historic in Athens. The labyrinth-like network of narrow cobbled streets here leads you up towards Anafiotika and the Acropolis and some of the best views over the Greek capital. If there was to be a neighbourhood of Athens labeled as the tourist district then Plaka would be it, however, it is so charming and pleasant that it is quickly forgiven.
The bars in Plaka host numerous traditional performances for the benefit of tourists – from plate smashing to traditional Greek music and the chance to participate in a Zorba dance. Sitting outside one of these bars with homemade sangria and a good book is a perfect way to spend a relaxing evening in Greece.
Budget Hotels in Plaka
Mid Range Hotels in Plaka
Luxury Hotels in Plaka
Exarchia
The graffiti-laden streets of Exarchia make up Athens' most alternative neighbourhood. Here, virtually every building and section of wall is covered in street art, much of which is politically-motivated.
Exarchia is not everyone's cup of tea, due to the neighbourhood's links to anarchist groups. However, that is not to say that it should be written off completely. Punky, edgy, and artsy, Exarchia is filled with alternative rock bars, stores selling old vinyl records, and homely tavernas.
You should be cautious when exploring Exarchia, especially during political demonstrations as clashes between anarchist groups and the police do happen from time to time. If you choose to stay here, be mindful of your surroundings and don't walk alone at night.
Luxury Hotels in Exarchia
Mid Range and Budget Hotels in Exarchia
Metaxourgio
Metaxourgio, like Exarchia, is an Athenian neighbourhood that does not have the best reputation. Until recent years, Metaxourgio was synonymous with crime, and the less desirable types that loitered around Karaiskakis square.
The area has worked hard to try and shake off its negative reputation. In recent years, it has emerged as an "up and coming" art district. Dozens of independent art galleries line the streets of Metaxourgio showcasing the works of emerging Greek and international artists. The cheaper rent in this neighbourhood attracts young designers and entrepreneurs.
While Metaxourgio is still not perfect, the hotels here are very affordable and it can be a good option if you are on a budget. Take a cab back to your hotel in the evenings, and avoid walking around in the district at night and you will be fine.
Luxury Hotels in Metaxourgio
Wyndham Grand Athens
Wyndham Athens Residence
Budget & Mid Range Hotels in Metaxourgio
Getting Around Athens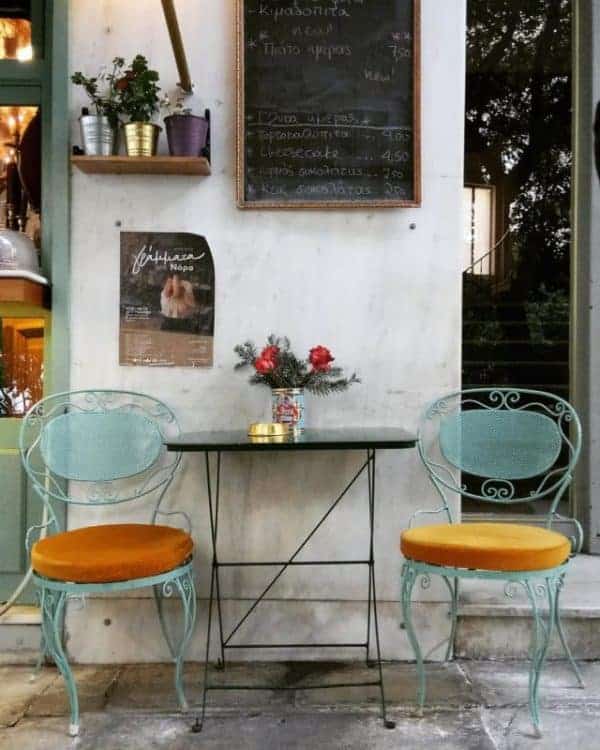 If the neighbourhood that appeals to you the most as the best place to stay in Athens is somewhere a little further out from the centre then you should certainly not be deterred from staying there. Athens has an excellent public transport network of buses, trains, and trams, all of which run on a frequent schedule.
Getting a cab from one area to another is seldom more than a few euros. I would advise you to download the "BEAT" taxi app for finding cabs. This app displays the price of the journey before getting into the car and helps you to avoid being ripped off by the cab drivers.
Alternative Accommodation Options
If you prefer to travel like a local, I would also strongly recommend that you consider travelling via Airbnb. I rent an Airbnb apartment to myself everywhere I travel and it gives me a lot more freedom and flexibility as compared to staying in hotels.
To give one example of why I find Airbnb convenient, I love that I can prepare my own meals and not eat at restaurants constantly! If you are new to Airbnb, High Heels & a Backpack readers can receive a generous $40 discount off their first Airbnb stay by signing up here.
Athens is generally relatively safe. However, as with any city there are a few neighbourhoods that are a little grittier and should not be your first choice.
If you decide that you want to rent an Athens Airbnb, I would advise you to be extremely cautious when choosing properties in the city centre. Check the map to see the approximate location of your rental, and ask your host to clarify which neighbourhood it is in if you can.
There is a trend of Airbnb owners purchasing properties in Exarchia and falsely marketing it as a safe, hip area. While I do personally like Exarchia, it is prone to riots and clashes between locals and the police. As such I think everyone ought to know what they are truly going into.
Parting Words
Since organising your accommodation is a big part of planning a trip to Greece, I'd recommend booking in advance where possible to secure the best deals.
Have any further questions about choosing the best neighbourhoods in Athens, planning a Greece travel itinerary or Athens travel in general? Feel free to reach out to me via the comments below.
I live in Greece and will be happy to answer any questions you may have. Safe travels. Geia sou, Melissa! xo
Disclaimer: This guide may contain affiliate links. This means that if you choose to make a purchase through one of the links on this page, I will receive a small amount of commission at no additional cost to you. Thank you for understanding.
---