Greek souvenirs can be a great personal reminder of your trip to the Mediterranean. They are also a wonderful way of helping your friends and family experience a little sampler of Hellenic culture, even if they haven't been fortunate enough to embark on a Greek adventure of their own just yet!
Greek Souvenirs to Purchase During Your Trip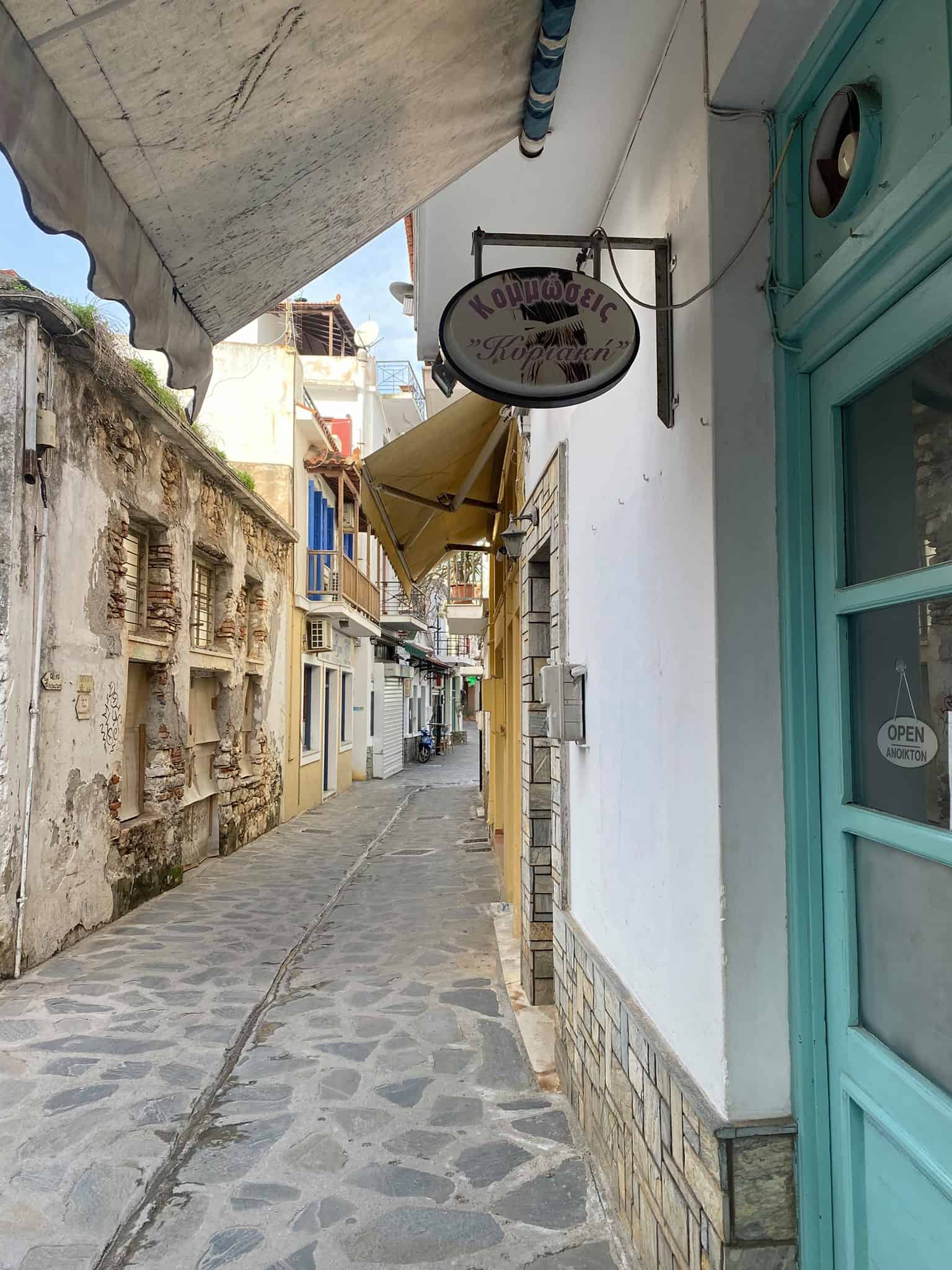 Souvenirs get a bad rep. Yet Greek souvenirs can be tasteful, interesting, and a fabulous cultural immersion.
Spoon Sweets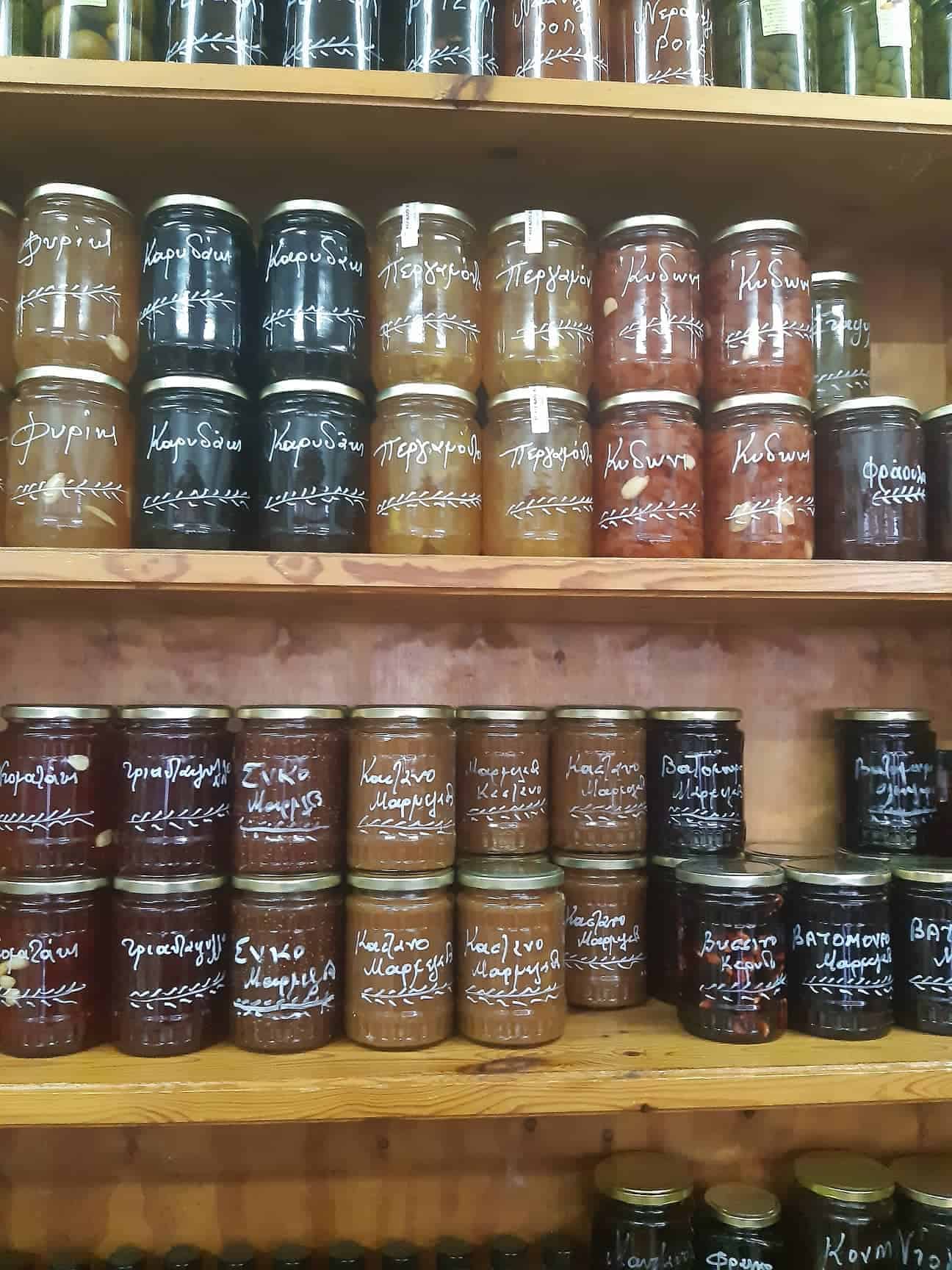 Spoon sweets are often served alongside Greek yoghurt as a complimentary dessert in restaurants and tavernas in Greece. They are a staple in any Greek home, known locally as glyko tou koutaliou.
Each Greek family likely has a favourite spoon sweet recipe that they follow "just like yiayia" used to make. Indeed, the tradition of spoon sweets dates way back to ancient times when preserving fruits was a necessary part of the harvest process.
Spoon sweets consist of preserved fruits that are stored in jars of a sticky, sweet syrup. Unlike jams and marmalades, the fruits inside are usually firm, whereas the syrup that surrounds them is runny and sugary.
If you saw a jar of spoon sweets on display with little knowledge of what it was, you might be quite put off by the appearance and description. However, spoon sweets are delicious! They make a truly unique Greek souvenir for your loved ones back at home.
You can find spoon sweets in delicatessens, agro product stores, bakeries, and patisseries across Greece. There are a vast array of sweets available, and the type of fruit preserved may depend on the place where you purchase the sweets from.
For instance, plums are famous on Skopelos island. As such, virtually every store in Skopelos town sells plum spoon sweets.
Greek Cheeses
Greece may be famous for feta cheese. However, Greek cheeses extend way beyond this dinner table staple.
A selection of Greek cheeses prepared with local jams and preserves in a hamper makes a wonderful, edible gift. Some cheeses are also native to specific regions.
For instance, metsovone cheese is a flavourful smoked cheese that is produced only in the vlach village of Metsovo, Epirus. It's a semi-hard cheese that is in the pasta filata family of cheeses. It's made from either cow's milk, or a combination of 80% cow's milk and 20% sheep/goats milk depending on the manufacturer.
Hard Kefalotyri cheese is also made from a combination of goat and sheep's milk. It's often used for grating over pasta and hotpot dishes and would make a great addition to your friends' pantries.
Most Greek cheeses (including feta and metsovone) are PDO/product of designated origin products. This means they cannot be produced outside Greece and in some cases, outside specific areas of Greece.
Handmade Leather Sandals
Handmade leather sandals are one of the most stylish Greek souvenirs that you can purchase during your trip. Not to mention, the ones that are most likely to see a lot of use.
You will find a lot of leather good stores scattered throughout the country. In Corfu, for instance, virtually every narrow street and marketplace sells handmade leather sandals and purses. Many of which are very well made and sold for a good price.
If you are looking for the best of the best, venture to Monastiraki market when you are shopping in Athens. Here you will find a store called Melissinos.
This is a family business that has been making gorgeous leather sandals in a traditional manner since the 1920's. Better yet, the owners have a long list of satisfied celebrity clientele. Sophia Loren, Sarah Jessica Parker, and John Lennon, among others, have shopped here.
A Backgammon Game
If there were to be a national boardgame of Greece, backgammon would be it. 9 times out of 10, when you venture inside a coffee shop, particularly if it's an old-fashioned kafenion, the store will have a backgammon board available for you to borrow.
It's almost a quintessential image of Greece – old-timers sitting outside of a kafenion sipping ellinikos kafes and playing backgammon. If you are unfamiliar with backgammon, the set consists of a wooden playing board (comparable to checkers/chess), 15 white pieces, 15 black pieces, and two dice.
As there are different strategies playable in chess, there are different "games" played in backgammon. In Greece, fevga, plakoto, and portes are the most common. They are relatively straightforward to master, and you can find a number of tutorials and youtube videos online.
Antiques and Knick-Knacks
The streets of Psiri, Athens are lined with antique stores. For decades, this part of the Greek capital has been renowned for its eccentric vendors selling collectibles, valuable old furnishings, unique art pieces, jewelry and trinkets.
You may have to rummage around to uncover a great find – much like antique shopping anywhere in the world. However, what Greek souvenirs could be better than a painting or a piece of furniture that you found in a mysterious old store in Athens once upon a time?
Greek Beauty Products
You can find a lot of international beauty brands in Sephoras and Hondos Center stores in Greece. However, like anywhere, Greece also has a few domestic name beauty brands.
Korres and Apivita are two major Greek skincare brands. They are great Greek souvenirs to buy in Greece, even if the former is available internationally.
One great gift idea is perhaps to pull together a beauty kit of skin and pamper products from an array of Greek brands. Many products contain a lot of natural ingredients that are unapologetically Greek – honey, Greek yoghurt, etc.
What's more, you will find a lot of touristic shops everywhere from Paxos to Crete selling special homeopathy-style handmade beauty products. For instance, special soaps made with olive oil, etc.
Komboloi Beads
Komboloi beads are essentially worry beads. They are used in Greek and Cypriot cultures whereby a person will run them through their hands when trying to distract themselves from worrying thoughts.
Komboloi beads do not have religious associations. Yet, the concept of them is somewhat based on the idea of prayer beads that are used by various faiths. For example, Catholic rosary beads.
You will find colourful komboloi beads hanging up outside of stores across Greece in virtually every colour and pattern available. However, a lot of the beads sold in touristic places like Monastiraki market and Syntagma square are made from synthetic materials and are not of a good quality.
Better quality komboloi are made from wood, precious stones, and other materials. If you are looking for something special that a Greek person would actually buy and use, these are arguably a better souvenir than the plastic touristic alternatives.
Greek Chocolate, Candies, and Snacks
Fancy deli products and preserves are a great edible gift from your Greece itinerary. However, so too are simple snacks and treats that you would not be able to find back at home.
"Lacta" and "Ion" are Greece's main chocolate brands. They are to Greece what Cadbury's is to the UK, and what Hershey's is to the US.
Traditional "plain" Ion chocolate is a wonderfully creamy milk chocolate that has been produced in Greece since 1927. The Lacta line of chocolates has existed in Greece since the 1960s, and was the brainchild of the Pavlidis confectioner.
There are a vast array of Lacta products. For instance, Lacta milk chocolate, Lacta with strawberry filling, Lacta with caramel filling, etc.
You will also find unique snacks and potato chips/crisps in Greece that you haven't seen before. For instance, ever tried oregano crisps?
Can you think of a more Greek crisp flavour? Stocking up on snacks and sweet treats is a great way to do Greek souvenirs on a budget.
A Karagiozis Figure
As you meander through the streets of Athens, you may notice several stores selling obscure, almost creepy-looking puppets. More than likely, these are karagiozis puppets.
Karagiozis is a shadow puppet with origins in Greek folk tales. He actually originates from the Turkish shadow play Karagöz and Hacivat, and represents a poor Greek person living in Greece during the Ottoman era.
Almost every Greek has grown up with Karagiozis. From the young to the old, it would be hard to find someone who wasn't at least a little familiar with the puppet's plays, stories, and escapades.
You can find some really beautiful, carefully handcrafted Karagiozis puppets in Plaka and Thissio. For sure, there are sets of Karagiozis puppets for every budget. However, some of them are collector items and a little more expensive. 
Ouzo and Other Greek Alcohol
Greek alcohol is unique and seldom enjoyed outside of Greece. Ouzo is essentially the country's national drink.
This strong, anise-flavoured beverage makes a regular appearance on tables at restaurants and tavernas. It is customary for locals to order a carafe of ouzo or two to share among friends and dinner companions.
The drink is enjoyed neat over ice. You can find varieties of ouzo made all over the country. Each region may follow different recipes and production methods.
If you want to buy unapologetically Greek souvenirs, consider buying your relatives some ouzo. Of course, you can buy ouzo at any supermarket and off license in Greece.
Ouzo sold in little bottles at touristic stores is usually overpriced and not the best quality. For the best of the best, head to Angelo´s ouzo store in Athens´ Plaka district. His store at 120 Adrianou street stocks hundreds of varieties of ouzo – perhaps the most extensive collection you will find anywhere!
Evil Eye Charms (Mati)
Evil eye charms or ¨mati¨ are sold at most souvenir shops across Greece. You can buy various different charms to wear as jewelry, attach to luggage, or hang up in your home.
The superstition of the ¨evil eye¨ in Greece says that if someone glares at you with a negative intention (for instance, anger, jealousy, etc), they can pass on a curse. This curse can result in a variety of negative effects – from illness to bad luck! Whether you believe the superstitions or not, these little blue talismans make lovely Greek souvenirs.
Olive Oil and Olive Products
Greece produces 300,000 tons of olive oil every year. That is a lot when you consider the size of this little country.
The oil is produced in one of Greece's 17 PDO regions. Olive oil consumption is high here, with the product being a staple in a vast number of Greek recipes. However, exports are also relative.
The rugged Peloponnese region is particularly well known for its olive oil production. Kalamata olives especially are renowned across the world.
In the west, olive oil may just be something that is absent mindedly poured over salad or splashed in the bottom of a frying pan. However in the Mediterranean, there is a serious art to creating quality olive oil.
Head inside any agro products store in Greece and request a tasting of the various olive oils they stock. You may be surprised by how different the quality is between the different products, and how delicious simple olive oil can be.
The different species of olives used across the country has a large impact on the resulting flavour. For instance, the Eastern Peloponnese uses the manaki variety of olives which makes sweeter olive oils.
Conversely, Crete, Greece's largest olive oil-producing island creates a lot of products using Koroneiki olives or the native varieties of Tsounati, Throumbalia, and Hondrolia. As such, each product has very different characteristics. A bottle of quality olive oil makes a wonderful gift.
Parting Words
Still stuck as to what Greek souvenirs to buy your loved ones from your Greek island hopping adventure? Have some other questions about drawing out your Greece itinerary? Feel free to drop me a comment below.
I've lived in Greece since 2017. I'm always happy to help out as best as I can.
Safe travels! Geia sou! Melissa xo
---