Greek souvenirs can be a great personal reminder of your trip to the Mediterranean. They are also a wonderful way of helping your friends and family experience a little sampler of Hellenic culture, even if they haven't been fortunate enough to embark on a Greek adventure of their own just yet!
32 Greek Souvenirs to Buy in Greece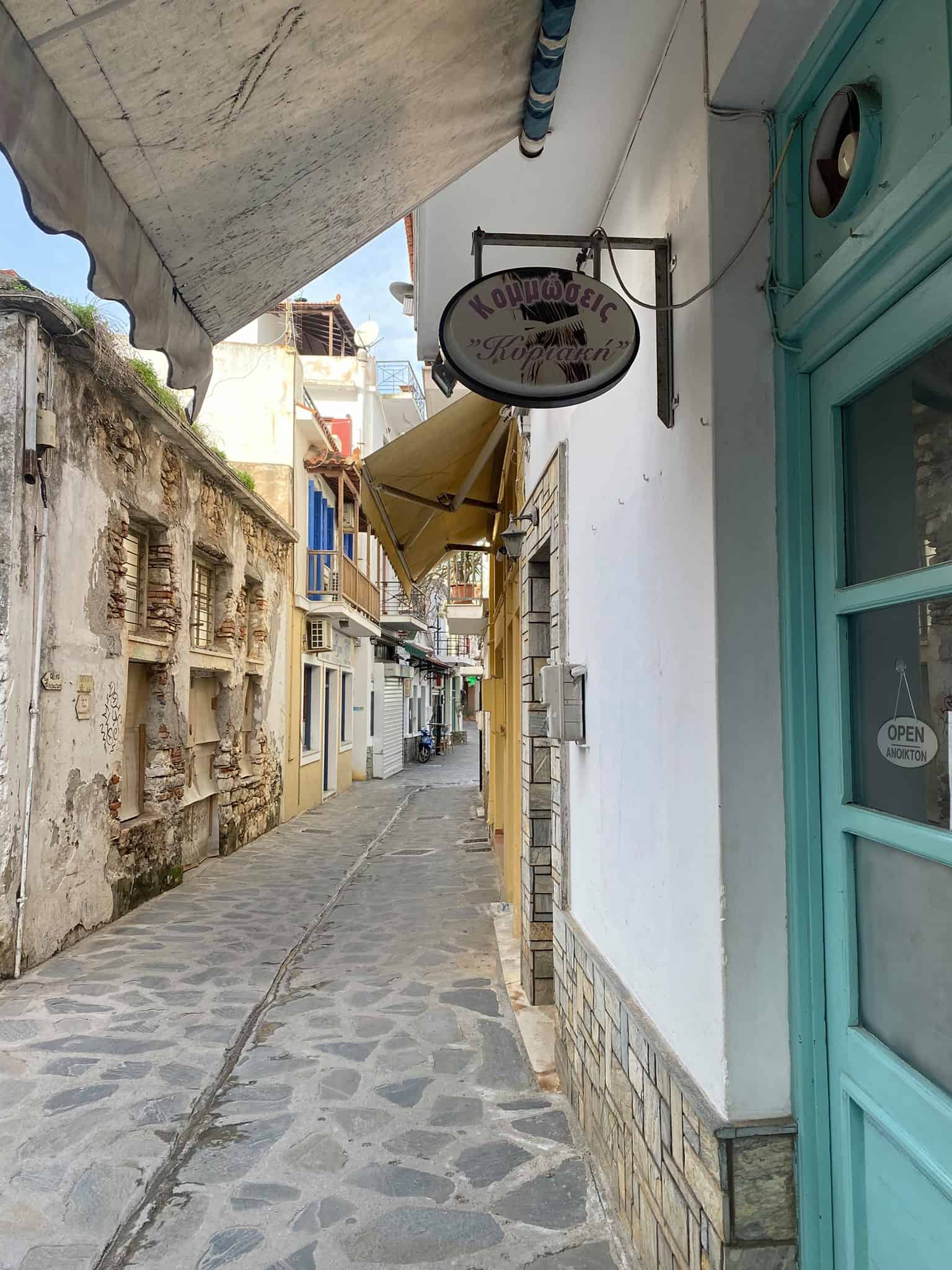 Souvenirs get a bad rep. If you mention Greece souvenirs to a lot of people, the first image that pops into their minds is likely that of fridge magnets and tacky t-shirts.
However, Greek souvenirs can be tasteful, interesting, and a fabulous cultural immersion.
When you travel in this beautiful Mediterranean country, it is easy to pick up souvenirs that go way beyond your typical tourist tat. Greek souvenirs can introduce you and your loved ones to aspects of Greek culture that you were not previously aware of.

Similarly, you can find excellent Greek souvenirs that double as thoughtful international home decor items and fit well into your home for years to come. Unique items here do not have to break the bank either.
Best Greek Souvenirs to Buy in Greece
Spoon Sweets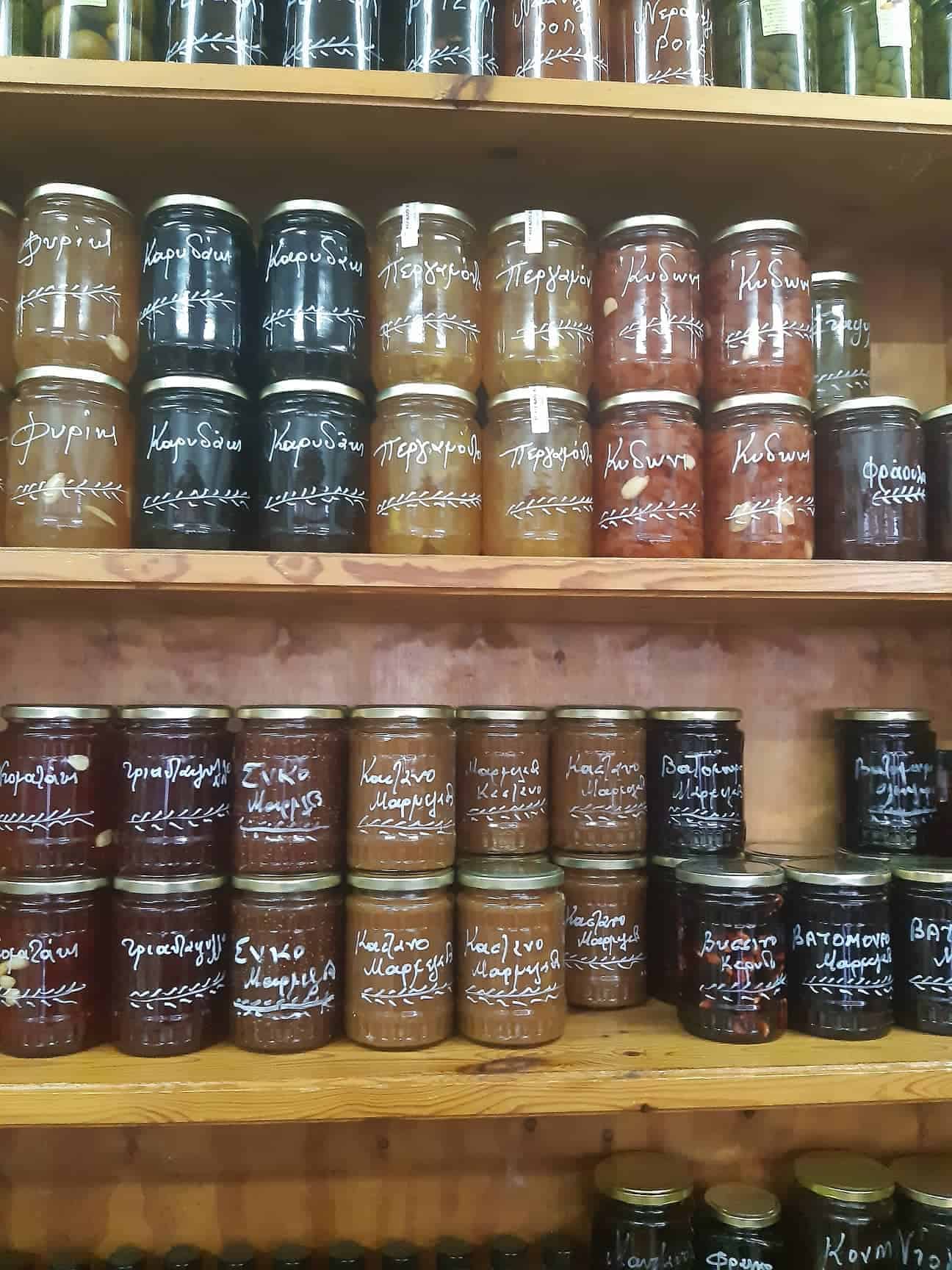 Spoon sweets are often served alongside Greek yoghurt as a complimentary dessert in restaurants and tavernas in Greece. They are a staple in any Greek home, known locally as glyko tou koutaliou.
Each Greek family likely has a favourite spoon sweet recipe that they follow "just like yiayia" used to make. Indeed, the tradition of spoon sweets dates way back to ancient times when preserving fruits was a necessary part of the harvest process.
Spoon sweets consist of preserved fruits that are stored in jars of sticky, sweet syrup. Unlike jams and marmalades, the fruits inside are usually firm, whereas the syrup that surrounds them is runny and sugary.
If you saw a jar of spoon sweets on display with little knowledge of what it was, you might be quite put off by the appearance and description. However, spooned sweets are delicious! They make a truly unique Greek souvenir for your loved ones back home.
You can find spoon sweets in delicatessens, agro-product stores, bakeries, and patisseries across Greece. There are a vast array of sweets available, and the type of fruit preserved may depend on the place where you purchase the sweets from.
For instance, plums are famous on Skopelos Island. As such, virtually every store in Skopelos town sells plum spoon sweets. 
Natural sponges 
You will find a lot of natural sponges for sale in little stalls in the Dodecanese islands like Rhodes, Kalymnos, Kos, and Symi. They are harvested regionally and Kalymnos has been known as the sponge divers island since ancient times. (Even Aristotle and Homer mentioned Greek sponges in their works!)
These are great beauty items to buy for yourself or as gifts. Natural sponges are healthier and last longer than synthetic sponges – they are soft on the skin and can help you to work your shower gels and bath creams into a lather.
They are biodegradable and contain natural enzymes that prevent bacteria from growing on the sponge.
(And don't worry – Greek sponges are harvested ethically. The divers take only a small segment of the sponge so that it will easily grow back and continue to thrive). 
Greek Cheeses
Greece may be famous for feta cheese. However, Greek cheeses extend way beyond this dinner table staple.
A selection of Greek cheeses prepared with local jams and preserves in a hamper makes a wonderful, edible gift. Some cheeses are also native to specific regions.
For instance, metsovone cheese is a flavourful smoked cheese that is produced only in the Vlach village of Metsovo, Epirus. It's a semi-hard cheese that is in the pasta filata family of cheeses.
It's typically made from cow's milk. However, a combination of 80% cow's milk and 20% sheep/goat's milk is sometimes used depending on the specific manufacturer.
Hard Kefalotyri cheese is also made from a combination of goat and sheep's milk. It's often used for grating over pasta and hotpot dishes and would make a great addition to your friends' pantries.
Most Greek cheeses (including feta and metsovone) are PDO/products of designated origin products. This means they cannot be produced outside Greece and in some cases, outside specific areas of Greece.
Handmade leather sandals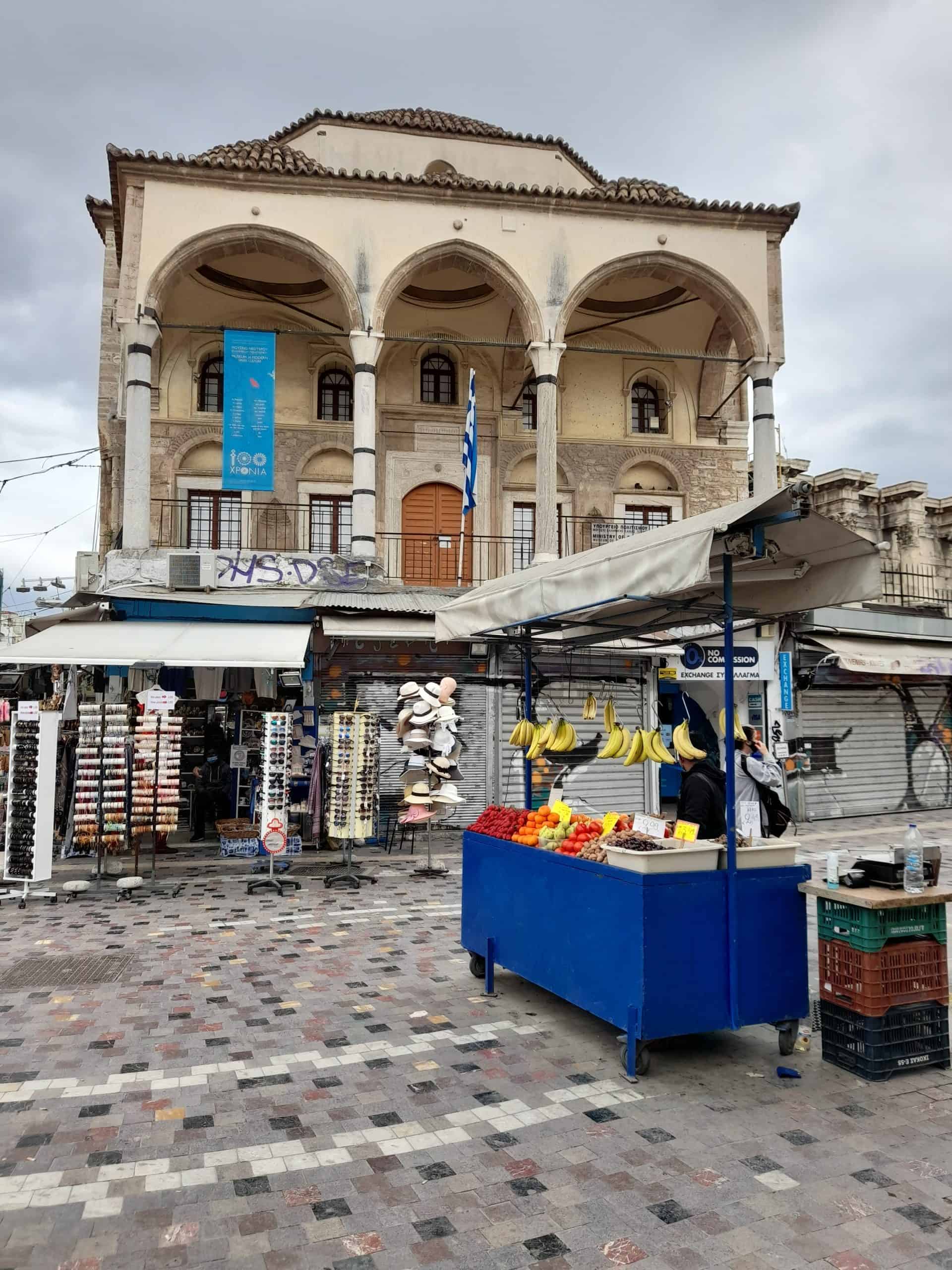 A pair of handmade leather sandals are one of the most stylish Greek souvenirs that you can purchase during your trip. Not to mention, the ones that are most likely to see a lot of use. 
You will find a lot of leather goods stores scattered throughout the country. In Corfu, for instance, virtually every narrow street and marketplace sells handmade leather sandals and purses. Many of which are very well made and sold for a good price.
If you are looking for the best of the best, venture to Monastiraki market when you are shopping in Athens. Here you will find a store called Melissinos.
This is a family business that has been making gorgeous leather sandals in a traditional manner since the 1920s. Better yet, the owners have a long list of satisfied celebrity clientele.
Sophia Loren, Sarah Jessica Parker, and John Lennon, among others, have shopped here.
Greek coffee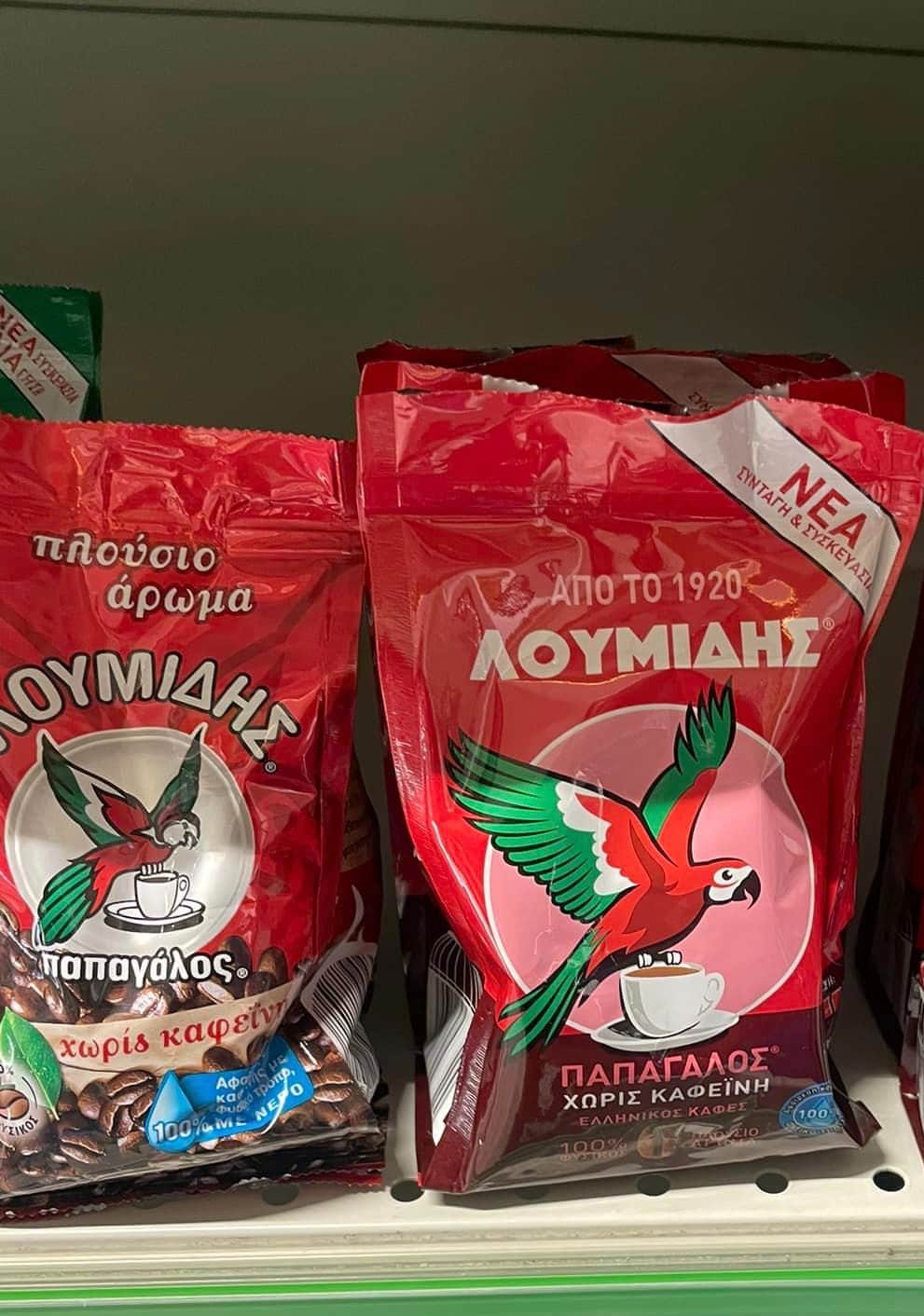 Coffee culture is huge in Greece and locals will dedicate hours of their day to catching up with their friends over a Freddo cappuccino or a traditional Greek coffee. Traditional Greek coffee is comparable to Turkish or Arabic coffee.
It is strong and is prepared over hot coals in a copper briki, before being served in a short espresso cup. Sugar is added as desired and the coffee is usually served with a side of rose lokoumi.
Traditional Greek coffee (Ellinikos Kafe) is not for everyone. However, it makes a nice Greek souvenir for coffee lovers that you may know.
You will find several variations of Greek coffee in stores and supermarkets across Greece. The most popular is perhaps Loumidis Papagalos (ΛΟΥΜΙΔΗΣ ΠΑΠΑΓΑΛΟΣ).
It is sold in little bags and can be distinguished by its bright red or bright green packaging along with an image of a bird. You might want to pair your coffee gift with some apparatus too. 

If so, you can purchase a copper birki. These can be found everywhere but you can get some particularly ornate-looking pots from the antique stores in Thissio, Athens.
Greek pasta
Traditional Greek pasta makes a great souvenir or gift for the foodies in your life. Pasta is not just a delicacy that is enjoyed in nearby Italy.
It is also a very prominent part of Greek cuisine and different types of regional pasta are lovingly handmade for use in different dishes around the country. Most Greek kinds of pasta are made with wheat, eggs, and milk – similar to the way that tagliatelle and Italian egg pasta are made.
Kouskousaki, chylopites, trachanas, kofto makaronaki, and kritharaki are some of the most popular varieties that you can find. You will find Greek pasta sold in souvenir stores and delis across Greek islands and cities.
However, arguably the best Greek pasta is those that are produced in rural areas such as Zagorohoria or Karpenisi. In Lakonia and the wider Peloponnese, you can find a shell-shaped pasta known as gogkes.
A Greek backgammon game 
If there were to be a national board game in Greece, backgammon would be it. 9 times out of 10, when you venture inside a coffee shop, particularly if it's an old-fashioned kafenion, the store will have a backgammon board available for you to borrow.
It's almost a quintessential image of Greece – old-timers sitting outside of a kafenion sipping ellinikos kafes and playing backgammon. If you are unfamiliar with Backgammon, the set consists of a wooden playing board (comparable to checkers/chess).
There are 15 white pieces, 15 black pieces, and two dice. As there are different strategies playable in chess, there are different "games" played in backgammon.
In Greece, fevga, plakoto, and portes are the most common. They are relatively straightforward to master, and you can find a number of tutorials and youtube videos online.
Antiques and knick-knacks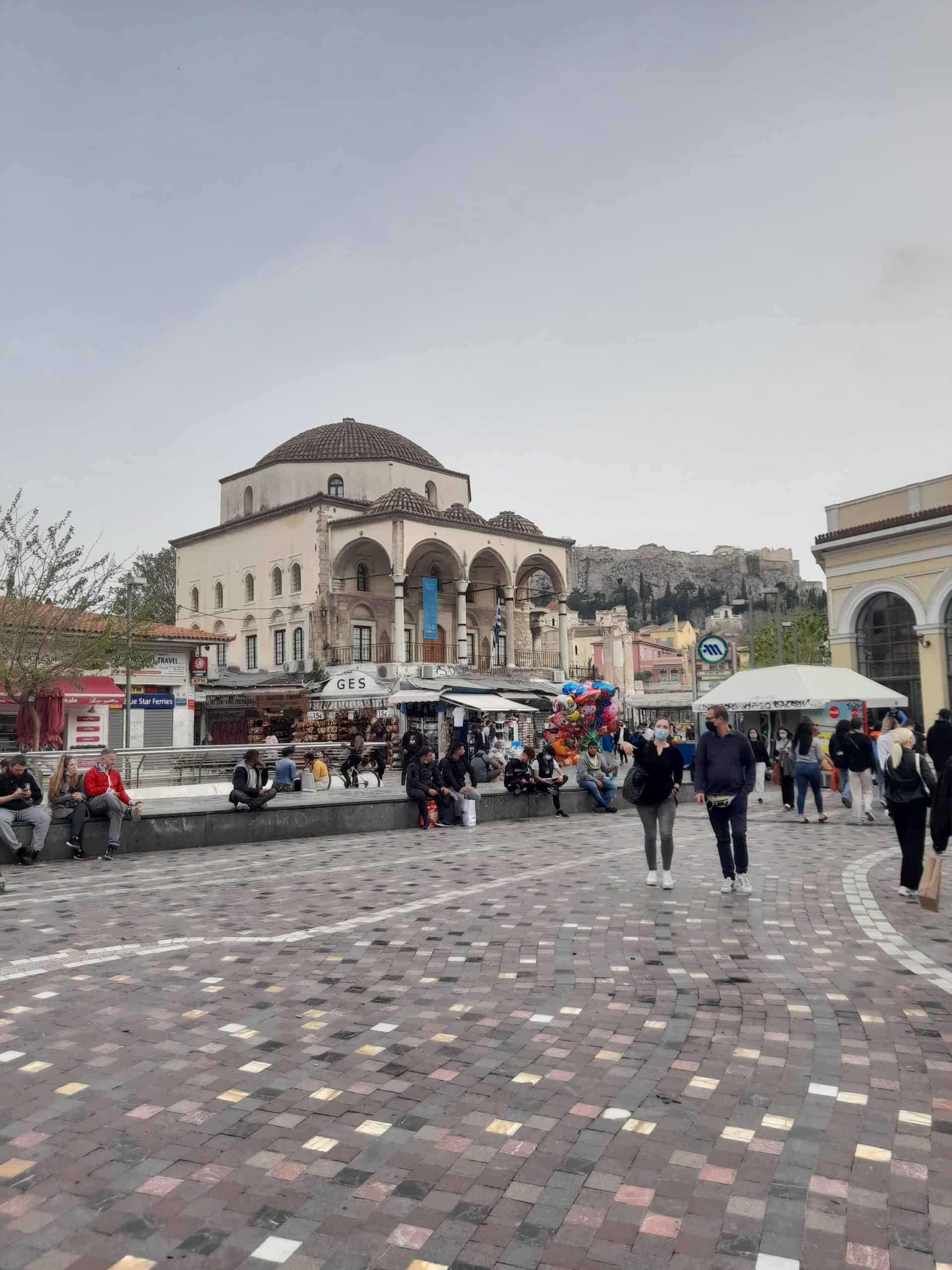 The streets of Psiri, Athens are lined with antique stores. For decades, this part of the Greek capital has been renowned for its eccentric vendors selling collectibles, valuable old furnishings, unique art pieces, jewelry, and trinkets.
You may have to rummage around to uncover a great find – much like antique shopping anywhere in the world. However, what Greek souvenirs could be better than a painting or a piece of furniture that you found in a mysterious old store in Athens once upon a time?
Greek beauty products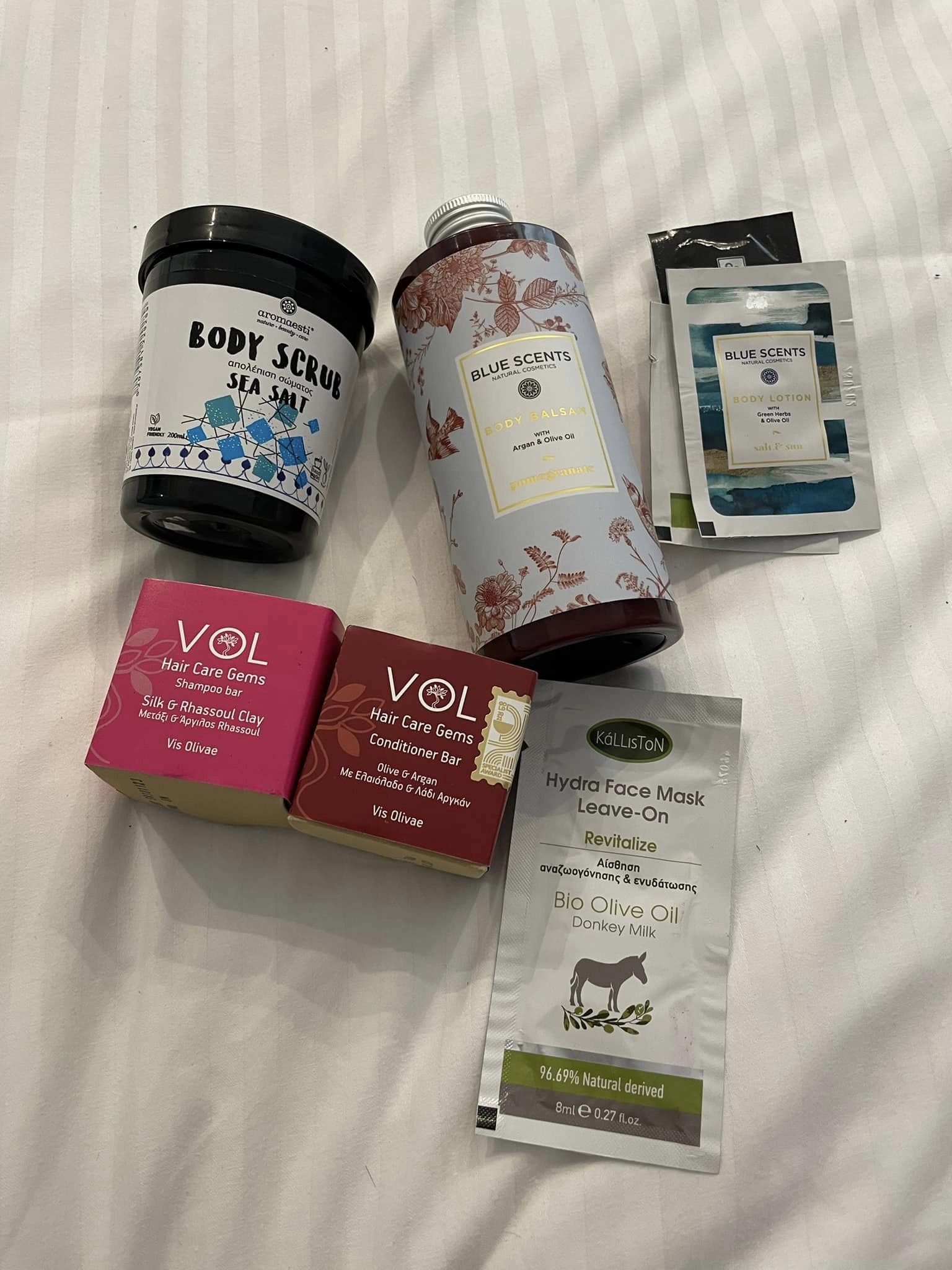 Greek beauty products make wonderful gifts for the image-conscious Grecophiles in your life. Korres and Apivita are among the best-known Greek brands but they are just the start of the tip of the iceberg when it comes to the wonderful beauty industry in the country. 
Blue Scents Natural Cosmetics is a great brand for things like body balsams and hand lotions, while Aromaesti is a wonderful choice for bath products. Zealots of Nature is a new, luxury Greek skincare company that has emerged on the scene in recent years and has quickly developed a cult following. 
Their products use natural Greek and Mediterranean ingredients (like Greek olive oil) and are often stocked in luxury hotels across the country. You can find Greek beauty products at cosmetic stores like Douglas, Hondos Center, and Sephora, as well as some smaller, independent shops. 
One great gift idea is perhaps to pull together a beauty kit of skin and pamper products from an array of Greek brands.
What's more, you will find a lot of tourist shops everywhere from Paxos to Crete selling special homeopathy-style handmade beauty products. For instance, special soaps made with olive oil, etc.
Komboloi beads
Komboloi beads are the Greek version of worry beads. They are used in Greek and Cypriot cultures whereby a person will run them through their hands when trying to distract themselves from worrying thoughts.
Komboloi beads do not have religious associations. Yet, the concept of them is somewhat based on the idea of prayer beads that are used by various faiths. For example, Catholic rosary beads.
You will find colourful komboloi beads hanging up outside of stores across Greece in virtually every colour and pattern available. However, a lot of the beads sold in tourist places like Monastiraki market, the Plaka area and Syntagma Square are made from synthetic materials and are not of good quality. 
Better quality komboloi are made from wood, precious stones, and other materials. If you are looking for something special that a Greek person would actually buy and use, these are arguably better souvenirs than the plastic touristic alternatives.
Greek honey
Honey is something that you can probably buy with ease from your local supermarket or farmer's market in your home country. However, what you are accustomed to likely pales in comparison to the sweet, delicious taste of Greek honey.
Greek honey is considered by many to be the best in the world. Did you know that there are actually more beehives per acre in Greece than in any other country in Europe?
Greece's beekeeping history dates back thousands of years and this is something that locals are proud of. Greek honey is perfect when drizzled over pancakes, or as part of a healthy breakfast combined with fresh fruits and Greek yoghurt.
Greek honey is packed with vitamins, minerals, and antioxidants. It boasts anti-bacterial, anti-viral, and anti-fungal properties and has also been used for centuries as a treatment for various ailments.
You will find honey sold and produced all over Greece. However, some regions are better known for their honey production than others.
For instance, the quaint village of Nikiti in Halkidiki is one of the biggest honey-producing areas in the country. Greek honey is richer in aromatic substances than other countries' kinds of honey.
Better yet? There is a lot of variety available.
You can find pine honey, thyme honey, heather honey, chestnut honey, and honey that is infused with a vast variety of different herbs and flavours. Each one is said to offer different healing properties.
Greek chocolate, Greek sweets, and snacks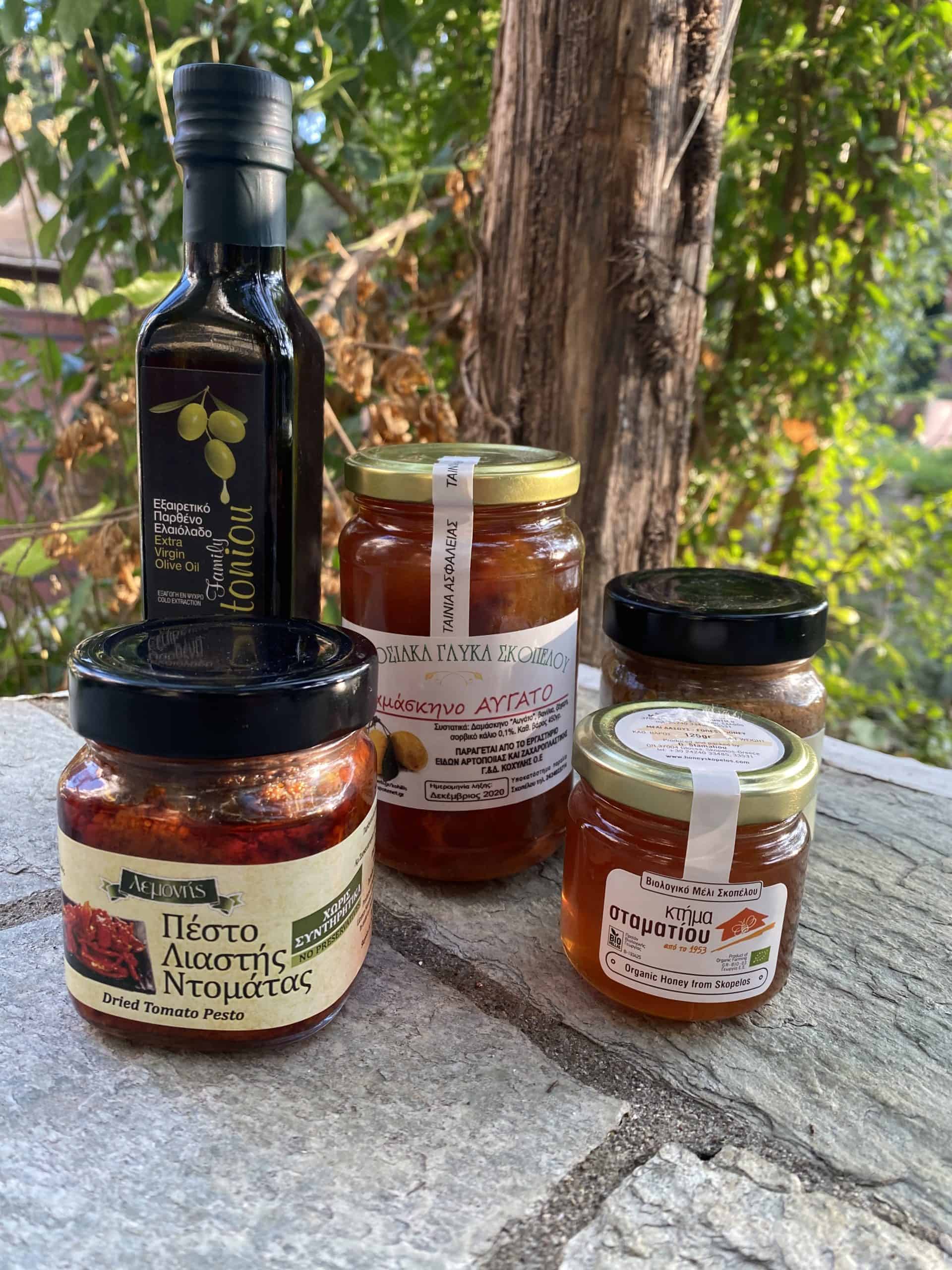 Fancy deli products and preserves are a great edible gift from your Greece itinerary. However, so too are simple snacks and treats that you would not be able to find back at home.
"Lacta" and "Ion" are Greece's main chocolate brands. They are to Greece what Cadbury's is to the UK, and what Hershey's is to the US.
Traditional "plain" Ion chocolate is wonderfully creamy milk chocolate that has been produced in Greece since 1927. The Lacta line of chocolates has existed in Greece since the 1960s and was the brainchild of the Pavlidis confectioner.
There are a vast array of Lacta products. For instance, Lacta milk chocolate, Lacta with strawberry filling, Lacta with caramel filling, etc.
You will also find unique snacks and potato chips/crisps in Greece that you haven't seen before. For instance, ever tried oregano crisps?
Can you think of a more Greek crisp flavour? Stocking up on snacks and sweet treats is a great way to do Greek souvenirs on a budget. 
Loukoumi
Loukoumi is the Greek answer to Turkish delight and it is a treat that has been enjoyed in Greece for centuries since it was first introduced to the locals by the Ottoman Turks. It has a chewy, jelly-like consistency and is made from a combination of cornstarch, sugar, and water
The sweets are then doused in a generous sprinkling of icing sugar so they can be quite a mess to eat! You can find loukoumi in a lot of traditional sweet shops and bakeries.
They come in a variety of fruity flavours, but the pink-coloured rose flavour is one of the most popular. (Lemon, orange and pistachio loukoumi are also local favourites!)
Greek mountain tea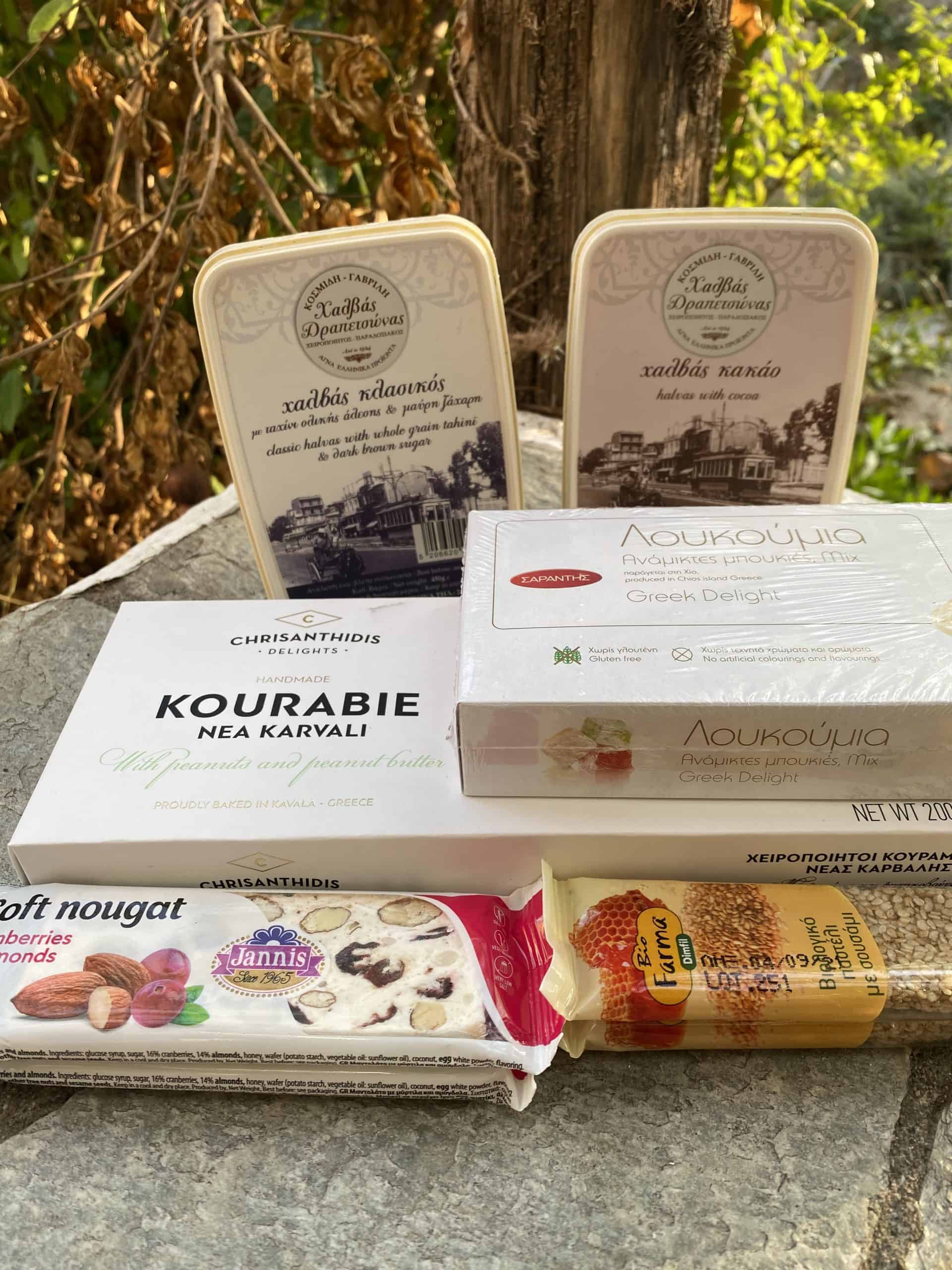 Mountain tea is known locally in Greek as "tsai tou vounou". This is a naturally caffeine-free herbal tea that is made from the sideritis plant.

It is also sometimes referred to as "Shepherd's tea". However, you have likely never heard of this beverage if you grew up outside of the Mediterranean.

Greek mountain tea is mostly sold and consumed in Greece, Bulgaria, Albania, and North Macedonia. The tea has a sweet, earthy floral taste to it and has undertones of mint, chamomile, and citrus.
You can buy Mountain tea in groceries and pharmacies across Greece. You can opt to purchase it either as tea bags or as dry, loose tea leaves. Delicatessens often sell it in fancy containers which make particularly nice Greek souvenirs.
Mastiha
Mastiha is a unique Greek product with a distinctive taste. This is actually a pine resin derived from the mastic trees that are indigenous to Chios Island.

Historically, pine-tasting resin was used as chewing gum across Southern Europe and in some Arabian nations. Mastiha is supposedly good for improving oral health.
However, the taste of pure mastiha can be a little much for some. You will find it sold in various deli and agro-product stores across the country. 
There is also a dedicated mastiha shop on the corner of El. Venizelou and Kriezotou in Central Athens. Here, you have the option of sampling mastiha products before you buy them.

Liqueurs infused with mastiha are particularly nice. So too are mastiha water beverages.
A Karagiozis figurine
As you meander through the streets of Athens, you may notice several stores selling obscure, almost creepy-looking puppets. More than likely, these are karagiozis puppets.
Karagiozis is a shadow puppet with origins in Greek folk tales. He actually originates from the Turkish shadow play Karagöz and Hacivat and represents a poor Greek person living in Greece during the Ottoman era.
Almost every Greek has grown up with Karagiozis. From the young to the old, it would be hard to find someone who wasn't at least a little familiar with the puppet's plays, stories, and escapades.
You can find some really beautiful, carefully handcrafted Karagiozis puppets in Plaka and Thissio. For sure, there are sets of Karagiozis puppets for every budget. However, some of them are collector items and a little more expensive.
Ouzo and other Greek alcohol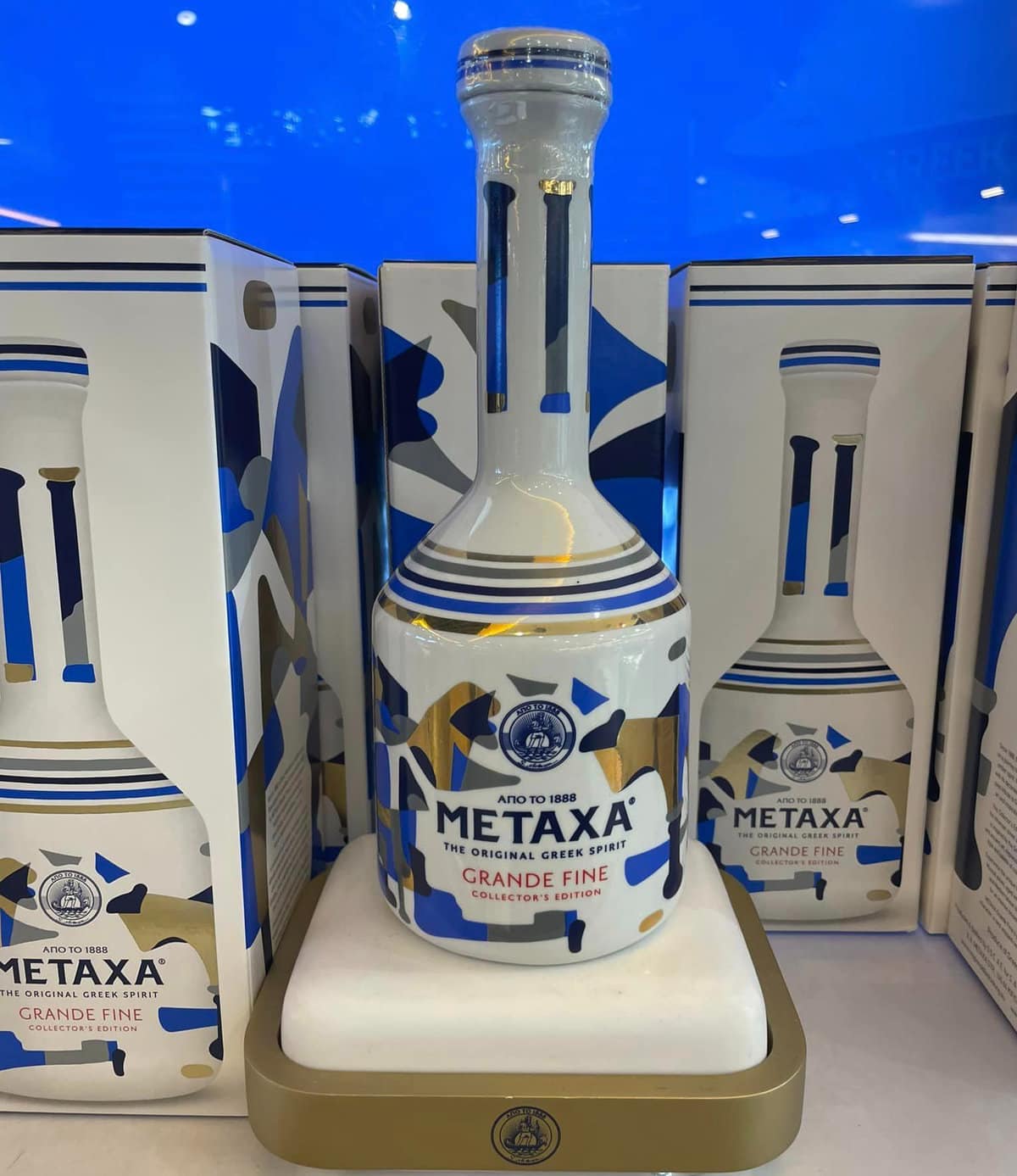 Greek alcohol is unique and seldom enjoyed outside of Greece. Ouzo is essentially the country's national drink.
This strong, anise-flavoured beverage makes a regular appearance on tables at restaurants and tavernas. It is customary for locals to order a carafe of ouzo or two to share among friends and dinner companions.
The drink is enjoyed neat over ice. You can find varieties of ouzo made all over the country. Each region may follow different recipes and production methods.
If you want to buy unapologetically Greek souvenirs, consider buying your relatives some ouzo. Of course, you can buy ouzo at any supermarket and off-license in Greece.
Ouzo sold in little bottles at tourist stores is usually overpriced and not the best quality. For the best of the best, head to Angelo´s ouzo store in Athens´ Plaka district.
His store at 120 Adrianou Street stocks hundreds of varieties of ouzo. This is perhaps the most extensive collection you will find anywhere!
Rakomelo
You will find rakomelo sold at any liquor store in Greece. This beverage is particularly popular during the winter months in Greece and is made by combining raki or tsipouro with honey (meli) and spices.

If you happen to travel to Greece during the winter months, you will often find that you are presented with a complimentary glass of rakomelo at tavernas to warm you up after your meal. Historically, Greeks would say that rakomelo was a good remedy for coughs, colds, and sore throats!
There are several rakomelo brands available and it can be daunting to know what to choose, so you can always ask the shop assistant for their favourite. Rakomelo and other Greek alcoholic beverages are always available at Athens Eleftherios Venizelos airport so this can be a good gift if you have left your Greek souvenir shopping until the last minute!
Evil eye charms (Mati)
Evil eye charms or ¨mati¨ are sold at most souvenir shops across Greece. You can buy various different charms to wear as jewelry, attach to luggage, or hang up in your home.
The superstition of the ¨evil eye¨ in Greece says that if someone glares at you with a negative intention (for instance, anger, jealousy, etc), they can pass on a curse. This curse can result in a variety of negative effects.
The effects range from everything from illness to bad luck! Whether you believe the superstitions or not, these little blue talismans make lovely Greek souvenirs.
Religious icons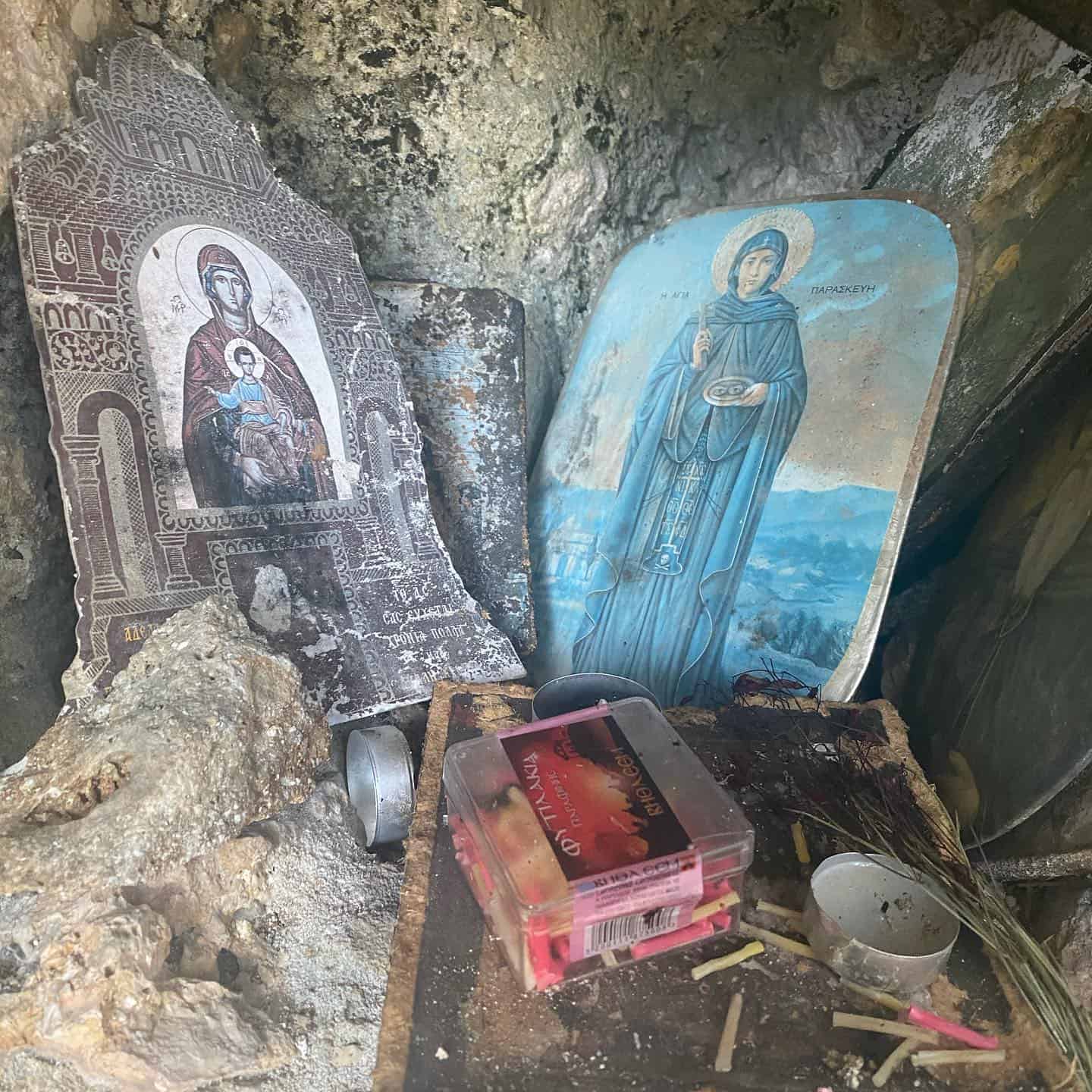 You will find many extremely detailed, ornate religious icons sold in dedicated stores across Greece. Many monastery stores such as Prossous Monastery, Meteora Monastery, and Mount Athos sell handmade icons.
If you follow the Greek Orthodox faith, these can be nice items to have displayed in your home. In Central Athens, you will find icons sold everywhere from the Monastiraki market to the backstreets of Pagrati and the Mets.
Greek wines
Greek wines are not very well known internationally which is a shame because locally they are beloved. What's more, Greece is one of the oldest wine-producing regions in the world with a wine history that dates back over several millennia!
Greece has one of the most diverse viticultural scenes and a lot of grapes used in production here are not used anywhere else. Wines are produced all over the country in Greece – from the high altitudes of the Pindus Mountains to the volcanic soils of Santorini.

Assyrtiko, Athiri, Debina, Malagouzia, Moschofilero, Roditis, and Savatiano are the main white grapes in Greece. Agiorgitiko, Kotsifali, Limnio, Mandilaria, Mavrodaphne, Negoska, and Xinomavro are the main red grapes used.
If you are not really a wine connoisseur and that list of Greek grape varieties sounds like gibberish to you then rest assured, you will find good wine in Greece. Whether you like sweet, dry, semi-sweet, red, or white, you will find something that suits you.
Arguably some of the best Greek wines are found in unsuspecting, nonpretentious stores where vendors sell you a liter of locally sourced wine in a plastic bottle for €5 or so. However, dedicated, high-quality wine and liquor stores also do exist.
You can simply head inside and tell the server what type of wine you enjoy. In Athens, look out for Wine Story (Nikis 21), Ermou Spirits Cava Pittaras (Ermou 90), and Alfa Sigma Wine and Liquor stores (Filellinon 14).
Olive oil and olive products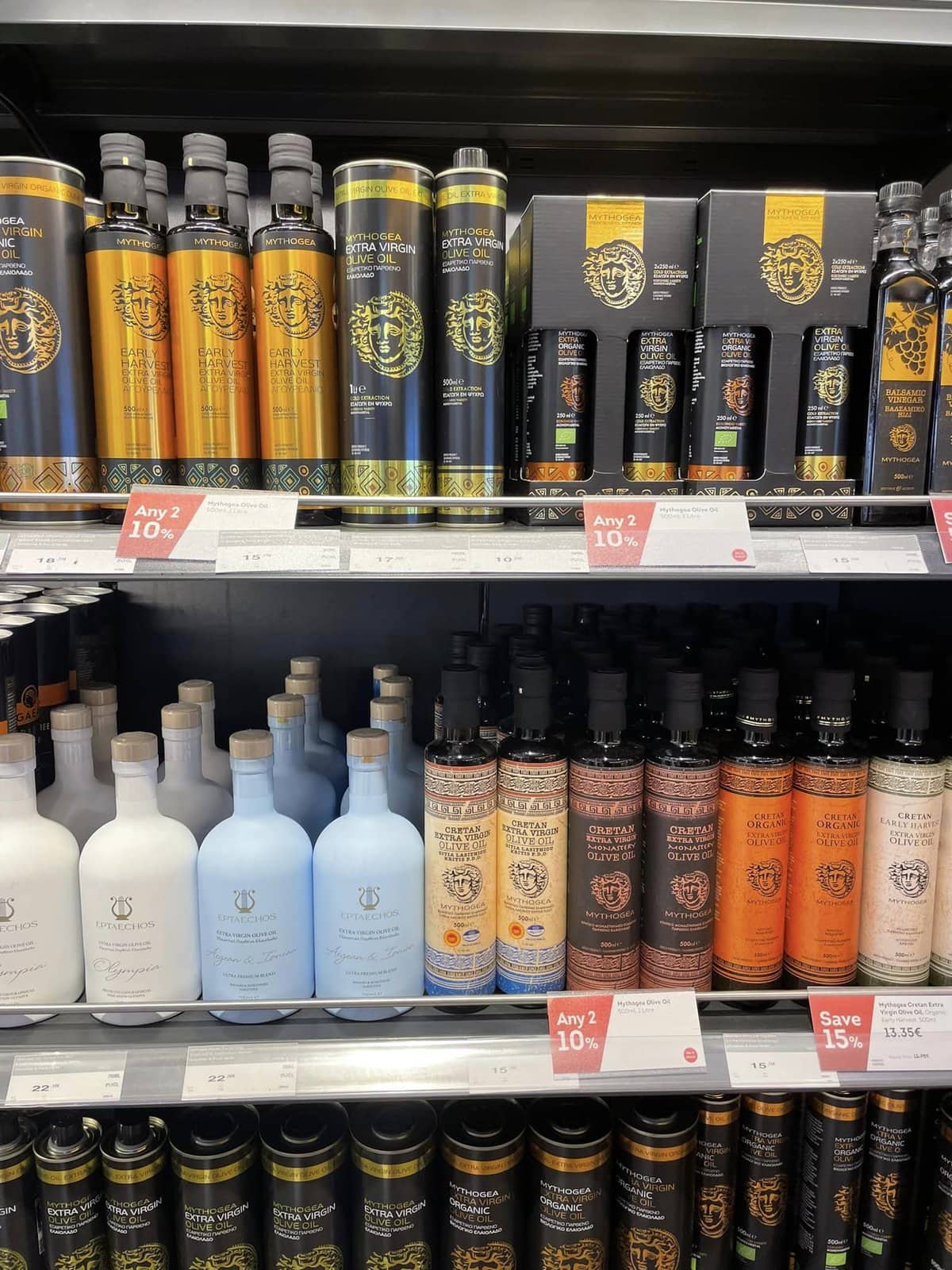 Greece produces 300,000 tons of olive oil every year. That is a lot when you consider the size of this little country.
The oil is produced in one of Greece's 17 PDO regions. Olive oil consumption is high here, with the product being a staple in a vast number of Greek recipes. However, exports are also relative.
The rugged Peloponnese region is particularly well known for its olive oil production. Kalamata olives especially are renowned across the world.
In the West, olive oil may just be something that is absent-mindedly poured over salad or splashed in the bottom of a frying pan. However, in the Mediterranean, there is a serious art to creating quality extra virgin olive oil. 
Head inside any agro-products store in Greece and request a tasting of the various olive oils they stock. You may be surprised by how different the quality is between the different products, and how delicious simple olive oil can be.
The different species of Greek olives used across the country has a large impact on the resulting flavour. For instance, the Eastern Peloponnese uses the manaki variety of olives which makes sweeter olive oils. 
Conversely, Crete, Greece's largest olive oil-producing island creates a lot of products using Koroneiki olives or the native varieties of Tsounati, Throumbalia, and Hondrolia. As such, each product has very different characteristics. A bottle of quality olive oil makes a wonderful gift.
Halva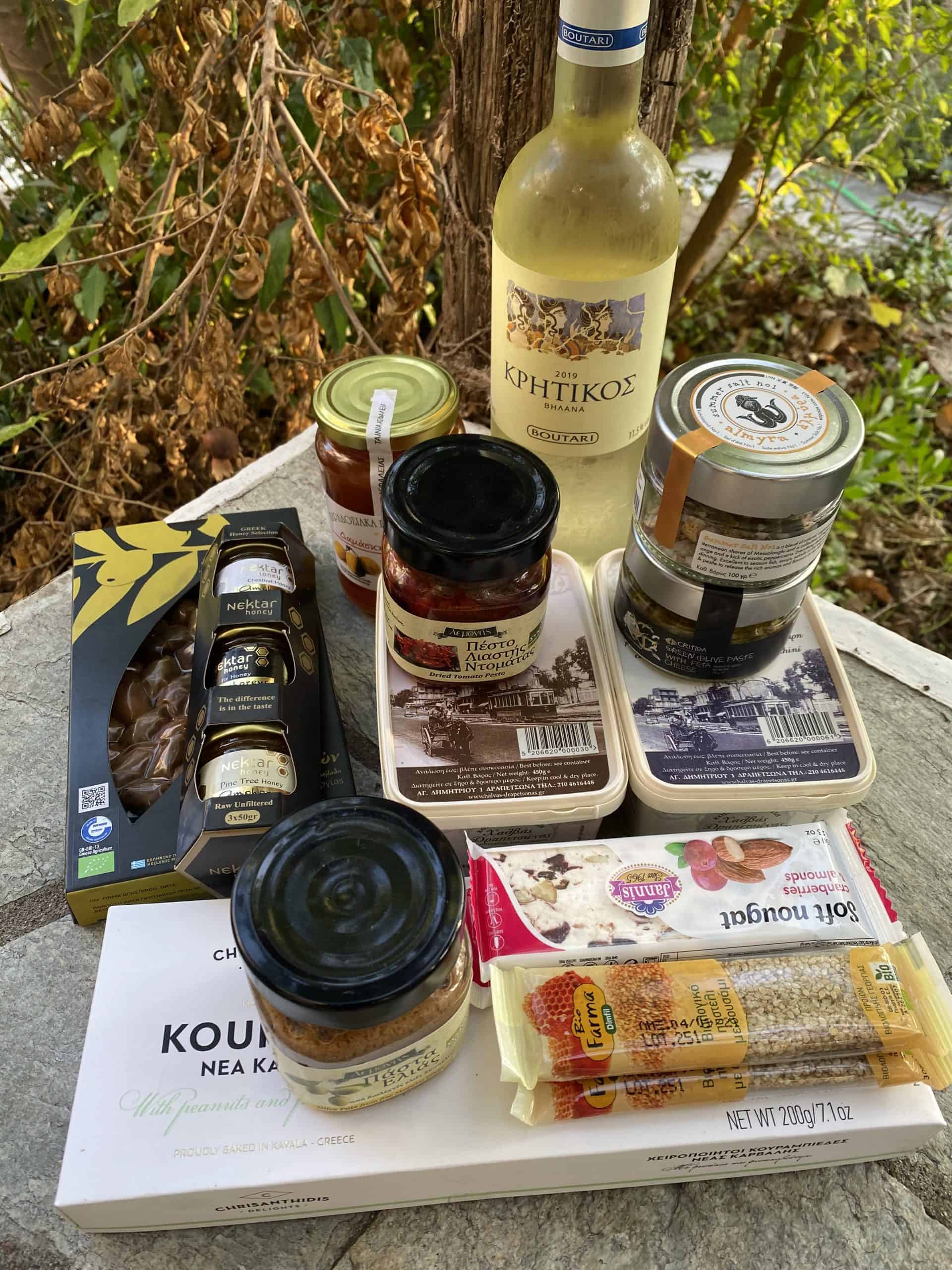 Halva is a popular Greek sweet treat that is made from tahini (sesame seed paste), sugar, spices, and nuts. It has a unique crumbly texture and is often given as a complimentary dessert at Greek tavernas.
You can find halva in all manner of different flavours – chocolate, pistachio, vanilla, almond, etc. Halva is enjoyed in Greece, Turkey, and a number of countries across the Middle East.

However, if someone has not travelled much in this region, it can be a nice treat for them to try and makes a wonderful Greek souvenir. Athens Central Market is the best place to shop for halva. 
There are countless street vendors here selling jars of tahini and halva. You can also request to sample everything before you purchase to make sure that you are getting a flavour that you like.
Herbs and spices
Fresh herbs and spices grow in abundance across Greece and are of the highest quality. It is not uncommon to be out hiking in Greece and stumble across wild rosemary bushes or random sprouts of oregano.

Oregano is arguably one of the most well-loved Greek herbs and it is used to season countless Greek dishes. You can find dried oregano everywhere.
However, for the most special Greek souvenir shopping experience, head to the Athens central market (Varvakios Agora). The spice shops here are decorated with large jars of spices and herbs in every colour under the rainbow. Shopping here feels almost like being in a bazaar or Arabian souk. 
Quintessentially Greek sculptures and art pieces
Greek sculptures, such as small busts of notable Ancient Greek figures, make nice Greek souvenirs to display in the home. Some are obviously of better quality than others but you can get some sculptures and statues that are very tasteful.
The best place to start is the Monastiraki flea market, though you should be prepared to haggle on the prices. If you like the idea of hanging hand-painted images of Greek scenes on your walls, start with the vendors on ​​Dionyssiou Aeropagitou.
Baklava
You will find rows upon rows of sinful, sticky sweet baklava behind the glass casing of any Greek bakery or patisserie. This dessert pastry is made by stacking layers of filo pastry on top of each other and then drenching them in syrup and chopped nuts.
Sometimes, ground orange rind is added for extra flavour.
There are various types of baklava available and some Greek bakeries sell nothing but an array of different baklavas. Sometimes, the treat is given different names in different parts of the country.
For example, in Chios, they call the local baklava masourakia, in Crete, they call it zournadakia, in Lakonia, they call it samousades and in Rhodes, they call it pourakia. You can buy lovely gift boxes of baklava to take home. It is best to purchase this later on in your trip to ensure freshness.
Jewelry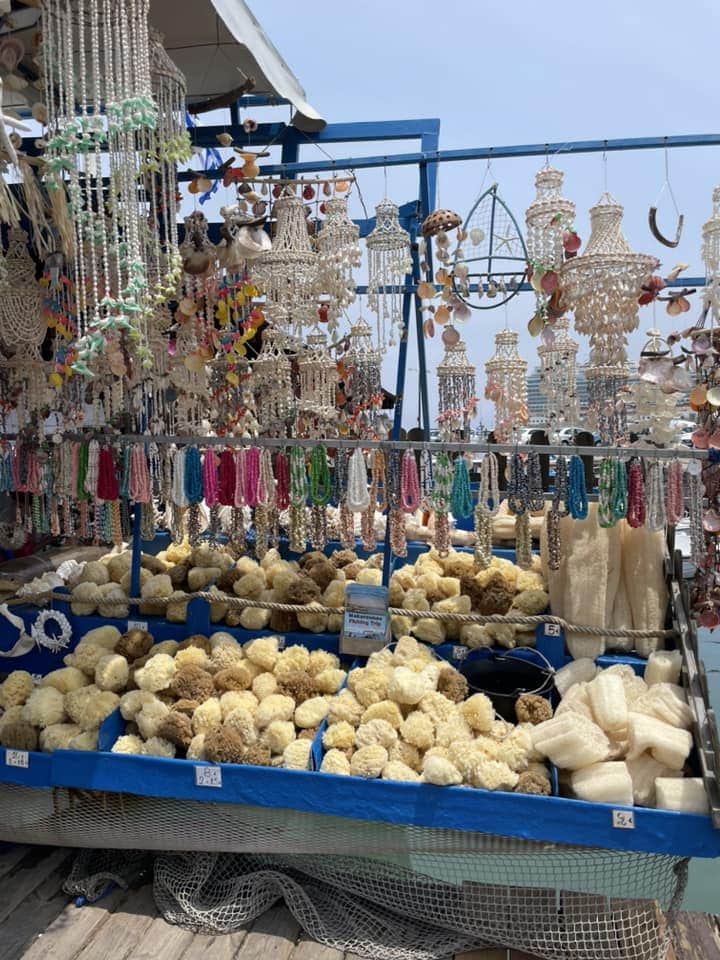 If you are interested in buying jewelry, you can find many one-of-a-kind pieces while shopping in Athens. As far as quirky, low-cost, artisanal products go, you should start off by shopping from the street vendors that sell their eclectic wares in Central Athens.

You will find jewelry stalls selling all manner of rings, necklaces, bracelets, anklets, and so on, from independent vendors along Dionysiou Areopagitou, Apostolou Pavlou, and the Monastiraki flea market. There are plenty of options if you are looking for more upscale retail options too.

Most high-end Greek jewelers have stores in Kolonaki, Athens. Start by browsing the wares of Nikos Koulis (Pl. Filikis Eterias 15).

This renowned Greek jeweler not only produces stunning pieces. But he does so while using the same traditional materials and techniques as the Ancient Greeks.
Koukos Spyros (Stadiou 3) sells an array of traditional and contemporary jewels. Meanwhile, Yannis Sergakis' flagship store can be found at Valaoritou 5.

Petaei-Petaei (Skoufa 30) sits on the slopes of Lycabettus Hill and is a great mid-range choice. The store sells pieces created by more than 30 independent Greek jewelry designers.
Clothing
Greece is actually a fairly good place to shop for clothing items. Ermou is the main retail promenade in Athens and you can find all of your favourite high street stores scattered along its length.
Assuming you want something special and unique though, there are several places that you can go. In Kolonaki, head down the streets of Skoufa and Tsakalof. Voukourestiou Street to uncover boutique stores owned by independent Greek clothing designers.
Just outside of the capital, Glyfada is an exclusive beach town that is often referred to as "the Hellenic Hamptons". The independent shopping options here are great too. In particular, look out for Tea's Fashion Boutique, Zerteo, and Lelis.
Ceramics
Beautiful ceramics and colourful earthenware have been a part of Greek tradition for thousands of years. Across the country, you will find a plethora of gorgeous ceramic stores that sell handmade creations.
You may want to consider purchasing an oversized vase to decorate a particular room in your house back home. Alternatively, you may want to buy a complete dinner set of beautiful ceramics handcrafted on a specific island so that you think of Greece every time you eat.
The only issue with purchasing ceramics is that they can be difficult to transport home. However, assured that the ceramic artists in Greece deal with this concern every day and so, they work with logistics companies to transport pottery items across the world, or they can wrap them for you to travel with.
Ceramics can be found all over Greece. However, the Greek islands of Sifnos, Paros, and Rhodes and particularly known for these creations.
Phallic good luck charms
In Ancient Greece, the phallus was a sign of good luck and was said to bring good fortune, and ward away evil. Phallic symbols were mostly associated with the god Dionysus and his worship.
Today, people don't believe in the protective power of the phallus to the same extent. However, in tourist markets, you will almost always find phallic magnets, bottle openers, or just stand-alone ornamental phalluses.
This is perhaps a nice gag gift for someone. Or alternatively, perhaps you think a little wooden phallus may perfectly complement the decor of your home!
Bouzouki
A bouzouki (Μπουζούκι) is a long-necked Greek string musical instrument with either three or four courses. In some ways, it resembles a mandolin.

Bouzoukis soared in popularity in Greece due to the emergence of rebetika music. If you head to any bouzouki bar or taverna in Greece that plays live folk/Greek music, you will likely see someone playing one of these unique Mediterranean instruments.

If you would like to purchase a bouzouki, either to play it or to proudly display it in your home, you will have plenty of opportunities to do so in Greece. However, it should be noted that these instruments do not come cheap. 
A good quality bouzouki can set you back as much as €200-€400. You should only purchase one from an actual luthier in Greece in order to secure the best quality and price.

You will find a large number of music stores in both Athens and Thessaloniki. In Athens, check out Adagio (Pellis 72, Chalandri), Nakas (Navarinou 13), and Stollas (Leof. Alexandras and Navarcho Notara).
Greek souvenirs for kids
There are lots of cute Athens souvenirs and Greece souvenirs that you can buy for kids. In many of the stores in central Athens, for instance, you will find Ancient Greek costumes, swords, and headpieces for sale.
FAQs about the best Greece Souvenirs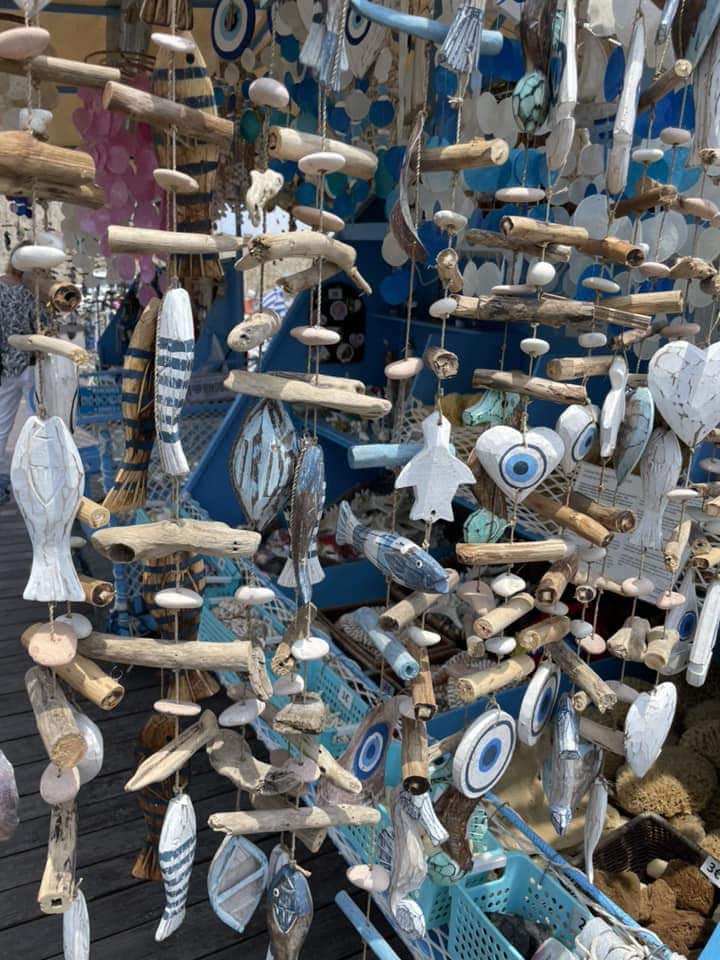 Do you have any further questions about the best souvenirs to buy in Greece or which gifts are the best choices for the Grecophiles in your life? The answers to some frequently asked questions are detailed below.
Hopefully, you will find the info you are looking for there. If not, please don't hesitate to reach out!
What souvenir is Greece known for?
Greece is perhaps best known for the evil eye souvenir pendants. These little blue and white charms have become something of a symbol of Greece.
You can buy them as pendants to wear around your neck or as bracelets, or as small charms to hang up in your home or to secure to your luggage, backpack, etc. These special charms are said to protect you from evil spirits and negative thoughts.
What is the best thing to buy in Greece?
There are plenty of great Greece souvenirs that you can buy during your trip – either for yourself or for your friends and loved ones back home. Greek agro and deli products are always a good idea.
You can buy things like spoon sweets, traditional Greek pastas, herbs and spices, halva, Greek chocolates and cookies, or homemade liquors and jams. If you are just looking for a small reminder of your trip, you can buy a fridge magnet, mug, or shot glass that will remind you of your Athens itinerary every time you look at it.
What can you bring back from Greece?
There are lots of great souvenirs to buy in Greece. Clothes produced by independent Greek designers, agro products, karagiozis figures, and coffee are all good choices.
However, do be sure to check if your country places any restrictions on goods that can be bought back in after your trip. For instance, while feta and metsovone cheese may seem like good gifts, your country may not allow you to enter with dairy.
Do also remember that there are restrictions on how much liquid you are allowed to carry in your hand luggage. So, for instance, if you decide to purchase some Greek wines, you will need to either have them shipped back home ahead of you, or you need to wrap them well and put them in your suitcase.
(That is, with the exception of purchasing things duty-free after you have passed through security at the airport).
What is a famous product from Greece?
There are lots of famous products from Greece that make good souvenirs to buy in Greece. Feta cheese is one example.
So too is ouzo.
What is Greece's top-selling souvenir?
There are lots of Greece souvenirs that are popular and sell very well. For instance, a lot of people like to buy bottles of ouzo or rakomelo.
Meanwhile, a lot of people like to buy evil eye pendants, small sculptures of Ancient Greek figures, philosophers, and gods, and even fridge magnets.
What luxury goods to buy in Greece?
Athens and Mykonos have plenty of gorgeous boutique stores as well as flagship stores of various international designers. These are great places to stop by if you are looking to purchase chic, stylish apparel, accessories, and sunglasses.
European designer brand items may be cheaper for you in Greece than they are in say, the US, Canada, or Asia. There are also lots of wonderful independent Greek designers that sell clothing items that are produced on a small production scale.
So, you know that you can purchase gorgeous items that you know nobody back at home will have.
What kind of jewelry to buy in Greece?
There are lots of different options available to you if you want to buy jewelry in Greece. In Monastiraki, Athens, there are a lot of stores selling gorgeous silver pieces.
Along the pedestrianised walkways of Apostolou Pavlou in Thissio, you will find a lot of street vendors selling handmade items too.
Can you bring stones back from Greece?
No. You cannot bring stones or beach sand back from Greece.
This has become really problematic on some Greek islands and beaches, particularly Skiathos beaches. Lalaria Beach for instance is known for its large, smooth pebbles. 
So many people were removing the pebbles from the beach that it has become noticeable! Now, you can receive a fine of anywhere between €400 and €1000 for doing so!
This isn't worth the risk or the harm to the environment and natural beauty of Greece. Instead, there are plenty of other Greek souvenirs you can purchase.
Greek souvenirs: Final thoughts
Are you stuck as to what Greek souvenirs to buy your loved ones from your Greek island hopping adventure? Have some other questions about drawing out your Greece itinerary? Feel free to drop me a comment below.
I've lived in Greece since 2017. I'm always happy to help out as best as I can.
Safe travels! Geia sou! Melissa xo
---