Rooftop bars in Athens can be the perfect way to spend an evening in the Greek capital. With a delicious cocktail or an ice-cold Greek beer in hand, you can enjoy unparalleled views of downtown Athens and ancient sites such as the Acropolis, Filoppapou, and Lycabettus Hill as they are illuminated by thousands of twinkling lights.
For Athens and Athens 360 are the best-known Athens rooftop bars among tourists, but as far as locals are concerned, there are much better options that Athenians have been keeping to themselves. This article has been written by someone who has lived in Athens for five years so you are in good hands here. 
In this post, we will look at all of the best rooftop bars and restaurants in Athens, according to the locals.
Best Rooftop Bars in Athens Greece 
The Athens nightlife scene is grossly underrated within Europe and the city has something for every taste, style, and budget. That extends to the best Athens rooftop bars and a bunch of new places have opened up over the last few years which means that there are now literally dozens of places with an Acropolis view. 
With so many options available, it can be a bit overwhelming to know where to begin. If you are looking for a place to enjoy fine dining Greek cuisine, maybe a degustation menu and a sampling of Greek wines while you look out at the Acropolis, make dinner reservations at either the Sense Rooftop restaurant at the top of A for Athens Hotel (Dionysiou Areopagitou 5) or Skyfall Athens on the outskirts of Pagrati (Mark. Mousourou 1). 
Skyfall is arguably better if you want to experience Athens like a local as this place is a little off-centre and so tourists seldom ever find it. If you are just looking to drink and mingle with Athenians, head to Couleur Locale near Monastiraki Square (Normanou 3). 
Want more suggestions? Read on for our insider recommendations. 
29 Best Rooftop Bars in Athens Greece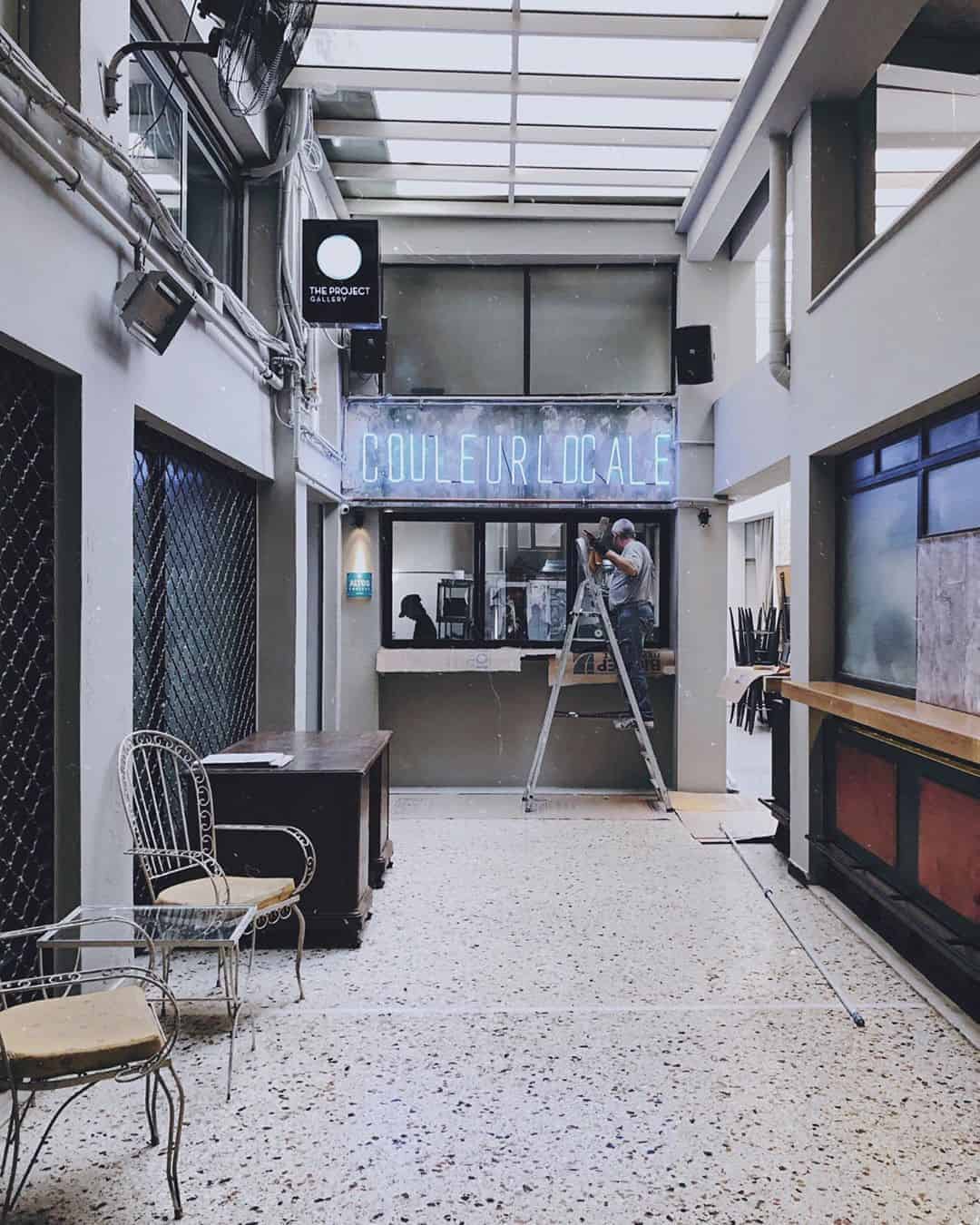 29 of the very best rooftop bars in Athens Greece are shortlisted below – as selected by a local who has visited them all. Some are best for dining, while others are for drinks only and often play host to international DJs from across the globe.
A lot of these spots sit at the top of luxury hotels. However, anyone can go for dinner and drinks on the rooftop whether they are a hotel guest or not. 
(Depending on the specific venue and its popularity, sometimes reservations may be required).
The Best Rooftop Bars in Athens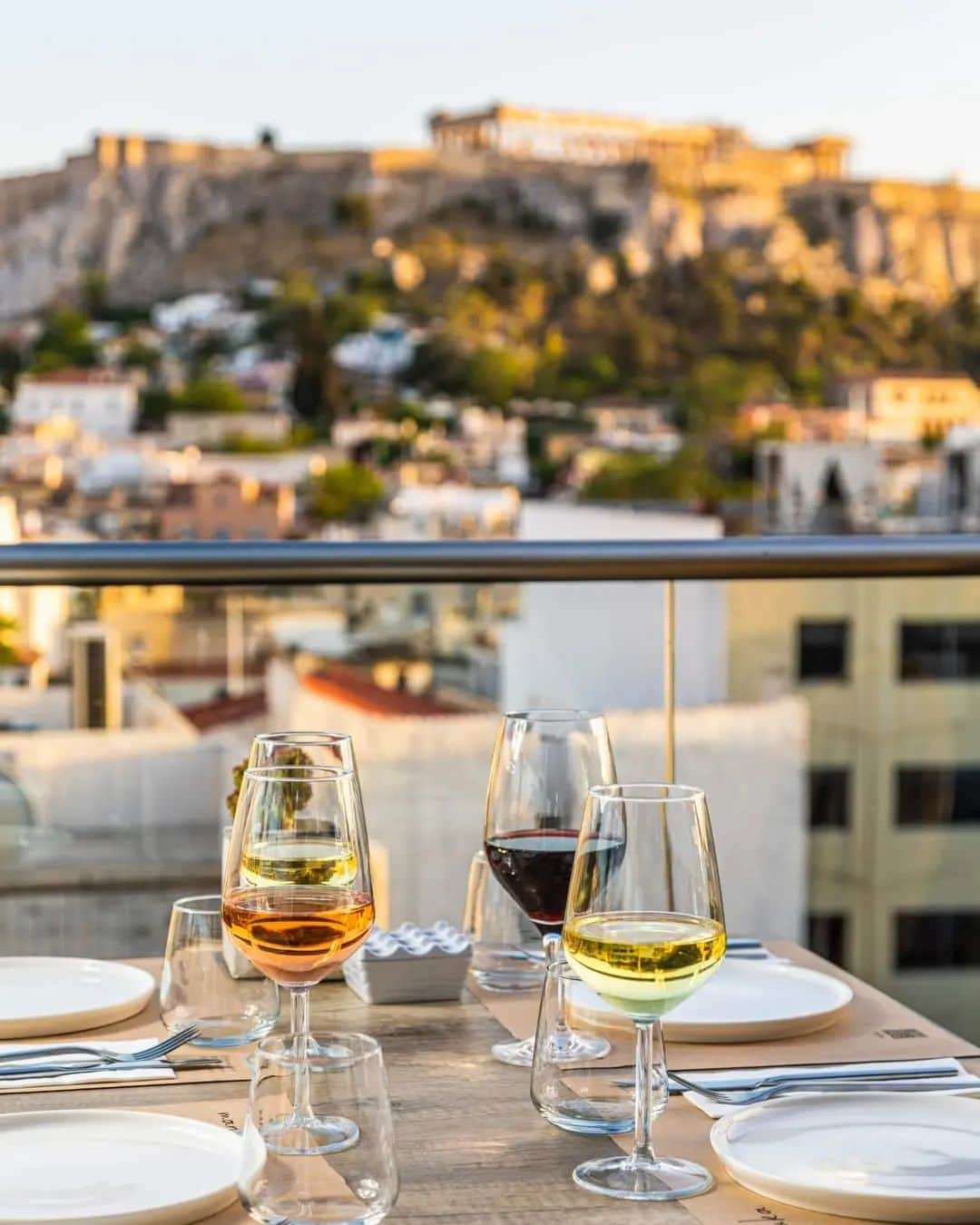 Couleur Locale 
Where: Normanou 3, Athina 105 55, Greece
Opening Hours: 10 am – 2 am daily
Couleur Locale truly is a diamond in the rough. The bar sits down an unsuspecting alleyway that veers off from Monastiraki Square.
The bar is not signposted at all. You must pass by ramshackle antique stores, and graffiti-laden passageways before getting into an unmarked elevator.
On the top floor, Couleur Locale awaits. You would never find this bar unless you specifically knew it was here.

Couleur Locale bar emits a trendy, bohemian vibe. On weekends, the top-floor roof bar is one of the most popular spots in town.
However, Couleur Locale is also open during the day, throughout the week. It is a perfect place to stop for a strong Greek coffee with a view. 
City Zen Rooftop Bar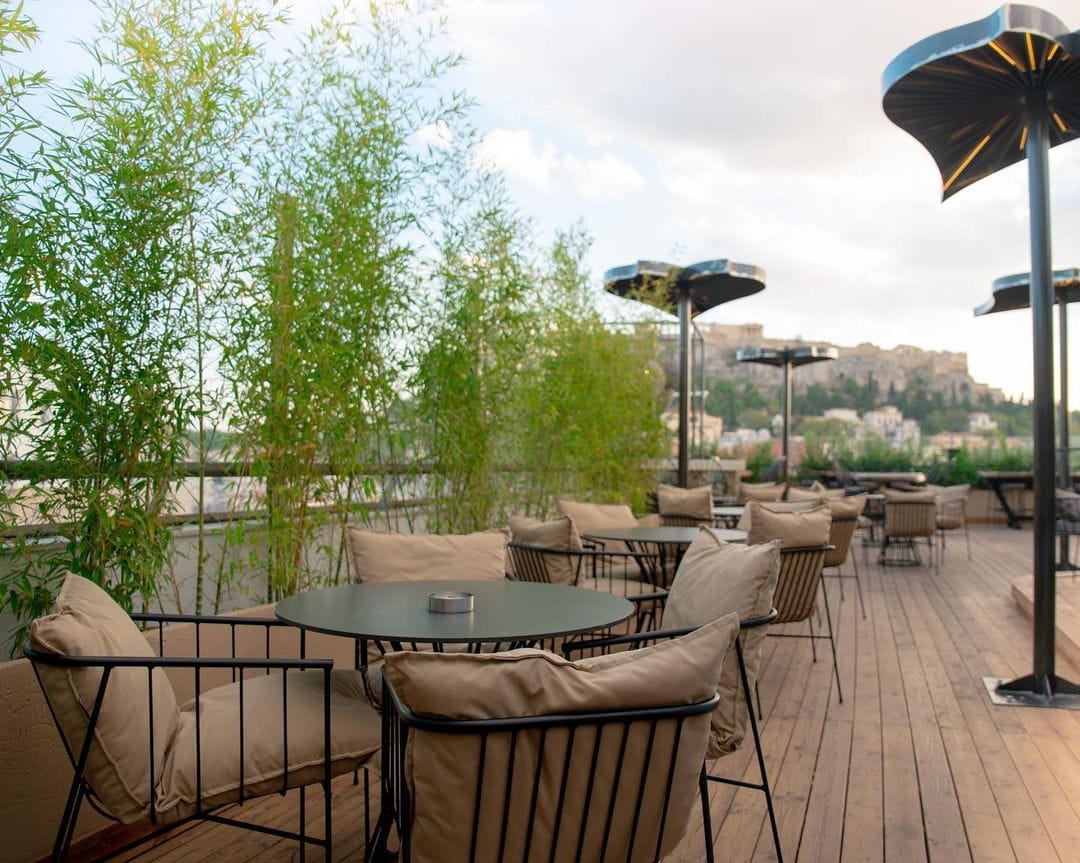 Where: Aiolou 11, Athina 105 55
City Zen is an all-day favorite rooftop bar and restaurant in the beating heart of Monastiraki. It awaits between Metropoleos and Aiolou streets. 
Like many of the best rooftop bars in Athens, City Zen offers incredible views of the Acropolis. However, what has made the establishment the talk of the town in recent years is its food.
City Zen's carefully crafted menu is the brainchild of Chef Alexandros Karanikolas. It offers a blend of sumptuous Mediterranean and International dishes.
The offering is extensive. You can find everything here from sharing platters of finger foods to meze plates, and indulgent main courses. 
Mains, mezes, and appetisers are inspired by cuisines from across the globe. Allow the calf carpaccio with truffle oil and lemon pearls to transport your taste buds to Italy, and the spring duck rolls take you to the Far East.
Sense Rooftop at AthensWas Hotel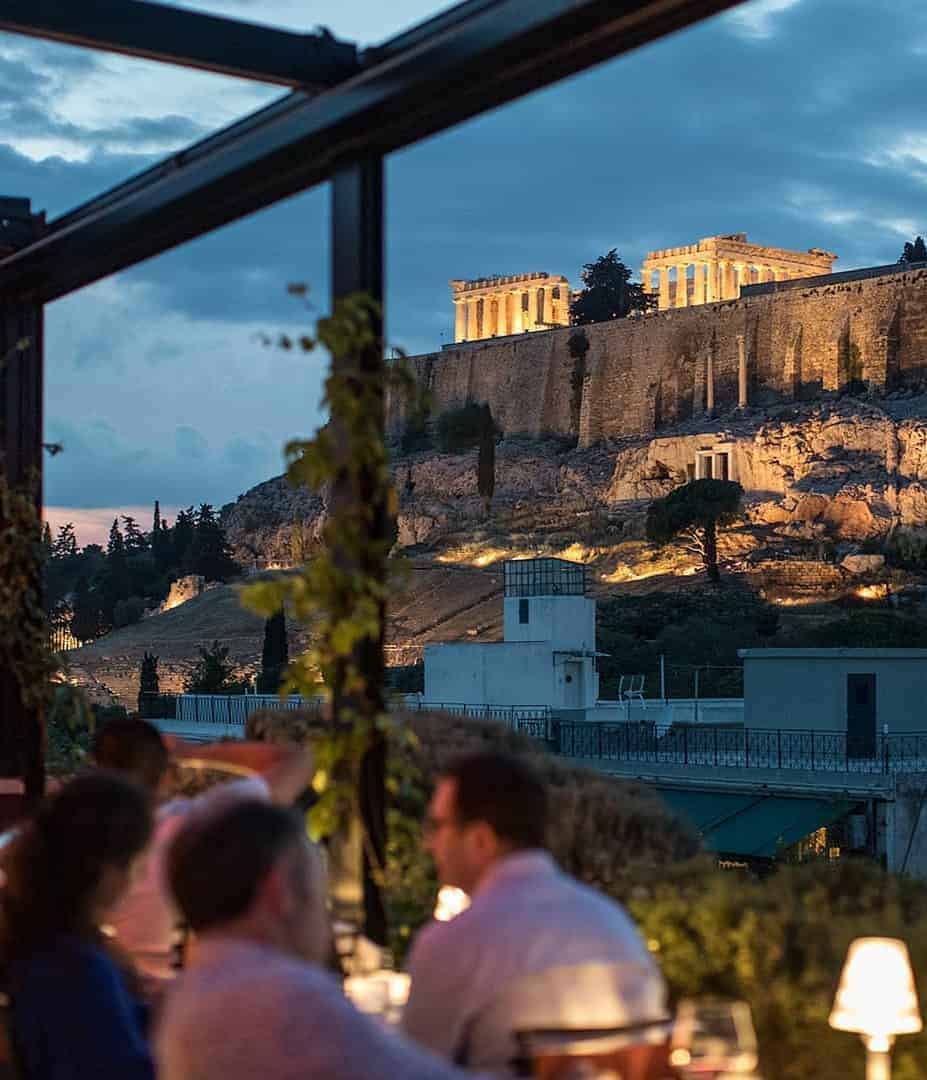 Where: Dionysiou Areopagitou 5, Athina 117 42, Greece
Opening Hours: 12 pm – 1 am daily
The Sense restaurant is a fine-dining eatery that is perched atop the AthensWas Hotel on Dionysiou Areopagitou.
This is arguably one of the best restaurants in Athens. However, it is also possible to stop by for some drinks or a light bite.
Expect attentive service in an ultra-luxurious setting. From here, the Acropolis looks so close that it almost seems as though you can reach out and touch it.
Athens' skyline has a delectable contrast of ancient and modern that is unparalleled elsewhere.

The drinks menu is infused with Greek and Mediterranean flair. Wines sourced from local vineyards make the perfect accompaniment to your meal.
Alternatively, order up some cocktails created with quintessentially Greek alcohols such as rakomelo or mastika. If you also wish to dine at the Sense Rooftop, the innovative seasonal menu will not disappoint. Sense's menu focuses on traditional Greek recipes with a modern twist. 
Point A (Acropolis Point)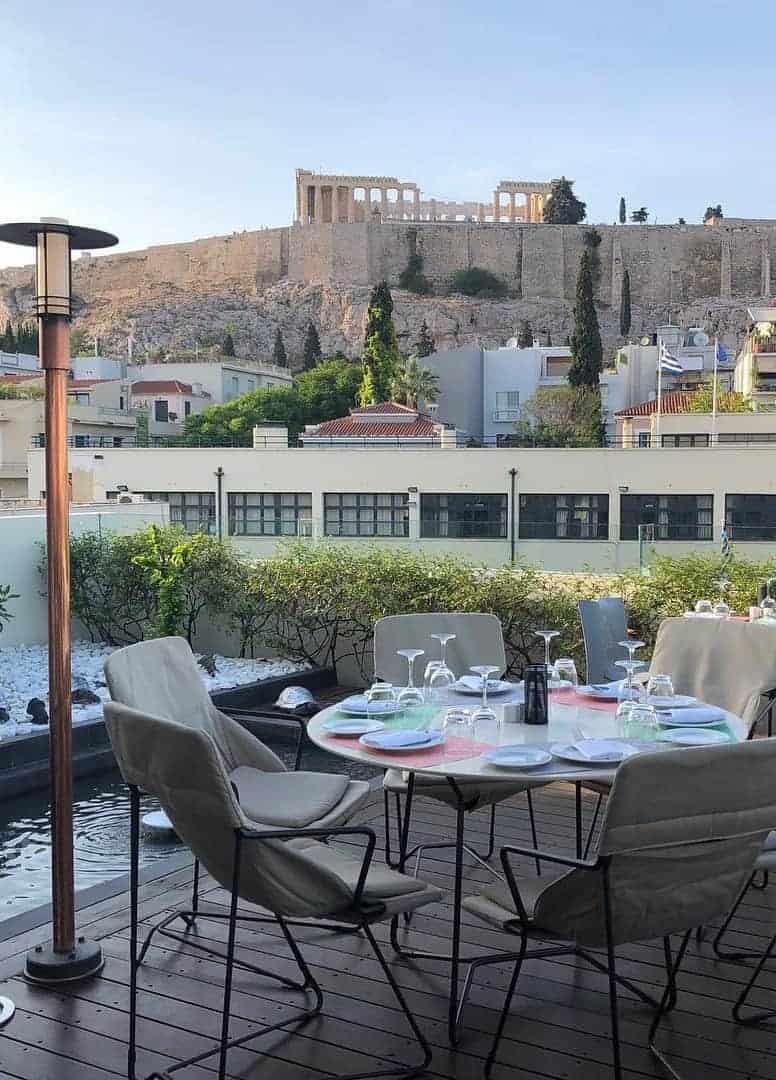 Where: Rovertou Galli 4a, Athina 117 42, Greece
Opening Hours: 8 pm – 1 am daily
The centrally located Point A cocktail bar is a favourite among locals. The bar is beloved for its diverse cocktail menu. However, Point A's specialty is its "tapas cocktails".
In other words, if you order a fruity beverage on the menu here, you will also be served a sweet or savoury treat. Every edible treat is so quintessentially Greek!
For instance, some cocktails are served with indulgent chocolate loukoumades or other Greek desserts. Others are served with bite-sized Greek pastries. 
This bar is known as "Acropolis Point" for a reason. Point A is situated right beside Acropolis Hill and from up here, you have excellent views of both the Parthenon and the contemporary New Acropolis Museum.
The central location makes Point A a great jumping-off point for a larger evening out in the city. 
Athens 360 Rooftop Bar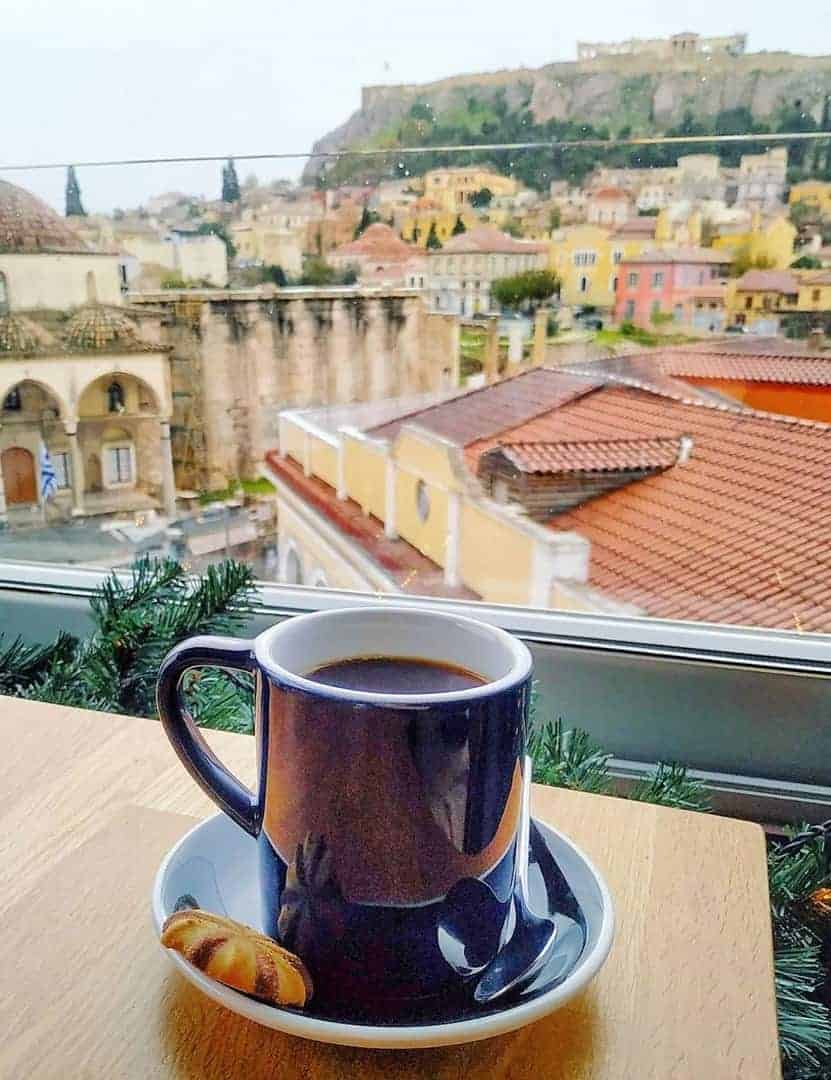 Where: Ifestou 2, Athina 105 55, Greece
Opening Hours: 9 am – 3 am daily

The Athens 360 Rooftop Bar is arguably the most popular rooftop drinks spot in town. It can be found in Monastiraki, in the heart of Athens.
This place is seldom not crowded. The rooftop allows for fantastic 360 cocktail bar panoramas of downtown Athens and the unobstructed view of the Acropolis. 

Besides having an extensive cocktail and wine list, Athens 360 also offers a fine dining restaurant experience. The food options served are all Greek classic dishes that originated in different parts of the country.
Sample salads from Mytilene and the Peloponnese, and pasta dishes from the Pindus Mountains of Northern Greece, etc. Reservations are recommended if you want to have dinner here on Friday or Saturday nights. 
A for Athens Rooftop Bar 
Where: Miaouli 2, Athina 105 54, Greece
Opening Hours: Always Open 
A for Athens is another rooftop bar that is extremely popular among Athenians and tourists alike. Its Monastiraki location means that the bar is just a short walking distance away from major sightseeing attractions.
Old Plaka, the Roman Forum, Anafiotika, and the Monastiraki Flea Market are all just a few minutes walk away from here. The expert mixologists that work here can rustle up any cocktail that you desire.
Treat yourself to a classic drink such as an Old Fashioned or a Cosmopolitan. Alternatively, have the servers create something that is made specifically for you.
The popularity of the place can often mean that there is a little wait for your drinks. However, rest assured, it's worth it.
NEW Art Lounge
Where: Filellinon 16, Syntagmatos 57, Athina 105 57, Greece
Opening Hours: 12 pm – 12.30 am daily
The NEW Art Lounge is a rooftop bar that is perched on the 7th floor of the Athens design hotel of the same name. The property's central Syntagma location means that you have unparalleled views of the National Gardens to the south and the Acropolis to the North.

Views aside, NEW Art Lounge has a unique ambiance. The chairs and furnishings all look somewhat eclectic and eccentric in design. Indeed many of the pieces and the wall art displayed here were created by local Greek designers.
The indoor section of the bar contains a library that displays more than 2,000 different art books. NEW Art Lounge is a perfect spot for coffee, lunch, or evening cocktails.
This is a great choice for people seeking somewhere a little different. NEW is oozing with personality. 
Electra Roof Garden
Where: Navarchou Nikodimou 18-20, Athina 105 57, Greece
Opening Hours: 7.15 pm – 12.45 am. Closed weekends.
Dress up and join the well-heeled crowd at the Electra Roof Garden for an evening that oozes class and sophistication. The bar patrons are usually a mixture of foreign travellers and Athenian locals. 
The bar is set at the top of the Electra Metropolis Hotel, but anyone can enter. The cosmopolitan ambiance, panoramic views, delicious cocktails, and rooftop pool all combine to make the Electra Roof Garden one of the most stylish places to while away an evening in Athens. 
Skyfall Athens
Where: Mark. Mousourou 1, Athina 116 36, Greece
Opening Hours: 8 pm – 3.30 am daily 
Those seeking a real local experience in Athens will enjoy an evening spent at Skyfall Athens. The bar sits on the outskirts of Athens' leafy Mets district.
You will not find many tourists here, just young, hip Athenians that come to mingle with their friends. Few international visitors know of the existence of Athens' Mets district. This is your opportunity for a real local experience in Athens.
Skyfall also serves food and makes a nice starting point for an evening in Athens. The menu showcases dishes from across the Mediterranean.
Fancy eating Italian? Order yourself a generous plate of gnocchetti – handmade potato gnocchi prepared with tomato cream, fresh basil, and creamy burrata cheese.
This part of town is also home to lots of excellent bars if you wish to continue your evening somewhere "local". Venture into Pagrati, and have drinks at Arboritza Kain. 
Plaka Hotel Roof Garden
Where: Kapnikareas 7, Athina 105 56, Greece
Opening Hours: 8 pm – 1 am daily 
The ancient district of Plaka is one of the oldest neighbourhoods in the Greek capital. This area has been continuously inhabited for more than 3,000 years.
Plaka's quaint cobbled streets steal the hearts of many of those who visit. This may well be one of the most touristic parts of town. However, for all of its personality and charm, Plaka is easily forgiven. 
There are few better places to while away an evening in old Plaka than at the Plaka Hotel roof garden. The atmosphere is cosy and non-pretentious. Sink into one of the comfy chairs on the terrace, while you admire the view.
Bios, Exploring Urban Culture 
Where: Panagis Tsaldari 84, Gazi, 10435 Athens, Greece
Opening Hours: 11 am – 4 am daily
Bios is far more than "just another" rooftop bar. It can be found in Gazi – Athens' main entertainment and nightlife district.
This trendy neighbourhood was once the location of the old Athens gasworks. (Gazi means "gas" in Greek).
Bios overlooks the old gas power plant, which has now been transformed into an art and cultural space. You can also see the majestic Acropolis from here, glistening in the distance. 
This is an all-encompassing cultural space. The premises are spread over several floors that feature ever-changing art exhibits, an arthouse theatre, and, you guessed it – a rooftop garden and bar.
Bios often play host to an array of different events. Everything from live music and DJs to poetry readings takes place here. 
Pella Inn Rooftop Bar 
Where: Ermou 104, Athens
Pella Inn Rooftop Bar is a panoramic bar that sits atop the hotel of the same name in Monastiraki. The bar's Ermou location makes it a perfect starting point for spending a night out in Psiri. 
The atmosphere here is casual and non-pretentious. The views here are stunning, and at Pella, you feel right at home among other travellers and wanderers from across the globe. 
Thea Terrace Bar
Where: Apollonos 23, Athina 105 57, Greece
Opening Hours: 11 am – 1 am daily 
Thea Terrace is the rooftop bar that awaits on top of Athens' Central Hotel. The bar is situated just across from the Acropolis. It offers some of the best views in the city.
The atmosphere is unapologetically Mediterranean. Beautiful bougainvillea cascades down the sides of the building. Glass barriers, bouzouki music plays over the speakers, and the cocktails are prepared with a Mediterranean flair. 
For an "only in Greece" type cocktail, order one of the innovative beverages that are prepared with raki or tsipouro. If you want to indulge in a light bite or a dinner while you're here, you can order a selection of meze favourites. Santorini fava bean puree, fasolakia, braised beans, and other national dishes adorn the menu of Thea Terrace
The Sky Lounge, Melia Hotel
Where: Chalkokondili 14 & 28th October, Athina 106 77, Greece
Opening Hours: 8 pm – 11.30 pm daily 
The Melia Hotel is a global luxury hotel chain whose reputation precedes it. In Athens too, the property follows the same elegant, contemporary style. On its 9th floor, the Melia boasts the chic Sky Lounge bar.
By day, the bar is reserved for hotel guests only. However, as the sun sets, it is open to all. 
In addition to its inspiring drinks menu, the Melia also doubles as a restaurant that serves up Greek dishes with a twist. If you choose to eat here, ask the bar's resident Sommelier for Greek wine recommendations.
Locally produced vinos can truly bring out the flavours of your food while you admire great views of the Acropolis.
MS Roof Garden
Where: Athinas 1 &, Ermou
Athens MS Roof Garden is the new Monastiraki rooftop bar on the scene and it's a place that everyone is talking about. The gorgeous bar is effortlessly stylish and elegant and offers both indoor and outdoor seating. 
From the outside roof terrace, you can enjoy 360-degree views of downtown Athens – with bustling Monastiraki Square and flea market on one side, and the twinkling lights of the Parthenon on the other. The interiors are sleek and modern- with a neutral colour palette, and hints of maroon and grey. 
The bar is open daily, from 9:00 am until 3:00 am Monday to Friday, and from 9:00 am until 1:30 am Saturday and Sunday. So, you can stop by for brunch, lunch, or evening drinks.
The brunch menu offers a mix of international classic dishes (e.g. croque madame and eggs benedict), as well as a selection of pancakes and healthy acai bowls. Later in the day, you can order charcuterie boards that showcase the best of Greek local produce, light snacks, souvlakis, and classic Greek dishes like moussaka, and horiatiki (Greek salad).  
Hotel Grande Bretagne Roof Garden
Where: Vasileos Georgiou A 1, Athens

The Hotel Grande Bretagne is an Athens institution. This luxury property sits in Syntagma Square, in the beating heart of Central Athens, and is widely regarded as being one of the very best places to stay in the city if your budget allows.
The GB Bar & Roof Garden awaits on the premise's 8th floor and provides the perfect setting for a special or romantic meal during your Athens itinerary. The menu is unapologetically Greek and the dishes are prepared with fresh ingredients from different regions of the country. 
Consider starting with the burrata bufala from Kerkini, pistachio pesto, croutons, and marinated zucchini with basil mayonnaise. Or alternatively, sample the grilled calamari, smoked fish roe sauce, and crunchy potatoes. 
Then, treat yourself to a steaming plate of indulgent cavatelli pasta or ravioli filled with chard and chervil, 'manouri' cheese from Vlasti, and smoked pancetta foam with pear. If you have room, there's an excellent dessert menu that changes with the seasons and contains a selection of different cakes, ice creams, and gelatos. 
Omikron 2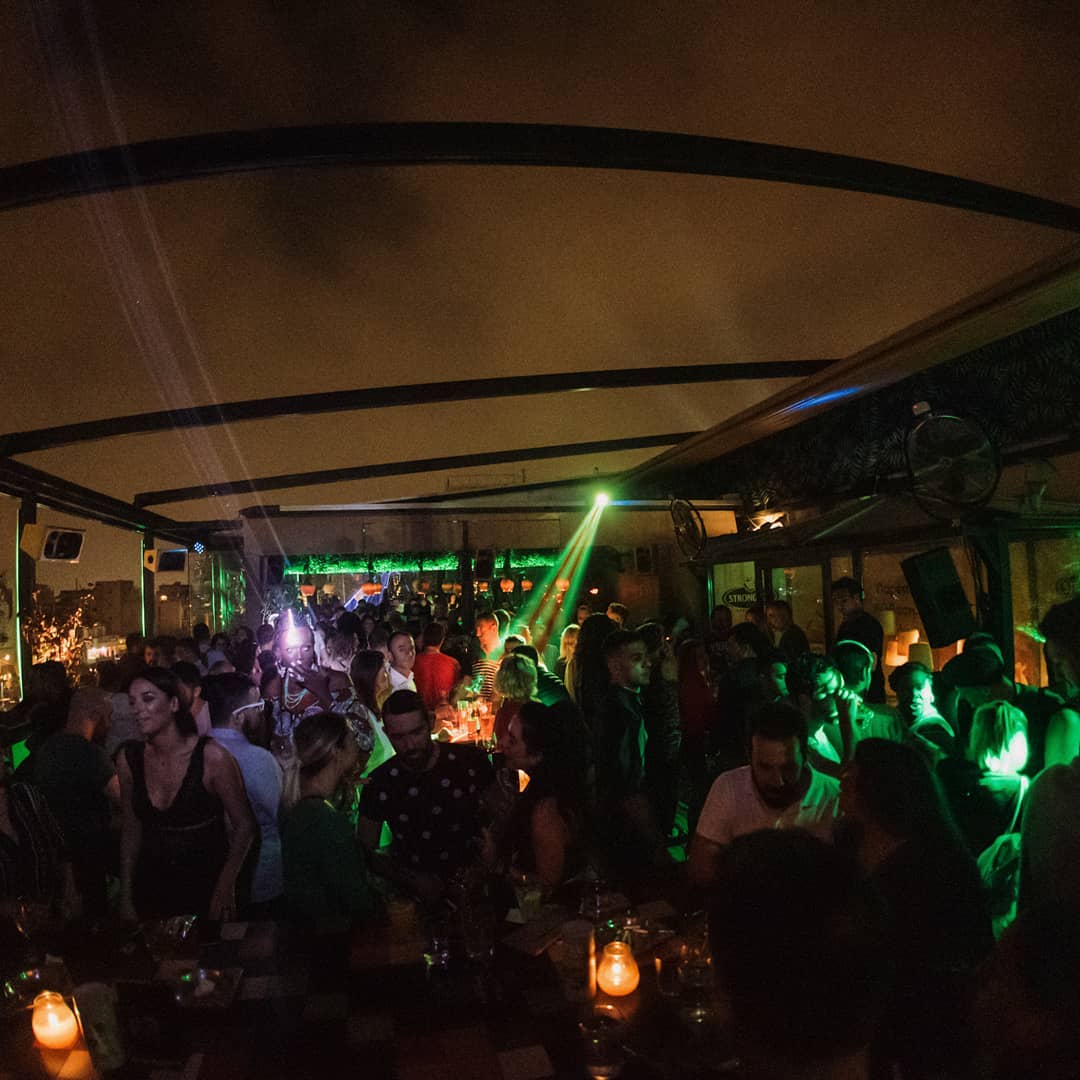 Where: Voutadon 42, Gazi, Athens
Omikron 2 is one of the best Athens rooftop bars if you are just looking to party and enjoy good music, good drinks, and a good time. This non-pretentious spot awaits in Gazi, Athens' main party and nightlife district.  
Drinks are reasonably priced, live DJs perform here on Friday and Saturday nights, and the bar is always full of beautiful Athenians. Latin night is every Wednesday and Sunday when people come to dance salsa and bachata to all manner of reggaeton and Latino classics. 
All of this paired with an Acropolis view makes for a great night out. 
St George Hotel Rooftop Terrace 
Where: Kleomenous 2
The St George Lycabettus Hotel is one of Athens' best luxury hotels. It sits in the upscale Kolonaki district, close to the slopes of Mount Lycabettus, and has won awards for its rooftop bar and restaurant. 
(In 2022, it was recognised as the hotel with the best rooftop view in the world at the World Luxury Hotel Awards!) The La Suite Lounge rooftop restaurant is headed up by Michelin Star French chef Geoffrey Rembert and executive chef Vassilis Milios.
Together, they have crafted a unique menu that offers exquisite French-Greek fusion cuisine. 
It is open every day from 11:00 am until 23:00 pm. There is an extensive and excellent selection of plates of pasta, seafood, and meat dishes on the menu. 
A highly recommended favourite is the tagliata with potatoes, rosemary & Moschofilero wine sauce, or the homemade pappardelle with mushrooms & truffle oil. (Of course, you can also just stop by for coffee, drinks, or desserts if you wish). 
Sky Bar Athens 
Where: Ploutarchou 66
Sky Bar Athens is the Athens rooftop bar with the highest altitude. The bar is set amongst the pine trees and fragrant flower gardens of Lycabettus Hill, offering you a great place to enjoy a rewarding cocktail or chilled glass of wine after hiking to the hill's peak. 
The views from up here are the best of the best. On a clear day, you can see all the way out to the Saronic Gulf islands and the port at Piraeus from up here. 
Prices are a little higher than average because Lycabettus is quite a touristy hotspot, but that isn't to say that the bar isn't a lovely spot to visit. Complimentary chilled waters are provided with every drinks order and the menu also features a selection of non-alcoholic beverages and light bites. 
(You should also be sure not to miss the little whitewashed church of Agios Georgios at the top of the hill. It dates back to the 18th century, contains some interesting religious icons inside, and is a perfect place to watch the sunset). 
The High Bar Athens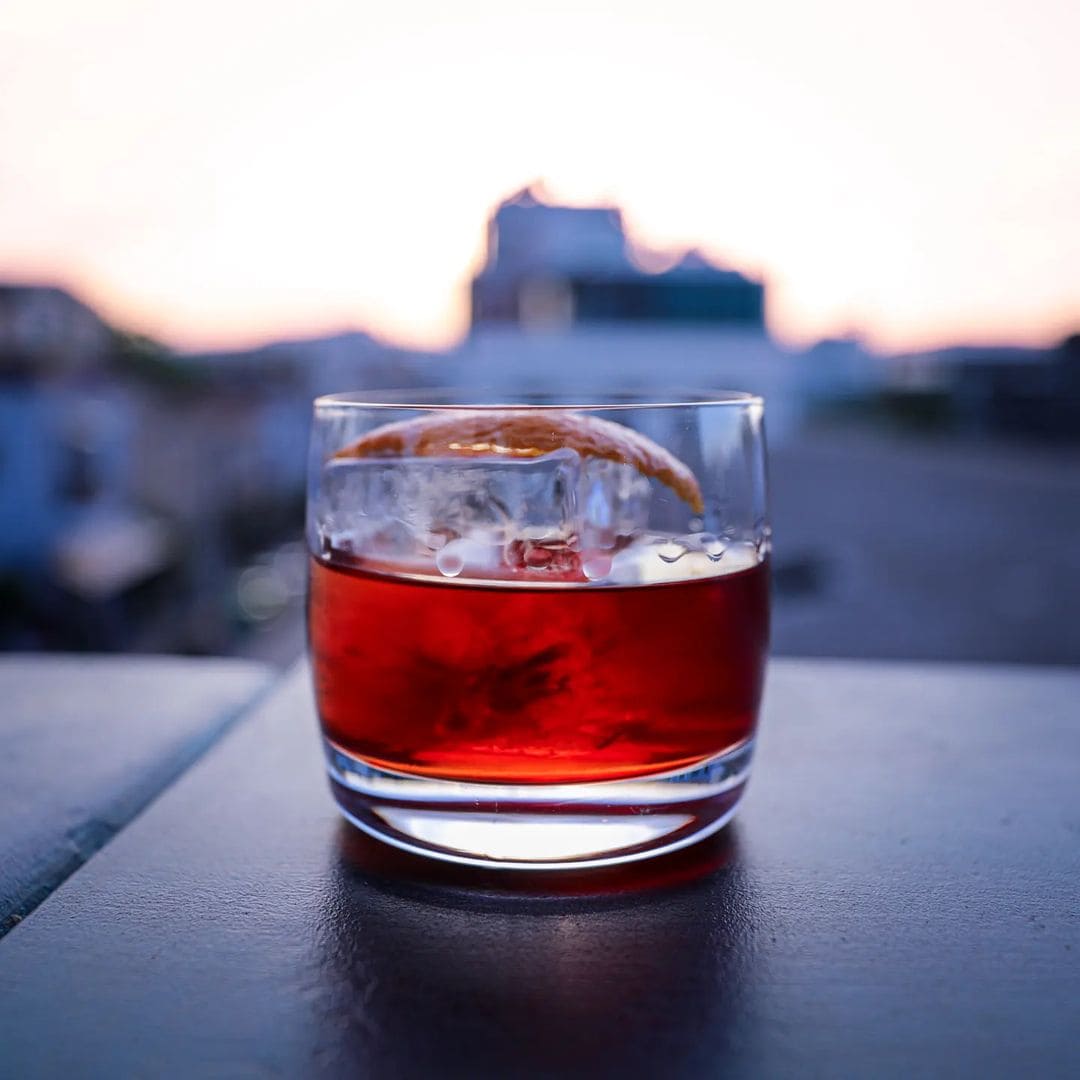 Where: Evmolpidon 20
The High Bar Athens' tagline is ¨the home of gin and negroni¨. The drinks menu here focuses on an extensive list of cocktails that use different specialty gins and the in-house mixologists pride themselves on their ability to make the very best negronis in town.   
Bartenders at the high bar will carefully curate cocktails to suit each customer's taste palate. So, if you tell them the sorts of flavours and drinks that you like, they will craft something special just for you. 
The bar also serves an excellent selection of craft cocktails with fun and inventive names. For instance, there is the ¨Lady in Front of the Bar¨ prepared with Mexican mezcal, London dry gin, Greek plum liqueur, agave syrup, pomegranate, grapefruit, and hibiscus foam. 
Or there's everyone's favourite, the ¨Hot B*sterd¨ which is made with the bar's own unique rum blend, mahlab, cinnamon, chocolate, and mead. If you want a gin and tonic, you can choose from a list of more than 20 gins from across the globe. 
Of course, while you drink, you can gaze out across to the Acropolis, the Ancient Agora, Filopappou Hill and the majestic Temple of Hephaestus. 
Safestay Athens Rooftop Bar 
Where: Ag. Theklas 10, Athens 
The Safestay Athens rooftop bar is worth mentioning here because of the vibes that this place offers, although the design and drinks offerings are fairly simple. The bar sits on the top floor of the Safestay Athens hostel in the heart of Monastiraki. 
You couldn't get a more central location than this, and Safestay is a great place to grab a drink to start the night before heading on elsewhere in Central Athens. Being a hostel, there is of course a great social and international vibe. 
Even if you are not a guest at the hostel, you can come here and easily meet people from across the globe. This is perfect if you are travelling solo in Greece and hoping to meet travel companions to share your trip with. 
Manouka Day & Night Gastro Bar 
Where: Ermou 46
The Manouka Day & Night Gastro Bar is one of the best all-day rooftop restaurants in Athens Greece, headed up by chef Marina Ntemollai and lead bartender John Pissas. It sits on Ermou Street – Athens' main high street that connects all of the city's main neighbourhoods – running from Syntagma Square in the south, through Monastiraki, to Thissio in the north. 
Brunch is served from 09:00 am until 16:00 pm (who doesn't love eating breakfast food at all hours of the day?) And the dinner menu is available from 14:00 pm until 00:30 am. 
The appetizers are great, and you can order a selection of small plates to share meze-style with your friends. For instance, the delicious zucchini meatballs, moussaka croquettes, leek tarts, and potatoes cooked in butter, herbs, and garlic. Yum! 
The decor is Tulum-style hippy-chic with wicker furnishings and wooden fixtures. From up here, you have great views over Psyri, downtown Athens and the Acropolis. 
The Rooftop Athens
Where: Pl. Theatrou 18
The Rooftop Athens is a fun social spot on the top floor of the Selina hostel in downtown Athens. If you are not familiar with the Selina brand, they have grown in a big way over the last couple of years, opening hostels and coworking spaces in various global cities, and catering to people who live a Digital Nomad lifestyle. 
Like Safestay, this is a great place to come if you are travelling solo and looking to meet like-minded people. (Or even if you are travelling as a group and want to make new friends). 
There is a fun, laidback social vibe here and various talks and events are often hosted on-site throughout the month. During the day, this is a good place to work remotely with a coffee. 
By night, stop by to enjoy cocktails or mocktails with a view. 
Retiré Bar, Ergon House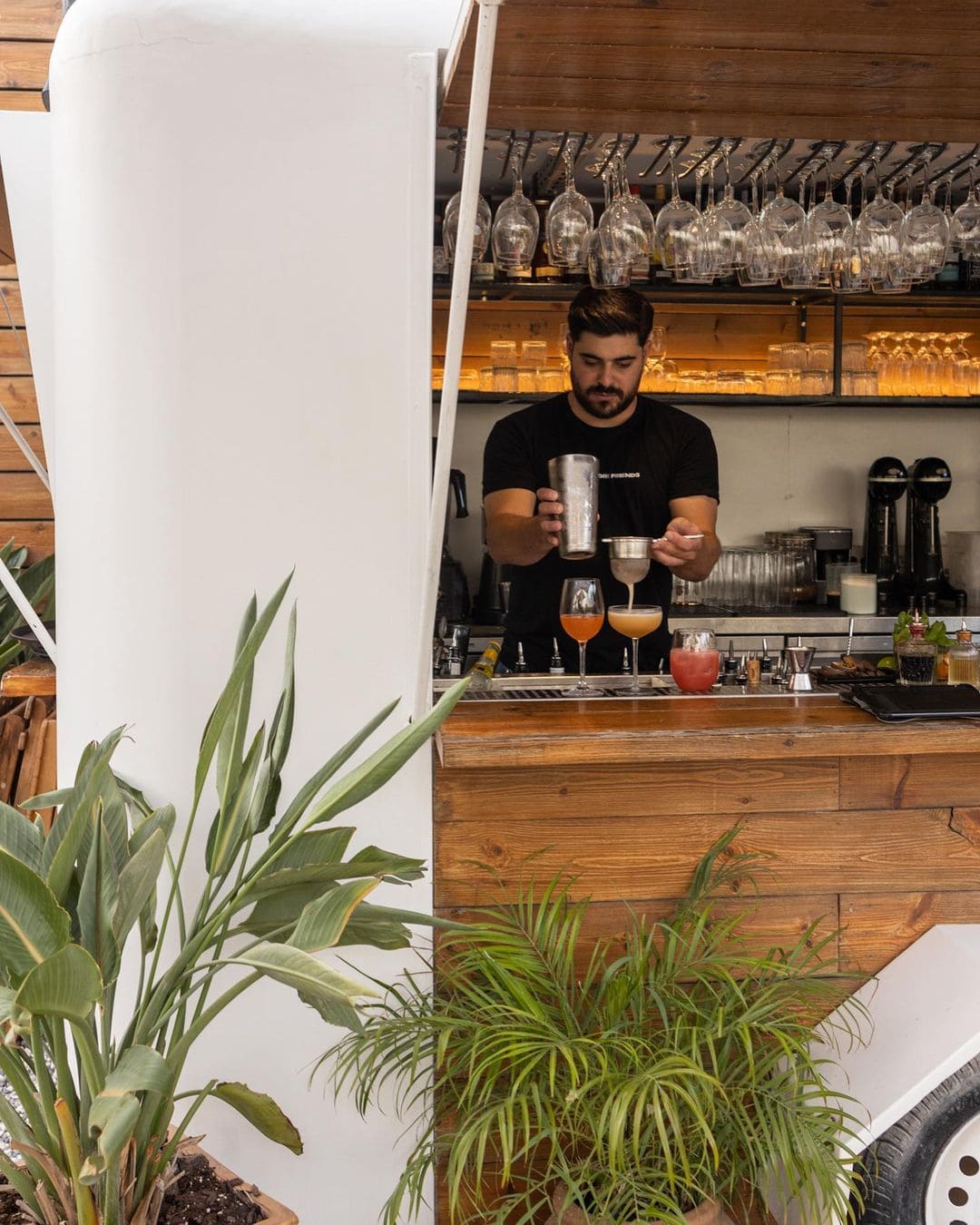 Where: 23, Mitropoleos Street
The Retiré Bar is a favourite hangout spot for many Athenians and one of the most unique Athens rooftop bars on this list. The hip spot sits on the rooftop of the Ergon House and labels itself as a ¨urban oasis¨ in the heart of the concrete Athens jungle.
This is a fitting claim. The rooftop floor is covered with gravel, patrons sit on wooden picnic tables, fairy lights hang from the walls and expert bartenders create all of your favourite drinks from an eclectic retro cocktail truck. 
The vibe is that of going camping with your friends and enjoying good drinks and good times – only you can also see ancient Greek ruins that are thousands of years old in the background too. 
The Royal Roof Garden 
Where: Agias Irinis 43
The Royal Roof Garden is a scenic Athens rooftop bar on the top floor of the Royal Olympic Hotel in downtown Athens. By day, stop by for a coffee a dessert, or a non-alcoholic beverage. 
By night, you can select a fun and fruity cocktail from their extensive selection of classic and signature cocktails. This place is often quieter than a lot of other Athens rooftop bars which is great if you just want a quick drink at the end of a long day.
The signature Mastic tear blend made with mastiha liquor, gin, yuzu puree, orange juice, lime juice, fresh cucumber, and brown sugar is great if you want to try something a bit unusual, prepared with Greek ingredients.
The bar's downtown location means that you are just a short walk from some of the other best-loved bars in Athens. For instance, the themed bar Little Kook (Karaiskaki 17) is just two blocks away. 
As is six d.o.g.s (Avramiotou 6-8) and Juan Rodriguez Bar (Pallados 3). From the top floor, you have incredible views over Psyri, Hadrians Library, and the Ancient and Roman Agoras. 
Attic Urban Rooftop 
Where: Ermou 86 
The Attic Urban Rooftop is a chic new spot on Ermou Street that pairs traditional Greek cuisine with a contemporary twist paired with Acropolis views. The Athenian rooftop offers rustic interiors with handmade wooden tables, wicker chairs, and swing seats that are perfect for taking photos. 
(As much as we hate to use the phrase ¨Instagrammable¨, it's something that perfectly embodies this spot!) The aesthetics here are 10/10 but the food and drinks qualities are excellent too. 
Share some shrimp saganaki or some tagaloni cheese balls with Santorini tomato chutney to start. Then, order a mouthwatering Greek classic for your main courses such as the sumptuous pappardelle with slow-cooked beef stew, or the beef tagliatta. 
If you are vegetarian, vegan, or have dietary restrictions, you will find something suitable on this diverse menu too. 
Anglais Rooftop Bar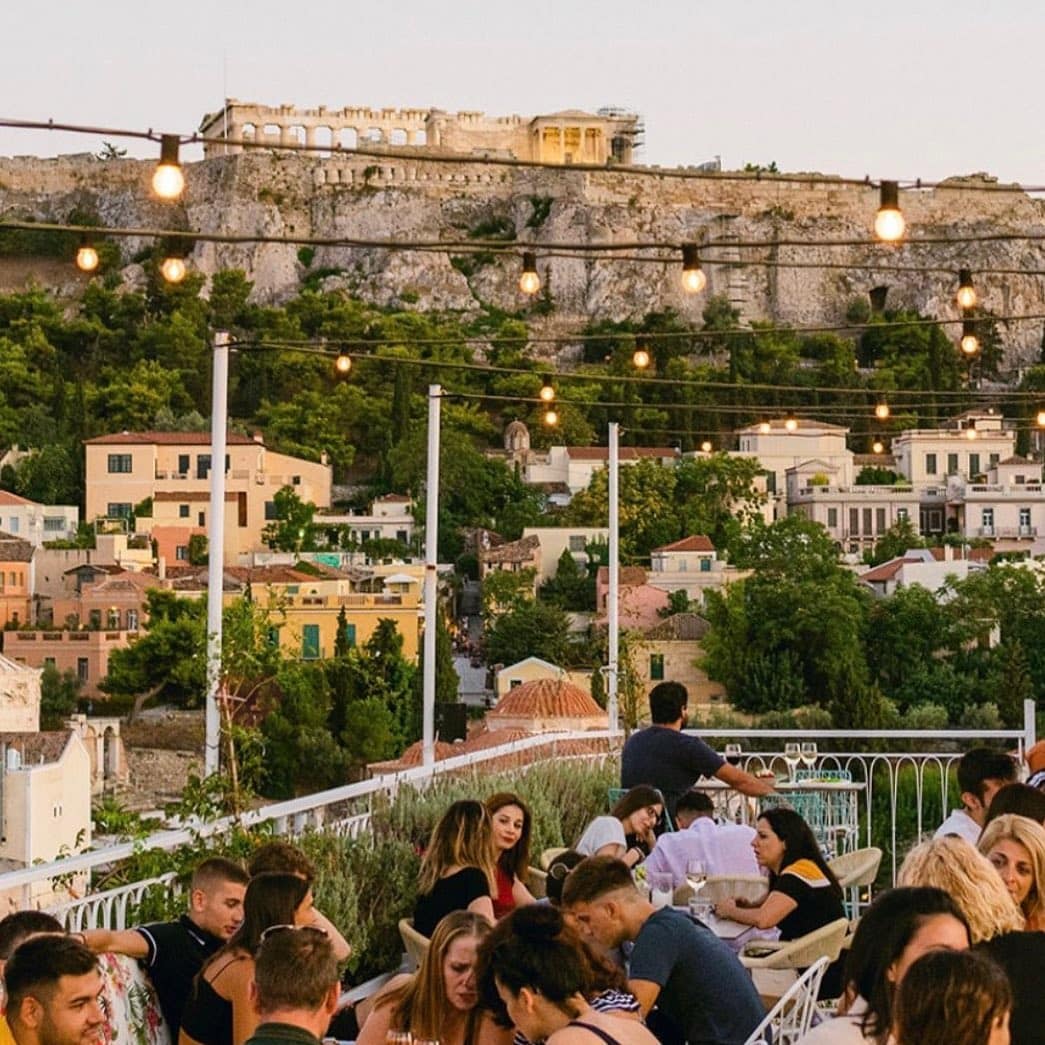 Where: Kirikeioi 6
The Anglais Athens rooftop bar is a bit of a hidden gem. It is tucked away from view on Kirikeioi, one of the backstreets behind Monastiraki metro station where it is located at the top of an unsuspecting apartment building. 
The bar is spread over two floors that play House music, Hip Hop, R&B, and Greek pop. There is a spacious interior lounge and a quirky retro rooftop that seemingly transports you back to the 1950s. 
The panoramas from up here are some of the best in town. You can see the Ancient Agora, the Parthenon, and Lycabettus Hill in all of their glory. 
If you feel hungry during your visit, you can order a selection of pizzas and plates of pasta from the menu, or purchase platters of cold-cut meats and cheeses to share. 
Olympias Athinas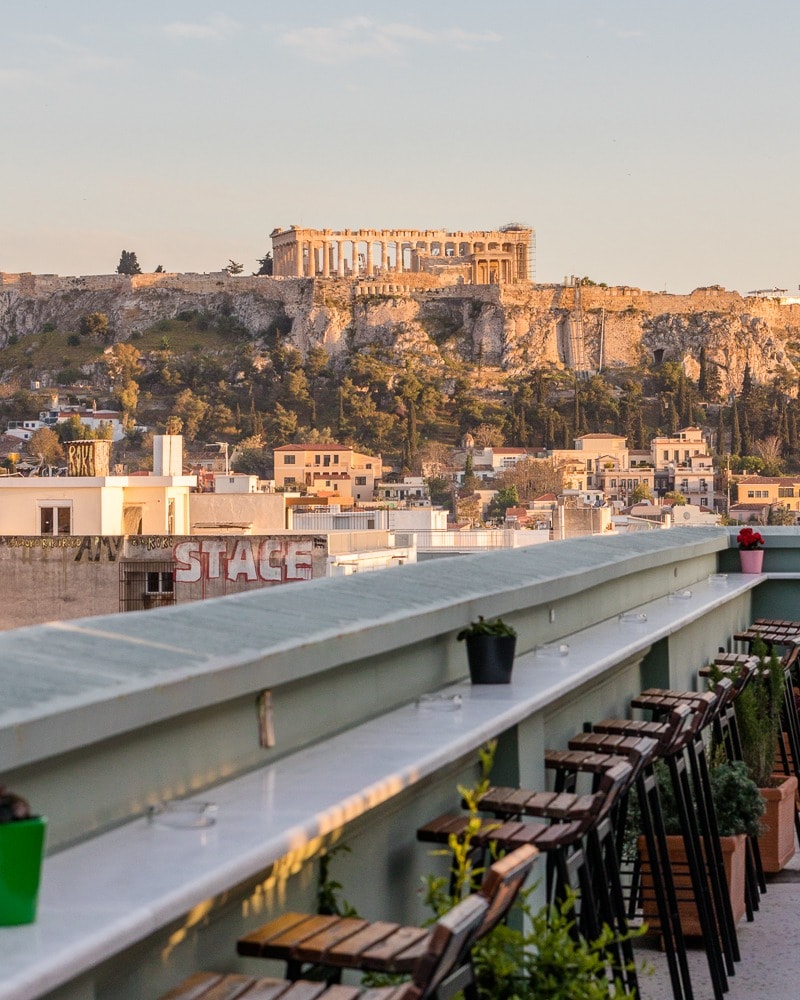 Where: Athinas 57
The Olympias Athinas rooftop bar is an elegant yet bustling spot close to the Athens Central Market (Varvakios Agora) in downtown Athens. The bar only opened in late 2021 but it has already established itself as one of the best places to spend a weekend night in Greece. 
Live DJ sets, Jazz trios, and singers are hosted here virtually every Friday and Saturday, and they perform to an intimate audience. There is a dance floor by the DJ booth and stage, as well as plenty of seating space to sit, watch the crowds, and enjoy local wines, craft beers, or exquisite cocktails. 
The Artist Rooftop Bar & Restaurant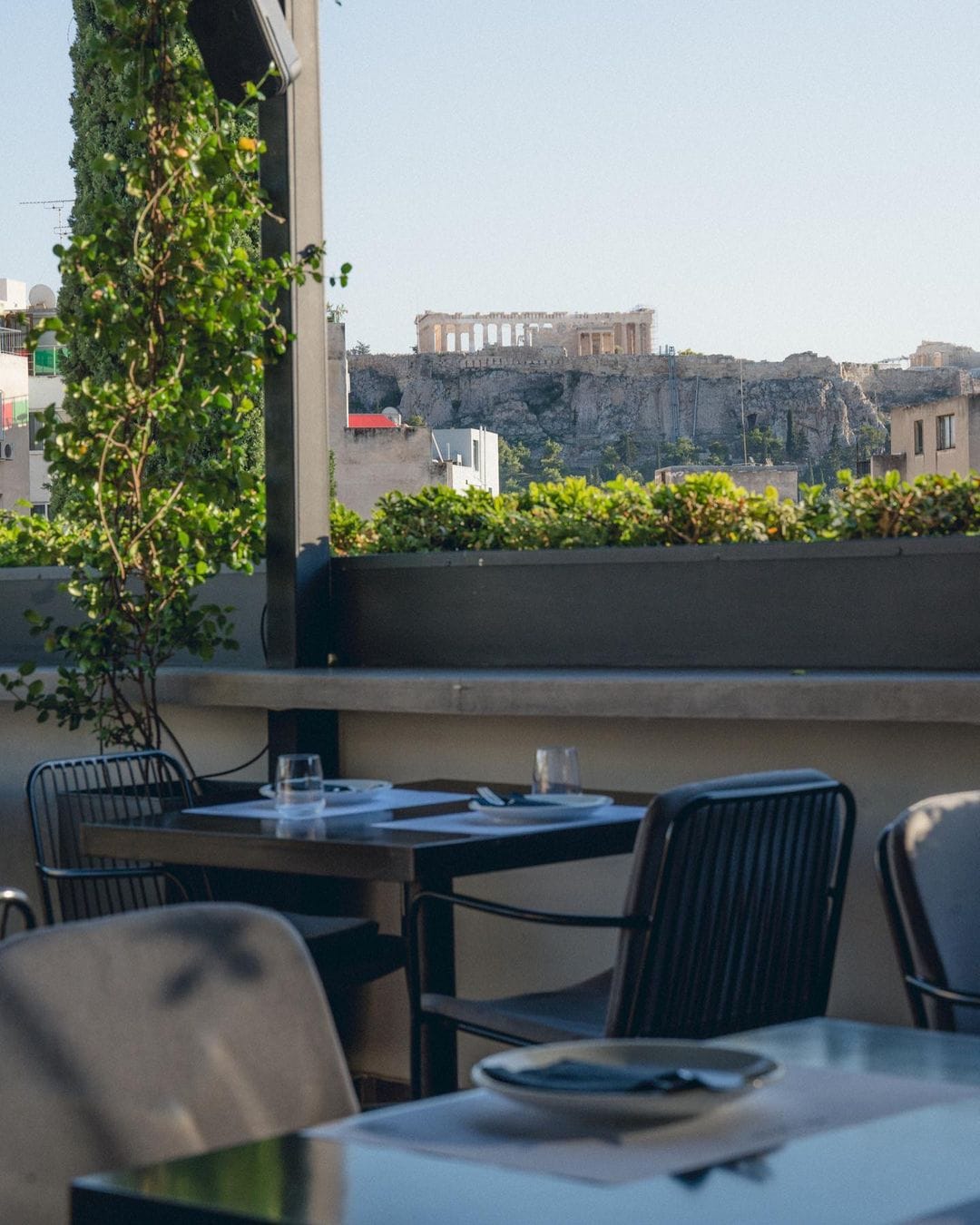 Where: Melanthiou 4
The Artist Rooftop Bar Athens prides itself on offering ¨something more than the usual¨. It stands out in a sea of options of places to drink with an Acropolis view. 
The roof garden is open from 18:00 pm til late every day and is spread across two floors which are divided into separate rooms. If you are looking to grab a bite to eat, you won't be disappointed with the Greek food menu here which changes with the seasons to showcase only the freshest local ingredients. 
In summer 2023, try the tasty orzo pasta with langoustine, bisque, and truffles, or the slow-cooked goat served with fava beans and an orange and coffee marinade. For €65 you can also try a tasting menu, whereby the resident chef will prepare you a selection of small plates to sample.
Final thoughts on the best rooftop bars in Athens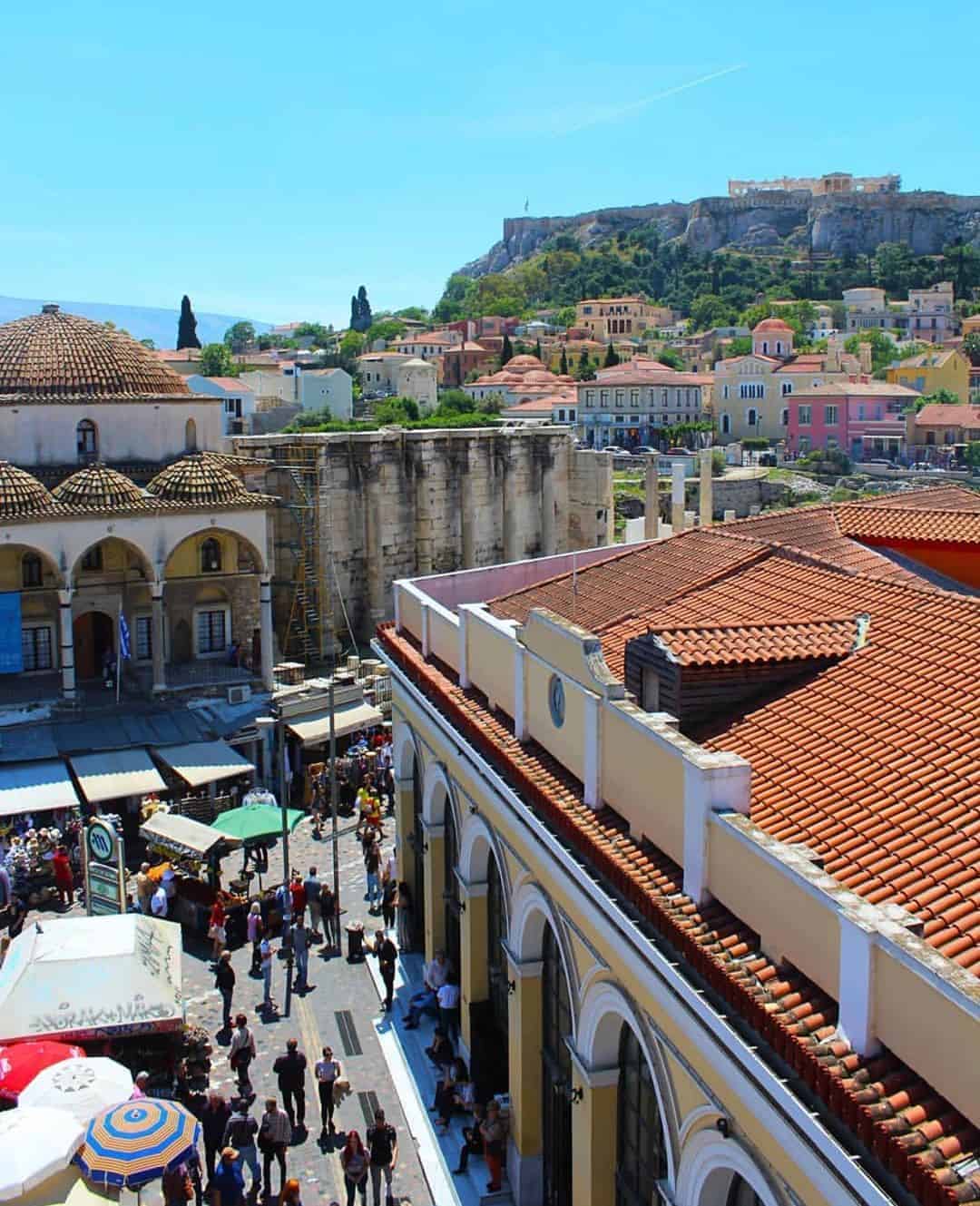 There are a lot of options to choose from when searching for the very best rooftop bars in Athens. You could essentially hang out in a different place for every night of your itinerary!
The top recommendations were provided at the start of this article (Skyfall, Sense Rooftop, and Couleur Locale). Honestly, though, you can't go wrong with any of the places on this list – even the ultra-popular tourist spots are popular for a reason. 
It is also worth noting that for years and years, the rooftop bar at the top of the Hilton Hotel Athens was the place to go on a Friday or Saturday night if you wanted to celebrate something or hang out somewhere glamorous. It was an Athens institution and a favourite among locals (even if some of the drinks came with a hefty price tag). 
The hotel closed its doors in January 2022 and is scheduled to be reopened in 2024 under the Conrad brand. So, we have sadly had to remove their rooftop bar from the list but look forward to reviewing the new one when it's open to the public. 
Have a wonderful time in Athens! If you are in the midst of planning a trip, you might also find it useful to join the Facebook group ¨All Greek to Me¨ which aims to help expats and travellers plan their adventures around the country. 
Geia sou! Xo 
Safe travels! Geia sou! Melissa xo 
---