Rooftop bars in Athens are a nice place to spend an evening with a view. Wherever you travel, sipping a negroni or 23 from the thirtieth story is a nice way to enjoy a city skyline from a different perspective.
In Athens, this experience is extra magical. Whichever rooftop bar you choose, you are staring down at thousands of years of history.
Athens from Above
Wondering what is so special about hanging out at the best rooftop bars in Athens? From up here, you have an unparalleled view of the Acropolis by nightfall.
Seeing the sunbleached remnants of the Parthenon as it watches over the city protectively is special at any time of day. But the magic increases tenfold as it is illuminated by thousands of twinkling lights. 
By nightfall, the Filopappou monument and the old church atop Lycabettus hill are also illuminated. The atmosphere is almost ethereal.
Athens' skyline has a delectable contrast of ancient and modern that is unparalleled elsewhere. Rooftop bars in Athens make a good starting point for experiencing the Athens nightlife scene.
The Best Rooftop Bars in Athens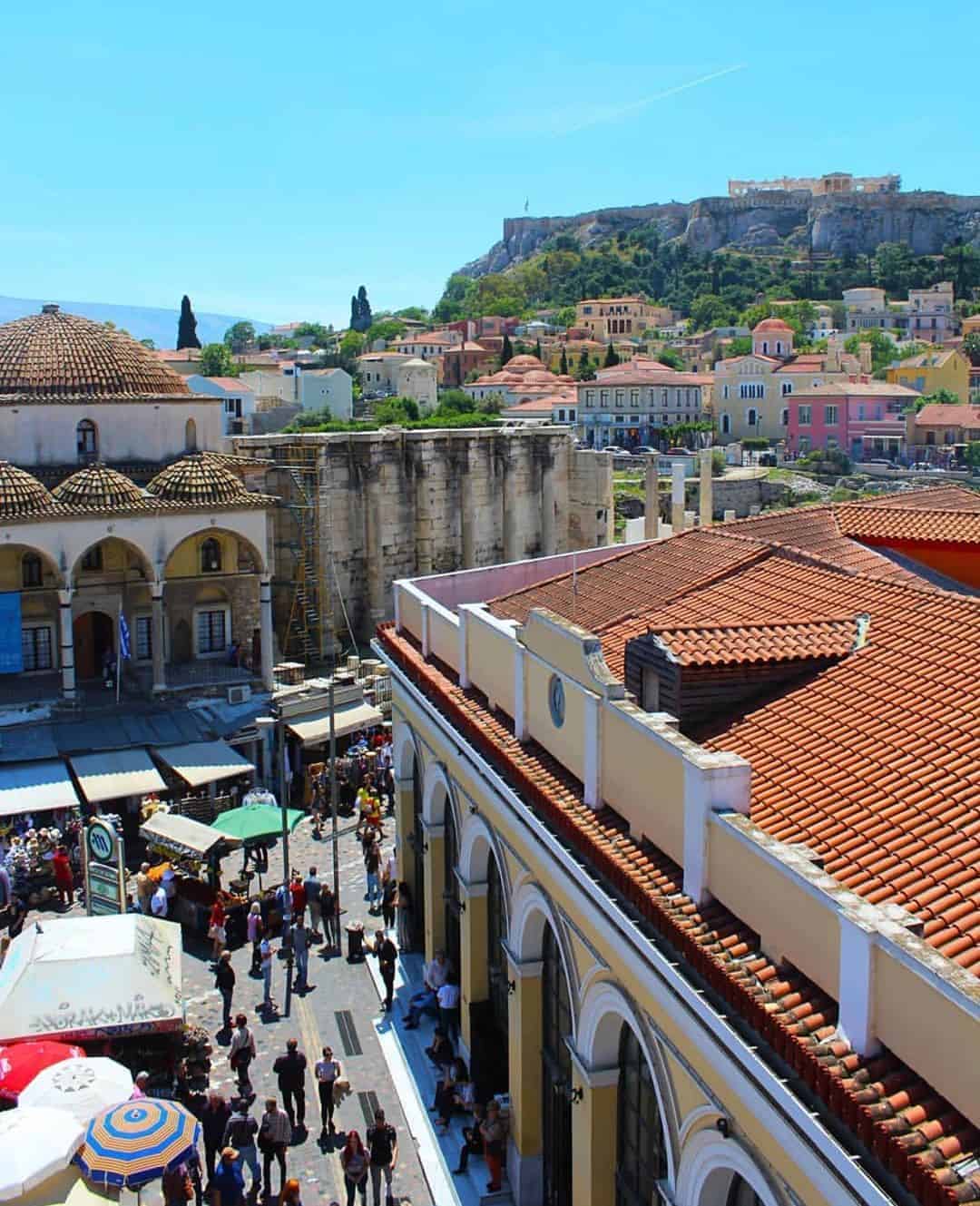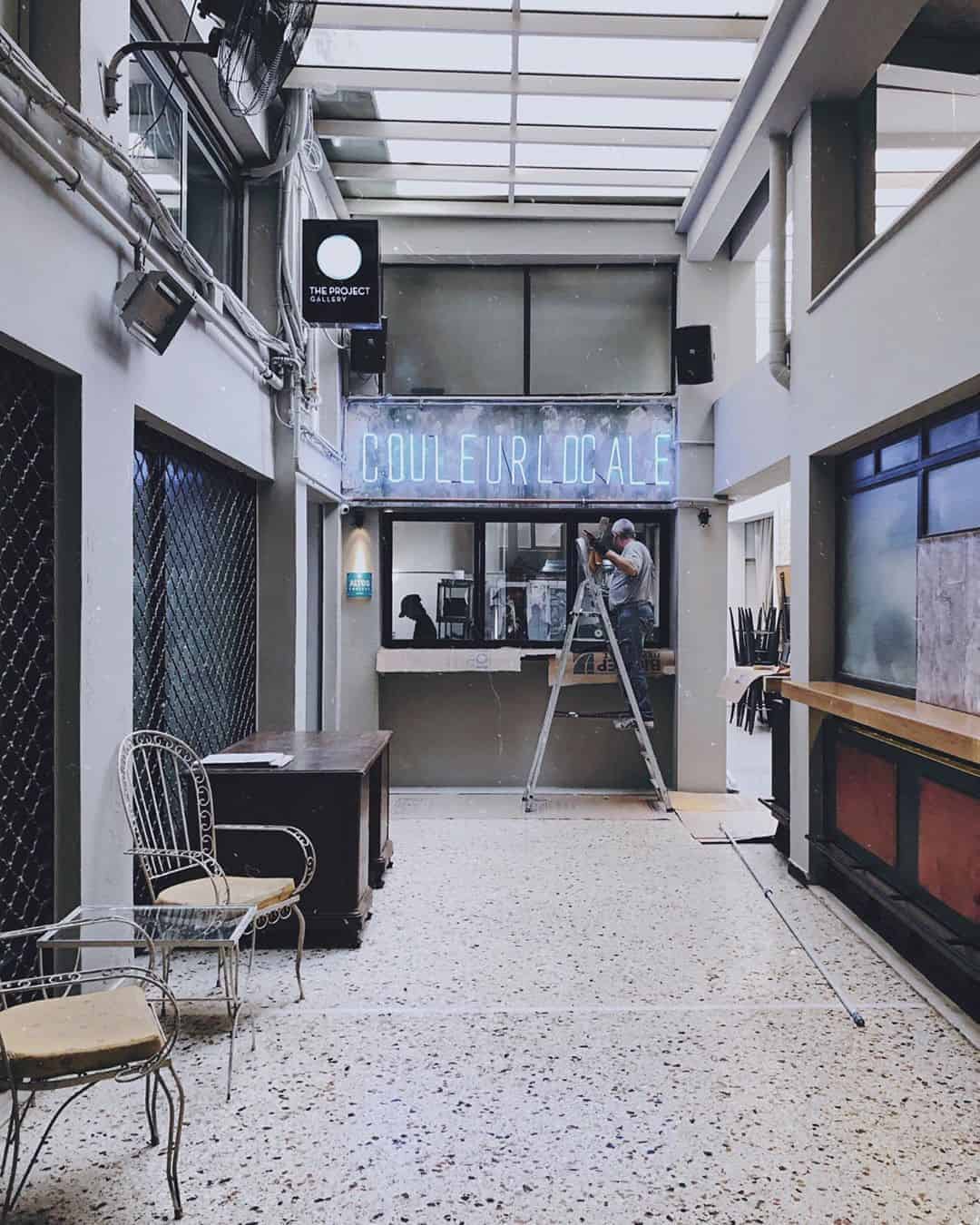 A collection of the best rooftop bars in Athens are summarised below. These range from the popular and well-known, to the hidden local favourites.
Some of the bars detailed here are situated inside luxury hotels. Anyone can enter these hotel bars, whether they are a guest or not.
Couleur Locale
Where: Normanou 3, Athina 105 55, Greece
Opening Hours: 10 am – 2 am daily
Couleur Locale truly is a diamond in the rough. The bar sits down an unsuspecting alleyway that veers off from Monastiraki square.
The bar is not signposted at all. You must pass by ramshackle antique stores, and graffiti-laden passageways before getting into an unmarked elevator.
On the top floor, Couleur Locale awaits. You would never find this bar unless you specifically knew it was here.

Couleur Locale bar emits a trendy, bohemian vibe. On weekends, the top floor roof bar is one of the most popular spots in town.
However, Couleur Locale is also open during the day, throughout the week. It is a perfect place to stop for a strong Greek coffee with a view.
City Zen Rooftop Bar
Where: Aiolou 11, Athina 105 55
City Zen is an all-day rooftop bar and restaurant in the beating heart of Monastiraki. It awaits between Metropoleos and Aiolou streets. 
Like many of the best rooftop bars in Athens, City Zen offers incredible views of the Acropolis. However, what has made the establishment the talk of the town in recent years is its food.
City Zen's carefully crafted menu is the brainchild of Chef Alexandros Karanikolas. It offers a blend of sumptuous Mediterranean and International dishes.
The offering is extensive. You can find everything here from sharing platters of finger foods to meze plates, and indulgent main courses. 
Mains, mezes, and appetisers are inspired by cuisines from across the globe. Allow the calf carpaccio with truffle oil and lemon pearls to transport your taste buds to Italy, and the spring duck rolls take you to the Far East.
Sense Rooftop at AthensWas Hotel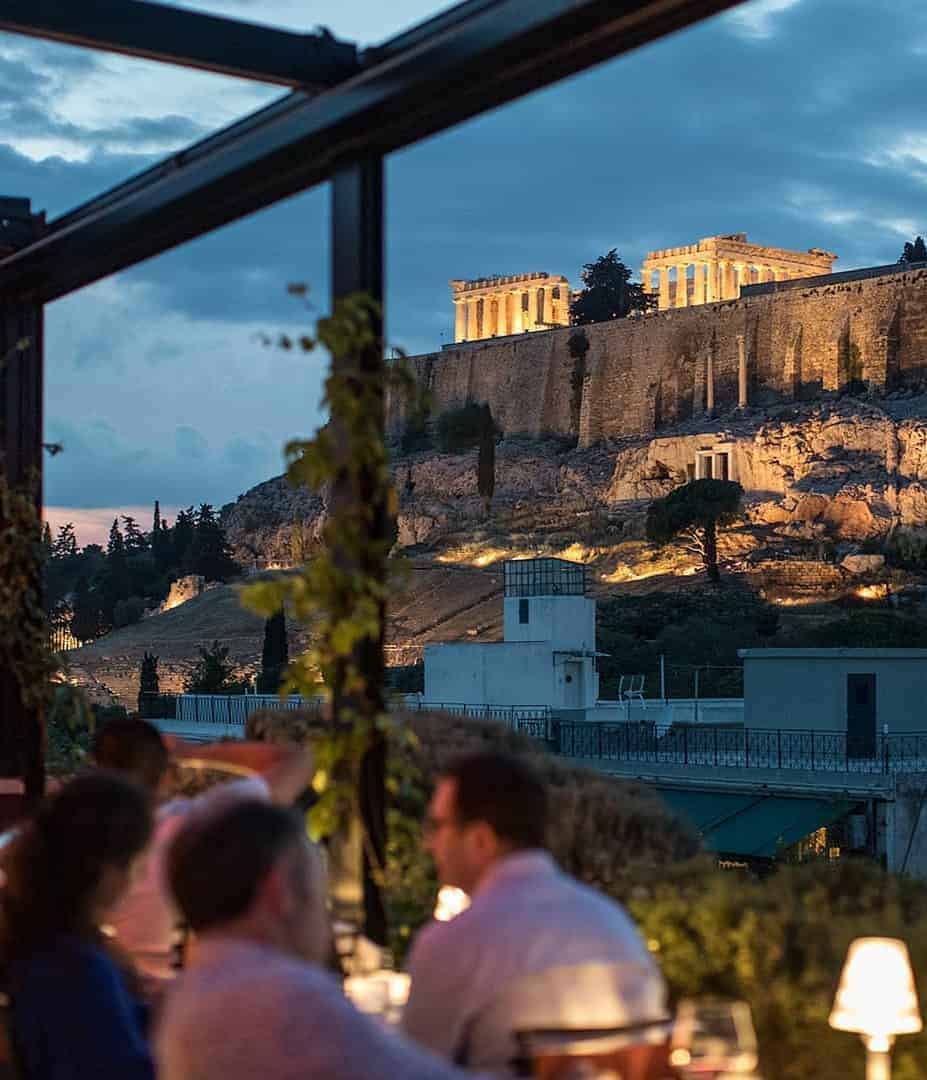 Where: Dionysiou Areopagitou 5, Athina 117 42, Greece
Opening Hours: 12 pm – 1 am daily
The Sense restaurant is a fine-dining eatery that is perched atop the AthensWas Hotel on Dionysiou Areopagitou. This is a restaurant.
Arguably it is one of the best restaurants in Athens. However, it is also possible to stop by for some drinks or a light bite.
Expect attentive service in an ultra-luxurious setting. From here, the Acropolis looks so close that it almost seems as though you can reach out and touch it.

The drinks menu is infused with Greek and Mediterranean flair. Wines sourced from local vineyards make the perfect accompaniment to your meal.
Alternatively, order up some cocktails created with quintessentially Greek alcohols such as rakomelo or mastiha. If you also wish to dine at the Sense Rooftop, the innovative seasonal menu will not disappoint. Sense's menu focuses on traditional Greek recipes with a modern twist.
Point A (Acropolis Point)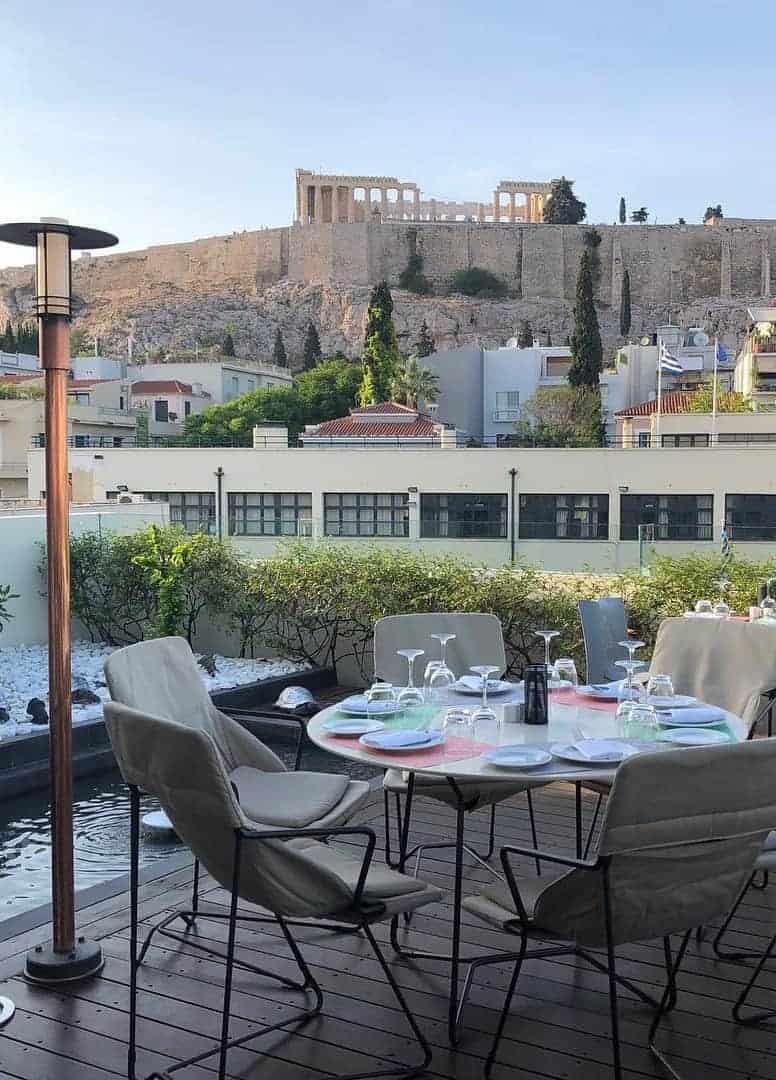 Where: Rovertou Galli 4a, Athina 117 42, Greece
Opening Hours: 8 pm – 1 am daily
The centrally located Point A cocktail bar is a favourite among locals. The bar is beloved for its diverse cocktail menu. However, Point A's specialty is its "tapas cocktails".
In other words, if you order up a fruity beverage on the menu here, you will also be served a sweet or savoury treat. Every edible treat is so quintessentially Greek!
For instance, some cocktails are served with indulgent chocolate loukoumades or other Greek dessserts. Others are served with bite-sized Greek pastries. 
This bar is known as "Acropolis Point" for a reason. Point A is situated beside Acropolis hill,
From up here, you have excellent views of both the Parthenon and the contemporary New Acropolis museum. The central location makes Point A a great jumping-off point for a larger evening out in the city.
Athens 360 Rooftop Bar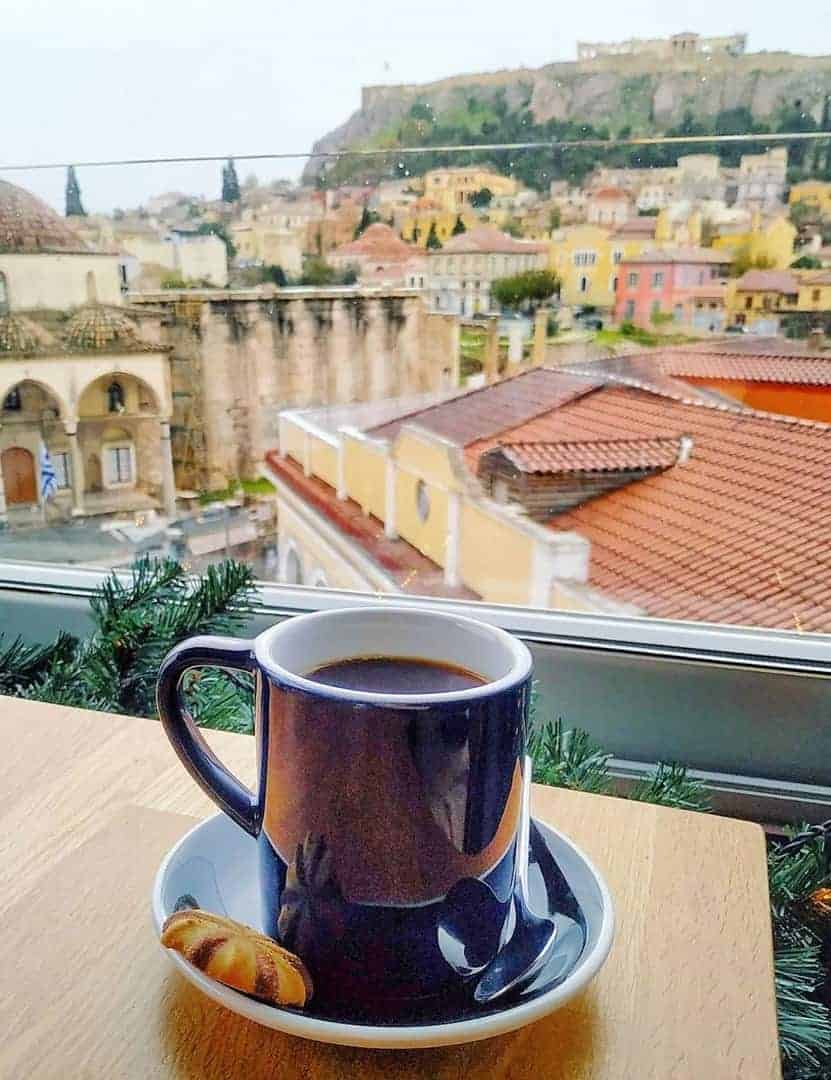 Where: Ifestou 2, Athina 105 55, Greece
Opening Hours: 9 am – 3 am daily

The Athens 360 Rooftop Bar is arguably the most popular rooftop drinks spot in town. It can be found in Monastiraki, in the heart of central Athens.
This place is seldom not crowded. The rooftop allows for fantastic 360-degree panoramas of downtown Athens and the Acropolis.

Besides having an extensive cocktail and wine list, Athens 360 also offers a fine dining restaurant experience. The food options served are all Greek classic dishes that originated in different parts of the country.
Sample salads from Mytilene and the Peloponnese, and pasta dishes from the Pindus Mountains of Northern Greece, etc. Reservations are recommended if you want to have dinner here on Friday or Saturday nights. 
A for Athens Rooftop Bar
Where: Miaouli 2, Athina 105 54, Greece
Opening Hours: Always Open
A for Athens is another rooftop bar that is extremely popular among Athenians and tourists alike. Its Monastiraki location means that the bar is just a short walking distance away from major sightseeing attractions.
Old Plaka, the Roman Forum, Anafiotika, and the Monastiraki Flea Market are all just a few minutes' walk away from here. The expert Mixologists that work here can rustle up any cocktail that you desire.
Treat yourself to a classic drink such as an Old Fashioned or a Cosmopolitan. Alternatively, have the servers create something that is made specifically for you.
The popularity of the place can often mean that there is a little wait for your drinks. However rest assured, it's worth it.
The Galaxy Lounge at the Hilton Athens
Where: Leof. Vasilissis Sofias 46, Athina 115 28, Greece
Opening Hours: 5 pm – 3 am daily
The Galaxy Lounge at the Hilton Athens attracts an elegant crowd. The hotel is located close to Megaro Mousikis metro station and Kolonaki.
This area is a little out of the city centre. However, the hotel offers some of the most incredible views of Athens by night.
Filopappou Hill, the Acropolis, Lycabettus church, and the Panathenaic stadium can all be seen from up here. The Galaxy Lounge has been nominated as being one of the very best rooftop bars in the world on more than one occasion.
Diffused lighting, plush modern furnishings, and contemporary art pieces make for an incredibly chic ambiance. The adjoining Galaxy Restaurant offers a diverse menu of exquisite dishes from across the world.
NEW Art Lounge
Where: Filellinon 16, Syntagmatos 57, Athina 105 57, Greece
Opening Hours: 12 pm – 12.30 am daily
The NEW Art Lounge is a rooftop bar that is perched on top of the Athens design hotel of the same name. The property's central Syntagma location means that you have unparalleled views of the National Gardens to the south and the Acropolis to the North.

Views aside, NEW Art Lounge has a unique ambiance. The chairs and furnishings all look somewhat eclectic and eccentric in design. Indeed many of the pieces and the wall art displayed here were created by local Greek designers.
The indoor section of the bar contains a library that displays more than 2,000 different art books. NEW Art Lounge is a perfect spot for coffee, lunch, or evening cocktails.
This is a great choice for people seeking somewhere a little different. NEW is oozing with personality.
Electra Roof Garden
Where: Navarchou Nikodimou 18-20, Athina 105 57, Greece
Opening Hours: 7.15pm – 12.45am. Closed weekends.
Dress up and join the well-heeled crowd at the Electra Roof Garden for an evening that oozes class and sophistication. The bar patrons are usually a mixture of foreign travellers and Athenian locals.
The bar is set at the top of the Electra Metropolis Hotel, but anyone can enter. The cosmopolitan ambiance, delicious cocktails, and rooftop pool all combine to make the Electra Roof Garden one of the most stylish places to while away an evening in Athens.
Skyfall Athens
Where: Mark. Mousourou 1, Athina 116 36, Greece
Opening Hours: 8 pm – 3.30 am daily
Those seeking a real local experience in Athens will enjoy an evening spent at Skyfall Athens. The bar sits on the outskirts of Athens' leafy Mets district.
You will not find many tourists here, just young, hip Athenians that come to mingle with their friends. Few international visitors know of the existence of Athens' Mets district. This is your opportunity for a real local experience in Athens.
Skyfall also serves food and makes a nice starting point for an evening in Athens. The menu showcases dishes from across the Mediterranean.
Fancy eating Italian? Order yourself a generous plate of gnocchetti – handmade potato gnocchi prepared with tomato cream, fresh basil, and creamy burrata cheese.
This part of town is also home to lots of excellent bars if you wish to continue your evening somewhere "local". Venture into Pagrati, and have drinks at Flamingo, or Kain.
Plaka Hotel Roof Garden
Where: Kapnikareas 7, Athina 105 56, Greece
Opening Hours: 8 pm – 1 am daily
The ancient district of Plaka is one of the oldest neighbourhoods in the Greek capital. This area has been continuously inhabited for more than 3,000 years.
Plaka's quaint cobbled streets steal the hearts of many of those who visit. This may well be one of the most touristic parts of town. However, for all of its personality and charm, Plaka is easily forgiven.
There are few better places to while away an evening in old Plaka than at the Plaka Hotel roof garden. The atmosphere is cosy and non-pretentious. Sink into one of the comfy chairs on the terrace, while you admire the view.
Bios, Exploring Urban Culture
Where: Panagis Tsaldari 84, Gazi, 10435 Athens, Greece
Opening Hours: 11 am – 4 am daily
Bios is far more than "just another" rooftop bar. It can be found in Gazi – Athens' main entertainment and nightlife district.
This trendy neighbourhood was once the location of the old Athens gasworks. (Gazi means "gas" in Greek).
Bios overlooks the old gas power plant, which has now been transformed into an art and cultural space. You can also see the majestic Acropolis from here, glistening in the distance. 
This is an all-encompassing cultural space. The premises are spread over several floors that feature ever-changing art exhibits, an arthouse theatre, and, you guessed it – a rooftop bar.
Bios often play host to an array of different events. Everything from live music and DJs to poetry readings takes place here. 
Pella Inn Rooftop Bar
Where: Ermou 104, Athens
Pella Inn Rooftop Bar is a panoramic bar that sits atop the hotel of the same name in Monastiraki. The bar's Ermou location makes it a perfect starting point for spending a night out in Psiri.
The atmosphere here is casual and non-pretentious. The views here are stunning, and at Pella, you feel right at home among other travellers and wanderers from across the globe.
Thea Terrace
Where: Apollonos 23, Athina 105 57, Greece
Opening Hours: 11 am – 1 am daily
Thea Terrace is the rooftop bar that awaits on top of Athens' Central Hotel. The bar is situated just across from the Acropolis. It offers some of the best views in the city.
The atmosphere is unapologetically Mediterranean. Beautiful bougainvillea cascade down the sides of the building. Glass barriers, bouzouki music plays over the speakers, and the cocktails are prepared with a Mediterranean flair.
For an "only in Greece" type cocktail, order one of the innovative beverages that are prepared with raki or tsipouro. If you want to indulge in a light bite or a dinner while you're here, you can order a selection of meze favourites. Santorini fava bean puree, fasolakia, braised beans, and other national dishes adorn the menu of Thea Terrace
The Sky Lounge, Melia Hotel
Where: Chalkokondili 14 & 28th October, Athina 106 77, Greece
Opening Hours: 8 pm – 11.30 pm daily
The Melia hotel is a global luxury hotel chain whose reputation precedes it. In Athens too, the property follows the same elegant, contemporary style. On its 9th floor, the Melia boasts the chic Sky Lounge bar.
By day, the bar is reserved for hotel guests only. However, as the sun sets, it is open to all.
In addition to its inspiring drinks menu, the Melia also doubles as a restaurant that serves up Greek dishes with a twist. If you choose to eat here, ask the bar's resident Sommelier for Greek wine recommendations. Locally produced vinos can truly bring out the flavours of your food.
Parting Words
Looking for further suggestions of rooftop bars in Athens, or advice on drafting out your Athenian travel itinerary? I have lived in Athens for almost four years now.
I am happy to assist with any questions you may have. Don't hesitate to reach out to me via the comments below.
Safe travels! Geia sou! Melissa xo

---