Thissio Athens (also known as Thiseio and Thiseon) is one of the most historic and culturally interesting districts in the Greek capital. Several of the city's most notable attractions are found here, including the Ancient Agora, the cobbled boulevard of Apostlou Pavlou, Filopappou hill, and Areopagus hill. 
If you want to stay in a central part of the city that places you within walking distance of the Acropolis, and some of Athens' best bars and restaurants, this is also a good place to base yourself during your trip to Athens.
Thissio Athens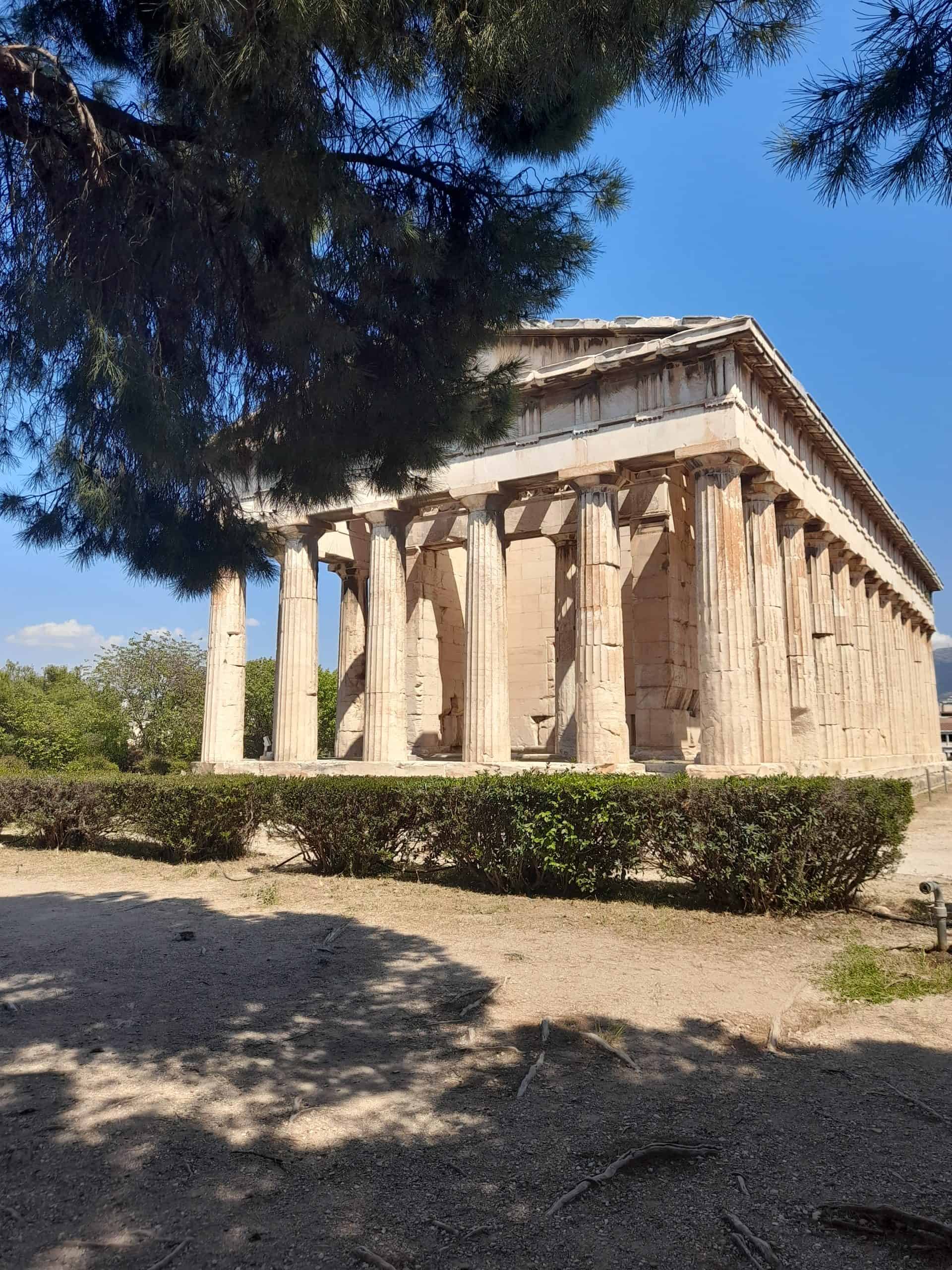 Thissio Athens (Θησείο in Greek) can be found in the northern part of central Athens. Gazi, Athens' most raucous nightlife district sits to its north, while tourist favorites Monastiraki Square and Plaka sit to its east.
Many people that travel to Athens for the first time comment on how they find the city to be somewhat unsightly and chaotic. None of that rings true for Thissio.
This part of town is characterized by its tree-lined promenades and its grand, pastel-coloured neoclassical mansions that seemingly transport you back to a bygone era. Thissio Athens offers a slice of peace and tranquility in a concrete jungle.
Thissio has a somewhat interesting story behind it too. Like many parts of the Greek capital, this area has been occupied for thousands of years.
The name ¨Thissio¨ stems from Theseus, the mythical son of Poseidon, the Greek god of the sea. This is because when the Ancient Agora and the temple within it were excavated, archeologists initially (incorrectly) thought that the temple was dedicated to Theseus.
They later discovered that it was in fact built in honor of Hephaestus, god of fire and metalworking, and Athena Ergane, goddess of crafts and pottery. But it was too late to change the neighborhood name.
Things to do in Thissio Athens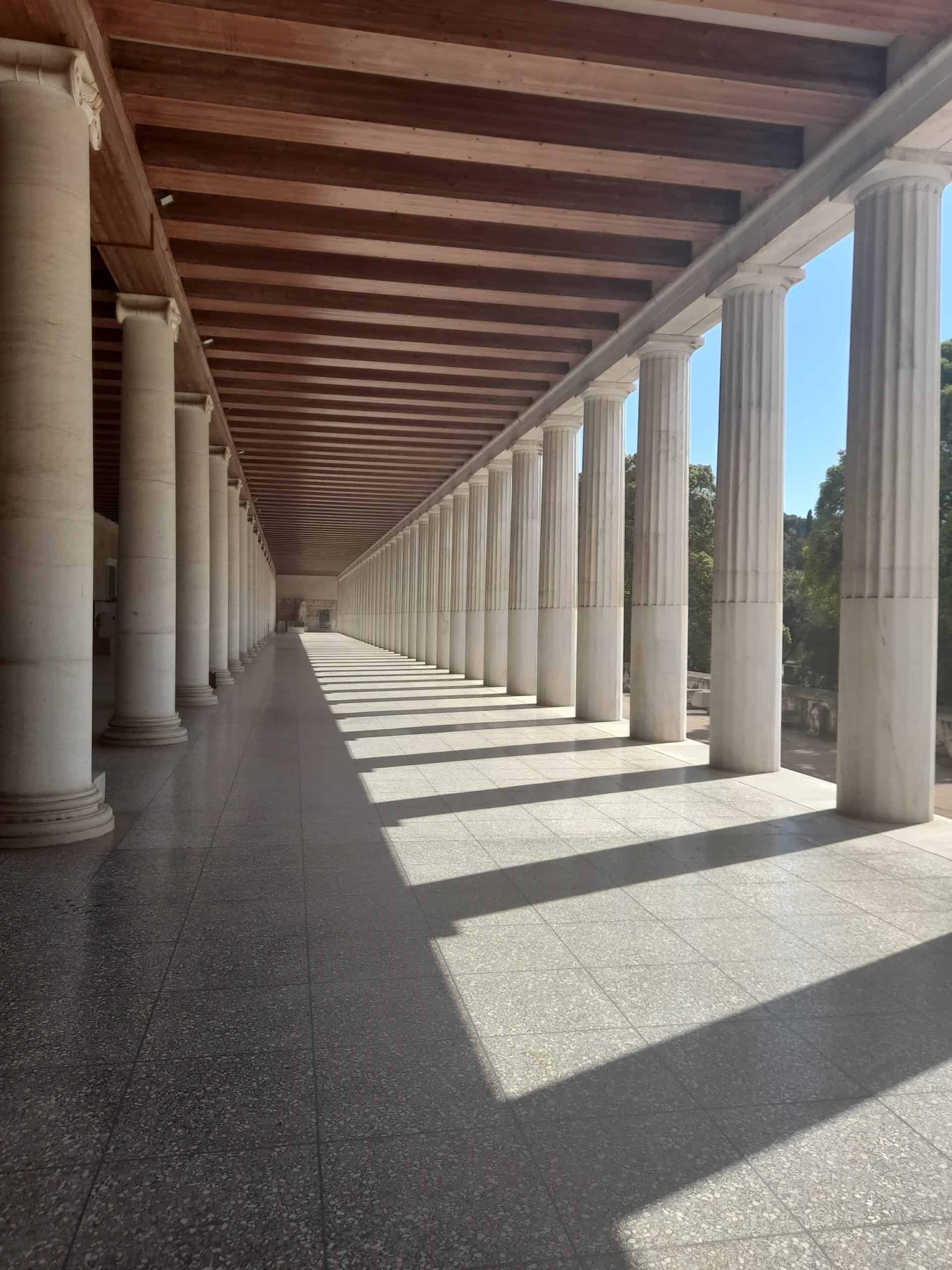 There are plenty of things to do in Thissio Athens to keep you occupied for an entire day of your Athens itinerary. Should you choose to stay here during your trip, you certainly won't get bored of exploring the various Athens brunch spots, traditional tavernas, and bars within this area.
Stroll along the cobbled boulevard of Apostlou Pavlou
Apostlou Pavlou street in Thissio Athens is a cobbled, pedestrianised walkway that links Dionysiou Areopagitou with Thissio and its main historical sites.
Starting by the entrance to the Acropolis, you can follow this walkway past Filopappou and Areopagus hills. Continue on past the adorable Orthodox church of Agia Marina, and up to the entrance of the Ancient Agora and Thēseio metro. Whatever time of day you pass by, Apostlou Pavlou is always teeming with life. 
You will always be greeted with a plethora of street vendors that sell everything from handmade jewelry, old gramophone records, oil paintings, and Greek street food. There are often a lot of street performers here too, playing folk or bouzouki music to a crowd of delighted tourists, dancing, smashing plates, or performing some sort of magic act.
The walkway is not just a necessary place to pass through to get to some of Athens' major landmarks. You will also find that locals love taking urban walks here too.
Locals come here to meet for an al fresco coffee at Athinaion Politeia or the Underdog, or to walk their dogs beneath the shadow of the Acropolis. 
Go for coffee and brunch at The Underdog
The Underdog (Iraklidon 8) is an Athens institution. If you ask locals what place you should stop by for coffee or brunch while you are in the area, chances are they will recommend this place.
This specialty coffee shop has gained something of a cult following over the last few years. Indeed, the baristas here are widely recognised as being among the very best in all of Greece.
The Underdog's proprietors and staff have won countless awards and gained recognition in international media. Brunch menus at the underdog place a Mediterranean twist on renowned breakfast/brunch classics. For instance, slow-cooked eggs are prepared "Mediterranean style" with fresh tomato passata, herbs, and olives.
Take a guided tour of Thissio and beyond
Opting to take a guided tour is a great way to get your bearings in an unfamiliar city. The same can be true of visiting Athens for the first time.
At first glimpse, the Greek capital can be overwhelming. It's a huge city after all, and the various Athens neighborhoods are all like little towns in themselves.
Opting to tour with a local means that you have someone that knows the city really well and can give you their best recommendations on what to see and do, where to eat, and where to hang out. You will also gain more context behind the various things you see.
Chances are, your Athenian guide can introduce you to a lot of amazing hangouts that you perhaps wouldn't have found independently.
Recommended Thissio & Central Athens tours
Various reputable companies offer guided tours in Thissio Athens. A selection of the best is shortlisted below for your consideration.
Book online in advance to secure your place and avoid any disappointment!
The Ancient Agora
The Ancient Agora is a highlight of any Athens itinerary. In both modern and ancient Greek, ¨agora¨ means marketplace.
However, the purpose of the Ancient Agora was predominantly civil, rather than commercial. Thousands of years ago, Greek Philosophers such as Aristotle and Socrates would walk barefoot along the streets and promenades here, imparting their wisdom to anyone that would listen.
The Agora site is huge and is worthy of a few hours of your time. Immediately after entering the site, a long, wide, cobbled road extends in front of you towards the Acropolis
This is what remains of the "Panathenaic Way". It was a major road during the Hellenistic and Roman periods. The road extended all the way from the city gates to the Acropolis.
Today, blocks of stone, busts, and obelisks lay at the side of the road. These are the crumbling remnants of the buildings and stores that once ran along here. In its heyday, processions and chariot races would take place along the cobles.
Admire the Temple of Hephaestus
The Temple of Hephaestus in Athens sits on a small rocky bluff in the heart of the Ancient Agora complex in central Athens. It is the best preserved Doric temple in the world today.
The temple was actually built around the same time as the magnificent Parthenon (circa 450 BC). It is special because it was the very first temple in the world to be made entirely out of marble.
Multiple architects worked on its construction, most notably Iktinus, who also worked on the Parthenon. As the name suggests, this temple was built in honor of Hephaestus, the Greek God of fire, as well as Athena Ergane, Goddess of pottery and crafts.
The temple has served various purposes over the years. From the 7th Century, it operated as the Orthodox Church of St. George.
After the Greek war of Independence against Turkey, the grounds of the Temple of Hephaestus were used as a final resting place for the Greeks that lost their lives in the fighting. When King Otto of Bavaria became king of Greece in 1832, his welcoming ceremony was hosted here.
The Stoa of Attalos
When you enter the complex, you cannot miss the Temple of Hephaestus on your right-hand side. To your left, you will see a grand colonnaded building.
This is the Stoa of Attalos. It was built by King Attalos II of Pergamon (159–138 B.C.) as a gift to the Athenians and functioned as a kind of ancient shopping mall filled with dozens of stores selling everything from produce and groceries to clothing.
Unfortunately, the building was largely destroyed and then later rebuilt in the 1950s. However, today it houses the fascinating Agora Museum.

This is one of the most important museums in Athens and it gives additional information and context to all of the structures within the Agora complex. It also contains various sculptures and artifacts that were recovered from the region and date all the way back to the Neolithic period.
Areopagus Hill
A short walk along Apostolou Pavlou brings you to Areopagus Hill. This is also sometimes known as ¨Mars hill¨ and is one of the seven major hills of Athens.
Some element of clambering is required to reach the rocky hilltop. But for your efforts, you are rewarded with some of the best panoramas of Athens, and a breathtaking view of the Acropolis.
There are no ancient ruins here today, bar a few carvings within the rocks. In the pre-classical era, the council of the Elders would meet here. Today, the footpaths around Areopagus are popular among dog walkers, and Athenians meeting for a picnic or al fresco coffee. 
See a movie at the open-air theatre
There are a couple of open-air movie theatres in Central Athens that provide the perfect venue for watching a movie beneath the stars. One of the best-loved and oldest is the Open Air Cinema ΘΗΣΕΙΟΝ in Thissio (Apostolou Pavlou 7). 
The movie theatre first opened its doors in 1935. Now, every summer in Greece, various new and classic movies are played on the projectors as you sit in the shadow of the Acropolis.
Most movies are in English with Greek subtitles. But a few Greek classic movies are played here too. (Great if you are learning Greek and want to learn more about the country and culture).
Grab some nachos, some fresh popcorn, or some quintessentially Greek pastries and snacks from the little old-fashioned concessions stand before the movie starts. Wash it all down with some homemade cherry juice, a Freddo cappuccino, or a local beer. 
Visit the Kerameikos archaeological site 
The Kerameikos archeological site sits at the northeastern end of Ermou street. It is often missed off most Greece itineraries, and though it is not quite as well-preserved as say, Hadrians Library or the Temple of Olympian Zeus, it is worth visiting while you are in the area.
Kerameikos takes its name from a community of potters and vase painters known as kerameis that lived along the banks of the river Eridanos thousands of years ago. (They created black and red vases that are very famous to this day.) 
During the Greco-Persian war, Themistocles ordered for a wall to be built to protect Athens from enemy invasions in 479-478 BC.
This wall divided Kerameikos into two. One part of the town continued to be a production hub for pottery, while the other was converted into a cemetery.
Time and urban development meant that the cemetery was eventually forgotten. It was not discovered again until the 1860s!
Today, it houses some of the most impressive ancient tombstones in Greece, many of which contain intricate designs and detailed busts. In particular, look out for the 325-310 BC tomb of the two sisters Pamphile and Demetria which contains life-size statues of the sisters.  

You can also see sections of the remaining Themistoclean wall here, including several ceremonial gates that were once used in rituals. Admission to the site is included in the Athens combination ticket.
(This also includes entrance to the Acropolis and its museum). Alternatively, a standard ticket is €8, while concessionary tickets are €4.
Filopappou hill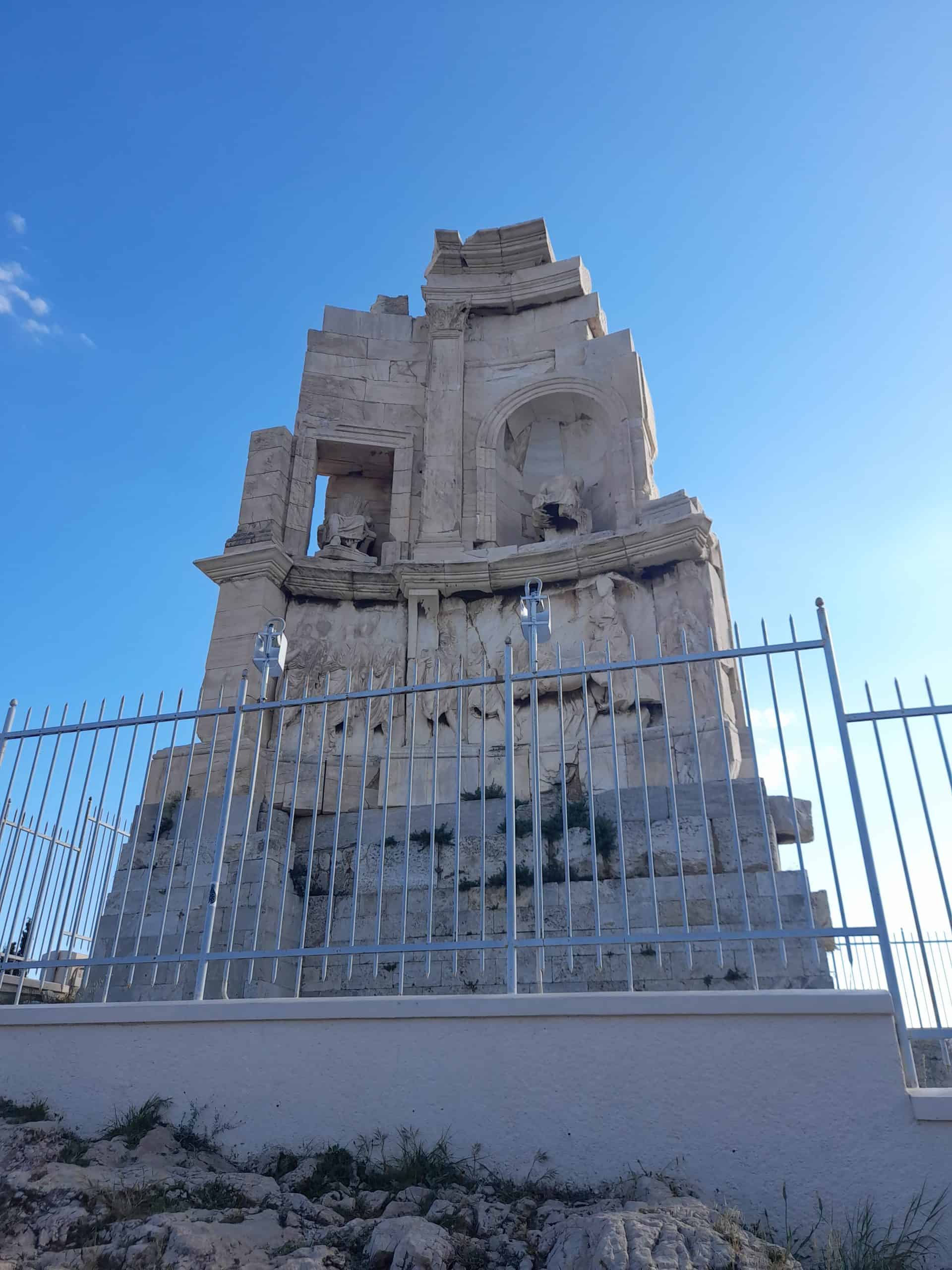 Filopappou Hill, often referred to as "The Hill of Muses" takes its name from the shrine that sits at its peak, dedicated to the Roman Commander Julius Antiochus Filopappos. The walk to the top is pleasant.
It leads you from Dionysiou Areopagitou, past quaint churches, historic cave complexes, and stunning woodland.
There are several notable attractions here. A mysterious cave complex known as "Socrates Prison" was, for a period, mistakenly thought to be the place where the Greek Philosopher was imprisoned and executed.
That transpired to be false. However, it was here, hidden among the trees, that the Greeks hid many of their antiques and treasures from the Germans during their World War II occupation.
Nearby, the Pnyx Hill is where great Greek orators would gather to give speeches and discuss politics. The site was in fact, the birthplace of democracy.
You should also keep an eye out for the 12th-century church of Agios Demetrios. The little wooden church is more reminiscent of a shrine that you would expect to stumble across in Kyoto, rather than in Athens. Inside, you can find beautiful frescoes and the permanent haze of incense lingering in the air.
Where to eat in Thissio
Dining options in Thissio are plentiful and certainly not restricted to tourist traps, despite the neighbourhood's central location. If you want something a little extra special during your evenings in Athens, head to Kuzina restaurant.
This indulgent spot, managed by Greek Chef Aris Tsanaklidis sits on the border of Thissio and Monastiraki. It is housed within a magnificent converted neoclassical mansion.
The menu changes twice yearly so as to showcase only the very best seasonal ingredients. Dishes are Greek classic recipes with a modern, innovative twist.
Meanwhile, Gevomai kai Magevomai (Nileos 11) is a quintessentially Greek Thissio taverna beloved by locals and travellers alike. The little spot is the place to go if you want to find simple, flavourful, home-cooked Greek food.
Coffee and Brunch in Thissio
Going out for coffee could be considered the national sport of Greece. Virtually every street corner here is occupied by a coffee shop where beautiful people sit beneath cabanas catching up with their friends over a Freddo cappuccino. Thissio is no different.
There is a tiny square that sits at the crossroads of Akamantos, Iraklidon, and Apostolou Pavlou. Here, there is a range of excellent coffee shops and kafenions where you can drink a strong Ellinikos Kafes with a side of loukoumi (Greek Turkish delight) as you watch locals play backgammon. The Underdog and Koupa Libre are local favourite coffee spots.
Where to Stay in Thissio
Thissio is one of the very best areas to stay in Athens. After all, if you opt to stay in a hotel here, you can roll out of bed and be at the Agora, the Acropolis, or any number of Athenian landmarks less than ten minutes later.
Thissio hotels offer something for every travel style and budget. Rates are, of course, lower if you travel outside of the peak Greek summer season.
If you are headed to Greece during July and August, it is advisable to reserve your accommodation in advance. Some accommodation options that you may want to consider are detailed below.
Hotel Thissio
Where: Agias Marinis 2 & Apostolou Pavlou 25, Athens
Hotel Thissio offers excellent Acropolis views from its rooftop terrace and many of its rooms. Rooms and Suites are sleek, modern, and contemporary.

Each room boasts a flat-screen TV, complimentary toiletries, and tea and coffee-making facilities. Rooms start from just €50 per night.
Click here for the latest room rates and availability.
Athenaeum Eridanus Luxury Hotel
Where: Pireos 78, Athina 104 35
The Athenaeum Eridanus Luxury hotel is one of the very best luxury hotels in the area. Fortunately, it comes without the luxury price tag and rooms start from just €80 per night for this five-star property.
The rooms have been recently renovated with modern, stylish furnishings and luxe bathrooms. The piece de resistance of staying here is the gorgeous rooftop bar, restaurant, and sun terrace which allows you to look across to the Acropolis as you tuck into your breakfast.
Final thoughts on Thissio Athens
Have any questions about exploring Thissio, Athens, or any other Athenian neighborhoods? If you are visiting Greece for the first time, you may also enjoy this guide on planning a trip to Greece.
I have lived here since 2017. I'm happy to assist with any queries or concerns you may have.
Safe travels! Geia sou! Melissa xo
---