Thissio, Athens, is one of the most historic districts in the Greek capital. It is here where you will find the largest concentration of ruins and historical sites, and the neighbourhood is likely where you will spend a relative portion of your Athens itinerary.
Thissio (Θησείο in Greek) is also sometimes referred to as "Thiseon". The district was awarded this name because for a period, it was believed that the nearby Temple of Hephaestus was built in dedication to Theseus, the mythical son of Poseidon and founder of Athens.
The truth was discovered: that the temple was actually built in dedication of Hephaestus. Yet the name remained.
Exploring Thissio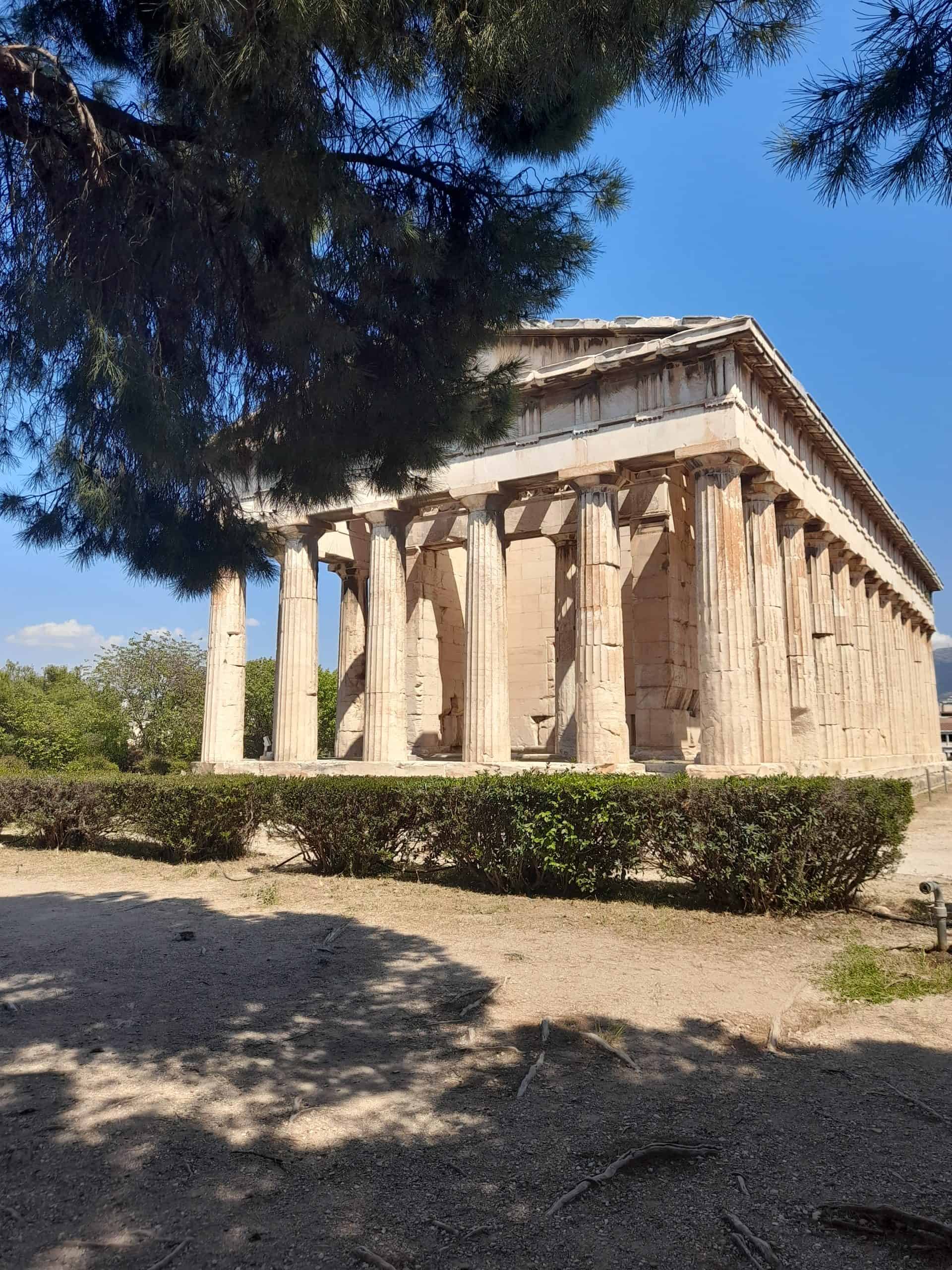 Thissio is characterised by its numerous leafy green hilltops that boast scenic walking trails and unparalleled views over the city and its ancient sites. Athens may seem like a chaotic, crowding, capital city. But green Thissio allows you to get back to nature and is a much-needed oasis in the heart of the concrete jungle.
Apostolou Pavlou is the main pedestrianised promenade of Thissio. It connects the district's sunbleached temples with scenic Dionysiou Areopagitou – the charming cobbled footpath that bypasses the Acropolis and takes you towards Hadrian's Arch.
This tree-lined walkway provides the backdrop for many a pleasant afternoon spent exploring Athens. Here, vendors set up their stalls selling everything from handmade jewelry, old gramophone records, Acropolis paintings, and Greek street food.
The Ancient Agora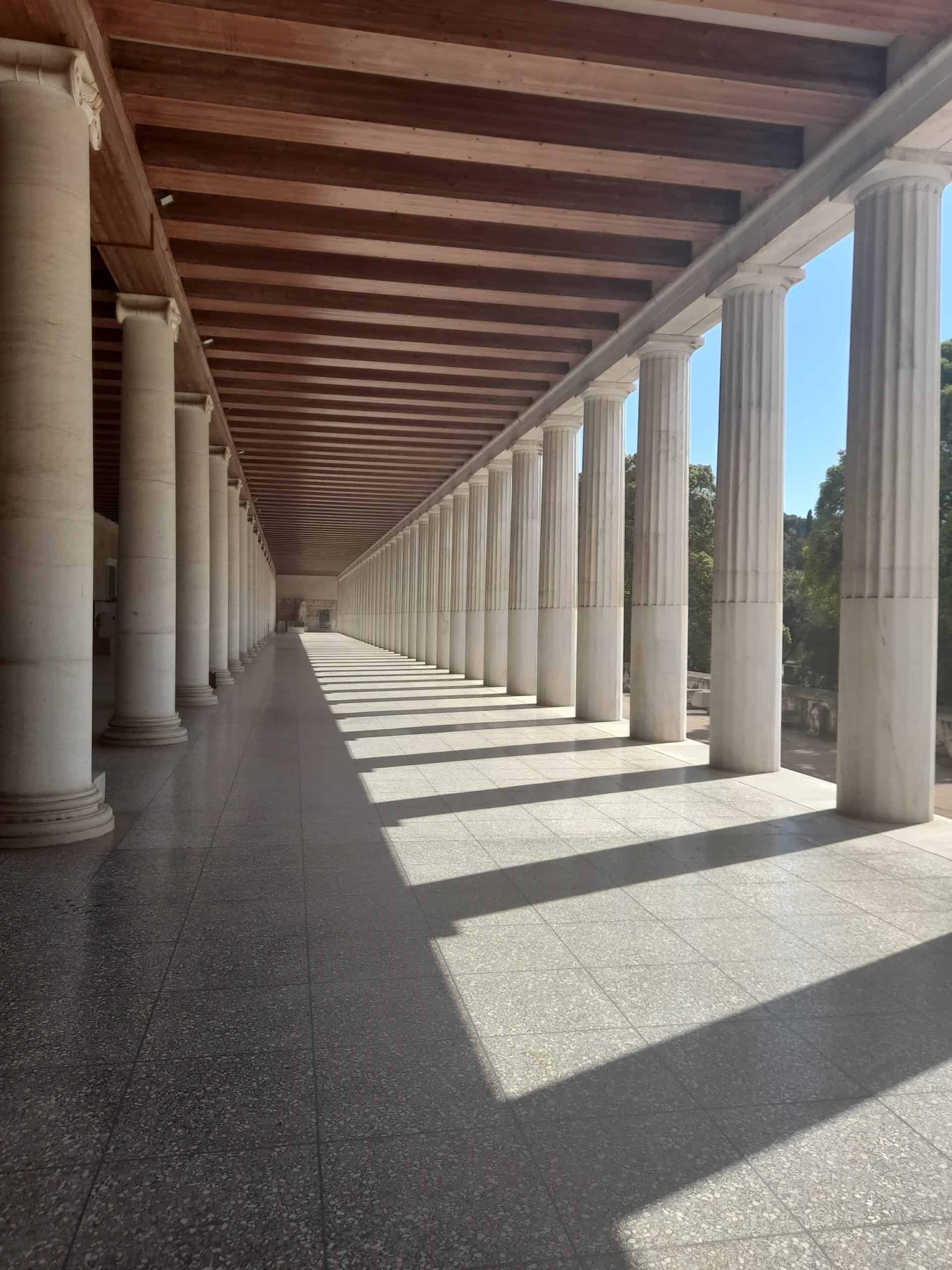 The Ancient Agora was the civic and commercial centre of the city during the Classical Age of Greece. It was here where great Greek Philosophers such as Aristotle and Socrates would wander, sharing their wisdom and insights with the locals.
The remnants of the Agora site are expansive, and worthy of a few hours of your time. Immediately after entering the site, a long, wide, cobbled road extends in front of you towards the Acropolis.
This is what remains of the "Panathenaic Way" – a major road during the Hellenistic and Roman periods. The road extended all the way from the city gates to the Acropolis.
Today, blocks of stone, busts, and obelisks lay at the side of the road – the crumbling remnants of the buildings and stores that once ran along here. In its heyday, processions and chariot races ran along here.
The most notable site within the Agora is the Temple of Hephaestus – the best preserved Doric temple in Greece. It was constructed in 450BC from fine Pentellic marble and is arguably just as impressive and well-preserved as the Acropolis.
Be sure to set time aside for the Agora Museum housed within the colonnaded Stoa of Attalos. The museum exhibits archeological findings from the region – dating all the way back to the Neolithic period. Admission to the museum is included in your Agora entrance ticket.
Areopagus Hill
A short walk along Apostolou Pavlou brings you to Areopagus Hill. Some element of clambering is required to reach the rocky hilltop. But for your efforts you are rewarded with some of the best panoramas of Athens, and a breathtaking view of the Acropolis.
There are no ancient ruins here today, bar a few carvings within the rocks.In the pre classical era, the council of the Elders would meet here. Today, the footpaths around Areopagus are popular among dog walkers, and Athenians meeting for a picnic or al fresco coffee.
Filopappou Hill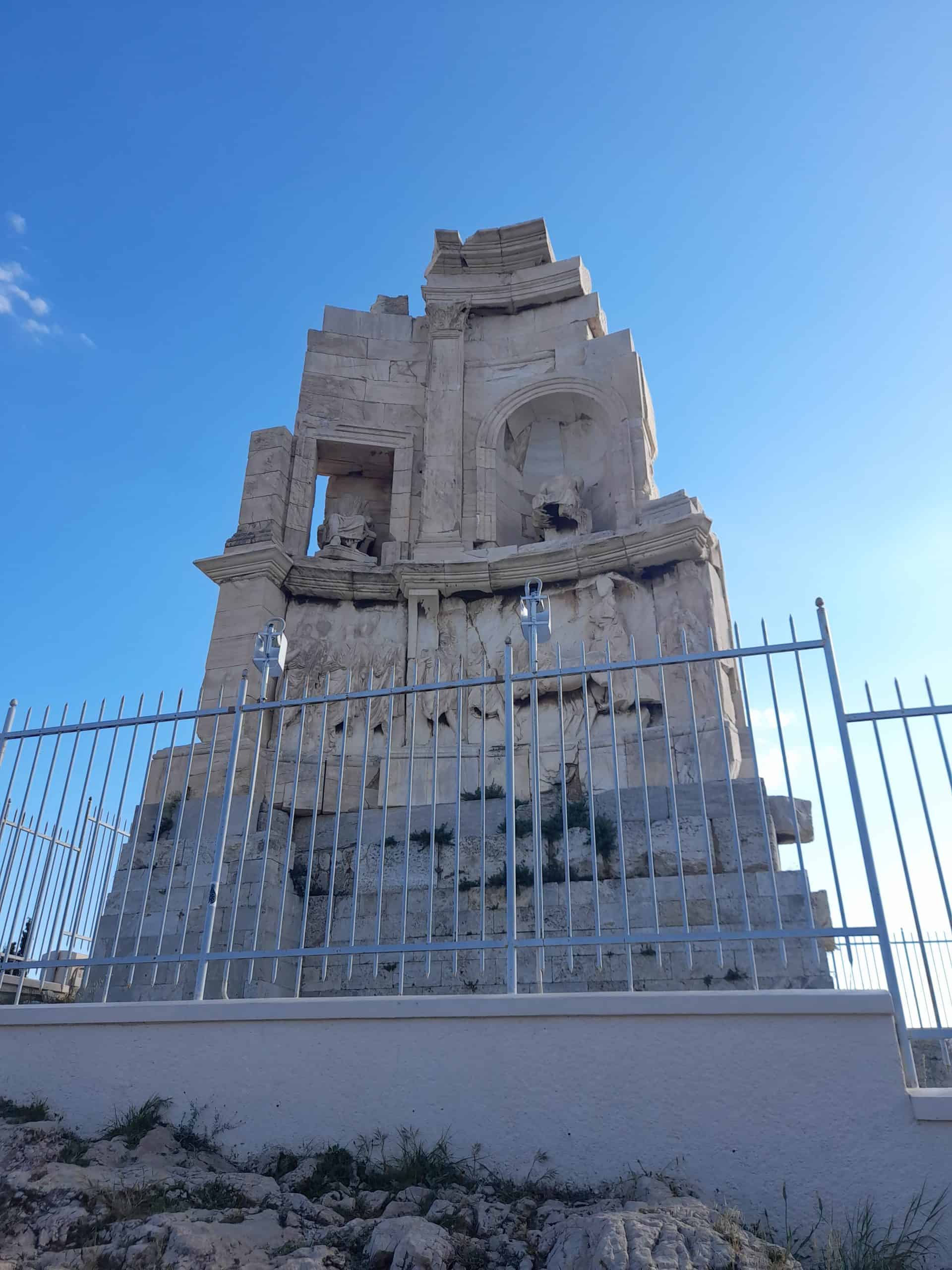 Filopappou Hill, often referred to as "The Hill of Muses" takes its name from the shrine that sits at its peak, dedicated to the Roman Commander Julius Antiochus Filopappos. The walk to the top is pleasant. It leads you from Dionysiou Areopagitou, past quaint churches, historic cave complexes, and stunning woodland.
There are several notable attractions here. A mysterious cave complex known as "Socrates Prison" was, for a period, mistakenly thought to be the place where the Greek Philosopher was imprisoned and executed.
That transpired to be false. However it was here, hidden among the trees, that the Greeks hid many of their antiques and treasures from the Germans during their invasion in World War II.
Pnyx Hill is where great Greek orators would gather to give speeches and discuss politics. The site was in fact, the birthplace of democracy.
You should also keep an eye out for the 12th century church of Agios Demetrios. The little wooden church is more reminiscent of a shrine that you would expect to stumble across in Kyoto, rather than Athens. Inside, you can find beautiful frescoes, and the permanent haze of incense lingering in the air.
Dining Options in Thissio
Dining options in Thissio are plentiful and certainly not restricted to tourist traps, despite the neighbourhood's central location. If you want something a little extra special during your evenings in Athens, head to Kuzina restaurant.
This indulgent spot, managed by Greek Chef Aris Tsanaklidis sits on the border of Thissio and Monastiraki. It is housed within a magnificent converted neoclassical mansion.
The menu changes twice yearly so as to showcase only the very best seasonal ingredients. Dishes are Greek classic recipes with a modern, innovative twist.
Meanwhile, Gevomai kai Magevomai (Nileos 11) is a quintessentially Greek Thissio taverna beloved by locals and travellers alike. The little spot is the place to go if you want to find simple, flavourful, home cooked Greek food.
Coffee and Brunch in Thissio
Going out for coffee could be considered the national sport of Greece. Virtually every street corner here is occupied by a coffee shop where beautiful people sit beneath cabanas catching up with their friends over a freddo cappuccino. Thissio is no different.
There is a tiny square that sits at the crossroads of Akamantos, Iraklidon, and Apostolou Pavlou. Here, there are a range of excellent coffee shops and kafenions where you can drink a strong Ellinikos Kafes with a side of lokoumi (Greek Turkish delight) as you watch locals play backgammon. The Underdog and Koupa Libre are local favourite coffee spots.
Where to Stay in Thissio
Thissio is one of the very best areas to stay in Athens. After all, if you opt to stay in a hotel here, you can roll out of bed and be at the Agora, the Acropolis, or any number of Athenian landmarks less than ten minutes later.
Thissio hotels offer something for every travel style and budget. Rates are, of course, lower if you travel outside of the peak Greek summer season.
If you are headed to Greece during July and August, it is advisable to reserve your accommodation in advance. Some accommodation options that you may want to consider are detailed below.
Hotel Thissio
Where: Agias Marinis 2 & Apostolou Pavlou 25, Athens
Hotel Thissio offers excellent Acropolis views from its rooftop terrace and many of its rooms. Rooms and Suites are sleek, modern, and contemporary.

Each room boasts a flat-screen TV, complimentary toiletries, and tea and coffee-making facilities. Rooms start from just €50 per night.
Click here for the latest room rates and availability.
Athenaeum Eridanus Luxury Hotel
Where: Pireos 78, Athina 104 35
The Athenaeum Eridanus Luxury hotel is one of the very best luxury hotels in the area. Fortunately, it comes without the luxury price tag and rooms start from just €80 per night for this five-star property.
The rooms have been recently renovated with modern, stylish furnishings and luxe bathrooms. The piece de resistance of staying here is the gorgeous rooftop bar, restaurant, and sun terrace which allows you to look across to the Acropolis as you tuck into your breakfast.
Parting Words
Have any questions about exploring Thissio, Athens or any other Athenian neighbourhoods? Feel free to drop a comment below.
I have lived here since 2017. I'm happy to assist with any queries or concerns you may have.
Safe travels! Geia sou! Melissa xo
---