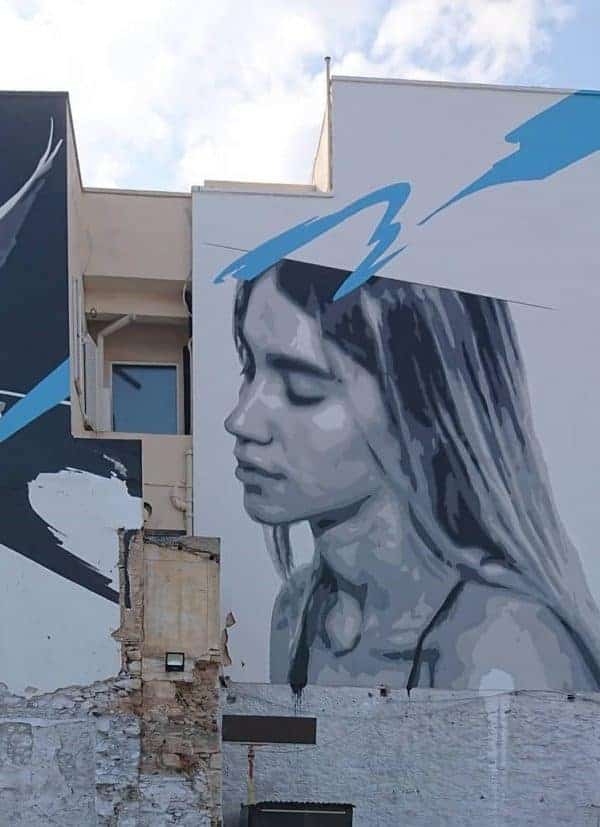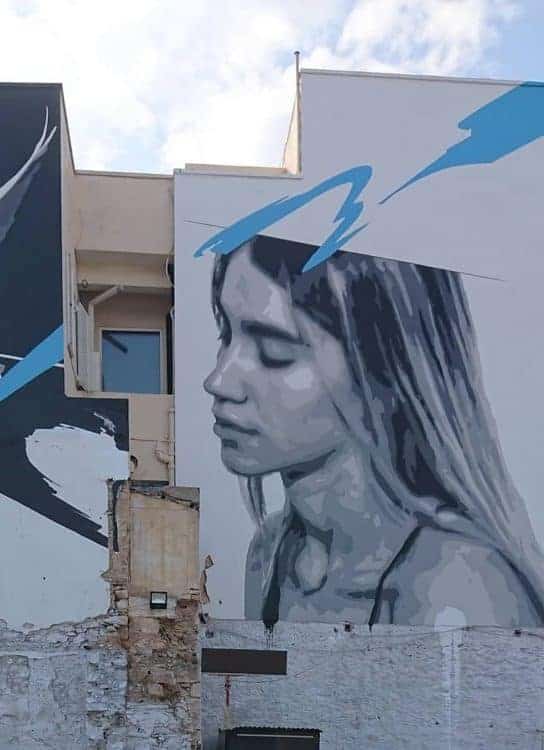 Gazi Athens has become the go-to place to be in downtown Athens on a Friday or Saturday night. This is essentially the beating heart of the Athens nightlife scene.
Bars and clubs aside though, Gazi offers more than just a place for an evening tipple. It is one of the most cultural and diverse of Athens' central districts.
A Little History of Gazi, Athens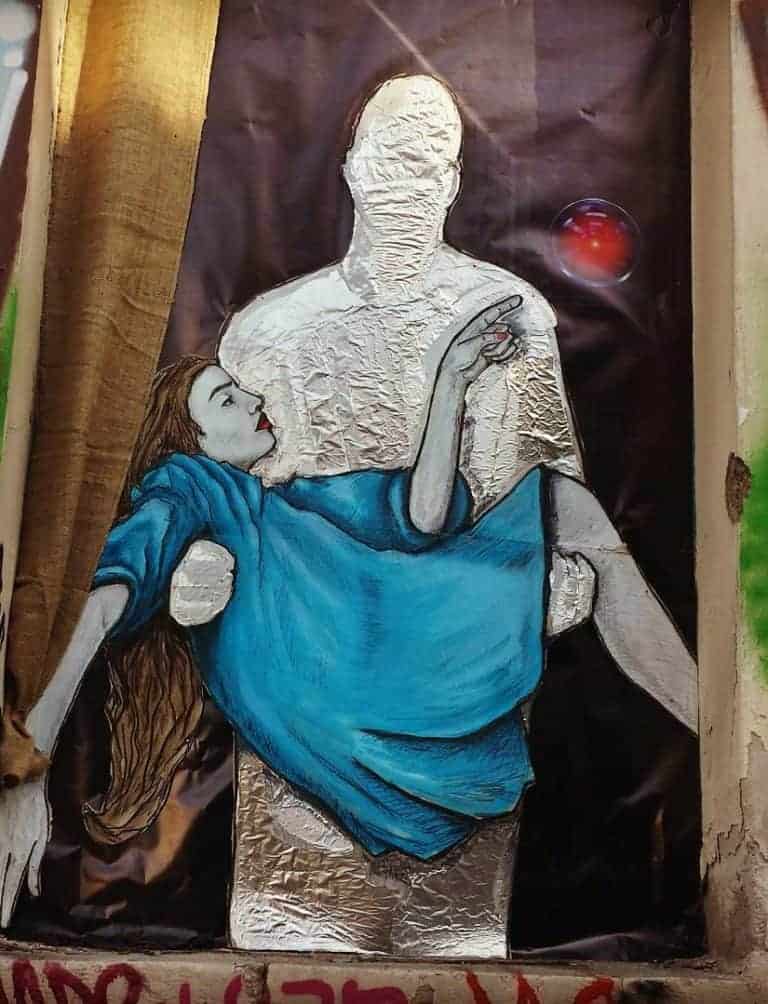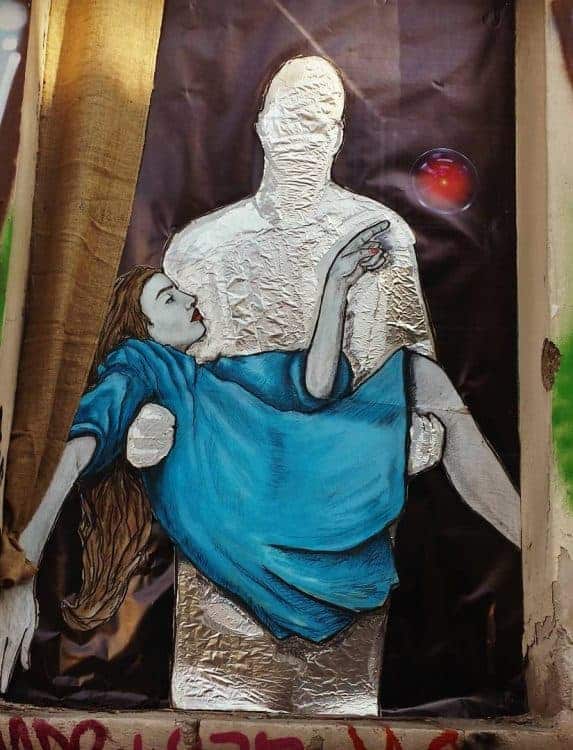 Gazi means gas in Greek. The district was awarded this name on account of the sprawling gas power plant that once operated here.
Of course, time revealed the logic that the centre of the capital city was not exactly the best place to house a huge gas power plant! So, in 1984 the Gazi facility was closed.
The cool thing about Gazi is the fact that the old industrial power plant was never torn down. The remains of its outer shell still stand and essentially act as a landmark to let you know when you are approaching the neighbourhood. By night, the old stone structure and its towers are illuminated with sparkling lights that can be seen all over Athens.
The Gazi factory is far from being the garish unpleasant site that you may expect an old power plant to be. It provides a certain je ne sais quoi as it acts as a backdrop to the neighbourhood's open-air bars and clubs. You could easily be forgiven for simply thinking that this was an outdoor contemporary art installation.
Gazi By Night
The main reason that people venture into Gazi is to party. Honestly, Gazi by night is like Marmite. It's somewhere that you either love or hate.
After 10 pm, the streets of Gazi come alive with bass-thumping music. Here, dozens of bars and clubs sit side-by-side and offer a little something for every music taste.
In some ways, Gazi is comparable to the entertainment strips that you would expect to see in Greek resort islands like Crete's Malia, or parts of Zakynthos. This is not necessarily for everyone. However, there are some more low-key bars to be found tucked away down Gazi's side streets.
In general, Gazi tends to attract a younger student crowd. B nightclub, Rio Skybar, and Dirty Blonde loft are the places to go if you are hot, young, and Athenian.
Foodie Highlights of Gazi, Athens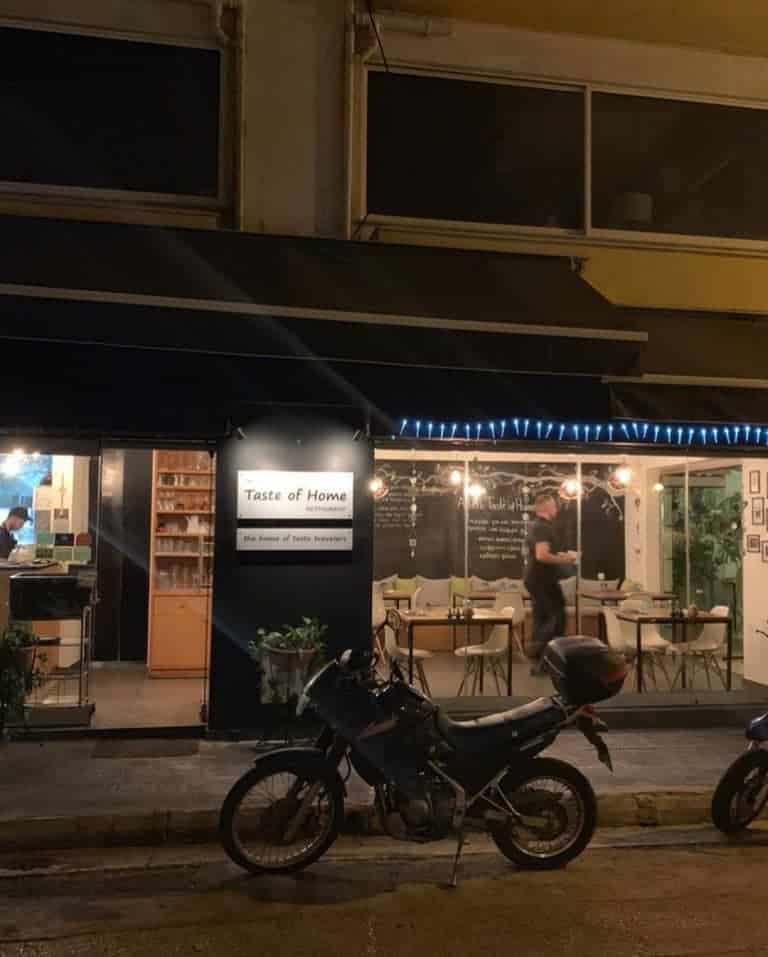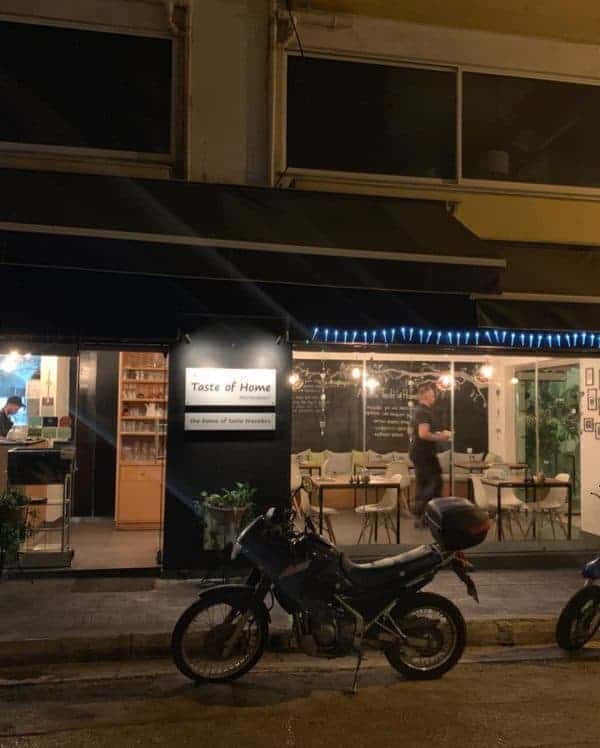 It would be unfair to judge Gazi by its raucous nighttime image. By day, the neighbourhood has a hip, bohemian air about it.
Gazi sits at a juxtaposition of old Greek tradition meeting modern, contemporary living. Here, you will find souvlakias and family-run tavernas that sit beside Boho hipster joints that sell avocado toast.
Tavernas in neighbourhoods like Pagrati or Koukaki are more of the kind of establishments where you will see old-timers sipping Ellinikos Kafes and playing games of backgammon. Meanwhile, the tavernas in Gazi are slightly less conventional.
Their menus tend to place a more modern spin on traditional Greek recipes. In general, eateries here are a little pricier than your average Greek tavern. 
A Little Taste of Home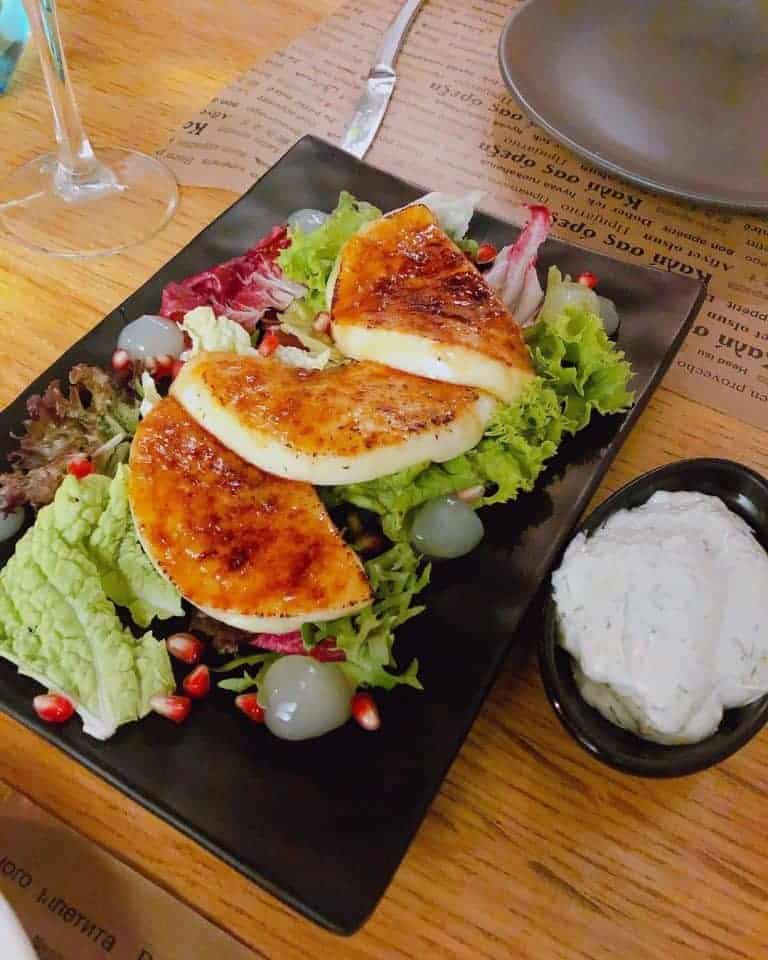 Where: Dekeleon 3, Athina 118 54
Since its opening in 2016, A Little Taste of Home has become an Athens institution. The restaurant is owned by Ahmad Alssaleh.
Alssaleh reins from Syria, after relocating to Athens from Palmyra in 2010. Fellow lovers of Middle Eastern cuisine and those with an adventurous palette who want to try something new should consider stopping by here for dinner. 
A Little Taste of Home's diverse menu boasts dishes from Syria, Greece, and other countries across the Mediterranean and the Middle East. Consider ordering a plate of kioufta bil karaz for the table.
This is a signature dish from Aleppo that consistsof meatballs soaked in cherry sauce. For your main, order up a Damascan baba ganoush or a flavourful marinated lamb tagine. 
Athiri
Where: Plateon 15, Athina 104 35
Athiri Restaurant is the obvious choice for contemporary Greek cuisine in Gazi. Athiri is the brainchild of chef Alexandros Kardadis, and its setting could not be more inspiring.
The restaurant is set inside a grand neoclassical mansion on Platoin street. The menu offers a modern twist on traditional classics and prides itself on using the freshest Greek ingredients.
Everything is made in house – from the bread to the sauces. The inspiring wine list features the exquisite produce of local Greek producers. Sit outside in the leafy courtyard, to the background noise of Greek rembetika music for the definitive Mediterranean ambiance.
Gazohori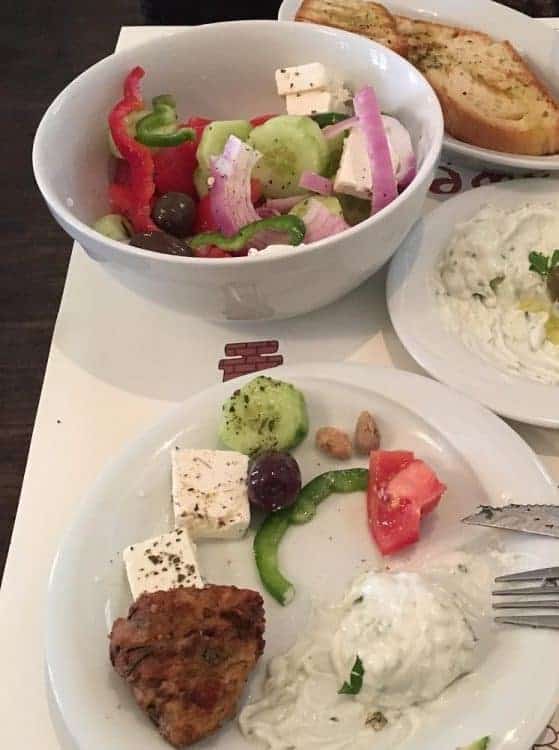 Where: Dekeleon 6, Gazi, Athina, 118 54
For a light lunch in Gazi, head to Gazohori. Gazohori is a mezedopoleio.
A mezedopoleio is a restaurant that specialises in serving mezes, aka small dishes. Greek meze is enjoyed in the same way as Spanish tapas – i.e. lots of little dishes ordered and shared among your table.
Meze dishes here cost between €3-5. You can find all the classics here: fava bean puree, saganaki, Greek salad, etc.
What makes Gazohori special though is that they also serve politiki dishes. These are specialty meze platters from old Constantinople (now Istanbul).
Oinopoleion
Where: Eschilou 12a, Athina 105 54
Oinopoleion is a beloved Greek taverna. It is technically within the limits of Athens' Psiri district. However, it sits on the outskirts of Gazi so it's worth mentioning here.
The word Oinopoleion means "wine shop" which gives a hint to the place's previous purpose. The family that owned Oinopoleion owned a vineyard in Markopoulo and used this spot to sell and store their wines.
As time went on, Oinopoleion has been renovated into a restaurant. However, the current restaurant retains a lot of its original charm, and still offers an extensive wine menu.
This establishment has been satisfying Greeks and tourists since the 1920s. In keeping with the eclectic flair of Gazi eateries, Oinopoleion also puts its own spin on age-old Greek recipes.
For example, Greek salads prepared with Arabian tabouleh, or moussaka with added spice. On certain nights of the week, Oinopoleion plays host to live musicians
Other Worthwhile Gazi Attractions
Athens' Gazi neighbourhood boasts several interesting attractions. While they do not need to necessarily rank high on your list of things to do in Athens, they may be worth keeping in mind if you stay in Gazi and have a little extra time to spare. 
The Greek Film Archive
The Greek film archive is a museum that sits inside an old movie theatre. This theatre closed its doors at the beginning of the last century and awaits, frozen in time.
The exhibits contained within here pay homage to the history of Greek cinema. Everything from old movie reels, to costumes worn in notable Greek movies, can be found here.
Avdi Square
Avdi Square and the tree-lined promenades that surround it are a popular daytime rendezvous place for Athenians. Ducking into one of Gazi's many quirky coffee shops is a nice opportunity to people watch with a Freddo espresso as you break up your Athens itinerary.
Point 50, CARTONE, and Urban Cafe Bar are favourites among Athenian students and remote workers.
Annual Gazi Jazz Festival
The Athens Technopolis Jazz Festival is a free event that takes place on the streets of Gazi every year. The festival is usually held in May and sees jazz performers from across the world take to the open-air stages of Gazi.
Hunt For Street Art
Gazi is one of the best places to check out street art in Athens. Huge murals by notable European graffiti artists occupy entire storefronts and facades.
Head to Pireos street to observe works by the likes of INO, Borondo, STMTS, and other reputed artists. From Gazi, you can also walk to the nearby Exarchia to observe the more controversial political street art there.
Technopolis Cultural Centre
The remnants of the old Gazi Athens powerplant have been transformed into a cultural hub for creatives. Throughout the year, various shows, photography exhibitions, and musical performances are hosted here.
Part of the cultural centre is comprised of the Athens Industrial Gas Museum. Full disclosure: This is far from one of the most exhilarating attractions in Athens. However, its interactive exhibits tell the story of the more recent history of Athens, and how Gazi gasworks supplied the city with power for 130 years.
Hotels in Gazi, Athens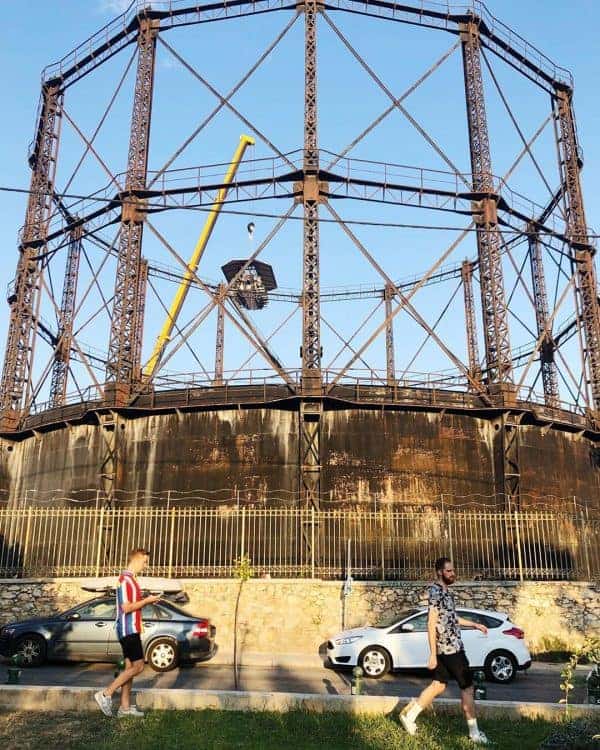 If you are trying to figure out where to stay in Athens, and you want to base yourself in a neighbourhood that places you in the heart of the action then Gazi is a good choice. This is especially the case if you are a night owl.
Gazi is less than 10 minutes' walk away from Plaka, Syntagma, and the main tourist attractions of downtown Athens. You should try and opt for Athens hotels that are a little away from the main strip to avoid the noise of this nocturnal neighbourhood. 
A selection of the best-rated Gazi hotels are detailed below. There is something to suit every budget and travel style.
The Athenaeum Eridanus Hotel
The Athenaeum Eridanus hotel offers affordable luxury in the heart of downtown Athens. Rooms here start from just $75 a night.
The four-star property boasts plush rooms with stylish modern furnishings, paired with contemporary wall art. Athenaeum Eridanus' location is perfect for exploring Gazi and beyond.
Countless dining options await just a few minutes' walk away from the property. The piece de resistance of the hotel is, of course, the rooftop bar from which you can enjoy a magnificent view of the Acropolis.
Click here to check rates and availability at The Athenaeum Eridanus Hotel.
The House, Athens
The House is a beautiful blue and white Cycladic style guesthouse that sits on the outskirts of Gazi. The lovely little rooms are decorated with handmade furnishings, stone floors, and exposed brick walls.
The House is a great choice if you want a little more independence during your Greece itinerary. All rooms are fitted with stoves and cooking facilities. The property encircles a charming courtyard which makes it the perfect place to start each morning with a coffee.
Click here to check rates and availability at The House, Gazi.
Parting Words
Do you have any further questions about Gazi Athens, or planning your Athens travel itinerary in general? I've spent the last three and a half years living in this wonderful city and I'm happy to assist with any queries you may have about your trip.
Feel free to drop me a comment below and I'll get back to you ASAP. Safe travels. Geia sou!! Melissa xx
Disclaimer: This Gazi Athens guide may contain affiliate links. This means that if you choose to make a purchase through some of the links contained on this page, I will obtain a small amount of commission.
This is charged at no extra cost to you and helps me keep up with the costs of managing this site. Thank you for understanding.
---