Renting a car in Zante is a great way to get around the gorgeous Ionian island. Opting to do so gives you a lot more freedom and flexibility of schedule than having to depend on public transport. 
It allows you to venture away from the main touristic areas and find secluded beaches and quintessentially Greek traditional villages. Zante may well be one of the most popular Greek islands for international tourists but you can still find your own slice of peace and tranquility here. This is especially the case if you have a vehicle that allows you to go to beaches that are difficult to get to without a car. 
Renting a Car in Zante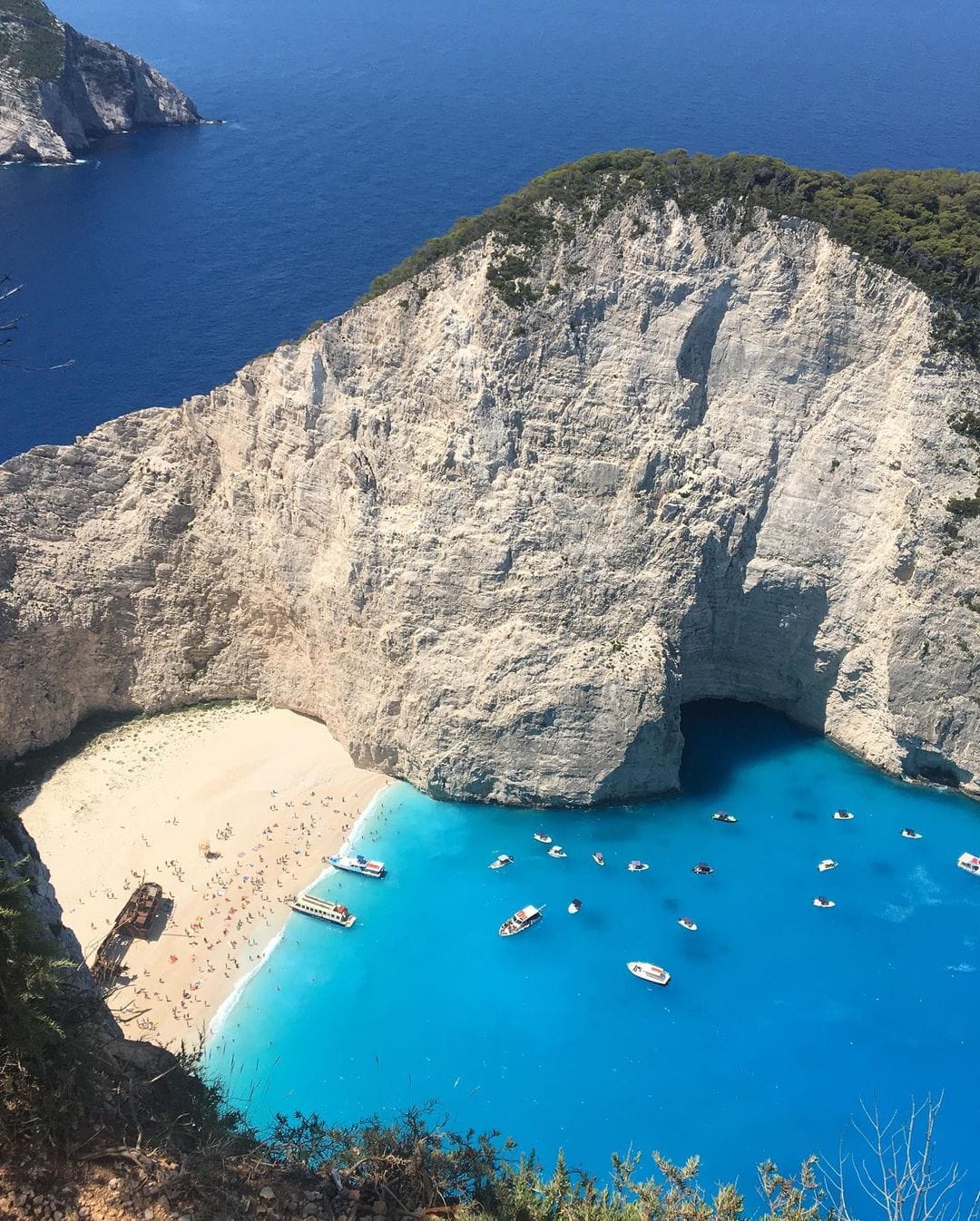 Zante (Zakynthos) has gained a bit of a reputation for being a raucous party island destination in recent years but that isn't entirely fair. While the island does have its share of resort towns, nightlife strips, and clubs, it also offers much more beyond that.
Zante is also a place of incomparable natural beauty. When the Venetians ruled the island centuries ago, they called it "Fiore di Levante" – meaning "flower of the east".
Zante has a little something for everyone. There are quaint, charming villages, dramatic mountains, spectacular hiking trails, and stunning beaches and coves. 
This article has been written by a Travel Writer that has been based in Athens since 2017 and has driven around the Greek islands extensively. Rest assured, you are in good hands here.
Is it necessary to rent a car in Zante?
It may or may not be necessary to rent a car in Zante depending on your schedule. If you plan on spending two weeks relaxing by the pool/beach in Laganas or another resort town and you don't plan on exploring the island in detail, this may not be the best option for you.

Numerous local tour companies offer excursions and day trips to points of interest like the Navagio shipwreck beach, the blue caves, and turtle island. They are affordable and take a lot of stress out of the logistics of planning how to get from A to B as someone will pick you up and drop you off at your hotel.
However, the options are limited to the most popular Zante attractions. Besides that, Greek public transport on the island leaves a lot to be desired.
Zante is quite a large island. Actually, with a surface area of 157 square miles, it is the eleventh-largest Greek island out of literally thousands!
There is no tourist bus that loops around the island connecting all of the different towns and villages. KTEL Zakynthos does operate a bus between Zante's Dionysios Solomos airport and the main bus station in Zakynthos town but even that does not run at frequent intervals!
Renting a car in Zante for sure allows you to see the more unspoiled side of the island. 
Which places to visit on a Zante road trip
The possibilities for places to visit on a Zante road trip are endless. It all comes down to your schedule and how much time you have to dedicate to the island.

If you have two weeks of vacation, you could also consider spending one week relaxing in a beach town and the other week on a cross-island adventure.
Am I eligible to rent a car in Zante?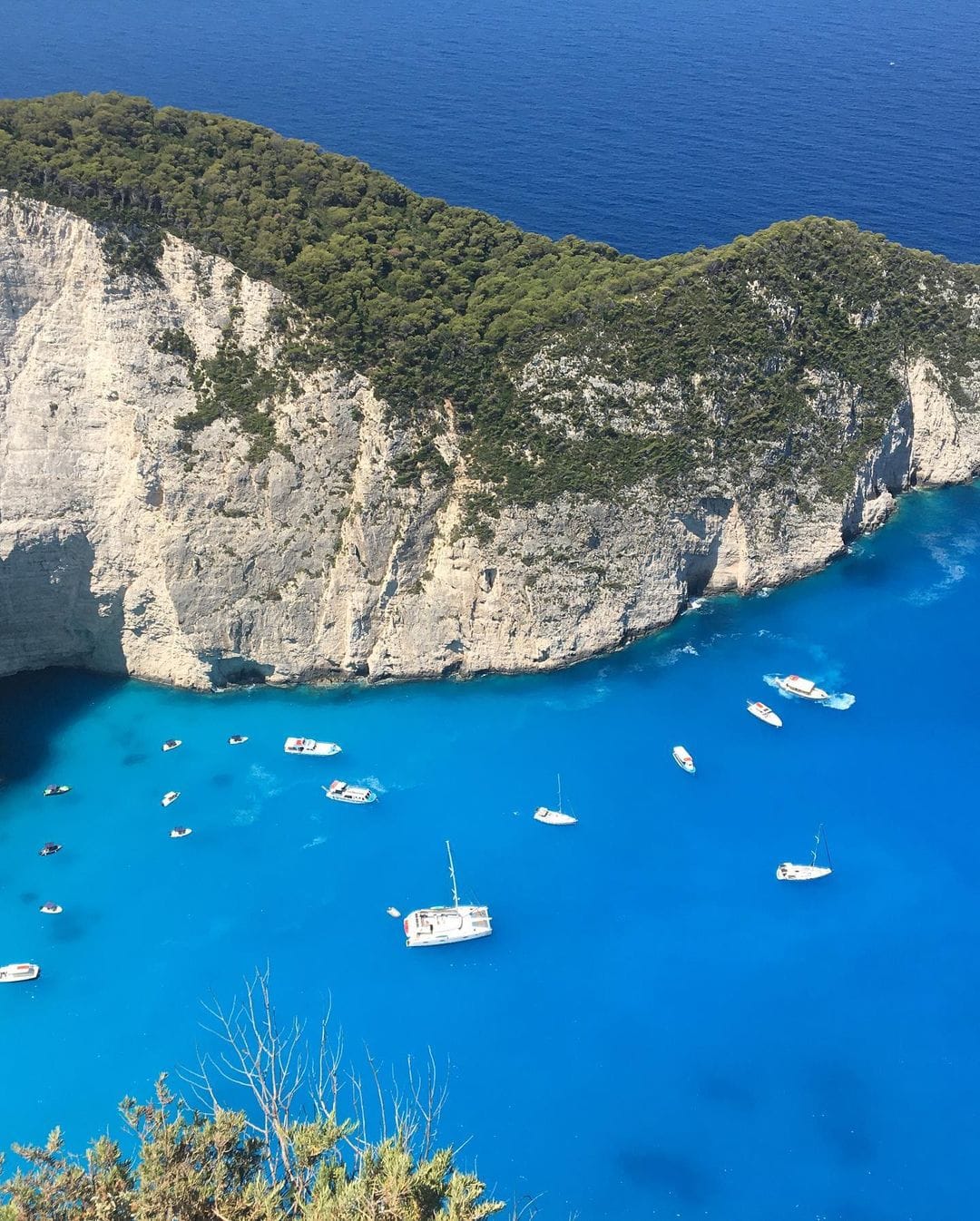 You need to be between the ages of 21 and 70 to rent a car in Zante, even though the legal independent driving age in Greece is 18. A lot of companies will also only rent to drivers aged 25 and above.

If you are aged between 21 and 25, or you have only recently obtained your driving license, you may have to pay a premium on your insurance. You need a full driving license to be able to drive in Greece. 
You will also need to show an additional form of ID such as your passport, and have a valid debit or credit card to place on file.
Do I need an IDP to rent a car in Zakynthos?
If you are from outside the EU, you may need to have an international driver's permit (IDP) depending on which country you are from, and what language your license is in. Currently, travellers from the UK, Australia, New Zealand, the USA, Switzerland, Norway, Iceland, Lichtenstein, and Gibraltar are exempt from this requirement.
If your country is not listed above, double-check whether you need an IDP for renting a car in Zante. If your driving license is not in the Latin alphabet (i.e. this one) and is in, for example, Chinese, Japanese, or Korean characters, you need an IDP.
This website is full of useful information and explains the pricing and application process for obtaining an IDP for different countries. Do note that you must apply for an IDP in the country your license was issued. 
You cannot apply when you arrive in Greece. Apply plenty of time in advance of your trip as it may take a while for you to receive the permit.
Applying for an IDP as a British or American traveller
British and American travellers do not need an IDP for Greece. However, you do need one for renting a car in Italy and other European countries so you may be interested in obtaining one anyway if you are setting out on a wider Europe trip.

If you are British and aged 18 and above with a full driving license, you can get your IDP from the post office for £5.50. If you are American, you need to print out and fill out your IDP application and then take it to your nearest AAA branch.
The permit fee in the USA is $20.
Organising your car rental in Zakynthos
It is important to organise your car rental in Zakynthos as early as possible once you have confirmed your travel dates to Greece. This is particularly true if you are planning on visiting the island during the peak summer months.
The closer you get to your departure dates, the more the prices rise! Availability may be extremely limited in June, July, and August. 
Most cars in Greece are manual. So if you want to drive an automatic, that's another reason that you need to reserve your vehicle in advance as those are in limited supply. Learning to drive a stick shift for the first time in Zante is not only less than ideal, but it's also dangerous!
A lot of reputable international rental companies operate out of Zante. You can pick vehicles up at Zakynthos airport, in Zakynthos town, in Laganas, and in Kalamaki.

Use a car rental comparison site like Discover Cars to compare the different rates between providers. You should also purchase your insurance at the same time as reserving your car so that you know that everything is sorted in advance of your trip.

Cars may or may not come with sat navs. If you need additional extras like child car seats, etc, these are usually available for a small extra fee. 
What type of car do you need for exploring Zante?
A small, economy-sized car like a VW UP, a Suzuki Celero, a Toyota Aygo, or a Skoda Citigo is perfect for driving around Zante. Some roads and side streets in Zakynthos town, Laganas, and other towns and villages around the island are very narrow.
Similarly, a lot of coastal and country roads on the island are often only wide enough for one vehicle to pass at any given time so you have to be alert and know when to give way to other drivers. If you hire a large car like an SUV or a Range Rover, you are going to have difficulty maneuvering down certain streets, squeezing into parking spaces, etc.
These cars should be plenty big enough to accommodate up to 4 people and a couple of bags. However, if you have a lot of luggage or you are travelling as a family and you have strollers, car seats, etc, you might want to look for something ever so slightly larger like a Mitsubishi Space Star or similar. 
How much does a rental car in Zante cost?
The costs of renting a car in Zante are pretty reasonable, even in the summer months. In August, you can rent a car for a week for just £264.81/€309.65 including your insurance.
That works out at just £37.83/€44.23 per day. Out of season, you can find a rental car in Zante for as little as €15 a day.

Well-known international firms like Sixt, Avis, and Alma car hire are always a good choice but equally, a lot of smaller, independent firms are very good too. Check independent reviews on Google and on Tripadvisor to make sure that you are going with a trustworthy company. 
Discover Cars is generally the best platform to use as it allows you to compare deals and prices between all of the best-known and local independent companies, to make sure that you secure the right price.
Buying insurance for your car rental in Zakynthos
Car insurance is essential for renting a car in Zante. There are minimum insurance requirements that you must meet.
It is confusing because the ¨minimum¨ insurance requirements for Zante are all confusing separate components. However, they are included in the quote provided by most rental companies, including Discover Cars.
So you don't have to worry about having to add them all yourself. 
According to Greek law, your car rental insurance must offer third-party liability insurance, personal accident insurance, fire protection coverage, theft coverage, collision damage waiver, and super collision damage waiver.
Phew. That's a lot of different individual coverages!
It typically works out easier to just opt to purchase full coverage insurance. This then means that there is no excess and that you are covered for almost every eventuality.
Always read the small print to be sure of exactly what you are getting. (For example, some full coverage policies do not include things like windscreens, keys, mirrors, etc).
If your credit card comes with car rental insurance, check whether it covers you in Greece. Don't just assume as some countries are excluded.
Its advisable to buy your car insurance at the same time you reserve your car rental so that you know that everything is already booked and paid for before you set off on your trip.
Zante Airport car hire
There are a number of different pickup and drop-off locations where you can collect your rental car in Zakynthos. Ultimately, you choose what is more convenient for you.

Zakynthos Airport is probably one of the most popular and easiest places to pick up your rental car from. Keep in mind that Zante airport car hires may cost slightly more than picking up your car from Zakynthos town or Laganas. 
Similarly, one-way rentals (i.e. picking up your car from one place and dropping it off in another) cost more than dropping your car off in the same place. It is important to be aware of this as there is often quite a significant cost difference, not a marginal one.
Inspect your car before driving off with it
You will typically be asked to sign a rental contract and an inventory checklist when you pick up your car. Read the contract thoroughly so you are clear on precisely what is included, any additional fees, etc.
Check both the interior and exterior of the car thoroughly for any issues, damage, or scratches. 
Make sure that you mention everything to the person handing over the car, even if it seems minor. Take photos of the car with your cell phone so that you have time-stamped evidence of the condition that you got it in.
This is not because rental companies here are sketchy. Most are trustworthy professionals and obviously, they depend on tourism and it isn't in their interest to trick people.
But it is better to be safe than sorry wherever in the world you travel. 
Taking cars on ferries from Zante
Zante is connected to mainland Greece and the other Ionian islands by ferries. From Zakynthos port, you can take a boat to Kyllini in the Peloponnese.

From there, you could explore one of Greece's most underrated regions, taking trips to Monemvasia, Mystras, Sparta, and the Lakonia region. The other Ionian islands of Kerkyra (Corfu), Kefalonia, Lefkada, and Paxos are also spectacular summer travel destinations.
While ferry connections are convenient and frequent, taking cars on board is another matter. Most Zante rental companies will not allow you to take their vehicles on ferries.
This is both for insurance purposes and also for practical reasons. For instance, if you hire one of their cars and then you need assistance in a distant part of Greece or a remote island on the other side of the country.

If you want to cross from Zante to another island or the mainland, clarify whether this is possible with your rental company in advance of traveling. It is also worth noting that ferry tickets for car spaces are the first to sell out so these must always be purchased weeks/months in advance.
Crossing international borders with Zante car rentals
Truthfully, Zante is quite a ways from any of Greece's borders. However, the country does border Albania, North Macedonia, Bulgaria, and Turkey.
If you are traveling long-term and thinking of crossing over into one of these countries as part of a wider Balkan road trip, you need to check this with your rental company first.
Again, most rental companies will not allow you to take their vehicles outside of Greece. It usually works out easier to simply cross the border by land or air and then pick up another rental car on the other side. 
Fill up the tank before you drop off your car
Check with your rental company when you pick up your car if there are any procedures that you need to follow when you return it. Most places will require you to fill it up with a full tank of gas.
It is important to note that usually if you take the car back and the gas tank is 40% full or 80% full, they will bill you for an entire tank of gas anyway! So either take it back completely full or empty.
Take photos of the condition of the vehicle when you drop it off, just as you did when you collected it. Again, this way you have time-stamped evidence just in case the company tries to claim that you somehow damaged the car later. 
If you damage your Zante car rental
Clean the inside of the vehicle and remove any trash or personal items before you drop off the car so that you are not charged any additional cleaning fees for a dirty car!
If you have damaged the car in any way, it is important to be honest about it. You will pay the charges directly to your rental agency and you can claim it back through your insurance.
You are entitled to have visibility on this entire process through receipts, etc.
Driving in Zante in 2023
Driving in Zante can be an enjoyable experience. When you mention renting a car in Greece to a lot of people, they look at you with concern.
But the reality is that driving here is not all that different from driving anywhere else in Europe. Yes, people drive a little crazier sometimes and there are definitely those who speed unnecessarily.

But be aware of your surroundings, and make sure that you yourself drive carefully. Experienced drivers do not need to worry. 
Navigating the roads in Zante
The roads in Zante are in good condition and are well-maintained. Everything is signposted in both Greek and English.
Upon exiting Zakynthos town, you will note that there is a main road that loops all around the island. This takes you anywhere that you need to go and offers a scenic ride by the sea.
It is virtually impossible to get lost, as you can always see the sea from wherever you are. You may have a sat nav in your car but it is also a good idea to have a map app on your phone like Google Maps or Maps Me (which works offline). 
Once you get away from the main road between Zakynthos town and Vasilikos, a lot of the roads here are very quiet.
They are mostly asphalt and are well-maintained so you don't have to worry about potholes or hazards. The road to the famous Navagio shipwreck is fairly wide, and even the dirt section at the end of the route that leads you to the car park is fine and suitable for a compact car. 
Practical tips for driving in Zante
Some practical tips for driving around the Greek island of Zakynthos are summarised below.
In Greece, like in much of Europe, you drive on the right-hand side and overtake on the left.


There are no highways or toll roads on Zante Island


Road signs are displayed in both Greek and English, making it easy to navigate your way around the island


All passengers must wear a seatbelt at all times


Children under 12 or a height of 135cm must be secured with an appropriate restraint and sit in the back seats of the vehicle


The Paralia Porto Vromi road turns around a cliff with a steep drop to the Ionian Sea on one side and no barriers. It is safe, but it can be scary for inexperienced drivers


It is prohibited to change lanes at junctions in Greece


Traffic on the main road has the right of way unless there's a stop sign. In that case, you must give way to the right


It would take you about an hour and ten minutes to drive from the northernmost town of Zante to the southernmost town as the island is relatively small


You can be fined for inappropriately/excessively honking your horn in Greece unless you are notifying someone of an emergency


At roundabouts, traffic already on the roundabout must give way to traffic entering the roundabout


You are not allowed to enter towns, villages, and urban areas with your full-beam lights on
Speed limits in Zante
A lot of Greek drivers drive fast and often see speed limits as mere suggestions rather than strict guidelines to be adhered to. It is important not to follow suit as fines for speeding can be high.
Speed cameras are not common on Zante or other Greek islands but police patrols do happen. In Greece, speed limits are measured in kilometers per hour (km/h). 
They are as per the below:
Towns and urban areas: 50 km/h (30 mph)


Outside cities: 110 km/h (68 mph)
FAQs about Renting a Car in Zante
Do you have any further questions or concerns about renting a car in Zante or driving in Greece generally? The answers to some frequently asked questions on the topic are detailed below.
Hopefully, you will find the information you are looking for there. If not, please do not hesitate to reach out.
Should you rent a car in Zakynthos?
Whether or not you should rent a car in Zante depends largely on your personal preferences and what you plan to do during your trip. If you plan on spending your entire trip resting by the beach in resort towns like Tsilivi, Laganas, Alykanas, or Agios Nikolaos and you only plan on taking day trips once or twice to get to Shipwreck Beach or Zakynthos town then you may not need a car.
You can easily organise day trips with local tour companies or have your hotel concierge help you plan an excursion. However, if you want to visit lesser-known villages, beaches, and hiking trails like Volimes, Maries, Kambi, and Exo Hora, it can be a good idea to rent a car. 
You don't even need to rent a car for your entire itinerary. You can choose to rent one for just a day or two.
What is the best way to get around Zante?
The best way to get around Zante is by car. Buses and public transport do not service all parts of the island and they run infrequently.
Taxi prices soon add up.
Is it easy to drive around Zakynthos?
It is moderately easy to drive around Zakynthos. You need to be more aware of your surroundings and drive more defensively here than you would need to in other Western European countries and this can be intimidating for brand new drivers.
However, if you are an experienced driver, and you have driven in Southern Europe before, you ought to be just fine.
Can you get around Zakynthos without a car?
You can get around Zakynthos without a car but it is very restrictive and you would have to write off visiting certain villages, secluded beaches and coves, and hiking trails as they are inaccessible without a vehicle. (And taking taxis long distances is too expensive). 
Final thoughts on Zakynthos Car Rentals
Do you have any experience with renting a car in Zante? What did you think? 
If you are planning a Greece trip for the first time, you might also benefit from joining my Facebook group ¨All Greek to Me¨ which aims to help travellers and expats plan their travels around Greece.
Have a wonderful time exploring the Ionian!
Safe travels! Geia sou! Xo 
---