Mystras Greece is arguably one of the most underrated travel destinations in the country. While many travellers interested in culture, history, and archaeological sites flock to Athens and take day trips out to Ancient Olympia and Delphi, they often overlook the mysterious castle town of Mystras.
Mystras and the wider Lakonia region of Greece are very worthy of a 2-3 week itinerary in themselves. This Byzantine settlement is not only one of the most important medieval cities in Greece, it is also remarkably well preserved. 
Mystras, Greece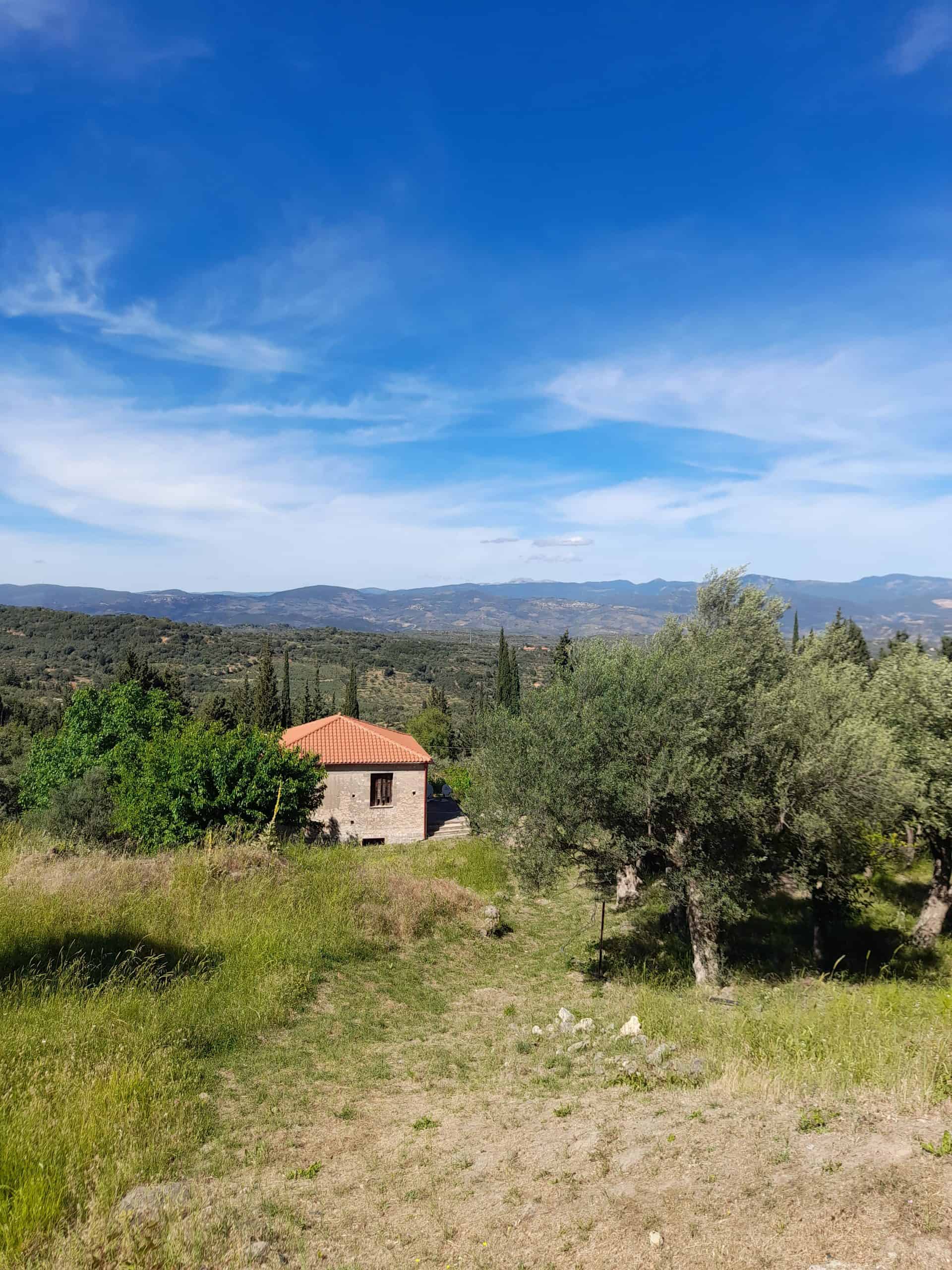 Mystras (pronounced "mis-trahhh" is situated just 5km away from the city of Sparta in the heart of the Peloponnese. Essentially, today it is divided into two settlements.
There is the hilltop ancient city, and then there is the modern village that has developed at the foot of the hill. Both are worthy of your attention.
The old city is UNESCO protected and dates back to the 13th century. In its heyday, it was the most important town in the Byzantine empire.
It was even more important than Constantinople (now Istanbul). Sadly, it was eventually abandoned with the development of nearby Sparta.
It is important to understand the scale of the city. Centuries ago, 40,000 people lived in this settlement. For reference, approximately 16,000 people live in modern Sparta today so that gives you some idea as to the scale of Mystras.
A Little History of Mystras, Greece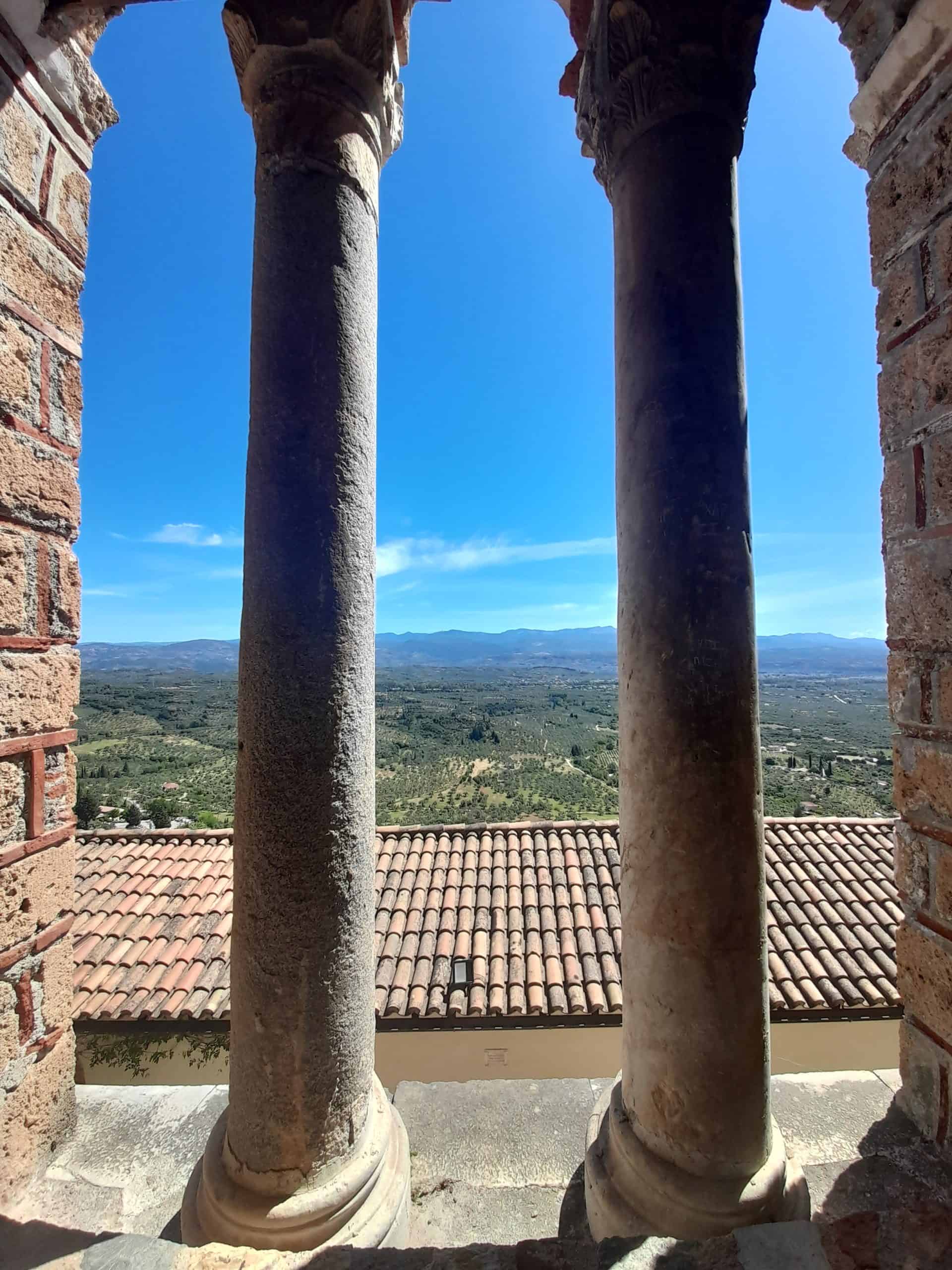 Mystras was founded in 1249 by William II of Villehadouin. It quickly blossomed into being an intellectual hub of the Byzantine era. In those days, people were afraid of pirate attacks and that is why many settlements, including Mystras, were built inland.
Mystras sits in the foothills of Mount Taygetos. At the time it was founded, the surrounding region was in Frankish hands. However, the Greeks fled to Mystras so that they could live independently rather than be under the control of someone else where they would be considered second-class citizens.
When the Byzantine empire fell, the Ottomans conquered the city in 1640. It was eventually abandoned in 1832.
Visiting Ancient Mystras Today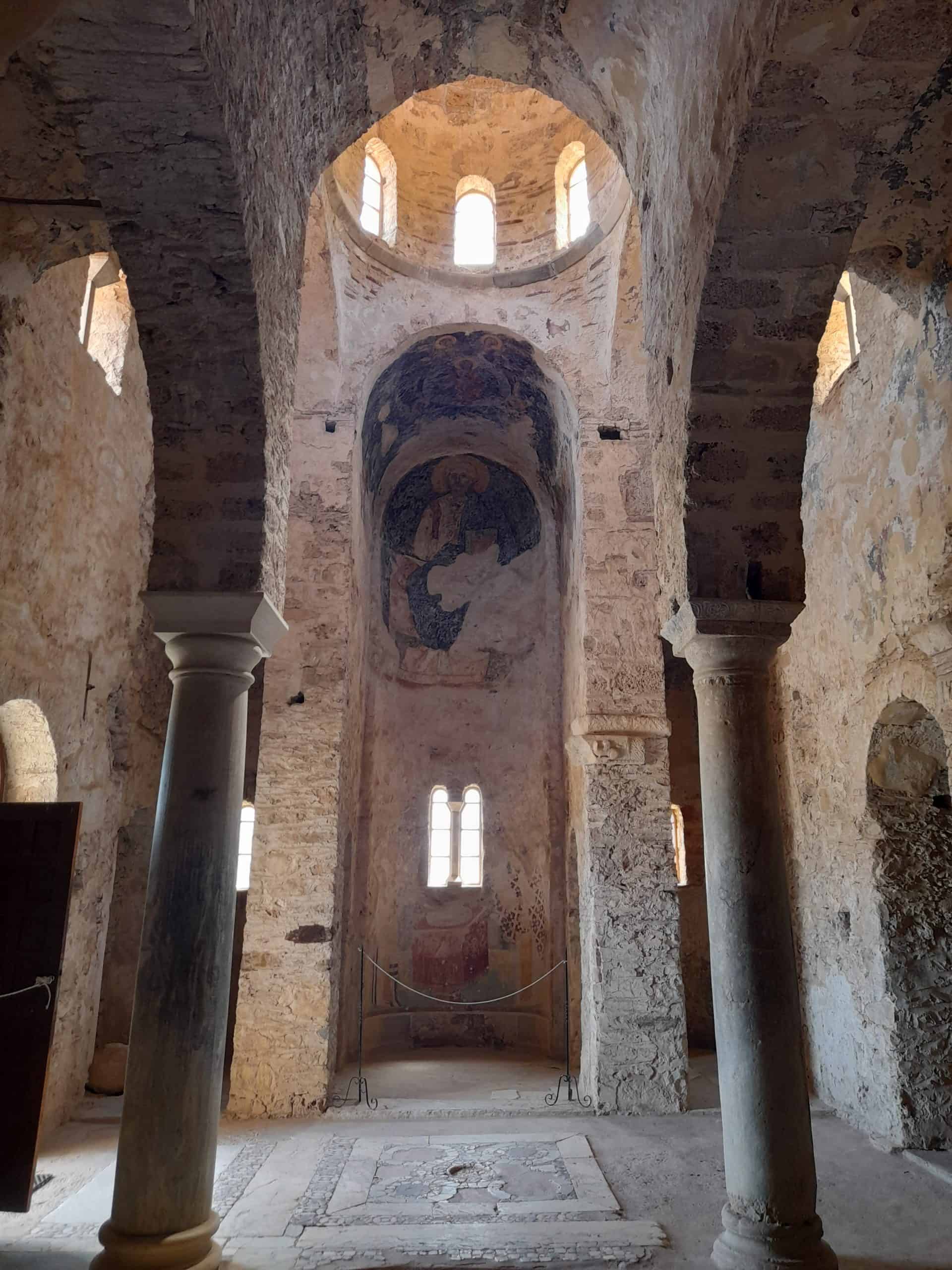 From afar, the only structure that you can really see from Ancient Mystras is the castle. However, the ruined city is as extensive as, say, Pompeii, and even better preserved.
You should dedicate at least 3-4 hours to exploring the site. It gets extremely hot here in the summer and there is no shade or cover from the sun so try and reach old Mystras as early as possible to avoid the midday heat if you can.
There are several monasteries and religious buildings within the complex. Pantanassa Monastery is the only one still functioning and several elderly nuns live within.
Female travellers will need to cover their shoulders and legs while entering and ensure that no cleavage is on display. Don't worry though, pashminas are available to rent at the entrance. 
Entrance to Mystras is €12 during the summer months, with concession rates available. The site is free to enter on the first Sunday of the month from November to March. Standard winter admission is just €6.
The Churches of Mystras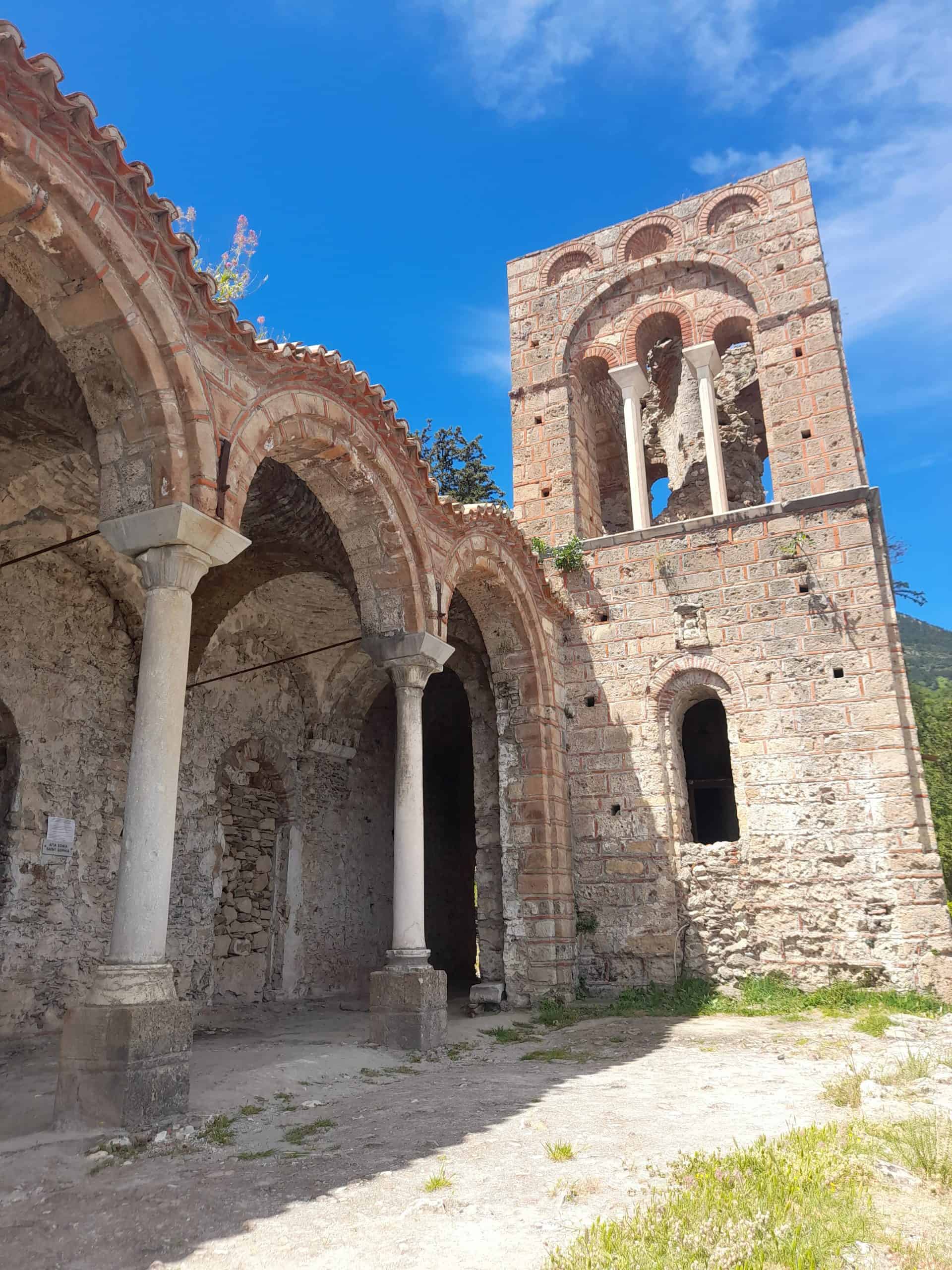 A number of Ancient Churches are scattered throughout the Mystras site and it is possible to enter all of them. In particular, look out for Peribleptos Monastery.
The monastery is carved into a rock cave and is quite unlike any other. It is also quite easy to miss Peribleptos as it sits at the farthest point of the Lower Mystras site. 
The oldest church in Mystras is the Church of Agia Theodoroi, followed by the 14th century Church of Agia Sofia that was used by palatial nobles. The Church of Panagia Hodegetria contains particularly beautiful frescoes.
The paintings inside depict various scenes from the bible, including one vibrant mural that shows the miraculous healing of a blind man. Churches aside, there is plenty to see. 
Mystras Palaces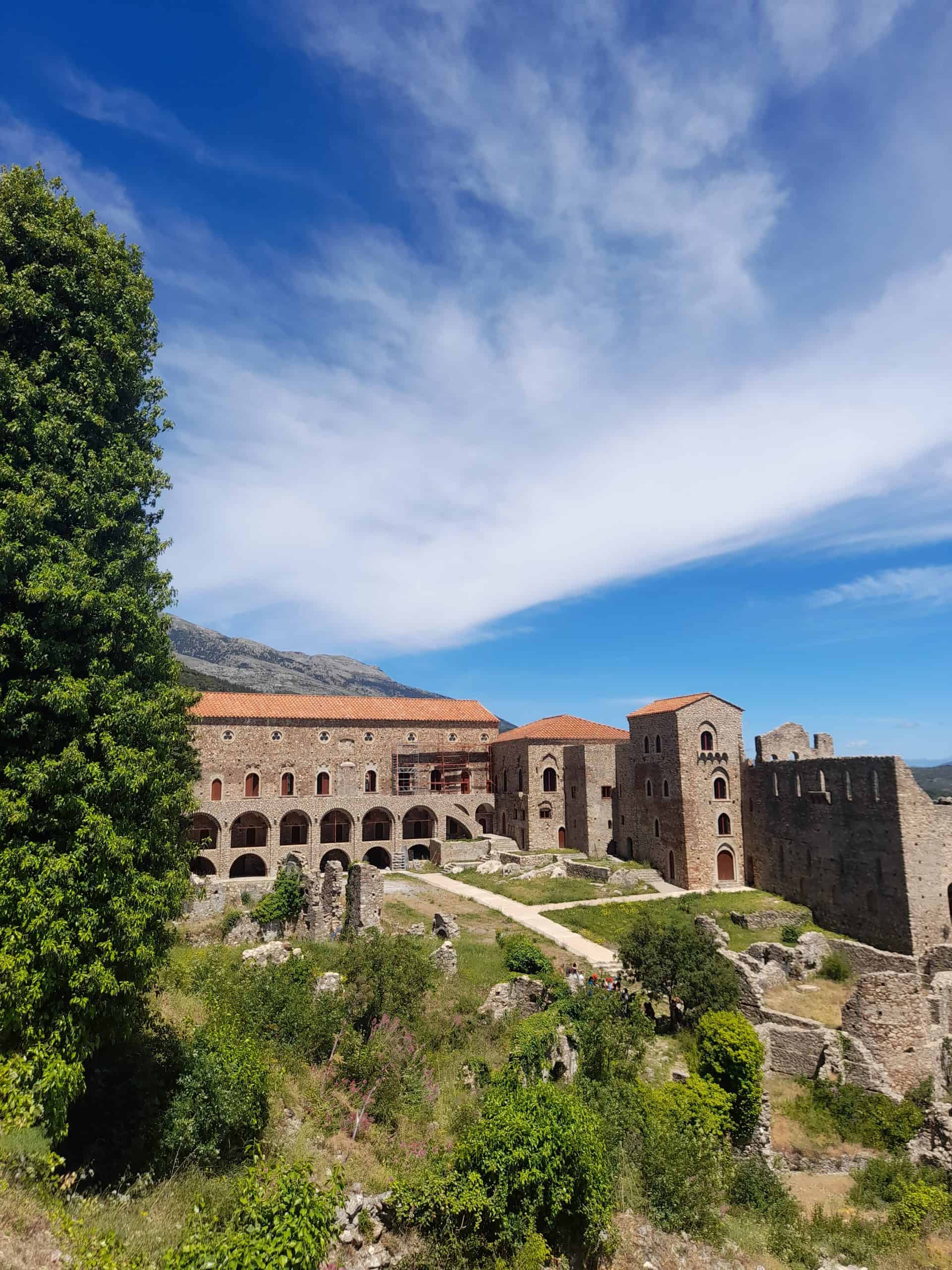 Exploring the site, learning about its specific buildings and their history is made easy by the information plaques that sit outside virtually every structure. The Palace of the Despots, also known as the Palataki Mansion, overlooks the square of Ano Chora.
This grand complex went through various stages of construction from the 1200s to the 1400s. Initial construction was started by the Franks and eventually completed by the Byzantines.
Despots resided within the palace, in other words, the emperors' second sons. It also served as the residence of the governor (kephale). Unfortunately, as of 2021, repair work is taking place within the castle and it is not presently possible to enter.
Other Points of Interest in the Area
Ancient Mystras is, of course, the main draw for visiting this region. You only need a day to explore the remnants of the old city. However, the site is more vast than you may anticipate so it needs to be a full day at that. 
Mystras is best explored as part of a wider Lakonia/Peloponnese itinerary along with Sparta and Monemvasia. You could easily dedicate several days to staying here.
"New" Mystras
Enjoy a leisurely morning in Mystras village, having breakfast in the square. There are several beautiful Orthodox churches here whose interiors are adorned with vibrant frescoes.
It is a very special experience to pass by when a church service is being held, and the melodic hymns are played out around the village over loudspeakers. Well-dressed yiayias donning headscarves dash through the village to attend the morning services.
Mystras provides a great opportunity for people-watching and observing true Greek traditional life. There are many stores here selling excellent local produce.
Regional cheeses, jars of honey, olive oils, and spoon sweets can be found in the quaint shops here. They make excellent souvenirs and many of the stores here offer a complimentary tasting before you buy. 
A highlight of any Greece itinerary is found in sampling the local cuisine. Mystras does not disappoint in that regard. In the late afternoon and early evening, stop by one of the numerous tavernas here for sumptuous Greek classic dishes and marinated meats. 
Historic Sites of Ancient Sparta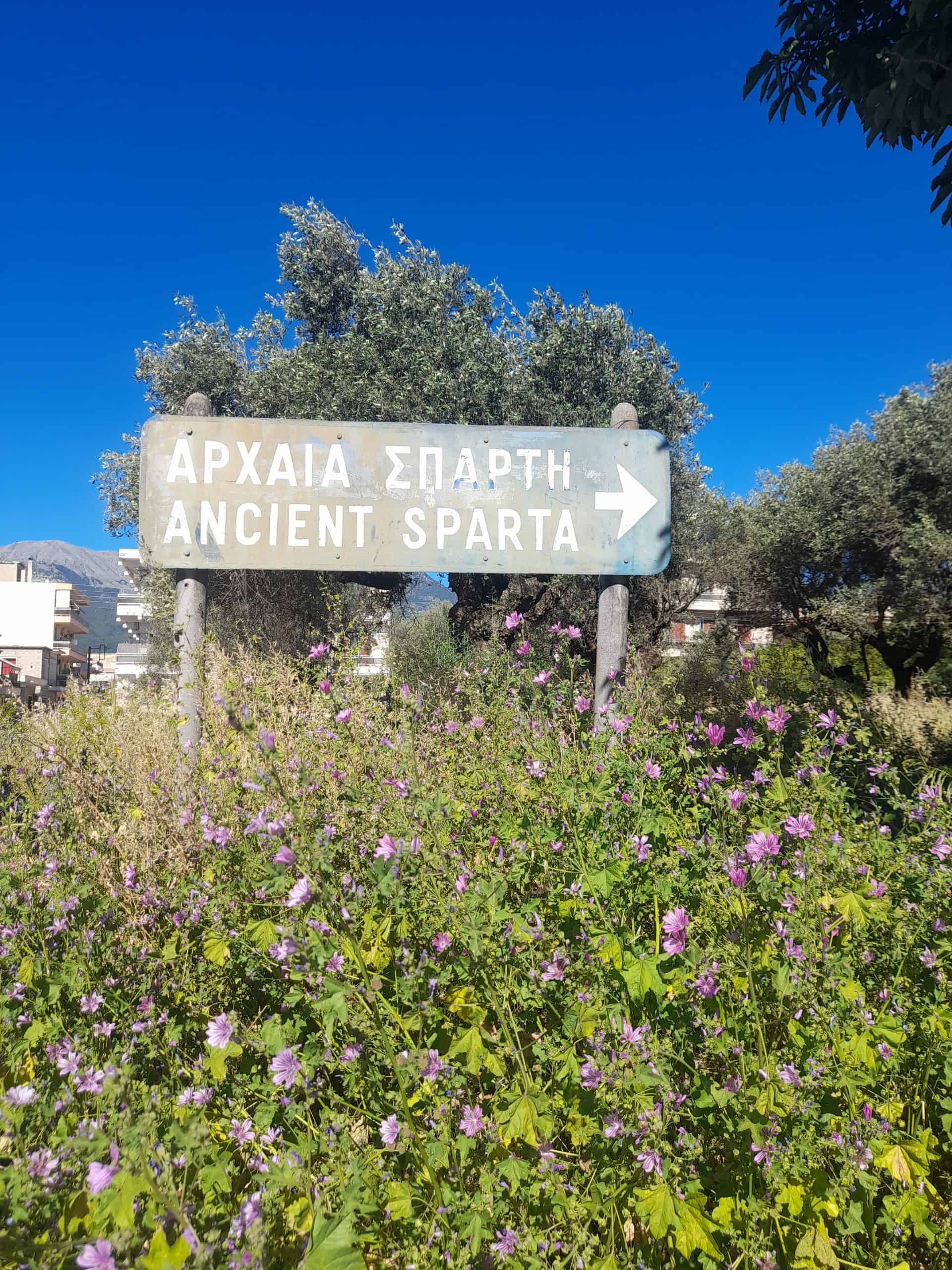 Ancient Sparta is globally renowned for being the home of Leonidas and his heroic Spartan army. This part of Greece is steeped in history but unfortunately, most of the ancient sites here are very poorly preserved.
Nonetheless, it is still worth visiting Sparta. The modern city is a great place to stop for dinner or a Greek coffee as you people-watch in the central plateia. The restaurants of Κεχριμπάρι ("Amber") or Kapari are local favourite choices. 
Visit the ruins of ancient Sparta, the Sanctuary of Artemis Orthia, and the tomb of Leonidas. Then, browse the exhibits at the Archaeological Museum of Sparta.
Pikoulianika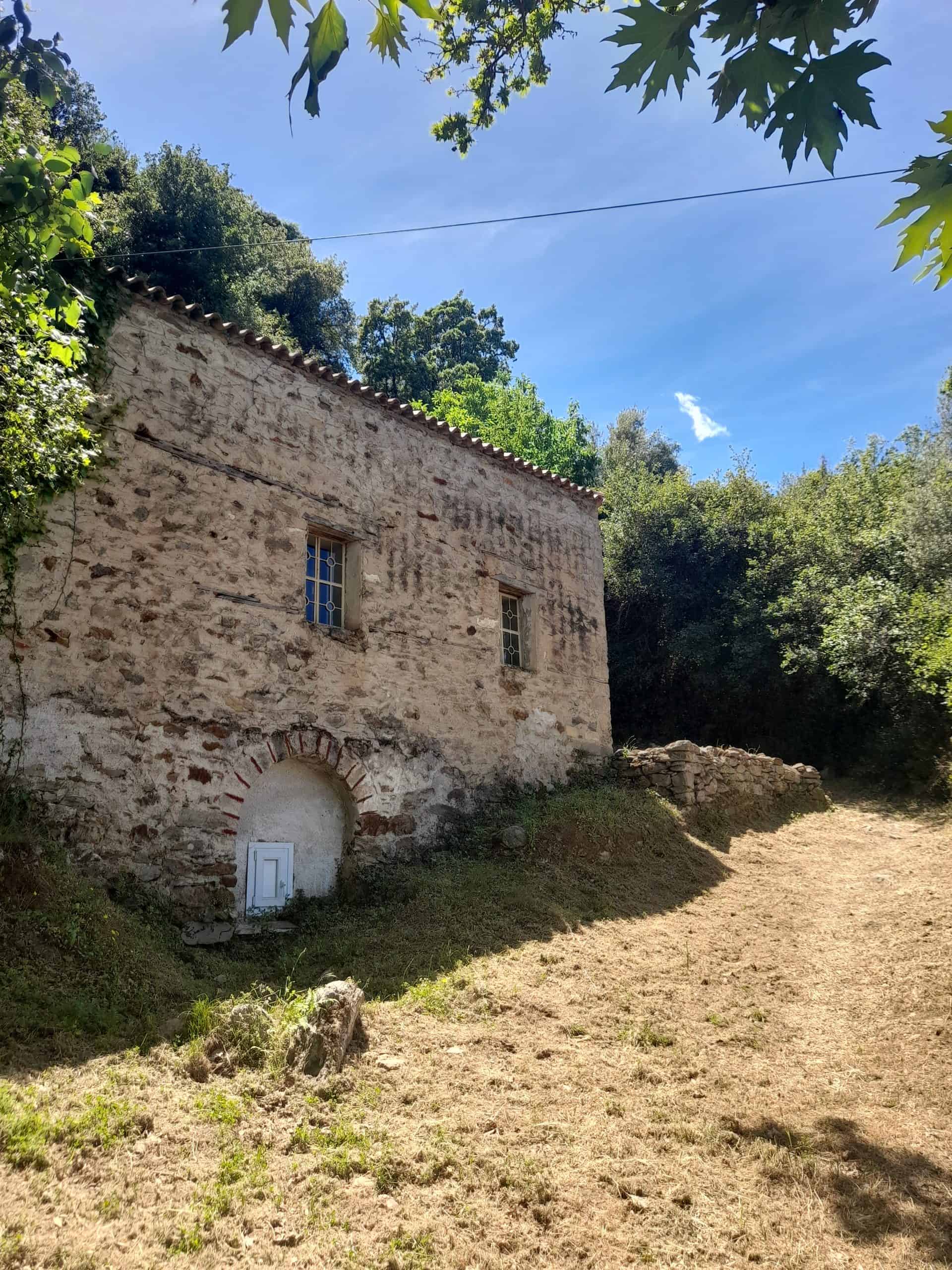 Pikoulianika is a tiny village located just 4km away from modern Mystras, just past the Byzantine old city. It is only one square mile large but it is pleasant to venture here in order to dine at one of the excellent restaurants in the village.
Pikoulianika is known as the "balcony of Lakonia" on account of the sweeping vistas of the Peloponnese that can be enjoyed from here. On the opposite foothill of Taygetos, you can see the various ruins of Mystras old town.
While there are Greek foods that are globally renowned like moussaka and pastitsio, each region of Greece also has its own regional delicacies. In Lakonia, you can try Lakonia sausages, handmade and prepared with sage and a variety of spices.
Pikoulianika tavern is an excellent eatery run by friendly local Maria. Skreka is another local favourite restaurant. Both utilise the freshest, locally sourced ingredients in their dishes. Meals are best enjoyed accompanied by local Greek wines.
Mount Taygetos Hiking Trails
Mystras sits on the slopes of Mount Taygetos. As such, there are a plethora of hiking trails that depart from the village.
If you are an experienced hiker, you may want to conquer the hike to the mountain's 2407m peak. This entails a full day of hiking and you can opt to do so independently or with a local guide.
Alternatively, there are several smaller, more manageable trails that you can attempt that take just a few hours. They lead you past beautiful woodlands, hidden waterfalls, and small churches.
Keadas Cave
Keadas Cave sits close to the village of Tripi. There isn't any public transport that runs here so it can really only be reached by car, unless you negotiate a trip price with a local Sparta taxi company.
Legend has it that Spartans would throw their weak and disabled infants into this cave.
This is supposedly because they would never grow up to be the strong Spartan warriors that the region needed.
However, archaeologists later found that the bones recovered here were those of healthy young men. So, it is believed that the reality is that Keadas cave was actually used as a place to throw prisoners and criminals.
Where to Stay in Mystras
There are a plethora of hotels and guesthouses in and around Mystras to suit every budget and travel style. Rooms can be found for as little as 35 euros per night, depending on the season.
A selection of some of the best accommodation choices is provided below. You could also consider staying in Sparta or Pikoulianika. Generally, costs are lower if you stay outside of Mytras centre.
Mystras Castle Town
Where: Mystras Castle Town, Epar. Od. Spartis-Mistra, Mistras 231 00
Mystras Castle Town is a beautiful traditional guesthouse that is managed by a sweet local couple. You are greeted with a strong Greek coffee, fresh oranges, and sweet treats when you arrive. 
The rooms are simple yet spacious and cosy. Their balconies offer excellent views of the rolling green hills and olive groves that surround Mystras and the property is situated in the heart of the village square.
Rooms start from 35 euros a night. Check the latest rates and availability here. 
Kyniska Palace Conference & Spa
Where: Parori, Mistras 231 00, Greece
Kyniska Palace is a gorgeous five-star property that comes without the five-star price tag. It is situated in the beautiful countryside just outside of Mystras village.
Rooms start from around 100 euros and it is possible to get a spacious suite for just over 140 euros per night. The decor and plush furnishings, in gentle shades of eggshell and white, are classic and elegant.
A sumptuous breakfast is included, with menu options from across the world. Both a spa and a pool can be found on site – perfect for unwinding after a long day of sightseeing. Check the latest rates and availability here.
Getting to Mystras 
There are several ways to get to Mystras, depending on where you are starting from in Greece. Assuming that you are travelling here from Athens, the journey is fairly straightforward.
It is important to note that the rail network in Greece is not well developed and only services a limited number of destinations. Mystras and most Lankonia settlements are not serviced by the Greek railways. 
So, the best way to get here is to either take a bus or rent a car. Alternatively, you can participate in an organised tour. 
Driving to Mystras
Renting a car in Greece is not as intimidating as it may sound. Although the roads in Athens and Thessaloniki may seem chaotic, intercity roads and highways are pretty well built.
You must be at least 21 to rent a car here and a lot of companies charge an additional premium to drivers under 25. Many companies set a maximum age limit for renting cars and that tends to be around 70 years old.
It takes around 2 and a half hours to drive to Mystras from Athens and the distance is 150 miles. Follow the Greek National Road to Corinth and then follow directions for Tripoli.
From Tripoli, follow the signs for Sparti (Sparta). Opting to rent a car provides you with a lot more flexibility and the chance to stop off en route.
A lot of major international rental providers have branches in Athens and at Athens airport – including Hertz and Avis. One thing to keep in mind is that there are a lot of tolls between Athens and Mystras. Take plenty of change as only cash is accepted.
Taking the Bus to Mystras
There is not a direct bus to Mystras. You need to travel to Sparta and then either take the local bus or a cab.
KTEL is the Greek national bus network. However, confusingly, there is not one central website for Greek KTEL buses.
Instead, there are various websites and contact numbers for different regions. For Mystras, you can check the schedule and route information on KTEL Lakonias website.
Buses depart from Athens' Kifissos bus station to Sparta every four hours, daily. Tickets can be purchased both online and in person at the ticket office. 
The earliest departure is at 8.15 am. The last bus departs Athens at 19.30pm. 
You are generally fine to buy your tickets on your intended day of travel but try and arrive at least an hour before departure if you can. The journey takes approximately 3 hours and 30 minutes.
From Sparta, you can take a cab to Mystras for just 7 euros. The local bus between Sparta and Mystras is infrequent and does not run every day. Check the timings with the tourist information staff at Sparta bus station when you arrive. 
Parting Words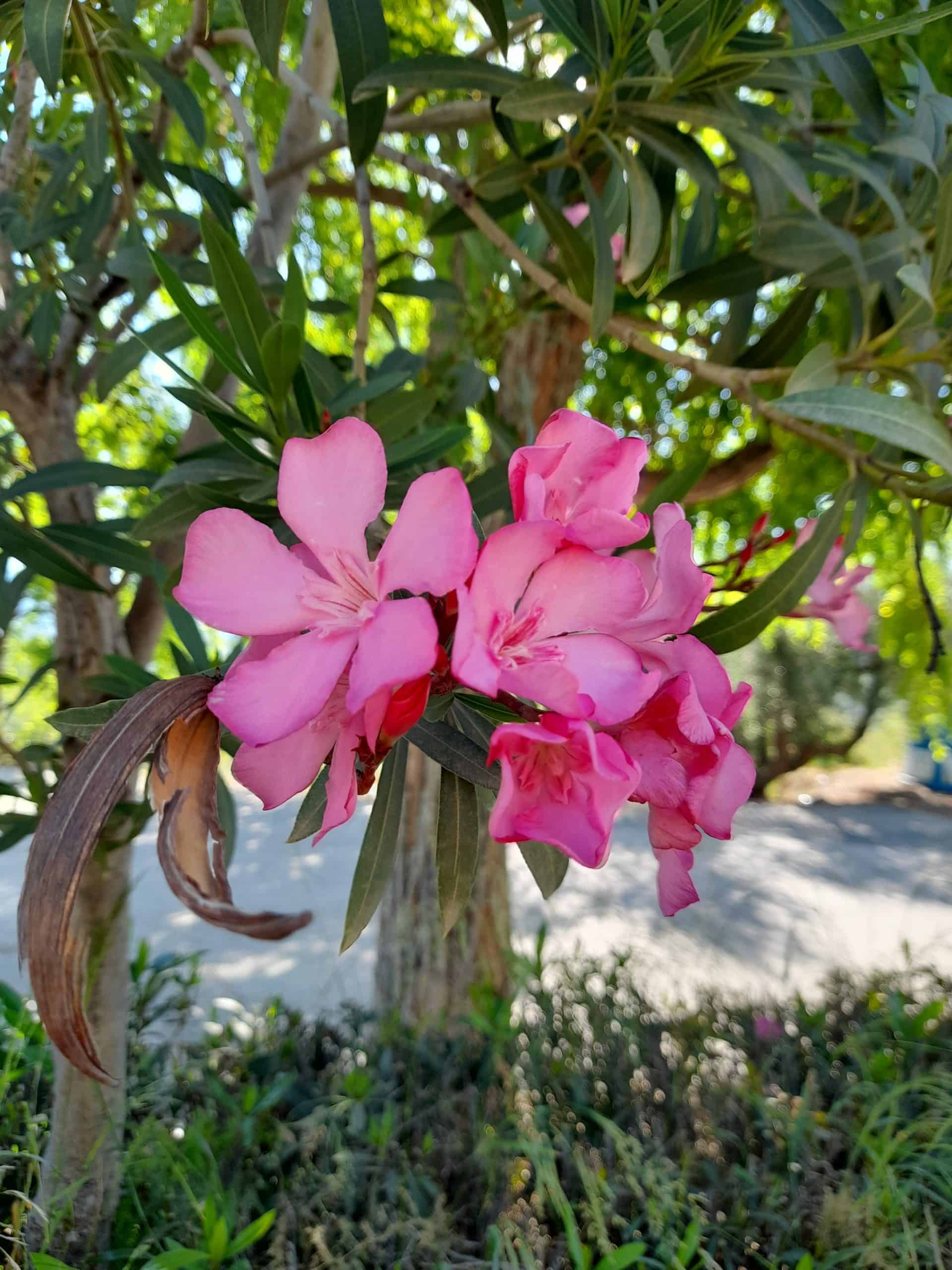 Do you have any questions about visiting Mystras, Greece, or organising your upcoming trip to Greece? Please don't hesitate to contact me. 
I have been living here since 2017 and have explored the country extensively during that time. Safe travels!
Geia sou! Melissa xo
---