There are plenty of day trips from Athens that you can consider adding to your travel schedule if you have a little extra time to spare in the Greek capital. Though many of the islands and attractions surrounding the city are not very well-known or publicized internationally, they are every bit as idyllic, charming and beautiful as more popular spots like Santorini or Mykonos.
There are day trips from Athens to suit every travel style – whether you are interested in history and archaeological sites, or you prefer reveling in a little R&R by the sea.
Taking Day Trips from Athens
This guide provides you with a plethora of different options for taking day trips from Athens. Realistically, you probably aren't going to have time to visit all of these places if you are only in Greece for a week or two. With that considered, I have summarised some of the best day trip options here. You can then read more about each destination below. 
Temple of Poseidon at Sounion
Ancient Ruins of Delphi
Ethereal Monasteries of Meteora
Wine Tasting in the Peloponnese
Saronic Islands Day Trip
Should You Travel Independently or Take a Tour?
I am a big advocate of travelling independently. Generally speaking, this is the most economical option – especially if there are several of you travelling together. Paying the tour prices per person soon adds up! 
With that being said, some places detailed here are awkward to get to without your own transportation. If you want to visit several islands in the Saronic all in one day, for example, you will need to do a tour as trying to do it all independently quickly becomes a logistical nightmare. 
For each of the options below, I have provided details of how to reach the destination independently, and relevant tours that are available. This way, you can choose whichever option is best for you.
The Best Day Trips From Athens
Kea Island
The charming island of Kea is one of the closest Cycladic islands to Athens. It can be reached within just two hours. Ideally, you will have more time to wander through the cobbled streets of Ioulis and sip Ellinikos Kafes in its seafront coffee shops. However, if you are short on time, and you only have a day to spare outside of the Greek capital, a day trip to Kea may well be the escape that you need.

Kea boasts the highest number of hiking trails out of all of the Greek islands. Walking routes twist and turn through the countryside bypassing quaint whitewashed villages, and majestic ruins. One of the best hikes to conquer here is the 1.5-hour trek to the ancient city of Karthea. Here, you will find crumbling temples and centuries-old columnated promenades. Because Karthea requires a little effort to reach, you will seldom find it crowded! 
Getting to Kea
Hellenic Seaways ferries run between Athens and Kea. For Kea, you need to board the boat at Athens Lavrio port. Check the ferry timetables in advance of your intended travel dates as the schedules vary by season.
Vineyards of the Peloponnese
The rugged Peloponnese region of Greece is an area of unparalleled natural beauty. This is also the heart of Hellenic wine country. Some of the vineyards that are located here are among the oldest in the world. While not enough is heard about Greek wines internationally, they are held in high regard in Greece. Most restaurants and tavernas will serve locally sourced wines and a trip to the Peloponnese is your opportunity to sample them at the source.
The family-owned wineries of Semeli, Skouras, Tetramythos, Tsepelos, and Siropoulos are among the best-regarded in the region. You typically have to call in advance to arrange a tour. Tastings are very reasonably priced – starting at €5-6 per person. If you wish to stay overnight, many of these estates boast beautiful luxury lodges and guesthouses. 
Getting to Peloponnese Wine Country
It is possible to take a winery tour in the Peloponnese. There are excursions from Athens that you can join, or you can hire your own personal guide. You will have more flexibility if you have your own transportation and can drive to the various vineyards and points of interest independently, though you must ensure that you have a responsible designated driver, or you stay at one of the estates overnight.
This wine tour departs from Athens and stops by three different Nemea area wineries in addition to the Corinth Canal, and the Sanctuary of Zeus.
Nafplio
The picturesque coastal city of Nafplio was once the capital of Greece. It is also considered as being the country's most romantic city and whether you are travelling here alone or as part of a duo, you will certainly fall in love with all of the winding cobbled streets and passageways that twist and turn around the city like a maze.
Nafplio's architecture is beautiful and the structures here date all the way back to the Middle Ages. Visit Akronafplia – Nafplio's old castle, and embark on a steady walk along the craggy coastline while admiring views over the Argolic Gulf.
While in town, stop by the central Arvantia square to enjoy a Greek mezze and a glass of locally sourced wine at one of the quaint eateries here. Nafplio is one of the best day trips from Athens because it remains relatively undiscovered by most tourists.
Getting to Nafplio from Athens
You can take the bus from Athens to Nafplio. The buses depart from central station hourly at every half past hour. The journey takes 2 and a half hours.
If you wish to explore Nafplio with a local, you can take a city walking tour which also includes the boat to Bourtzi fortress. More information on the tour can be found here.
Piraeus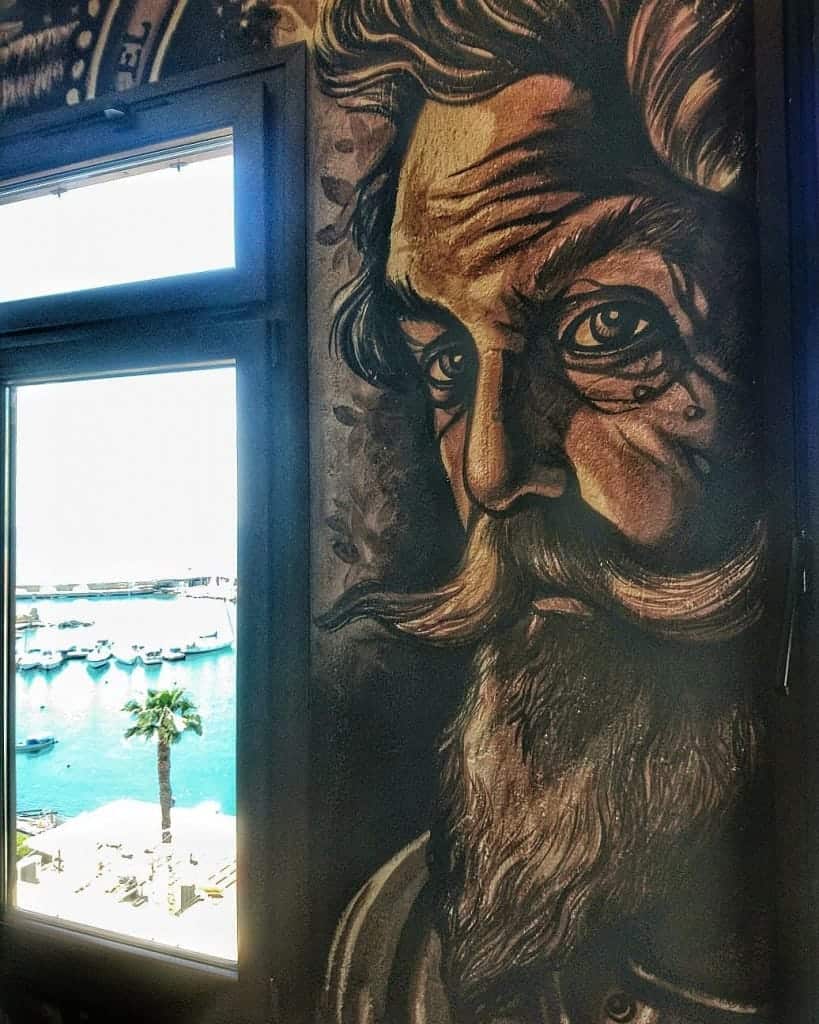 Piraeus is often viewed as a simple extension of Athens – an area which is only necessary to pass through if you are en route to the port. In reality, Piraeus is its own city, and although somewhat gritty, Piraeus boasts plenty of charm and interesting sites.
It's easy to reach Piraeus from Athens airport and the city, by simply hopping on board the green metro line and following it to the final station. The scenes that greet you at Piraeus metro station are the chaotic hustle and bustle of city life. Venture a short distance though, and you are met with beauty and tranquility.
Head to Piraeus' glamorous Marina Zeas and sip locally-sourced wine while admiring the sea views surrounded by luxury yachts. From there, walk to the old neighbourhood of Kastella – whose pastel-coloured houses, neoclassical mansions, and narrow cobbled streets are a photographer's paradise. Climb up to the Profitis Ilias Orthodox church for incredible panoramas, especially at sunset.
Delphi
A UNESCO world heritage site, Delphi is one of the most important and best-preserved ancient sites in Greece. Understandably, Delphi is one of the most popular day trips from Athens with several tours and buses heading here daily in the high season.
The settlement dates back thousands of years and is of great importance in Greek history and mythology. Legend has it that Zeus sent two eagles from the ends of the universe to discover where the centre of the world was. It was here where they flew and thus, Delphi was born!
Today the Delphi site has several spots of interest, including the ancient Temple of Apollo, an ancient amphitheater and the Delphi archaeological museum. The latter displays a fascinating chronology of Delphi's history and its halls are filled with recovered artifacts.
Getting to Delphi from Athens:
You can take the bus from Athens to Delphi. You need to get to the KTEL station B at 260 Liossion street (Gousiou street entrance). The journey takes approximately 2 and a half hours.

Delphi tours from Athens are very popular. They include return transport, skip the line entrance and a guided tour. You can read more about Delphi tours here.
Cape Sounio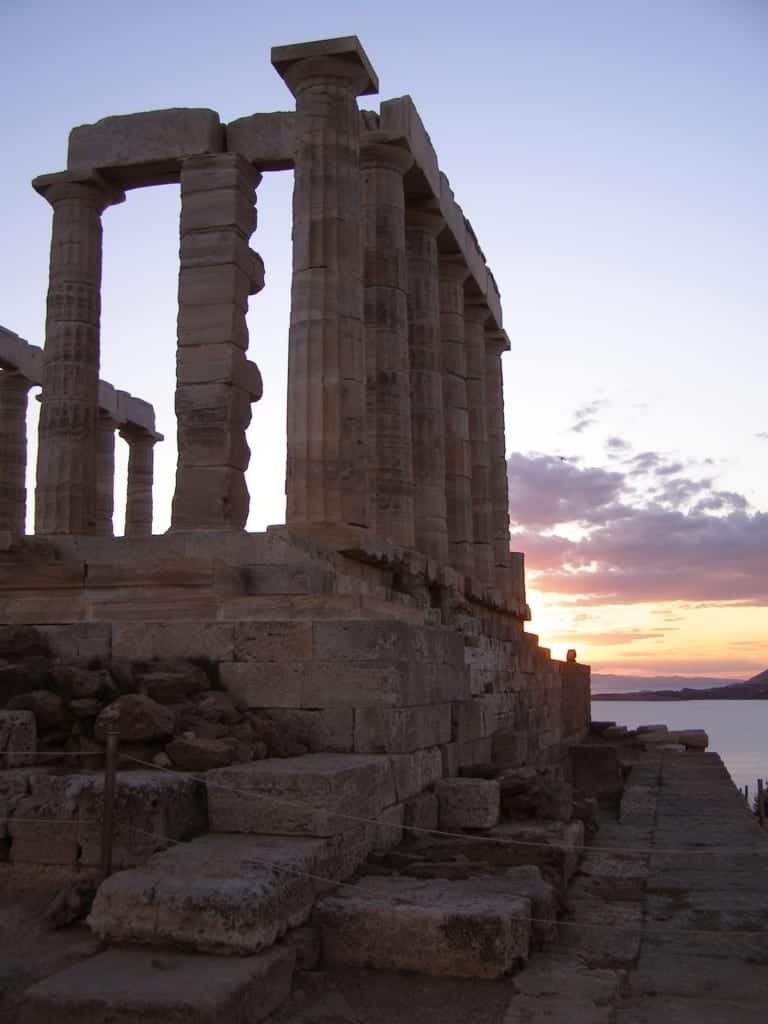 Perched almost precariously at the edge of the jagged rocks that jut out across the Aegean sea, the temple of Poseidon at Cape Sounio is quite a sight to behold. The temple dates back to 44 BC and is dedicated to Poseidon, Goddess of the Sea. The views across the water are undoubtedly one of the highlights, particularly as the sun begins to set and the skies are illuminated in hues of warm orange and red.
Exploring the temple in itself is an interesting experience. In the warmer months, it is possible to swim in the translucent waters here or relax by the sea. After you've worn yourself out, head to one of the seafront tavernas to enjoy some traditional Greek food.
Sounio is one of the best day trips from Athens because it is located just 69km away from the capital. Its location makes it a great place for a full-day trip from Athens, or for half a day away.
Getting to Sounio from Athens:
You can take a bus from Mavromateon Athens central bus station to Sounio. The buses depart every hour starting from 7.05 am and running until the evening. It takes 90 minutes to reach Sounio from Athens (Temple of Poseidon stop).
Guided Sounion tours include hotel pickup and enable you to skip the line. You can find out more information on them here.
Meteora Monasteries
Meteora has to be one of the most beautiful places in mainland Greece. Meteora means "suspended in the air" and once you arrive here, you will certainly understand how the area got its name. Here, ancient monasteries and nunneries balance precariously on the summits of craggy rock pillars.
Monks settled here around the 11th century and many of the monasteries remain today. 24 monasteries were built here initially and today, six remain. They are The Varlaam monastery, Great Meteoron, Roussanou, Holy Trinity, St. Stephen's and St. Nikolaos Anapafsas. It is possible to enter the monasteries and marvel at the frescoes and ornate decorations within.
Between the monasteries, there are incredible scenic hiking trails and beautiful spots for watching the sunset. A Meteora day trip is one of the best day trips from Athens. It is advisable to spend at night one night here though, in the charming nearby town of Kalambaka, in order to break up the long journey.
Getting to Meteora from Athens
It is relatively easy to get to Meteora from Athens. Take the subway to Athens Larissa station and from there take the train to Kalampaka. Services run frequently between the two destinations.

Guided tours of Meteora start from 71 per person including transportation, entrance and tour guide services. You can learn more about the tours here.
Mycenae
Awaiting the intrepid traveller in the midst of the barren foothills of Mount Agios Ilias are the crumbling ruins of Mycenae. Mycenae, as the name suggests, was home to the important Greek civilisation of the Mycenaeans. For hundreds of years, this was the most important city in Greece.
Some parts of Mycenae still remain today and are very well preserved. This includes the old amphitheater, the lion gate and the treasury of Atreus (a royal tomb). The old stone walls that encapsulate Mycenae are so large that legend states they were built by a cyclops. The archaeological museum here contains various artifacts discovered in the region, most notably the gold death mask of Agamemnon and other Mycenaean kings.
Getting to Mycenae from Athens
To get to Mycenae from Athens, take the bus to Fichti Station. The journey takes around an hour and a half.

It is possible to do a combined day tour of both Mycenae and Epidaurus. You can learn more about that here.
Hydra Island
Hydra is a beautiful island in the Saronic Gulf that is packed with character and charm. Its cobblestone labyrinth-style alleyways lead travellers through quirky, picturesque neighbourhoods and along the scenic harbour that is filled with colourful fishing boats and views of the crystal clear waters across the Aegean sea.
Hydra is known for its classy, sophisticated atmosphere. With impressive mansions dotted in and amongst the traditional buildings, the architecture and atmosphere are unique.
Getting to Hydra from Athens
Ferries depart for Hydra daily from the port of Piraeus. There are around 5-6 boats each day running between Hydra and Athens and the journey takes approximately 2 hours.
Ancient Olympia
Set on the western edge of Peloponnese, Ancient Olympia was the birthplace of the Olympic Games. Today, this is one of the most important archeological sites in Greece.
The temples of Zeus and Hera, the ancient stadium and the workshop of Phedia are important sights to add to your radar while in Olympia. The Archaeological Museum is well worth a visit, as it tells the history of the Olympic Games through the ages.
Getting to Olympia from Athens
It is not easy to travel to Olympia independently. The easiest option is to do a tour like this one.

If you want to go it alone, you can take the bus from Athens to Pyrgos and from there change for Olympia.
Epidaurus
Epidaurus is one of the most famous historical places in Greece. It was the home of a healing spa built by Asclepius. Today, you can still gaze upon what remains. For half a millennium (sixth century BC right up to Roman times), Epidaurus was a popular pilgrimage site.
There are a number of archaeological sites dotted around the area and of course, a museum that discusses the findings. Perhaps the highlight of Epidaurus is the ancient theatre that is exceptionally well preserved and dates all the way back to 330 BC. Every year, theatrical performances are still hosted here and are worth a visit, even if you do not speak Greek.
The annual Epidaurus Festival takes place from June until August and tour buses run regularly from Athens during this period.
Getting to Epidaurus from Athens
You can take the bus from Athens to Epidaurus from the central bus station in Kifisos.
Explore the Rugged Coastline of the Mani Peninsula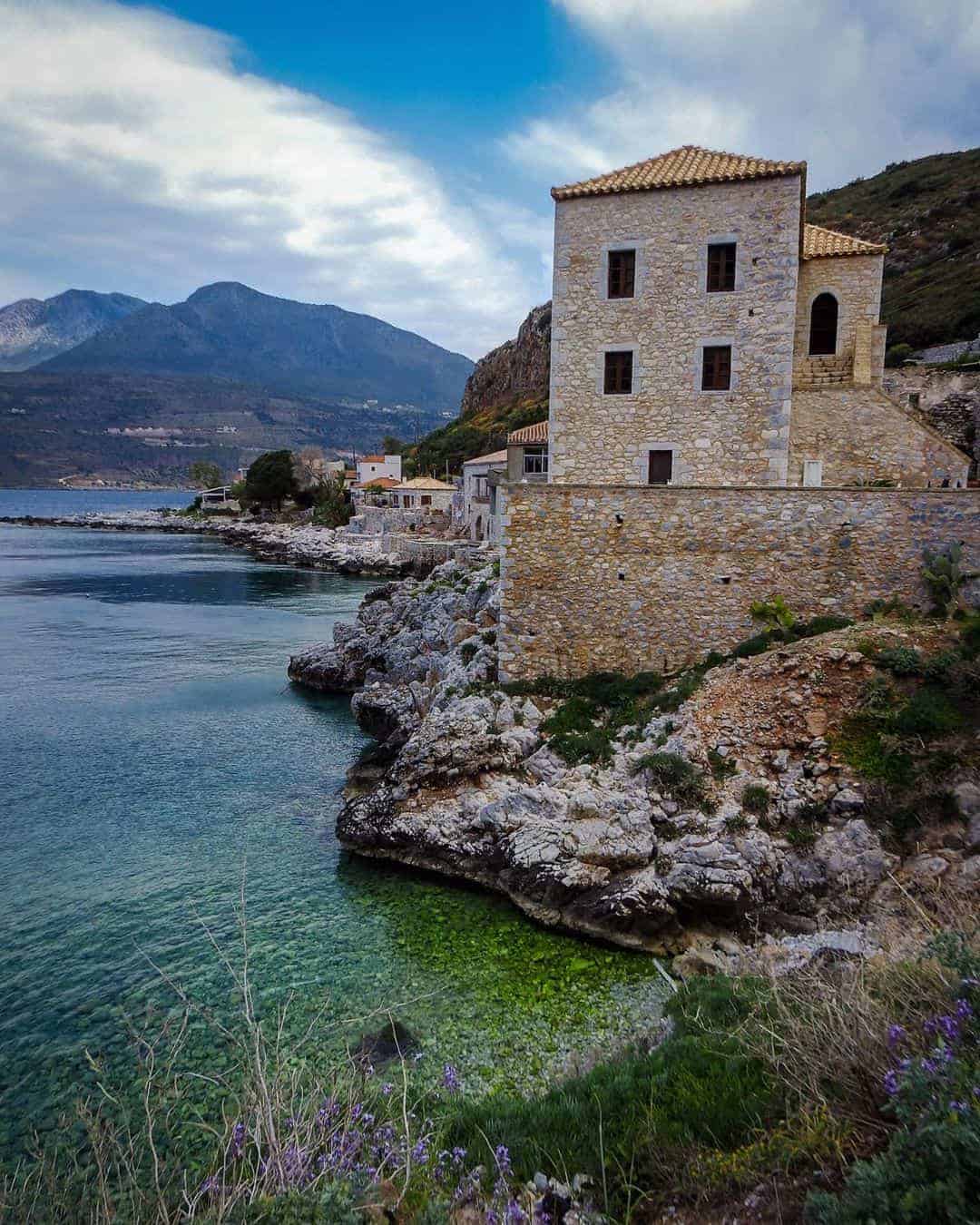 The Mani peninsula of the Peloponnese is worthy of several days of exploration. That said, you can easily rent a car, drive out to this rugged area, and get a taster of Mani in a day if you don't have weeks and weeks to spend in Greece.

The Mani region is divided into two halves. The Outer Mani is comprised of cute, colourful fishing villages. (Kardamyli and Stoupa are very worthy of your time). The "Deep Mani" is the southern part of the peninsula, and about as "off the beaten path" in Greece as you can get.

The Deep Mani consists of rugged coastlines, jagged cliffs, and hidden coves. The main touristic attraction of Mani is the Dinos Caves. This is a large network of underground caves that are filled with dramatic rock formations, overhanging stalagmites, and stalactites. You can board a little wooden fishing boat and sail into the dark depths of the caves as you feel like you are being transported into Hades' underworld.  
Reaching the Mani Peninsula from Athens
It is not easy to reach the Mani peninsula unless you have your own transport. Your best option is to rent a car. Getting to Mani by public transport is possible but it's a bit of a headache. You need to take the KTEL bus to Sparti, and then take a taxi from there. If you do that journey in two directions, the price soon adds up!
The

Athenian Riviera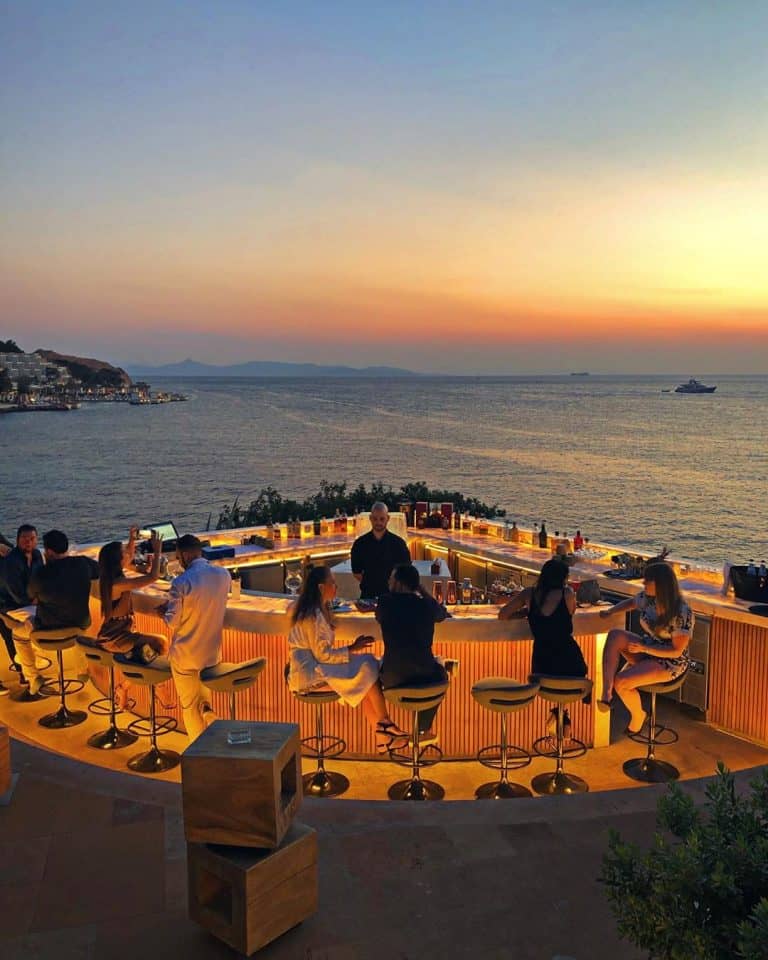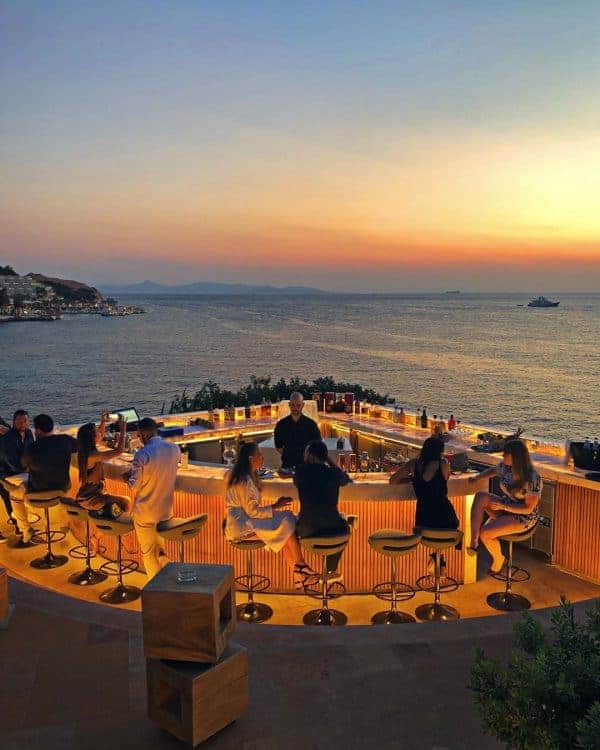 The Athenian Riviera is an upscale area that sits just south of central Athens. The chic towns of Glyfada, Voula, and Vouliagmeni can be found here, and the area is often referred to as the "Hellenic Hamptons".
This pine-clad peninsula is an area of impeccable natural beauty. The Athenian Riviera is characterised by dense pine forests, rugged coastlines, dramatic cliffs, and idyllic beaches that border translucent azure waters.
Visit the glamorous Astir Beach, a favourite among the Athenian Jetset, or the locally loved Balux House Project – a beachfront restaurant and bar with a private beach sector and pool.
Aegina Island
Aegina is perhaps the most conveniently located island for taking day trips from Athens. The journey across the water takes just an hour, and the island is the embodiment of the authentic Greek atmosphere and lifestyle. Beyond the island's bustling port, Aegina packs a lot of charm.
Explore the abandoned, eerie streets of the ghost town of Paleochora, fall in love with the seaside towns of Perdika and Vagia, and enjoy some of the best beaches in Southern Greece.
Getting to Aegina Island
Boats run frequently from Piraeus port in Athens to Aegina island. The journey takes 45 minutes by catamaran.
Poros
Poros is arguably one of Greece's best-kept secrets and offers a perfect choice for day trips from Athens away from the tourist hordes. Poros is made up of two islands – Kalavria and Sphairia. The former is an area of greenery sprinkled with pine trees, while the latter is made up of volcanic rock. The town centre is believed to be one of the prettiest island capitals across all of Greece.
At its central point, the large clock tower dates back to the 1920s is visible from across the entire island. Hiking to the top of the hill where the clock stands offer incredible views across the Aegean and towards the neighbouring Greek islands.
With beautiful white-washed traditional Greek houses and quaint little streets, it is hard not to fall in love with Poros. For something "off the beaten path", consider travelling out to Lemonodasos – a beautiful lemon forest five minutes from Poros port.
Many beautiful orthodox churches are scattered throughout Poros and are worth a visit during your day trips from Athens – particularly the temple of Saint George, and the Monastery of Zoodochos Pigi.
Getting to Poros from Athens
Travellers can easily take the boat to Poros from Piraeus port. Boats depart hourly.
Ancient Corinth
Visiting Corinth enables you to visit the ruins of an ancient Roman city. The city has an important place in Greek history and mythology. This was the home of Jason and the Argonauts – aka. The man who stole the ancient fleece. 
Seeing the ancient ruins sit beside Corinth's modern city is an interesting contrast. Notable structures to look out for here include the Ancient Theatre, the 5th century Temple of Apollo, and the Peribolos of Apollo. The on-site museum provides more context to the site. 
Getting to Corinth
It is easier to explore Corinth on a tour. This day tour of Corinth takes you to the ancient city and the Corinth Canal. It also stops by the old port of Kechreai.
If you want to visit Corinth independently, you can take the train from Athens Larissa station to Corinth Station. Trains depart hourly and take approximately 1 hour and five minutes.
Lake Vouliagmeni
The mystical Lake Vouliagmeni is still technically within the grasps of Athens, yet is not so well known among tourists. The mineral water lake is said to have healing properties, particularly for those suffering from skin ailments.
The beautiful lake is surrounded by sun chairs and cabanas and is the perfect place to relax on a summer's day in Southern Greece. Several spa facilities also encircle the lake, and hiking trails from the lake lead to nearby Faskomilia hill and incredible views over the Attica coastline.
When the sun sets, head into the sophisticated nearby Vouliagmeni town and enjoy dinner at an upscale restaurant by the coast.
How to Get to Lake Vouliagmeni
Take the red line on the metro to Ellinikon terminal station. From there, take bus 122 to Vouliagmeni. A cab from downtown Athens to Vouliagmeni costs approximately 15 euros.
Spetses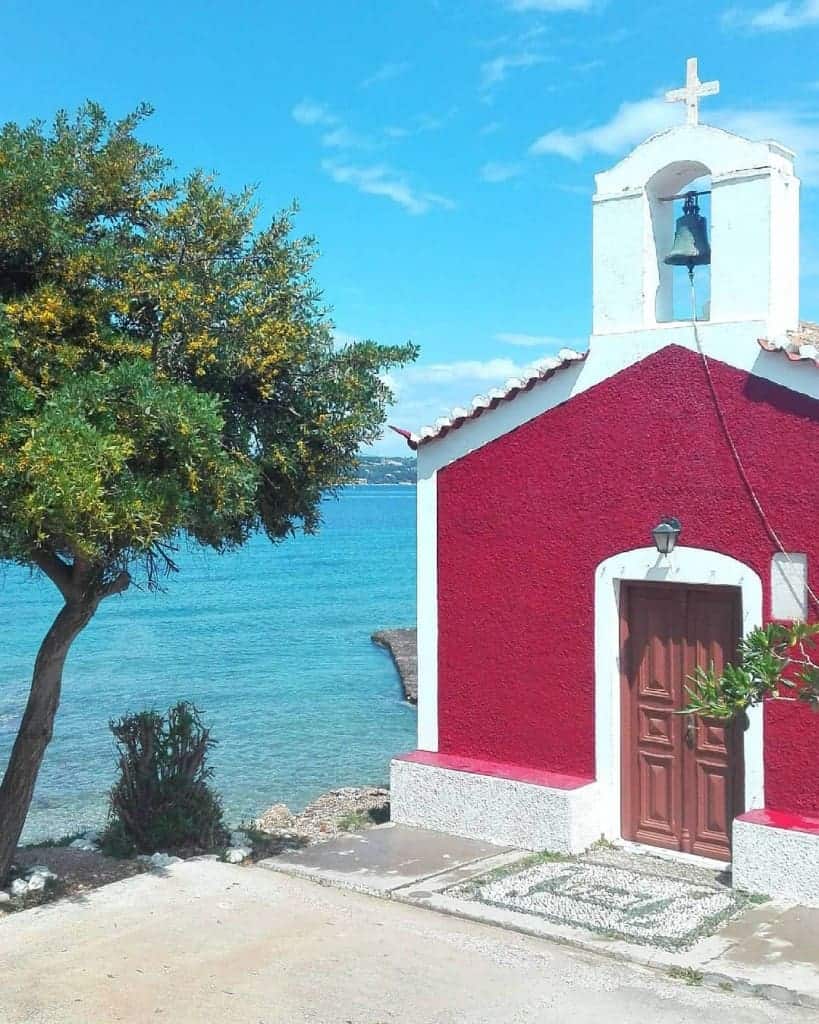 Though Hydra island may often be considered as the gem of the Saronic Gulf, Spetses island is equally breathtaking. The upscale island does not see any cars or vehicles and has a population of just 5000 people. Aside from the elegant Spetses town that is situated at the port, Spetses is essentially just one huge national park.
The island of Spetses boasts secluded beaches, scenic hiking trails, ancient churches, and mysterious caves. One of the best things about travelling to Spetses is that is relatively off-the-beaten-path as far as Greek travel goes. You may see some adventurers here that are sailing around the Saronic Gulf but for the most part, if you head here in Spring or Autumn you will have many parts of the island to yourself.
Take a Saronic Gulf Cruise
The Saronic Gulf islands of Spetses, Poros, Aegina, Hydra, and Agistri are all delightful in their own way.
If you want to visit all or several of the Saronic Gulf islands yet you are limited on time, you can consider doing a day cruise. Several tour companies offer affordable excursions like this one that departs from Piraeus port early in the morning and does a "whistle-stop" tour of the Saronic islands – spending a few hours at each location. Get Your Guide is one very reputable company that offers such a tour.
Mount Parnitha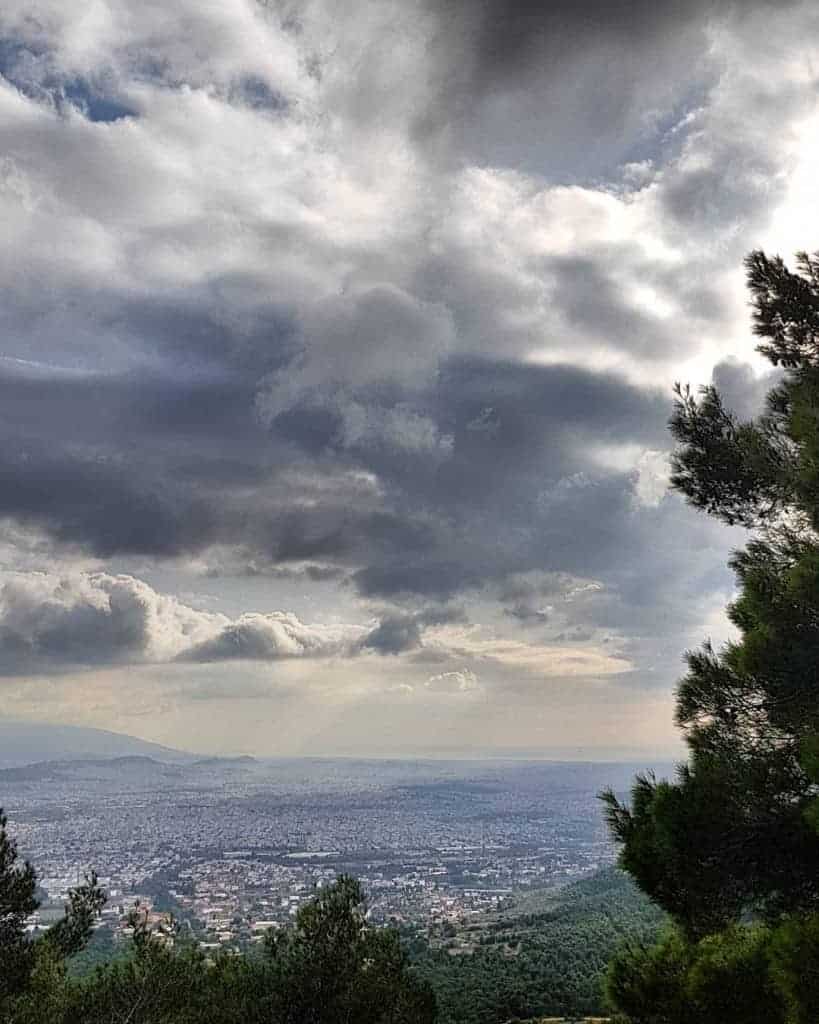 Parnitha, home to the mountain of the same name, is one of Southern Greece's premier hiking spots. Parnitha can be reached via a short bus journey from central Athens. Numerous trails twist and turn along the slopes of Mount Parnitha. There are hiking trails here which are suitable for travellers of all abilities.
Each Parnitha route offers the chance to admire a diverse blend of incredible natural scenery – from dense pine forests to natural springs and open fields where wild deer graze. For those hoping to complete the ascent to the top, the bafi refuge makes a nice place to stay en route and break up the journey. Parnitha is one of the best day trips from Athens for hiking and nature lovers.
Getting to Mount Parnitha from Athens
It is relatively easy to reach Parnitha by public transport from Athens. Board the green line metro from central Athens and go to Kifissia station. From there, take the 504 bus to Thrakomakedones.

If you are travelling alone and prefer to hike with others, you can consider joining a Parnitha hiking tour. The tour includes collection from your hotel, guided trekking, and lunch.
Lamia
Lamia is a city in central Greece that sits just two hours north of Athens. With a history that spans back over thousands of years, Lamia is an interesting place to visit on one of your day trips from Athens.
Central Lamia is distinguishable by Eleftheria Square – a crowded piazza filled with vibrant coffee shops, tavernas, and bars, all of which were seemingly built for people watching. The city's iconic site is the medieval castle that sits on a rocky rise, watching protectively over the city. Several picturesque hiking trails lead you on an adventure around the city limits and through the lush green hills of Archangels Michael-Gabriel-Raphael, and Agios Loukas.
Getting to Lamia from Athens
Daily trains connect Lamia with Athens. The journey takes approximately 2 and a half hours.
Andros Island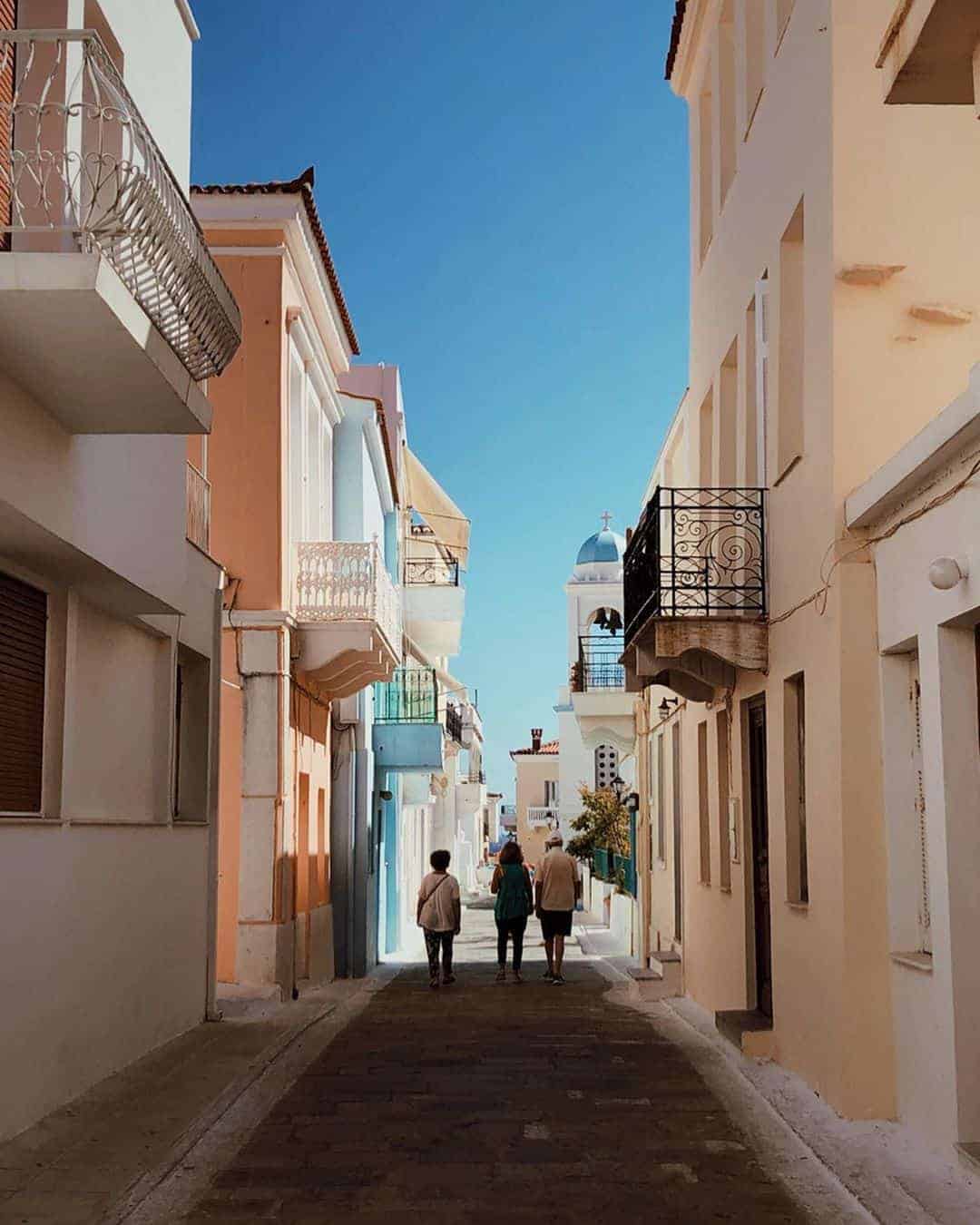 Andros island is often overlooked in favour of its neighbours Santorini and Mykonos. It is the second-largest island in the Cyclades and one of the closest to Athens and the mainland.
A lot of Andros' charm is to be found in its various towns and fishing villages. Batsi is a particularly popular spot among tourists. 
Even though it sees a lot of visitors, it does not lose its charm or feel inauthentic. In Batsi, pastel coloured houses and stores cascade down hilltops to meet the sea – almost like a Cycladic Amalfi Coast. The ramshackle houses that were once owned by fishermen have been transformed into eclectic guesthouses, ouzerias, and mezedopoleio places. 
You can easily while away a lazy afternoon sipping coffee, eating traditional food, and wandering around the towns of Batsi and the Andros capital of Chora. Board a boat back to Athens just in time for bed. 
Getting to Andros
It takes two hours to reach Andros by ferry from Athens. Boats for Andros depart from Rafina port. The schedule varies depending on the season. Services are significantly more frequent in the summer months. Check the ferry timetable in advance.
Day Trips From Athens:




The Best Time to Go
Owing to its Southern European location, Greece sees pleasant climates and weather conditions all year round. That said, during the winter months, temperatures do drop so are not the optimum time to visit if you want to catch some sun, top up your tan or hang out on the beaches.
The best time to visit Greece is somewhat subjective and dependent on the types of activities you hope to do when you arrive. For reference, I have provided an overview of what to expect in Athens and its surroundings during the different seasons below.
Spring (March to May)
The spring months of March through to May are a pleasant time to visit Athens and embark on day trips from Athens. The temperatures are around the mid to late twenties during this time – perfect for hiking and exploring ruins without getting too hot.
Since this is the shoulder season, travelling now means missing many of the tourists. Greeks celebrate Orthodox Easter (usually a week after traditional easter) and many shops close during this period, although local festivals and celebrations make it a fascinating time to travel.
Summer (June to August)
Athens and its surroundings get very hot and humid during the summer months. Temperatures during this time are between 30 and 40 degrees Celsius.
Many places in Greece do not have air conditioning (excluding hotels of course). This is a great time to visit the islands and beaches but book accommodation in advance.
Autumn (September to November)
Autumn is a great time to take day trips from Athens. Like spring, temperatures are a little cooler than the summer months but still warm and pleasant. Tourist numbers drop significantly and hotel/Airbnb prices are cheaper.
This is a great time to take a Meteora day trip or embark on a hiking trip. As the end of September approaches, it gets a little colder and windier. Fewer boats run to the islands and vacation destinations start closing up.
Winter (December to February)
It gets cold in the Athens area during the winter – think daytime temperatures of 10 – 15 degrees Celsius and dropping as low as 2 or 3 during the day. Dig out your big snuggly coat and bobble hats and don't be deterred. Sure you can't exactly lounge on the island beaches but southern Greece still has plenty to offer.
Have any questions about these day trips from Athens? I have lived in Athens for the last two and a half years and would be happy to assist with any questions and queries you may have. Feel free to drop me a comment below and I will get back to you as soon as I can. Safe travels! Geia sou, Melissa xo
---