Vouliagmeni is an upscale coastal town that sits just 20km south of central Athens. This is one of the most exclusive areas in Greece: Welcome to the Hellenic Hamptons!
This pine-covered peninsula is an area of pristine natural beauty. Vouliagmeni is characterised by lush, dense pine forests, rugged coastlines, dramatic cliffs, and idyllic beaches that border translucent azure waters.
You may want to consider basing yourself in Vouliagmeni if you wish to indulge in a little R&R at the end of a wider Greece travel itinerary. Alternatively, you can opt to stay here rather than staying in central Athens, and travel to and from the city each day to do your sightseeing.
About Vouliagmeni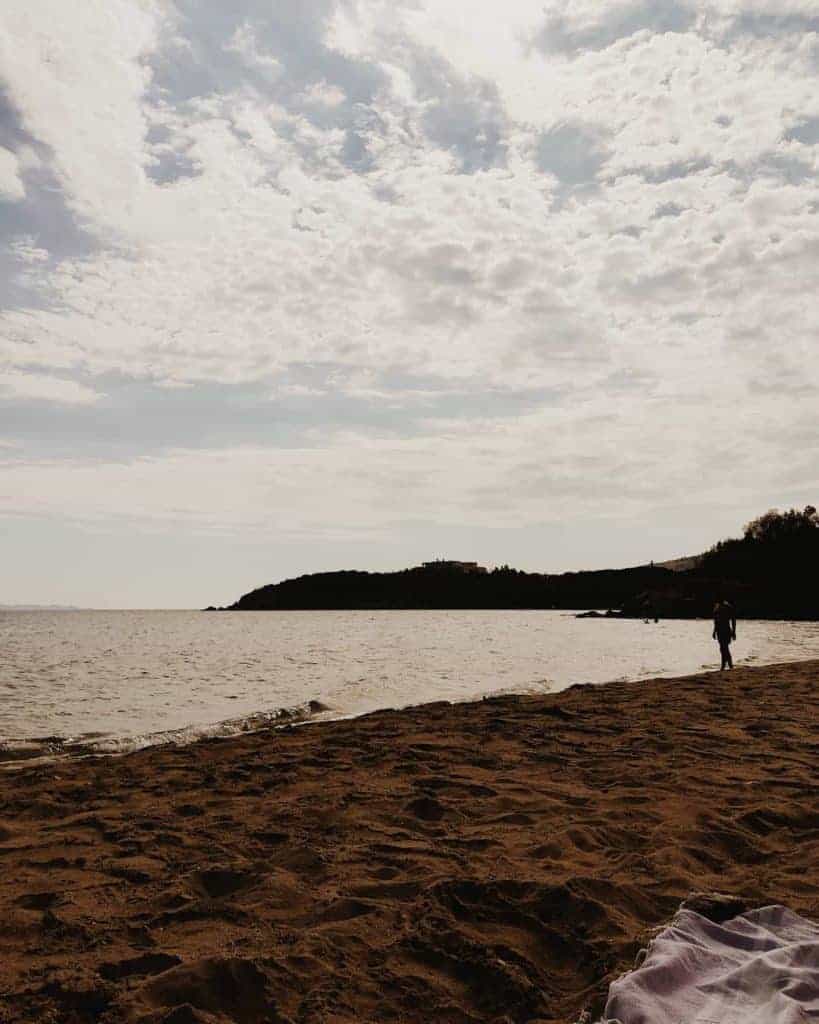 Vouliagmeni is to Greece, what Capri is to Italy – a place of effortless elegance and sophistication. The town is one of five stunning coastal areas that make up the Athens Riviera – Voula, Vari, Varkiza, Vouliagmeni, and Glyfada.
Well-heeled Athenians will often venture to Vouliagmeni to enjoy a weekend escape away from the hustle and bustle of the Greek capital. To live in Vouliagmeni is to have one of the most prestigious addresses in town. Many Greek celebrities, politicians, and millionaires reside in the mansions that sit along the coast here.
A Little History of the Athenian Riviera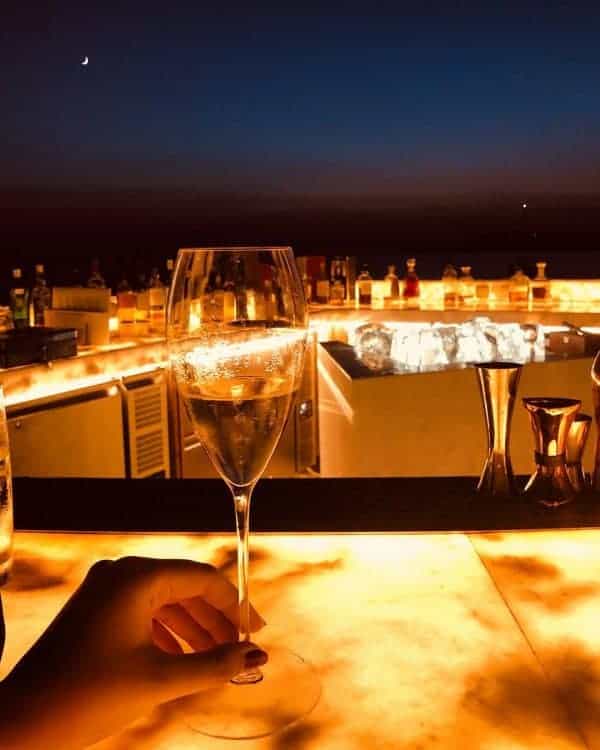 Up until the sixties, Vouliagmeni was nothing more than a sprawl of pristine coastline that overlooked the Saronic Gulf islands. At this time, several local entrepreneurs envisaged the concept of the Athenian Riviera.
They designed and constructed several upscale hotels in the region. Thus, the Athens Riviera was born and they created Southern Greece's very own Cote d'Azur.
The likes of Frank Sinatra and Brigette Bardot are the calibre of people who have vacationed here over the last few decades. When you consider the clientele, it is interesting that the Athenian Riviera manages not to be pretentious.
Quaint, ramshackle tavernas line the coast and play bouzouki music until the early hours of the morning. Meanwhile, secluded unspoiled beaches are the perfect place for a picnic away from Greece's overcrowded resort towns.
Things to See & Do in Vouliagmeni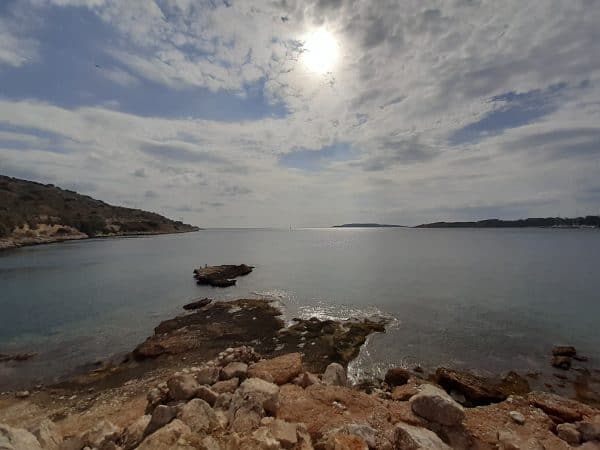 Although you may assume that coastal towns like Vouliagmeni are strictly summer destinations, it is possible to experience the beauty of this area during all seasons of the year. The Athens area usually experiences a mild winter climate. There are several stunning coastal paths that take you around the Vouliagmeni area.
In the winter months, stop by the Moorings, or En Plo cafe, and snuggle up in one of the cosy armchairs with a hot chocolate. Gaze out of the windows as you watch the waves lap ferociously against the rocky coast. In the hot, humid summer months, reserve a private cabana at one of Vouliagmeni's exclusive beach clubs.
Exclusive Beach Clubs
Vouliagmeni is home to some of the best beaches in Athens. The coastlines here provide a little something for everyone – whether you are looking for organised facilities or seclusion.
As far as the Athenian jet set are concerned, the place to see and be seen here is Astir Beach. This is a private beach club designed by renowned Greek architect Kostas Voutsinas.
Cabanas and sunbeds can be rented here starting from €50 per person. Complimentary drinks and waiter service are included in the price. It is not unusual to see a rock star or a supermodel in your midst while at Astir Beach.
Sun, Sand, and Sea
The beaches at Kavouri and Lemos are free to enjoy. However, you should come very early during the summer months. At this time, it seems as though every man and his dog wants to spend a day at the beach.
The popularity of these places can make it tricky to find a space. However, i is possible to rent a sunbed and umbrella if you arrive early enough.
"Limanakia" are a highlight of driving along the coast from Athens, through Voula, Vouliagmeni, and Vari, down to Cape Sounion. These are little secluded coves and tiny beaches that sit just off the coastal road.
You will find limanakia every few paces along the road. These beaches are not serviced, and a lot of them are nudist-friendly (if that's your thing!) Some of these spots are a little awkward to get to, and involve climbing down rocks so do be careful!
Relax at Limni Vouliagmenis
Limni Vouliagmenis, aka Lake Vouliagmeni, is the reason that a lot of people even consider visiting Vouliagmeni in the first place. Surrounded by craggy rocks, this brackish lake sits on top of natural thermal spring waters.
The lake is rumored to have healing properties. A pleasant way to spend a day in Vouliagmeni Greece is to swim in its waters and treat yourself to treatment therapies in its adjacent spa.
Beneath the surface of the lake, there is a labyrinth-like network of underwater tunnels that extend for thousands of meters. These have never been fully explored. Nobody is entirely sure where they lead!
Limni Vouliagmenis by Night
Lake Vouliagmeni is stunning. However, it has become very popular among tourists in recent years.
This is especially the case during the summer months. Daytime admission to Limni Vouliagmenis costs €12 per person and the lake can get very crowded.
At night, the bar next to the lake is open for drinks, dinners, and snacks. The atmosphere here in the evenings is almost magical. You may find that you even prefer it.
The rocks surrounding the water are illuminated with twinkling lights. Meanwhile, old Dean Martin and Frank Sinatra songs are played out over the speakers at the restaurant.
Sip Freddo Espressos at the Margi Pool
The Margi is one of the most well-regarded luxury hotels in the Athenian Riviera. Rooms at the Margi start from €220 a night.
Even if you are not a guest at the hotel, it is possible to enjoy its pool and relax beneath the Mediterranean sun with a freddo espresso. The hotel's restaurant is also a great place to stop for dinner. Managed by nationally acclaimed Greek chefs, the menu here boasts classic Greek dishes with a contemporary twist.
Watch the Sunset from the C Lounge
For an evening of cocktails and glamour, don your finest attire and head to the C Lounge. This luxe cocktail bar offers some of the best panoramas over the peninsula.
C Lounge is a great spot to unwind as the sun sets over the Saronic Gulf. The bar is decorated with an array of antique and ethnic furnishings that have been sourced from across the globe.
Embark on a Coastal Hike
Scenic coastal pathways run along the waterfront in Vouliagmeni. The terrain here is flat and well-paved, thus making for a pleasant stroll for people of all ages and hiking abilities. The route leads all the way to the Alimos/Faliro area of Athens to the north, and down to Varkiza and Sounio in the south.
Assuming that you want to embark on hikes that range from 30 minutes to a couple of hours in length, you can follow the route from Vouliagmeni to Varkiza. This hike is 4 miles each way.
Alternatively, you can hike the circuit of Limni Vouliagmeni. This is an 8 mile route in total.
Walks in the Vouliagmeni area are pleasant in any season, come rain or shine. You will find several seafront tavernas and coffee shops along each route, which offer the perfect place for a rest or a spot of lunch.
Where to Stay in Vouliagmeni
For the ultimate Vouliagmeni Greece experience, treat yourself to a stay in one of the super-luxe hotels that sit along the coast. Accommodation options here are plentiful.
It is possible to rent rooms that come with private plunge pools or stay at stunning self-contained villas here that wouldn't look out of place on Grand Designs. Better yet, this area is close enough to central Athens that you can easily venture into the city each day to visit the Acropolis, and other city attractions.
Azur Boutique Hotel
The Azur Boutique Hotel is a luxury property that sits just 200m away from Vouliagmeni's Okeanida beach. Azur boasts striking aesthetics, and the contemporary modern structure has been built in monochromatic tones of black and white.
This property is the obvious choice for privacy and tranquility. The hotel is nestled among pine trees, giving an air of seclusion. For the ultimate experience, book yourself into a deluxe suite with a pool.
Rooms at the Azur start from €200 per night. Click here for the latest rates and availability.
The Margi
The Margi is one of the most renowned and best-loved hotels in the Athens Riviera. The property has also been recognised as being one of the very best independent luxury hotels in the world! Margi founder Yiangos Stavridis is one of several entrepreneurs recognised for the entire creation of the Athens Riviera.
Rooms at The Margi boast chic Mediterranean decor in delicate beige tones, Korres homeopathy products, and private balconies. Rooms start from €220 per night. Find the latest rates and availability here.
Galini Palace
Galini Palace is a good budget accommodation choice for Vouliagmeni. The hotel actually sits in Voula, just a short walk away from Vouliagmeni.
Rooms start from just €55 per night and are bright, spacious, and airy. Click here for the latest rates and availability.
Where to Eat in Vouliagmeni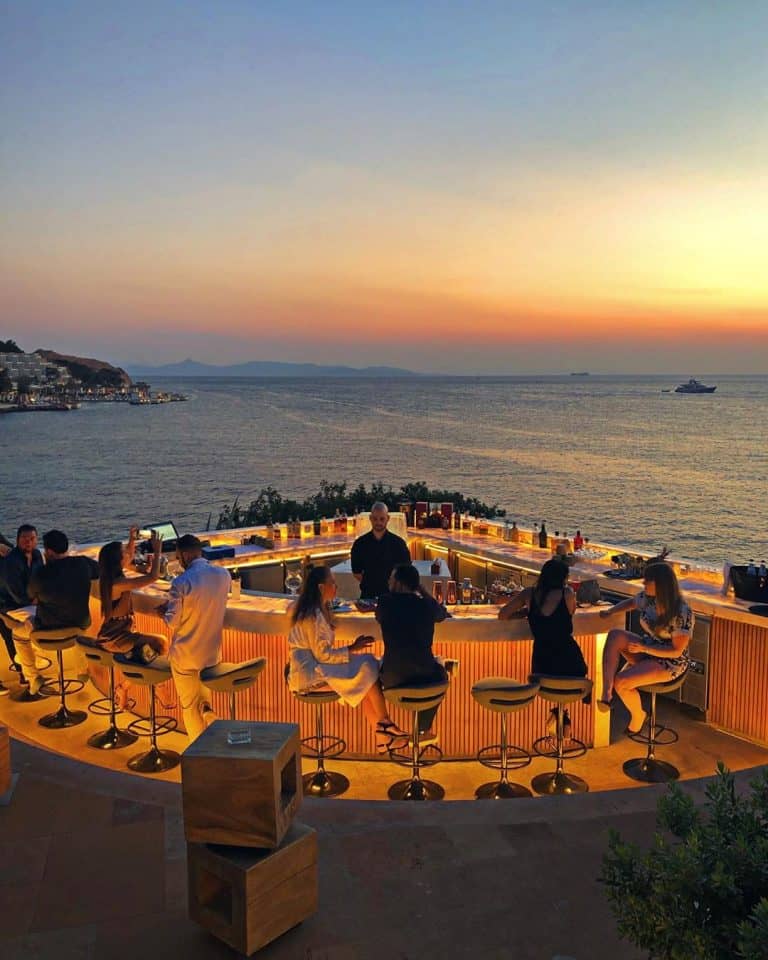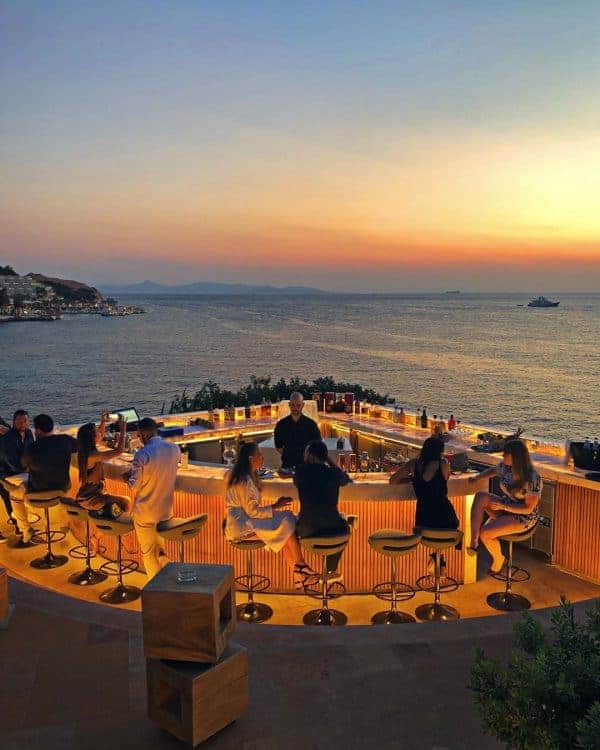 The dining scene in Vouliagmeni offers a little something for every palate and budget. Cosy homely Greek tavernas provide a perfect base for sampling quintessential Greek classics like moussaka and pastitsio, while upscale eateries offer a la Carte menus and fusion cuisine.
The Moorings
Where: Marina Vouliagmeni, Vouliagmeni 166 71
The Moorings is a popular rendezvous point for the Athenian elite. The restaurant is managed by chef Andreas Shinas, and its menu serves up classic dishes from across the Mediterranean.
Enjoy panoramic views of the seafront and the Vouliagmeni yacht club as you dine. The restaurant's wine cellar has an extensive offering of vinos from across Greece and the Mediterranean. Ask your server to recommend something that brings out the flavour of your food.
The Moorings is also a nice place to go for coffee by the sea. any Athenians will often drive out here during the day for a cappuccino.
Garbi
Where: Iliou 21, Vouliagmeni 166 71
Garbi is a very popular fish taverna that has been satisfying Vouliagmeni gourmands since it first opened in 1924. The restaurant has an excellent seafront location next to Astir beach.
The chefs here prepare exqusite seafood dishes using the freshest catches from nearby waters. Garbi is very reasonably priced considering its location.
Matsuhisa
Where: Apollonos 40, Vouliagmeni 166 71
Matsuhisa is the brainchild of globally acclaimed chef Nobu Matsuhisa – aka, the founding father of the prestigious "Nobu" chain. The restaurant serves up Japanese and Peruvian fusion dishes in a stylish setting, with an ocean view.
Ithaki
Where: Apollonos, Αθήνας 28, Vouliagmeni 166 71
The fusion dishes on the menu at Ithaki blend the best of various international food cultures. Think Greek and Italian dishes with Japanese and French touches. If you want to stop by Ithaki for a light bite, the restaurant also offers excellent charcuterie board and wine pairings.
Louizidis Taverna
Where: Ermou 2, Vouliagmeni 166 71
When in Greece, you simply cannot go wrong with traditional, home-cooked classic recipes just like yiayia used to make. For a more quaint and cosy vibe, head to Louizidis Taverna.
All of the favourites can be found here – saganaki, fasolakia, Greek salads. The best part about Louizidis is the price tag – appetizers are just a few euros, and the main dishes cost no more than they would at restaurants in Athens.
Getting to Vouliagmeni Greece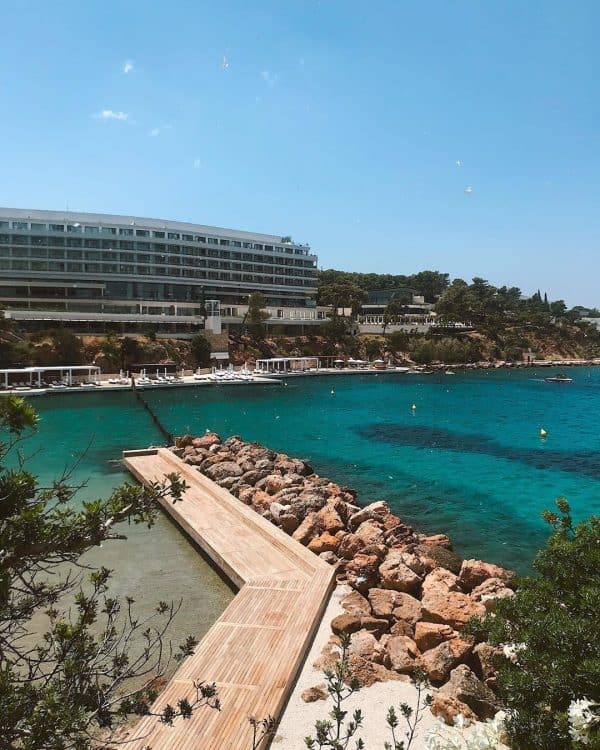 Unfortunately, public transport from central Athens to the wider Athens region leaves a lot to be desired. You can reach Vouliagmeni in one hour by taking the T5 tram that runs from Syntagma square all the way down to Vouliagmeni.
Alternatively, you can board the M2 metro to Elliniko station and then take the 122 bus. A taxi from Athens to Vouliagmeni should cost no more than €15-20 each way.
Download the app Taxi BEAT on your phone while in Athens. This is Greece's answer to Uber.
It is unfortunate that Greek taxis hailed in the streets will often try and con you and charge an extortionate price. However, by using the app, you have confirmation on what the price will be before getting in the car.
Adventures Around Vouliagmeni Greece
Vouliagmeni Greece makes a great jump-off point for exploring more of Southern Greece and the Athenian Riviera. You can reach the neighbouring towns of Vari, Voula, and Varkiza with just a few minutes of walking from Vouliagmeni. Alternatively, you can board a short bus to Sounio.
Cape Sounion & The Temple of Poseidon
Cape Sounion is one of the best day trips from Athens and Vouliagmeni. The 122 KTEL bus goes all the way from Athens to Sounio, and you can hop on board from the stop that is directly outside Lake Vouliagmeni.
Sounio is home to the Temple of Poseidon. This is an impressive ancient structure that is perched precariously on a clifftop overlooking the sea.
Sounio was once a very important trading port in Greece, and the ruins of the ancient town encircle the temple. You can also tread the pathways of Sounio National Park while you are in the area.
Varkiza
You can walk from Vouliagmeni to the neighbouring coastal town of Varkiza within just ten minutes. Here you can find Yabanaki beach.
This is a trendy spot that is popular for watersports and is lined with exclusive clubs, restaurants, and coffee bars. The area becomes extremely lively dduring the summer months

Varkiza also has its own fishing port. If you stop by here in the mornings, you will see local fishermen preparing their nets and heading out to make their latest catch. The fish market that sits by the port provides an interesting insight into the local culture.
Glyfada
Chic Glyfada is perhaps the most built-up and cosmopolitan region of the Athenian Riviera. The tree-lined boulevards that veer off from Glyfada square are filled with trendy coffee shops and independent boutique stores that showcase the creations of up-and-coming Greek designers.
In the summer months, locals flock to the Balux House Project – a hip bar and restaurant that is designed to look like a beach house. For a small fee, you can access Balux's private beach and pool.
Parting Words
Have any further questions about Vouliagmeni Greece, or creating an Athens itinerary? I have been living in Greece for three years now and I am happy to assist with any queries you may have.
Feel free to pop me a comment below if you need anything. Safe travels!
Geia sou! Melissa xo
---