Taking a Capri day trip from Naples, Sorrento, or elsewhere along the Amalfi Coast is a highlight of any trip to Southern Italy. Little Capri is one of the most beautiful islands in the Mediterranean and it has been an exclusive getaway destination since Roman times. In an ideal world, you would have a couple of days to dedicate to exploring Capri. But if you are on a tight schedule, one day in Capri is enough to see the island's highlights.
Capri is the most popular of the three Flegree islands that sit off the coast of Campania, Italy in the Bay of Naples. It sits 42 miles from Naples and can be reached in just under 2 hours by ferry.
This island group, which also includes the islands of Procida and Ischia, is known for its natural beauty, historic charm, and unique gastronomy. Each of the three islands is worth visiting and each has its own distinctive characteristics.
Taking a Capri Day Trip in 2023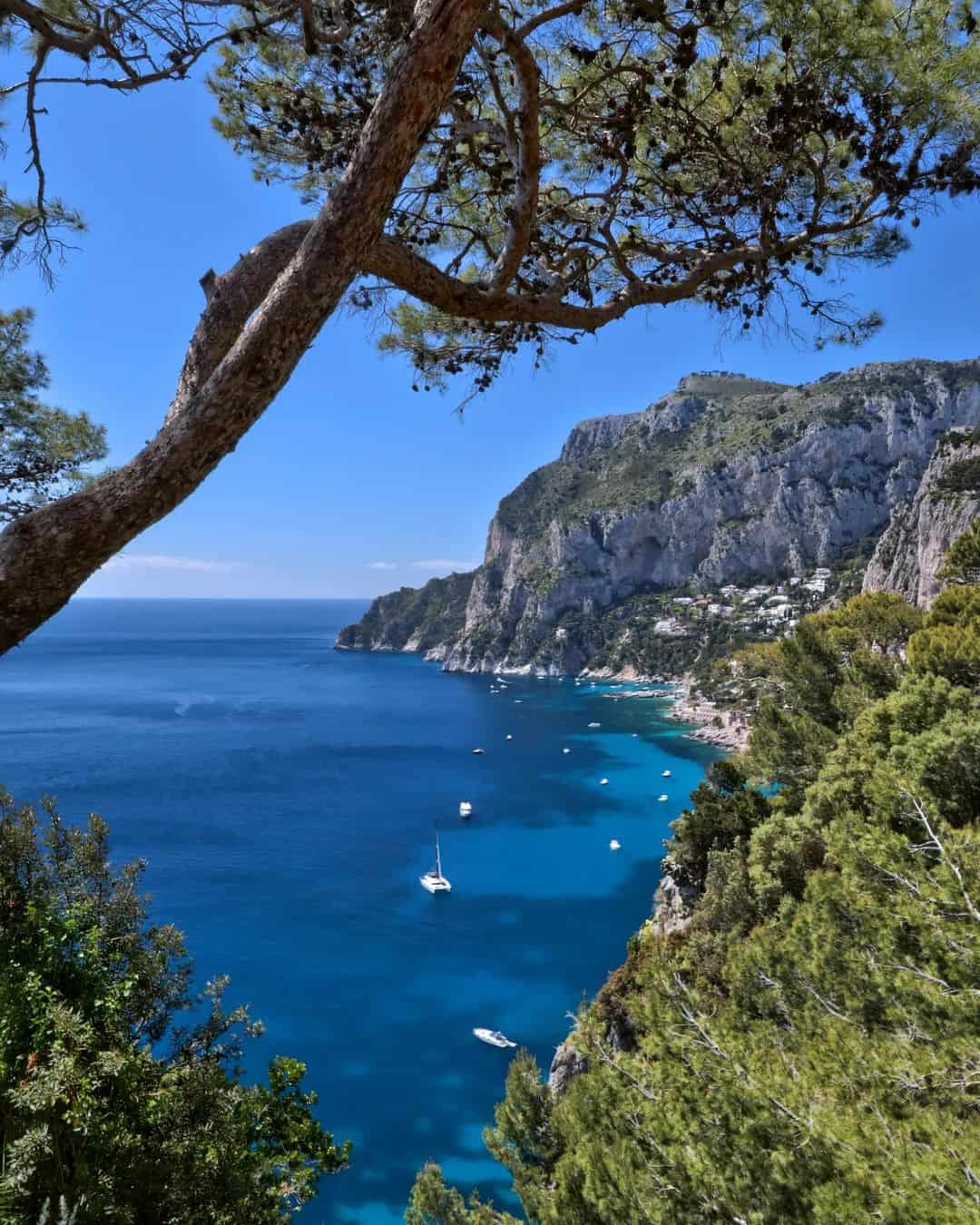 The breathtaking island of Capri has been synonymous with glamour and elegance for millennia. Thousands of years ago, Roman Emperors like Augustus and Tiberius would spend their summers here. They built grandiose homes and villas to base themselves in during their visits.
Today, Capri still attracts a well-heeled crowd and the island exudes an air of sophistication at every turn. There are two main settlements on the island: Capri and Anacapri.
The perfect Capri itinerary includes a visit to both. The island boasts lush verdant greenery and spectacularly steep cliffs that rise up from the azure waters, charming villages, and walking trails that weave past hidden coves, unique rock formations, and fragrant lemon groves.
There is a reason that Capri has become one of the most sought-after and iconic travel destinations in Italy.
How to Spend One Day in Capri:
A Suggested Itinerary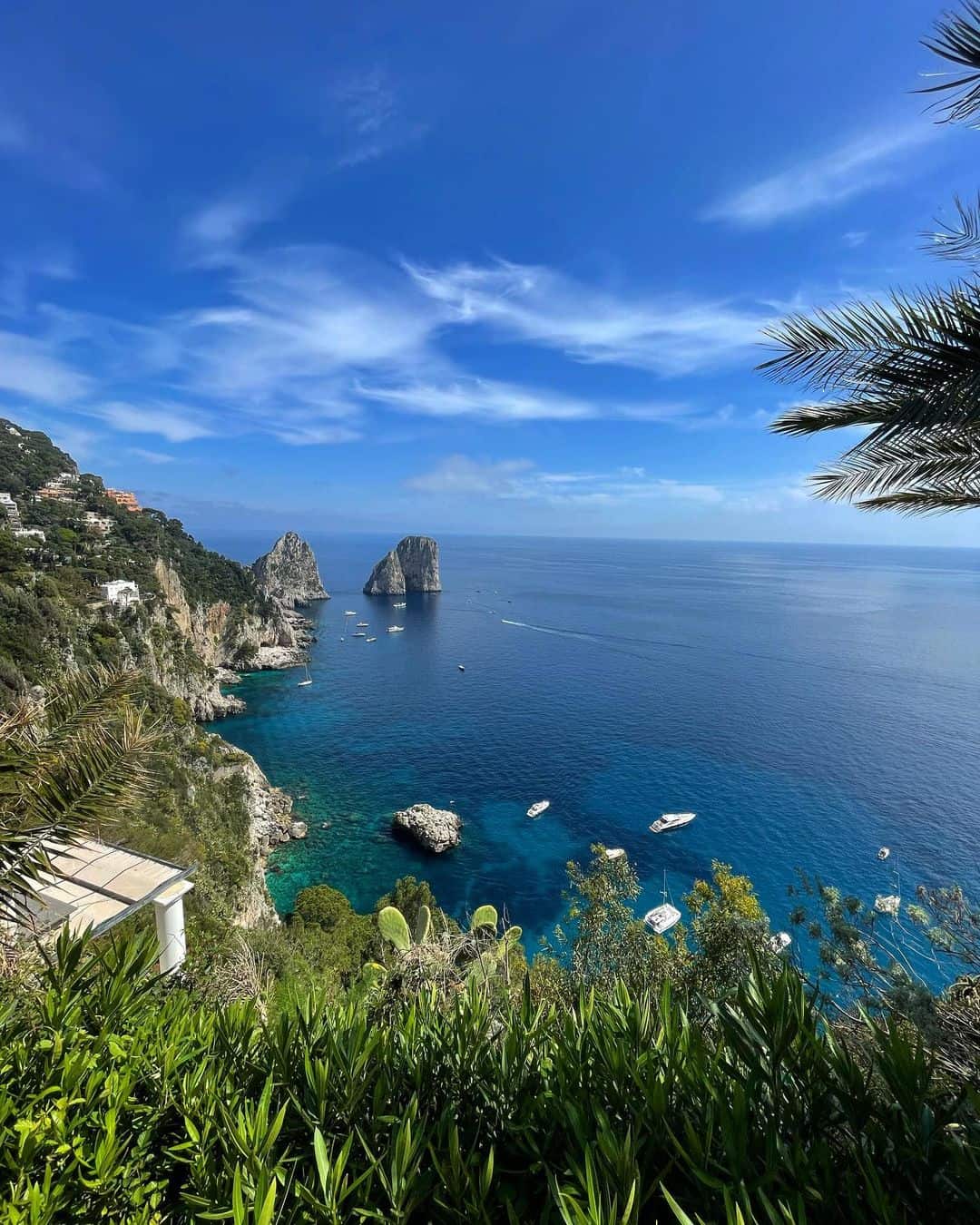 Whatever your starting point is for your trip to Capri (be it Naples, Sorrento, or Positano), try and wake up bright and early. That way, you can catch one of the first ferries across to the island. That way, you can make the most of your day.
Marina Grande is the name of the main port where your boat will dock in Capri. When you disembark, it is a good idea to head straight to the ticket office on your right. You can buy tickets to the blue grotto here (if you haven't booked them in advance).
Once they are securely in hand and you have been given a timeslot for your tour, you can set about enjoying your Capri day trip.
Grab coffee and breakfast in Marina Grande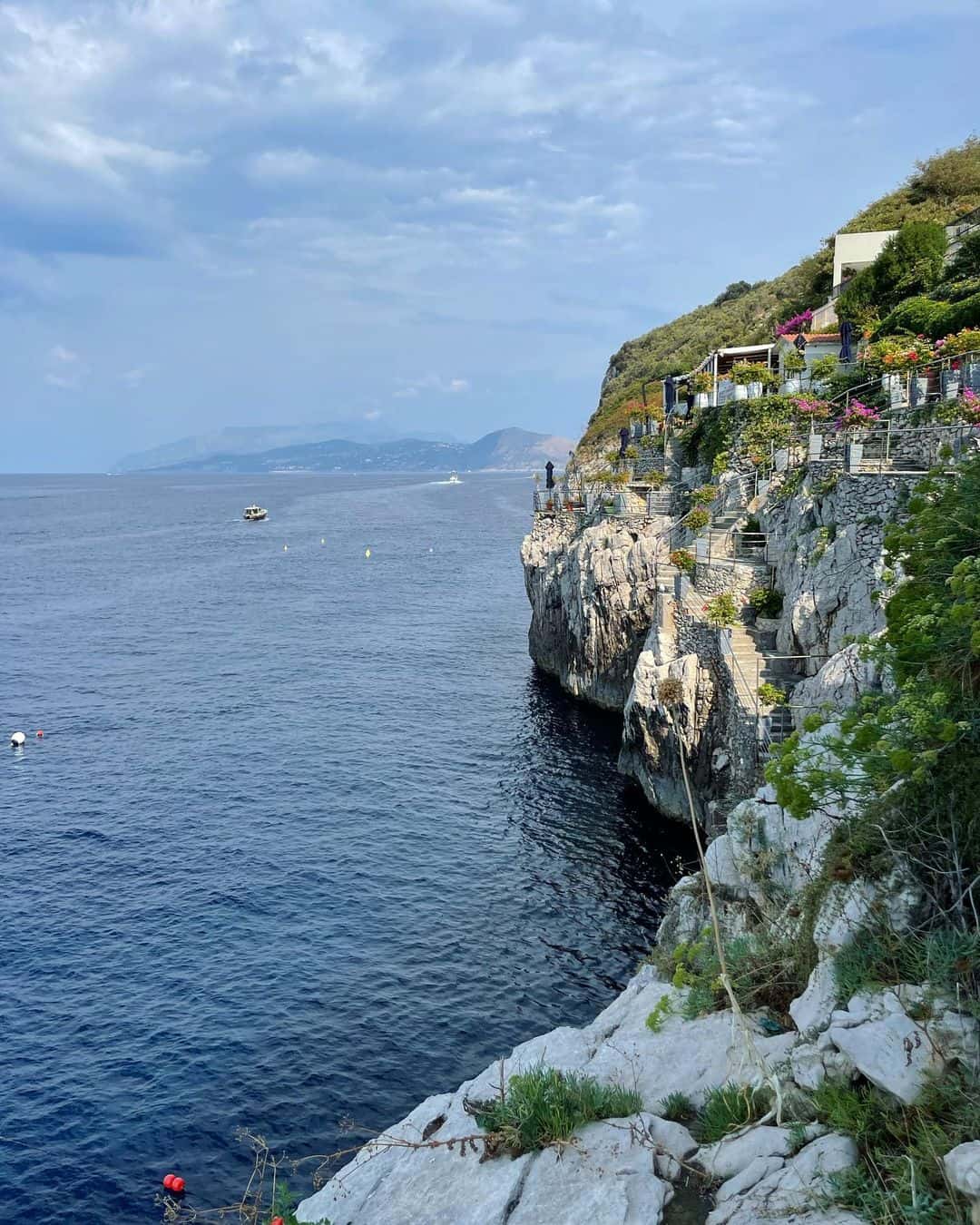 The Italian way to eat breakfast (la colazione) is to start your day with something sweet. Perhaps a slice of Italian plum cake, a croissant slathered with Nutella or almond marmalade, or maybe even a Neopolitan sfogliatella. (A flaky Southern Italian pastry filled with sweet ricotta, candied fruit, and semolina).
Of course, all of this is washed down with a strong, steaming hot cup of espresso or perhaps a frothy cappuccino. Caffe Augusto (Via Cristoforo Colombo, 20) is a local favourite spot in Marina Grande. It is always full of locals and tourists alike and is known for its exquisite homemade cakes.
Sitting in one of the al-fresco-style seats here beneath the cabanas is the perfect place to people-watch and watch the world go by. When you're sufficiently stuffed, it's time to start sightseeing.
Tour the Grotta Azzurra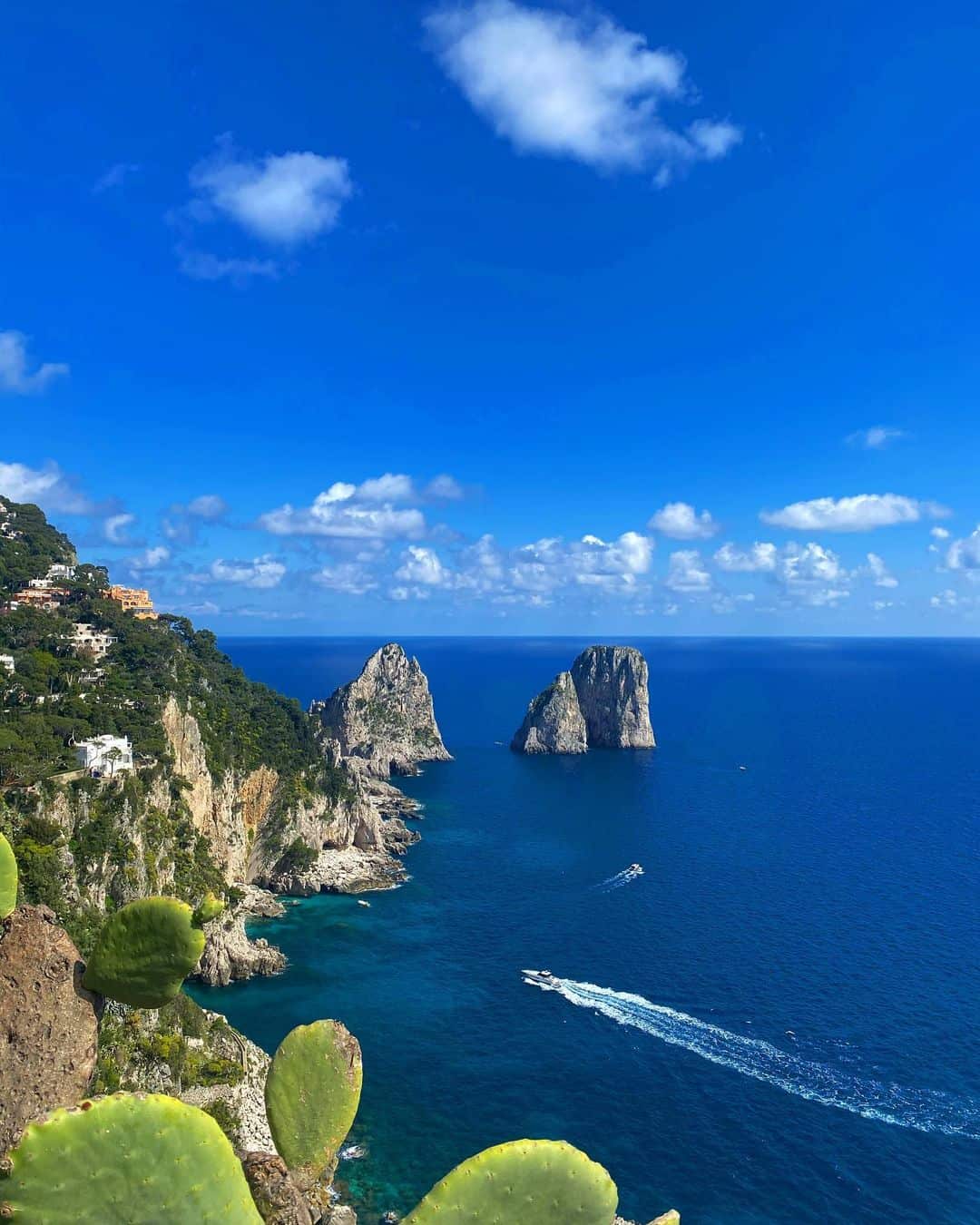 The Grotta Azzurra (blue grotto) is the main reason a lot of people choose to visit Capri. This picturesque natural cavern is 25 meters wide and 60 meters long. Its entrance is less than a meter high.
As the name suggests, the cave is famous because of its impossibly blue waters that look almost fluorescent and luminous. One of the most popular things that you can do on the island is to take a Blue Grotto tour. Gondolas depart for the caves regularly from Marina Grande.
Because the entrance to the cave is so small, you will have to lean back in the boat to be able to fit! As you sail, the gondola operators sing Italian folk songs.
The tunes echo perfectly within the cave!
You can get some great photos and videos inside the grotto. Look out for the small opening at the back of the cave.
It is believed that the Romans would enter from here and leave little offerings for the sea gods.
After Roman rule, the cave was forgotten for centuries until it was rediscovered by the German Poet in 1826. Blue Grotto boat rides are €14 per person, with concessions available for EU citizens, children, and the elderly.
Suggested Blue Grotto Tours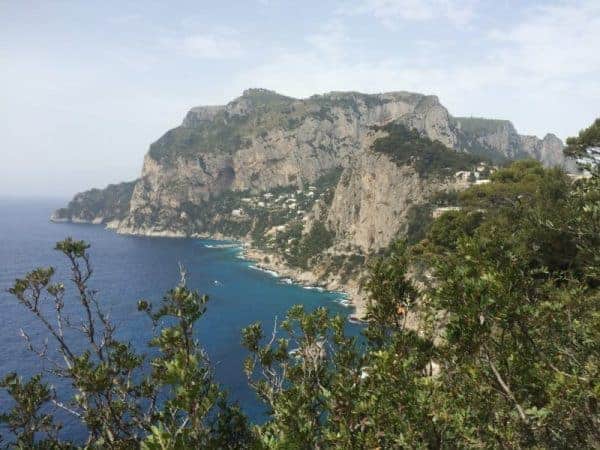 Visit Villa San Michele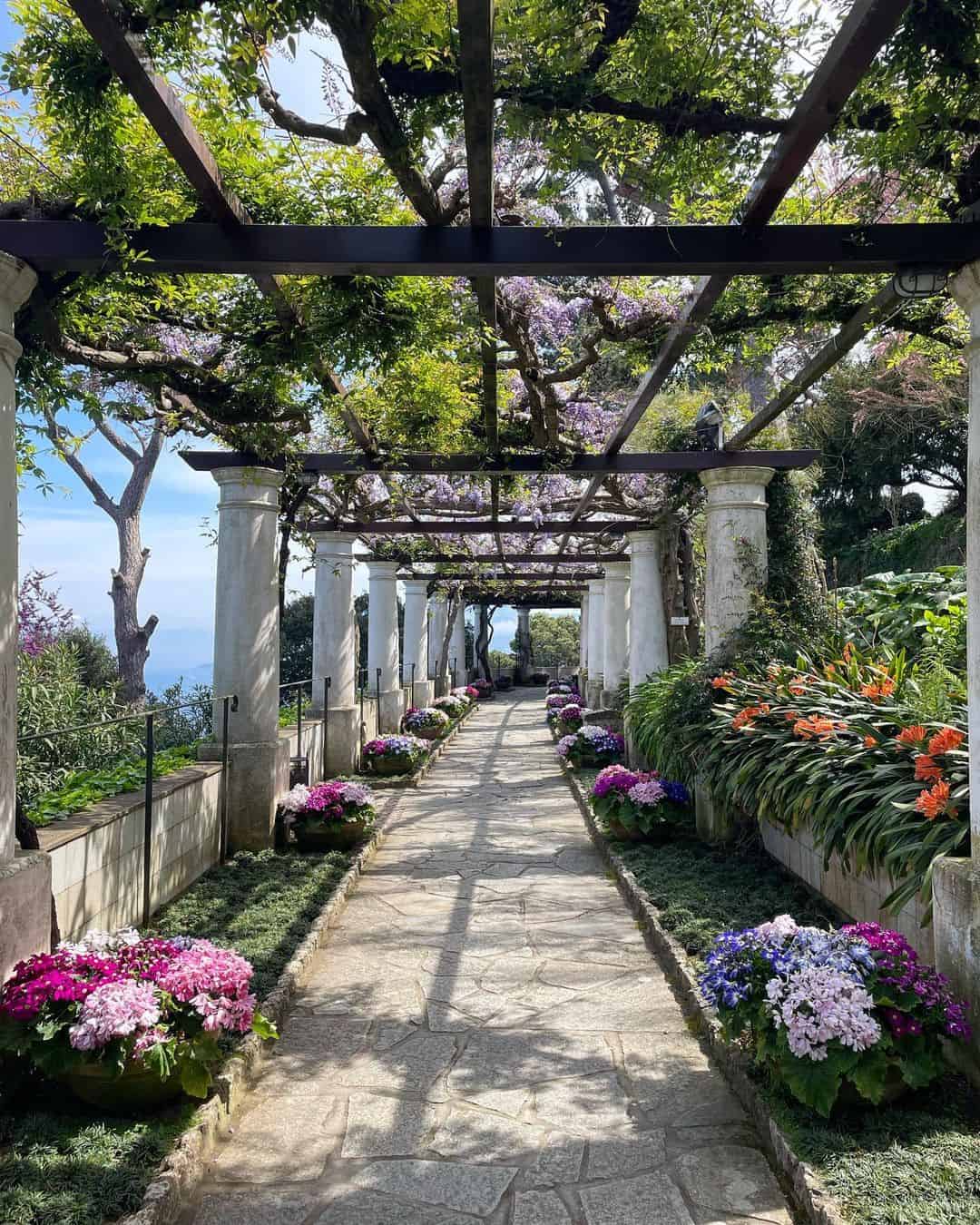 There are dozens of grand old Roman villas on the island of Capri. Many of them now lie in ruin. However, others, like Villa San Michele, are remarkably well preserved and still contain their old mosaics, wall paintings, gardens, and sculptures.
12 of these places were built by Emperor Tiberius alone. Villa San Michele is arguably the most elaborate of the bunch and the best preserved of Tiberius´ residences.
The property, set inside a scenic pine forest, has been decorated with luxurious marble floors, stucco artwork, and intricately designed paintings and art pieces. It was abandoned following the eruption of Vesuvius in 79AD, after which it was covered in layers of volcanic dust.
However, fortunately, in the early 20th century, it was purchased and lovingly renovated by the Swedish writer Axel Munthe. Munthe made it his life mission to restore the property to its former glory. As he did so, he was careful to follow the original design.
It sits directly above the blue grotto, and you can enjoy incredible panoramas over the Bay of Naples from its various viewpoints and balconies. Admission to the site is €10 per person with concessions available.
Ride the Monte Solaro chairlift
Villa San Michele and Ana Capri sit on the slopes of Monte Solaro. This is a mountain at the centre of the Isle of Capri that soars above the clouds at a height of 589 feet. Locals refer to it as "Acchiappanuvole" or "cloud catcher".
There is usually a dense blanket of fog that lingers around the mountain peak – particularly in the early mornings. If you are particularly outdoorsy, there are a couple of hiking trails that take you to the top.
Otherwise, you can opt to go up by flying chair. The Monte Solaro chairlift takes you to the top of the mountain on a wooden chair.
When you reach the top, you can jump off while the operators wait to catch you. There are few better ways to get a bird's eye view of Capri than this, with your legs dangling beneath you.
It sounds a little scary, but the lift moves at a relatively slow speed and the journey is actually rather pleasant. From the top, you are greeted with stunning 360-degree panoramas of Capri and its crystal-clear waters below.
When it's clear, you can see all the way out to Naples and mainland Italy, the Galli islands, and Sorrento. The chairlift costs €11 one way or €14 return with concessions available.
Admire the charming Cetrella Hermitage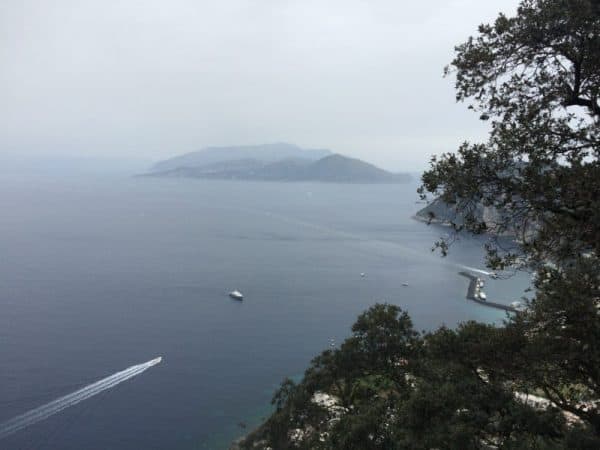 If you choose to walk back down Monte Solaro, or even descend just part of the way, you can visit the charming 15th-century Cetrella Hermitage church. This Franciscan chapel offers sweeping vistas over the Bay of Naples and is home to a statue of the Virgin Mary that some people still make a pilgrimage to, in order to ask for help and protection, even to this day.
Explore Anacapri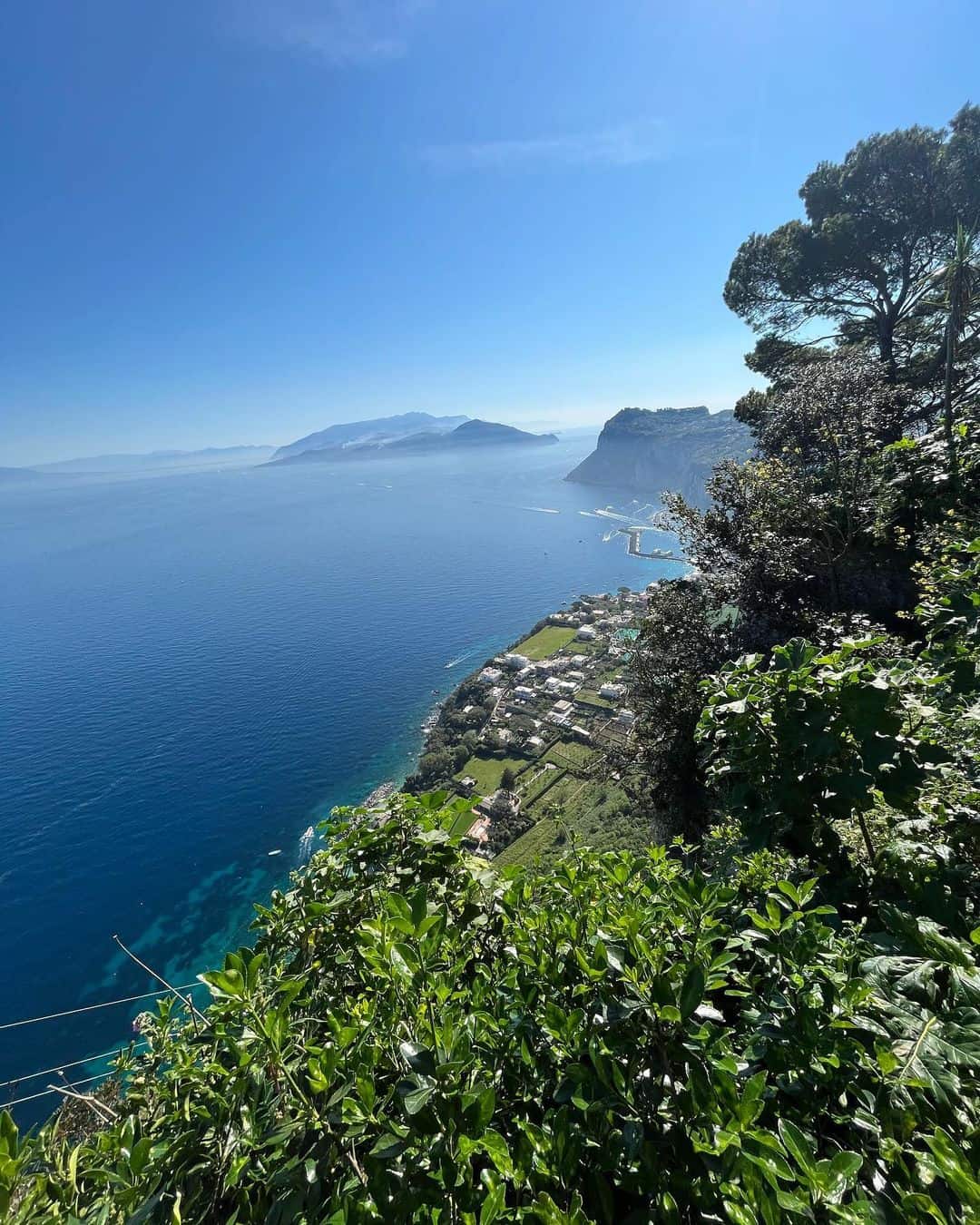 Anacapri (meaning ¨above Capri¨) in Italian is a charming Mediterranean idyll. Its cobbled streets and passageways are filled with pastel-coloured houses draped in bougainvillea.
Despite being popular among tourists, Anacapri maintains its sleepy, Southern European ambiance. Via Giuseppe Orlandi is one of the main promenades that runs through the village and it is lined with picturesque stores selling quintessentially Italian souvenirs, and showcasing the clothing designs of international and local Italian designers.
There are a couple of interesting spots to look out for here. Anacapri has a mix of elegant white houses, colorful Mediterranean buildings, Baroque churches, and Neoclassical monuments.
The Church of San Michele (Piazza S. Nicola, 1) boasts a gorgeous tile floor and paintings that depict Adam and Eve being thrown out of Eden. Nearby, the Casa Rossa (Via Giuseppe Orlandi, 78) is a property that was designed by the eccentric American colonel John Clay MacKowen in the 19th century.
It has been converted into a museum that tells the history of the island and contains a diverse selection of artifacts recovered in Capri that date back to the Roman era.
Grab lunch in Anacapri
When your stomach starts to rumble, there are plenty of excellent places where you can grab lunch or a light bite in Anacapri. La Zagara (Via Giuseppe Orlandi, 180) is a gorgeous spot where you can dine in a shady lemon grove.
The menu serves up Capriscan island classics prepared with a modern twist and the waiters can recommend excellent wine pairings to best compliment your food. For something a little extra special, stop by La Terrazza di Lucullo (Via Giuseppe Orlandi, 4).
The scenic eatery, built right into the cliff face is the brainchild of chef Eduardo Vuolo. You can enjoy unparalleled views from the terrace and all of the dishes are prepared with fruits, vegetables, wines, and other ingredients that are produced on Capri Island.
Visit Villa Damecuta
Before you leave the Anacapri area, stop by Villa Damecuta – another one of the elaborate Roman villas designed by Tiberius. Unfortunately today, Villa Damecuta lies mostly in ruin, and little more than the sunbleached remnants of the old walls remain.
Still, there are more impressive Capri panoramas to admire from the site. As you see what remains of it, it is not difficult to get a feel for how impressive it must have been in its heyday.
Admire the Gardens of Augustus and the Faraglioni rock formations
The Gardens of Augustus (Giardini di Augusto) are often overlooked in most Capri day trip itineraries. These pretty botanical gardens await on Via Matteotti, some 30 minutes out of Capri town.
The gardens themselves are magnificent. These carefully decorated terraces cascade down the hilltop and are filled with exotic flora and fauna from across the globe.
Intricate ancient sculptures from around the island are scattered amongst them. But the highlight, as is the case with most places in Capri, is the views.
From here, you have some of the best views of the Faraglioni rocks on the island. This frequently-photographed site is made up of three spurs of rocks that soar up from the Tyrrhenian Sea, reaching heights of around 100m.
The closest rock to the shore is named Stella, the second is named Faraglione di Mezzo, and the third is known as Faraglione di Fuori or ¨Scopolo¨.
Check out Via Krupp
There is one more interesting sight that you can see from the Gardens of Augustus: Via Krupp. From the gardens, you have the Faraglioni in front of you to your left, and the Bay of Marina Piccola and Via Krupp is on your right. Via Krupp is the winding, snake-like coastal path that you see in a lot of postcards of Capri.
Unfortunately, Via Krupp has been closed for more than five years now due to the risk of falling rocks. But it's still a cool place to photograph and video.
After being off-limits for so long, it seems unlikely that it is going to open again any time soon. Via Krupp was funded by German industrialist Friedrich Alfred Krupp. It connected the Charterhouse of San Giacomo with Marina Piccola.
Have an aperitif in Capri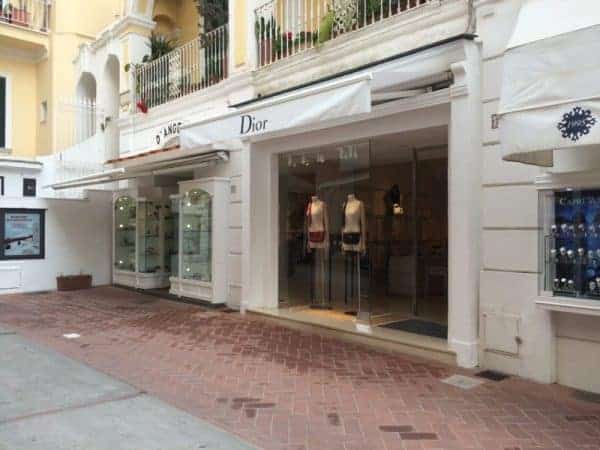 Round up your Capri island tour by heading back to Capri town and taking the time to leisurely stroll around its streets and plazas. If you want to pick up some souvenirs, there are lots of stores here where you can buy famous Capri perfume, or buy clothing and resort wear made in the classic blue and white Capri island colours.
The central plaza here is known as la piazzetta and it is encircled by several chic cocktail bars and restaurants. Via Camerelle is a great place to pick up accessories and clothing produced by luxury brands, while Via Tragara leads you along a pleasant walking trail through the woodlands and down towards the sea and an alternative view of the Faraglioni.
At the foot of Via Tragara, there is a little bar selling drinks and snacks. The rocky cove at the end of the path is perfect for swimming in and the waters are calm.
A detour through Via le Botteghe on your return towards the Piazzetta leads you past many quirky boutique stores. As the sun sets, you will find plenty of places to enjoy dinner and a cocktail or two here before preparing to take the ferry back to Naples, Sorrento, or elsewhere.
Getting to Capri in 2023
You can take the ferry to Capri from the ports in Naples, Positano, Sorrento, and Castellammare di Stabia. Ferries run regularly every day, with services being more frequent during the summer months.
Click here to check the latest ferry timetable for services from Naples to Capri. You can also find the summer 2023 ferry timetable for services from Sorrento to Capri here.
Purchasing your Capri ferry tickets
Tickets range between €15 and €24 per person each way depending on the specific time and service that you travel on. It is a good idea to purchase your tickets online in advance via Ferryscanner so that you know that you have everything organised ahead of your trip.
You can also purchase your tickets in person at the ticket offices at Naples Port. However, this can be a little overwhelming.
It is worth noting that there are numerous different ticket offices here. Each ferry company has its own designated office and there is not one central place to purchase tickets from.
Taking a Capri tour from Naples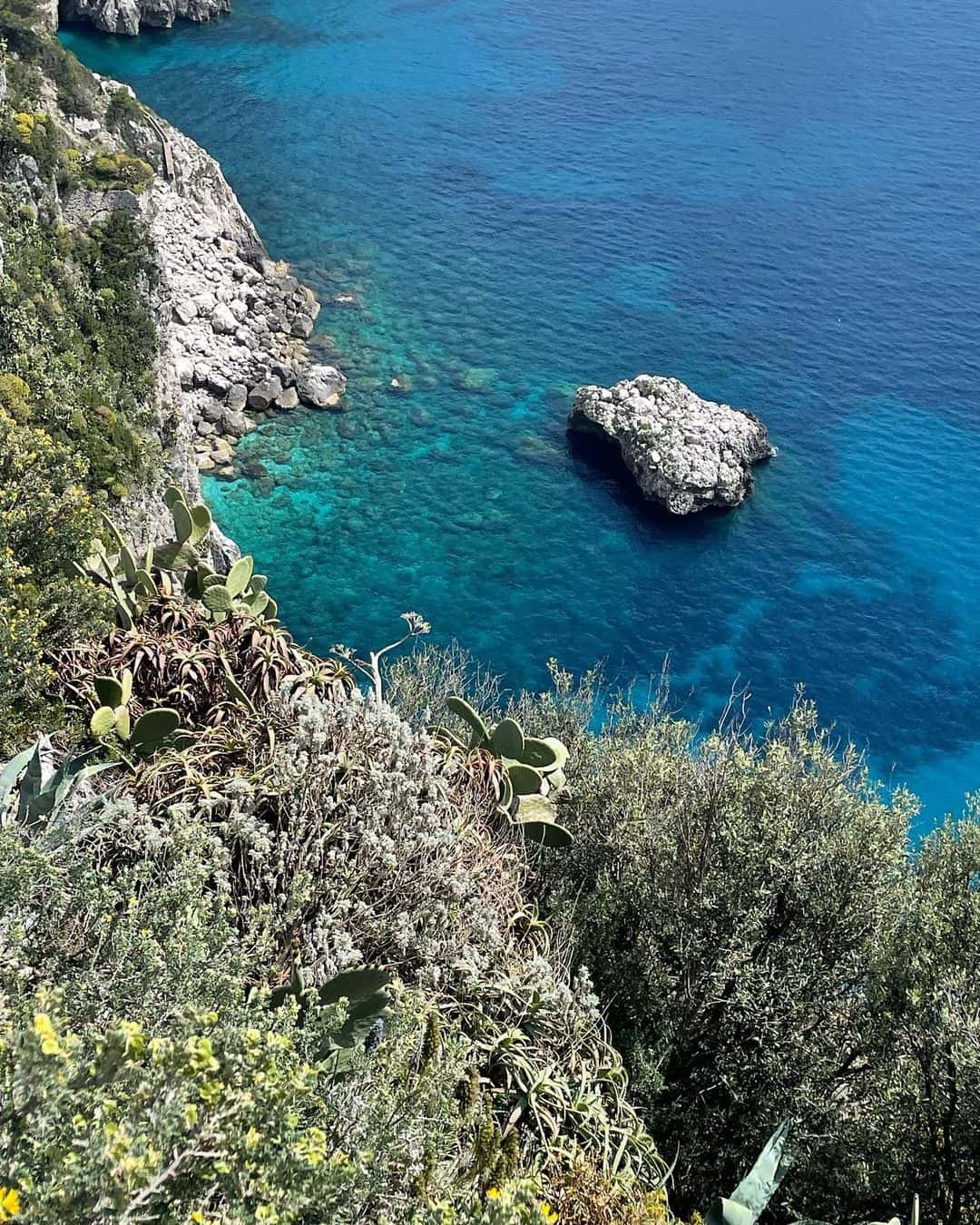 You may also want to consider taking an organised tour of Capri from Naples if you are short on time and want to make the most of your trip. A guided tour can take a lot of the stress out of figuring out the logistics of getting from A to B and planning your schedule on the island.
You will meet your guide at the port, take the ferry together and then enjoy the planned activities. Having a local guide means that you gain more insight and information into the various sights that you see on the island.
Not to mention, you have an Italian on hand to ask for recommendations on the best places to eat, drink and hang out during the rest of your trip. A number of reputable tour companies operate in Capri, Naples, and the wider Amalfi Coast region.
Some of the best Capri tours are detailed below for your consideration.
Where to Stay in Capri in 2023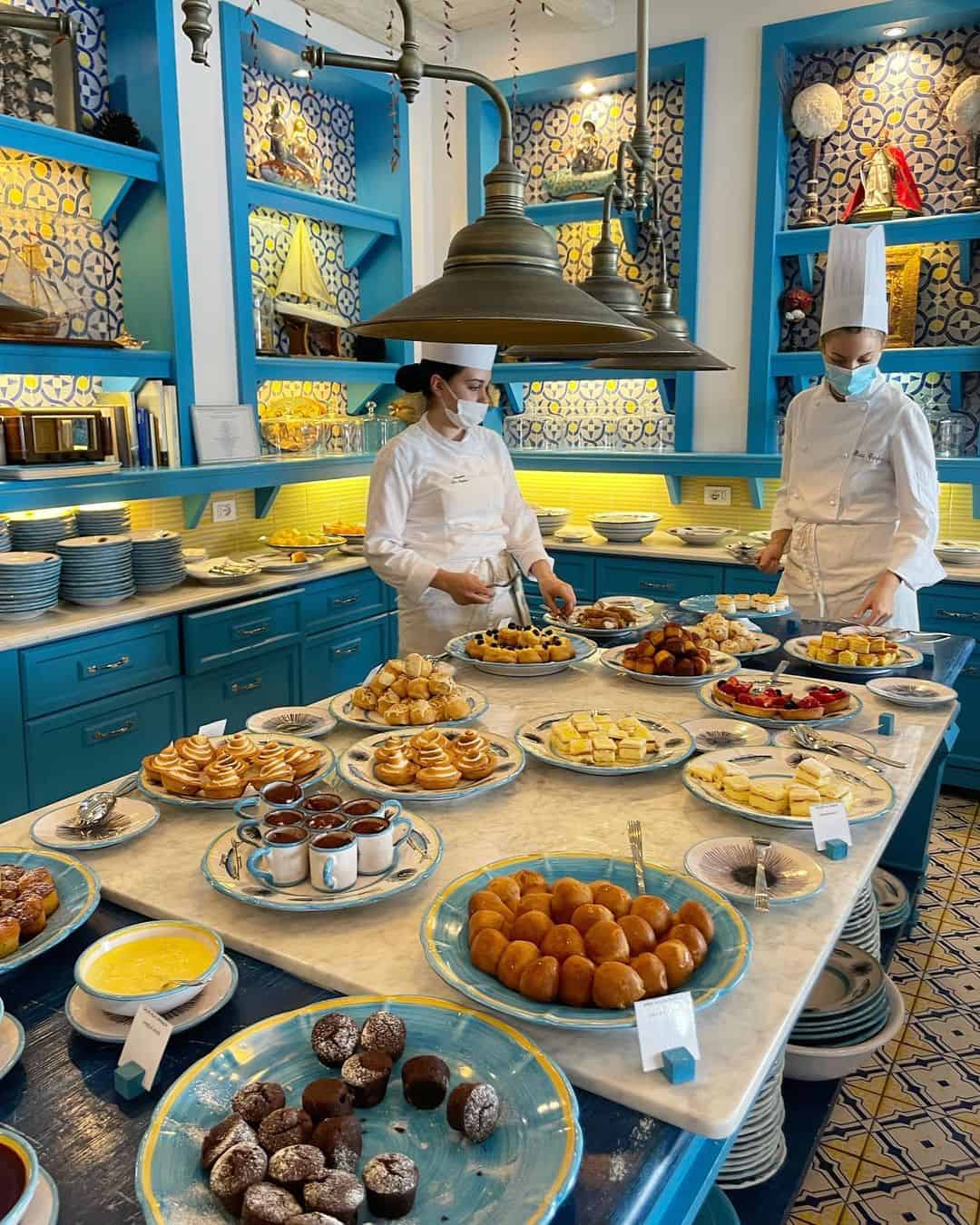 You can see Capri in a day and head back to Naples or elsewhere in mainland Italy in the evening. But if your schedule allows, or you want to experience Capri by night, you can also consider spending at least one night in a hotel here to break up your transit.
Despite Capri's upscale reputation, it is possible to find hotels, guesthouses, and Airbnbs here that don't break the bank – particularly if you are willing to travel slightly out of season or to reserve your stay in advance.
Capri has accommodations for every taste, budget, and travel style. The best place to stay depends on your personal preferences – Anacapri places you closer to some of the most notable museums, Roman villas, and tourist attractions.
Meanwhile, Capri has a more understated elegance and places you closer to a lot of the more stylish shopping promenades, cafes, and bars.
A selection of stunning properties that you may want to consider during your visit is detailed below.
B&B Angelide, Anacapri
B&B Angelide is a quaint guesthouse in Anacapri owned by a sweet Italian couple. The rooms are cosy and spacious. Each one comes equipped with air conditioning and an en-suite bathroom.
A traditional Italian breakfast with fresh coffee and pastries is included and is served on the terrace. Rooms here start from around €90 a night, making B&B Angelide the perfect choice for budget travelers.
Click here to check the latest room rates and availability.
Hotel Biancamaria, Anacapri
Hotel Biancamaria is a modest yet comfortable three-star property set in the heart of old town Anacapri. All rooms feature a private terrace with views of the sea and the gardens, an en-suite bathroom with complimentary toiletries and a hairdryer, air conditioning, and a flat-screen TV.
Rooms start from around €130 a night including Italian breakfast. (Alternative breakfasts are available on request). If you are on a budget, this is a great choice that doesn't break the bank.
Regina Cristina, Capri
The Regina Cristina is a gorgeous four-star property whose rooms and gardens are fit for royalty. The historic property has been renovated in an elegant neoclassical style using local designs, handicrafts, and ceramics.
Some rooms offer a balcony and a spa bath, and the rooms on the 4th-floor offer views of the Mediterranean Sea. The hotel's location is perfect – from here you are just a short walk to the central Piazzetta square and the Certosa di San Giacomo monastery, plus you have a plethora of Italian and international restaurants and bars right on your doorstep.
Rooms start from €230 a night including breakfast.
How to Get Around During Your Capri One Day Itinerary
It is fairly easy to get around during your Capri one-day itinerary. Anacapri and Capri are walkable.
However, there is a distance of 5.3km between the two villages which is arguably best traveled by taxi or bus.
Taking buses during your day in Capri
Buses run every ten minutes between Capri and Anacapri and they stop at several other notable points around the island en route.
A one-way ticket is €2.20 and a luggage surcharge of €2.20 is also applicable. It should be noted that Capri can get very crowded in the summer months and there are often a lot of people waiting to board the bus from the Marina Grande port.
Patience is a virtue. If one bus is too full to take you and there is a queue of people waiting, you might have to wait for the next one… or the next one.
Bus tickets cannot be purchased on board. You can buy a ticket from the ticket office in Marina Grande, the Capri town terminal located in Piazza Martiri d'Ungheria, at newsstands, and at Piazza della Pace in Anacapri.
Taking taxis during your day in Capri
Taxis in Capri are not the cheapest option but the price isn't too bad if there is a group of you travelling together. From Marina Grande to various points in Capri town, you should expect to pay up to €17.
From Marina Grande to Anacapri, the fare is approximately €23. On the plus side of the expense, Capri Cabs will have you feeling like Princess Grace of Monaco! Most of the cabs here are luxurious old-fashioned convertibles and classic cars.
Exploring Capri on foot
It is possible to walk all over Capri and you can even get between Capri and Anacapri on foot. However, that isn't necessarily the best choice if you only have one day in Capri and you are trying to make the most of your time.
Still, if you're up for the challenge, the Scala Fenicia is made up of 921 steep steps that connect Marina Grande with Anacapri. For centuries, this was the only way that people could reach the little village.
The Capri cable car
A final transportation option in Capri is to take the funicular/cable car from Marina Grande to Capri town. The cable cars run constantly throughout the day in the summer season so you never have to wait too long for a capsule, even when it's very crowded.
Tickets cost €2 per person with additional fees applicable for luggage.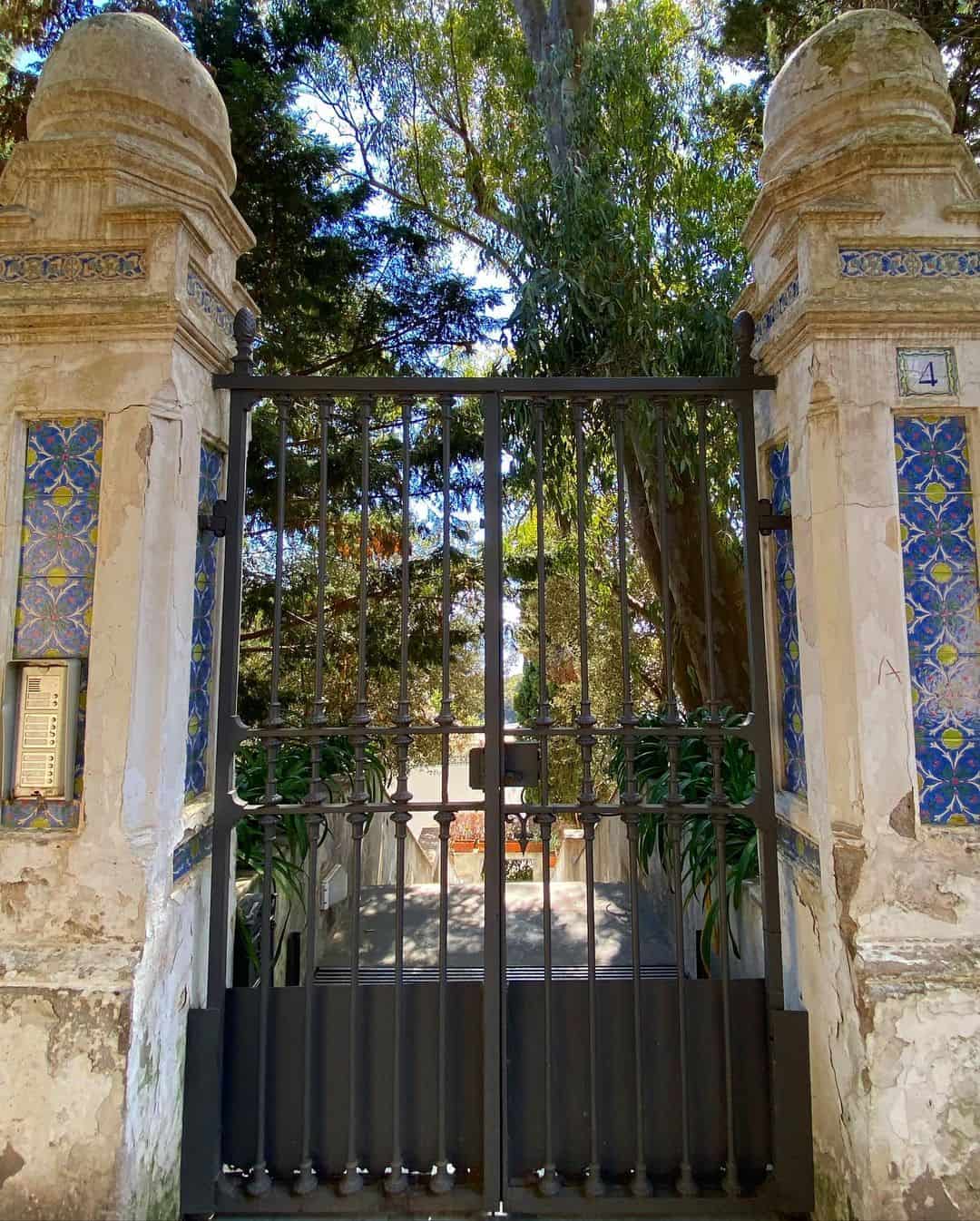 FAQs About Taking a Capri Day Trip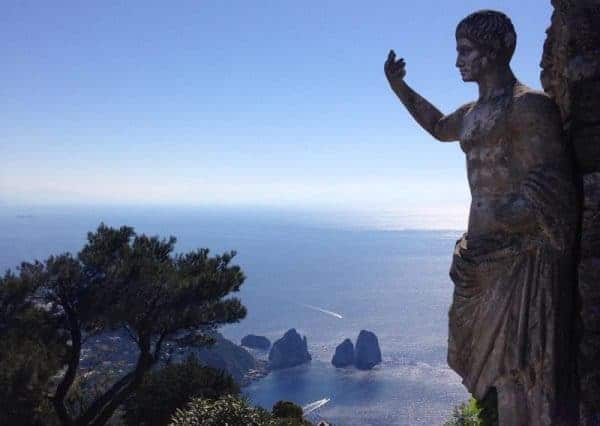 Do you have any further questions or concerns about taking a Capri day trip? The answers to some frequently asked questions on the topic are detailed below.
Hopefully, you will find the information you are looking for there. If not, please do not hesitate to reach out!
Is it worth going to Capri for a day?
Yes!! Although one day isn't a lot of time, it is plenty to see the main attractions in Capri. You can ride the Monte Solaro chair lift, get lost in the streets and passageways of Capri and Ana Capri, check out a beach or two, and visit an old Roman Villa. 

Take the ferry to the island in the morning and head back again in the evening. It will be a busy day with a lot packed in, but you will be glad that you did it.
Can you do Capri and Sorrento in one day?
Technically yes, you could get to Capri and Sorrento in a day but you wouldn't have a lot of time in either place and you would likely feel like you had missed out on a lot. You could take the boat across to Capri early in the morning, have breakfast in Capri town and visit the famous blue grotto and then sail back to Sorrento in the afternoon.

It all comes down to personal preference. But you would be missing out a on lot of Capris highlights. Essentially, I would say that it is better to dedicate a day to each place or if you are short on time choose either Capri or Sorrento. 
Is it worth going to the Isle of Capri?
The Isle of Capri is well worth visiting. The island is one of the most breathtaking places in the Mediterranean. 

(No matter how well travelled you are, or how many times you have visited Italy, you will still be in awe of Capri). There are lots of places to shop, dine and sample local delicacies, go hiking, explore historical sites, and relax on the beaches. 
How long is the boat ride from Amalfi to Capri?
The boat ride from the Amalfi Coast to Capri (and vice versa) takes between 50-60 minutes each way. There are some small variants depending on the weather conditions, the type of vessel you are travelling on, and the ferry company you are travelling with.
When is the best time to do a Capri day trip?
Capri, like most popular European travel destinations, sees its peak season between June and September. The island is at its most crowded during this time and it can be difficult to find a hotel room for less than €100 a night. 

(Although the ferries are still reasonably priced so this is less of an issue if you plan on going to Capri and back in the same day). If you want to escape the crowds, consider travelling in either spring (March to early May) or early Autumn (late September to early November). 

Southern Italy gets very hot during the summer months and temperatures often soar above 35-40°C. In the spring and autumn, conditions are still warm and pleasant without being overbearingly hot. 
Pin this Capri day trip itinerary for later!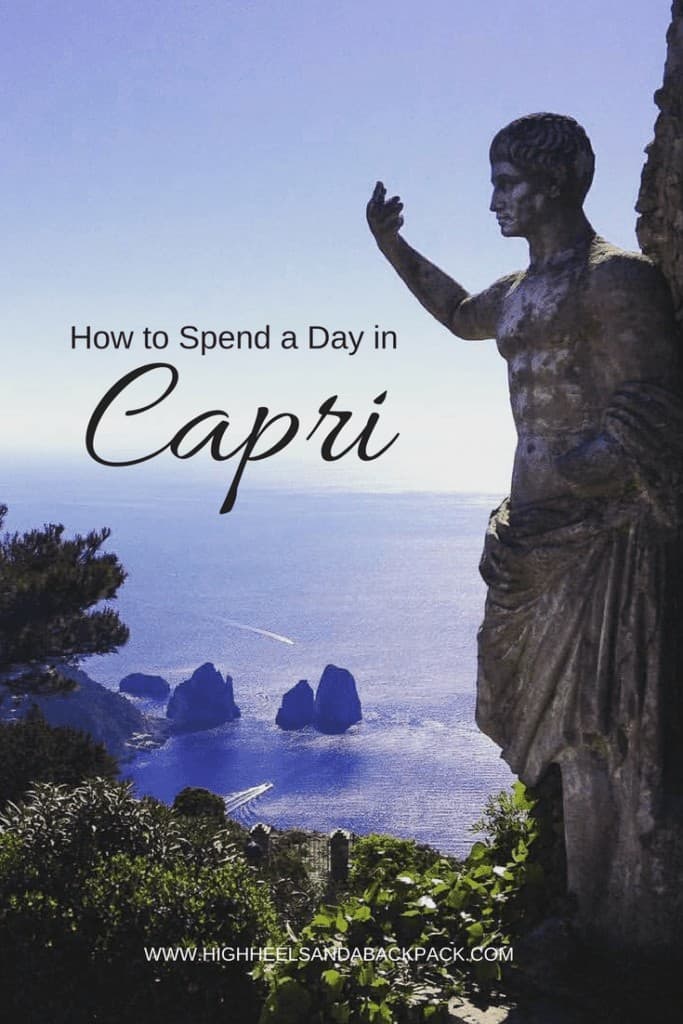 Final Thoughts on this Capri one day itinerary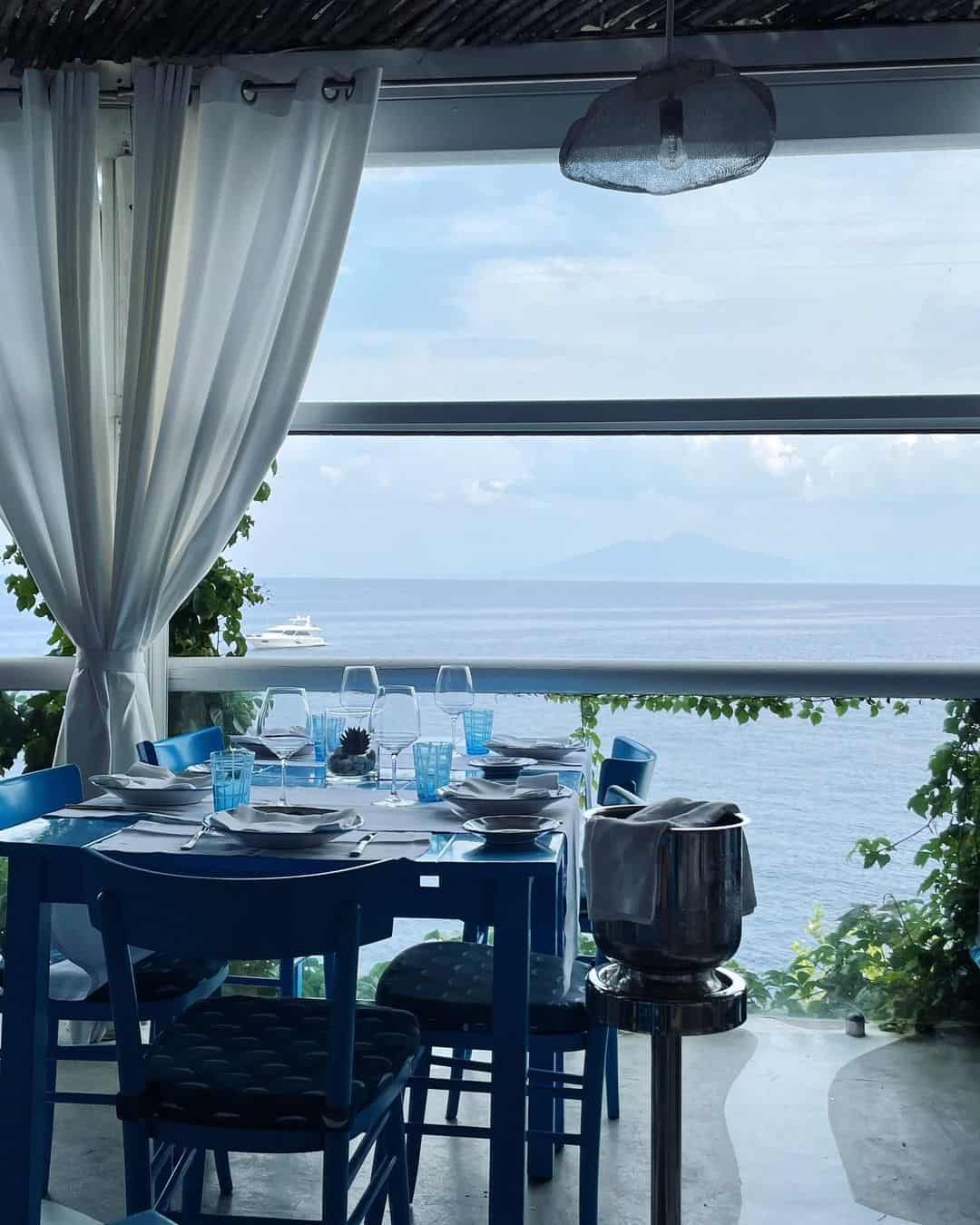 Do you have any further questions or suggestions for things to do in Capri Italy for a day? I have visited Capri numerous times and used to live in Naples while teaching English in Italy
Suffice it to say, I got to know the island and the area pretty well so you are in good hands with this Capri travel guide. If you have any questions about planning a trip to Italy, feel free to reach out.
Safe travels and enjoy Italy! Buon Viaggio! Melissa xo
---