A Capri day trip is a highlight of any trip to the south of Italy. This gorgeous Mediterranean island has been synonymous with glamour and elegance for thousands of years.
Several millennia ago, beautiful Capri captivated Roman Emperors. The likes of Augustus and Tiberius built their grand summer homes here – the crumbling remnants of which still remain today.
Modern-day Capri is renowned as being a beloved getaway for the rich and famous. But the truth is that this little isle has something for everyone.
A Capri day trip can be enjoyed on any budget. It is easy to get here via boat from nearby Naples and Sorrento.
Falling in love with Capri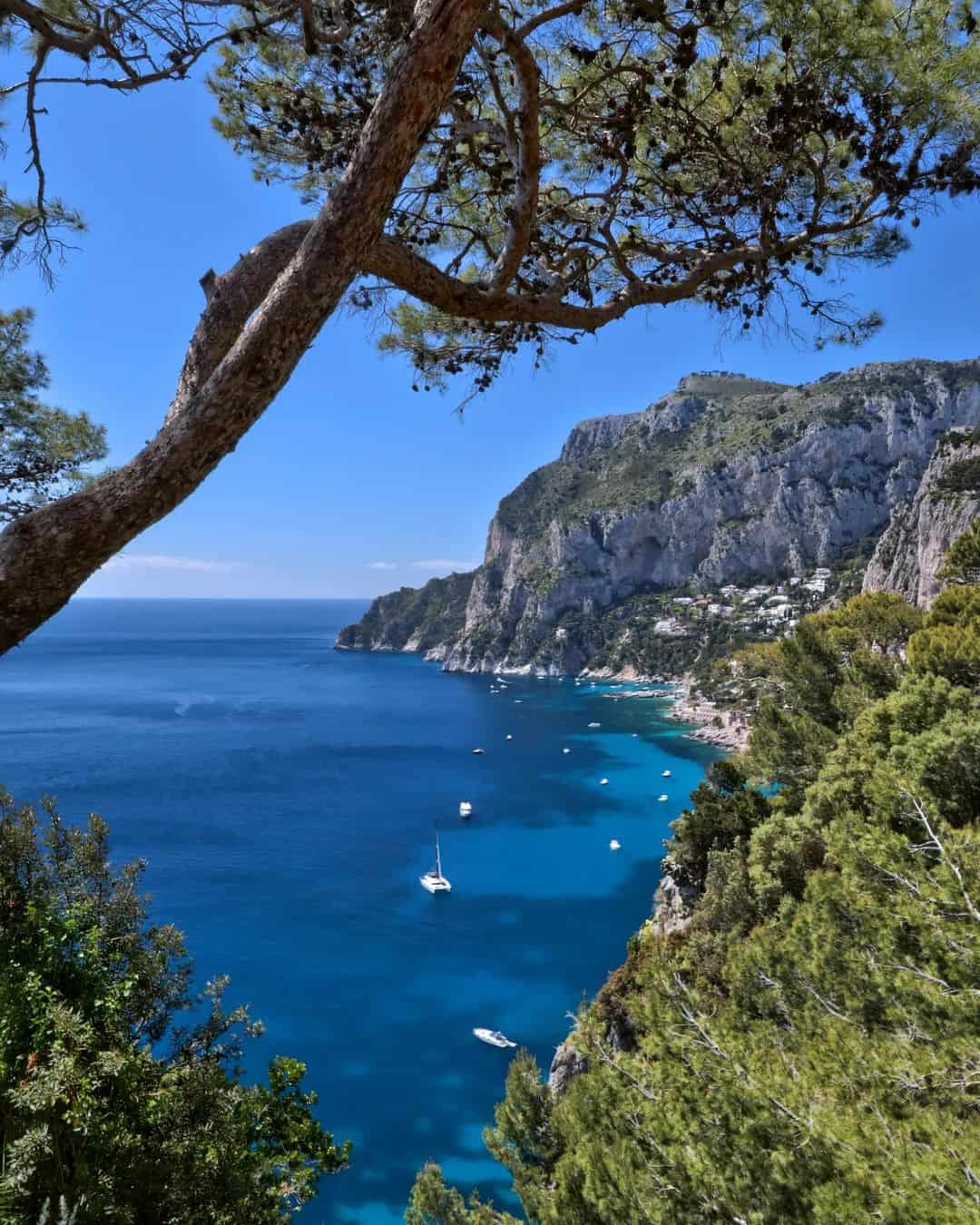 Capri is one of the three Poets islands in the Gulf of Naples: Procida, Ischia, and Capri. It is the most visited of the three, and arguably one of the most popular places to visit in all of Italy.
Regardless of how much you have travelled, Capri is guaranteed to take your breath away. The natural beauty of the island is just jaw-dropping. There is not a blemish or imperfection to be found anywhere.
Capri is characterised by its lush greenery, fragrant olive and lemon groves, and steep cliffs that seemingly rise up from the crystal-clear azure waters below. There are two main towns on the island: Capri and Anacapri.
The houses, villas, and stores in both settlements are draped in bougainvillea and wild wisteria. Ideally, you would stay at least one night here.
But if you are short on time, a Capri day trip is more than possible. You can take the early morning ferry from Naples and be back to the mainland in time for evening drinks.
A suggested Capri day trip itinerary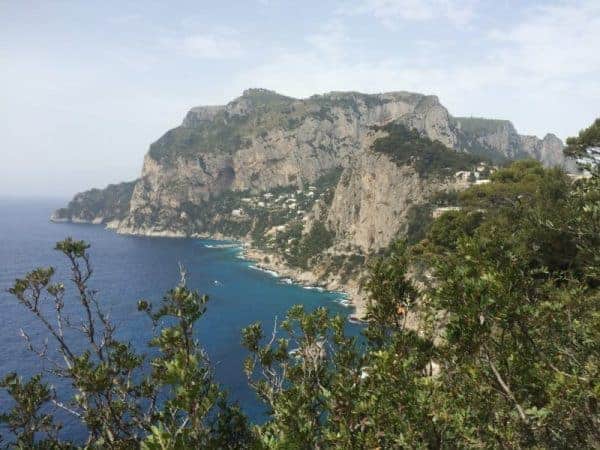 Whether you are departing from Naples or Sorrento, head to the ferry port as early as possible. You want to make the most of your time on the island.
When you arrive at Marina Grande, drop off your luggage at your hotel if you are going to be staying overnight. Then, purchase a ticket for the Grotta Azzura.
10am: Visit the Grotta Azzurra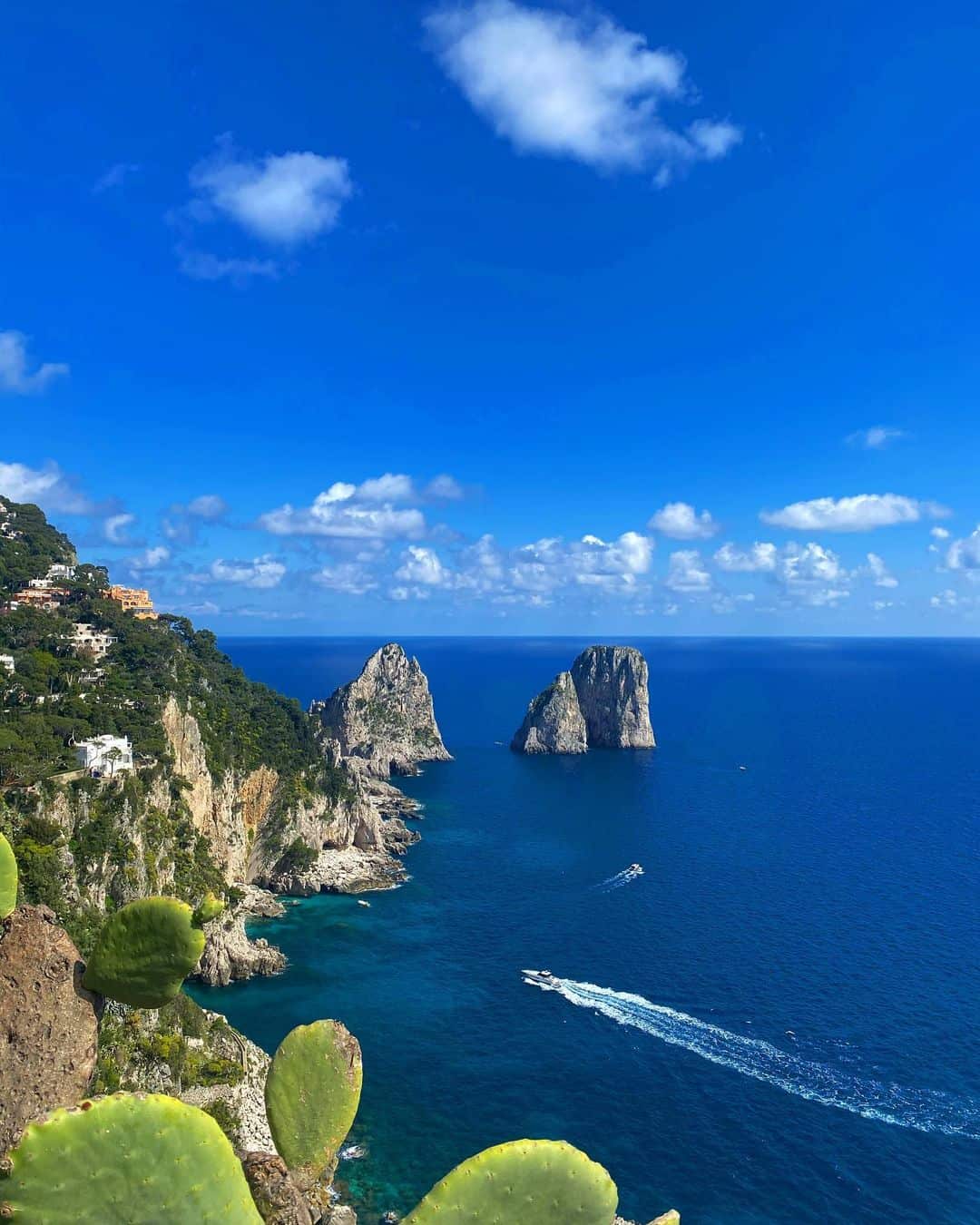 The Grotta Azzura is one of Capri's most famous tourist attractions and for good reason. In English, its name translates to mean "the blue grotto".
This picturesque natural cavern is 25 meters wide and 60 meters long. Its entrance is less than a meter high.
You can access the grotto by gondola, and boats bound here from Marina Grande depart constantly throughout the day. You should brace yourself as you enter the cave – you have to lay backward in your boat to be able to fit through the tiny entrance!
Once you have entered the blue grotto, boat skippers sing traditional Neapolitan folk songs that echo within the cavern. The water is so blue that it looks almost otherworldly.
Few travel experiences are as magical as this. There are a few options available for visiting the Grotta Azzurra during your Capri day trip.
You can visit on an organised tour or by hiring your own private boat. Tour boats are upwards of 15 euros per person admission, and private boat hire prices start at 150 euros. A number of suggested, reputed Grotta Azzurra tour operators are detailed below
Suggested Blue Grotto Tours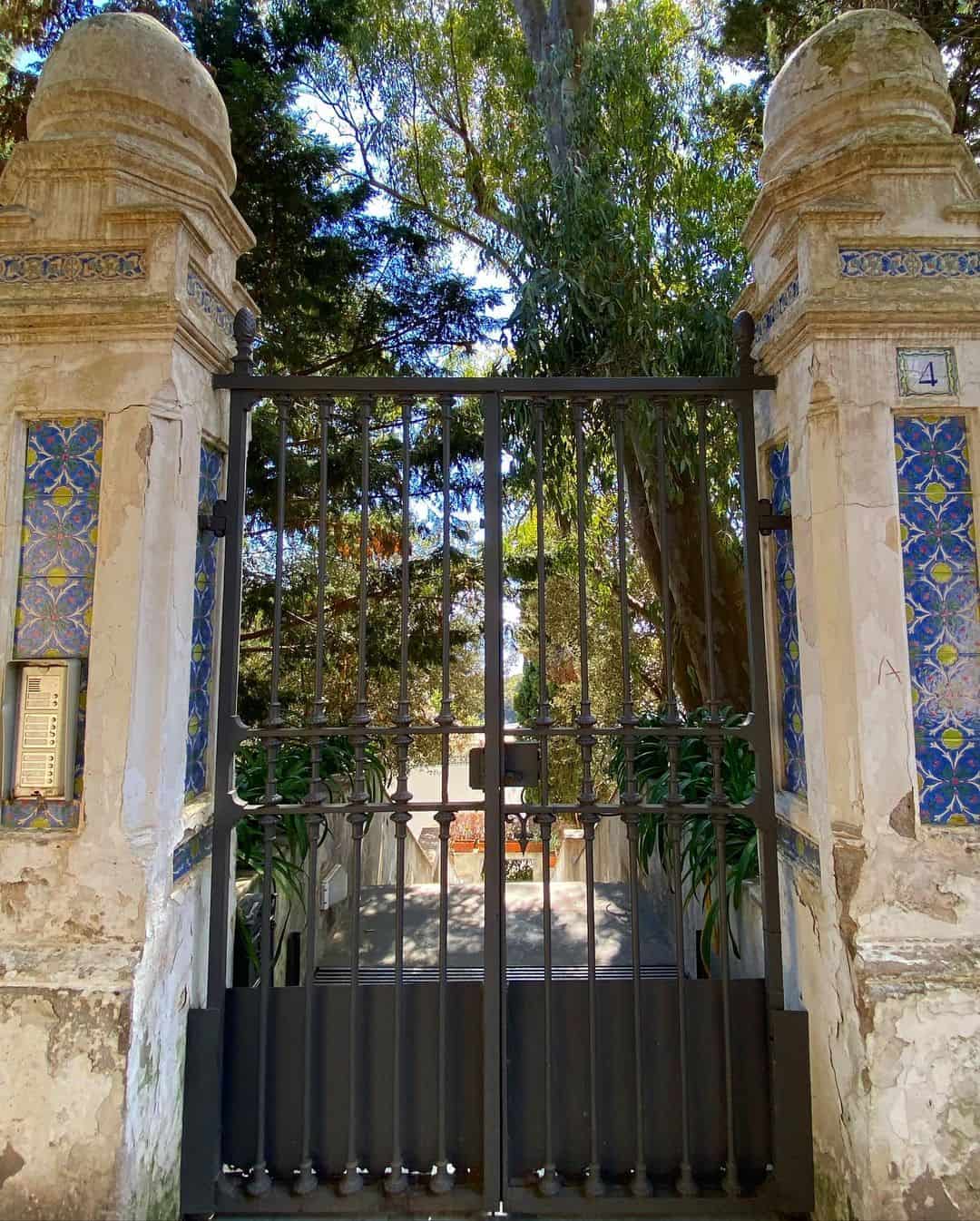 11.30 am Visit Villa Damecuta
The Roman Emperor Tiberius loved Capri. As a result, he constructed twelve magnificent villas around the island.
He spent his summers relaxing on beautiful Capri and moved here to enjoy his retirement. Damecuta is the best-preserved of Tiberius' villas.
It is just a short walk away from the Grotta Azzurra, thus making it a perfect stop-off point on the way to Anacapri.
12.30 pm: Have lunch and explore Anacapri
The narrow cobbled streets of Anacapri are filled with beautiful pastel coloured houses. While Capri town may be synonymous with superyachts and the mega-rich, Anacapri is more of a sleepy Mediterranean idyll.
It can be found at the highest point on the island – on the slopes of Mount Solaro. This area is popular among tourists. However, that certainly does not detract from its charm.
There are several great hiking routes in the area that weave around the countryside and along the foothills of Mount Solaro. There is also a route that connects Anacapri with Marina Grande.
The Scala Fenicia is a pathway consisting of 921 steps. It extends across a distance of 2km and is perhaps best reserved for avid walkers and those that are especially fit. The stairs are steep and challenging to conquer, but arguably worth it for the views!
The stores in Anacapri have some stunning wares. There are many artisanal stores here that sell everything from local crafts and ceramics, to local crafts.
You can find some really beautiful summer hats, dresses, and other clothing pieces that have been made in the Capri blue colours. You will also see a lot of places selling handmade perfumes – a longstanding popular gift from the island.
Restaurants here are a little pricier than what you may be used to if you've been elsewhere in Southern Italy up until now. For instance, £10/£15 a dish. However, they still serve up Neapolitan and Caprese favourites.
2 pm: Take the Monte Solaro chair lift, Anacapri
Who needs to climb the mountain when you can go up by flying chair? Monte Solaro (Mount Solaro) is a 589-foot mountain that sits at the centre of Capri.
Capri locals refer to it as "Acchiappanuvole" or "cloud catcher". This is on account of how the peak towers above the clouds and is often surrounded by a dense blanket of fog that lingers around the summit – particularly in the mornings.
Ascending to the mountain top
The Monte Solaro chair lift takes you 589 meters to the top of Capri's Mount Solaro. This is not a chair lift in the sense of what you may expect at ski resorts.
Instead, it is literally an individual wooden chair that you jump on and off while they are still moving. You ascend to the top of Monte Solaro as your legs dangle underneath you. Perhaps it sounds a little scary, but the lift moves at a relatively slow speed and the journey is actually rather pleasant.
From the top, you are greeted with stunning 360-degree panoramas of Capri and its crystal clear waters below. You will see the whitewashed houses of Capri town cascading down the hillside, and the three rock stacks called the Faraglioni lying off the coast.
On a clear day, you can see all the way to Sorrento, the Bay of Naples, and the islands of Ischia and Procida. If you are afraid of heights, you can also hike to the mountaintop.
The 2km hiking route is steep but manageable. If you do choose to take the chairlift, admission is 11 euros for a return journey or 7 euros for one way.
From the top, a short descent down the mountain takes you to Cetrella Hermitage. This is a beautiful little hill-top church with a view.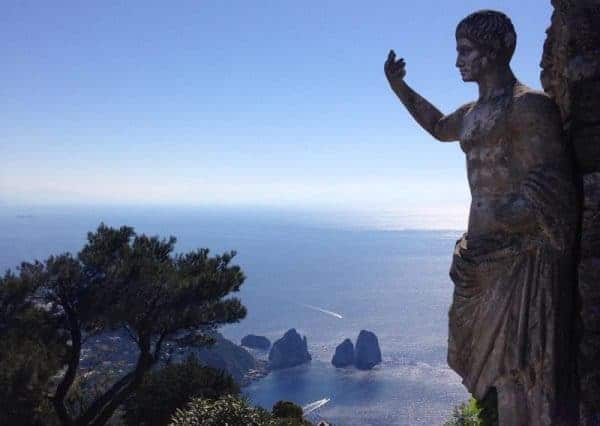 4 pm: Marvel at Villa San Michele
In its heyday, Villa San Michele was one of several summer homes owned by the Roman Emperor Tiberius. It can be found high in the hills above Anacapri.
Other roman villas may be in ruins but fortunately, it is easy to envisage what San Michele would have been like in its finest hour.
The home was renovated in the early 20th century by writer Axel Munthe. Munthe set about restoring the property from its former glory, careful to follow the original design as much as possible.
The villa is truly stunning, and its grounds and the views from them are even more so. Admission is 8 euros per person, and entrance to the villa can be made by taking a left turn through the narrow street of market stalls opposite the Anacapri chair lift station.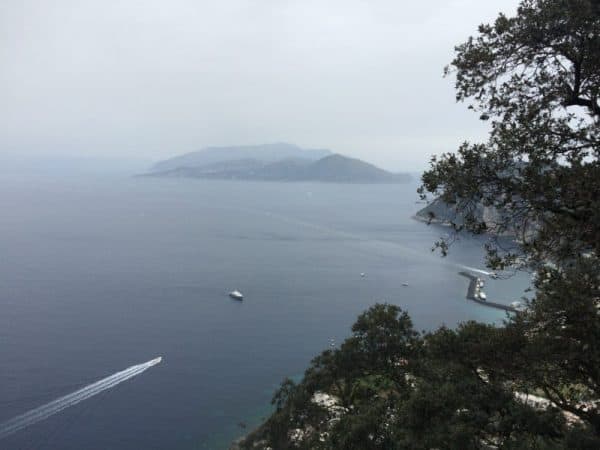 5 pm Admire the Gardens of Augustus
The Capri Gardens of Augustus (Giardini di Augusto) are stunning botanical gardens situated on Via Matteotti, some 30 minutes out of Capri town. This is one of the most overlooked activities for a day trip to Capri.
The gardens themselves are magnificent. These carefully decorated terraces cascade down the hilltop and are filled with exotic flora and fauna from across the globe. Intricate ancient sculptures from around the island are scattered amongst them.
But the main reason to venture here is for the incredible panoramas and sweeping vistas out to sea. From Giardini di Augusto, you have some of the best views of the Faraglioni on the island.
This unique rock formation sits to your left, while the Bay of Marina Piccola and Via Krupp is on your right. Via Krupp is the winding, snake-like coastal path that you see in a lot of postcards of Capri.
Unfortunately, Via Krupp has been closed for more than five years now due to the risk of falling rocks. After being off-limits for so long, it seems unlikely that it is going to open again any time soon.
Regardless, it is pleasant to look out at this obscure pathway from the gardens. Via Krupp was funded by German industrialist Friedrich Alfred Krupp. It connected the Charterhouse of San Giacomo with Marina Piccola.
5.30 pm Enjoy Capri like the Glitterati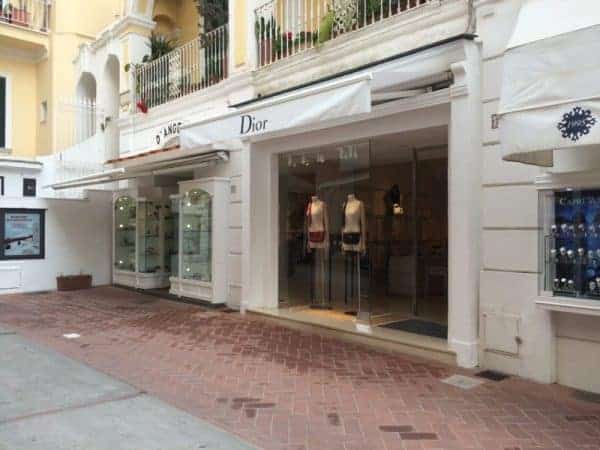 Take the bus down to Marina Grande to round off your day trip to Capri. When you arrive at the bustling central plaza (piazzetta), enjoy an aperitif in one of the chic bars that encircle the square.
Stroll down to Via Camerelle to window shop at some of the most elegant brand names and independent stores before heading onto Via Tragara. Via Tragara leads you along a pleasant walking trail through the woodlands and down towards the sea.
It is a great place to view the island's iconic Faraglioni rock formation and take incredible photos of the natural scenery of Capri. Follow the path down all the way to the bottom.
At the foot of the hill, there's a little bar that sells drinks and snacks at the bottom. The waters here are calm and clear and great for swimming in.

A detour through Via le Botteghe on your return towards the Piazzetta leads you past many quirky boutique stores. As the sun sets, you will find plenty of places to enjoy dinner and a cocktail or two here.
Where to Stay in Capri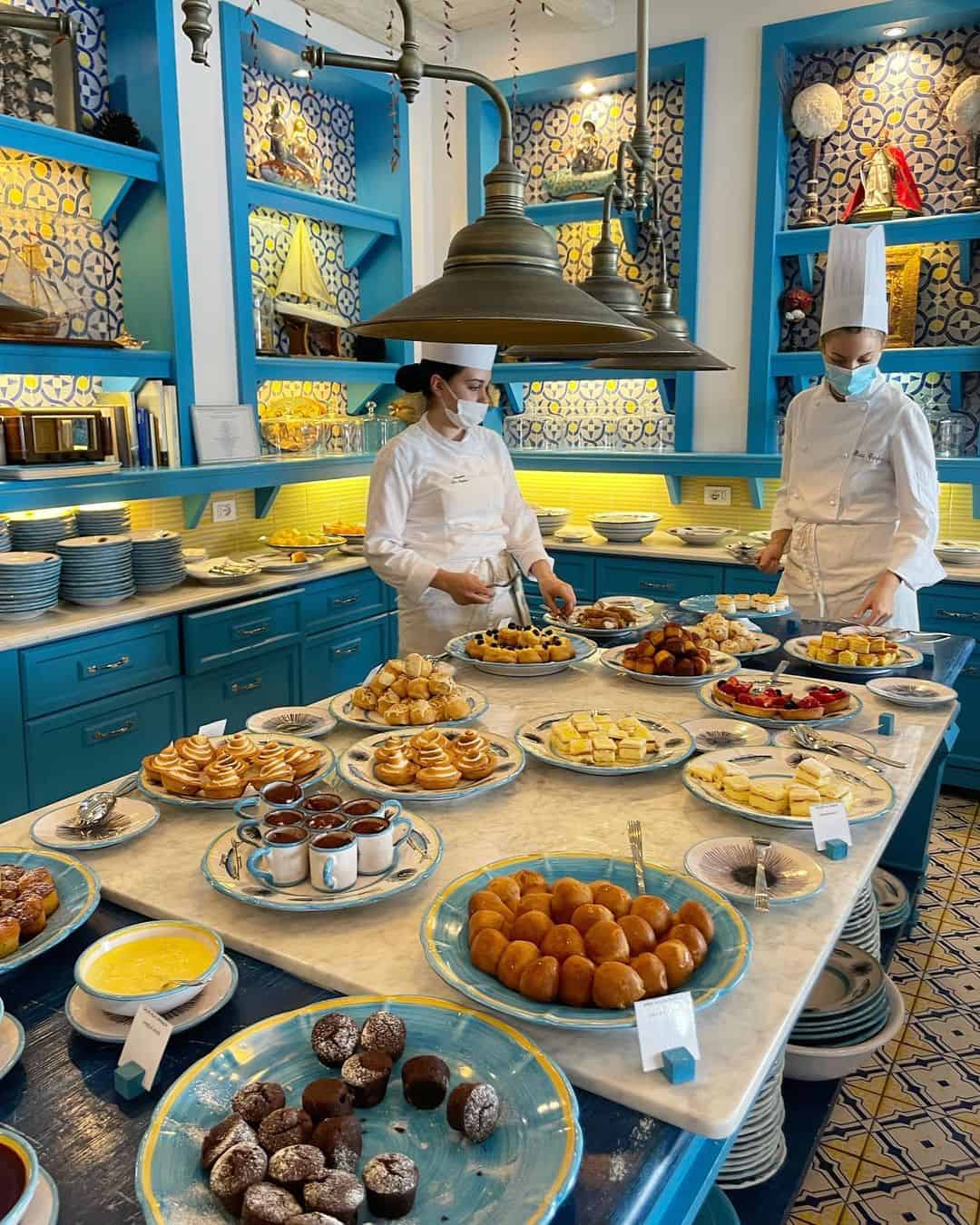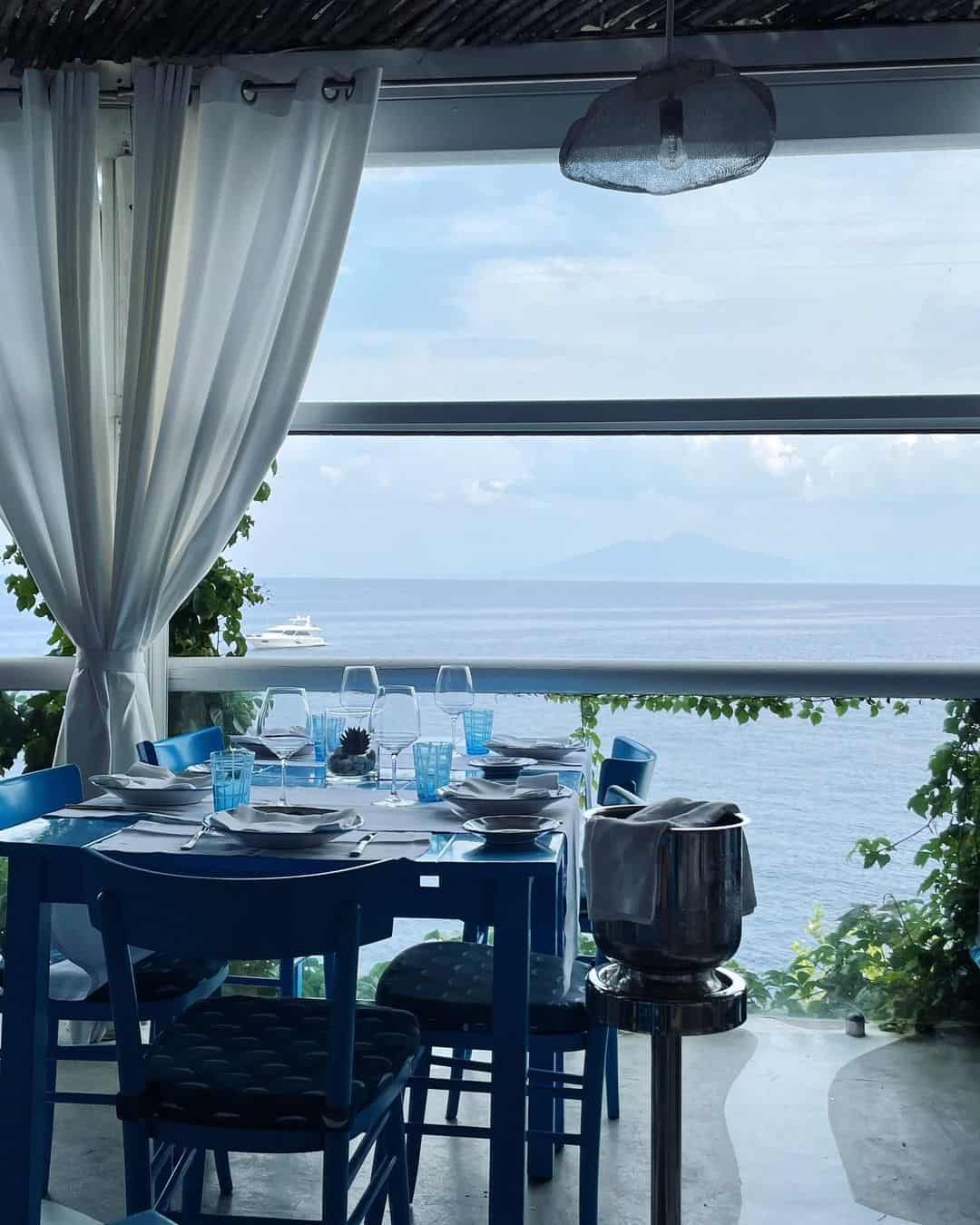 It is definitely worth staying overnight in Capri. There is plenty more to see and of course, it is always more enjoyable to explore at a more leisurely pace.
You can find hotels in Capri and Anacapri for upwards of 50 Euros per night. Both Caprese towns, along with the island's more rural areas, offer stunning accommodation choices.
Capri has something for every budget and travel style. Everything from picturesque Italian family-run bed and breakfasts, to jaw-dropping luxury hotels and villas, can be found here.
The best place to stay for your Capri day trip depends a lot on your personal preferences. Anacapri is closer to the main tourist attractions.
However, Capri is closer to the shopping and elegant cafes. A selection of reputable Capri and Anacapri hotels is detailed below for your consideration.
Recommended Capri Hotels
Recommended Anacapri Hotels
Getting Around Capri
It is easy to get around during your Capri day trip. There is a great network of small buses that service all areas of the island.
Capri Buses
The fare is 1.80 euros each way, and the buses run every 10 minutes from major stopping points. One thing to keep in mind, however, is that waiting for the buses to Anacapri or Capri from Marina Grande can be a bit of a nightmare.
This is due to the large influx of tourists arriving by boat. Buses can be incredibly crowded and you may often find that you have to wait for a second one to come around as the first is too full.
Taxis in Capri
Taking taxis in Capri is an experience in itself. Most taxis here are stylish, convertible retro cars.
So, you can travel around the island feeling like Grace Kelly! Fares are pricy here, which may not come as a surprise.
When to Visit Capri
Capri is a popular summer destination. The island becomes very crowded between the months of May and September.
Fortunately, Capri is a gorgeous place to visit all year round. Travelling in the shoulder seasons of Spring and Autumn enables you to escape the tourist hordes.
Not to mention, this is a great choice if you are travelling on a budget. Hotels, tours, and flights in Capri can be as much as 50% higher in the peak season.
Spring is a nice time to travel: flowers around the island are in bloom, there are far fewer crowds, and temperatures are warm but not unbearably so. Autumn is an equally nice time to take a Capri day trip. Fall foliage emerges island-wide and crowds taper off from the end of September.
Getting to Capri
You have a couple of options for getting to Capri. You can opt to do the trip independently, or by taking an organised tour like this one.
Going it alone allows a lot more freedom and flexibility. This is also a more economical option. However, that being said, organised Capri day tours are pretty reasonably priced.
Take the ferry from mainland Italy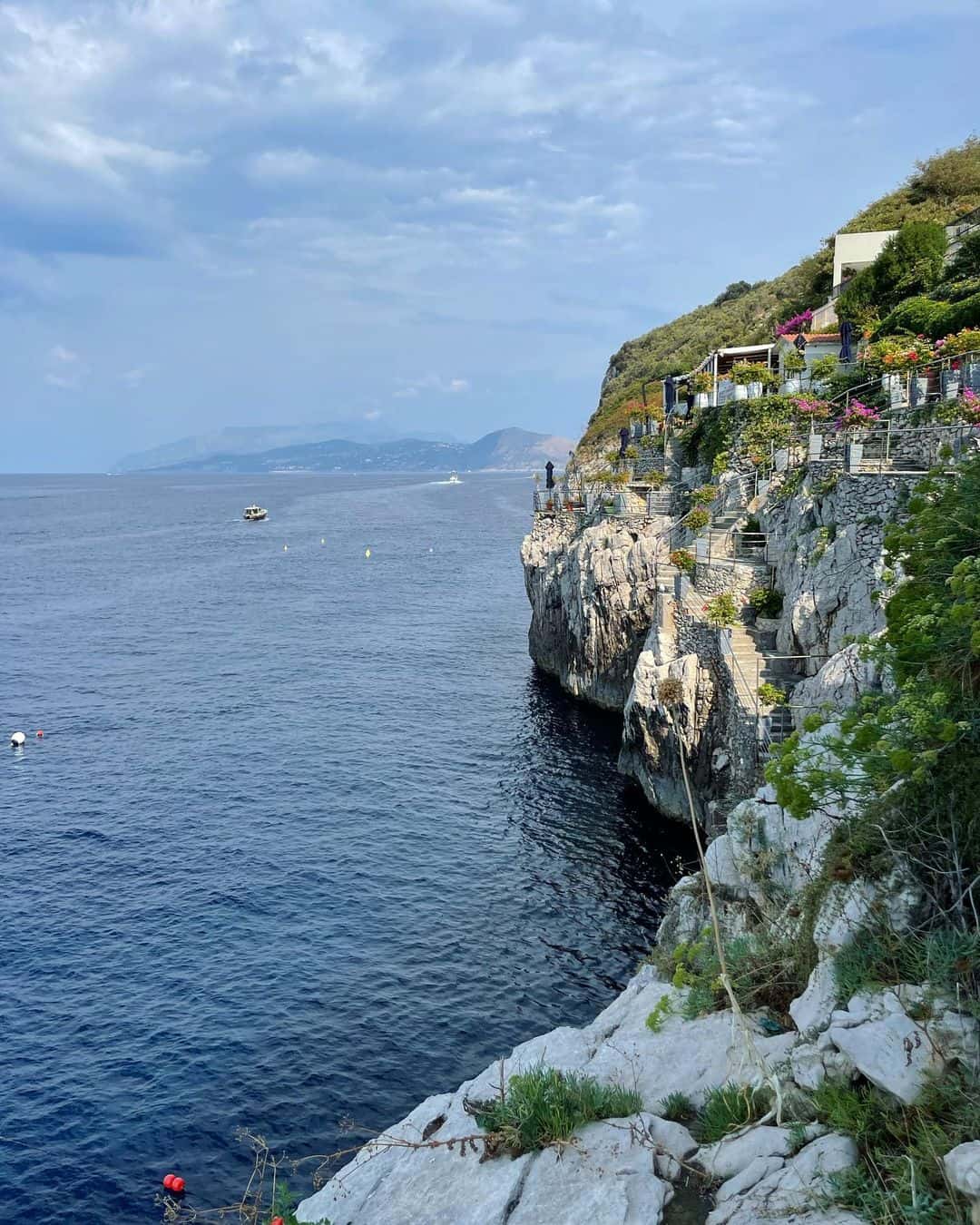 You can reach Capri by ferry or fast boat from several ports on mainland Italy. Namely, Napoli, Pozzuoli or Sorrento.
The takes just 40 minutes from Naples by fast boat, and a little over an hour by ferry.
Ferries run frequently. There is a departure every half hour from Porta di Napoli. You can check the specific timetables here.
If you are travelling within the peak Summer months (May to August), you would be best advised to purchase your boat tickets at least a day prior to your intended departure. If you are travelling off-peak, you can typically buy a ticket right before you intend to board the ferry.
Pin this Capri day trip itinerary for later!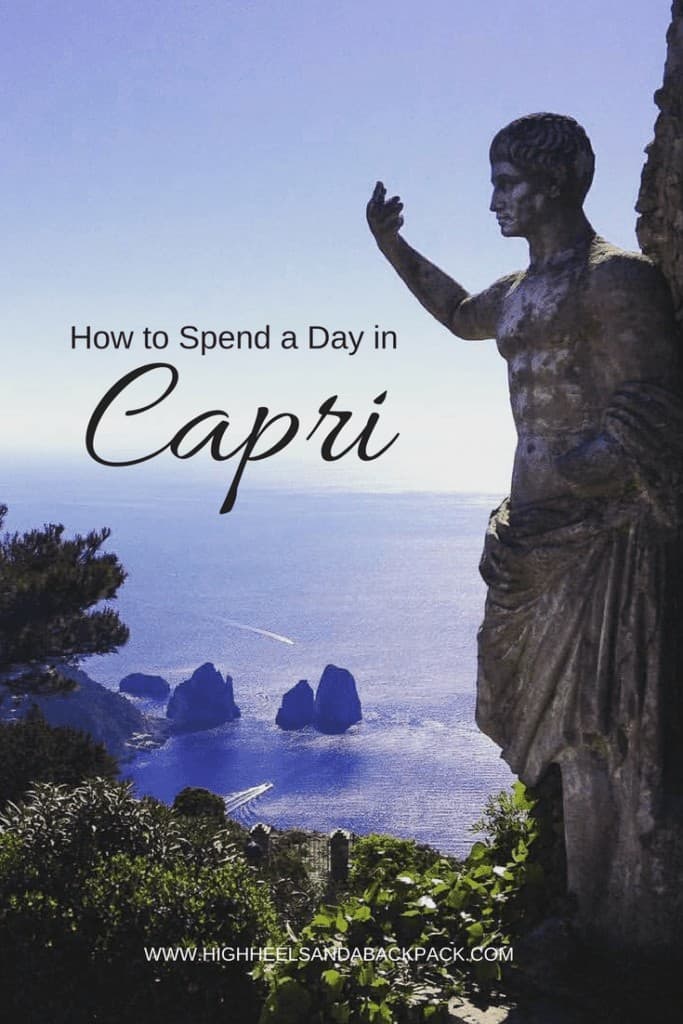 Final Thoughts
Have you been to Capri or any of the other Neapolitan Poet's islands? What did you think?
I used to live in Naples while teaching English in Italy and I am happy to assist with any questions or queries you may have about planning a trip to Italy. Feel free to leave me a comment below and I will try and get back to you ASAP.
Safe travels! Andiamo! Melissa xo
---