A Mediterranean paradise that captured the hearts of Roman emperors with its rugged landscapes, plentiful wild lemon groves and translucent waters, Capri remains heralded as a glamorous travel destination among the jet-set today . From Hollywood movie stars to Fashionistas, even the most difficult to please seem to fall head over heels with Capri. This 24 hour Capri itinerary, tried and tested by yours truly, enables you to see the very best of everything the island has to offer – from Capri's natural beauty, to a slice of the culture.
Getting to Capri
You can reach Capri by ferry or fast boat (depending on your personal preference) from several ports on mainland Italy: Napoli, Pozzuoli or Sorrento. Travelling from Napoli, the journey across the water takes just 40 minutes by fast boat, and a little over an hour by ferry. Ferries run frequently – there is a departure every half hour from Porta di Napoli. You can check the specific timetables here.
If you are travelling within the peak Summer months (May – August), you would be best advised to purchase your boat tickets at least a day prior to your intended departure. If you are travelling off-peak, you can typically buy a ticket right before you intend to board the ferry.
How to Spend a Day in Capri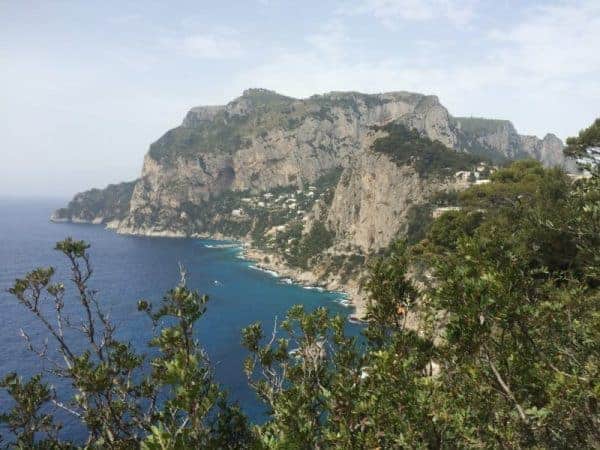 Head to the ferry port. You want to get to Capri as early as possible in order to make the most of your time on the island. Taking a ferry between the hours of  7 and 9 is not painfully early but allows you to make the most of your day. The itinerary for this day covers most of the "must see" sights while in Capri. Readers of my blog will know that I am typically not the sort of person who likes to do "touristic things" while traveling, but the sights of Capri will take your breath away and the island is quickly forgiven for being so crowded.
10am: Visit Grotta Azzurra
Upon arrival at Marina Grande, buy a ticket to Grotta Azzurra – A picturesque grotto accessible by Gondola where the waters reflect in deep blues throughout the cave. Brace yourself as you lay backwards in your boat while the skipper squeezes through the teeny tiny entrance into the most stunning natural cavern. This is one of Capri's most famous tourist attractions and for good reason. As you are explore its depths, boat skippers sing traditional Neapolitan folk songs creating an almost magical travel experience.
You can access Grotta Azzurra by tour boat or by hiring your own private boat. Tour boats are upwards of 15 euros per person admission, and private boat hire prices start at 150 euros. For information on the specific companies, refer to the Capri website here.
11.30am Visit Villa Damecuta
The Roman Emperor Tiberius loved Capri and as such, he constructed twelve magnificent villas around the island in which he intended to enjoy his retirement and where history buffs will certainly love exploring. One of the better preserved villas, Damecuta is located a short walk from Grotta Azzurra making it a perfect stop off point on the way to Anacapri.
12.30pm: Lunch and Exploration of Anacapri
Get lost among the narrow streets and beautiful white painted buildings that look almost like seashells and give Anacapri its stylish look. The area is a little touristic, but worth a look nonetheless. The stores here have some stunning wares – from clothing in the Capri blue colours, to handmade perfumes – a longstanding popular gift from the island.
Restaurants here are a little pricier than what you may be used to if you've been elsewhere in Southern Italy up until now (think £10/£15 a dish) but still serve up Neapolitan and Caprese favourites.
2pm Take the Monte Solaro Chair Lift, Anacapri
Who needs to climb the mountain when you can go up by flying chair am I right? The Monte Solaro chair lift takes you 589 metres to the top of Capri's Mount Solaro as your legs dangle underneath you. Perhaps it sounds a little scary, but the lift moves at a relatively slow speed and the journey is actually rather pleasant. From the top, you are greeted with stunning panoramas of Capri and its crystal clear waters below. Admission is 11 euros for a return journey, or 7 euros for one way. From the top, a short descent down the mountain takes you to Cetrella Hermitage, a beautiful little hill-top church with a view.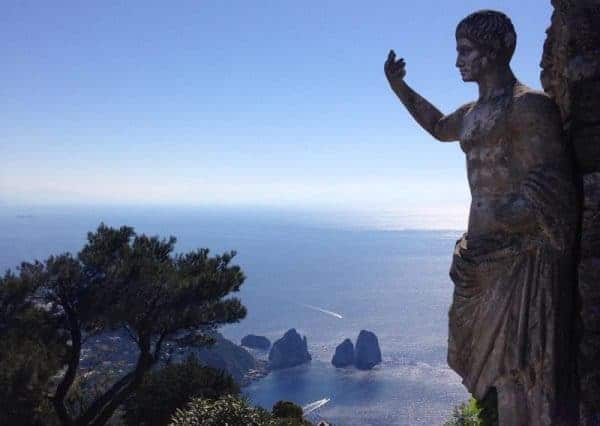 Getting there: From Marina Grande, you can take the bus to Anacapri. When you arrive at the Anacapri stop, turn left, crossing the small piazza and you will be faced with the chair lift station immediately in front of you.
4pm: Marvel at Villa San Michele
A magnificent mansion high in the hills that surround Anacapri, Villa San Michele is a property that was renovated in the early 20th century by writer Axel Munthe who set about restoring the property from its former glory when it was previously owned and occupied by Roman Emperor Tiberius. The villa is truly stunning, and its grounds and the views from them even more so. Admission is 8 euros per person, and entrance to the villa can be made by taking a left turn through the narrow street of market stalls opposite the Anacapri chair lift station.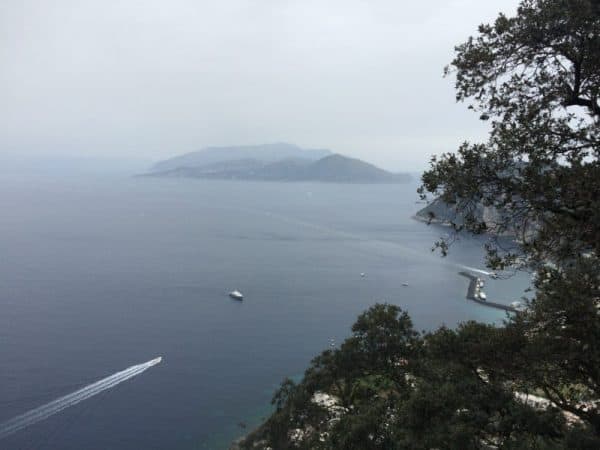 5.30pm Enjoy Capri Like the Glitterati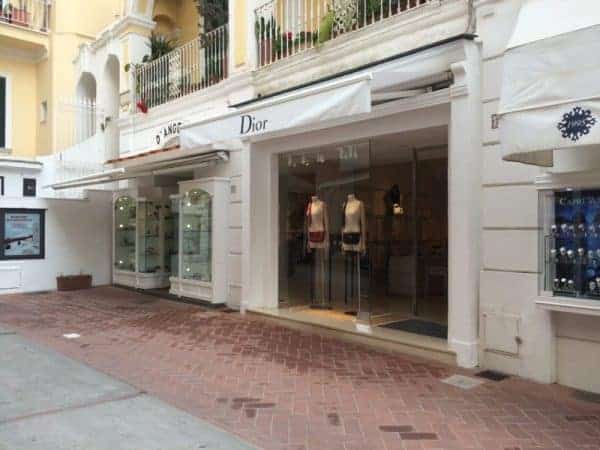 Freshen up at your hotel if you like, and then take the bus down to Capri for a little R&R to help round up your day. Upon arrival at the bustling central piazza of Capri (piazzetta), enjoy a glass of Prosecco or a good old Italian aperitivo outside one of the beautiful bars, in and amongst the island's beautiful people. Stroll down to Via Camerelle to window shop (or shop!) some of the most elegant Italian designer stores like Moschino and D&G, before heading onto Via Tragara to view the island's iconic Faraglioni rock formation below.
(You can follow the path down to meet the rock formation at the sea if you like, and there's a little bar that sells drinks and snacks at the bottom, however the view is arguably more impressive from the top)
A detour through Via le Botteghe on your return towards the piazzetta leads you past many quirky boutique stores.
As the sun sets, you will find plenty of places to enjoy dinner and a cocktail or 7 here.
Where to Stay in Capri
If you choose to explore the island at a more leisurely place (there's plenty more to do – I'll be adding a two day itinerary soon!), then you can find a hotel in Capri for upwards of 50 Euros per night.  The island of Capri is comprised of two towns – Capri and Anacapri. Both offer stunning accommodation choices – from picturesque Italian family-run bed and breakfasts, to jaw dropping luxury hotels and villas. Where to stay in Capri depends on your personal preference. Anacapri is closer to the main tourist attractions, but Capri is closer to the shopping and elegant cafes.
Find Accommodation in Capri!
Getting Around Capri
There is a great network of small buses that service all areas of the island. The fare 1.80 euros each way, and the buses run frequently (circa every 10 minutes) from major stopping points. Waiting for the buses to Anacapri or Capri from Marina Grande can be a bit of a nightmare due to the large influxes of tourists arriving from the boat.
Taxis in Capri can be pricey (that probably shouldn't come as a surprise) but are in the form of stylish convertibles with colourful interiors that will have you feeling like a shit version of Grace Kelly.
When to Visit Capri
As a popular vacation hot spot, of course, with Capri's popularity also comes the crowds and if you are visiting during the peak Summer months (May – September), you will be pressed to find much peace and tranquility upon her shores. Travelling off peak can allow you to avoid the crowds.
Pin this Capri Itinerary it For Later!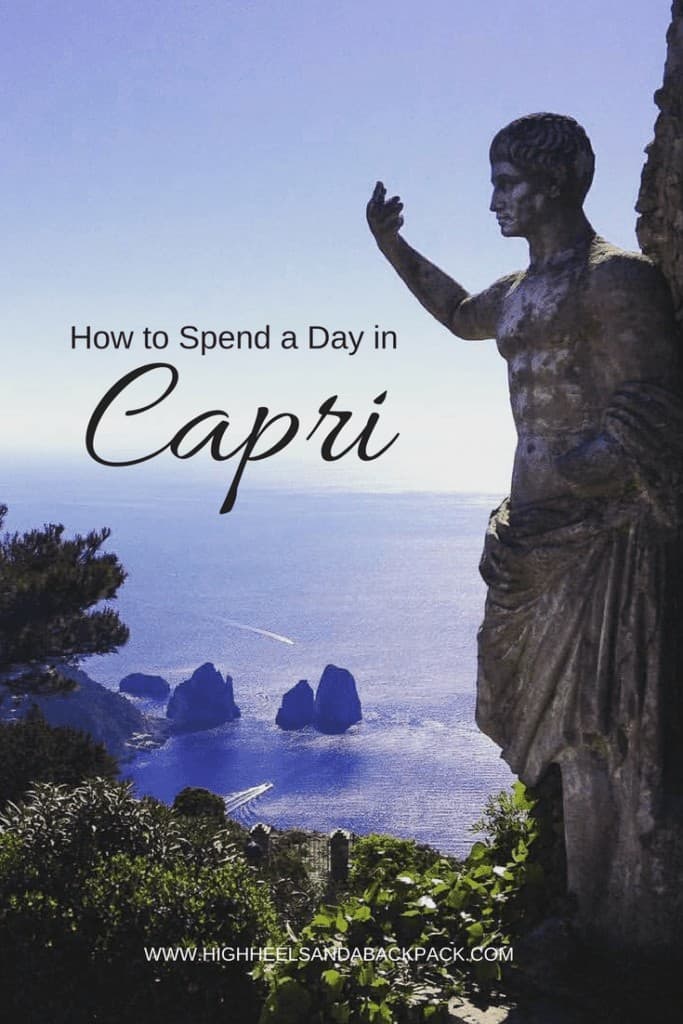 Have you been to Capri or any of the other Neapolitan Poet's islands? What did you think?
---