Procida island is one of the scenic Flegrean Islands that sits off the coast of Naples in Southern Italy. There are plenty of things to do in Procida island to warrant spending a long weekend here, but the island is often overshadowed in favor of its more popular neighbor, Capri.
The island, chosen as Italy's island of culture in 2022, has a more understated charm. It is not touristy or gentrified and you won't find street vendors trying to hassle you to buy trinkets or fridge magnets here.
Procida, for the time being, remains a sleepy, southern European island idyll. The Centro Storico (historic centre) is a labyrinth-like network of cobbled streets and passageways that twist and turn and open out into lively piazzas filled with old Italian ladies sipping espresso and doing crossword puzzles, and young locals weaving between the crowds on the back of Vespas.
Procida Island Italy 2023 Travel Guide
Little Procida island, like many islands in the Mediterranean, has been invaded and conquered by various civilizations over the centuries. Each has left its mark on the culture, architecture, and gastronomy of the island as it stands today.
The island has been occupied for thousands of years. The Mycenaeans settled here in the 15th and 16th centuries BC.
Greek settlers moved to the island from the Ancient Greek settlement of Cumae, and Romans followed later. Under the Roman occupation, Procida, like Capri, and the beach town of Baia close to Pozzuoli on the mainland, became a popular summer getaway destination for the affluent Patrician class.
For hundreds of years, Procida was the victim of countless attacks from Goths, Vandals, and Saracens. Historically, the island was important for merchant trading and shipbuilding. To an extent, it still is today.
Nowadays, as the tourists flock to the Amalfi Coast, the locals head to Procida and other gorgeous Italian destinations that they have been keeping for themselves.
Things to do in Procida Island
Italy
Procida is the smallest of the three islands off the coast of Naples, with an area of 4.1 km². It remains mostly unspoiled by tourism and provides a wonderful glimpse into traditional life in Southern Italy.
As your boat pulls into the harbour early in the morning, you can see charming scenes of local life. Butchers fuss outside authentic salumerias organising their produce, fishermen push their boats out to sea, and pastel-coloured stores showcase perfectly presented floral displays.
Procida has something for all types of travellers and all budgets. Here you will find a plethora of different beaches – some secluded and unspoiled and some organised with all the amenities.

There are quaint villages, ornate monasteries and churches, glorious hiking trails, and an excellent selection of bars and restaurants. Best of all, Procida's small size makes it very easy to explore on foot or by bicycle.
You could essentially walk the entire circumference of the island in a day!
Have breakfast the Italian way
Assuming you get one of the first morning ferries across from Naples to Procida, a nice way to start the day is with an Italian breakfast. In Italy, people often eat sweet treats for breakfast.
They have slices of cake, or fluffy pastries covered in a generous dusting of icing sugar, such as sfogliatelle. Sfogliatelle are traditional Neapolitan pastries that are stuffed with sweet ricotta cheese and slight hints of citrus flavours.
Of course, breakfast pastries are best accompanied by a strong Italian espresso or a frothy cappuccino. In the Centro Storico and immediately after exiting the port, you are greeted with an abundance of patisseries and bakeries so you will not be short of options.
Still, if you are looking for a truly local place, stop by Bar dal Cavaliere (Via Roma, 42). This pastry bar is a Procida island institution that has been delighting travellers and locals alike for decades.
On Sunday mornings, Bar dal Cavaliere is a popular rendezvous point for older generations of Italians. You can also try the "Lingue di Bue" – a traditional Procida island dessert prepared with puff pastry and filled with chocolate or lemon.
Explore the Centro Storico
Part of the fun of visiting Procida Italy is found in simply taking the time to get lost among the narrow streets of the Centro Storico. The shop displays, the small religious shrines tucked away in alcoves, the pastel coloured buildings painted in every colour of the rainbow, and the lines of laundry hanging between the buildings are a Photographer's dream.
Some of the little boutiques and delicatessens here are great places to buy souvenirs from your trip to Italy for your friends and family back home. Or you can purchase olive oils, cold cuts, and local cheeses to prepare a charcuterie board at your accommodation later.
By the evening, a well-heeled crowd heads to the Centro Storico for an aperitivo. This is an Italian tradition that takes place between around 5 pm and 8 pm.
You can order a drink (commonly an Aperol Spritz or some other wine-based cocktail) and you will be treated to complimentary light bites and snacks. Since Italians usually have dinner late, this is a nice thing to tide you over until dinner time.
Flamingo Café in Piazza Della Repubblica is a nice place to have an aperitivo. Or alternatively, you can head to Maresia Solarium (Via Giuseppe Garibaldi, 27) to sip local wines as you watch the sunset over Chiaiolella.
Scale the ancient walls of the Terra Murata
Scaling the walls of the Terra Murata is one of the most important things to do on Procida island. This 15th-century walled medieval village is perched on a hilltop at the highest point on the island.
From here, you can enjoy magnificent panoramas over the island and across the Tyrrhenian sea, and over to the bay of Naples. Terra Murata literally means ¨walled land¨ in Italian.
Look out for the two long-range cannons dating back to the Neapolitan Republic of 1799. One of the most notable structures here is the 1563 Palazzo d'Avalos.
This imposing site changed functions numerous times over the centuries – operating as a Royal Palace and then, as a prison. People still live in the houses contained within the Terra Murata.
You can also find the Abbazia San Michele Arcangelo, an 11th-century abbey that is considered one of the most beautiful religious buildings in Southern Italy. It has been rebuilt several times over the centuries.
Its frescoes depicting various scenes from the Bible are interesting to see, as is the wood-carved nativity scene that was created by pastors of the XVIII century Neapolitan School. Some of the paintings here are obscure and interesting. For instance, a scene depicting St Michael fighting Satan.
The library in the church contains old, dusty tomes that date back to the 16th century.
Just outside the Terra Murata, there is a scattering of archeological sites that contain what remains of Bronze Age settlements in the area.
Visit the Monastery of Santa Margherita Nuova
There are countless churches scattered throughout Procida island. Most are open, and you can freely wander inside and admire their interiors.
This is a nice thing to do, even if you are not religious. The Monastery of Santa Margherita Nuova can be found on the edge of a cliff, facing the sea, partway between the Terra Murata and Corricella.
It was founded by Dominican monks in the 16th century after their former monastery was destroyed by Saracen invaders. This is perhaps one of the best photo spots on the island.
Stop for lunch in Corricalla Bay
Corricalla Bay is one of the oldest, continually inhabited parts of Procida island and a nice place to have lunch by the sea. Its name stems from the Greek "Kora Cale" meaning "nice area which is a fitting name as this is one of the prettiest points on the island.
Many of the houses here date back to the medieval era.
Today, Corricalla Bay is very much an active fishing village. Ramshackle fishing boats, fishermen preparing their tackle, and traditional, seafront trattorias greet you as you approach the bay.
This is the best place on Procida island to sample seafood delicacies. The dishes are prepared fresh using fish caught earlier that same day.
The stores scattered around this area stock arts, handicrafts, and apparel products created by local designers. Corricalla Bay sits right beside the Santa Maria Delle Grazie – the iconic domed church that has become the symbol of Procida island.
Visit the iconic Santa Maria Delle Grazie church
The bright yellow 1678 Santa Maria Delle Grazie church has become an iconic image of Procida. (You can get a great photo of it from above from the Terra Murata).
It also forms part of the area known as Semmarezio or Piazza Dei Martiri. On any given day, you will find older island residents sitting on the benches here and chatting with their neighbours and friends.
Marvel at the Casale Vascello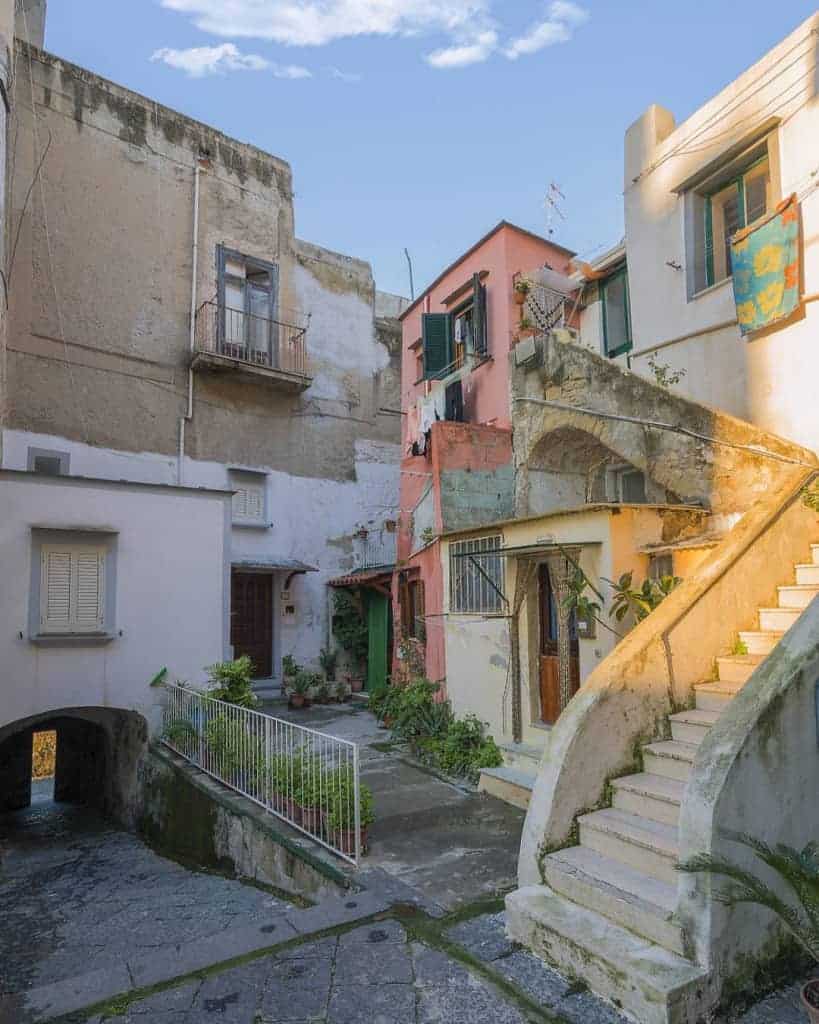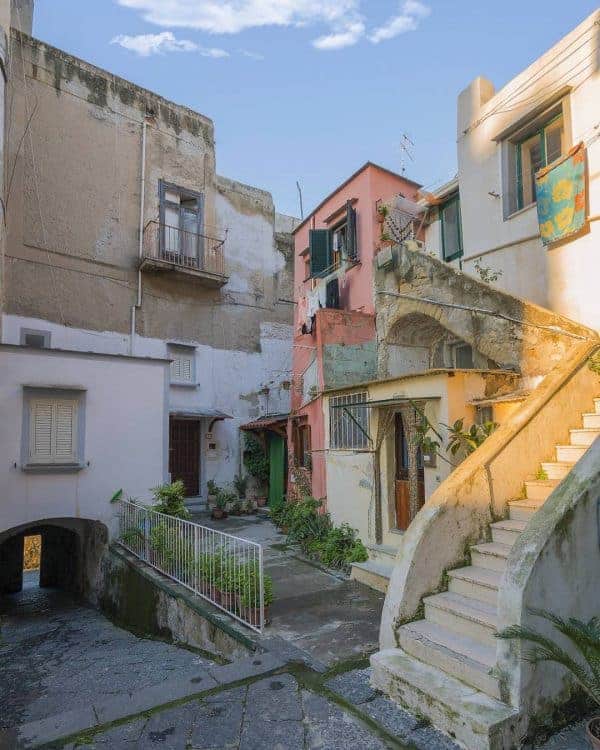 Procida boasts one more fortified town – the 17th-century Casale Vascello. This district can be found at the foot of the Terra Murata and adjacent to Corricalla Bay.
Casale Vascello is accessible from Via Principessa Margherita and is centered around a large courtyard. Performances from local musicians are often hosted here during the summer months.
Relax on a secluded, hidden beach
Being a Mediterranean island, the coasts of Procida are filled with beaches. Anything that is marked as "Spiaggia" is a beach. However, not all Procida beaches are created equal.
One of the best beaches in Procida awaits at the end of Via Cesare Battisti. Here you will find the "Spiaggia del Postino" (Postino beach).
Postino beach is approximately 20 minutes away from the Centro Storico area on foot. Getting there is relatively easy, particularly if you make use of an offline map like Maps Me.
First, follow Via Cesare Battisti to the very end. You will see a fork in the road and an old cemetery overlooking the sea
A worn dirt trail leads you behind the cemetery and towards the sea. The trail looks quite questionable. However, as it leads you down to the coast, it opens out into one of the most breathtaking beaches in Procida.
Postino beach is the perfect place to relax, swim, or snorkel. The beach sits against a backdrop of dramatic cliffs, boasting fine white sands, and translucent azure waters.
Unless you specifically know where you are going, you wouldn't stumble across Postino beach by accident.
The beach is tucked out of the way and its entry point is not clear. That isn't necessarily a bad thing, however. Spiaggia Positano is seldom crowded and makes a nice alternative to the more "touristic" beaches.
A surf shack-style bar operates here during the summer months. It plays reggae music and serves a variety of light snacks and drinks.
Relax on
Chiaiolella beach
Chiaoiolella is not as secluded as Il Postino beach. It offers all of the amenities that you could possibly need for an enjoyable day by the sea.
Here, you have incredible views out to Isola Vivara and Ischia. You can rent sunbeds, towels, and water sports equipment for just a few euros.
Visit the Isola di Vivara
The Isola di Vivara is a little islet that can be found just off the southwestern coast of Procida. It is connected to Procida via a pedestrianised bridge.
The scenery here is unlike anything you will find elsewhere in Italy and is almost otherworldly. It is wild, rugged, uninhabited, and filled with Mediterranean fauna, rare plants, and migratory birds,
You could easily dedicate a day to exploring Isola di Vivara, and exploring its various walking paths, particularly if you love hiking and the great outdoors. Millions of years ago, this islet was once part of a volcano.
This is the reason for its obscure, crescent shape today. After spending the morning at Chiaoiolella, buy some food from local patisseries, and then enjoy a picnic on the grassy banks of Isola di Vivara.
Where to eat on Procida Island
You will be spoiled for choice with all of the wonderful places to eat on Procida Island. There is no such thing as a bad Procida restaurant. That said, if you are looking for the best of the best, the below restaurants are some of the highest-rated in Procida.
Da Mariano
Where: Via Marina Chiaiolella, 32, 80079 Procida NA
Da Mariano is a quintessential homely Italian trattoria. It is arguably one of the best restaurants on the island and is beloved by travellers and locals alike.
Dishes are simple, yet sumptuous, with generous portions and reasonable prices. The extensive menu offers something for everyone – whether you are looking for fresh seafood dishes, homemade pasta, or vegetarian choices.
Specialties include spaghetti alle vongole (spaghetti with clams), Caprese salads, and the chewy, mouthwatering gnocchi alla Sorrentina. When you are decidedly stuffed, don't skip dessert.
Da Mariano is known for its la Procidana cake This is a Caprese-style dessert that is made with white chocolate and the juice and rind of local lemons.
La Lampara
Where: Via Marina di Corricella, 88, 80079 Procida NA, Italy
La Lampara is a wonderful choice if you are seeking lunch with a view. The restaurant's location above Corricella Bay means that you can enjoy incomparable bird-eye views of the marina as you tuck into your food.
The menu here focuses on seafood dishes. Consider starting with a marinated seafood antipasti. Then, treat yourself to lobster ravioli paired with local wine.
Caracalè
Where: Via Marina di Corricella, 62, 80079 Procida NA, Italy
Charming Caracalè is located in the heart of Corricella bay on Procida island. Its name takes its inspiration from the quaint fishing village in which it sits.
The dishes here are traditional Italian and Mediterranean recipes with an innovative, modern twist. Caracalè is one of the few restaurants on Procida island Italy that is usually open year-round and doesn't close outside of the summer season.
How to get to Procida

island Italy
There are a couple of different ways to reach Procida from mainland Italy. You can either travel to the island independently or on a day tour.
Suggested Procida tours
Opting to visit Procida island on a day tour from Naples or Sorrento can take a lot of the stress out of managing the logistics of your trip.
Recommended Procida island tours
Taking the boat to Procida
Boats run daily between Naples and Procida, and Sorrento and Procida. There are more than 20 departures per day, although the schedule may vary slightly from season to season.
It takes about 40 minutes to get to Procida island from both Sorrento and Naples ports.
The earliest ferry from Naples to Procida departs at 8.25 am and the last ferry of the day sets out at 19:00pm.
The first ferry departs Procida for Naples at 07:35 am and the last ferry of the day is at 18:55
The two main ferry operators that run to the island are SNAV and Caremar. Return tickets cost between €7.90 and €21.20 one way depending on the season and the specific service that you travel on.
Getting from Naples port to Procida
Frustratingly, there are about half a dozen different ticket offices scattered around the port of Naples. Each ticket office sells tickets for different carriers.
So, you may have to go back and forth between them to find the provider that sells the ticket for the specific time you want to travel.
It is prudent to arrive at the Port of Naples early or purchase your ticket a few days before your departure so you don't waste time with this chaos.
Getting around Procida

Island Italy
The island of Procida is small enough that it's possible to walk the majority of it. That said, there are several other options to help you get from A to B faster.
Rent a bicycle
Renting a bicycle is a popular way to explore Procida island. Rentals here are reasonably priced.
The average price for a bicycle rental is around 10 euros for one hour, 15 euros for four hours, and 25 euros for the day. This is quite a pleasant way to get around.
Getting around Procida by public transport
Public transport-wise, the most convenient way to get around Procida is by using the little "EAVBUS" island buses that run in a circuit to all of the main Procida beaches and attractions.
Bus tickets can be purchased from the driver. You can also buy them in advance from bars and tabacchis.
A one-way ticket costs less than one euro. If you are staying in Procida Italy for a few days, it is worth buying a stack of tickets in advance.
Getting around Procida by cab
There are always plenty of cabs around Procida port. This is obviously the pricier way to get around but it may also be the most convenient for you.
Some of the cab drivers will also offer you a negotiable rate for a tour of the island. You can also ask your hotel to organise a cab for you, as they will be able to help you secure a competitive price.
Where to Stay in Procida
Procida remains relatively off the beaten path and does not boast an awful lot of hotels. Consider basing yourself close to Corricalla Bay or in the Centro Storico.
This places you close to most of Procida island's points of interest. It also means that you will have plenty of dining and nightlife options right on your doorstep.
Some well-rated hotels that you may wish to consider are detailed below. If you are travelling during July and August, it is preferable to reserve a room in advance.
FAQs about Visiting Procida Island Italy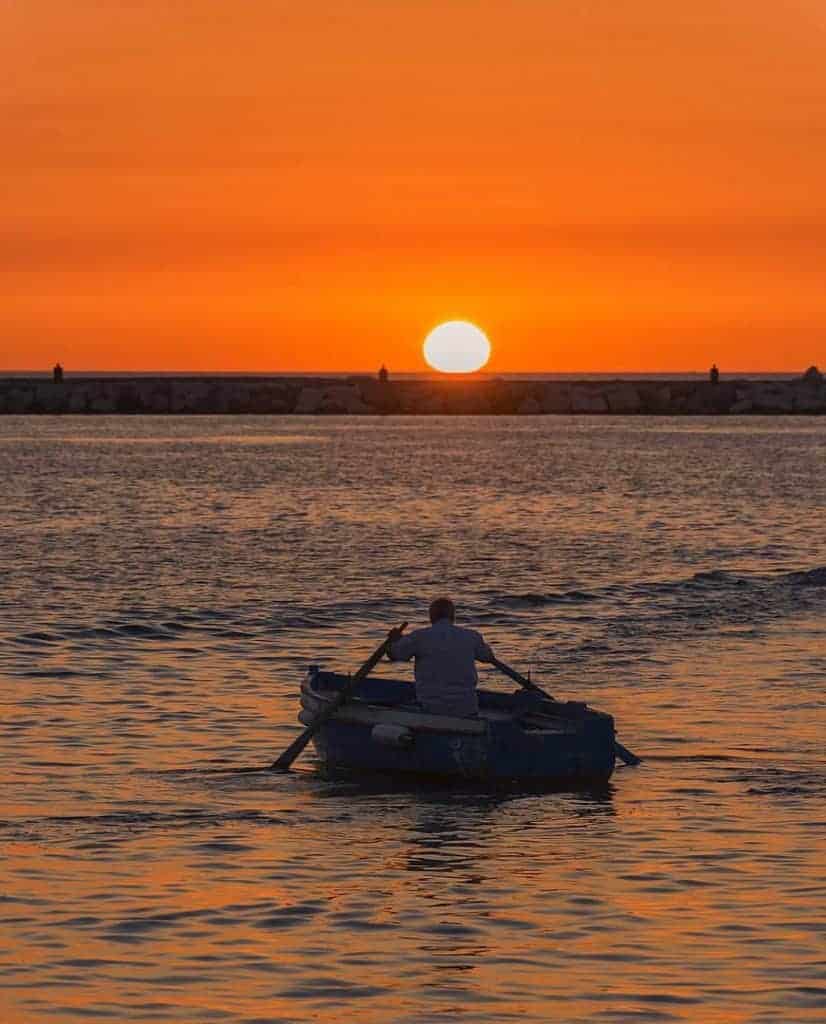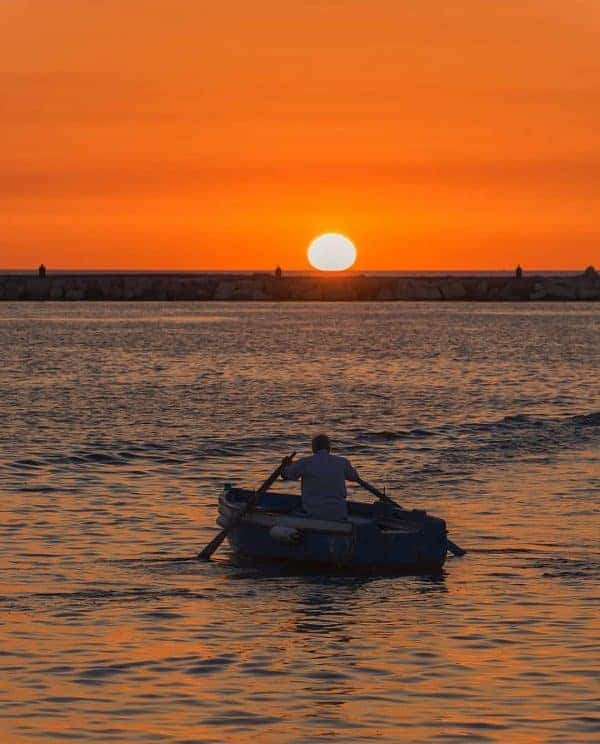 Do you have any further questions or concerns about planning a trip to Procida Island, Italy? Hopefully, you will find the answers you are looking for below.
Otherwise, please do not hesitate to reach out.
Is Procida island worth visiting?
Procida is definitely worth visiting, particularly if you like venturing off the beaten path, exploring traditional Italian villages and islands, and a more slow-paced form of travel. There are some gorgeous boutiques and luxury hotels on the island that make a perfect place to spend a romantic weekend or a self-care break.
What is Procida Italy known for?
Procida, like nearby Sorrento, is known for its lemons. You will find them growing wild and in abundance across the island – in the streets, along walking trails and in the gardens of guesthouses.
They are often used to prepare granita or sweet lemon pastries.
Which is better Ischia or Procida?
Both Ischia and Procida are special in their own right. If your schedule permits, you should visit the two (and Capri!)
Ischia is larger. So it arguably deserves more time. Ischia is better known for its natural hot springs and watersports activities, while Procida is more of a quiet, quintessential Italian island.
How long is the ferry from Naples to Procida?
It takes 40 minutes to get from Naples to Procida (and vice versa) by ferry.
How long is the ferry from Sorrento to Procida?
It takes 40 minutes to get from Sorrento to Procida (and vice versa) by ferry.
Can you walk around Procida?
It is very easy to explore the entirety of Procida on foot. The roads and pathways around the island are well-built and maintained.
Aside from climbing the Terra Murata, there are no hills, inclines, or stairs. Procida island is relatively flat, making it easy to explore for people of all ages and physical abilities.
Can you take a car to Procida?
Tourists and non-residents are not allowed to bring their cars to Procida. Driving on the island is not advisable (or necessary) anyway.
Procida is very small and you can get around most points of interest on foot or by bicycle, bus or taxi. The streets are extremely old and narrow, so trying to get around can be nightmarish.
This is particularly true if you are renting a car in Italy and you are from outside of Europe and not accustomed to the smaller streets here.
Does Procida have beaches?
There are six different beaches on Procida island Italy. They offer calm translucent waters that are perfect for swimming in.
Ciraccio beach offers unparalleled views of the Amalfi Coast, while Il Postino beach is a lovely hidden spot.
Final Thoughts on visiting Procida Island Italy
The sights and sounds of Procida island can be seen in a day or two. That said, you could easily enjoy as much as a week on the island's beaches.
Do you have any questions about travelling to Procida island Italy or planning an Italy trip in general?
I used to live in Naples while teaching English in Italy. I am happy to assist you in any way I can. If you are visiting the Campania region of Italy for the first time, you might also be interested in this post on safety in Naples.
Feel free to drop me a comment below or send me an email. Safe travels, Melissa xo
---