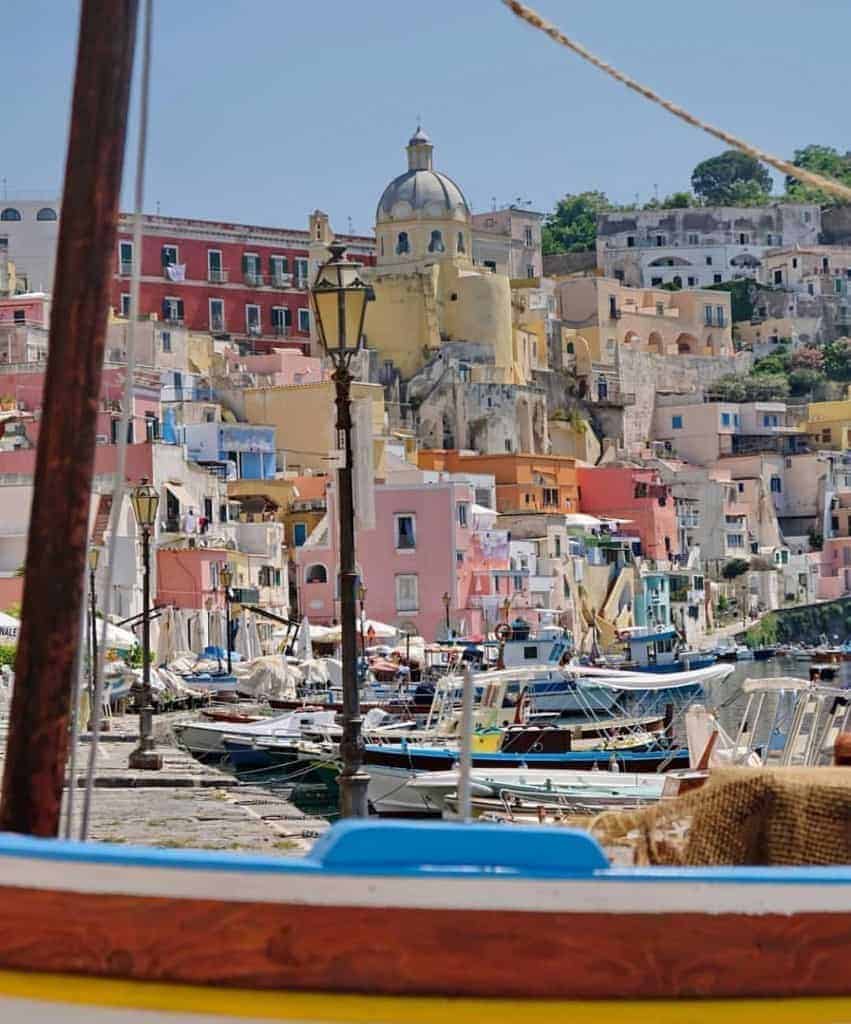 The charming island of Procida, with its pastel-coloured harbors, its quaint cobbled streets and its secluded coves, is a perfect getaway from Naples. Procida is the smallest of the three Poet's islands (Ischia, Procida, and Capri) and remains relatively undiscovered among international travellers.
The Appeal of Procida Island
Most of those who travel to Procida are Neapolitans who visit during the summer months to escape the heat and humidity of the Italian sun and to enjoy their vacation time in peace away from the tens of thousands of International tourists who seize control of their city and the Amalfi Coast during this time.
Arriving early at the Porta Di Napoli, only a handful of us sat waiting for the Procida ferry – an old Italian lady seemingly transfixed by her crossword puzzle, a large Neapolitan family taking a weekend break. No tourists.
The journey to get to Procida from Naples took just under one hour by ferry. As the drawbridge was lowered on arrival at Procida, one of the most beautiful villages that I have ever looked upon appeared.
Pastel-coloured houses showcased perfectly presented floral displays, authentic Italian salumerias organised their produce and Italian fishermen pushed their boats out to sea.
How to Spend Two Days in Procida
The island of Procida is so small that you could walk its entirety in just two days, and there is plenty to see and do in that time. This article contains a suggested Procida Itinerary to help you make the most of a short weekend break in Procida.
Procida Itinerary Day One:




Uncover the History of Procida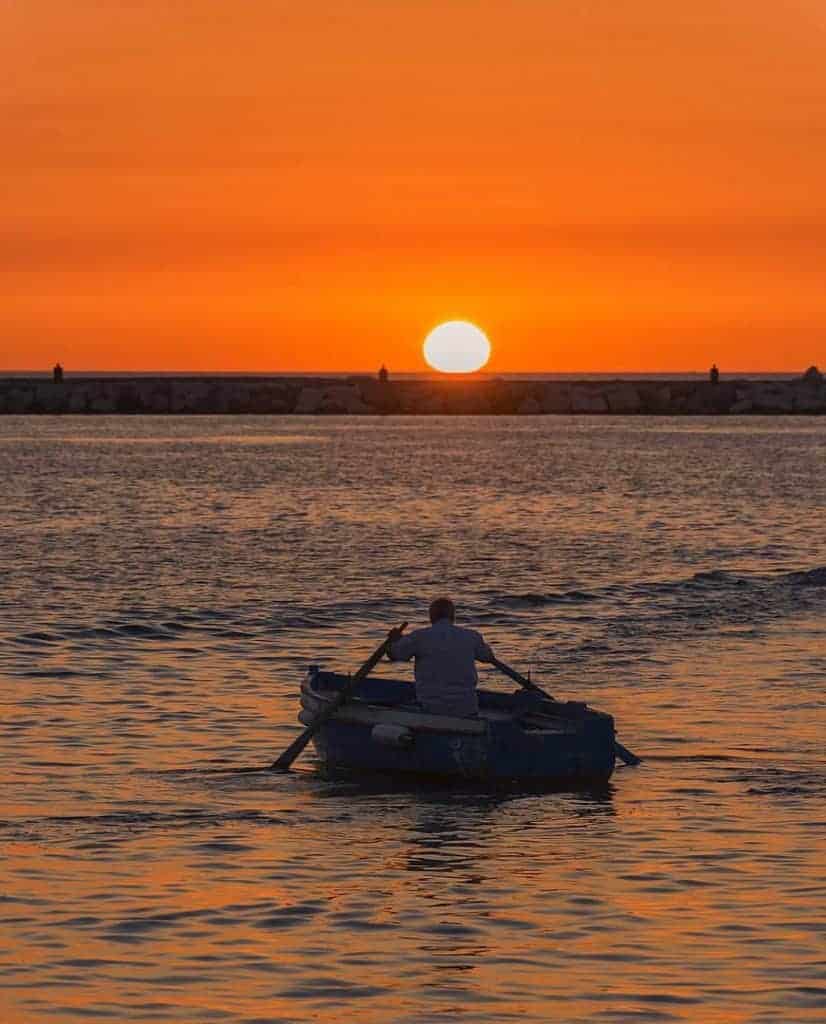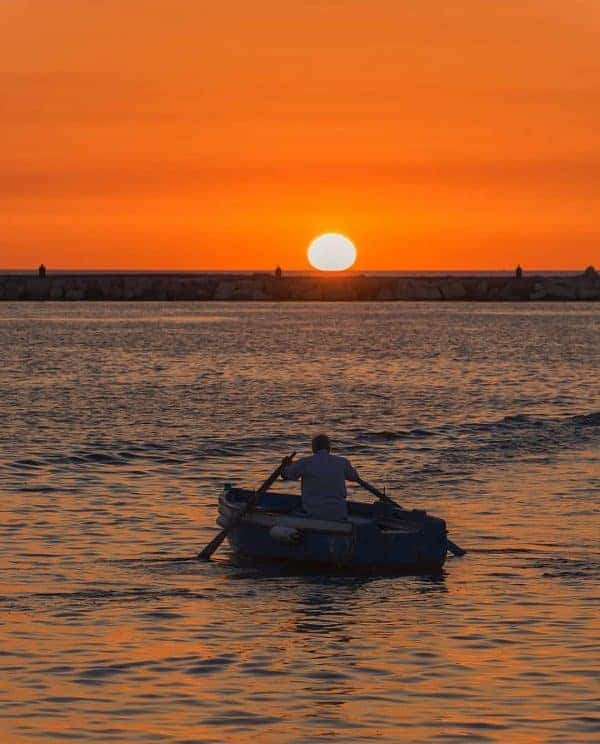 Start Your Morning the Italian Way
Try and get one of the earliest ferries from Naples to Procida to allow yourself maximum time on the island. Upon arrival in Procida, spend some time navigating your way through the labyrinth-style network of narrow streets and passageways as you admire the storefronts and patisseries that are so quintessentially Southern Italian.
Duck into one of the charming patisseries or coffee shops along the way in order to indulge in your prima colazione – breakfast Italian style. Make like the locals do and order up a sfogliatelle – a Neapolitan breakfast pastry filled with sweet ricotta and tones of citrus. Wash it all down with a delightfully frothy cappuccino and drop your bags at your Procida hotel before continuing to explore the island.
Scale the Ancient Walls of the Terra Murata
One of the main attractions of Procida island is the 15th-century walled city of the Terra Murata that sits perched atop a craggy rock. From up here, travellers can witness incredible views over the sea, as well as a birdseye view of the colourful Corricalla Bay that is always depicted in photographs and postcards of Procida.
People still live within the walled town of the Terra Murata and the delightful houses that can be found encapsulated within its fortifications are the perfect depiction of Neapolitan life – nonnas making pasta out on the street, locals hanging their laundry between their houses, and older gentlemen sitting outside their front doors watching the world go by.
Visit the Walled City's Free Attractions
Two of the main highlights of the Terra Murata are the Abbazia San Michele Arcangelo and the Santa Margherita Nuova castle – both of which are completely free to enter. The Abbey dates back to the 11th century and is considered as being one of the most important churches in Southern Italy.
The Abbazia San Michele Arcangelo was originally created in Benedictine times. It has been expanded and modified over the centuries creating a unique architectural style. The interiors of the church are painted with simple yet beautiful frescoes.
The Santa Margherita Nuova castle and its imposing stone gates stand guard at the entrance of the Terra Murata. Staircases lead up towards the watchtowers and offer some of the best panoramas and photo spots on the island.
Stop For Lunch in Corricalla Bay
The charming Corricalla Bay is perhaps the jewel in the crown of Procida island and makes a perfect spot to stop for lunch. Located just a short walk from the Terra Murata, ramshackle fishing boats and traditional taverns greet you as you approach the bay. The restaurants here specialise in seafood delicacies which are prepared with the freshest ingredients caught earlier that day.
Corricalla Bay's name originates from the Greek "Kora Cale" meaning "nice area". This is one of the oldest continually inhabited areas of the island with the houses here dating back to the medieval era. Seafood tavernas aside, Corricalla possesses an artsy vibe. The stores scattered around this area stock arts, handicrafts, and apparel products created by local designers.
Dining in Corricalla Bay places you right beside the Santa Maria Delle Grazie – the iconic domed church that has become the symbol of Procida island. With vivid frescoes and ornate fittings and furnishings, the interior of the church is every bit as impressive as its external appearance.
Marvel at the Casale Vascello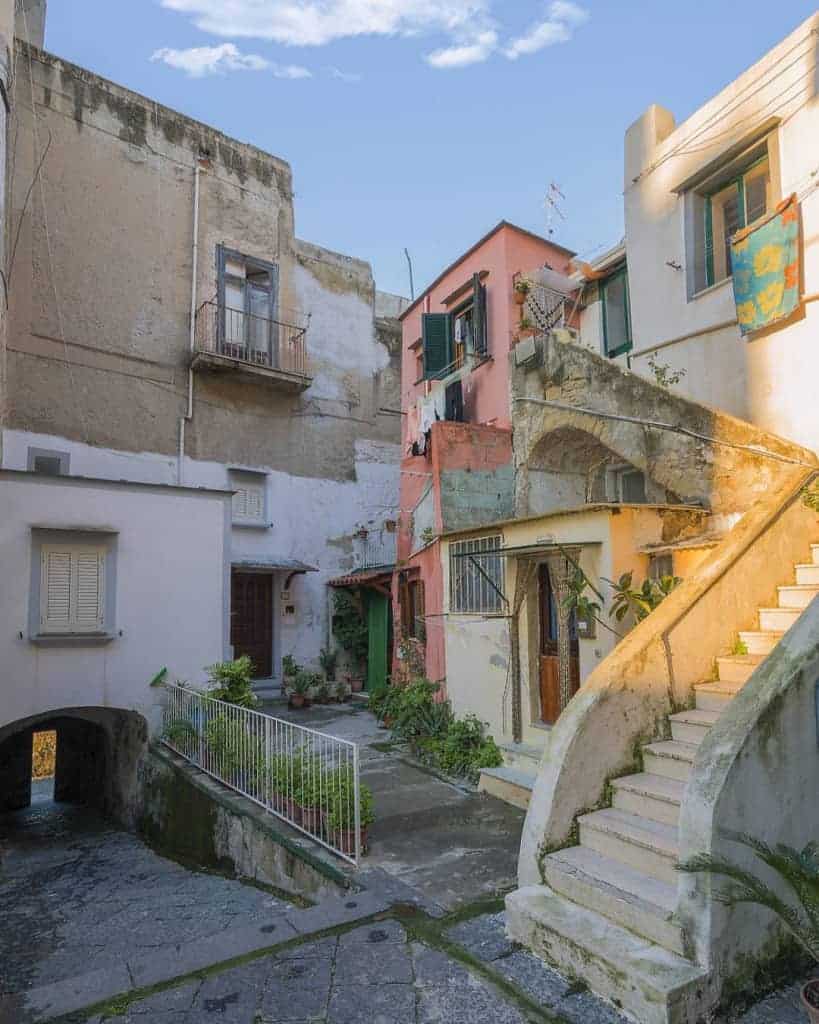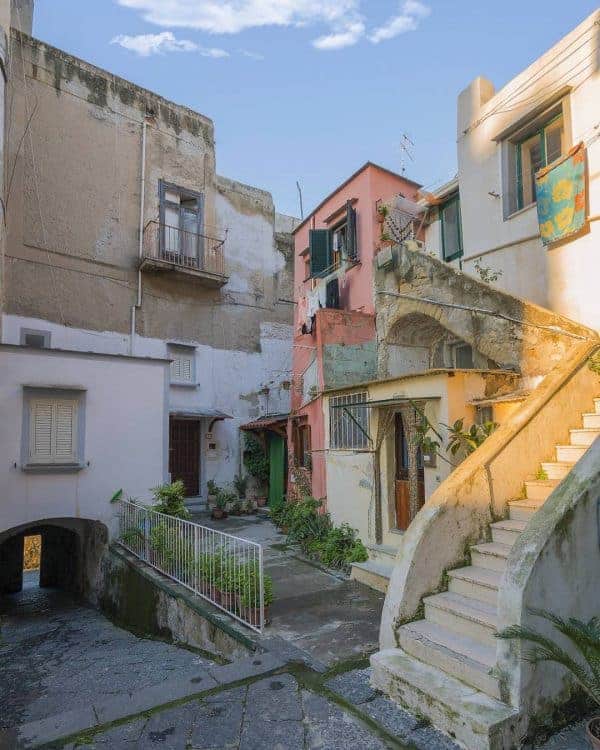 At the foot of the Terra Murata and adjacent to Corricalla Bay, Procida boasts one more fortified town – the Casale Vascello. The neighborhood is accessible from Via Principessa Margherita and is centered around a large courtyard that often sees performances from musicians during the summer months.
Relax on a Secluded, Hidden Beach
Being a Mediterranean island, the coasts of Procida are filled with beaches. Anything that is marked as "Spiaggia" is a beach, however not all Procida beaches are created equal. One of the best beaches in Procida awaits at the end of Via Cesare Battisti. Here you will find the "Spiaggia del Postino" (Postino beach).
Postino beach is approximately 20 minutes away from the Centro Storico area on foot. Follow Via Cesare Battisti to the very end. You will see a fork in the road and an old cemetery overlooking the sea. A worn dirt trail leads behind the cemetery and towards the sea. The trail looks quite unsuspecting but as it leads you down to the coast, it opens out into one of the most breathtaking beaches in Procida.
Amid the backdrop of dramatic cliffs, Postino beach with its white sands and translucent azure waters provide the perfect place to relax, swim or snorkel. Unless you specifically know where you are going, you wouldn't stumble across Postino beach as it is pretty much tucked out of the way and its entry point is not clear.
This beach is seldom crowded and makes a nice alternative to the more "touristic" beaches. An adorable surf shack style bar on the beach plays reggae tunes and serves snacks and beverages.
Postino beach is a pleasant place to watch the sunset as the sun dips behind the clouds and the sky is illuminated in hues of pink and orange.
While Away the Evening in the Centro Storico
As the evening approaches, venture into Procida's "Centro Storico"  for an aperitivo and a spot of dinner. With plenty of bar and restaurant options available, you won't be short of choices for where to eat.

Procida restaurants offer something for everyone – whether you are looking for a pizzeria, a Campania specialty dish, or something a little more western. La Locanda del Postino comes very well recommended. So too does Il Maestrale, though both take you back to the Corricella Bay area.
Procida Itinerary Day Two:




Relax and Admire the Scenic Coastline
After a leisurely breakfast and a morning coffee, hop on the bus to Chiaiolella beach. Chiaoiolella may not be as secluded as Il Postino beach but as far as beaches with great facilities go, this spot pretty much has it all.
The beach is the perfect place to swim or relax. Here, you have incredible views out to Isola Vivara and Ischia. For a few euros, it is possible to rent sunbeds, towels, etc.
Chiaoiolella may be a popular spot during the summer months, but the crowds definitely do not detract from the beauty of the area. When lunch/dinner times roll around, there are plenty of dining options available in the nearby Chiaoiolella marina.
Where to Eat on Procida Island
You will be spoiled for choice with all of the wonderful places to eat on Procida Island. Even if you wander into the first place you find, you will not be disappointed. That said, if you are looking for the best of the best, the below restaurants are some of the highest-rated in Procida. 
La Pergola
Where: Via Salette, 10, 80079 Procida NA, Italy
La Pergola is a picturesque little spot that is set within a fragrant lemon grove. Arguably one of the best restaurants in town, La Pergola is beloved by locals and travellers alike.
The restaurant serves a lot of dishes that focus on seafood, but a variety of options are available – including vegetarian choices. The handmade pasta and homemade cakes are not to be missed.  
La Lampara
Where: Via Marina di Corricella, 88, 80079 Procida NA, Italy
La Lampara is a wonderful choice if you are seeking lunch with a view. The restaurant's location above Corricella Bay means that you can enjoy sweeping views across the marina as you tuck into your food. Seafood lovers will enjoy the delicacies prepared with the fresh catches of the day.
Caracale
Where: Via Marina di Corricella, 62, 80079 Procida NA, Italy
Charming Caracale is located in the heart of Corricella bay on Procida island. Caracale is Greek for "beautiful place". That tells you all you need to know about the restaurant's location. You can find an array of Italian and Mediterranean dishes here. The menu serves up traditional recipes with a modern twist.  
Torino La Conchiglia
Where: Via Pizzaco, 10, 80079 Procida NA, Italy
Being an island, a lot of Procida's delicacies are centered around seafood. There is nowhere that this is more evident than at Torino La Conchiglia. La Conchiglia sits beside Chiaia beach, making it the perfect spot for dinner after enjoying a day of swimming and relaxation. 
Here, fresh pasta and homegrown vegetables are served with fresh catches. Think cappelletti with cockles, egg pasta with mussels, and so on. 
Getting to Procida
Boats run daily between Naples and Procida with departures taking place at regular intervals. The specific ferry timetable varies depending on the season but you can check the latest schedule that aligns with your Procida travel dates here. The journey to the island takes 40 minutes.
The two main ferry operators that run to the island are SNAV and Caremar. Return tickets cost approximately €25 euros regardless of the carrier. Frustratingly, there are about half a dozen different ticket offices scattered around the port of Naples.
The entire setup is incredibly disorganised (which you may have come to expect if you have spent any amount of time travelling in Southern Italy). It seems that each of the ticket offices sells tickets for different boat departure times so you may have to go back and forth between them to find the provider that sells the ticket for the specific time slot you want.
It is prudent to arrive at the Port of Naples early or purchase your ticket a few days before your departure so you don't waste time with this chaos. The first boat from Naples to Procida is at around 6 am and the last one back to Naples departs at 8 pm.
Getting Around Procida
The island of Procida is small enough that it's possible to walk the majority of it. That said, there are several other options to help you get from A to B faster.
Rent a Bicycle
When you arrive in Procida, there are many places where you can rent a bike for the day to explore the island. The average price for a bicycle rental is around 10 euros for one hour, 15 euros for four hours, and 25 euros for the day, so certainly worth it. This is quite a pleasant way to get around.
Getting Around Procida by Public Transport
Public transport wise, the most convenient way to get around Procida is by using the little "EAVBUS" island buses that run in a circuit to all of the main Procida beaches and attractions. You can find more information on the various routes and their timetables here.
Bus tickets can be purchased from the driver but are also a little cheaper if bought in advance from bars and tabacchis. A one-way ticket costs less than one euro. If staying in Procida for a few days, it is worth buying a stack of tickets in advance.
Getting Around Procida by Cab
It is possible to find cabs in Procida upon arrival at the port. This is obviously the pricier way to get around but it may also be the most convenient for you. Some of the cab drivers will also offer you a negotiable rate for a tour of the island.
Where to Stay in Procida
Procida remains relatively off-the-beaten-path and does not boast an awful lot of hotels. That said, there are a fair few holiday homes and rented apartments that let you live "like a local" in one of the light pink or yellow houses that are so delightfully Southern Italian.
Consider basing yourself close to Corricalla Bay or by Chiaoiolella to place yourself close to the most notable sites as well as a wide variety of dining/entertainment options. If travelling to Procida during the summer months (June – August), you should try and reserve your accommodation at least a few weeks in advance.
Some well-rated hotels that you may wish to consider are detailed below.
Hotel La Corricella
Where: Via Marina di Corricella, 88, 80079 Procida NA, Italy
Hotel La Corricella is the definitive luxury choice in Procida without the luxury price tag. The spacious double rooms here offer sweeping views across the sea. Breakfast is included in the room rate and can be enjoyed from the hotel's sun terrace.
The hotel design is simple yet elegant. Prices start from around $100 per night. You can check the latest rates and availability here.
Hotel Riviera
Where: Via Giovanni da Procida, 80079 Procida NA, Italy
If you are visiting Procida on a budget, the prices don't get much better than the Hotel Riviera. Economy double/twin rooms start from $35 per night including breakfast. The rooms are simple, clean and cosy in a very central location. Browse the latest rates and availability here.
Additional Things to do in Procida
If you have a little more time to spare in Procida, you may wish to consider adding the below activities into your itinerary. 
Visit the Isola di Vivara
The Isola di Vivara is a compact island nature reserve that is linked to the Procida mainland via a pedestrianised bridge. If you love hiking, nature, and the great outdoors, you might want to consider spending a day here. You can stroll along Vivara's walking paths, and enjoy a picnic amid the tranquil settings. 
Take a Day Trip to Ischia
Ischia and Procida are the two Phlegrean islands that float off the coast of Naples in Southern Italy. It is easy to get a boat to Ischia or nearby Capri from Procida. While Procida is characterised by its quaint villages and relaxing beaches, Ischia is known for its natural thermal spas. 
The route from Procida to Ischia is serviced by four ferry companies, and boats run frequently throughout the day. Walk up to the Aragonese Castle that watches over the island, soak in the thermal baths, and have lunch in the sleepy Sant'Angelo harbour, before catching a boat back to Procida in time for a nightcap.
Tour the Former Prison of Procida
The Palazzo D'Avalos is the main building of Procida's Terra Murata. It was constructed in 1500 and used as a prison The structure is an interesting example of Renaissance architecture. Its various rooms and annexes can be viewed on a tour of the prison.
Conclusion
The sights and sounds of Procida can be seen in a day or two. That said, you could easily enjoy as much as a week on the island's beaches. If you are on a tight schedule, you can also do a day tour of Procida from Naples such as this one.
Have any questions about travelling to Procida or planning an Italy trip in general? I used to live in Naples and will be happy to assist you any way I can. Feel free to drop me a comment below or send me an email. Safe travels, Melissa xo
Disclaimer: This Procida Travel Guide may contain affiliate links. This means that I may obtain a small amount of commission if you make a purchase through some of the links on this page. This is charged at no extra cost to you.Thank you.
---