Santorini quotes are great to read and discover. They can work well as Santorini Instagram captions for the beautiful photos that you took on the island.

Alternatively, they can be nice to read while you are at home, daydreaming about sunnier climes and planning your next escape to Greece. Hundreds of people have written about their love for Santorini over the years.
You will find Santorini quotes in magazines and travel literature, in novels, in movies, and in songs. This is one of the most popular travel destinations in Greece (and Europe in general).
This is for good reason. Santorini is breathtaking.
Yes, Santorini may become crowded during the summer months and may have been photographed to death on social media. But none of that detracts from its charm and some places are popular for a reason.
Falling in Love with Beautiful Santorini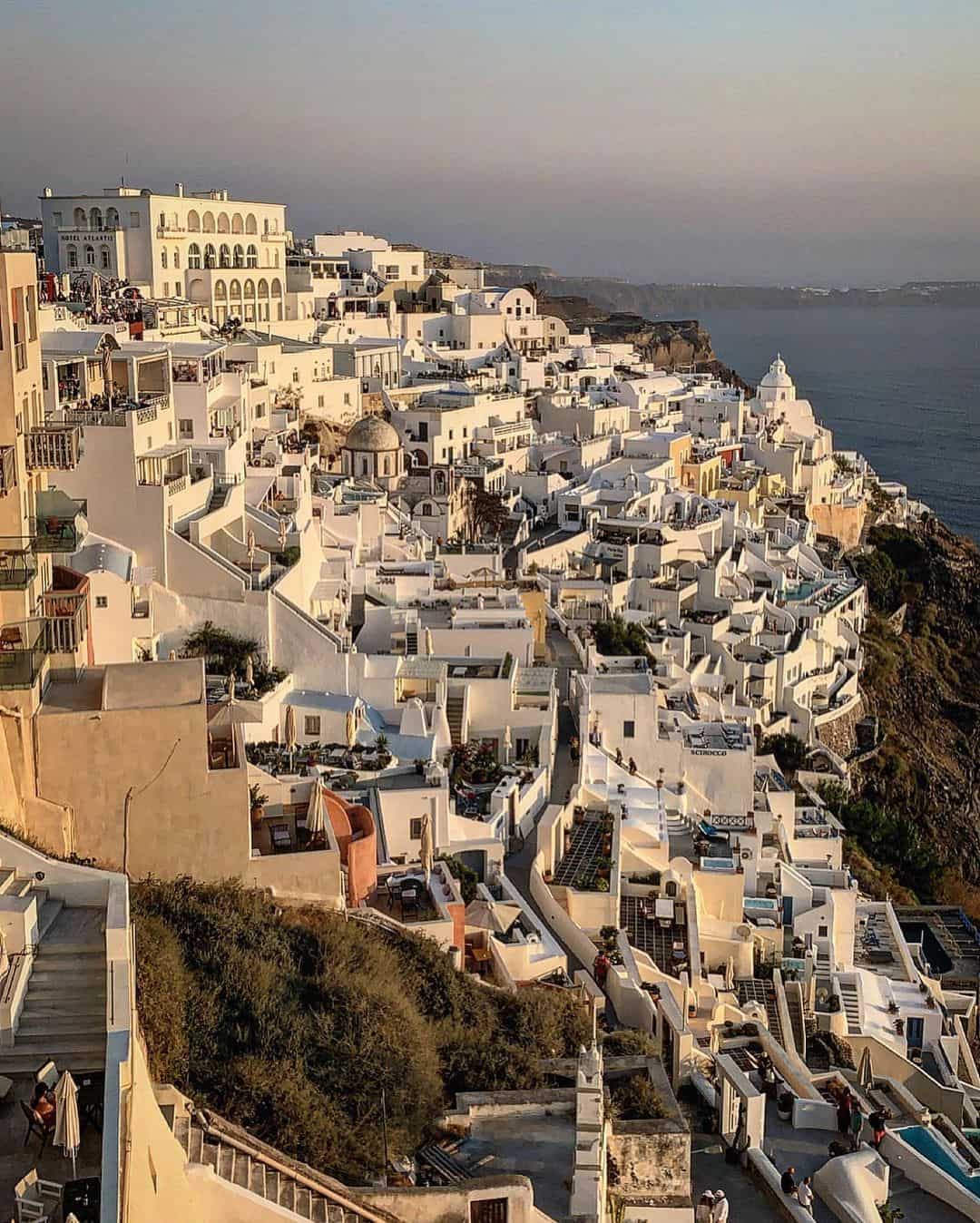 Santorini is a beautiful place to explore. You may opt to visit the island as part of a wider trip around the Cyclades or you may be dedicating the entirety of your Greece itinerary to charming Santorini.
Whatever your choice, there is plenty to do here to keep you occupied. Conquer the infamous scenic hike from Fira to Oia, tuck into exquisite seafood in Ammoudi Bay, and indulge in a tasting at a local winery.
There are more than 18 wineries in Santorini and many offer tours and tastings. Santorini is known for the grape Assyrtiko, although various grapes are grown here.
The rich, fertile volcanic soil of the island, along with the unique production process, contributes to Santorini wines being some of the best in Greece. Tastings are usually paired with an excellent charcuterie selection of local products.
Santorini is renowned for being one of the most beautiful places to watch the sunset in the world. Making sure that you witness a spectacular sunset from one of the island's many vantage points should be high on your Santorini bucket list.
A lot of local companies offer sunset cruises which give you the perfect opportunity to see the sunset from the water. These cruises usually include cocktails and dinner and make several stops along the route. That way, you can get gorgeous and unique Santorini sunset photos without the crowds.
Other Santorini sunset locations to add to your radar? Head to the old Venetian castle of Skaros in Imerovigli, the donkey stairs to Skala, or the Akrotiri lighthouse.
Santorini Quotes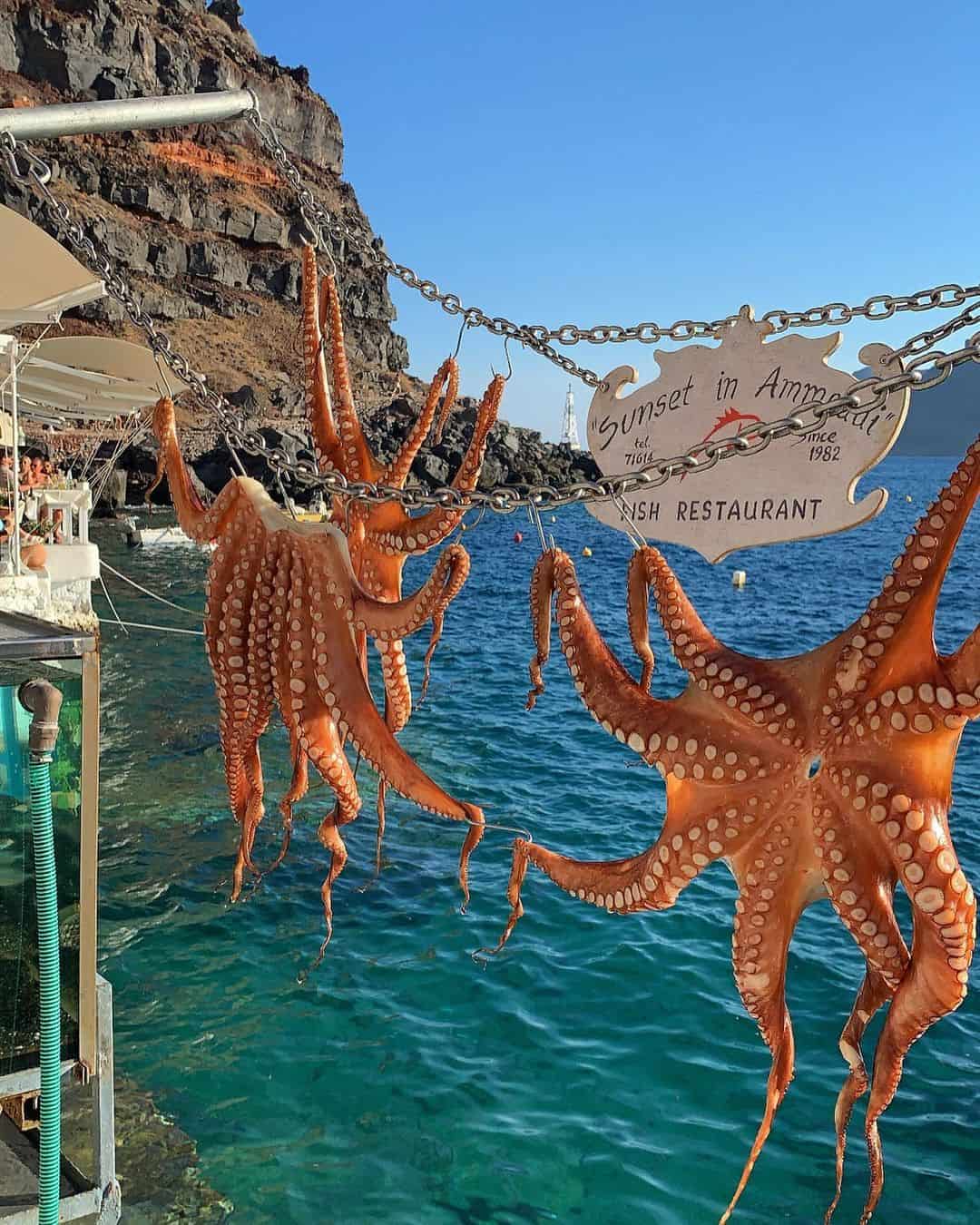 Santorini's boutique hotels and fine dining make it one of the classier Greek islands, but this is balanced by the down-to-earth hospitality and tradition for which Greece is renowned.

Mike Gerrard, English Travel Writer
The light of Greece opened my eyes, penetrated my pores, expanded my whole being

Henry Miller, Writer
Santorini is calling and I must go

Anon
On a summers night, I have sat on the balcony drinking Ouzo, watching the ghosts of Greek Heroes sailing past, listening to the rustle of their sail cloths and the gentle lapping of their oars…and lain alongside Pythagoras watching him study the myriad of triangles in the constellations twinkling above us. Whether it was Crete, the heat, the Ouzo, or a combination, it is unequaled anywhere other than Santorini, in my humble opinion.

Phil Simpkin, Writer
More Santorini Quotes
Off the Santorini cliff on a dark, starless night, I tossed a message in a bottle and love found me washed up on the black lava sand of the Aegean shore. As with my previous loves, volcanic in nature. Almost destructive before it started.

Melody Lee, Writer
Of all the peoples, the Greeks have dreamt the dream of life best

Johann Wolfgang Von Goethe, German Writer
According to some theories, the legendary Atlantis said to have sunk beneath the sea in a great cataclysm, is in actuality the Greek island of Santorini.

Laura Brooks, Author of Disney´s Beauty and the Beast
The sea was sapphire coloured, and the sky burned like a heated opal through the air; We hoisted sail; the wind was blowing fair. For the blue lands that to the eastward lie.

Oscar Wilde
The only sounds: -when 'gan the West to burn, and a red sun upon the seas to ride, I stood upon the soil of Greece at last!

Oscar Wilde, Irish Writer
It takes a lifetime for someone to discover Greece, but only an instance to fall in love with her.

Henry Miller, American Writer
Greece: The feeling of being lost in time and geography with months and years hazily sparkling ahead in a prospect of un-conjecturable magic

Patrick Leigh Fermor, English Writer
Greece was a muse. It inspired creativity in magical ways that I can't even begin to understand or explain

Joe Bonamassa, American Musician
I want to have an 'Eat, Pray, Love' experience where I drop off the face of the planet and move to Greece.

Jennifer Hyman, Businesswoman
Greece? The place enchanted me

Joanna Lumley, British Actress
I enjoyed Greece. Santorini, thats somewhere I always want to be

Kendall Jenner, Supermodel
And now Percy has his arms around me and Santorini and the sea are spread like a feast before us and there is sky all the way to the horizon. And what a sky it is.

Mackenzi Lee, American Author
Greece is the most magical place on earth

Kylie Bax, New Zealand Model and Actress
Work tip: stand up, stretch, take a walk, get on a plane, go to Santorini, never return

Anon
We descended from the chariot and walked across the volcanic Island in the Cyclades group of Greek islands. A fear did wake me like the active Santorini. I felt, anytime my mind outbreaks with the real passion of words. But I maintained my mind with a silent revenge, which was active, secretly in my inward cavity

Nithin Purple, Indian Poet
Give me a word, any word, and I will tell you that the root of that word is Greek

My Big Fat Greek Wedding
Santorini Instagram Captions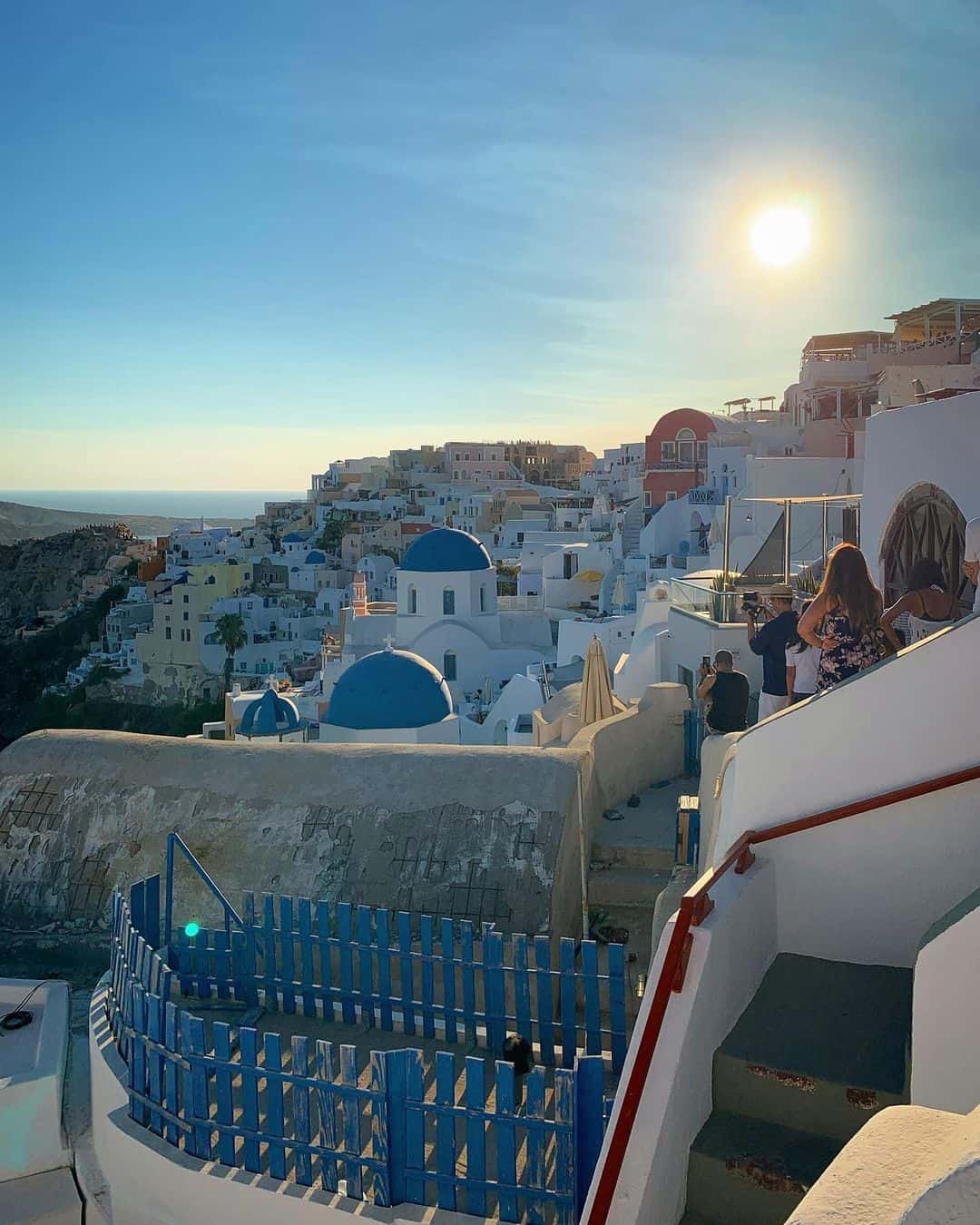 Quotes about Santorini are cute. They help to set off your imagination to envisage yourself sitting outside a little blue and white taverna in Ammoudi bay, tucking into a Greek salad, a few meze dishes, and washing it all down with a glass of local wine.
But perhaps you are just looking for a short, fun, and snappy Santorini Instagram caption to post with your photo.
Because honestly, in an age of reels and TikTok, who is really even reading captions anymore? The below Santorini Instagram captions are nice to keep in mind when planning your Instagram story template.
Silly Santorini Instagram Captions and Puns
I don´t know about you but I am just Greeking out about these views in Oia!


Feta late than never!


You could say that I don't know that much about Greek mythology. It's my Achilles' elbow!


Greecey hair, don't care. I'm in Santorini!


I'm going to myth you when I leave, Santorini


Santorini simply ouzos with charm


I can be your gyro baby


Save water, drink ouzo!


Greece is the word


Greetings from Santorini!


Why it´s Greeeeced lightning!


Santorini, olive you so much


Santorini is absolutely blue-tiful


It's in one Oia and out the other


You odyssey this view!


Let the sea set you free


Blue and white: my favourite colours


What's up beaches


Santorini, our tans might fade but our memories will last forever!
More Simple Santorini Instagram Captions
Meanwhile in Santorini…


Santorini sunsets


50 shades of blue in Santorini


Having my own Eat-Pray-Love experience in Santorini


Once upon a time in Santorini


You can never have too much Santorini


No one likes a shady beach


What happens on vacation in Santorini, stays on vacation in Santorini


Kalimera Santorini, Sagapo! (Good morning Santorini, I love you!)


Oh Santorini mou (My Santorini)


There is no time to be blue when you're in Santorini!


Santorini is calling and I must go


Just leave me here


Mamma Mia, here I go again!


Santorini is always a good idea


Money can't buy you happiness but it can buy a trip to Santorini and that's kind of the same thing


So close, yet so Fira!


Kalispera Santorini


S'agapo, Santorini!


I'm in a good place right now. Not emotionally, I'm just in Greece!


Whatever the question is, the answer is always Santorini!


Morning views in Santorini…


The view from our balcony in Santorini…


Never met a Greek island I didn't like


Heaven is a place on earth. Its name is Santorini.


It's all Greek to me!


Take another Greece of my heart


The best memories are made in flip flops


If I don't get into heaven, at least let me go to Santorini


Greek food: my Achilles heel!


Some call it heaven, I call it Santorini


Happiness comes in waves


Somewhere between living and dreaming, there's Santorini


Santorini, you have me under your spell


Living out my Mamma Mia life in Santorini


Had a wonderful vacation in Santorini and one thing is for certain: I'll be baklava!


We will always have Santorini


I followed my heart and it led me to Santorini


Heading to Santorini for some vitamin sea


I need to find someone that looks at me the same way I look at Santorini
Even more Santorini Instagram captions
I Hades to have to leave you Santorini


Gone to Santorini. Back never


Life leads you down many paths but the best ones lead to Ammoudi Bay!


Girls just wanna have sun!


I miss being in Santorini and not knowing what day of the week it is!


Good times and tan lines


Just want to move to Greece and run away with a man named Stavros, to be honest


Just arrived in the land of feta and ouzo


Morning views in Santorini don't make me blue


Endless blue


Mornings like these


Beach please!


Nothing but blue skies


Happiness is a glass of wine and a Santorini sunset


Santorini, I already Arte-miss you


How do you get in contact with a Greek architect? You column


Oh my Zeus!


Just getting some fresh Ares at the beach


Go big or go Homer!


White and blue look so good on me


Making memories in Santorini


Mamma Mia!


I never want to leave Santorini. I falafel about it


"How do you say sorry in Greek?" "I Apollo-gies"


Just arrived in Oia and I can tell you social media -> Real life
Final thoughts on these Santorini quotes and Instagram captions
Have any other favourite Santorini quotes or Santorini Instagram captions that you would like to share? Drop a comment below. You might also enjoy this broader list of Greece quotes.
Similarly, if you are planning a trip to Greece and you are trying to decide between Santorini and Mykonos, you may enjoy reading this list of facts about Santorini, or these books about Greece.
I have lived in Greece since 2017 and have fallen madly in love with my adopted home. If you have any questions about traveling or moving here, I am always happy to help.
Safe travels! Geia sou! Melissa xo
---