Facts about Santorini? Most travellers may visit the popular Cyclades island in order to witness its breathtaking sunsets or stay in its ultra-luxe hotels. 
Gorgeous Santorini is one of the best-loved travel destinations in Greece, and for good reason. Conquer the infamous Fira to Oia hike, have a fresh seafood lunch at Ammoudi Bay, and relax on the majestic beaches. 
It is always useful to have a little background information about the places we visit. This helps us gain a deeper understanding and put what we are seeing into more context. The facts about Santorini here may be things that you never knew, and yet, help you appreciate the island even more!
Facts About Santorini Greece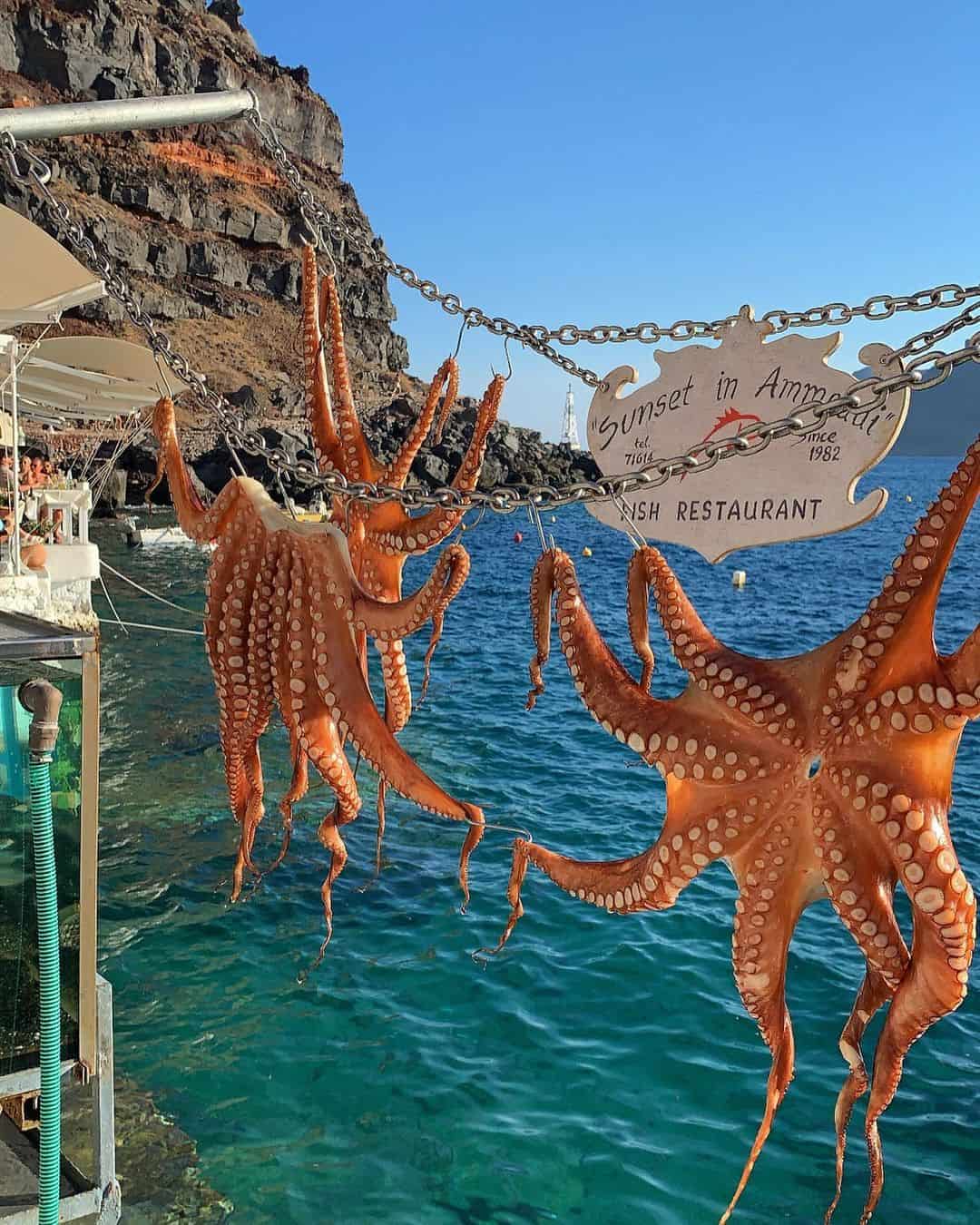 Santorini is the only inhabited caldera in the world 
Santorini is the world's only inhabited caldera. Here, many of the cave houses and buildings actually sit atop volcanic soil.

The volcano here is presently dormant. However, it has erupted several times over the course of history and indeed, its eruptions are to thank for the island's colourful sand beaches!
The last eruption of Santorini's volcano was in 1950 and that was only minor. Is the Santorini volcano likely to erupt again?

Quite possibly. It is far from extinct. But as with all volcanoes, scientists monitor Santorini and it is currently dormant.
Santorini was previously known by another name
Santorini didn't always go by the name of Santorini. This little island was previously known as Strogill, Kallisti, and Theras.

Each of these names has different meanings. "Strogill" means round, "Theras" means the son of a king and "kallisti" means the most beautiful.

Latin inhabitants of the island changed its name in the 13th century to honour Saint Irene. Eventually, the name became Santorini. 
Where is Santorini?
Where is Santorini? Santorini is situated in the south Aegean Sea, south of Athens and the Greek mainland.

It is part of the Cyclades archipelago which is made up of approximately 220 islands. It is 200km south of Athens and it is relatively easy to get from Athens to Santorini (and vice versa). You can opt to do so via ferry from Piraeus or by plane.
What is the meaning of "Oia" and "Fira"?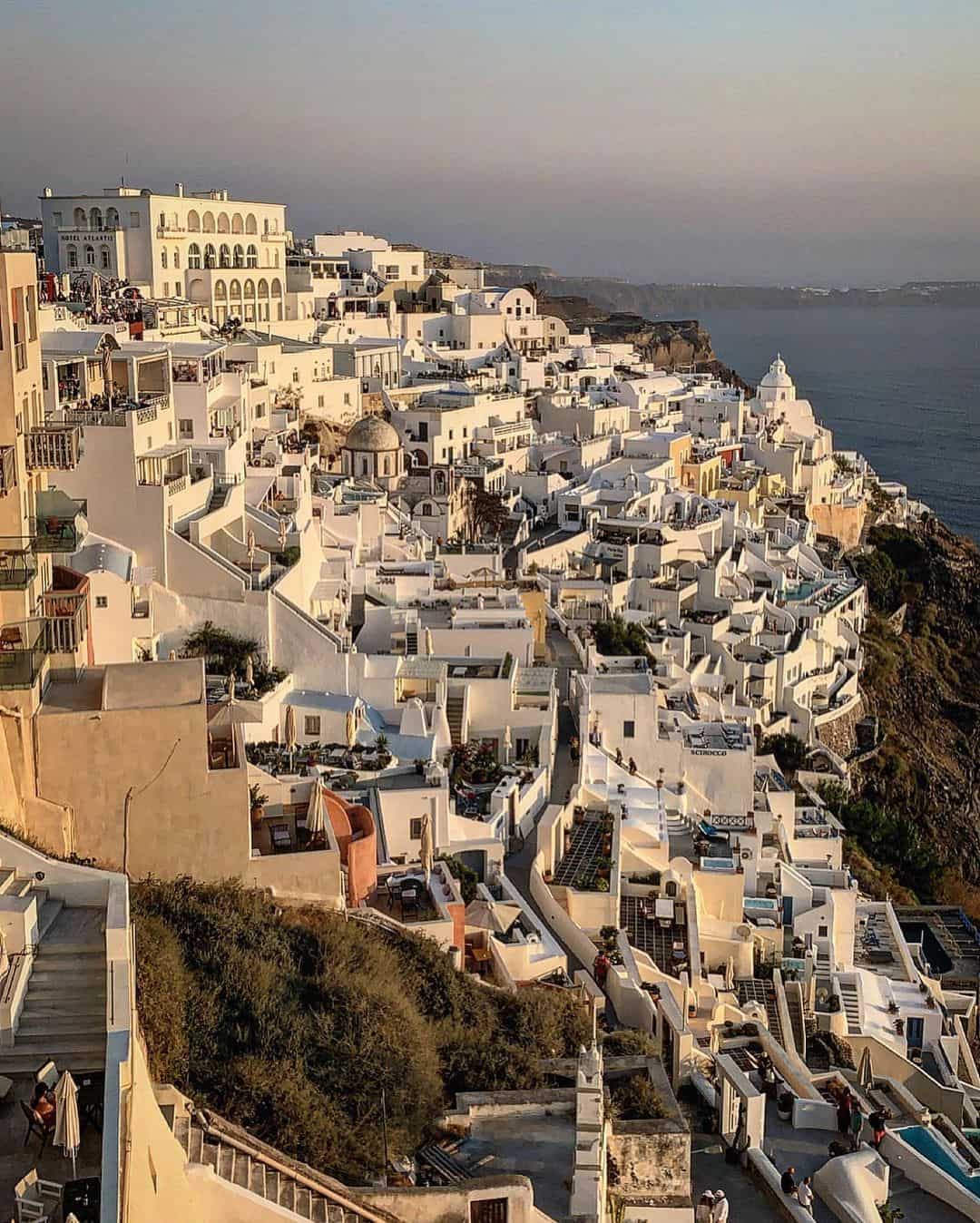 Most Greek places/names are not "just" names. The vast majority have some kind of meaning in Greek.

A lot of Santorini locals believe that the name "Oia" means "far" in the Doric dialect. Similarly, "Fira" or "Thira" as it is often spelt, takes its name from the legend Thiras who colonised the island. 
There are over 100 varieties of grapes on Santorini!
Santorini, like many Greek islands, dabbles in its own winemaking. There are more than 18 wineries scattered across the little island.
Nine of the 100 grape varieties found here are indigenous to Santorini, including the famous Assyrtiko. The island's unique climate and rich, volcanic soil make Santorini one of the best wine regions in Greece.

A number of reputable companies offer Santorini wine tours. However, you can also organise tours and tastings with wineries and vineyards independently. 
Santorini is the home of tomatokeftedes
Tomatokeftedes (tomato fritters) hail from Santorini and feature on most Santorini menus. They are most commonly enjoyed as an appetiser or a meze dish to share.

You will find them across the Cyclades and elsewhere in Greece. But Santorini is the true home of the tomato fritter.

To create the dish, crushed tomatoes are combined with herbs, red onion, and feta cheese. They are then gently fried in olive oil.

You can recreate these at home too and they are relatively simple to make. However, arguably the sweet, delicious tomatoes grown in Santorini's volcanic soil are what make the tomatokeftedes here so special.
Fava bean puree hails from here too
Fava bean puree also hails from the island of Santorini. This yellow dip is a favourite starter/meze across Greece but it originated here, where the fava beans are grown.
The fava beans are pureed and cooked with fresh garlic, thyme and onions. A drizzle of lemon juice and olive oil and a scattering of capers are usually added to the top of the fava. This is typically then served with crusty bread for dipping.
Several movies have been filmed here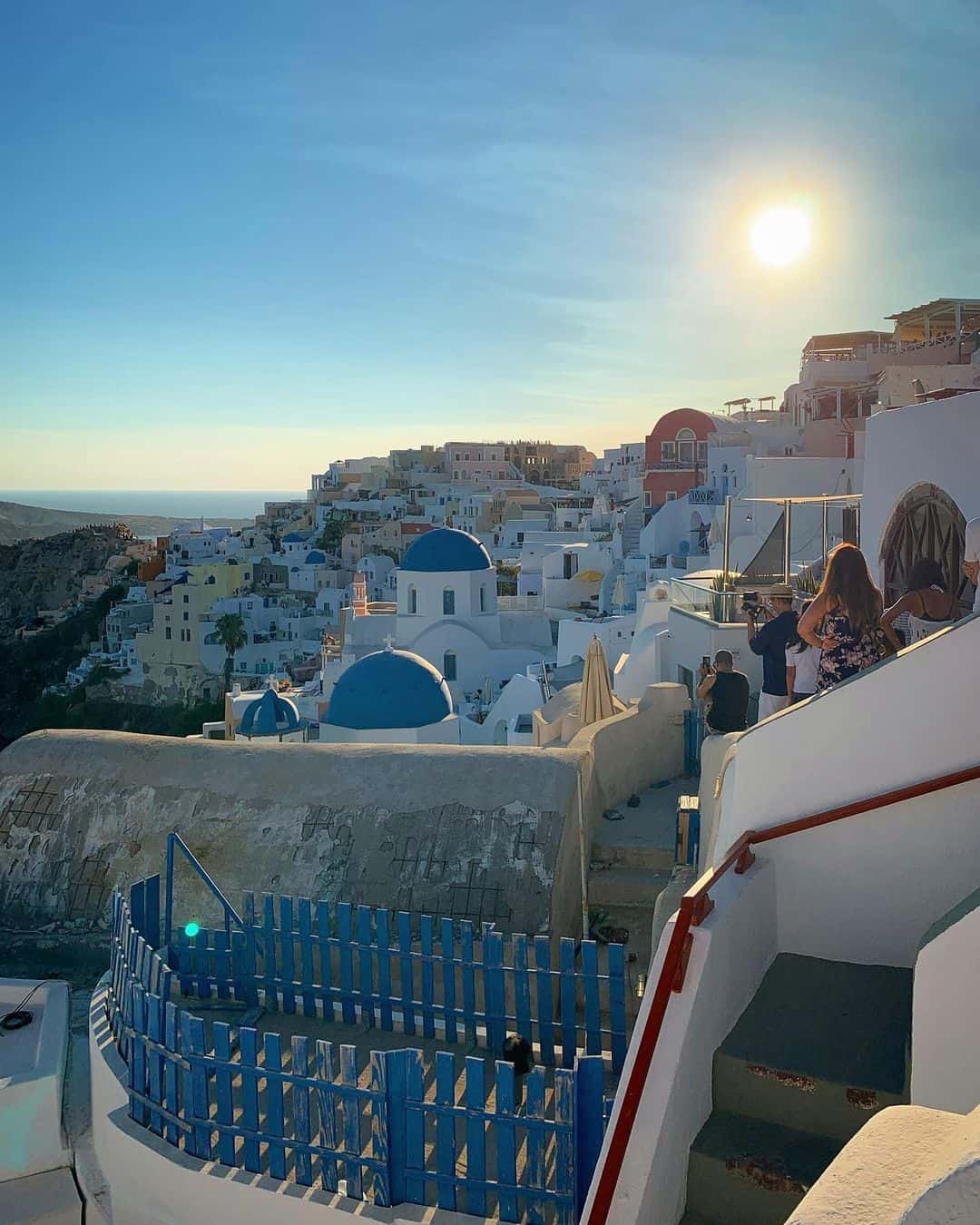 Gorgeous Santorini has acted as the filming location for a number of Hollywood movies. These include movies about Greece and general action movies.

Movies about Greece that have been shot here include Santorini Blue (2013) and Summer Lovers (1982). Chick Flick The Sisterhood of the Travelling Pants (2005), and the original 2003 Tomb Raider starring Angelina Jolie.   
Different civilisations have ruled Santorini over the centuries
Santorini, like much of Greece and Southern Europe, has passed through the hands of different rulers and civilisations over the centuries. Each has left its mark on the island's culture, cuisine, and architecture.

The Venetians and the Byzantines ruled Santorini for centuries. That is until the Ottoman Turks took over. Greece finally gained its independence from Turkey in 1821. 
The Minoan eruption was one of the largest volcanic eruptions in history
The Santorini volcano has erupted a number of times throughout history. However, no eruption was larger or more damaging than the Minoan eruption in around 1613 BC.
This was one of the largest Plinian eruptions on earth in the past 10,000 years. In fact, it was so large that it is believed to have destroyed the majority of the island, completely changing its shape.

This was the second-largest volcanic eruption in human history. It is second only to the eruption of Mount Tambora in Indonesia in 1815. 
Akrotiri is essentially Greece's Pompeii
The archeological site of Akrotiri, Santorini is one of the most important historic sites in the Aegean. It could be compared to Italy's Pompeii, as the entire settlement was buried under dust and debris following a volcanic eruption.
It was home to the Minoans for more than 4000 years and is well preserved to look almost as it would have appeared in 1500 BC. Akrotiri was initially a humble farming village before its strategic location by the sea transformed it into an important and prosperous port city.
Santorini may be the lost city of Atlantis
There is an ongoing debate and discussion as to whether Santorini is the lost city of Atlantis. Greek Philosopher Plato mentioned the great civilisation of Atlantis in his musings.
He later states that Atlantis suffered a terrible earthquake and a flood, causing it to completely sink into the ocean. But was mythical Atlantis a real place?

It appears that Plato uses Atlantis as an analogy to illustrate a point about the dangers of aggressive imperialism. But the metaphor was lost on some who have been searching for the lost, advanced continent for thousands of years.

Excavations at Akrotiri suggest that Santorini could well be the Atlantis we hear about. At least in terms of Plato's own musings. However, even so, there are also those that argue that Atlantis was based on Minoan civilisations in Crete.
How big is Santorini?
Santorini has a population of 15,500 and an area of 76 square miles. You can drive from one side of the island to another in around 45 minutes. 
There are approximately 13,500 permanent residents on the island. However, approximately two million people visit the island every year, causing the population to swell significantly during the Greek summer months. 
The island did not have electricity until 1960
Today, Santorini is synonymous with luxury hotels, infinity pools, and upscale bars and restaurants. Tourism has caused the island to accelerate its growth and development.

However, prior to 1960, there was no electricity on the island. Most people worked in humble professions (e.g.) fishermen. They got around by donkeys and mules – much like on the Greek island of Hydra today. 
Santorini boasts relaxing hot springs
One of the perks of Santorini being a volcanic island is that the island is home to natural thermal hot springs. What could be a better way to indulge in some R&R on your Greek island hopping vacation?
The underground volcanic activity means that the water maintains a constant temperature between 30 and 35 degrees Celsius. The springs can be found on the tiny, uninhabited islet of Palea Kameni.
They get very crowded during the busy summer months so it is worthwhile considering travelling out of season. Spring and Autumn in Greece are very pleasant times to visit. Temperatures are warm but not unbearable, and the prices and crowds are significantly reduced.
---