How to get from Athens to Santorini? You have two options.
You can either opt to make the journey by boat, or make the journey by plane. Of course, each choice has its pros and cons.
The most suitable option for you depends on your travel budget and your personal preferences. This Athens to Santorini guide will discuss the two options, their costs, and practical considerations.
How to Get from Athens to Santorini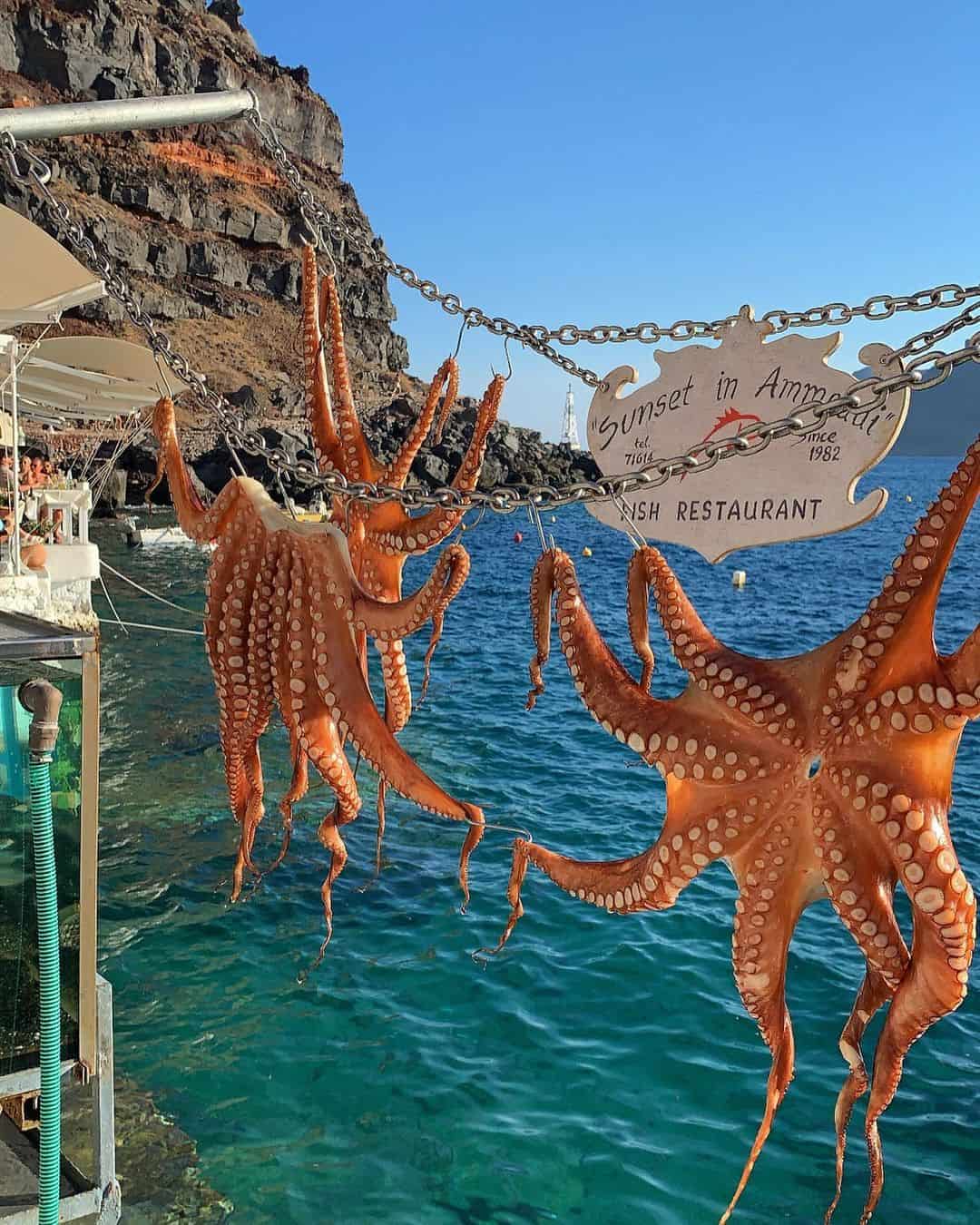 The lovely Cycladic island of Santorini is one of the most popular places to visit in Greece. Adventurers from across the world daydream of navigating their way through the cobbled streets of Fira.
Santorini is widely regarded as being home to one of the very best sunsets in the world. Few things could be more magical than watching a magnificent sunset from atop a blue and white Cycladic house that is oh so quintessentially Greek.
How to Get from Athens to Santorini
Transportation links from Athens to Santorini are plentiful. This is especially the case during the peak summer months.
Both ferries and planes depart daily from Athens to Santorini all year round. Between June to September, there are approximately 15-20 flights departing every day.
Additionally, there are 4-5 ferries sailing out each day from the port at Piraeus during this time. Santorini has approximately 13,500 permanent inhabitants.
Ferries and planes do run to Santorini, even in the middle of December and January. However, their schedule is less frequent.
Athens to Santorini by Plane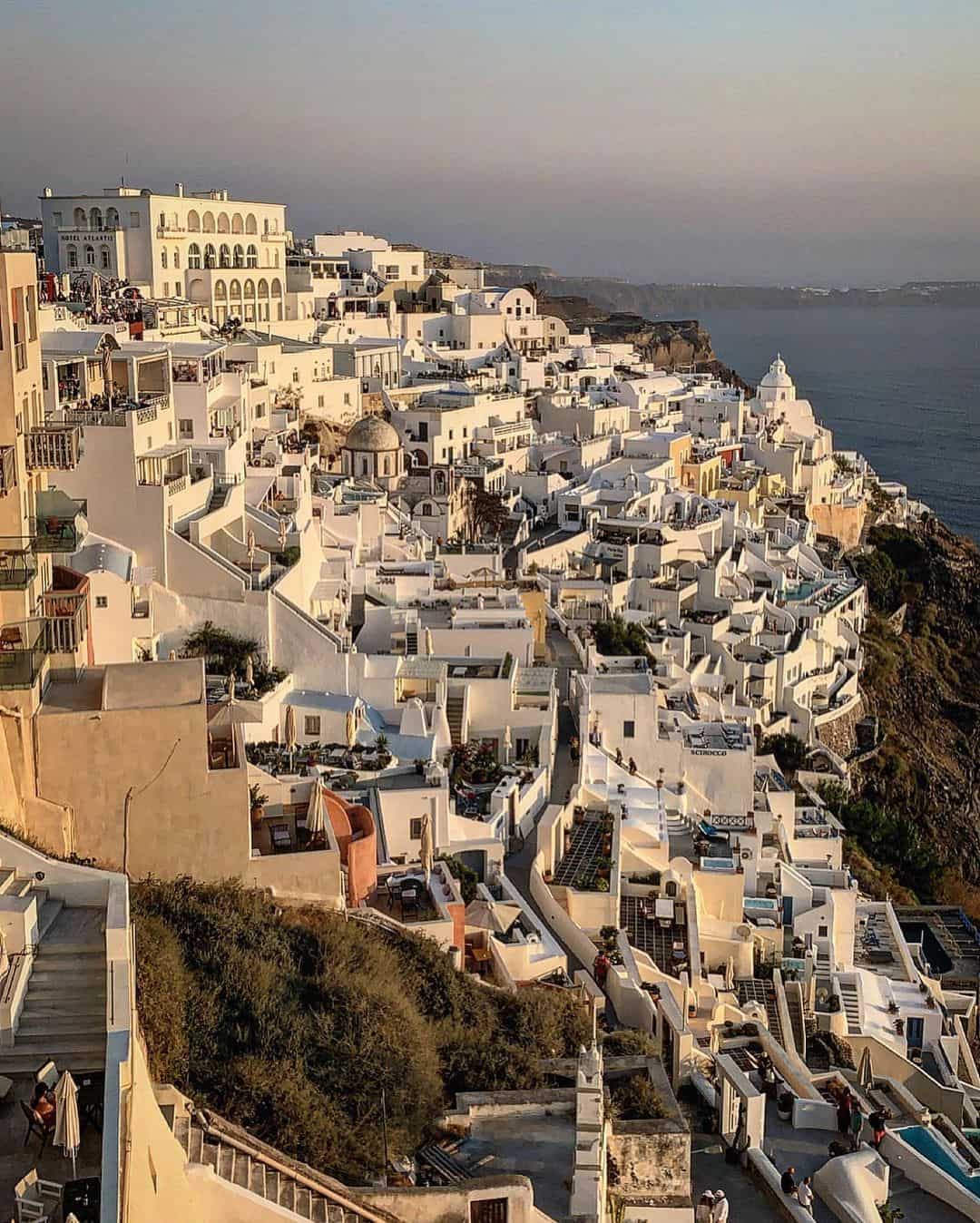 It takes 45 minutes to fly from Athens to Santorini via Athens' Eleftherios Venizelos International airport. A number of budget airlines service this flight route, including Olympic Airlines, Volotea, and RyanAir. 
Flight prices vary depending on the season in which you are travelling. However, with that in mind, tickets are pretty reasonably priced even in the height of summer!
A ticket from Athens to Santorini via RyanAir can be purchased for as little as 25 euros between October and March. Meanwhile, you can expect to pay between 75-100 euros one way between June and September.
Finding the Cheapest Flight Deals to Santorini
If you want to fly to Santorini rather than take the ferry, use Skyscanner to check for the best deals. You can search across the entire month.
This brings up a little grid displaying the different prices on every individual day. It is advisable to check a broad range of dates in this manner as prices can fluctuate a lot on a day-to-day basis.
You can also use another flight search engine to cross-reference against if you like. Once you find a suitable flight, try and book it in advance if you can.
It is not uncommon for summer flights to sell out months in advance. Prices also start to creep up as you get closer to the departure date.
Try and browse using incognito mode on your computer/mobile browser. It's sneaky, but flight booking websites often use cookies to track visitors to their site.
If they see multiple searches from the same IP address, you might notice that the price sneaks up! Keep in mind that the initial prices listed are generally not inclusive of baggage and additional extras.
Getting to Santorini Without Stopping in Athens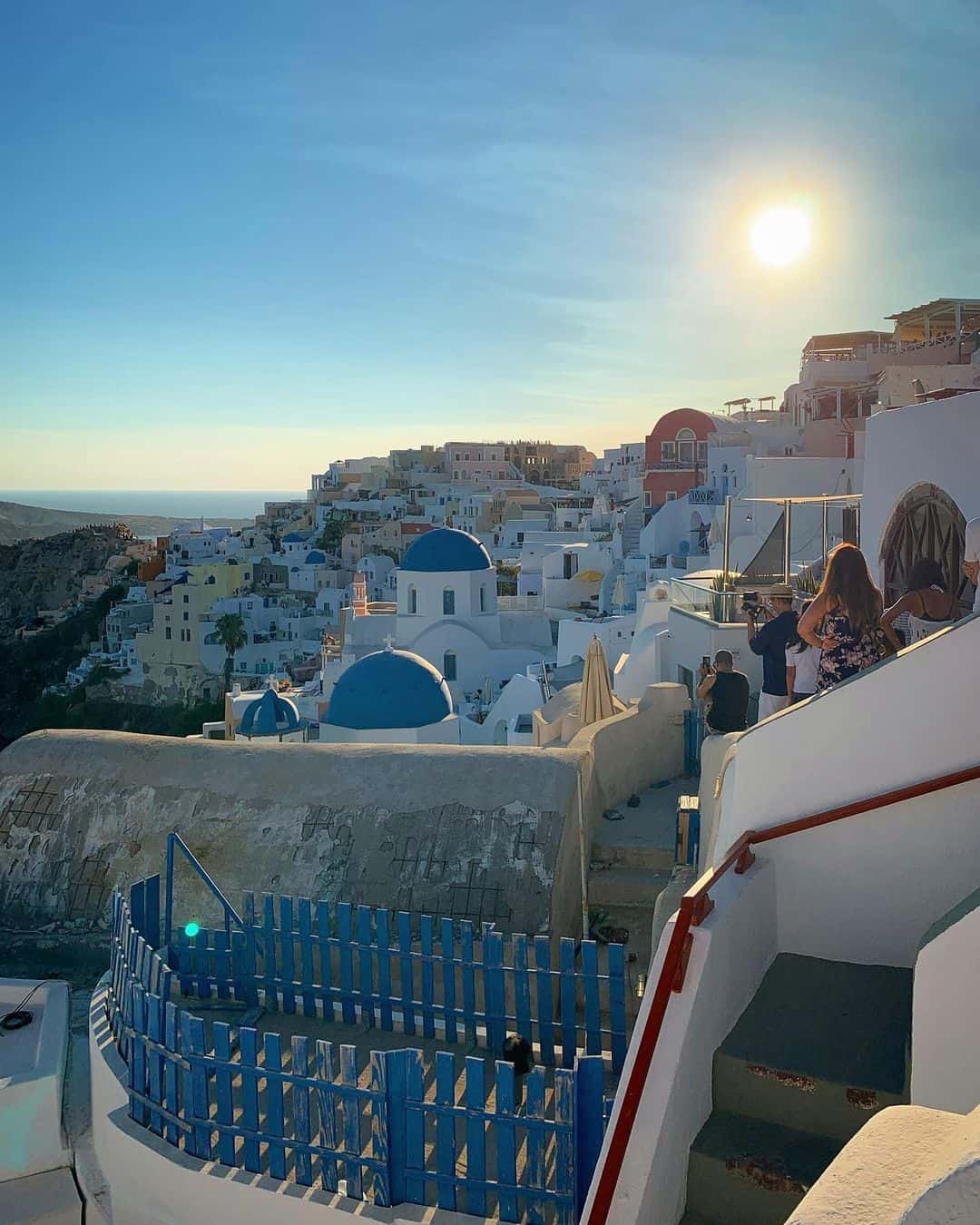 You may be visiting both Athens and Santorini on a wider Greece itinerary. However, if you have no intention of stopping in the Greek capital, you may be able to get a direct flight.
Flights run direct to Santorini from numerous Airports across Europe and the world. Olympic Air, Easyjet, and RyanAir all serve routes to Santorini from mainland Europe.
They depart from places like the UK, France, the Netherlands, etc. If you are travelling from the United States, it generally works out cheaper to fly to Athens first.
Getting from Athens City to Eleftherios Venizelos International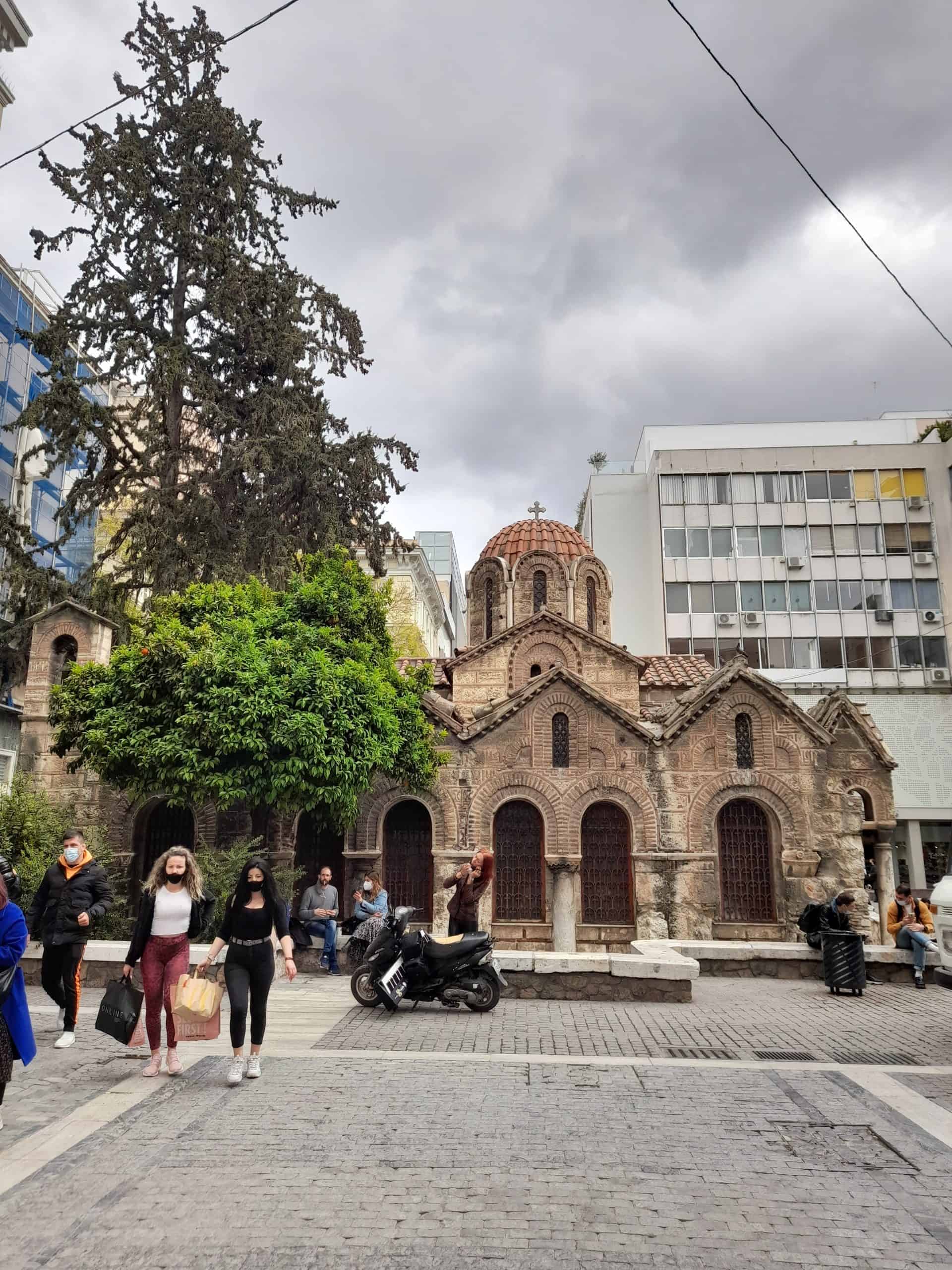 Getting from Athens city to the airport and vice versa is easy. You can either take the X95 bus from the city or the X96 bus from Piraeus.
Alternatively, hop on board the blue line metro to its final stop. Both the X95 bus and the metro depart at frequent intervals from Athens' Syntagma central square.
It's worth keeping in mind that some metro services only run as far as Doukissis Plakentias station. At this point, you need to get off the train and wait for the train that continues onwards to the airport.
Transferring from the Airport in Santorini
Santorini airport is situated just 15 minutes outside of Fira. This airport is tiny which may seem surprising considering it services millions of travellers every year.
During the summer months, it gets incredibly crowded and it can be nightmarish waiting for your luggage/an airport transfer. Pack plenty of patience and keep in mind that you may be waiting at the airport for a short while.
Transfers to Fira and Beyond
Public KTEL buses run from Santorini airport to Fira at regular intervals. Buses are spacious, air-conditioned, and a one-way ticket costs just €1.70.
Unfortunately, buses do not run directly from Santorini airport to Oia or other destinations around the island. You must first take the bus to Fira.
Then, you can transfer to the bus for Oia/Firostefani/Imerovigli/etc. It takes approximately 25 minutes to get to Fira by bus from the airport.
Most people prefer the comfort of taking a cab or organising a private transfer to take them from Santorini airport to their destination. Cabs to Fira cost a €35 flat rate.
From the airport to Oia, you can expect to pay €47. You may want to organise a private transfer in advance so that you know there will be someone waiting for you on arrival.
How to Get from Athens to Santorini by Ferry
Taking the ferry is a popular way to get from Athens to Santorini. It's important to note that there are two different ferries that service this route.
Namely, the overnight ferry, and the "fast boat". It may seem like a no-brainer to choose the faster option but beware!
The speedy little boat that makes this journey is notorious for making people seasick. During the summer months, more than 5 ferries depart from Athens to Santorini every day. Prices range between €40 and €80.
The Blue star ferry is cheaper and slower. However, taking overnight omits one night's accommodation cost at least! The "fast boat" is the SeaJet and typically costs more.
Getting to Piraeus Port from Athens Airport
It's fairly straightforward to reach Piraeus port from Athens airport. From the airport, you can take the X96 bus (schedule here).
Tickets cost 6 euros per person, one way. Buses depart every 20-40 minutes depending on the season and the journey should take 90 minutes.
If there are a few of you, you may prefer to take a cab to Piraeus port. The standard day rate for this is €54, and the night rate is €70.
You can find airport taxis lined up outside of Arrivals 24/7. Airport cab drivers tend to be pretty straight and reliable.
If you prefer, you can also use the BEAT taxi app to hire your cab. This is essentially the Greek answer to Uber.
Getting to Piraeus Port from Downtown Athens
From downtown Athens, you can join the X96 bus from Syntagma square, or take the metro to Piraeus. To reach Piraeus by Metro, you should take the green line from Omonoia or Monastiraki.
Ride the green line train all the way to its final destination (Piraeus). Piraeus metro station is situated a five-minute walk away from the port.
Taking a cab from downtown Athens to Piraeus costs between 15 and 20 euros. You can easily hail a yellow cab from the city centre or from taxi ranks at Syntagma and Monastiraki.
How Far in Advance Should I Buy My Ferry Tickets?
You can check ferry timetables here. You are generally okay to purchase your tickets on the day of travel. However, to give yourself peace of mind, it is best to book them a day or two in advance.
This is particularly the case if you are travelling during the summer months, or if there is a specific boat that you absolutely must take. It is not unheard of for particular services to sell out.
Where Can I Buy My Ferry Tickets?
Ferry tickets from Athens to Santorini can be purchased online, at the ticket office at Piraeus port, or at one of the kiosks at Athens airport. Buying a ticket online saves stress and waiting at the crowded port.
Use Ferryscanner to check the most up to date information on routes, timetables, and prices. You can also purchase your tickets online here. Schedules are subject to change year on year, season to season.
Navigating Piraeus Port
Piraeus port is Athens' largest port. To take the boat to Santorini, you need to get to gate E7.
The port staff is very accommodating and if you have a little wait before your ferry departure time, they generally let you leave your bags there. So, you can head out to explore Piraeus a little or grab a quick Greek coffee at one of the nearby seafront bars.
Services on Board the Ferries
All ferries that run between Athens and Santorini offer some form of service where passengers can purchase snacks and refreshments. The blue star ferries are arguably better in this sense.
The large boats offer ample options for having light snacks or dinner. Additionally, they have plenty of space to walk around or sit outside on the upper decks of the boat.
The sea jets and small hydrofoils do offer small snack stores where you can purchase sandwiches or beverages. However, the seating onboard is airplane style and you cannot sit outside or walk around the boat.
Economy Class on Greek Ferries
If you opt to take the Blue star ferry from Athens to Santorini, you will have a selection of options in terms of what class ticket you want to buy. You can purchase tickets for the economy class, business class, or VIP class.
Typically, the prices for the business and VIP classes are only slightly more than for economy. It is arguably worthwhile to pay for the additional comfort.
If you purchase an economy ticket, you can sit anywhere inside or outside the boat. Of course, you can also access the restaurants on the boat with this ticket.
If you want to reserve seats, it's an additional €4 per person. Travelling on Greek ferries between June and September is often a mad free-for-all.
It is worthwhile to pay extra for a reserved seat. You will be glad that you did, particularly if you are travelling as a family.
Business Class and Private Cabins on Greek Ferries
If you travel business class on a greek ferry, you have access to a spacious lounge with comfortable seats and table-service. You can also reserve a private cabin on your Athens to Santorini journey.
This is advisable if you are taking a night ferry.
Arriving in Santorini
One nice thing about opting to take the boat rather than the plane is the scenery. This is particularly true as you approach Santorini port.
As you pull in to shore, you have incredible views of the volcanic caldera and Santorini's iconic blue and white houses. An interesting fact about Santorini? It is the only inhabited caldera in the world!
Ferries arrive at Santorini's Athinios port. This is a little out of the way and is NOT located close to Oia or Fira.
Athinios is on the western side of Santorini island and is 9km away from Fira, and 19km away from Oia respectively. You should consider your onwards transport options from there in advance.
Reaching Your Santorini Hotel from Athinios Port
The only form of public transportation available from Athinios port is the KTEL bus. This runs between the port and Fira at frequent intervals.
If you are staying in Oia, or in other areas across the island, you need to transfer to another bus at Fira central station. Bus schedules run in accordance with boat arrivals.
This means you're never waiting around for ages in the sun after your ferry pulls into the part. You will generally find that a bus runs to Fira 15 minutes or so after a boat arrives.
Alternatively, you can organise a private transfer like this one to take you from the port to your hotel. Taxis are often waiting outside the port area, though many have been booked in advance.
Ferry Vs Plane
The best way to get from Athens to Santorini depends on personal preference. Arguably it is better to travel by plane.
Opting to fly rather than take the boat means that you can get to Santorini faster. It also omits any risk of seasickness.
Generally speaking, the prices are not vastly different between taking the plane and taking the boat. The only thing to be mindful of is that opting to take a checked-bag can make flight prices higher.
Subsidised Transport in Athens
If you are travelling to Greece with people who are over 65 years of age or those who are under the age of six, you will be entitled to subsidised fares for those people on certain transport services. Passengers that fit within these age groups are entitled to half-price fare on buses and metros within Athens.
Final Thoughts
Have any further questions on how to get from Athens to Santorini, or about crafting a Greece travel itinerary in general? I've been living in Pagrati in Athens since early 2017.
Feel free to drop me a comment below and I'll get back to you ASAP. In the meantime, have a fabulous time in Santorini! Geia sou! Melissa xo
---