Wondering how to get to Santorini? Look no further.
This guide has been written by a local and discusses all of the various ways that you can reach this stunning Cycladic island. Santorini is one of the most popular islands in Greece and so, as you might expect, it is very well connected and boasts excellent transport links to other parts of Greece and the world.
The best way to get to Santorini depends on your personal preferences, your Greece travel schedule, your budget, and your departure point.
How to Get to Santorini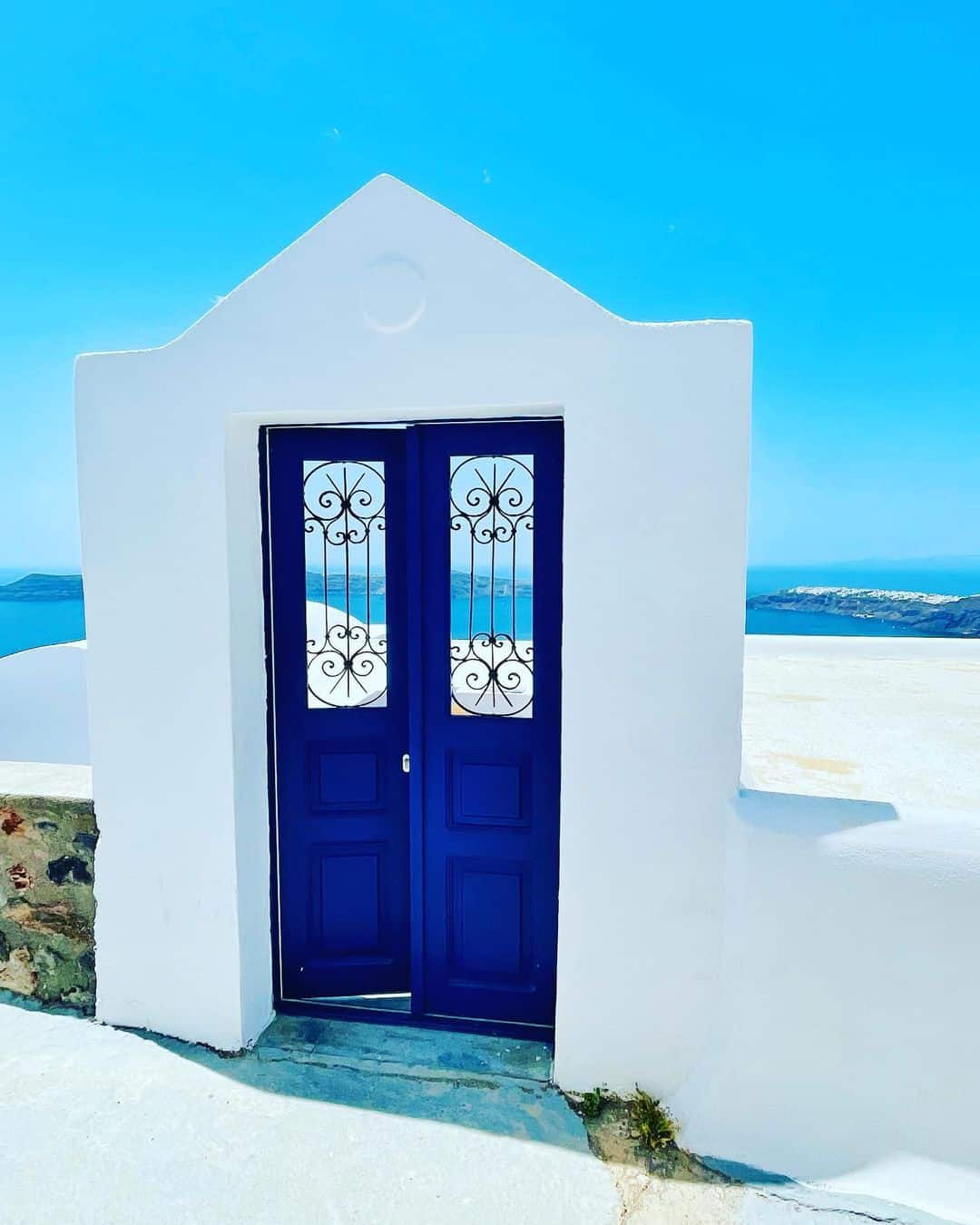 Santorini is found within the Cyclades islands group in Southeastern Greece. It is 130 nautical miles from Piraeus Port in Athens, and 70 nautical miles from Crete, respectively.
The Cyclades is a collection of 220 islands that center around the mythical island of Delos. They are situated within the warm, cerulean waters of the Aegean sea.
Depending on where you are traveling from, it may be easiest to fly directly into Santorini. If you are traveling from outside of Europe, you may prefer to book a flight to Athens, spend 2 or 3 days in Athens to break up your journey, and then continue on to Santorini.
International Flights to Santorini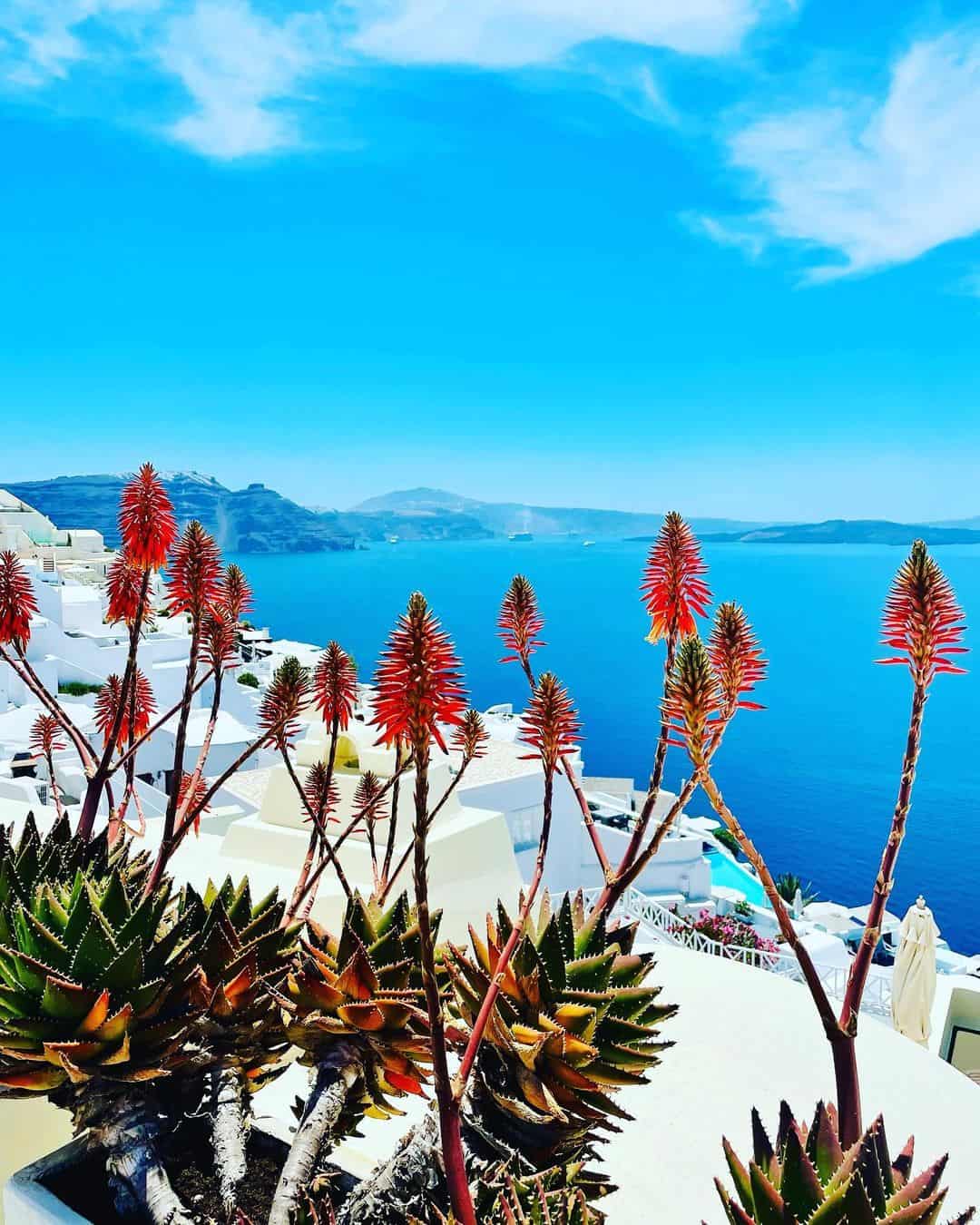 Santorini is one of a handful of Greek islands that have airports. Santorini JTR airport is located just west of the coastal resort of Agia Paraskevi.
It is 10 miles from Oia and just 5km from Fira. More than 35 international airlines operate routes to Santorini JTR, although many of them are seasonal and only fly to Santorini during the Greek summer months.
Notably, Aegean Airlines, Alitalia, Austrian Airlines, British Airways, Easyjet, Ellinair, Eurowings, Finnair, Lufthansa, Olympic Air, and Ryanair run frequent flights to Santorini. You can find the full list, and check live departure and arrival times on the Santorini airport website here.

Direct flights to Santorini operate from several European and Middle Eastern cities. These include Rome, Milan, Naples, Venice, Stockholm, London, Birmingham, Manchester, Nantes, Paris, Tel Aviv, and Doha.
It is absolutely essential to reserve your tickets several months in advance if you are hoping to travel to Santorini during the peak summer months. It is not unheard of for flights to sell out, especially if you are planning on visiting Greece in July or August.
You can find direct flights for very reasonable prices, even during the peak season, if you book your tickets in advance. The closer you get to the departure date, the more expensive the tickets become.
If you are traveling to Greece on a budget, you can save some money and avoid the chaos of the crowds by visiting Santorini in the shoulder season. Late September and October still see very pleasant temperatures but hotels, excursions, rentals, and flights are all substantially cheaper.
Booking Flights to Santorini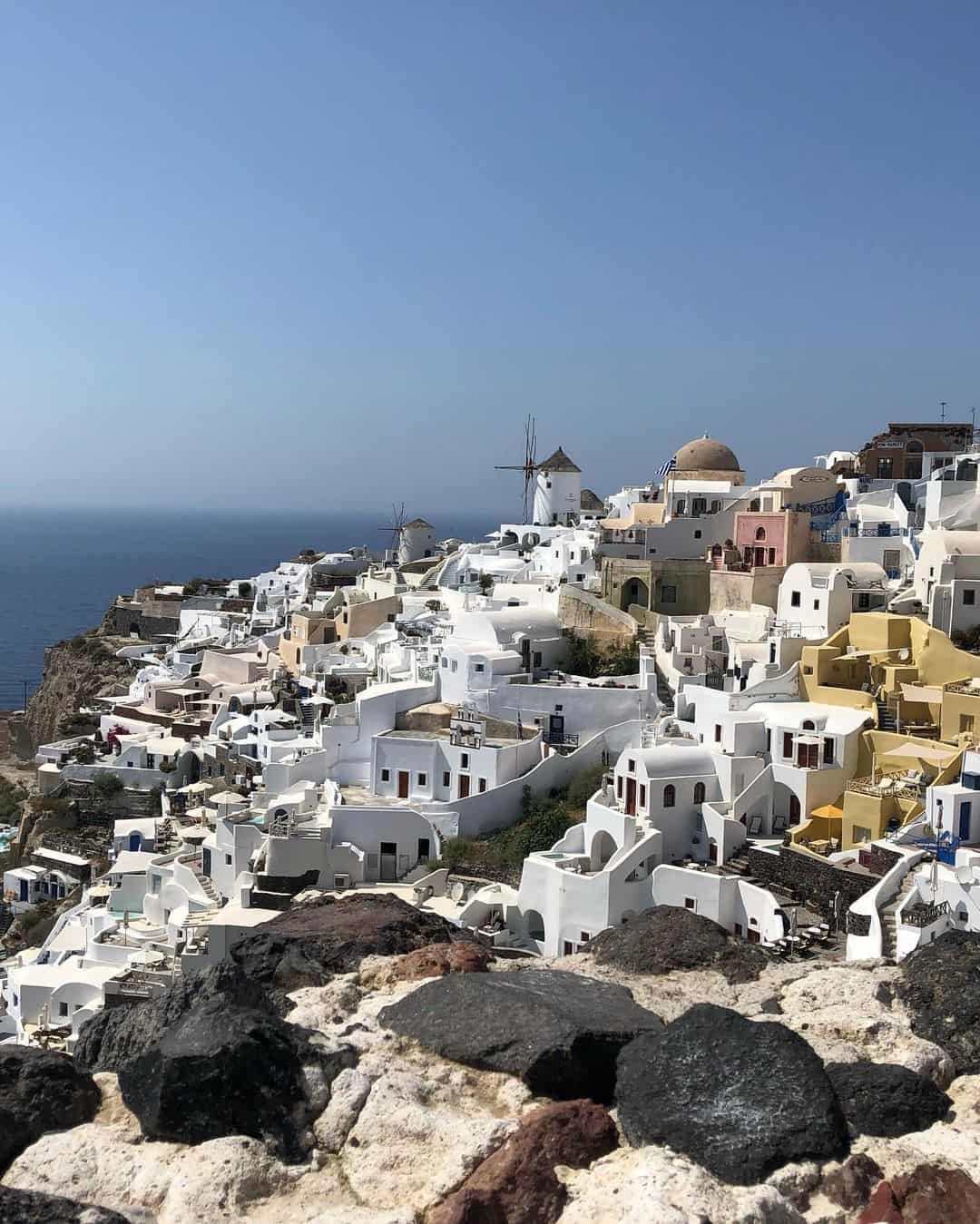 Use a flight aggregator platform like Skyscanner to search for the best flights to Santorini. If your flight dates are a little flexible, opt to search for flights across an entire month.
You will be surprised by how much prices can vary from one day to another. For instance, you might be planning on traveling on a specific Saturday in August. However, you may find that flights are ⅔ of the price if you are willing to travel on the following Monday instead.
Depending on the country that you are flying from, it might be worth keeping your options open with regards to which airport you fly out of. For instance, searching for departures from ¨the United Kingdom¨ as opposed to typing the name of a specific airport.
A lot of airlines have very generous cabin baggage allowances that allow you to take a personal item on board as well as a carry-on case of up to 10kg. You can save money on flights by traveling with a carry-on only and using a compression bag to fit all of your clothes in a smaller space.
Domestic Flights to Santorini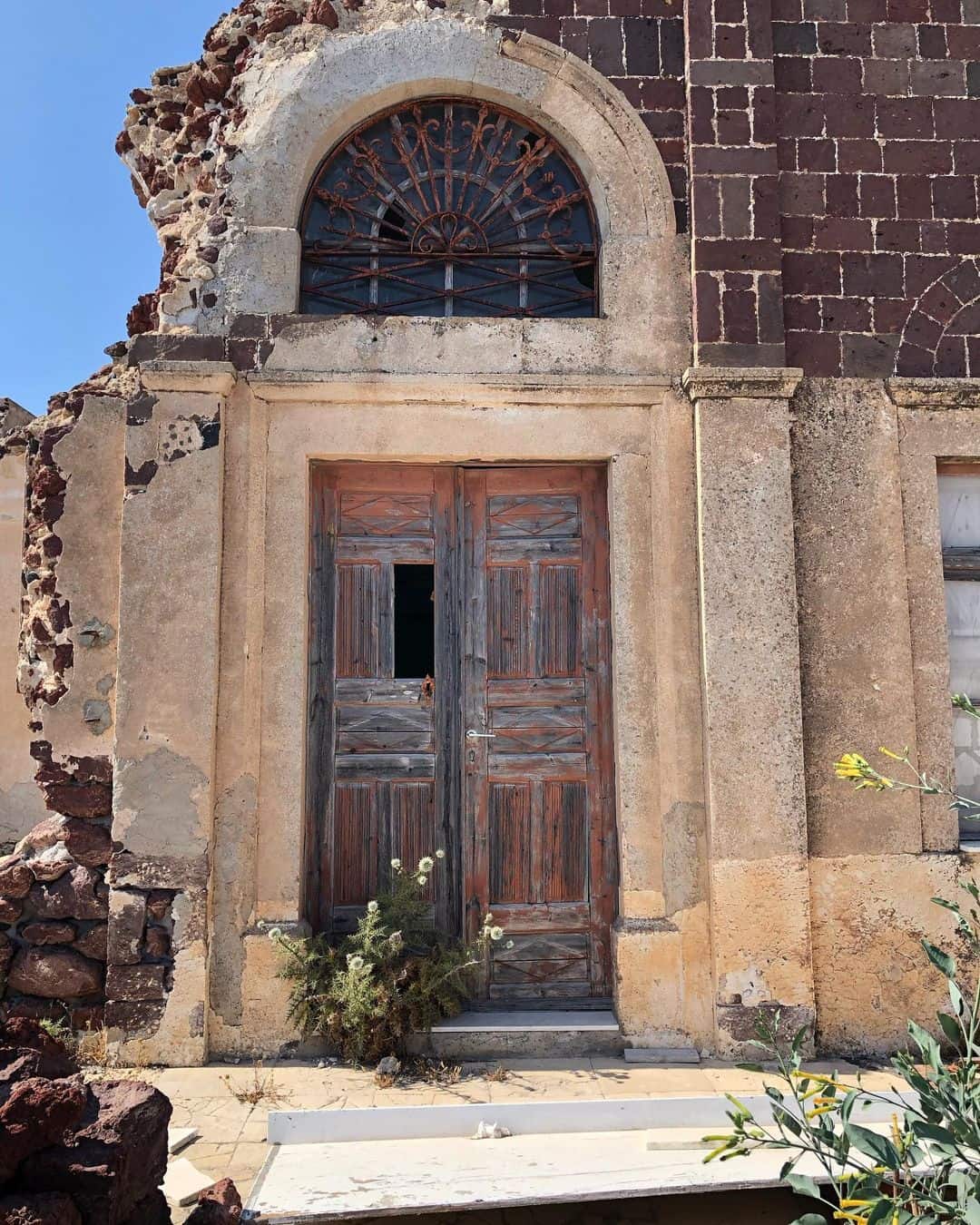 You can find domestic flights to Santorini from various Greek airports. This includes Athens Eleftherios Venizelos and Thessaloniki Makedonia airport.
Flights from Thessaloniki and Athens to Santorini depart several times per day during the peak season. Even in the Autumn, Winter, and Spring months, you will find several domestic flights to the island. Plenty of people live there year-round after all!
You should arrive at Greek airports 2 hours before your departure time for domestic flights. However, it is always good practice to arrive even earlier if possible, especially in the summer.
Athens airport, in particular, can become extremely chaotic in July and August. Both Athens and Thessaloniki airports have plenty of cafes and restaurants where you can wait and relax with a strong Greek coffee or pastry before your flight.
Aegean Air, Olympic Air, Ryanair, and Volotea operate on domestic routes between Santorini and other parts of Greece.
Getting from Athens to the Airport
It is very easy to get from Athens city center to the Airport and vice versa. Arguably the most comfortable option is to organise a private transfer.
This costs little more than a taxi and someone will collect you from your hotel (or other requested pick-up point) in a luxury air-conditioned vehicle. You will be provided with complimentary water for your trip and vehicles are cleaned and sanitised before each journey.
Alternatively, public transport in Greece is very good. You can take the X95 bus from Syntagma Square to the airport, or the X96 bus from Piraeus.
If you prefer to travel by metro, you need to take the blue line (line 3) all the way to the airport. Trains depart every 30 minutes between 6.30 am and 23.30 pm.
Keep in mind that some Athens Airport trains do require a change. They will stop at Doukkis Plakentias and you will need to wait for 15-20 minutes before changing trains. An Athens airport and city ticket cost €10.
Arriving at Santorini Airport
When you arrive at Santorini airport, the easiest way to get to your hotel is to reserve a private transfer. If you want to save a little money, you can also pre-book shared transfers.
Taxis do line up outside of the airport in accordance with flight schedules. However, because the airport is so busy during the summer, there are often more tourists than taxis and you might be waiting a while.
For that reason, a pre-booked transfer or cab is the most convenient option. Someone will be waiting for you in arrivals with a sign when you arrive.
Private transfer cars offer bilingual drivers, air-conditioned luxury vehicles, and complimentary beverages. The vehicles are deep-cleaned between passengers.

If you prefer to travel by bus, you can take a direct bus from the Airport to Fira for just 1.70. Buses run 11 times per day between 5 am and 8 pm.

However again, keep in mind that Santorini airport is one of the busiest in Greece, especially in summer. Buses often get so full that many people are standing in the aisles and you might even wind up having to wait for the next one if it is too full.

For this reason, it is far better to take a private transfer. There are only direct buses to Fira from Santorini airport. To reach other parts of the island, you need to change lines at the Fira bus station.
Flying from the USA to Santorini
If you are flying from the USA to Santorini, or from other locations outside of Europe, there are no direct flights to the island. You will usually have to change in Athens or perhaps another European city.

It is worth playing around with flight booking websites as you might find that it works out cheaper to book two separate flights. For instance, a flight from the USA to a European city, and then a budget European flight to Santorini.

Various US airports offer direct flights to Athens, including New York JFK, Chicago, Washington DC, and Atlanta, especially during winter. If your schedule allows, consider checking out the Greek capital before traveling on to Santorini.
Spend some time exploring the various neighbourhoods of Athens which are each like little towns and villages in themselves. Visit the Acropolis, have lunch on the steps of old Plaka, and check out the street art in Exarchia.
Take a Ferry to Santorini
One of the most popular ways to reach Santorini from mainland Greece is to do so by ferry. 4-5 ferries depart from Athens Piraeus port every day during the summer months.

Even out of season, ferries to Santorini depart fairly regularly. Prices range between 40 and 80 euros depending on the specific departure time, the season, and the type of ferry that you take.
You can choose to either take the slower, Blue Star Ferry and sleep overnight, or opt for the faster Seajet ferry. The Blue Star ferry takes approximately 8 hours whereas the Seajet takes 4.5.
It is important to note that while taking the faster ferry and getting to Santorini quickly might seem preferable, this is not a boat that you want to be taking if you get seasick! The seas can be very choppy, and seating is airplane-style with no windows.
Even people that aren't usually seasick get sick on this boat. It is notorious for it!
So, think carefully about what boat may be better for you when deciding how to get to Santorini. Ferries from Piraeus to Santorini usually depart from Gate E7.

Try and arrive at least an hour before your departure time. It is very easy to get from Athens airport to Piraeus port – just take the metro or the X96 bus to its final stop.
Purchasing Ferry Tickets
It is highly recommended that you purchase your ferry tickets online, in advance if traveling during the peak season. If you can, it is better to book them in advance of leaving your own country. Don't wait until a day or two before you plan to board the ferry as you may find that certain ferries sell out.
Ferries from Other Islands
Ferries run between Mykonos to Santorini, and a selection of other islands in the Cyclades and Southern Greece. You can take direct ferries from here to/from Ios, Paros, Delos, Milos, Folegandros, Naxos, and others.
Santorini is a great inclusion on any Greek island-hopping itinerary. You can also take a ferry from here to Crete (Greece's largest island) and then travel onwards towards other Greek island groups such as the Dodecanese.
Private Helicopter to Santorini
If you really want to indulge and treat yourself, you can book a private helicopter to Santorini. What better way to arrive in style?
You can organise a private helicopter transfer between Mykonos and Santorini. From Santorini, it is also then possible to take private helicopters on towards other Cycladic islands.
Several travel companies in and around Athens also offer helicopter transfers from the mainland to Santorini. The flight takes approximately 70 minutes and up to 4 people and 60kg of luggage can fit inside the helicopter.

Keep in mind that a helicopter transfer costs upwards of 3,500 euros. You may be able to negotiate a reduced rate if you want to travel back to the Greek mainland by helicopter too.
If you were wondering how to get to Santorini in absolute luxury, this is it. The views of the islands from above are second-to-none.
FAQs About How to Get to Santorini
A few FAQs about how to get to Santorini have been answered below.
Is it better to fly into Athens or Santorini?
If you are flying from somewhere in Europe, you can get a direct flight to Santorini, and if you are only interested in visiting Santorini, it makes sense to fly straight into Santorini. You can book a return flight in and out of Santorini.
However, if you do want to see the historical sites and museums of Athens, consider first flying into Athens and then traveling on towards Santorini, or vice versa. If your schedule permits, you should try and spend at least one day in Athens.
Is Santorini Greek or Italian?
Santorini is a Greek island in the Cyclades. However, if you are from outside of Europe, it is understandable that you may not be fully aware of which country the island is a part of.
Santorini is actually an Italian name. It is shortened from "Santa Irini" or Saint Irene. The official name of the island is Thera.
Greek is the language spoken here. However, you will find that many people here do speak very good English, especially in tourist hotels and restaurants.
What is the Cheapest Way to Get to Santorini?
There are so many variables when it comes to asking ¨what is the cheapest way to get to Santorini¨? It depends largely on where you are traveling from.
From within Greece, domestic flight and ferry prices are actually not that different. You can easily secure a flight from Athens to Santorini for just 40 euros.
If you then opt to take the bus from the airport, rather than a cab or transfer, you can make this journey without breaking the bank.
How to get to Santorini: Parting Words
Have you been to Santorini? Did you enjoy it? What is your preferred way of getting to Santorini?

If you are heading to Greece, you might also enjoy reading these facts about Santorini, or this post on Santorini vs Mykonos. Have a wonderful trip! Geia sou!
---