One day in Athens really isn't enough to scratch beneath the surface of everything that the Greek capital has to offer. However, if you only have a short amount of time to spare, you can see some of the most famous highlights of Athens in a day.
With just one day in Athens, you can visit the ancient Acropolis, its museum, the ancient agora, and a selection of some of Athens' most important museums and central neighborhoods. This article has been written by a British travel writer that has been based in Athens for the last five years. (Me!) 
It will provide you with an itinerary for seeing Athens in a day that allows you to see the city's highlights, and experience the Greek capital like a local.
How to Spend One Day in Athens in 2023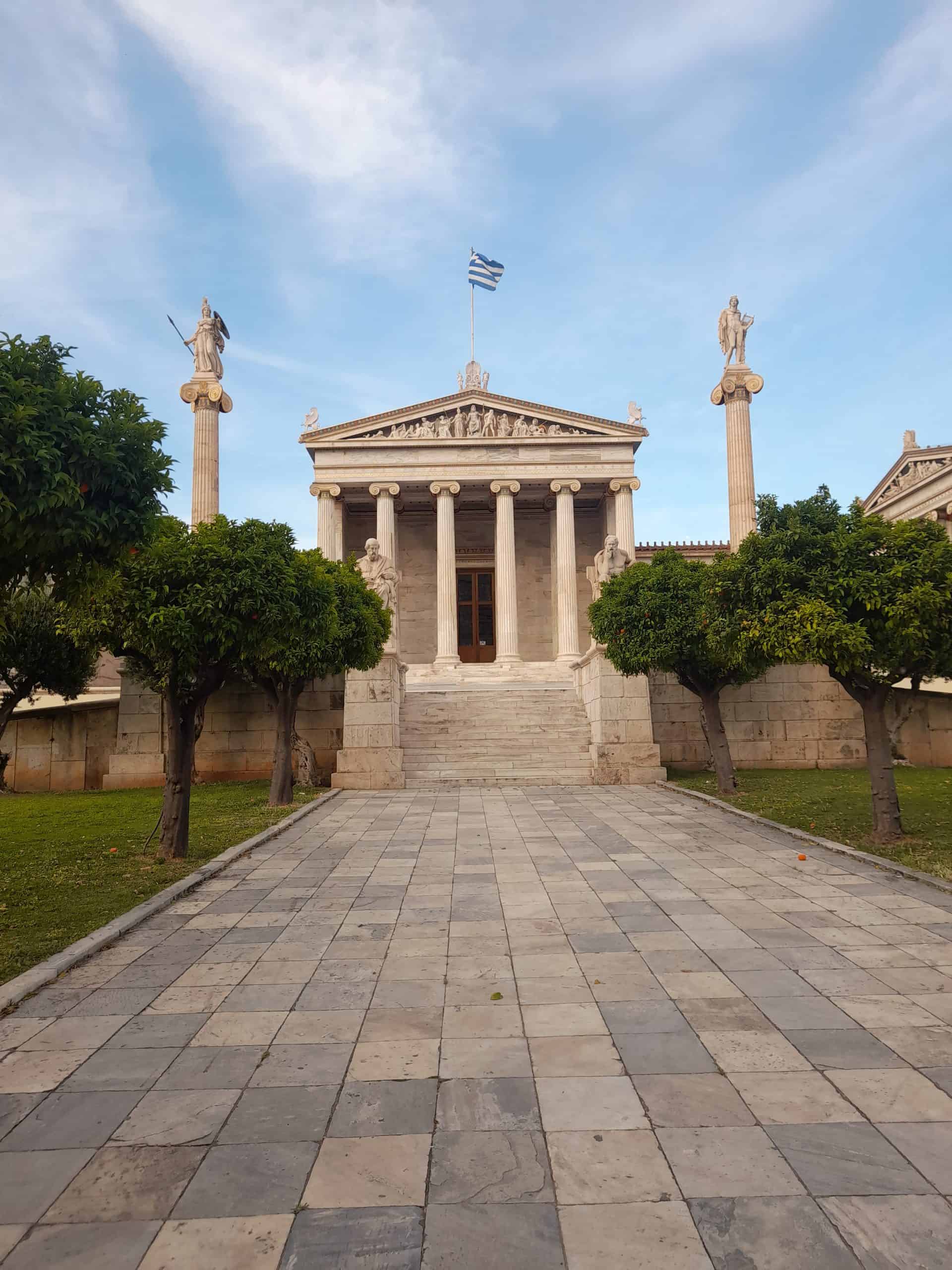 Athens is one of the oldest cities in Europe and it has been occupied for over 2,500 years. Sure, Athens may be a little more chaotic and rough around the edges than other European capitals.
But what it lacks in aesthetics and beauty, it more than makes up for in history, personality, and character. Central Athens is made up of several different neighborhoods.
Each of these little districts is like a little town or village in itself. Each area has its own central plateia (square) and its own distinct personality.
Athens is also, of course, bursting at the seams with historic and archaeological sites. The city is widely known as being the birthplace of democracy and modern civilization.
The Acropolis and its magnificent Parthenon are arguably the most famous ruins in Athens. But the Temple of Olympian Zeus, the Panathenaic Stadium the Ancient and Roman Agoras, and Lycabettus Hill are all just as spectacular.
Highlights of one day in Athens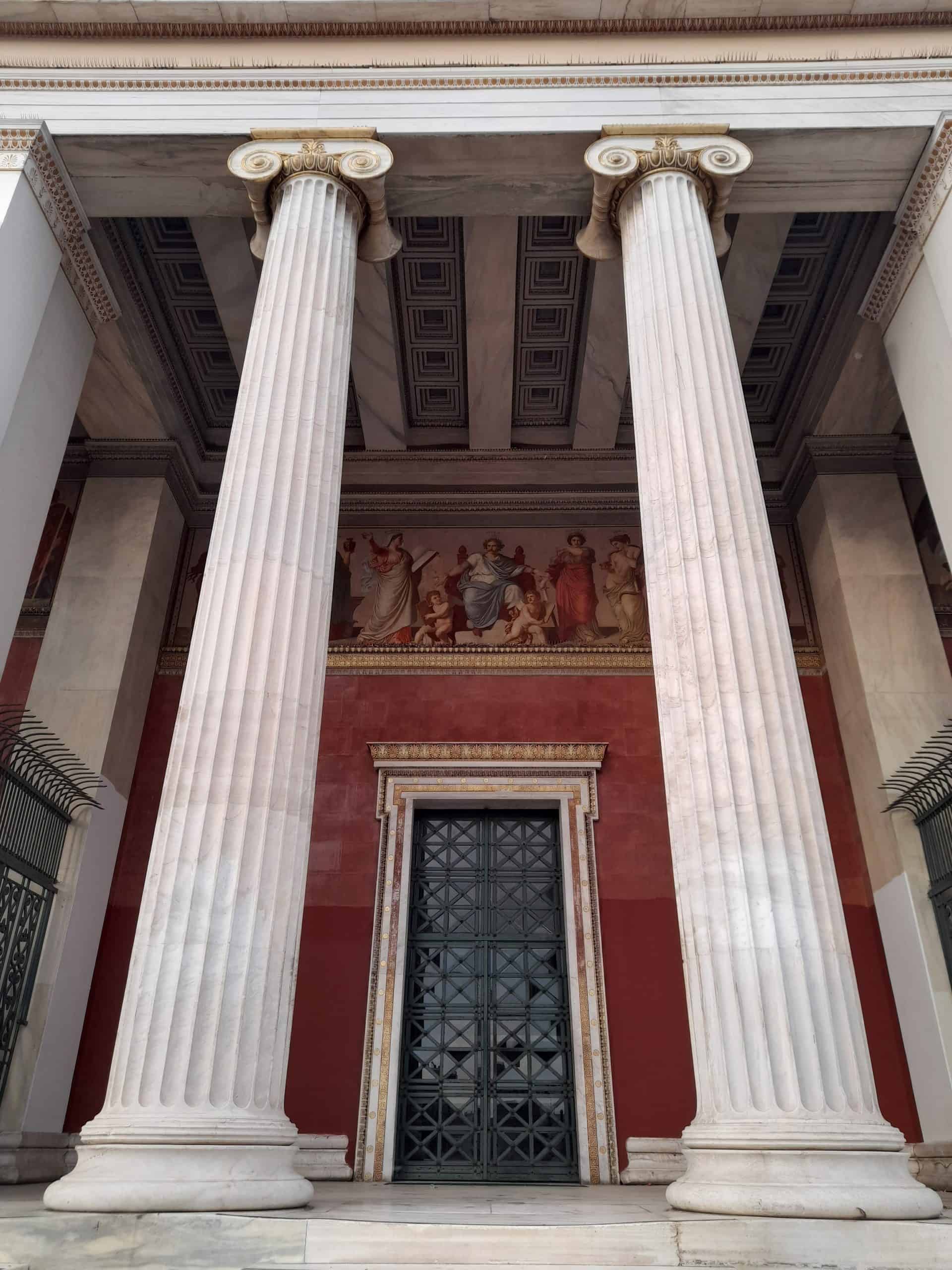 Since there are so many things to do in Athens, it can be tricky to establish which are the best. This one-day in Athens itinerary will take you to the below city sites.
The Acropolis and the "New" Acropolis Museum


Old Plaka and the "secret" district of Anafiotika


Homely tavernas beloved by locals


The quirky stores and markets of Evripidou street


The central districts of Monastiraki and Syntagma


Rooftop Athenian bars that overlook the Parthenon
The entire route can be completed on foot. There is no need to take any public transport.
Opt to take an Athens walking tour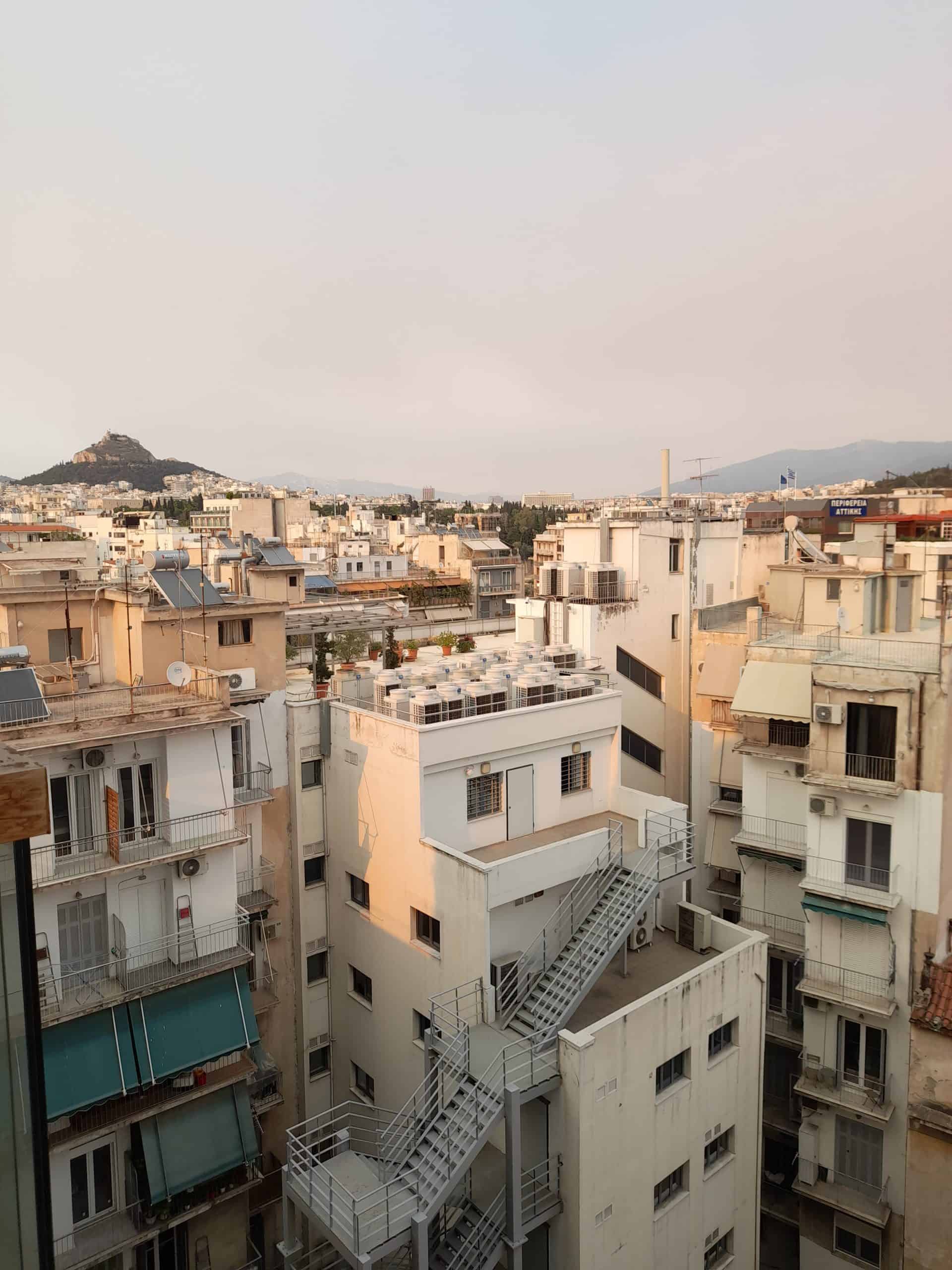 If you only have one day in Athens, you may be a little overwhelmed with where to begin. A self-guided one-day itinerary is provided below.
But if you prefer to take some of the stress out of managing the logistics of how to get from A to B, and how to organise your day, you may prefer to participate in a guided tour. Several reputable local tour companies operate in Athens.
Opting to explore with a local means that you will discover districts, cafes, and eateries in the centre of Athens that you may not find independently. You will gain more context and information about the various sites that you see.
And not to mention, you will have an Athens expert on hand to ask for recommendations for your trip. You may prefer to do a private tour or a small group tour, depending on your budget and personal preference.
Recommended Athens tours
A selection of some of the best Athens one-day tours is detailed below for your consideration. Book your place online in advance to avoid disappointment!
One Day in Athens itinerary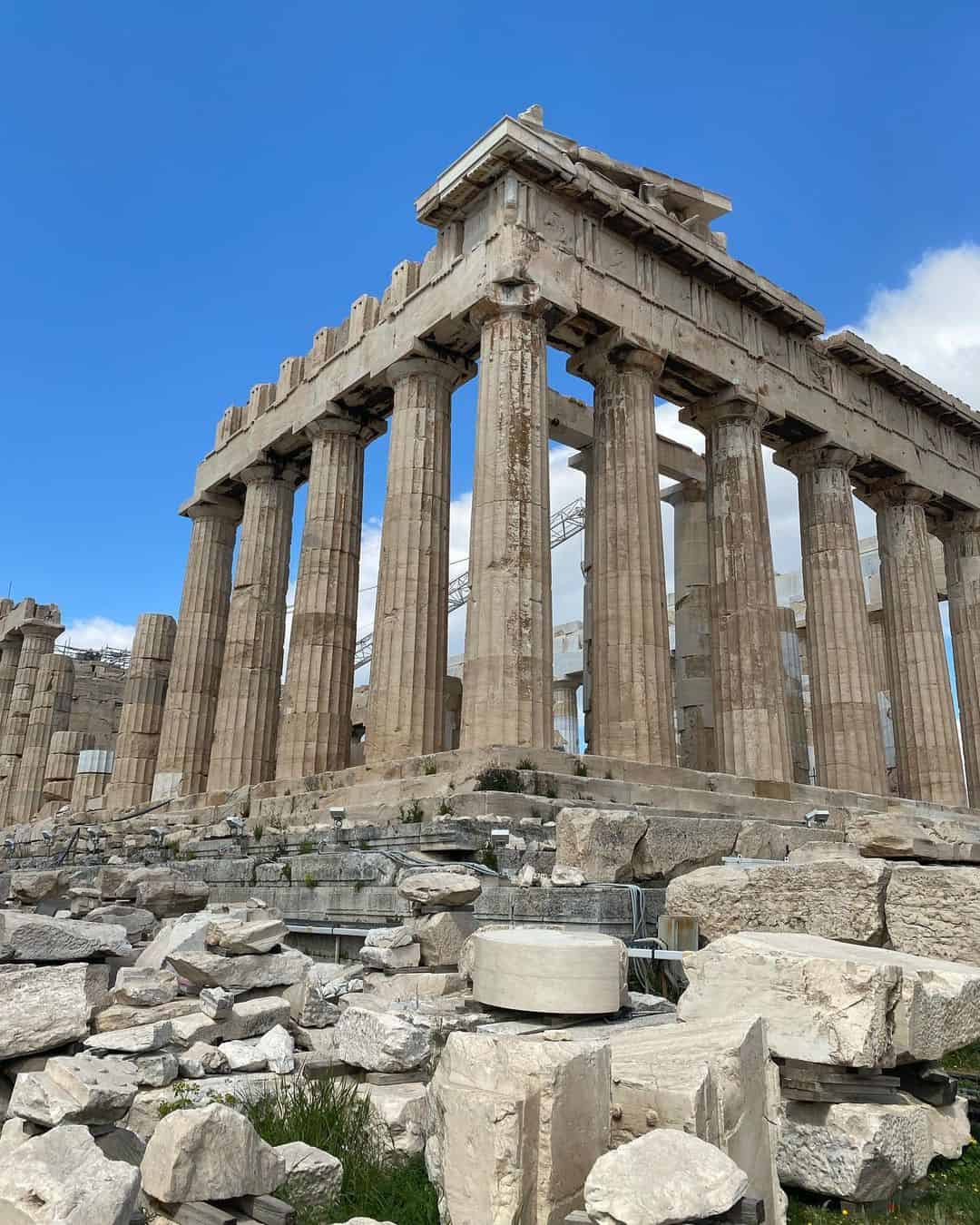 With just one day in Athens, there is a lot to cram in. Wake up bright and early and either indulge in breakfast at your hotel or opt to experience it in Athens like a local.
Start your day with a hearty Athenian breakfast
If you want to rub shoulders with the Athenians, there are a few great local spots where you can head for the most important meal of the day. The Underdog in Thissio (Iraklidon 8) is an Athens institution.
The baristas here are renowned for making some of the best coffee in the capital. (They have participated in national and international competitions and won awards for their expertise!)
The Underdog has both air-conditioned interior seating and a leafy exterior courtyard where you can sit beneath the Mediterranean sun. Their menu changes periodically depending on which fruits and veggies are in season at that time.
You can order a selection of Greek and international favourites. For instance, fresh, crumbly spanakopita (spinach and cheese pastries) and tiropita (cheese pastries).
Or continental faves like eggs benedict. The huevos pochados (poached eggs, mashed potatoes with bacon, asparagus, mushroom ragout and toasted bread) are to die for.
Kononi (Falirou 48)in Koukaki is another local favourite. Treat yourself to some sweet, syrupy french toast, homemade omelets, or avocado toast.
Wash it all down with a strong Greek coffee.
When you're sufficiently stuffed, make sure that you are donning your comfiest shoes and prepare to spend a jam-packed day in Athens.
Visit the Acropolis before the crowds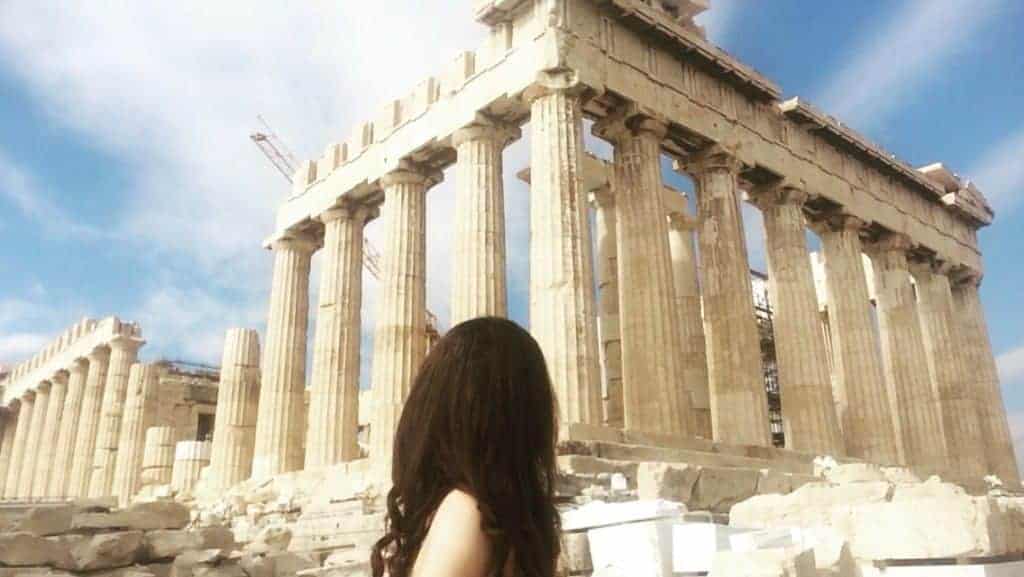 The ruins of the ancient Acropolis still watch over the city of Athens protectively, as they have done for hundreds of years. Regardless of how many times you have seen the Acropolis in guidebooks and magazines, nothing prepares you for how magnificent this site is up close.
Try to get to the Acropolis before 9 am to avoid the crowds (especially if travelling during the summer months). If you only have one day in Athens, you don't want to waste it queuing up for things!
It is a good idea to purchase your Acropolis tickets online in advance to save time. You can do so here.
If you would like to gain more context and understanding of the sights you are seeing, you may wish to consider a small guided Acropolis tour like this one.
The Parthenon is the piece de resistance of Acropolis hill. However, the site is more expansive than you may imagine.
Several ancient ruins, shrines and theatres are scattered around Acropolis hill.
Look out for the Theatre of Dionysus (342 BC) and the Odeon of Herodes Atticus (161 AD). The former was graced by the presence of Greek philosophers like Sophocles, and Euripides.
Meanwhile, the Theatre of Herodes Atticus was a bustling concert venue during the Roman era.
The top of Acropolis Hill boasts some of the best views in Athens. From here you can gaze out across to Mount Lycabettus, and Filopappou hill.
Look out for the Temple of Olympian Zeus and the Panathenaic Stadium which sit directly beneath you.
The Acropolis Museum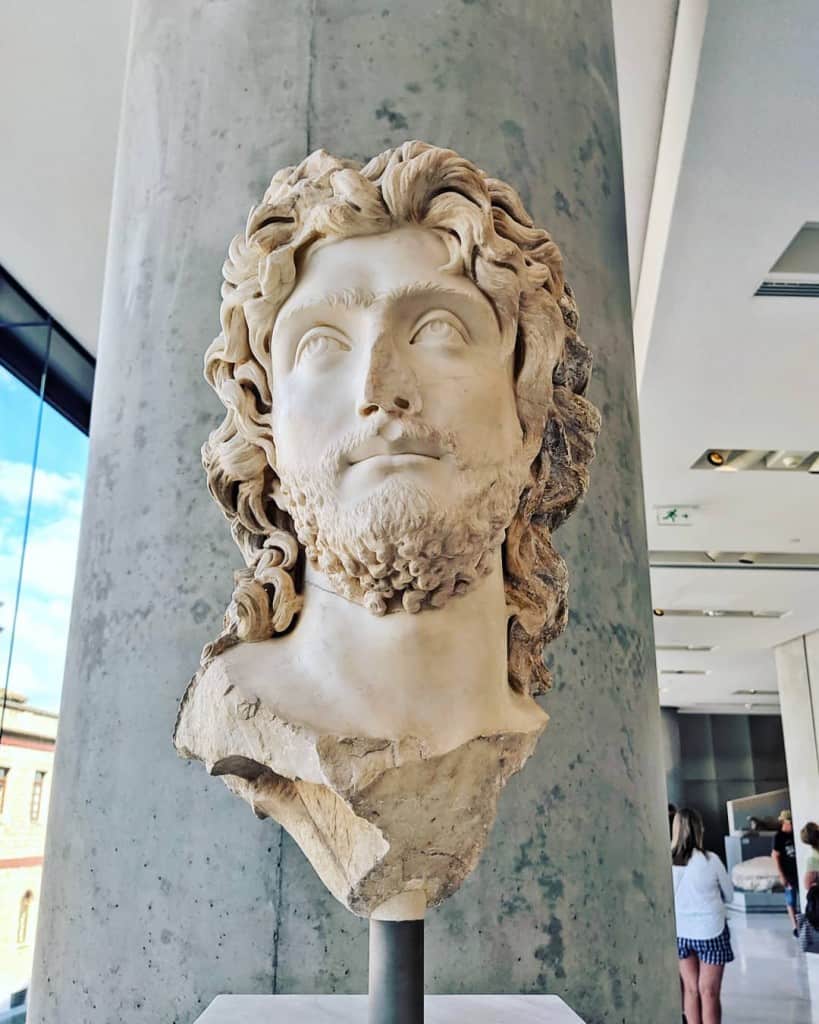 The "new" Acropolis museum is set inside a contemporary glass building that sits just across from the Acropolis site. The entrance to the museum is included in the price of your Acropolis admission.
Even if you don't consider yourself as being a big "museum person", you should at least briefly head inside here. The museum provides a little more context to the ruins that you have just seen at the Acropolis.
You can easily pass through the various exhibits and floors in just 20 minutes. If you want a bathroom and coffee break, the coffee shop on the top floor of the city is very nice and allows you to gaze across to the Parthenon in all of its glory.
The streets that run alongside the Acropolis are very pleasant. Dionysiou Areopagitou and Apostolou Pavlou are charming cobbled boulevards lined with coffee shops.
Here, street vendors sell artisanal products while musicians play old folk music. Enjoy a short walk here and follow the signs to old Plaka.
Recommended Acropolis tours
Local tip: Book your Acropolis tickets before your trip to avoid long lines on your day in Athens. There are now automated ticket machines outside the entrance to save time.
Experience the sights and sounds of Ancient Plaka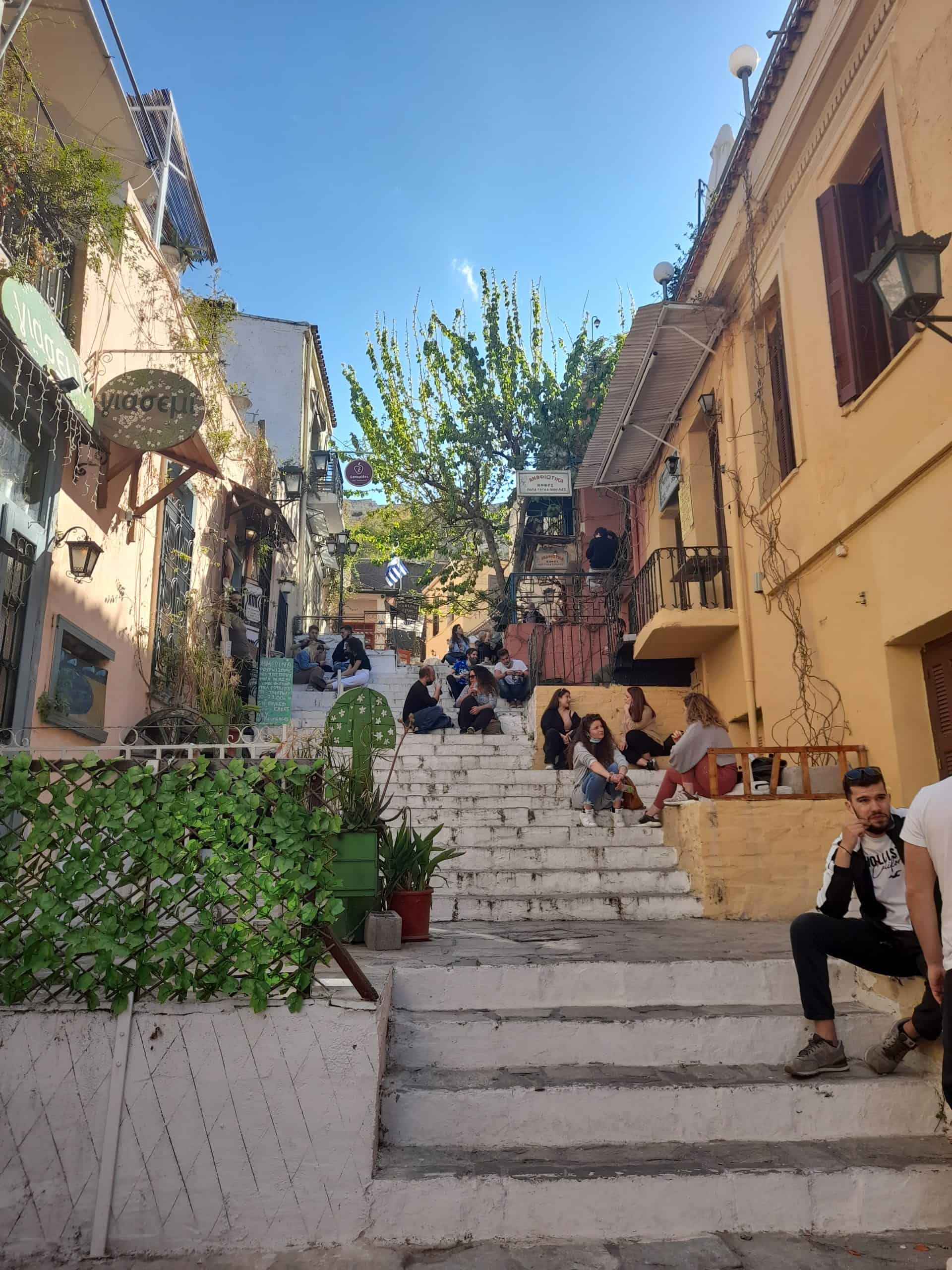 Plaka is one of the oldest parts of Athens. This district has a history that dates back more than 3,000 years!
During the Ottoman occupation, this was known as the Turkish district and the cobbled, winding streets were filled with hammams (bathhouses), mosques, and madrassahs. There are still several buildings that remain in Plaka today that point to its Ottoman past.
Notably, the Fethiye Mosque and the Pelopida street madrassah (Islamic School). The Plaka steps (Mniskleous 22) are one of the city's most famous landmarks.
Restaurants and bars line either side of the stairway. By nightfall, patrons sit on the steps enjoying meze dishes and glasses of ouzo and other Greek drinks poured over ice.
Plaka is also one of the most picturesque places in the city. It is characterised by its quaint pastel-coloured houses and narrow, labyrinth-like network of passageways.
Stop by the Roman Agora
Visit the Roman Agora. This marketplace was constructed in the 1st century BC with the funding of Julius Caesar himself.
The site is very small. However, it is well worth a visit.
From here, follow the pathway through the crowded covered market. Dodge the street vendors that try to sell you their "I heart Athens" tat, and make your way to the Ancient Agora.
Visit the Ancient Agora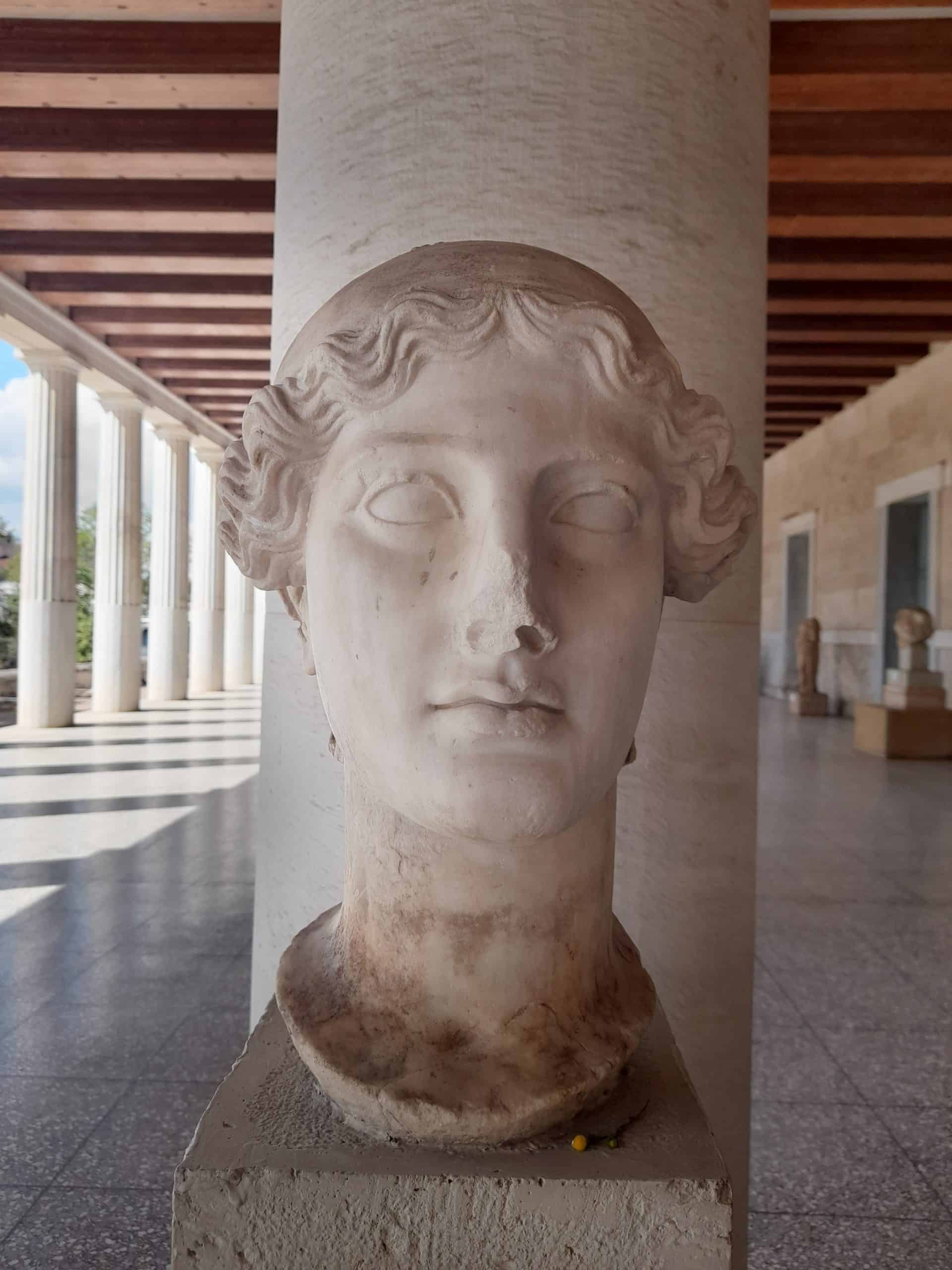 The Ancient Agora is one of the most important museums in Athens, Greece. "Agora" means "market" in Modern Greek.
In Ancient Greece, the Agora was the place where locals would assemble to listen to important announcements and speeches. Even important Ancient Greeks once strolled through the cobbled boulevards of the Agora – including Socrates, Plato, and Aristotle.
The Agora site can be found in Athens' Thissio district. It is encompassed by trees and woodlands and almost hidden from view.
Look out for the Temple of Hephaestus (415BC). This is one of the best-preserved temples in all of Greece.
The Agora Museum is housed inside the Stoa of Atticus. It is a grand structure filled with colonnaded walkways.
The Stoa was originally built in 159BC. King Attalos II of Pergamon gave it to the people of Athens as a gift because he loved the city so much.
Indulge in a Greek feast at a local taverna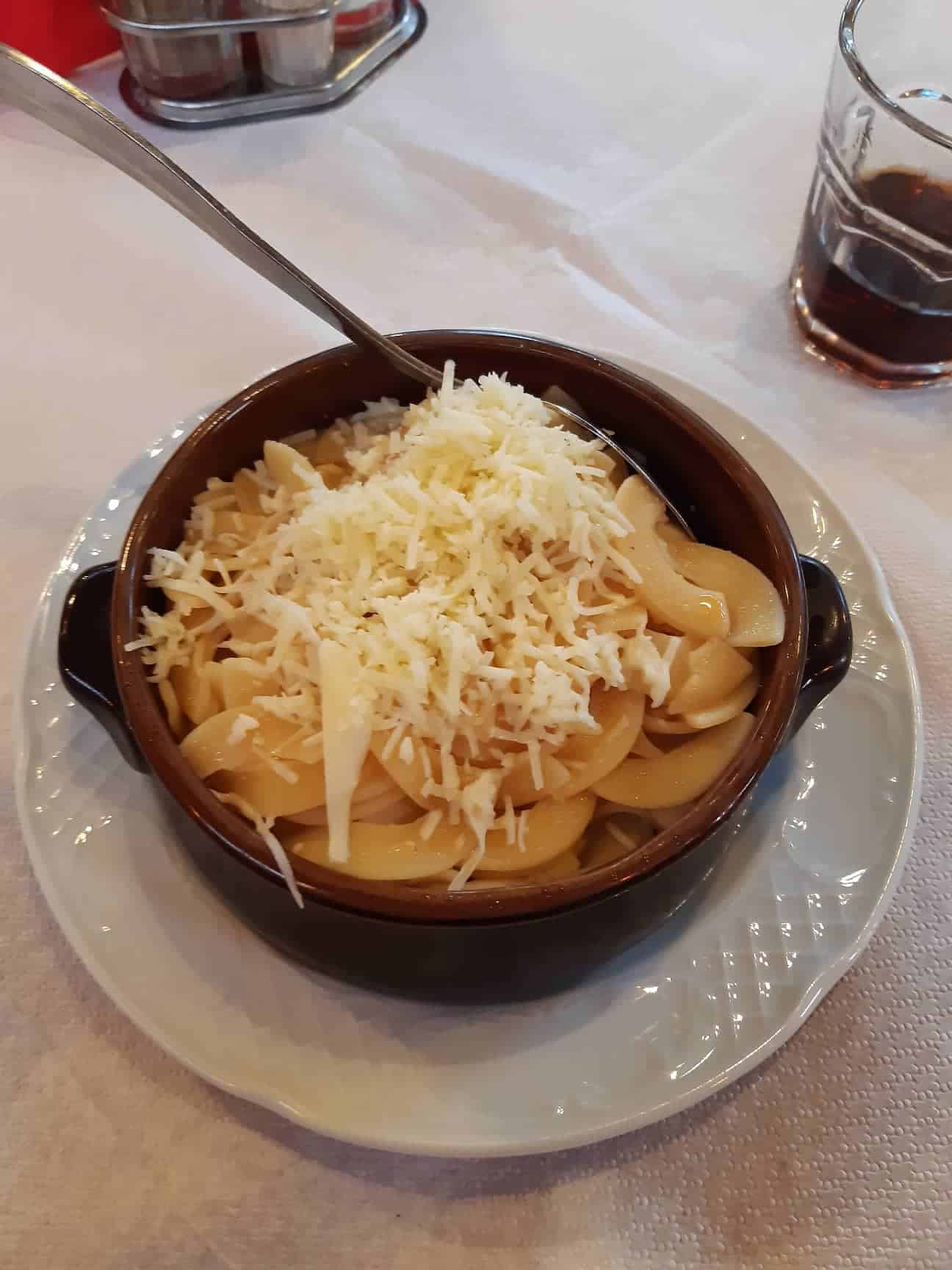 Plaka is a pretty touristy part of Athens. However, once you leave the main streets, there's no one! Despite Plaka's bustling location, many of the restaurants and eateries here remain as local haunts that are hidden from the eyes of most tourists.
For authentic Greek food, head into one of Plaka's tavernas and indulge in the local delicacies. To Kafeneio (Epicharmou 1) is a beloved local place.
It is a mezedopolio. In other words, it is a restaurant that specialises in serving small meze plates of food, along with sharing platters. Greek meze can be compared to Spanish tapas.
To Kafeneio is locally renowned for its sumptuous marinated meats. The menu here changes seasonally so as to offer only the freshest ingredients. When you're done, wash it all done with a strong cup of Greek coffee (Ellinikos Kafes)
Climb up to Anafiotika – Athens' best kept secret
There is something special hiding behind the streets of Plaka – the village of Anafiotika. Anafiotika is a small residential neighbourhood that sits on the slopes of Acropolis hill.
The thing that makes Anafiotika special is its architecture. Anafiotika's houses are decorated in blue and white Cycladic style.
This district looks like something that you would expect to see on an island, rather than in the heart of the busy Greek capital. Anafiotika was built by residents of Anafi island that moved to Athens.
They missed their island paradise in the Cyclades. So, they constructed their new homes in a style that was nostalgic for them.
Aside from the occasional guidebook-wielding tourist, you won't see many people at Anafiotika. It is by far one of the most beautiful parts of Athens.
Browse the eclectic stores of Evripidou street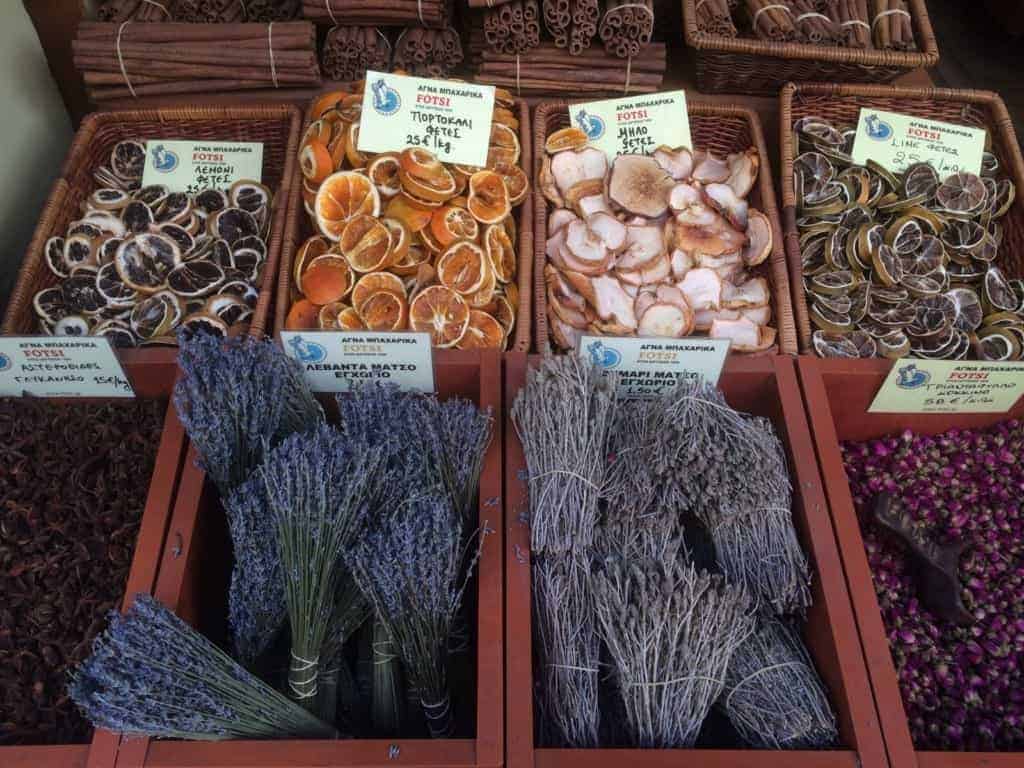 Evripidou Street awaits just a short walk away from Anafiotika and Plaka. This fragrant street is filled with eclectic stores.
Evripidou's vendors sell everything from trinkets and antiques to spices and cured meats. Here you can also find Lilliputian shops selling flower seeds, plants, olive oil and homeopathy bath products.
This street is a great place for shopping in Athens. This is especially the case when it comes to edible souvenirs. If you have room for a small snack, stop by Miran or Karamanlidka.
These deli-style stores specialise in selling cured meats and cheeses. You can kindly request that they rustle you up a charcuterie board for tasting if you are interested in sampling the produce.
Stop by the Athens Central Market
Athens Central Market sits beside Evripidou street in downtown Athens. This is the largest market in the city and it still operates in a very traditional way.
The covered market is divided into various sections that sell fish, meat, vegetables, etc. Greeks still shop at markets like this today and will often stop by "laiki". Laiki Agora are weekly farmer's markets that are hosted in every neighbourhood from Pagrati to Kolonaki.
A quick wander through the central market is an interesting cultural experience. However, you should be prepared for some gruesome scenes in the meat section, and some equally gruesome smells in the fish market.
Backtrack to Monastiraki Square & Syntagma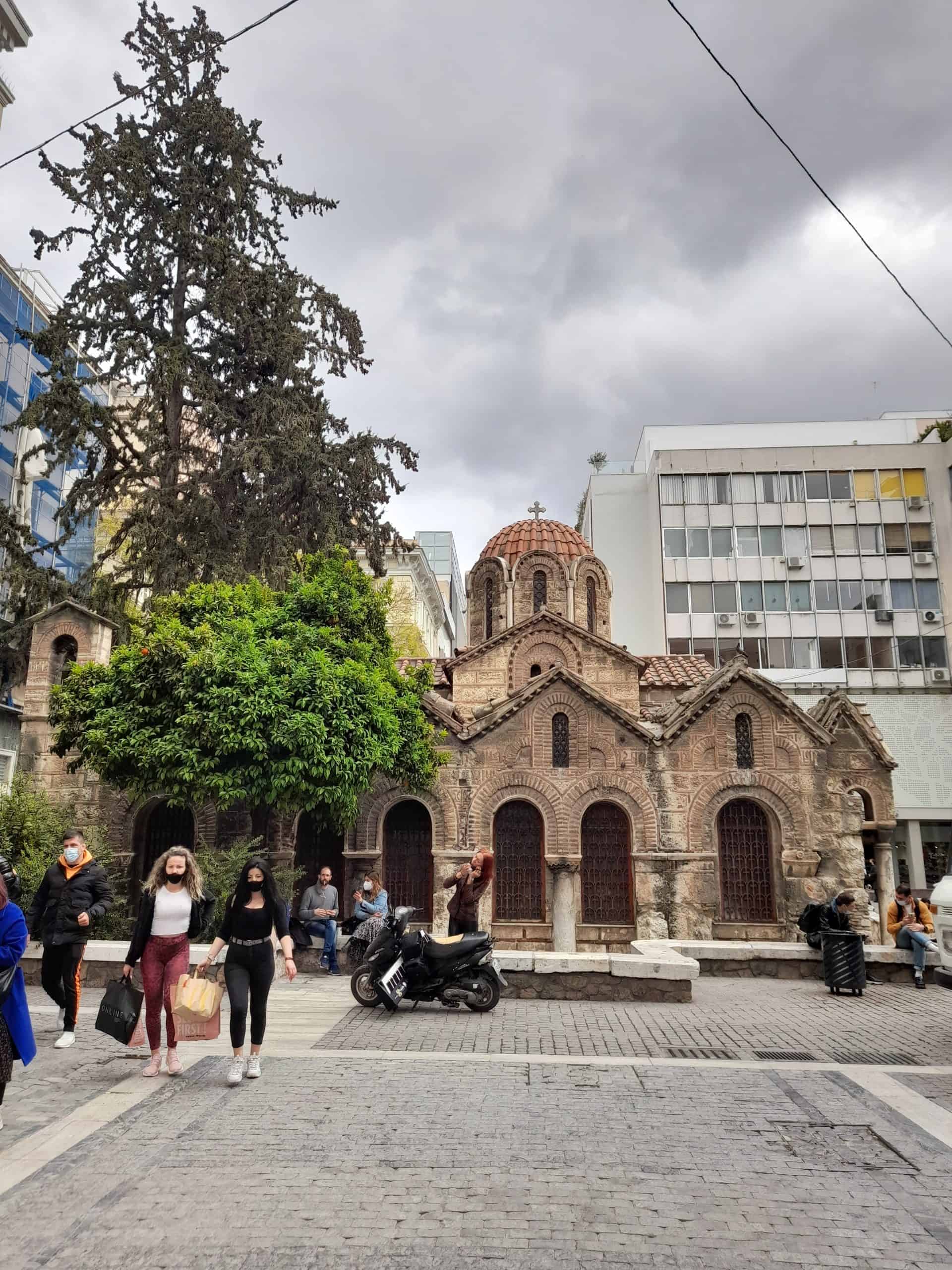 From Evripidou and the Athens Central Market, we will backtrack to the centre of Athens. Walk through the colourful Psiri neighbourhood before reaching Monastiraki and Syntagma. This walk should take no more than ten to fifteen minutes.
Monastiraki connects you to Ermou. This is Athens' answer to the high street. Here, you can find all of your favourite high street stores, in addition to independent Greek retailers.
This is a good place to sample some typical Greek street food if you are feeling hungry. One thing that you will always find here is little pushcarts selling koulouri.

Koulouri are circular pieces of savory, lightly salted sesame-seeded bread. They are essentially the Greek answer to the pretzel, and locals will often grab them from Ermou street to enjoy as a mid-morning snack.

The street food selection that you can find here is particularly interesting during the Autumn and Winter months in Greece. Vendors set up stalls to sell grilled corn on the cob, roasted chestnuts, barbequed marinated meats, and cups of hot salep.
Salep is worth a try and is likely, unlike anything you have sampled elsewhere. It is a warm beverage that is enjoyed in Greece and Turkey during the winter and is made from hot milk, sugar, and flour made from orchid tubers. It is then doused with cinnamon and has a taste comparable to Indian chai.
Watch the Evzones at the Greek Parliament Building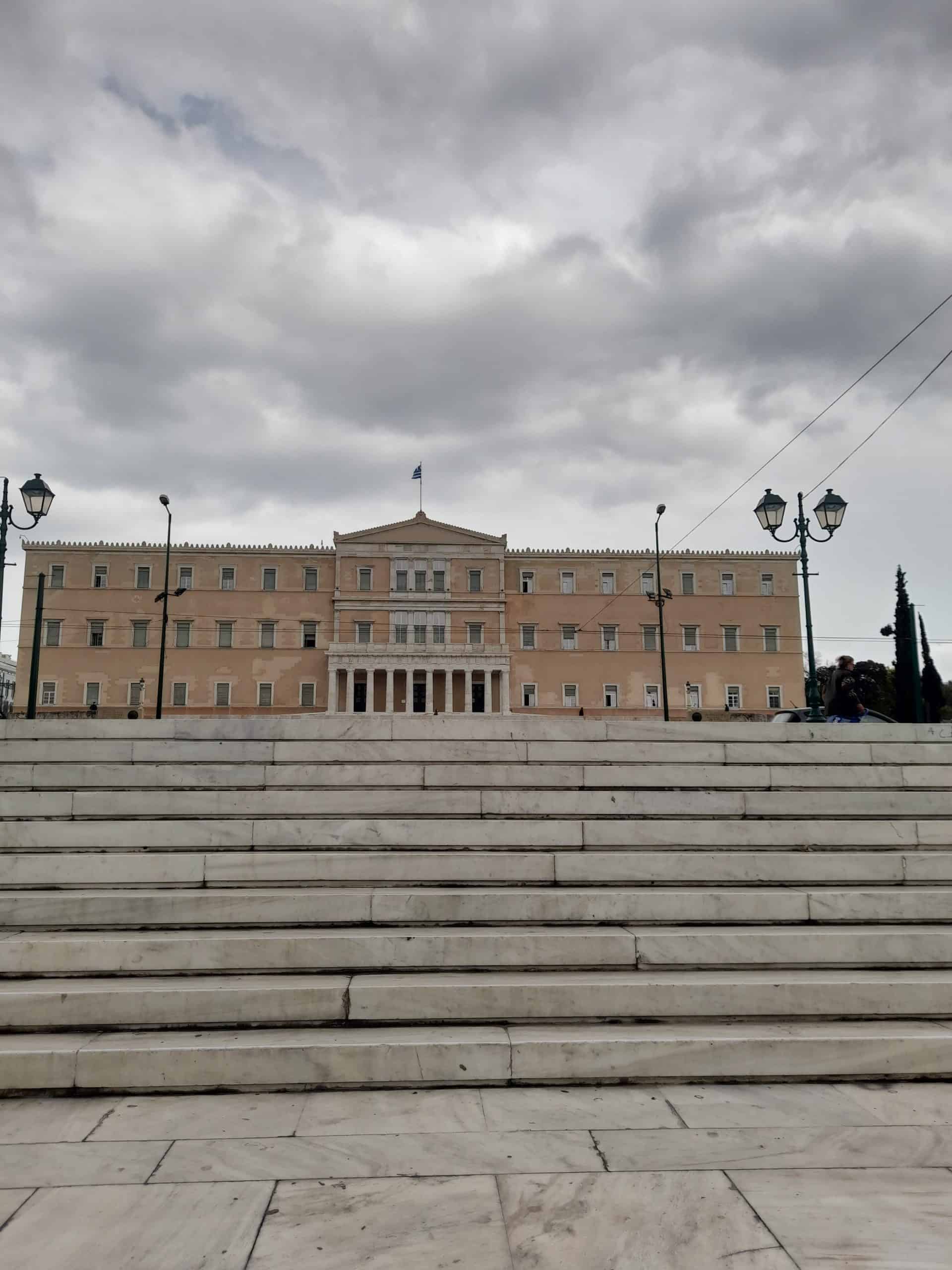 The Athens Parliament Building is the yellow building that sits directly across from Athens' Syntagma Square. The building is guarded by Evzones.
Evzones are a group of elite soldiers who are tasked with prestigious duties. To join the ranks of the Evzones is considered a great honour. A special changing of the guards ceremony takes place every hour, on the hour in front of the tomb of the unknown soldier.
If you happen to be in the area on a Sunday morning at 11am, you will be able to catch a particularly elaborate version of the ceremony.
The Evzones are interesting on account of their outfits and the ceremonial rituals and marches that they perform. They wear militia-style uniforms that consist of an embroidered wool waistcoat (a fermeli), a blue kilt (foustanella), a tasseled hat (farion), and shoes with affixed pom-poms (tsarouchia).
Tuck into a Mouthwatering Athenian Dinner
Greeks tend to eat their dinners fairly late – typically around 9-10 pm. That said, most restaurants are open to cater to locals and travellers all day.
There are dozens of excellent Athens restaurants to choose from. Many of them are located around the centre. For instance in Plaka, Monastiraki, Syntagma, etc.
In recent years, Athens has established itself as being quite the gourmand. There are several exquisite fine dining and Michelin-starred restaurants around the city.
If you want to treat yourself to something extra special during your day in Athens, there are plenty of options for you to do so. Eleas Gi is an elegant eatery in the upscale district of Kifissia.
Kifissia is located 14km out of central Athens. However, it can easily be reached by taxi or metro.
Eleas Gi is a sophisticated dining spot housed inside a renovated neoclassical mansion. The establishment's specialty is their tasting menus that enable you to sample a number of different Greek dishes at once.
Depending on your appetite, you can opt to sample a selection of 14 or 24 dishes. Imagine mouthwatering marinated meat dishes like beef tagliata, and succulent smoked gyros served with melted metsovone cheese.

You can ask the in-house Sommelier to suggest the perfect wine pairings for the various tasting menus.
Experience Athens by night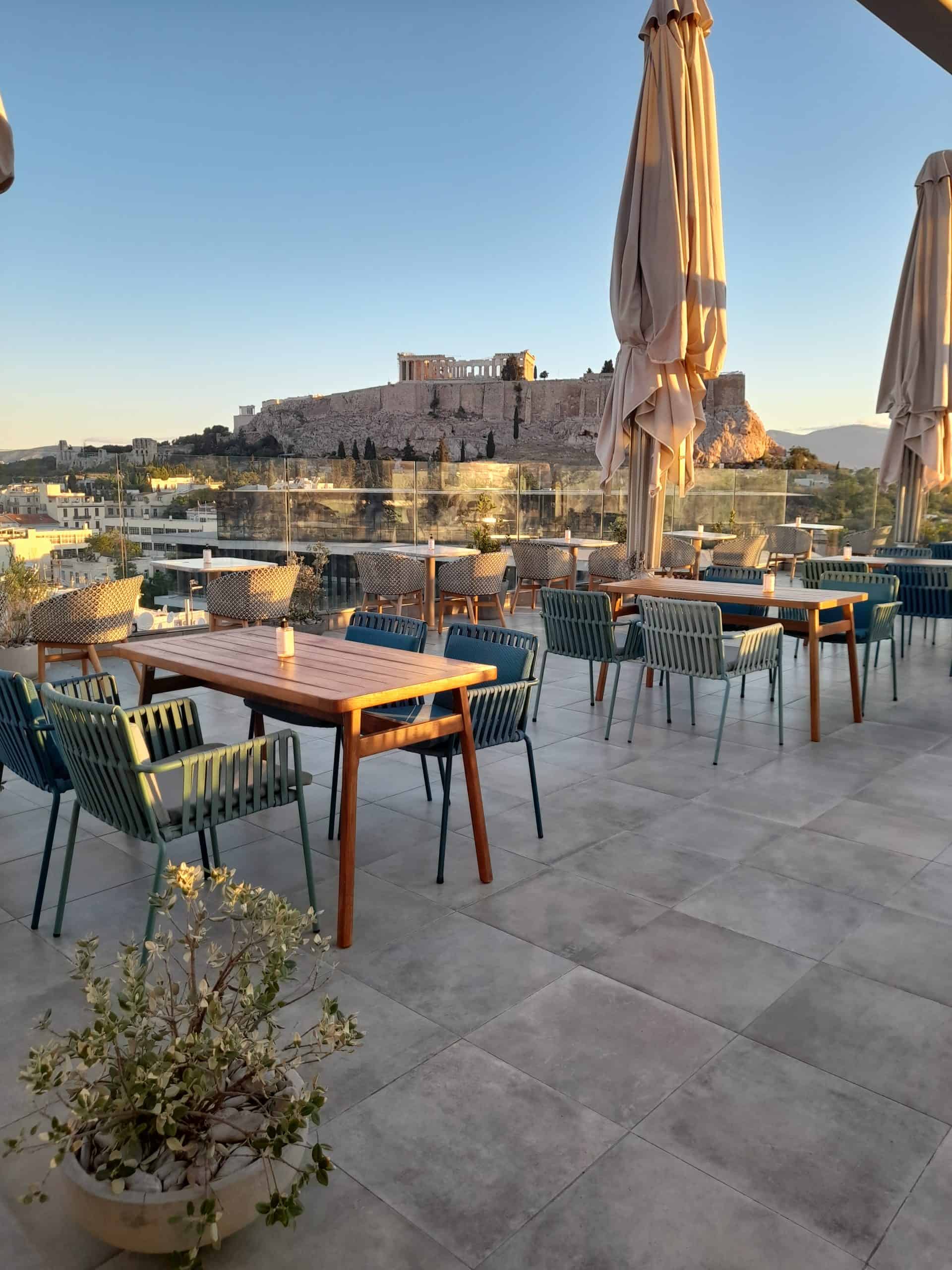 When night falls, the city of Athens really comes alive. The Athens nightlife scene has a little something for everyone – from speakeasies and elegant cocktail bars in Kolonaki, to raucous clubs in Gazi.
You have two options here. The first is to enjoy live bouzouki music in Plaka. The second is to indulge in a tipple or two at a rooftop bar.
Evening option one: A Greek bouzoukia
A bouzouki is a place that plays traditional Greek music. There are some huge concert-style bouzoukia spots in Athens, but there are also many others that are more intimate taverna-style establishments.
Head to ΤΟ ΠΕΡΙΒΌΛΙ Τ' ΟΥΡΑΝΟΎ in Plaka. This is a taverna where you can order up meze food platters, or jugs of ouzo and oinomelo (honey wine) while you watch the musicians.
The atmosphere is fun and casual. It is not uncommon for the musicians to hand out instruments and for the patrons to sing and dance at their tables. You are unlikely to see any other tourists in the bouzouki.
Evening option two: Athenian rooftops
There are lots of excellent rooftop bars in Athens that provide a setting that is almost magical. Where else in the world can you drink a Negroni while overlooking the Acropolis? This scene is spectacular at night when the Parthenon is illuminated by hundreds of twinkling lights.
To keep things relatively central, head to Couleur Locale in Monastiraki. The bar sits down an alleyway just off Monastiraki station at Normanou 3.
The alleyway looks a bit sinister and unwelcoming. Go inside the rusty elevator and hit the button for the top floor.
At the top, you are met with one of the chicest hidden cocktail bars in town. From up here, the Acropolis is so close it feels like you can just reach out and touch it.
Where to Stay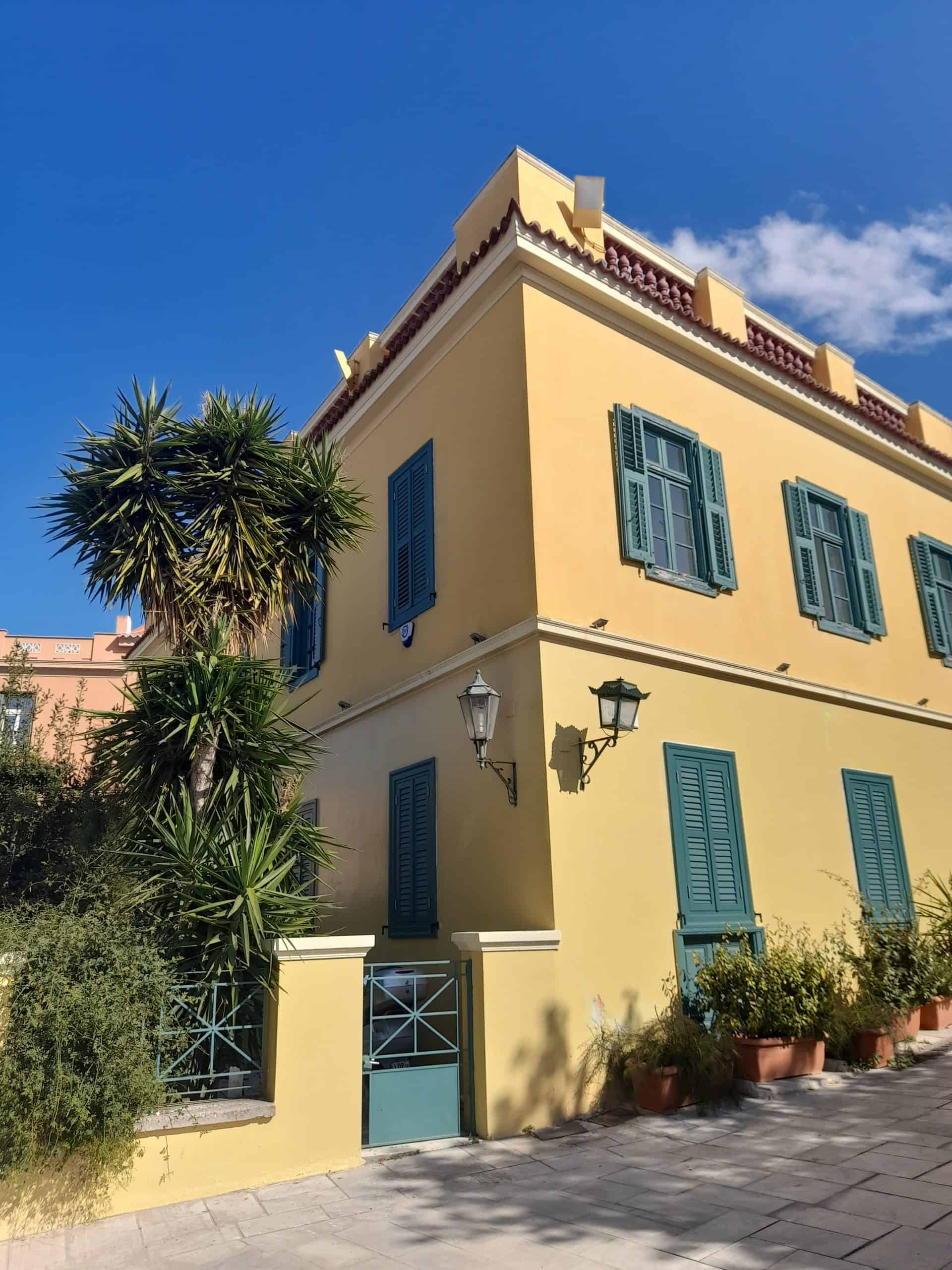 If you are trying to explore as much of Athens as possible in a day, you should strongly consider basing yourself somewhere central like Plaka or Thissio. Plaka is the charming old part of town that is teeming with history and feels like a journey back in time.
From Plaka, you will find yourself just a few minutes walk away from the Acropolis, the Roman Agora, and other most notable downtown attractions. An alternative option would be quirky Koukaki.
This is a creative hub just south of the city centre that is filled with eclectic coffee bars, vintage shops, and independent art galleries.
Suggested central hotels in Athens
This comprehensive guide on where to stay in Athens provides a run-through of all of the various districts in Athens. A few suggested centrally-located hotels are also detailed below.
If you opt to stay at these properties, you can get to all of the main attractions on foot. You will not have to waste any of your time getting cabs or riding the metro back and forth during your day in Athens.
Luxury Pick: The Foundry, Psyri
For the ultimate choice in comfort, luxury, and style, The Foundry is a great place to base yourself while in Athens. The location is perfect if you only have a day in Athens.
The premises here were once a font foundry and publishing house. They have since been renovated into luxurious, self-contained units. Think spacious accommodation, 12-foot ceilings, exposed brick walls, and magnificent views over the old part of Athens.
For the latest rates and availability at The Foundry, click here.
Budget Choice: Kimon Hotel Athens, Plaka
Rooms at the Kimon Hotel Athens start at just $50 per night for a superior room. This makes the hotel an excellent choice if you are travelling Greece on a budget – especially considering the central location.
The Kimon hotel is one of the top-rated hotels in Athens. The rooms are filled with plush furnishings and comfortable beds. From the roof garden on the top floor, you have a perfect view of the Acropolis as you enjoy your morning coffee and breakfast.
For the latest rates and availability at The Kimon Hotel Athens, click here.
Getting Around Athens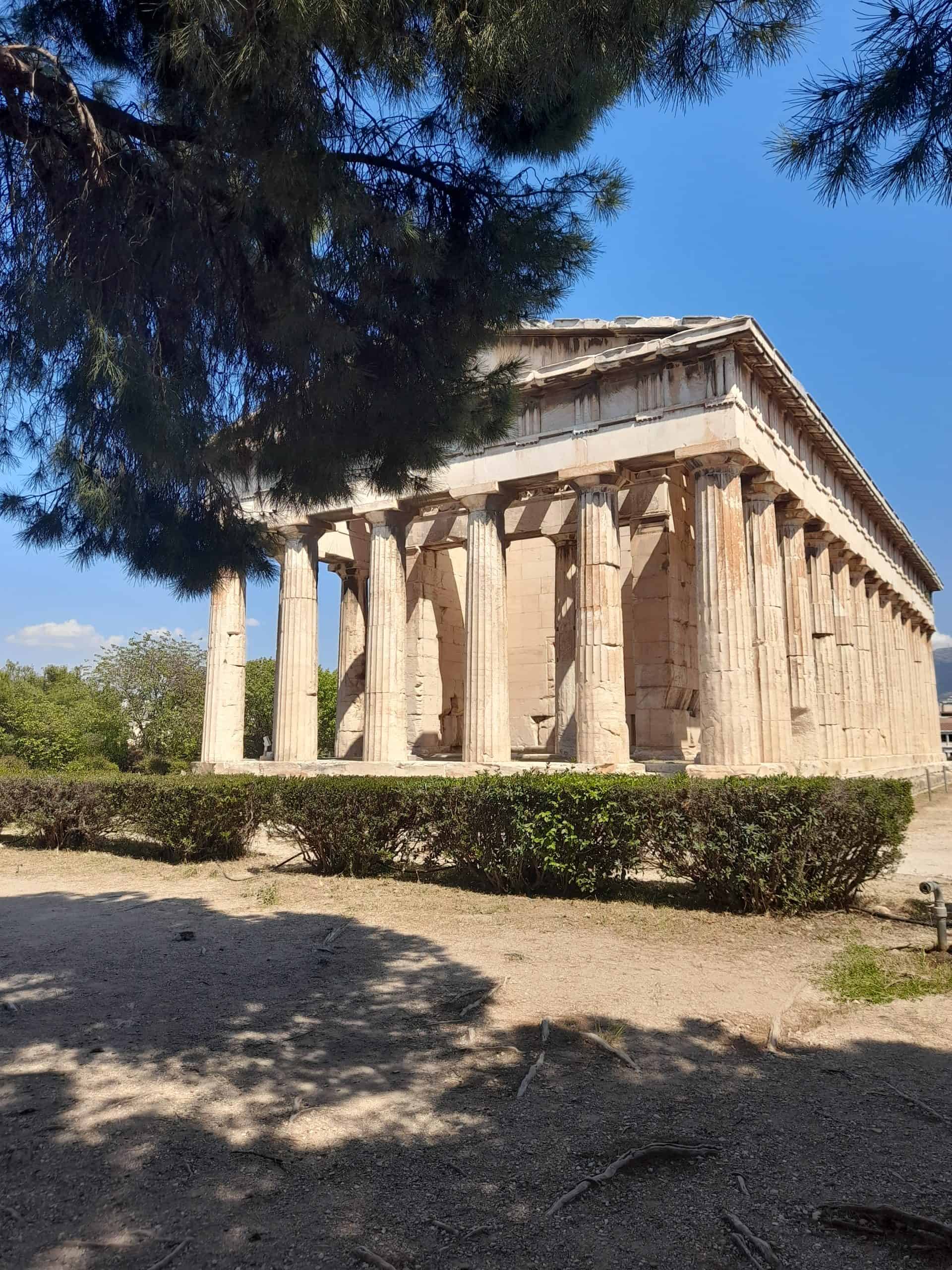 It is very easy to get around Athens. The Greek capital has an excellent network of buses and metros that service all parts of the city.
They even reach as far out as Glyfada, Kifissia, and Piraeus. The latter is useful if you need to take a boat to the Greek islands close to Athens.
This Athens in a day itinerary focuses on sites in the city centre which are all within a short walking distance of each other. If you decide to follow it, you will not have to use any buses or metros during your time in Athens.
Getting from Athens airport to the city
Getting from Athens airport to the city (and vice versa) is also very easy. Simply take the X95 bus to or from Syntagma square.
Alternatively, you can ride the blue line metro to its final stop: Athens airport. A one-way ticket on the X95 costs €6 per person while an Athens airport and city metro ticket costs €10 one-way or €18 return .
The Athens metro system
The Athens metro system is comprehensive and easy to use. There are three lines that run around the city. Public transport in Greece is generally very good.
Metro Line 1 (green line) connects central Athens to Piraeus and Kifissia. Line 3 (blue line) connects the city to the airport.
Many of the main tourist attractions are located along line one (red line).
A 90-minute ticket on the Athens metro costs €1.40. You can also purchase multi-day passes. A 24-hour ticket costs €4.50 and a three-day tourist pass costs €22.
Taking cabs in Athens
Cabs can be a convenient way of getting around during your day in Athens. Yellow cabs can be found throughout the city and you can flag them down in the same way as you would anywhere else. There are also taxi ranks located at Syntagma square and other main hubs.
Taxi scams in Greece are not unheard of. Athens cabbies may take you on a long, roundabout route to your destination, or they may pretend that they have not heard you and take you to an incorrect address.
You should download the BEAT taxi app while in Athens for a day. Sadly, Uber got banned in Greece in April 2018. However, BEAT is the next best alternative.
BEAT cabs are all yellow, licensed cars. However, the price is advised in advance. This makes it much easier to get a cab, and there is no risk of you being tricked by your cabbie.
A Note About Greek Transport Strikes
You should note that Greek transport strikes are not unheard of. In fact, they can be frustratingly common. Keep an eye on the latest updates to see if strike action may affect your trip.
FAQs about Spending One Day in Athens
Do you have any further questions or concerns about spending one day in Athens? The answers to some frequently asked questions on the topic are detailed below.
Hopefully, you will find the information that you are looking for there. If not, please do not hesitate to reach out to me.
Is one day in Athens enough?
Truthfully, one day in Athens is nowhere near enough time. At a minimum, you should try and dedicate at least three or four days to exploring Athens if your itinerary allows.
Unfortunately, though, it is understandable that you may only be able to dedicate a day to Athens as part of a wider Greece travel itinerary or island-hopping adventure. If that is the case, yes you can see some of Athens' highlights and most famous landmarks in a day.
However, there will be a lot that you are missing out on and leaving behind.
Is it worth spending a day in Athens?
Athens is well worth visiting, even if just for a day. The Greek capital is filled with colorful, vibrant neighborhoods, incredible urban and natural Athenian hiking trails, the sun bleach remnants of ancient Greek and Roman temples and marketplaces, and fascinating museums.
Athens is also a foodie paradise. You can find every type of restaurant here – from cheap, homely tavernas and bouzouki spots that host live music every night of the week, to Michelin-starred restaurants and fine dining establishments.
If you want to sample seafood delicacies from Lesvos, you can. Similarly, if you want to indulge in Cretan or Corfiot delicacies, you can do that here too.
Truthfully, a day in Athens is nowhere near enough.
Can you do the Acropolis in one day?
You could easily do the Acropolis in a day. 3-4 hours is an ample amount of time to explore the entire site at a leisurely pace.
This amount of time is also plenty for browsing the exhibits at the Acropolis museum.
How do you spend a day in Athens?
A suggested one-day in Athens itinerary is provided above. Arguably the main attraction that you should not miss if you are only in town for a limited amount of time, is the Acropolis.
Then, you should make a list of the attractions that interest you the most. You won't be able to do everything in Athens in a day.
So prioritise the attractions that are most appealing to you. Check out a map of Athens and see where each point of interest is located so that you can work out a logical route to get between them all.
What is there to do in Athens for 5 hours?
Are you going to be in Athens briefly as a stopping point on a cruise or as an extended layover while waiting for a transfer on an international flight? The good news is that you can see the best of what the city has to offer in as little as 5 or 8 hours.
Do keep in mind that it takes about an hour to get from Athens airport to the city centre. It also takes upwards of 35 minutes to get from Piraeus port to Syntagma Square.
This is enough time to meander around the Monastiraki flea market, perhaps grab an al fresco coffee or cocktail at A for Athens or Athens 360 cocktail bar in the city center, visit the Acropolis, or explore Psiri and the Varvakios Agora.
Final thoughts on spending one day in Athens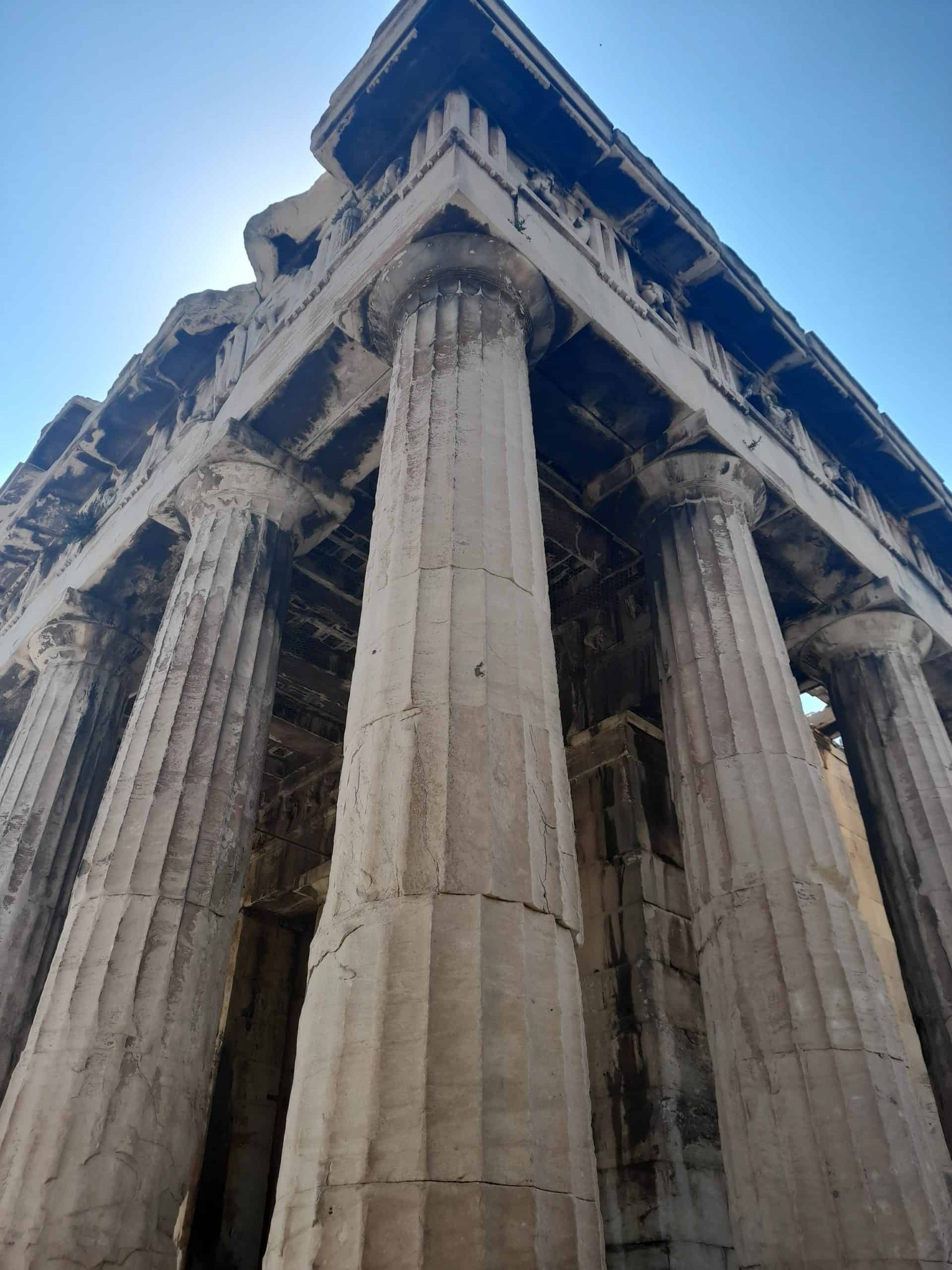 If you have any option to extend your time in Athens, you may be interested in this three-day Athens itinerary. Staying a little longer gives you the chance to explore more of the fascinating historical sites and museums of one of the world's oldest cities.
Have any further questions about how to see Athens in a day, or planning a trip to Greece in general? I have been living in Athens for the last four years and I'm happy to assist with any questions you may have.
Feel free to drop me a comment below and I will get back to you ASAP. Safe travels! Geia sou! Melissa xo
---