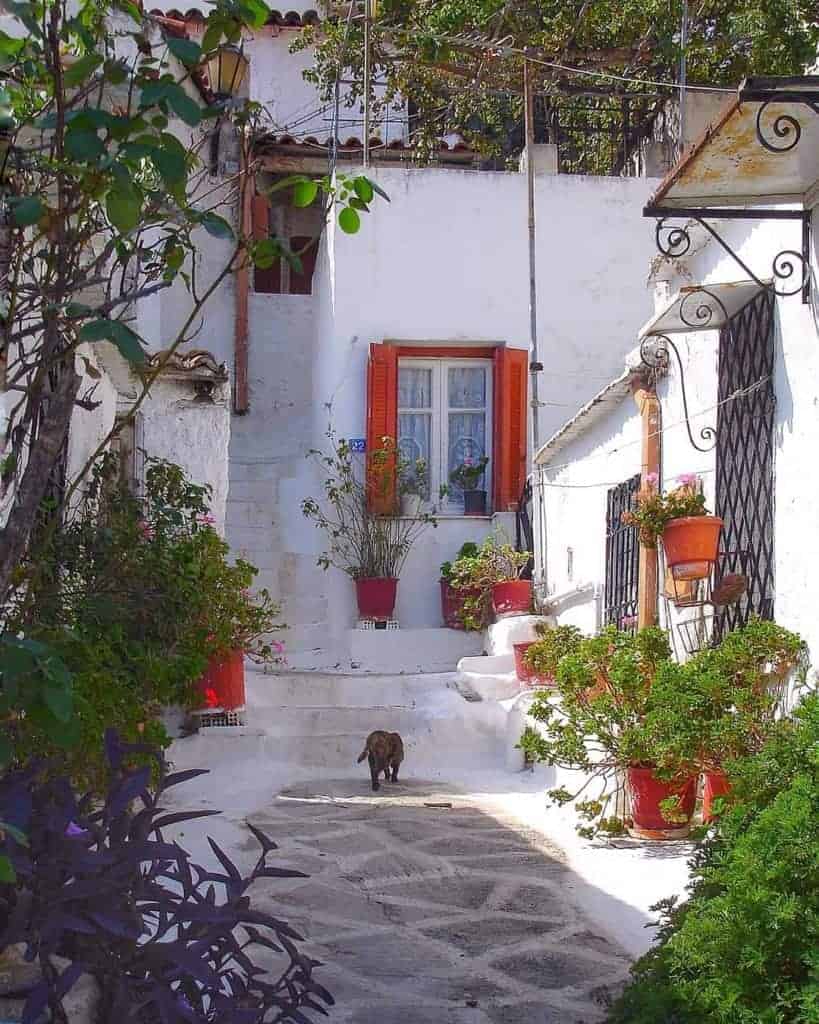 Exploring Athens in a day does not give you a lot of time to scratch beneath the surface of what the Greek capital has to offer. Trust me on this one. I have been living in Athens for the last three years and I am still forever discovering new nooks and crannies of the city to fall in love with.
That said, I understand that you may only be passing through Athens briefly as part of a wider Greece travel itinerary. In that case, I have comprised this Athens in a day guide to help you enjoy the best of this ancient city in a short period of time.
Athens in a Day:
A Cultured Itinerary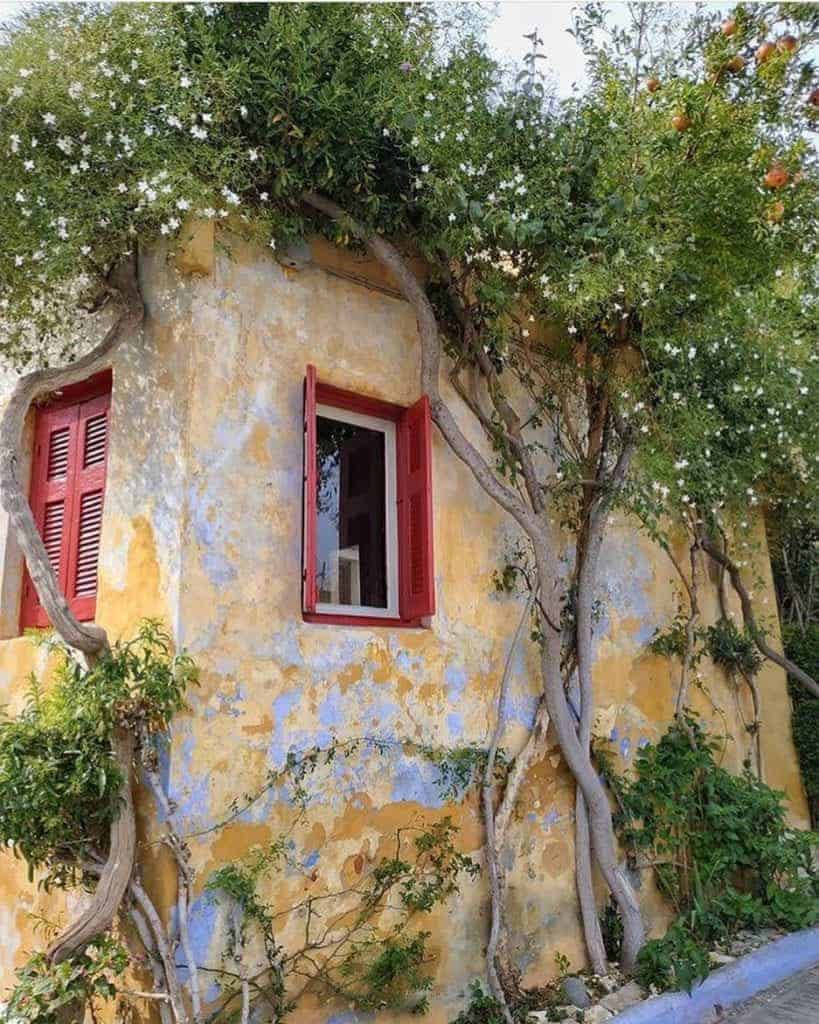 Exploring Athens in a day means a relatively jam-packed itinerary if you are to make the most of your time. Don your comfiest shoes and prepare to explore the city that is considered by many as being the birthplace of civilisation.
The Acropolis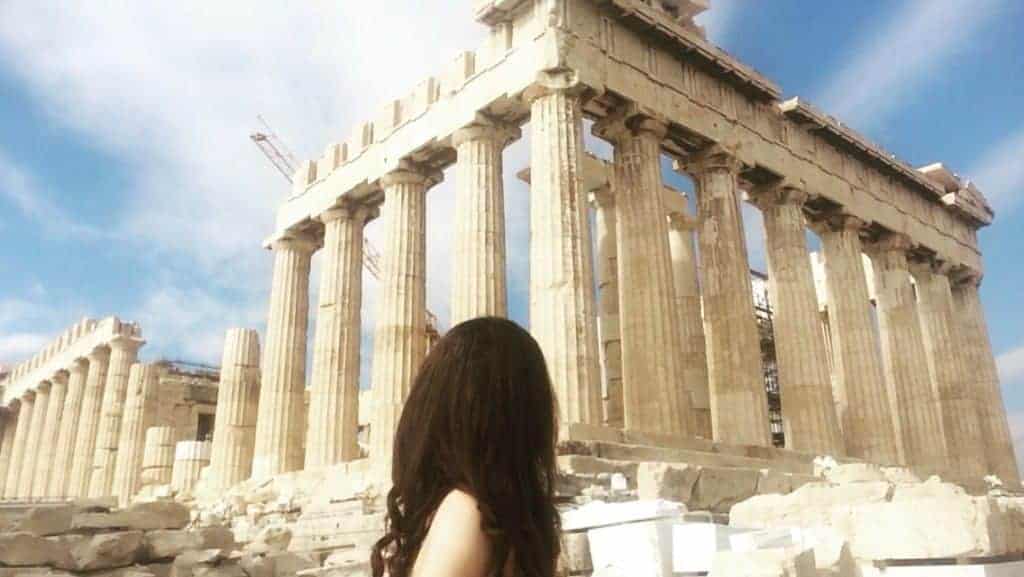 The sun-bleached ruins of the ancient Acropolis still watch over the city of Athens protectively, as they have done for hundreds of years. Regardless of how many times you have seen the Acropolis in guidebooks and magazines, nothing prepares you for how magnificent this site is up close.
Try to get to the Acropolis before 9 am to avoid the crowds. Of course, the Parthenon is the piece de resistance of Acropolis hill, however, the site is more expansive than you may imagine. Look out for the Theatre of Dionysus (342BC) and the Theatre of Herodes Atticus (161 AD). The former was graced by the presence of Greek philosophers like Sophocles, and Euripides, while the latter was a Concert place built by the Romans.
The top of the Acropolis Hill boasts some of the best views in Athens. From here you can gaze out across to Mount Lycabettus, and Filopappou hill. Look out for the Temple of Olympian Zeus and the Panathenaic Stadium which sit directly beneath you.
The Acropolis Museum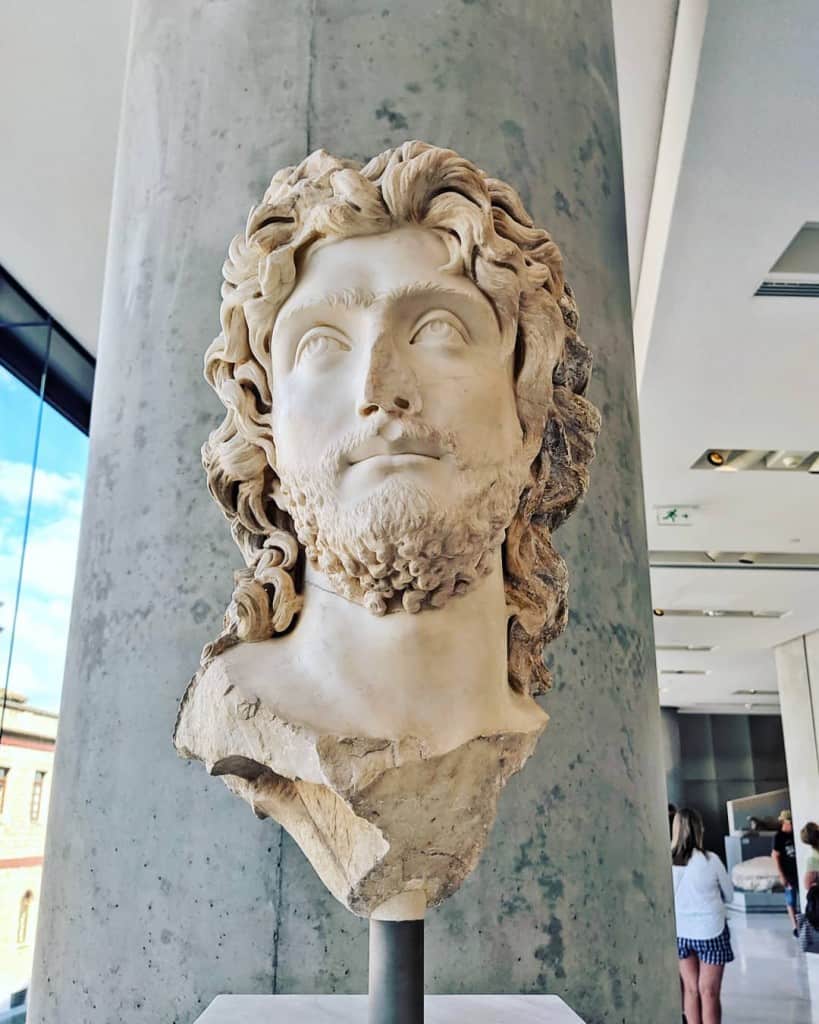 The "new" Acropolis museum is styled in a contemporary glass building that sits just across from the Acropolis site. The entrance to the museum is included in the price of your Acropolis admission.
Even if you don't consider yourself as being a big "museum person", I'd recommend briefly ducking in here. The museum provides a little more context to the ruins that you have just seen at the Acropolis.
You can easily pass through the various exhibits and floors in just 20 minutes. If you want a bathroom and coffee break, the coffee shop on the top floor of the city is very nice and allows you to gaze across to the Parthenon in all of its glory.
The streets that run alongside the Acropolis are very pleasant. Dionysiou Areopagitou and Apostolou Pavlou are charming cobbled boulevards lined with coffee shops and street vendors that sell artisanal products. Enjoy a short walk here and follow the signs to old Plaka.
The Sights and Sounds of Ancient Plaka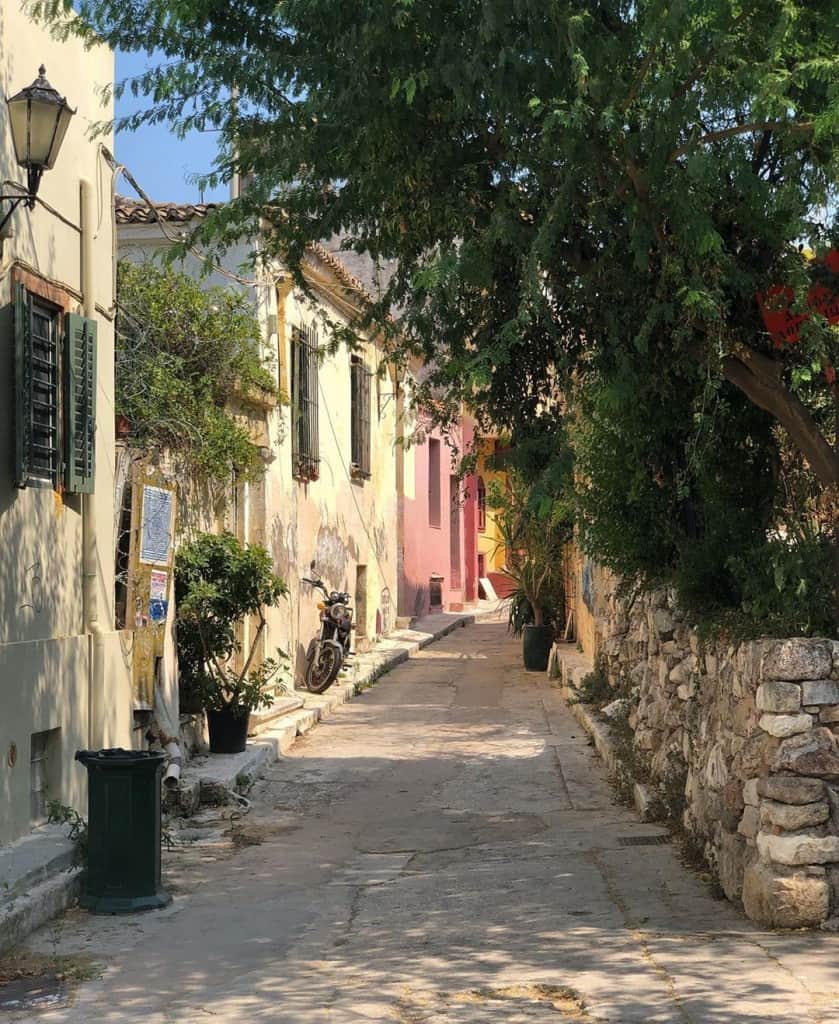 Plaka is one of the oldest parts of Athens. This neighbourhood has a history that dates back more than 3,000 years! Plaka is also one of the most picturesque places in the city – characterised by its quaint pastel-coloured houses and narrow, labyrinth-like network of passageways.
Visit the Roman Agora – a marketplace that was constructed in the 1st century BC with the funding of none other than Julius Caesar. The Roman Agora is very small, however, it is well worth a visit.
From here, follow the pathway through the crowded covered market. Dodge the street vendors that try to sell you their "I heart Athens" tat, and make your way to the Ancient Agora.
This ancient marketplace was the main rendezvous point in Athens during the days of Socrates and Sophocles. It is encircled by trees and woodlands and almost hidden from view. Look out for the Temple of Hephaestus (415BC) –one of the best-preserved temples in Greece.
Indulge in a Greek Feast at a Local Taverna
Plaka is a pretty touristy part of Athens. However, once you leave the main streets, there's no-one! Despite Plaka's bustling location, many of the restaurants and eateries here remain as local haunts that are hidden from the eyes of most tourists.
For authentic Greek food, head into one of Plaka's tavernas and indulge in the local delicacies. I highly recommend To Kafeneio – a mezedopolio that serves small meze plates of food, along with sharing platters. The restaurant is locally renowned for its sumptuous marinated meats and the menu here changes seasonally so as to offer only the freshest ingredients.
Climb up to Anafiotika – Athens' Best Kept Secret
There is something special hiding behind the streets of Plaka – the village of Anafiotika. Anafiotika is a small residential neighbourhood that sits on the slopes of the Acropolis hill.
The thing that makes Anafiotika special is its architecture. Anafiotika's houses are decorated in blue and white Cycladic style and look like something that you would expect to see on an island, rather than in the heart of the busy Greek capital. This is because Anafiotika was built by residents of Anafi island after they moved to Athens.
Aside from the occasional guidebook-wielding tourist, you won't see many people at Anafiotika. It is by far one of the most beautiful parts of Athens.
Browse the Eclectic Stores of Evripidou Street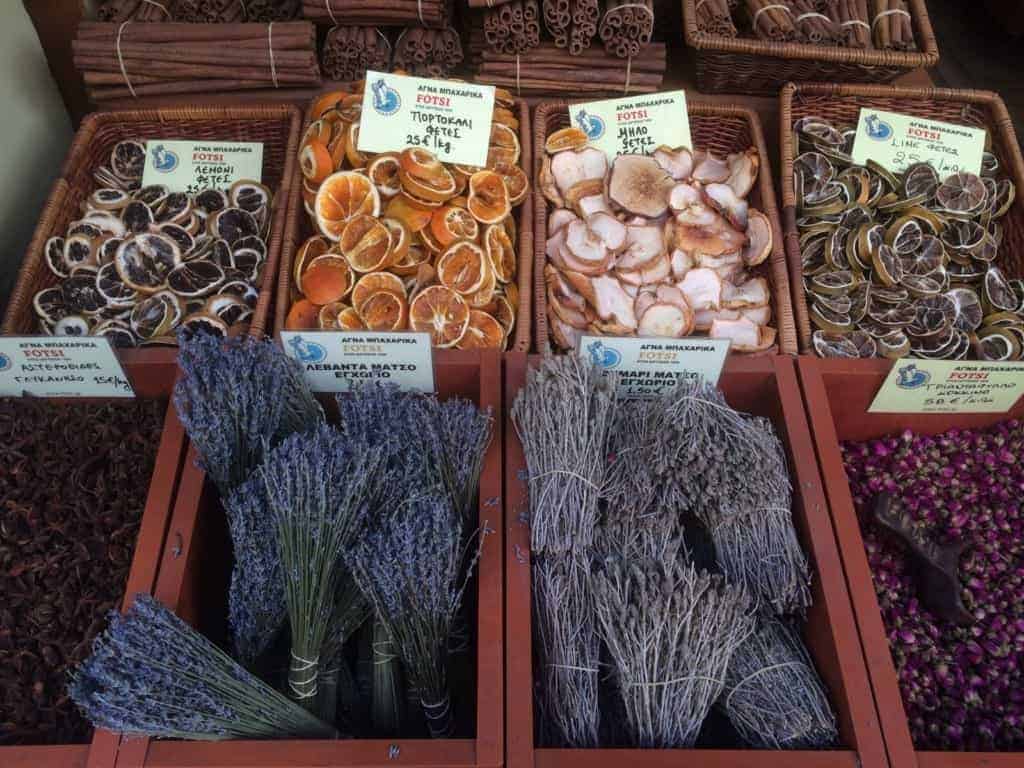 Evripidou Street awaits just a short walk away from Anafiotika and Plaka. This fragrant street is filled with eclectic stores that sell spices, Greek food products, and cured meats. Here you can also find Lilliputian shops selling flower seeds, plants, and homeopathy bath products.
This street is a great place for shopping in Athens – especially when it comes to edible souvenirs. If you have room for a small snack, stop by Miran or Karamanlidka – these deli-style stores specialise in selling cured meats and cheeses. If you are interested, you can have them rustle you up a charcuterie board for tasting.
Stop by the Athens Central Market
Athens Central Market sits beside Evripidou street. This is the largest market in the city and it still operates in a very traditional way. The covered market is divided into various sections that sell fish, meat, vegetables, etc.
Greeks still shop at markets like this today, and will often stop by "laiki" – weekly farmer's markets that are hosted in every neighbourhood from Pagrati to Kolonaki. A quick wander through the central market is an interesting cultural experience. However, you should be prepared for some gruesome scenes in the meat section, and some equally gruesome smells in the fish market.
Backtrack to Monastiraki & Syntagma
From Evripidou and the Athens Central Market, we will backtrack to the centre of Athens. Walk through the colourful Psiri neighbourhood before reaching Monastiraki and Syntagma. This walk should take no more than ten to fifteen minutes.
Monastiraki is essentially Athens' high street and here you can see all of your typical high street stores, along with some shops that are owned by independent Greek retailers.
Watch the Evzones at the Greek Parliament Building
The Athens Parliament Building is the yellow building that sits directly across from Athens' Syntagma Square. The building is guarded by the Evzones – a group of elite soldiers who are tasked with prestigious duties like this.
The Evzones are interesting on account of their outfits (militia style uniforms paired with pom-pom shoes), and the ceremonial rituals and marches that they perform. On Sundays at 11 am, the Evzones perform a special "changing of the guards" ceremony.
Have Dinner in Athens
Greeks tend to eat their dinners fairly late – typically around 9-10 pm. That said, most restaurants are open to cater to locals and travellers all day. I have left this section of your day in Athens flexible so that you can decide what you prefer to do.
There are dozens of excellent Athens restaurants to choose from – many of which are located around the centre – Plaka, Monastiraki, Syntagma, etc.
Experience Athens By Night
When night falls, the city of Athens really comes alive. The Athens nightlife scene has a little something for everyone – from speakeasies and elegant cocktail bars in Kolonaki, to raucous clubs in Gazi.
I would like to present two options here. The first is to enjoy live bouzouki music in Plaka. The second is to indulge in a tipple or two at a rooftop bar.
Evening Option One: A Greek Bouzoukia
A bouzouki is a place that plays traditional Greek music. There are some huge concert-style bouzoukia spots in Athens, but there are also many others which are more intimate taverna-style establishments.
Head to ΤΟ ΠΕΡΙΒΌΛΙ Τ' ΟΥΡΑΝΟΎ in Plaka. This is a taverna where you can order up meze food platters, or jugs of ouzo and oinomelo (honey wine) while you watch the musicians.
The atmosphere is fun and casual. It is not uncommon for the musicians to hand out instruments and for the patrons to sing and dance at their tables. You are unlikely to see any other tourists in the bouzouki.
Evening Option Two: Athenian Rooftops
There are lots of excellent rooftop bars in Athens that provide a setting that is almost magical. Where else in the world can you drink a Negroni while overlooking the Acropolis as it is illuminated by twinkling lights?
To keep things relatively central, head to Couleur Locale in Monastiraki. The bar sits down an alleyway just off from Monastiraki station at Normanou 3. The alleyway looks a bit sinister and unwelcoming. Go inside the rusty elevator (have I sold it to you yet?) and hit the button for the top floor.
At the top, you are met with one of the chicest hidden cocktail bars in town. From up here, the Acropolis is so close it feels like you can just reach out and touch it.
Athens in a Day:
Where to Stay?
If you are trying to explore as much of Athens as possible in a day, I would strongly recommend that you opt to base yourself somewhere central like Plaka. Plaka is the charming old part of town that is teeming with history and feels like a journey back in time.
From Plaka, you will find yourself just a few minutes' walk away from the Acropolis, the Roman Agora, and other most notable downtown attractions. An alternative option would be quirky Koukaki – a creative hub just south of the city centre that is filled with eclectic coffee bars, vintage shops, and independent art galleries.
Athens in a Day:
Suggested Central Hotels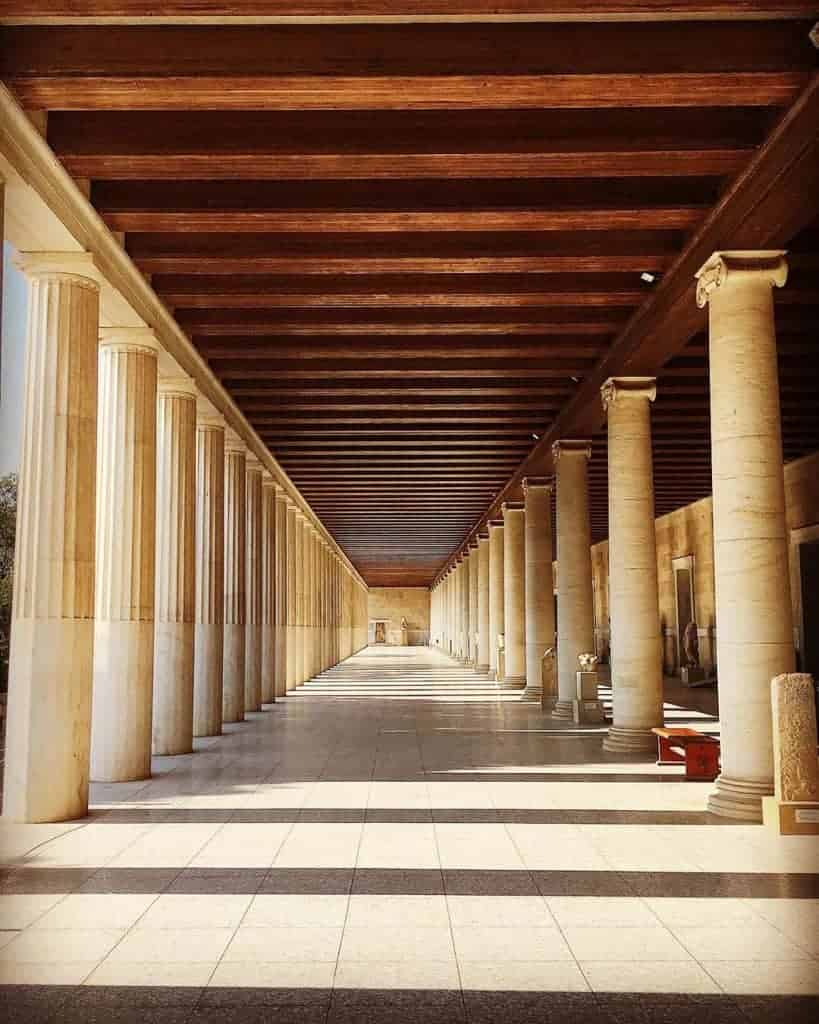 This comprehensive guide on where to stay in Athens provides a run-through of all of the various neighbourhoods in Athens. I have also provided some suggestions on the best centrally-located hotels below. If you opt to stay at these properties, you will not have to waste any of your time getting cabs or riding the metro back and forth during your day in Athens.
Luxury Pick: The Foundry, Plaka
For the ultimate choice in comfort, luxury and style, The Foundry is a great place to base yourself while in Athens. The location is perfect if you only have a day in Athens – The Foundry is in Plaka and is just a short walk away from most Athens attractions.
The premises here were once a font foundry and publishing house. They have since been renovated into luxurious, self-contained units. Think spacious accommodation, 12-foot ceilings, exposed brick walls, and magnificent views over the old part of Athens.
For the latest rates and availability at The Foundry, click here.
Budget Choice: Kimon Hotel Athens, Plaka
Rooms at the Kimon Hotel Athens start at just $50 per night for a superior room. This makes the hotel an excellent choice for those travelling Greece on a budget – especially considering the central location.
The Kimon hotel is one of the top-rated hotels in Athens. The rooms are filled with plush furnishings and comfortable beds. From the roof garden on the top floor, you have a perfect view of the Acropolis as you enjoy your morning coffee and breakfast.
For the latest rates and availability at The Kimon Hotel Athens, click here.
Getting Around the City
It is very easy to get around Athens. The Greek capital has an excellent network of buses and metros that service all parts of the city – even reaching as far out as neighbouring Glyfada, Kifissia, and Piraeus (useful if you need to take a boat to the Greek islands).
This Athens in a day itinerary focuses on sites in the city centre which are all within a short walking distance of each other. If you decide to follow it, you will not have to use any buses or metros during your time in Athens.
Getting from Athens airport to the city is also very easy – simply take the X95 bus from Syntagma square, or ride the blue line metro to its final stop – Athens airport.
You should note that Greek transport strikes are not unheard of. In fact, they can be frustratingly common. Keep an eye on the latest updates to see if strike action may affect your trip.
Google Maps is a great way to get around wherever in the world you travel. An alternative that I strongly recommend using is Maps.Me. This is a free map app that works offline. I generally use this in Athens as I never have data!
BEAT is another app worth downloading just in case. This is Greece's answer to Uber (sadly Uber got banned here in April 2018). The cars are all licensed cabs, however, BEAT makes it much easier to get a cab, and it also tells you the price in advance so that there is no risk of you being tricked by an Athenian cabbie.
Parting Words
If you have any option to extend your time in Athens, you may be interested in this three day Athens itinerary. Staying a little longer gives you the chance to explore more of the fascinating historical sites and museums of one of the world's oldest cities.
Have any further questions about how to see Athens in a day, or planning a trip to Greece in general? I have been living in Athens for the last three years and I'm happy to assist with any questions you may have. Feel free to drop me a comment below and I will get back to you ASAP. Safe travels! Yiassou! Melissa xo
Disclaimer: This post on exploring Athens in a day may contain affiliate links. This means that I may obtain a small amount of commission if you choose to make a purchase through some of the links contained on this page. This comes at no additional cost to you and allows me to continue running this site. Thank you for understanding.

---