Syntagma Square Athens is a central square "plateia" that essentially marks the beating heart of downtown Athens. It is a popular rendezvous point for locals, who come to meet their friends close to the Syntagma Square fountains on evenings and weekends before heading out into the city.
It is also one of the first places in Athens that most visitors to the Greek capital will see. The Athens metro and airport bus (X95) both run from the airport to Syntagma Square.
They terminate here, for tourists to be able to transfer onto other services or continue on foot.
At first glimpse, Syntagma Square may look like any other central city square. But in actuality, this bustling spot is rich in history and is close to some of the most important historical sites and architectural marvels in the city.
This article has been written by a British Travel Writer based in Athens. I have been living in the Greek capital since 2017 and have gotten to know it like the back of my hand in that time.
This post will look at the history behind Syntagma Square, and some of the interesting things that you can see in the area if you visit today.
Syntagma Square Athens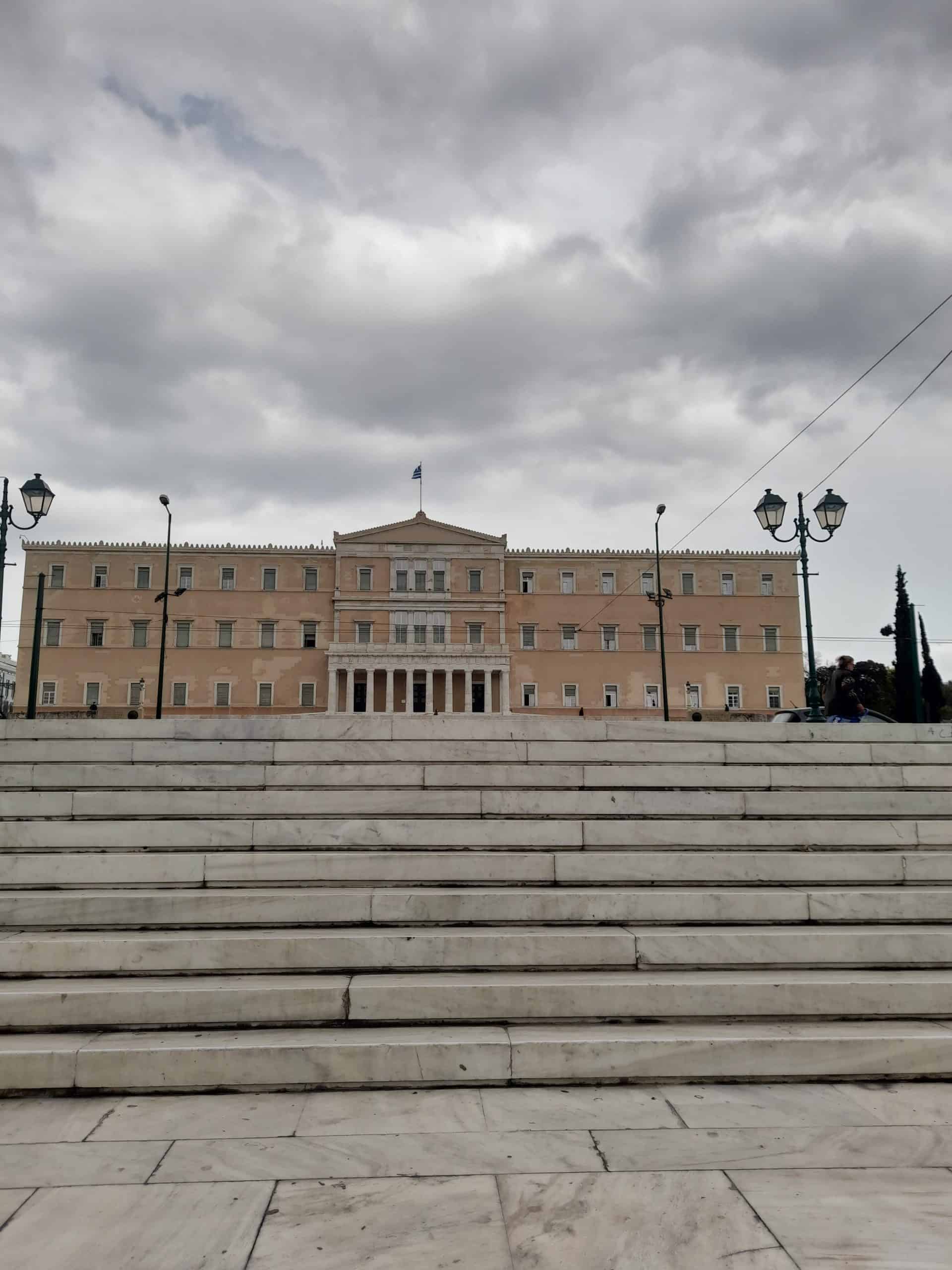 Syntagma Square (meaning "Constitution" Square in Greek) is Athens' main square. It sits opposite the Greek parliament building and beside the chaotic multi-lane road of Leof. Vasilisis Amalias.
The square was commissioned in 1834 when King Otto decided to make Athens the capital of the modern Greek state instead of Nafplio. At that time it was known as "Palace Square".
Back then, this was a fitting name since the Greek Parliament building actually functioned as a palace and the Royal residence for the first King of Greece, King Otto and his wife Amalia. (The monarchy in Greece was eventually deposed in March 1924). 
In 1843, the people of Athens, spearheaded by the Hellenic Army rose up against King Otto and the monarchy and demanded that they be given a constitution. After discussing their demands, "Palace square" was renamed to "Syntagma Square" and was presented to the people of Athens as a gift to them.
Things to do in and around Syntagma Square 2023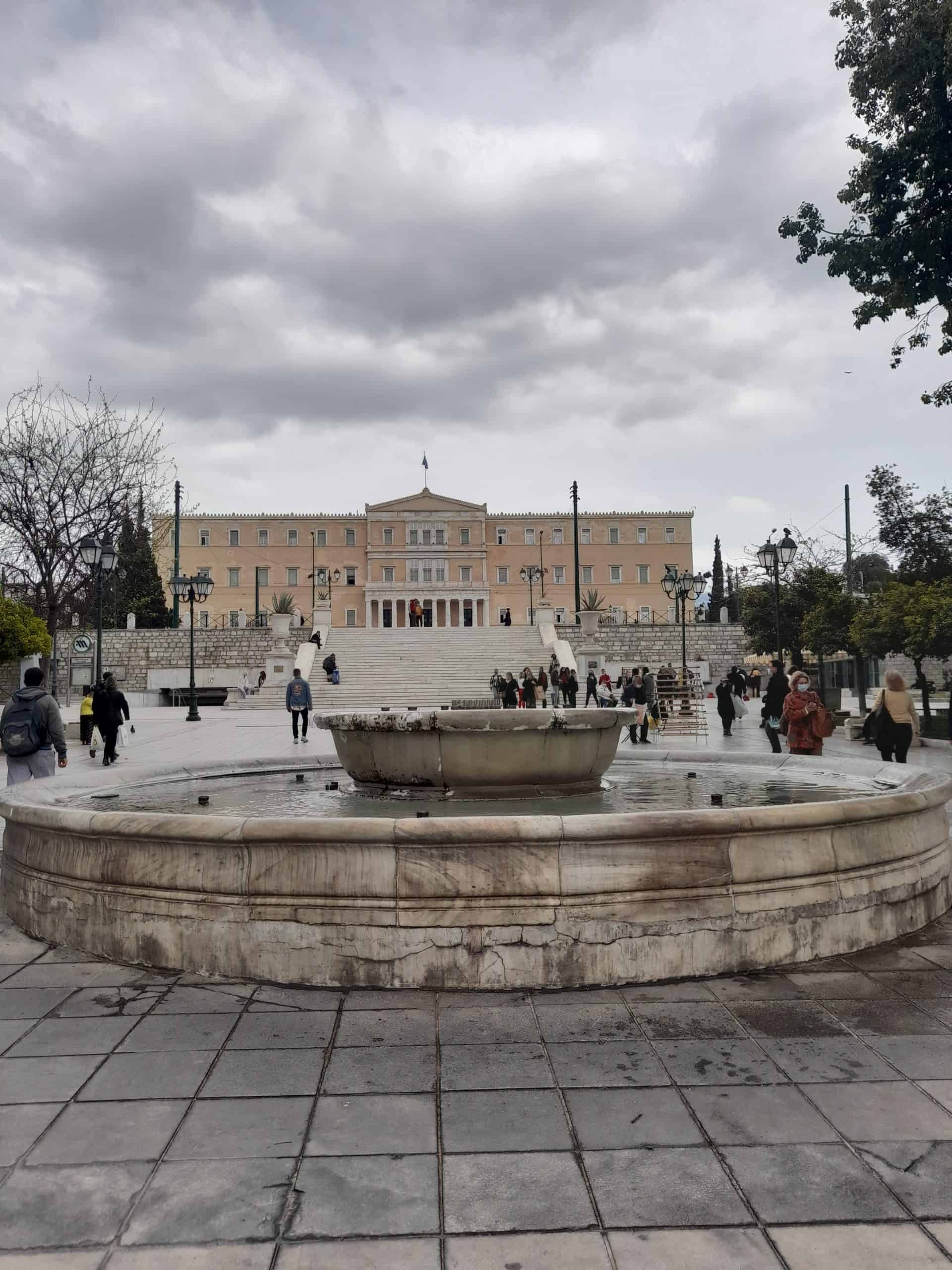 Today, Syntagma Square makes a good starting point for a day well spent in Athens. Most Athens walking tours start from here too, which is worth noting if you want to explore the city with an expert local guide.
At various points throughout the year, festivals and musical events are hosted here. During Christmas time in Athens, a spectacular tree is set up in the middle of the square.
Watch the changing of the guard ceremony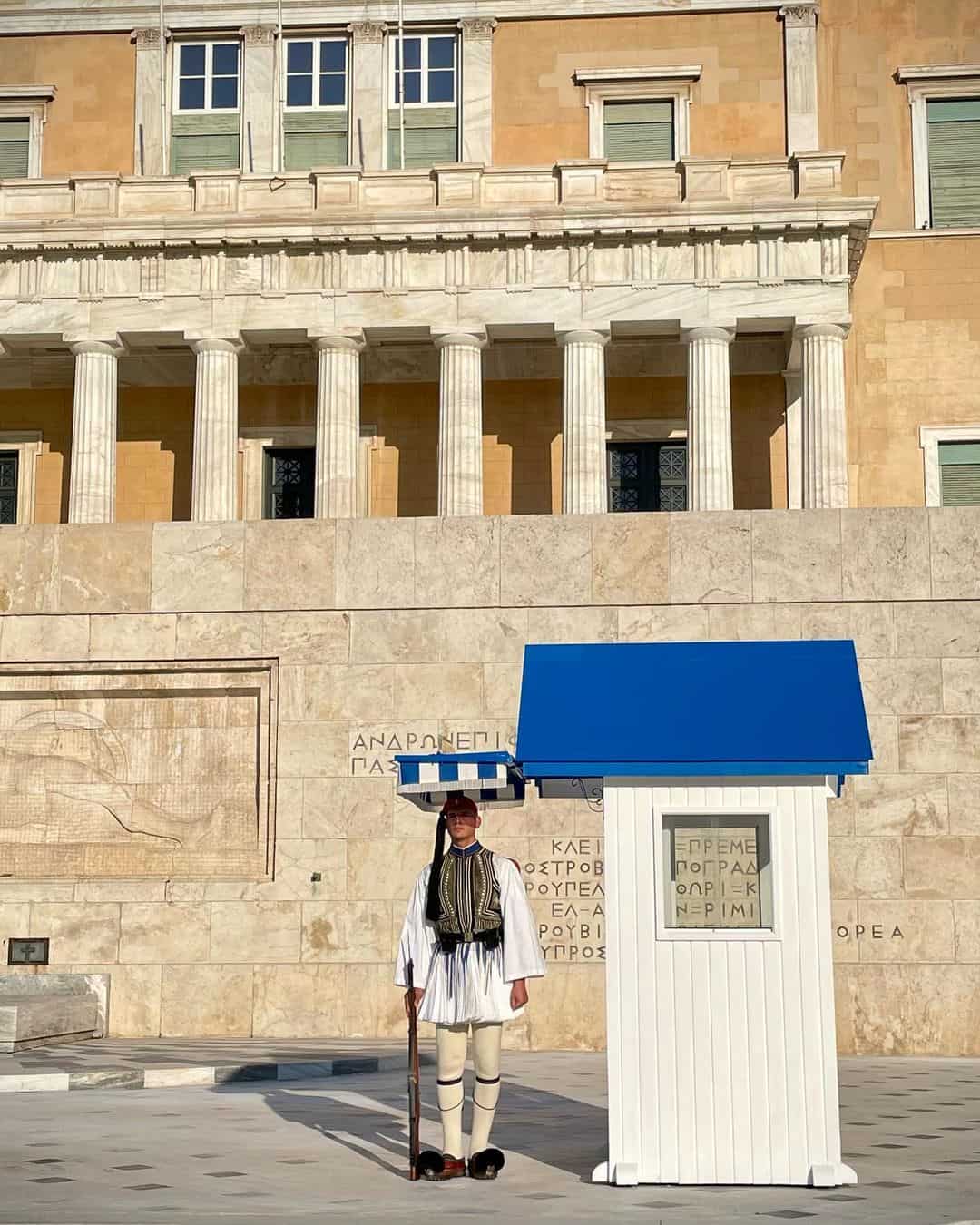 A handful of Athenian elite soldiers known as "Evzones" stand guard outside the Tomb of the Unknown Soldier, close to the Greek Parliament building. The tomb, constructed in 1929, is an empty cenotaph dedicated to all those who have lost their lives fighting for Greece.
The Evzones are known for their elaborate uniforms and it has always been considered a great honour to join their ranks.
Like the beefeaters in London, the Athenian Evzones are required to remain still and not move or react during their duty. 
Their uniforms are quite unusual. They are characterised by black shoes with pom-poms affixed to the front, a red, tasseled cap (farion), and a kilt-like garment (foustanella)
Every day at 11 am, there is an elaborate changing of the guards ceremony that takes place out the front of the Parliament building and the tomb of the unmarked soldier. Watching this is a must on any Athens itinerary. 
Visit the Hellenic Parliament Building
The pale orange parliament building that stands proudly on the north side of Syntagma Square is the former residence of King Otto and Queen Amalia. It was built around 1842 but it has served as a parliamentary office since 1934. 
Few people realise that it is possible to venture inside the building but if you want to take a tour, you can do so. The tours take place twice weekly, are free to attend, and are hosted in English.
Tour schedules are subject to change. However, currently, the tours take place on Mondays and Fridays at 3 pm. 
A reservation is required. Send your email inquiry to [email protected].
Have a picnic in the National Gardens 
The beautiful National Gardens are to Athens what Central Park is to New York City. They sit just to the right of the Parliament building and were lovingly created by the German agriculturist Frederick Schmidt in the 1800s, on the instruction of Queen Amalia. 
Hundreds of different plants and animals from across Europe were imported to live in what was known as the Queen's Garden. Sadly, many could not withstand the intense summer heat of summer heat.
Today, there are still more than 500 different species of plants and flowers here, along with more than 7,000 species of trees. If you visit Greece in the spring and you are lucky, you might catch a glimpse of the elusive cherry blossoms here.
The gardens are a pleasant place to take a stroll. Alternatively, grab a gyro or an alternative light Greek street food and venture into the park to enjoy a picnic and people-watch.
The grounds of the National Gardens span across 24 hectares. There are flower gardens, a lake, a playground, a coffee shop, a children's library, and a petting zoo all contained within its reach. You will also find ornate statues of notable Greek Poets, Writers, and Philosophers scattered among its grounds. 
Browse through the artifacts at Syntagma metro station
One of the best free things to do in Athens is to observe the artifacts contained in the little halls of Syntagma metro station. The items displayed here were uncovered from the area at the time that the metro station was built.
They span across a range of eras – reaching all the way back to the pre-Mycenaean era. Meanwhile, the contemporary art pieces of notable Greek artists adorn the walls of the station.
Syntagma is the grandest of all of the Athenian metro stops. 
Enjoy cocktails with a view at the Hotel Grande Bretagne's rooftop
The Grande Bretagne Hotel is one of the most elegant five-star hotels in Athens. Even if you do not opt to stay here, you can enjoy a slice of glamour by opting to have evening drinks at the hotel's rooftop bar. 
The GB Roof Garden & Bar is one of the best rooftop bars in Athens. From up here, you have unparalleled views of the Acropolis by night as it is illuminated by dozens of twinkling lights.
You can also look across the Filopappou monument and Mount Lycabettus. 
Take a walking tour of Athens  
Many free and paid walking tours start from Syntagma Square. These offer a great way to get your bearings at the start of your Athens itinerary.
Opting to explore with an Athens local means that you will find restaurants, stores and neighbourhoods that you wouldn't have stumbled across independently. It also means that you have an expert on hand to ask for recommendations of things to see and do during your trip.
If you consider yourself something of a foodie, you may wish to book yourself a place on an Athens food tour.
Recommended Athens tours
A number of reputable Athens tours that start from Syntagma Square are detailed below for your consideration.
Book your place online, in advance to avoid disappointment!
The Metropolitan Cathedral of Athens
The vast majority of the Greek population belongs to the Orthodox faith (over 95%). With many Athenians being very religious, it should come as no surprise that there are a plethora of beautiful, ornate churches to be found across the city.
In fact, there are 9792 registered churches in Athens. 9,146 belong to parishes and 646 to monasteries.
The Metropolitan Cathedral of Athens is one of the grandest religious structures in the city. It sits in the square on mitropoleos street- midway between Syntagma and Monastiraki. 
Construction on the cathedral began way back in 1842. It was King Otto and Queen Amalia that laid the very first stone – a cornerstone piece.
This church, also known as the "Mētrópolis", is the official church of the city and home to the Archbishop of Athens. You are welcome to venture inside. Indeed, many beautiful frescoes adorn the walls.
Grab a coffee and people-watch in Syntagma Square
Going for Greek coffee is essentially the national sport of Greece and you will find quaint, quirky coffee shops on virtually every street corner of Athens.
There is a "Public" bookstore in Syntagma Square, right across from the metro station entrance. There are certainly more scenic coffee places in town than Public. However, if you want to stop for a coffee break, order yourself a Freddo espresso and sit beneath the outdoor cabanas as you admire the architecture of the square and watch the world go by. 
Window shop at Ermou Street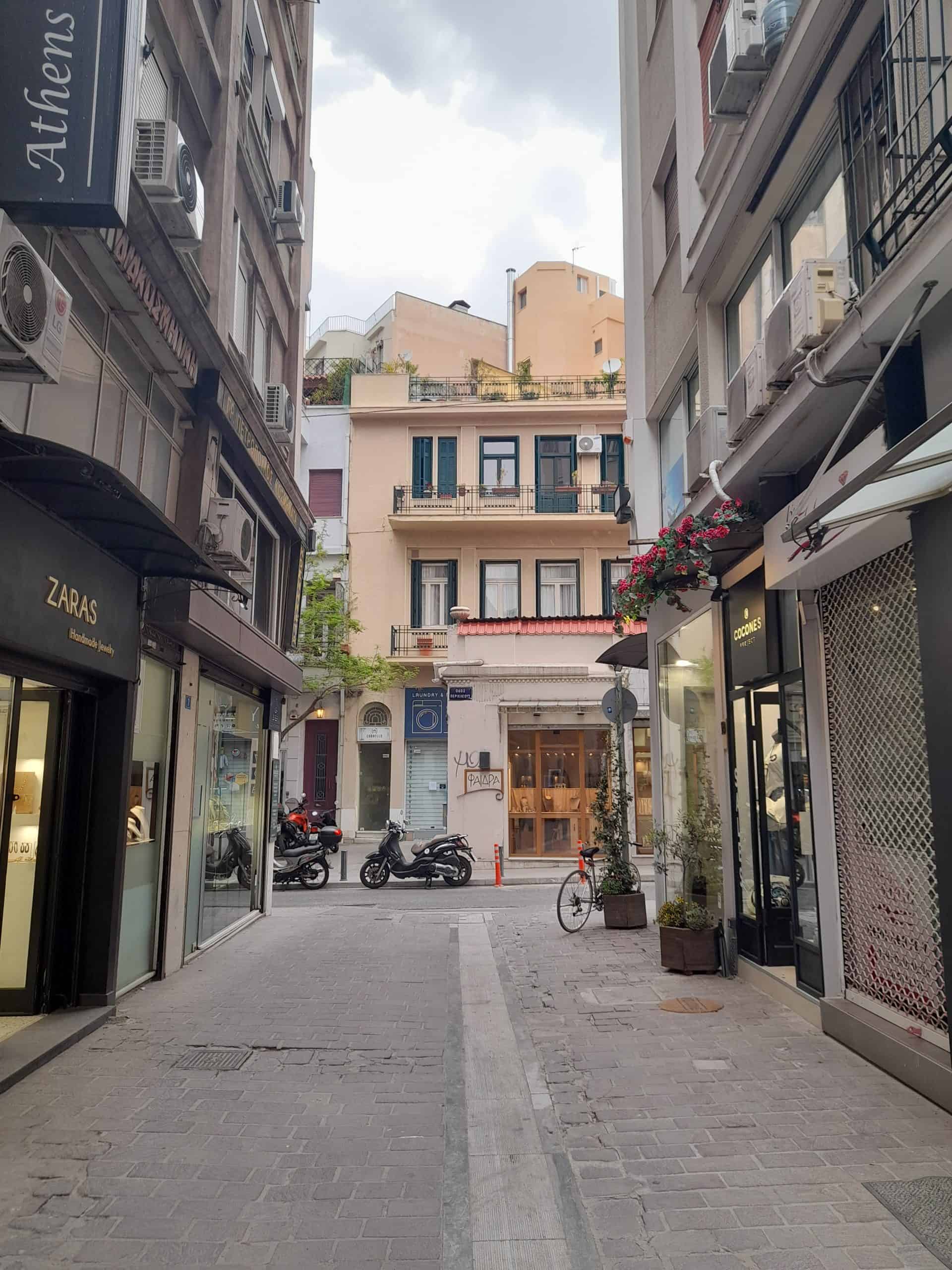 Ermou street is essentially Athens' answer to the highstreet. This long, pedestrianised promenade runs from Syntagma Square, past Monastiraki flea market, all the way up to Thissio and the Ancient Agora.
You will find a plethora of Greek and international high street stores here, including global household names like H&M, Massimo Dutti and Zara. Many charming, independently-owned boutiques can be found in the little alleys and sidestreets that veer off from Ermou.
At first glance, Ermou might look like "just" another shopping street but it has an interesting history behind it too. The street was little more than a dirt trail back in 1834.
Following the construction of the palace, it was decided that Ermou would be the city's retail hub. It catered to the Athenian elite and well-heeled local ladies would come here to buy hats and dresses.
Today, it is still one of the best places to go shopping in Athens. 
The Temple of Olympian Zeus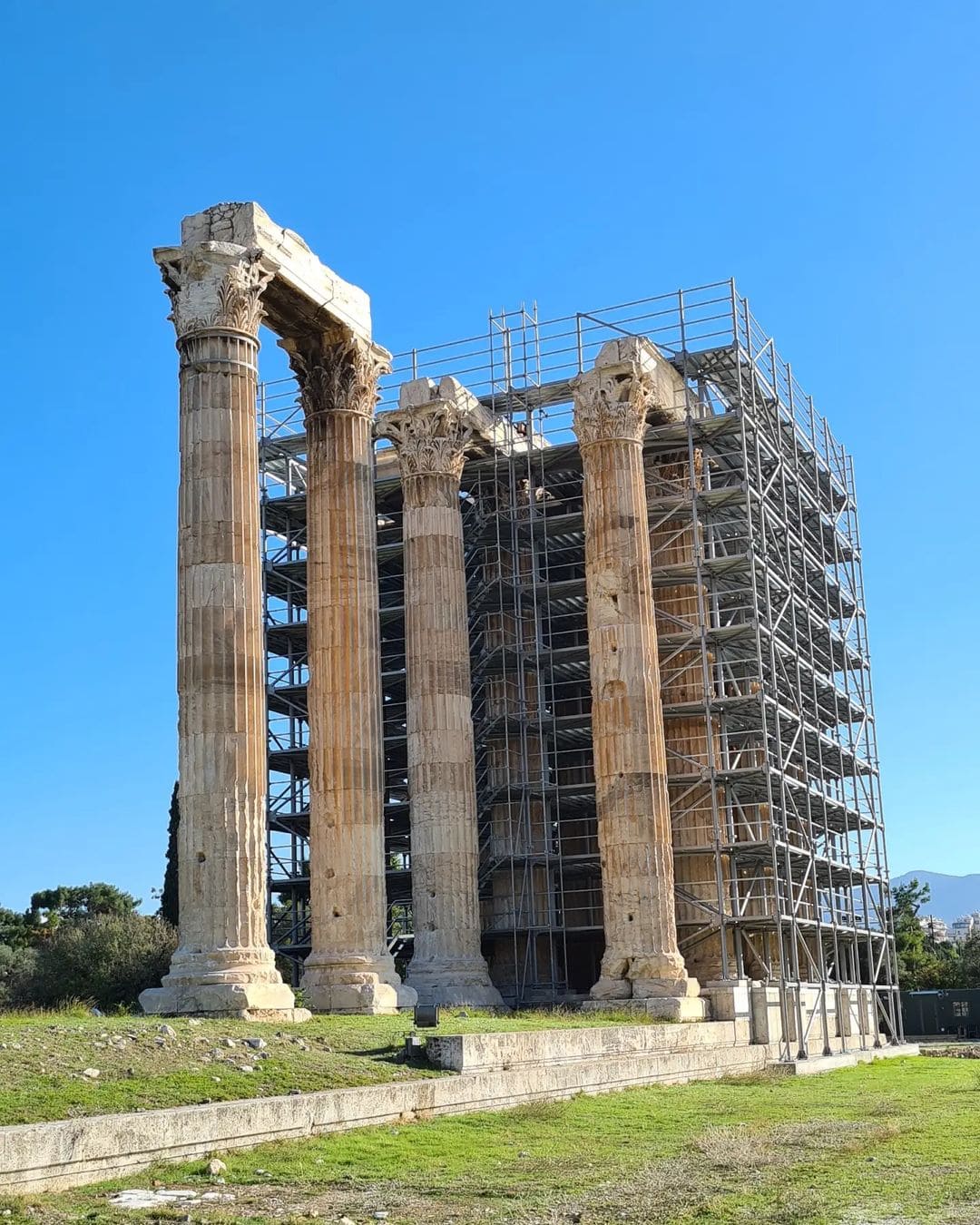 The Temple of Olympian Zeus is one of the most important ruins in Athens and one of the closest to Syntagma Square. The site, also known as Olympieion dates back to 520BC and was built in honour of Zeus, the king of the Ancient Greek Gods.
It took 638 years in total for the temple to be completed, because the construction kept being repeatedly abandoned due to wars, lack of funds, etc. It was the Roman Emperor Hadrian that eventually completed the temple in 131CE.
In its heyday, the temple was one of the largest in the ancient world. It boasted 104 magnificent Corinthian columns, each one 17 meters in height and carved with intricate designs. Today, only 21 remain, but it is not difficult to envisage how the temple must have looked in its finest hour.
The Temple is €6 to visit, or it is included in the Athens combination ticket which allows access to 7 different Athens historical sites.
Visit quirky wine bars near Syntagma Square 
Several eclectic and quirky bars are located just a stone's throw away from Athens' Syntagma Square. Many of these spots are beloved by both locals and tourists alike.
Tazza All Day Bar is a fun place that is practically overflowing with locals whatever day or time you stop by. In some ways, stopping for drinks here is like attending the mad hatter's tea party.
Here, you can enjoy cocktails served in eccentric teacups, and lampshades in various colours, shapes, and sizes hang from the ceiling and exteriors. Tazza All Day Bar (Pentelis 9 &, Petraki 5) is open for drinks, lunches, snacks, and dinners.
This is just one of a great many excellent bars in the area. Kiki de Grèce (Ipitou 4) is another excellent option. This gorgeous little wine bar boasts an extensive wine menu showcasing wines from across Greece and the world. 
Where to Stay in Syntagma Square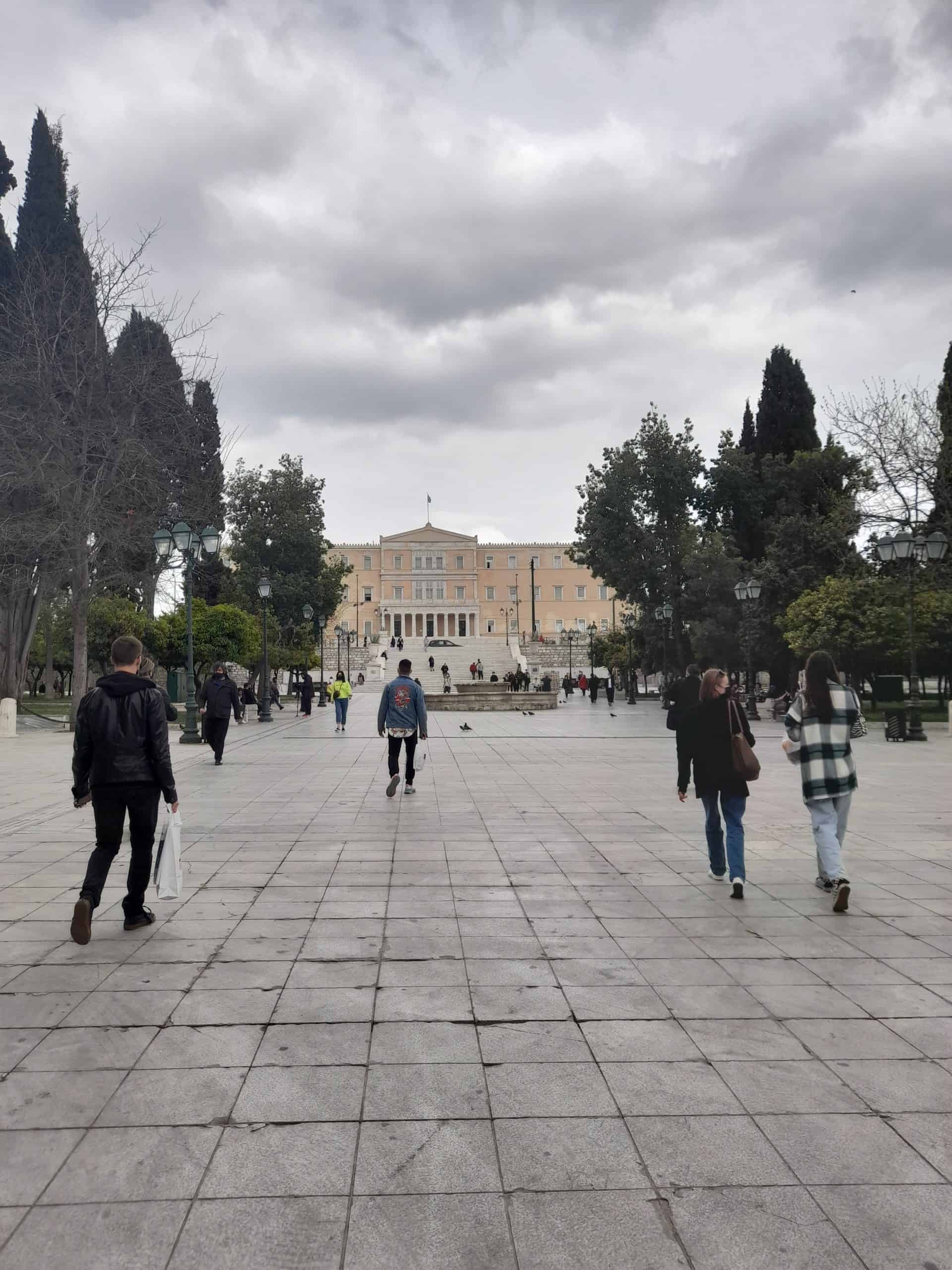 Syntagma Square's central location makes the area a convenient place to base yourself during your time in Athens. Some of the city's most reputable and luxurious hotels are situated here.
There are accommodation options in Syntagma to suit every budget and travel style.
King George, A Luxury Collection Hotel
The luxurious King George hotel is perched right on the corner of Syntagma Square. Once upon a time, this building was a separate annex of the Royal Palace.
All corners of the hotel exude opulence: from the ceiling chandeliers to the exquisite decor. King George is more reminiscent of staying at a chateau in Versailles than it is a hotel.
You can browse the latest room rates and availability here.
Arethusa Hotel
Arethusa Hotel is a three-star hotel situated just outside Athens' Syntagma Square. The property offers affordable comfort in a convenient location just a short walk away from the city's main attractions.
The award-winning hotel features a roof garden where guests can enjoy coffee or drinks as they admire the Parthenon. An American-style breakfast is served daily in the hotel restaurant.
Check the latest prices and availability at Arethusa hotel here.
FAQs about Syntagma Square Athens
Do you have any further questions about Syntagma Square in Athens – perhaps its history or what to do in the area? The answers to some frequently asked questions on the topic are detailed below for your consideration.
Hopefully, you will find the information you are looking for there. If not, please do not hesitate to reach out to me.
Why is Syntagma Square famous?
Syntagma Square is famous because it was here where the Athenians rose up against King Otto.
Where is Syntagma Square in Athens?
Syntagma Square sits right in the very centre of downtown Athens besides Leof. Vasilisis Amalias and opposite the Greek Parliament building. Many of Athens' most interesting neighbourhoods can be reached on foot from here, including Koukaki, Makrygianni, and Psiri. 

Syntagma also connects you to the pedestrian street of Ermou, as well as the streets of Mitropoleous and Perikelous.
What is the most popular square in Athens?
There are dozens of different squares in Athens. Since the city's different neighbourhoods are all like little villages in themselves, they all have their own centre, complete with charming Athenian coffee shops, bars, gyro/souvlaki fast food places, and stores. 

Syntagma Square is the city's largest central square. There are other great squares in Athens worth adding to your radar too though. 

For instance, Varnava square in Pagrati is a popular rendezvous point on Fridays and Saturday nights. Some of the best bars in Athens are just a short walk from here – including the retro themed bar Superfly (Empedokleous 28).

How often do the guards change at Syntagma Square?
The guards at Syntagma Square in Athens change every hour, on the hour. But there is a particularly elaborate ceremony every Sunday morning at 11 am which is well worth checking out if you are able to time your visit accordingly.
Is Syntagma Square a good place to stay?
Syntagma Square is one of the best places to stay in Athens if you want to base yourself somewhere that is close to the city's major landmarks and attractions. Despite being the city's main square, it is actually not that noisy, even at night. 

(With the exception of when there are festivals or musical events going on such as around Christmas time in Greece). That being said, there are also quainter, more charming places to stay too. 

Syntagma, like much of downtown Athens is a little gritty in appearance and somewhat rough around the edges. You might prefer staying in a cosy little guesthouse in historic Plaka or a gorgeous boutique hotel along the Athenian Riviera in Vouliagmeni or Glyfada.  
What time do the guards change in Syntagma?
The guards in Syntagma square are outside the Greek Parliament building 24/7. They change every hour on the hour. 

However, a particularly elaborate ceremony takes place at 11am on Sundays. 
Political demonstrations in Syntagma Square
The 1843 uprising against King Otto almost set the tone for the future of Syntagma Square and political rallies and protests often take place here to this day. The chances of being accidentally caught up in a protest in Greece are slim, and protests rarely turn violent. 

Athens is a safe city and Syntagma is also safe. But if there ever is a protest, it will happen here.
Final thoughts on visiting Syntagma Square Athens
Syntagma's central location means that it is just a short walk away from many of Athens' main attractions. Anafiotika Plaka, the quaint streets of Thissio, the Ancient Agora, the old district of Plaka and the Acropolis of Athens can all be reached within less than 10 minutes walk from here. 
Do you have any additional questions about Syntagma, Athens, or about planning your visit to Greece? I've been living in Pagrati, Athens since early 2017. I am happy to assist with any questions that you may have.
Feel free to reach out to me. You might also be interested in joining my Facebook Group "All Greek to Me" which exists to help travellers and expats plan their adventures in Greece.
Geia sou! Melissa xx
---