The best squares in Athens aren't necessarily the central places that most visitors venture to. Sure, Syntagma may be the unofficial centre of the Greek capital. But many smaller squares and piazzas scattered throughout the city's nondescript neighbourhoods act as the focal point of Athens' nightlife and social scene.
The Greek word for square is "plateia". For instance, Plateia Varnava, Plateia Exarchia, etc. Many of these places have played notable roles in Greece's history. Their grand structures and sun-bleached ruins fold into the rich tapestry of their country's story.
Varnava Square
Varnava Square in Athens' quirky Pagrati neighbourhood has become a popular rendezvous spot in recent years. This is particularly true if you are young, hip, and Athenian.
Several bars and tavernas encircle the square, attracting locals of all ages. However on Friday and Saturday night, it is not uncommon to see crowds of Pagrati residents in their 20s and 30s, simply sitting on the benches of Varnava with a six pack of beers and some street food.
This is a safe area of town. So if you hope to round up your travel buddies and sit here with some drinks and snacks in an evening during your Athens itinerary, rest assured you won't be disturbed in doing so. Varnava is typically buzzing with life until the early hours of the morning.
The establishments that surround the square are worth adding to your radar too. Mouries is an excellent, homely, traditional taverna that serves up all the Greek classic dishes and meze favourites. Portions are generous and prices are reasonable. A lot of the older residents treat this place almost like a kafenion. It is not uncommon to see older generations of Pagrati men here playing backgammon and chewing the fat over carafes of tsipouro.
Superfly is a fun place to go for drinks. The bar is filled with weird and wonderful retro decor that makes you feel as though you have journeyed back to the 1960's in your Delorean. Meanwhile, nearby Spondi is regarded as being one of the very best restaurants in Athens. As a matter of fact, it is one of a handful of Athens eateries that has been awarded two Michelin stars.
Exarchia Square
Exarchia Square is the namesake central square of Athens' Exarchia neighbourhood. This area gets a bad rep. Exarchia is known for being the city's "alternative" district and it is often associated with anarchist groups and leftist political views.
Anti-establishment protests do happen here from time to time. But on a regular day, Exarchia is simply a fun, edgy place to hang out. Whatever time or day of the week you happen to stop by, you are likely to see banners and flyers here fighting for one cause or another.
The police don't really venture here so in Exarchia, anything goes. Exarchia square is typically filled with everything from people smoking marijuana, to law students sipping take out coffee and having an intellectual debate.
Despite its negative reputation, Exarchia has begun to blossom in a really positive way in recent years. The low rent in the area is attractive to creatives and artists and so, a lot of independent galleries, thrift stores, and book stores have opened up here in recent years.
A number of trendy, hipster-style coffee shops can be found around the square. HBBH, Blue Bear, and Diplo Cafe all offer both indoor and outdoor seating and are great places to people watch around the square while enjoying a strong Greek coffee.
Syntagma Square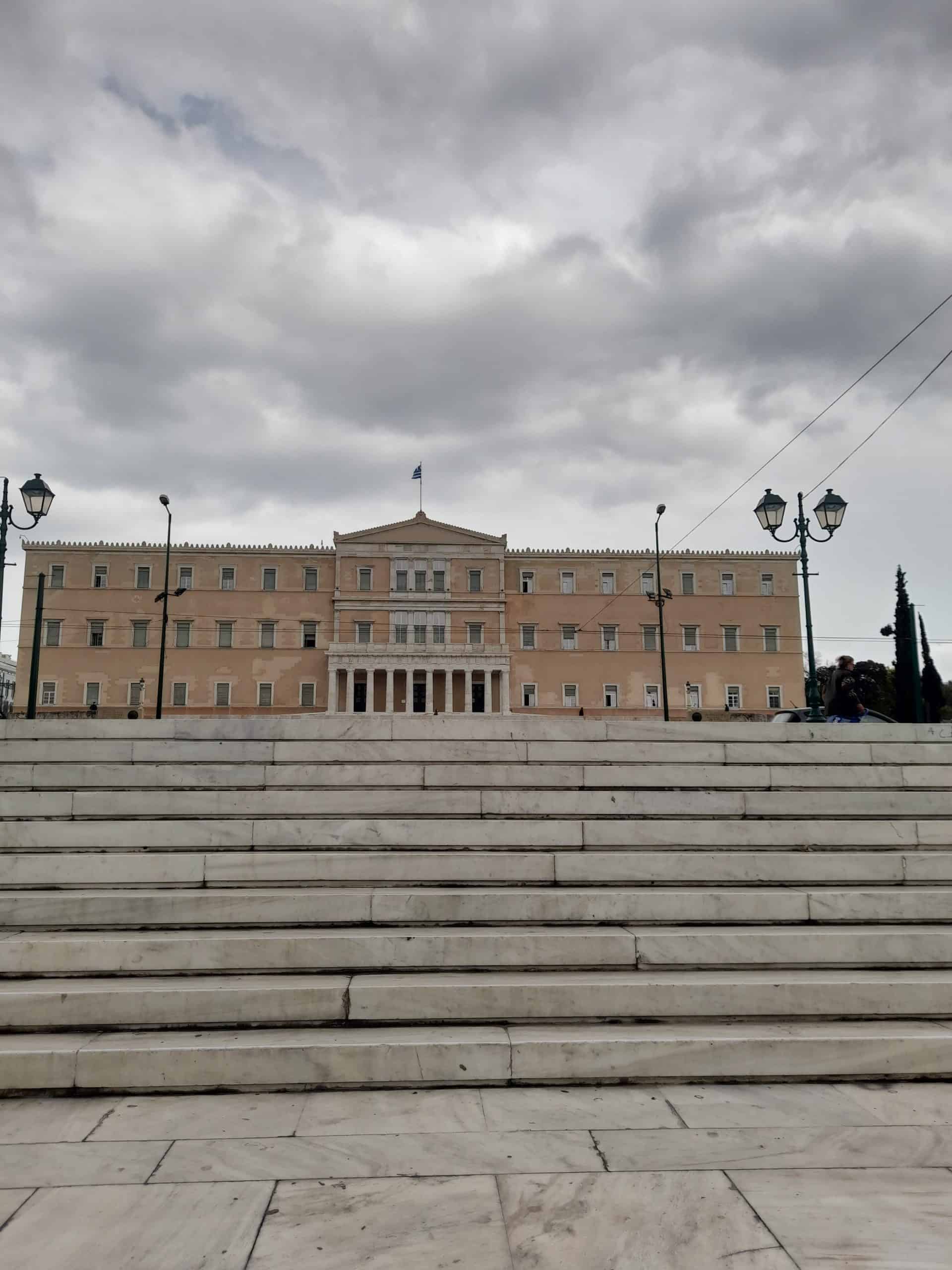 Most Athenians consider Syntagma Square as being the city centre. This is one of the largest and most historically important squares in Athens.
Several notable buildings can be found scattered around Syntagma Square. Primarily, the grand pale yellow structure that awaits at the top of the stairs leading out of the square is the Hellenic Parliament building and the former Royal Palace.
The building is guarded by Evzones – an elite group of guards that are renowned for their unique outfits. Evzones wear foustanellas – blue and white kilt-like garments, tsarouchia – colourful shoes with affixed pom poms, and ypodetes – a wide-sleeved white shirt.
Several Evzones stand out front of the parliament building guarding the tomb of the unknown soldier. A changing of the guards takes place every hour and is an interesting spectacle to behold.
"Syntagma" in Greek means "constitution". This square was actually built in 1834.
It was at this time that King Otto decided that Athens would be the capital of Greece instead of Nafplio. The square was initially named "Palace Square".
In 1843, it was renamed as "constitution square" (Syntagma). This name was given due to the constitution that King Otto was obliged to give his people following a national uprising.
Various protests, important political speeches, festivals and events have been hosted in Syntagma over the decades. Musical performances and festivities still happen here.
At Christmas, the biggest tree in Athens is erected here. A stage usually showcases musicians, and small stalls sell oinomelo (warm honey wine) and festive treats.
Monastiraki Square 
Monastiraki, along with Syntagma, marks the most central point of Athens. A pedestrianised section of Ermou connects the two districts. This stretch of road, laden with independent and brand name stores, is Athens' answer to the high street.
Monastiraki in Greek translates to mean "little monastery". This name was awarded to the area because once upon a time, a small monastery stood here.
This is one of the oldest neighbourhoods in Athens. Arriving in Monastiraki square is an attack on all of the senses. There is so much to take in.
Street vendors set up stalls to sell everything from corn on the cob, to fresh fruit and veg and assorted nuts. You will always find people wandering around selling balloons, flowers, and cotton candy, and there is always a busker or a musician or two.
Monastiraki metro station is one of the most central hubs for the metro lines. It provides connections to Kifissia and Piraeus.
Look out for the Tzistarakis Mosque. This former Islamic place of worship was constructed in 1759 and is without its minaret. It is said to be cursed and to have caused a plague on the city after it was constructed using marbles taken from nearby Hadrian's library.
Merkouri Square
Merkouri Square in Petralona is about as local as it gets. This is a strictly residential district and you really wouldn't have any reason to venture to Petralona unless you lived here.
However, if you are looking for an atmosphere that is quintessentially, and unapologetically Greek, Merkouri Square is one of the best squares in Athens to spend an evening. The square was named after Melina Mercouri, a beloved Greek actress and politician.
A small park sits at the centre of the square – a leafy oasis in the heart of an urban jungle. The draw of coming here though is the eateries that surround the area, all specialising in small plates.
Mezedopleio restaurants are essentially the Greek answer to Spanish tapas. Rantebou and Kosmogonia are wonderful local meze spots.
Πλατεία Οινομαγειρείο can be found with its Greek signage right on the square at Dinocharous 3. The name translates to "Wine Kitchen Square".
This is a newer face on the Merkouri dining scene. The name is fitting as the restaurant prides itself on its extensive wine offering. The menu boasts dozens of exquisite choices from across Greece.
Kolonaki Square
Kolonaki is one of Athens' most upscale districts. It could be referred to as the Beverly Hills of Athens, if you like.
The name "Kolonaki" means "little column". This name was awarded to the area on account of the sun bleached remnants of an ancient column that sits at the centre of Kolonaki Square. Well-heeled locals and businessmen on their lunch breaks often occupy the square and the cafes that surround it.
Look out for Da Capo cafe. It awaits down a narrow side street that branches off from Kolonaki Square.
At first glimpse, Da Capo looks like nothing to write home about. Just another al fresco cafe perhaps.
However, the cappuccino served here is rumoured to be the very best in the city. It has even won awards! Pull up a chair at one of the outdoor tables on Tsakalof street for some of the best people watching opportunities in the city.
Mitropoleos Square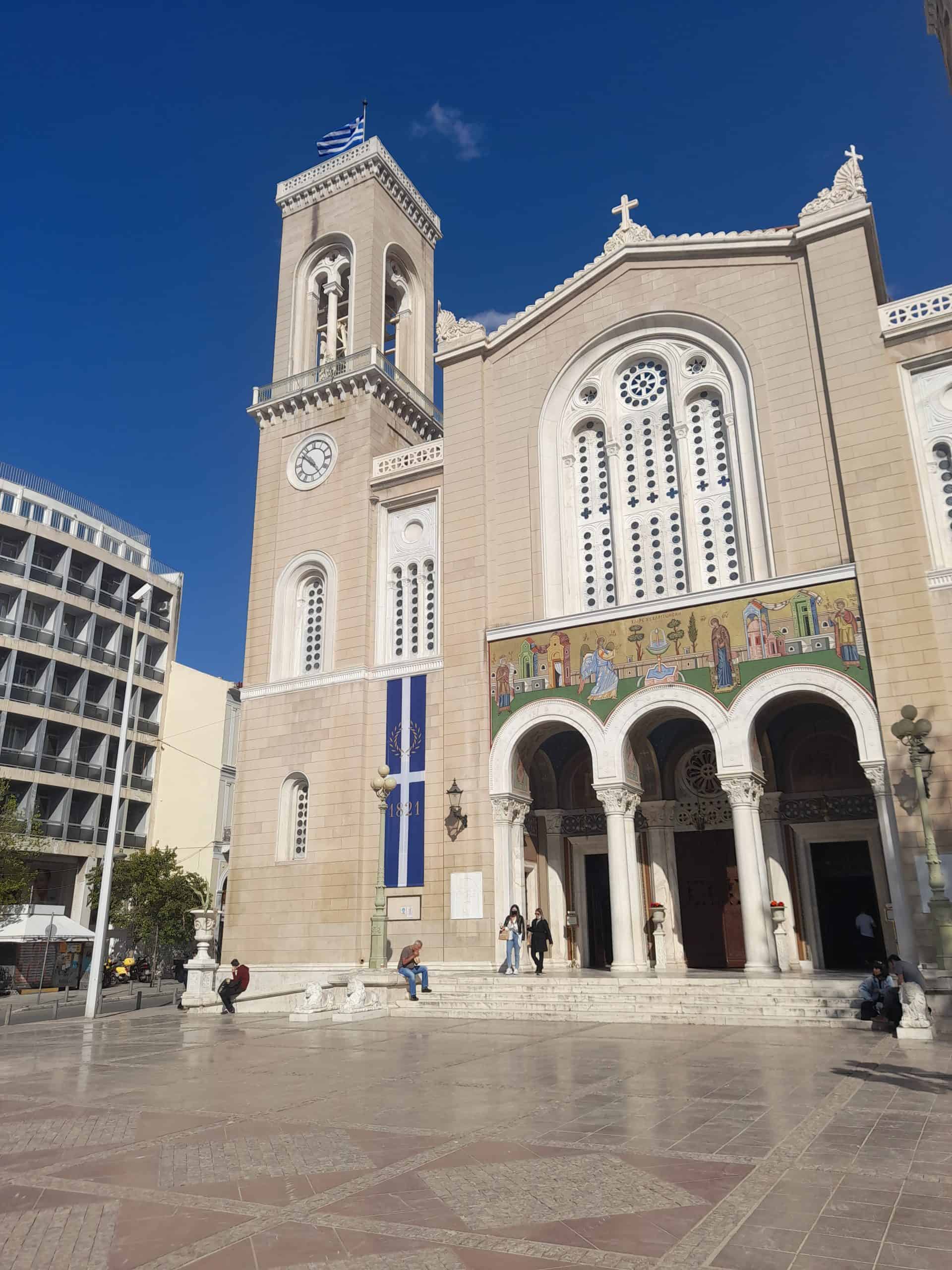 Mitropoleos is Monastiraki's second square. This area is dominated by the towering Cathedral Church of Athens. This is one of the most attractive churches in Athens. Indeed, it is one of the most important in Greece as it is the headquarters of the Archbishop of Greece. 
Construction on the church initially began in 1842. Fascinatingly, the church was created using the materials left from the ruins of 70 churches in the Attica region.
During the Ottoman rule, this was once one of the city's major commercial hubs and dozens of colourful stores stood here. They were demolished and the ground levelled out to make room for Mitropoleos square. Look out for a small stone 12th century church situated besides the Cathedral church. This is the church of Agios Eleftherios – a mysterious structure whose precise history is shrouded in much uncertainty.
Various stores and coffee shops surround Mitropoleos square. You will often find young skateboarders and cyclists whizzing along its pavements, and local friends meeting for a chat and a coffee here. 
Iroon Square
Iroon Square can be found in Central Athens' Psiri district. It is surrounded by some of the best bakeries and tavernas in town. The eateries here are loved by locals and tourists alike. It is not uncommon to come here and find that you are struggling to find a table to sit at in the crowded piazza.
You should certainly sample the bougatsa at Bougatsadiko Thessaloniki. (Μπουγατσάδικο η Θεσσαλονίκη στου Ψυρρή). Bougatsa is a sweet breakfast pastry that is made by filling layers of phyllo with sweet semolina custard, and then topping the treat with a generous dusting of icing sugar and cinnamon.
Bougatsa originated in Thessaloniki and this is one of the best places in town for trying an original and authentic bougatsa recipe. If you stop by early in the morning while the pastries are being prepared, you will be lucky enough to see the fascinating spectacle that making the phyllo entails. The bakers roll the pastry out into a long thin square before spinning it around above their heads.
Bougatsa aside, if your sweet tooth is not satisfied, you can visit Nancy's sweet home. This is a Greek dessert spot that sells everything indulgent and sinful that you could possibly imagine.
For food, the restaurant H ΩΡΑΙΑ ΠΕΝΤΕΛΗ (The nice Penteli) is perched on the far corner of the square. This place predominantly caters to tourists. However, the food here is excellent. Everything from your typical Greek mains to appetizers and meze plates can be enjoyed here.  
Mavli Square
Mavli Square is a leafy green space in the beating heart of Ampelokipoi. It takes its name from the poet Lorenzo Mavilis, and a finely-carved bust of his head has been placed in the centre of the square.
This is one of the best squares in Athens, and one of the most lively. Five of Athens' main streets run through this region and today, Ampelokipoi is one of the city's most densely populated administrative and business districts.
Ampelokipoi is Greek for vineyards. Considering the way that the region looks today, it is hard to envisage that there were once rows of grape vines and streams here.
Parting Words
Have any questions about creating a Greece itinerary? Please don't hesitate to reach out. 
I have lived here since 2017 and I'm always to assist with any questions or queries.
Safe travels! Geia Sou! Melissa xo
---