This three-day Athens itinerary provides a perfect introduction to the Greek capital for first-time visitors. It demonstrates all the very best things that Athens has to offer – from world-famous attractions to off-the-beaten-path hidden gems.
Falling in Love with Athens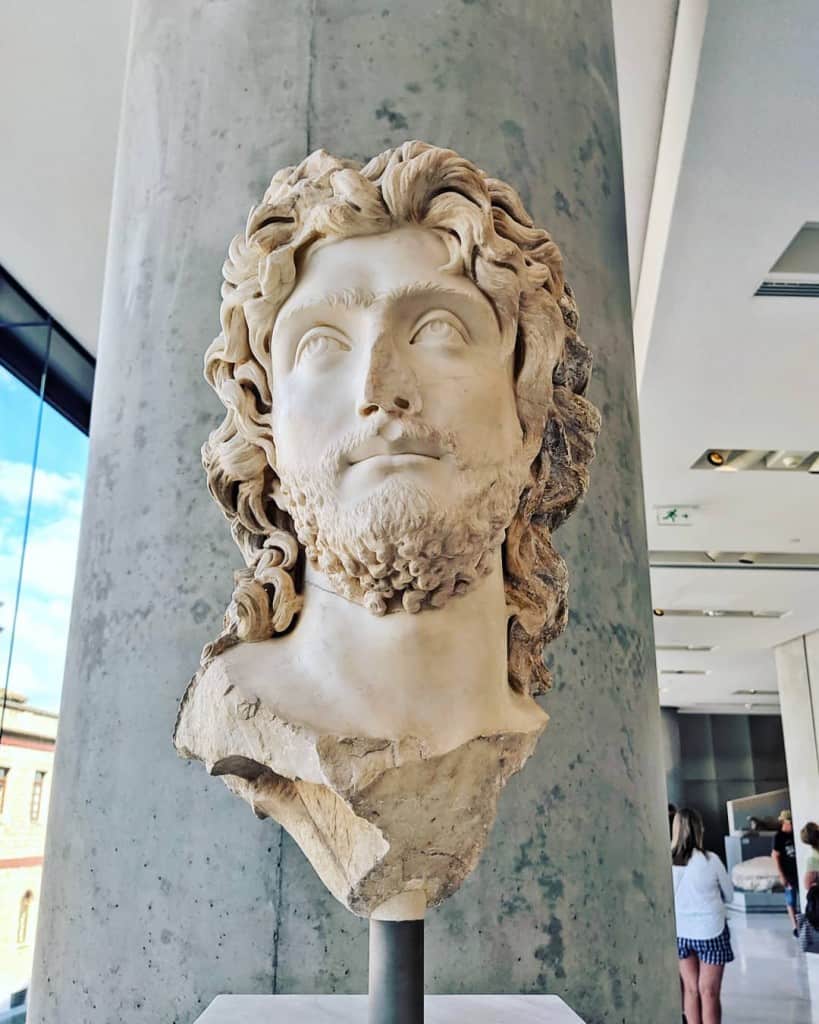 Athens is not the most beautiful city in Europe. That's a given. The Greek capital is grittier and edgier than most other European capitals.
However, Athens should not be quickly dismissed. The city boasts a plethora of charming districts, sun-bleached archaeological ruins, and an excellent nightlife scene just waiting to be discovered.
Your Perfect Three-Day Athens Itinerary
This three-day Athens itinerary covers all of the city's main attractions and best-kept secrets. Infamous sites such as the Acropolis, old Plaka, and the Ancient Agora make a great starting point but some of the most rewarding parts of the city to explore are the ones that locals have kept to themselves.
Recommended Athens Tours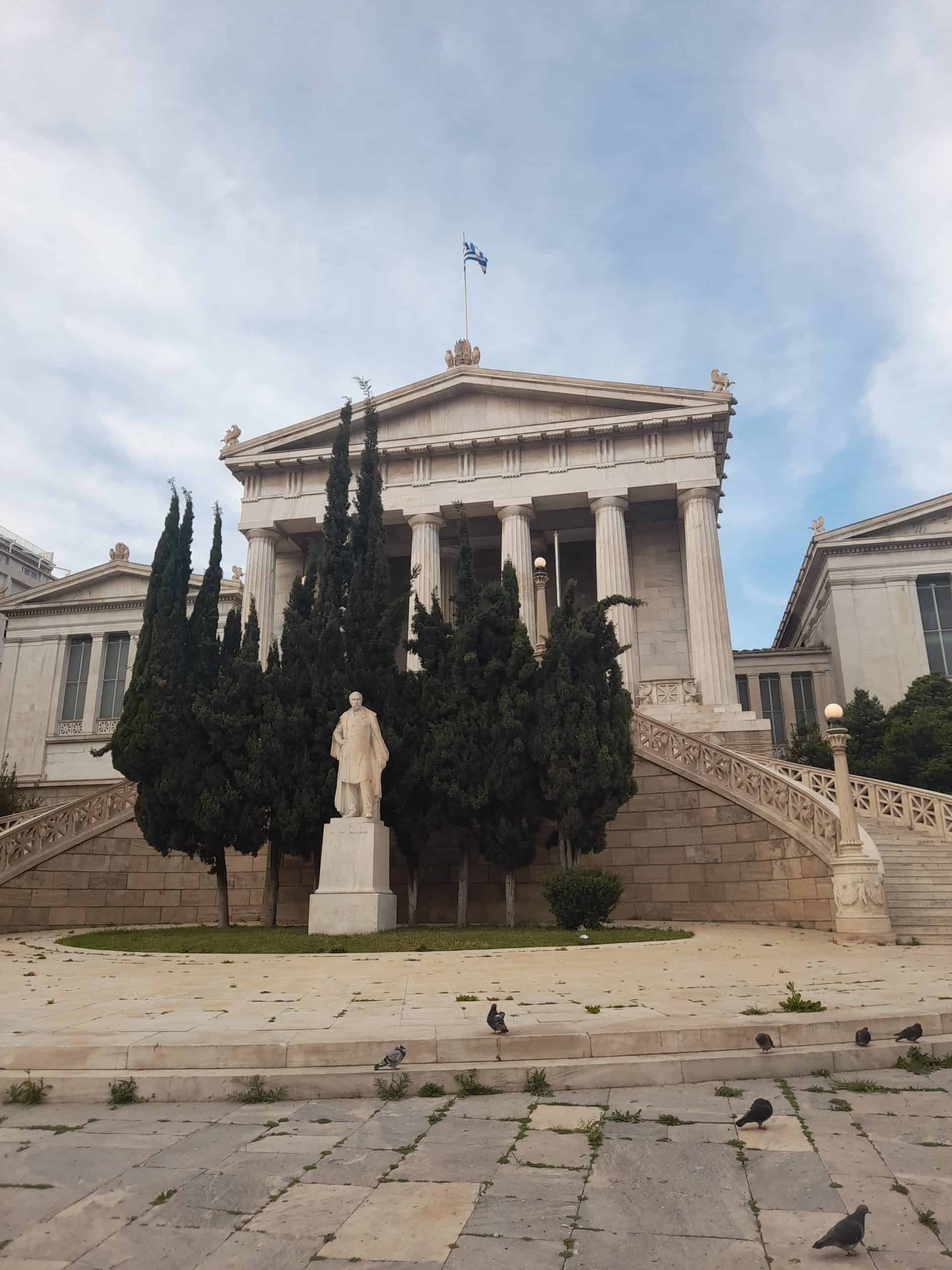 You may prefer to incorporate a walking tour or two into your Athens itinerary. Doing so is a good way to see the city from the perspective of a local and to discover places that you may not have otherwise found independently.
Better yet, having a local on hand means that you have an insider expert who you can ask about the best places to eat, drink, and hang out in the city. If you are interested in doing a walking tour or riding the Athens hop-on hop-off bus, it is a good idea to do so early in your trip so as to get your bearings.
A number of reputable Athens tours and activities are detailed below for your consideration.
Athens Itinerary Day One:
Historical Highlights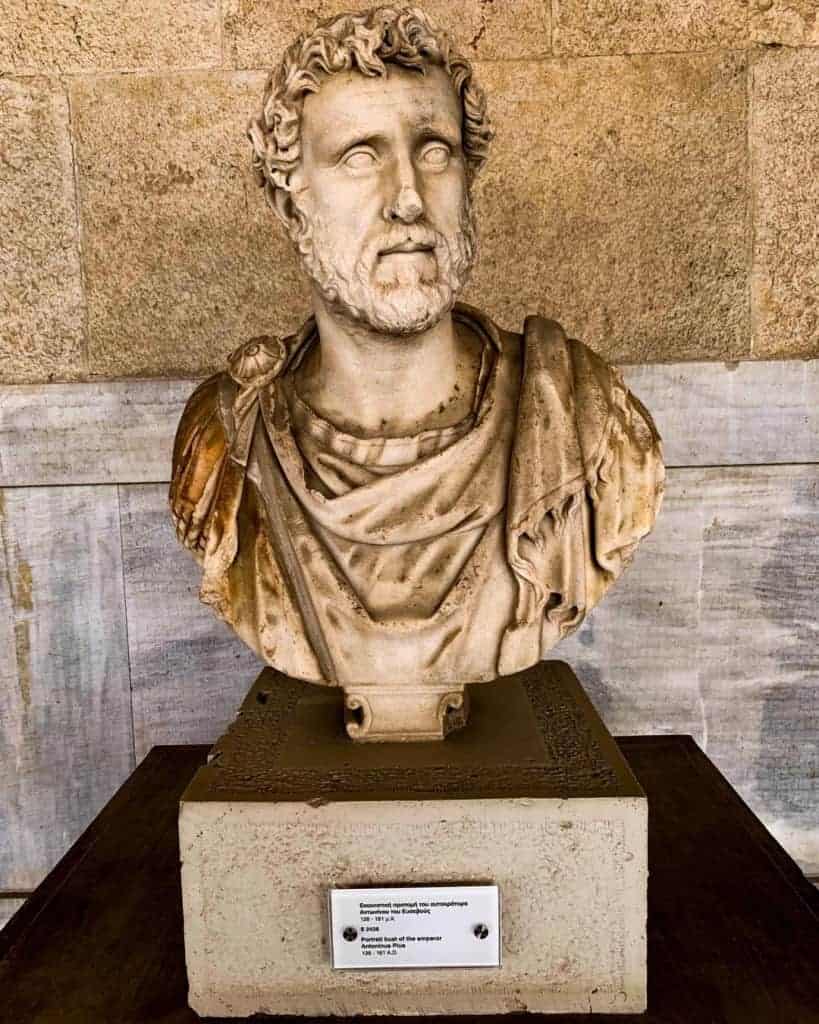 Greece is famous for being the birthplace of democracy and modern civilisation. Athens is the oldest city in Europe and some parts of the city date back more than 3,000 years!
You will explore the city's main attractions on day one of this Athens itinerary.
Athens Itinerary Day One Overview: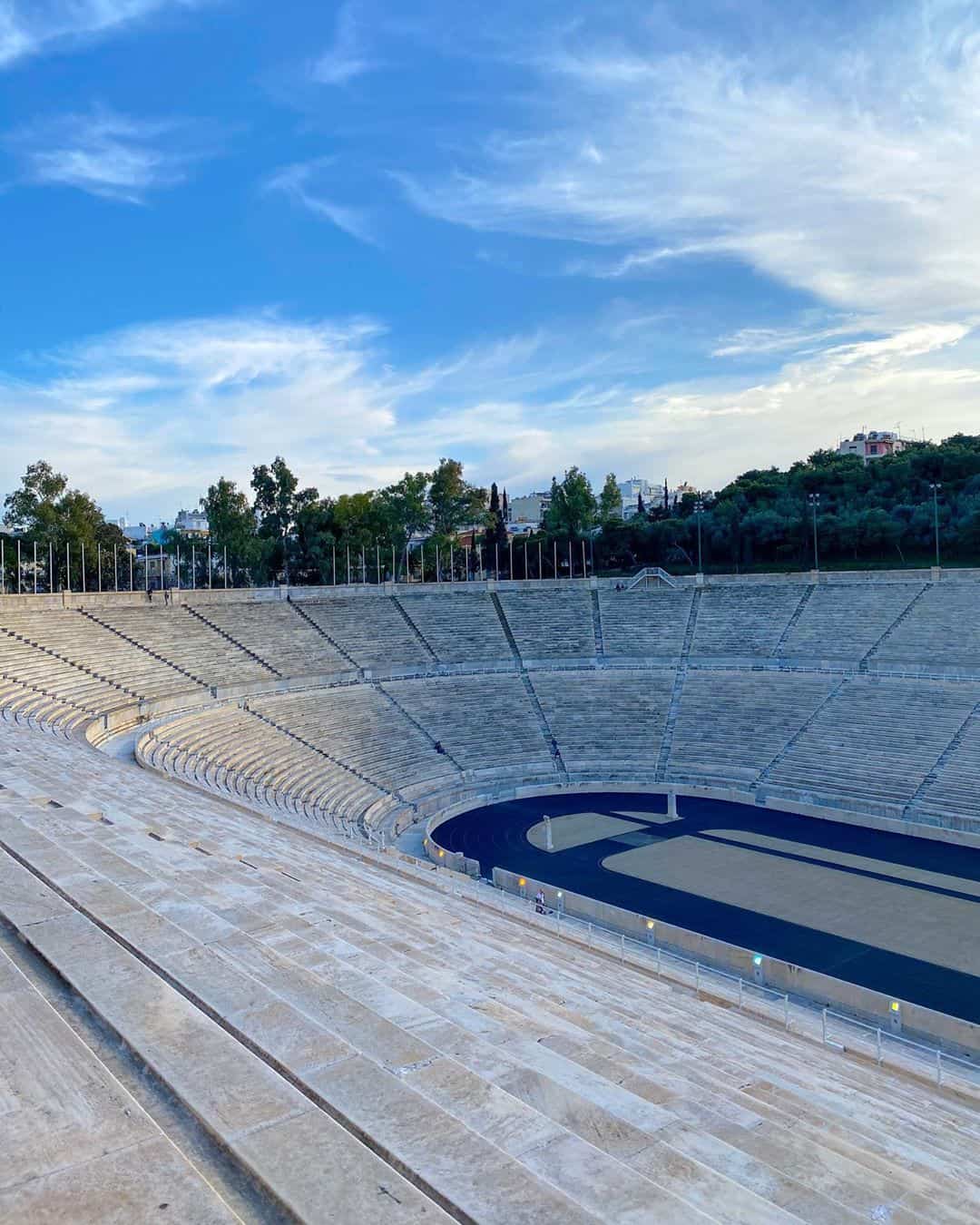 Breakfast and coffee at your hotel


Admire the sun bleached ruins of the Acropolis


Get a history lesson at the "New" Acropolis Museum


Explore the charming streets of old Plaka


Enjoy a traditional lunch at a Greek taverna


Fall in love with the "secret" village of Anafiotika


Visit the Roman and Ancient Agoras


Haggle your way through the Athens Central Market


Enjoy cocktails with an Acropolis view
Be First in Line at the Acropolis
The Acropolis is the iconic postcard image of Athens. Once upon a time, all Greek cities had Acropolis hills located in their centres.
Most of these were built for defensive purposes. However, the Acropolis at Athens was primarily built for the worship of the Goddess Athena. 
Today, the Parthenon still watches protectively over the Greek capital, as it has done for hundreds of years. A visit to the Acropolis is a highlight of any Athens itinerary.
Try to get to the Acropolis early in the morning. The site opens at 8 am and it is important to arrive early so as to miss the crowds.
Ideally, you should try and purchase your tickets online in advance so that you don't waste time queuing. You may also want to consider doing a small group Acropolis tour like this one so that you can explore the site with a local and gain more context to what you are seeing.
Admission to the Acropolis includes entrance to the "New" Acropolis Museum. This is well worth a visit, even if you don't consider yourself to be much of a "museum person".
Sadly, the Parthenon marbles that are on display here are just replicas as the originals are on display at the British Museum in London – something that has been a cause of much controversy. There is also a very nice coffee shop on the top floor that boasts excellent views over the Acropolis, Dionysiou Areopagitou, and charming Makrygianni.
Explore the Charming Streets of Old Plaka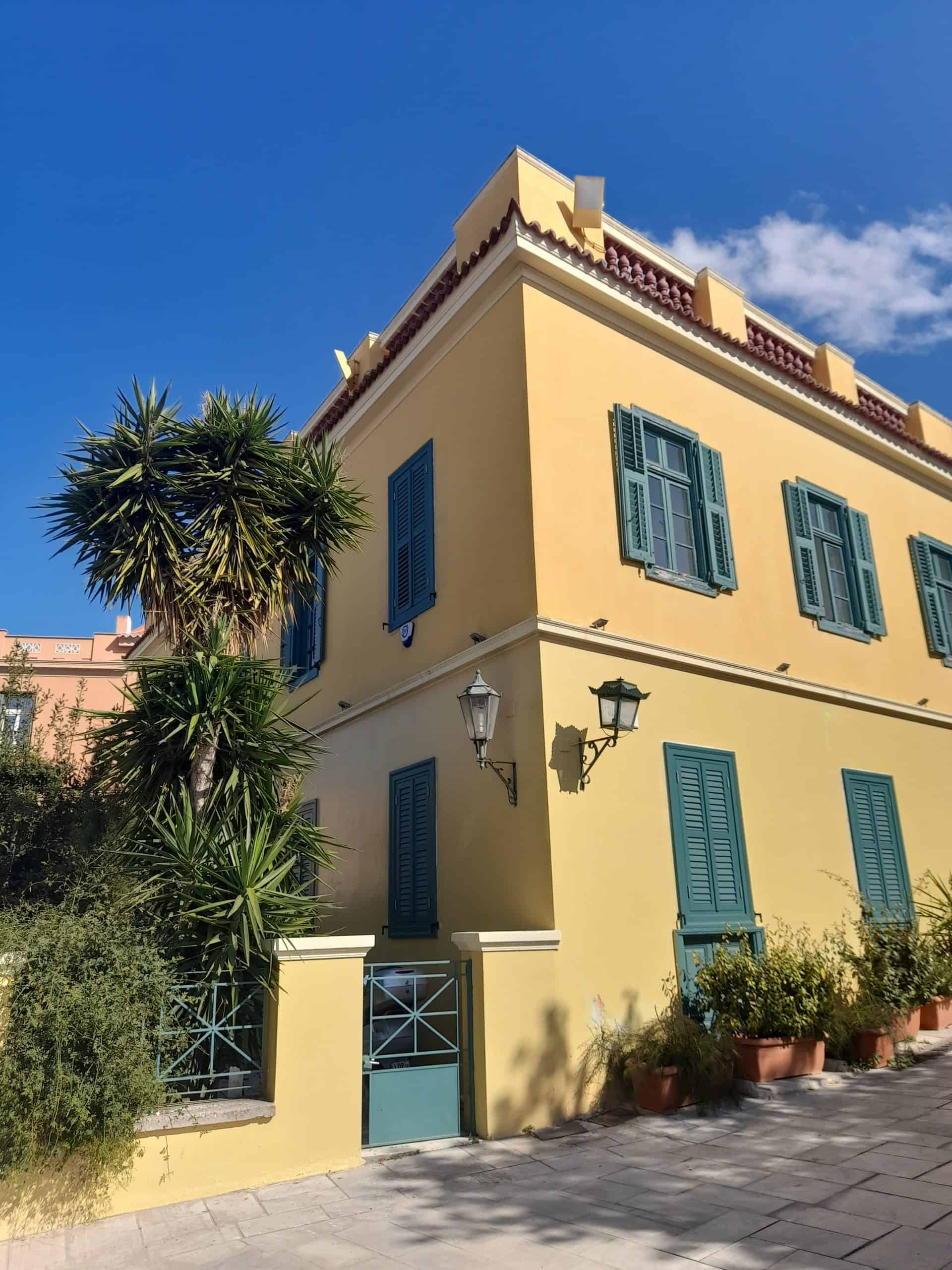 The quaint district of Plaka is one of the oldest parts of Athens. This was a key district during the days of the Ottoman Empire.
You can easily dedicate an entire afternoon to meandering through Plaka's narrow cobbled streets. Many structures here still point to the area's Ottoman past. In particular, look out for the Fethiye Mosque and the Pelopida street madrassah (Islamic School). 
Have Lunch in a Traditional Greek Taverna
Plaka is relatively touristic. However, there are many homely tavernas here that escape the attention of most visitors.
To Kafeneio (Epicharmou 1) is a great place to stop for lunch. Sampling traditional Greek food is as much of a highlight of any Athens itinerary as seeing the sights.
This restaurant specializes in meze dishes. Mezes are small plates that are comparable to Spanish tapas. 
Secondly, Scholarchio (Tripodon 14) is a popular Athenian haunt. This restaurant is beloved by locals and tourists alike.
The specialties here are flaming sausages and trout. However, the menu boasts a wide range of typical Greek foods. 
Uncover the "Secret" District of Anafiotika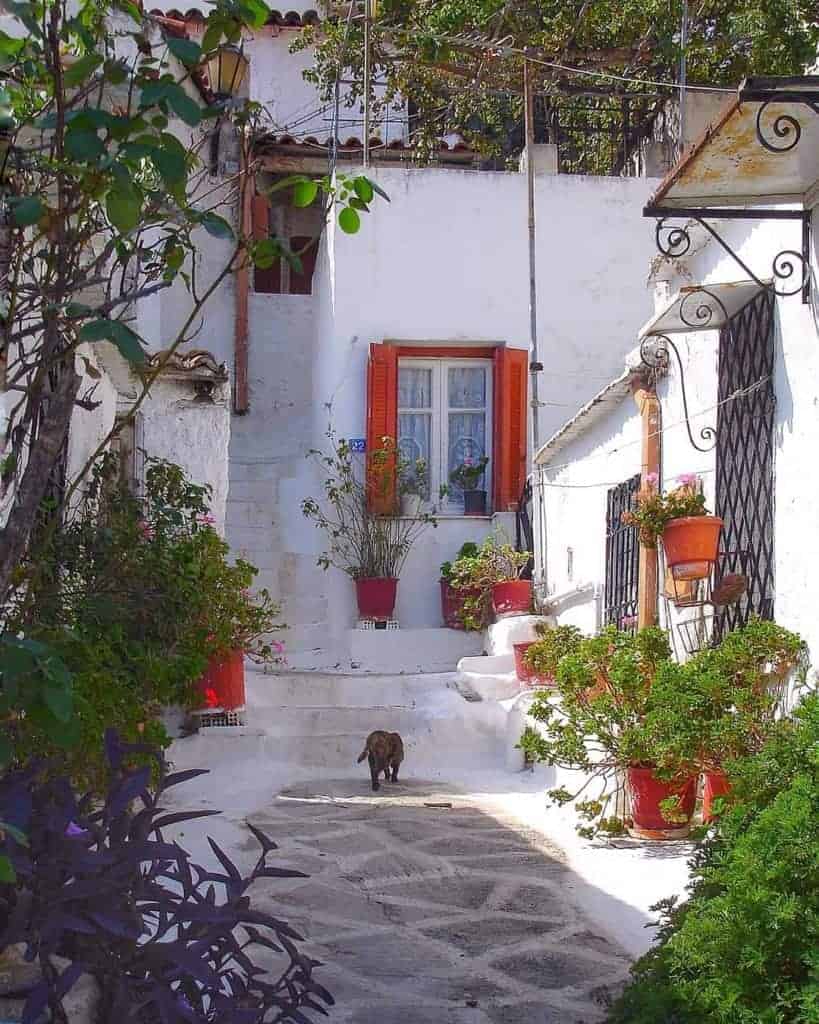 A narrow, winding footpath leads you from old Plaka to the secret neighbourhood of Anafiotika. The architecture here is more reminiscent of that which you would expect to find on a Greek island.
Anafiotika is characterised by idyllic whitewashed houses with blue roofs. The area was built by residents of Anafi island who moved to Athens and built their new homes in a Cycladic island style. 
You can get some excellent photographs here among the quaint houses and better yet? Few people are aware of the existence of Anafiotika so many people overlook it from their Athens itinerary. Anafiotika sits on the slopes of Acropolis hill and the views of the Greek capital from up here are second to none.
Visit the Roman Agora 
The Roman Agora is a large, paved site that sits just north of the Acropolis. The archaeological site is small.
However, it is worth stopping by here as the Agora was built in honor of Julius Cesar. It dates all the way back to 11BC. 
Tread in the Footsteps of Socrates at the Ancient Agora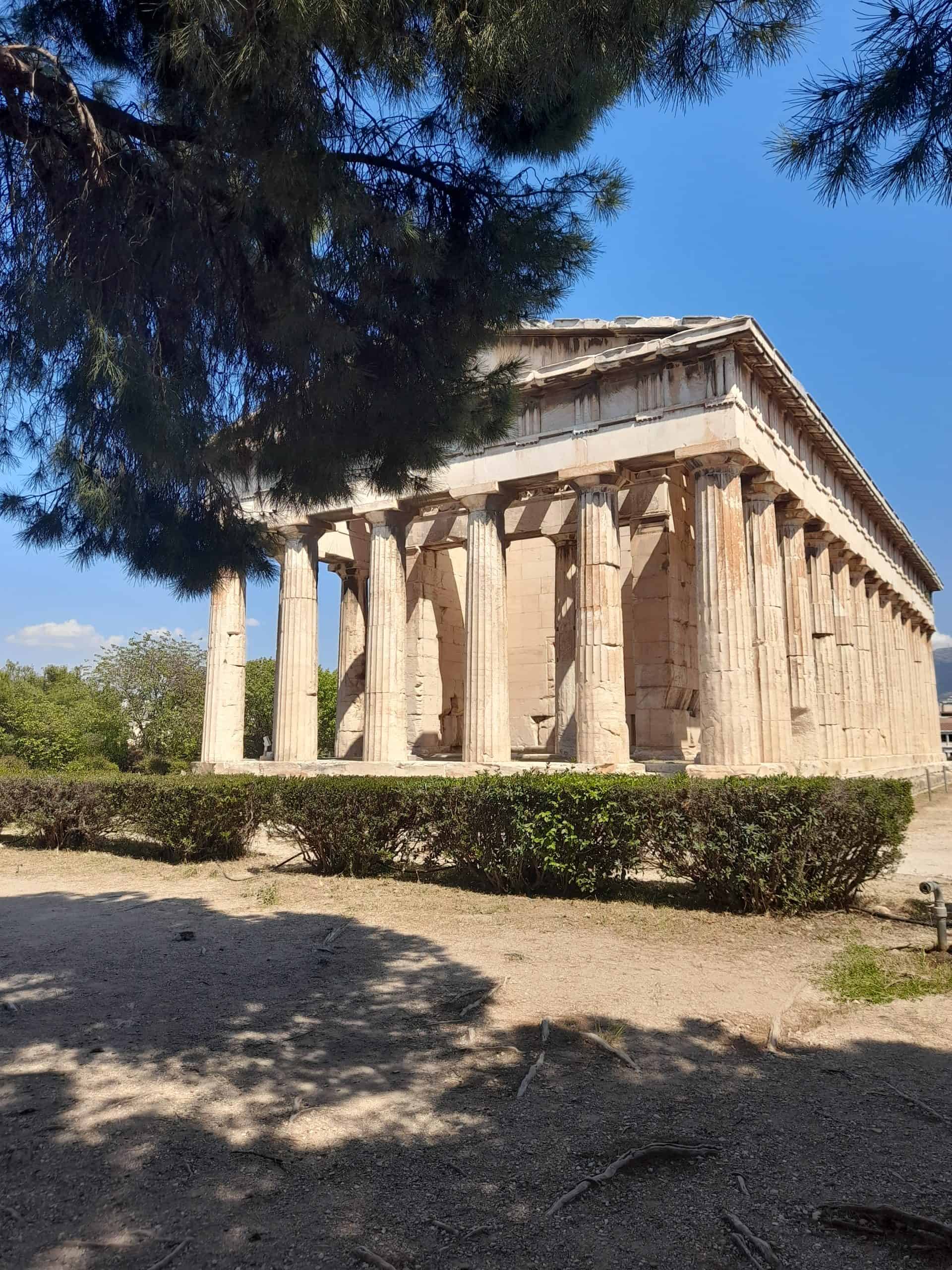 The Ancient Agora is one of the most magnificent historical sites in Athens. This historic marketplace dates all the way back to the 6th century BC. 
Important Greek Philosophers such as Plato, Socrates, and Aristotle once wandered through the cobbled streets of the Agora. The archaeological site is expansive and features the excellently well-preserved Temple of Hephaestus. 
Additionally, the Agora Museum can be found inside the Stoa of Atticus. The museum exhibits are displayed in chronological order. They feature artifacts, weaponry, statues, and pottery that date all the way back to the Neolithic, Bronze, Iron, and Geometric periods.
Step Back in Time at the Varvakios Agora (Athens Central Market)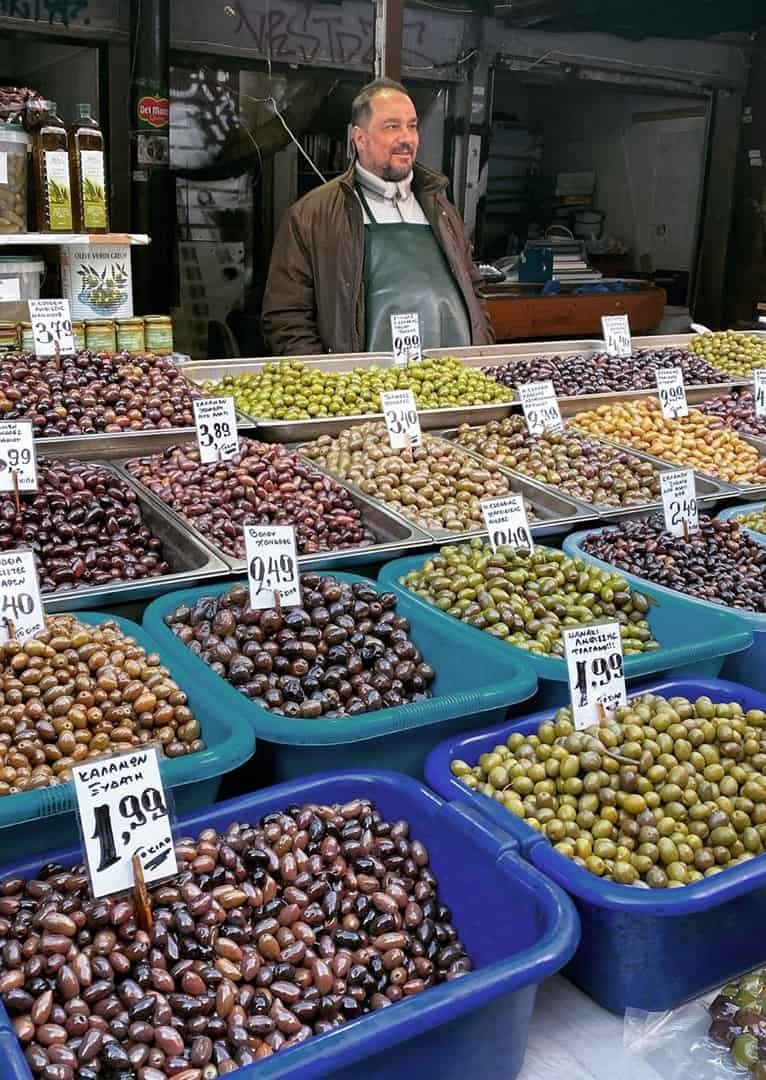 The word "Agora" means "market" in modern Greek. Many Greeks today still prefer to purchase their meats, fruits, and vegetables at traditional markets rather than supermarkets. 
"Laiki Agora" are a huge part of Greek culture. Most Greek neighbourhoods host a weekly farmer's market. However, the Varvakios Agora (Athens Central Market) is the largest in Athens.
Wander through the covered stalls of the fish and meat markets. Watch on as Greek yiayias (grandmothers) haggle ferociously with the vendors.
Pass Through Evripidou Street 
Evripidou Street is one of the most unique streets in Athens. The city has a rich history of immigration and Evripidou perfectly reflects the various cultures that exist in the Greek capital today.
Fragrant spice stalls, medicinal markets, and charcuterie stores line Evripidou street. Many of the vendors operate long-standing family-run businesses and relocated here from countries such as Armenia, Syria, and Turkey. 
Enjoy Cocktails with an Acropolis View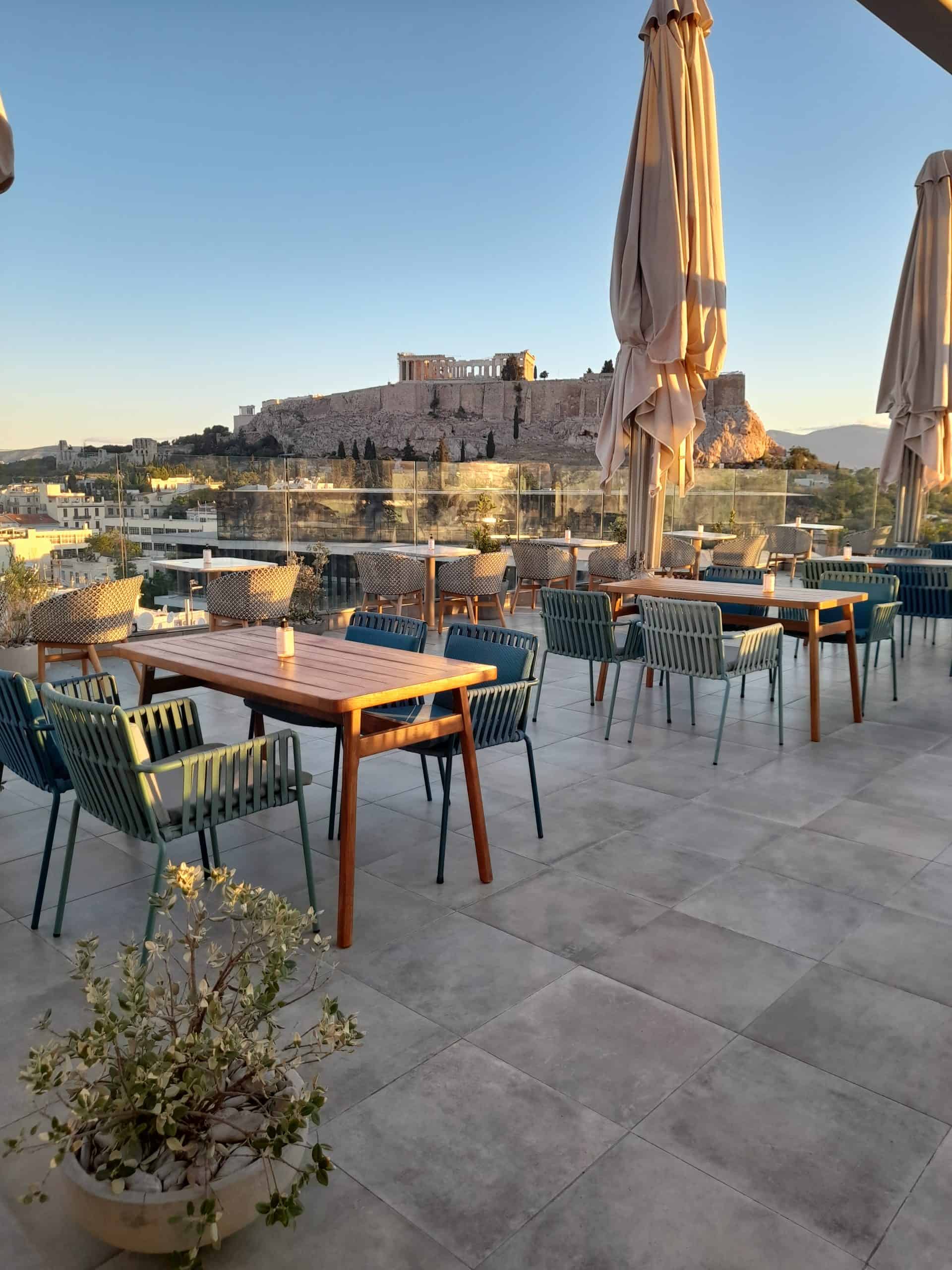 The Athens nightlife scene has something for every taste and budget. You will find everything in Athens from raucous nightclubs in Gazi, to exclusive cocktail lounges in Kifissia.
There are dozens of rooftop bars in Athens that offer unparalleled views of the Acropolis. The view is especially beautiful after sunset. As the night draws in, the Parthenon is illuminated by hundreds of twinkling lights.
Athens Itinerary Day Two:
The Athenian Riviera
First impressions may have you thinking that Athens is just a crowded, hectic metropolis. However, venture thirty minutes south of the city centre and you will find one of the most exclusive coastal regions in all of Greece.
The beach towns of Glyfada, Voula, Vari, and Vouliagmeni make up the Athenian Riviera. Think cerulean waters, pristine beaches, and views over the Saronic Gulf.
The likes of Frank Sinatra, Bridget Bardot, and Sophia Loren all fell in love with this upscale region. However, for all of its glamour, the Athenian Riviera has an unpretentious, laid-back atmosphere.
Athens Itinerary Day Two Overview 
Spend a lazy morning in Glyfada and the Hellenic Hamptons


Swim in the healing waters of Lake Vouliagmeni


Tread the coastal footpaths of Vouliagmeni
Swing by the Hellenic Hamptons 
Glyfada is a stunning beach town associated with the Athenian elite. It is easily accessible from the city centre via tram or bus. 
However, if you prefer not to have to depend on public transport schedules, a cab should set you back no more than €17-20 each way. Download the BEAT taxi app to get around in Athens. This is Greece's answer to Uber.
Glyfada provides a stark contrast to central Athens. Here, incredible neoclassical mansions, artisan coffee shops, and chic boutique stores run along the tree-lined streets.
During the summer months, you can head to one of the trendy beachfront cafes or private beach clubs. OPUS inner pleasure (Pandoras 9) is a favourite nighttime hangout for locals. So too is Bolivar Beachbar in nearby Alimos (Leof. Poseidonos).
Glyfada is just as pleasant during the cooler winter months as it is in the summer. During this time, opt to take a seafront stroll and snuggle up in the armchairs of one of the waterfront cafes as the sea laps against the shore.
Discover the Healing Properties of Lake Vouliagmeni 
Lake Vouliagmeni is a brackish lake whose waters are said to have healing properties. The lake is situated on top of a thermal spring. Because the water is warm all year-round, this is a lovely place to swim and relax at any time of year.
There is a spa onsite if you wish to indulge in a little extra R&R. Additionally, the Lake Vouliagmeni bar serves up fabulous fruity cocktails.
Most people stop by here in the daytime but the ambiance is particularly magical in the evening if you are looking for a place to have evening drinks. The lake is illuminated, and old Dean Martin and Frank Sinatra classics play over loudspeakers.
Enjoy a Coastal Walk in Vouliagmeni
Vouliagmeni is a stunning pine-clad peninsula just south of Athens. This is an area of phenomenal natural beauty. Vouliagmeni is characterised by rugged coastlines, dramatic cliffs, dense pine forests, and secluded beaches. 
There are several walking trails in the area. One particularly pleasant route is the coastal path that leads from Leof. Poseidonos and Lake Vouliagmeni. This trail leads you past Vouliagmeni Bay and to the little stone church of Agios Nikólaos.
You can continue walking until you reach Kavouri. Alternatively, have dinner at one of the sophisticated restaurants in Vouliagmeni and then head back to central Athens.
Athens Itinerary Day Three:
Cultural Highlights of Athens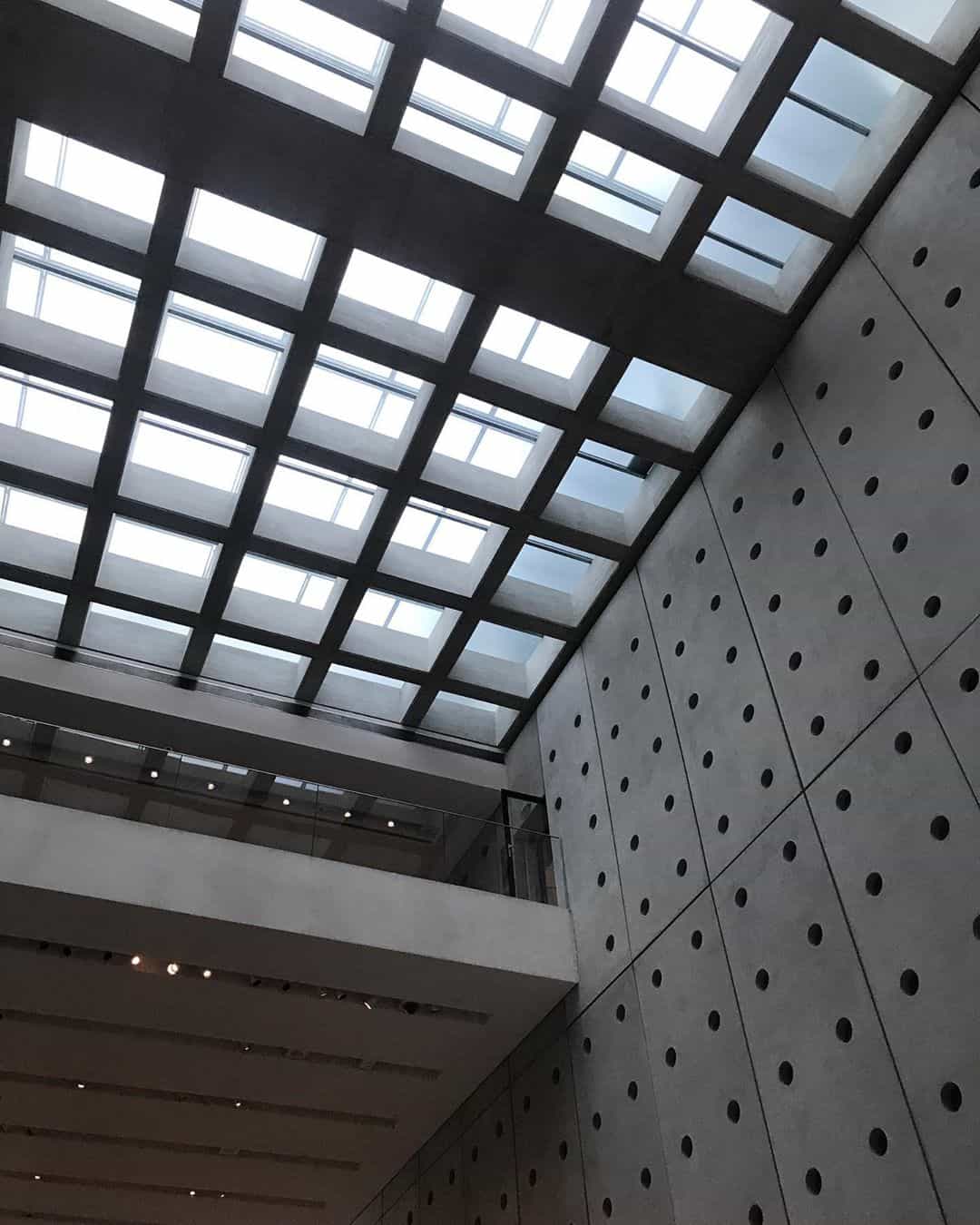 The charming, offbeat Athenian neighborhoods that each have their own personalities are an underrated highlight of visiting the Greek capital. Day three of this 3 day Athens itinerary focuses on some of Athens' most understated spots.
Athens Itinerary Day Three Overview
Learn Athens Olympic History at the Panathenaic Stadium


Get a history lesson at the Temple of Olympian Zeus


Stop and admire Hadrian's Arch


Watch the Hellenic changing of the guards ceremony


Take a quick walk through Monastiraki and Syntagma


Have brunch in upscale Kolonaki


Watch the sunset from Mount Lycabettus


Hang out with locals in Pagrati
Complete a Victory Lap of the Panathenaic Stadium 
The Panathenaic Stadium is the only stadium in the world made entirely out of marble. It is also one of the most important.
Locals refer to the stadium as "Kallimarmaro". The original structure here dates way back to 566 BC. In 1896, it hosted the first modern Olympic games!
Do your best Usain Bolt impression and take a victory lap around the stadium (people actually do this!). Then be sure to check out the small stadium museum that contains Olympic torches and advertisements collected from around the world.
Visit the Temple of Olympian Zeus 
The Temple of Olympian Zeus is a small, yet important historical site. This temple was once the largest in Greece.
It took several centuries to construct the temple. However, it was the Roman Emperor Hadrian who finally finished its construction in 131 AD. Dedicate half an hour to exploring this site before continuing on with this 3 day Athens itinerary.
Stop and Admire Hadrian's Arch 
You will see Hadrian's Arch situated close to the entrance of Dionysiou Areopagitou. The National Gardens are just across the road from here.
The Arch dates back to 131 AD. So, it is one of the oldest structures in Athens. It was created to celebrate the arrival of the Roman Emperor Hadrian.
You only need to spend a couple of minutes here. Snap a few photos with the Acropolis and the National Gardens in the background and continue on to Syntagma Square.
Watch the Changing of the Guards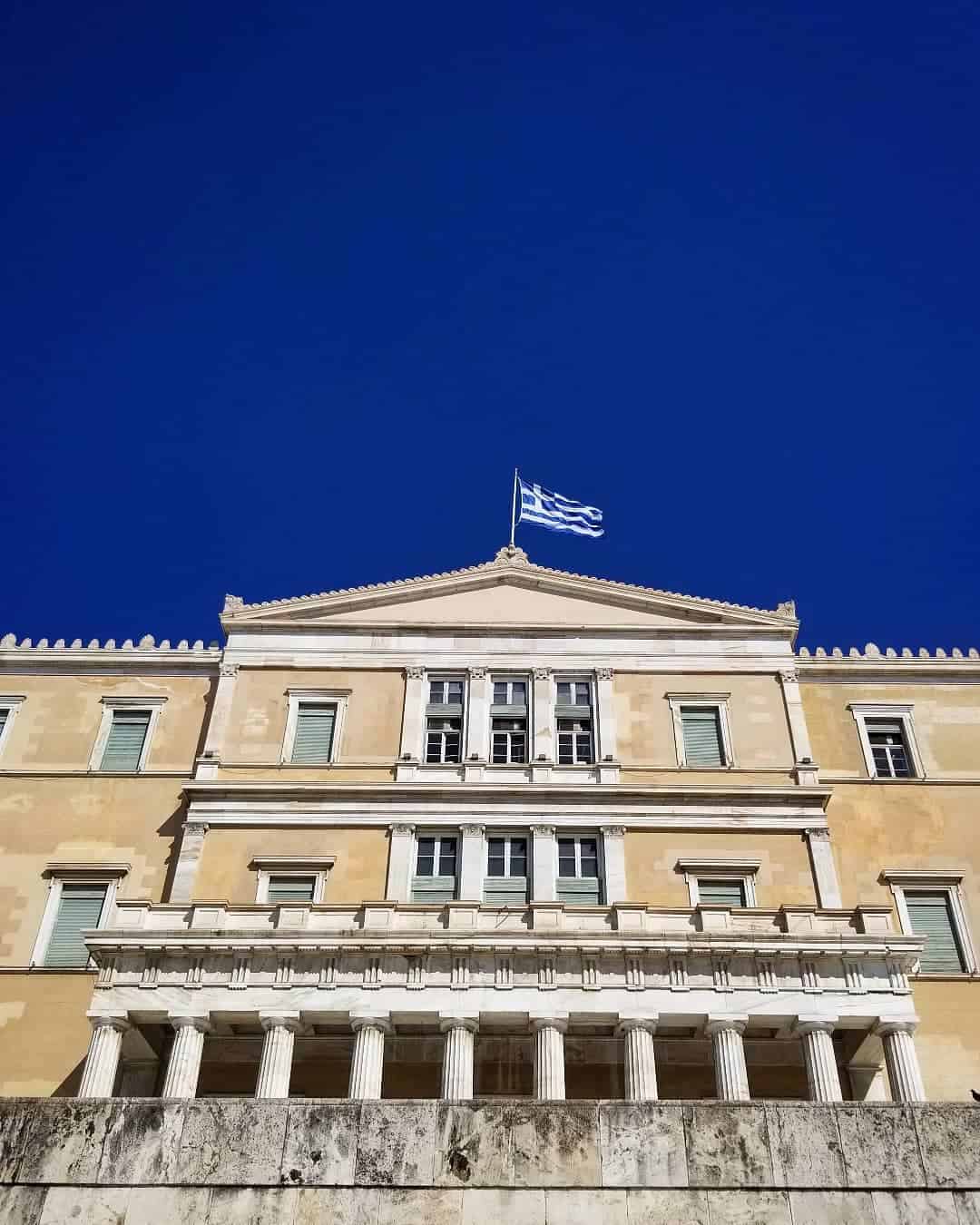 The "Evzones" are an elite rank of Athenian guards. They wear a unique outfit that is made up of a farion (red cap with a tassel), a foustanella (kilt-like garment), and a pair of tsarouchia (shoes with pom poms).
Joining the ranks of the Hellenic Evzones is considered a great honour. You will see them standing guard outside the Tomb of the Unknown Soldier in front of the Syntagma Parliament Building. You can catch the "Changing of the Guards" ceremony every Sunday at 11.00 am. 
Stroll Through Monastiraki and Syntagma 
The central districts of Monastiraki and Syntagma are Athens' answer to the high street. Dozens of independent and brand name stores line the main street of Ermou.
The only difference from your regular high street? You will find half a dozen ancient Orthodox churches situated every few paces. 
You can opt to try a Kolouri from a Greek street food vendor if you feel hungry. This sesame-seeded circular bread is Greece's answer to the pretzel. It is a popular mid-morning snack.
Have Brunch in Upscale Kolonaki 
Kolonaki is Athens' answer to Beverly Hills. This district attracts a well-heeled, beautiful crowd.
Kolonaki is a great place to window shop as you will find store after store here showcasing the works of local designers. Furthermore, there are many wonderful brunch spots here. Enjoy a spot of lunch beneath the sun, or order up a Greek coffee and soak in the ambiance before continuing on to Mount Lycabettus.
Watch the Sunset from Mount Lycabettus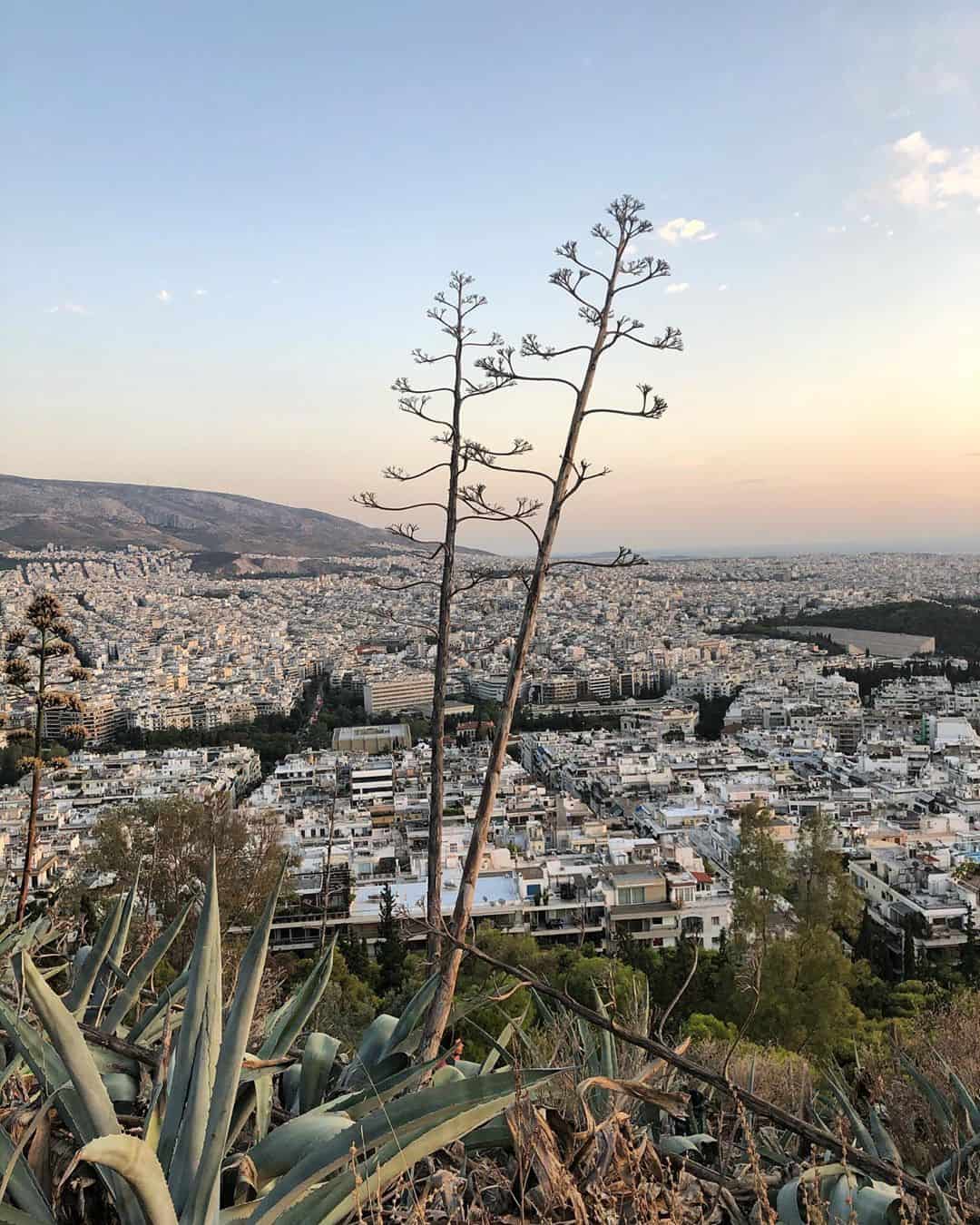 Lycabettus Hill is a tranquil green oasis in the heart of an otherwise fast-paced city. The adorable 19th-century whitewashed church of Agios Georgios can be found at the peak.
From up here, you can enjoy breathtaking panoramas of Athens. On a clear day, you can see all the way out to Piraeus. 
The ascent to the top of Lycabettus takes approximately 30 minutes. However, if you prefer, you can also take a funicular train to the top. The entrance is close to Aristippou Street in Kolonaki. 
Hang Out with Locals in Plateia Varnava, Pagrati
There are many wonderful bars, clubs, and Athenian restaurants in the central districts of Monastiraki, Psiri, and Gazi. However, for a more authentic Greek experience, head to Pagrati. 
Pagrati's Plateia Varnava is filled with eclectic bars and restaurants. This is one of the best squares (plateias) in Athens to hang out when the sun goes down.
In the evenings, locals spill out onto the streets to drink and socialise in the central square. Superfly is a popular local haunt where patrons dance to rock music and classic rock music blasts over the loudspeakers.
Meanwhile, Mavro Provato is one of the most popular dining choices in the area. Expect a short wait for a table but know it will be well worth it. 
Athens Itinerary Day Four:
Unique Athenian Districts
There is enough to do in Athens that you could easily spend an entire week in the city. However, assuming that your schedule is flexible and you have an extra day to play with, a suggested plan for adding a fourth day to your Athens itinerary is provided below.
Athens Itinerary Day Four Highlights
Climb Filopappou Hill


Search for street art in Exarchia


Have lunch in Gazi


Explore Koukaki
Ascend Filopappou Hill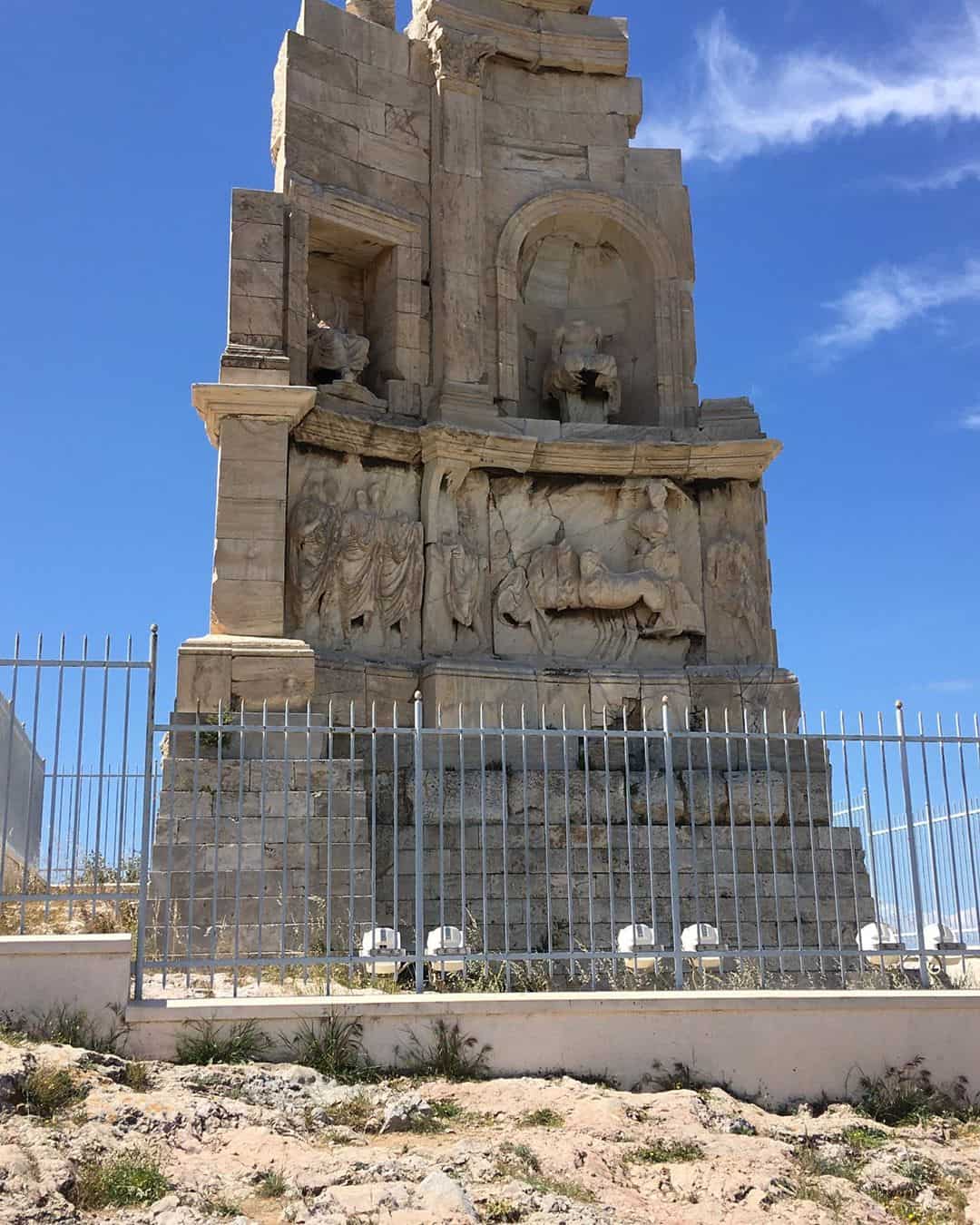 Dionysiou Areopagitou is a cobbled pedestrian walkway that runs from Hadrian's Arch to the Acropolis. Start your morning by taking a leisurely stroll along here while watching the local performers and street musicians.
Turn left on Dionysiou Areopagitou and you will see signs for Filopappou Hill. This hill is famous for the 115AD Roman monument that sits at the top. However, the special thing about Filopappou is the views that you can enjoy from up here. 
This is one of the best spots in the city for photos of the Acropolis. There are also some interesting things to see as you ascend the hill – including Socrates prison, and the chapel of Agios Dimitrios Loumbardiaris.
Search for Street Art in Exarchia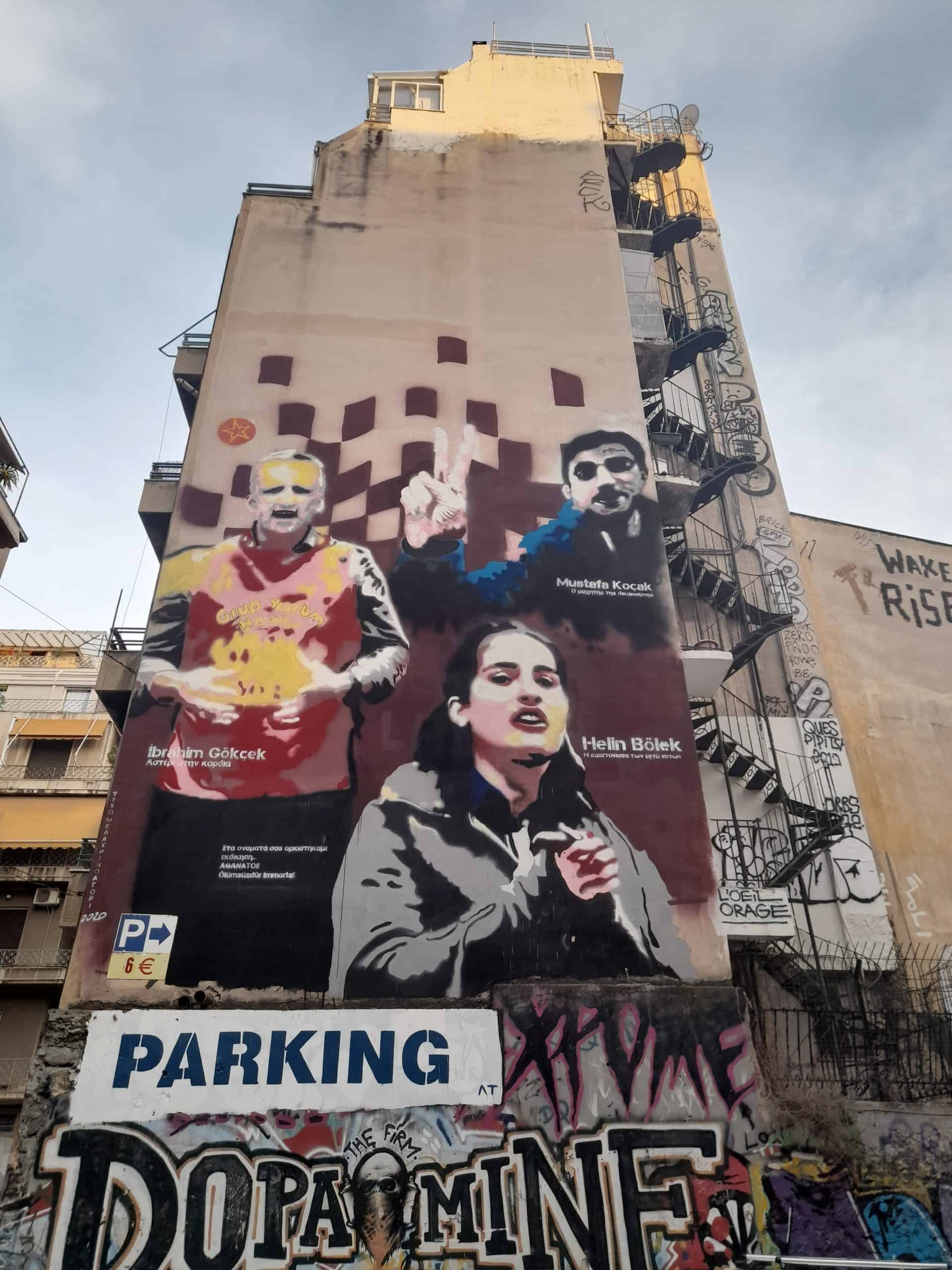 Exarchia does not appear on most people's Athens agendas. The district is synonymous with anarchist groups and it does not have the best reputation. However, Exarchia may well just be one of the most interesting parts of town.
Vinyl record shops, rock bars, and eclectic coffee shops line the streets of Exarchia giving the area an alternative vibe. Exarchia is particularly renowned for its street art.
A lot of the street art that you will find in Exarchia is politically charged. There are also some pieces that were created by renowned graffiti artists Borondo and Ino.
Have Lunch in Gazi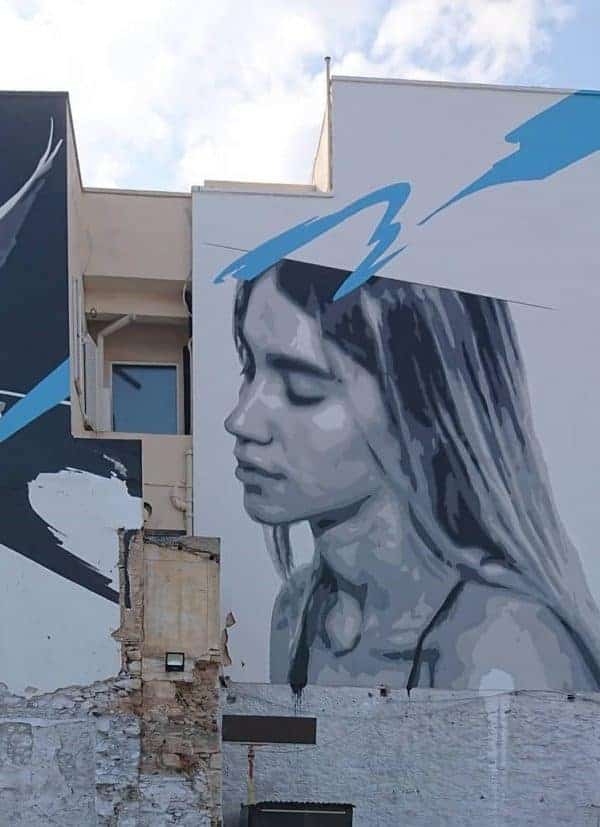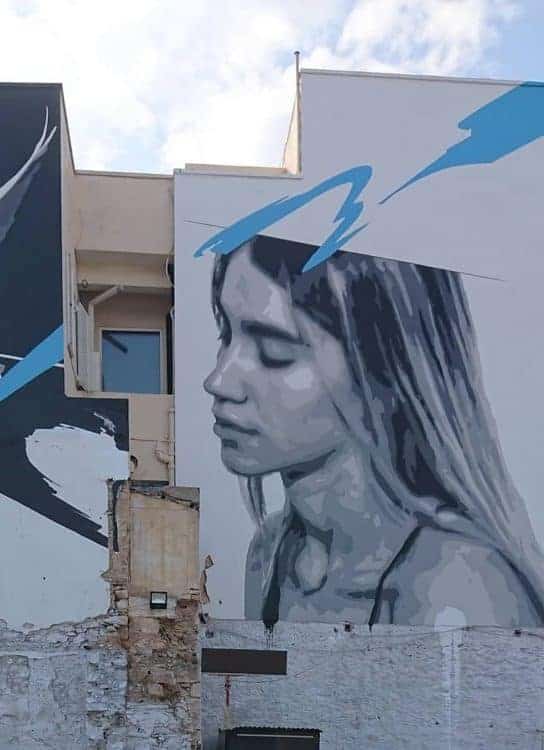 The Gazi district of Athens sits just behind the touristic tavernas of Thissio. Gazi has emerged in recent years as one of Athens' trendiest neighbourhoods. However, this was not always the case.
Gazi means gas in Greek. This is a fitting name as this was once the base of Athens' old gas power plant. The shell of the plant still remains and adds a certain je ne sais quoi to the atmosphere of the area.
Gazi provides a wonderful juxtaposition of tradition and modernity. There are many excellent restaurants here that place a contemporary spin on classic Greek dishes.
Gazohori (Dekeleon 2-6) is a popular and affordable mezedopoleio where you can enjoy lots of small dishes. This is a nice way to sample lots of different Greek foods in a small amount of time.
Shop for Souvenirs in Quirky Koukaki 
Spend the last hours of your Athens itinerary navigating the streets of Koukaki. Koukaki is arguably one of Athens' most eclectic neighbourhoods. However it is rarely overrun with tourists.
Dedicate a few hours to exploring the various vintage stores, themed coffee shops, thrift stores, and art galleries of Koukaki. This district is very international and you will find restaurants that serve up cuisines from all corners of the world for when dinner time rolls around.
Athens Itinerary:
Where to Stay in Athens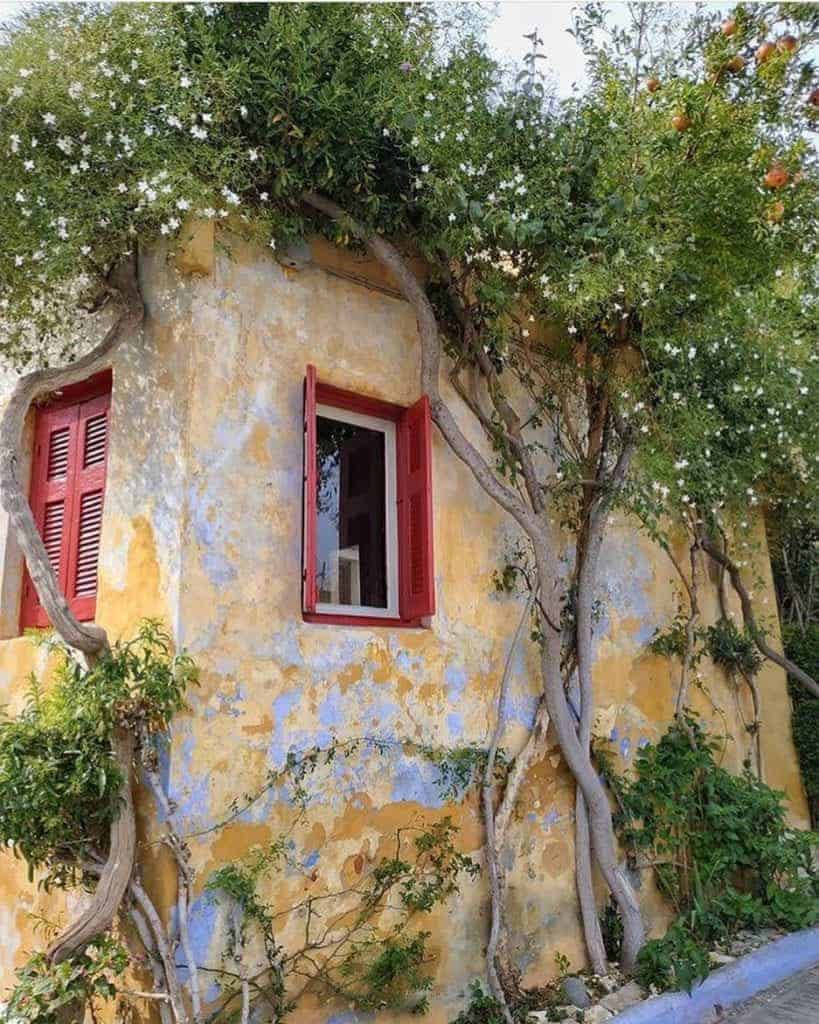 Figuring out where to stay in Athens can be overwhelming as the city is so large. The districts of Monastiraki, Syntagma, Plaka, and Psiri are the most central regions. However, that doesn't necessarily mean that they are the best.
Quieter, more residential areas such as Koukaki, Kifissia, and Kolonaki allow you to spend your Athens itinerary in a quieter setting and feel more like a local. Additionally, the public transport network in Athens is Excellent. Even if you opt to stay a little further out from the centre, navigating the city is easy. 
Koukaki
Koukaki was recently voted one of the best Airbnb districts in the world. This district sits in the shadow of the Acropolis and places you just a stone's throw away from the Acropolis, and the city's other most famous attractions.
Kolonaki
There are many chic hotels in Kolonaki. This is arguably Athens' most glamorous district. Exquisite cocktail bars, designer shopping, and world-class restaurants owned by famous chefs await on your doorstep in Kolonaki.
Plaka
Plaka is located in the beating heart of Athens. You will find accommodation choices here to suit every budget. Additionally, many of Plaka's hotels offer unparalleled views of the Acropolis and the Ancient Agora.
Vouliagmeni
The beach town of Vouliagmeni is situated 25km south of central Athens. You can find many luxurious seafront hotels in this area. Additionally, many of the hotels here offer private beaches and plunge pools.
Kifissia
Most visitors to Athens don't know about Kifissia. However, this is a great place to stay during your Athens itinerary. This is especially the case if you are looking for somewhere a little quieter.
Neoclassical mansions, elegant restaurants, and designer shopping line Kifissia's leafy promenades. The district is just 14k away from the city centre.
Getting Around Athens
It is easy to navigate around Athens. The city has an extremely comprehensive public transport network. Buses, trams and metros service all corners of the city. Services are clean, safe and comfortable.
Athens Public Transport
All modes of public transport run on a frequent schedule. You can check the Athens public transport routes, prices and schedule information here. It is also possible to pick up a multi-day pass upon arrival at the airport to save money.
Getting from Athens Airport to the City 
It is easy to get from Athens International Airport into the city. From 5:30 am until 23:00 pm, the metro runs every thirty minutes to the central square (Syntagma).
You can also take the 24-hour X95 express bus that runs between the two locations. An airport metro ticket costs 10 euros, and an X95 bus ticket costs 6 euros. Concession tickets are available for children and travellers over 65.
Taking Cabs in Athens 
You will find yellow cabs all over Athens. However, taxi scams are not uncommon in Greece.
It is advisable to download the BEAT taxi app and order your cabs this way. Uber has been suspended in Greece and it is only possible to take licensed official cabs. 
Possible Athens Itinerary Extensions
There are many dreamy islands, fascinating historical sites, and adorable stone villages right on Athens' doorstep. You could consider extending your Athens itinerary by exploring the wider Attica region.
Alternatively, you can use Athens as a base to take day trips to places such as the Saronic Gulf, Sounion, and Delphi. A trip to Athens is best enjoyed as part of a wider Greece itinerary.
Explore the Beaches Close to Athens
There are dozens of beaches close to Athens that offer a slice of paradise without having to travel miles out to secluded islands. Extend your Athens itinerary by renting a car and enjoying the quiet beaches of Dikastika and Schinias. 
Spend a Day at Hydra Island
The little island of Hydra provides a wonderful glimpse into traditional Greek life. Vehicles are not permitted on the island so locals get around by mules. Travelling to Hydra feels like journeying back in time.
It takes just 90-minutes to get from Athens to Hydra. Scenic hiking trails weave through the countryside and provide some of the best walking routes in Greece. The fishing villages and ports on the island are also gorgeous. 
Sail Around the Saronic Gulf
The Saronic Gulf archipelago floats just off the shore from Athens. These islands may be among the most understated in all of Greece.
You could dedicate a week or two to creating a Saronic Gulf itinerary. Alternatively, there are many tour companies that offer whistle-stop day tours to several islands in a day.
Hike to Hidden Waterfalls and Abandoned Palaces
Incredible nature encompasses Athens. There are several hiking trails in Athens that are just 1-2 hours outside of town. These trails take you to the hidden Ntrafi waterfall and the abandoned Tatoi Palace.
Visit the Temple of Poseidon at Sounion
The Temple of Poseidon at Sounion is one of the most popular Athens itinerary extensions. The temple is perched on the edge of a cliff overlooking the Aegean.
It is dedicated to Poseidon, God of the Sea. You can also visit the nearby beaches or Sounion National Park during your visit.
Parting Words
Do you have any additional questions about this 3 day Athens itinerary? I have lived in Athens since 2017.
I am happy to answer any questions that you may have about planning a trip to Greece. Feel free to drop me a comment via the box below.
Safe travels! Geia sou! Melissa xo
---