A three day Athens itinerary is a perfect amount of time to spend in the Greek capital for your first visit. It gives you ample time to explore the city's main historical attractions and central neighborhoods, as well as time to go off the beaten track to the lesser-known beaches and coastal villages of the Athens Riviera.
This guide has been written by someone who has lived in Athens for close to five years (Me!) It provides recommendations for districts, bars, and restaurants that you simply will not find in other Athens itineraries that have been written by people who simply passed through as a tourist.
Your Perfect 3-Day Athens Itinerary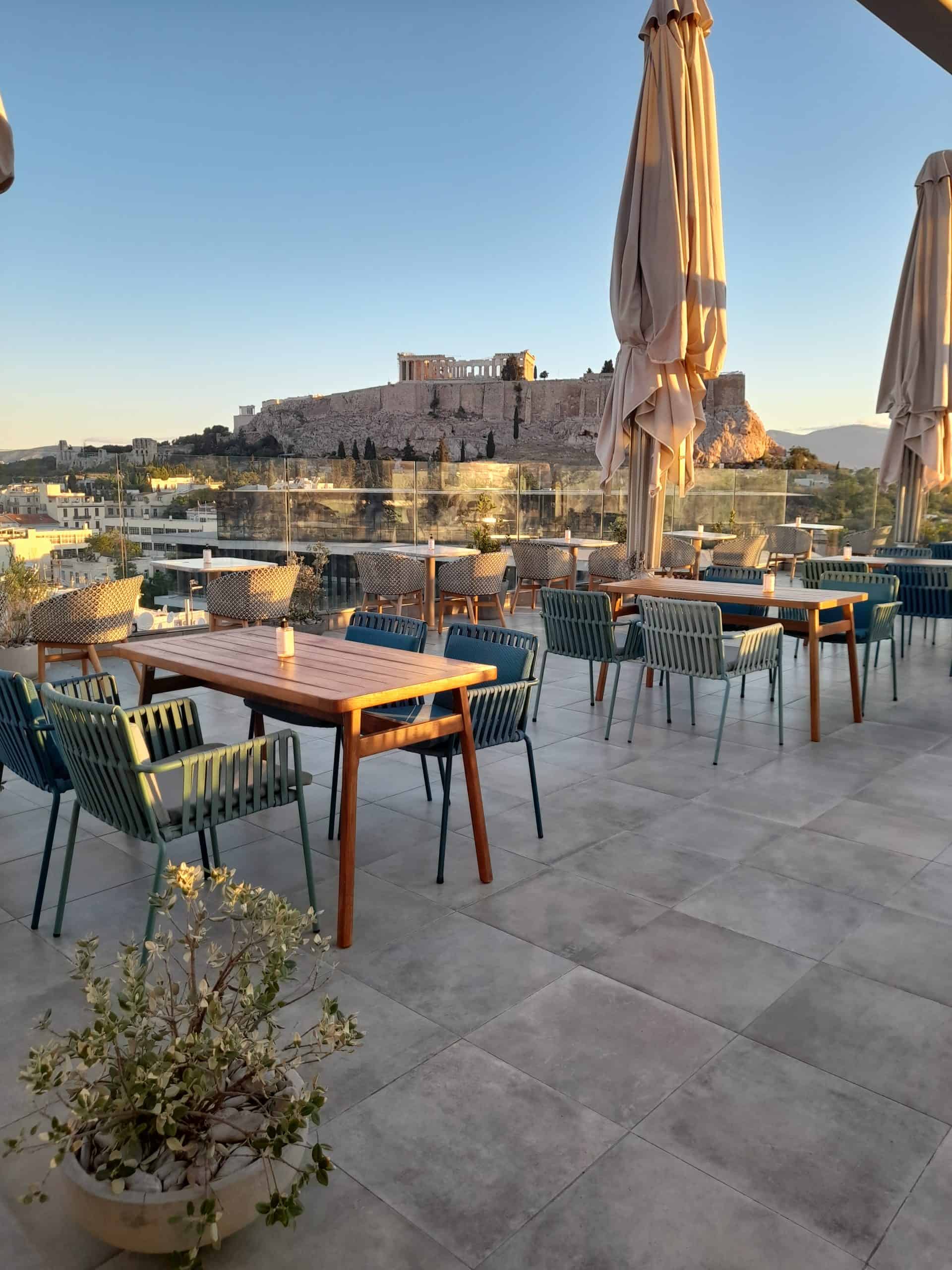 Athens, as the capital of Greece, needs no introduction. This is the birthplace of democracy and modern civilisation and home of some of the most impressive temples and historical sites in Europe.
With a history that spans over 2,500 years, it is also one of the oldest cities on the continent. The likes of Plato and Socrates, and infamous writers and creatives like Lord Byron, once strolled down the same cobbled streets and frequented the same places that you can visit as a tourist today.
Athens may not have the same beauty as other European cities like say, Porto, or Prague. But what it lacks in aesthetics, it more than makes up for in personality and charm.
This suggested 3 day Athens itinerary contains a mixture of well-known tourist attractions and hidden gems that Athenians have been keeping to themselves.
Athens Itinerary Day One:
Historical Highlights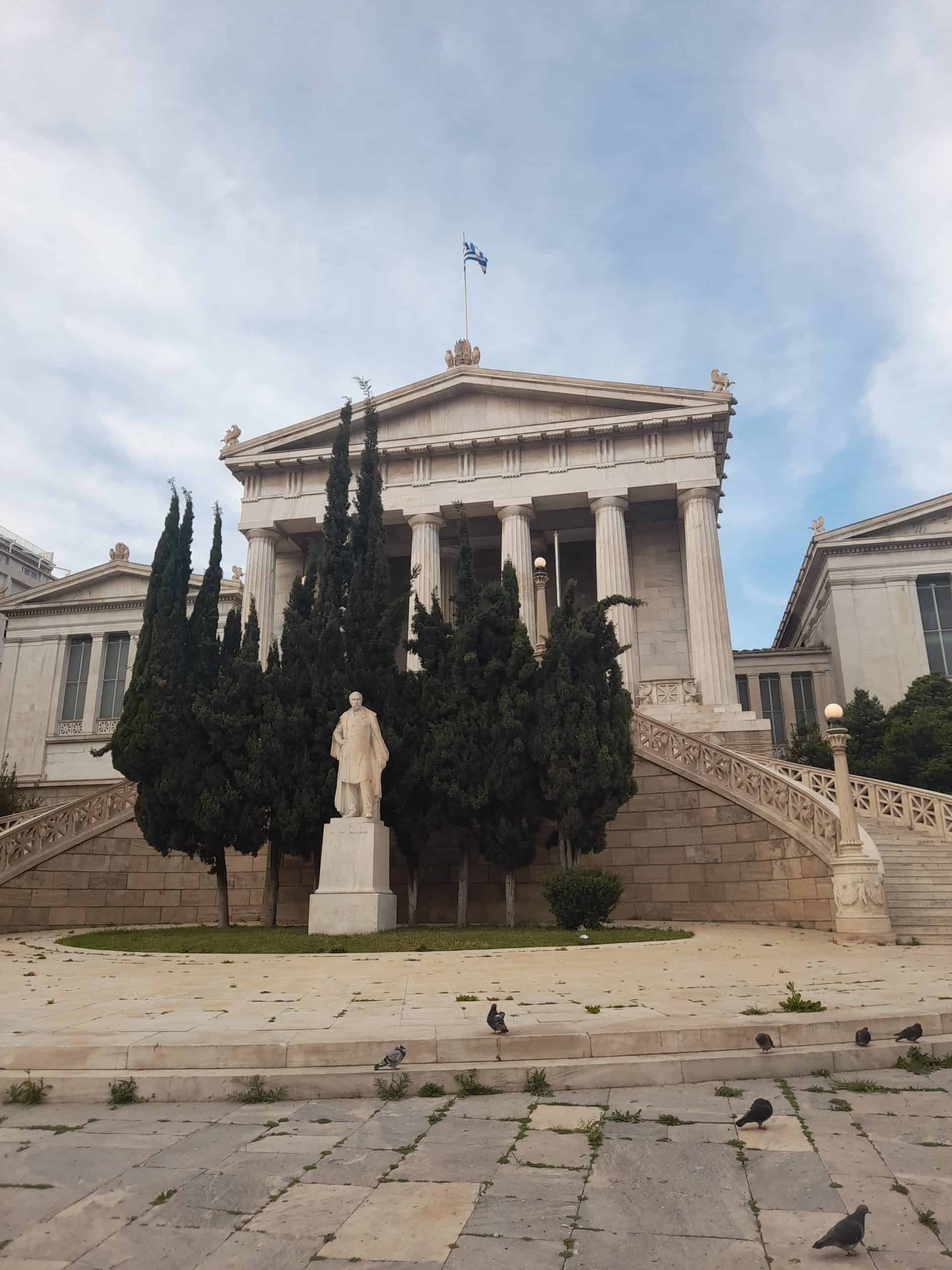 Day one of this 3 day Athens itinerary will focus on seeing the city's historical highlights. Attractions like the Acropolis with its magnificent Parthenon are a lot of peoples' raison d'etre for visiting Athens in the first place.
Athens combination ticket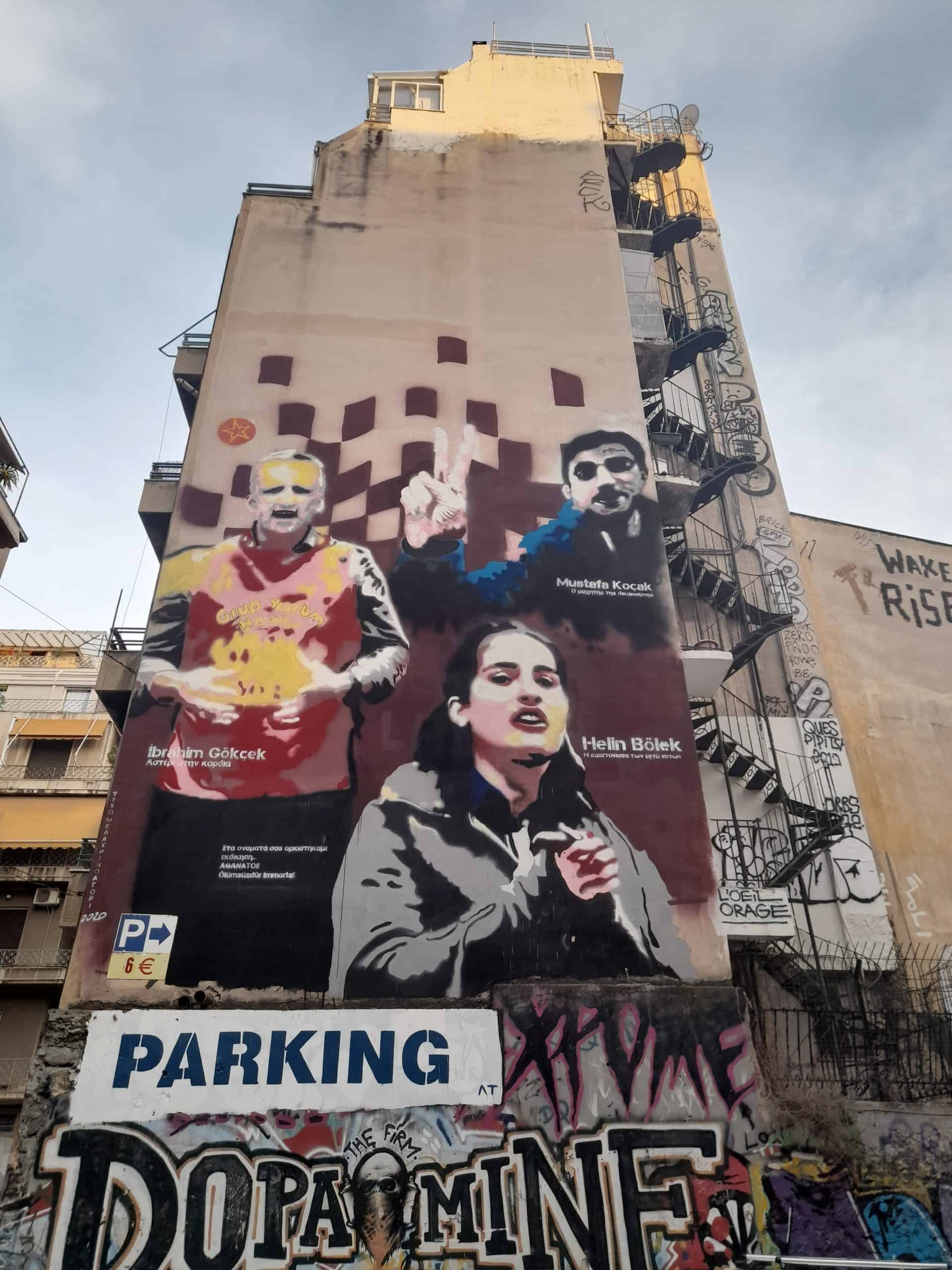 It is worth purchasing an Athens combination ticket for your itinerary. This ticket costs €36 per person and includes admission to several archeological sites.
Namely, the ticket includes entrance to the Acropolis and its museum, the Temple of Olympian Zeus, the Ancient Agora and the Agora Museum, the Roman Agora, Hadrians Library, Kerameikos, and the Archaeological site of Lykeion.
Since the entrance to the Acropolis is €20 anyway, you only need to visit one other historic site to make purchasing the pass worthwhile. This 3 day Athens itinerary will take you to most places listed above so the pass can save you a little money.
You can read more information on the pass here.
Have breakfast in Greece's historic capital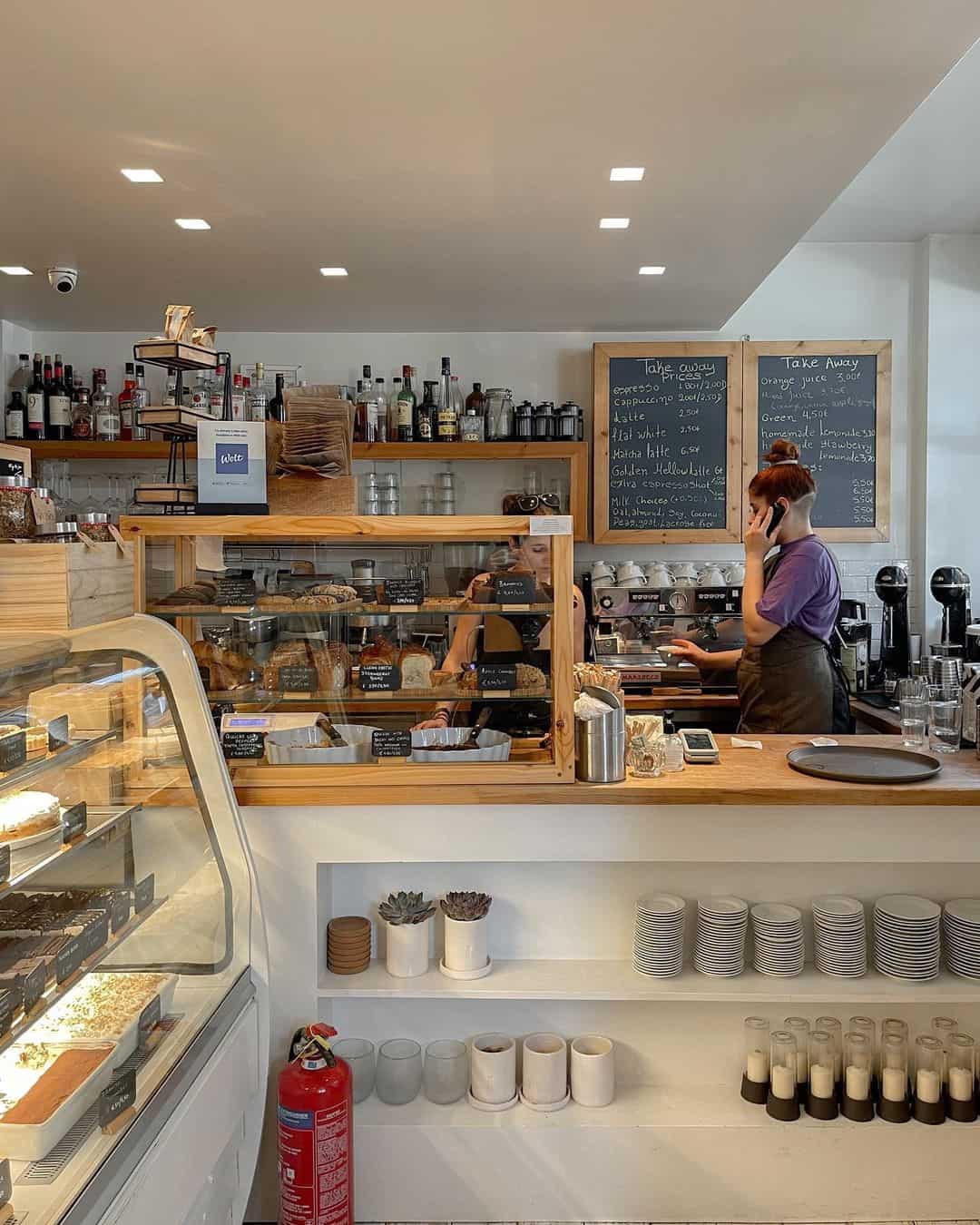 Wake up bright and early on day one of this 3 day Athens itinerary so that you can be one of the first in line for the Acropolis. If your hotel serves breakfast – great!
If not, consider stopping by one of Athens' best coffee shops.
The Underdog (Iraklidon 8) is an Athens institution. This specialty coffee shop in Thissio awaits on Iraklidon, a narrow street that veers off from Apostlou Pavlou boulevard in central Athens.
The baristas here are widely recognised as being among the best coffee brewers in Greece and indeed, the world! In fact, they have entered international contests and won awards for their coffee-making skills. So, you can feel assured you are in good hands here.
Treat yourself to an international breakfast classic, like eggs benedict or croque madame. Or alternatively, try something with a contemporary twist.
For instance, the huevos pochados (poached eggs, mashed potatoes with bacon, asparagus, mushroom ragout, and toasted bread) are to die for.
Kononi (Falirou 48) is another local favourite. The airy Bohemian eatery serves classic breakfast dishes from around the world, right in the shadow of the Acropolis.
Visit the Acropolis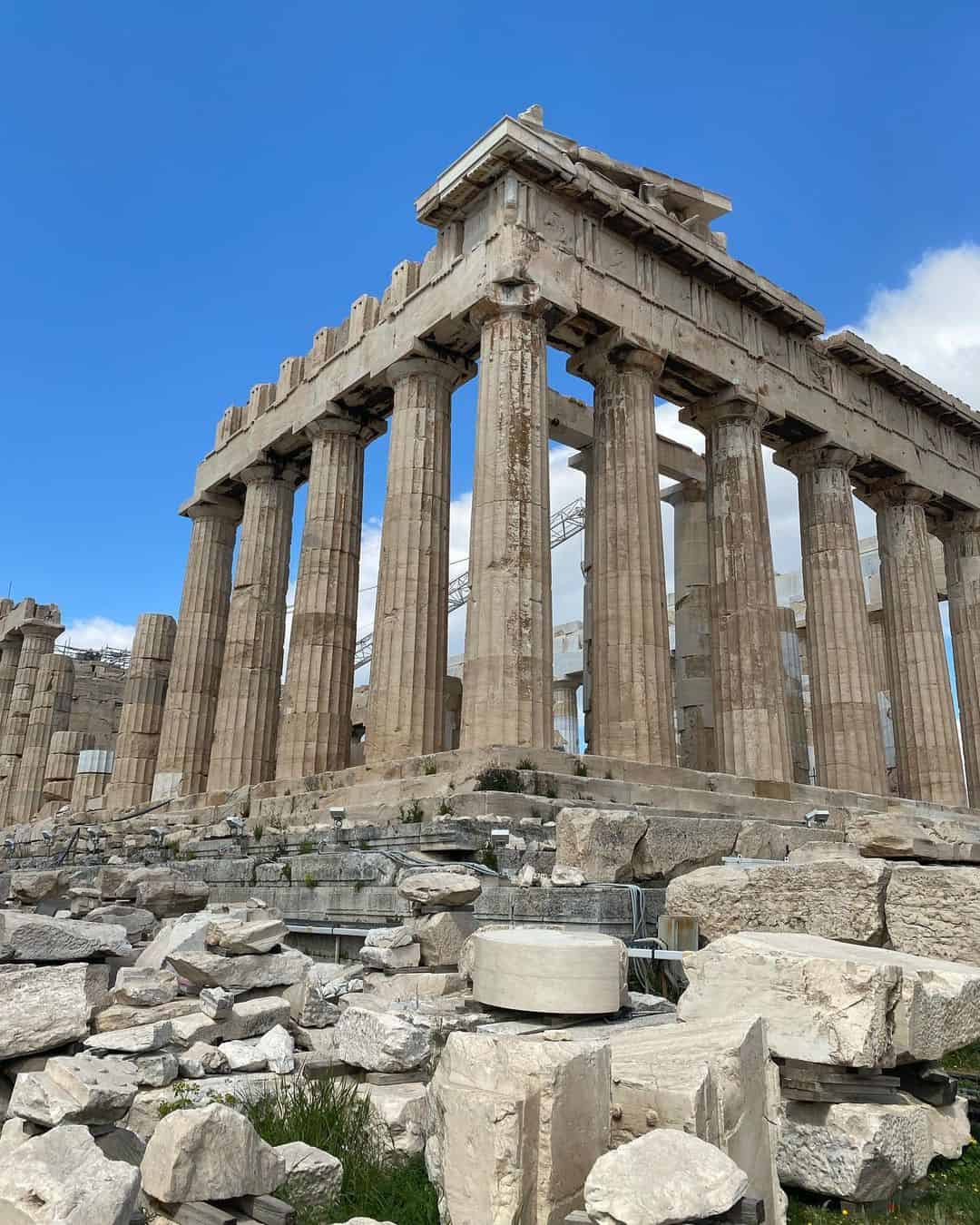 Visiting the Acropolis is a highlight of any Athens itinerary. The site opens at 8 am daily.
It is worth getting there when it opens if you want to avoid the crowds, especially during the high season.
There are now automatic ticket booths at the entrance close to the main entrance gate (the Propylaea). But to save having to queue at all, consider buying your Athens combo pass or your Acropolis entrance ticket online in advance.
That way you can go straight to the entrance (and sometimes there are online discounts to be had too). The Acropolis site is actually much larger than many people realise and you should set aside at least 2-3 hours to explore it.
You will pass by several interesting ruins on your ascent toward the Parthenon. Look out for the Theatre of Dionysus – an ancient theatre constructed by Peisistratos in the 6th century CE.
The Parthenon itself dates back to 447 BC and was built in honour of the Ancient Greek Goddess Athena. Your Acropolis ticket includes admission to the Acropolis Museum.
The Museum contains artifacts recovered from the region and gives a chronological history of the area.
Recommended Acropolis tours and ticket options
Follow Dionysiou Areopagitou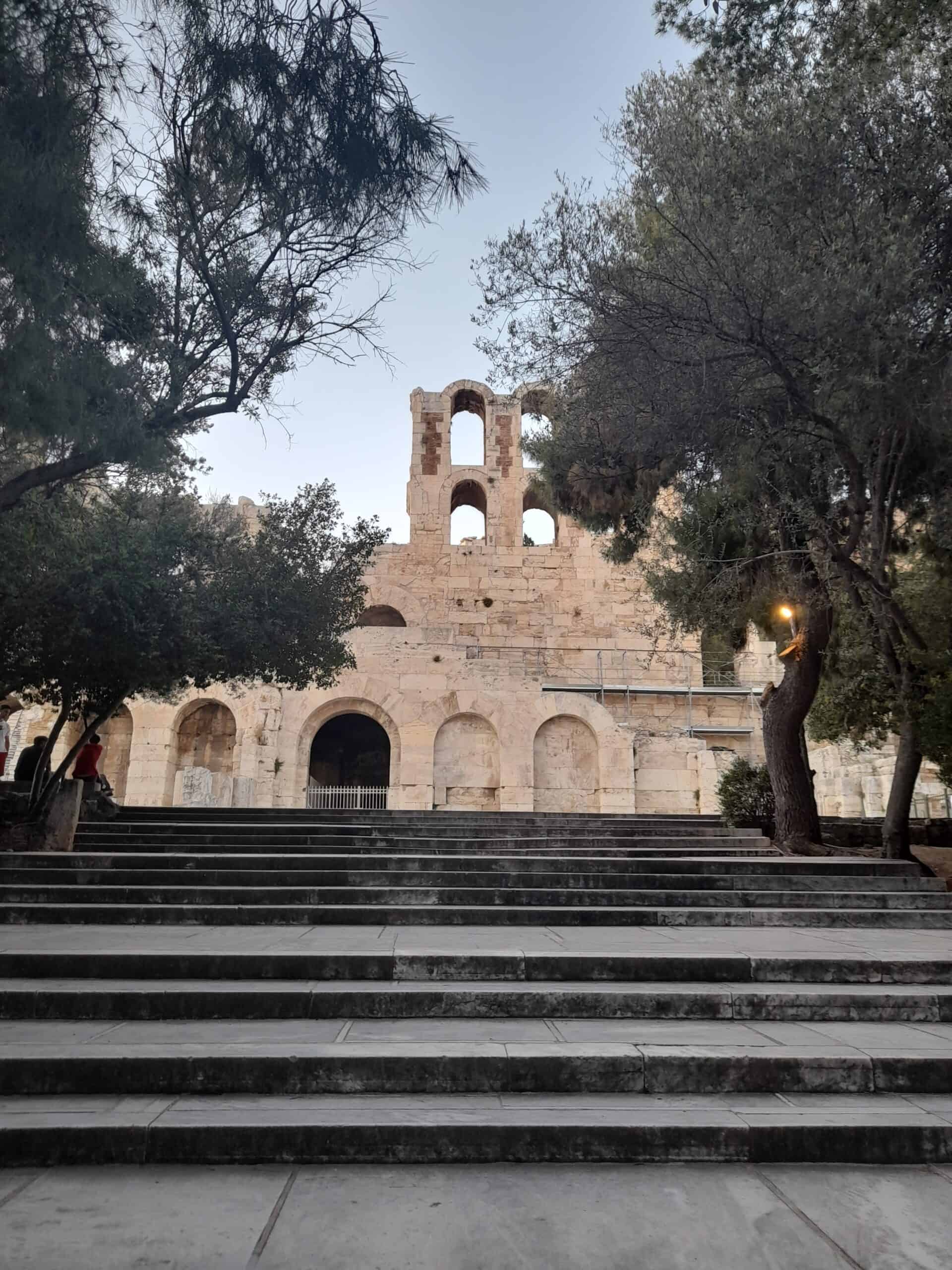 Follow the scenic cobbled boulevard of Dionysiou Areopagitou Street past the Acropolis, the Odeon of Herodes Atticus, Areopagus Hill, and Filopappou Hill, until it merges with Apostlou Pavlou. From there, follow the pedestrianised walkway to Thissio and the Ancient Agora.
These two charming walkways are always filled with street vendors selling everything from Greek street food to handmade jewelry, one-of-a-kind art pieces, and artisanal goods. Meanwhile, musicians, dancers, and street artists perform to delighted crowds of tourists and locals alike.
These pedestrianised boulevards are beloved by Athenians, as much as they are necessary routes for tourists to follow to get from one historic site to another. You will often see locals come here to meet their friends, walk their dogs, run, and enjoy an al fresco cup of coffee.
Visit the Ancient Agora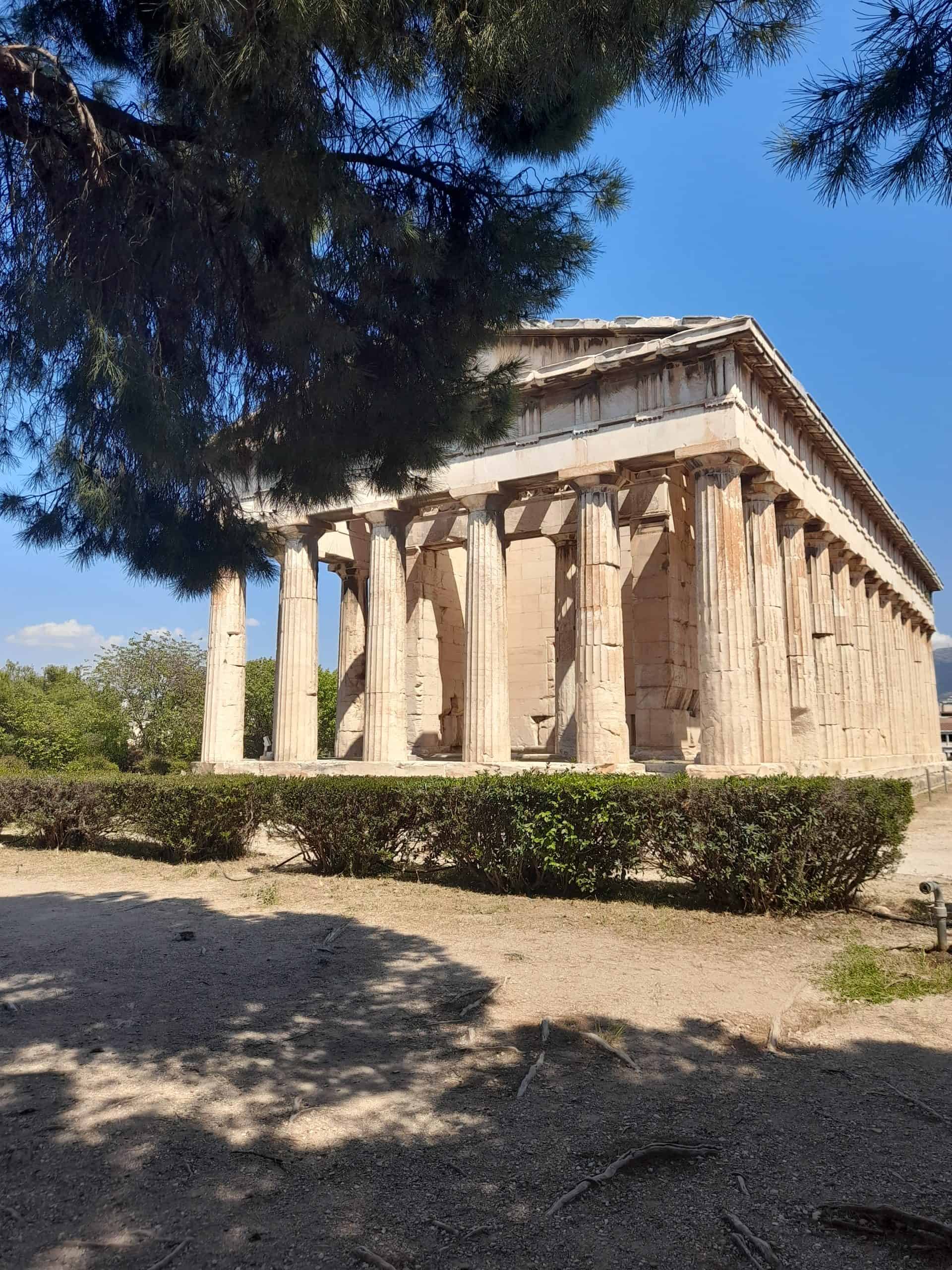 During the Classical era, the Ancient Agora was the civil centre of Athens. It was the main rendezvous point for city residents.
Speeches would be given there, and Greek Philosophers like Socrates would wander around barefoot imparting their wisdom to anyone that would listen.
You should dedicate at least 1.5-2 hours to exploring the site. Turning right immediately after entering the complex, you are met with the impressive Temple of Hephaestus.
The temple is often overshadowed by the Parthenon, but the two sites were built around the same time in 449 BC. The Temple of Hephaestus is widely considered to be the best preserved Doric temple in existence today.
It was dedicated to Hephaestus, God of metal workers, and Athena Ergane, Goddess of pottery.
The Stoa of Attalos at the Ancient Agora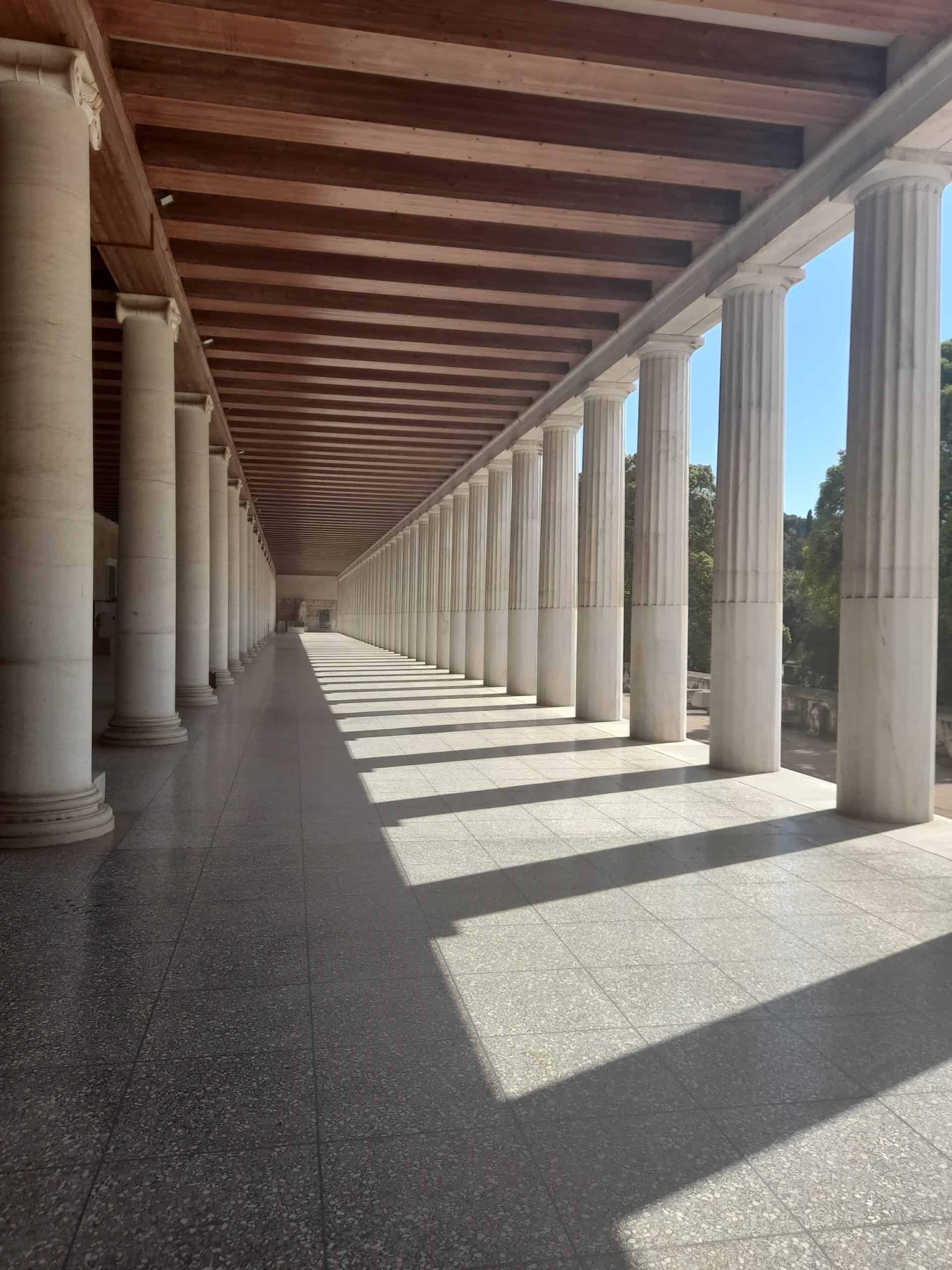 The Stoa of Attalos is the grand colonnaded building on the left of the entrance to the Agora. In Ancient Greece, it operated as a marketplace and was home to more than 40 stores.
The Stoa was a gift to the people of Athens from King Attalos II of Pergamon who fell completely in love with the city during his visits. Sadly, the original building (159 BC) was largely destroyed in 267 AD. What stands today was largely reconstructed in the 1950s.
Explicit care was taken to reconstruct the site to be the same as the original. Workers even went as far as using the same building materials and sourcing them from the same places.
Today, the Stoa contains the fascinating Agora Museum. The museum exhibits are organised in chronological order and display a number of artifacts that were recovered from the area.
Stroll down Evripidou Street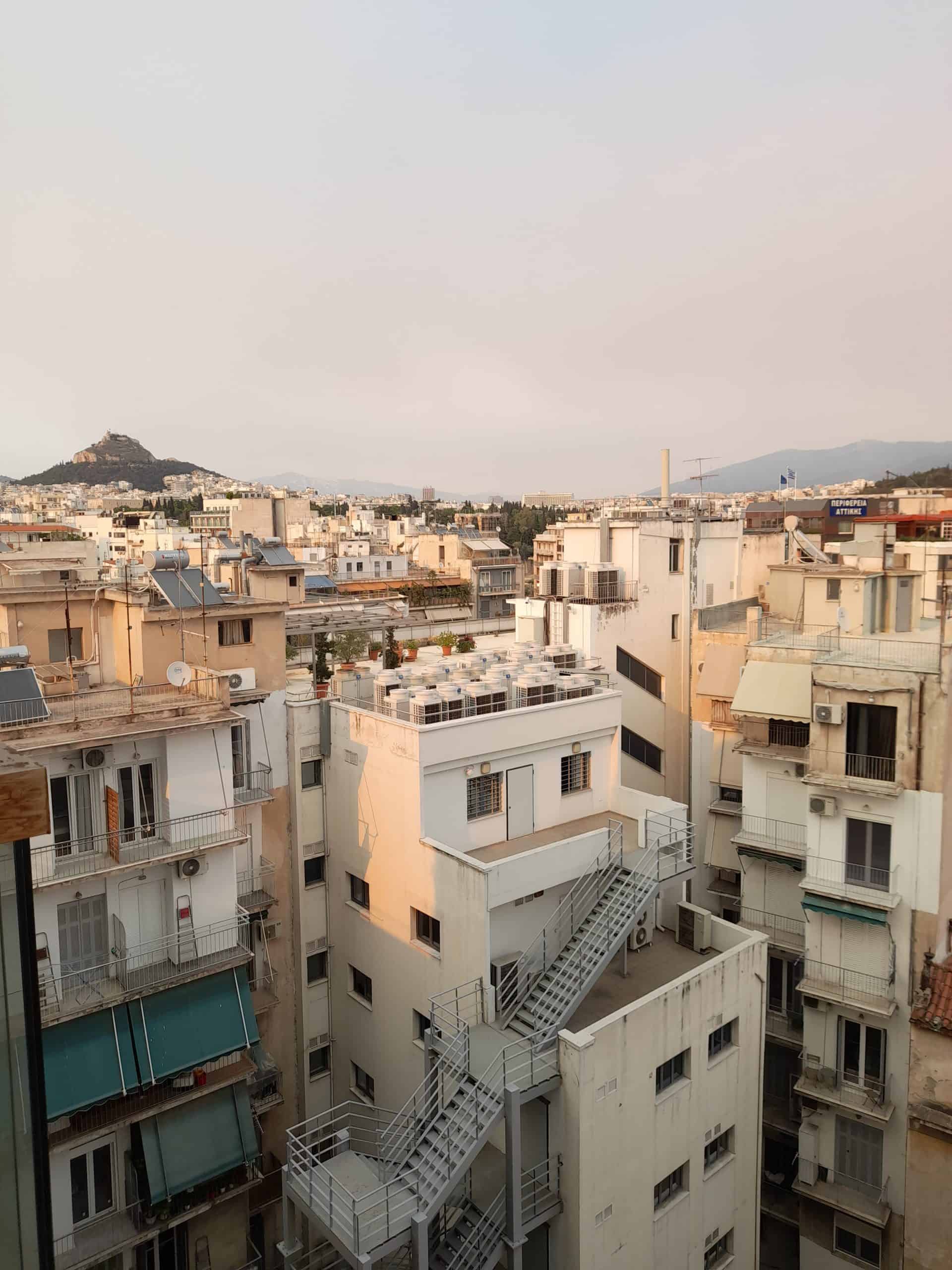 From the Ancient Agora, head towards Athens' vibrant Psiri district. This area is known for its colorful street art, eclectic cafes, and ramshackle antique stores.
Evripidou Street is particularly charming. Many of the independent stores here sell homeopathy products and homemade cosmetics which make lovely souvenirs.
There are also a lot of spice stalls that feel more reminiscent of what you would expect to see in an Arabian souk than in Southern Greece. There are two stores, in particular, to look out for that make great places to stop for lunch.
Enjoy a charcuterie lunch
One great place to stop for lunch in Psiri is Karamanladika tou Fani (Sokratous 1). Karamanladika is an Athens institution that specialises in preparing charcuterie boards made up of cured meats and cheeses from Drama in Northern Greece.
You can buy cuts of the deli produce to take home with you, or you can opt to enjoy a meze platter. Several recommended platters can be found on the menu, or you can ask the servers to prepare a bespoke one for you.
Not forgetting to wash it all down with a glass of locally sourced Greek wine, of course! Your server will be able to recommend a wine that perfectly complements the flavours of the food you have ordered.
Alternatively, head to Miran (45, Evripidou). This delicatessen and meze spot has been delighting Athenians since 1922.
While Karamanladika specialises in products from Drama, Miran specialises in products from Thessaly, Serres, and Lake Kerkini. Try the oregano-infused sausages, the Armenian veal sausage, the soutzouki or the pastourma.
Check out the Athens Central Market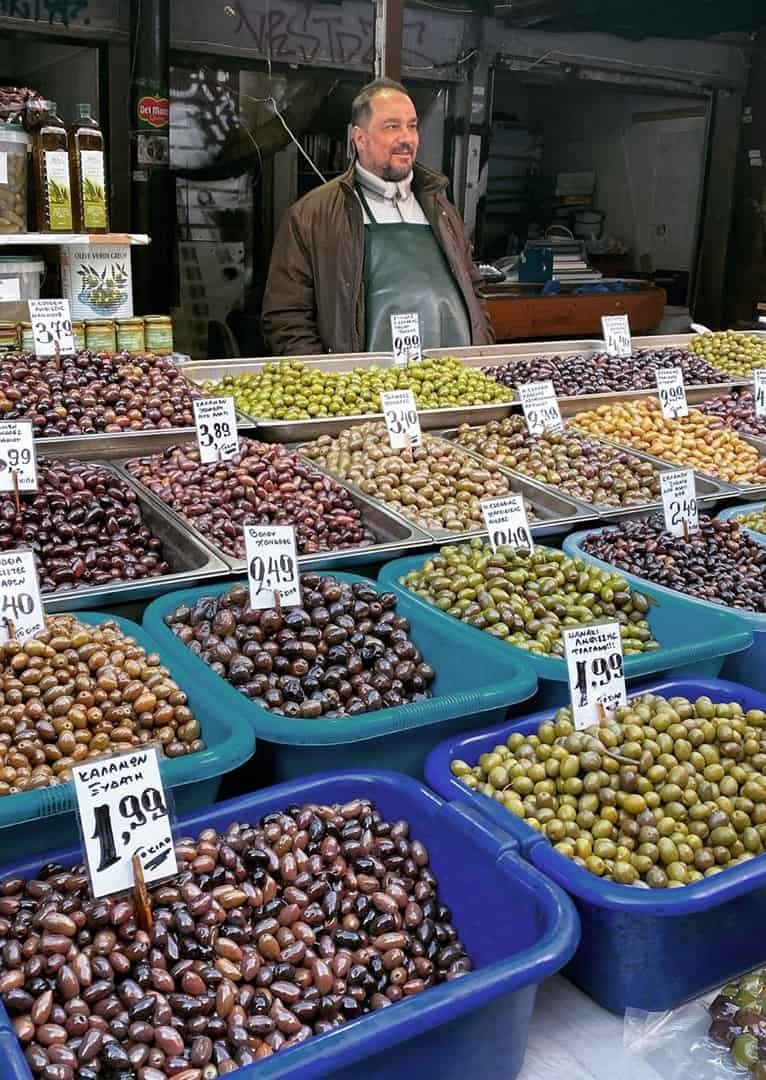 The Athens Central Market (Varvakios Agora) is the largest and oldest farmers' market in Athens. It first opened its doors back in 1886 and has been one of the busiest marketplaces in the city ever since.
The marketplace is just around the corner from Evripidou Street and is worth a quick walk-through. Every day, thousands of Athenians pass through to purchase fresh vegetables, fruits, seafood, and meat.
If you are staying in self-catered accommodation, it can be fun to shop for ingredients here and prepare them later. Otherwise, the market is a great place to visit for the people watching opportunities alone.
The fish market here is the largest in Europe. Every morning, local fishermen haul in their latest catches and set up their stalls, while every evening, Greek yiayias (grandmothers) stop by to ferociously haggle on the best prices for tuna, swordfish, anglerfish, and menolules.
Explore the charming streets of old Plaka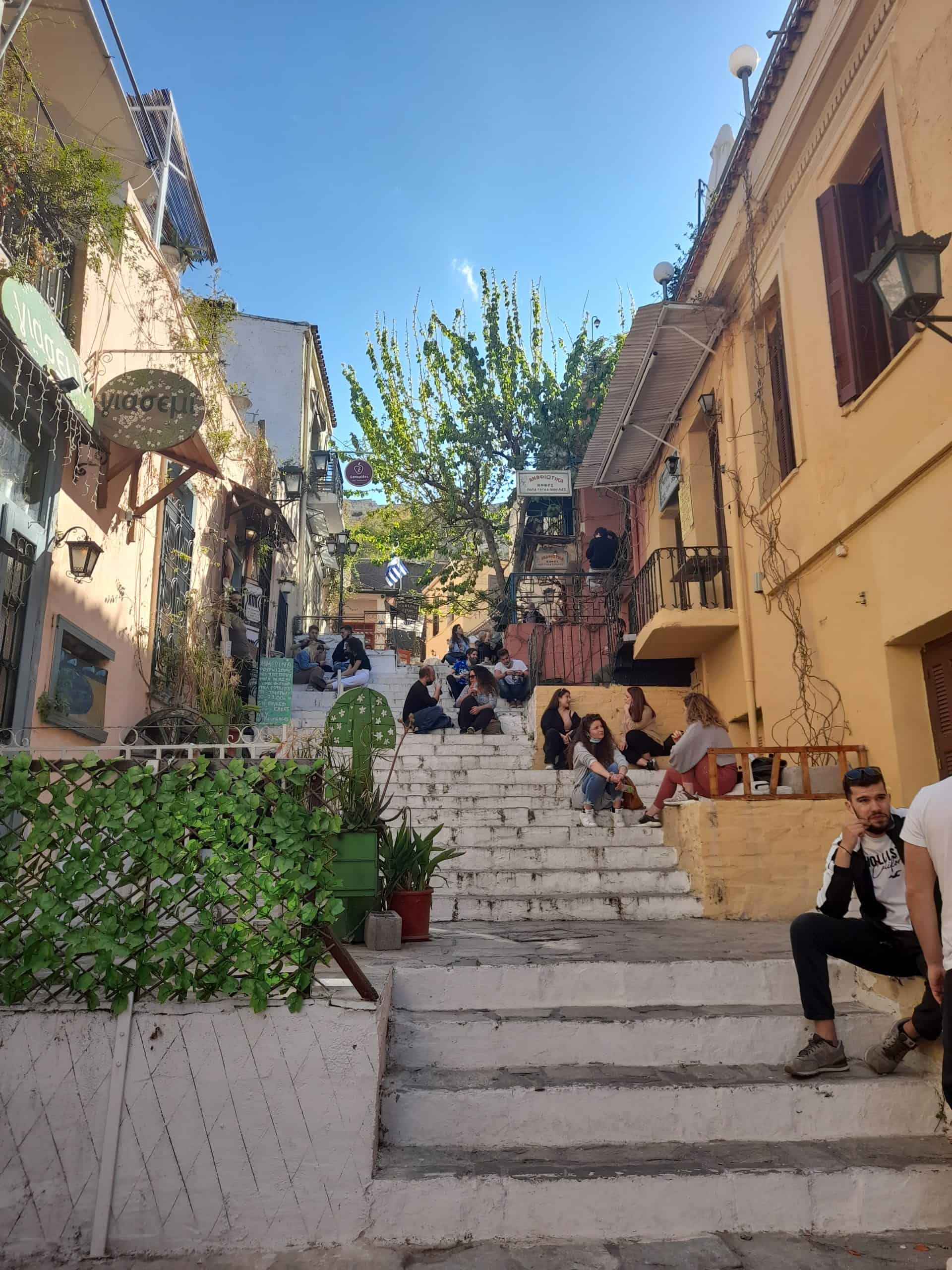 The quaint district of Plaka is one of the oldest parts of Athens. During the Ottoman occupation, this was the city's Turkish district.
Today, many old Ottoman structures still remain, pointing to the area's multicultural past. In particular, look out for the Fethiye Mosque and the Pelopida Street Madrassah (Islamic School).
The Plaka Steps (Mniskleous 22) are one of the city's most famous landmarks. Restaurants and bars line either side of the stairway and by nightfall, patrons sit on the steps enjoying meze dishes and glasses of ouzo poured over ice.
If you want to experience a Greek bouzouki bar, there are a couple of places to add to your radar. To Perivoli T'Ouranou is the oldest live music bar in Athens.
Meanwhile, Stamatopoulou Palia Plakiotiki taverna (Lisiou 26) is another local favourite. In both places, you can enjoy traditional Greek food while live musicians play bouzouki music.
The experience is very interactive and people often get up on the table to dance after they are finished eating.
3 Day Athens Itinerary Day Two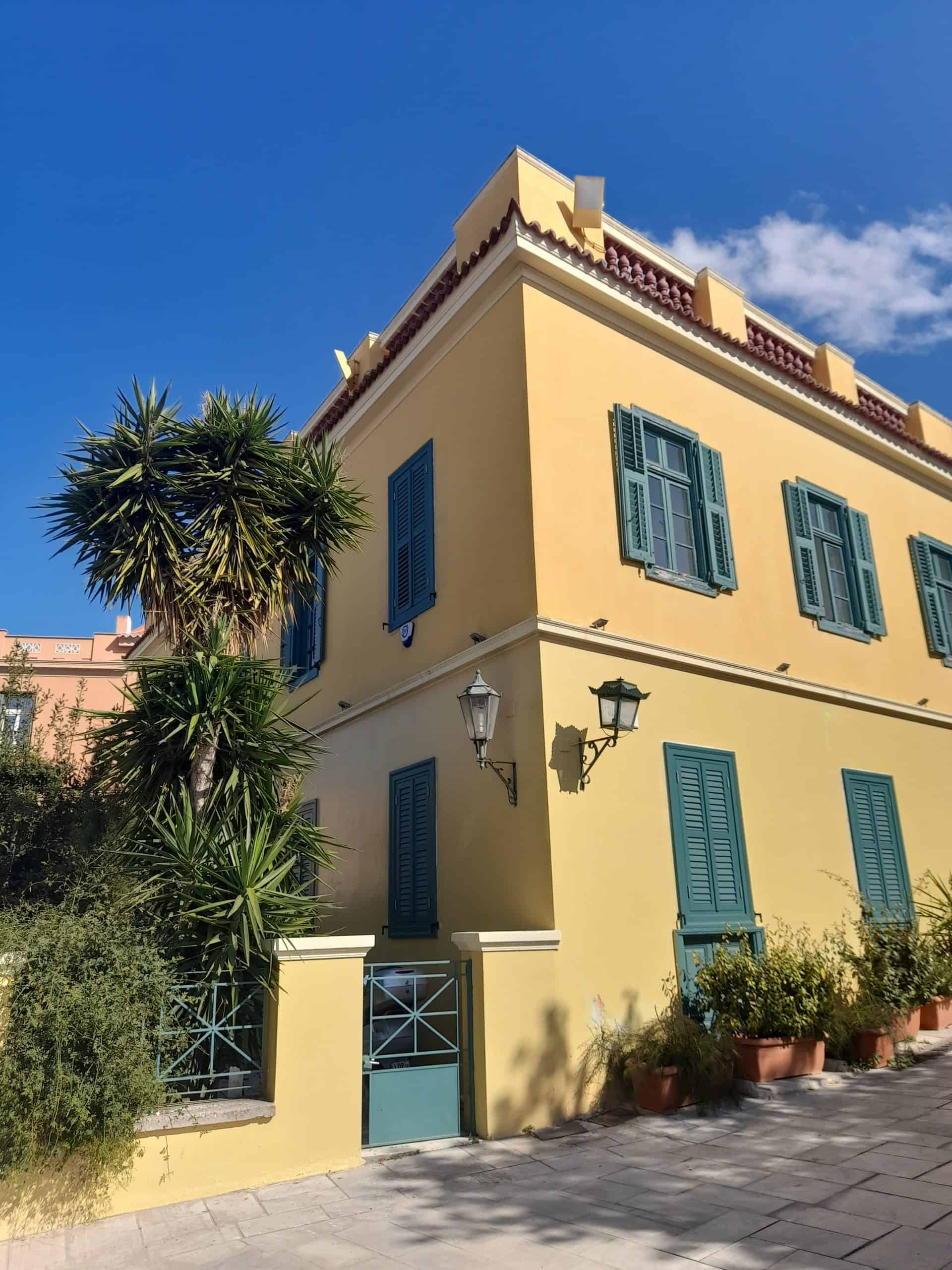 Day two of this 3 day Athens itinerary is more about relaxing by the coast and enjoying the Greek way of life than hurrying around trying to see all of the sites. Visiting Vouliagmeni and the Athenian Riviera in the middle of your trip is a nice way to break up all the walking and early starts!
If you are travelling to Athens in the summer months, this is a perfect itinerary. If you are visiting Athens in the winter, you can still enjoy walks by the coast and most days are still sunny and pleasant (if chillier). But obviously, it isn't the same as being able to swim and enjoy the beaches.
So, if you are visiting Athens between say, November and April and the schedule for this day doesn't really fit with what you want to see and do, you can trade this day for the optional day four listed below.
Have brunch by the sea in Vouliagmeni
The Athens Riviera is an upscale, pine-covered peninsula just south of central Athens. It consists of the beach towns of Glyfada, Voula, Vari, and Vouliagmeni and is a great place to spend a day by the coast.
Before the 1950s, this area was nothing more than a sprawl of coastline overlooking the Saronic Gulf islands. Seeing an opportunity, local real estate developers and entrepreneurs started building luxury hotels and resorts with the view to transforming the Athens Riviera into Greece's very own Cote d'Azur.
It worked, and Hollywood celebrities like Frank Sinatra, Brigette Bardot, and Sophia Loren are among those who fell in love with the area. This area is often referred to as ¨the Hellenic Hamptons¨ but despite the glamorous atmosphere, the Athens Riviera feels neither pretentious nor overly expensive.
Take the bus or a taxi to Vouliagmeni from Athens and have a Greek coffee and breakfast at Del Posto (Leof. Posidonos 4) as you watch the sea waves lap against the shore.
Enjoy the coastal areas of the Athens Riviera
The coastal towns south of Athens are home to several gorgeous beaches both public and private – some of which would rival the beauty of those found on Greek islands. You will also find several limanakia here – hidden beaches and coves that you have to hike through woodlands to see.
There is a pleasant walking trail that runs along the coast from Vouliagmeni Bay, along the sands of Vouliagmeni public beach, and to Lake Vouliagmeni. On your route, you will pass the little stone church of Agios Nikólaos.
If you want to visit a beach club, check out Astir Beach (Apollonos 40, Vouliagmeni), an exclusive beach club owned by renowned Greek architect Kostas Voutsinas. You can rent a cabana or a sunbed for €60.
Alternatively, Kavouri and Lemos beaches are free, and perhaps the more budget-friendly options.
Check out the healing powers of Lake Vouliagmeni
Lake Vouliagmeni is a thermal lake in the namesake town of Vouliagmeni. Its warm waters are filled with natural vitamins and minerals, including calcium, lithium ammonium, potassium, and natrium.
As a result, the lake is said to have healing powers that can aid with the symptoms of various ailments such as eczema, arthritis, sciatica, etc.
Admission to the lake is €9 on weekdays and €10 on weekends and it can get a little crowded in the summer. Interestingly, there is an extensive network of caves beneath the surface of the lake and nobody has ever fully explored the extent of them!
If you can't make it to Lake Vouliagmeni in time to experience it by day, know that seeing the lake by night is just as magical. (If not more so).
In the evenings, entrance to the site is free, and while you cannot swim in the water at this time, you can enjoy a cocktail or two prepared by the excellent mixologists at the waterside bar. The lake is illuminated with twinkling lights, and old Dean Martin and Frank Sinatra classics play over loudspeakers.
3 Day Athens Itinerary Day Three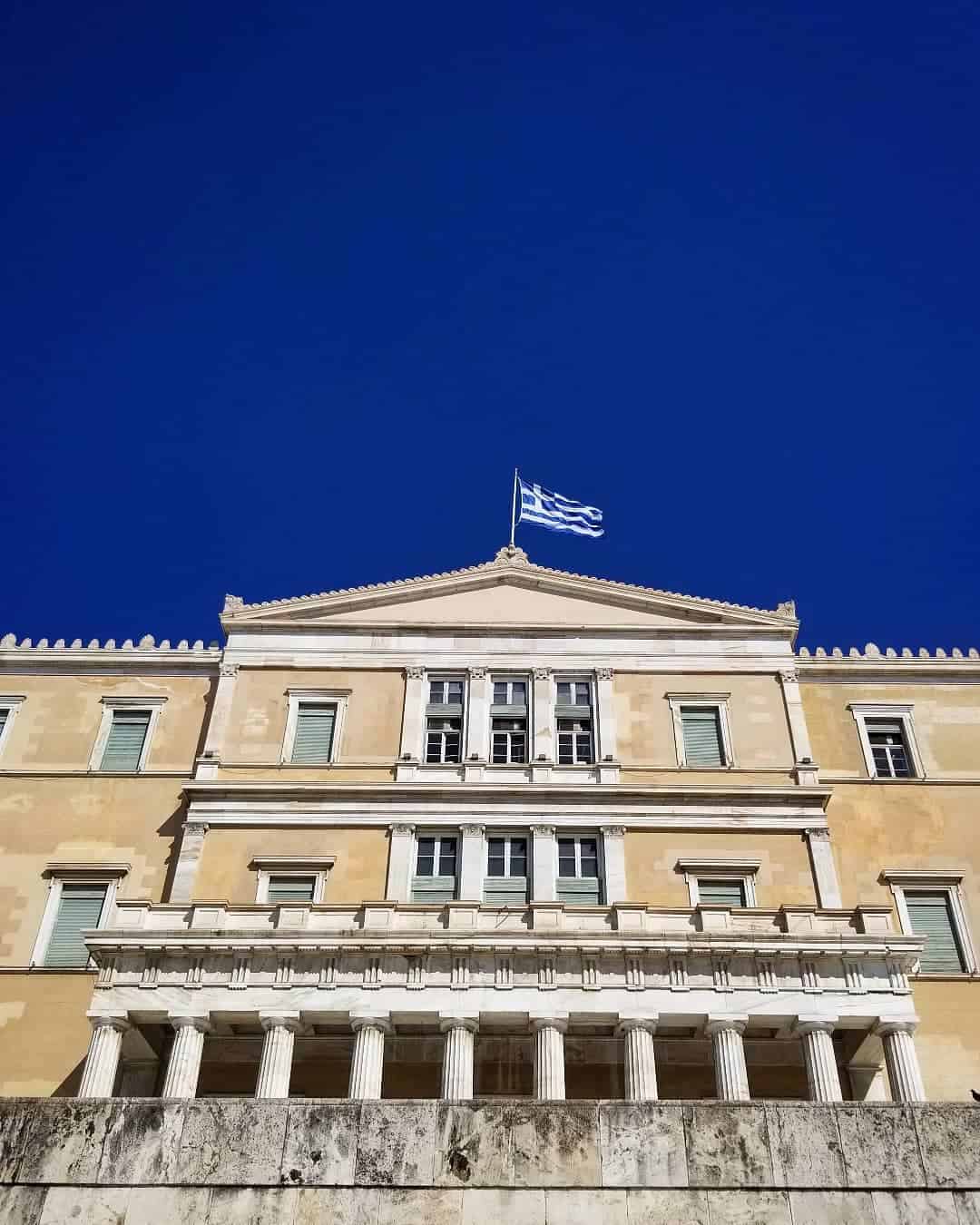 Day three of this 3 day Athens itinerary is dedicated to visiting the remainder of the city's most popular highlights and exploring some lesser-known districts. Although it is sites like the Agora and the Parthenon that put Athens on the map as a travel destination, it is often the various Athenian neighborhoods that steal the show and the hearts of most visitors.
Each Athenian district is like a little town or village in itself. Each has its own square (plateia) and its own distinct personality.
For instance, Exarchia is known for its politically motivated street art and its rock bars, while Koukaki is known for its coffee shops and art galleries and Kolonaki is known for its boutique stores. You probably wouldn't wander into these places unless you had a local friend to show you around.
They are among Athens' best-kept secrets.
See Hadrian's Arch and the Temple of Olympian Zeus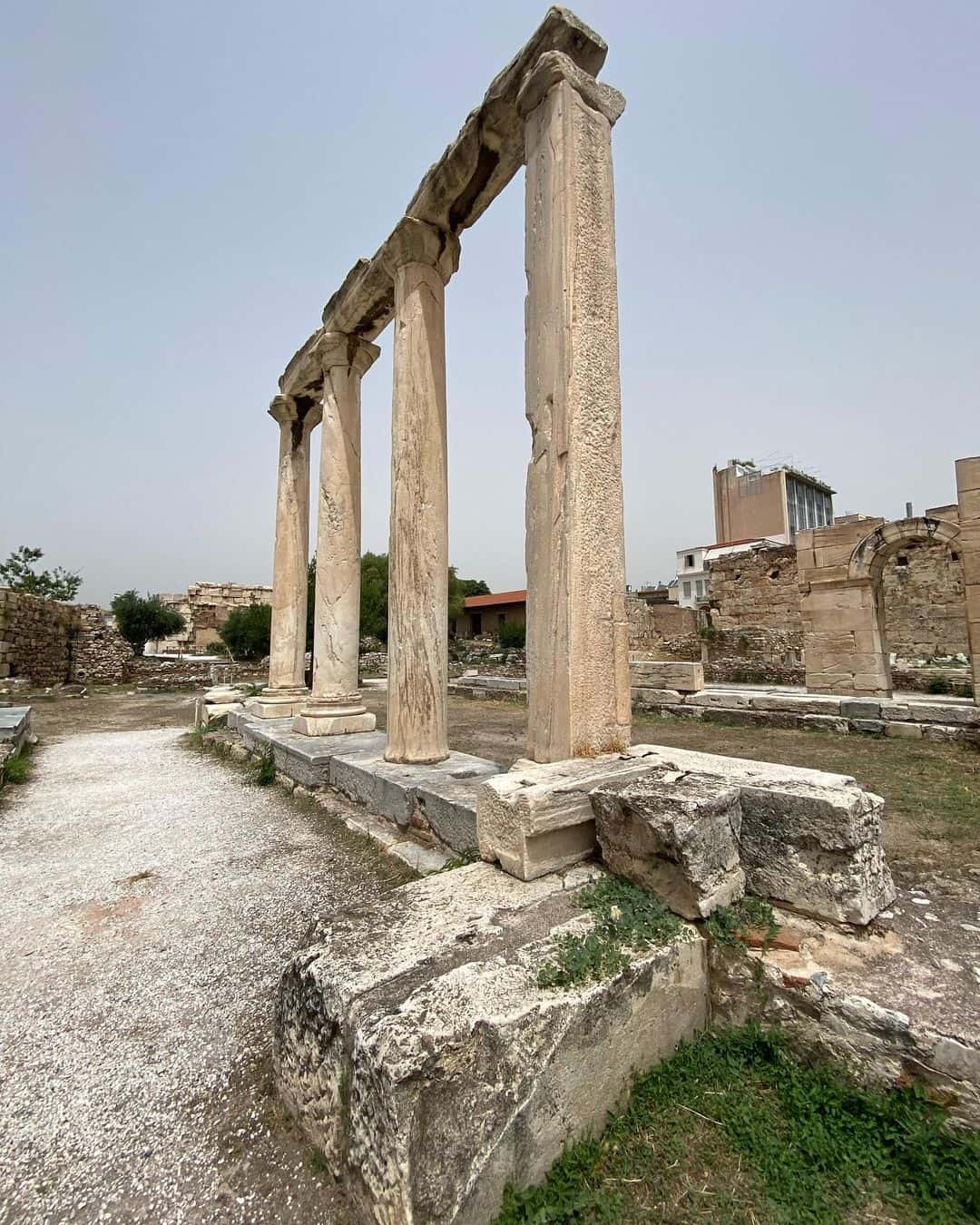 Two notable Athens landmarks can be found off Leof. Vasilisis Amalias near Syntagma Square: Hadrians Arch and the Temple of Olympian Zeus. The arch dates back to 131 AD and was built to celebrate the arrival of the Roman Emperor Hadrian.
The Temple, dedicated to Zeus, leader of the Ancient Greek gods, was once one of the largest temples in the ancient world. Its construction took 638 years to complete from start to finish.
In its heyday, the site had 104 Corinthian columns, each of which was 17m in height and decorated with intricate designs. Today, only 16 of the original columns remain, but it's not difficult to envisage what the arch looked like in its prime.
Entrance to the Temple of Olympian Zeus is included with your Athens combination ticket. Without the combo ticket, general admission is €6 per person.
Grab a coffee and meander through the National Gardens
Heading back down Ermou, pass through the National Garden en route to the Panathenaic Stadium. These beautiful gardens were lovingly designed by Queen Amalia and the German agriculturist Frederick Schmidt in the 1800s.
Hundreds of different plants from across Europe and the world were planted in the Queen's garden. Enjoy a scenic walk through the gardens towards the Zappeion, and then cross to the Panathenaic stadium.
Complete a victory lap of the Panathenaic Stadium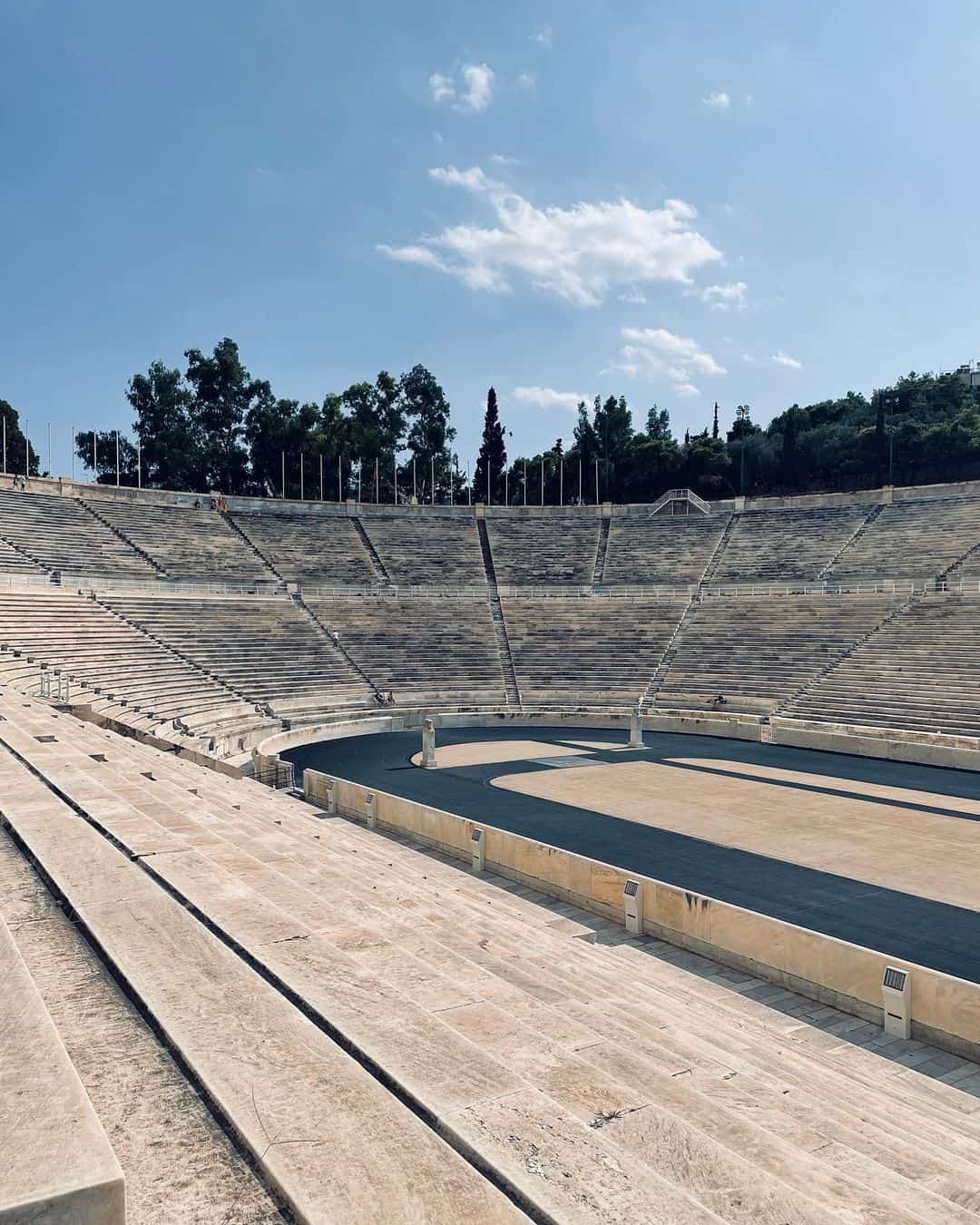 The Panathenaic Stadium (known locally as Kalimarmaro) is the only stadium in the world made entirely out of marble. The original structure here dates way back to 566 BC.
In 1896, after some modern improvements, it hosted the first modern Olympic games!
The Panathenaic stadium can seat 70,000 spectators and is still occasionally used today. (You might want to check the local listings during your trip to see if any musicians will be playing here).
General admission is €10 per person with concessions available. The former dressing rooms have been converted into a small Olympic museum with torches, posters, and other memorabilia from Olympic games around the world.
Watch the changing of the guards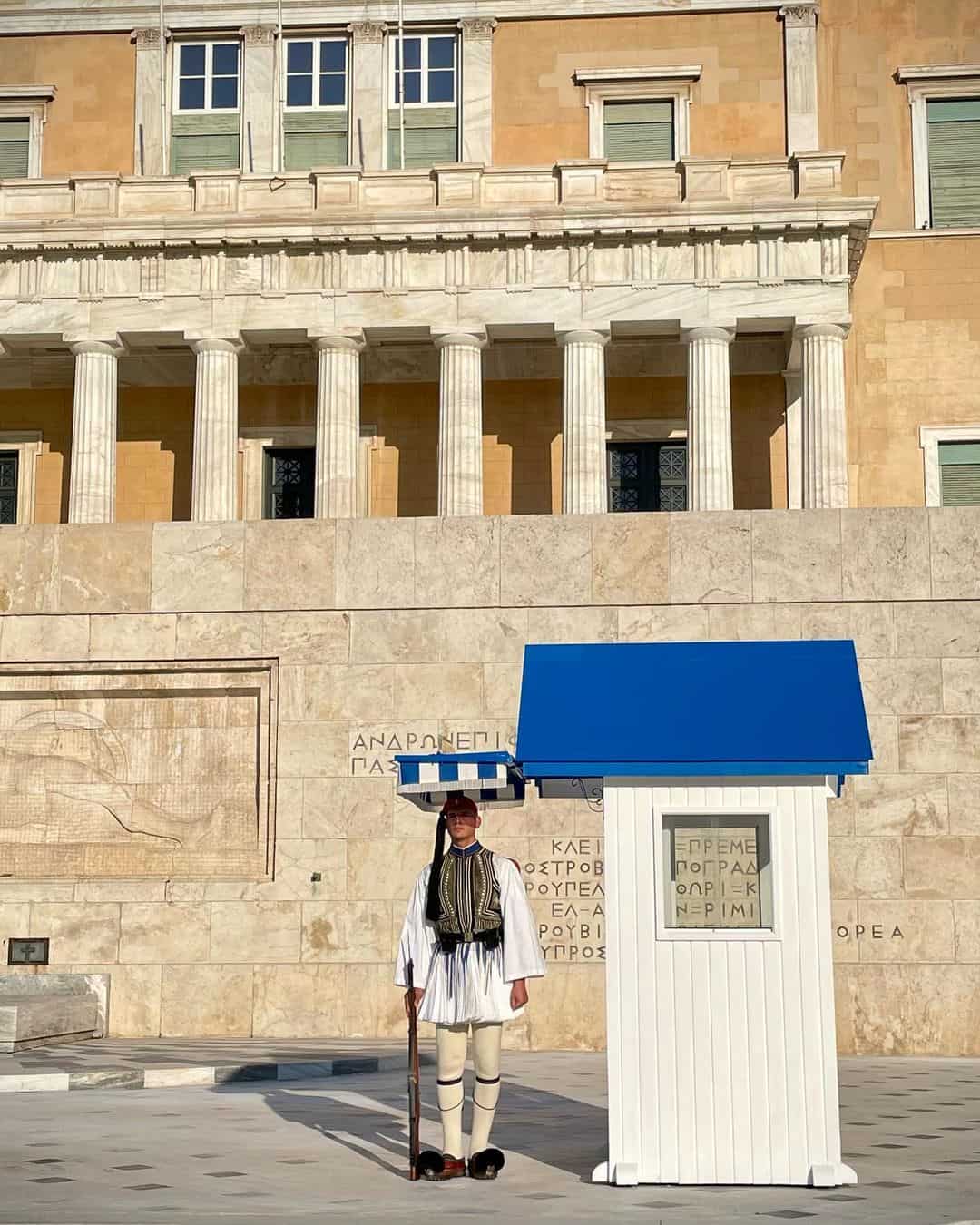 The changing of the guard ceremony takes place every hour, on the hour, in front of the Tomb of the Unknown Soldier in Syntagma Square. The tomb, which sits in front of the pastel-yellow Greek Parliament building, is an empty cenotaph dedicated to all who have lost their lives fighting for Greece over the centuries.
The Evzones are an elite rank of Athenian guards known for their distinct uniform. They wear a unique outfit that is made up of a farion (red cap with a tassel), a foustanella (kilt-like garment), and a pair of tsarouchia (shoes with pom poms).
If you happen to pass through the square at 11 am on a Sunday morning, you can catch a particularly elaborate version of the ceremony.
Stroll through Monastiraki and Syntagma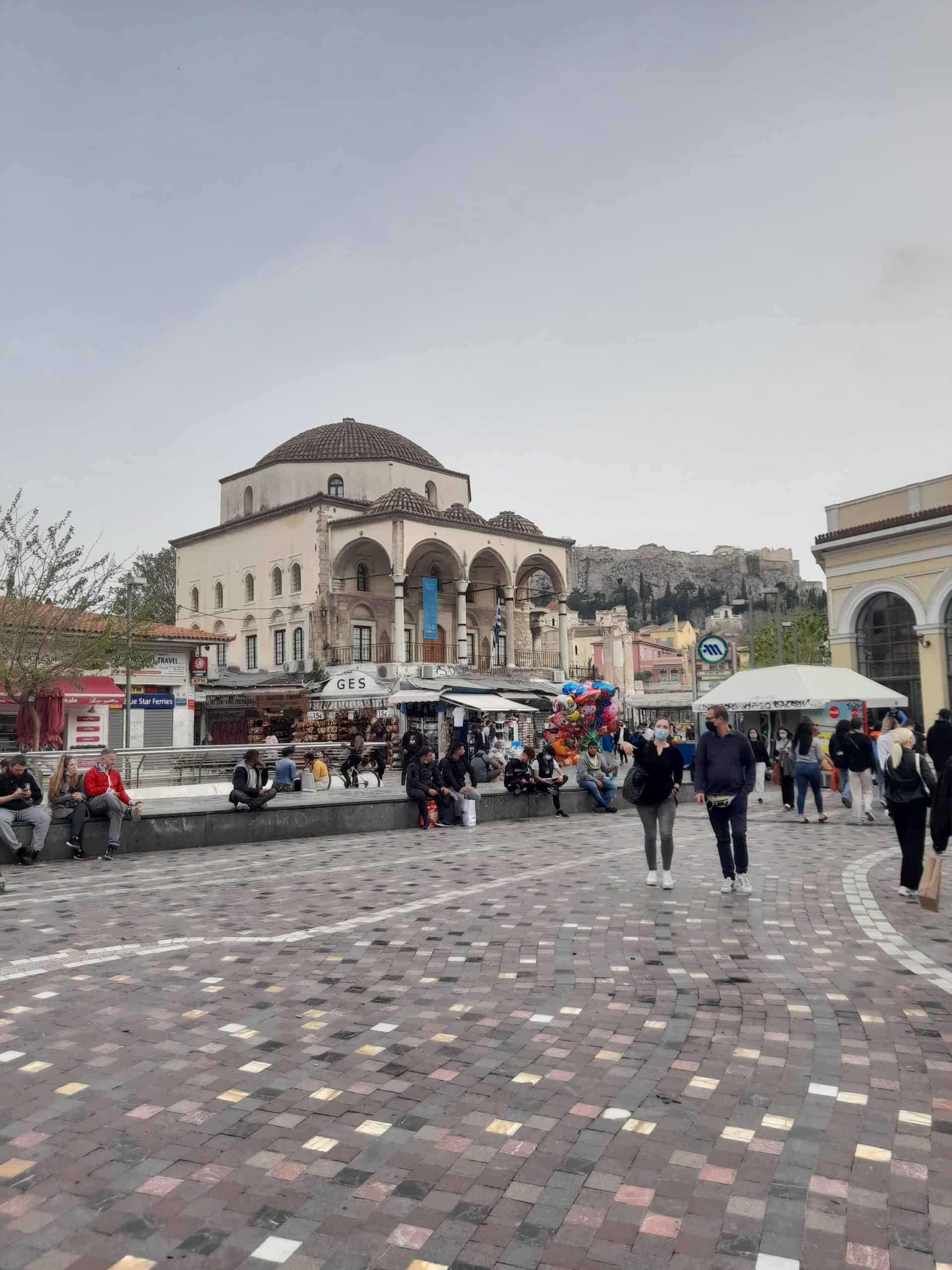 Stroll from Syntagma Square, along Ermou street. This is Athens' answer to the high street and it is home to dozens of independent Greek and brand-name stores.
The only difference between Ermou and a regular high street? There are historic Orthodox churches located every few paces.
Follow the street until you arrive at the Monastiraki flea market. This covered market is a great place to shop for Greek souvenirs or sample Greek street food eats like koulouri, salep, or roasted chestnuts.
Uncover the "secret" district of Anafiotika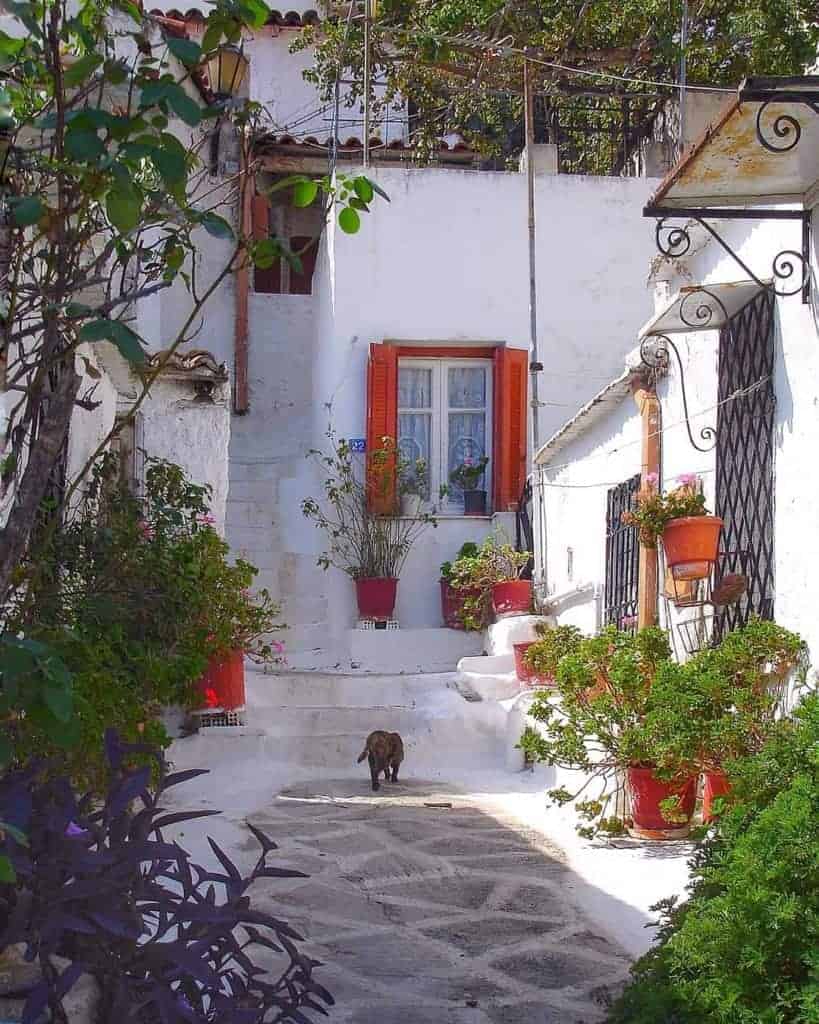 A narrow, winding footpath leads you from old Plaka to the secret neighbourhood of Anafiotika. The architecture here is more reminiscent of that which you would expect to find on a Greek island than in the centre of one of Europe's largest cities.
Anafiotika is characterised by idyllic whitewashed houses with blue roofs. The area was built by residents of Anafi island who moved to Athens and built their new homes in a Cycladic island style.
You can get some excellent photographs here among the quaint houses. Few people are aware of the existence of Anafiotika so many people overlook it from their Athens itinerary.
Anafiotika sits on the slopes of Acropolis hill and the views of the Greek capital from up here are second to none.
Watch the sunset from Mount Lycabettus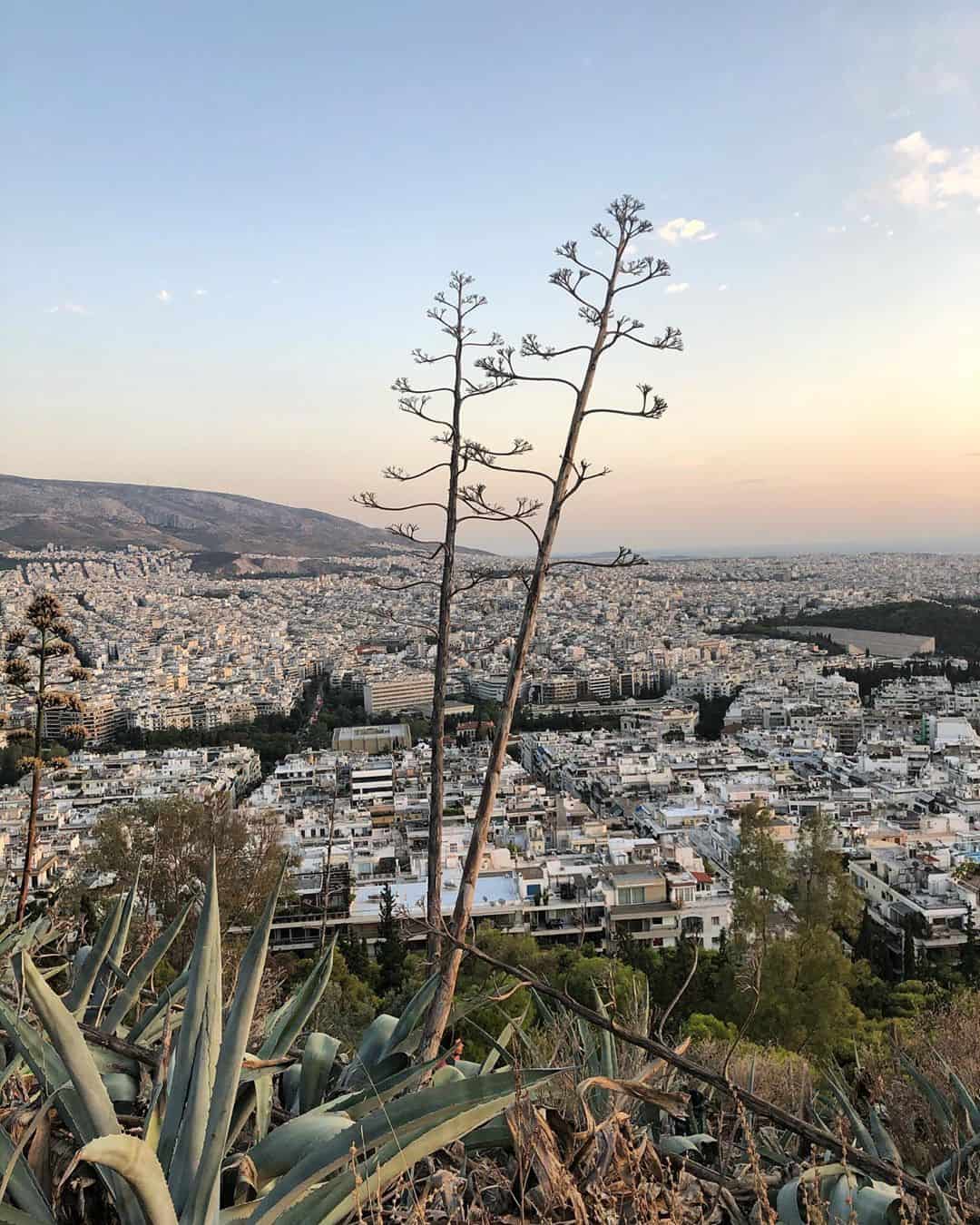 Lycabettus Hill is one of the seven hills of Athens. Like the Acropolis, it is visible from all corners of the city and is recognisable by the little whitewashed church of Agios Georgios that sits at the top.
Numerous hiking trails weave around the foothills of Lycabettus and take you to its peak. From the top, you can enjoy unparalleled views over the city of Athens, which are particularly magical as the sun sets.
On a clear day, you can see all the way out to Piraeus port and the Saronic Gulf islands from up here. Orizontes restaurant is a fine-dining restaurant at the top of the 277m hill serving exquisite cocktails and elevated Greek cuisine.
The walk to the peak takes around 30 minutes along a trail with a steady incline. But if you don't feel up to the hike, you can take a funicular train (9.00 am to 1.30 am) from 62 Ploutarchou.
Enjoy Cocktails with an Acropolis View
When the sun sets, Athens really comes to life. Athens' nightlife scene has something for everyone – from the raucous underground clubs of Gazi to chic cocktail bars that attract a well-heeled crowd.
Some of the best rooftop bars in the world are found in downtown Athens. They offer unparalleled views of the Acropolis, the Filopappou monument, and other archeological sites as they are illuminated by hundreds of twinkling lights.
The most "famous" Athens rooftop bars are A for Athens and Athens 360, both located in Monastiraki in the historic centre. But while these places are popular among tourists, they definitely aren't where the locals choose to hang out and they are not necessarily the best.
Couleur Locale (Normanou 3) is a popular local hangout spot hidden down an unsuspecting side street in Monastraki. Meanwhile, Skyfall (Mark. Mousourou 1) is a great off-the-beaten-path choice that serves delicious Mediterranean cuisine and unique cocktails.
Athens Itinerary Day Four (Bonus Day!)
There is enough to do in Athens that you could easily spend an entire week in the city. However, assuming that your schedule is flexible and you have an extra day to play with, a suggested plan for adding a fourth day to your Athens itinerary is provided below. 
Search for street art in Exarchia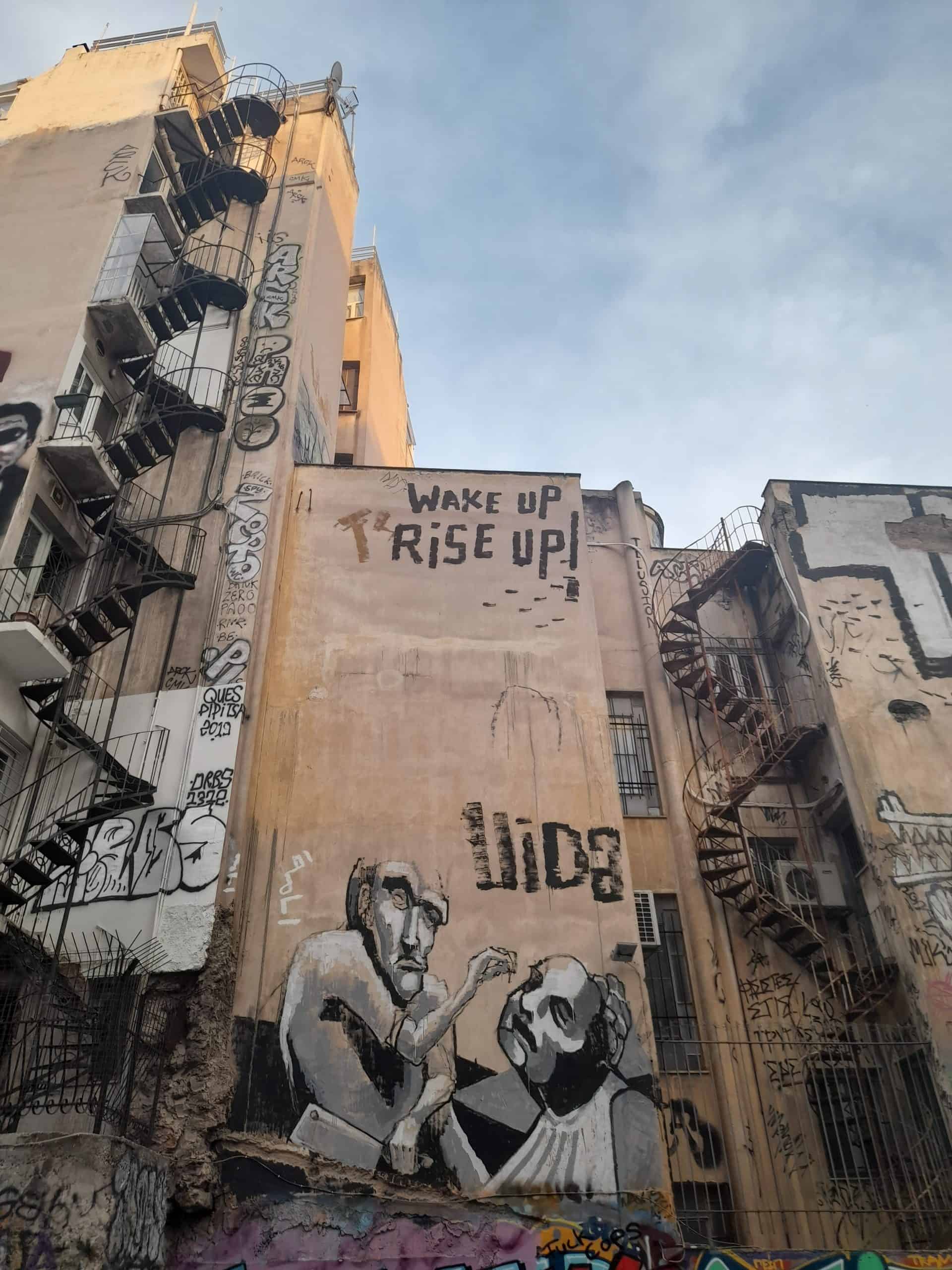 Exarchia is Athens' most alternative neighbourhood and it does not appear on most people's Athens itineraries. Historically, this area was a bit of a no-go zone and it was best known for its links to anarchist groups.
However, things have changed and today, punky Exarchia is a popular hangout spot for students and intellectuals. To reach Exarchia, walk or take a train to the Omonia metro station. From there, walk down Themistokleous Street towards Exarchia Square.
The streets of Exarchia are lined with quirky stores selling second-hand books, old vinyl records, vintage clothing, and handmade accessories. The area is arguably the best place to see street art in Athens.
Virtually every wall, storefront, and alleyway is a canvas in Exarchia. Many of the street art pieces here are politically motivated, controversial, and thought-provoking.
Some have been created by famous European artists like INO and Borondo. Some of the most extreme graffiti can be found on the streets of Mesolongiou and Tzabella Street, close to the shrine of Alexander Grigoropoulou.
Walk to the top of Filopappou Hill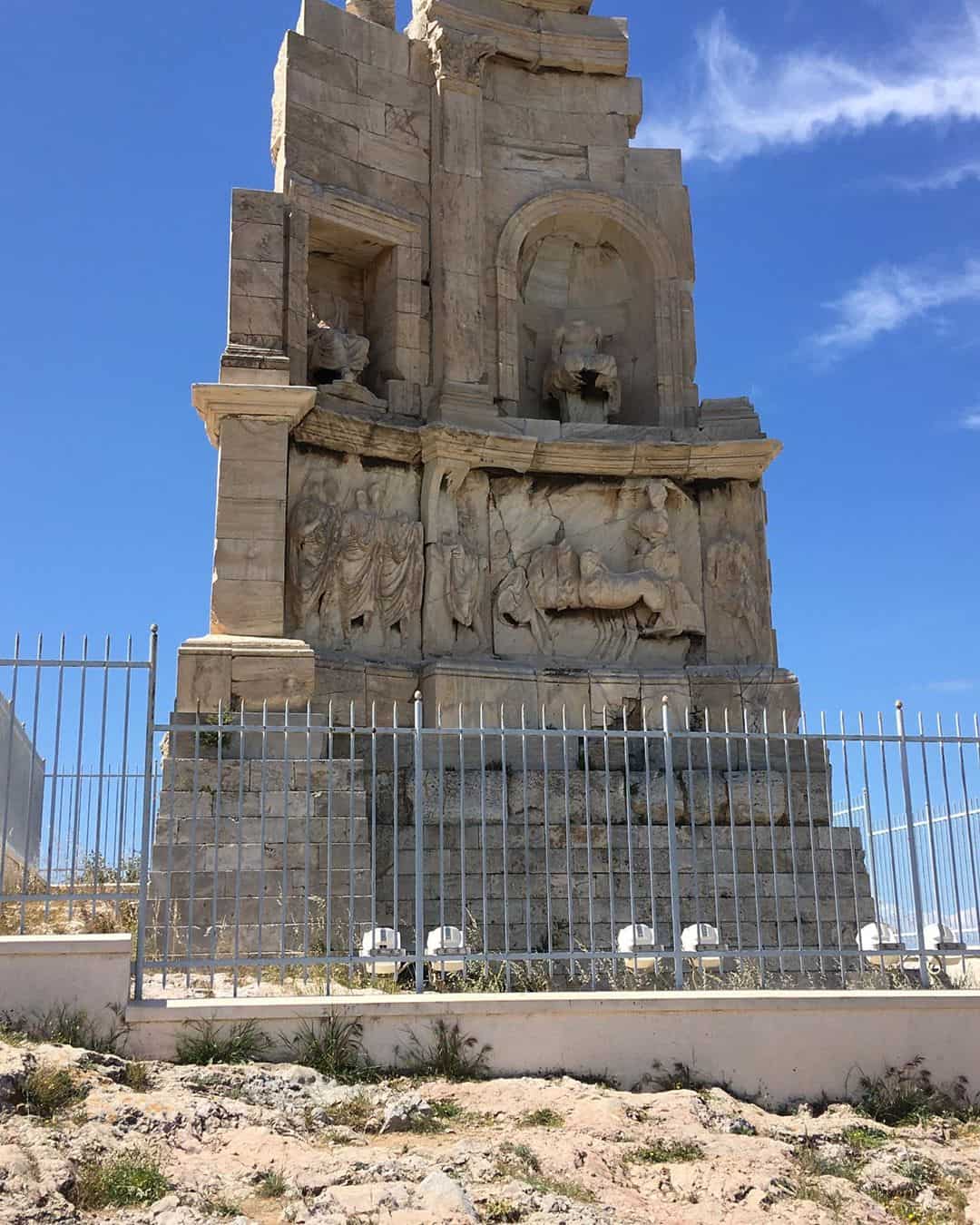 Filopappou Hill is a nice place to spend an afternoon in Athens if your schedule allows it. This leafy area filled with trees and hiking trails provides a welcome respite from the chaos of downtown Athens.
The park sits just off the pedestrianised boulevard of Apostlou Pavlou. There are several interesting churches and caves scattered around its grounds – including Socrates prison, the chapel of Agios Dimitrios Loumbardiaris, and Pnyx Hill.
The latter is where democracy was created and the Athenian democratic assembly (ekklesia) would gather to discuss civil matters. The main attraction at Filopappou Hill is the namesake Filopapou monument.
This white marble structure was created in 115AD in honour of the late Greco-Roman Emperor Julius Antiochus Filipappous. The hike to the top is easy, and you can get some great photos with the Acropolis in the background from up here.
Have lunch in Gazi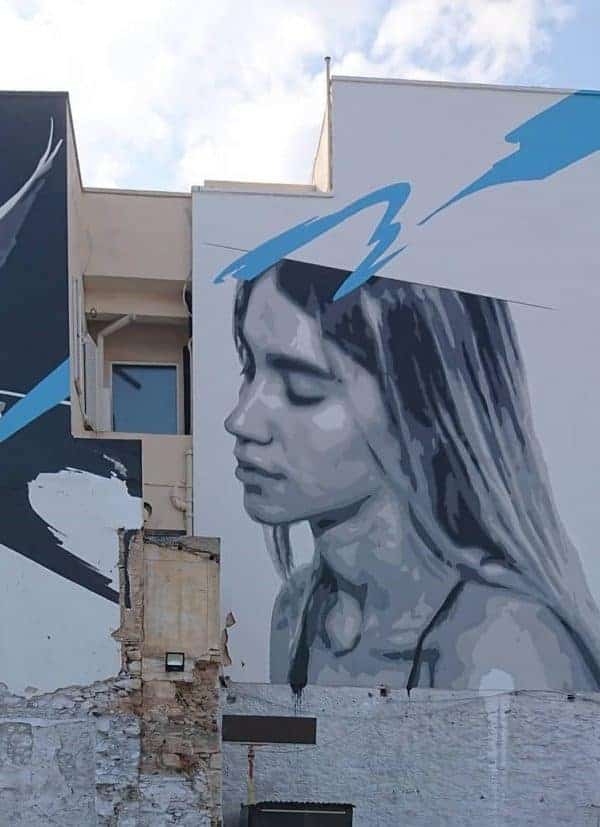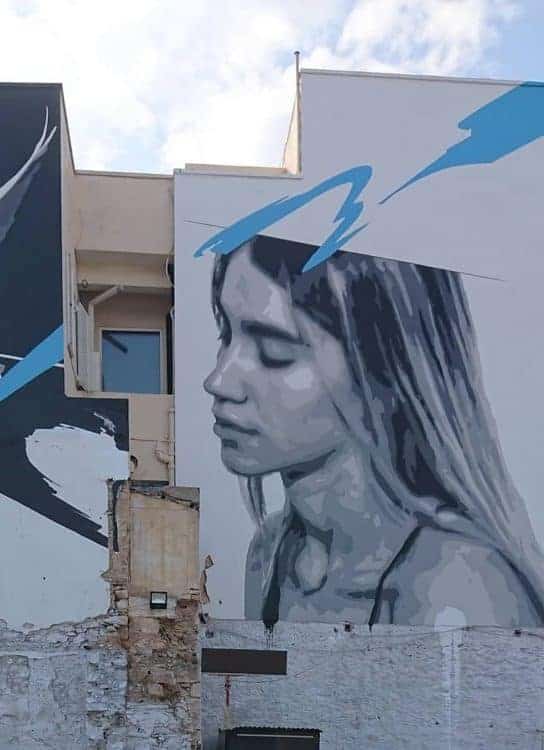 The Gazi district of Athens sits just behind the touristic tavernas of Thissio. Gazi has emerged in recent years as one of Athens' trendiest neighbourhoods. However, this was not always the case.
Gazi means gas in Greek. This is a fitting name as this was once the base of Athens' old gas power plant. The shell of the plant still remains and adds a certain je ne sais quoi to the atmosphere of the area.
Gazi provides a wonderful juxtaposition of tradition and modernity. There are many excellent restaurants here that place a contemporary spin on classic Greek dishes.
Gazohori (Dekeleon 2-6) is a popular and affordable mezedopoleio where you can enjoy lots of small dishes. This is a nice way to sample lots of different local foods in a small amount of time.
Recommended Athens Tours
Taking an Athens guided tour is a nice way to get your bearings in the city when you first arrive. Exploring with a local means that you will gain more context into the various historical sites, buildings, and neighborhoods that you visit.
You will discover tavernas, street food vendors, and cafes that you probably wouldn't discover independently. Better still?
Exploring with a local means that you have an Athens expert on hand who you can ask about the best places to eat, drink, and hang out in the city.
Recommended tours for your Athens itinerary
A number of reputable Athens tours and activities are detailed below for your consideration. Be sure to book them online in advance to secure your place!
FAQs about planning an Athens itinerary
Do you have any further questions or concerns about setting out on your 3 day Athens itinerary? Hopefully, you will find the answers you are looking for below.
Otherwise, feel free to reach out!
Where to stay during your 3 day Athens itinerary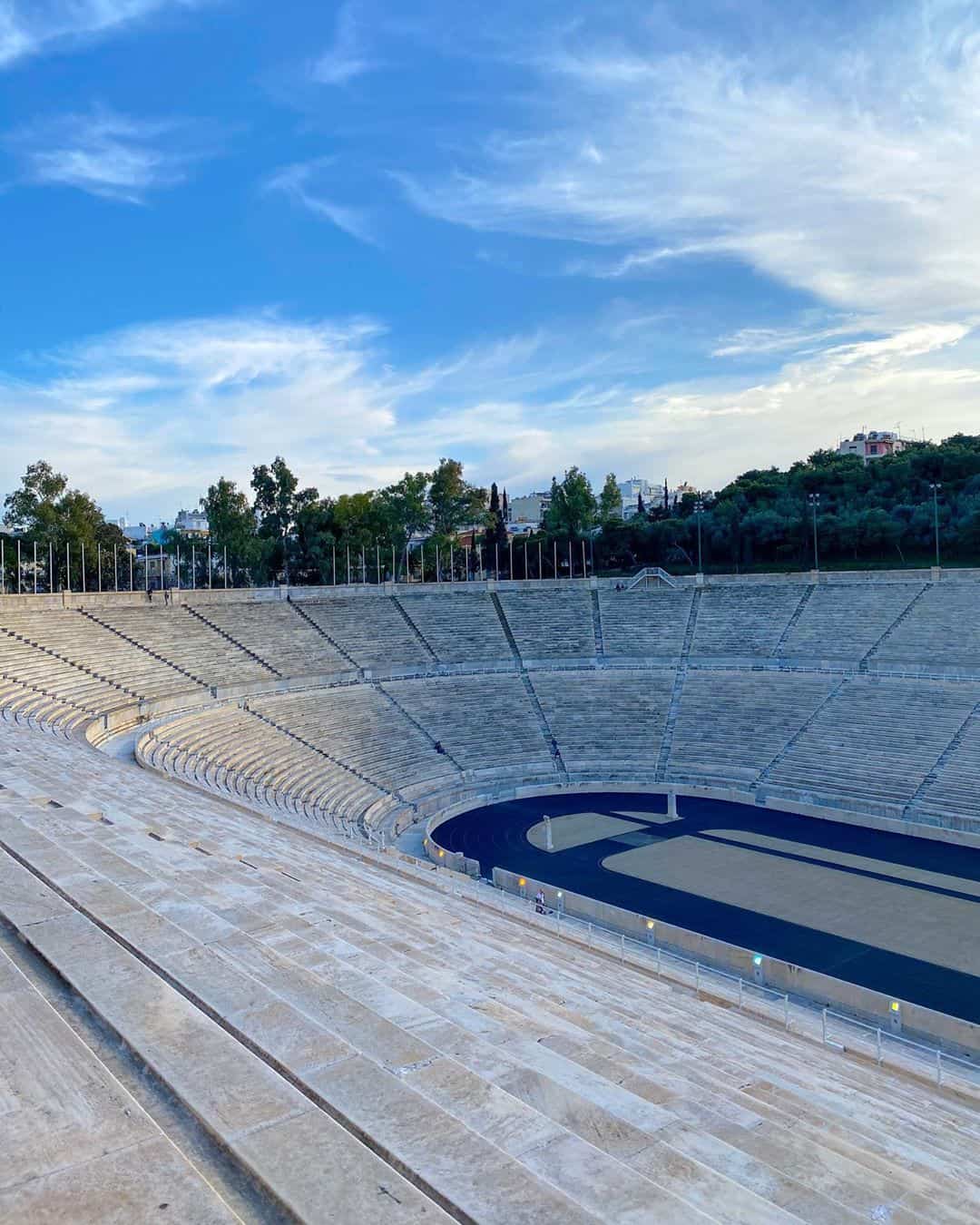 Figuring out where to stay in Athens can be overwhelming as the city is so large. The districts of Monastiraki, Syntagma, Plaka, and Psiri are the most central regions. However, that doesn't necessarily mean that they are the best.
More low-key, peaceful areas such as Koukaki, Kifissia, and Kolonaki allow you to spend your Athens itinerary in a quieter setting and feel more like a local.
Additionally, the public transport network in Athens is Excellent. Even if you opt to stay a little further out from the centre, getting around is easy.
Is 3 days in Athens enough?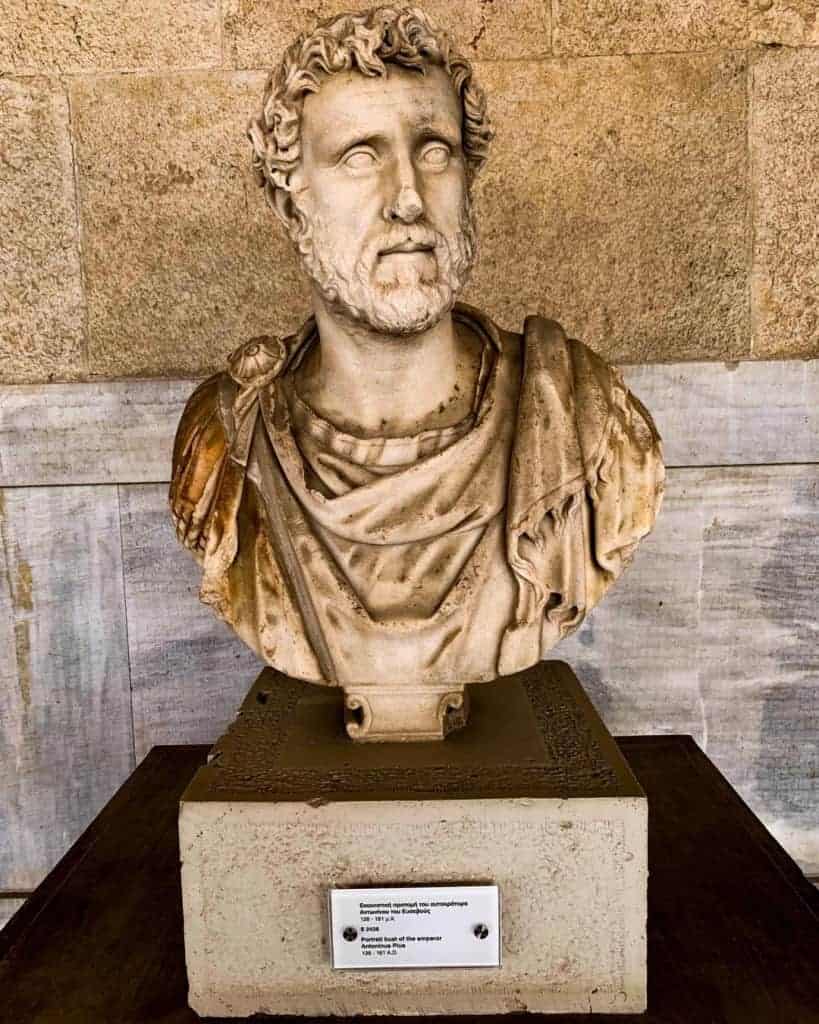 3 days in Athens is enough to get an initial feel for the city and visit Athens' most famous sites and landmarks. Truly though, you could easily spend a fortnight in the Greek capital and still feel as though you have barely scratched beneath the surface.
How to plan 3 days in Athens
A 3 day Athens itinerary is a nice amount of time, but still not enough to cover everything. It is a good idea to browse through Greece travel blogs and guides like this one and make a note of all of the things that interest you, which are priorities etc.
Establish your budget and how many hours you need for each attraction. Then, you can plan out your days accordingly.
Since Athens is a large city, it is helpful to look at a map while organising your trip so that you can plan activities that are relatively close to each other and you are not trekking back and forth across town.
Is Athens walkable?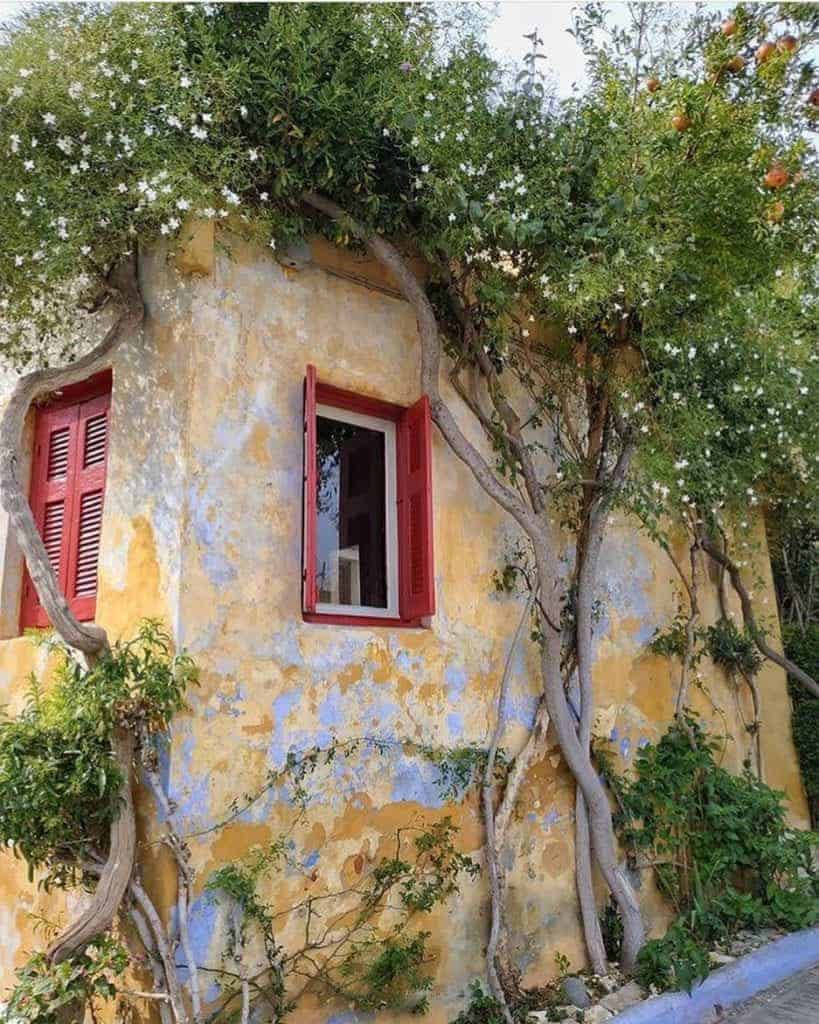 It is easy to navigate around Athens. The city has an extremely comprehensive public transport network. Buses, trams, and metros service all corners of the city. Services are clean, safe, and comfortable.
How to get from Athens airport to the city
It is easy to get from Athens International Airport into the city. From 5:30 am until 23:00 pm, the metro runs every thirty minutes to the central square (Syntagma).
You can also take the 24-hour X95 express bus that runs between the two locations. An airport metro ticket costs 10 euros, and an X95 bus ticket costs 6 euros.
Concession tickets are available for children and travellers over 65.
Final thoughts on this 3 day Athens itinerary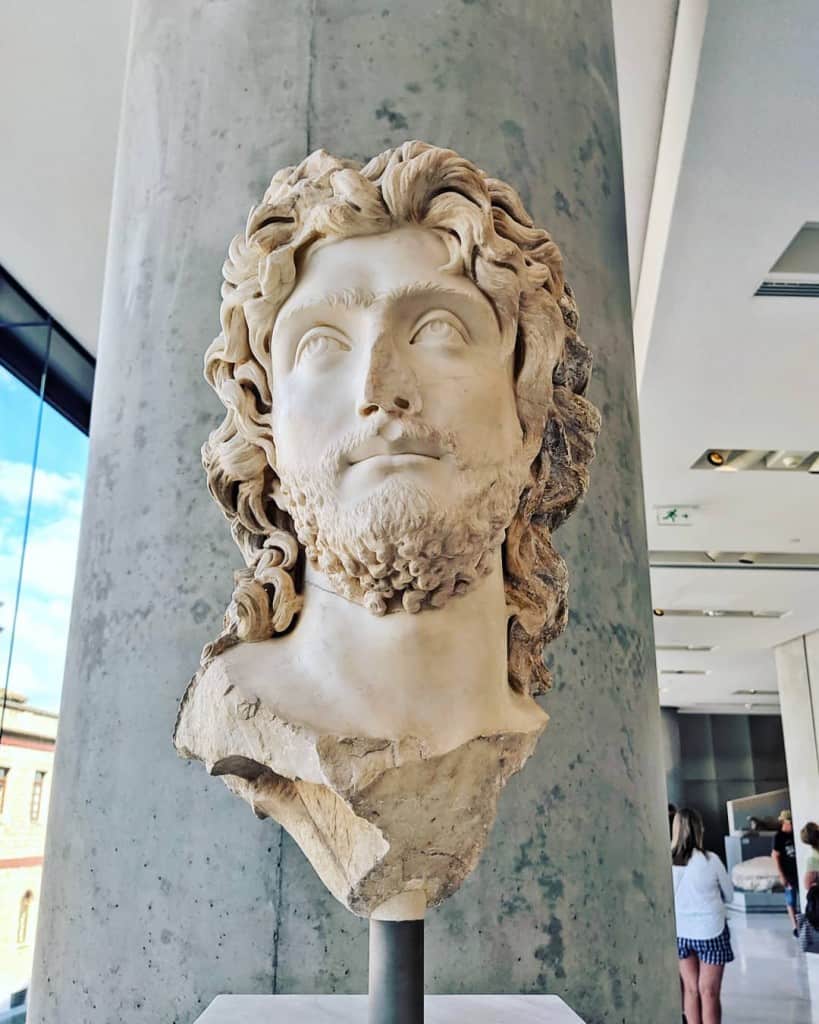 Do you have any additional questions about this 3 day Athens itinerary? I have lived in Athens since 2017.
I am happy to answer any questions that you may have about planning a trip to Greece. You might also enjoy joining my Facebook group All Greek to Me. This group helps travellers and expats plan their adventures around Greece.
If you have a more flexible schedule, you can also use Athens as a base to take day trips. Within an hour or two, you can easily reach places like Cape Sounion, Delphi, and the islands near Athens like Hydra and Poros.
Safe travels and enjoy Greece! Geia sou!
Melissa xo
---