This Athens itinerary takes you through the Greek capital's best-kept secrets and to spots which most visitors to the city have never even heard of. Grittier, punkier, and altogether more edgy than the majority of European capitals, Athens is a city filled with secrets and beautiful sites that await and reward the open-minded traveller that is willing to venture off the beaten path.
About This Athens Itinerary
I have been living in the Greek capital of Athens for almost two years now and have loved discovering all of its colourful nooks and crannies. In this 3 day Athens itinerary, I will share the city's secrets with you.
Athens Itinerary Day One:
A Tourist for the Day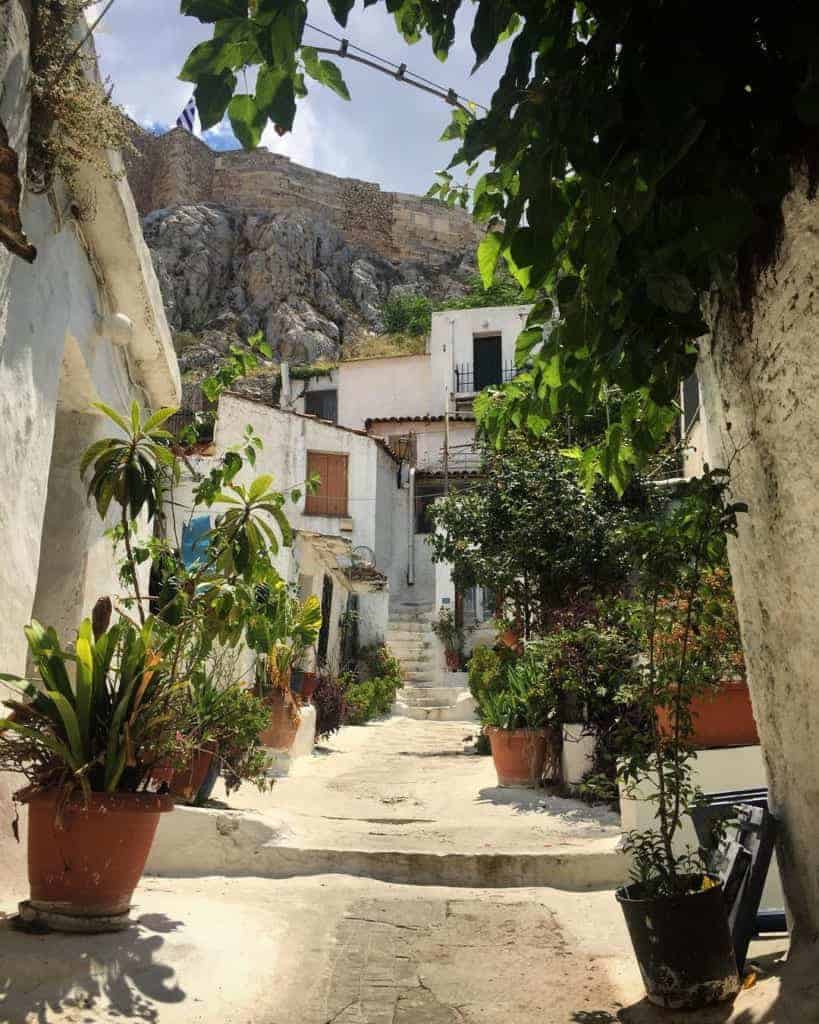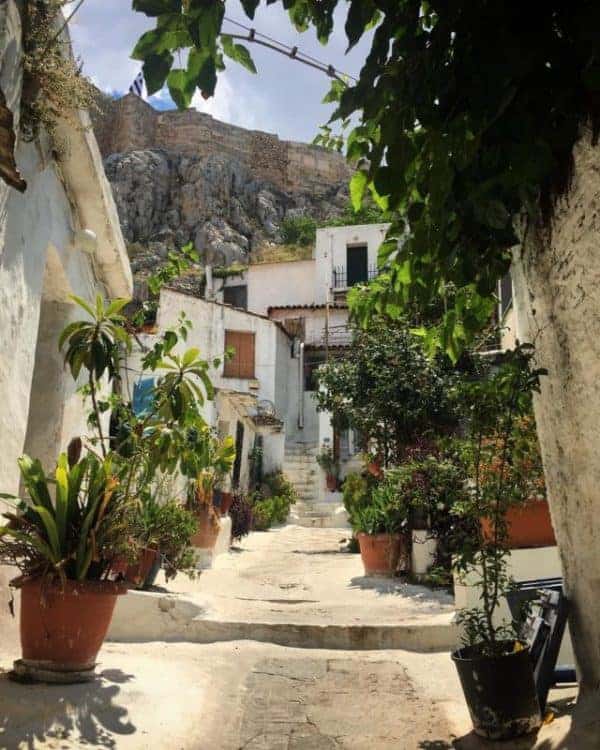 Athens and ancient Greece is the region from where all civilizations are said to have originated. There is certainly a lot of history to be educated about while here and the first day of this Athens itinerary is dedicated to exploring the main points of interest in Athens.
Day One Highlights
The Acropolis and the New Acropolis Museum
The streets of Old Plaka
Lunch in Psiri
Athens Central Market
Monastiraki and Syntagma
Hellenic Parliament
Panathenaic Stadium
Be First in Line for the Acropolis
When in Rome, or "When in Athens " as it were, you cannot miss the opportunity to get up close and personal with the Parthenon at the Acropolis. The iconic monument can be seen from virtually all corners of Athens, watching over the city protectively.
Regardless of how many Athens itineraries the acropolis appears on it is for good reason – this is one of the most important archaeological sites in human history. The site opens at 8 am (when there will already be a queue out front).
It's best to get to the Acropolis first thing in the morning so that you avoid the crowds and don't have a busload of tourists photo-bombing the back of your travel snaps. Of course, no visit to the Acropolis is complete without a trip to the New Acropolis Museum which awaits at the foot of the hill.
Explore the Charming Streets of Plaka
Adjacent to the Acropolis, the quaint neighbourhood of Plaka is one of the oldest in the city, with roots stemming back almost 4000 years. This is one of Athens' busiest and most touristic areas but with all of its charm, Plaka is quickly forgiven.
Sit beneath the cabanas at one of the outdoor coffee shops here among the Greek men sipping their iced Freddo cappuccinos and playing backgammon and order yourself a caffeine kick in the form of a traditional Greek coffee.
Old-fashioned Greek coffee is much like the Arabic or Turkish coffees – strong, bitter, and traditionally brewed over hot coals in a copper biriki. Rumour has it that you can predict your fortune from the dregs left over so see if a friendly local will assist.
Visit the Roman Agora
With narrow winding passageways, ramshackle neoclassical buildings, ancient Greek ruins and quirky stores and flea markets that transport you back in time, it's hard not to fall in love with Plaka. Take the time to explore the ruins of the Roman Agora – an old Roman market place built in 11bc to honour Julius Caesar.
Uncover the "Secret" Anafiotika District
Though it can be tricky to locate, be sure to stop by Anafiotika – a small section of Plaka filled with whitewashed, blue-roofed buildings similar to those you expect to see in Santorini. This idyllic and tiny area was created by islanders who relocated to Athens and wanted to recreate an ambiance that reminded them of their hometowns.
Have Lunch in a Greek Taverna in Psiri
Bordering Plaka, Psiri has something of a punky, alternative vibe and by nightfall, it is the centre of Athens' nightlife scene. During the day however it looks relatively unsuspecting with streets filled with antique dealers, independent boutiques and traditional Greek tavernas.
For a taste of family-style authentic Greek cuisine, sample the delicacies on offer at family-owned Oinopoleio, or locally adored Zampano. Once you have had time to digest your Greek food baby, take some time to enjoy the streets here before heading on to the next stopping point on this 3 day Athens itinerary.
Step Back in Time at Athens Central Market (Varvakios Agora)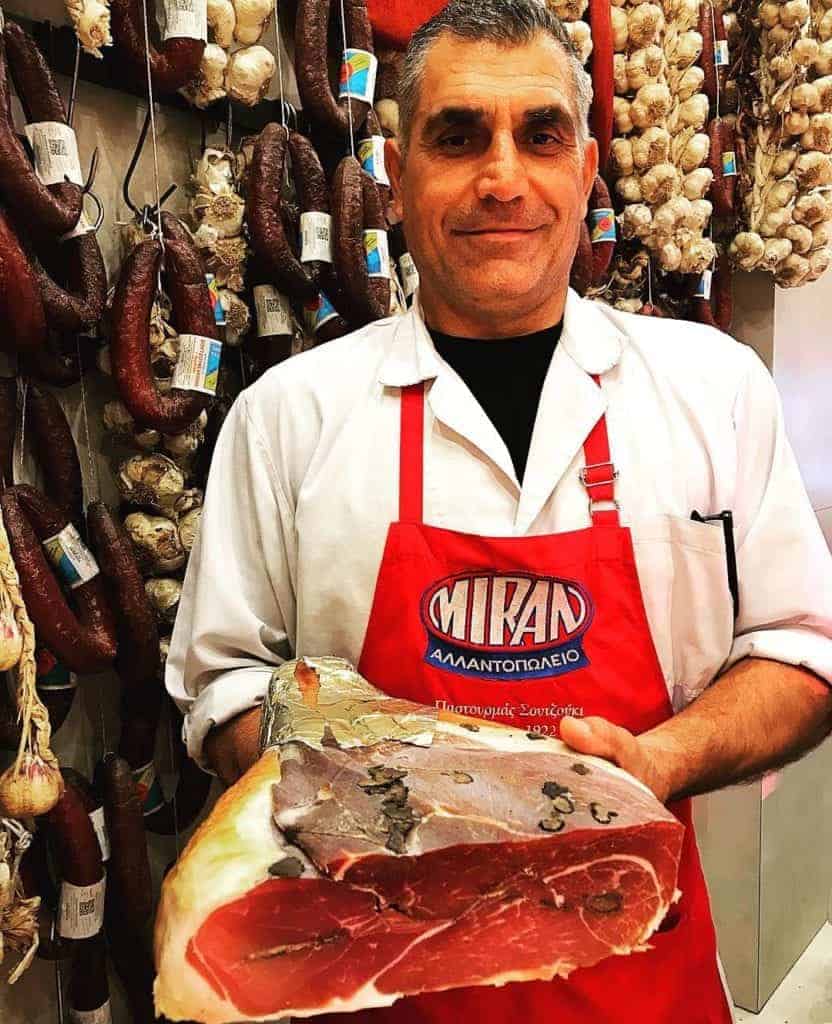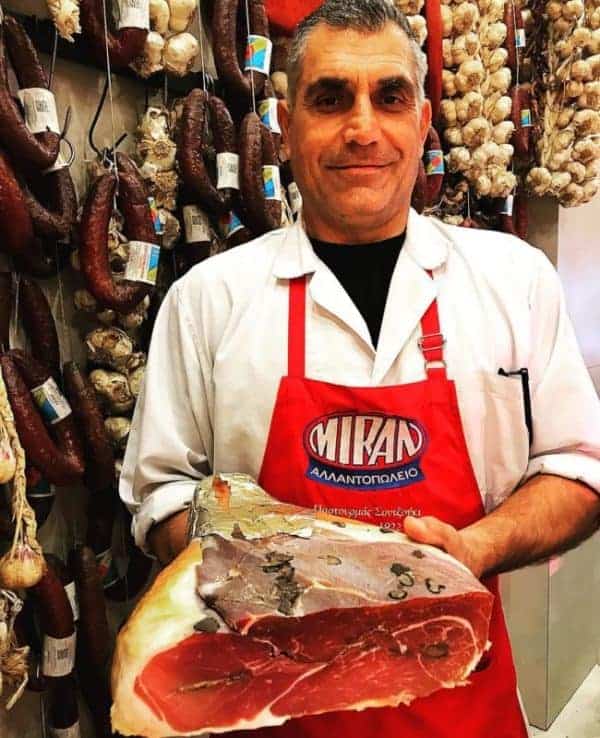 Traditional markets or "laiki" are a huge part of Greek culture with many people still preferring to buy their meats, fruits, and vegetables fresh from local markets instead of from the supermarket. Each neighborhood hosts its own laiki on different days of the week, but in the central part of the city, the Athens Central Market offers a diverse range of products.
Venture into the meat and fish markets to witness ferocious haggling from the Vendors and the feisty locals that want the best deals on their ingredients for Sunday dinner.
Don't miss a quick detour to nearby Evripidou street; Athens has a rich history of immigration and the various cultures that co-exist are reflected perfectly here. Evripidou street is filled with fragrant spice stalls, medicinal markets, and shops selling cured meats. The vendors operate long-standing family-run businesses and they come from far and wide – from nearby countries like Armenia and Turkey to Middle Eastern nations.
Meander the Streets of Monastiraki and Syntagma
The central stations of Monastiraki and Syntagma are a short walk from each other. This area is essentially Athens' answer to the retail high street with the notable addition of half a dozen ancient churches situated every few paces.
If you are feeling hungry, grab a koulouri from one of the local street vendors. This is the Greek answer to the pretzel and is one of the most popular "on the go" local snacks. Traditional koulouri is simply sesame seeded circular bread, but numerous varieties exist stuffed with melted cheese, ham and even chocolate.
Watch the Changing of the Guards at the Hellenic Parliament
Directly opposite from Syntagma square, the Hellenic Guards or "Evzones" are Greek guards that stand to protect the tomb of the unknown soldier in front of the Parliament building. They change every hour, on the hour and it is a nice little ceremony to witness.
Dressed in flamboyant clothing comprised of white kilts and dashing black footwear with affixed pom poms (aren't you sold on checking this out yet?), it was historically considered a great honour to join their ranks.
Visit the Panathenaic Stadium
From the Parliament building, it's a 20-minute walk to the Panathenaic stadium, which is a walk made pleasant by cutting through the fragrant Botanical Gardens and past the temple of Zeus. The Panathenaic Stadium is the world's only stadium that is made completely from marble.
Opened all the way back in 566BC, the stadium is incredibly well preserved and has hosted the modern Olympic Games on several occasions. Walk around the circumference of the stadium or do your best Usain Bolt impression and run a quick lap around the stadium (people actually do this).
Enjoy Cocktails with a View
When you're exhausted from a long day's sightseeing, venture to one of Athens' chic rooftop cocktail bars. You have a couple of options depending on where you are staying.
The Galaxy Bar at the top of the Athens Hilton Hotel offers unparalleled views over the entire city with the illuminated Acropolis twinkling in the distance. In the centre, A for Athens or Athens 360 offer great drink and food options (albeit a little pricey) directly across from Acropolis Hill.
Day one of this Athens itinerary pretty much concludes as far as most tourists will get in terms of exploring Athens. Days two and three of this Athens itinerary will take you further off the beaten path.
Athens Itinerary Day Two:
Natural Beauty and the Aegean Sea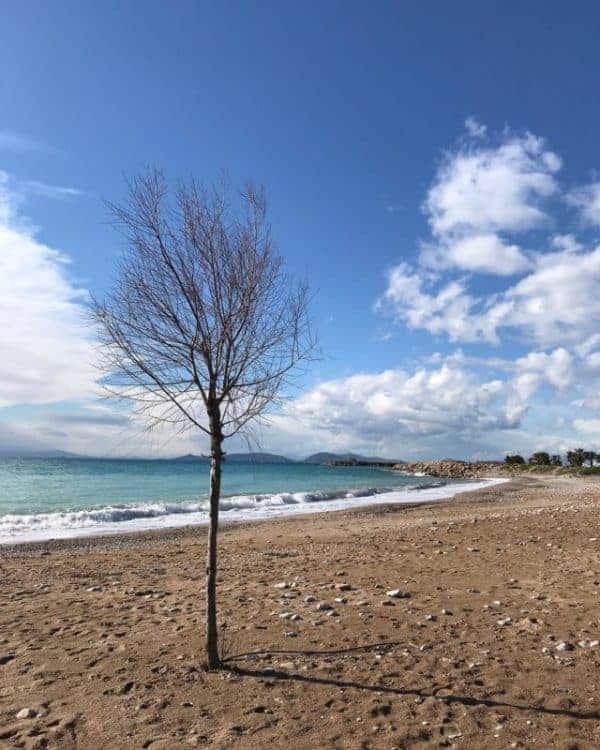 Enjoy a leisurely breakfast at your hotel or at one of the many quaint coffee shops that line the street of Athens and wash it all down with a Freddo espresso before hopping on the number four tram and heading towards Glyfada.
Day Two Highlights
Visit Glyfada
Lake Vouliagmeni
Note: If you are visiting in winter, or you prefer not to travel out to the coast, this day is interchangeable with day four.
Visit the Hellenic Hamptons
Commonly referred to as the "Hellenic Hamptons", Glyfada is associated with the Athenic jet-set and glitterati. Situated just 45 minutes from central Athens, Glyfada sees Athens' bustling streets replaced with palm tree-lined boulevards, and the ramshackle apartment buildings switched out for sprawling white-washed mansions and villas.
If you are visiting during the summer months, don't pass up the opportunity to relax and top up your tan at one of the private beach clubs or exclusive beachfront cafes that are situated in the area. Balux Café Seaside Project is a particular favourite among locals and can be entered for just a few euros.
In the cooler months, you can enjoy browsing the chic independent boutique stores in Glyfada town, or taking a coastal walk along the seafront.
Discover the Healing Properties of Lake Vouliagmeni
From Glyfada, head to Loutraki in order to visit the mystical lake Vouliagmeni. With its idyllic landscape comprised of rolling hills and translucent blue-green waters, Vouliagmeni possesses something of an ethereal atmosphere.
The lake is a natural thermal spring, with its waters said to have healing properties. Since the water is warm all year round, Lake Vouliagmeni is pleasant to visit any time of year. There is also a spa on-site if you are looking for a little additional R&R.
Enjoy a Coastal Walk in Vougliameni
In the heart of the Athenian Riviera, Lake Vougliameni is a short distance from the southern suburb of Vougliameni itself, whose coastal pathways and beaches lead the traveller on a walk through dramatic scenery.
Think jagged cliff faces, undisturbed beaches where the Aegean Sea crashes against the rockfaces, and quaint eateries offering unparalleled views into the distance and you are halfway to picturing Vouliagmeni.
As the evening draws in, this is the perfect place to sit and watch the sunset with a glass of locally sourced wine and ouzo on ice as the sun disappears behind the clouds. The Margi pool bar is a favourite spot among the Athenian elite.
Athens Itinerary Day Three:
Culture Vultures in Athens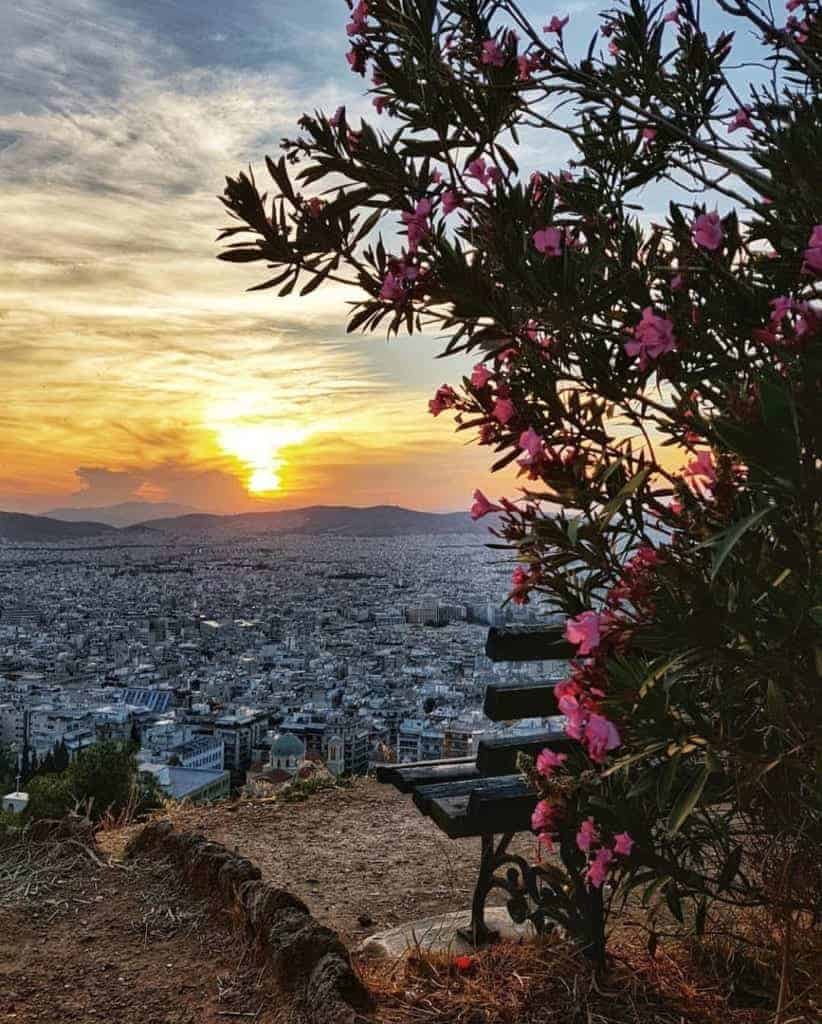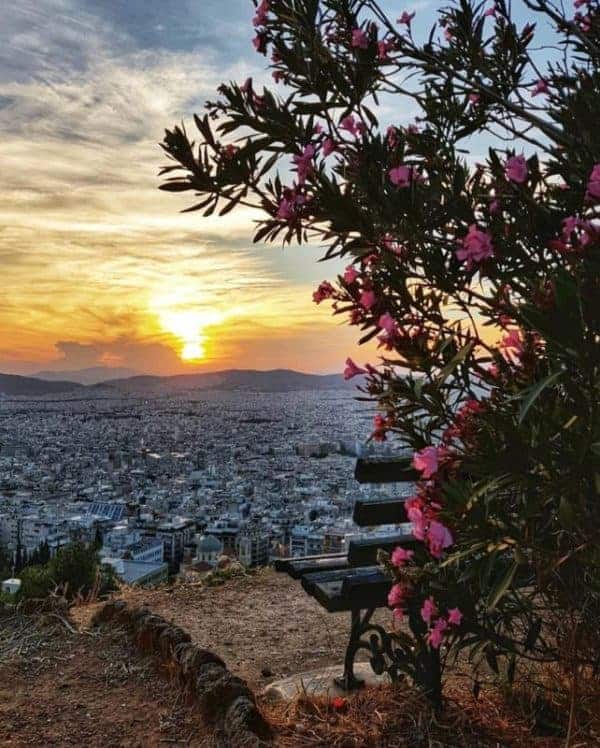 The highlights of Athens do not necessarily lie in the popular Athens sightseeing spots which have been visited and photographed thousands of times, but in the quaint neighbourhoods and squares which each have their own quirky little personalities.

The Greek locals keep the best hang out spots in Athens to themselves. Day three of this Athens itinerary is where you uncover those.
Day Three Highlights
Brunch in Kolonaki
Hike up Lycabettus Hill
Meander the Streets of Koukaki
Hang Out in Plateia Varnava
Dinner in Pagrati
Enjoy a Brunch in Kolonaki
Kolonaki is to Athens as Chelsea is to London, or Beverly Hills is to Los Angeles. This upscale Athenic neighbourhood is filled with elegant boutiques selling high-end fashion or showcasing the work of local independent designers.

Kolonaki is also one of the most scenic places to enjoy a stroll or a spot of brunch and coffee beneath the midday sun during your Athens itinerary. If you have time, it is also worth heading back here in the evening to enjoy one of the themed cocktail bars such as the New Orleans inspired Jazz in Jazz, or Minnie the Moocher.
Admire the Views from Lycabettus Hill
A slice of peace and tranquillity in an otherwise hectic, bustling capital, Lycabettus Hill is situated in the heart of Kolonaki and is essentially a sprawling mass of woodland. Its peaceful pathways ascend gradually to the peak where a beautiful traditional church awaits along with views across Athens and the Acropolis.

Snap some panoramas underneath the huge Greek flagpole that sways in the wind and enter the church to admire the brightly coloured frescoes. The atmosphere is particularly magical in the evenings as the sun begins to set and the city is illuminated by twinkling lights.
Shop for Kooky Souvenirs in Koukaki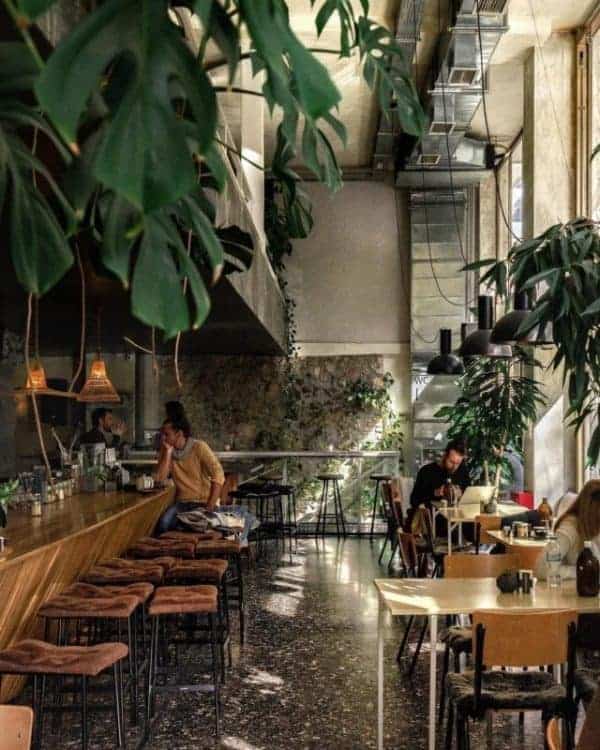 Artsy, kooky Koukaki is emerging as one of Athens' new trendy neighbourhoods. It is the heart of the city's creative scene with galleries and art stores situated every few paces.
The vibe in Koukaki is altogether more worldly and international than the majority of the city, with eateries serving up dishes from the most far-flung corners of the globe. Stop by Georgaki Olympiou square for an evening tipple before moving on.
Pagrati (My neighbourhood) is the area tucked behind the Panathenaic Stadium. With the main street of Filolaou running through it, Pagrati is almost like a different town in itself, somewhat reminiscent of New York's Greenwich Village.
Head to Platia Varnava when the night falls for bars frequented by locals where evening revelers spill out onto the street and Greek music echoes through the square. When dinner time approaches, Mavro Provato is a local favourite restaurant.
Athens Itinerary Day Four (Bonus Day!)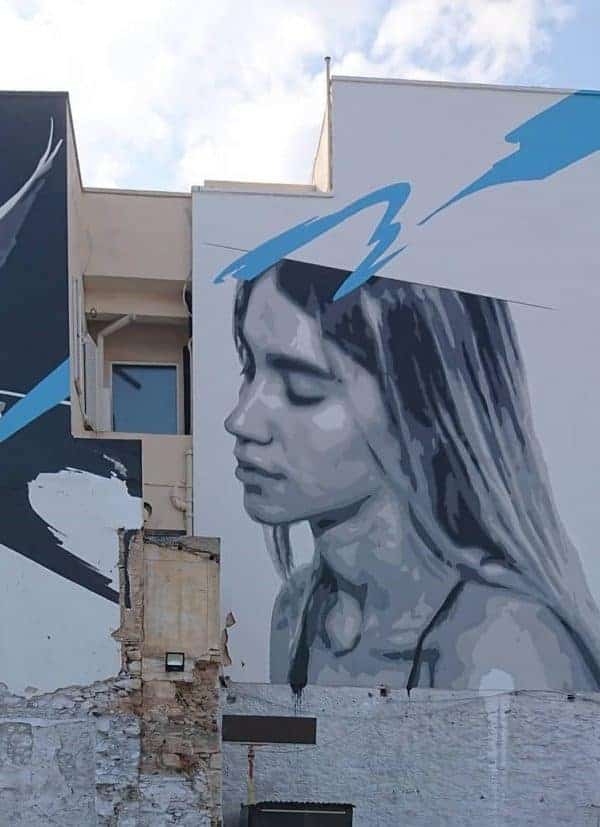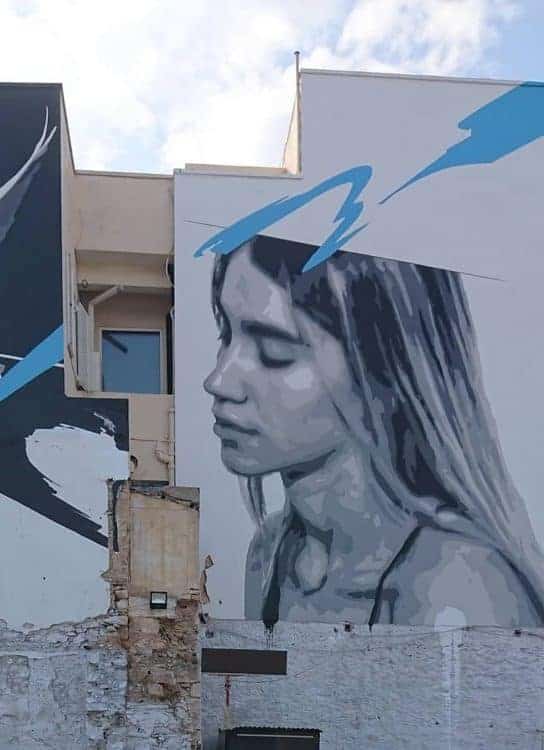 If you have the flexibility to extend your trip in Athens, there is plenty more to see!
Day Four Highlights
Visit Filopappou hill
Lunch in Gazi
Explore Exarchia
Filopappou Hill
Thissio and the area that surrounds the Acropolis is filled with beautiful walking trails that twist and turn past crumbling ruins and areas of beautiful greenery. Turning left on Dionysiou Areopagitou Street, you will see signs for Filopappou Hill.
This hill is famous for the 115AD Roman monument that sits at the top. However, the special thing about Filopappou is the views that you can enjoy from up here. This is one of the best spots in the city for photos of the Acropolis. There are also some interesting things to see as you ascend the hill – including Socrates prison, and the chapel of Agios Dimitrios Loumbardiaris.
Grab Lunch in Gazi
Descend down Filopappou Hill and head past the touristy taverns of Thissio to reach Gazi. Gazi has emerged in recent years as one of Athens' trendiest neighbourhoods. Gazi means gas in Greek – a fitting name as this was once the base of Athens' old gas power plant. The shell of the plant still remains and adds a certain je ne sais quoi to the atmosphere of the area.

Gazi provides a wonderful juxtaposition of tradition meets modernity. There are many excellent restaurants here that place a modern spin on classic Greek dishes. Gazohori is a popular and affordable mezedopoleio where you can enjoy lots of small dishes. For something a little more upscale, head to Athiri – a taverna owned by acclaimed chef Alexandros Kardadis.
Explore Exarchia
Exarchia does not appear on most people's Athens agendas. The neighbourhood has become synonymous with the idea of anarchists, but the reality is, this may well be one of the most interesting parts of town. Vinyl record shops, rock bars, and eclectic coffee shops line the streets of Exarchia giving the area an alternative vibe.

If you are interested in street art, there is plenty of thought-provoking graffiti to see. A lot of the street art that you will find in Exarchia is politically charged. There are also some pieces that were created by renowned graffiti artists Borondo and Ino.
Extending Your Athens Itinerary
Despite being the Greek capital, Athens may well be one of the most underrated travel destinations in all of Greece. Boasting far more than just the Acropolis and a few sun-bleached ruins, you could easily spend a month in Athens and still feel as though you have barely scratched the surface of all that this ancient city has to offer.
I should know – I've lived here for two years and I am still constantly finding new wonderful places to explore! The below suggestions are wonderful things to add to your schedule if you have a little more time to allocate to your Athens itinerary.
Take a Trip to the Picturesque Islands of the Saronic Gulf
The Greek islands have captured the hearts of many travellers from across the globe. While places like Santorini, Mykonos, and Zakynthos may be among the most renowned, there are also plenty of breathtaking islands that are situated just an hour's journey away from Athens – in the Saronic Gulf. It is very possible to travel to these places and back within a day and many Athenians do precisely that when they want an escape from city life.
Sail Out to the Island of Hydra
Travellers can consider the quaint island of Hydra – a beautiful place where time has seemingly stood still. There are no cars on Hydra island and the locals still get around by horses and donkeys.
Surrounded by cerulean waters, Hydra is home to numerous hiking trails, adorable fishing villages, and what is considered to be the prettiest port in all of Greece. Equally worthwhile are the islands of Spetses, Poros, Aegina, and Agistri.
Relax on the Pristine Beaches of the Athenian Riviera
The beaches on the paradisiacal Greek islands may have the best reputations but here in Athens we also have our fair share of lovely coastal areas. Many of Athens' best beaches can be reached via public transport from the city.
Those who want to pamper themselves and enjoy a little R&R can reserve a sunbed for the day at exclusive Athenian beach clubs such as Astir beach. Those looking for secluded coves and quiet places to relax will enjoy the secret beach at KAPE Legraina.
Enjoy the Best of Athens' Hiking and Nature
Lovers of nature and the great outdoors will be pleased to discover that there are actually numerous hikes in Athens to enjoy. The hiking trails offer something to suit every ability. Discover ancient monasteries nestled away in the woodland in Vyronas forest, or climb the highest peak in Attica at Mount Parnitha.
Take the Time to Explore Each of Athens' Quirky Neighbourhoods
Exploring the ruins and the historical sites is a must-do while in Athens. That said, my favourite aspect of the city as a local is exploring the different neighbourhoods, each of which have their own unique personality.
This 3 day Athens itinerary takes you more off the beaten track than most. However, with more time, you can also visit the upscale boulevards of Kifissia, and the funky bars of Neo Psychiko.
Take a Day Trip Further Afield
Athens makes a great base for a wider exploration of Southern Greece. If you have more time to spare, there are lots of day trips from Athens that you can consider.
Perhaps you would like to wander around the ruins of the Temple of Poseidon at Sounion or window-shop at the chic boutiques in Nafplio. Many of these places can be visited within a day, or with a one-night overnight trip. Athens is best enjoyed as part of a wider Greece itinerary.
Is the Athens Sightseeing Pass Worth it?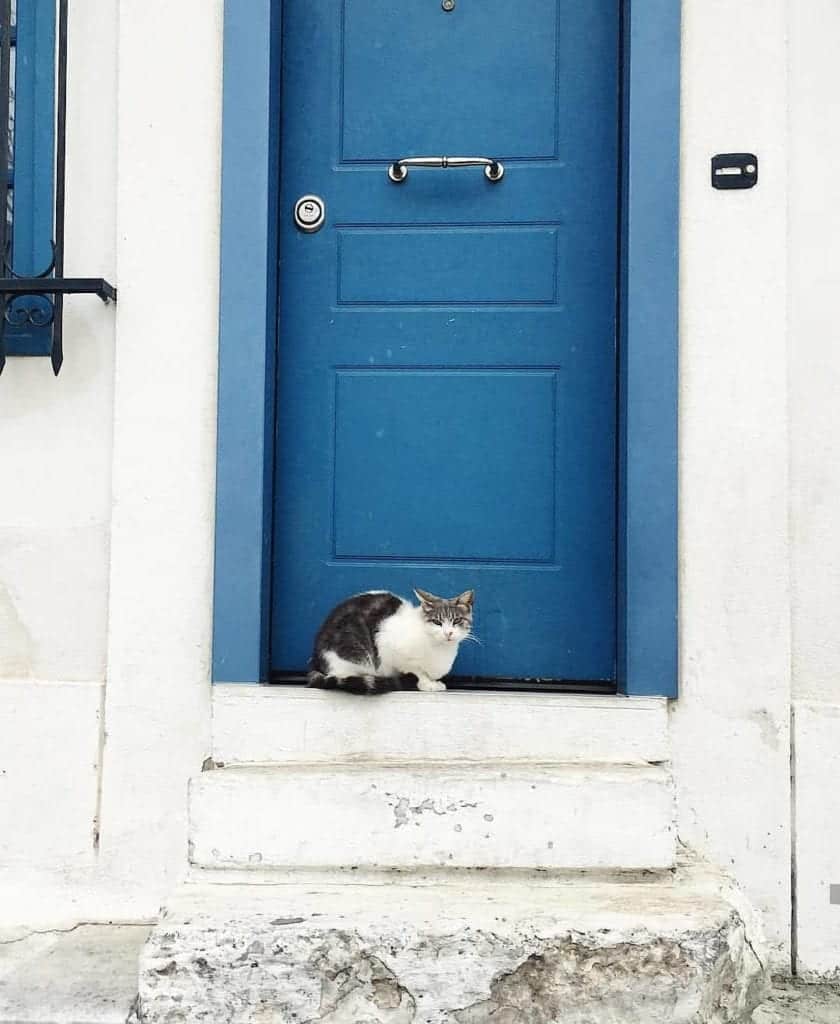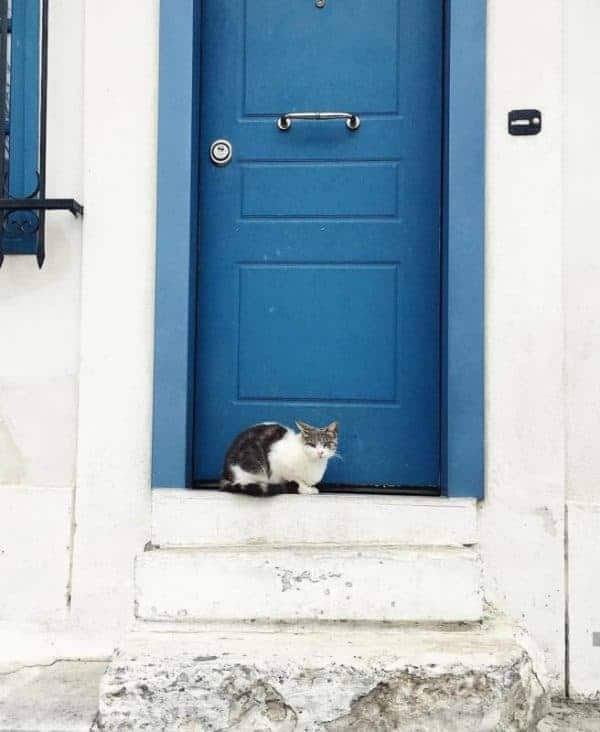 Like many cities, you can get a sightseeing pass in Athens that allows you access to all of the city's most notable tourist attractions and ancient ruins. This will cost you £40 and covers everything – from the Acropolis to the Ancient Agora and Hadrian's gate. On the other hand, it costs £20 for a pass solely to the Acropolis and the Acropolis museum.
With all things considered, it is actually my personal recommendation to boycott the Athens city pass and here's why: even if you want to visit the Acropolis and the Agora, the individual admissions for the two sites is £20 and £5 respectively. The other attractions covered by the Athens city pass can actually be seen just as well from the outside and are nothing of note – you would genuinely just walk inside for 30 seconds, snap a photo and do a 180. Save yourself the extra £15 to use elsewhere on your Athens itinerary.
​When to Visit Athens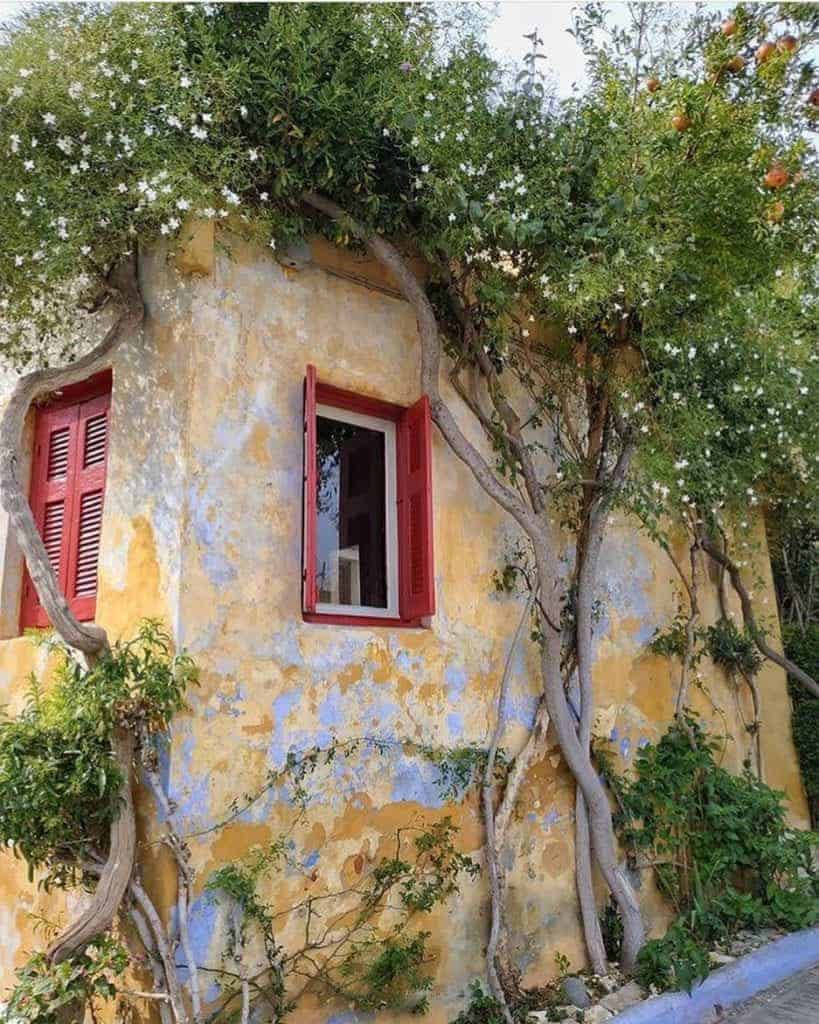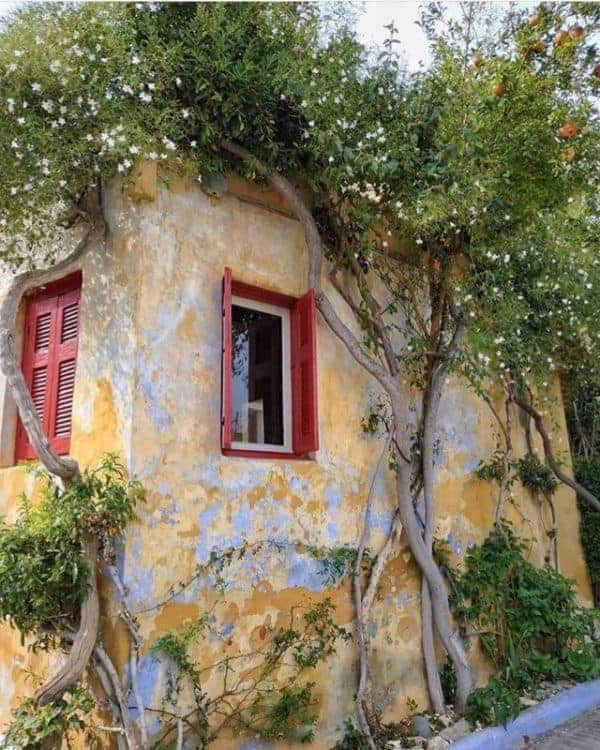 Owing to its Southern Mediterranean location, Athens has pleasant temperatures all year round. As such, this 3 day Athens itinerary is possible at pretty much any time of year.
Spring (March to May)
Spring is arguably one of the best times to visit Athens. The weather conditions during this time are warm and sunny, and there are substantially fewer tourists than during the summer months. From April, the boats between mainland Greece and the islands start running again.
Summer (June to September)
The Summer months in Athens can see temperatures in the Greek capital rise as high as a humid 40 degrees Celsius – perfect for relaxing on the beaches but a little uncomfortable for extended exploration.
This is also the season when the majority of travellers venture to Greece. Expect crowded tourist attractions and higher flight/accommodation costs. I would advise you to avoid this season, and consider planning your Athens itinerary during the Spring/Autumn if you can.
Autumn (October to November)
Like Spring, Autumn can be one of the most pleasant times for travelling to Athens. In terms of degrees Celsius, temperatures linger around the mid-twenties.
After mid-September, most of the tourist crowds subside and accommodation prices become lower. It should be noted that many of the islands near Athens close for the season from October, and boats run on a significantly reduced schedule.
Winter (December to February)
Winters in Athens can get quite cold. We have seen some snowfall here during this season in recent years. That said, Winter in Athens can be one of the best times to travel.
Opting to plan a city break in December enables you to participate in the wonderful Athenian Christmas celebrations, as well as enjoy the lower flight and accommodation costs that come with travelling out of season.
Athens Itinerary:
Where to Stay in Athens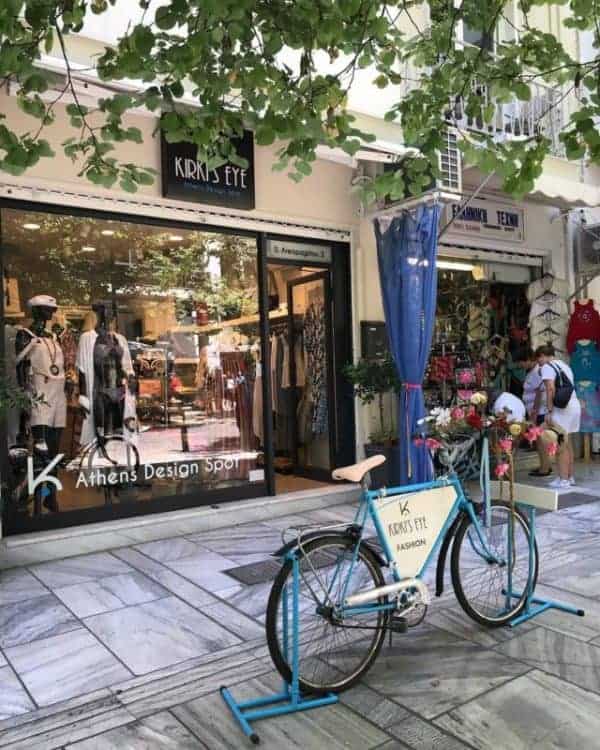 The neighbourhoods of Monastiraki, Syntagma, Plaka, and Psiri are among the most central, however that does not mean that they are the best places to stay if you are looking for authentic Greek charm as part of your Athens itinerary.
Athens is a relatively compact city and it is easy to experience life as the locals do without inconveniencing yourself for sightseeing or venturing too far from the city's main attractions.
A few suggestions on places to consider staying during your big fat Greek adventure are summarised below. I have also written this comprehensive guide on where to stay in Athens which gives a more detailed look at the best neighbourhoods and hotels.
Koukaki
In the shadow of the Acropolis, Koukaki has to be one of Athens' most eclectic neighbourhoods. Despite its central location, Koukaki remains relatively "off the beaten path".Quirky Koukaki boasts eccentric themed coffee shops and cocktail bars, independent boutiques, and art galleries.
Kolonaki
One of Athens most exclusive and upscale neighbourhoods, Kolonaki is to Athens what Chelsea and Kensington are to London. Kolonaki's tree-lined promenades are home to upscale eateries, chic cocktail bars, and exclusive designer stores.
Kifissia
Those looking for a peaceful place to stay away in Athens from the hustle and bustle of the city centre will fall in love with Kifissia. The elegant district is often likened to Beverly Hills on account of the chic Athenian crowd that hangs out here. Kifissia offers luxury shopping, a glamorous nightlife scene, and a plethora of trendy restaurants.
Syntagma Square
If you are looking for a convenient, central location during your Athens itinerary, Syntagma square is a good place to base yourself. Opting to stay in Syntagma places you within walking distance of Athens' main attractions – including the Hellenic parliament, the Central Agora, the Acropolis, and the shopping streets/nightlife of Monastiraki.
Getting from the Airport to Athens
Regardless of what time your flight lands in Athens, it's easy to get from Athens International Airport into the city. From 5:30 am until 23:00 pm, the metro runs every thirty minutes to the central square (Syntagma).
You can also take the 24-hour X95 express bus that runs between the two locations. An airport metro ticket costs 10 euros, and an X95 bus ticket costs 6 euros.
Getting Around Athens
Public Transport in Athens
Athens has an excellent public transport system with clean, efficient trams and metros that run frequently and service all corners of the city – even running to the outer zones of Piraeus and Glyfada. You can check the latest information and timetables here.
Taking Cabs in Athens
Yellow cabs can be found and flagged down pretty much all over the city, however, I would recommend that you use the BEAT taxi app which often enables you to do your journey for half of the price. Until April 2019, Uber was available in Athens, however, it has now been suspended until further notice (possibly indefinitely).
Do you have any questions about this Athens itinerary or about travelling to the Greek capital in general? Feel free to reach out to me! I have lived in Athens for three years now so I certainly can provide plenty of insight. Safe Travels! Melissa xo
Disclaimer: This Athens itinerary may contain affiliate links. This means that if you choose to make a purchase through the links enclosed, I will receive a small amount of commission at no additional cost to you. This aids me with the running costs for this site.
---