If you are looking for the best coffee in Athens, Greece it can be overwhelming. There is a coffee shop on virtually every street corner here and Greeks will often joke that going out for coffee is the national sport of Greece.
And that wouldn't be too far from the truth either. Whatever time of day you happen to be wandering through the streets and neighborhoods of the Greek capital, the streets are filled with people sipping freddo cappuccinos and gossiping with friends beneath the cabanas of various coffee shops.
Greeks will usually meet their friends for a coffee and catch up at least once a week, but it's pretty common to go catch up with someone at a local coffee shop every single day. As far as Greeks are concerned, it is never too late in the day to go for a Greek coffee either. 
Freddo espresso at 6.30 pm? Why not! 
Greeks have iced black coffee coursing through their veins! Most coffee shops are day-to-night bars that serve teas and coffees during the day and transform into stylish cocktail bars in the evenings. 
Then there are the old-fashioned traditional kafenions too. This article has been written by a British Travel Writer living in Athens. 
For almost five years I have hauled my laptop and notepads to a different Athens coffee shop each day and used it as a base to write from. Rest assured, I feel well poised to advise you on which are the best of the best!
15 Best Coffee Shops in Athens in 2023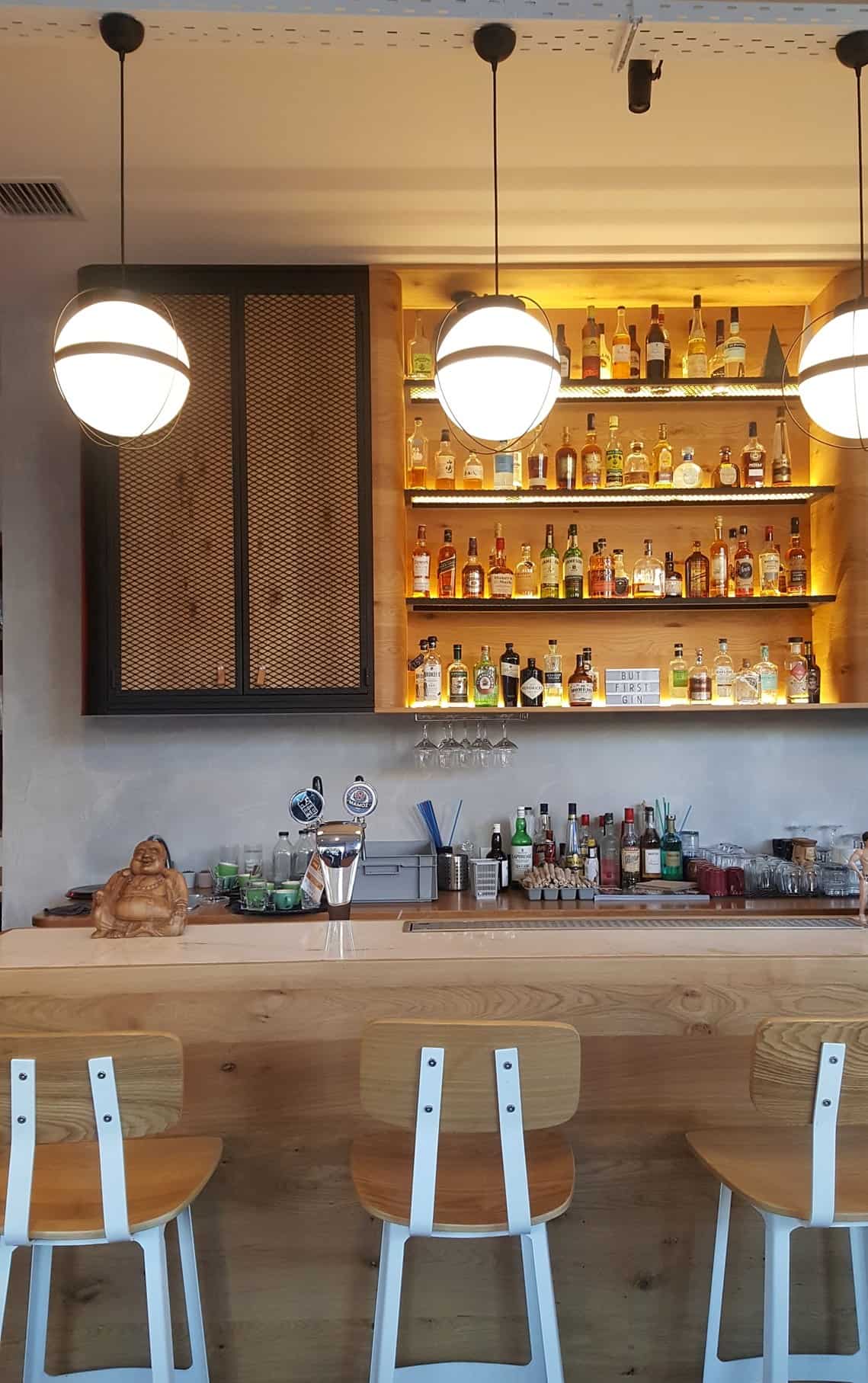 Coffee has been an integral part of Greek culture for centuries. Traditional Greek coffee is essentially the same as Turkish or Arabic coffee.
It is strong, thick, and bitter and is prepared in a copper pot known as a birki before it is poured into a small cup. This type of coffee is believed to have originated in Persia before becoming popular among the Ottomans.
The first Ottoman coffee shop was opened in Constantinople (Istanbul) in 1425. As the Ottoman Empire expanded into Greece, they bought their coffee with them.
The first coffeehouse in Athens was established shortly thereafter and since then, Greek coffee culture has evolved and become an essential part of Athenian life.
If you want to try traditional Greek coffee, the best place to do so is at a kafenion. A couple of famous Athenian kafenions are detailed on this list and visiting one is a must-have experience at least once during your Athens itinerary.
You can easily find cappuccinos, lattes, and other "typical" hot coffee drinks in Athens, as well as more artisanal things like drip coffee and nitro brew. Most young Greeks take their coffee "freddo" or "iced".
Although even if you are not a fan of iced coffee usually, chances are that you will like Greek iced freddo coffee. A freddo espresso is espresso poured over ice and sweetened as desired. 
A freddo cappuccino is an espresso with the addition of foamed milk or sometimes cream. Try it! You might be pleasantly surprised!
The Underdog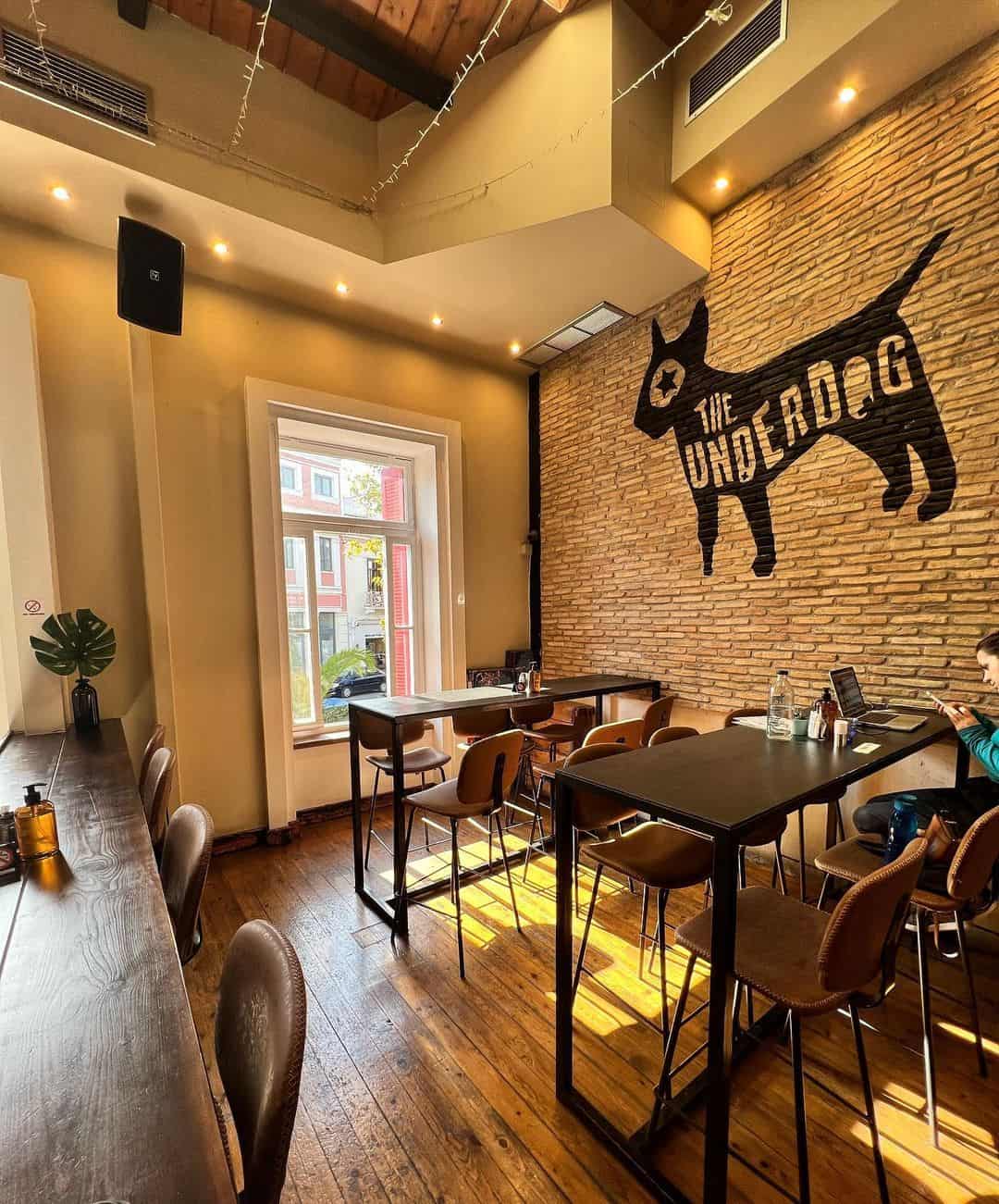 Where: Iraklidon 8, Athens
The Underdog is an Athens institution and if you ask any local where to find the best coffee in Athens, chances are, the Underdog will be one of their recommendations. This Thissio coffee place has developed something of a cult following in recent years.
The Underdog roast and grind their own beans using a diverse selection of coffee from Mexico, Colombia, Ecuador, and wider Latin America. The baristas here are some of the best in the country and have won awards both nationally and internationally for their coffee-making expertise.
The Underdog has both indoor and outdoor seating – perfect for whether you want to sit inside in the aircon or out in the leafy courtyard on a Greek summer's day. It's not unusual to see remote workers and students tapping away on their laptops here but there is always plenty of room so you don't need to feel guilty if you want to stay a while.
Aside from the coffee, the food here is great too. The breakfast, lunch, and brunch menus offer dishes that place a Mediterranean twist on classic recipes.
For instance, their slow-cooked eggs are prepared "Mediterranean style" with fresh tomato passata, herbs, and olives.
Rabbit Punch Athens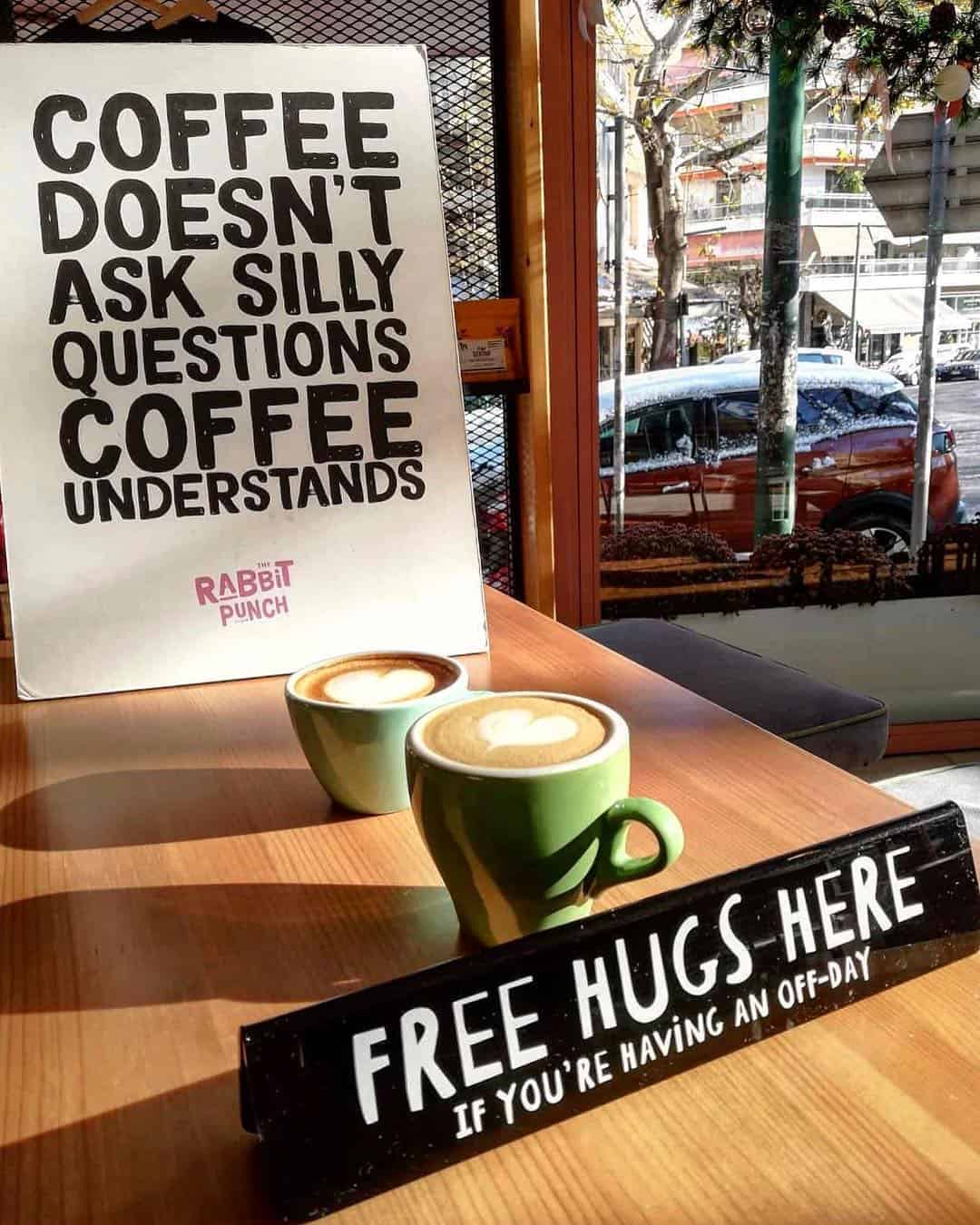 Where: Eufranoro 40
If you happen to be staying in Pagrati, the Mets, or Vyronas during your time in Athens and getting to The Underdog seems like a bit of a trek then fear not. Rabbit Punch Athens is the establishment's sister site that can be found in the quirky, artsy Pagrati district of Athens.
Since the Rabbit Punch first opened its doors a few years ago, it quickly established itself as one of the best places to hang out in Southern Athens. Come here for coffee and brunch during daylight hours or cocktails prepared by expert mixologists during the evening. (Or you can have cocktails with brunch during the day if you like, we're not judging!)
The decor is fun and fresh with pink and white tones, flirty, funny quotes displayed in LED lights, and unique artwork.
Breakfast and brunch are available all day here (more precisely from 10 am until 9 pm) because Afterall, who doesn't want to eat breakfast food in the evening? Breakfast food is always a good idea! 
The owners describe their brunch offering as "seasonal and sexy" and the menu changes periodically with the seasons. Avocado toast, seasonal salads, and light sandwiches and baguettes are all light and healthy ways to start the day.
Or of course, you could go all out and order a stack of pancakes for €7. Want an insider's recommendation? Try the Banoffee or cheesecake pancakes and thank me later.
There is both inside and outside seating here. If it's not too hot, grab a seat on the sidewalk so that you can people-watch in Proiftou Ilia Square.
Rizari 22 Athens
Where: Rizari 22, Pagrati, Athens
Rizzari is an elegant coffee and brunch spot that sits at the intersection of Rizari, Leof. Vasileos Georgiou and Chironos in Pagrati. The upscale spot attracts a well-heeled crowd. 
Its interiors are designed like an elegant library where dusty tomes in all shapes and sizes adorn the ornately carved bookshelves. As well as spacious wooden tables where groups of people can sit for lunch and coffee, there are some plush leather armchairs here that you can sink down into and relax with a good book for an hour or two.
The nice thing about going for coffee in Athens at Rizari is that you are given a large, liter bottle of fresh, iced water and some free snacks alongside your drink. The snack and lunch menu here is great and you are never rushed if you want to spend a couple of hours here. 
Del Posto Vouliagmeni
Where: Leof. Posidonos 4, Vouliagmeni
Del Posto Vouliagmeni (formerly known as "En Plo") is a gorgeous coastal coffee shop and restaurant that overlooks the sea and the Saronic Gulf. Del Posto is found in the upscale coastal town of Vouliagmeni which is often known as the "Hellenic Hamptons" or the "Athens Riviera".
Despite the glamour of the area, En Plo is not pretentious. The chic establishment attracts a well-heeled crowd but you also have the warm, friendly service and "filoxenia" that you come to expect anywhere in Greece.
The freddo espressos and cappuccinos here are rich, frothy, and delicious but the best part of this place is the view. Vouliagemeni is home to some of the best beaches near Athens during the summer, but even in the winter, it's a great place for urban hikes and coastal walks.
From the windows and balconies here you have unparalleled views over the Aegean. This is arguably even more impressive/dramatic on a windy day when the sea waves lap against the bottom of the cliff.
Ohh Boy Athens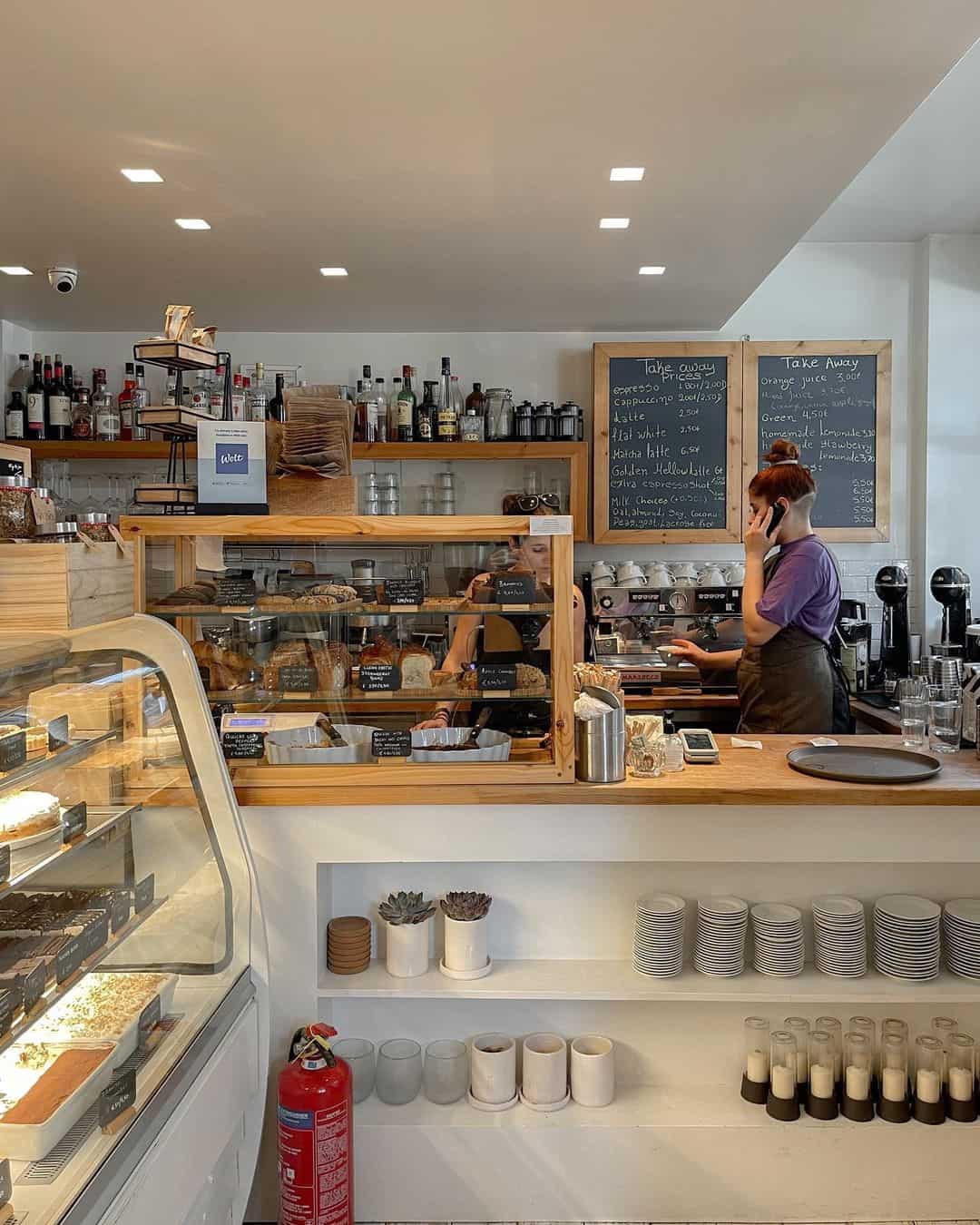 Where: 32, Archelaou Street
On the corner of Archelaou on the approach to Pagrati, you will find the beloved Athenian coffee and dessert spot "Ohh Boy". This charming all-day spot is decorated with a crisp, white, and natural wood colour palette. 
Most of the seating runs along the sidewalk in quintessentially European fashion. Ohh Boy is often crowded, especially at lunchtime or on Sunday afternoons. 
But if you have to wait a couple of minutes for a table, rest assured it's well worth it to do so. The coffees are rich, smooth, and velvety. 
The menu offers a mouthwatering selection of homemade pastries, crumbly quiches, and fluffy banoffee pies. There are plenty of vegan and gluten-free choices and you can order your food and coffee to dine in or take away. 
This makes a great place to take a break if you happen to be in the area visiting the Panathenaic stadium or the National Gardens.
Little Tree Books & Coffee Athens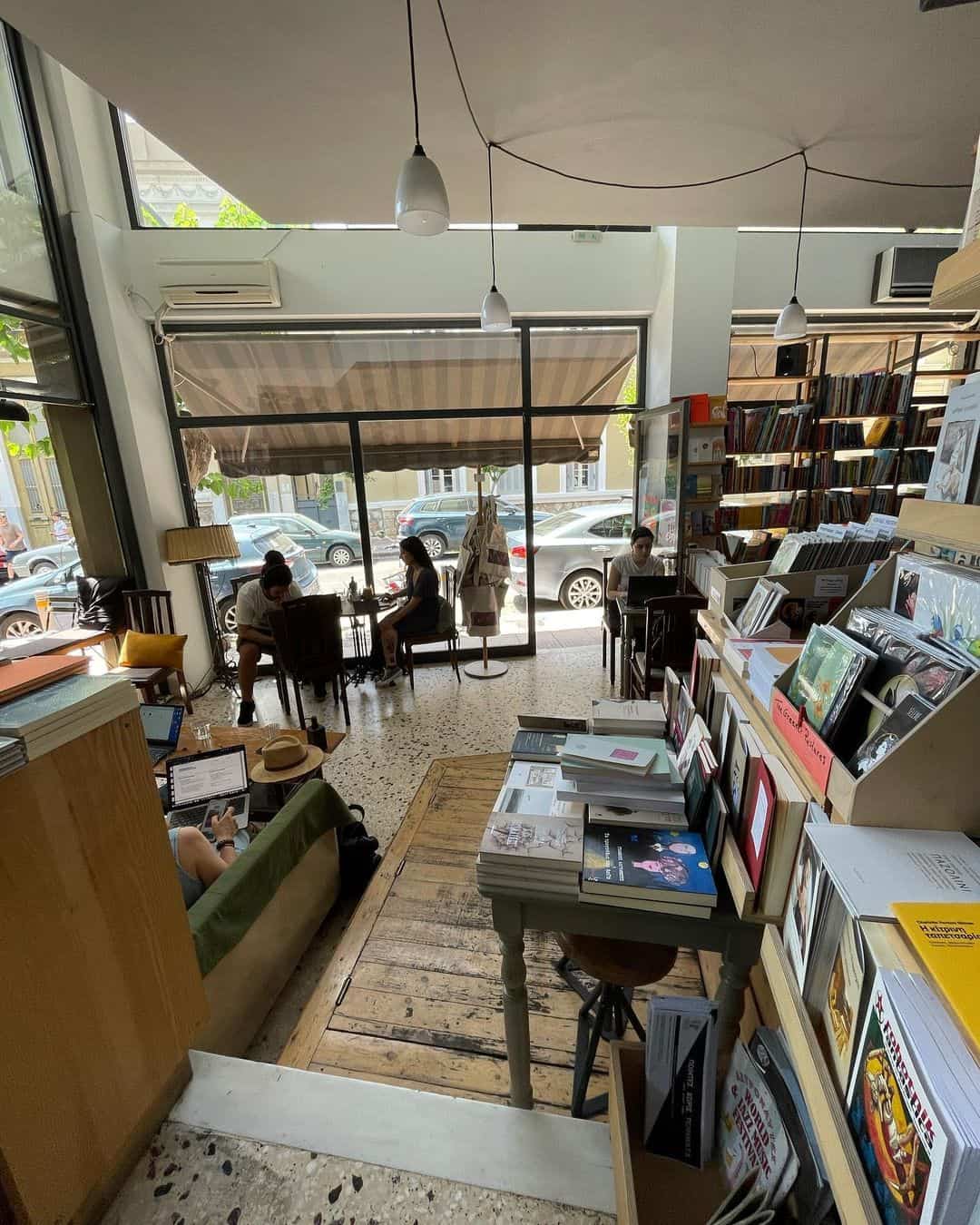 Where: Kavalloti 2
Little Tree Books & Coffee is a charming concept coffee shop and bookstore that awaits beneath the shadow of the Acropolis in quirky Koukaki. Koukaki is to Athens what Greenwich Village is to New York City.
It is filled with adorable coffee shops, vintage clothing stores, independent art galleries, and Athenian restaurants serving international eats from across the globe. This is a great place to sink down into an oversized armchair after a long day of sightseeing and relax with a hearty slab of cake or a frothy cappuccino that spills over the sides of your oversized mug. 
The cute little place looks like something out of a movie set. Because Koukaki is a popular area to stay in Athens, this place can sometimes be crowded.

But in the worst-case scenario that you can't find a seat, there are lots of other cute Athens coffee shops nearby and Kinono is just a short walk away.
Couleur Locale Athens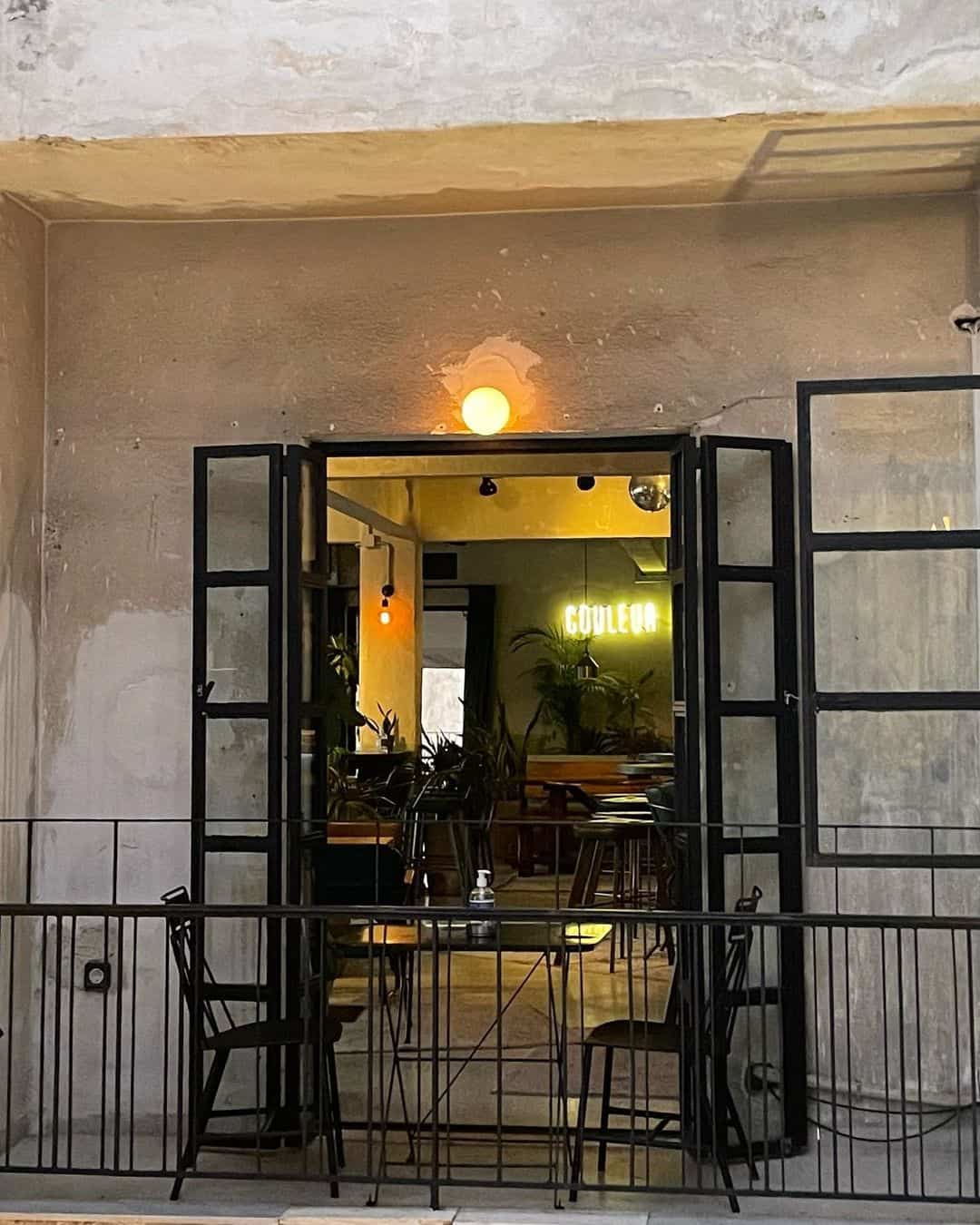 Where: Normanou 3
Couleur Locale is one of the best-loved rooftop bars in Athens. It's a day-to-night space that serves coffee and light snacks by day, and amazing classic cocktails by night. 
Couleur Locale is tucked away down an unsuspecting side street (Normanou) that veers off from Monastiraki Square. Unless you specifically knew it was here, you wouldn't find it.
The street looks somewhat sketchy and uninviting – lined with ramshackle antique stores, boarded-up businesses, and graffiti-laden walls. Enter the elevator on your left and take it up to the top floor. 
When the doors slide back, you will be greeted with unparalleled views of the Acropolis and its magnificent Parthenon. There is free wifi here and there are plenty of places to sit.
You can sit on the roof, beneath the sun umbrellas as you take in the views of downtown Athens, or you can sit in one of the industrial-style rooms in the aircon.
Superfly Athens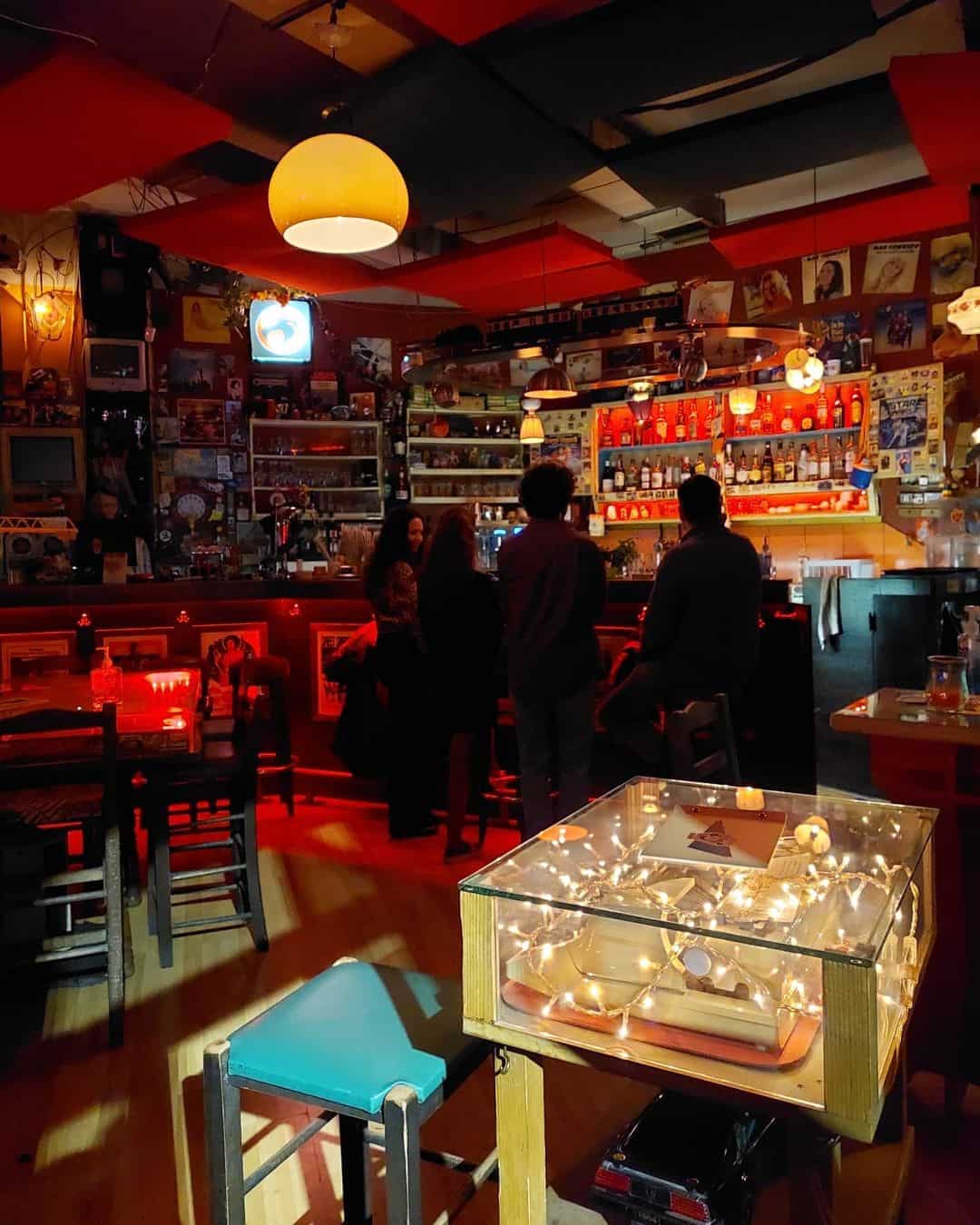 Where: Empedokleous 28
Superfly Athens is a retro-themed day-to-night coffee bar in Varnava Square. This is one of the most happening squares in Athens.
On evenings and weekends, you will usually see large groups of friends come here to sit on the park benches, chat and share beers. Superfly is one of the most original and unique places to hang out or grab a coffee in Athens.
The decor is all 1980s-themed. Old jukeboxes line the walls so that you can request music from Michael Jackson, A-Ha, Wham, or any other retro legends.

Retro posters, memorabilia, and photos line the walls. Superfly manages to transport visitors back in time without a Delorean.
Metz Coffee & Cocktails Bar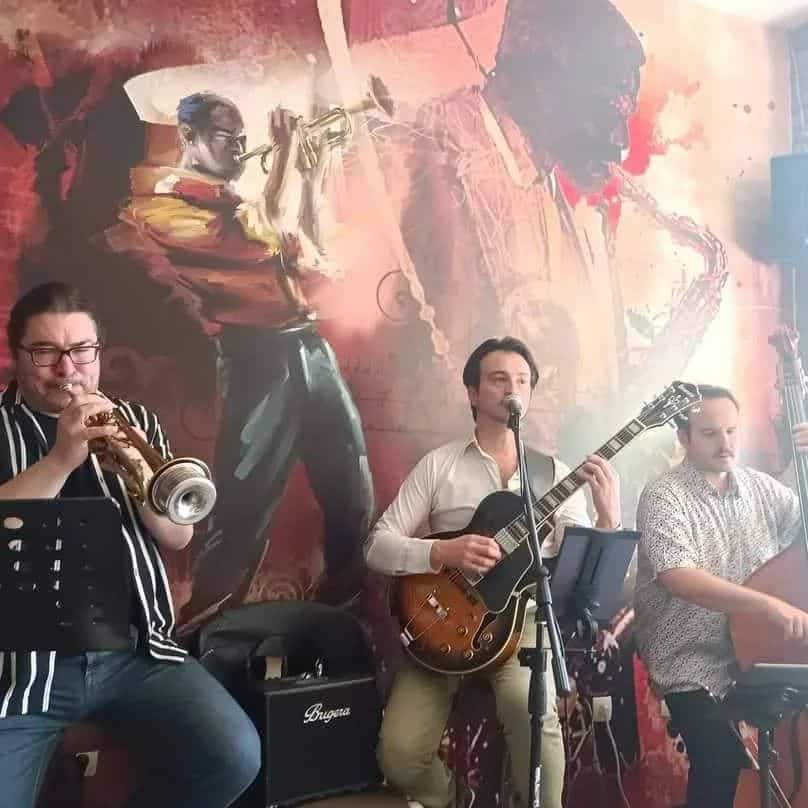 Where: Mark. Mousourou 63
The Metz Coffee & Cocktails bar on Mark. Mousourou sits on a leafy, sleepy boulevard in the sought-after Mets district south of Athens city centre. This little area, filled with great bars, jazz clubs, and coffee shops is unknown to most tourists.
Grab a freddo espresso or a frothy cappuccino and sit on the pavement outside watching the world go by. On certain days of the week and on Sunday afternoons, there are often live jazz and blues musicians that take to the stage inside.
This is great to watch and they encourage "jam sessions" where members of the audience are handed an instrument of some kind and encouraged to join in.
TAF Coffee Athens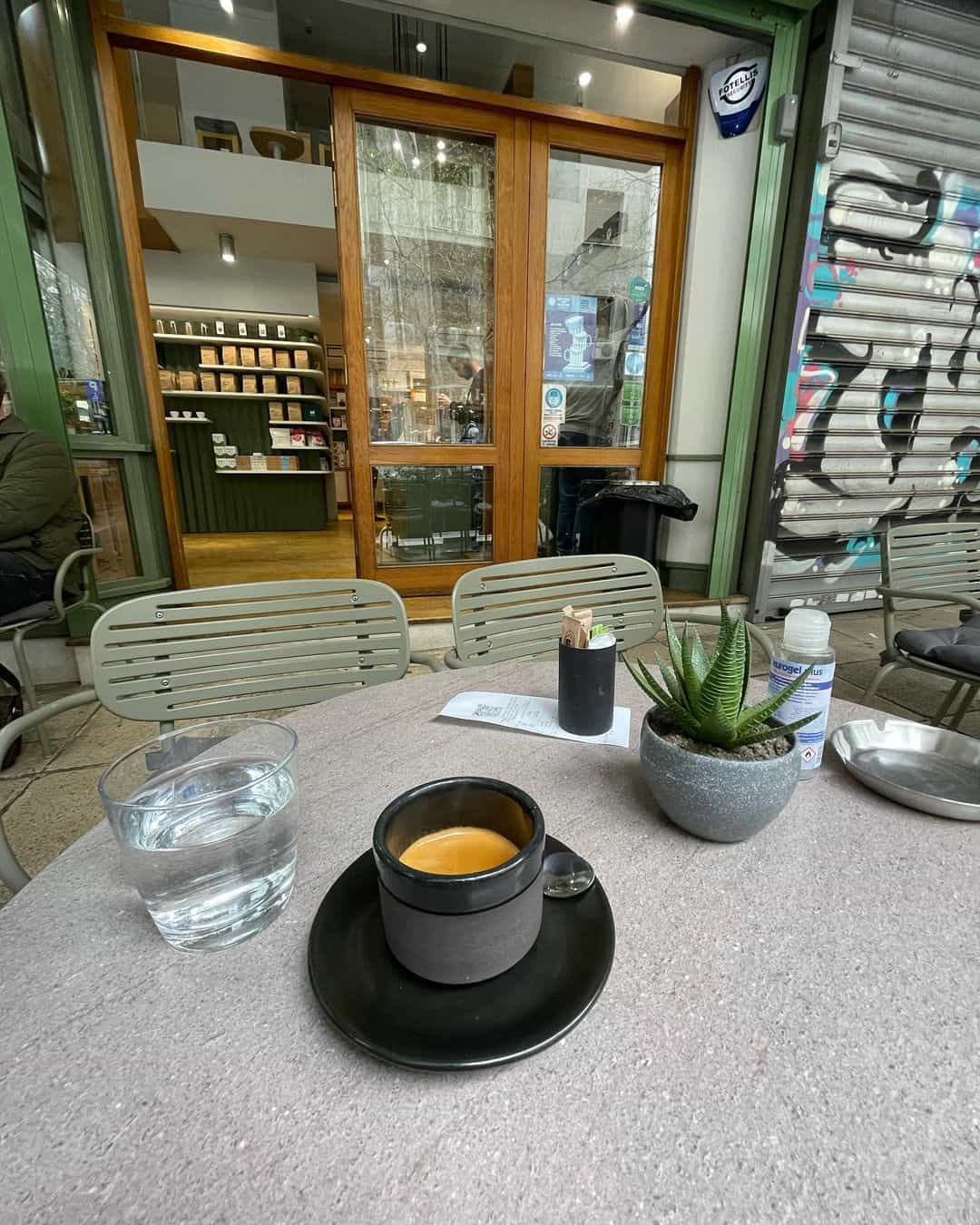 Where: Emmanouil Benaki 7
If you want well-brewed, quality beans in Athens, TAF Coffee Athens needs to be on your radar. The cute shabby-chic establishment near Omonia metro station first opened its doors in 2009.
Owner Yannis Taloumis prides himself on the fact that in a city filled with coffee shops and artisanal stores, TAF has become the go-to place for many Athenians when they want to buy fresh beans to prepare at home. TAF initially started operating as a family coffee roasters in the 1990s before expanding into a cafe business.
Stop by to enjoy a freshly brewed cup of coffee or to buy a bag of quality beans as a souvenir from your trip to Greece. The coffee shop's location on the outskirts of Athens' alternative Exarchia district makes TAF a great stopping point en route to admire some of the best graffiti in the Greek capital.
Monsieur Cannibale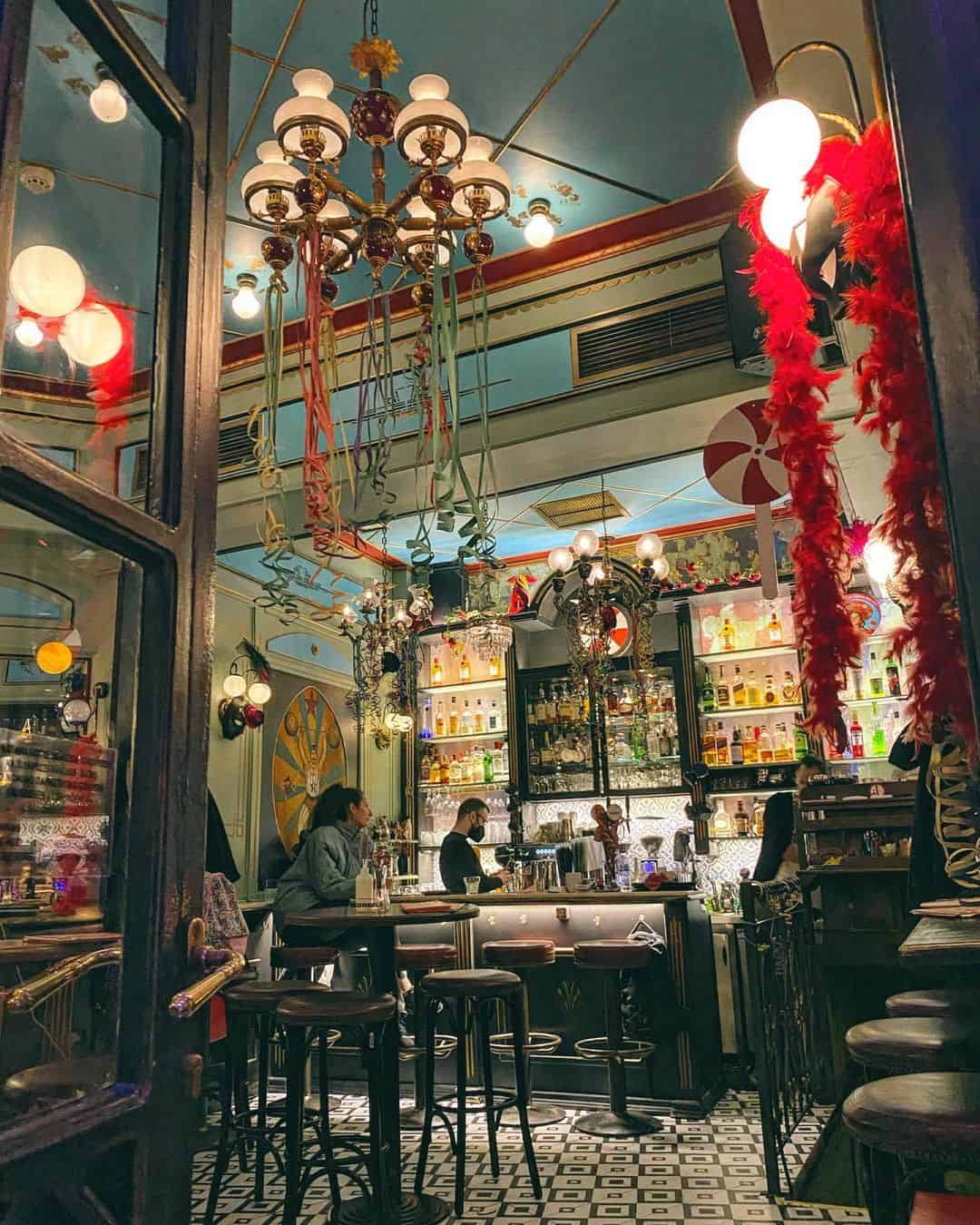 Where: Pl. Profitou Ilia 2
Monsieur Cannibale is a quirky Athens coffee and brunch spot that takes its name from the song Sacha Distel wrote about his love affair with Brigitte Bardot. It sits on the corner of Profitis Ilias opposite the church.
It is on an opposite street corner to Rabbit Punch, meaning if one spot is full, you can easily go and grab a coffee in the other. The coffee here is great, as are the desserts, cakes, sandwiches, and salads.
The decor is vintage-style and somewhat resembles a retro circus. All of the tables and chairs are mismatched and an array of differently shaped mirrors and eclectic lampshades adorn the walls and ceilings.
Paintings of elephants, freak shows, and strong men dance along the colourful walls. Monsieur Cannibale is a popular rendezvous place for friends to meet for lunch or brunch.
Kinono Athens 
Where: Falirou 48, Athens
Kinono is a light, bright, and airy space in the heart of Athens' quirky Koukaki district. It is a popular place to grab a coffee, breakfast, or brunch before setting out on a day of sightseeing in Athens.
The place boasts high ceilings, exposed brickwork, and floor-to-ceiling windows. The decor is Scandinavian style and eco-friendly. 
Owner Olga Maneta has made all of Kinono's furnishings herself. Everything from the bar to the tables and chairs have been handmade with recycled materials.
Gorgeous house plants cover every spare inch of space and hang from ceilings and windowsills. Kinono is spacious and there are always plenty of tables available, even if there is a large group of you.
Urban Zografou
Where: Oulof Palme 48, Zografou
Urban is a fun, modern Athens coffee shop set in the student district of Zografou. The space has something of an industrial feel about it – with high ceilings, exposed brickwork, and contemporary art pieces decorating the walls.
The coffee and snacks are great. By night, Urban Zografou is something of a dive bar, serving great craft beers from across Europe.
Mokka Specialty Coffee
Where: Athinas 44
Mokka Specialty Coffee is one of the best artisanal roasters in Central Athens. Four generations of roasters operate in this family business that has been an Athens institution since 1923.
Opt to buy a bag of beans as a gift or to prepare at home, or pull up one of the wooden chairs and order a cup to enjoy in-house. The diverse selection of beans here has been sourced from Brazil, Ecuador, Colombia, Costa Rica, Panama, El Salvador, and Guatemala.
If you are a connoisseur of coffee, you will be in your element here. If you are not, but you appreciate a good cup of Joe, you can tell the server what kind of flavours and undertones you like and they will choose a blend for you. These people live and breathe coffee so rest assured, you're in good hands here.
Kain
Where: Anapafseos 22
Kain is a local favourite hangout spot in the Mets district of southern Athens. This day-to-night bar is a great place to relax with a coffee as you watch the world go by.
Sip a freddo cappuccino beneath the trees as the smooth jazz melodies of Thelonious Monk and Miles Davies play out over loudspeakers. The interiors here are eclectic and contemporary.
They are decorated with sleek modern furnishings and artwork created by local artist Dimitris Taxis. As night falls, Kain transforms into a bar that attracts a well-heeled crowd.
Final thoughts on the best coffee shops in Athens in 2023
The best coffee shops in Athens on this list are places that are frequented by locals rather than tourists and which Athenians actually love. In a lot of these places, you won't find an abundance of international travellers, and the prices are pretty reasonable.
This is by no means an exhaustive list and I could easily add another 15-20 more! Perhaps I will add to this post as time goes on.
Are you planning your first trip to Greece? You might like my Facebook group "All Greek to Me" which is a community for travellers and expats in Greece to ask questions and socialise. 
If you need anything, please do not hesitate to reach out to me. Safe travels and enjoy Greece!
Geia sou! Melissa xo
---