Living in Athens is something that many people only dream of. I feel fortunate in that I've been able to live here for several years.
I try to keep my blog free of any personal, diary-type posts. This website was created so that it would be a useful travel resource about Greece, rather than something that documents my life events.
However, I know that the vast majority of people that read High Heels and a Backpack are interested in living in Athens and living out their own "Eat Pray Love" style adventure with some handsome Greek god named Giannis… Or at the very least, they want to travel through Greece. 
So, I decided to write an update about what things here have been like. It's been a while since I published an update of this kind.
My Life in Athens
I last discussed what it was like living in Greece just 12 months after arriving. Things have come a long way since then.
Before I begin, please keep in mind that this is all my personal experience. Experiences here are different for everyone. I also live in Athens so that experience is somewhat different from living on an island like Skopelos or somewhere remote and "out in the sticks". 
I moved to Greece kind of by accident. I was living in Naples, Italy, and, wanted a change of scenery from the chaos of Southern Italy.
So, I decided to base myself in Athens for two months to explore someplace new. However, I never intended to stick around as long as I have done. 
Living in Athens
I didn't love Athens when I first arrived. I found it ugly and chaotic.
Honestly, the city took a really long time to grow on me. I still don't love Syntagma and the centre of Athens.
However, I had moved to the cute and quirky neighbourhood of Pangrati. Arguably, this is one of the most artistic and charming of Athens' districts.
My Charming Athenian Neighbourhood
Pangrati reminded me a bit of New York's Greenwich Village before the hipsters gentrified it. My neighbourhood is filled with eclectic coffee bars, old book stores, and thrift shops selling vintage clothing and antiques.
Pangrati still has some of the "chaos" of Athens. It possesses the higgledy-piggledy building layout, the potholes in the roads and pavements, and the streets laden with ugly graffiti.
However, the magic thing about Pangrati is all of the cute "hole in the wall" hangout spots. There are so many charming bars, restaurants, and piazzas that are tucked away down unsuspecting sidestreets. 
That's one awesome thing about Athens that most short-term visitors miss. It isn't the Acropolis and the tourist sites that make it special; it's the distinctly different neighbourhoods, each with their own unique personalities. 
When I arrived in Summer 2017, I rented an Airbnb on Eratosthenous, near the old stadium "Kallimarmaro". I paid £420 for a cute one-bedroom place.
At the time, that was considered pretty expensive. However, property prices have soared phenomenally since then.
Now you're lucky if you find a place for £650 a month. This is a lot in a country where the average monthly wage is £600. The cost of living in Athens continues to soar with each passing year.
Choosing to Stay in Greece
I met a handsome Greek Policeman almost immediately after arriving in Greece and fell completely in love. I decided to stay to see where the relationship would go. It didn't work out, but I don't regret my decision.
Writing about Greece on this blog has become my full-time job now. Additionally., I discovered a great passion for a country that I had never previously wanted to visit. 
Personal Life in Athens
Athens is different from other European capitals. The economy is still recovering and there really aren't any international companies here. As a result of all of that, there is a very limited ex-pat community. 
Making Friends in Athens
When I arrived, I went to a lot of Couchsurfing meetings to try and meet people, but they were always just passing through. On Christmas Day during my first year here, some Israeli dude had organised a CS event like "I'm alone, let's eat!!" So, I went to the event and that dude (aka my friend Mike) turned out to be one of my best friends in Athens. 
Mike is far more outgoing and social, and less cynical and grumpy than me. He always made huge efforts to organise events and bring people together.
In no time, there was a big group of us from all different parts of the world. We were friends from Colombia, Israel, Spain, UK, Italy, Finland, Estonia, Russia, Ukraine, and Greece.
At weekends we would have dinner parties where everyone made or bought something from their country. We would go to Latin clubs and try salsa dancing. Sometimes we'd spend all night talking and laughing at sketchy tavernas where typos on the menu showcased dishes like "delicious bloaters" and "arrogant served in oil". 
Everything is Transient
Athens is a kind of transient place. As you may know, the Greek economy is not great still.
Most people come here to work in temp call centres, as an au pair, or to teach English. One by one, everyone from our group left.
I kept making efforts to meet others and met a handful of British Journalists – they left too! I've been here for 2.5 years now and sadly I've seen a lot of people come and go. 
Mike was my last good friend in Athens and when we met for dinner last week, he revealed he's moving to the US! I was thinking of ways to stop this.
Destroy his passport? Tweet @ Trump and tell him he has extremist views?
Plant a weapon in his hand luggage? I'm joking of course, but it's strange. It's the end of an era, as I was telling him! 
The End of an Era
It's a really odd feeling to walk around Athens and see places where your friends used to live, or places where you would all hang out together, yet they have all left.
It has been the same kind of transience with the people that I would co-work with, Digital Nomads never stick around in one place for very long. 
Of course, I could make an effort to host more events or get out and meet more people. However, over the last few months, rightly or wrongly, I didn't feel like working to build a social circle again only for everyone to leave in another six months.
I spent most of my time working or with my boyfriend. In my free time, I started travelling more around Greece. 
Moving Apartments 23,239 Times
After leaving my first temporary Airbnb, I spent some time living with my Greek (now ex) boyfriend. However, he lived in a really small studio in Pangrati,
Honestly, it was so claustrophobic and we were basically on top of each other all day. If you only have one room, it is definitely not ideal if one person loves playing video games and the other works remotely.
The lease wasn't up on his place, and it really wasn't big enough for two people. So, I tried to find my own place. 
Finding an Apartment in Athens
Finding an apartment in Athens was far from easy. It's getting even worse now because so many apartments have been gobbled up by Airbnb. Property/rental websites are slim pickings and Airbnb has driven the cost of rent up to a phenomenal degree.
When I first arrived though, living out of Airbnbs made sense. It wasn't expensive and I wasn't sure about how long I wanted to commit to living in Greece. Signing a year-long lease made me nervous.
I rented a place in Patission for a while. It was HUGE and really nice. However, the area was a little sketchy and after two months, the owner wanted to sell the property.
Inflated Rental Prices for Foreigners
I then rented a place on Dikearchou, near the Athens Cemetery. Unfortunately then, that landlord got greedy and kept increasing and increasing my rent until it really wasn't worth it.
I was basically paying UK rental prices. He thought he could make more money renting to tourists through Airbnb, so I left. 
Eventually, I found my apartment – a lovely two-bedroom place in Pangrati/Vyronas. The process was far from breezy though. Another thing I noticed a lot in Greece – Athens especially, is that as soon as people hear a British accent, they see dollar signs in their eyes and think that you have loads of money. 
I had a hard time finding a place because sometimes a listing would say one price on Spitogatos (our property site). Then, when I went to view it, the owner told me something else.
Once, a Spanish friend was leaving an apartment that she rented in Agios Ioannis and I was considering taking it over. She told me the rental price, and the owner tried to double it! Nada. Not happening.
Exploring More of Greece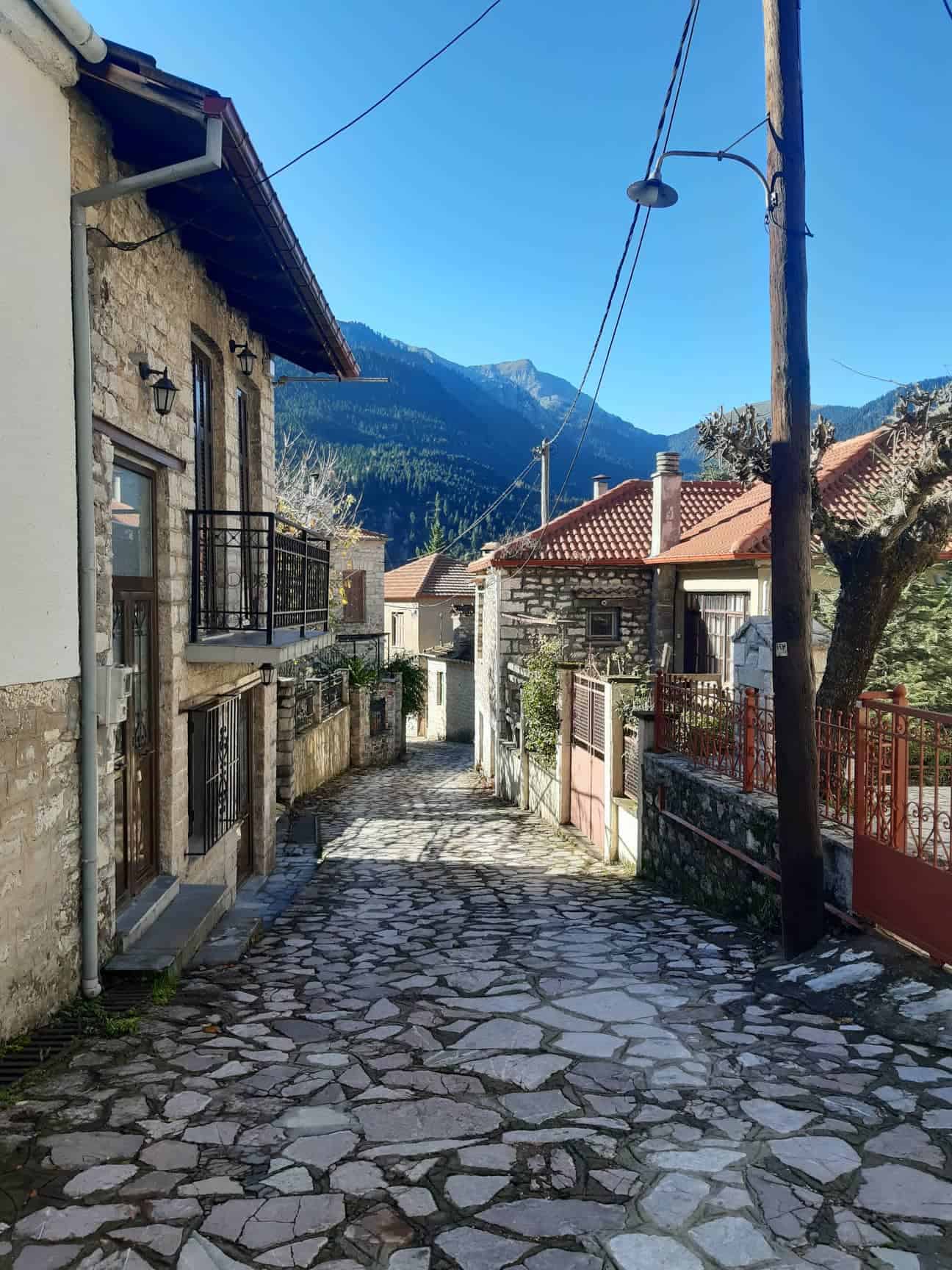 I've been spending a lot more time travelling through Greece lately. I'm lucky because I am self-employed, not employed by a Greek company and tied to an office.
I can work as much as I like, wherever I like. So I made it my mission to see as much of the country as I could. 
Actually, there is so much Greece and not enough time! This year I went sailing around the Saronic, visited some of the islands near Athens, explored Central and Northern Greece fairly extensively.
Athens Versus Thessaloniki
I also based myself in Thessaloniki for a month over the summer. This gave me the opportunity to take a lot of day trips from Thessaloniki – including charming villages in Halkidiki, like Nikiti.
As someone who prefers mountains and nature to beaches and islands, I felt an immediate affection for Northern Greece. This is the "Central Macedonia" region of Greece and I find the people to be much friendlier here – perhaps the nicest in Greece!
I organised a lot of meetup events while in Thessaloniki over the summer and met some wonderful Greek locals. They have quickly become very close friends. 
People in Athens just don't seem as friendly as in Thessaloniki. I guess it's that "big city" thing.
Athenian drivers will speed through a red light, almost knocking you over, then turn their car around to pull over and tell you you're a malaka! I think I preferred Thessaloniki more because it's near the sea, too.
Athens can feel very claustrophobic at times as there is very little greenery. If anyone is reading this and is torn about whether to base themselves in Athens or Thessaloniki, I'd advise you to dive into the unknown and give Thessaloniki a try! 
We're Going on a Break
I love Athens and Greece in general, very much! It has been my love for this country that has helped me to turn my blogging hobby into my full-time job.
I have never been certain as to whether I saw Greece in my future. However, for now, it's home and I miss Athens a lot when I'm away.
In October, I ended my long term relationship. My partner was Greek and he didn't enjoy travelling.
This, in part, was the reason why my travels slowed down quite a bit over the last few years. I wanted to be with him and to be honest, we probably lived in each other's pockets a bit too much.
The combination of my relationship ending and my friends leaving made me feel that I wanted a change of scenery. At least for a little while, I will spend some time in Porto, Portugal.
I always came back to Greece and to my boyfriend. It has been quite a while since I engaged in long term travel – something I really enjoy. I miss aimlessly wandering around the world like a Drifter.
I decided that I would rent out my apartment, and take a year to travel and explore new places. Greece is still home for now, and I will still return to Athens when the 12 months are up.
Final Thoughts
2020 will see a lot of new adventures and though I will be outside of Athens, I will still spend a few months in lovely Greece. I will explore some of the lesser-known islands around the Cyclades and the Sporades (e.g. Alonissos). Perhaps I'll post another update on my big fat Greek life in another year or two.
Until then, geia sou! Melissa xo
---