Looking for fun day trips from Thessaloniki? Look no further!
This guide, written by a Travel Writer based in Greece, will discuss some of the best excursions that you can take from Greece's second city.
Thessaloniki is an underrated, culturally-rich Greek travel destination in itself. A long weekend here is plenty of time to get a feel for the city and everything it has to offer.
But if you have more time to spare, you can use Thessaloniki as a base to explore more of Northern Greece, Thessaly, and the nearby regions of Evritania and Halkidiki. The day trips from Thessaloniki discussed here offer something for every type of traveller. 
That is, whether you are looking for gorgeous coastlines and quaint beach towns, hot springs, archaeological sites, or traditional villages.
Best Day Trips from Thessaloniki in 2023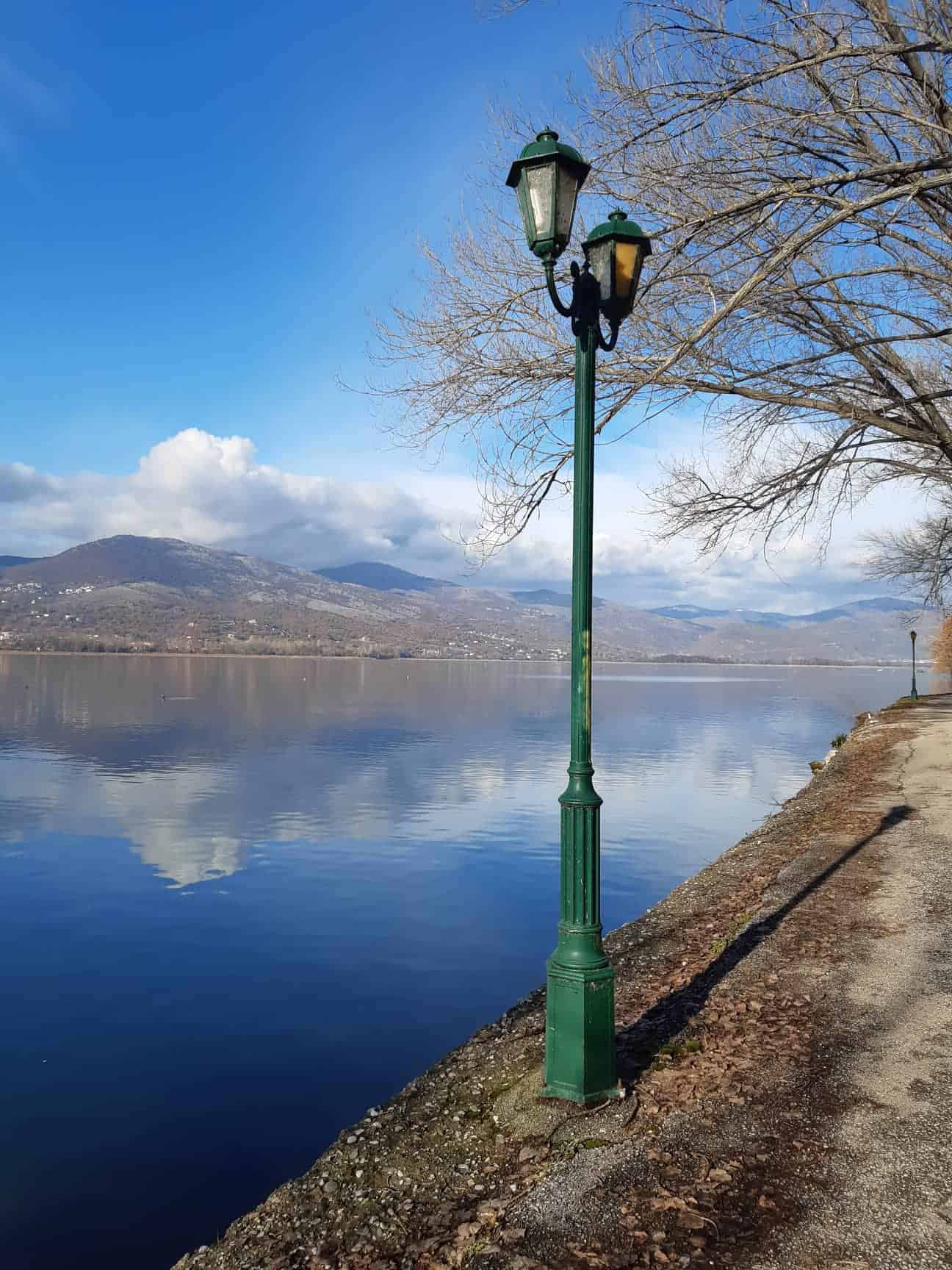 Some of the best day trips from Thessaloniki are discussed below. Most places can be reached in just a few hours' journey. 
Public transportation in Greece, including in the city of Thessaloniki and the surrounding region, is pretty good. 
So, you can easily reach the destinations discussed by bus, train, or ferry (as applicable). Renting a car in Greece obviously gives you a lot more freedom and flexibility in your schedule. 
However, it isn't really needed for Thessaloniki in itself (and driving and parking in Greek cities can be a nightmare!) So, whether it makes sense to rent a car or not depends a lot on your travel plans.
A lot of reputable local tour companies also operate in Thessaloniki. They offer organised excursions to popular places like the Meteora monasteries, Kerkini, Athos, etc.
Sometimes, opting to participate in a tour can work out at around the same price as trying to get somewhere independently. This is particularly true if you are travelling solo in Greece.
So, for each of the day trips from Thessaloniki discussed here, you will find the details on how to reach the place independently, as well as tour recommendations. 
The Best Day Trips from Thessaloniki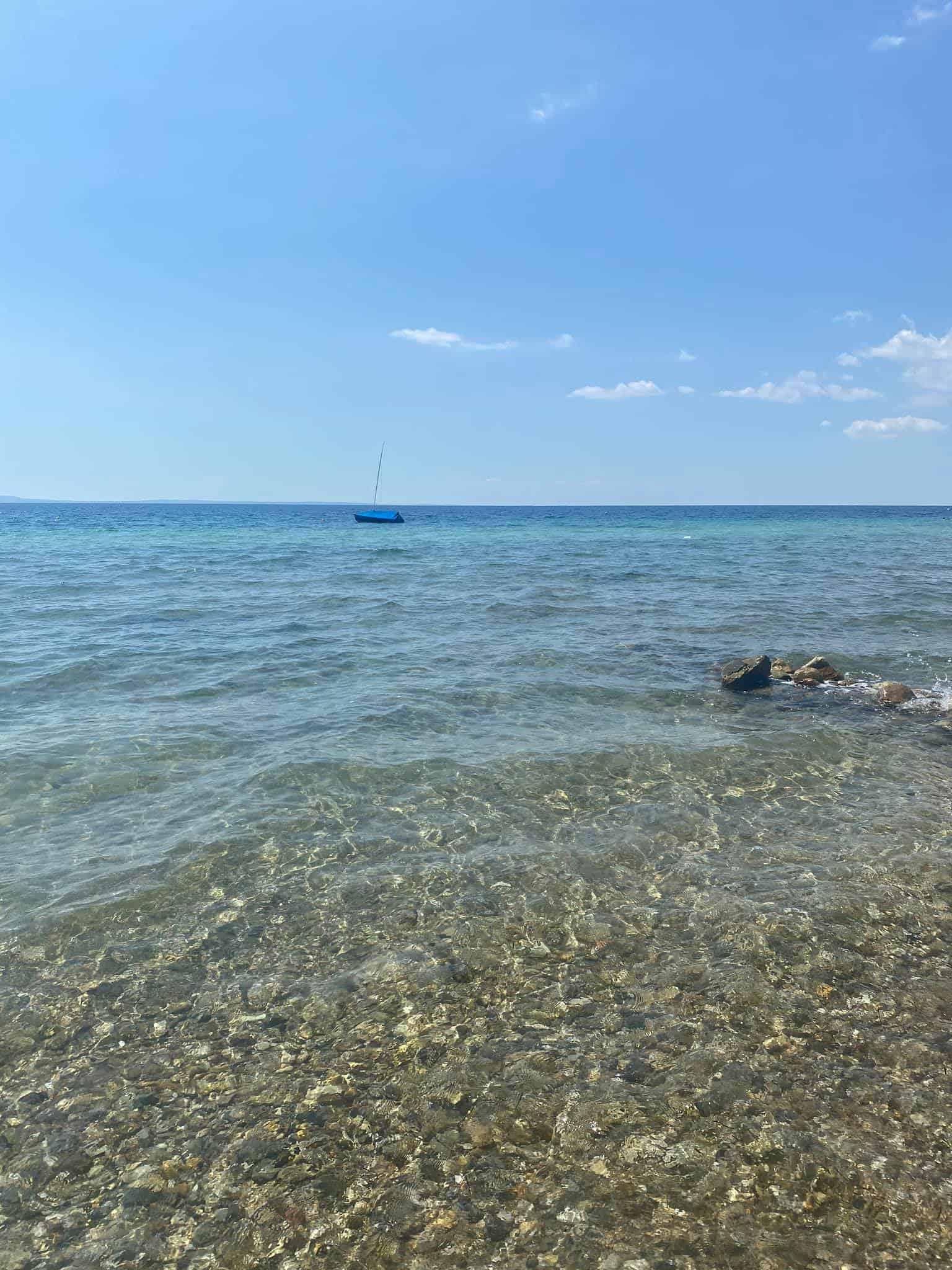 Peraia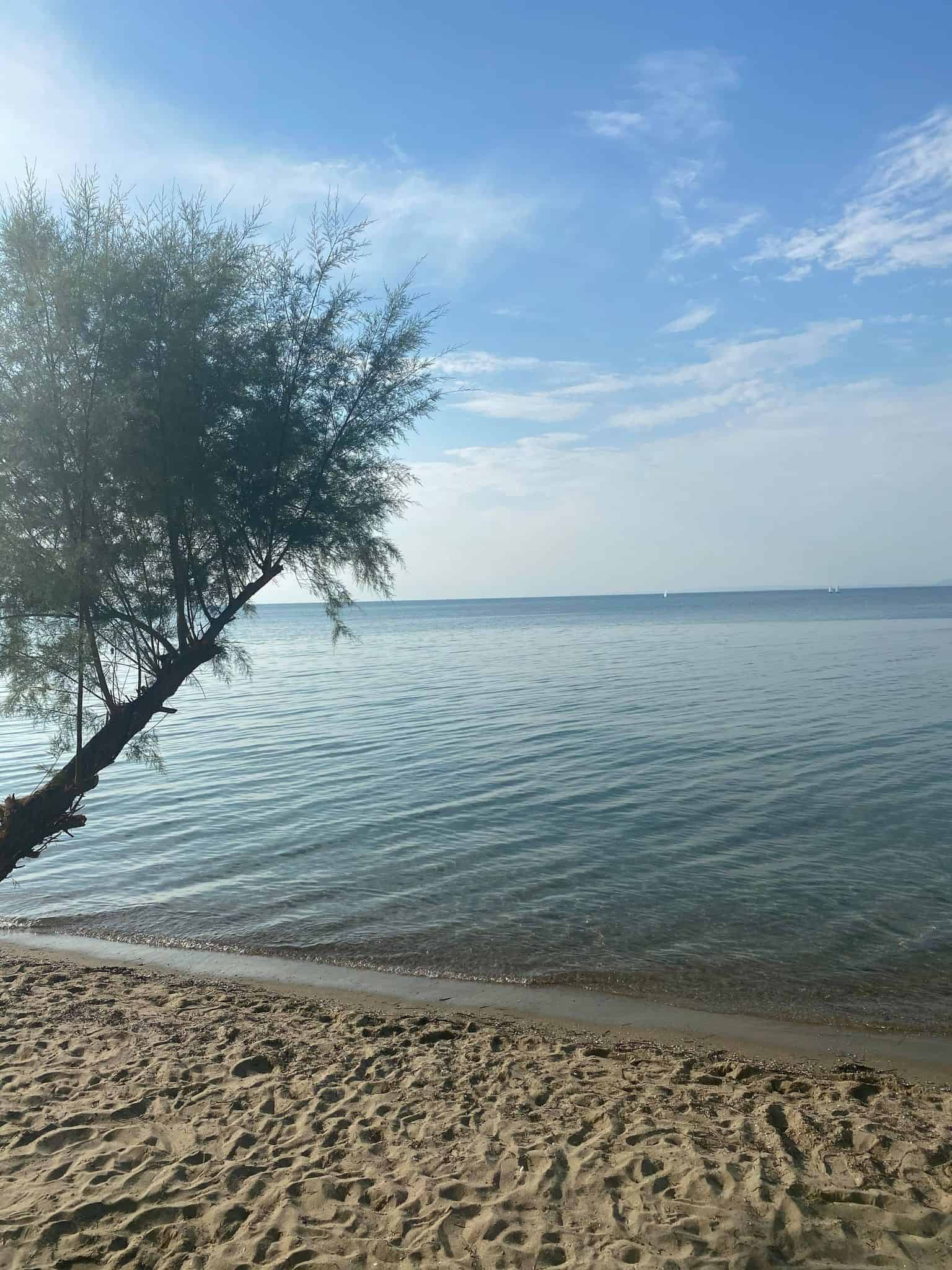 Peraia is a beautiful coastal town that is situated 26km south of Thessaloniki. It is home to the closest beaches to Thessaloniki and is a great day trip from Thessaloniki if you want to relax by the sea but don't feel like trekking to Halkidiki.
Getting to Peraia is made very easy during the summer months by the presence of a sea taxi that runs between the two destinations several times a day. The journey takes just under an hour and the scenery along the way is breathtaking.
Two beautiful beaches await at Peraia. They are, the town's namesake Peraia beach, and the organised beach of Agia Triada.
Peraia beach is not serviced. Most people bring their own towels and stacks and lay them down on the sand here.
Meanwhile, Agia Triada is a serviced beach with all the amenities you need. Several seafront tavernas in Agia Triada offer sunbed and umbrella rentals for the day.
The bars let you stay as long as you want at the beach, provided you meet their minimum spend. This is usually just around €3 which is great value considering you can stay there all day.
Getting to Peraia
Take the sea taxi from Thessaloniki port or White Tower. You can buy tickets online, and review prices, and schedules here. 
The boat trip costs €5 each way. You can buy your tickets onboard on the day of travel. However, it can be more convenient to get them in advance and have them sent to your phone.
Kerkini Lake
Kerkini lake sits 90 miles northeast of Thessaloniki, in the Serres region of Greece. The lake is relatively off the beaten path as far as Greek travel goes.
Kerkini is frequently marketed as being one of Europe's premier bird-watching destinations. However, it is so much more than that. 
The lake is actually manmade. It was created as a reservoir in 1932 to solve water shortage issues in the region. However, it quickly developed into a fishing area and wildlife sanctuary.
In that regard, Kerkini is perhaps one of a small handful of examples of places created by humans that have actually been beneficial for the environment.
Kerkini Highlights
The lake is scenically stunning and sits against a dramatic backdrop of the Pelles mountain range. Several hiking trails twist and turn along the water banks and through the woodland.
Adorable, quaint little local villages are situated every few miles breaking up the walk. The village of Hrysochorafa is a nice spot, and many of the patisseries here make ice creams and cakes made with fresh buffalo milk.
Equally interesting is the village of Vironia which is home to a quaint tavern that was frequented by former Greek Prime Minister and Politician Eleftherios Venizelos. You can stop here for a traditional Greek lunch and a coffee.
For 10 euros, you can take a scenic boat ride across the artificial lake. This enables you to get up close and personal with pelicans, dalmatian pelicans, storks, rare animals, and other endangered species of birds.
Kerkini is also one of the only regions of Greece where water buffalo are still farmed. If you are lucky, you may see the farmers leading their herds to swim in the lake. 
Getting to Lake Kerkini
It is possible to take a bus from Thessaloniki to Kerkini. The bus schedule changes with the season. However, it is very infrequent and typically requires an overnight stay.

It is tricky to see the nearby Serres villages if you do not have a car. Lake Kerkini is best enjoyed on a guided tour like this one. 
Metsovo
The quaint village of Metsovo is a Vlach settlement that sits high in the Pindus Mountains of Northern Greece. Characterised by red roofs and ancient churches, Metsovo is a popular weekend getaway destination for Greeks.

You can sample the traditional delicacies of Metsovo – including the village's famous smoked country sausages, and its namesake metsovone cheese. Meandering through Metsovo's narrow cobbled streets is a pleasant way to while away the time. If you are into hiking, you can spend an afternoon trekking to the abandoned monasteries of Zoodochos Pigi and Agios Nikolaos.
Getting to Metsovo
The KTEL bus that runs between Thessaloniki and Ioannina usually stops at Metsovo. The journey to Metsovo takes approximately 2.5 hours.
Mount Athos
Mount Athos is one of the three peninsulas of beautiful Halkidiki. While the peninsulas of Kassandra and Sithonia are filled with scenic beach towns and holiday resorts, Mount Athos is unique because it is a completely monastic territory.
Sailing Around the Monasteries
The area is considered as being one of the most important and spiritual places for Orthodox Christians in the world. 20 monasteries and 2000 monks live here, and Mount Athos is an autonomous state that operates differently from the rest of Greece. 
Women are not permitted to travel to Mount Athos. However, it is possible to take a cruise around the region.
Boat tours run several times a day during the summer months. Many of them also tie in a visit to the gorgeous island of Ammouliani.
Male travellers are able to obtain "pilgrimage" visas so as to be able to explore the ornate monasteries. It should be noted though that these must be obtained in advance and only a very limited number of visas are issued per day.
Getting to Mount Athos
If you want to travel to Mount Athos independently, you can take the KTEL bus to Ouranoupoli. From there, make your way to the port and purchase a ticket on a glass-bottom boat. 
Recommended Athos tours
The price of this day trip from Thessaloniki costs approximately the same whether you choose to book a place on a tour or do everything independently. With that considered, it is often easier to book a tour.
A selection of recommended Athos tours from Thessaloniki is shortlisted below. Get them while they're hot!
Halkidiki
Paradisiacal Halkidiki may well be one of the most underrated places in Greece. This region boasts miles upon miles of white sand beaches that border clear turquoise waters.
The coasts of Halkidiki can be reached in just over an hour's drive from Thessaloniki. The area is also serviced by KTEL buses, making it an easy day trip from the city.
Halkidiki villages such as Nikiti and Afitos are great places to enjoy a laid-back day relaxing by the sea. You can shop for the infamous Halkidiki stuffed olives and other Greek produce, and sample fresh seafood at the local fish tavernas.
Alternatively, Neos Marmaras and Parthenonas are great choices if you want to hike and get back to nature. If you are seeking adventure, you can opt to rent a boat and sail out to islands such as Diaporos and Peristeri.
Getting to Halkidiki
It is easy to reach Halkidiki by public transport. KTEL buses run from Thessaloniki to several major towns across Athos, Sithonia, and Kassandra.
You can check the latest timetables and book advanced tickets via the KTEL Chalkidikis website here.
Recommended Halkidiki tours
Mount Olympus
An air of mysticism and magic surrounds Mount Olympus. In Greek mythology, it was here where the Greek gods resided.
According to legend, Zeus, his wife, and all of the other ten Olympian gods lived up here. From the top of the mountain, the gods would peer down at humanity and decide their fate each day.
Hiking at Mount Olympus
Today, the holy mountain of Mount Olympus is designated as a National Park. It is possible to hike to the peak of the mountain.
Although reaching the top requires overnight camping. The entire trekking time to the peak is approximately 20 hours.
f you prefer a shorter hike you can follow the trails that lead around the base of the mountain or ascend part of the way up. Various freshwater springs and waterfalls greet you on your trek up the mountain and make it a refreshing place to stop and relax. 
Don't forget to pack towels ad swimsuits if you are hiking here during the Spring and Summer months so that you can enjoy the springs. The footpaths here are among the best hiking trails in Greece.
Getting to Mount Olympus
To reach Mount Olympus from Thessaloniki, you need to take the train or bus to Litochoro. Litochoro is 6km from Olympus.
From there you should take a taxi.
Mount Olympus tours
It may be easier to explore Olympus as part of a guided tour. Several local travel companies offer day trips that combine Mount Olympus and ancient Dion for less than $50 per person.
Many Mt. Olympus tours are led by expert Mountaineers and hikers. Some of the best small-group tour options are detailed below for your consideration.
Book your place online in advance!
Meteora
The ethereal-looking monasteries of Meteora make an appearance on most people's desired Greece itineraries, and for good reason. The name Meteora means "suspended in the air".
The name is an accurate reflection of how these magnificent monasteries are balanced precariously on a cliff's edge, thousands of miles up from the ground. Originally there were 24 monasteries at Meteora.
Unfortunately only 6 remain. Each monastery boasts different intricate designs and vivid frescoes.
Some advanced research is required, as each monastery opens on different days of the week. Meteora, as well as the monasteries at Athos, have been recognised as a UNESCO world heritage site since 1988.
Getting to the impressive monasteries of Meteora
It is easy to reach Meteora by public transport. You can take the train or bus from Thessaloniki to Kalambaka.
The journey takes approximately 2 hours 45 minutes and you usually need to change in Palaeofarsalos.
If you wish to travel to Meteora independently, it is best to stay overnight. There are several guesthouses in Kalambaka that boast incredible views over the monasteries, particularly at sunrise and sunset.
Meteora tours
Since Meteora is one of the most popular Thessaloniki day trips, there are plenty of organised tours that run here every day. Many include a hotel pick up and mean that you can go and come back in a day without having to worry about public transport. 
A selection of reputable Meteora tours is detailed below. Book your place online in advance to avoid disappointment!
The ruins of Ancient Pella 
Pella is an ancient city in Central Macedonia and the birthplace of Alexander the Great. While many people that visit Greece venture out to the more famous ruins of Ancient Greece like Delphi, Sounion, and the Acropolis of Athens, Pella is just as fascinating and well-preserved.
Somehow this historical site escapes the attention of most tourists. Many of whom have never even heard of Pella.
The city dates back to 399 BC when it was founded by King Archelaus. It became the capital of ancient Macedonia and was ruled by Phillip II (the father of Alexander the Great) and Alexander the Great.
As you wander around the ruins, amidst the colonnaded promenades and the mosaiced floors, it's easy to envisage what Pella once looked like in its finest hour. 
Don't miss the Pella archaeological museum which is also on-site and contains an array of artifacts gathered from excavations in the area.
Getting to Pella
It is not easy to reach Pella independently unless you rent a car in Greece. The easiest way to reach the ancient city is by doing a day tour that combines Pella and Vergina.
Alternatively, you can take the train from Thessaloniki to Edessa. From Edessa, take the bus to Pella.
A selection of reputable Pella tours from Thessaloniki are detailed below.
The ancient city of Dion 
The ancient city of Dion (now Dion archaeological park) sits on the slopes of Mt Olympus and dates back to the 5th century AD. It was once a place of strong religious importance. In ancient times, people would come here to make sacrifices to the Greek gods. 
After achievements in battle and notable conquests, Phillip II and Alexander the Great would come to Dion to celebrate. Throughout the year, various sporting events were hosted in ancient Dion.
Dion became part of the Roman empire under the rule of Augustus. However, it was destroyed in the 5th century AD when an earthquake shook the region. This was followed by mass floods which caused the residents to flee.
Getting to Dion
Dion sits at the base of Mount Olympus. It is not easily reachable via public transport.
The best way to visit this historical location is to take a guided tour that stops at both Mount Olympus and Dion. Tours start at around $45 per person. 
Kalamaria and the eastern suburbs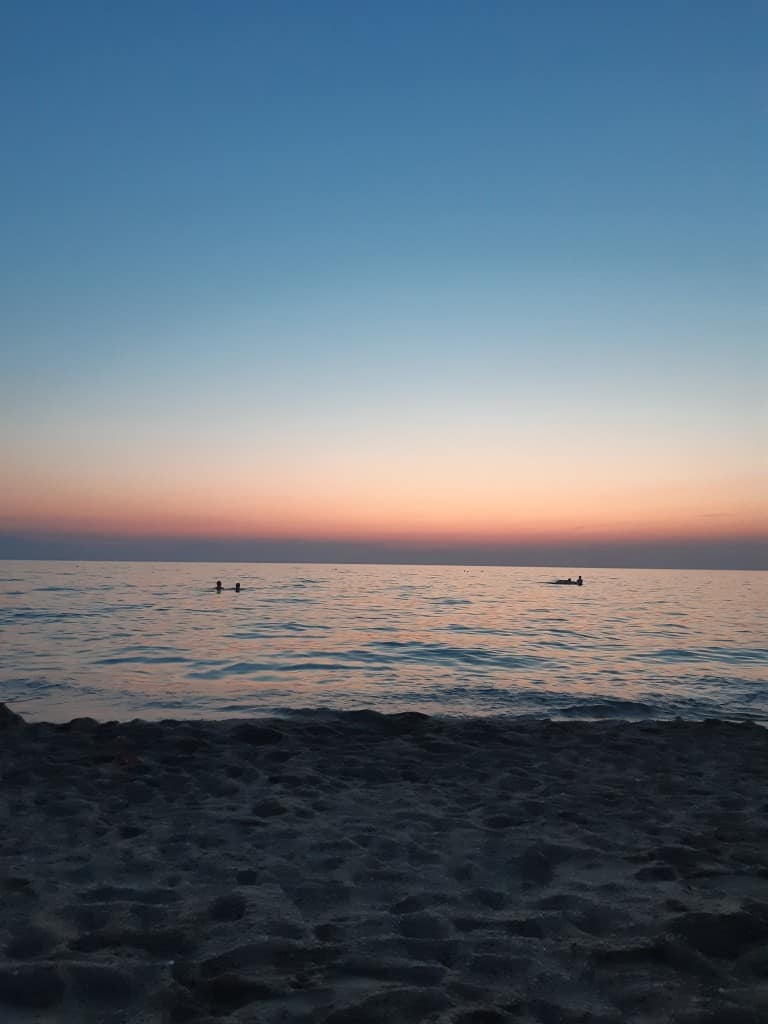 Kalamaria and the eastern suburbs are still technically part of Thessaloniki. However, they present a different vibe entirely and are well worth exploring.
Upscale Kalamaria boasts countless bars, restaurants, and coffee shop options on the eastern edge of Thessaloniki. Meanwhile, Nea Iraklia is a lovely coastal area where you can escape to the sea.
Edessa & the Pozar thermal baths
Edessa town is the capital of the Pella region of Northern Greece. The town is renowned for its stunning natural beauty.
Most notably, particularly the majestic waterfalls that encircle the city centre, and the nearby Pozar thermal baths. 
The northernmost part of the town is filled with lush green landscapes, towering trees, and beautiful fragrant flower beds. Karanos waterfall can be found here. This is one of the largest waterfalls in Greece.
Numerous hiking trails weave throughout the landscape. They lead you past waterfall water curtains, mysterious caves, and tranquil woodlands.
The Pozar thermal pools are a natural phenomenon. Their warm waters are said to have healing properties. Soaking in the pools here, amid the breathtaking scenery is a wonderful way to while away an afternoon.
Getting to Edessa & the Pozar Thermal Baths
It is very easy to reach Edessa via train or bus. Trains run from Thessaloniki every two hours, and the KTEL buses also run on a frequent schedule.
The waterfalls are very close to the town centre. It is not difficult to reach them on foot from Edessa bus/train station.
Day trips from Thessaloniki that combine both Edessa and the Pozar baths like this one are affordable and take some of the logistics out of organising transport.
Drama
The little village of Drama is not at all touristic. International travellers do not have it on their radar. However, for that, it rewards you with a truly offbeat Greek travel experience. 
Drama consists of charming districts, beautiful architecture, and grand neoclassical mansions. There are also several historical monuments and points of interest here for history lovers.
Various tomb sites around the town limits date back to the Iron Age and are very worthy of your time. This is one of the more off the beaten path day trips from Thessaloniki that you can do.
Getting to Drama
It takes 2.5 hours to get to Drama. It is possible to make the journey on a day trip from Thessaloniki.
However, you may wish to choose a cosy Drama guesthouse to stay in overnight and break up your travel. A direct KTEL bus from Thessaloniki to Drama departs several times a day.
Kastoria
Kastoria is a beautiful city that awaits two hours west of Thessaloniki. This was once an important furrier town.
Although in the last few decades, demand for this trade has somewhat died out.
The town sits on the banks of the scenic Orestiada Lake. Very few tourists make the trip here.
So a day trip from Thessaloniki to Kastoria enables you to enjoy the ambiance of "real" rural Greece. 
Highlights of Kastoria
A scenic stroll or bike ride along the waterfront of the lake makes a perfect setting for a peaceful afternoon away from city life. The footpaths that twist and turn through the area are bordered by dense forests and are home to hundreds of rare bird species. 
As you walk the circumference of the lake, be sure to stop by Dragon's Cave. This is an impressive ave complex whose rooms are filled with giant stalagmites, stalactites and underground lakes.
For a birds-eye view of Kastoria and Orestiada Lake, follow the uphill footpath to the Agios Athanasios viewpoint.
Getting to Kastoria
There is a KTEL Kastorias bus that runs between Kastoria and Thessaloniki every four hours. The journey takes 2.5 hours.
You can check the timetables here.
Vergina
Vergina played an important role in the days of the Kingdom of Macedonia -much like Pella and Dion. The important city of Aigai once stood here.
The main reason to take a day trip from Thessaloniki to visit Vergina today is to visit the Royal Tombs. This historic site acted as a final resting place for Kings and nobles of Macedonia. 
The ancient Macedonians buried their dead in underground tombs covered by mounds of earth. Both Alexander the Great, and his father Phillip II are buried here.
Getting to Vergina
Getting to Vergina is best done via car. Taking the bus from Thessaloniki to Vergina is possible but complicated.
You should first take the 31 or 78 bus from Thessaloniki to Veria. From there, take the bus to Vergina. 

The bus ticket from Vergina to Veria alone costs 40 euros per person. With that considered, it may be preferable to take a tour.
Recommended Vergina tours
Day Trips from Thessaloniki FAQs
Do you have any further questions or queries about planning day trips from Thessaloniki? The answers to some frequently asked questions on the topic a detailed below.
Hopefully, you will find the information that you are looking for there. If not, please do not hesitate to reach out. 
What islands are near Thessaloniki?
There are no islands that are super close to Thessaloniki in the same sense that there are islands near Athens that can be reached in just 1-2 hour boat journeys. However, the city is not a million miles away from the Sporades island group or Thassos and the North Aegean islands either.
From Thessaloniki, you can go to Kavala or Keramoti to get the ferry to Thassos. Alternatively, you can make your way from Thessaloniki to the islands of Skopelos, Skiathos, and Alonissos. 
(These are a little too far away to do as a day trip from Thessaloniki. However, you could definitely take a short trip to the area for 2-3 days.) 
Can you island hop from Thessaloniki?
You can quite comfortably travel from Thessaloniki to the Sporades islands as well as the island of Crete.
Final Thoughts on the best day trips from Thessaloniki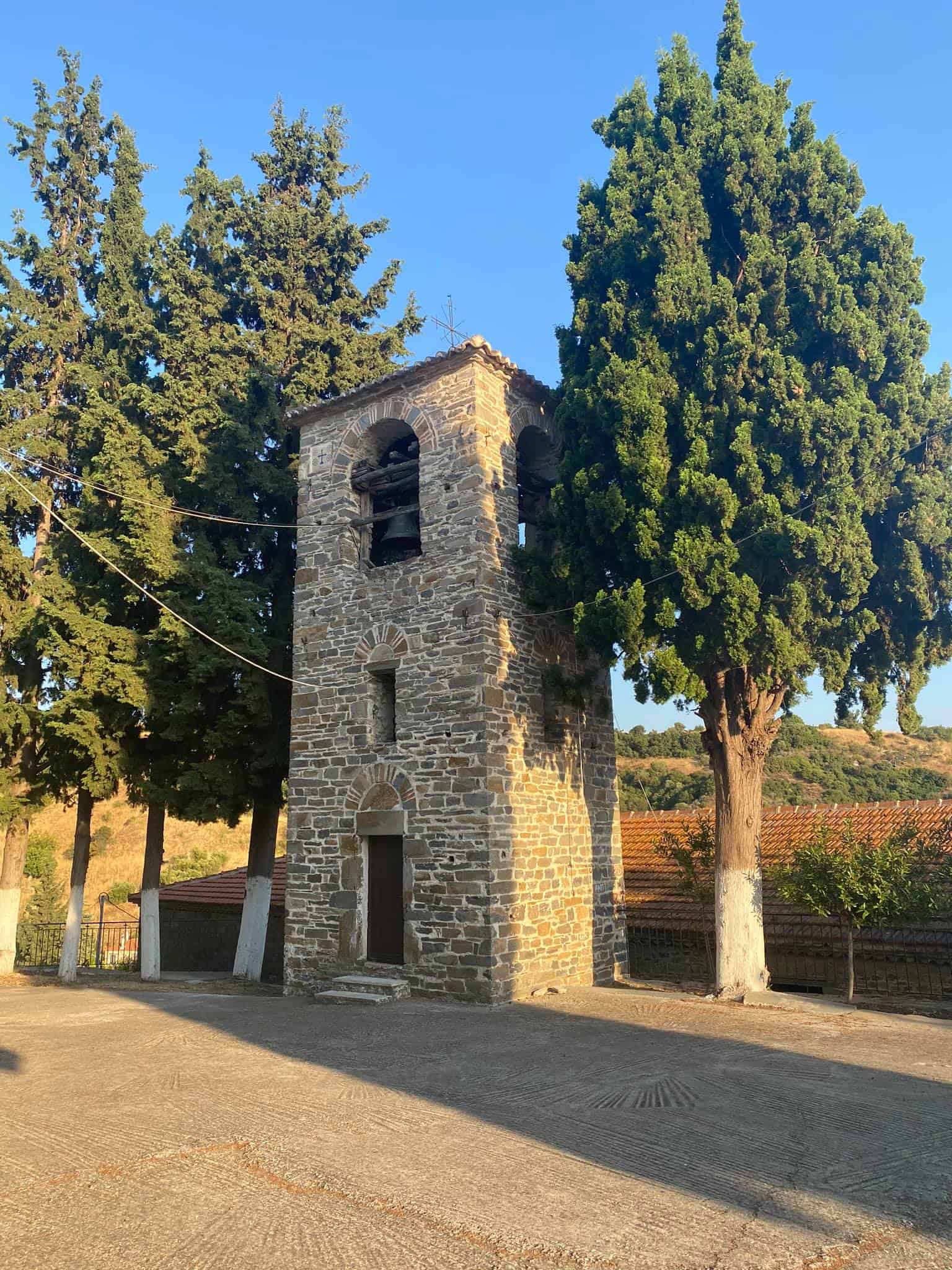 Have any further questions about travelling to Thessaloniki or its surroundings? I've lived in Greece for five years now and have based myself in Thessaloniki several months at a time throughout the years.
I would be happy to assist with any questions you may have on Thessaloniki travel and planning a trip to Greece. Feel free to reach out.
You may also be interested in joining my Greece travel Facebook group: All Greek to Me where you can chat with other expats, travellers, and locals in Greece. Safe travels!
Geia sou! Melissa xo
---