Wondering how to get from Athens to Meteora? This guide discusses how to make the journey, and the various transport options available for getting to Meteora.
The distance from Athens to Meteora is 358k, circa 222 miles. Public transport in Greece is excellent and so, there are numerous options available to you for making the journey.
Roads in Greece are also very modern and well built. Driving here is nowhere near as daunting as it may sound!
Arguably, the best way to get from Athens to Meteora will depend on you, your schedule, and your travel preferences. Various options to consider are provided below.
The Meteora Monasteries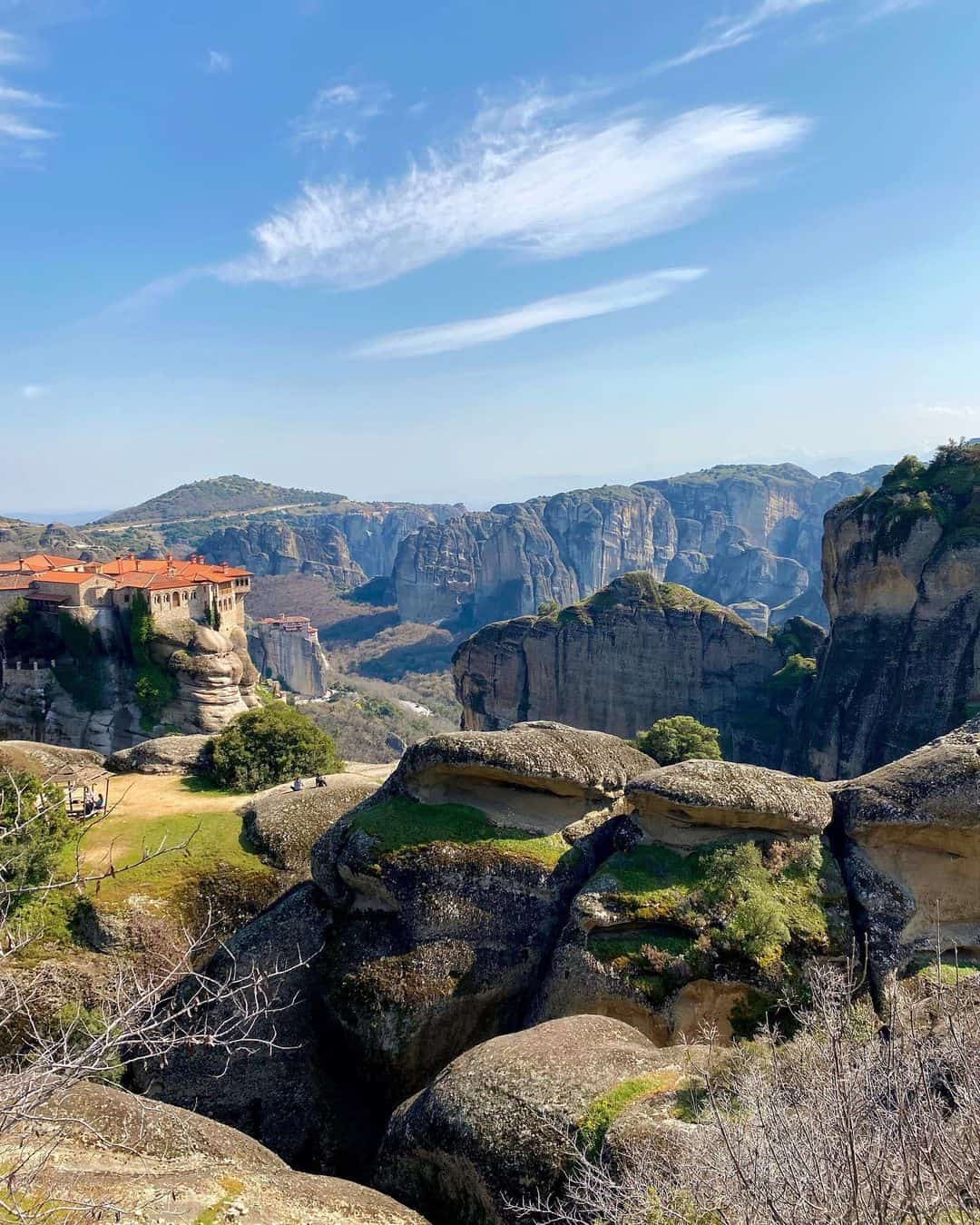 The UNESCO-protected Meteora monasteries are one of Greece's greatest cultural and historical treasures. Meteora means "suspended in the air" and stems from the ancient Greek ¨metéōros¨.
This is a fitting name considering the monasteries´ locations. The ornate religious structures here are perched high on cliff tops.
Once upon a time, there were 24 monasteries here but today just six remain. The Meteora monasteries date back to the 14th and 16th centuries. Their interiors are just as lavish and decadent as the exterior, their walls laden with vibrant frescoes.
The Monasteries in Meteora are the second largest monastic community in Greece and in Europe. They are second only to the Mount Athos monasteries in Halkidiki.
You could do a Meteora day trip from Athens or alternatively, you could explore Meteora as part of a wider Northern Greece adventure. Metsovo, the Pindus Mountains, Trikala, and Thessaloniki are other Northern Greek destinations that are very worthy of your time.
How to Get from Athens to Meteora
There are various ways that you can get from Athens to Meteora. This journey takes approximately 4-5 hours but of course, precise journey times depend on your chosen method of travel.
Opting to drive is perhaps the most convenient choice. Not to mention it gives you a lot of flexibility and independence to break up your journey as you wish.
That being said, public transport in Greece is excellent. Opting to travel from Athens to Meteora by train or bus is far from an unpleasant experience.
Not to mention, some of the scenery in central Greece is phenomenal. Few things are more pleasant than settling down in your chair with a strong Greek coffee and seeing incredible nature and greenery whizz past your train window.
Meteora Tours from Athens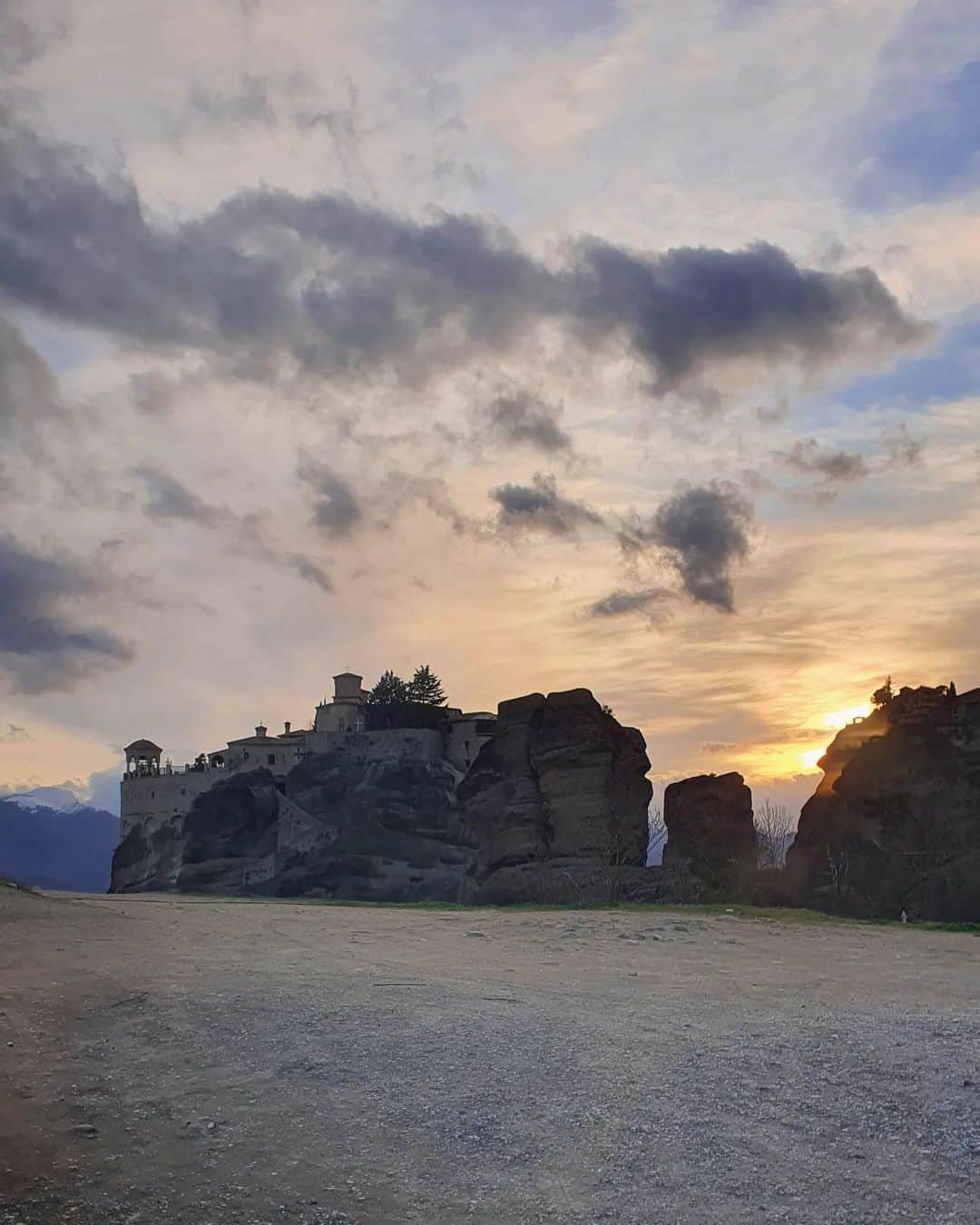 Meteora tours from Athens are a popular choice. Opting to join one takes a lot of the stress out of planning the logistics of your trip.
Various reputable companies offer Meteora tours from Athens. These are available as one-day or multi-day adventures.
Similarly, you can join a small group tour with other travellers or do the trip independently. A number of tour suggestions have been shortlisted below for your consideration.
Travel from Athens to Meteora by Train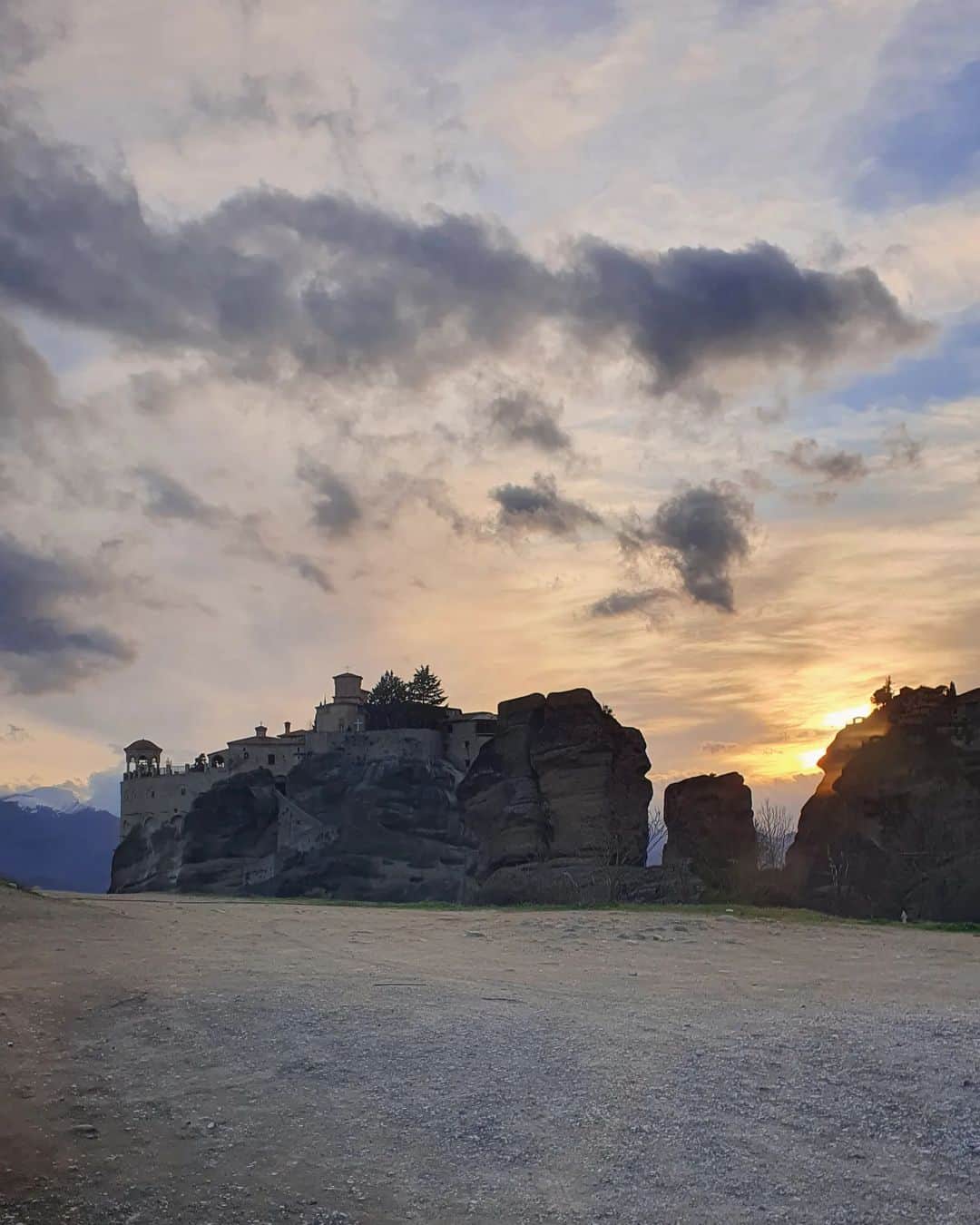 Direct trains from Athens to Meteora run frequently throughout the day. There are also indirect services available – these require a transfer in Palaeofarsalos.
It is important to note that the last train station is in Kalambaka. This is the closest town to Meteora.
Check the precise schedule for your chosen departure time carefully. Some trains even require two changes.
There are approximately five services running between Athens to Meteora each day. Schedules vary depending on the season.
Buying Train Tickets to Meteora
Tickets can be purchased online via Trainose or in person at the train station. Prices start from €36.70 per person.
You are generally fine to purchase your tickets on your intended day of travel, provided you arrive at the station at least an hour/ninety minutes ahead of your departure time. That being said, Meteora is a very popular tourist destination.
It's better to reserve your seat in advance if you can. This is especially true if you're travelling during the peak Greek summer months.
Athens Train Station
Athens Larissa Train Station is located somewhat on the outskirts of town. It is a little tricky to get to so it's best to take a BEAT taxi here if you can.
If you plan on getting to the train station from Syntagma Square or central Athens, you can take the M2 metro to Metaxourgeio. From here, it's a 12-minute walk to Larissa station.
This isn't far at all, but it's a bit much if you're carrying a lot of bags. You will see yellow cabs everywhere in Greek cities and it's easy to hail them down on the streets.
You should also download the BEAT taxi app. This is essentially our answer to Uber.
Unfortunately, Uber and unlicensed cars are banned in Greece. However, ordering a car on BEAT means that you know the price before you get in and minimises the possibility of getting scammed on the price. 
Kalambaka Train Station
The Athens to Meteora train terminates at Kalambaka station. This little town was almost completely burned to the ground by Nazis during World War II.
Today, there are many hotels and accommodation choices in the area, as well as excellent tavernas serving local Greek food. This is a good place to base yourself if you're planning on spending a couple of days in Meteora.
A lot of Kalambaka hotels offer private transfers to the Meteora monasteries or private tours of the area. Kalambaka is just 2km away from the UNESCO site.
Alternatively, you can take a bus or taxi to Meteora. To reach the site by bus, walk up the road from Kalambaka train station to the bus terminal.
The bus takes just 15 minutes and terminates close to St Stephen's Monastery. Taxis wait at the rank outside Kalambaka Train Station and will take you to Meteora for around 5 euros.
Travel from Athens to Meteora by Bus
Another option that you have for getting from Athens to Meteora is to do so by bus. However, this is less convenient and takes slightly longer.
You will need to take the KTEL bus from Athens to Trikala and then change in Trikala to take the bus to Kalambaka. In total, this journey takes between 6 and 7 hours depending on the traffic.
Confusingly, there is not one centralised KTEL website for all Greek buses. Instead, there are separate websites for each region.
Essentially, they all operate as independent units. From Athens, you need to use KTEL Attikis. Bus tickets can be purchased online in advance or in person at the station.
Athens Bus Station
There are several bus stations in Athens that operate intercity routes all around Greece. Kifissos station is the main Athens bus station and it services popular routes such as Athens to Thessaloniki buses.
However, this is not the station that you need for getting the bus from Athens to Meteora. It's important to be aware of the different stations as if you get in a cab and ask the driver to take you to Athens bus station, he/she will drive straight to Kifissos.
You need the Liossion bus station for the bus to Trikala and then to Kalambaka. To get here, take the green line metro (M1) towards Kifissia.
Disembark at Patissia station, Then, walk or get a cab to Liossion.
Kalambaka Bus Station
Kalambaka bus station is at the heart of rural Kalambaka. The bus to Meteora departs right outside it at frequent intervals. The journey takes just 15 minutes.
Driving from Athens to Meteora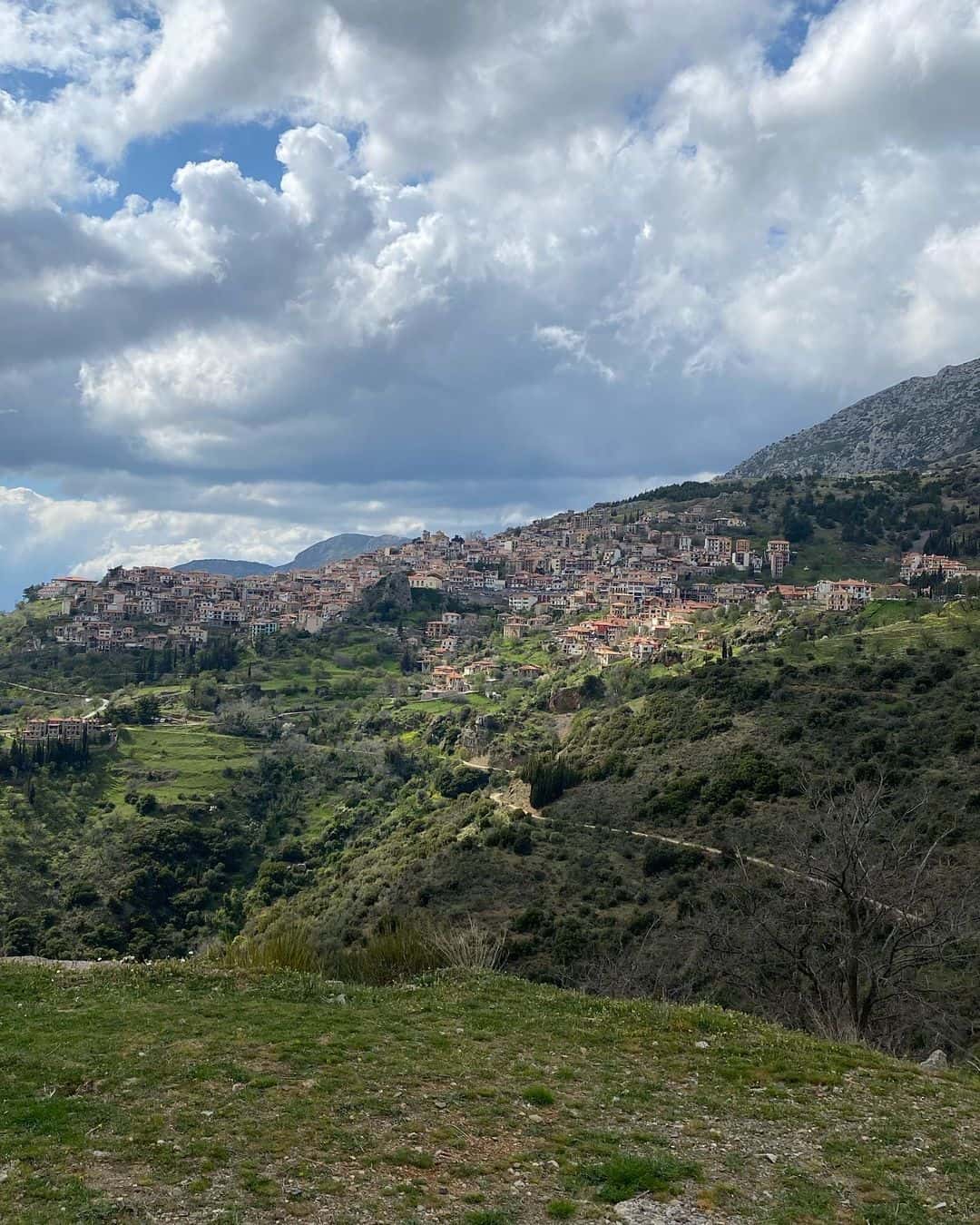 Mention to most people that you are renting a car in Greece and they look at you with a deep sense of concern as if you have sprouted a third head. The reality is that the roads here are not as chaotic or lawless as you may imagine.
The main irritation, however, is the abundance of toll booths along Greek roads. You can expect to spend around €20 in toll fees alone on the road from Athens to Meteora.
Make sure that you always carry cash (specifically, change) with you. Cards are not accepted at toll booths.
The route takes you through Lamia, past Karditsa and Trikala. You could take a short detour and visit Delphi, or have lunch in Karditsa/Trikala if you so wish.
Numerous car rental companies operate from Athens. This includes globally renowned places like Sixt and Hertz. Several of these companies offer pickup from Athens airport.
Parting Words
Do you have any additional questions about getting from Athens to Meteora? Alternatively, perhaps you want some assistance in drawing up a Greek travel itinerary?
Please don't hesitate to reach out to me using the below comment box if there's anything you need. I'll do my best to get back to you as soon as possible.
Safe travels! Geia sou! Melissa xo
---