If you are planning on visiting the breathtaking clifftop monasteries in Meteora as part of your Greece trip, you are probably curious about how to get from Athens to Meteora. Fortunately, since this is such a common day trip, there are plenty of transport options available to suit every budget. 
There is a distance of 358km between Athens and Meteora (222 miles). Your expected travel time varies depending on which transport method you use.
The train is arguably the fastest and most comfortable option as it allows you to bypass road traffic and provides a straight A to B. This takes approximately 4 hours and 15 minutes.
It takes about 4-4.5 hours to drive from Athens to Meteora, although you should allow slightly longer for potential traffic, particularly when leaving Athens. Buses take slightly longer due to the various stops that they take en route. 
The best way to get from Athens to Meteora arguably depends on you, your budget, and your travel preferences. This article will look at the 5 different options, and their pros, and cons. 
That way, you can decide which way you prefer to travel.
The Meteora Monasteries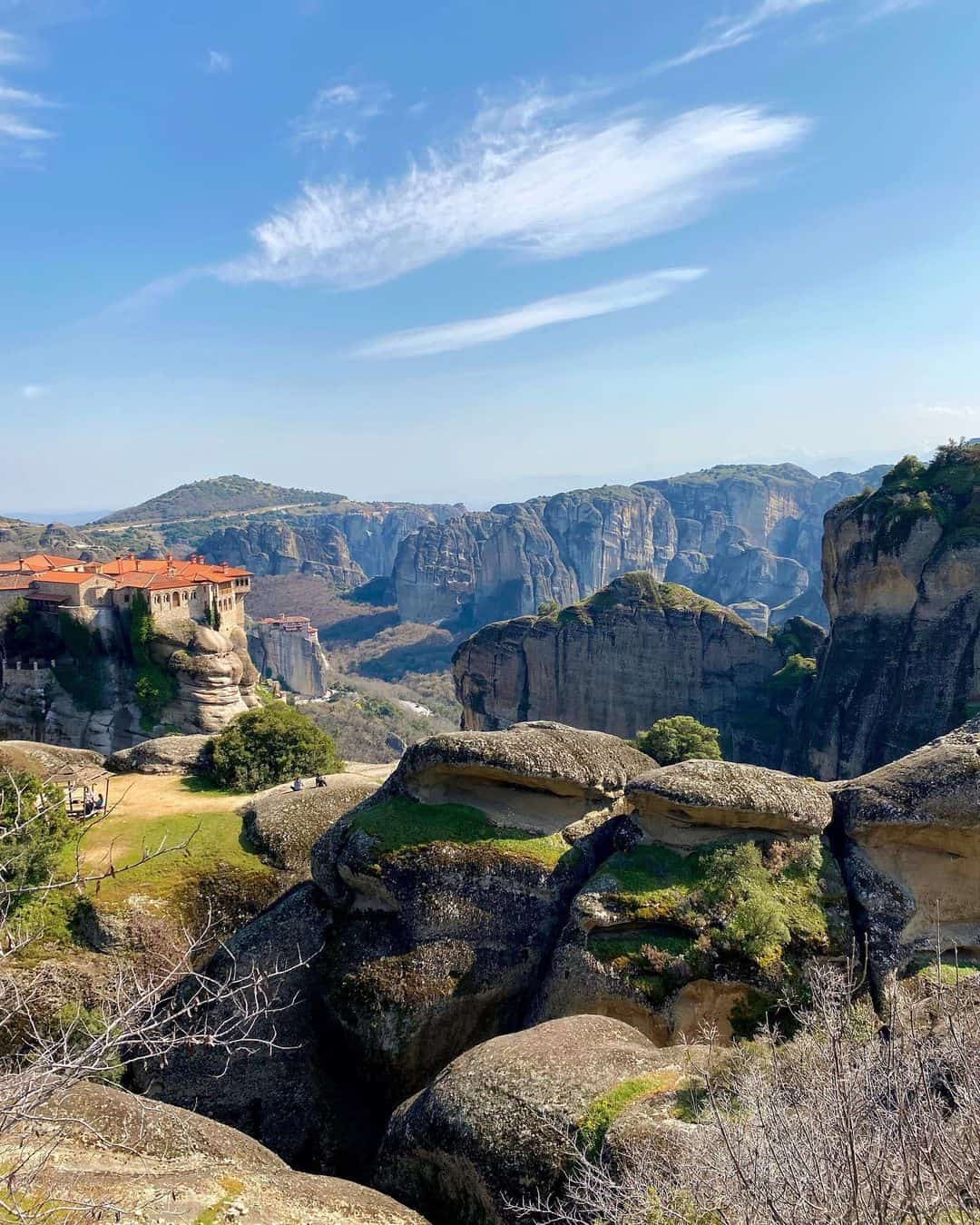 The UNESCO-protected Meteora monasteries are one of Greece's greatest cultural and historical treasures. Meteora means "suspended in the air" and stems from the ancient Greek ¨metéōros¨. 
This is a fitting name considering the monasteries' locations. The ornate religious structures here are perched high on cliff tops.
Once upon a time, there were 24 monasteries here but today just six remain. The Meteora monasteries date back to the 14th and 16th centuries. Their interiors are just as lavish and decadent as the exterior, their walls laden with vibrant frescoes.
The Monasteries in Meteora are the second-largest monastic community in Greece and in Europe. They are second only to the Mount Athos monasteries in Halkidiki. 
You could do a Meteora day trip from Athens or alternatively, you could explore Meteora as part of a wider Northern Greece adventure. Metsovo, the Pindus Mountains, Trikala, and Thessaloniki are other Northern Greek destinations that are very worthy of your time.
How to Get from Athens to Meteora
There are 5 different ways to get from Athens to Meteora. You can opt to take the train or the bus, you can rent a car and drive independently, you can participate in a guided tour, or you can organise a private transfer.
Meteora tours from Athens 2023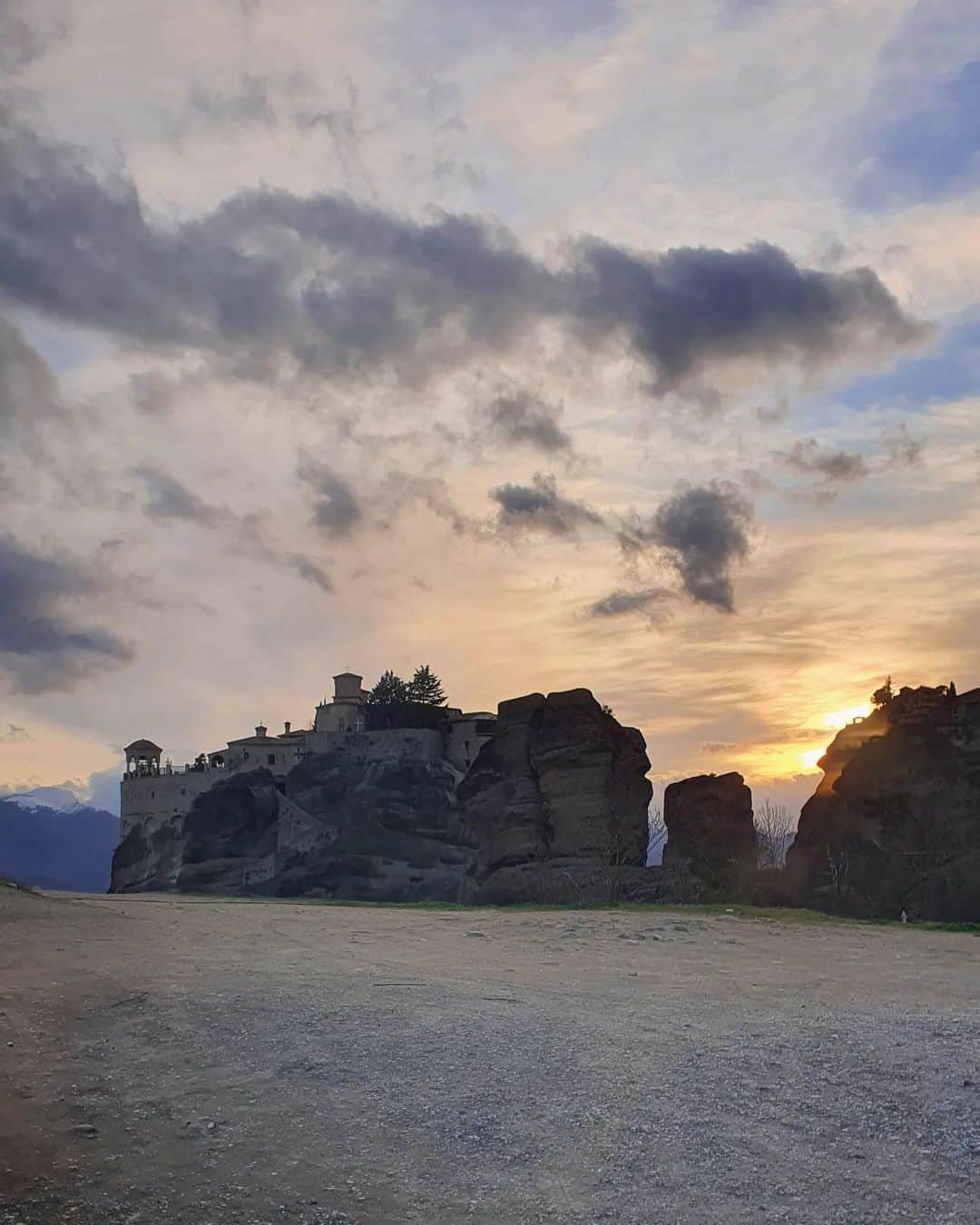 Meteora tours from Athens are a popular way to see the Meteora monasteries. Opting to join one takes a lot of the stress out of planning the logistics of your trip. 
Both private and small group tours are available. They typically include pick-up from your hotel in Athens, transportation to and from the Meteora monasteries, skip-the-line access, and the help of a licensed tour guide.
This will help you gain a little more context and information about the various monasteries at Meteora. Even on a group tour, you still have time to explore independently, take photographs, and enjoy the scenery.
If you are travelling to Greece alone, they can also be a good way to meet other travellers.
Best Athens to Meteora tours in 2023
A number of reputable local tour companies offer excursions from Athens to Meteora. Some of the best tour options are detailed below for your consideration.
It is a good idea to reserve your spot online in advance to avoid disappointment.
Travel from Athens to Meteora by train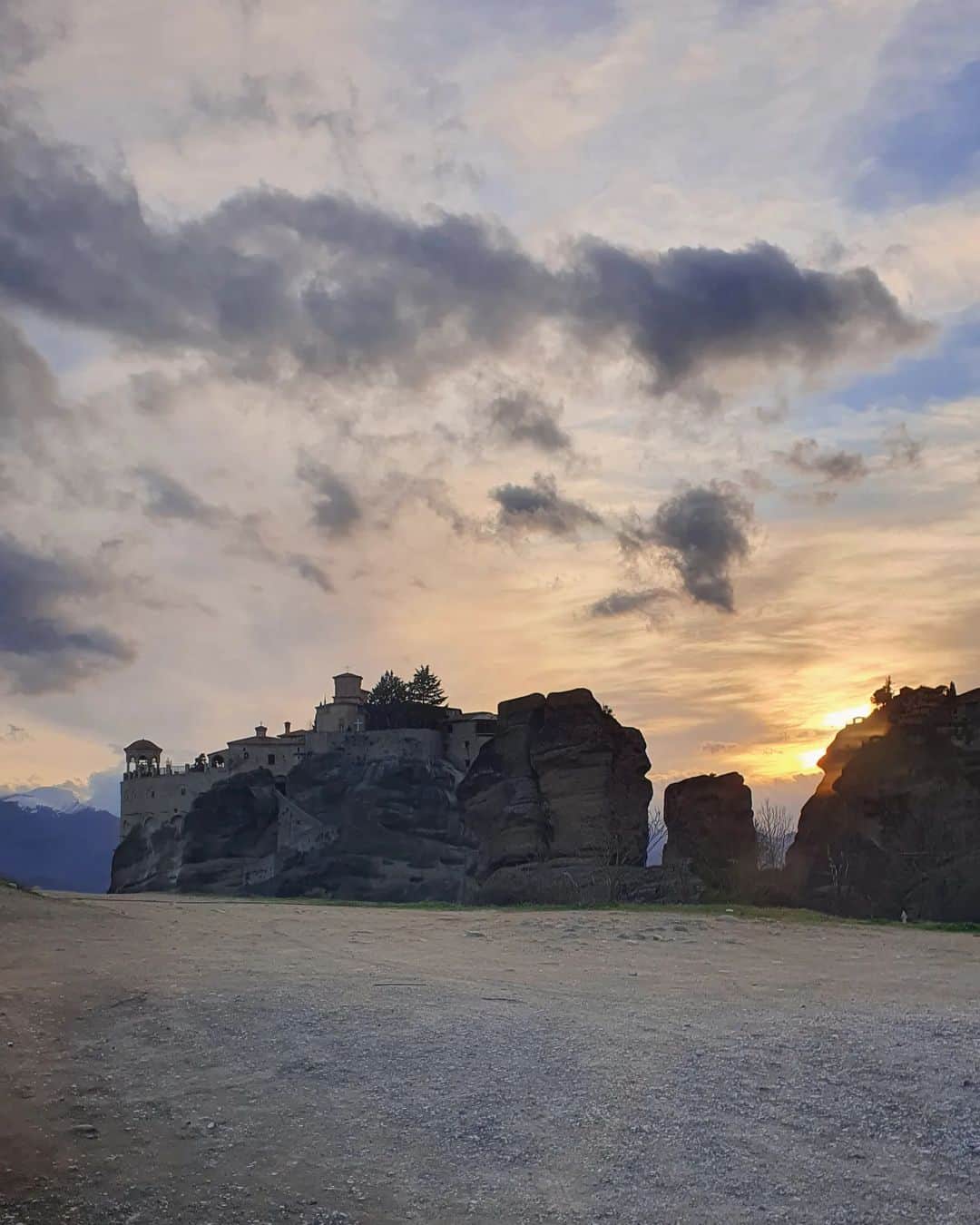 Taking the train from Athens to Meteora is perhaps the most convenient way to travel. Direct trains run from Athens Larissa station to Meteora several times per day.
Do note, however, that the station that you need to disembark at is actually called "Kalambaka" and not Meteora. Kalambaka is the closest town to the monasteries.
Sadly, it was almost entirely burned to the ground by the Germans during World War II. But today, it is home to several traditional tavernas, cafes, and hotels which can be great places to base yourself if you prefer to spend the night in the area.
(Seeing the sunrise/sunset against the dramatic backdrop of the monasteries is breathtaking). From Kalambaka, you can take a bus or a cab to the Meteora monasteries site which is just 2km from the station.
Expect to pay €5 for a cab and just a couple of euros for a bus. The bus terminates close to St Stephen's Monastery.
As per the 2023 Trainose schedule, trains currently depart at 07:57 am, 09:22 am, 11:22 am, 13:22 pm, and 15:22 pm. Direct trains are available but there are also those that require changes at Palaeofarsalos. 
Similarly, some trains have longer journey durations than others so it is worth double-checking everything before purchasing your ticket. If you plan on travelling back to Athens later that same day, it is better to travel on the first train of the day at 07:57 am.
A one-way ticket costs €30.60, while a return starts from around €49. If you are travelling back to Athens, it is best to purchase both your outward and return tickets at the same time rather than two separate singles. 
Buying your train tickets from Athens to Meteora
You can book your Athens to Meteora train ticket online in advance via the Trainose website or in person at the ticket office at Larissa station. The trains seldom sell out so in theory, you could just roll up to the train station 30-60 minutes before the train you want to travel on is leaving.
For your own peace of mind though, it is better to organise everything in advance, especially if you are travelling during the summer. Meteora is one of the most popular day trip destinations from Athens after all. 
It is worth noting that there are a lot of other European rail booking platforms that allow you to book Greek train tickets. However, they charge a commission and an admin booking fee, so you should only book directly through Trainose. 
The site was a bit glitchy in the past but works perfectly fine now and you can use it in Greek and English. It also allows you to choose where you want to sit and reserve a seat, at no extra cost. 
Athens Train Station
Athens Larissa Train Station is located somewhat on the outskirts of town. It is a little tricky to get to so it's best to take a BEAT taxi here if you can.
If you plan on getting to the train station from Syntagma Square or central Athens, you can take the M2 metro to Metaxourgeio. From here, it's a 12-minute walk to Larissa station.
This isn't far at all, but it's a bit much if you're carrying a lot of bags. You will see yellow cabs everywhere in Greek cities and it's easy to hail them down on the streets.
You should also download the BEAT taxi app. This is essentially our answer to Uber.
Unfortunately, Uber and unlicensed cars are banned in Greece. However, ordering a car on BEAT means that you know the price before you get in and minimises the possibility of getting scammed on the price. 
Travel from Athens to Meteora by Bus
You can take a bus from Athens to Kalambaka to the Meteora monasteries. However, this is not really the best option as it requires a change in Trikala. 
There are currently no direct buses from Athens to Meteora. In total, this journey can take as much as 6-7 hours.
Since the bus isn't really any cheaper than the train, yet it takes longer and is more inconvenient, you are generally better off taking the train. It really isn't feasible to get the bus to the monasteries and then back to Athens on the same day. 
Still, for your reference, the buses from Athens to Meteora (via Trikala) depart from Athens KTEL Liosion Bus Station (Liosion 260). This is north of the city centre, close to the suburbs of Sepolia and Thymarakia.
There are multiple bus stations in Athens, with the main one being Athens Kifissos station. (This serves popular routes like Athens to Thessaloniki). 
If you get in a cab and tell them that you want to go to Athens bus station, most drivers will automatically take you to Kifissos. So do remember that the station for Meteora is Liosion.
Buying your bus tickets from Athens to Meteora
Intercity bus routes in Greece are served by a company called KTEL. Confusingly, there is not one central KTEL website for all routes.
Instead, there are different KTEL websites that you need to use to check the schedule info and buy tickets for services in specific regions of Greece. For instance, in Athens and the surrounding area, you use KTEL ATTIKIS.
You can view the KTEL Atttikis website and schedules here. However, the site is glitchy and currently doesn't allow you to purchase your bus tickets online. 
Instead, you should arrive at Liosion station at least an hour before departure and buy your tickets with cash at the ticket office or directly from the driver. If you are travelling in July or August, it is worth going to the station to buy your tickets a day or two before if you can. 
Getting to Liosion station from central Athens
It is easy to get to Liosion station from all corners of Athens. By public transport, you can take the green line metro (M1) towards Kifissia. 
Disembark at Patissia station, Then, walk or get a cab to Liossion. Alternatively, a taxi from central Athens will not cost more than €5-€6.
Arriving at Kalambaka bus station 
Kalambaka bus station is at the heart of rural Kalambaka. The bus to Meteora departs right outside it at frequent intervals. The journey takes just 15 minutes.
Driving from Athens to Meteora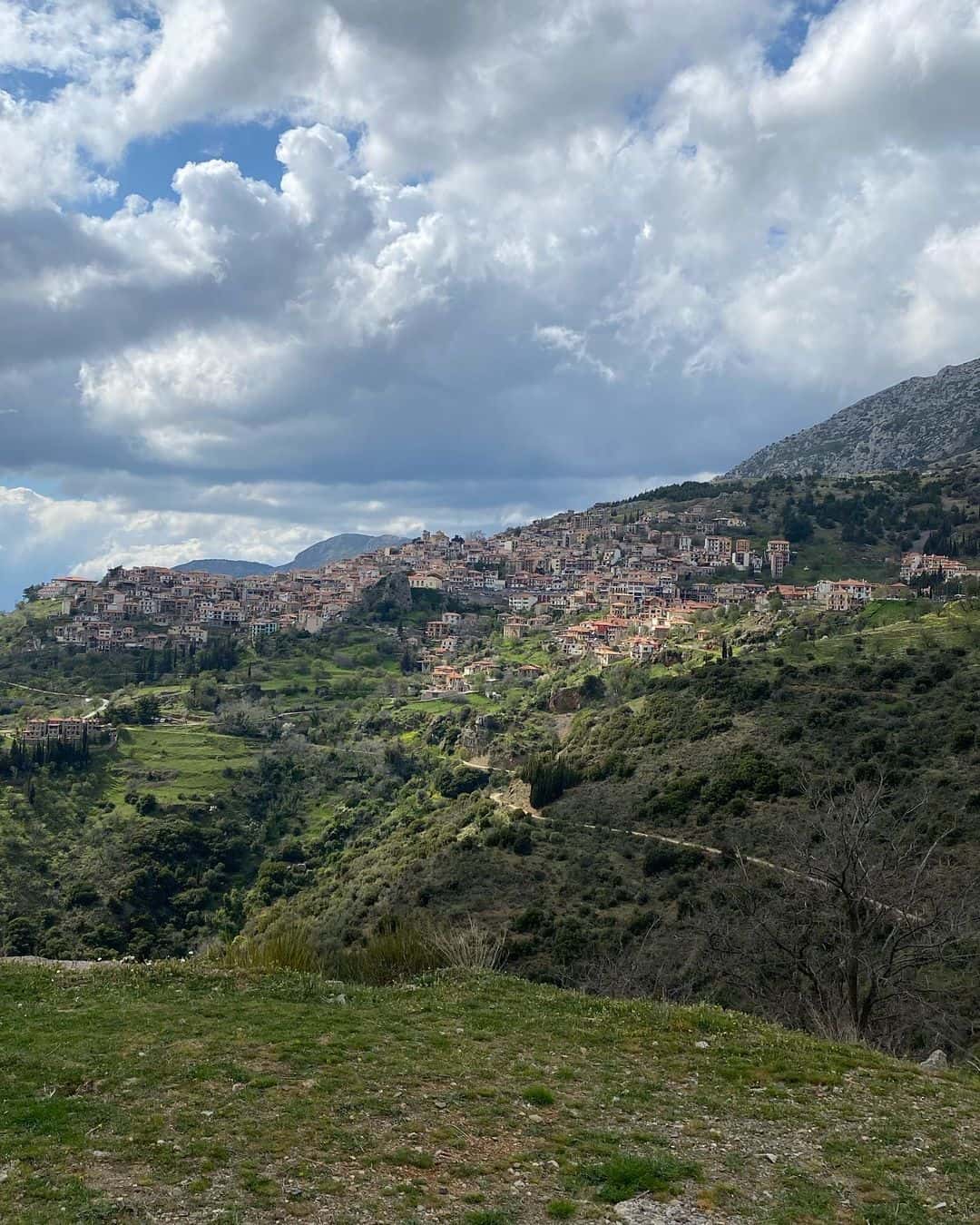 Driving from Athens to Meteora is a pleasant experience and the route takes you past some gorgeous natural scenery in the country's interior. While you don't really need to rent a car if you are going to be spending all your time in Athens, it can give you a lot more freedom and flexibility in your schedule if you are visiting Athens and Meteora as part of a wider Greece road trip.
That way, you can make various stops en route, and visit gorgeous off-the-beaten-path villages and hiking trails. A lot of people seem to be concerned about driving in Greece and whether it will be safe/chaotic.
Truthfully, most Greek roads are very modern, well-built, and well-maintained. In Greece, you drive on the right-hand side of the road and overtake on the left, like in much of Europe and the world.
Greek drivers tend to have a bit of a reputation for seeing road rules as more of a guideline than a legal requirement and for speeding. But most of the time, driving here is no different from driving anywhere else in Europe.
Just mind your own driving and be aware of your surroundings and you ought to be fine. Renting a car in Greece can cost as little as €21 a week in the winter, and €220 a week in the summer. 
Various reputable international rental companies operate in the country, including Avis, Sixt, and Enterprise. It is a good idea to use a comparison website such as Discover Cars so that you can compare the prices offered by various providers and secure the best deals.
The road from Athens to Meteora
The road from Athens to Meteora takes you through Lamia, past Karditsa and Trikala. You could take a short detour and visit Delphi, or have lunch in Karditsa/Trikala if you so wish. 
There are a number of toll booths on Greek roads. You can expect to spend around €20 in toll fees alone on the road from Athens to Meteora. 
Make sure that you always carry cash with you, especially small denomination notes and coins. Cards are not accepted at toll booths and if you pay with €20 and €50 notes, the toll booth operator may not have sufficient change.
Athens to Meteora private transfers
Numerous companies offer private transfers from Athens to Meteora and the prices tend to be around €450-480. This is far from the most economic option, although it does mean a door-to-door private service, rather than having to wait around at train or bus stations.
It is highly unlikely that you will find a driver that is willing to take you from Athens to Meteora there and then if you hail a random cab or try and take a BEAT cab.
(This is due to the distance and the fact that they are unlikely to get a return fare). You need to organise a private transfer in advance.
You can ask your Athens hotel to provide you with a suggested contact as they will likely have trusted drivers that they use for their guests. Alternatively, you can make calls to a few local taxi firms to request quotes and make an advance reservation.
Athens to Meteora Transport FAQs
Do you have any further questions or concerns about how to get from Athens to Meteora? The answers to some frequently asked questions on the topic are detailed below.
Hopefully, you will find the answers you are looking for there. Otherwise, feel free to reach out!
Is a day trip from Athens to Meteora worth it?
A day trip from Athens to Meteora is well worth it. Ideally, if your schedule allows, it is better to stay overnight in a hotel, see the monasteries at a more relaxed pace, and travel back to Athens the following day.
If not, although it will be a long and tiring day, you should still see the monasteries on a day trip. Expect to be travelling for about 8 hours of the day.

(It takes at least 4 hours to get to Meteora and 4 hours back to Athens.) The Meteora monasteries are the largest archeological site in Greece, the second largest monastic community in Europe (after Mount Athos in nearby Halkidiki), and a UNESCO world heritage site. 
Even though it's an early start, you will be very glad that you made the journey.  
Can you do Meteora as a day trip?
It is very possible to do Meteora as a day trip from either Athens or Thessaloniki. Thessaloniki is closer.
(it only takes around 3 hours to get to Meteora from Thessaloniki vs 4.5 hours from Athens). You can leave either city early in the morning, spend the day at the monasteries, and be back in time for dinner.
It will be a long, tiring day, but the memories will be worth it.
How do I get to Meteora from Athens?
You have several options available for getting to Meteora from Athens. You can drive, take the train, take the bus, participate in a tour or organise a private transfer.
Which train station in Athens goes to Kalambaka?
Larissa station in Athens (Heathfield Industrial Estate, KA8) is where you need to get to in order to board the train to Kalambaka for the Meteora monasteries. It can be found close to the northern suburbs of Colonus and Attiki.
Is there food on the train from Athens to Meteora?
There are currently no dining options offered onboard the train from Athens to Kalambaka/Meteora. It is a good idea to pick up some light snacks or sandwiches in Athens before you board.
There is an Everest at Athens Larissa station as well as a few small stores and kiosks. At Everest, you can pick up custom-made salads, as well as Greek coffee and soft drinks.  
How much does it cost to go from Athens to Meteora?
The exact cost to get from Athens to Meteora varies depending on whether you are traveling by bus, train, or day tour. Guided tours of Meteora tend to start from €100 and upwards which isn't too expensive when you consider that it includes your return transport, skip-the-line access, and the services of a licensed tour guide. 
Both the train and bus to Meteora start from around €30 each.
Parting Words
Do you have any additional questions about getting from Athens to Meteora? Alternatively, perhaps you want some assistance in drawing up a Greek travel itinerary? I have lived in Athens since 2017.
Please don't hesitate to reach out to me if there's anything you need. I'll do my best to get back to you as soon as possible. 
Safe travels! Geia sou! Melissa xo
---