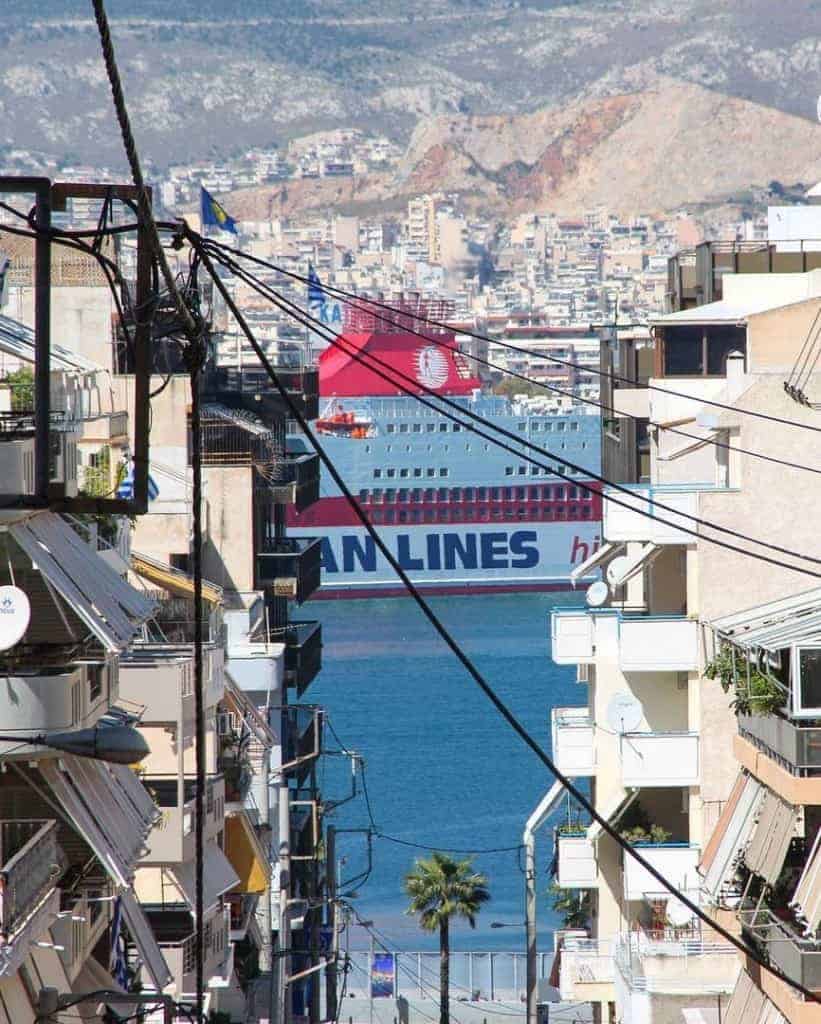 It is very easy to get from Athens airport to Piraeus port. To reach Piraeus, you have a couple of options available to you. 
Whether you want to explore Piraeus specifically, you are using it as a base for cheap accommodation during your trip to Athens, or it is simply a jumping-off point to get out to the Greek islands, rest assured you can get from Athens airport to Piraeus port in less than 90 minutes. 
How to Get From Athens Airport to Piraeus Port: Transportion Options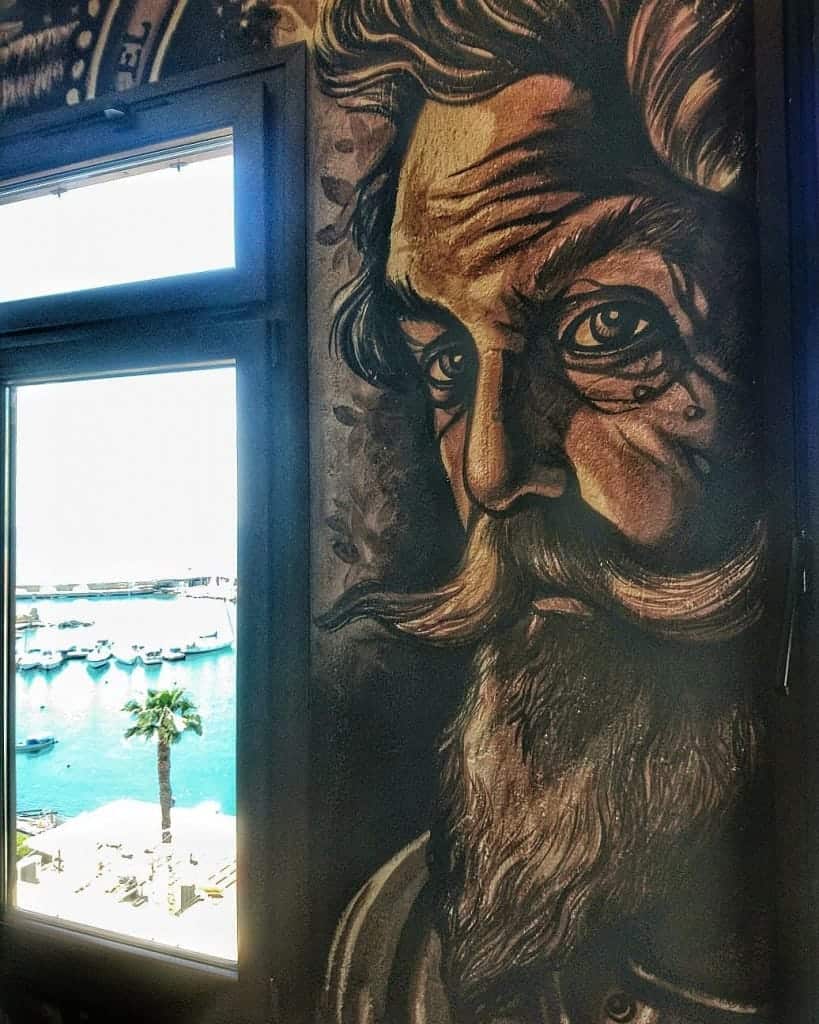 There is a distance of 31 miles (50 KM) separating Athens airport and Piraeus port. Your options for getting there range from private transfers to localised public transport.
Prices vary substantially between the different methods available to you. The most suitable way of making the journey depends on you, your budget, and whether you are in a hurry to reach the ferry terminal in order to catch a boat. 
Hop on the X96 Bus from Athens Airport to Piraeus Port
Arguably the easiest method of getting from Athens airport to Piraeus port by public transport is via the X96 bus which takes you directly to the port. That way you don't have to chop and change metro lines. The bus terminal is situated directly outside the arrivals gate at Athens International. 
Buses run either every 20 minutes or every 40 minutes depending on the season. You can find a detailed schedule of the X96 bus here. 
Bus tickets cost 6 euros per person and can be purchased either from the driver or at the ticket booth outside the airport.  Children under six years of age travel free, while those between six and eighteen, or over sixty-five are entitled to half-price fare. 
Officially, the journey should take 90 minutes though unofficially this could take up to two hours. Athens traffic can be a nightmare, particularly if you are on the roads during the 5 pm rush hour, or on Friday/Saturday nights. 
Take the Metro From Athens Airport to Piraeus Port
A cheap way to get from Athens Airport to Piraeus port is to take the metro. After you have cleared customs and baggage control at Athens, you will see signs for the train and subway. You need to exit the arrivals building and cross the street. The escalator that awaits at the other side leads to a conveyor belt walkway that takes you to the train and metro hub. 
A one-way Athens city & airport ticket costs 10 euro per person. The machines offer services in English and are a better option than the ticket offices which tend to attract large queues of tourists. 
It is important to note that the Athens metro tickets are valid for 90 minutes, which is ample time to reach Piraeus, however you should be mindful not to exit the ticket barriers once you have validated your travel ticket. Trains run every thirty minutes between 6.30 am and 11.30 pm. 
Take the blue line metro from Athens airport to Monastiraki station in the city centre. From there, you need to change lines to the Green line (line 3) for Piraeus. Piraeus metro station is in the heart of downtown Piraeus. 
If you need to make an immediate beeline for the port, it is worth noting that the journey takes approximately 10-15 minutes on foot. If you are carrying heavy luggage, it may be worth hailing one of the cabs that wait outside the metro exit. 
Various Athens metro timetables are found here for your reference. 
Order a Taxi from Athens Airport to Piraeus Port
Taking a taxi is a comfortable and convenient way to get to Piraeus Port. Athens is Greece's main international airport so whatever time of day you arrive, yellow cabs will be lined up outside the arrivals hall 24/7. Opting to take a cab also means that the journey is much faster – you can expect to be at Piraeus port within 45 minutes, depending on the traffic. 
The standard day rate for the taxi is 54 euros, and the night rate is 70 euros. Airport taxi drivers are generally pretty straight, but it is worth keeping these numbers in mind in case you are quoted differently. 
When the time comes that you need to travel back from Piraeus to Athens, yellow cabs can be found at various ranks around the city. I would also strongly recommend that you download the BEAT taxi app while in Athens/Piraeus. This is Greece's equivalent to UBER and allows you to order a taxi to your location instantly, while also letting you know the price in advance.
Organise a Private Car Transfer
An alternative to taking a cab is to organise a private transfer from Athens International Airport. Companies such as Get Your Guide offer this service and the prices are roughly the same as taking a yellow cab, yet also include a personal collection from the Airport Arrivals floor.
Rent a Car for Your Trip to Greece
If you are travelling to Piraeus as part of a wider trip around Greece, then you may want to consider renting a car. This provides you with a lot more freedom and flexibility than you would have if you are relying on public transport. From Athens and Piraeus, places like Cape Sounion, Lake Vouliagmeni, the Athenian Riviera, and Nafplio are accessible within just a few hours' drive. 
It is better to organise your Greek rental car online and in advance in order to ensure availability and to secure the best deal. Reputable companies like AVIS, Sixt, and Europcar have offices at Athens Eleftherios Venizelos Airport so that you can easily collect your vehicle immediately upon arrival. If you are planning to self-drive to Piraeus, just make sure that you have a few spare euros with you as you will have to pass through a toll booth en route.
Have any further questions about how to get from Athens Airport to Piraeus? I have been living in Athens' lovely Pagrati neighbourhood for the last two years and would be happy to answer any questions that you may have. Feel free to drop me a comment if you need anything. Safe travels! Yassou! Melissa xo
---