It is very easy to get from Athens airport to Piraeus port and in turn, to make the return journey back from Piraeus port to Athens international airport. You have 4 different options available for getting to Piraeus.
Fortunately, the journey is very quick and convenient. You can get from Athens airport to Piraeus port in less than 90 minutes.
This means that if you are travelling to Piraeus for onward travel to the Greek islands, it is easy to sail out the same day that you land in Greece. Piraeus sits adjacent to Athens.
The two cities seemingly blend into one and it can be tricky from the outside to see where Athens ends and Piraeus begins! If your schedule permits, Piraeus is very worthy of a little exploration.
Alternatively, the city makes a good base for cheap accommodation during your trip to Athens.
How to Get from Athens Airport to Piraeus Port in 2023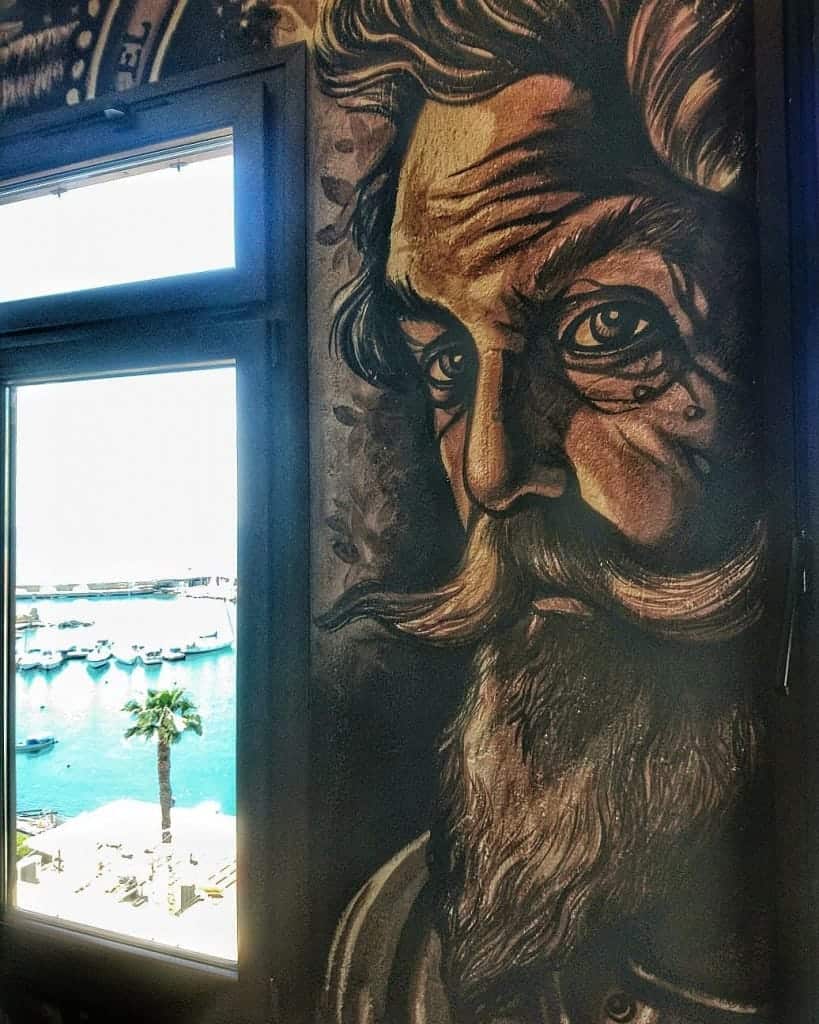 There is a distance of 31 miles (50 KM) separating Athens airport and Piraeus port. Your options for getting there range from private transfers to localised public transport.
You can opt to organise a private transfer online in advance (arguably the most comfortable and convenient option), take an airport cab, take the X96 bus, or ride the metro.
Prices vary substantially between the different methods available to you. The most suitable way of making the journey depends on you, your budget, and whether you are in a hurry to reach the ferry terminal in order to catch a boat.
Ride the X96 bus from Athens Airport to Piraeus port 
Arguably the easiest method of getting from Athens airport to Piraeus port by public transport is via the X96 bus. This takes you directly to the port.
Taking the bus from Athens airport to Piraeus means that you don't have to chop and change metro lines. The bus terminal is situated directly outside the arrivals gate at Athens Eleftherios Venizelos International Airport (ATH). 
Riding the X96 Bus
Buses run either every 20 minutes or every 40 minutes depending on the season. You can find a detailed schedule of the X96 bus here.
Officially, the journey should take 90 minutes. However unofficially, this could take up to two hours.
Athens traffic can be a nightmare, particularly if you are on the roads during the 5 pm rush hour, or on Friday/Saturday nights. 
It goes without saying that Athens airport is more crowded with tourists during the summer months. Between July and September in Athens, you may occasionally find a line waiting for the buses to Athens centre and Piraeus.
Concession Tickets
Bus tickets cost 6 euros per person and can be purchased either from the driver or at the ticket booth outside the airport. Children under six years of age travel free.
Meanwhile, those between six and eighteen, or over sixty-five are entitled to half-price fare. Have your passport or identity card on hand when you travel.
Take the metro from Athens Airport to Piraeus port 
A cheap way to get from Athens Airport to Piraeus port is to take the metro. Everything is well-marked and signs are displayed in English.
The process for getting to the Athens metro is outlined below.
Pass through customs and baggage control and head to the arrivals area


Follow the signs for the train/subway


Exit the arrivals hall, cross the road and enter the building on the other side


Follow the moving walkway to the airport train station


Use the ticket machines to purchase a one-way "Athens and Airport" ticket. This covers the Piraeus area too


Validate your ticket, descend the stairs to the platform, and wait for the metro to Athens


Switch lines at Monastiraki square and take the Green line (line 3) to Piraeus. Piraeus metro station is in the heart of downtown Piraeus.
Purchasing Your Metro Ticket
A one-way Athens city & airport ticket costs €10 per person while a return ticket costs €18. You can also buy a three-day Athens tourist ticket for €22.
The machines offer services in English and are a better option than the ticket offices which tend to attract large queues of tourists. 
The Athens and city tickets include unlimited travel around Athens and its surroundings (Piraeus, Kifissia, etc). You can also get monthly transport passes if you are going to be spending longer in Greece.
Riding the Athens Metro
It is important to note that Athens metro tickets are valid for 90 minutes. This is ample time to reach Piraeus.

However, you should be mindful not to exit the ticket barriers once you have validated your travel ticket.
Trains run every thirty minutes between 6.30 am and 11.30 pm. It is worth noting that Piraeus metro station is approximately a 10-15 minute walk away from the port area.
If you are in a hurry to get to the port and you are carrying heavy luggage, it may be worth hailing one of the cabs that wait outside the metro exit. Various Athens metro timetables are found here for your reference. 
Order a Taxi from Athens Airport to Piraeus Port
Taking a taxi is a comfortable and convenient way to get to Piraeus Port. Athens is Greece's main international airport so whatever time of day you arrive, yellow cabs will be lined up outside the arrivals hall 24/7.
Opting to take a cab also means that the journey is much faster. You can expect to be at Piraeus port within 45 minutes, depending on the traffic.
Athens Airport to Piraeus Taxi Fares
The standard day rate for the taxi is €54, and the night rate is €70. Airport taxi drivers are generally pretty straight and they usually won't try and trick or overcharge you.
However, it is worth keeping these numbers in mind in case you are quoted differently. Make sure you get into a yellow taxi, not a black car.
These are private cars for hire and they often charge as much as double the price of standard taxis.
When the time comes that you need to travel back from Piraeus to Athens, yellow cabs can be found at various ranks around the city. You should also download the BEAT taxi app for taking taxis in Greece.
This is Greece's equivalent to UBER and allows you to order a taxi to your location instantly. It also informs you of the price in advance. (Sadly Uber doesn't exist here. You can download the app but it will only connect you with licensed yellow cabs.)
It is preferable to book taxis with this app during your Greece itinerary. Cab drivers hailed randomly on the street in Athens/Piraeus have been known to inflate prices or take passengers on a roundabout route.
Organise a private transfer from Athens airport to Piraeus
An alternative to taking a cab is to organise a private transfer from Athens International Airport. Companies such as Get Your Guide offer this service and the prices are roughly the same as taking a yellow cab.
However, this comes with the added convenience of being personally collected from the Airport Arrivals floor. Many of them provide you with complimentary bottles of water throughout your journey too.
You will travel to your destination in an air-conditioned vehicle and have a bilingual driver that you can easily communicate with. When booking your transfer, you simply provide the transfer company with your name and flight details and they will be waiting for you in the Arrivals section of the airport.
You don't need to worry if your flight is late as they will be monitoring its flight path and then they will set out to the airport accordingly. An airport transfer helps you to take some of the stress out of planning your trip to Greece.

You can obtain quotes from reputable companies here.
Rent a car for your trip to Greece 
If you are travelling to Piraeus as part of a wider trip around Greece, then you may want to consider renting a car. This provides you with a lot more freedom and flexibility than you would have if you are relying on public transport.
Places such as Cape Sounion, the Athenian Riviera, Vouliagmeni, and Nafplio are accessible within just a few hours' drive from Athens and Piraeus. It is better to organise your Greek rental car online and in advance in order to ensure availability and to secure the best deal.
Reputable companies like AVIS, Sixt, and Europcar have offices at Athens Eleftherios Venizelos Airport. However, the best way to search for a rental is to use a comparison site such as Discover Cars which allows you to browse for the best deals offered by various providers.
Car rentals in Greece can be very economical, and you can pick your vehicle up from the airport immediately after you land. You are looking at prices of $21/€19 a week during the winter season and $242/€223 for a week in July.
This price includes unlimited mileage, third-party liability insurance (TPL), personal accident insurance, and collision damage waiver.
If you are planning to self-drive to Piraeus, just make sure that you have a few spare euros with you. You will have to pass through a toll booth en route and they only accept cash.
Driving in Greece is generally very pleasant, particularly when you get out to the open roads and the islands. You do not need to rent a car if you are going to be spending most of your time in Athens but it is handy if you are visiting Piraeus as part of a wider Greek road trip.
FAQs on how to get from Athens airport to Piraeus Port
Do you have any further questions or concerns about how to get from Athens airport to Piraeus port? The answers to some frequently asked questions on the topic are detailed below.
Hopefully, you will find the information you are looking for there. If not, feel free to reach out!
How much is a taxi from Piraeus port to Athens airport?
You should expect to pay around €45 – €50 for a taxi from Piraeus port to Athens airport during the day, and €60-€70 at night. Try and order a cab using the BEAT taxi app if you can.
That way, you will see the price displayed on the app before you get into the vehicle and there will be no surprises.
How do I get from Athens airport to the ferry?
There are three ports in Athens that you can use to travel out to the islands nearby. The main port is Piraeus port, whereas the ports of Rafina and Lavrio are also used, particularly for connections to some of the lesser-known Cyclades islands.
Assuming that you are taking a boat from Piraeus port, you can take the X96 bus from the airport, ride the metro, organise a private transfer online in advance, or take a cab.
How much is the metro from Athens to Piraeus?
Public transport in Greece is great and the Athens metro is very affordable and easy to use. You can buy a one-way ticket from central Athens to Piraeus for just €1.40.
If you are travelling from Athens airport, you will need a special airport and city ticket which is €10 one way or €18 return.
Do I need to book a taxi from Athens airport?
There are always plenty of taxis waiting around outside of Athens airport. Even in the summer months when there are tons of tourists, you won't have to wait too long to find one.
Alternatively, you may want to consider booking a private transfer online in advance. These tend to cost around the same price and that way, you know that someone will be waiting for you on arrival.
Better still, you will travel in an air-conditioned luxury vehicle with complimentary water and a bilingual driver, rather than a stuffy, humid cab. Click here for a quotation.
Final thoughts on travelling from Athens airport to Piraeus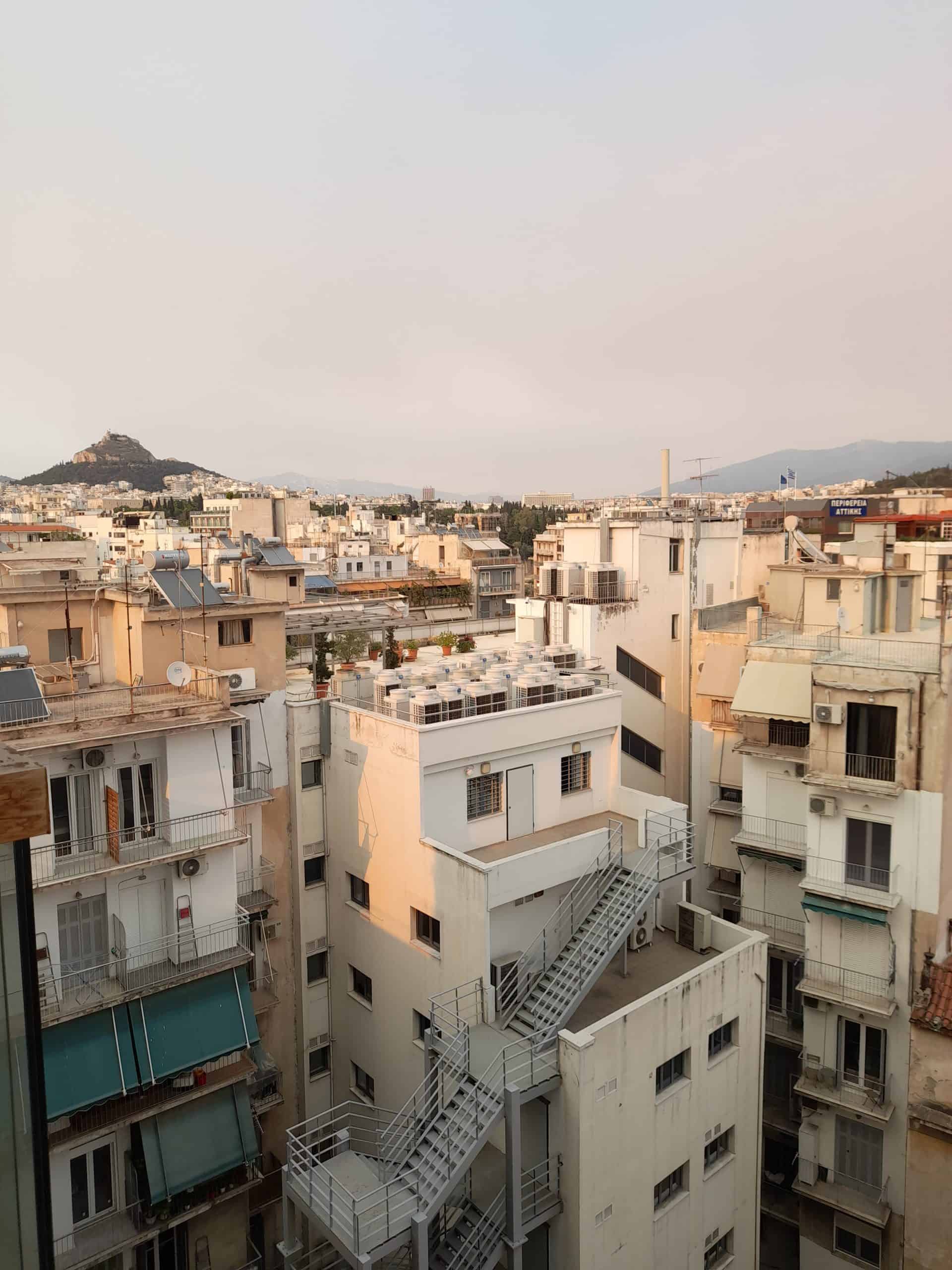 Do you have any further questions about how to get from Athens Airport to Piraeus? Or how to get from Piraeus to Athens airport?
I have been living in Athens' lovely Pagrati neighbourhood for the last five years and would be happy to answer any questions that you may have. Safe to say, I have made this journey dozens of times at this point.
Feel free to drop me a comment if you need anything. Safe travels!
Geia sou! Melissa xo
---