Rafina port Athens is one of the three ports that service the Greek capital. It is the second-largest port after Piraeus and serves routes to a number of destinations around the Cyclades.
Rafina Port, Athens
The port is relatively small, particularly when you compare it to Piraeus. It serves a number of commercial routes but you will also find quaint Greek fishing boats and private yachts docked in the bay here.
Rafina Port Athens is typically not as crowded as Piraeus. However, pretty much everywhere becomes crowded in Greece during the chaotic summer season.
So, if you are boarding a ferry from here, it is advisable to aim to get here at least an hour before it departs. This is particularly true if you need to pick up a ticket at the port.
Rafina connects mainland Greece to Amorgos, Andros, Evia, Ios, Koufounisia, Mykonos, Naxos, Paros, Santorini, Syros, and Tinos. Additional routes may be added or amended each year, dependent on the season.
You can check Ferryscanner to see the latest routes, prices, and schedules from Rafina Port. Typically speaking, journey times out to the Cyclades are shorter from here. This is because Rafina is closer to these islands than Piraeus is.
Getting to Rafina Port, Athens
It is easy to get to Rafina port Athens, whether you are travelling from the city centre or from Eleftherios Venizelos international airport. If you are flying into Athens and then heading immediately out to the islands, this is actually the most convenient port to use.
Public transport in Greece is very good. Similarly, taxis here are reliable and affordable, particularly if a few of you are travelling together and splitting the costs.
By Bus
KTEL buses connect central Athens and Athens Airport with Rafina port. From within Athens, they depart from Mavromateon Street by Pedion tou Areos.
From Athens Airport, they depart from outside the Arrivals terminal. Both services depart every 30-40 minutes or so.
Tickets from Athens centre to Rafina cost €2.40 and the journey takes approximately 40 minutes depending on traffic. The bus from Athens Airport to Rafina also takes about 40 minutes, and a one-way ticket is €4.
Buses in the Athens area are operated by KTEL Attiki. You can check the latest schedules, routes, and price information here.
You can buy tickets when you board the bus, it isn't really necessary to purchase them in advance. If you need something, you can call their customer hotline. Pretty much everyone in Athens speaks English.
By Taxi
You can take a taxi from Athens centre to Rafina port, or from Athens airport to Rafina. Fixed rates are in place for specific long journeys in the Athens area, and routes to/from Rafina are included in that.
It should cost €35 to get from Athens Airport to Rafina port (and vice versa). However, if you are travelling at night, the rate is €50. Taxis from the city centre cost around the same price.
You can hail taxis on the street in Athens as you would in most other major cities. Athenian cabs are yellow and you can tell if they are in service if their roof light is illuminated. Taxis are also available at various ranks around the city including Syntagma Square, Monastiraki, and Eleftherios Venizelos Airport.
Be careful with Greek cabs as they are known for tricking customers – either by quoting obscene, inflated rates, refusing to turn on the meter, or taking customers on long, roundabout routes. The best way to avoid this?
Download the TaxiBeat app before arriving in Greece. This is our answer to Uber and although it is only licensed cabs, it is one way to avoid scams as the price and route are quoted before you enter the car.
By Private Transfer
Private transfers are a great way to get to Rafina port in a little more comfort and luxury. This is particularly the case if you are travelling from Athens airport to Rafina port in the summer and you don't want to contend with crowds of people all trying to scramble into a cab.
Private transfers cost little more than Athenian taxis. You can have someone waiting for you on arrival at the airport with a sign displaying your name.
Athens private transfer vehicles offer free water and complimentary snacks. Most vehicles are air-conditioned and are more modern and luxurious than city cabs.
How Far is Rafina Port from Athens City Center?
Rafina Port is 32.2km (20 miles) away from central Athens. It is 25km (15.5 miles) away from Athens airport.
Points of Interest Around Rafina Port, Athens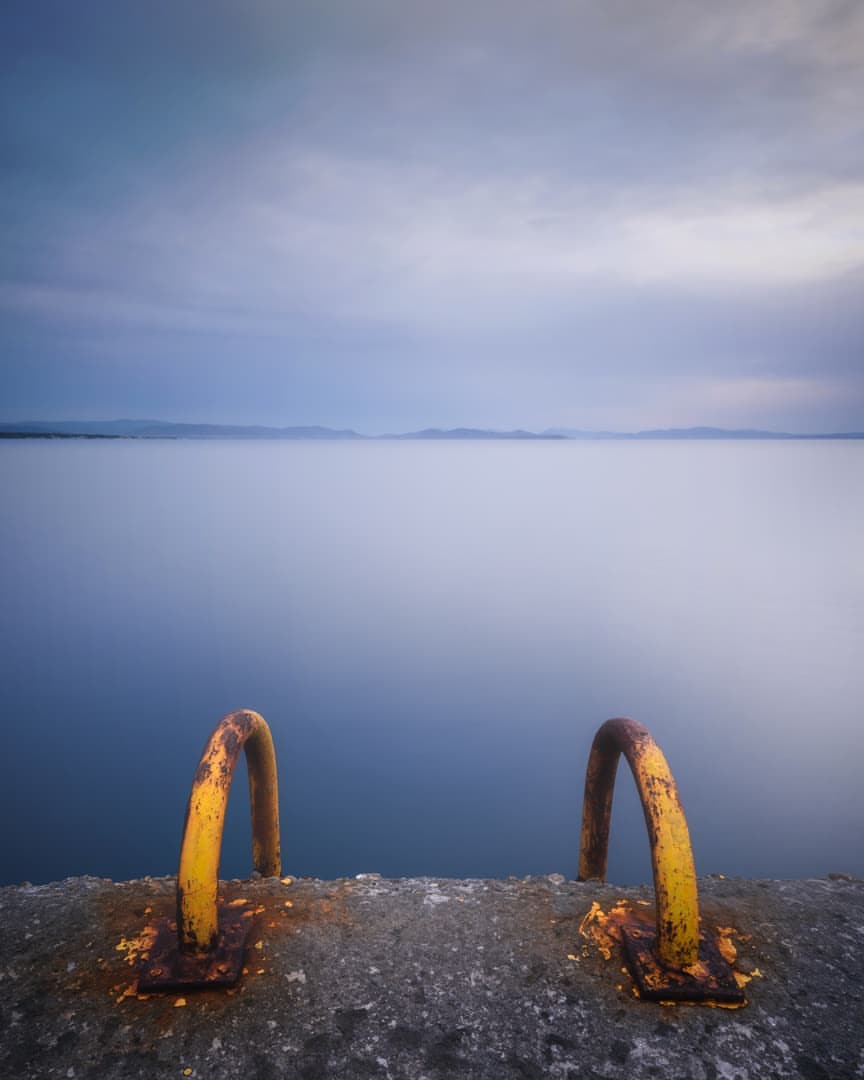 If you find yourself with a little more time to spare when you're at Rafina Port, Athens, there are plenty of things to keep you occupied. Granted, this is not a tourist destination.
But even so, it is not the worst place to spend an hour or two! If your ferry departs from Rafina early in the morning or arrives late at night, you may prefer to stay overnight.
If that's the case, you can also consider staying at one of the hotels close to the port. There is a plethora of hotels in the area and the wider Attica peninsula.
Have a Coffee Break Like a True Athenian
Coffee culture is huge in Greece. So much so that going out for coffee is essentially the national sport.
Most locals drink their coffee ¨freddo¨. Espresso is poured over ice and sugar and milk are added as desired.
Not sure about cold coffee? Don't judge until you've tried Greek Freddo!. It is not your typical iced coffee.
Rafina is home to a permanent population of around 13,000 permanent inhabitants. There are plenty of coffee shops here to choose from, including branches of popular chains Coffee Berry and Coffee Island.
The Park (Argonafton 16) is a particular local favourite. You can sit and stay as long as you like at Greek coffee shops and you will never be hurried to leave.
If you are hungry, indulge in some traditional Greek cuisine at one of Rafina's excellent tavernas. Το Λιμένι (Pl. Plastira 17) is a popular meze spot in the main square.
There are several great fish restaurants along the waterfront. They prepare excellent quality seafood dishes using only the freshest catches sourced that same day in local waters.
Explore the Wider Region
You really need a car if you want to explore more of the southern part of Attica while in Rafina. The Temple of Poseidon at Sounion is an hour south (65km) away.
Rafina is also 44 minutes (37km) away from Vouliagmeni and the beach towns of the Athenian Riviera. Most of these places are actually farther than Central Athens, mind you. You could also travel southwards to Erotospila beach at Porto Rafti.
Relax on Athenian Beaches
There are actually several beaches in the wider Athens area, a number of which are around Rafina. The town's namesake Paralia Rafina is popular among locals.
Nearby, you can also head to Marikes beach and Paralia Kokkino Limanaki. Of course, if you have a car you can travel further out and explore more places.
¨Limanakia¨ are ¨hidden¨ secluded beaches and coves that you will find in abundance around this part of Southern Greece. As you drive and explore, you will see dirt trails leading through woodlands or small sandy coves. These are what Athenians affectionately refer to as ¨Limanakia¨.
Hotels Near Rafina Port
There are several hotels in and around the Rafina area. There are also private rentals that you can find on platforms like Airbnb and Booking.com.
Avra Hotel
Avra Hotel (3, Arafinidon Alon) is a four-star property just 200m away from Rafina port and 90m away from the beach respectively. Rooms are clean, spacious, and modern with plush contemporary furnishings.
All rooms boast a balcony with a view. Rates start from just €60 a night for a twin room.
Breakfast can be added for just a few euros more. Click here to browse the latest rates and availability at Avra Hotel.
Cabo Verde
Cabo Verde (Leof. Posidonos 4) is a recently opened, luxe 4-star property in Nea Makri. Nea Makri is 9km north of Rafina, but you can easily get a cab between the two places for just a few euros.
Cabo Verde is a nice choice if you want a little added luxury. Rooms start from €65 a night for a standard single room, and €75 a night for a double room.
---