Piraeus, Greece is a bustling portside city in Southern Greece. It sits adjacent to Athens and in fact, it is so close to the Greek capital that it is tricky to understand where one city ends and another begins.
If you go island hopping in Greece, you will likely find yourself in Piraeus at some point or another, particularly if you start your trip in Athens. However, for most people, passing through Piraeus Greece is seen as something of a necessary evil when en route to the islands.
Piraeus in itself may not be a tourist destination. However, there is certainly more to the city than initially meets the eye.
So, if you are looking for a place to venture off the beaten path while in Athens, a day here is a good choice. Similarly, if you find yourself with time to kill while you're waiting for a ferry, you may be surprised how much there is to see and do.
Discovering Piraeus, Greece
Piraeus Greece has a long, eventful history dating back to Ancient Greece. It has been home to the main port of the Greek world since the 5th century BC.
Several landmarks around the city point to Piraeus' past as an important trading point during the Classical era. Sunbleached remnants of the city´s long defensive walls constructed by Themistocles still protect the city. The ruins of old temples and buildings still stand and provide an interesting juxtaposition to the modern city.
At first glance, Piraeus is something of a chaotic, intimidating beast. It is a labyrinth-like complex of narrow streets that are filled with ramshackle buildings and laden with graffiti.
The architecture here does not exactly exude the same kind of beauty and atmosphere as the islands of the Cyclades or the Saronic Gulf. That said, gritty Piraeus does have a certain je ne sais quoi.
Many of the city's historic districts have a charming feel that is so typically Greek. Behind their gritty exteriors, they house eclectic coffee shops, themed bars, and exquisite tavernas.
Piraeus sits right on the shores of the Aegean sea. So, you can enjoy sweeping vistas of clear blue waters from virtually every street and avenue.
The proximity to the sea means that many exquisite seafood tavernas can be found here. They serve only the freshest dishes with fish sourced from local waters.
Things to Do in Piraeus, Greece
There are several interesting things to do in Piraeus if you have a little more time on your hands. Additionally, you will find a range of excellent restaurants here. Piraeus has everything from homely tavernas to chic, contemporary eateries.
Tour Piraeus by Electric Bike
Opting to take an organised tour with a local is a nice way to see a city from the perspective of someone that lives there. Not only can your guide provide you with further insight and information into the things that you see, but they can also give you some recommendations as to the best places to eat, drink and hang out during your stay.
You could consider taking an electric bike tour of Piraeus and the wider Athens coastline. The tour starts in the historic central Athens district of Thissio.
From there, you visit Gazi/Kerameikos, Trocadero, and the various districts and marinas of Piraeus. These are parts of the two cities that are grossly underrated and frequently overlooked by tourists.
Stroll Around Marina Zea (Pasalimani)
Marina Zea is perhaps the most elegant place in Piraeus. It dates back hundreds of years and in fact, this marina once harbored warships. Today Zea accommodates luxury yachts.
The restaurants and bars that border Marina Zea are every bit as glamorous as you would imagine for a yachting location. "Pisina" is one spot that is well worth stopping by. It features elegant outdoor seating with a pool and sea views.
Wander the Streets of the Peaceful Kastella Neighbourhood
Kastella is about as quintessentially Greek as it gets. The port of Mikrolimano marks your arrival at Kastella.
As you follow the narrow streets that twist and turn uphill, you bypass neoclassical mansions and beautiful pastel-coloured buildings. When you approach the top of the hill, you are greeted with the Veakeio Theatre.
This is an open-air theatre that was constructed according to the ancient Greek style. The uphill walk to the top is steep and challenging.
However, when you arrive at the hilltop Profitis Ilias Orthodox church, you are rewarded for your efforts. From up here, you have breathtaking views over Piraeus and the Saronic. Stop for a strong cup of Greek coffee with a view at the top before making your way back down towards the sea.
Browse the Bric a Brac Stalls of Piraeus Flea Market
If you happen to find yourself in Piraeus on a Sunday morning, you can stop by the Piraeus flea market for an insight into local life. The Piraeus market may not quite be the romantic ideal of a flea market that you envisage, but it's still worth a look. Replace your romantic ideals of trinkets and antiques with a grittier alternative.
At the Piraeus market, expect to see second-hand clothes, knock-off designer bags, and improv street food stands. Here, locals sell corn on the cob, souvlaki, and coffee over portable grills.
It's gritty, yes, but also interesting to see. This is a great place to sample Greek traditional street food.
Explore the Mikrolimano Port Area
The Mikrolimano port awaits at the foot of Piraeus' Kastella neighbourhood. A pleasant way to pass the time in Piraeus is to embark on the thirty-minute walk from Marina Zea to Mikrolimano. This leads you along a scenic coastal road and is enjoyable, whatever the season.
Mikrolimano boasts beautiful views over the sea. The panoramas are particularly magical as the sun sets. There are a plethora of excellent fish tavernas and chic nightlife options here.
Go Swimming at Votsalakia Beach
There are lots of wonderful beaches around Athens and the Piraeus area. Votsalakia beach may not quite be a secluded cove that exudes desert island vibes. However, is a popular spot in Piraeus.
It does get incredibly hot and humid in Southern Greece during the summer months. As such, it's understandable that you may want to spend your time in Piraeus relaxing.
Votsalakia beach is very close to the Kastella neighbourhood. There are many shops, bars, and restaurants nearby where you can buy refreshments as you need.
Visit the Piraeus Archaeological Museum
Where: Char. Trikoupi 31, Pireas 185 36
The Piraeus Archaeological Museum provides an insight into the history of the city and its surroundings. The exhibits and the artifacts on display range all the way from the Mycenaean times to Roman times.
Bronze statues of ancient Greek gods and figures dating back to the 4th century are among the highlights of visiting the museum. Full-priced admission costs €4 per person. Concession tickets are €2 each.
Buy Foodie Souvenirs at Mandragoras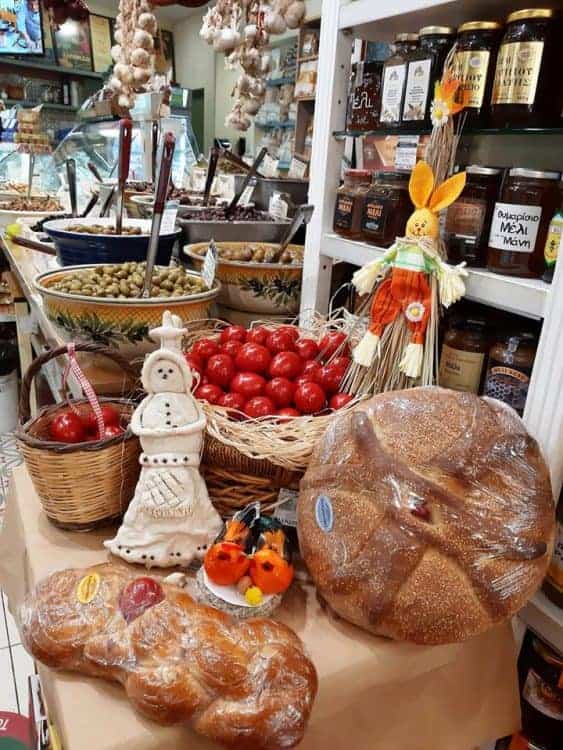 Where: Dim. Gounari 16, Pireas 185 31
Mandragoras is a beloved Piraeus institution. It is easily identified by all of the pastourma, soutzouki, and dried meat products hanging from the doorway.
This delicatessen sells all manner of excellent quality Greek products. Everything from spices and tahini to cured meats, delicious cheeses, and traditional Greek desserts can be found here.
Browsing the displays and sampling the edible goods sold at Mandragoras is an enjoyable experience. This is also a great place to pick up unusual souvenirs from your trip to greece.
Admire Beautiful Orthodox Churches
Piraeus is littered with beautiful Greek Orthodox churches that greet you at practically every turn. To an extent, this is the case in most Greek cities and towns.
Notably, you should take the time to visit and admire the Catholic Church of St. Paul, and the St Nicholas Church of Piraeus. Both of these places of worship are adjacent to the port area.
They feature bright, vivid frescoes and interiors. The churches are free to enter and you can stop by any time provided there isn't a service going on.
Where to Eat in Piraeus
Piraeus boasts a diverse range of dining options. Everything from traditional tavernas to hip eateries can be found here.
Tavern Giannis
Where: Leof. Chatzikiriakou 107, Piraeus 185 39
Tavern Giannis is an excellent Piraeus taverna that is locally renowned for its excellent seafood dishes. The place has a warm, homely atmosphere and the menu features all of the classic dishes that you would expect to see in a Greek taverna.
Tavern Giannis' mezes of meat and seafood are not to be missed. Live Greek folk and bozouki music is often hosted here in the evenings and is no doubt a highlight of visiting.
Shakespeare in Love
Where: Agiou Spiridonos 3, Piraeus 185 35
Shakespeare in Love is every bit as romantic and quirky as its name suggests. The restaurant is set inside a renovated 18th-century industrial building.
The establishment has been lovingly decorated with unique furniture pieces and art installations from various independent designers and creators across Greece. The food served is a blend of contemporary Greek cuisine and international favourites.
This is far more than "just another" restaurant. Shakespeare in Love frequently hosts creative events such as book readings, art fairs, etc.
Margaro
Where: Leof. Chatzikiriakou 126, Piraeus 185 38
Margaro is a simple fish taverna whose menu consists primarily of fried fish. According to Piraeus locals, Margaro serves up the best fish and the best salads in town.
Many of those who dine at Margaro to determine whether the place lives up to its reputation are not disappointed. You can opt to eat in or take away.
Margaro embodies what eating out in Greece is supposed to be about. That is, simple, delicious food and an unpretentious atmosphere.
Vosporos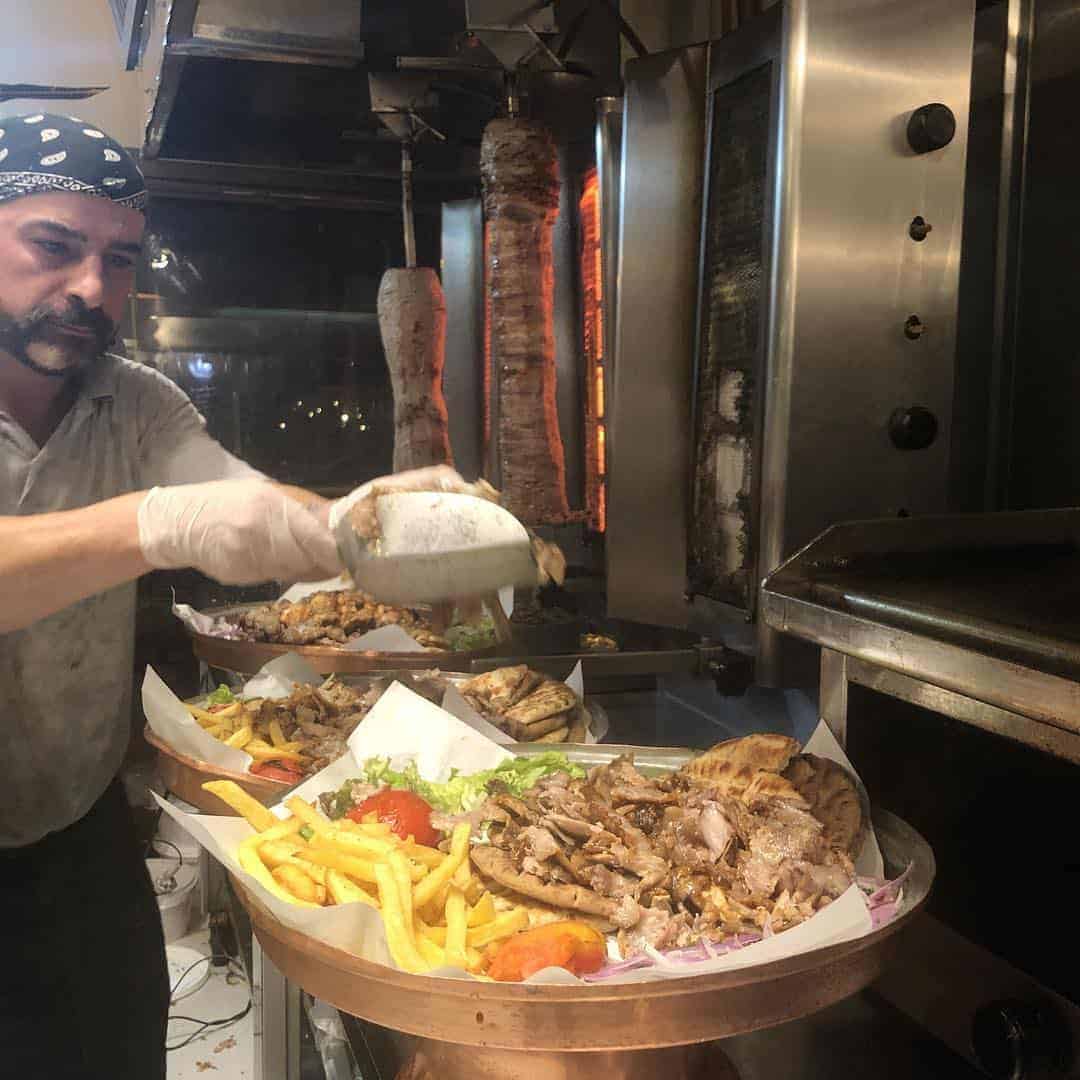 Where: Akti Koumoundourou 20, Piraeus 185 33
Vosporos is the place to go if you are looking for a more upscale dining experience. Vosporos boasts beautiful views out to sea, and an extensive, varied menu.
A range of traditional mains and meze platters adorn the menu a Vosporos. The latter is great for sharing among friends if you wish to sample a variety of different Greek foods.
The restaurant is very reasonably priced considering its Mikrolimano location. It is highly recommended to reserve a table at Vosporos as it gets incredibly busy, especially at weekends.
Getting to/Around Piraeus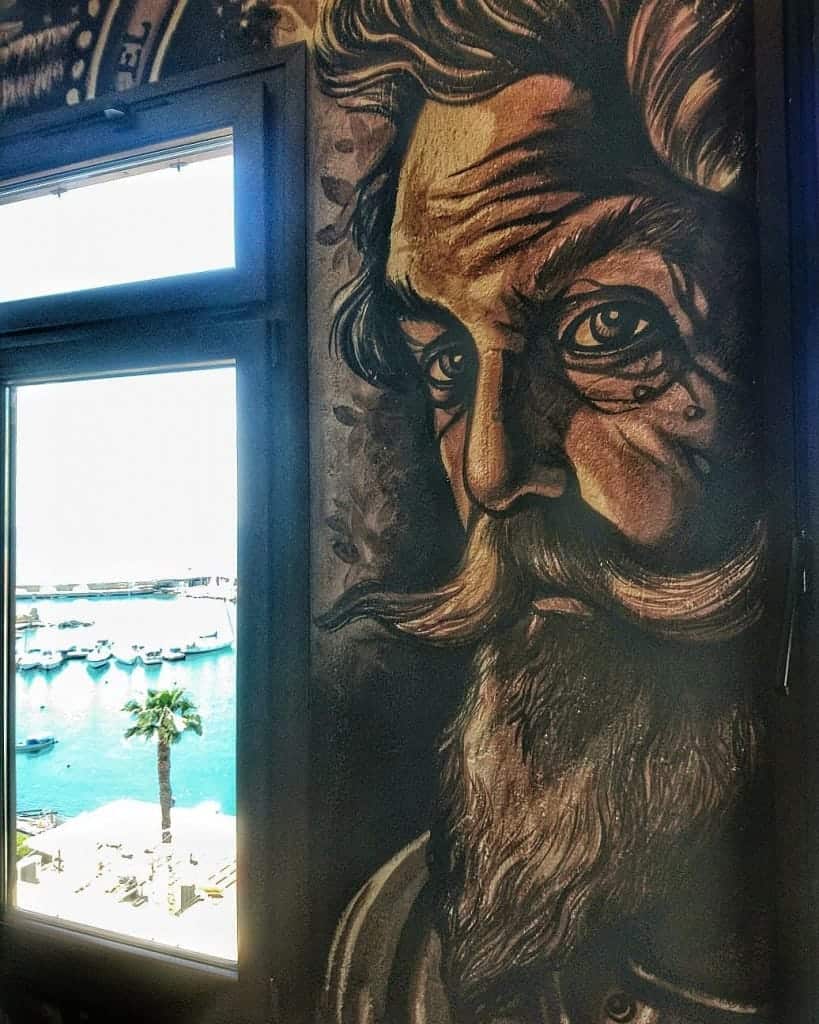 Piraeus is technically its own city. However, the Athenian districts have expanded so much from the city centre that the line between Athens and Piraeus is somewhat blurred.
Getting to and Around Piraeus
It is very easy to get to Piraeus from central Athens. Public transport in Greece is excellent and services are convenient, comfortable, and run on regular schedules.
Reaching the area from Athens International Airport is also very straightforward.
By Metro from Central Athens
Simply hop on board the metro line one (green line) from Central Athens and ride it all the way to its final stop. Heading back from Piraeus to Central Athens?
Ride the train to Thissio or Omonia. Then, transfer or walk as necessary.
By Bus from Central Athens
The X96 bus runs from Central Athens to Piraeus. You can board the bus from several points around the city, including at Syntagma Square.
The X96 runs approximately every hour. This is also the bus that you will take if you want to get from Athens airport to Piraeus.
By Cab
Download the BEAT taxi app to take a taxi from central Athens to Piraeus. This is the Greek answer to Uber.
Uber has been prohibited in Greece since April 2018 and Cabs on the BEAT app are licensed yellow taxis rather than independent drivers. However, Greek taxis are a law unto themselves and scams here are very common.
The app is useful as it minimises the risk of being scammed. It displays the route and cost of the journey before you get in the car.
The journey from Athens to Piraeus should cost between €15-20 each way. If you take a cab from the airport, the standard day rate is €54. The standard night rate is €70.
Getting Around Piraeus
Most of Piraeus can be explored on foot. This is a good way of getting around since transportation links within Piraeus are not excellent.
It takes approximately 25 minutes to walk from Marina Zea to Mikrolimano. Most of the city is walkable so you don't really need to take public transport within Piraeus.
The Athens hop-on-hop-off bus is a pretty good way to get around Athens and Piraeus. It stops at all of the main places of interest in both cities.
This is perhaps a better option in lieu of taking lots of taxis. Opting to buy a day pass for this bus can save you a fair amount of money – especially if you are travelling alone in Greece.
Where to Stay in Piraeus
Pireaus is approximately 45 minutes from downtown Athens and hotels here are substantially cheaper than in Syntagma Square, old Plaka, Monastiraki, etc. This is a good choice if you are travelling Greece on a budget.
Similarly, opting to stay in Piraeus enables you to experience an alternative vibe and a really authentic view of what life in Southern Greece is truly like, away from the tourist areas. Opting to stay here places you conveniently close to the ferry port, making it very easy to travel to the islands.
Piraeus hotels are generally very reasonably priced and will not set you back more than 30-50 euros per night. The city essentially has something for every budget and travel style.
Phidias Piraeus Hotel
Where: Kountouriotou 189, Pireas 185 35
The recently renovated Phidias Piraeus Hotel is close to the elegant Marina Zea and Kastella areas of Piraeus. The location is perfect for those hoping to explore the best of the city's attractions and nightlife.
The port of Piraeus can be reached within a short 15-minute walk or via a shuttle provided by the hotel. The pastel rooms are spacious and beautifully decorated. Click here to review the latest prices and availability.
Piraeus Port Hotel
Where: Evaggelistrias 12, Pireas 185 31
As the name suggests, the Piraeus Port Hotel is perfectly located for access to the ferry port. In fact, it is just a 7-minute walk away from it.
Rooms are simple yet comfortable and tastefully decorated. Each room and suite features complimentary toiletries and excellent views of the sea.
This is one of the most popular places to stay in Piraeus and for good reason. Opting to stay here places you in the heart of the action.
The hotel is close to plenty of great bars, restaurants, and stores. Click here to review the latest availability and rates.
Faros, I, Piraeus
Where: Notara 140, Pireas 185 36
Faros I is excellent value for money in the heart of Piraeus. Double rooms here start from just 40 euros per night.
Hotel staff is more than happy to let you store your belongings in their luggage storage rooms. So, if you plan on visiting the islands close to Athens for a night or two, you don't have to worry about carrying all of your things with you
The rooms are spacious and colourful, and Faros I is located in central Piraeus. Click here to review the latest availability and rates.
Conclusion
If you are limited on time, there are far more charming and beautiful neighbourhoods to explore in the Athens vicinity. For instance, upscale Kifissia or quirky Pagrati
However, Piraeus does have a certain something. If you are waiting to board a boat to the islands and have time to spare, you should do a little exploration of the area.
This is far more rewarding than simply twiddling your thumbs and waiting around at the ferry port. Who knows? You may grow to love Piraeus.
Parting Words
Do you have any further questions about Piraeus, Greece? Do you need assistance planning a Greece itinerary?
Feel free to ping me a comment below. I live in Athens and will happily answer any queries or concerns you may have.
Safe travels. Geia sou! Melissa xo
---