Kifissia Athens is one of the most exclusive neighbourhoods in the Greek capital. The ambiance here is significantly different from that in central Athens.
While it is the grittiness and attitude of Athens that gives the city its charm, sometimes you want to get away from that and enjoy a slower pace of life. For those times, there's Kifissia.
Kifissia is characterised by grand restored mansions, scenic parks, and elegant tree-lined promenades that are filled with upscale eateries and designer boutique stores. However, for all of its charm and style, Kifissia escapes the eyes of the majority of those that visit Athens.
This is perhaps owing to the area's location north of the main city centre. Kifissia is situated 14 km away from central Athens. It is easily reachable via metro from Omonia and very worthy of your time and attention.
History of Kifissia Athens
Kifissia/Kifisia (Κηφισιά) is a nice alternative area for escaping the chaos during any Athens itinerary. You could opt to stay here, or just dedicate a day to exploring the neighbourhood.
Kifissia is not only one of the most stunning parts of Athens, it is also one of the oldest. The district dates back to ancient times and was once known as Cephissia.
At that time, it was part of the ancient municipality of Epicephesia. Even back then, Kifissia has always been an exclusive place.
During the Roman occupation, Roman Emperors and affluent Greek nobles, scholars, and investors would come to Kifissia to escape city life. Today, as you drive from Athens to Kifissia, it can be tricky to ascertain where one part of town ends and another begins.
Back in the Roman and Ottoman eras though, Kifissia was little more than an upscale rural village. It was beloved by nobles and intellectuals and encompassed by woodlands and greenery.
Falling in Love with Kifissia Athens
Various walking tours pass through Kifissia Athens today. These give you the opportunity to learn a little about the history and culture of Kifissia with a local.
At weekends, horse-drawn carriages await around Kifissia station. Grand, ornate, pastel-coloured buildings and neoclassical mansions run along the streets of Elaion, Char. Trikoupi, and beyond.
Here, you feel a million miles away from the chaos and ramshackle streets of Exarchia, Koukaki, and Syntagma.
Coffee and Drinks in Kifissia
There is not a pastime more quintessentially Greek than people watching while indulging in a freshly brewed cup of coffee. Picturesque coffee places can be found tucked away down most Athenian alleyways.
However, some of the most exquisite are to be found in Kifissia. As the sun sets, these glam places transform into cocktail bars. Some of the best coffee shops in Kifissia are outlined below for your consideration.
Indulge in Coffee and Brunch at Artisanal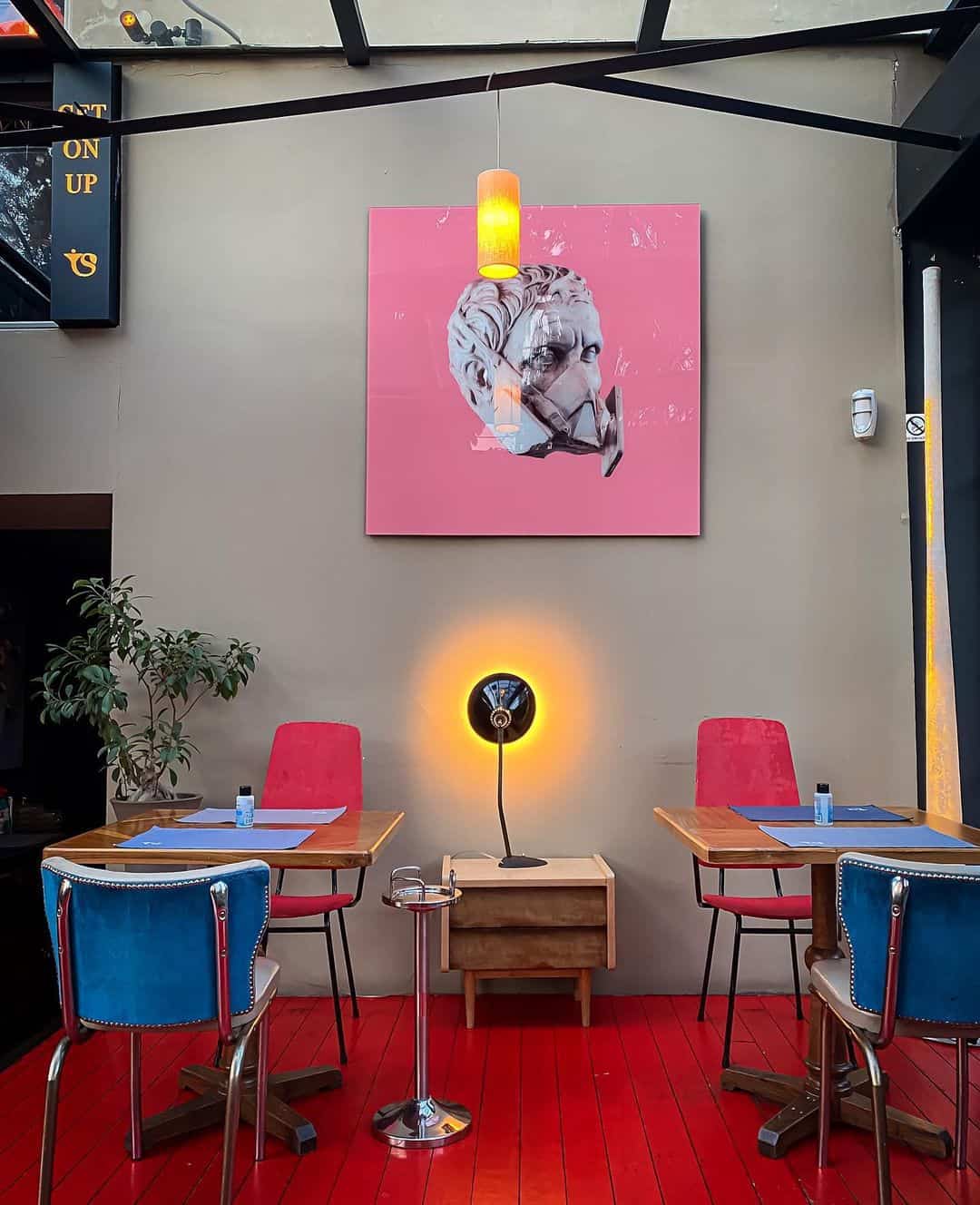 Where: Artisanal, Zirini 2, Kifisia 145 62
Artisanal is the definitive place to see and be seen in Kifissia. The premises are encapsulated by beautiful gardens that are filled with fragrant flowers and centuries-old trees.
The highlight of visiting Artisanal is simply found in sitting in the gardens, beneath the Mediterranean sun with a good book and an iced Greek coffee. Patrons can also sit inside the adorable conservatory which is designed to look like a bird aviary.
Coffee aside, Artisanal is also a lovely spot to stop and have brunch, lunch, or dinner in Northern Athens. The establishment's award-winning chef uses the very freshest locally-sourced ingredients in his dishes.
Artisanal's menu boasts a selection of traditional Greek dishes prepared with a modern twist. Reservations are recommended if stopping by during the evenings or weekends.
Admire the Chic Ambiance of Zambri
Where: Agiou Dimitriou 9, Kifisia 145 62
From the moment that you step inside beautiful Zambri, you are met with elegance and class. From the decadent chandeliers to the high ceilings and the exposed brick walls.
Zambri is understated chic at every turn. For all of its glamour, Zambri does not feel pretentious.
Zambri is a lovely place to stop and enjoy a morning coffee while typing away on your laptop. Alternatively, stop by in the evenings for a homemade sangria with friends.
Enjoy the Grand Environment of Dalliance House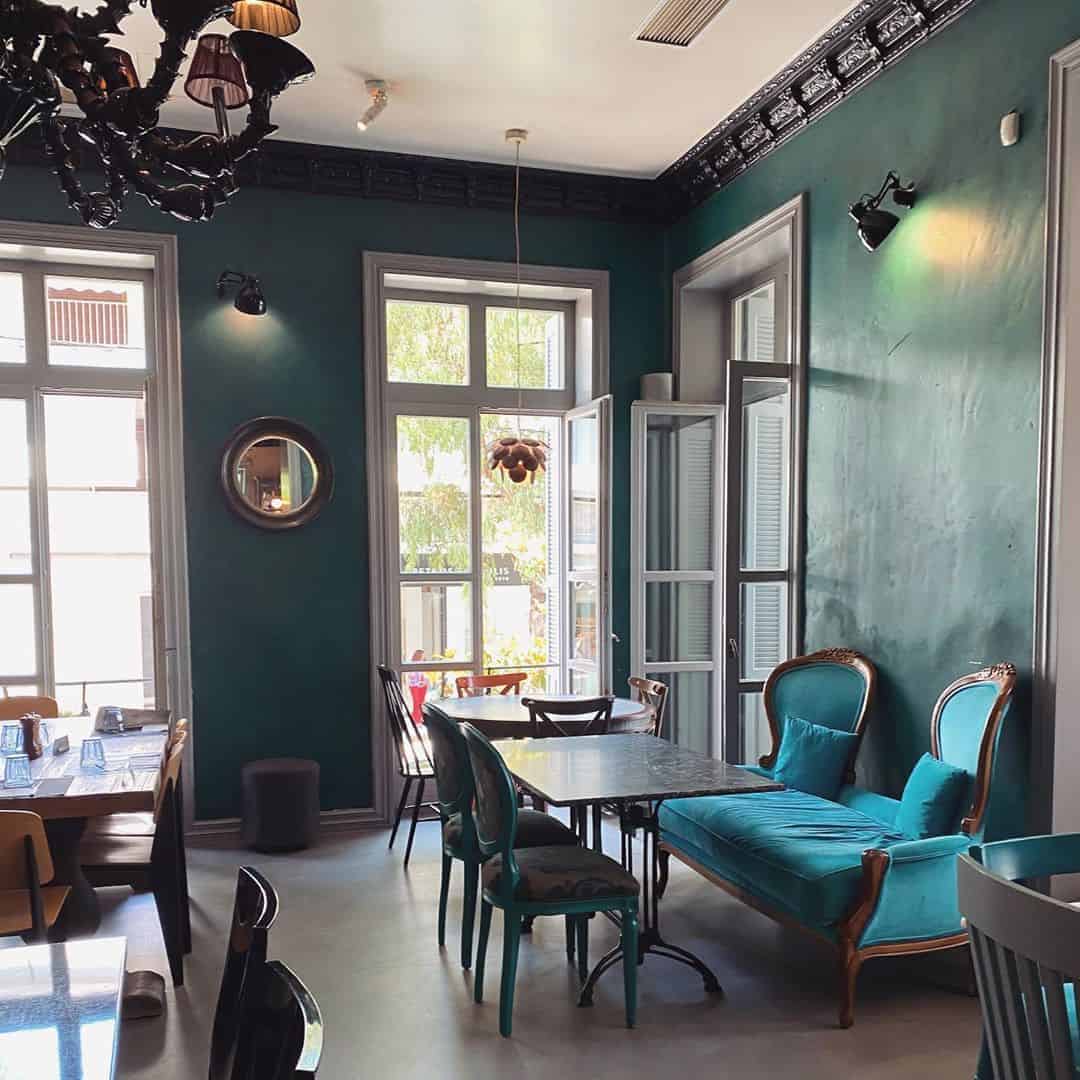 Where: Dalliance House, Kiriazi 19, Kifisia 145 62
Built into the grandeur of an elegant 18th-century neoclassical building, the Dalliance House is a former bourgeois house that has since been transformed into an elegant hangout spot. The establishment perfectly blends decadence and glamour with the cozy feeling of being in someone's living room.

Despite the building's elaborate exterior, the rooms at the Dalliance House are small, intimate, and have a quaint "shabby chic" vibe about them.
Guests can expect to see large-scale wall canvases of bohemian artwork, colourful mismatching furnishings, and one-of-a-kind pieces from local designers and craftsmen.
Sample Traditional Pastries at a Centuries-Old Patisserie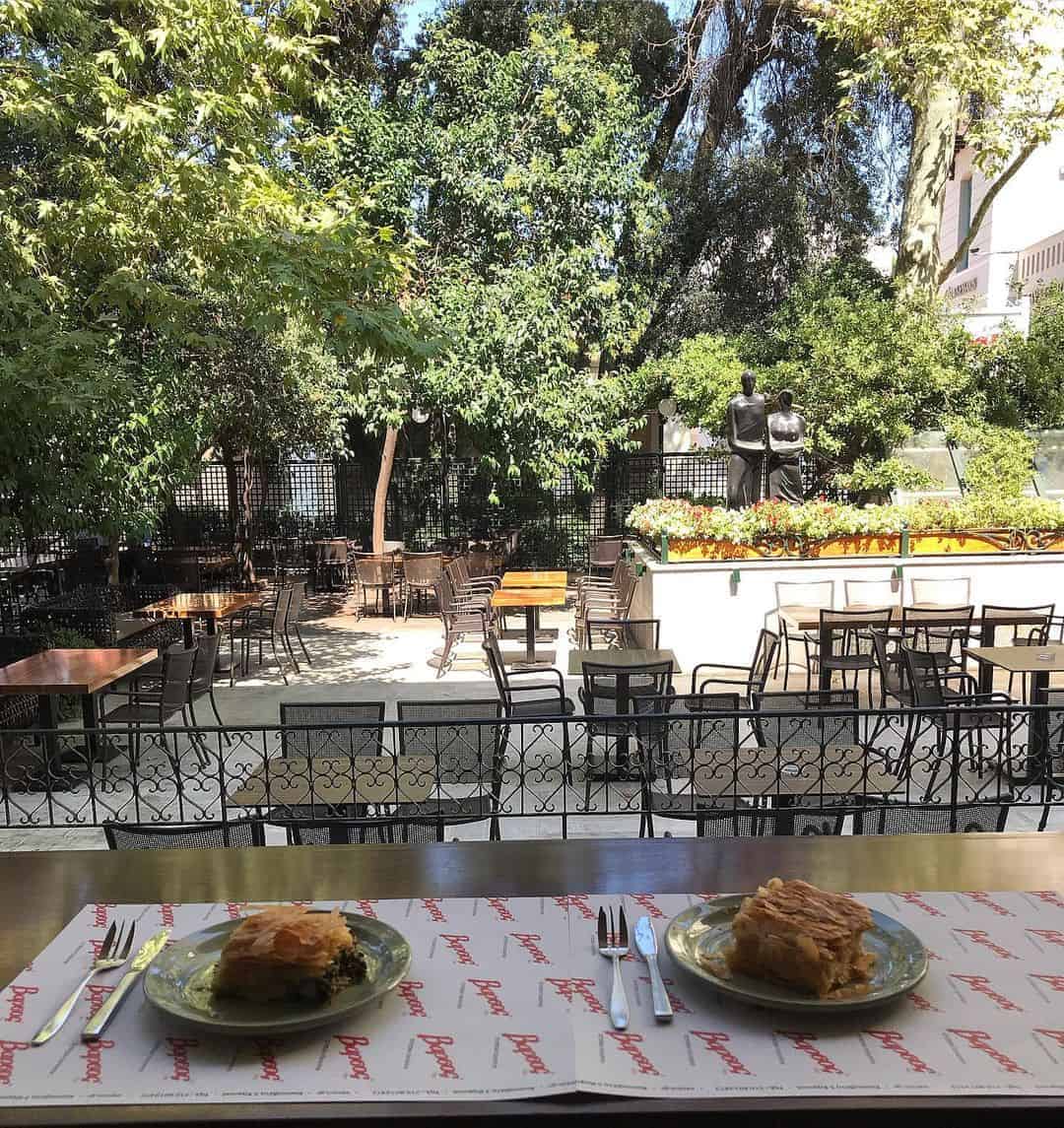 Where: Varsos, Kassaveti 5, Kifisia 145 62
Varsos is the oldest patisserie in all of Athens. The establishment first opened its doors in 1890. Be sure to stop here to grab a morning pastry.
The premises have been renovated with a chic monochrome design. Upon entering, you are overwhelmed with the scent of fresh Greek pastries, melted chocolate, and strong coffee.
From crispy croissants filled with chocolate and bananas to traditional local delicacies such as melt-in-the-mouth spanakopitas and tiropitas. Varsos has something for every palette.
If you are visiting Varsos later in the afternoon consider sampling their beloved rizogalo (rice pudding). Alternatively, order yourself a galaktoboureko (a sweet filo pastry with custard, and syrup).
Things to do in Kifissia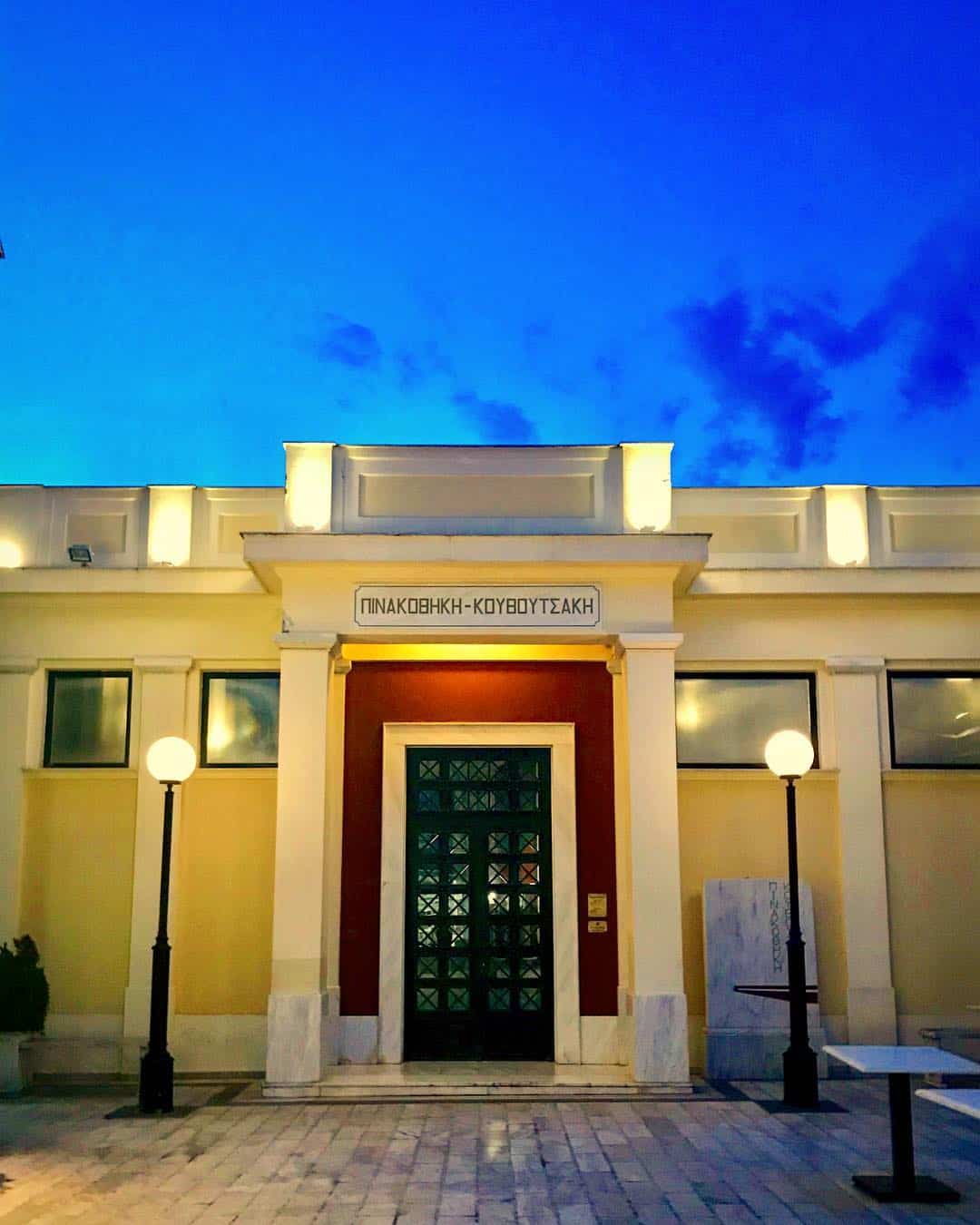 A visit to Kifissia is a nice thing to do in Athens if you have a little more time to explore the Greek capital. Although there may not be a lot to do in Kifissia by way of actual sightseeing, you will not struggle for ways to pass your time here.
Take a Scenic Stroll Past Kifissia's Grand Mansions and Villas
The promenades of beautiful Kifissia are decorated with grand neoclassical mansions and villas that date back to the 1800s. Simply wandering the suburban streets among the architectural grandeur is a nice way to pass the time here.
Indulge in Retail Therapy at Kifissia's Elegant Boutique Stores
The raison d'être for most Athenians to venture northwards to Kifissia is to give their bank cards a workout and indulge in a little retail therapy. There are actually a few upscale areas in Athens that boast high-end shopping opportunities.
Kolonaki, Glyfada, Paleo Faliro, and Nea Psychiko also boast a plethora of wonderful stores. However, Kifissia is arguably the best of the bunch.
There are a wide variety of stores here, and far more options than in other Athens neighbourhoods. Not to mention, the environment here is unparalleled.
In Kifissia, you can shop among tall leafy trees and beautiful gardens. There is ample opportunity to stop for coffee, brunch, a manicure, or spa treatment as you go.
Stylish white-washed facades house the products of both globally renowned designer brands (Valentino, Louis Vuitton, etc), and independent local designer boutiques. The latter are great places for picking up unique "one of a kind" pieces.
Simple Caracters (Kiriazi 23), Luisa World (Kolokotroni 11), and Soho Soho (Papadiamanti 6a) sell a selection of designer items. Brands such as Alexander Wang, Emilio Pucci, and Chloe are stocked here.
Par Amour (19 Kassaveti Street) is a charming boutique that sells a little of everything – from jewelry, to gorgeous homewares and from handbags to sunglasses.
Further retail therapy can also be enjoyed at the nearby Mall of Athens. Marousi and My Golden Hall Mall provide additional opportunities for shopping in Athens.
Relax at Kefalari Square
Lots of excellent tavernas and cute coffee places are centered around Kifissia's main square. This bustling piazza is a delightful hubbub of activity. Not to mention, the lush greenery of Kefalari square is essentially Kifissia's answer to Athens' national gardens.
Wander along graveled pathways that lead past palm trees, flowers, and ponds. Alternatively, sit on the grassy banks of the park with a good book or a selection of lovely Greek pastries from Varsos. You can even purchase a few Greek street food treats and come here for a picnic.
Visit Contemporary Art Galleries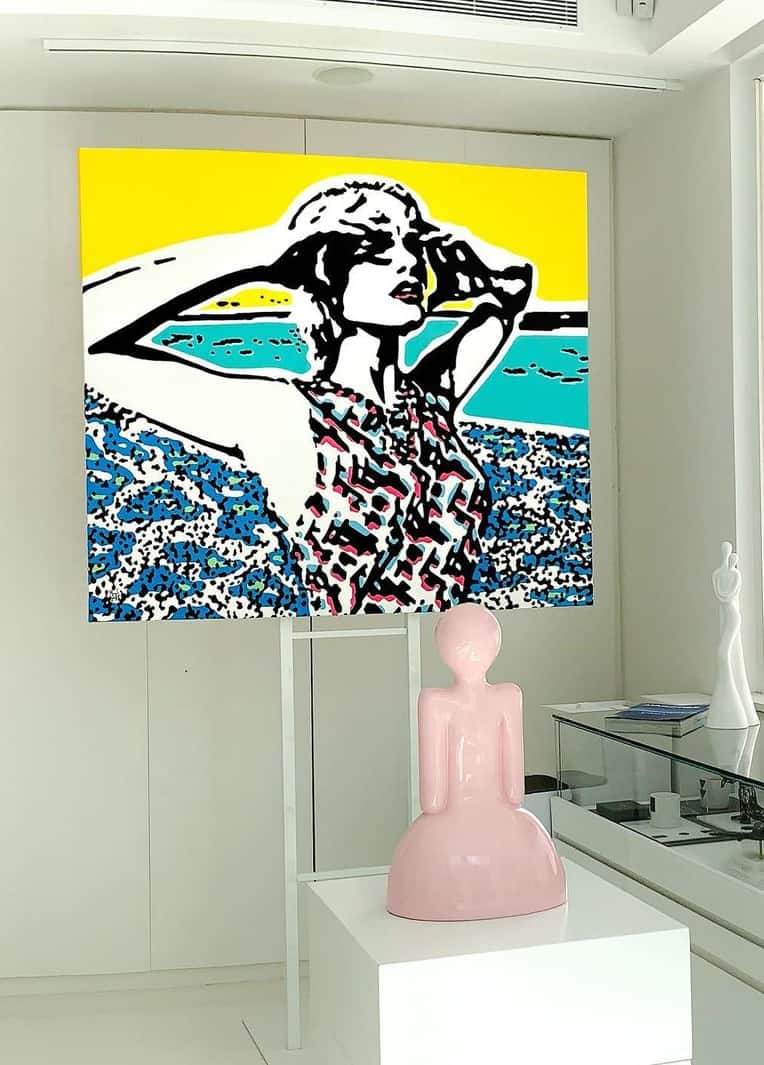 The Mamush gallery (Panagitsas 3) makes a nice stopping point during a day out in Kifissia. This contemporary art gallery displays the works of up-and-coming Greek artists.
You will also find pieces here from renowned industry favourites like Warhol and Picasso. Nearby, the Kouvoutsakis Art Institute (Levidou 11) is equally worthy of your time.
Entrance is free, and free guided tours that explain the history and development of Greek art through the centuries take place periodically. Kouvoutsakis contains a vast collection of Greek sculptures that date from the 19th century to the modern-day.
Kifissia has a growing art scene. Mihalarias Art Gallery, ARTION GALLERIES Ε.Ε. (Argyropoylou 1-3) and Lefakis Maris Galleries (Char. Trikoupi 70) are other smaller, independent galleries to add to your radar if you have a strong interest in art.
Take a Horse-Drawn Carriage Around Kifisia
During weekends, and the warm summer months, the streets around Kifissia train station are filled with elegant horse-drawn carriages. It is possible to take a tour of Kifissia by horse cart.
This is a lovely way to explore the area. Not to mention, you will feel as though you are in a fairy tale while doing so!
The carriage tour takes approximately 20 minutes and costs 20 euros. Carriages depart from the intersection of Panagitsas and Levidou streets.
Shop for Thoughtful Souvenirs
Instead of treating your friends and loved ones to a fridge magnet from your trip to Greece, opt to buy them something more thoughtful, edible, and oh so Greek. Greek agro-products make wonderful Hellenic souvenirs.
Martha's Chocolatier (Leof. Kifisias 324) in the Athens Kifissia district sells delicious handcrafted chocolates that you can select and place inside gorgeous gift-wrapped boxes. If you're worried about transporting them during the hot summer months, you can also browse for nuts, traditional Greek candies, and sweet condiments.
Equally worthwhile to check out while in Kifissia is Aristokratikon (Argyropoylou 8). This is a top-rated Greek chocolatier that has been established since 1920.
Check out the Kifissia Flower Show
If you happen to be in Greece in May, you can check out the Kifissia Flower Show. This charming local tradition has been taking place in the parks of Kifissia for more than 60 years.
More than 70 flower producers participate with more than 2,000 species of plants and herbs. While in attendance, you will be able to catch a number of free seminars, speeches, cooking demonstrations, and performances, albeit mostly in Greek.
Visit the Goulandris Museum of Natural History
The Goulandris Museum of Natural History (Levidou 13) is a public benefit institution dedicated to the study, conservation, and protection of the natural environment. It first opened its doors back in 1964 – then an extension of the research activities conducted by the British Natural History Museum.
Today, the Goulandris Museum of Natural History provides a nice day out for the whole family. Its permanent exhibits include a fascinating paleontology collection that includes dinosaur remains and fossils that are millions of years old.
Where to Eat in Kifissia
Kifissia boasts a diverse selection of eateries. Some of the best restaurants in Athens can be found here and you will find something to suit every taste.

Kifissia has everything from cheerful tavernas that are so typically Greek to some of the most high-end dining spots in Athens. Assuming that you want to treat yourself and have the "true Kifissia experience", most of the recommendations below fall into the latter category.
Elias Gi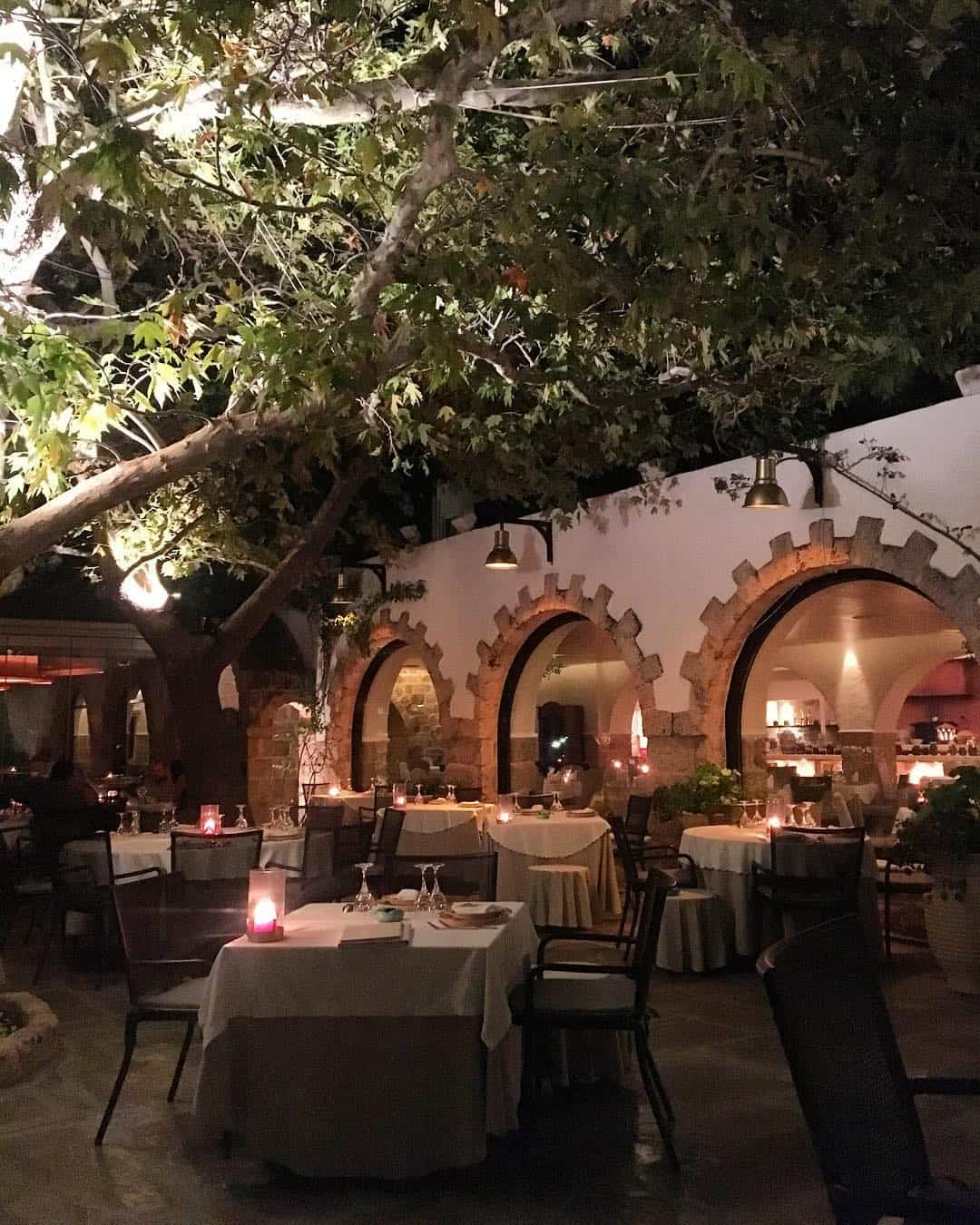 Where: Kifisia 145 63
Elias Gi is, without hesitation, one of the best restaurants in all of Athens. This is particularly true if you wish to sample the finest Greek ingredients and recipes during your Greece itinerary.
The restaurant offers a number of tasting menus that enable you to sample a selection of small classic dishes. It is possible to choose from a menu of either 24 or 14 dishes.
Elias Gi's tasting platters feature exquisite marinated meat dishes such as indulgent beef tagliata, and succulent smoked gyros served with melted metsovone cheese.
Considering Elias Gi's excellent reputation, it is very reasonably priced. A 24 dish tasting platter is priced at 45 euros per person, while a 14 dish platter is 35 euros each.
The Twenty One
Where: Kolokotroni 21, Kifisia 145 62

The glitzy Twenty One Restaurant and Bar is situated on the ground floor of the Kifissia hotel of the same name. In recent years, the Twenty One has become a popular hangout among the young, hip socialites of Northern Athens.
That is not to distract from the food though. The Twenty One is a gourmand's dream come true.
The menu at The Twenty One could be best described as Mediterranean fusion. The chefs here serve up dishes which are an excellent blend of Italian and Greek classic recipes and ingredients. Think soft, melt-in-the-mouth gnocchi paired with a goat-cheese cream and figs, alongside a Greek salad.
Dinners here can be paired with the Twenty One's inventive cocktail menu. The extensive drinks menu features all of the classics, as well as a number of eclectic house specialties.
Il Salumaio
Where: Il Salumaio Panagitsas 3, Kifisia 145 62
Il Salumaio has been delighting foodies in Athens for the last two and a half decades. Here, restaurant-goers sit beneath grand chandeliers and intricate mosaics as they dig into some of the best Italian food in the city.
At Il Salumaio, it is possible to order beloved Italian main dishes (pasta, gnocchi, et al), or to tuck into a bespoke charcuterie board filled with Italian cold cuts, and fresh truffles from Italy's Alba region.
So, you can stop by for chewy, delicious handmade gnocchi and pasta dishes cooked to perfection, or shop for your favourite oils, cold cuts, and Italian condiments. Il Salumaio prides itself on the quality of food offered here.
You will find only the finest ingredients used to prepare the various dishes. For instance, prosciutto di Parma from Bologna, Italy, parmesan from Modena, smoked salmon from Switzerland, and only the highest quality truffles from Italy.
The menu at Il Salumaio changes every quarter – so as to showcase whatever ingredients are in season. Start with a plate of Italian cheeses and charcuterie and perhaps some fresh fish carpaccio.
From there, order a gourmet twist on classic carbonara – Il Salumaio interpretation carbonara served with truffles, pecorino cheese and guanciale. A nice alternative choice is a fresh linguine pasta with wild mushrooms in a parmesan, vinsanto, and truffle oil sauce.
Whatever you order, you will not be disappointed. Il Salumaio boasts both indoor and outdoor seating. Reservations are highly recommended on Friday and Saturday nights.
Where to Stay in Kifissia
You may be overwhelmed by the options available when trying to decide where to stay in Athens. Kifissia is a bit of a trek from popular attractions like the Acropolis, the Ancient Agora, Anafiotika, and old Plaka.
However, it can be a nice choice if you are seeking peace and quiet away from the chaos of the city centre. Besides you have plenty of excellent restaurants, bars, and cafes right on your doorstep here.
Better yet? These are truly local places devoid of tourists.
Kifissia feels like a quaint Greek village that is independent of Athens and is a great place if you want to feel like a local. Most of the hotels in Kifissia area range from affordable luxury to ultra-luxurious.
Some of the best Kifissia accommodation choices are outlined below for your reference. Expect to budget between 100-200 euros per night for your stay.
Kefalari Suites
The beautiful Kefalari Suites is a boutique hotel set in a renovated 19th-century mansion. The rooms are elegant, yet minimal.
One of the highlights of opting to stay here is the rooftop terrace – a perfect place to relax while enjoying breathtaking views of Kifissia and Athens, or while soaking in the jacuzzi. Click here for the latest prices and availability.
Theoxenia Palace Hotel
For absolute luxury in Kifisia, you can consider spending your time in Athens at the Theoxenia Palace Hotel. The hotel is every bit as grand and glamorous as the name suggests.
Situated in Kefalari square, guests of the Theoxenia Palace Hotel can expect luxurious, spacious rooms with marble flooring, decadent furnishings, and excellent views over the square. The latest room prices and availability details can be found here.
The Semiramis Hotel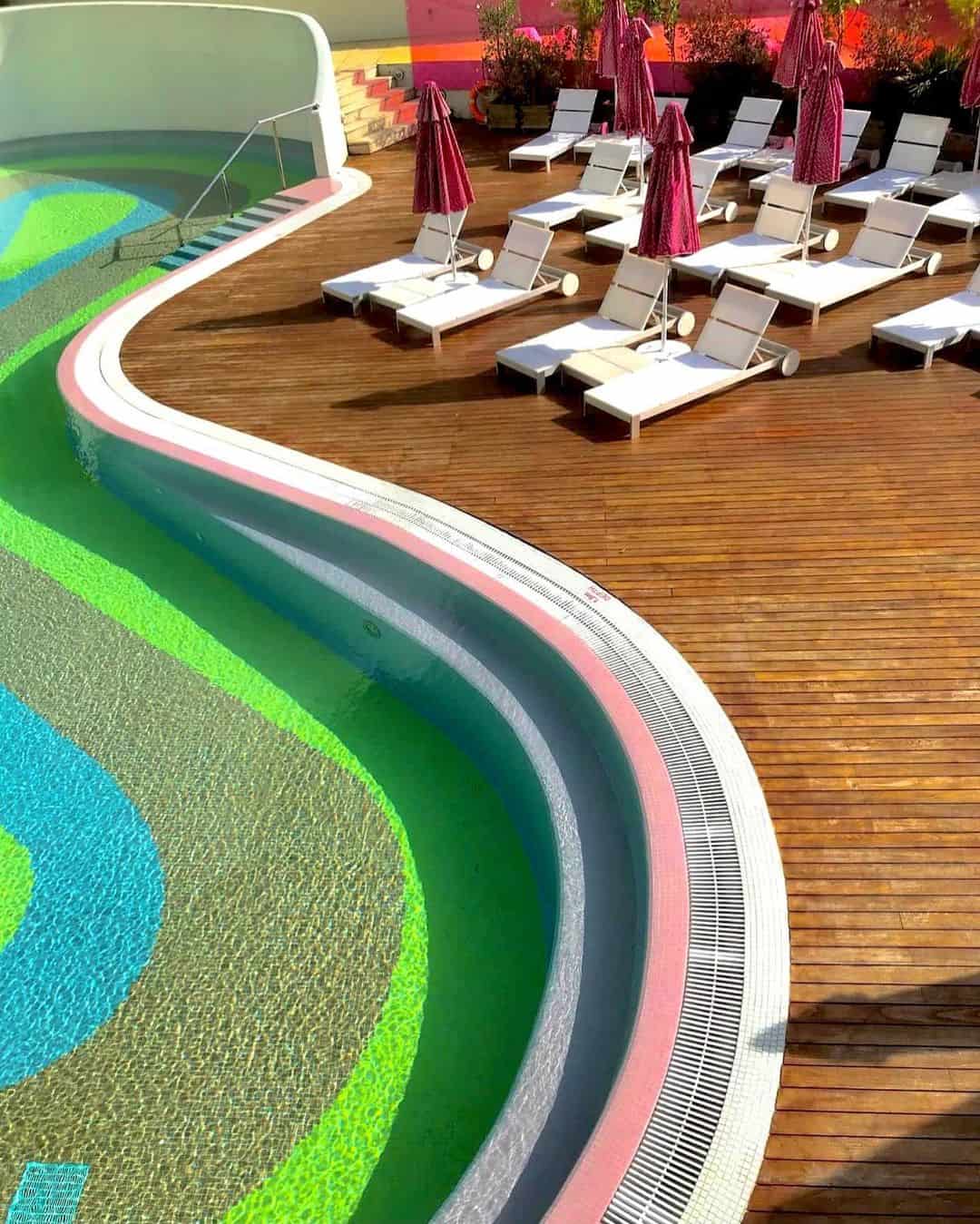 For something a little different in Kifissia, there is the Semiramis hotel. A stay at the Athens hotel Semiramis is almost like stepping into an Austin Powers movie or being transported back in time to the swinging sixties.
The decor is bold and eccentric – featuring rooms with quirky retro-style furnishings and walls splashed with vibrant neon paint. The hotel also features a large outdoor swimming pool decorated in neon hues of pink and green. You can find the latest prices and availability here.
Parting Words
Have any questions about Kifissia Athens or Athens travel in general? I have lived here since 2017 and will be happy to answer any questions or queries that you may have about Greece.
Safe travels! Melissa xo
---